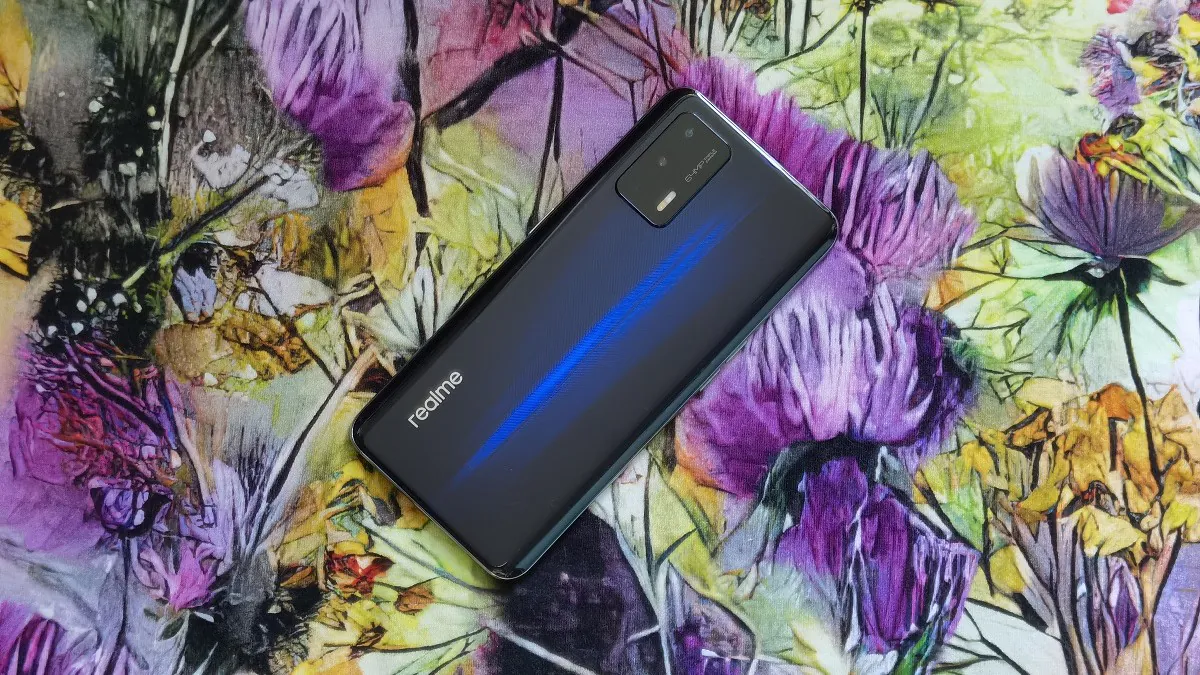 Snapdragon 888, 120Hz display, and ultra fast charging – there's a lot going for the realme GT smartphone. Is it worth our attention?
It seems that realme has decided that it needs to gain a foothold in the smartphone market and impose real competition on major players such as Samsung, Xiaomi and others. How else can you explain the appearance of an affordable gaming flagship realme GT for the price of a mid-range smartphone? This is a real challenge to competitors, especially Xiaomi, which has recently been very at ease in this regard. And this is very good, because first of all we, ordinary users, will benefit from the competition.
Even during the presentation of the realme GT, I was interested in this smartphone, mostly because of its name.
Realme GT video review
No need to read – just watch and sit:
What's so interesting about the realme GT?
Cheap flagship is a phrase that is popping up more and more on the internet. In the era of affordable smartphones some manufacturers began to produce cheaper versions of their best models. Samsung has launched the Galaxy S20 FE in 4G and 5G versions, and Xiaomi is successfully selling models from the Mi 10T series, as well as the Mi 11i, which I recently talked about in my review. These devices prove that an efficient and attractive smartphone can be purchased for relatively little money.
So it comes as no surprise that realme also decided to enter the market with their latest flagship. By the way, at the moment, realme GT is the cheapest mobile device on the market with a Qualcomm Snapdragon 888 5G processor. This smartphone offers amazing value for money. For about $600, we get a wonderful high-spec device. Qualcomm Snapdragon 888 processor, built-in 5G network modem, at least 8GB of fast LPDDR5 RAM and 128/256GB of built-in UFS 3.1 flash, combined with a Super AMOLED screen, make the realme GT truly a flagship device. Also worth mentioning is a decent camera, Android 11 with its own realme UI 2.0 shell and ultra-fast charging.
Only a very close look at the technical specifications allows us to see a few flaws that make the realme GT somewhat cheaper than the competition. I'm talking about a weaker 64-megapixel camera, which can now be found only in devices of the mid-budget segment, lack of water protection and a plastic body. There is also no wireless charging on board.
Another positive is a 3.5mm headphone jack. This element has long been forgotten by flagship smartphone manufacturers. Also realme GT has a fingerprint scanner, which is located in the screen.
By the way, here are the main technical characteristics of the realme GT:
6.43-inch SuperAMOLED display, 1080×2400 pixels (409 ppi), 120 Hz
Qualcomm Snapdragon 888 chip, Adreno 660 graphics
8/12 GB of RAM
128/256 GB of built-in memory, no microSD slot
DualSIM
Android 11 with realme UI 2.0 shell
Wireless Connections: Wi-Fi 802.11 a/b/g/n/ac/ax, Wi-Fi Direct, access point, Bluetooth 5.2, aptX HD, GPS, A-GPS, LTEPP, SUPL, GLONASS, NFC, 5G
USB-C, 3.5 mm mini jack connector, stereo speakers, fingerprint scanner under the screen
Main camera: 64 MP, f/1.8, PDAF, wide-angle: 8 MP, f/2.3, 119 ̊, macro: 2 MP, f/2.2
Front-facing camera: 16 MP f/2.5
4500 mAh battery, 65 W fast charging
Dimensions: 158.5×73.3×8.4 mm
Weight: 186 g
Despite all the advantages several questions arose. How did realme manage to offer its flagship at such a great price? What have they saved on, and is it worth paying attention to this smartphone?
Elegant design and excellent build quality
The first thing you feel when you take the realme GT into your hands is its compact size and relatively light weight. The device I tested is one of the smallest flagships of 2021. Its dimensions are 158.5 × 73.3 × 8.4 mm, and its weight is only 186 g. It is  pleasant to hold it after my Huawei Mate 40 Pro. Note that the realme GT looks very similar to the cheaper models of the realme 8 family. The smartphone consists of two glass panels (there is also a more interesting version covered in vegan leather), which are connected by a silver plastic frame.
To stand out, realme has opted for a bright yellow back in vegan leather. This, according to the manufacturer, should resemble a Formula 1 car. The model we received for testing is a more subdued color – electric blue with a beautiful iridescent effect. The Speed ​​Blue version is also associated with racing. The back panel is made of glossy glass with a subtle pattern that changes color depending on the angle. Unfortunately, this is not the most practical choice. Of course, all kinds of dirt and fingerprints that remain on it.
I was pleasantly surprised by the design of the triple main camera module. It is located vertically in the upper left corner of the rear panel. But the realme developers managed to make the module thin and neat, almost invisible. This is a really good decision considering the current sometimes bizarre and weird camera modules in competing models. And here you hold in your hand a comfortable, thin, lightweight, neat smartphone. Three modules were placed vertically, the logo with a flash on the right. Everything is neat, elegant, there are no large protrusions. Indeed, respect to the developers from realme. The smartphone lies stably on a flat surface without wobbling from side to side.
In front, we see a flat panel covering a 6.43-inch screen. An optical fingerprint scanner was placed in the screen itself. The display is surrounded by small, thin bezels. There is a small hole for the front camera in the upper left corner.
At the top there is a loudspeaker, which is intended for calls, and also for multimedia playback.
The front panel is protected by AGC Dragontrail 2.5G glass. Yes, it is not Gorilla Glass, but it is also durable. It's also nice that the factory protective glass is already glued to the screen.
The placement of ports and connectors is pretty standard for modern smartphones, but there is also a small surprise – there is a power button with yellow accent on the right edge of the silver frame.
On the opposite side we find buttons for volume control and a tray for two nanoSIM cards, or a microSD memory card instead of one of them.
Above is another additional microphone for conversations.
But the bottom is much more interesting. Here you'll find a speaker grill, a USB Type-C port, a microphone for calls, and a 3.5mm audio jack for wired headphones. Many manufacturers have already abandoned the mini-jack even in some mid-range smartphones. The reasons can be understood – the wireless headphone market has made such a huge leap forward that few people notice the absence of this port.
It is a pity that the body of the realme GT has not received any protection, so I do not recommend spilling even coffee or tea on it, let alone swimming with it. Here, the Chinese company has clearly saved on the protection of its smartphone, which is positioned as a gaming flagship device.
Now a few words about personal impressions of the realme GT during use. The first days were somewhat unusual, and all because it is lightweight and smaller than my own smartphone. I was even pleasantly surprised by the weight and design of the device. The realme GT looks interesting, but still kinda average. It clearly does not reach the premium level. It's not even about the materials of the case or the build quality (it's fine), it's just that the phone feels very mid-range. Its appearance reminded me of the Chinese flagships from two years ago. Although this impression may be a matter of taste, and perhaps someone disagrees with my opinion.
Nice controls and convenience can outweigh all these issues. In fact, realme GT is truly a modern smartphone that deserves to be called one of the most affordable flagships today.
AMOLED display with 120 Hz refresh rate
The Super AMOLED screen is made by Samsung, has a resolution of 1080×2400 pixels, with a diagonal of 6.43 inches, this gives a density of 409 ppi. The maximum brightness reaches 1000 nits, but it should be noted that this value is only available in HDR mode and only for a short time. This brightness means we will have no problem using the realme GT in all lighting conditions. The manufacturer also claims 100% DCI-P3 color gamut coverage and HDR compatibility.
A feature that I have not seen from other manufacturers is the ability to turn on the brightness of the backlight in continuous mode. It is commendable that realme warns that there may be problems, for example, with automatic brightness control, but nothing of the kind happened during testing.
The display defaults to adaptive refresh, up to 120Hz, which reacts to what we're doing. It looks and works great, especially while playing. Gamers will enjoy 360Hz high-speed touch sampling. The refresh rate of 120 Hz can be locked (at the cost of reducing the battery life of the smartphone by about an hour), but this is not worth doing. In practice, the difference is almost imperceptible. Of course, w notice a decrease in frequency to 60 Hz (this is also possible), but I see no point in such a decrease, unless we are trying to save energy as much as possible.
In realme GT, the user has access to three color reproduction modes. Vivid mode corresponds to the DCI-P3 color space, Gentle to sRGB, and Brilliant mode further increases the saturation of colors, which seems to be excessive. I prefer the DCI-3 compatible mode, which also matched my laptop screen. The colors appear to be well tuned, and a cursory assessment using control charts shows no noticeable deviation from the pattern.
The display can operate in the Always On Display mode, but despite its name, it does not work that way by default. The screen turns off after a dozen seconds or so, until you pick up the phone again. However, the behavior of AoD can be changed by enabling the All day option. The smartphone does not have a notification LED, but there is the possibility of illuminating the edge of the screen when a notification arrives.
In practice, the realme GT has a shiny, high-quality screen. This is one of the best components in the device. The manufacturer chose a universal size that allows you to comfortably use the device with one hand. On the other hand, the display is large enough for you to easily watch Netflix movie or TV series and YouTube videos. The Super AMOLED panel works great when playing media content. The blacks are almost perfect and the colors are rich. All this is complemented by high smoothness and wide dimming range. The presence of stereo speakers will complement this whole picture. Of course, there are smartphones on the market with better screen performance, but the realme GT has nothing to be ashamed of.
The fingerprint scanner
It's worth taking a moment to describe the in-screen fingerprint scanner. Realme uses an optical fingerprint scanner located on a Super AMOLED display. The manufacturer claims that the average time it takes to scan a fingerprint and unlock the phone is only 446.6ms. I can believe these assurances as unlocking the smartphone is instant. The sensor responds almost flawlessly, and there are no problems with unlocking the device, even when we scan our finger at an unusual angle.
The only thing that personally caused me a little discomfort was the placement of the scanner itself. I would like it to be 1-2 cm higher, which would improve the usability of the scanner.
What about the sound
The smartphone is equipped with stereo speakers, but when describing my first impressions, I can say that the sound disappointed me at first. Yes, it is sharp, but practically devoid of bass. This alone would not be a significant drawback, but you can also hear clear asymmetry in the sound. The speaker located in the lower edge and it sounds louder and clearer than the one that acts as the left channel. I thought I would get used to it, but no, it became even more annoying.
The realme GT sound is much better when it comes to headphone use. The smartphone did a good job with the very demanding AKG K702 62 ohm impedance headphones. A closer look at the capabilities of the WCD9385's built-in DAC allows for a lot of expectations: as I found, one would expect work with PCM formats up to 192 kHz/24 bit, as well as DSD64 and DSD128, unless, of course, the manufacturer has blocked something. This is interesting, especially in the context of the beta version of Apple Music on Android, which allows you to stream music in Hi-Res formats. The only pity is that a smart headphone amplifier that can drive them with high impedance does not come with a good DAC. But the realme GT still deserves praise when it comes to the performance of wired headphones.
Camera
Realme made a rather strange decision with the camera. The smartphone might be quite great when it comes to most things, but not the camera. The camera came straight from some cheaper device, it seems.
The slightly raised photomodule on the rear panel contains three separate cameras: the main camera with a resolution of 64 megapixels, f/1.8 aperture and electronic image stabilization, a wide-angle module with a resolution of 8 megapixels, f/2.3 and 119° viewing angle, as well as a macro camera with a resolution of 2 megapixels (f/2.4) and a fixed focal length of 4 cm.
I do not understand at all why some Chinese manufacturers have recently resorted to such a pointless decision as equipping their smartphones with macro cameras, especially with a resolution of 2 megapixels. Neither realme GT 5G nor any other previously tested phone have ever been able to take decent pictures with this camera.
The manufacturer should be aware of the low quality of the macro camera, since you can't even find the mode that is used for macro shooting on the main screen of the camera app, because it is hidden in a submenu.
I was not very impressed by the wide-angle camera either. I would like to write that at least in good lighting it creates decent images, but this is not true. Color correction is still acceptable, but sharpness is really poor.
I would recommend not using a wide angle lens at all in low light. It is also unclear why the manufacturer did not add a telephoto lens with at least double optical zoom to the smartphone.
The main 64-megapixel camera (Sony IMX 682), which can take quite clear pictures even in low light.
In automatic mode, the camera uses 16 megapixels (4608 × 3456 px), where data from four neighboring pixels are combined into one. If you want to shoot at maximum resolution, simply switch to the fully manual mode, or the dedicated 64MP mode. Only colors can be less saturated, which can be partially avoided by turning off AI mode and HDR functions. However, color correction still needs optimization.
The quality of night shots is also decent. When shooting static scenes, I recommend using a special night mode, which takes several pictures with different exposures in a few seconds, from which the final image is then created.
The smartphone can record Full HD video at 30 and 60 frames per second, as well as 4K at 30 and 60 frames per second. But if you want to use a wide-angle lens (0.6x), you'll have to settle for a maximum of Full HD video at 30fps. It is not possible to switch to wide mode while recording, but due to its average quality it might even be good. Primarily you will be shooting with the 64MP main sensor, which will also offer you 2x and 5x hybrid zoom.
As for the video quality, it's the same as photos. In good light, the main lens (without using zoom) shoots a clear image, you will enjoy relatively fast refocusing, only the colors are a little oversaturated for my taste.
Double zoom can be used in good lighting conditions, however, sharpness degradation should be expected. A telephoto lens would definitely help here, but realme doesn't want it right now. The sound quality is decent enough.
PHOTO AND VIDEO QUALITY IN THE ORIGINAL RESOLUTION
For selfies, you can count on the 16MP front-facing camera, which manages to capture facial details well, but is very shaky in HDR. Enough for Instagram Stories though.
Battery life
The battery life of flagship smartphones is always noticeably shorter than that of mid-range and budget devices. This is mainly due to the powerful processor and display performance. I was wondering if this would apply to the realme GT as well? The device is powered by a 4500mAh battery that supports the 65W ultra-fast wired charging standard. Unfortunately, we can't count on wireless charging, but the manufacturer has provided 2.5W charging. This will allow you to charge your wireless TWS earbuds or smartwatches.
Fortunately, the Qualcomm Snapdragon 888 5G processor is based on a 5nm process that minimizes power consumption. The developers of realme GT promise that the average screen life on a single charge ranges from 5 hours (with 120 Hz and intensive work) to almost 8 hours (60 Hz refresh and browsing social networks).
In practice, realme GT lasts a whole working day on a single battery charge, but it can work for two days, but only when using the 4G LTE network and with a 60 Hz screen refresh. Nothing special in terms of autonomy should be expected, everything is standard here.
According to the manufacturer, realme GT is able to fully recharge in 35 minutes. I had a test device, which is probably why the charging time of the smartphone was slightly different – the phone was fully charged in 38 minutes, which is also an excellent indicator.
| Charge level | Time to charge, min |
| --- | --- |
| 10% █ ░ ░ ░ ░ ░ ░ ░ ░ ░ | 2 |
| 20% █ █ ░ ░ ░ ░ ░ ░ ░ ░ | 5 |
| 30% █ █ █ ░ ░ ░ ░ ░ ░ ░ | 8 |
| 40% █ █ █ █ ░ ░ ░ ░ ░ ░ | 12 |
| 50% █ █ █ █ █ ░ ░ ░ ░ ░ | 16 |
| 60% █ █ █ █ █ █ ░ ░ ░ ░ | 19 |
| 70% █ █ █ █ █ █ █ ░ ░ ░ | 24 |
| 80% █ █ █ █ █ █ █ █ ░ ░ | 30 |
| 90% █ █ █ █ █ █ █ █ █ ░ | 34 |
| 100% █ █ █ █ █ █ █ █ █ █ | 38 |
Software
The smartphone runs Android 11 supplemented with its own realme UI 2.0 shell. It is now the standard for all flagship smartphones. Realme software significantly affects the appearance and features of the operating system, and is not resource intensive. It is somewhat reminiscent of OPPO's ColorOS, although this is not surprising given that realme is a sub-brand of the Chinese company. In the settings, we find many interesting features that will be useful on a daily basis.
The new version of the realme UI 2.0 shell offers optimized battery charging, additional gestures, more personalization options and additional general dark mode settings. The appearance of some icons and user interface elements has also been improved. The system looks fresh and aesthetically pleasing, and it also provides the user with many options to customize its functions to their liking, starting with the launcher. Using preinstalled themes, or installing UI elements manually, you can get a satisfying result.
It is worth noting that realme GT is compatible with Android 12 beta. Those interested will be able to test the future release of the new Android 12 OS in July. Of course, all realme GT owners will receive the final version of Android 12 shortly after its release.
Qualcomm Snapdragon 888 5G makes things work
And now – the best thing about the phone. I'm talking about the powerful new chip. Yes, realme GT is equipped with the most efficient processor for Android smartphones so far. I'm talking about the Qualcomm Snapdragon 888 5G chip that powers the smartphone. I have already managed to get acquainted with this chip while testing the flagships of the Xiaomi Mi 11 series, the ASUS ROG Phone 5, and the OPPO Find X3 Pro.
Мощный процессор здесь совмещен с графическим процессором Adreno 660, 8/12 ГБ быстрой оперативной памяти LPDDR5 и до 128/256 ГБ флэш-памяти стандарта UFS 3.1. Я протестировал конфигурацию с 8 ГБ оперативной памяти и 128 ГБ постоянной памяти, и могу подтвердить, что совсем не сталкивался с ограничениями производительности при использовании. У меня не возникало никаких проблем во время игрового процесса, даже в графически требовательных играх с высокой детализацией/плавностью. Тоже самое могу сказать и о многозадачности. Нет сомнений, что realme GT быстрый, даже очень быстрый.
All this is cooled using a specially designed innovative cooling system, the so-called aluminum-copper thermocouple. It is responsible for distributing heat from the processor throughout the entire case, for faster cooling of the device. In practice, this solution makes realme GT pretty cool compared to competitors, even after playing heavy games. Yes, throttling happens, especially when it's hot outside, and there is a serious drop in performance, which I found thanks to the Wild Life Stress. And this, unfortunately, is a widespread problem. The SoC manufacturer is to blame, not realme.
In terms of performance and smoothness, the realme GT can compete with the expensive flagships on the market. I have tested realme GT in popular synthetic benchmarks. Here are the results:
From the graphs above, it is clear that the realme GT is more than powerful, but remember that for testing I got a cheaper version with 8 GB of RAM and 128 GB of storage.
The smartphone is equipped with a special GT game mode, which further enhances its performance. Once launched, the game has priority in accessing system resources. The device also mutes the notification sound.
With Snapdragon 888 and built-in 5G modem, users can count on not only support for fifth generation networks, but also on Bluetooth 5.2 or support for the next generation of Wi-Fi 6. The smartphone supports GPS, GLONASS, BDS and European Galileo navigation systems. There's also NFC for contactless payment or quick pairing.
The performance of synthetic tests and the smoothness of work in everyday tasks can be compared with the Xiaomi Mi 11 Ultra and the Samsung Galaxy S21 Ultra, although it should be noted that these smartphones are more than 2 times more expensive than the realme GT.
Verdict
The Realme GT offers much for very little. On the one hand, we get a real flagship, but on the other, we don't need to spend too much money for such a powerful device. Of course, when deciding to buy the realme GT, you have to agree to a few compromises, such as a plastic body, a rather weak camera for a flagship, or a lack of a waterproof case, but these are not critical drawbacks.
The smartphone made a good impression on me. Despite its moderate (as for a smartphone with such a specification) price, it is characterized by really excellent performance, interesting design and high-quality finish. I must admit that I don't understand some of the reviewers who complain about plastic. Most importantly, the Snapdragon 888, coupled with ample RAM and an exemplarily optimized Android 11 system, is a guarantee that you will have enough performance in your pocket for at least another two years. I also liked the presence of a 3.5mm headphone jack and fast wired charging. Do not forget about the guaranteed upgrade to Android 12. All this together gives me the opportunity to say that the realme GT is really a worthy flagship device. If you are looking for a modern flagship at an affordable price, and you are not too worried about the camera, then the realme GT is by far the best choice.
Pros:
build quality
stylish design, especially the leather version
Snapdragon 888, 5G support, dualSIM
very high efficiency
a decent screen with a refresh rate of 120 Hz
Android 11 + realme UI 2.0 interface
day and night modes (main camera only)
fast charging SuperDart at 65 W
reasonable price.
Cons:
the plastic body is not for everyone
absolutely useless wide-angle and macro camera
oversaturated colors of photos and videos
no optical image stabilization
no wireless charging
lack of water protection
noticeable asymmetry of sound from the speakers.
Read also:
Subscribe to our accounts: