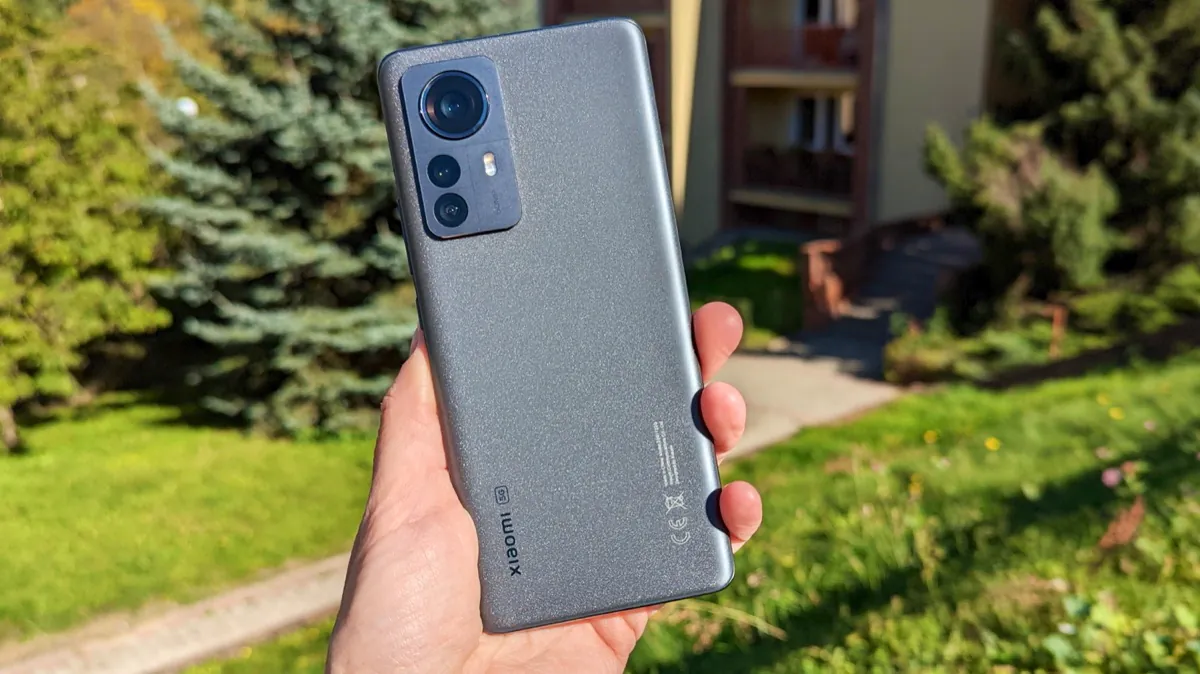 Recently I got acquainted with Xiaomi 12 and wrote a detailed review of it. Summing up, I noted that this is the perfect flagship for everyone, especially given the current very adequate cost, since the 12 series models are no longer new. Well, it's time to look at the senior model of the line, the Xiaomi 12 Pro. Let's study everything in detail and see if it's worth overpaying for a more expensive version of the flagship.
Specifications of Xiaomi 12 Pro
Display

120 Hz, 6.73 inches, LTPO AMOLED
Aspect Ratio: 20:9
1440×3200 dots
Peak brightness 1500 nits
1 billion shades
Dolby Vision, HDR 10+
Refresh rate 120 Hz AdaptiveSync

Cameras

50 MP Wide-angle (24mm, 1/1.28″, 1.22µm, Dual Pixel PDAF, OIS)
50MP ultra wide-angle f/2.2, 115˚
50 MP telephoto lens (48mm, PDAF, 2x optical zoom)
32 MP front camera f/2.5, 0.7µm

Dimensions, weight
CPU, OS

Snapdragon 8 Gen 1, 4 nm, ARM-V9:

1x ARM Cortex-X2 3.0 GHz
3x ARM Cortex-A710 2.5 GHz
4x ARM Cortex-A510 1.8 GHz

LiquidCool cooling system
Android 12 with MIUI 13 shell

Memory

Available versions 8/256, 12/256
UFS 3.1 RAM
Permanent memory LPDDR5 RAM

Sound

Four speakers SOUND BY Harman Kardon
Dolby Atmos support

Battery

4600 mAh
120W wired
50W wireless
Reversible 10W

Communication
USB-C, Dual SIM, NFC, Bluetooth 5.2, 5G, Wi-Fi 6/6E
Body colors
Grey, lilac, blue
Positioning in the lineup and price
There are three models in the 12 line of the Chinese manufacturer – Xiaomi 12, 12 Pro and 12X. The first can be called the "golden mean". The junior one has a simpler screen, two main cameras (no wide-angle), does not support wireless charging. The senior model, it is the protagonist of our review, is a smartphone with the highest quality screen (3K QHD+ resolution, better contrast, color rendition, brightness), advanced cameras and an additional lens, a system of 4 speakers and an unrealistically fast 120 W charging.
Xiaomi 12X and Xiaomi 12 cost from $ 570-600, the top model is much more expensive and will cost $ 900+.
Xiaomi 12 delivery set
In the box with the phone you will find a thick USB-C cable, a heavy 120W charger, a short manual and a silicone case. I am glad that the Chinese company is not eager to deprive its flagships of the charger.
The case is a nice addition. Protects the screen, camera lenses, pleasant to the touch, so there is no need to look for another one.
Read also: Xiaomi 12 Review: Flagship For Everyone
Design
If Xiaomi 12 was pleasantly surprised by the fact that it turned out to be very compact, then Xiaomi 12 Pro is the usual large flagship with a 6.73-inch display. Large, but still thin (8.2 mm) and elegant. Personally, I favor large screens as they are more convenient to read texts, write, watch photos, videos, etc. Of course, it is not very convenient to operate a large phone with one hand, but it is all a matter of habit.
But otherwise, the appearance of all 12 series smartphones is identical. And I've already said it, but it's not a sin to repeat myself again it's a very good design, one of the best in recent years from Xiaomi.
The window for the front camera in the middle also has an elegant look, the screen bezels are minimal, while the side ones are generally invisible due to the rounded edges (Samsung once invented such screens and called them "infinite").
As for these rounded sides of the screen, I know that many users do not like such screens. The disadvantages are the inability to successfully choose a protective film (it does not matter, the screen is well protected from scratches), false touches (I have never had them in all the years of using phones with such screens), distortion of the image at the edges (I would not say that it is distorted).
Personally, I like such screens. I think that it is, first of all, beautiful. And second, it is ergonomic. The beveled edges make the screen and the phone itself narrower. Because of this, it lies better in the palm of your hand, feels thinner, it is more convenient to operate it with one hand.
Read also: POCO X4 Pro 5G review: not a flagship killer anymore
The display is protected by heavy-duty Gorilla Glass Victus, does not collect scratches (at least not too quickly), fingerprints are invisible.
The frame of the case is metal (of course, this is the flagship), matte, matching the color of the back panel.
The rear panel looks very balanced. The island of cameras is "tastefully" (because there are still such terrible ones!) slightly raised, the edges are neatly rounded.
When I tested Xiaomi 12, I squealed with delight, looking at the pink and lilac body. 12 Pro I received in a solid dark gray version. It is also beautiful and shines in the light, but still not as much.
After all, lilac is not for everyone. But if you want variety, the blue Xiaomi 12 Pro also looks great.
The surface of the back panel itself is frosted glass (Gorilla Glass 5, which is important), resembling dry ice. It is slightly rough to the touch, very pleasant, does not slip in the palm of the hand. It does not collect fingerprints at all.
There is nothing on the left side of the smartphone. On the right side there is a two-position volume key and a power button. The buttons are thin, but they are convenient to use.
On the upper end there is a speaker, an IR port for controlling equipment (standard Xiaomi feature) and a microphone. On the bottom there are more speaker slots, a second microphone, a Type-C connector, a slot for two SIM cards (no memory card support).
Read also: Xiaomi Watch S1 review: is the brand's most expensive smartwatch going to surprise us?
Display of Xiaomi 12
The hero of the review has a gorgeous AMOLED display with a refresh rate of 120 Hz. Moreover, it is LTPO AMOLED, more energy efficient. The display is characterized by high contrast, maximum viewing angles, excellent color reproduction, excellent brightness (up to 1500 nits in peak, even on a sunny day the image and text remain readable), smooth animations. The screen displays a billion shades, supports Dolby Vision and HDR 10+ technologies.
The resolution is 1440×3200, rare even for top models. Someone will not notice the difference with the usual Full HD, but personally I see it very well because fonts and even the smallest elements are very clear.
There are only two refresh rates to choose from: either 120 Hz or 60 Hz. There is no intermediate option in the settings, and the first one is dynamic. That is, some applications even in 120 Hz mode will be displayed at 60 Hz. It can be some static state, for example, a photo in the gallery. But the charge is saved.
The settings have different color rendering options, dark theme, reading mode (monochrome), the ability to change the color temperature, text size and more. The Always On Display function is configured separately for displaying the clock, date, notifications on the deactivated screen.
Read also: Xiaomi 11T review: Alternative to a Flagship?
Hardware and performance
Here it is enough to say that the smartphone is based on the latest processor, made on 4 nm process technology – Snapdragon 8 Gen 1. Of course, you should expect flagship performance from it, and these expectations are justified. The smartphone is fast in all tasks, runs any games, I think it makes no sense to describe anything in detail.
For those who are interested in numbers, I will say that in GeekBench 5 (multi-core) the smartphone scores 3,672 points, in GeekBench 5 (single-core) – 1,170 points, in AnTuTu 9 – 985,229 points, in 3DMark Wild Life Vulkan 1.1 – 9,645 points.
I believe that in the case of a powerful flagship, it is more interesting not what it runs (because everything runs), but how it does it, whether it is stable or does not overheat. I will tell about it.
And here, too, everything is within normal limits. Xiaomi 12 Pro boasts a large panel that helps dissipate heat. The cooling tube contains a 2900 mm² steam chamber and a graphite element. During normal operation, the body of the device is cool. At high load it can heat up, but not critically. We noticed strong heating only during stress tests, but it should be understood that no game will create a long 100% load on the processor, that is why, in fact, the tests are called synthetic.
As for memory, there are 8/256 and 12/256 GB versions of Xiaomi 12 Pro on sale (theoretically there is 8/128, but not many markets have it). That is, there is a lot of memory in any case, and this is good, because there is no memory card slot. In my opinion, it doesn't make much sense to overpay for a modification with 12 GB of RAM (if there was another 512 GB of storage, you could think about it). 8 GB of RAM is now enough for any tasks that can be set before the smartphone. However, if you plan to use the phone for several years, it may be worth investing in more RAM.
I should add that in the settings there is an option to expand the RAM by 3 GB at the expense of internal memory. Again, I don't see any sense in it, and everything works perfectly well, both with the expansion and without it.
Read also: Redmi Note 11 Review: Classical Budget Phone by Xiaomi
Xiaomi 12 Pro cameras
The Xiaomi 12 version lacked a telephoto, and here we have a full set, and each module has enough megapixels:
50 MP main (Sony IMX707, 24 mm, 1/1.28″, 1.22µm, Dual Pixel PDAF, OIS)
50 MP ultra-wide-angle f/2.2, 115˚
50 MP telephoto lens (48 mm focal length equivalent, PDAF, 2x optical zoom)
We have a flagship in front of us, so it's not surprising: photos from the main camera are excellent in any lighting conditions. The colors are natural, accurate, clean, clear. Autofocus is fast and clear. There are no complaints about the dynamic range.
ALL PHOTOS FROM XIAOMI 12 PRO IN ORIGINAL SIZE
As is customary in modern cameras, pictures are not saved in their original resolution, pixels are combined for better quality. As a result, photos from Xiaomi 12 have a resolution of 12.5 megapixels. You can turn on the "native" 50 megapixels, but there is no point in this – when combining pixels, the quality is better.
When it comes to photos in the dark and in low light, again, I'm delighted. Here Xiaomi 12 Pro shoots better than its junior counterpart. The photos are clear, without any digital noise, perfectly detailed. The lens captures enough light, post-processing is excellent. It's a pleasure to look at such pictures, admire for yourself:
ALL PHOTOS FROM XIAOMI 12 PRO IN ORIGINAL SIZE
And here's how beautifully Xiaomi 12 Pro can do it:
I should note that I did not show all the photos here, but took a lot of them, so the maximum number of them in the highest resolution is in our archive.
Night mode turns on automatically, and the phone recognizes the scene and determines its "intensity". And it takes a moment to create a picture, no need to hold the phone without breathing for a long time. If you take a photo in normal mode and forced night mode (takes a few moments, because the phone creates a series of shots with different exposures and then combines them), the difference will not be noticeable, except that bright objects, such as signs, will be clearer. Here are examples, night mode on the right:
Portrait mode is also great, as you shoot, the face comes closer, becomes clear, the background is gracefully blurred. Example:
Photos from the Xiaomi 12 Pro wide-angle module are excellent, there are no significant differences in color reproduction, contrast and exposure when compared to the main camera. Here is a comparison, wide angle photo on the right:
ALL PHOTOS FROM XIAOMI 12 PRO IN ORIGINAL SIZE
By the way, unlike many other phones, there' s no shame in shooting with a wide angle and at night with Xiaomi 12 Pro as the quality will be excellent. Examples:
There is also a telephoto lens that allows you to zoom in twice without losing quality. There is also a more powerful digital zoom, and of excellent quality, even small text remains readable. Here are examples (from 1x to 20x):
The zoom is quite adequate even in the dark:
There is one problem here – there is no macro lens and the wide-angle lens does not have autofocus either, so if you need photos in macro mode (approaching the object up to 2-4 cm), Xiaomi 12 Pro will not help you. And yet, in an expensive flagship, I would like to see, as they say, "full stuff". The usual Xiaomi 12 has a macro module, but the TV is not enough, so there is no such thing as perfection in life.
The smartphone records video in 8K@24fps, 4K@30/60fps, 1080p@30/60/120/240/960fps formats. In 8K, the image is jerky, especially if the lighting is not perfect. Anyway, I don't see the point of using this resolution, the video will be too "heavy", and do you have many 8K screens around? But in other formats, the quality is excellent and the picture is mega smooth (as if you shoot on steadicam). Examples of videos shot in different formats and different conditions are available in this folder. See for yourself if you are interested.
Xiaomi 12 cameras are stuffed with various AI chips and technologies such as Xiaomi ProFocus (smart focus that tracks various movements), Ultra Night Video, Steady Pro and are generally well tuned for video shooting.
The 32 megapixel front camera makes expectedly beautiful selfies with clear, good color reproduction. Even more than that, it's been a long time since I got a smartphone that would take self-portraits that I could not stop admiring. Yes, there are AI improvements, but minimal and delicate. We can't say that the face is too smoothed, but the skin tone improves, wrinkles are slightly smoothed out. I do not even know how to describe what Xiaomi does with the eyes, but they just start to glow! In general, I highly recommend it to selfie lovers.
By the way, if you turn on portrait mode, you get charming photos with a neatly blurred background. Video on the front camera (1080p@30/60fps, 720p@120fps) is also of very high quality, which some bloggers will surely appreciate.
The camera application is standard for MIUI, with all the necessary shooting modes: photo, video, portrait, manual, night, 50 MP, video clip, panorama, documents, slow motion, time lapse, long exposure and double video. Manual mode works with both the main module and the ultra-wide-angle module.
Read also: Redmi Buds 3 Lite TWS Earphones Review: Cheap But High-Quality
Software
The operating system in Xiaomi 12 Pro is Android 12 with an updated version of the proprietary shell – MIUI 13.
Most of the key changes in MIUI 13 are "under the hood", and they are aimed at optimization. The manufacturer itself identifies the following among them:
Liquid Storage – optimized file storage system, increases the efficiency of reading and writing up to 60%
Atomized Memory – optimized operation of RAM, the efficiency of RAM has increased by up to 40%
Focused Algorithms – optimization of processor priorities, increasing the overall performance and speed of processes
Smart Balance – automatically determines the balance between performance and charge usage, the overall battery life has increased by 10%
Among the more ordinary things for the user to note in the new version of the popular shell, you can set up, for example, notifications when the screen is turned off, when the edges of the display are gently highlighted for a while. You can choose the color.
And there is a cool sidebar that can be customized and add up to 10 applications – they can be quickly called from this sidebar right on top of the active window. Moreover, these applications fully retain their functionality, so we get multi-window mode.
If you wish, you can open applications on a split screen, however, not all of them support this mode.
I also like the option to rotate the wallpaper on the lock screen – every time you activate the screen, you see something new, and there is also news on the topic (title-link).
Personally, I liked the OS, I was only annoyed by the new "curtain" by default, which is divided into two parts, quick settings and separate notifications. If you want to see notifications, you go to the settings, you need to swipe notifications in a different direction, in general, I struggled for a few days and returned the standard curtain, and it's good that such an option is available in the settings.
It was also somewhat inconvenient to use the built-in gallery, there are more convenient implementations. In general, it's all a matter of habit.
In general, MIUI 13 is a bright, smooth and thoughtful shell. Even the language does not turn to call it a shell, MIUI looks so different from standard Android that it could be considered an independent operating system. Although it is still Android "under the hood".
Read also: Redmi Buds 3 review: Light and affordable TWS buds
Ways of unlocking
Xiaomi 12 Pro, as befits a flagship device, has a fingerprint sensor built into the screen. The sensor works quickly and clearly, no complaints. And the location is excellent as it's not too low (this approach is rare in smartphones for some reason).
Among the settings there is a choice of recognition method: by simple touching or physical pressing.
There is also face recognition, this is a standard feature for any "googlephone", it works fine, even in the dark. However, as for me, the on-screen fingerprint sensor is much more convenient to use, you just put your finger and use it.
The fingerprint sensor has an interesting side function – it can be used to measure heart rate.
From the Face ID parameters, it is possible to add another face, stay on the lock screen after successful recognition, show the content of notifications only after checking the face and recognition immediately when the screen is turned on for even faster unlocking, but in return, battery consumption may increase slightly.
Battery life of Xiaomi 12 Pro
Usually in pro models, battery capacities are higher by at least 400-500 mAh, but not in this case. In xiaomi 12 it is 4500 mAh, in 12 Pro it is 4600 mAh. That's all. At the same time, you know, the load on the battery is stronger since the screen is larger, its brightness is higher, the resolution is higher (however, you can turn on the standard FullHD, it is activated by default, but it does not significantly affect the battery life), the cameras are more demanding on resources and so on. So do not expect any records. But there is something that greatly brightens the situation. Let's talk about everything in order.
The smartphone provides 4-6 hours of active screen, which is not much. According to professional tests – up to 10 hours 40 minutes of web browsing, up to 12 hours of video playback at medium brightness with a frequency of 60 Hz.
I am a very active user, I almost never let my smartphone out of my hands as I take pictures, use maps, communicate in mail and messengers, write in social networks, write articles and posts, read websites. All this is mostly on the go, so the brightness is maximum. Sometimes I look at the phone more than at the laptop, I also use a smartphone for work. Until the very late evening, the iPhone 13 Pro Max is enough for me. And Xiaomi 12 Pro on the most active days had to be charged 2-3 times. It sounds scary, but not everyone is a maniac like me. For a normal user, 12 Pro will last until the evening. But not always. And, of course, charging every night is a necessity.
And now about the thing that compensates for all this! Super powerful 120 W charging! For the first time I got my hands on a smartphone with charging of such power and, I can say, this is a completely different approach to charging in general!
It takes no more than 18 minutes to charge to 100%. And if your phone has not 0%, but more, as usually happens, then even less. 50% is gained from scratch in 7 minutes. Thus, even if you are a maniac like me, and charge your phone twice a day, it's not a problem at all! Put it on charge, went to the toilet, or boil the kettle, or pet the cat, come back and it's already 100%! With such speeds, the old habit of connecting the phone to the charger for the night goes into the distant past. But naturally – for such speeds you need to use the original bundled adapter. Other, less powerful, or those that support a different charging standard will charge Xiaomi 12 Pro more slowly.
When connected to the charger, the phone shows the level of charge with an accuracy of hundredths of a percent, and these percentages are growing right in front of our eyes. It is so impressive that I even showed it to my guests, and they were also surprised.
I should also note that when I described my delight with 120 W charging in social networks, I received a series of comments like "aren't you afraid to burn down the house". Honestly, such comments make me laugh. There were times when people believed that watching TV would ruin their eyesight, and now everyone regularly looks at the screens and there are no problems. Once everyone was afraid that mobile communication and Wi-Fi would make our brains boil, but nothing boiled and so on. There is only one answer, and it is simple – technology is evolving! Once we used to wash clothes by hand in the river, and now everything is done by a machine. Once the phone needed to be charged for 2.5 hours, now 18-30 minutes is enough. So far, such technologies are the exclusive for flagships, but they will be improved and become more accessible.
And yes, in the process of super-fast charging, neither the smartphone, nor the power supply, nor the socket, nor the cable heats up significantly. And I have not heard a single story about someone's flagship with 100-120 W charging burning down an apartment. If they do, it's simple phones for which owners buy cheap low-quality chargers and that' s the problem. So drop prejudices and open up to new technologies.
Additionally, there is fast 50W wireless charging (but this requires a compatible charger), as well as reverse charging. That is, the 12 Pro itself can generously share battery capacity with another phone, smartwatch or TWS headphone case. The charging speed is 10 watts.
I note that from my bedside wireless 15 W charger Moshi Xiaomi 12 Pro simply… did not charge. It was lying, showing the charge, and overnight it discharged without gaining even a percentage. For the first time I encountered this, apparently, there was not enough power.
Read also:  Xiaomi Pad 5 Review: Excellent Multimedia Tablet
Sound of Xiaomi 12 Pro
The top model of 12 series received 4 loudspeakers. However, if you look at the body, which does not differ from the usual 12-series, you will not notice any peculiarities in this respect, there are two holes for loudspeakers at the top and bottom. But there are two loudspeakers under each "mesh". So they say, I have not disassembled it myself.
The Harman-Kardon inscription hints that the sound will be decent. The sound from speakers is loud, voluminous, it does not deteriorate even at the maximum volume. And the basses are quite pleasantly expressed. It is a pleasure to listen.
Dolby Atmos effects with four presets (dynamic, video, music, voice) and a full-fledged 10-band graphic equalizer with 8 presets and a user profile are available for speakers.
The sound in headphones is of high quality, as well as during phone calls. There are no complaints.
Also from small but pleasant features it is worth noting the qualitative and pleasant vibration, which accompanies various actions and gestures both in the system itself and in many standard (and not only) programs.
Read also: Poco F4 GT Review: It's Not Only About Gaming
Data transfer
There is 5G, Wi-Fi version 6 (802.11 a/b/g/n/ac/6), Bluetooth 5.2, GPS, NFC. Traditionally, Xiaomi has not forgotten about the IR port, through which you can control household appliances, there is a pre-installed application to configure this function. There is also a full set of satellite navigation. Everything works as it should.
Conclusions, competitors
Let's return to the question from the introduction. Is it worth paying $300+ for an advanced model? Yes, if you don't like small screens. In addition, Xiaomi 12 Pro has a screen of gorgeous quality and maximum resolution. Yes, if you need cameras that shoot perfectly both day and night, both photos and videos. Yes, if you want to take full advantage of 120W charging. But that's all.
Other advantages of the model, which also apply to the usual 12, are the latest Snapdragon 8 Gen 1 processor, powerful stereo speakers, perfect build and good design, premium materials and Gorilla Glass Victus display protection, fast wireless charging.
But it was not without its drawbacks. The most important is the lack of protection against water and dust (IP rating). In my opinion, for a flagship in the price category of about $ 900, this should come by default. Wide-angle lens without autofocus and does not allow to take macro shots – again, a minus, taking into account the price. There is no memory card slot and there is no 512 GB version either, so 256 may not be enough for someone.
However, other reviewers in my place called the battery life the main disadvantage. Indeed, for such a powerful device with a high-resolution screen 4600 mAh is not serious. And even too active users may not have enough charge until the evening. However, as a result of a 2-week test, I do not consider this a problem. Because if you spend at least 15 minutes during the day at home and have the opportunity to hook up the phone for charging with the original adapter – and you will not notice that it is quickly discharged!
Can you buy something else for this money, and is it worth it? Let's take a look.
First, the iPhone 13 immediately comes to mind. However, I would not directly compare last year's basic iPhone and the top Android flagship, because these are devices for different people. Those who choose the Android flagship will laugh just looking at the characteristics of last year's basic iPhone. And the one who does not consider anything but iPhone will not look at Android and will not be tempted by their advantages. But the fact remains – you can get an iPhone for the money.
The direct competitor of Xiaomi 12 Pro is Samsung Galaxy S22+. It has advantages in the form of IP68 moisture protection and a more durable battery, and for this it is worth choosing S22+. In addition, it has a beautiful and very convenient OneUI shell, which MIUI objectively does not match. Among the advantages of 12 Pro is super-fast charging, without which you can not imagine your life very soon.
Also among the competitors is the latest Motorola Edge 30 Ultra 12/256. It features ultra-fast charging TurboPower 125 W, an excellent pOLED display with a resolution of 144 Hz. The cameras are outstanding, with the main module having a resolution of 200 megapixels for sharper and juicier shots, and there is also a macro lens, telephoto lens and wide-angle lens. 12 GB of RAM in the basic version is also an advantage. By the way, we wrote a report on the presentation of the new Motorola Edge line in Milan, here is the video review:
Another alternative flagship is OnePlus 10 Pro 12/256 GB. Fluid AMOLED screen, high resolution, 5000 mAh battery with SuperVOOC 80W charging, great cameras marked with Hasselblad.
Another very attractive alternative to the hero of the review is Google Pixel 6 Pro. The version with 12/256 GB of memory is slightly more expensive than Xiaomi 12 Pro, but worth it. You get a well-optimized "pure" Android with long and prompt updates, top cameras, a 5003 mAh battery. And, of course, a top screen, top processor and all that. Except that charging is not as fast.
And another competitor is the top Huawei P50 Pro with a great display and advanced cameras (super-zoom TV, wide-angle autofocus). But this is Huawei, so there will be no Google there (you can install it easily, I talked about it), but there will be a nice own shell. However, there are serious drawbacks – even weaker battery than Xiaomi 12 Pro, last year's chipset without 5G (the result of sanctions).
Read also:
And that's it. As you can see, taking into account the cost, Xiaomi 12 could be called an alternative affordable flagship, but Xiaomi 12 Pro is a successful advanced Pro-flagship, but it has equally strong competitors. And what to choose in the end is up to you!
What do you think of Xiaomi 12 Pro? Maybe this is your smartphone?
You can also help Ukraine fight with Russian occupants via Savelife or via an official page of the National Bank of Ukraine.
Read also: