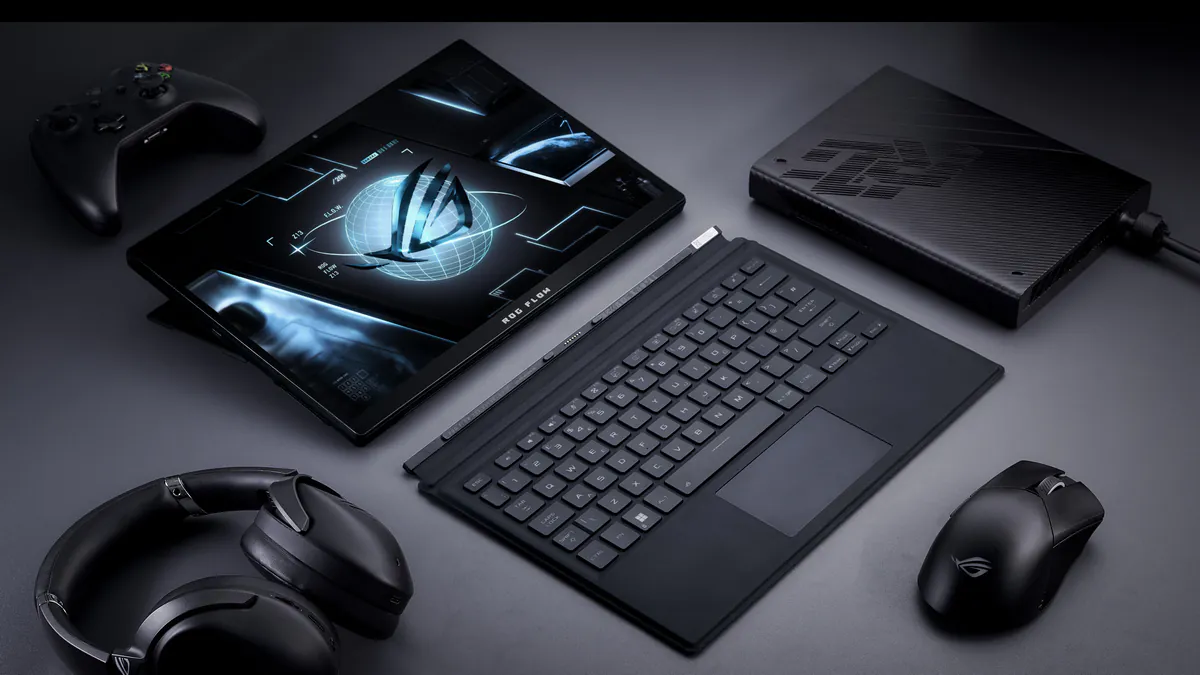 At CES 2022, ASUS presented a new ambitious 2-in-1 ROG Flow Z13 tablet. This is the second device in the Flow series, since last year the company released the X13 ultrabook with quite impressive capabilities. Having achieved one of the leading positions in the market of gaming laptops and desktops, ASUS decided to revolutionize the idea of gaming 'on the go', offering compact devices with super-powerful hardware. One of the features of the series, by the way, was the ability to connect ASUS XG Mobile external graphics cards that made the performance of such solid devices soar to the skies.
In general, we have long been accustomed to the top stuff in laptops. But putting a 14-core Intel Core i9 and NVIDIA GeForce RTX 3050 Ti on a tablet sounds like a challenge, to say the least. Well, let's get acquainted with this tablet 'monster' and its capabilities.
Read also: ASUS RT-AX86S review: Affordable solution for gamers
Specifications of ASUS ROG Flow Z13
Display: 13,4″ FHD (1920×1200) IPS, sensor, glossy screen, ratio 16:10, refresh rate  120 Hz, brightness 500 nits, Adaptive-Sync support, Dolby Vision, stylus, sRGB 1
OS: Windows 11
Processor: 14-core Intel Core i9-12900H (2,5 GHz)
Video accelerator: integrated Intel Iris Xe Graphics + discrete NVIDIA GeForce RTX 3050 Ti 4 GB GDDR6
RAM: 16 GB, LPDDR5
Hard drive: 1 TB PCIe 4.0 NVMe M.2 SSD
Interfaces: Wi-Fi 6E (802.11ax), Bluetooth 5.2
Main camera: 8 MP
Ports: 3.5 combined audio jack, 1×USB 2.0 Type-A, 1×ROG XG Mobile, 1 microSD slot(UHS-II), 1×USB 3.2 Gen 2 Type-C (with support of DisplayPort, Thunderbolt 4 and G-SYNC)
Sound: 2 stereo speakers (Dolby Atmos), 3 microphones with sound suppression
Battery: 56 Wh, 4-element Li-Ion
Dimensions: 30.2×20.4×1.2 cm
Weight: device – 1.18 kg, keyboard – 0.34 kg
Positioning and price
ASUS ROG Flow Z13 can be briefly described as a powerful to-go gaming device. This is a well-packed tablet that is suitable for games or any resource-intensive tasks somewhere on the go.
ASUS calls its ROG Flow Z13 a 'record-breaking gaming tablet' and it's hard to disagree. A quick look at the specifications is enough to draw conclusions about its impressive performance. However, not only the stuffing but also the mobile format of the device is surprising. Based on this, the conclusion of a decent price is self-evident. Yes, today the price of the Z13 in Ukraine starts at about $ 2,300. Let's see how this price tag is justified, and whether it is justified at all.
Buy ASUS ROG Flow Z13 on Amazon
What's in the box?
The delivery set of ASUS ROG Flow Z13 is quite generous and, as always, perfectly packaged. There is a dense box with the device itself inside a large transport box, and in it you can find a stylus and accompanying literature. The package also includes a charger, two cases of different sizes for storing and carrying the tablet and external video card, as well as a wired gaming mouse.
Design of  ROG Flow Z13
The ASUS ROG Flow Z13 is decorated quite authentically, but with the traits of gaming devices. We can say that the tablet design features gamer-like brutality, but modern and to some extent even sophisticated, as dictated by the design of modern laptops and tablets.
The case is made of solid aluminum and has a clever coating that prevents the accumulation of fingerprints. The cover deserves special attention, its design is interesting in its concept. From above you can see unusual figured holes for air intake, complemented the metallic engraving. It is both good looking and useful. In the upper right corner there is a cutout for a non-standard shape camera, which fits perfectly into the design of the tablet.
Below is a hinged footrest for fixing the tablet on the surface. It is not removable and can be opened by 170°, so you can choose the optimal angle for work. The movement of the hinges is quite dense, so the tablet stands confidently in any position and does not try to collapse.
For convenience, there is a 'tongue' on the footrest, highlighted with red plastic, making it convenient to lift in the closed position.
The icing on the cake is the transparent window overlooking the board. For greater wow-effect, the window is highlighted in time with the backlight of the keyboard, no matter which backlight mode is selected. Of course, this looks impressive, in the spirit of gaming gadgets. However, since the window protrudes slightly above the surface of the case, the tablet does not lie flat on the horizontal surface.
Everything in front is more or less predictable. Large screen with front camera in the center and a couple of holes on the sides for light sensors. The frames around the screen are quite neat, the upper and lower edges are slightly wider than the sides, but in general they are small and, thanks to the good ratio of sides, they don't distract attention during work. The name of the model is carefully placed on the bottom frame, but when you fasten the keyboard, the logo is hidden and does not catch the eyes.
Control elements and ports
What ports does ROG Flow Z13 have? On the left we have USB Type-C, which combines Thunderbolt 4, Power Delivery and Display Port 1.4 in one bottle. Below is the proprietary port for connecting the XG Mobile video card, consisting of USB Type-C and PCIe, and a miniature speaker grille.
On the right the are USB 2.0 Type-A, 3.5 mm headphone jack and a second speaker grille. The power button is above the ports with a built-in fingerprint scanner and volume buttons.
At the bottom there are magnetic clamps for the keyboard, and at the top there is a grille and the 'Republic of gamers' inscription .
The microSD slot is interestingly placed, hid under the footrest on the back.
Ergonomics of ASUS ROG Flow Z13
Dimensions of Z13 almost correspond to A4 format – 30.2 × 20.4 cm, but the thickness of the body is 1.2 cm. Given the filling, this is not surprising. The device weighs 1.18 kg. That is, for a gaming laptop, the weight of 1.18 kg (about 1.5 kg if including the keyboard) is quite adequate, but it is too much for the tablet in its usual sense. This explains the peculiarities of its use.
Therefore, the form factor makes it possible to use the ASUS ROG Flow Z13 as a tablet and as a laptop. As a tablet, the almost 1.2-kilogram device looks like a rather controversial decision. Given the mass, it is difficult to hold it in the hands for a long time, unless you fix it on some stop. But here it is important to keep in mind that putting it, say, on your knees or sofa, and running resource-intensive processes is not an option, because you need to leave space for air intake. Connecting a keyboard does not solve the problem, because the removable keyboard does not provide the same rigidity as in laptops. And given the fact that the tablet itself weighs 3 times more than the keyboard, the design is not balanced and not particularly suitable for use.
Another drawback of using the Z13 as a tablet lies in the location of the speakers. Holding the device as standard, with both hands closer to the bottom, you simply close the speakers with your hands. It is best to use the tablet on the table, with the 'leg' extracted, it stands firmly in any position and without a keyboard. And by connecting the keyboard we get a classical laptop variant.
What do we have as a result? ROG Flow Z13 is still better adapted for desktop use, either with a keyboard or without it. This is worth considering if you expect to use the device more often as a tablet, 'on the go'.
Keyboard and touchpad
The keyboard, which acts as a 'cover' for the screen, is attached to the tablet with magnets. On the outside, the keyboard has something like a textile finish, pleasant to the touch, similar to velor. It looks nice, but also collects a lot of dust.
The keyboard is compact, with ASUS Aura Sync RGB backlight, which can be configured in the Armory Crate and Aura Creator utility. The keys have a stroke of 1.7 mm, soft and slightly elastic. For convenience, the keyboard is slightly raised and fixed by magnets on the bottom of the tablet, this way typing is much easier. The touchpad is small, sensitive, and very comfortable to use. The only drawback, apparently, concerns only the touchpad cover, as it gets greasy very quickly. For everyday use or gaming, the keyboard is great, but for stationary use by avid gamers, it will probably be too simple. But nothing prevents you from connecting a different keyboard.
Stylus and mouse
The stylus that comes with the ROG Flow Z13 has a metal body and it should be noted that it is quite heavy. This is achieved not so much due to the material of the body, but through the power supply, since there is an AAAA type battery inside that adds some weight to the stylus.
It has a pair of buttons (top/bottom) and one tip. The stylus of ASUS Vivobook 13 Slate OLED tablet PC, for example, had 4 tips and they were all different. But the purpose of the 13 Slate OLED is different. Here, apparently, the stylus is needed solely as an alternative means of input, not for drawing.
It is nice that the set includes a Strix Impact mouse, today it is a rare 'guest' in boxes with laptops and, moreover, tablets. It is a wired gaming mouse, lightweight, with a symmetrical design, so it can be used with either right or left hand. There is a full-fledged LED backlight (on the logo), and the resource of the buttons is designed for up to 50 million clicks. In general, this is a basic, but still a gaming mouse, so the addition is very, very useful.
Hardware and performance of  ROG Flow Z13 
Now let's talk about the most intriguing part, the hardware, which, of course, is a strategic feature of the Z13. The reviewed version has an ambitious Intel Core i9-12900H, but there is also a modification with the i7-12700H. The i9 has 14 cores (of which 6 cores are high-performance and another 8 are energy-saving), up to 20 computing streams, and the peak frequency (at an average of 2.5 GHz) can reach 5 GHz. The RAM is 16 GB, LPDDR5 5200 MHz, the hard drive is 1 TB SSD M.2. It is noteworthy that the SSD has a separate compartment on the back of the tablet, so if necessary, you can replace it yourself. The wireless interfaces are Wi-Fi 6E (802.11ax) and Bluetooth 5.2, and the tablet runs Windows 11.
Apart from the Intel Iris Xe that is used mainly for simple everyday tasks, ROG Flow Z13 is equipped with a discrete NVIDIA GeForce RTX 3050 Ti with 4 GB GDDR6. An  unprecedented video accelerator for the tablet combined with the most powerful processor gives the ROG Flow Z13 a truly impressive performance in both graphics and games. Of course, the most voracious games are not going to fly on the ultra settings, but the less demanding are going to fly for sure. War Thunder, for example, 'cruised' at the most advanced graphics settings with maximum detail and peaked at 200 fps. By the way, in addition to a mouse and keyboard, you can connect up to 4 wireless controllers to the ROG Flow Z13 and go and hack with friends.
A few words about cooling. In the Z13, the cooling system is multi-component and thought out perfectly. It combines a pair of coolers, an evaporation chamber and liquid metal on the processor instead of thermal paste, which together allows you to effectively deal with heat under heavy loads. By the way, during the so-called office use, the sound of the fans is not heard at all. The noise of the coolers is heard as soon as the 3050 Ti is turned on, it is audible, but not intrusive and does not distract at all.
To sum up, the Z13 is a productive mobile station for a variety of tasks, from work or creative to gaming. And this is without connecting an external graphics card supported by the Flow Z13, which we will discuss in more detail below.
Read also: Office 2021 Review. Is It Worth Buying? Find out Now!
External XG Mobile 2022 graphics card
The 2022 version of the ROG XG Mobile external graphics card also came to our review. Last year, ASUS released the ROG XG Mobile GC31 (with RTX 3070 or 3080) to the ROG Flow X13 laptop, so ROG XG Mobile (2022) can technically be called its sequel. Externally, everything is the same, but the filling is different.
Only one modification of the Z13 implies the presence of an external accessory in the kit, in other cases you will have to buy it separately and it will cost about another $1200. Let's just say that the tablet already has a rather serious GeForce RTX 3050 Ti on board, and with the ROG XG Mobile Z13 it gets the top-end Radeon RX 6850M XT with a frequency of up to 1.8 GHz. If the built-in RTX 3050 Ti does an excellent job with games in Full HD, then the 6850M will runs games with much more zeal, and even in 4K. However, it will also come in handy when working with graphics, rendering, and for other resource-intensive processes.I suggest comparing both cards in the popular benchmarks PCMark 10 and 3DMark. Here's what we get with the GeForce RTX 3050 Ti.
And this is what we get when we connect ROG XG Mobile.
The total is 4481 points against 11137 in 3DMark and an average of 5667 points against 8487 in PCMark. It is noteworthy that in the 'Digital content creation' section of PCMark, the Radeon RX 6850M XT outperforms the RTX 3050 Ti by almost two times, which will give food for thought not only to gamers, but also to graphic content creators.
And let's talk a little more about the XG Mobile itself. The case still has a stand for vertical installation and a backlight in the cooler grille. ROG XG Mobile weighs almost as much as the Z13 itself – 1.2 kg.
Nothing has changed in the connectors since the last generation: HDMI 2.1, DP 1.4 (with G-SYNC), RJ45, 4 ports for USB 3.2 Gen 1 Type-A, an SD card reader and a power connector. That is, with ROG XG Mobile we get not only a performance boost, but also a stack of additional ports. An external card is connected using the same proprietary connector, consisting of USB Type-C and 8-line PCIe, which is firmly fixed by the side 'ears'. The massive 'plug' has a switch with two positions (on/off). It is worth noting that the proprietary connector of last year model and the new XG Mobile are identical, so the Z13 (and X13, respectively) can use both.
In general, XG Mobile is a cool and promising thing. External video cards are far from a curiosity today, but they are practically never found in such a compact format. This is a truly mobile card that you can easily throw into your backpack and take with you. Everything about it is great, except for one factor – a connector that is compatible with only two ASUS devices. It is clear that over time the Flow series will probably expand, and the topic of isolated ecosystems is very relevant today, but so far XG Mobile remains a narrowly focused product.
Read also:
Display
Here we have a touchscreen and glossy 13.4-inch IPS panel with FHD (1920×1200) resolution, 16:10 aspect ratio, 60/120Hz refresh rate, and up to 500 nits of brightness. The official website also talks about a version with a 4K screen, but with a refresh rate limit of 60 Hz, but whether it will be presented on our market is not yet clear. However, 4K in a 13.4-inch tablet is rather controversial.
The ROG Flow Z13 display covers 100% sRGB color space, supports Adaptive-Sync and Dolby Vision, and there is also HDR. You can use it with your fingers or with the included stylus.
In general, the screen is, of course, very cool. Bright, smooth, with rich color reproduction and very wide viewing angles, the colors are not distorted even at a deviation of almost 180°. It is extremely good for games and graphic content, not to mention text content. The 'visuals' are going to be pleased.
Cameras
There are traditionally two cameras here. The main one has a resolution of 8 megapixels, shoots photos and videos in Full HD (1080p, 30 fps). The resolution of the front camera is not stated, but it takes pictures and shoots in HD (video up to 720p, 30 fps). The application has an HDR mode, a timer, a Pro mode, a barcode scanner, and a panorama mode is also provided for the main camera.
What can you say about the cameras in a powerful gaming tablet? Of course, this is not a priority parameter, so the cameras are more of a formality. The rear module focuses for a long time, and taking into account the fact that the tablet still weighs something, keeping it motionless is a task with an asterisk. In general, it is unlikely that you are going to take pictures with it, it is easier to do it on a smartphone. The front camera obviously has a low resolution, it produces a lot of grains and its strategic maximum is to be used for video calls, nothing more. However, no one expects something outstanding from a camera in devices like the ROG Flow Z13. There is a camera, so okay.
Sound and microphones 
Z13 has stereo speakers, which are located at the bottom on both sides of the display. Support for Dolby Atmos technology is considered to be a good manner, and it could not have done without it here, of course. The sound is quite good, but for a device of this segment it could be better. The speakers are moderately loud, the sound is quite clear, but not voluminous, since we are not particularly indulged with bass.
In general, there speakers are more than enough for movies and YouTube, but for music and, of course, games, a headset would be the best option. And for voice transmission, the tablet has an array of three microphones with intelligent noise reduction technology.
Battery life of ROG Flow Z13
The ASUS ROG Flow Z13 case housesa 4-cell 56 Wh lithium-ion battery. Given the powerful stuffing, you can not expect high autonomy from it. For example, watching videos at 70% brightness makes the battery last up to 5 hours. At maximum brightness, the battery life is reduced to 4 hours. But in games, the average battery life is limited to 1 hour. In general, with the help of the Armory Crate utility and power consumption settings, you can increase the operating time by cutting performance, but you still won't be able to achieve a record increase in autonomy. Therefore, when you go out to play, do not forget to take your charger with you.
The tablet is powered by a 100-watt charger and it will take about an hour to fully charge, just like the average smartphone.
Conclusions
ASUS really managed to create a truly gaming tablet in an original design, with a very cool screen, a top-end processor, a decent graphics card, which, among other things, can be upgraded with an external graphics card. With performance that's truly unmatched by tablet standards, ROG Flow Z13 will appeal not only to gamers, but also to content makers and anyone who needs a powerful yet mobile device. And, of course, it is impossible not to note the complete set: it has everything just out of the box, from a bag-case to a stylus and a mouse.
The Z13 format gives a lot of freedom in its use. Work on it with your fingers or a stylus as on a standard tablet, if you like; connect a keyboard and mouse and get a laptop, if you wish;add a monitor and use it as a portable PC, if you want. Or even use it as a game console with a screen by connecting up to 4 controllers to it. The range of applications is really wide, everyone can find their optimal use case. However, this is not without some  caveats.
Given the format and gaming focus, it was not possible to achieve decent autonomy. For simple tasks like watching videos and surfing, it can be called sufficient, but for games, only 1 hour on a full charge is frankly not enough. Plus, there are a number of questions about the sound quality and ergonomics during using it in hands. And, of course, we can not ignore the issue of price. Sacrificing transformability and mobility, for this money (especially considering the cost of ROG XG Mobile) you can buy a powerful laptop that is not inferior in performance, but in some ways superior.
As a result, ROG Flow Z13 is seen as an extremely ambitious, but still a niche product for a narrow range of consumers. This is a mobile and incomparably powerful tablet for gaming and graphics at the price of a good laptop, with a number of design pros and cons.
Where tu buy
You can also help Ukraine fight with Russian occupants via Savelife or via an official page of the National Bank of Ukraine.