Despite disagreements with the United States, the Chinese giant Huawei is doing well, and the company is actively expanding its range. Now Huawei is moving from phones, watches, laptops to more serious devices. The first Huawei Mate Station S desktop PC was released in China at the beginning of the year, and in August in Europe. Huawei Display, the first monitor of the Chinese company, was announced in February. And in early August, two more impressive models entered the market – the curved Huawei MateView GT for gamers and the incredibly stylish Huawei MateView for office and home work. We have been testing the latter for the last couple of weeks, and we are ready to share our impressions.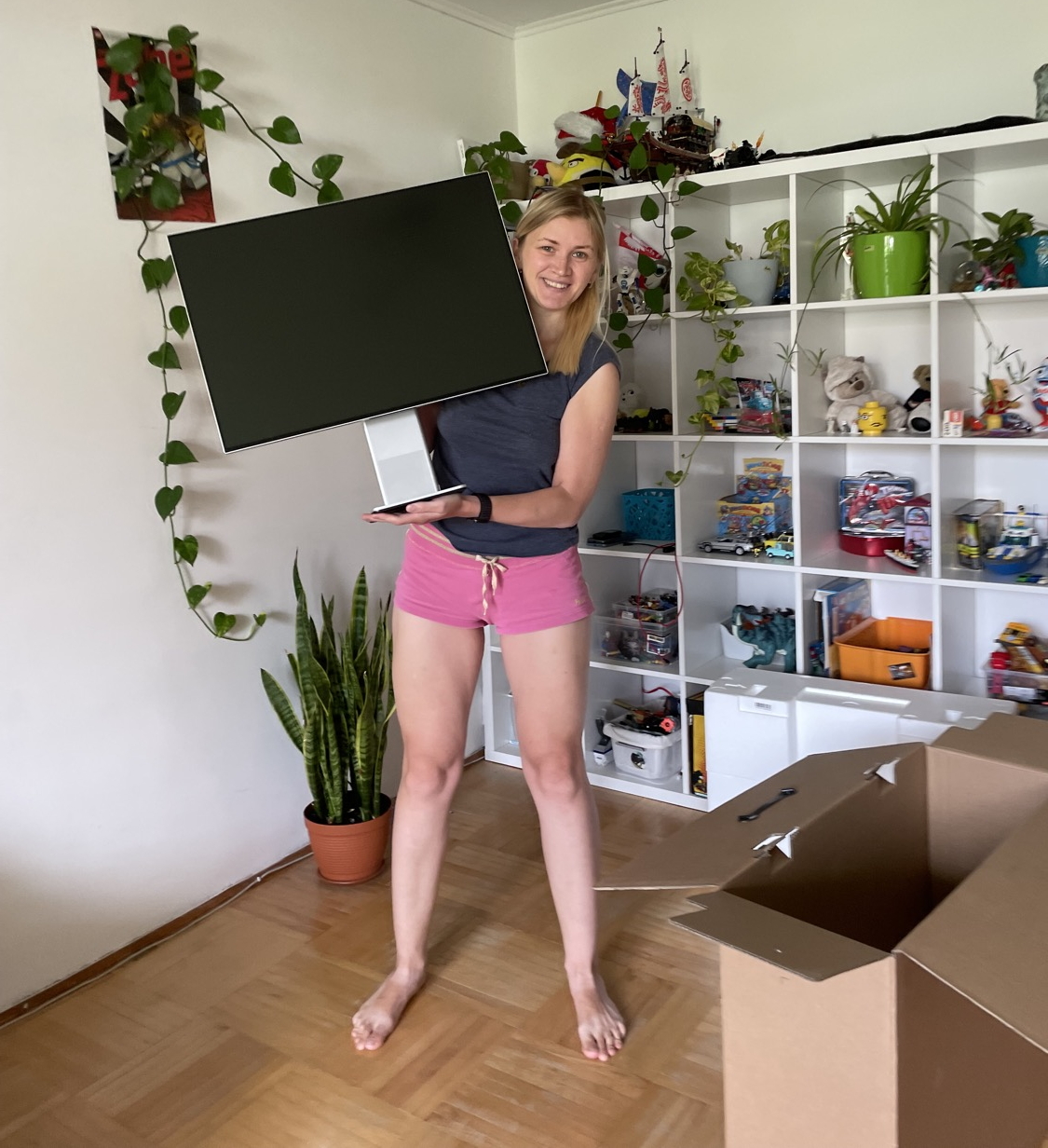 The Huawei MateView is an impressive 28-inch monitor with an unusual 3:2 aspect ratio and minimalist design. It will seem expensive to most (699 euros in Europe), but if you can afford something like that, you definitely won't regret it. The monitor is well equipped, offers a beautiful picture and looks very, very good. A real flagship model.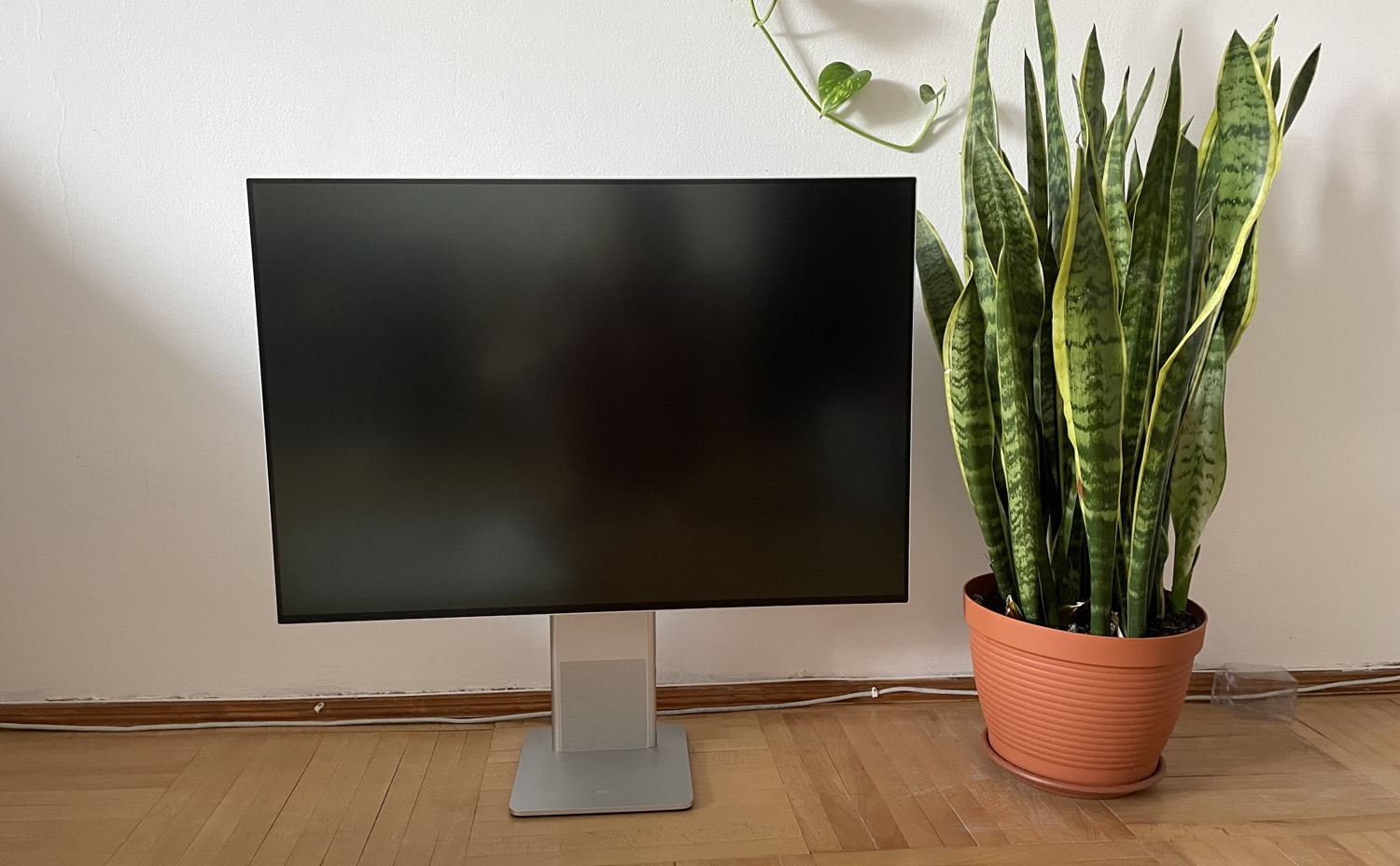 Full specifications of the Huawei MateView
Model
Huawei MateView HSN-CBA
Panel type
IPS with W-LED backlight
Display screen coverage
anti-reflective
Screen, inches
28.2
Aspect ratio
3:2
Resolution, pixels.
3840×2560
Response speed, ms
8
Refresh rate, Hz
60
Brightness, cd/m2
500
Static contrast
1200:1
Viewing angles, degree
178
Number of colors displayed
1.07 billion
Color range
98% DCI-P3 / 100% sRGB
Screen-body ratio
94%
Other
DisplayHDR 400 certification, 65W USB-C output, Smart Bar control, wireless connection to devices, TUV Rheinland Low Blue Light and TUV Rheinland Flicker Free certificates, mouse and keyboard connectors
Interfaces
2×USB 3.0 (Type-A)1×HDMI 2.0

1×3.5 mm for microphone or headphones

1×DisplayPort 1.2 (mini)

1×USB (Type-C; 135W; power supply only)

1×USB (Type-C; 65W; DP Alt Mode)

Wireless connections
Wireless projection, WLAN band 2.4 / 5 GHz, Bluetooth 5.1
Audio
Stereo speakers 2×5 W, two microphones (can catch sound from a distance of up to 4 meters)
VESA bracket support
No
Stand
Height adjustment, mm
110 mm
Tilt, degrees
-5…+18
Rotation in horizontal and vertical planes, degrees
No
Dimensions of the case with stand (max. height), mm
608.4×481.1×182.0
Weight with stand, kg
6.2
Device page on the manufacturer's website
Huawei MateView
Read also: Huawei MatePad 11 review: Testing the first HarmonyOS tablet
Main features, positioning, price
The 28-inch monitor market has more than enough models. There are a lot of quality models. But if we take into account the models with a 3:2 aspect ratio, the choice is quite small. And here Huawei has every chance to gain a strong foothold and achieve success.
The Huawei MateView has a 4K display with a resolution of 3840×2560 and a size of 28.2 inches, DCI-P3 color space, and VESA DisplayHDR 400 certification. This means that the device can be a good choice for those who work with video and graphics. Huawei also states that each monitor in factory conditions is tested for correct color reproduction.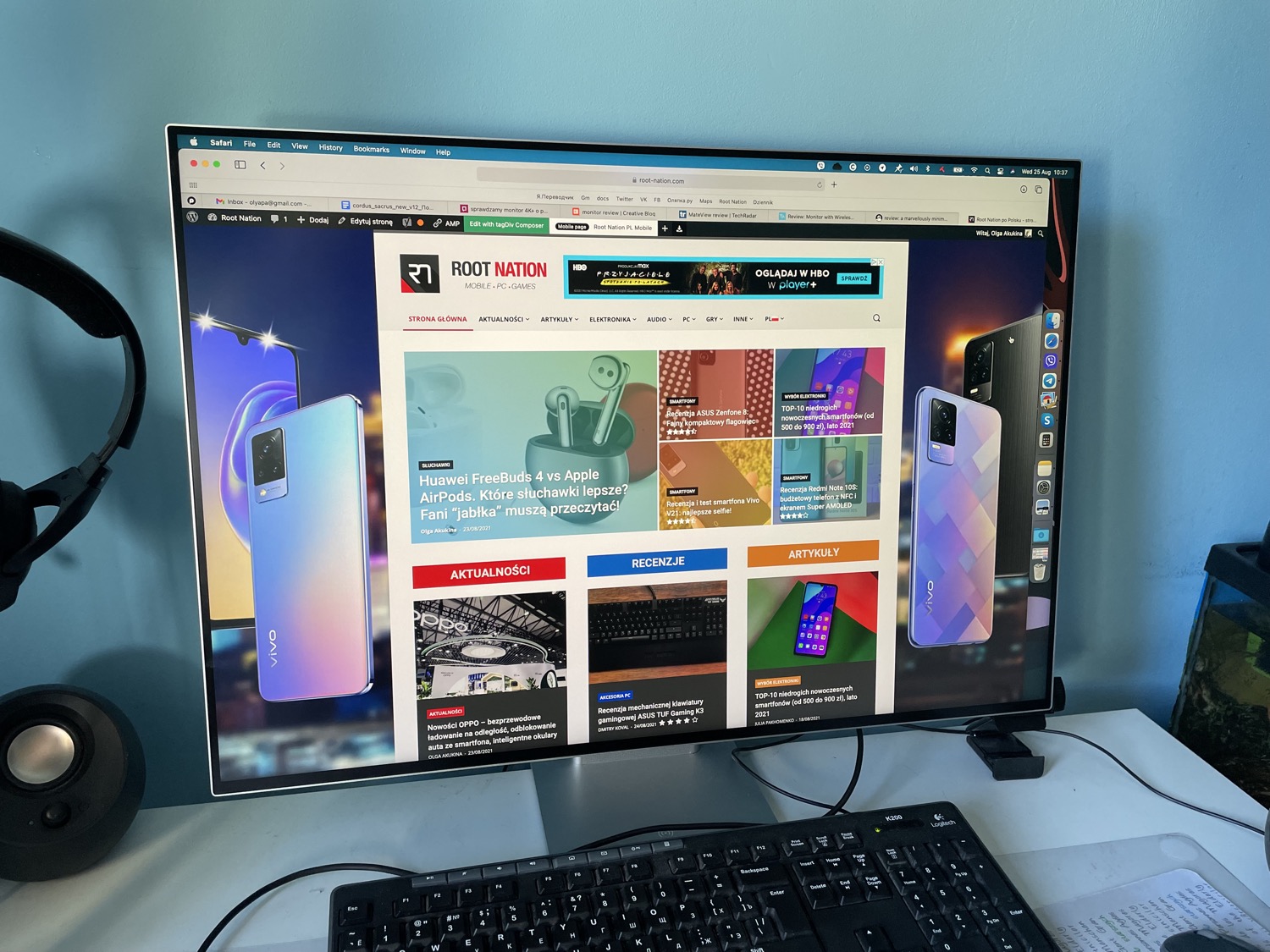 Without FreeSync, high refresh rate and reduced response time, MateView is definitely not a choice for gamers, the MateView GT is a better choice for that.
This monitor (specifically HSN-CBA model) also has wireless connectivity. You can buy a model without it, but in Poland (where we got the device for the test) only HSN-CBA is available. However, in order to try this great feature, you need to have a Huawei smartphone. If you, like us, do have it, there are good wired options – USB-C, HDMI, MiniDP. There is also a built-in speaker. As well as a USB-C output for charging a laptop or phone with a power of 65 W.
It was best to pre-order. For example, in Poland it used to 2,500 PLN + Huawei Watch GT 2 Pro watch worth PLN 899 as a gift, and now the full price is 2,999 PLN. So if you're serious, then read the review and order it as fast as possible. When I shared my initial impressions with pals, my friends were saying "how expensive" every time. And it's about the promotional price!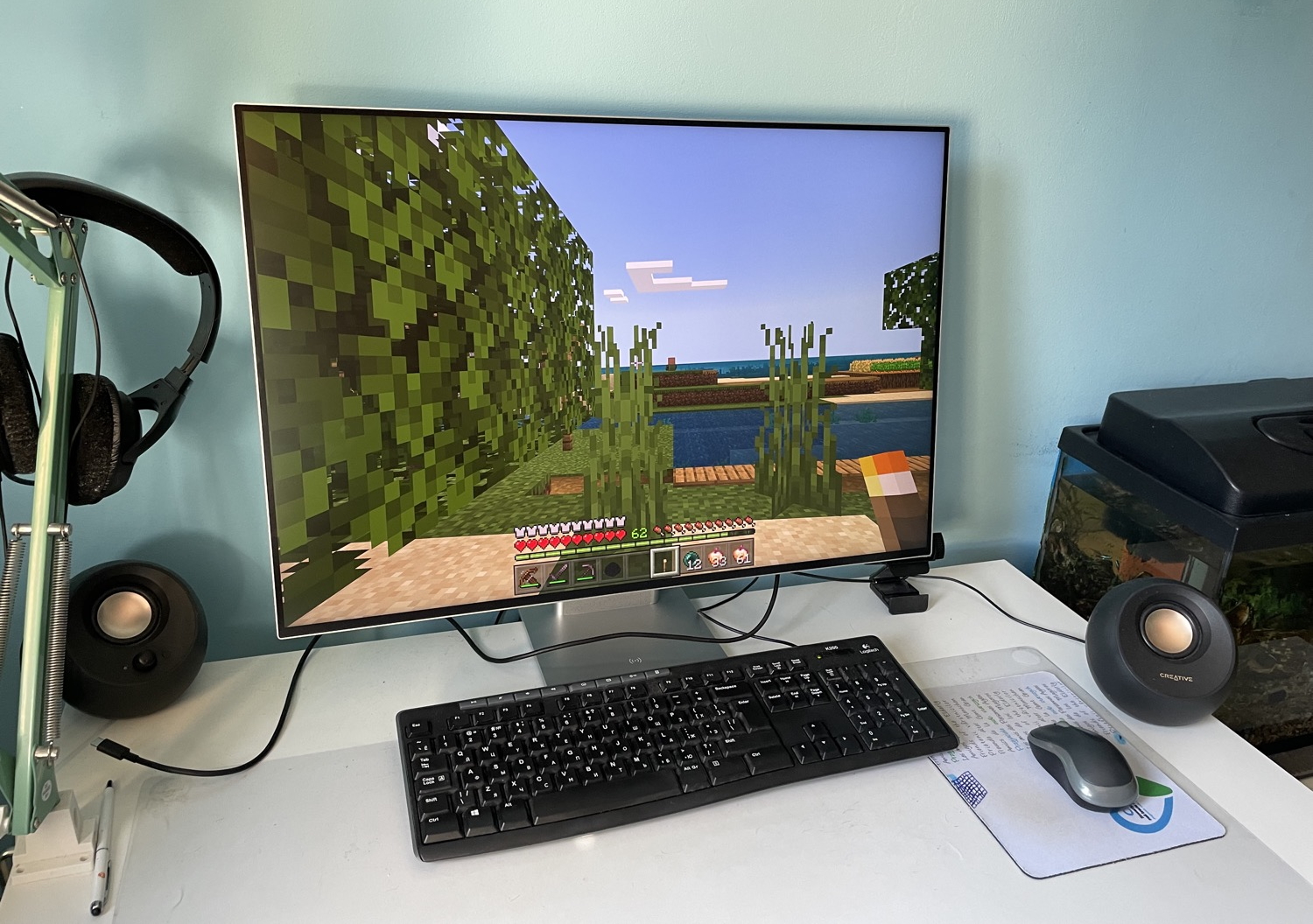 Read also: Realme 8 vs Redmi Note 10S: Budget smartphones head-to-head
What's in the box
In addition to the monitor itself, in the box you will find a separate cable box – DisplayPort – miniDisplayPort, USB-C – USB-C, as well as a power supply (not a very large black box with detachable wire and USB-C connector). If you want to use HDMI, you will have to find your cable.
Design
Everyone who came across the Huawei MateView (even in my photos on social networks) commented on how beautiful he was. There is hardly anyone who will not like this device in a silver case (partially aluminum) with a minimalist design. The thickness of the body is 9.3 mm in the thinnest part and 13 mm in the thickest! However, there are also many who, looking at MateView, will immediately remember the products Apple. But for me it's quite original.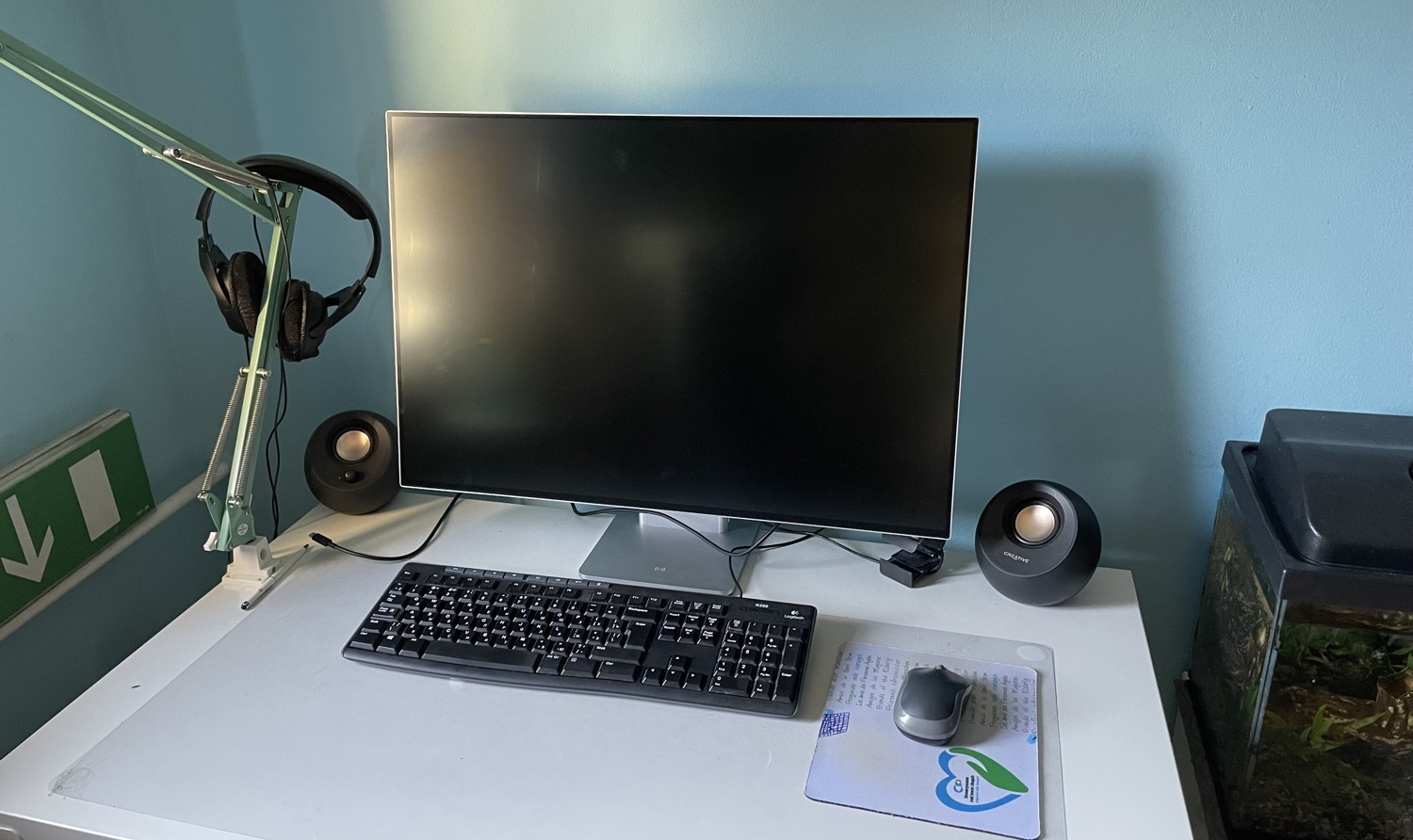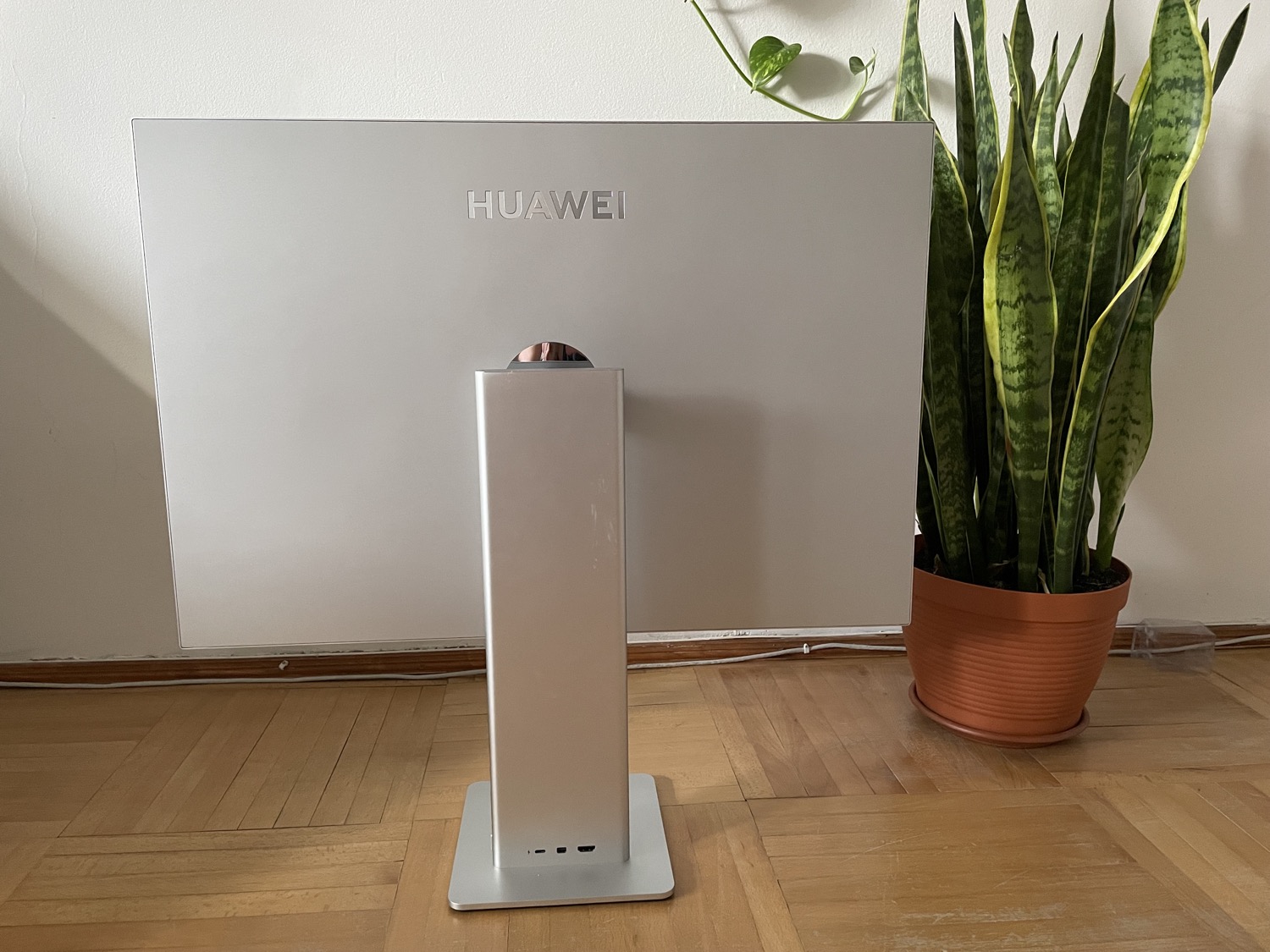 There is only one color – Mystic Silver. Most of the body is made of high-quality plastic that's so pleasant to the touch, it can even be confused with metal. The display edges is aluminum. Its surface is polished, the metal is a little rough to the touch.
The screen frames are very narrow (6 mm in the thinnest places, 9.3 mm at the bottom, screen-to-body ratio is 94%) and do not protrude over it, due to which MateView wins against the background of all dull black monitors with "old school" design. The monitor is thin, the stand is also thin and oversized.
There is a wireless icon on the stand. It contains an NFC module. If you put your Huawei smartphone there, the image from it will be transmitted wirelessly to the monitor.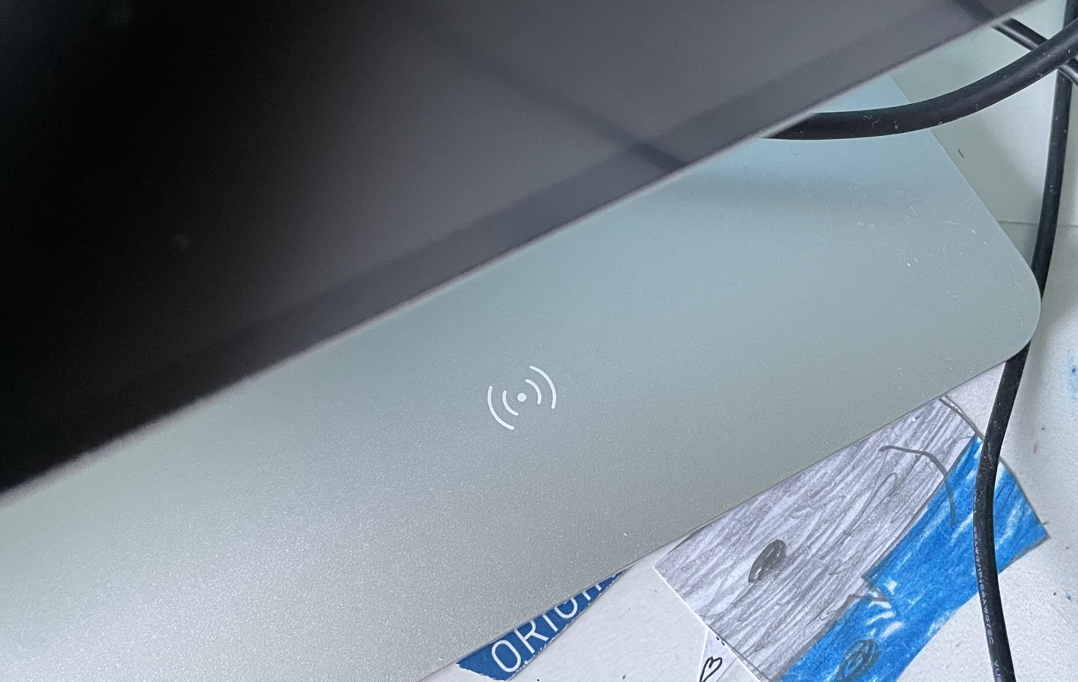 You can also see a 5-watt stereo speaker grid not far from the built-in microphone.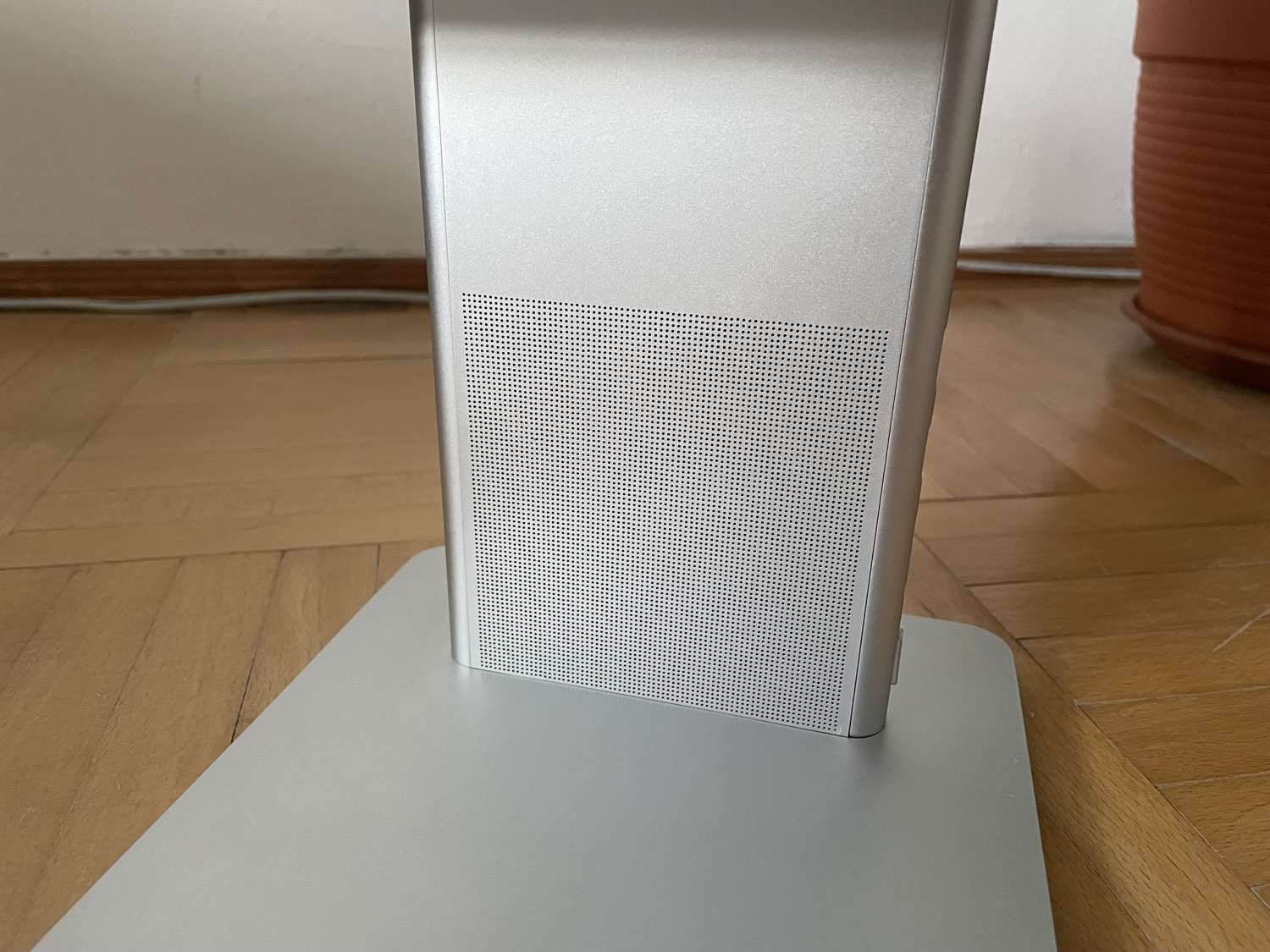 The monitor is adjustable in height. The height above the table can vary from 7 to 18 cm. To be honest, with my desk I would like to lower it, not raise. The screen is also adjustable in tilt levels from -5 to 18 degrees, it will not be difficult to find a comfortable angle for you. But there is no horizontal rotation of the screen.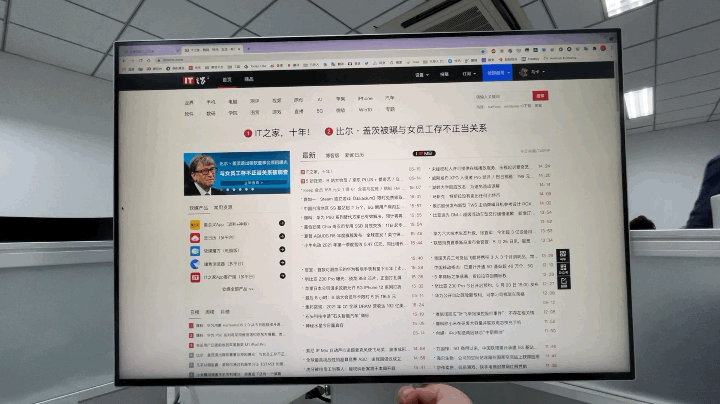 There is no support for VESA brackets either, which is likely to upset anyone.
Also, the built-in webcam would be appreciated, as my usual Logitech looks so-so with such subtle screen bezels.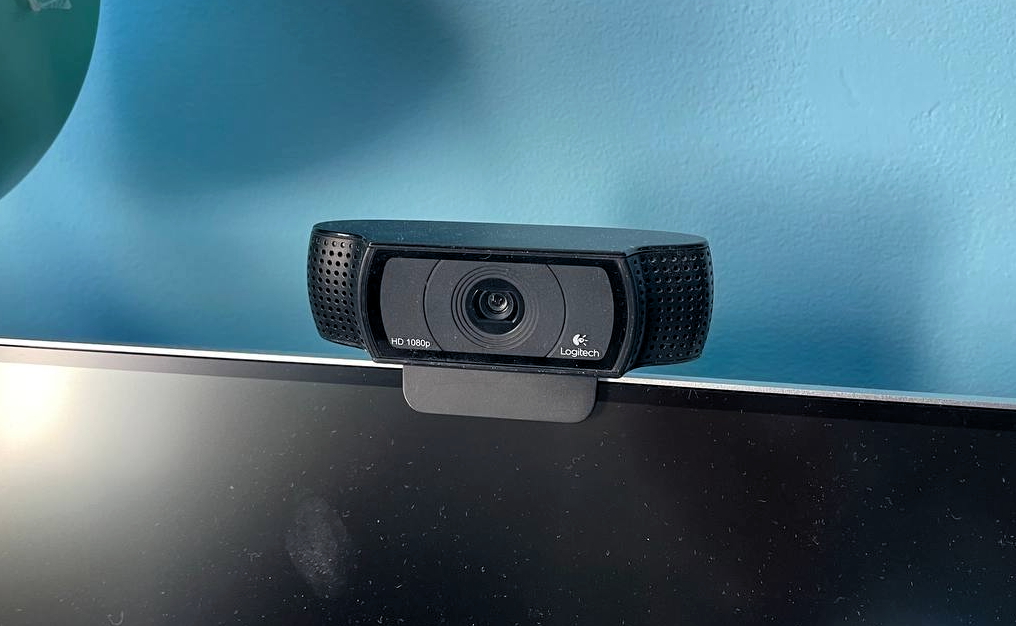 The stand looks minimalistic, but very stable, the monitor will not shake if accidentally touched, and it does not slip. In general, the design of the monitor and stand itself is one of the strengths of the Huawei MateView.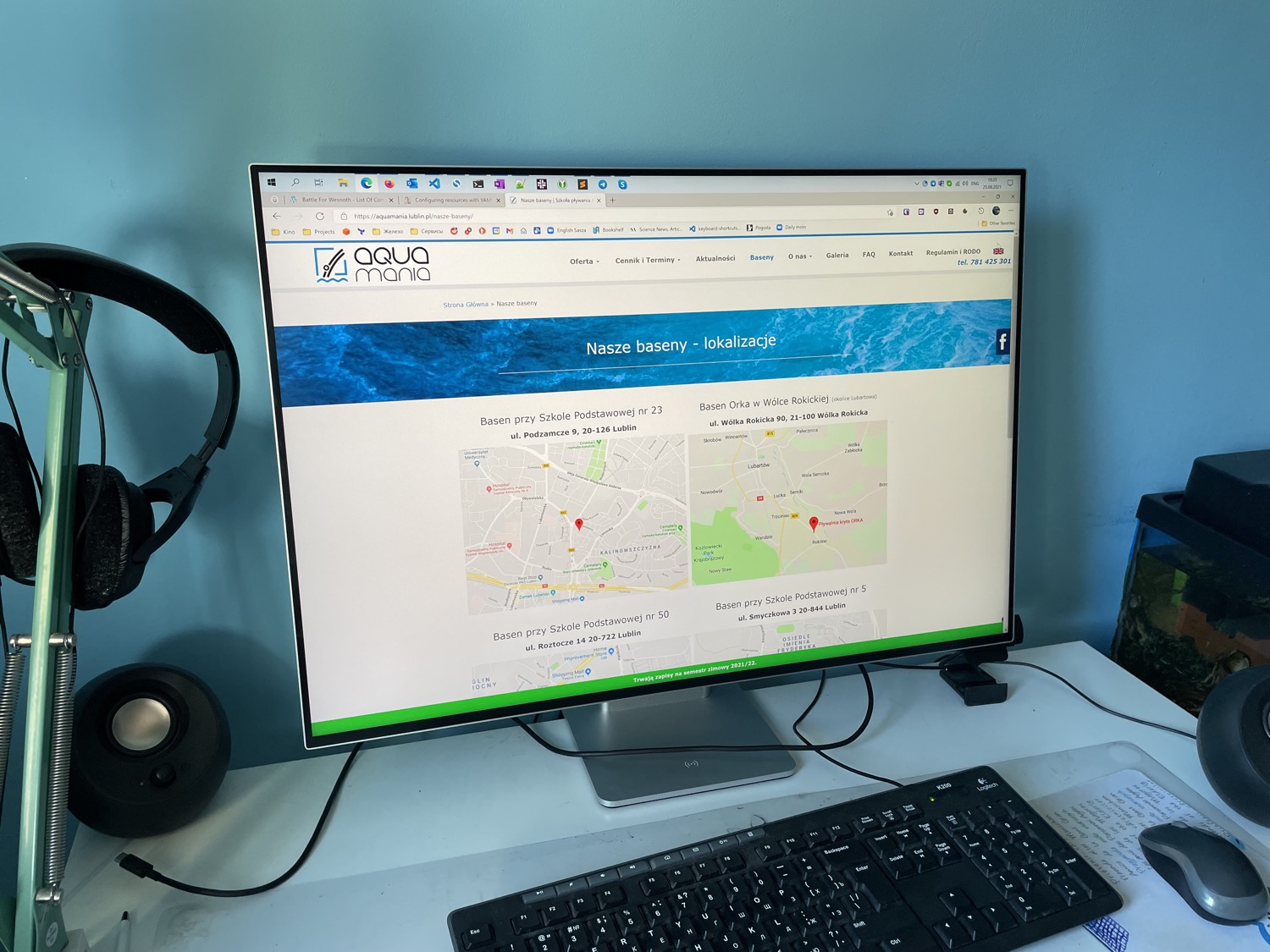 Read also: Huawei Watch 3 Pro review: premium smartwatch running HarmonyOS
Connection interfaces
The MateView is equipped with all standard ports. The desktop PC can be connected using HMDI, Mini DisplayPort or USB-C. These connectors, with the exception of USB-C, are located on the "back" of the stand at the bottom. There is also another USB-C, but it is designed exclusively for connecting the power supply. But the side USB-C can be used to "recharge" laptops, phones, or data transmission.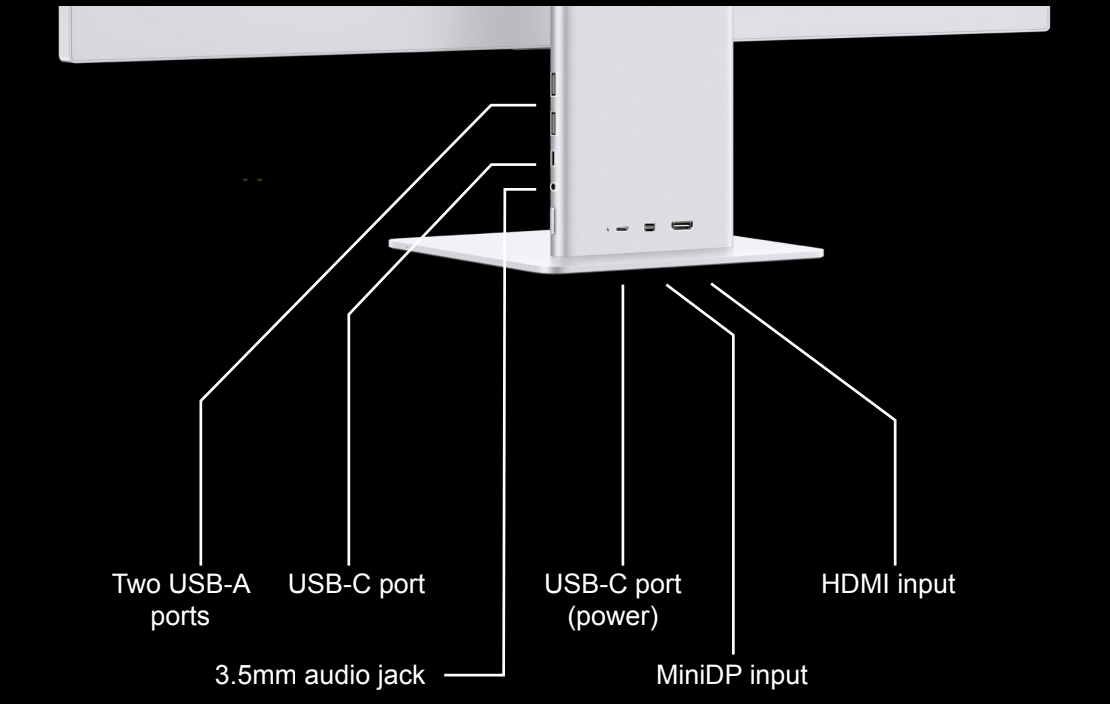 The side position of the connectors might cause you some issues, because the wires cannot be carefully hidden. But it's a matter of taste.
All connection methods support a fairly non-standard resolution of 3840×2560, but only USB-C and MiniDP work with a full refresh rate of 60 Hz. HDMI 2.0 supports a maximum of 50 Hz. There is no G-Sync or FreeSync here, so the monitor is definitely not for gaming.
There are also two USB-A ports and a 3.5 mm connector on the side of the stand. If you connect a keyboard or mouse there, you can conveniently use them, and the monitor also works as a USB hub.
If you don't want to mess with cables, you can use the above-mentioned wireless connection function via NFC and Bluetooth. But it's for those who have Huawei smartphones. I put it on the stand – and it's done. Alas, we had nothing to test it on.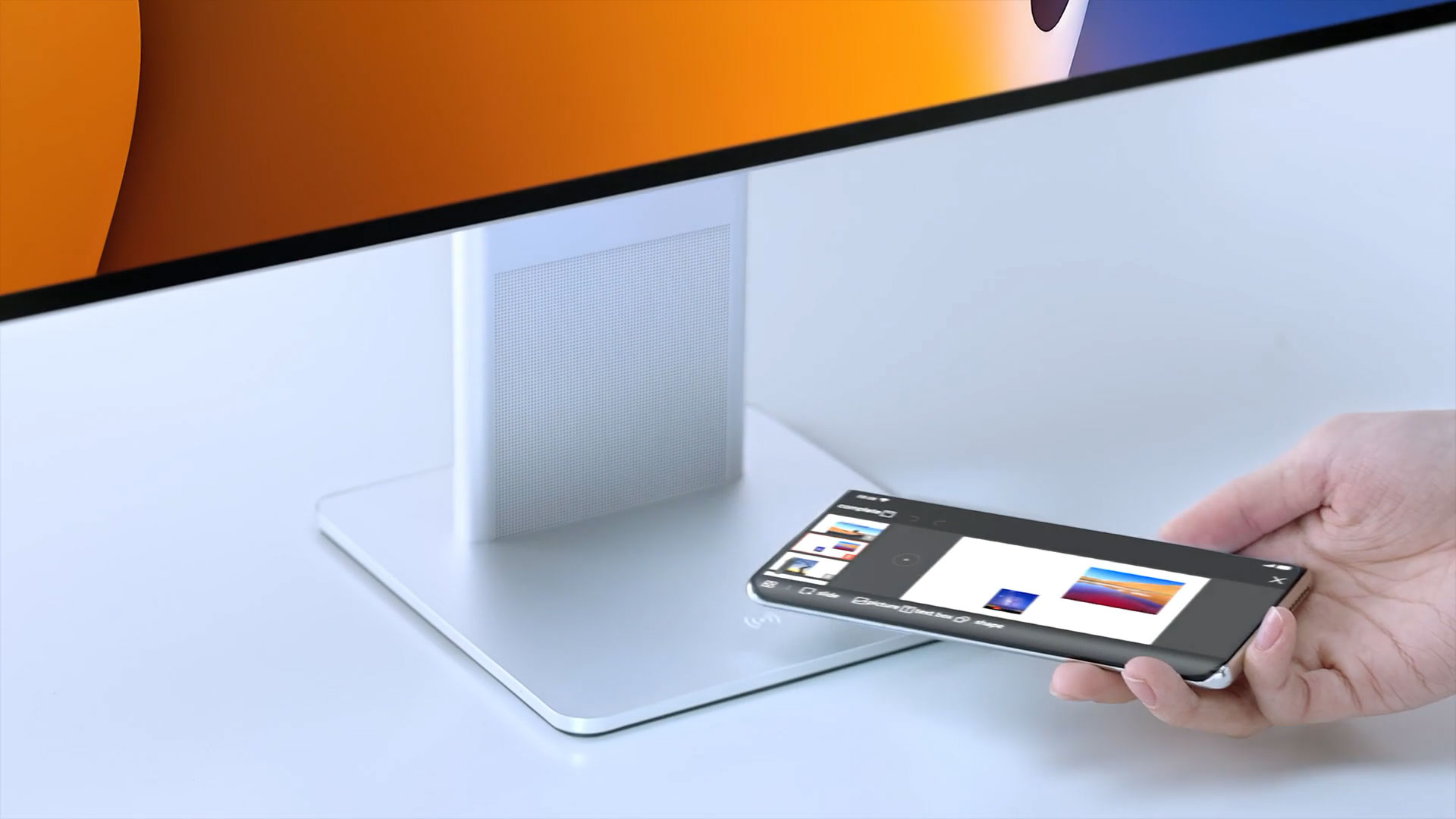 You can connect the mouse/keyboard to the monitor, set up wireless networks and connect to the phone. It is also possible to remotely configure Huawei MateView using the Huawei AI Life application, possibly known from Chinese brand headphones.
There is also support for the Miracast protocol, with which the contents of the Android smartphone screen or Windows laptop can be transferred to the monitor. However, the connection will not be particularly stable. MateView also supports DLNA for fast content playback. In general, all these wireless features are good, but it's clearly for the short-time projection of the image on the monitor, not for constant operation. Moreover, it should be borne in mind that when transmitting data wirelessly, the image on the monitor is limited to 2K resolution.
Read also: Huawei FreeBuds 4 review: Improved TWS earbuds with familiar design
Huawei MateView in work
The monitor offers quite typical characteristics for its price range. Huawei paid great attention to the accuracy of MateView color reproduction. The monitor boasts 98% of the DCI-P3 color space with DeltaE less than two and the ability to use 100% of sRBG space with DeltaE less than one. Combined with HDR400 certification and peak brightness of 500 nits, you get a beautiful display for all types of content.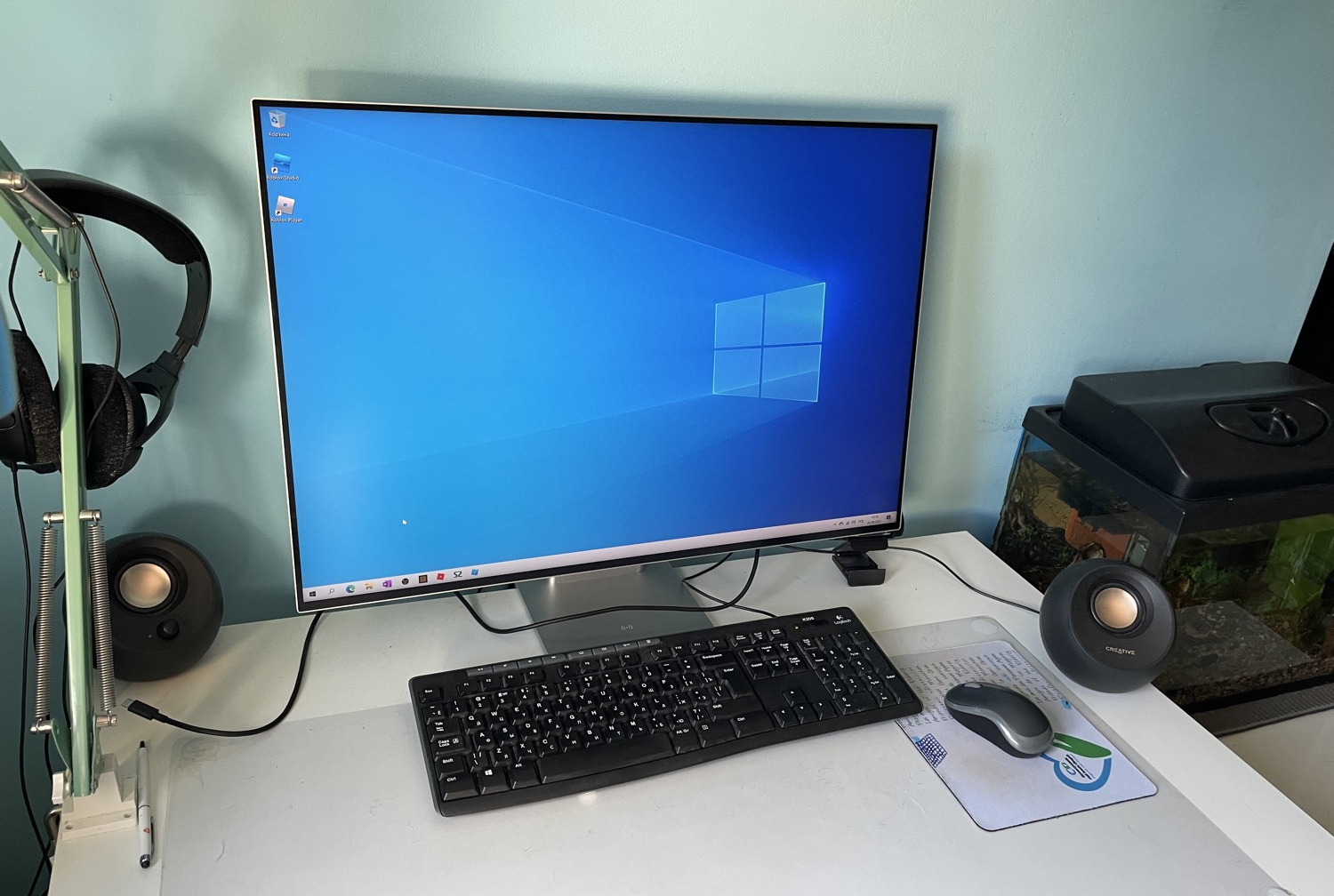 Perhaps other reviewers will have a different opinion, but I think that the MateView is incredibly good. The picture is great. First of all, it's very clear thanks to the resolution. After my Full HD monitor, it's just heaven and earth! I wanted to throw it out of the window and stay with the MateView.
The viewing angles are great, no distortions at all. The backlight is uniform (with small dimming in the corners, barely noticeable). By default, the colors are juicy, but realistic, and the picture can be adjusted to your liking. The image is uniform, I couldn't find any dark or light spots.
The screen coating is matte, but not that very effective. If bright light falls on the monitor, there will be glare, blurred reflections. In most cases, it helps to twist the brightness to the maximum. It is good – 500 nits. Yes, bright, but on a bright sunny day (I work right by the window) it helped to cover the blinds.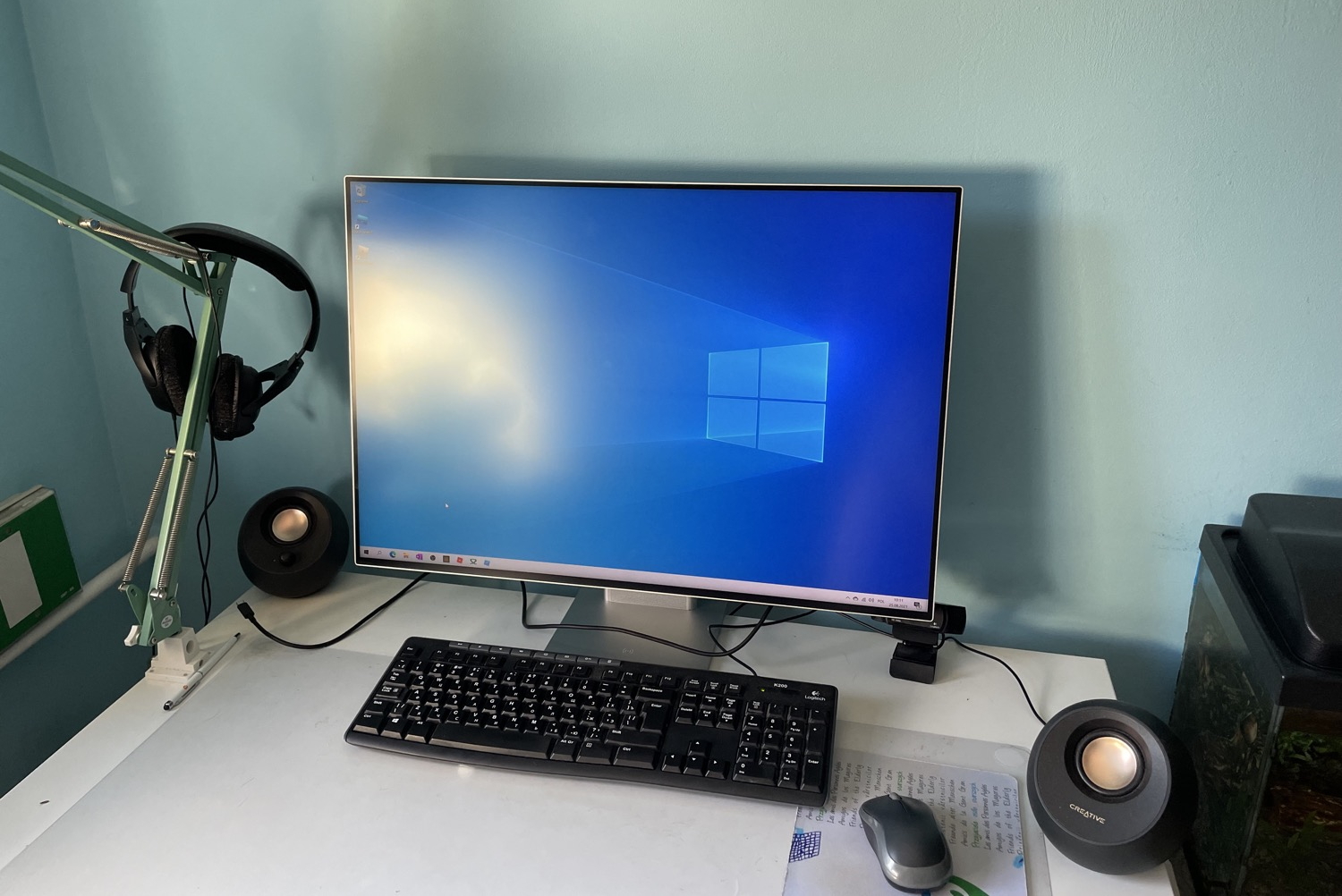 In general, the monitor is more than ideal for normal office work. Do not forget about the non-standard aspect ratio 3:2. Many people asked me if it was convenient when the screen was so high. What can I say – yes, it's terribly convenient! I work with texts, often look for information on the internet, and a lot fits on the screen. Here's one of the comparisons from the Internet – 16:9 vs 3:2. As you can see, the MateView display fits about 18% more useful content.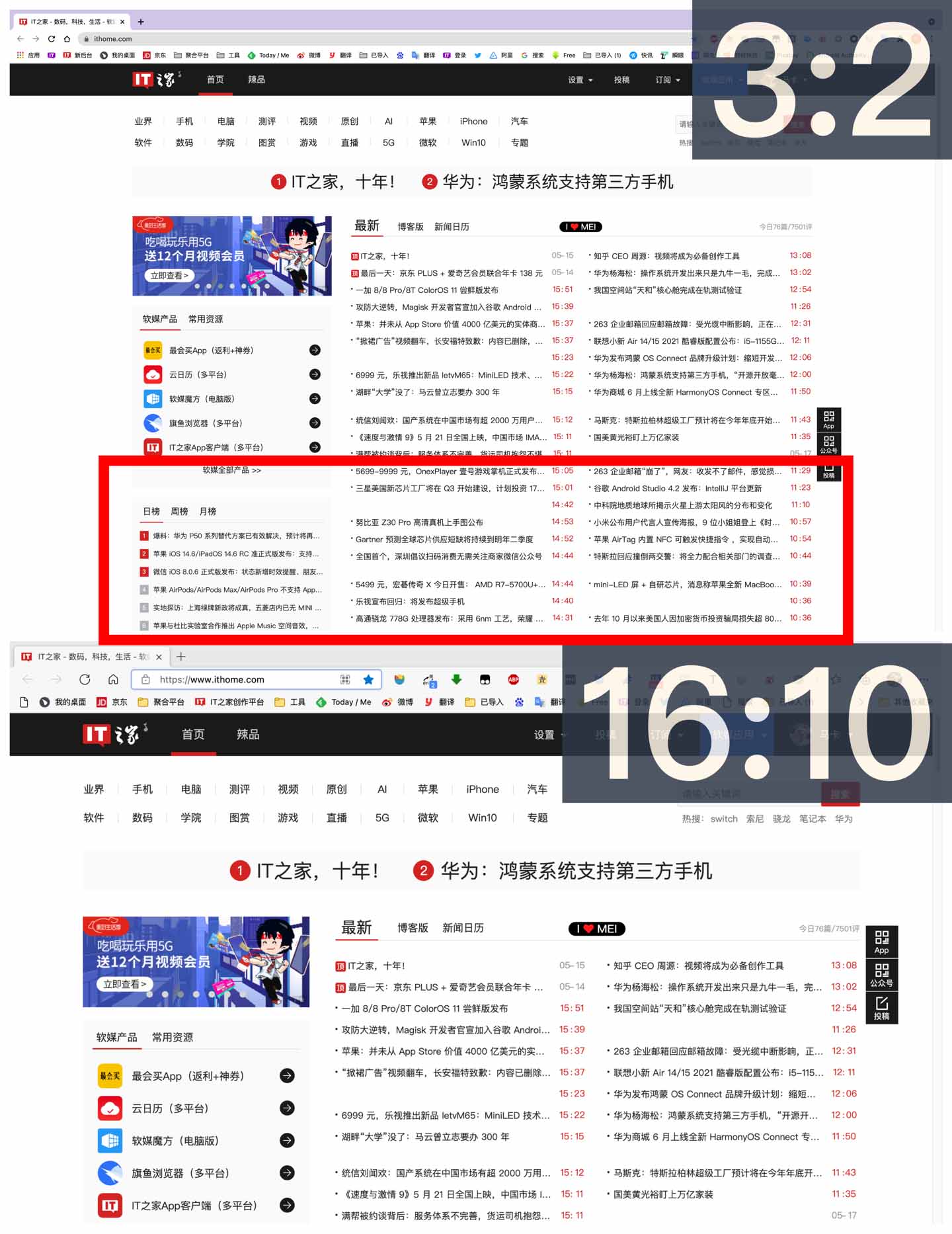 Here's my comparison: when reading the review on the screen of my MacBook Pro 13′′, I see one photo and a paragraph of text. There's much more information on the Huawei MateView monitor!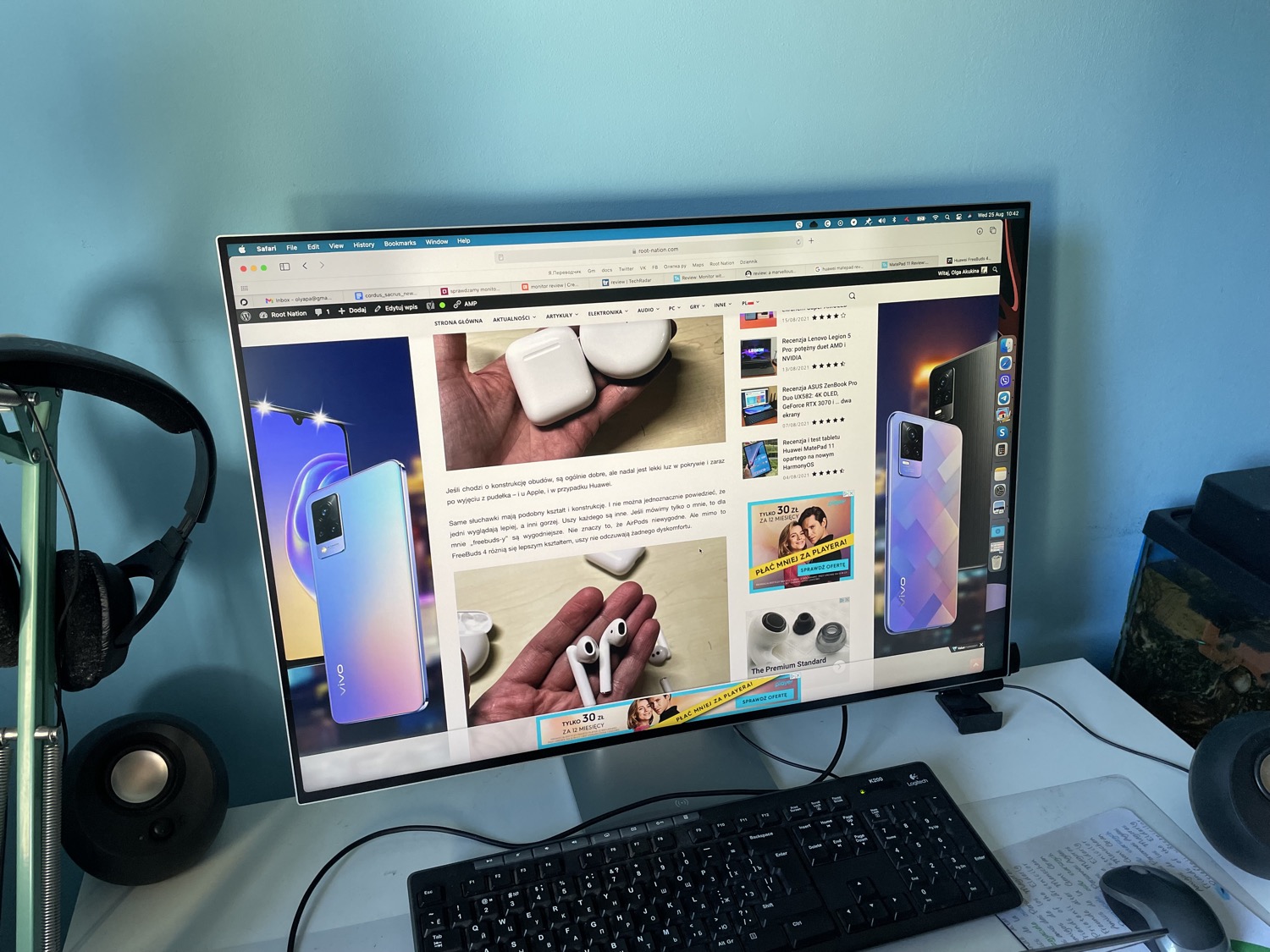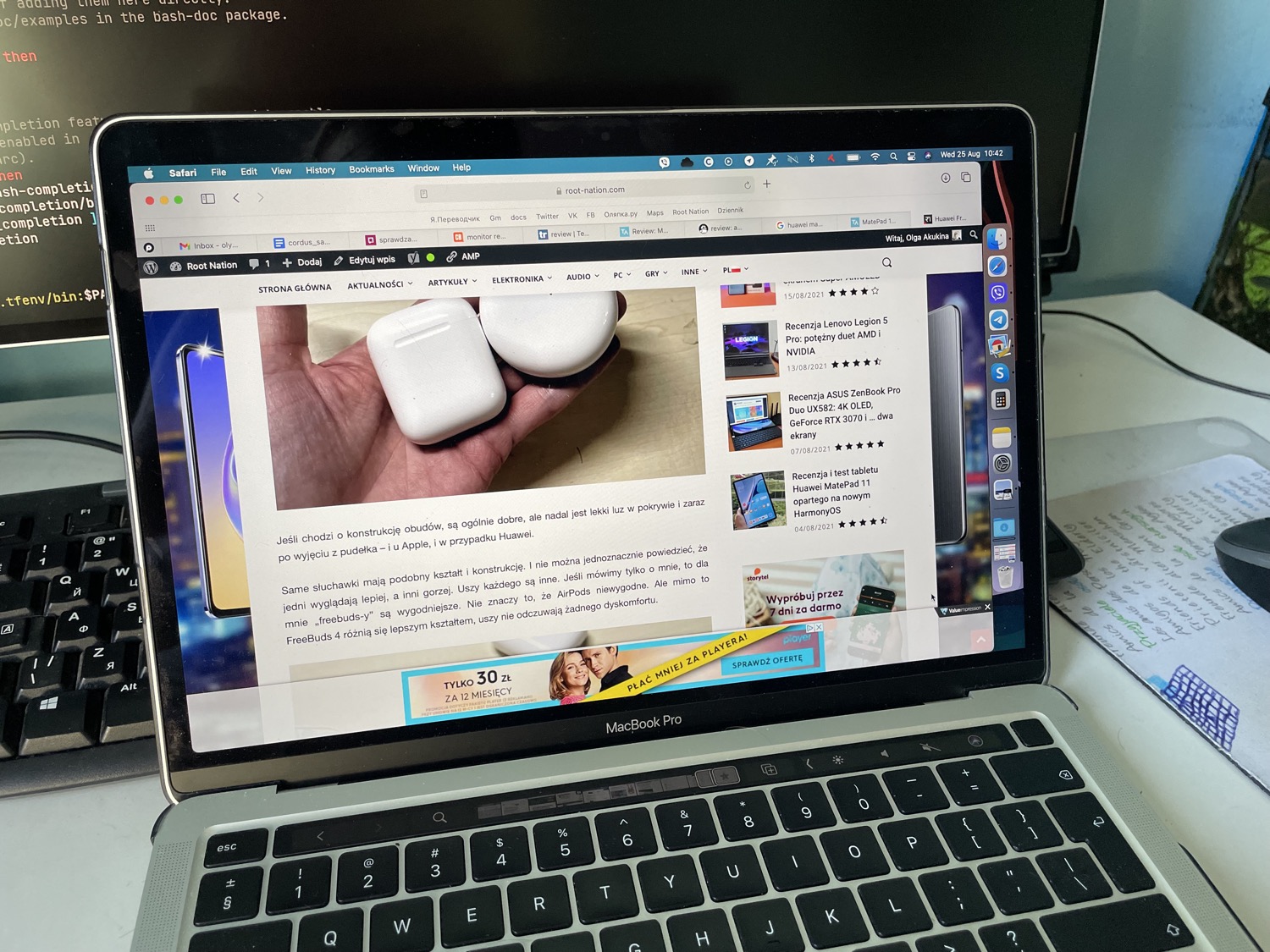 My husband works in programming, and he also tested the monitor (and even begged to allow him to take to the office for a couple of days) and was delighted.
Someone says it's better to get a large wide monitor and place several windows on it. Maybe. Personally, I really liked the 3:2 ratio. And my husband decided to update his monitor to MateView (honestly, this is not an advertisement).
What about movies? Fortunately, we have a large TV at home, so we don't our monitors for that.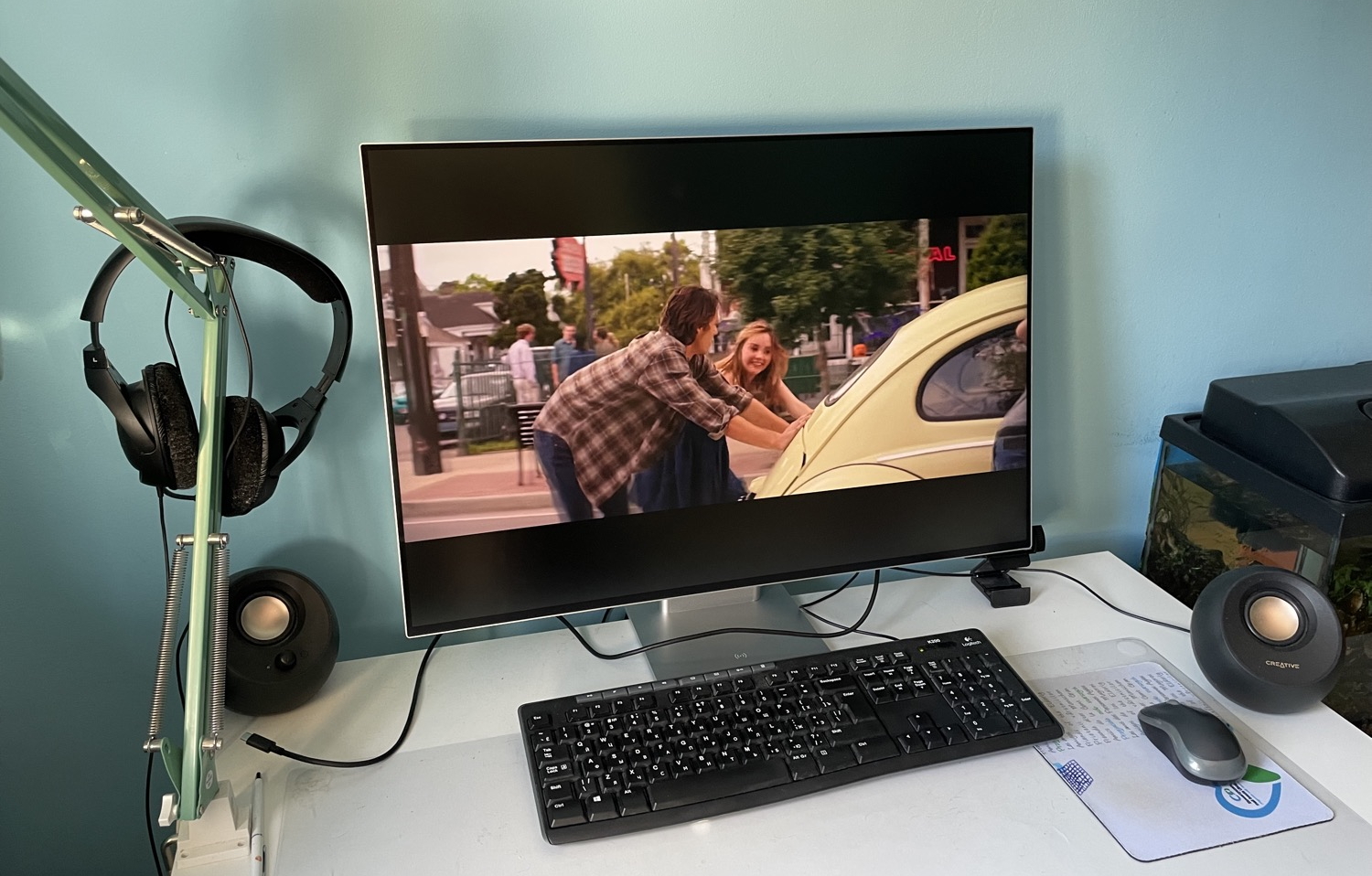 Most videos on YouTube look nice on it, the black bars aren't that big.
Is the Huawei MateView suitable for those who work professionally with graphics? It's hard to say. I'm not an expert myself, so I didn't conduct special tests, but I read many other reviews. Often their authors say that color reproduction in some ways does not correspond to the declared one, although critically so. If desired, the screen can be calibrated, although the possibilities are quite limited. About it below.
Also, as already noted, the Huawei MateView is not for gaming at all. There is no increased frequency, modern synchronization features with video cards, relatively high response time. The company did not even try to make the model interesting to gamers, because there is a gaming and, importantly, more affordable Huawei MateView GT.
So, the MateView monitor offers a fantastic clear picture with pleasant color reproduction. Designers may find something to find fault with, but other users will be satisfied.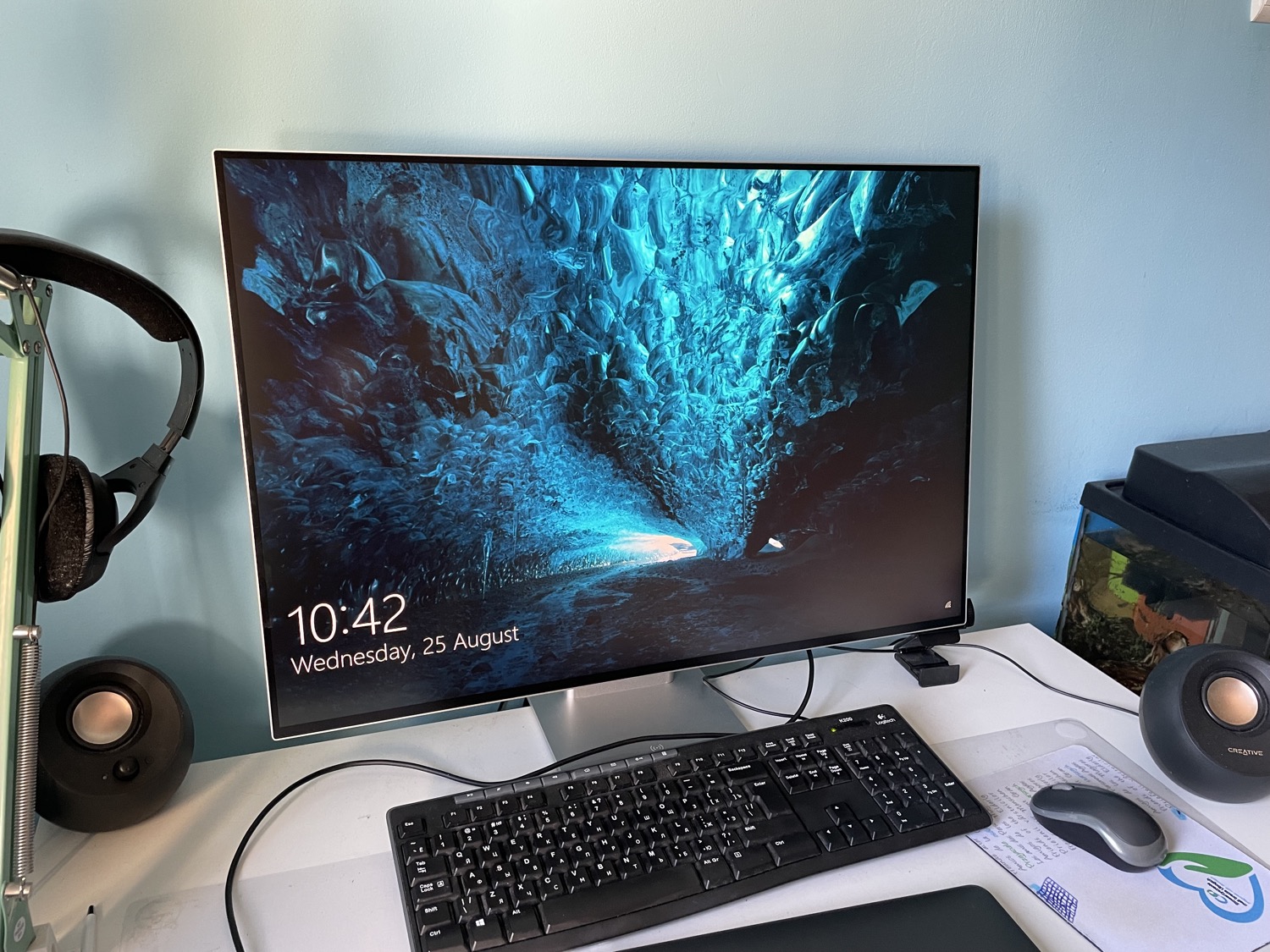 Read also: Huawei Band 6 review: It goes with everything
Controls and configuration
Monitor controls, so to speak, is controversial. Instead of the usual keys or joystick hidden somewhere, we got an "extramodern solution" called the Smart Bar touchpad. It is a black stripe located at the bottom of the display in the middle.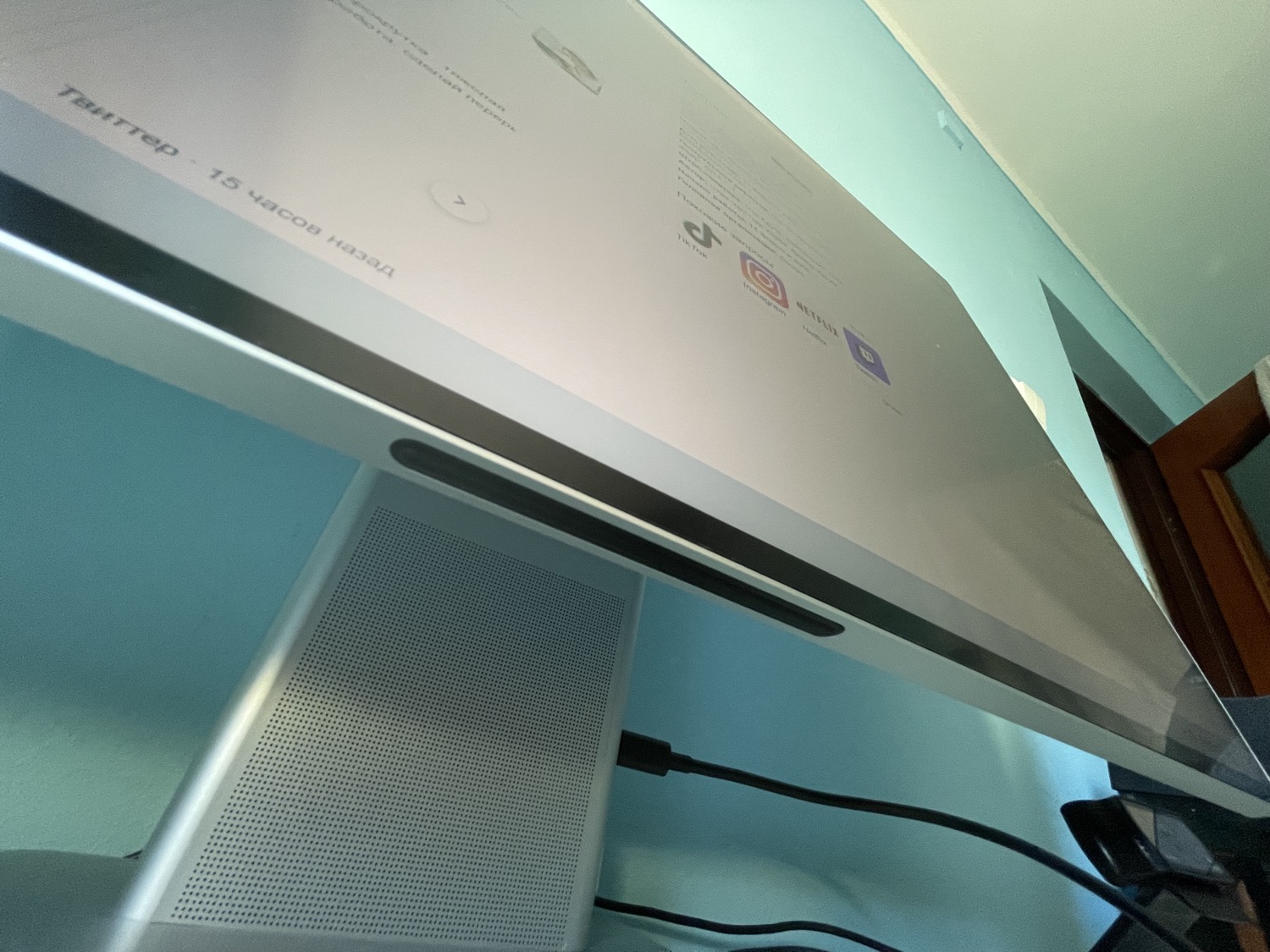 One touch is to start the menu. Swipe left or right to moving around the menu. Single touch to select, double touch to return to the point back. Maybe I'm retrograde person and that's all a matter of habit, but I'm not happy with this method of controls. It seems that everything works as it should, but damn it, it's uncomfortable. Perhaps it's still a matter of habit, although if you don't get into the menu often, you won't get used to it. I also read that the Smart Bar stopped working when the monitor was running in wireless display mode.
If you just swipe your finger over the Smartbar left or right (when the menu is not running), the sound will be adjusted. For me, this is a strange decision that can't be reassigned yet. Brightness adjustment would be much more useful.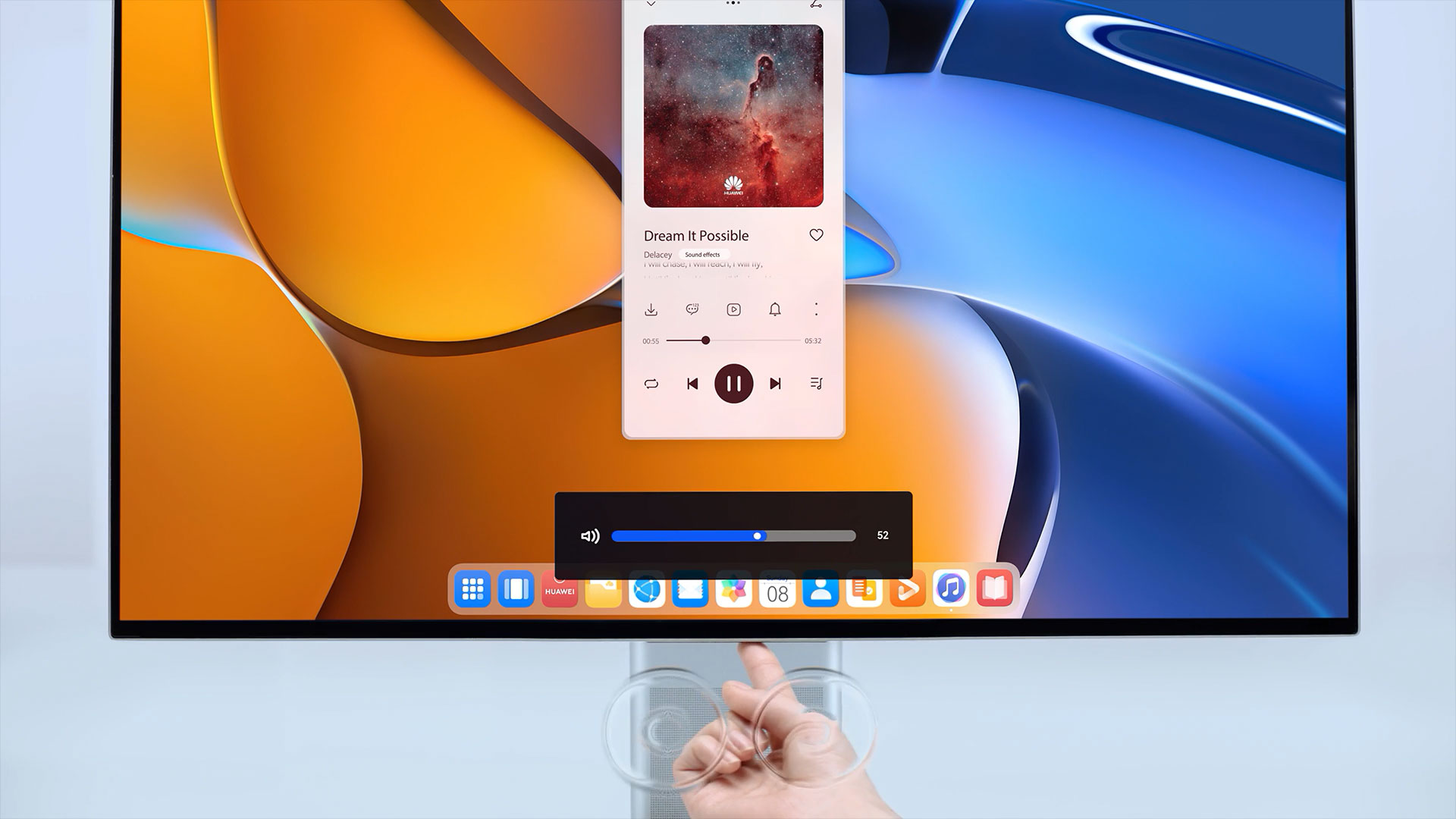 Let's see what the menu looks like. Main section:
Signal source, highlighted as the first point (Wireless, USB-C, HDMI, MiniDP)
Eye comfort (can be turned on or off, we are talking about certified TÜV Rheinland technology when the blue tint is minimized)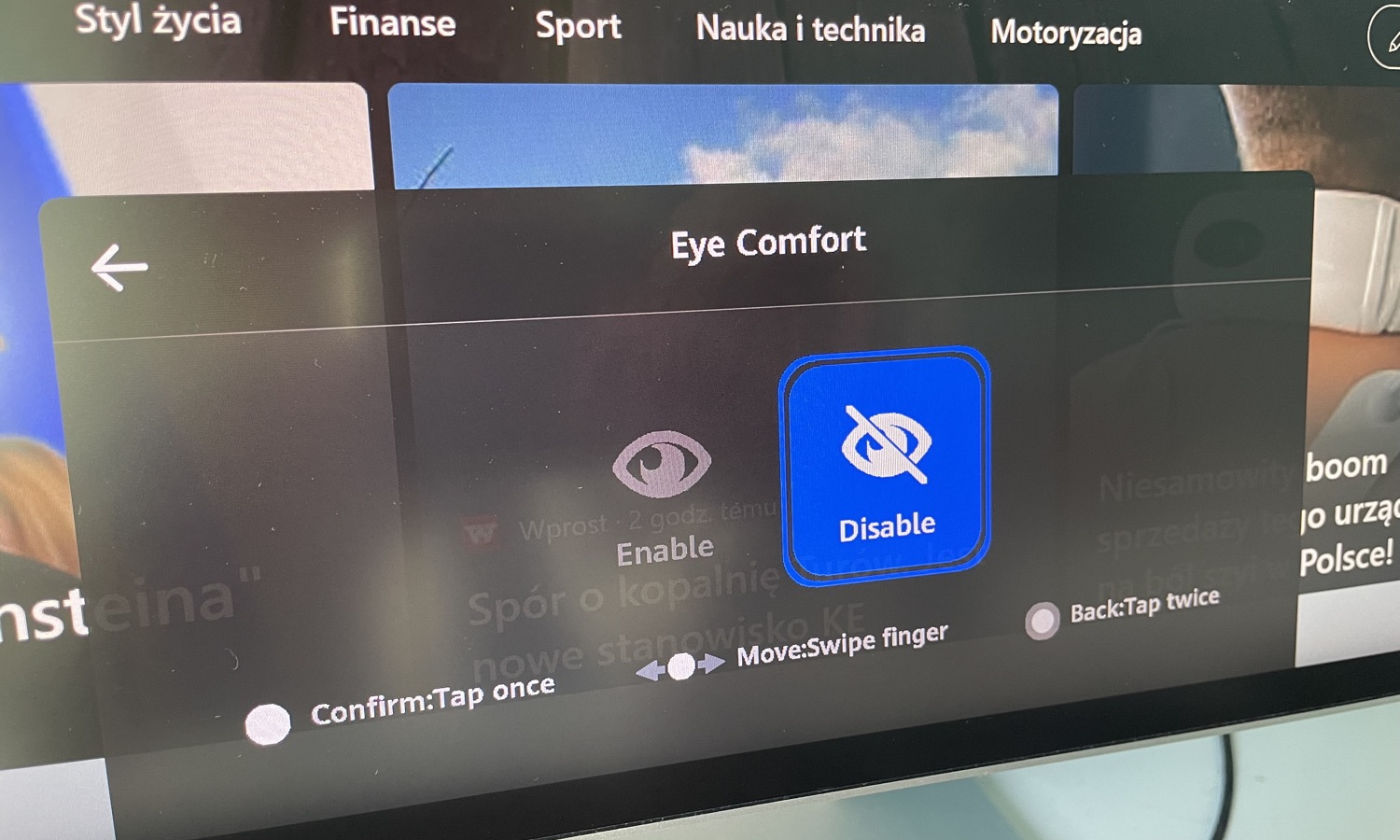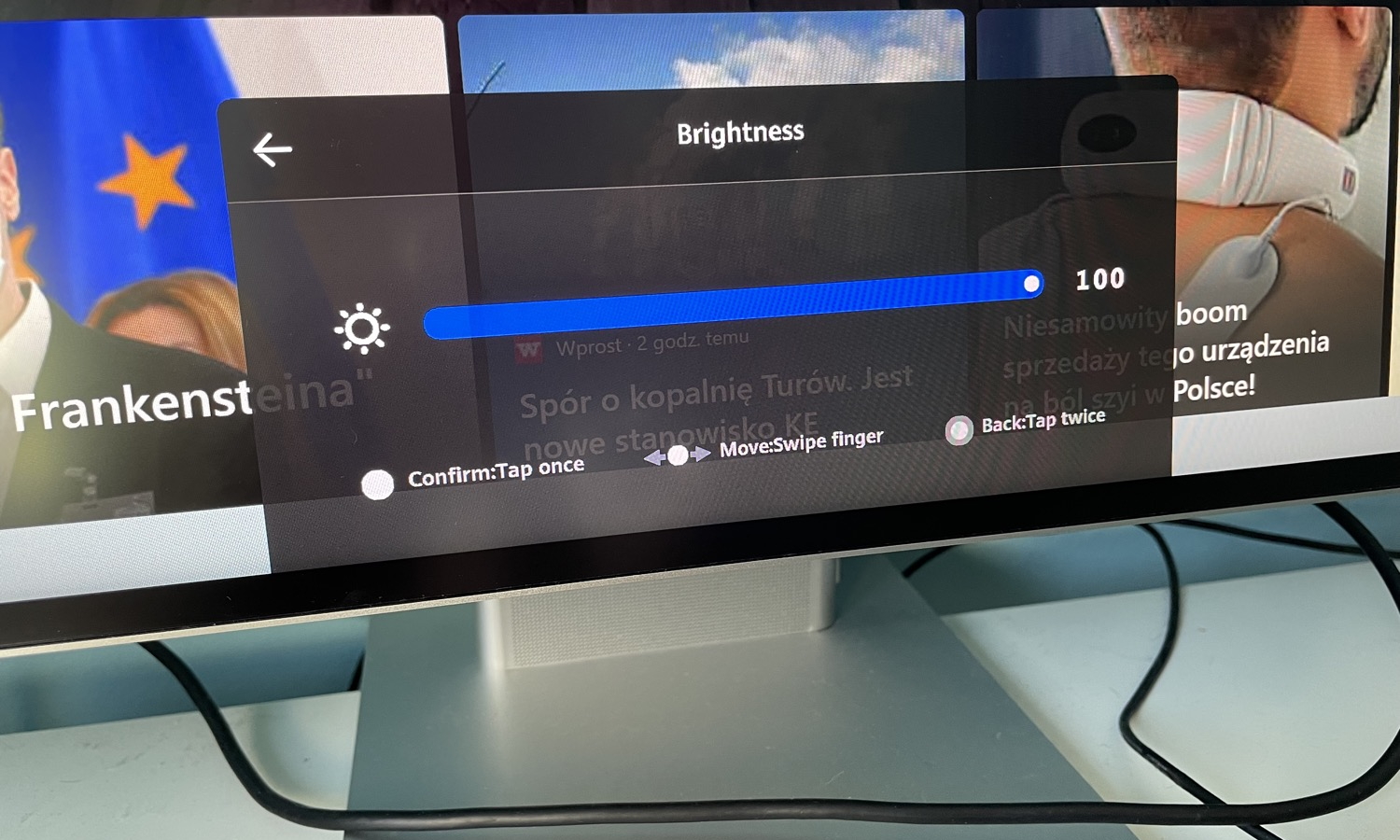 Color scheme (sRGB, DCI-P3 and Default)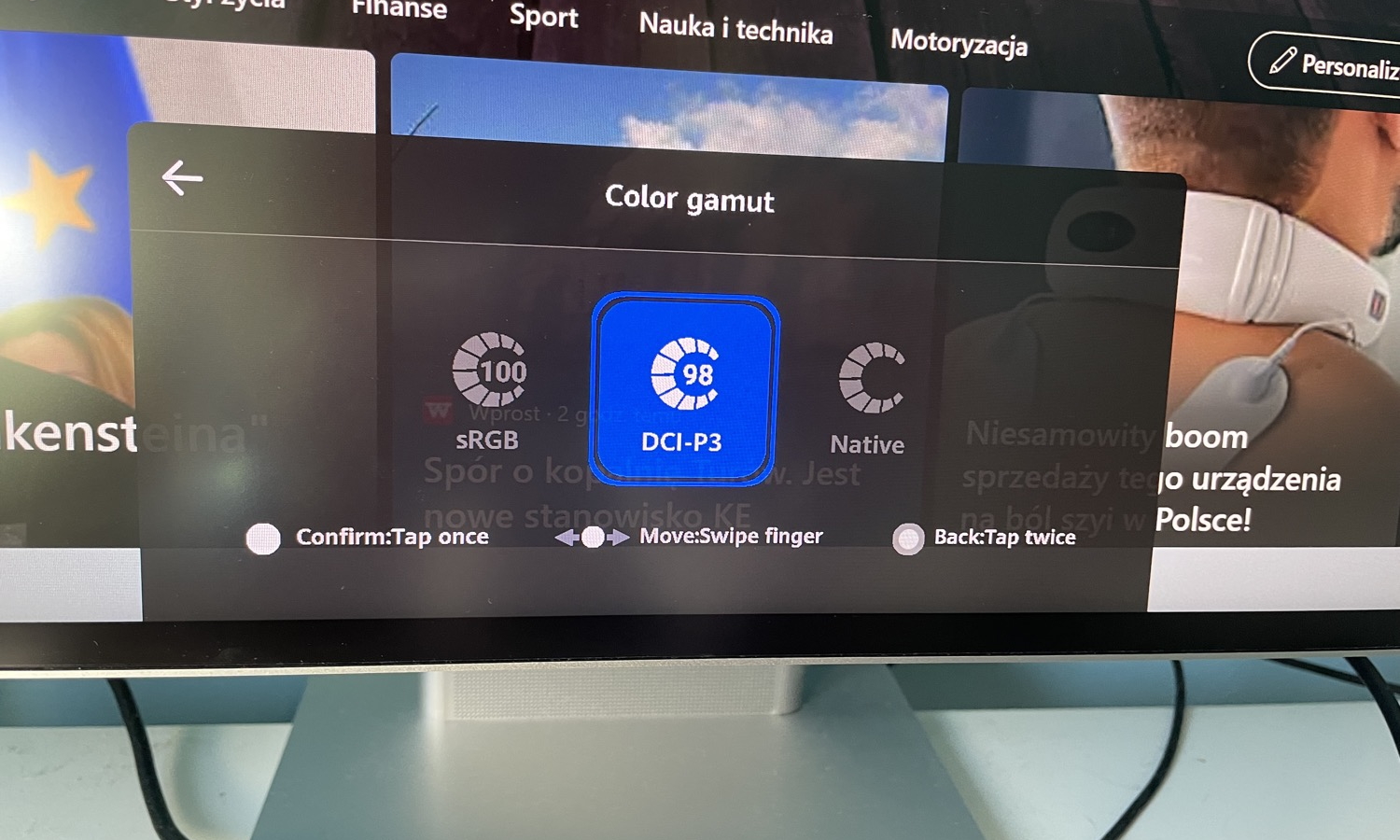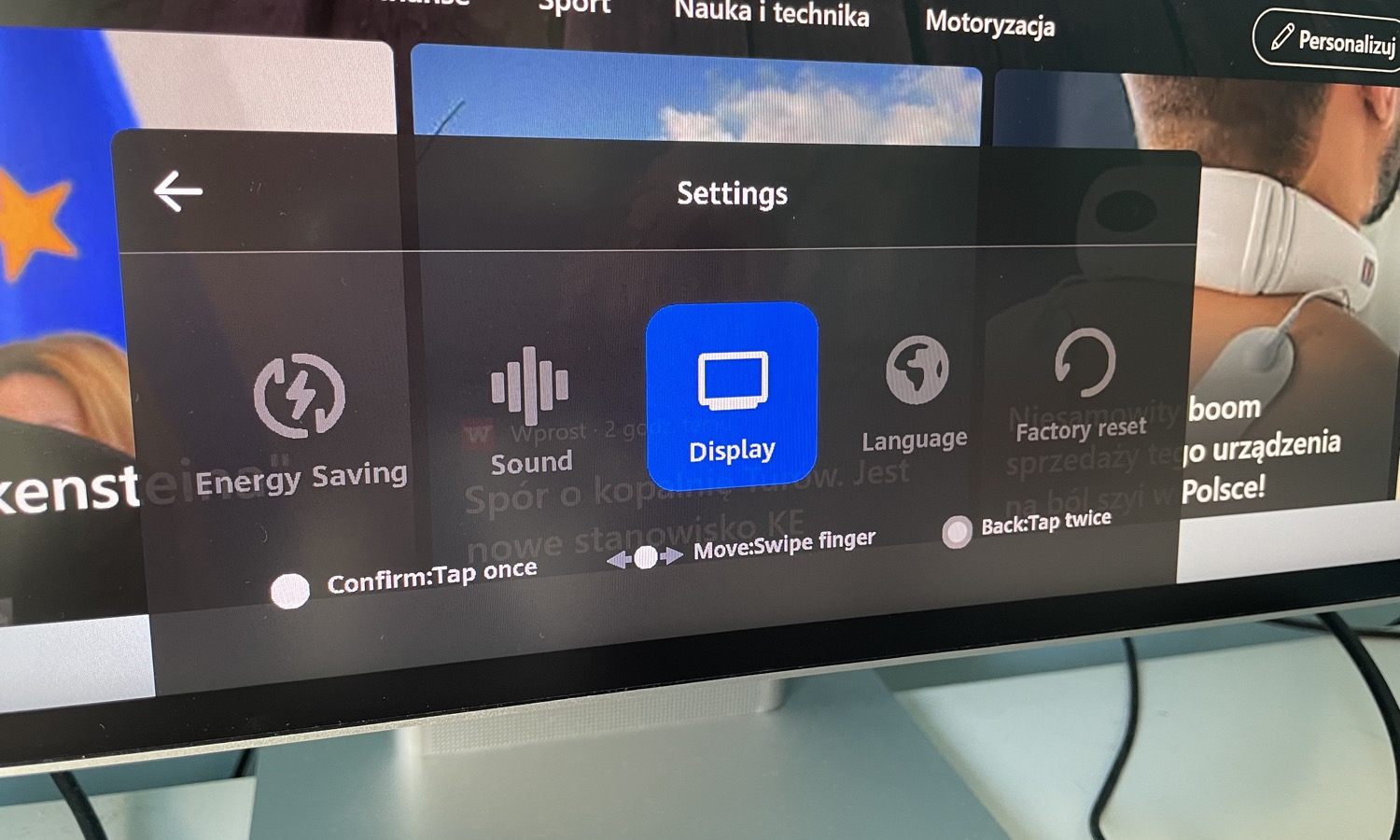 We will consider the contents of the settings separately. There are: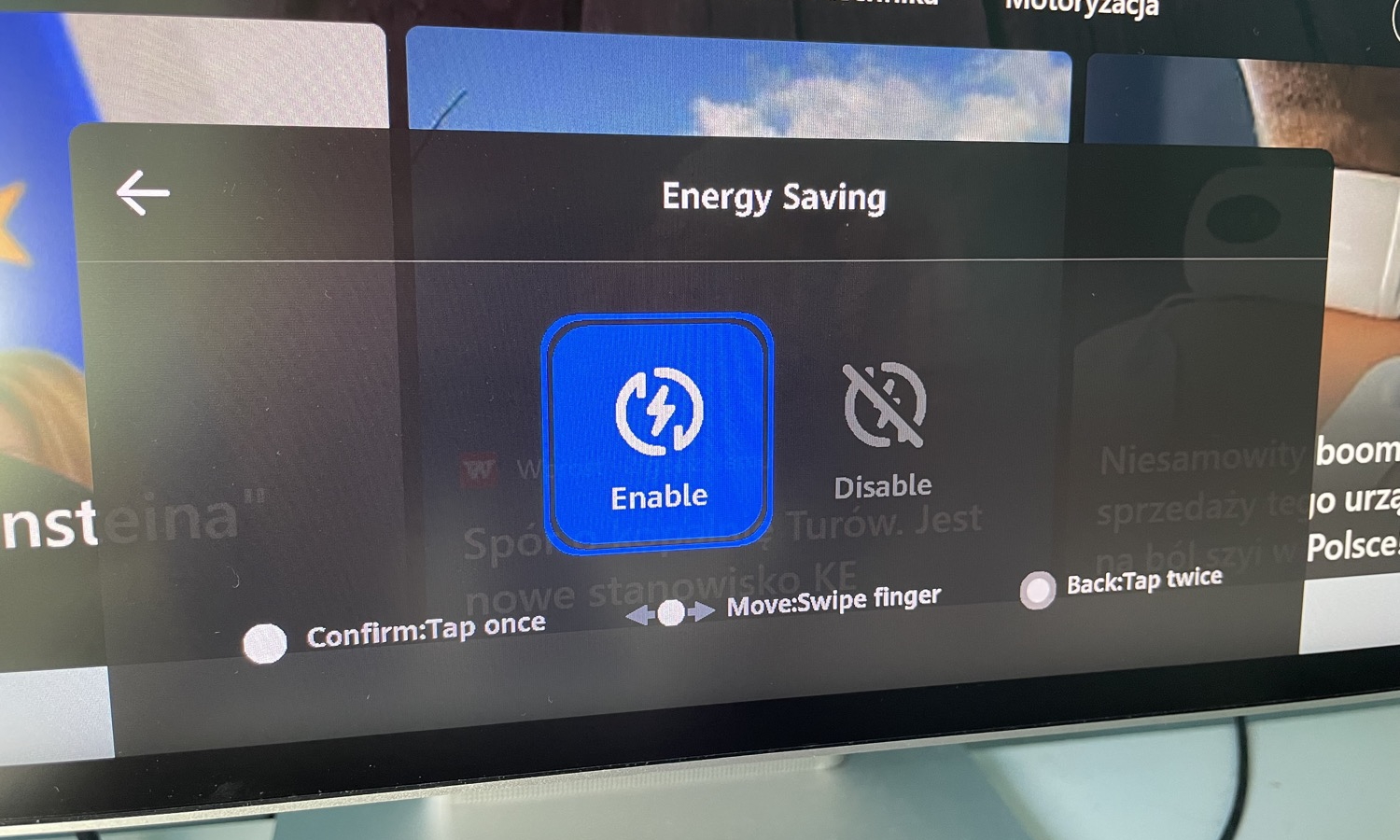 Sound (volume control, built-in microphones)
Screen (here you can adjust the contrast, sharpness and color temperature of the display at the basic level, BUT only if you have the default color scheme selected, otherwise the settings will not be available)
Language (English and several European languages)

Read also: Huawei Smart Scale 3 review: a must-have gadget for the whole family
Huawei MateView speaker and microphones
Of course, it makes no sense to expect amazing sound from stereo speakers built into the monitor's stand due to the minimum size of the stand. The volume is excellent, but even speech is not very pure, let alone music or cinema sound. Don't expect any bass at all. It's more of an an emergency option if there are no speakers. Speakers are fine for podcasts or YouTube videos.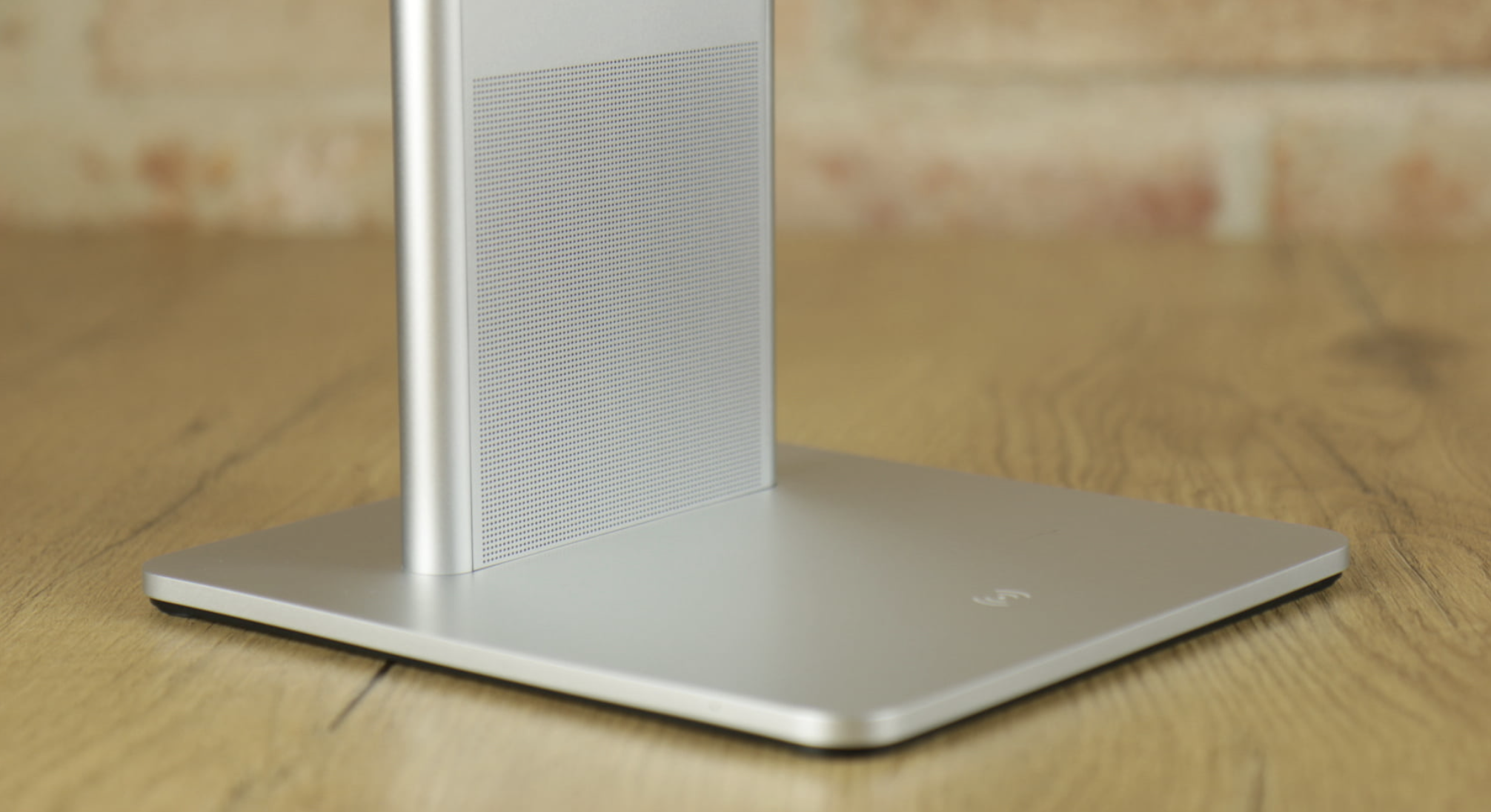 But I won't scold the microphones. The voice is transmitted clearly, with minimal distortions, but provided that you sit close to the monitor. Background noise is typical for a microphone without a headset. I think it makes no sense to sit so far from the monitor, the sound will only get worse.
Competitor monitors
At a price of 699 euros, the Huawei MateView falls, so to speak, into the upper part of the market, where there is fierce competition among high-quality 4K monitors. MateView's features definitely do not make it attractive to the gaming audience, and the 3:2 aspect ratio makes it more work-oriented than competing widescreen options.
Among the interesting competitors are BenQ EW3280U – a 32-inch 4K monitor with FreeSync support, as well as 95% of the DCI-P3 color scheme. It costs about the same amount, and if you choose a 27-inch model, it is much cheaper.
32-inch 4K monitors with FreeSync from LG (e.g. 32GK850G) also provide excellent color calibration and response time of 1 ms at a noticeably lower price.
The new Gigabyte M28U model is more expensive, but offers 4K resolution, 144 Hz refresh rate, FreeSync support, response time of 1 ms.
If you are interested in working with graphics, then for about the same price it is worth looking at the Dell U2720Q. According to reviews, it has been perfectly calibrated from the factory.
Yes, of course, only Huawei MateView has a 3:2 aspect ratio and it is definitely the most beautiful. It is also slightly superior to its competitors, providing 98% of the DCI-P3 color space. It is the best choice if you need wireless display capabilities, built-in microphones and a USB interface for connecting peripherals. However, competing monitors boast better HDR features and game-oriented features for the same or lower price.
Read also: Huawei P20 Pro review – When China does it right 
Verdict
The Huawei MateView is undoubtedly a well-designed monitor, both aesthetically and in terms of convenience and a set of functions. I especially like the minimalistic case with a metal screen frame, built-in height adjustment mechanism, 3:2 aspect ratio, and the 4K+ screen, which makes it ideal for the office. I personally do not need Wireless Display functions or syncing with Huawei devices, but for someone is likely to be useful.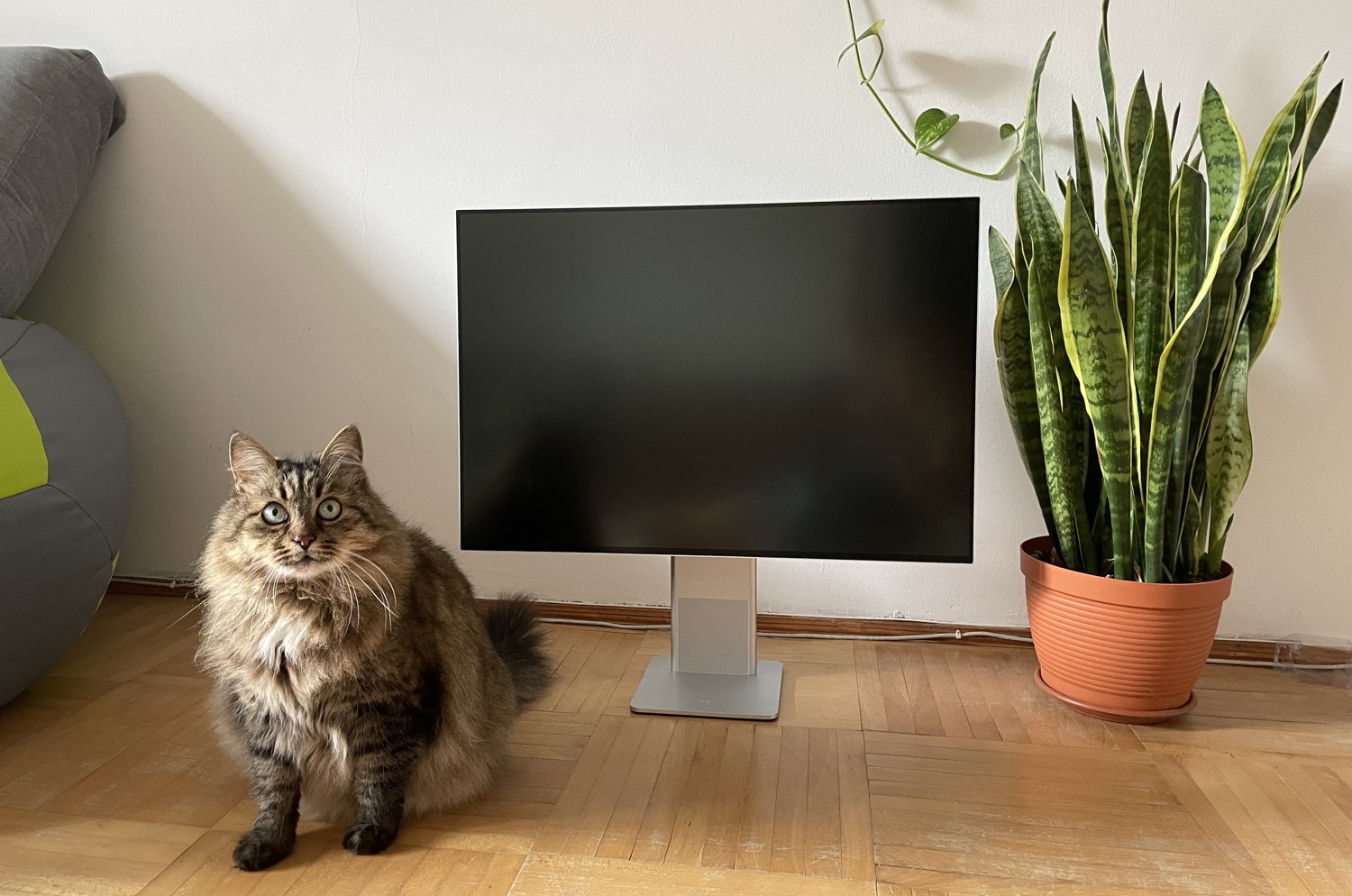 In my personal opinion, the picture is perfect. Although there's an opinion that the colors do not always correspond to the figures indicated in the characteristics of the monitor. Self-calibration of the image is crudely implemented.
Nevertheless, we have a beautiful and high-quality LCD panel, devoid of many of the most common problems for this type of screens. The Huawei MateView is perfect both as a desktop monitor and as an external laptop screen. Especially since a laptop with a USB-C connector can be charged simultaneously through the monitor thanks to the 65W output. Most often I worked with MateView just by connecting it to the MacBook Pro 13′′ M1, and there were no problems when working with high resolution.
All in all, I was very pleased to work with this monitor, especially due to the 3:2 aspect ratio. My husband, as I mentioned, decided to buy one for himself. Although, of course, without discounts and sales, Huawei MateView is very expensive. It is a good option for design connoisseurs, and most importantly for those who are able to pay for excellent design. Why not? After all, someone actively buys Apple products! Huawei itself wants to emulate Apple in their own way. Well, good luck to them!
Read also: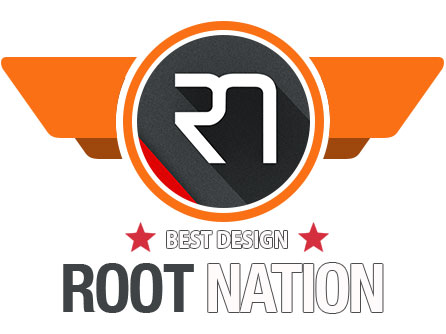 Subscribe to our accounts: