First in China and now on the global market, Huawei has announced a new generation of its famous in-ear headphones — Huawei FreeBuds 5. We managed to get them for a test even before the European premiere, so here are our impressions!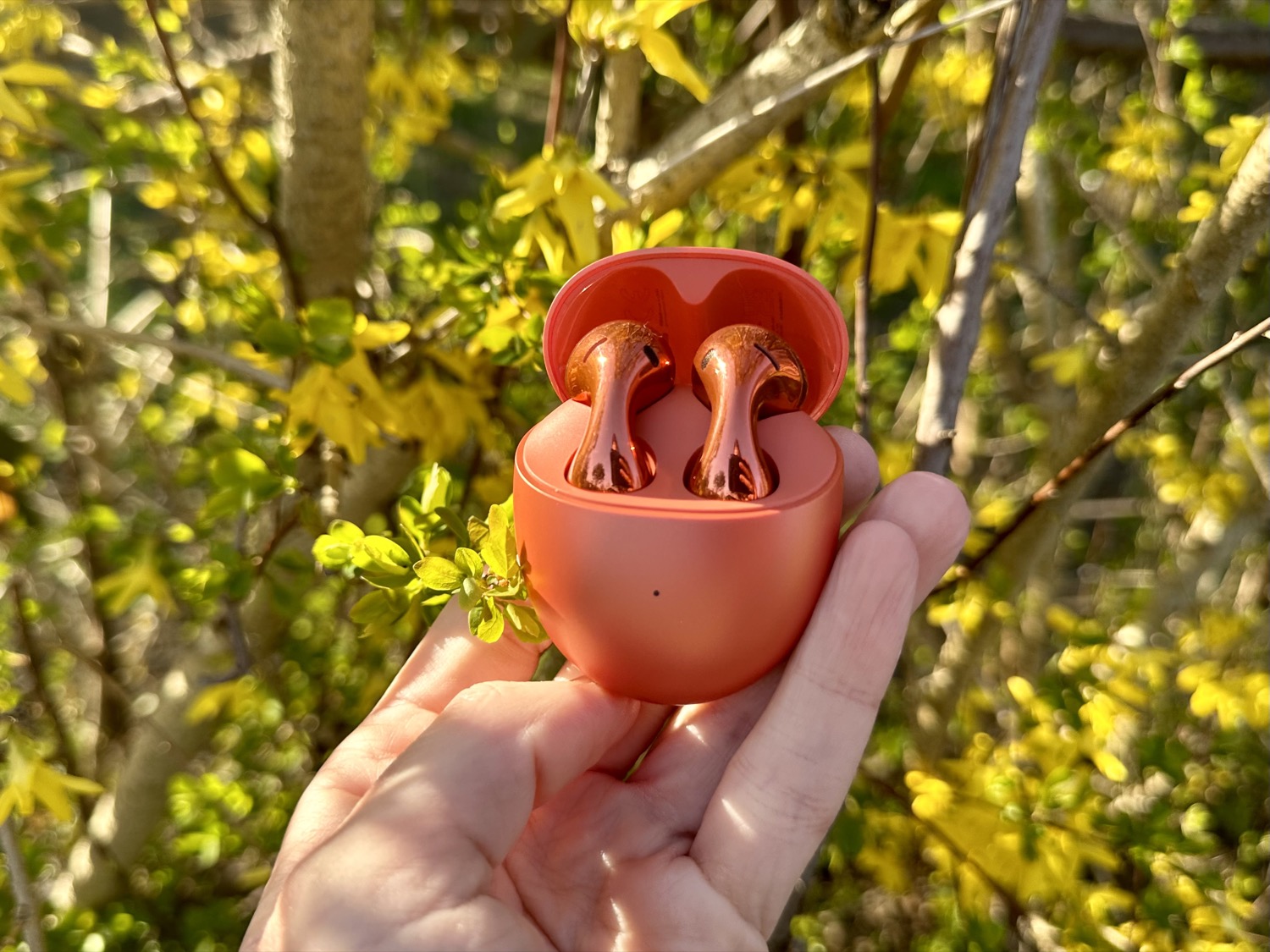 Specifications of Huawei FreeBuds 5
Bluetooth: Bluetooth 5.2, Simultaneous Bluetooth connection to two devices
Charging time and method:
about 20 minutes for headphones (in charging case)
about 40 minutes for charging case without headphones (wired)
about 4 hours for charging case without headphones (wireless)
Battery: 42 mAh headphones, 505 mAh case, 5 V/2 A USB-C port
Battery life:
Play music on a single charge: 5 hours or 3.5 hours with ANC
Using the charging case: 30 hours or 20 hours with ANC
Frequency range: 16 Hz – 40000 Hz
A2DP codec: LDAC HD, AAC, SBC, L2HC2.0, LC3 (for games)
Speaker: 11mm LCP dynamic magnetic driver
Protection: IP54 (dust, accidental splashing)
Microphones: two external + internal
Weight: each earphone 5.4g, case 45g
Dimensions (Height × Width × Thickness): headphones approx. 32.4 mm x 17.6 mm x 22.8 mm; case approx. 66.6 mm x 50.1 mm x 27.3 mm
Package contents: Headphones, charging case, additional earbuds (2 pairs), USB-C cable, quick start guide
Positioning in the product line and price
As you know, Huawei's phones have not been doing well due to problems in the US. Of course, they come out, but they don't attract much public interest because of the lack of Google services. But the rest of the equipment is great. The Chinese company produces excellent laptops, routers, monitors, smartwatches and, of course, wireless headphones.
Huawei's headphone line is not as bloated as Xiaomi's, for example. Everything is quite clear and understandable. Among the current models, there is the advanced top model FreeBuds Pro 2 (our test), and the affordable  FreeBuds SE model (we also tested it). As for the mid-range, Huawei traditionally has two models – in-ear (insert or overhead) and "earbuds" (vacuum, with silicone tips at the ends) with approximately the same level of capabilities. So that everyone can choose what is more convenient for them. At the beginning of the year, we released the "plugs" FreeBuds 5i (and we got to know them in detail), and now it's time for the earbuds – FreeBuds 5.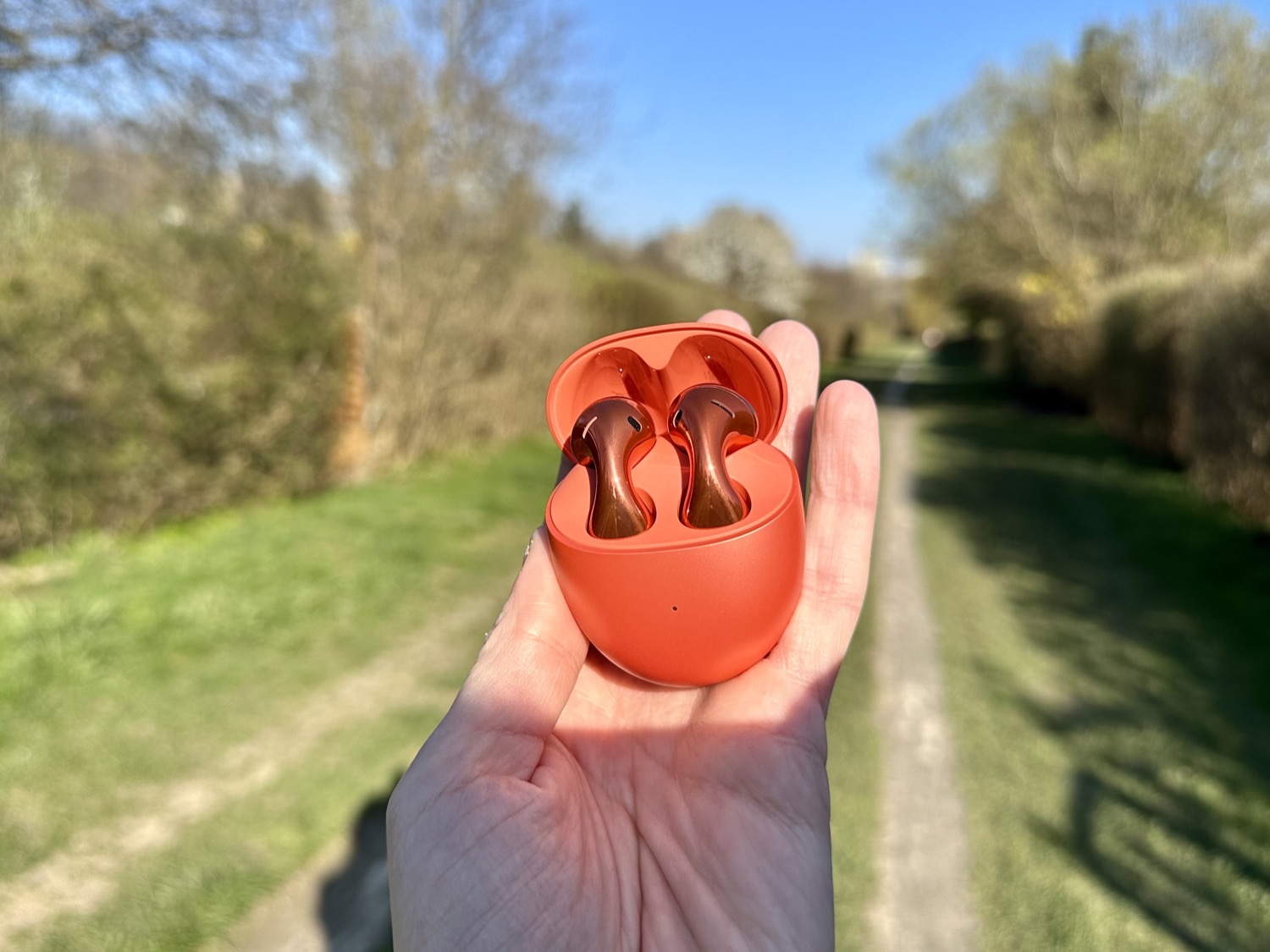 "Fives" have replaced "fours". And we've been waiting for them for a long time, because FreeBuds 4 were released in July 2021. There's no point in comparing them, since everything has changed in two years, from design to filling.
For those who don't have experience with different types of headphones, I'd like to point out that in-ear headphones are more convenient for people who want to hear what's going on around them. They don't clog the ear canal, make it easier to ride a bike, walk on dark roads, and even do household chores and hear what the kids are doing in the other room. In addition, according to many users, they sit more comfortably in the ears and do not press.
In contrast, earplugs tightly close the ear canal thanks to silicone tips. Expensive models are equipped with a "transparency" mode, which amplifies external sounds, cancelling out the earplug effect. However, this mode needs to be activated separately, the battery dies faster, and is generally a hassle. Some users like the earplugs because they passively isolate extraneous noise, fit more tightly, and, as a result, produce a deep sound. Which is right for you is a matter of taste.
If we compare FreeBuds 5 with the 5i earbuds, the new model has a worse battery life (5 hours instead of 6). On the upside, the speaker membrane is larger, there are more microphones, and charging is faster. Otherwise, the specifications are similar.
At the same time, FreeBuds 5i can now be found for ∼$80. The official European price of the novelty is 159 euros. Expensive, expensive, expensive…
Well, let's find out what we get for this money, besides a fancy design.
Read also:
Complete set
In the box, in addition to the headphones in the case, you will find a short USB to USB Type-C cable, a quick start guide and – something new – headphone pads made of thin translucent plastic. They allow you to slightly increase the size of the headphones for people with large ears – a cool care from the manufacturer!
I've never seen such accessories bundled with earbuds before. You could buy something like this separately, but only for AirPods, which are the most popular. I should note that it is not easy to put on these pads, I was tormented! It's like putting a balloon on your head
Design of Huawei FreeBuds 5
Even during the announcement in China, FreeBuds 5 left no one indifferent. I saw and heard both on social media and from colleagues surprised exclamations like "What is this?", "Did they fire the designers?", "Why do they need to be so bad, don't they know how to stand out?" – and all that sort of thing.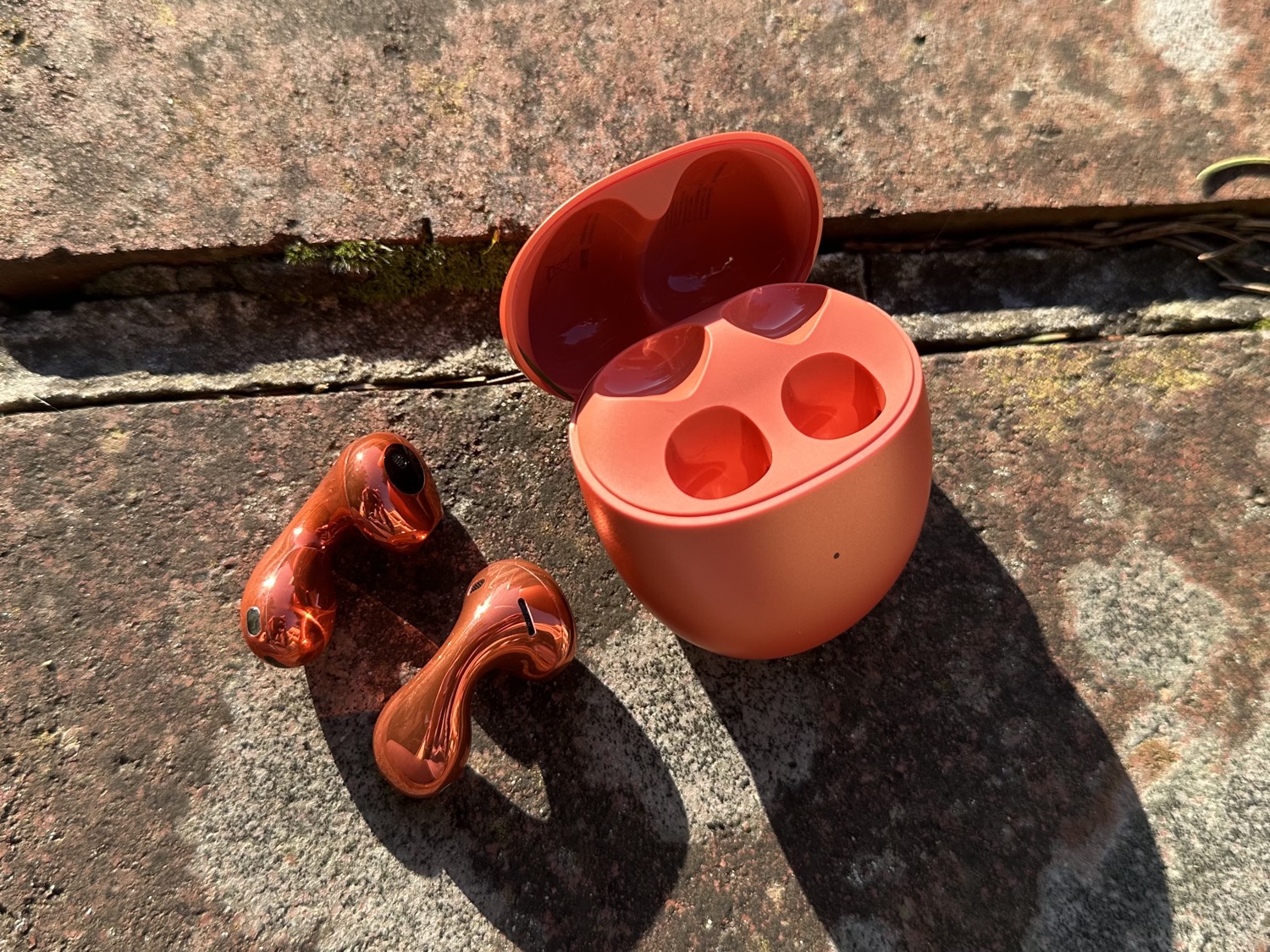 So, if the good old FreeBuds 3 and FreeBuds 4 (which I used) looked like typical "earbuds with legs" and did not attract attention, the new version is something else. The design is called avant-garde, space or futuristic, although, to be honest, I wouldn't want such a future.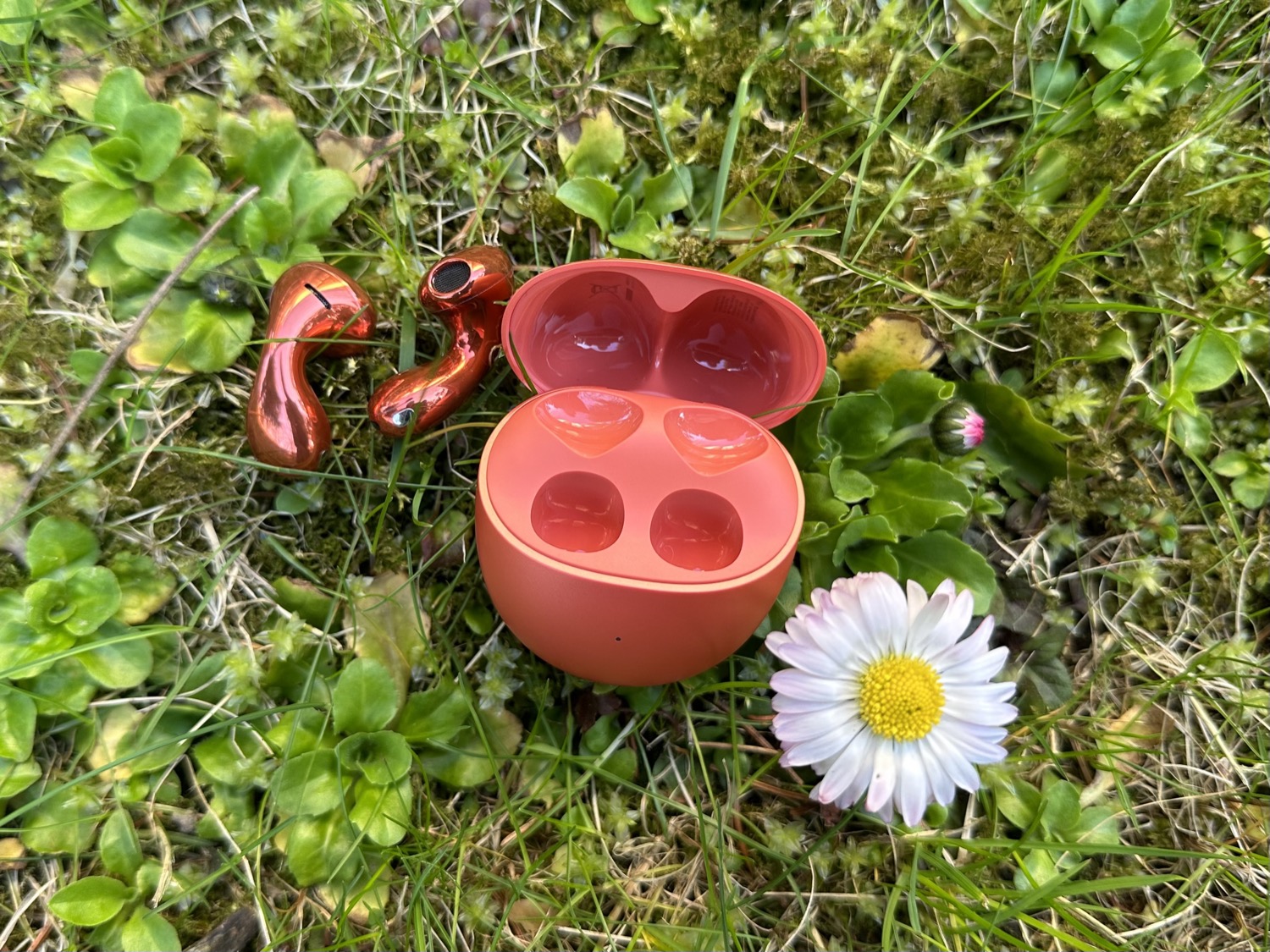 Huawei says that it was inspired by Batavian tears (this is the first time I've heard of it, I had to google it and find out).
I showed photos of the headphones on social media, and everyone has different associations. Some say they illustrate the expression "blood from the ears", others that they look too much like a hearing aid, others that they look like a sex toy… What do you think? Let us know in the comments!
Personally, the "ears" reminded me of the handsets of old telephones. Modern young people probably don't have such associations anymore!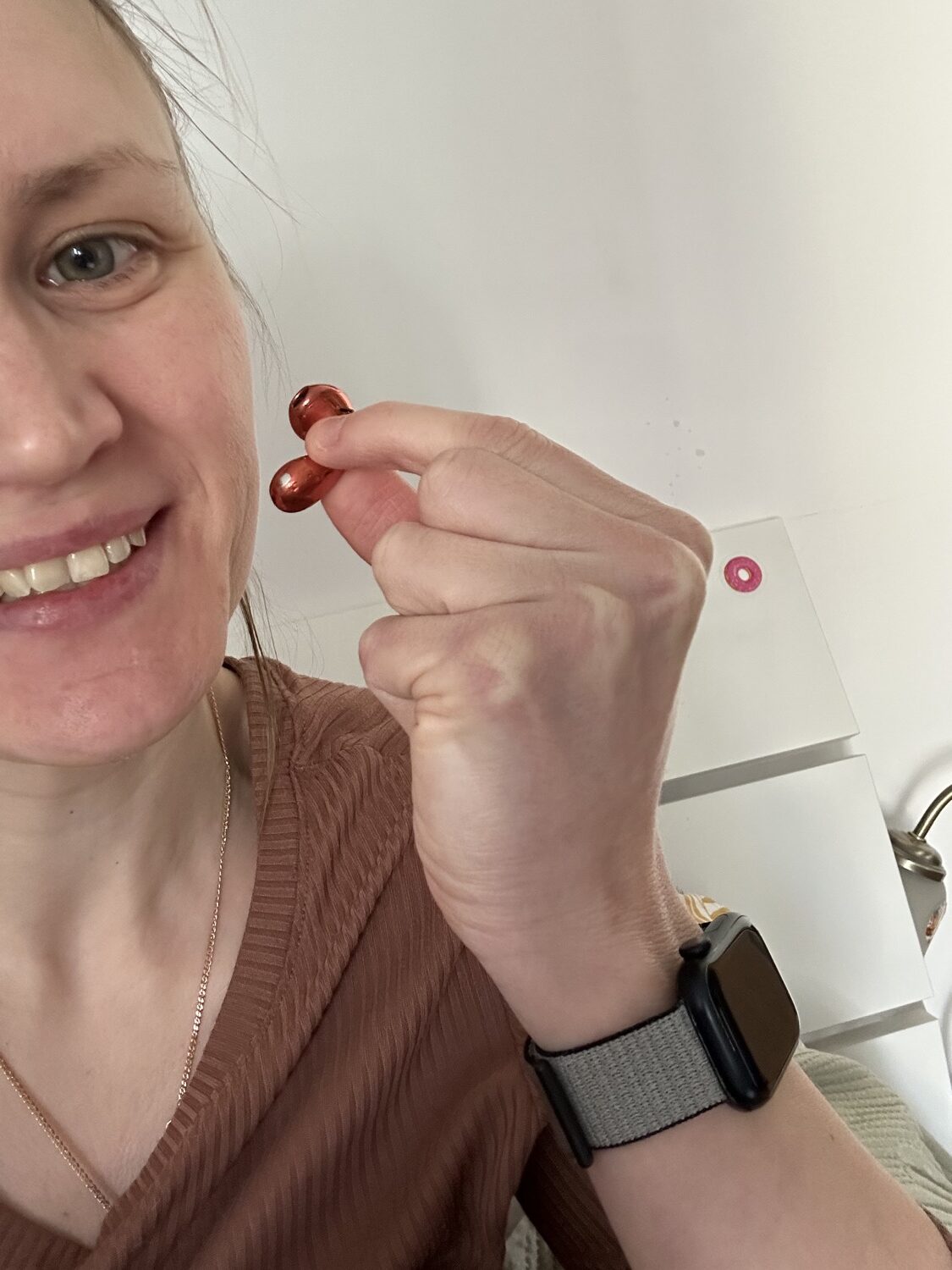 In short, people will be talking about the new headphones, and I don't know if it's good or bad. Several people (women) wrote to me that they were looking for something unusual, and the headphones caught their eye.
What is the result? A quirky design for the sake of an eye-catching design. But will the mass user choose these headphones? It's hard to say. One thing is clear: the high price will not contribute to mass demand. And my personal opinion: TWS headphones should be comfortable, but they shouldn't be eye-catching.
Perhaps it was worth releasing a model in a standard design plus an original version for girls and others who want to stand out. This was the case with FreeBuds 4. Normal earbuds and separate earbuds in red, in a lipstick-shaped case, and at twice the price (FreeBuds Lipstick, our test).
The FreeBuds 5 are available in classic black (rather noble dark silver) and white, as well as a bright coral colour. In all versions, the headphones are glossy, reflect the sun's rays beautifully, but collect fingerprints, and the case is matte.

I haven't said anything about the case itself yet. It's not as fancy as the headphones, but it's shaped like an egg. When I took the new product out of the box, the first thing I said was "Eh, it's a little late for Easter!". The case is compact, rounded, and flattened. It has a flat surface on the back. It does not collect fingerprints and looks resistant to scratches.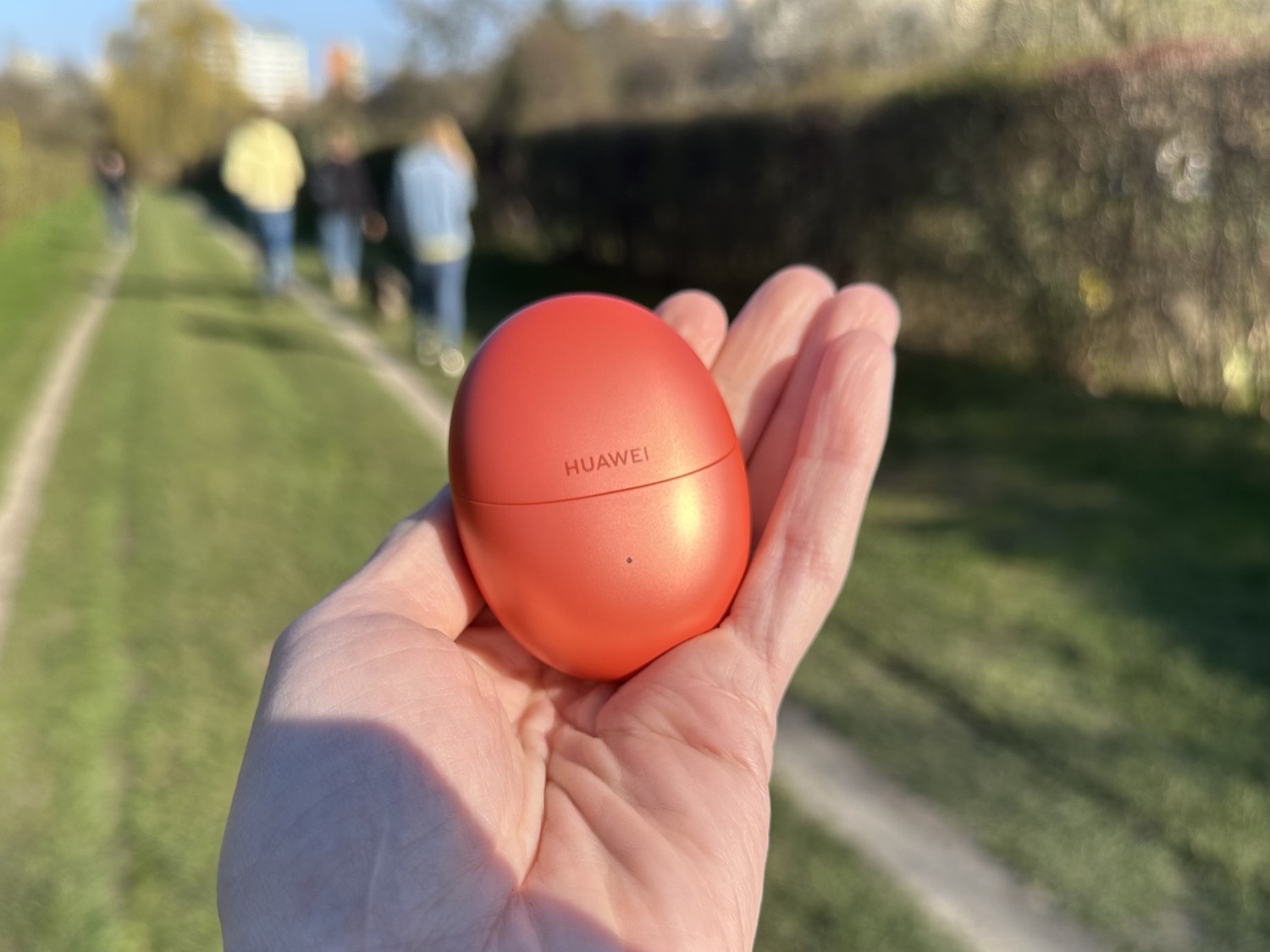 There is a battery indicator on the front panel of the case. When you open the case, it indicates the charge level (it can be green, orange or red) and shows that the headphones are ready for Bluetooth connection. At the bottom there is a USB Type C jack for charging.
There is a pairing button on the right side of the case. To connect FreeBuds 5 to your phone or other device, you need to take the "ears" out of the case and hold this button for about 3 seconds until the indicator flashes white. You can also use this button to reset the headphones and the case to factory settings.
The build of the case and headphones is perfect. I would like to add that the headphones are protected against moisture according to the IP54 standard. They can't be washed or wet, but drops of sweat, water or light rain are no problem.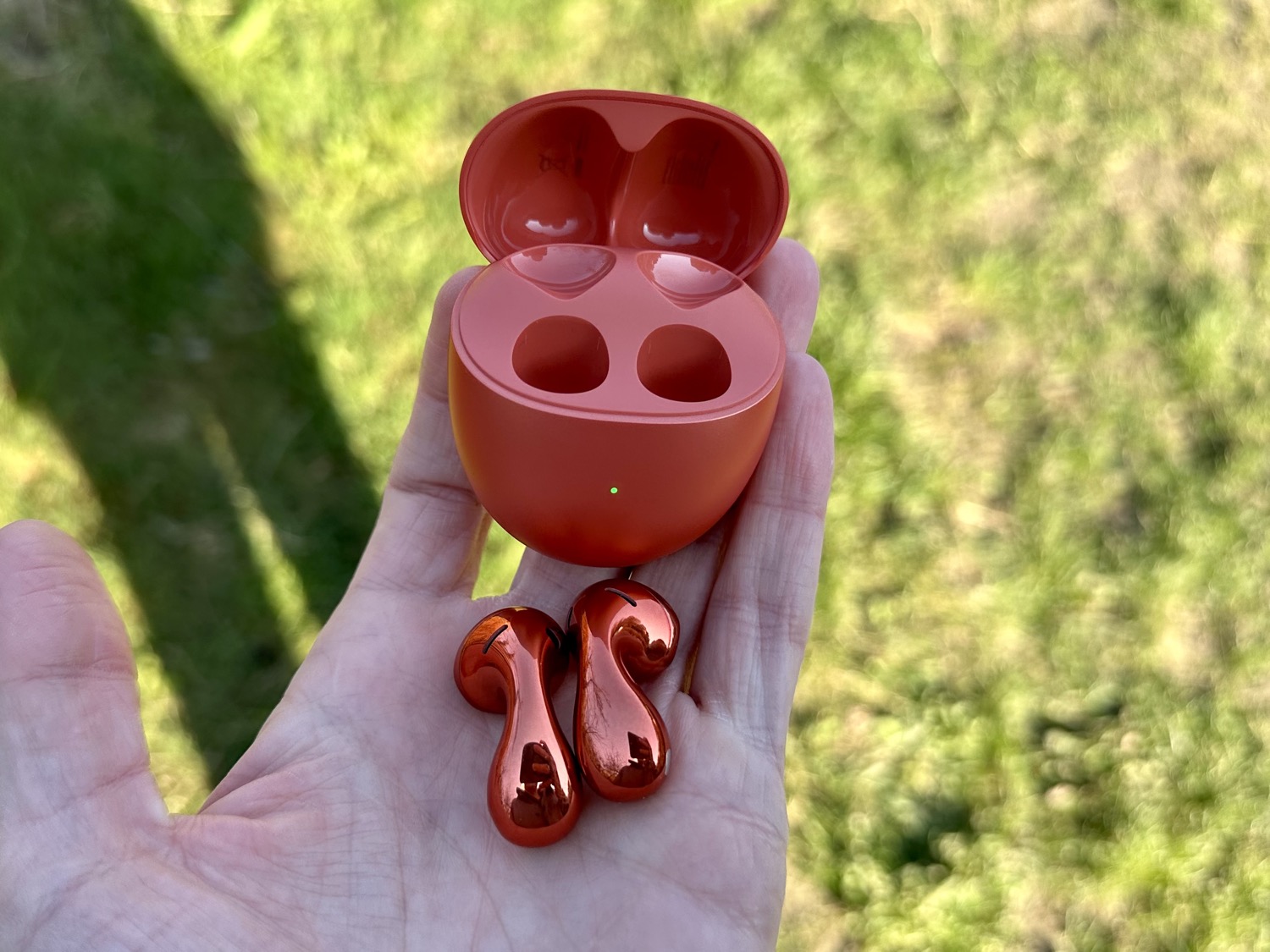 Ergonomics and ease of use
With the exception of the teardrop-shaped "leg", the headphones themselves have a standard design for in-ear headphones and are comfortable. It's worth making a disclaimer here that everyone's ears are different, and if the headphones fit perfectly, there will still be someone who will be pressed or fall out.
However, Huawei assures that the design of FreeBuds 5 is so well thought out that it will suit most people. Well, I personally have no reason not to believe them.
The headphones don't sit in my ears like the FreeBuds 4 I'm used to, the legs are wider. But there are no unpleasant sensations, my ears do not get tired. It's also more convenient to control with touches, because the leg is not narrow, but wide. The case is pleasant to the touch and will not interfere with your pocket or small handbag.
What is unusual about it is the design of the lid. Usually, in headphones, it takes up a smaller part of the case and can be easily folded away.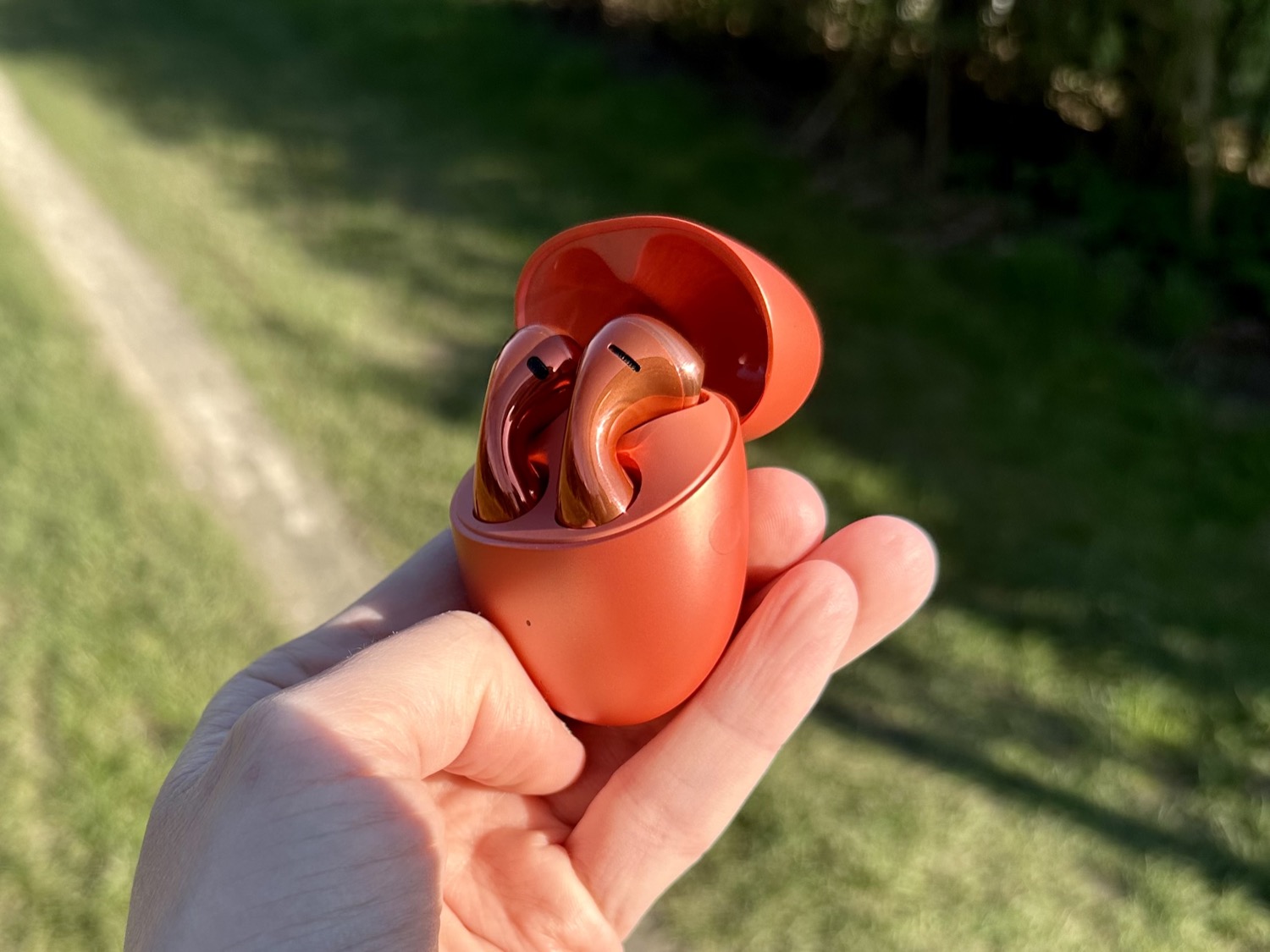 Here, for the sake of design, the lid takes up more space. I can't say that it's inconvenient to open, but FreeBuds 4 is still more convenient and requires less effort. I also liked to flick the lid of FreeBuds 4 just to distract myself, instead of the spinner. The FreeBuds 5 case has a different lid "stroke" and you can't click it carefree anymore. It seems like a small thing, but…
The headphones don't hang around inside the case, they are held in place by magnets. Again, a convenient detail – they do not need to be swapped or specially deployed. As soon as you take them out of your ear, you put them back in the case, a completely natural movement. At first, I was even surprised – did the wide "legs" of FreeBuds 5 will fit into small holes, but this is an optical illusion, they fit (and take out) normally.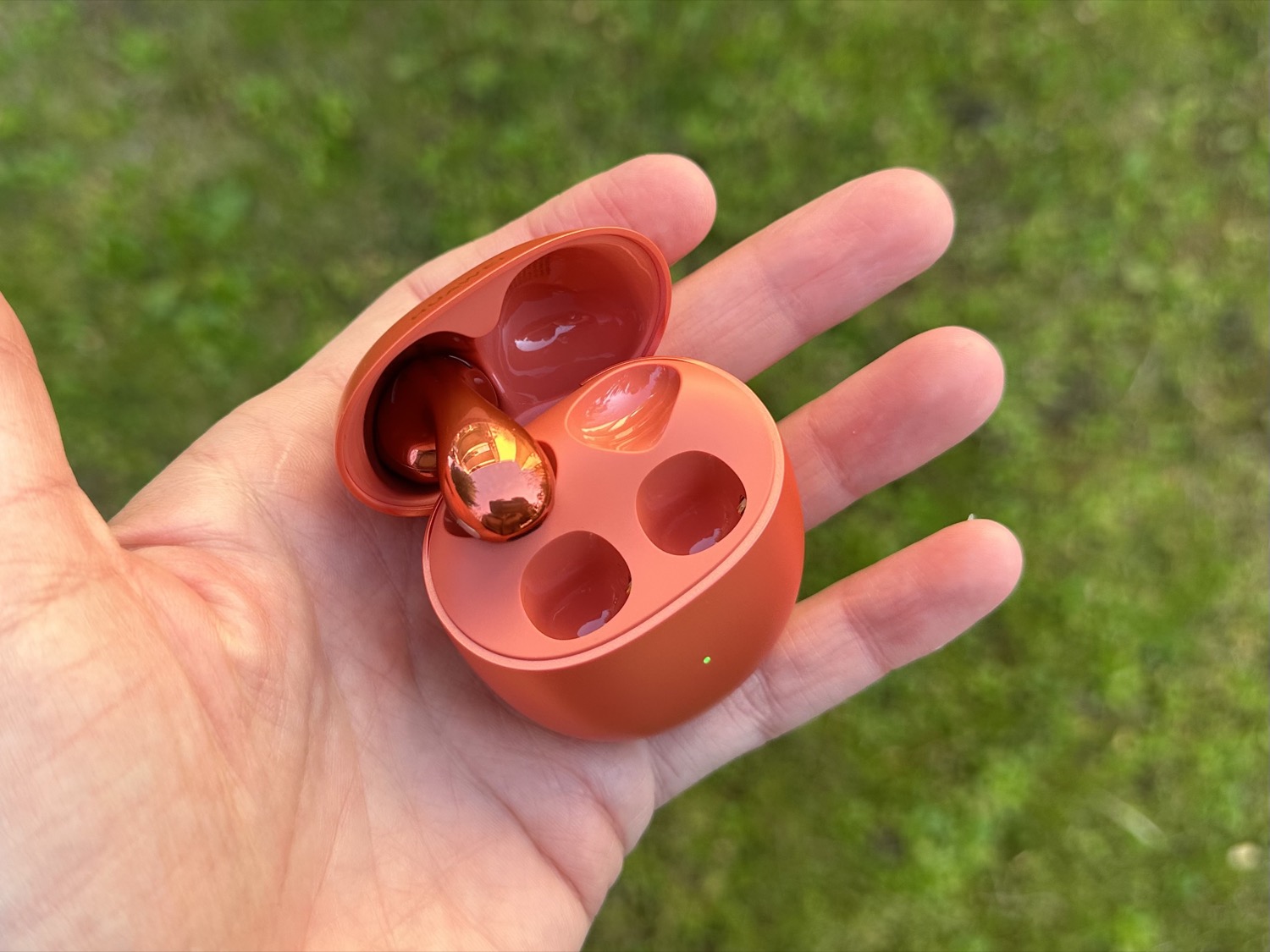 Connection, control
As with other Huawei devices, the user has two connection options – via Bluetooth or the Huawei AI Life app.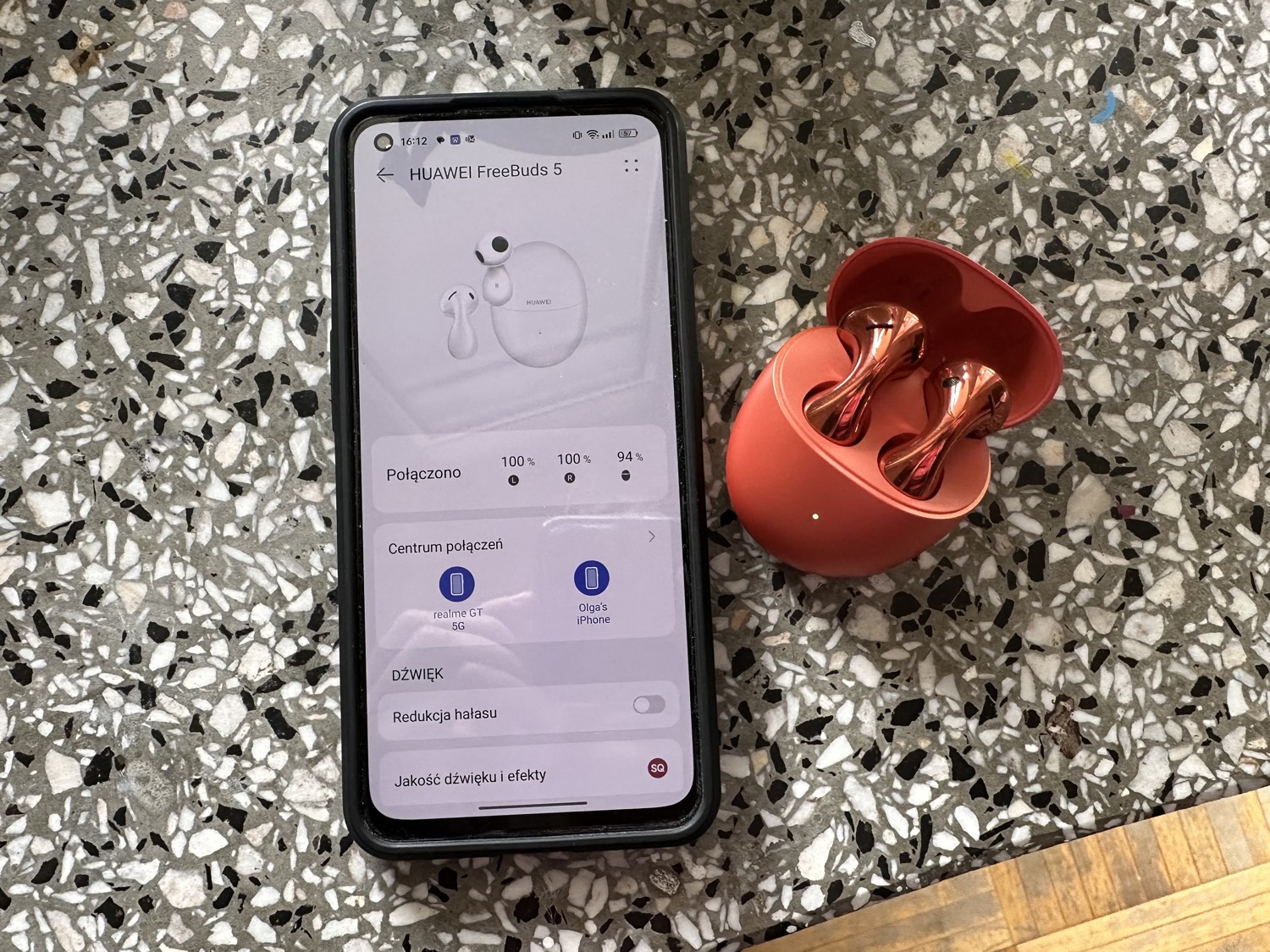 In the first case, everything is simple. You open the case, hold down the button on the side for a few seconds until the indicator starts blinking, and look for the model you need in the list of available Bluetooth devices. However, this simplified option does not allow you to use all the features of FreeBuds 5, so I recommend installing Huawei AI Life (it is better to download the Android version from the Huawei website).
In the app, you can find many useful settings and get the information you need. You'll see the charge level of the headphones and case, the current noise cancellation mode, and several special settings. For example: gesture control, equaliser, fit test, headphone search, software update, and wearable activation settings.
The headphones are controlled by tapping. For example, a double tap to start/pause. The most convenient way is to adjust the volume by gesturing up and down the headphone stem. You can reconfigure the gestures in the app. They work clearly.
The cool thing about FreeBuds 5 is that they work with two devices at the same time and easily switch between them. First, I connected the headphones to my smartphone and laptop, and then everything happened automatically. For example, if my smartphone received a call while I was watching a video on my laptop, the headphones switched to my smartphone. When I switched the video back on after the call, I could hear the sound from the laptop.
In the end, you don't have to do it manually, and you don't have to turn off Bluetooth on your phone so that the device doesn't constantly try to connect to the headphones. This feature works with any operating system – iOS, Mac OS, Windows, Android. It's mega convenient!
In the Huawei AI Life app, you can configure which device is recognised as the primary device so that it always gets priority when pairing.
The headphones also support a sound delay mode, which is useful for games and movies.
Huawei phones have "reserved" options, such as automatic pairing or automatic detection when the headphones are in your ears.
But automatic pause, of course, works with all systems – if you take the earphone out of your ear, the song pauses, you put it back in, and you can continue listening without doing anything else.
Among the useful features of the Huawei AI Life app, I would like to mention the ability to search for headphones. In this case, there are two options: the headphones can notify us with a sound, and the app will show their last location on the map.
Sound of Huawei FreeBuds 5
The headphones support Hi-Res audio playback (LDAC codec), which is a significant difference from their predecessors. I can't say that this feature immediately makes the model the best option for music lovers, but the sound quality is well above average. Especially in the world of in-ear headphones. This is due to the dynamic 11 mm driver with a double magnetic circuit and high-quality composite diaphragm. This design also affects the quality of bass – it is pleasant and deep, including from 16 Hz.
To sum up: the sound is great, especially for in-ear headphones. You can criticise the new headphones for their high price, but at least the sound quality justifies this cost. It's very clear and pleasant, to the point of goosebumps, you immediately feel that you are wearing expensive headphones. The 5i model lacked bass, but here it's just the right amount. Yes, the sound is not as "deep" as in the case of earbuds, but this is not a disadvantage, but a feature.
The volume margin is excellent, although I would advise you not to turn up the volume, but to use ANC, which we will discuss below.
The app has three equaliser modes: standard, bass, and treble. There is also an adaptive equaliser that automatically adjusts the sound depending on the tightness of the ear canal.
Read also: Huawei MatePad SE 10.4 tablet review
Active noise cancellation (ANC)
Few companies other than Huawei produce in-ear headphones with active noise cancellation. It may seem like a Sisyphean task to try to drown out noise in open-type headphones. I had both FreeBuds 3 and FreeBuds 4 with ANC. Yes, they muffled low-frequency noises like an aeroplane or a car, but not much.
With the FreeBuds 5, the manufacturer announced a new generation of Open-fit ANC 3.0 noise cancelling device.
Each earbud has 3 microphones, two of which detect ambient noise and one of which detects sounds entering the ear. The system works with a deep neural network (DNN) algorithm to actively isolate unwanted sounds and enhance voice.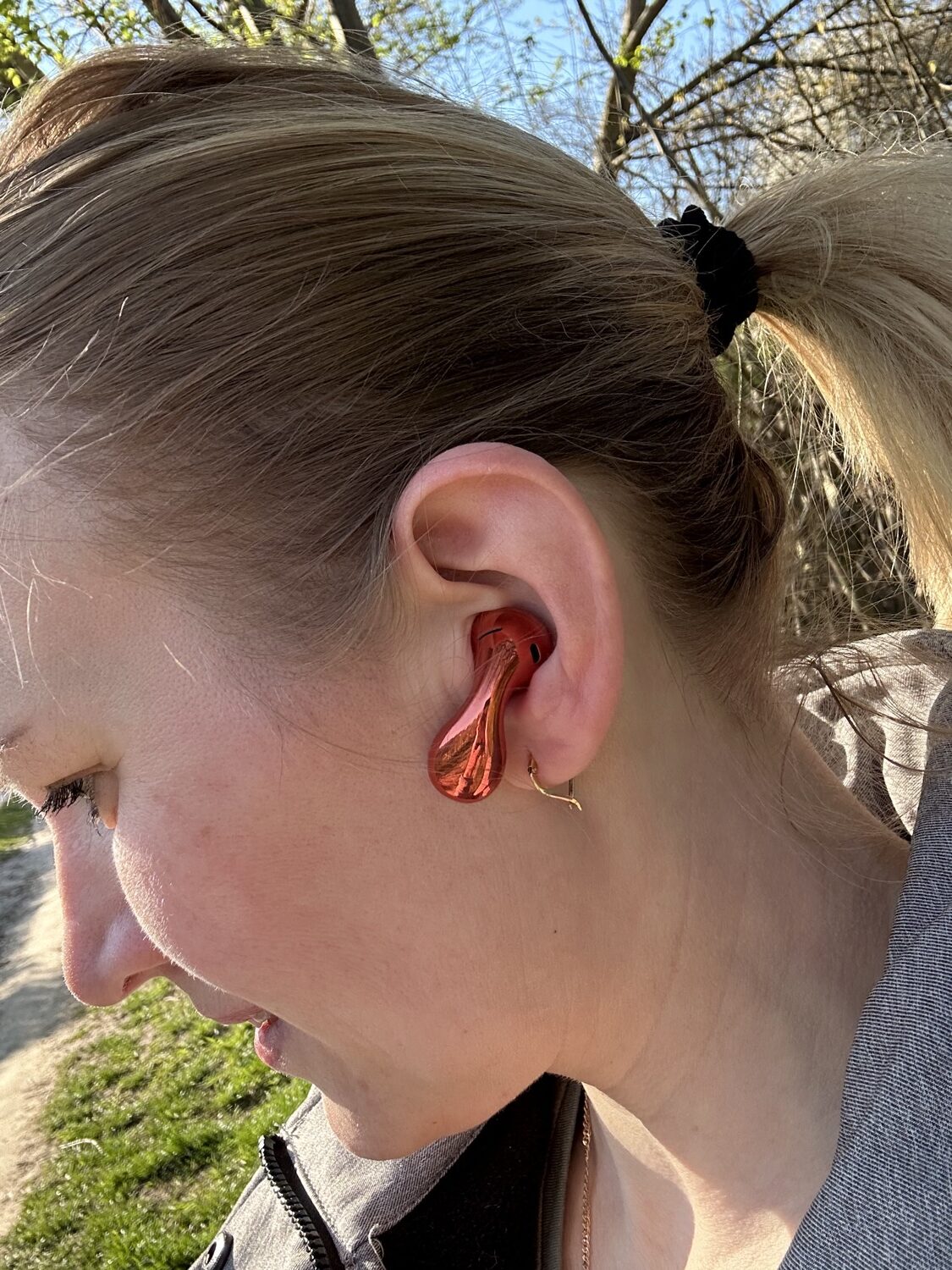 What I can say is that the noise canceller is definitely more powerful than it was in FreeBuds 4. When you activate it, you can really switch off from most extraneous noise, you feel like you're in a capsule or in space (remembering the "space" design). And I wouldn't say that there is a very noticeable difference with earbuds. Yes, the earbuds are more effective due to additional passive sound isolation, but if you prefer open-type headphones and sometimes you need ANC, then FreeBuds 5 is a great choice, Huawei has done its best.
The headphones offer two levels of noise cancellation: Comfort, which works in low-noise environments, and General, which works in very noisy environments. You can also select Dynamic Mode, which automatically adapts ANC to the environment.
Since we are looking at open-type headphones, they do not have a transparency mode – everything is audible with the noise reduction turned off.
Voice communication
Active noise cancellation works not only during music playback, but also during voice calls. The intelligent system detects ambient noise and blocks it out, leaving you with a clear, easy-to-understand voice message without distractions.
Huawei FreeBuds 5 battery life
Compared to FreeBuds 4, the operating time of FreeBuds 5 has increased significantly. But if you compare it with competitors for the same money, it's not that long. Surprisingly, you can put more serious batteries in large "drops" of headphones.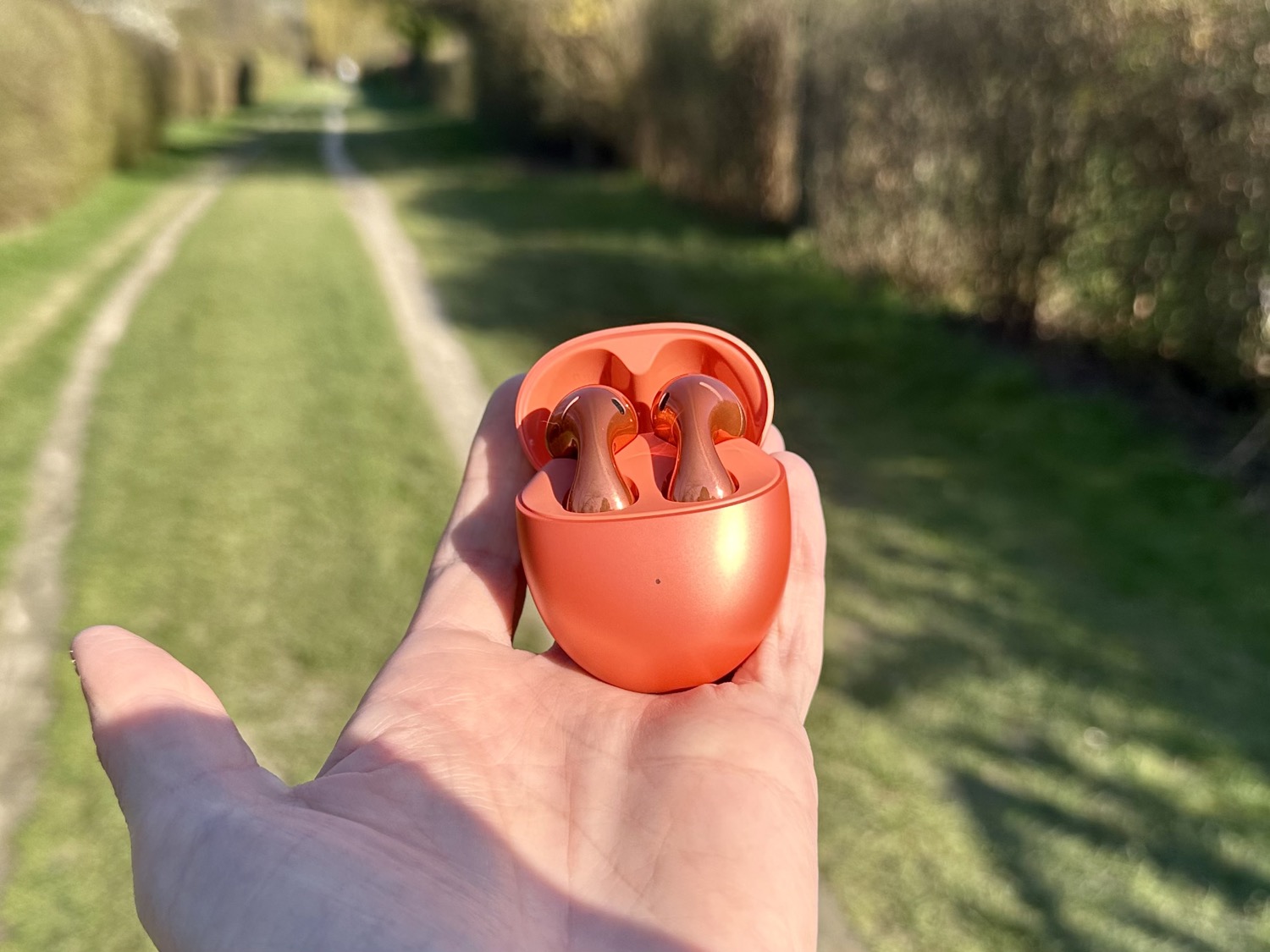 Without ANC, the headphones play music for about 5 hours, with noise cancellation this time is reduced to 3.5 hours. If you talk on the phone, these figures will be about 20-30 minutes less.
With recharging in the case, the headphones will last about 30 hours, with constant use of ANC, this time will be 20 hours.
The data from the manufacturer is approximate, in practice it all depends on how often you turn on ANC, how often you talk on the phone, what volume level you prefer, etc. In any case, the results of my tests did not differ from Huawei's figures.
The new headphone model features fast charging. The earbuds themselves take 20 minutes to charge in the case, while 5 minutes of charging is enough for two hours of music. The case is fully charged in about 40 minutes if you connect it with a cable to a power adapter or laptop.
There is also wireless charging for the case. However, it is slow – the case takes 4 hours to fully charge. You can put it overnight, I use a 3-in-1 charging station.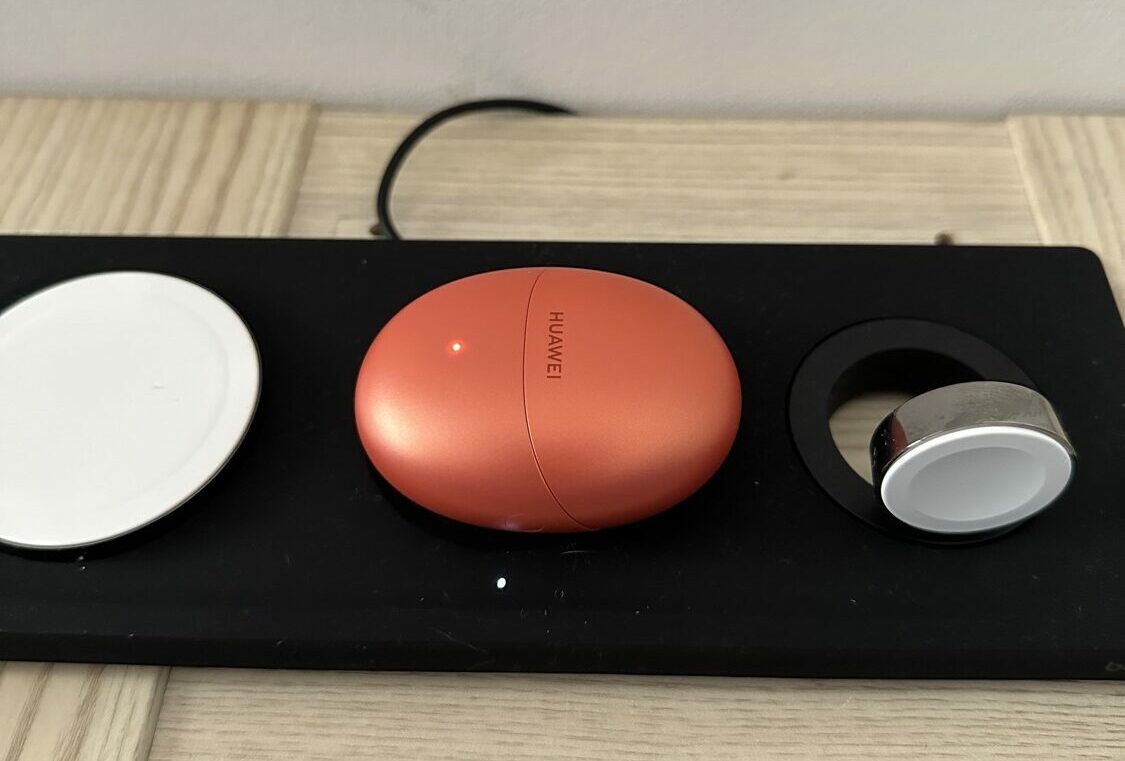 You can also charge the FreeBuds 5 case from smartphones that support reverse wireless charging (supported by top models, such as the Galaxy S23 Ultra), but you're unlikely to use it, because you'll have to leave your phone for 4 hours.
Conclusions
We've been waiting for a new generation of ordinary FreeBuds from Huawei for a long time. And FreeBuds 5 turned out to be… unusual. Yes, these are cool headphones in every way – they have almost audiophile Hi-Res sound, gorgeous (for an open-type model) ANC, acceptable battery life (up to 20-30 hours with recharges in the case) and fast charging, excellent microphones for phone conversations, and well-thought-out gesture control. The headphones are comfortable in the ears – and most people will most likely say so.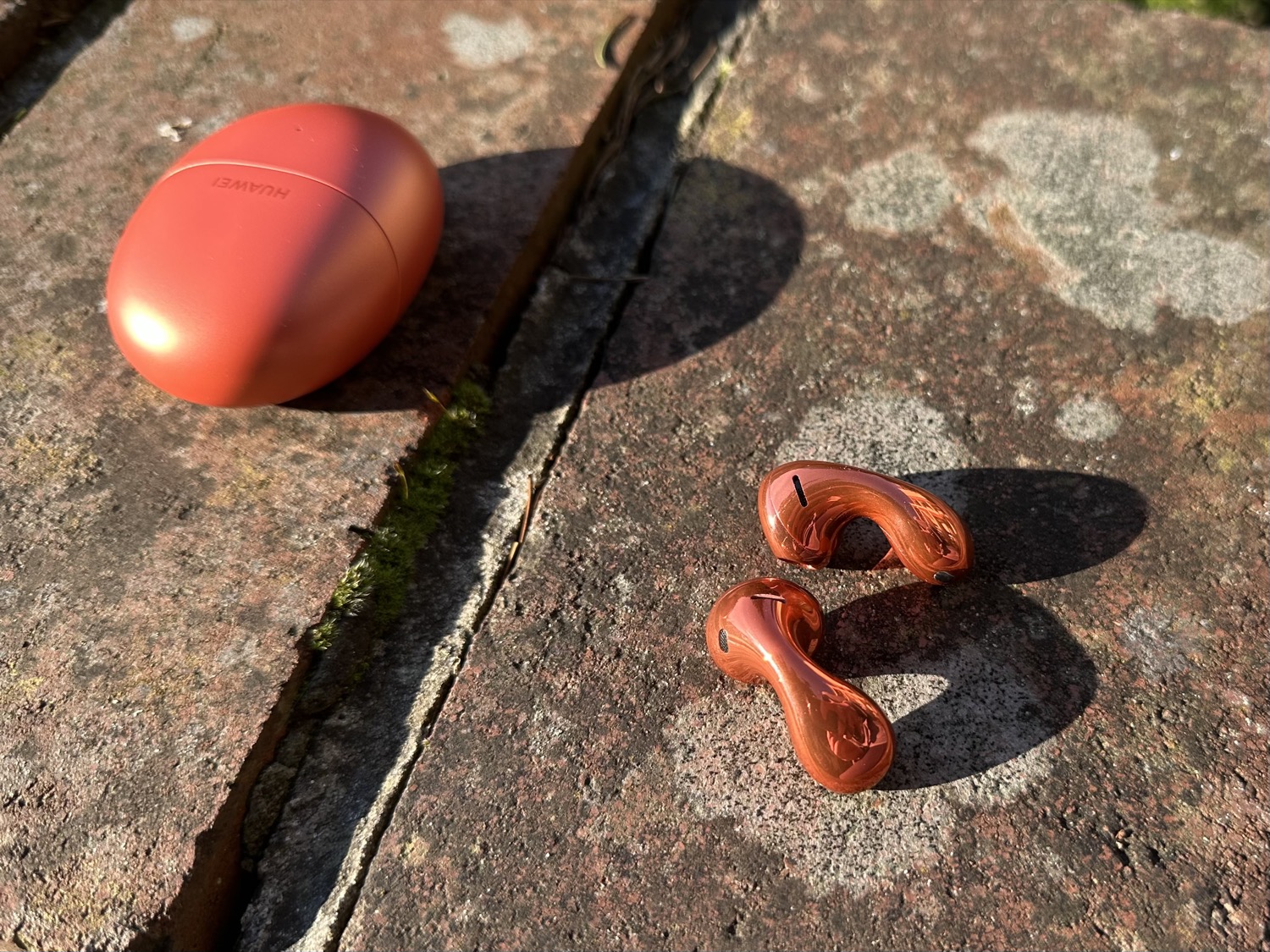 But all this in a strange design that Huawei calls stylish, avant-garde, futuristic and streamlined. For me, it looks a little too stylish, avant-garde, futuristic and streamlined. But you may have a different opinion.
The price of the new Huawei earbuds is such that they are in the same segment as top models like OPPO Enco X2, Xiaomi Buds 4 Pro, OnePlus Buds Pro 2, and even AirPods Pro will not cost much more (I'm not even comparing them to AirPods 3, because they don't have the same sound and ANC, although they are also in-ear)! And the top-of-the-line Huawei FreeBuds Pro 2 cost almost as much as FreeBuds 5. I don't even know if anyone will be willing to fork out that much for unusual-looking "earbuds".
In any case, there are few earbuds on the market. And there are probably no in-ear headphones with such great sound at all. So if you're looking for in-ear headphones and the price and design in the case of FreeBuds 5 don't bother you, then go for it, don't hesitate!
https://youtu.be/78DAxRJyunU
Where to buy Huawei FreeBuds 5
Read also: