Tronsmart Element Mega is an affordable ($35) bluetooth speaker and the second Tronsmart device that I've tested.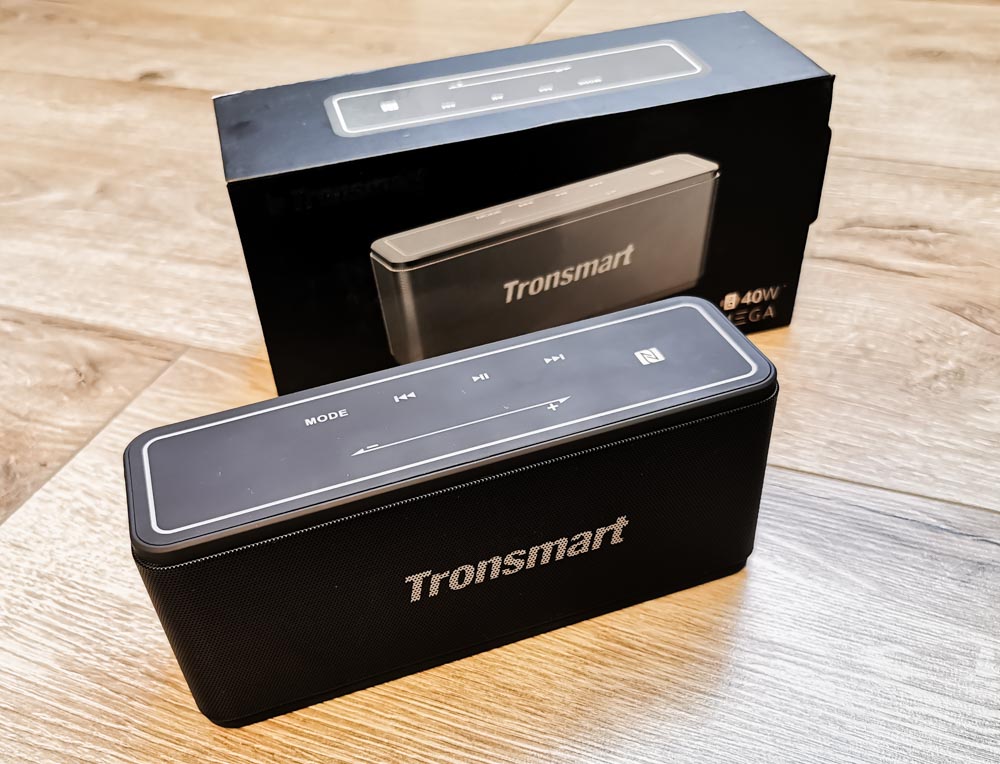 The first was Encore Spunky Buds TWS headset, which turned out to be a great as well as affordable. Therefore, I was doubly interested in checking the quality and functionality of the second gadget in order to find out if this was an exception or is there a pattern.
Where to buy Tronsmart Element Mega
Features
The first thing that catches your eye is its power – incredible 40 watts, and in addition – the NFC module for quick pairing with a smartphone. In general, great specs.
I want to note that my test device is somewhat different from the product description on the official website. It tells about the US version, which is equipped with a USB-C port, and we get microUSB. There is also no call button for voice assistant. And also – Bluetooth 4.2 instead of 5.0. It's a shame. The biggest minus is that unlike the American model, our version of the speaker does not have a microphone. That means no hands-free function when connected to the phone.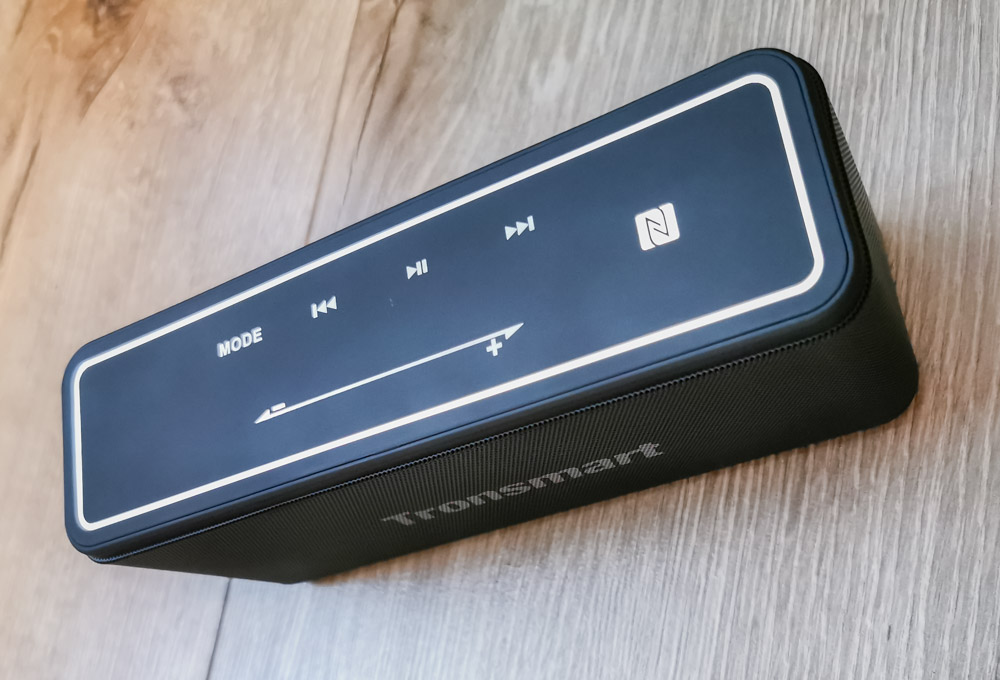 In my review we look at the European version of Tronsmart Element Mega, devoid of all these interesting features. Maybe there are several revisions of this model. I do not know for sure. But the fact that there are differences is a fact. I advise you to check what version you are buying, otherwise be ready for a disappointment.
Specifications of my copy:
Bluetooth: 4.2
Transmission Range: Up to 20m
Output power: 2x 20 W
Loudspeakers: dynamic 53 mm, 4 Ohms, 20 W
Low frequency resonator
Power Source: 5V / 2.1A
Frequency response: 115 Hz-13 kHz
Distortion: ≤1.0%
Battery: 7.4V / 3300mAh
Play time: up to 15 hours
Dimensions: 193 mm x 57 mm x 82 mm
Weight: 662.3 g
Of the declared features of the speaker:
Touch control with brightly lit buttons on the top panel.
Whatever it means: 3D Digital Sound & DSP – supposedly "for perfect sound in any environment: outdoors and indoors." Well, I don't know, we'll check.
Compatible with True Wireless Stereo (TWS) – this means that you can use two speakers at the same time to create full-fledged stereo-separated channels.
What's in the box
In the box – the Element Mega speaker itself, a charging cable, a 3.5 mm wire, instructions, a warranty card.
Design, materials, elements configuration and build quality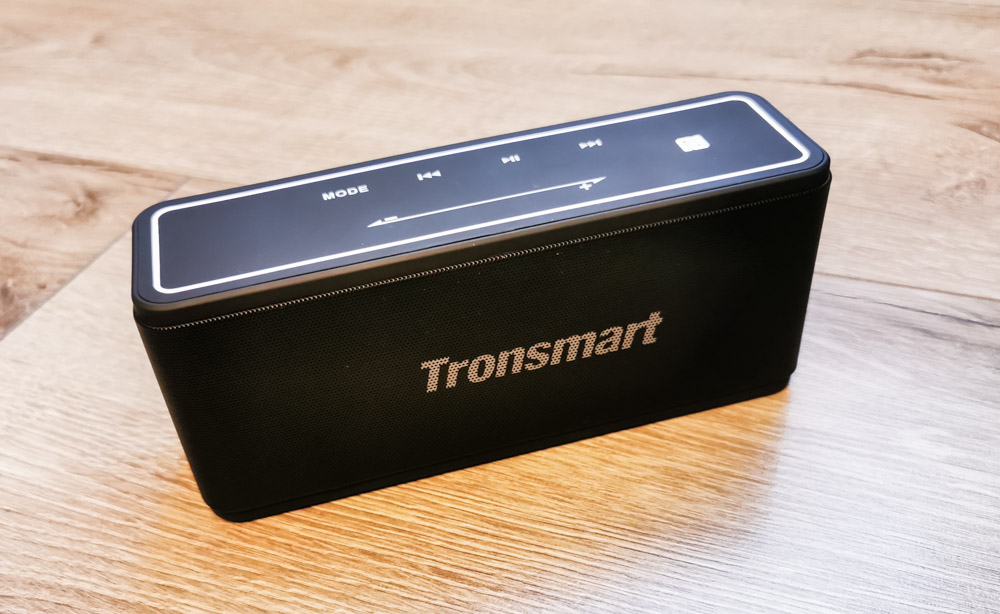 Tronsmart Element Mega looks like a simple parallelepiped of small dimensions, fitted around the perimeter with a grid – in front, where 2 speakers with a diameter of 53 mm and a subwoofer resonator, on the sides.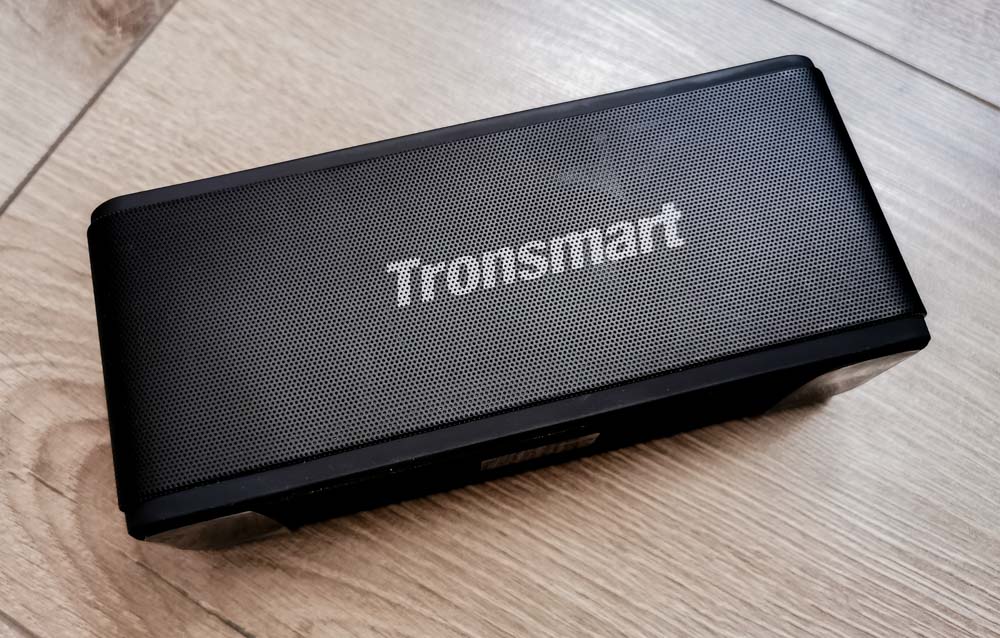 The joint is only one – at the back. Ribs on bends are slightly rounded.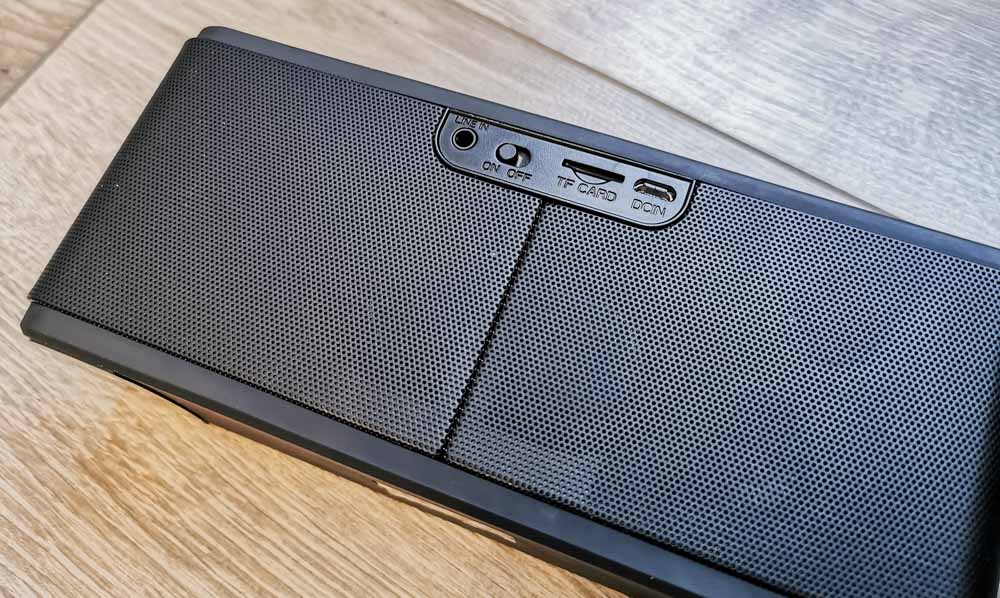 Above and below the speaker has thick rubberized plastic with soft touch coating.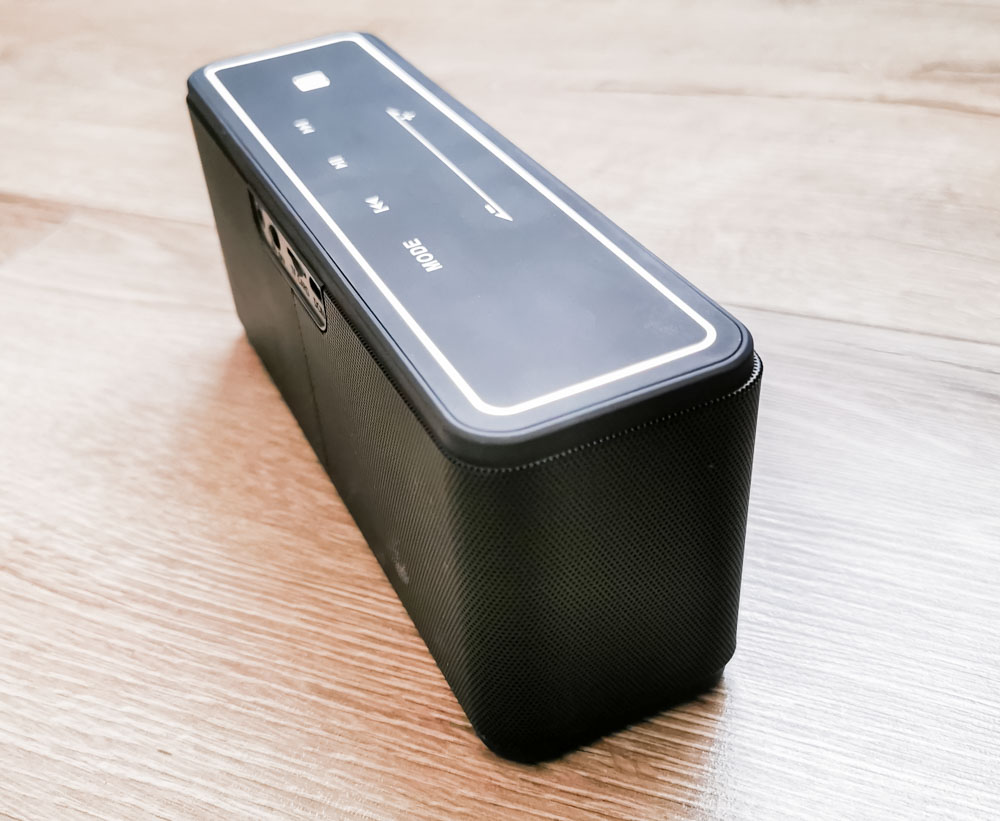 Below there are two rubber legs and a sticker with information about the model in the middle.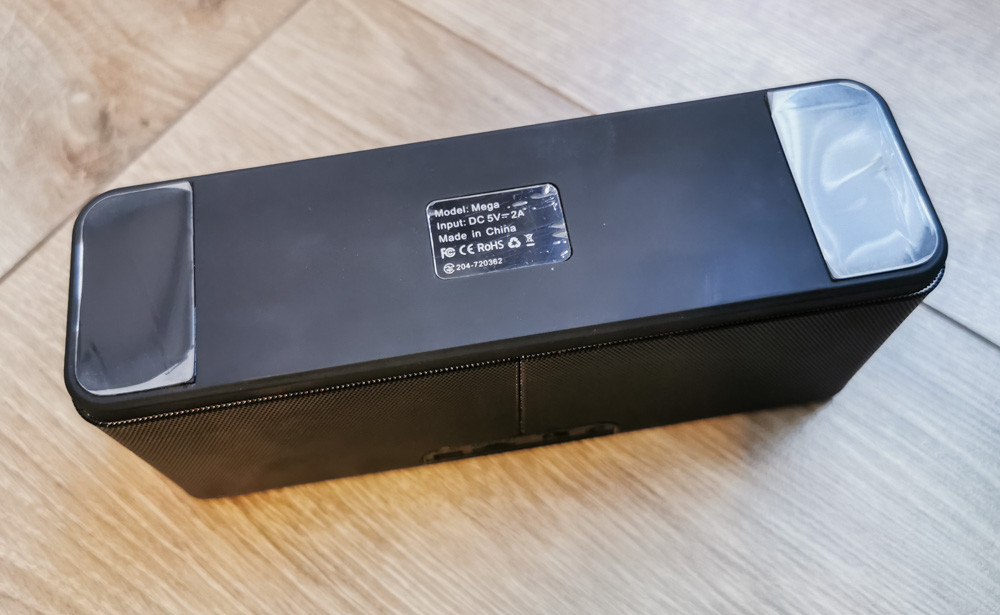 At the top there is a frame, inside of which there are touch control buttons: play/pause mode, switch tracks, adjust volume, NFC module marker. It looks impressive and slightly futuristic.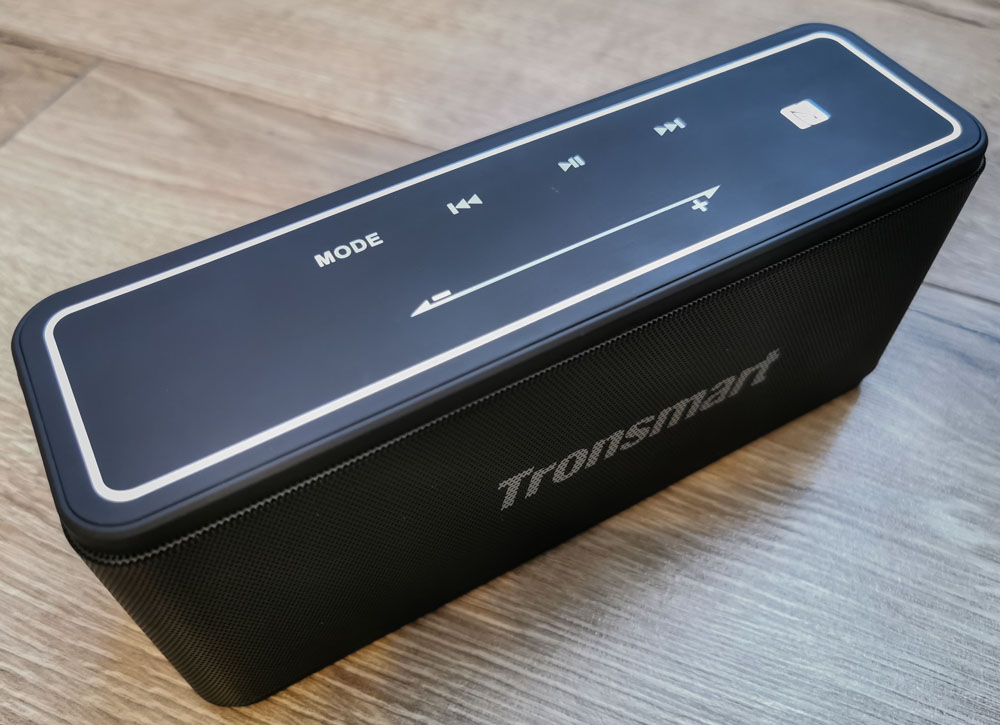 At the top back there is a plastic recess in which are located: audio input – 3.5 mm jack, the power button, microSD card slot and microUSB port.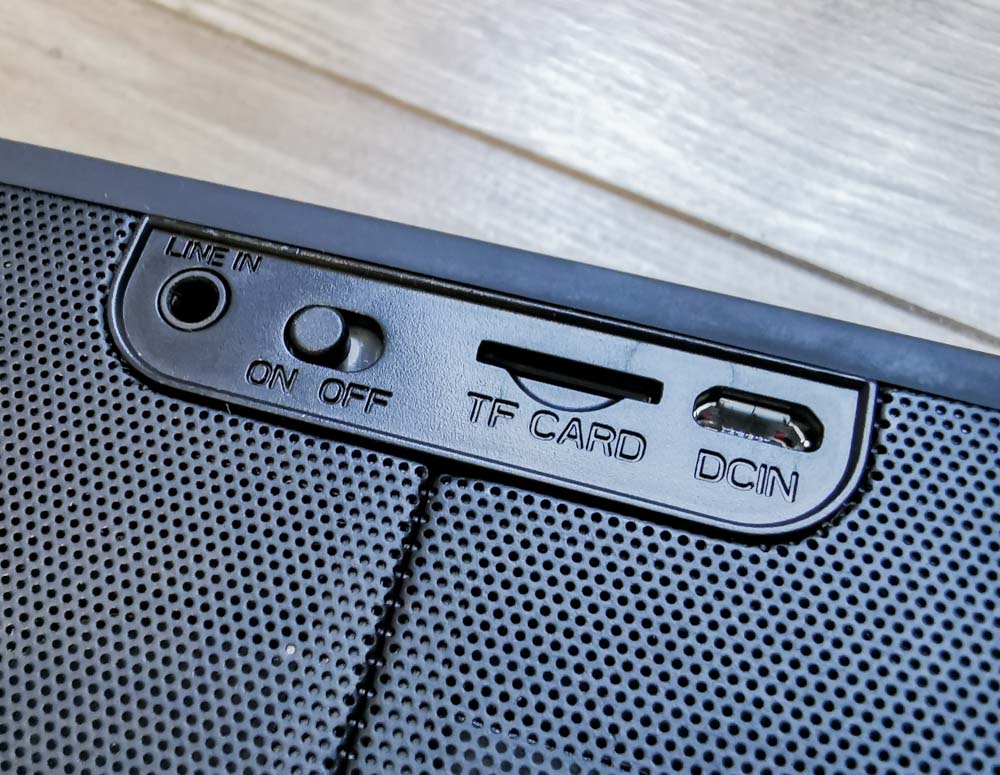 The build quality of the device is perfect. The case is sturdy, but it is not protected from dust and moisture. In addition, when falling, it is likely to get dents on the metal mesh. In general, the speaker is not designed for outdoor use. It's for indoors only. Although there is a similar version of the protected speaker for fans of picnics. I am talking about Tronsmart Element Force.
Actually, if your smartphone has an NFC module, then just bring it to the glowing logo. Just confirm the connection request on the smartphone. That's all. Otherwise, just turn on the speaker and connect it via the Bluetooth settings menu on your smartphone or tablet.
As you know, the speaker can play music from an SD card. Or work as an amplifier for a player or phone connected via a 3.5 mm audio input.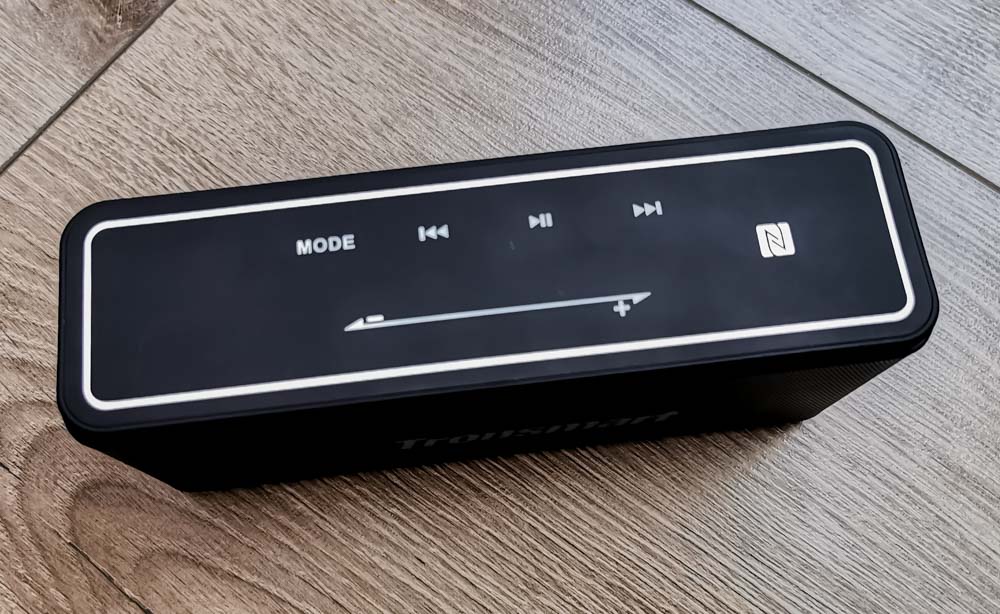 You can switch modes with the MODE touch button. Touch buttons respond even to a light touches. Playback control should be easy enough. Volume control seems to be similar to the touch zone-slider, but in fact there are just buttons in the arrow area. You can simulate gestures, or you can just click.
As for sound notifications, there are no voice prompts. When you change the mode or when the connection status changes, the speaker signals with unique sounds.
Regarding the reliability of the connection. Indoors – everything is fine, no complaints. The connection is stable even through one concrete wall. In the open, you can count on a reliable connection to the source at a distance of up to 20 m in the line of sight.
Sound
Now we turn directly to the sound quality. I note the main point – the frequency range changes with increasing volume. The highest quality music is played at medium volume. In this mode, the sound is balanced. All frequencies are here.
But a further increase in volume leads to bass being cut and the speaker just starts to scream loudly. In outdoors this is probably the main quality for a product of this class.
As for the power of 40 watts – I still very much doubt this figure. For comparison, purely by ear, without any measurements, Tronsmart Element Mega sounds as loud as 20-watt Promate Silox. At the same time, the Promate speaker has deeper bass, the sound is more dynamic, but in size it is noticeably larger and heavier.
Therefore, based on the dimensions, Element Mega speaker is loud, and its sound is pretty good. For comparison, I tried to compare it with Divoom OneBeat-200 (similar in size) and Tronsmart sounds much more interesting and powerful.
Read also: Tronsmart Spunky Pro review – Great TWS headset for $30
Verdict
In general, it's quite OK. Tronsmart Element Mega is undoubtedly a high-quality speaker, there are no complaints about the design, build quality and materials. The main thing that distinguishes the device from competitors of a similar size is its incredibly high power. Even though it's achieved to the detriment of sound quality at maximum volume.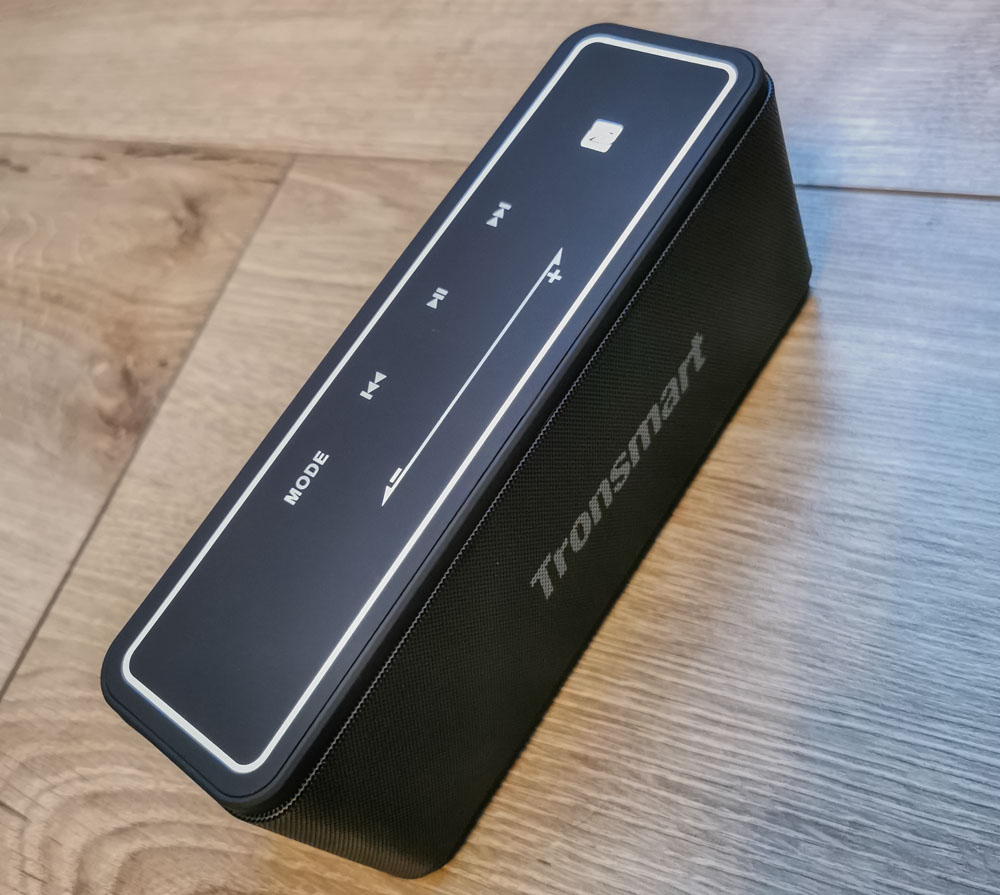 In addition, I can note the comfortable pairing of the speaker with the smartphone using NFC and convenient touch controls. The result is a good product worthy of the attention of potential buyers.
Where to buy Tronsmart Element Mega
Subscribe to our accounts: