Looking to buy a gaming laptop with a powerful processor and graphics card but aren't ready to spend a lot? Then you need the updated Acer Nitro 5 2020.
The evolution of gaming laptops interests me a lot. Just a few years ago, gaming machines had a dubious, somewhat angular design, and the graphics performance was significantly inferior to their desktop counterparts. Today's gaming laptops are significantly smaller, more mature in style, and shiny surfaces have replaced interesting forms with LEDs. In addition, the capabilities that modern gaming devices have acquired can be useful not only for games.
Also, one more positive change should be noted – now you do not have to spend a huge amount on purchasing a device with a reasonable configuration, as it was a few years ago. Space for multiple storage media, high-quality matrix, good speakers, comfortable RGB-backlit keyboard – such additions can be easily found in the lower price range. Of course, buying such a device still won't be cheap, but it is a price to pay for smaller components and efficient cooling.
The Acer revolution
An example of such a solution is the 15-inch Acer Nitro 5 in its latest version. Let me remind you that Acer offers two series of gaming laptops – the cheaper Nitro line, which is still popular, and the more expensive Predator series with the most powerful components.
The Nitro family are the cheaper cousins of the prestigious Predator, so you won't find platinum case, Swarovski crystals, or unicorn hair here. But visually and in terms of configuration, the Nitro 5 still has something to brag about and, most importantly, for a very reasonable price. In stores, the version with Core i5 10300H and GTX 1650 Ti, and Full HD resolution can be purchased for about $1000, which is a pleasant price-performance ratio. The improved version I tested, with Core i7 10750H and RTX 2060, is a little more burdensome for the wallet, so here you will have to spend about $1500. Do you think this is too much? It all depends on your priorities and expectations.

Now in the Nitro lineup there is also a version on AMD processors. But today we will talk about the top-end configuration on Intel Core i7 10750H and NVIDIA GeForce RTX 2060.

Let's check what Acer Nitro 5 has to offer. Let's find out if it is good enough for real gamers. But first let's check out the technical characteristics of this gaming machine.
Acer Nitro 5 2020 Full Specifications
Dimensions and weight
363 × 255 × 24 mm
2.3 kg
Processor:
Intel Core i7 10750H
6 cores, 12 threads
2.6 – 5.0 GHz
TDP – 45W cache – 12MB
Available processors:
Intel Core i7 10750H
Intel Core i5 10300H
AMD Ryzen 7 4800H
AMD Ryzen 5 4600H
GPU:
NVIDIA GeForce RTX 2060, 6 GB
Intel UHD 630
Available GPUs:
NVIDIA GeForce RTX 2060 6GB
NVIDIA GeForce GTX 1650 Ti 4GB
NVIDIA GeForce GTX 1650 4GB
Intel UHD 630
Drive:
1 TB, SSD M.2 PCIe NVMe
WDC PC SN530 SDBPNPZ-1T00-1014
Supported drives:
2x M.2 PCIe NVMe, RAID 0
1x 2.5″
RAM:
2x 8 GB, DDR4
Max. 32 GB,
two SODIMM slots
Matrix:
15.6-inch Full HD 1920 × 1080
IPS matte 144 Hz
LGD061E / LP156WFG-SPF3
Available matrices:
Full HD, IPS, matte, 144 Hz
Full HD, IPS, matte, 60 Hz
Ports:
1x USB 3.0 Type-A
2x USB 3.1 Type-A
1x USB 3.1 Type-C
HDMI 2.0
LAN
audio
Battery:
57.5 Wh, Li-Poly, 4 cells
Network cards:
LAN – Killer E2600 EC
WLAN – Intel Wi-Fi 6 AX201
Bluetooth 5.0
Optional equipment:
TPM 2.0
RGB backlit keyboard
Acer TrueHarmony audio system
DTS: X
DTS Sound Unbound software
Killer Control Center 2.0 software
Acer NitroSense software
Design and Materials
Even though the Acer Nitro 5 does not hide its gaming essense, it can still grab the attention of those who prefer stricter exteriors. Its matte black body, several embossed and refined inserts with a red accent on the back create an attractive enough design that is both fun and somewhat restrained. And if, for example, a laptop falls into the hands of a young graphic designer, video editor or other representative of the so-called creative industry, they will most likely be happy with it.

Thanks to its sturdy configuration and relatively compact size, the Nitro 5 can be not only a home entertainment center, but also a good productive and easy-to-transport tool for solving tasks that require a lot of computing power. Of course, I'm by no means trying to argue that the portability of the Nitro 5 is comparable to ultrabooks, but the laptop's thickness (24 mm) after closing and 2.3 kg of weight are quite decent. Even with the slightly smaller bezels, it will be really hard to call the Nitro 5 overly bulky.

Almost entire body consists of high-quality, pleasant to the touch material with a smooth rubber texture. Once this material was only used in high-end gaming devices, but now we can find it in cheaper gaming machines as well. The texture of the material is great when working or playing.
The wrists do not stick to the desktop, and the entire surface is reasonably well protected from fingerprints and also provides a secure hold when carrying the computer.
When it comes to reliability, the laptop performs well enough, but it's not perfect. Although the device has a decent thickness, the screen undergoes some deformation when pressed, which is obviously due to the use of wide hinges. Fortunately, in spite of this, the screen is well protected, so strong pressure does not cause deformations or other disturbances on the working matrix.

The hinges mentioned in the tested model aren't particularly tight, making it possible to lift the screen with one hand, which is impossible if you deal with a large screen laptop. The consequence of this, however, is a high tendency of the cover to loosen when shaken, and when the device is moved, the screen itself can change the angle of inclination. However, I must admit that during my practical and play tests the lid itself never changed its position.
Only the bottom of the outer cover with the screen is slightly bent due to the design of the center hinge. That's what allows you to tilt the screen by about 150 degrees, and at the same time very reliably holds it. The hinge looks really solid and I think the life of the hinge can be very good.
Like the previous hinge, it is also highlighted in red. The loop runs almost the entire length of the body. Air vents on the back of the laptop give it a futuristic look.
When the computer is turned upside down, you will see four hard, soft plastic stands. They eliminate possible vibrations and also provide space for the fans, allowing air to be drawn in to cool the components inside. There are quite a few holes as the Nitro 5 has two large fans. All of this is designed in such a way that the exhaust air is forced out through the ventilation grill on the right side.
The work area is also not perfectly stable. The design under the screen looks great, but the keyboard and wrist rest react to strong pressure, and when you try to bend it, the case material creaks noticeably inside. However, these are not flaws that ruin the Nitro 5, but rather a reminder that we are dealing with a cheaper device and not an expensive Predator in a magnesium-aluminum housing.

While the laptop doesn't have the classic service hatch, getting to the components isn't a big deal. For example, after removing a few screws, an old credit card is enough to squeeze out the latches that hold the bottom and reach the middle of the device. You can see here that the options for expanding the configuration are quite good, since the Nitro 5 is equipped with SO-DIMM slots for RAM (up to 32 GB), two slots for M.2 drives with the possibility of connecting them in RAID 0 and a bay for 2 5-inch HDD-drive.
Port Selection and Placement
In terms of the communication ports used, the Acer Nitro 5 is similar to last year's versions, and unlike the Acer Helios 300, we won't find a digital mini DisplayPort here. In addition, the manufacturer did not provide for a Thunderbolt 3 port (there is a regular USB 3.1 Type-C Gen.1), and also decided to abandon the SD or microSD reader. Almost all ports are located on the left and right sides. The exception is the power connector for the laptop itself, which is located on the back of the device.

The left side of the laptop has a Kensington lock, an RJ-45 Ethernet network port, two USB Type-A 3.1 Gen.1 connectors, and a 3.5mm audio jack for wired headsets.

The right side is equipped with USB Type C 3.1 Gen.1 ports, a third USB Type-A 3.1 Gen.1 port, and a digital HDMI 2.0 port.

This is a perfectly reasonable set, although the ability to connect only one external monitor may not satisfy all professional users.
144Hz screen
The Acer Nitro 5 laptop is equipped with an LM156LF-2F01 matrix from Panda Display. It's a 15.6″ screen with a resolution of 1920 × 1080 pixels and a matte finish. It is made using IPS technology, so the screen has wide viewing angles, both vertical and horizontal. The matrix in question has an average brightness of about 270 nits. Therefore, in very sunny rooms or outdoors, using a laptop at 100% brightness can be somewhat problematic, although this is mainly for outdoor use.

But, nevertheless, most importantly, the Acer Nitro 5 2020 is equipped with a more than decent IPS panel with a refresh rate of 144Hz, so it's physically capable of displaying 144fps.

Such a screen will be especially appreciated by fans of fast and intense multiplayer games, where the high refresh and smoother gameplay can turn into an advantage over the competition.
Here are the parameters of the matrix:
brightness 376 cd/m2;
contrast: 892: 1;
black color 0.42 cd/m2;
sRGB palette: 97%;
palette AdobeRGB: 66%;
DCI-P3 Gamut: 68%.
In addition, the matrix from LG boasts not only a three-digit refresh rate, but also excellent image parameters. In the case of the Nitro 5, we can count on high brightness, decent contrast and surprisingly good colors.
The sRGB palette is 97%, so even without an external monitor, the laptop can work well with graphic tasks.

The only caveat I can make about the sensor I tested is uneven backlighting, which is actually impossible to see with the naked eye, but the colorimeter found it brighter in the center of the screen, while at the edges the brightness is much lower than 374 cd/m2.
Acer Nitro style keyboard and touchpad
Laptops in this series already have their own keyboard style. You open it and immediately understand that it is Acer Nitro in front of you. Yes, these are large keys made of high quality plastic, which are not only pleasantly smooth to the touch, but also provide a deep travel. The designers also managed to fit the NumPad, which will certainly be appreciated by users who often work with data.
Now for typing. The Acer Nitro 5 is equipped with a full-size island-style keyboard, almost the same as in the more expensive Acer Predator Helios 700 WSAD series. The up-down, right-left and Nitro Sense buttons (instead of Predator Sense) have a red border to distinguish them from other keys.
On the other hand, the directional keys were not specifically separated from the rest, but I had no problem using them, and there were no cases where I pressed other keys by mistake. Unlike Helios, here we no longer find the extra Turbo button above the keyboard that made the fans run at maximum speed. In Acer Nitro 5, you need to go to Nitro Sense and set this function manually.

The keyboard layout is also well thought out. Although there are lesser keys, this reduction does not affect the convenience of use. Thanks to this, even for people with large hands it will not be difficult to comfortably type texts.
It should be noted that the keyboard in the Nitro 5 is great not only for gaming, but also for those planning to use this model for everyday work. I am sure they will be happy with it. The only drawback is the integration of the power button with the NumPad. Such a solution may save Acer's accountants 50 cents on production costs, but it sometimes causes inconvenience to users who keep putting the laptop into sleep mode by mistake. The fact is that when you instinctively reach for the Del key, which is usually located in this place, you accidentally turn off the device. This can happen quite often.
The keyboard has RGB color and zone illumination, and the colors and lighting modes can be adjusted using NitroSense software. Here we also find Acer TrueHarmony sound equalizer, component load monitoring and the ability to change the operating mode of the cooling system.

Below the keyboard is the touchpad, which this time has been deprived of separate buttons corresponding to the functions of the left and right mouse buttons. Instead, they have been integrated with the rest of the touchpad. I have no big complaints about the work and comfort of using the touchpad.

The touchpad has a moderately slippery surface, so sliding your fingers on it is comfortable and hassle-free. Both the accuracy of work and the comfort of use are very good. Obviously, the touchpad is not quite suitable for games, but it will be very useful during office work or travel, when the use of the mouse is limited by space.
Read also: Acer Swift 3 review – New Ultrabook with Ryzen 5 4500U
Mediocre speakers and webcam
The speakers located at the corners of the wrist rest are the only piece of Acer Nitro 5 hardware that didn't impress me. In fact, they sound quite loud and clear, and with the support of Acer's TrueHarmony software, the music sounds pretty nice and doesn't strain your ears with overly loud bass. A set of built-in speakers will work well for watching movies, but for listening to music or, above all, directly for gaming, it's still better to use a decent gaming headset or a decent external speakers. They can be easily connected via Bluetooth, which will appeal to those who don't like a lot of cables connected to a laptop.

Also, by plugging in headphones or external speakers, we can take advantage of DTS:X.
As for the webcam, we get a 1MP HD module. Unfortunately, there is no additional infrared camera for Windows Hello. The main camera has average image quality and is not much different from what we can find in other gaming laptops in this price range.

This is getting ridiculous – at a time when smartphones use 64 megapixel lenses even in mid-range versions, laptop manufacturers seem to be stuck somewhere in the early 2000s. But what can you do.
Connection interfaces
The Intel Wi-Fi 6 AX20 network card, which is used in the laptop and is responsible for the wireless connection, supports the fast Wi-Fi 6 standard. However, you must remember that to use the full potential of the card, you will also need a router that supports Wi-Fi 6. Bluetooth 5.0 module is also integrated, which will provide a comfortable wireless connection to the gaming headset.

On the other hand, gamers who prefer wired gaming will be pleased with the Killer E2600 EC wired network card, accompanied by the Killer Control Center app. Here you will find many settings and options that will allow you to choose which applications will be given priority. Thanks to this, you won't encounter any delays or other problems.
Top-notch performance
In modern gaming devices, there are usually no performance issues, even in the affordable options. Acer Nitro 5 is a clear confirmation of this.

The laptop comes in a variety of configurations; you can choose from an Intel or AMD processor, and graphics ranging from the low-cost NVIDIA GeForce GTX 16 series to the ultra-powerful RTX 2060. I got the most powerful version available, powered by six-core Intel Core i7 10750H processors and discrete NVIDIA GeForce RTX 2060.
The Core i7 10750H is a mobile full-voltage solution, i.e. 45W TDP, designed for tasks that require a lot of processing power, so we can find it not only in gaming devices, but also in mobile workstations. The six physical cores clocked at 2.6 GHz to 5.0 GHz can handle tasks like film editing with ease, and with GTX or RTX graphics we can work with simple 3D designs.
Of course, it should be noted here that the gaming GPU does not guarantee full compatibility with specialized programs, that is, we will not find ISV certification here, but after switching to NVIDIA Studio drivers, the laptop will acquire a more "professional" character and will work better in some programs.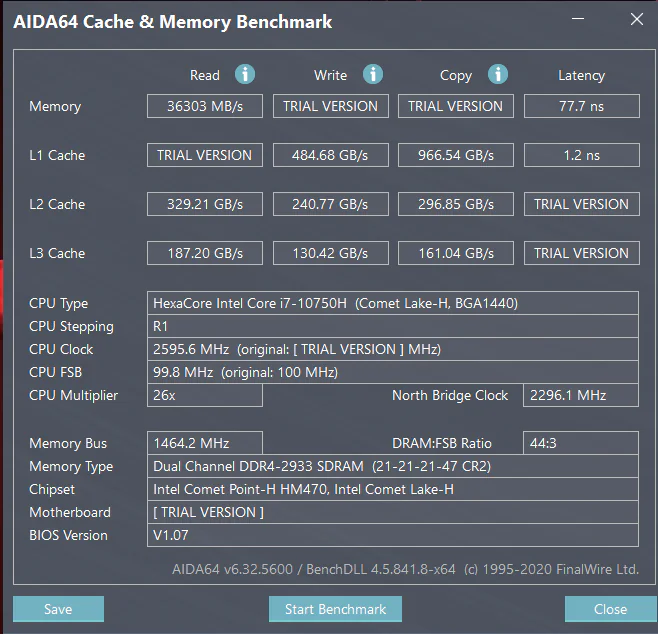 The high TDP of the CPU means that the cooling system does a lot more work here than in Ultrabooks with a low-voltage processor. Unsurprisingly, the Nitro 5's design isn't nearly as thin. Thanks to this, somehow the manufacturer managed to install a heat conduction system and two fans.
Traditionally, we start by checking the relationship between temperature and operating time.
| Intel Core i7 10750H | temp: | clock frequency: |
| --- | --- | --- |
| work time – 15 min | 79°C | 3,4 – 3,5 GHz |
| work time – 30 min | 77°C | 3,4 – 3,5 GHz |
| work time – 60 min | 80°C | 3,4 – 3,5 GHz |
To maintain a safe system temperature and at the same time not to scare the user with loud operation of the cooling system, which will be discussed in more detail later, the range of a fully loaded processor is limited and fluctuates between 3.4 and 3.5 GHz. This keeps the Core i7 at a safe 80° C temperature, although there is no denying that this should be reflected in the benchmark results.
The processor also benefits from support for the 10-bit H.265 HEVC codec, which supports 4K content, and compatibility with Microsoft's PlayReady 3 DRM system, which allows playback of content in Ultra HD quality.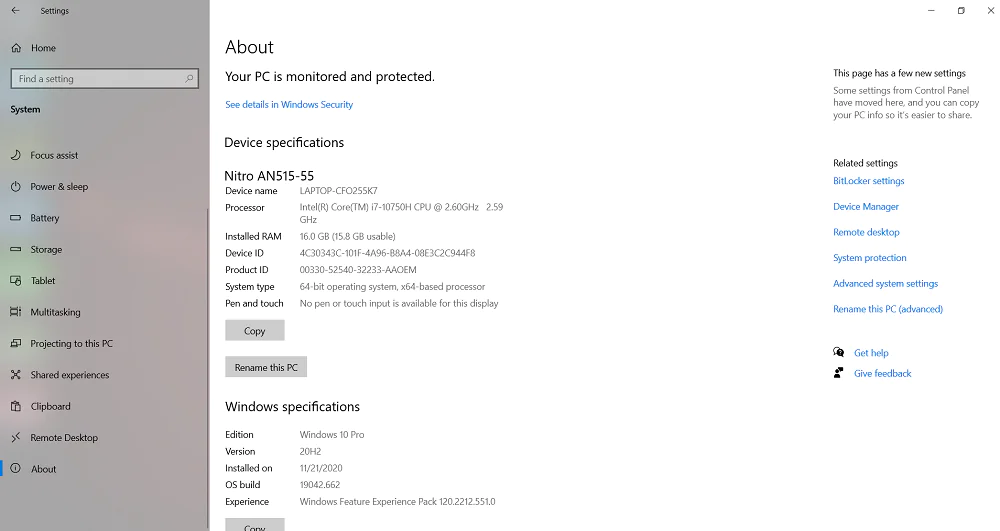 The Intel Core i7 10750H has nothing to be ashamed of, however, and despite the performance of its forebears, it's not hard to see that the new generation has improved performance. Still, the Core i7 is noticeably weaker than the Ryzen 9 4900HS, which is currently the better choice in AMD's high-end laptop segment. It's even more important to know that the Nitro 5 is also available with the Ryzen 5 and 7 from the 4000 series, so fans will find something for themselves in the range of Acer.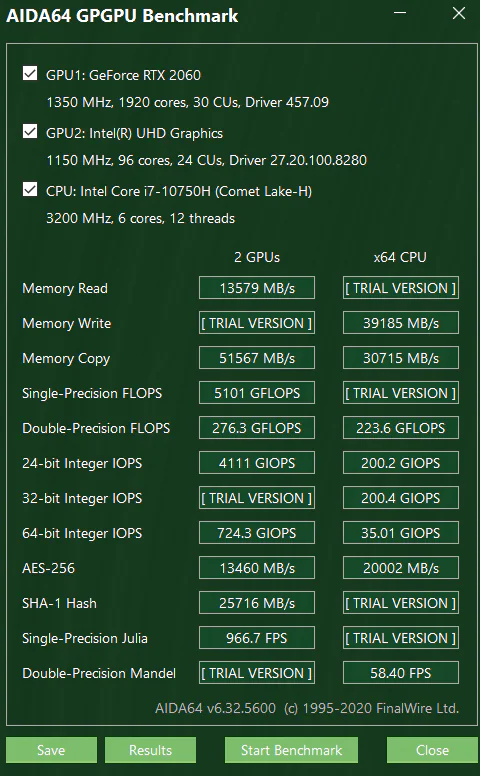 From a GPU perspective, the tested model is an efficient affordable option. In cheaper configurations, we find NVIDIA GeForce GTX 16 series graphics that don't give us access to ray tracing or DLSS, but their performance, even with the most demanding games and Full HD resolution, shouldn't disappoint. The tested model also boasts a full-fledged GeForce RTX 2060 (no Max-Q) with 6 GB of GDDR6 memory. This model does not lack support for the mentioned ray tracing and DLSS, so we will be able to see these graphical additions in all their glory.
Note that the video card cooling system has no problem keeping the temperature within safe limits. So, after an hour hard work the temperature of the RTX 2060 did not exceed 80° C, and the system runtime was maintained at an optimal level. This is especially commendable because high component temperatures have a huge impact on hardware reliability and performance, and a gaming laptop is, by definition, a machine that often runs at maximum load.
As the test results show, the Acer Nitro 5 performs well both when working with design software and even with very demanding games. Far Cry: New Dawn isn't an issue for the RTX 2060, and games with even higher hardware requirements also support a decent amount of frames per second. Assassin's Creed Valhalla even on ultra-high settings reaches about 50 frames per second, and Metro Exodus, which is one of the biggest "GPU killers" with ray tracing and ultra settings enabled, exceeds 42 frames per second. In the second case, the support of the DLSS function has a significant impact, which, using machine learning algorithms, increases the image resolution using the corresponding Tensor cores.
 Here are the test results in some games:
Shadow of Tomb Raider: 64 fps (max quality, Hairworks on).
Doom Eternal: 103 fps (ultra graphics quality, V-sync disabled, Vulkan)
Wolfenstein: Youngblood: 117 fps (high quality).
Metro Exodus: 62 fps (extreme graphics, Phys-X off).
Far Cry New Dawn: 65 fps (Full HD, maximum quality).
Fortnite: 87 fps (Epic quality).
Apex Legends: 108 fps (Very High settings).
Battlefield V: 56 fps (high quality, DXR off).
The Acer Nitro 5 allows you to install three storage units – two M.2 drives and one 2.5-inch drive. The tested model did not take full advantage of these features since it only has one M.2 PCIe NVMe drive from Western Digital with a good 1TB capacity.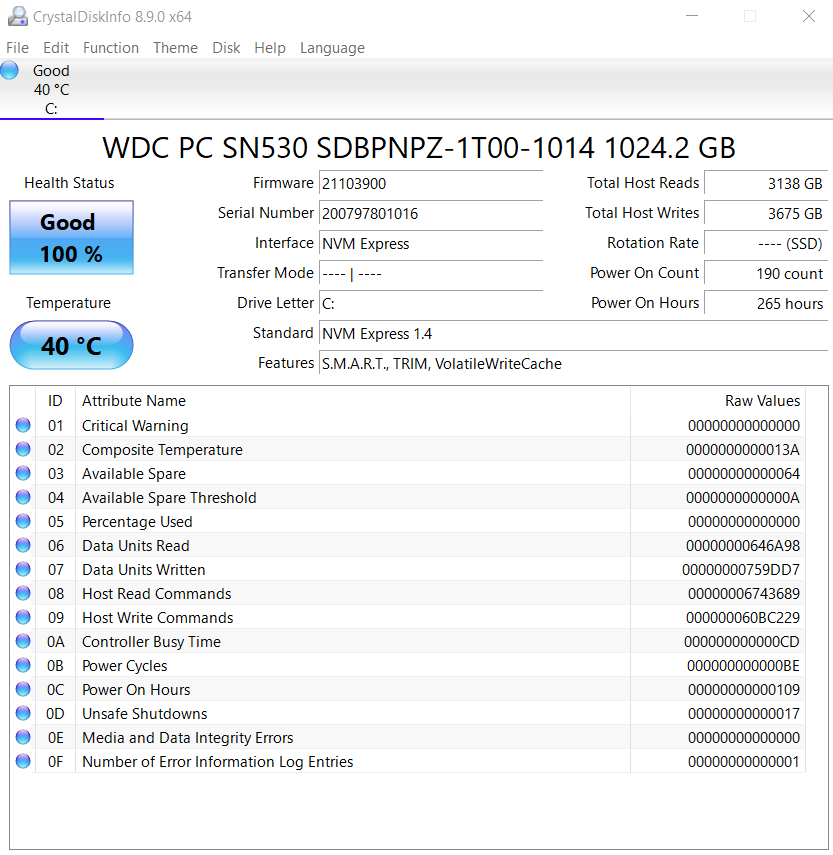 Although the performance of this model is not record breaking by modern standards, we can still expect much faster system start-up than in the case of semiconductor media, which still use the SATA 3 standard.
In terms of RAM, the Acer Nitro 5 2020 I tested has 16GB DDR4/3200MHz RAM. The laptop has two SODIMM slots, so you have the option to maximize your RAM up to 32GB. Although from personal experience I will say that 16 GB is enough for gaming devices.
Are there cooling problems?
When it comes to gaming laptops, this issue is especially important. Sure, it's not particularly pleasant to hear the powerful hum of the cooling system fans during the gameplay. It is annoying and distracting. But lately we've seen massive improvements in that regard.
Like other gaming laptops, the Nitro 5 also has software that provides access to preset cooling profiles. Again, all tests were done automatically. In addition, the maximum setting significantly increased the noise, offering a slight increase in efficiency in return. But this is a problem with all such devices, which so far none of the manufacturers has been able to solve.

So, during typical office tasks, the noise of the cooling system is quiet and varies from discrete noise (36 dB) to muffled noise (40 dB).
On the other hand, when the GeForce RTX 2060 kicks in and the processor starts to run at full capacity, the noise level rises significantly, but still remains at an acceptable level. The sound of the fans running does not increase noticeably, so the noise at the level of 47 dB WILL NOT distract you during the gameplay. And for this, Acer's designers deserve to be commended.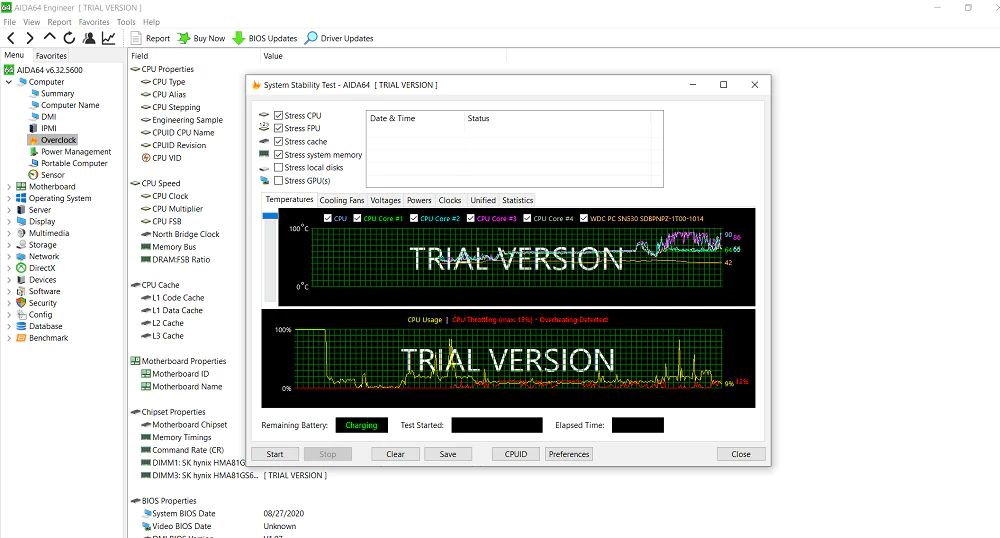 When it comes to case temperature, the Nitro 5 does a bit worse. Although the manufacturer's claims are almost exemplary under low load, when the laptop's components are used to their full potential, things get considerably uglier. The bottom heats up quite reasonably, but in the center of the keyboard the temperature reaches 47° C, which is quite high, even for this class. Fortunately, the left side of the keyboard, where the WSAD keys and other operating keys are located, does not get that much hot, obviously due to the use of quality materials. This will definitely not affect the gameplay.
What about battery life?
Of course, the Acer Nitro 2020 is a gaming laptop, so you shouldn't expect any incredible battery life from it. Although the laptop has room for a battery with a decent capacity (57.5 Wh). With the Intel UHD 630 integrated graphics, which is responsible for creating images for office tasks that do not require the intervention of the RTX 2060 with a significant energy appetite, the Nitro 5 offers approximately 5 hours of active operation without a power source. But I emphasize that we're talking about simple everyday tasks, such as browsing and chatting on social networks, writing texts, working in Microsoft Office, and the like.

When it comes to gameplay, these numbers drop significantly. The most that I was able to achieve was 1.5 hours of battery life. Plus, I was distracted all the time, making sure that my laptop did not suddenly turn off while playing. Therefore, it is better to never unplug it while playing. Yes, not very convenient and not comfortable, but all gaming laptops are like that.
Verdict
Acer Nitro 5 surprised me a lot. While not a Predator machine, the laptop costs a lot less. It has an attractive design, good performance, and decent, although not perfect, build quality. The case certainly doesn't look cheap, and the high-quality matte black plastic with a few red accents makes the laptop attractive not only for young people, but also for older users who are looking for a portable computer for more ambitious tasks than gaming.
The laptop offers a reasonable array of ports, a comfortable keyboard, and a screen that's more than decent for this price range. We can count on not only a higher refresh rate, but also high-quality backlighting and a good sRGB display. The speakers do not make a big impression, but it would still be unfair to compare their capabilities with much more expensive business equipment.
While it's not the quietest laptop, even when stressed to the max, the cooling system won't overly annoy you with loud noises. And there is no need to talk about its power and performance. This baby will pleasantly surprise you.
If you are looking for a powerful and stylish gaming laptop but don't want to overpay, then the Acer Nitro 2020 is a good choice.
Pros
materials;
a sufficient number of ports and connection interfaces;
high performance;
powerful video card;
excellent display with a refresh rate of 144 Hz;
comfortable RGB-backlit keyboard;
the ability to upgrade RAM and drives, support for RAID0;
powerful cooling system with the ability to adjust the operation of the fans;
relatively low price for this configuration.
Cons
insufficient battery life;
loud fans;
mediocre speakers.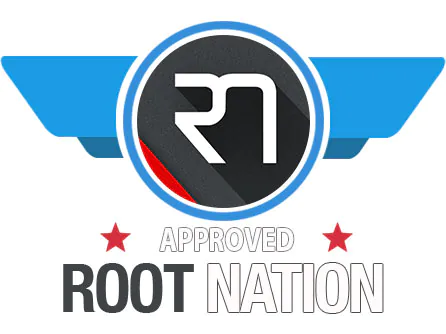 Subscribe to our accounts: