Among the laptops made exclusively for office tasks, there has always been an unwritten law. There is a ThinkPad, and there is everything else. And after Lenovo bought the brand from IBM, the situation has not changed much. Evidence? Lenovo ThinkPad T495. It is not the thinnest, nor it is the most compact, but it's very focused on productivity. Let's talk about it in greater detail.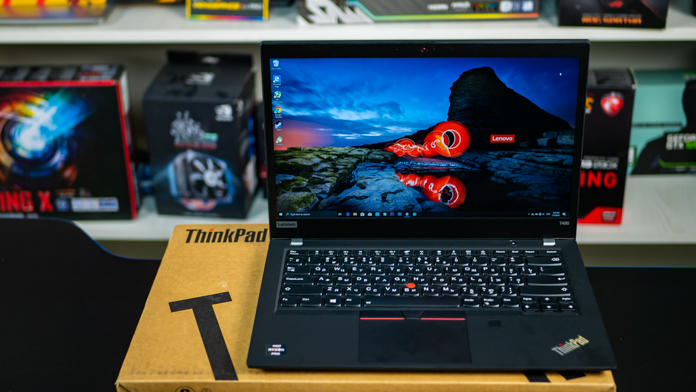 My motives
Why am I interested in T495 model in general? I was looking for a typewriter. With a decent screen so that you can Photoshop miniatures, and with a card reader – to immediately backup everything. The keyboard was supposed to be as good as possible, with smooth and effortless action.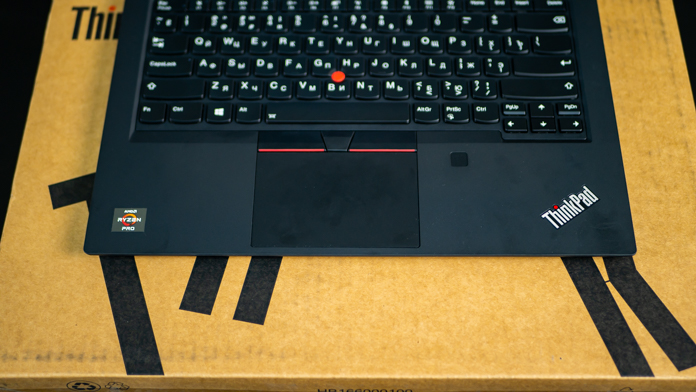 And the main filter is the third-generation AMD Ryzen notebook APU. Moreover, Ryzen 5 3500U, with four cores and eight threads. There was no point in taking Ryzen 3 3200U since it couldn't handle Lightroom.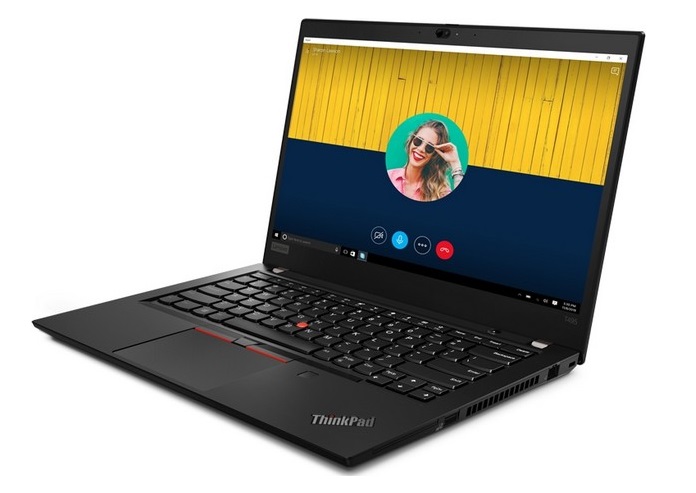 And Ryzen 7 3700U is hardly different Ryzen 5 – it can boast higher frequency, and that's about it. Which for a laptop is not always good, since it can easily turn into a smokehouse. MacBook on Core i9 is proof of this. Of course, the video cores of 3500U and 3700U are also slightly different – BUT! An interesting feature is associated with them, which I will also discuss later.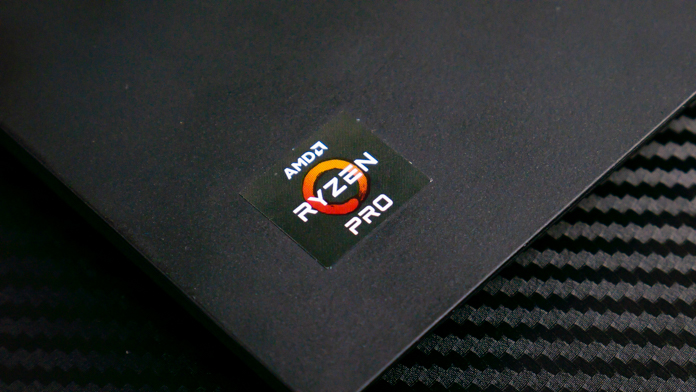 The bottom line is that Lenovo ThinkPad T495 suited my needs almost perfectly. The card reader was not full-fledged, only microSD, but since I got a completely modern external reader from Transcend, I could put up with this.
Positioning and price
In terms of market positioning, this model is very unusual. On the official Lenovo website it costs about $1,150, which seems a lot for a laptop WITHOUT a discrete graphics card. Just remember Lenovo Legion Y540. Those same $1,150, but the processor is more powerful (and three times more gluttonous, but that's what it is) and had GTX 1650 Ti 6GB.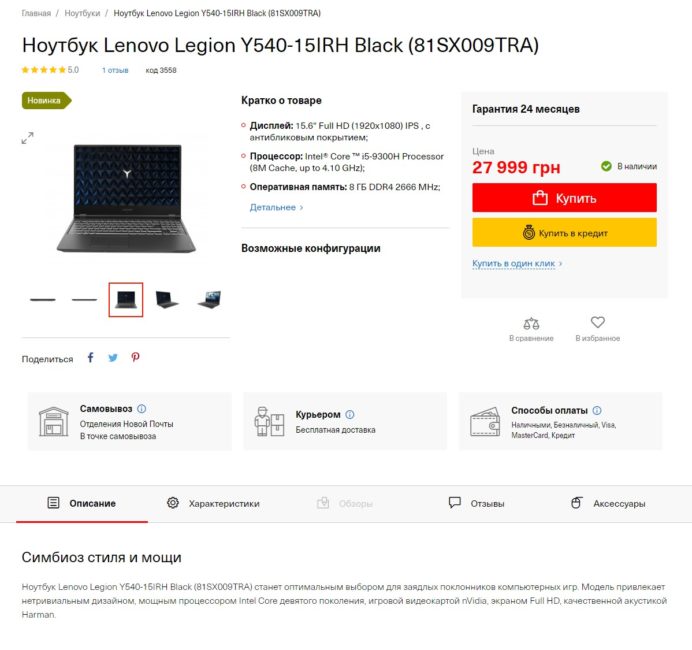 However, T495 is intentionally not a universal machine. It's created with certain tasks in mind.
What's in the box
The box includes only a 65 W charger, as well as several instructions and a warranty.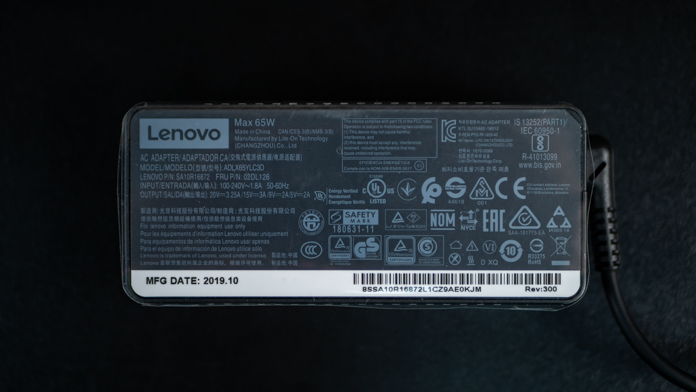 What is funny, the manual is must-read this time – the laptop is unusual and full of surprises.
Lenovo ThinkPad T495 design
From afar, T495 is indistinguishable from other ThinkPad models. Actually, almost all 14-inch ThinkPads have one chassis – a matte black finish on top, just plastic on the bottom.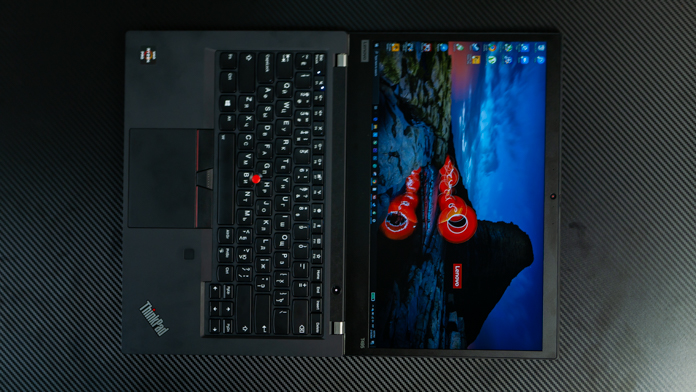 In the corner on the lid we have a logo with a red dot above the "i". Which, of course, also shines, performing the role of an indicator.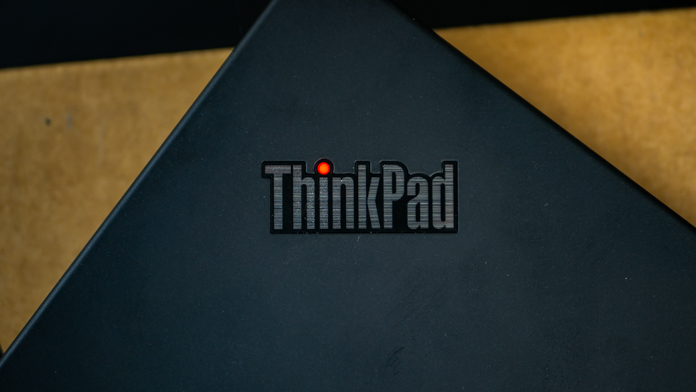 On the bottom of the laptop is a removable cover on several Philips screws. Disassembling the laptop is not difficult. Perhaps I will make a separate article about this. And I'll tell you a secret – upgrading a certain ThinkPad component will be very useful.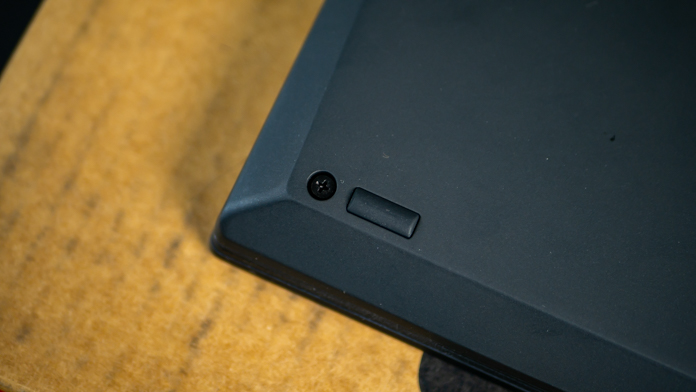 On the belly there are also ventilation holes, an emergency reset button hole, a drainage hole, as well as four rubber feet and fixation holes.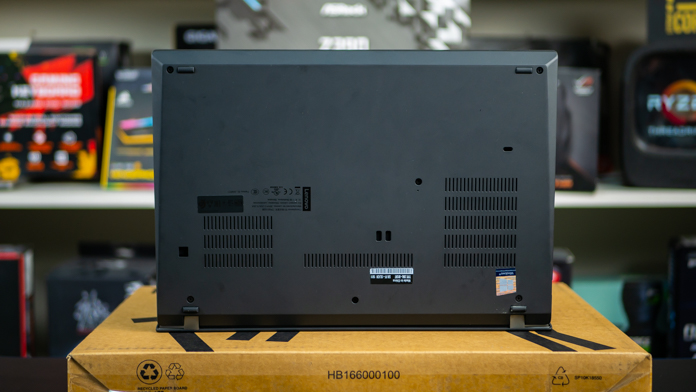 Periphery
On the left side we have the following: one USB 3.1 Gen2 Type-C for charging, the second one for charging (combined with a proprietary Ethernet connector, which is also used for a docking station, like Ultra Docking Station, but it's better to check the compatibility before purchase), USB 3.1 Gen1 Type-A, HDMI 2.0, combo jack for headphones and headset, as well as a microSD card reader.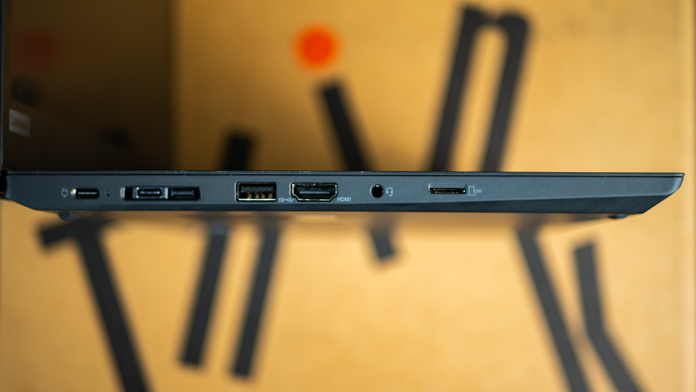 On the right we have a Kensington lock, a gigabit RJ45, a ventilation grill (where the hot comes from out, as well as USB 3.1 SuperSpeed ​​and a smart card reader.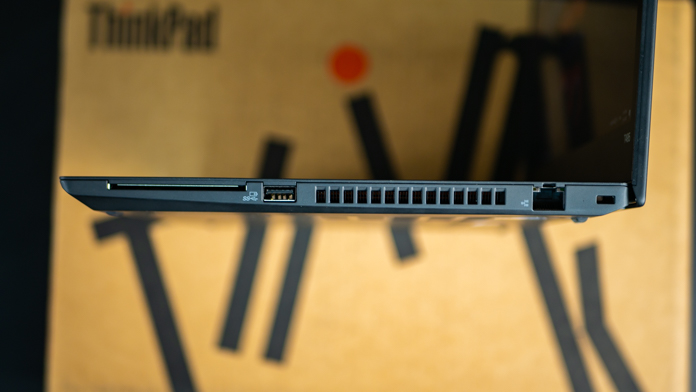 Why does the average user need the latter? He doesn't, this is the most useless thing in the consumer segment. But in business, it is almost indispensable. Remember when I talked about the narrow specialization of the laptop?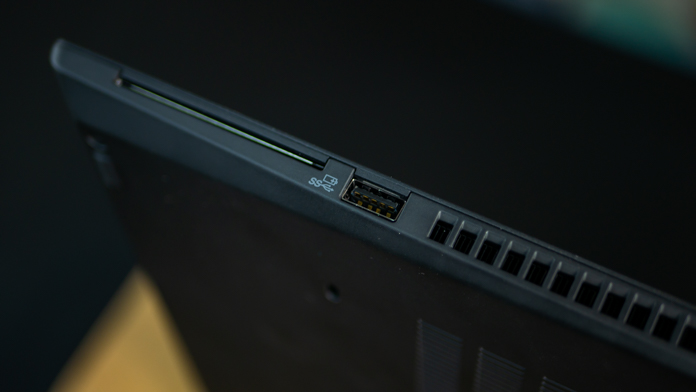 At the rear end of the laptop, only the WWAN port can be located, where, in the case of some configurations, the Fibocom L850-GL modem can be found. Yes, T495 (optionally) can support 4G. We will also return to this slot. And no, my model does not support WWAN.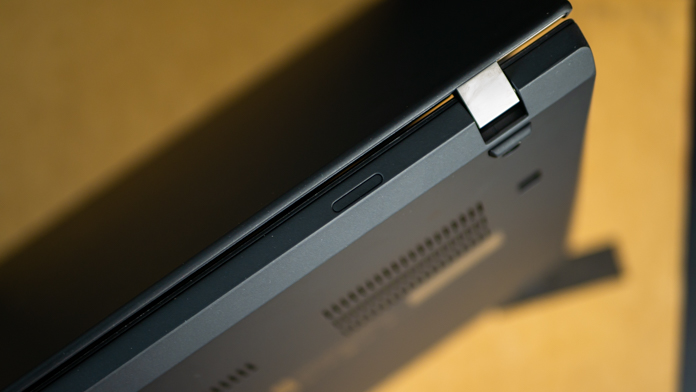 The location of the front elements
We open the laptop, we see the keyboard, a 14-inch display and additional elements. The AMD Ryzen Pro sticker is in the lower left, in the center a little to the right is a touchpad with three buttons, one of which is with tactile elements.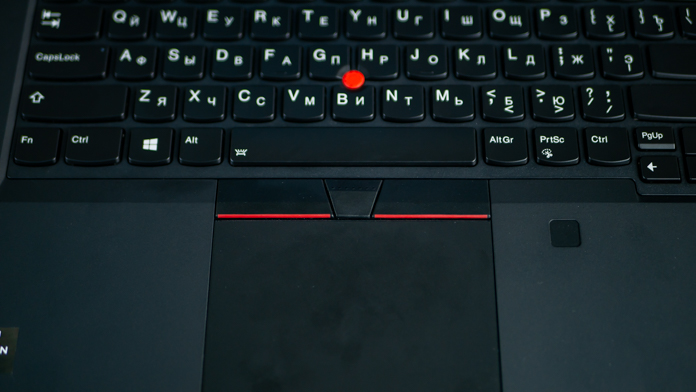 To the right is a fingerprint scanner. To the right is the ThinkPad logo.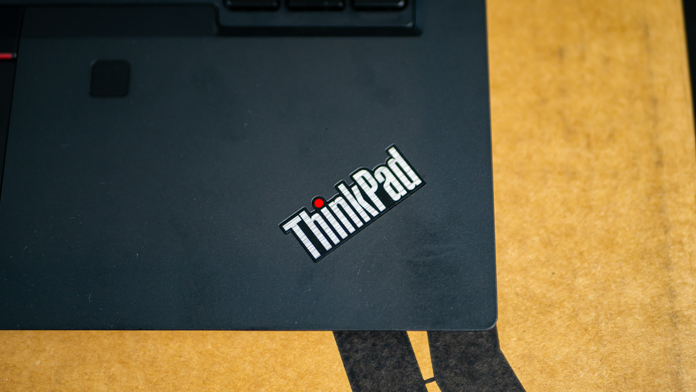 In the center of the keyboard is a trackpoint with a ribbed texture.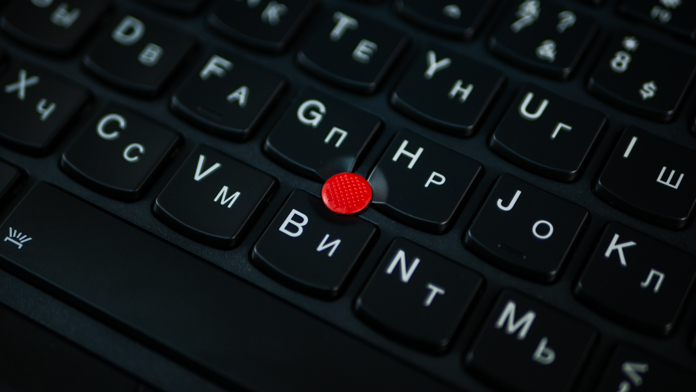 Above the keyboard there is a wide speaker grill and a power button.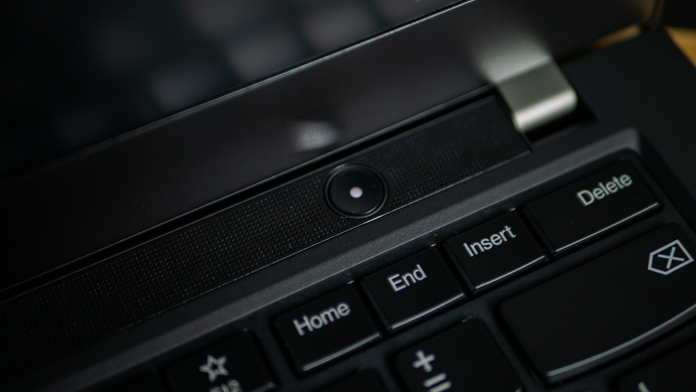 Above the display there is a webcam with a protection curtain, as well as a set of microphones in the amount of three.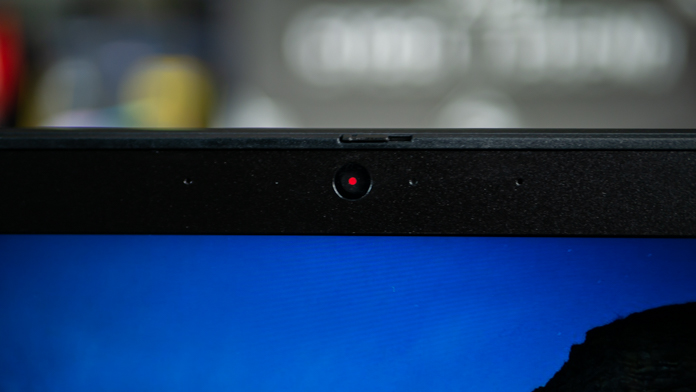 Under the display we can find Lenovo and T495 inscriptions.
Display
The screen of ThinkPad T495, depending on the configuration, can be one of four types. It's 14-inch and always matte, but the junior model has a resolution of only 1366 x 768 pixels and a brightness of only 220 nits. My model is FHD IPS, 250 nits. There are also options with FHD 300 nits and a super version with a peak brightness of 400 nits.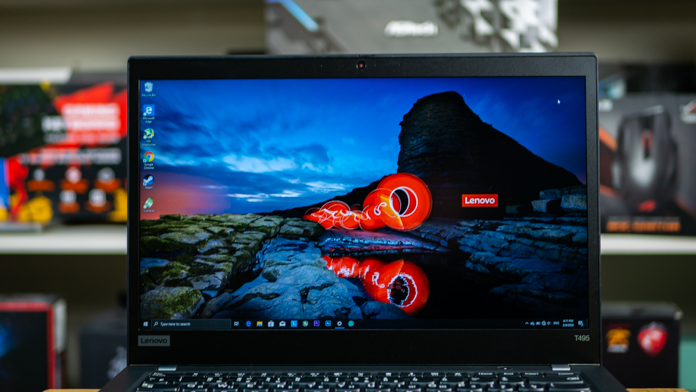 It's funny that the ability to customize the laptop with an infrared camera for Windows Hello and the WWAN slot is also tied to the displays. There's a strange connection, which I cannot describe, but it exists.
But back to my model. I have an LP140WFA-SPD2 display made by LG. The same was installed on one of the versions of T490. And this is… a mediocre matrix. 52% sRGB is bad, but dE is almost equal to two. And this is very bad, since dE can be corrected by calibration, but sRGB can hardly be changed.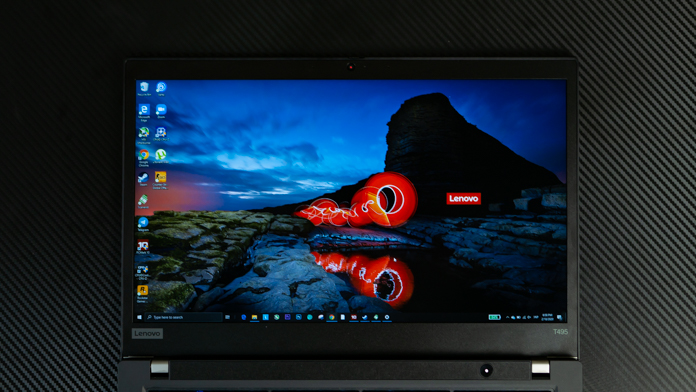 Do not get me wrong, the screen itself is not bad. It is IPS and quite bright even against the sun. But it's exactly what suits business laptops, where you do not work with color. I can no entrust it with the creation of an accurate preview for video in Photoshop, or check the color correction of the finished material.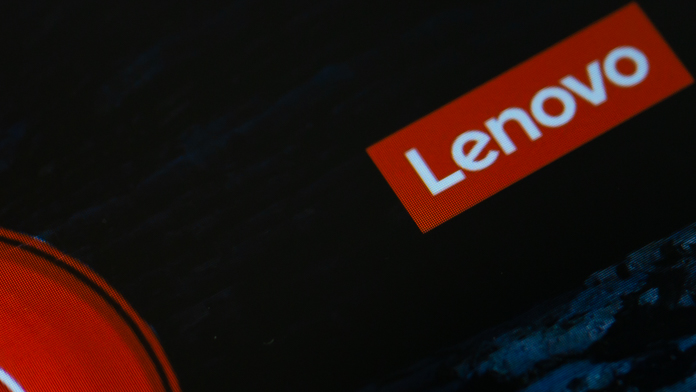 On the one hand, it's logical for a business laptop. On the other hand, universality in the workplace has always been appreciated. In addition, the user needs to choose display when buying. Yes, this is $100 above the price of, say, my version, but for many it will be worth it.
And considering that I initially chose T495 after reading a lot of materials about the amazing screen… In general, 100 bucks on top in my case is absolutely mandatory.
Hardware and performance
Now – what's inside. AMD Ryzen 5 Pro 3500U. Yes, not the standard, but PRO, but the difference is hardly noticeable. Four cores, eight threads, frequency from 2.1 GHz to 3.7 with auto-boost. Memory support – dual channel up to 2400 MHz, cache of the first/second/third level – 384 KB/2 MB/4 MB. The integrated video core is AMD Radeon RX Vega 8. Accordingly, 8 graphics cores operating at frequencies up to 1200 MHz. And, most importantly, the TDP of the processor is only 15 watts.
What is the difference between Ryzen 5 PRO and Ryzen 5? Mostly corporate features. Pro versions of processors, both desktop and built-in, are designed for the business segment, and are have with all sorts of protection against hacking. Including Secure Boot, TrustZone, fTPM 2.0 (firmware-based Trusted Platform Modules), Transparent Secure Memory Encryption or TSME, as well as content protection and DASH management.
Memory Guard encryption with protection against old boot attacks? Check. Windows 10 Device Guard? Check. Native support for VBS, and even, apparently, protection against invasive code? Check.
Does an ordinary user need it? Most likely not, but to be sure, I asked AMD representatives a lot of questions regarding the benefits of AMD Ryzen PRO for an ordinary, albeit slightly paranoid, consumer. Answers will be in a separate material. In the business segment and in the corporate market, all such features will be very useful.
AMD Ryzen 5 Pro 3500U A brief set of benchmarks below:
They provide an idea of ​​the comparative performance of a laptop. And, spoiler, Ryzen 5 3500U in games is approximately equal to the desktop Core i3-9100F and laptop Core i5-8250U, and Vega 8 in dual-channel RAM mode is comparable to GTX 650.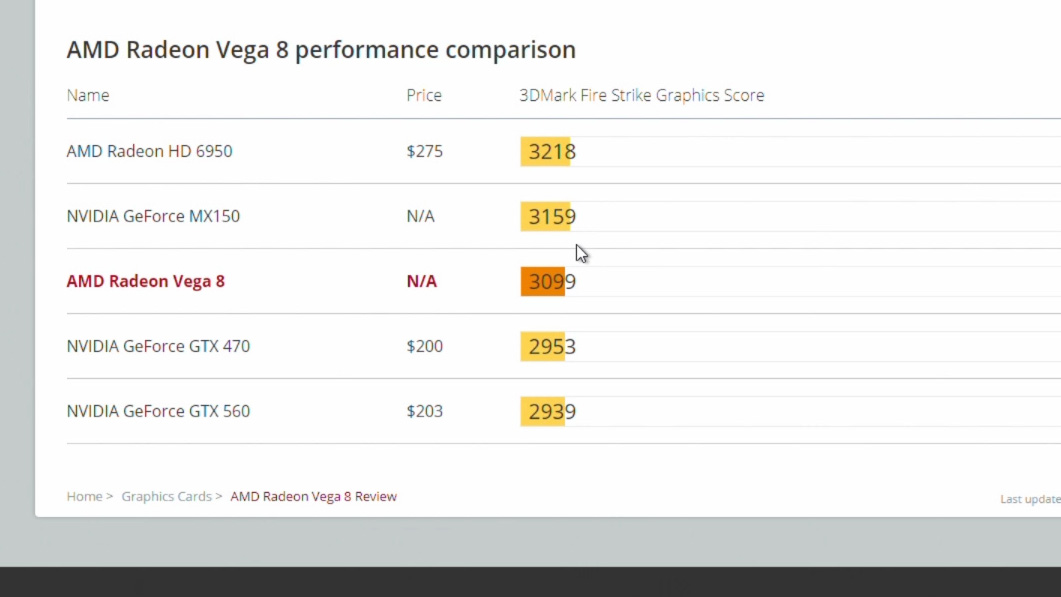 I plan on doing more expansive testing (after all, R5 3500U is quite a popular model) to get accurate information about Ryzen PRO directly from AMD engineers. So stay tuned.
Memory
T495 is limited to only one NVMe PCIe 3.0 slot, where in my case SK Hynix HFS256GD 250GB drive was placed. Its speed: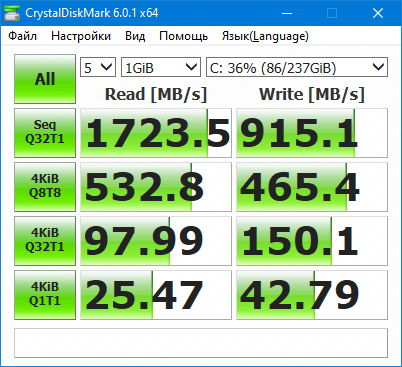 There are no other slots for drives, but this is enough still. Still, you can and should upgrade a laptop. Moreover, in the version without the "s" index in the name, both RAM slots are not unsoldered, and 16 GB in my case can be improved aup to 32 GB. The frequency is 2400 MHz, although 2666 MHz is achievable. In any case, the benchmarks are lower.
By the way, about Windows 10. Out of the box, you get the Pro version, as well as several premium codecs, including Dolby Atmos Premium and H.265. If anyone does not know, Windows 10 asks one dollar for HEVC. Yes, you can download any free player from the Internet, but WITHOUT ACCESS TO THE NETWORK, you cannot open H.265 on a freshly installed system. Fortunately, T495 bypasses this insanity.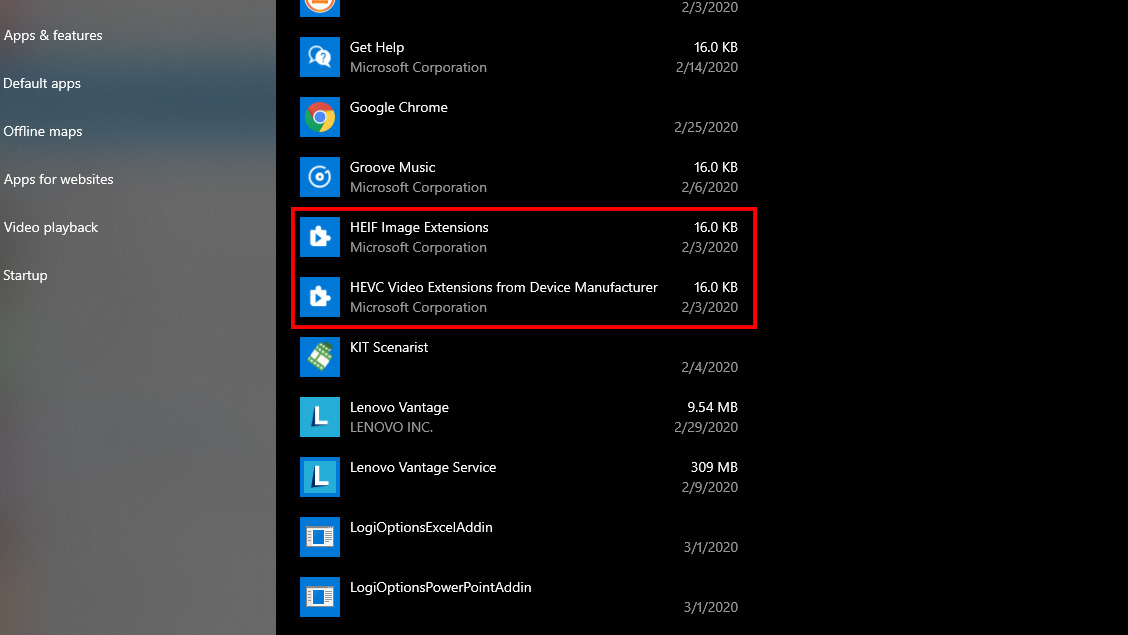 The system also did without bloatware – from the proprietary ones there is only the Lenovo Vantage application. It's not even bloatware, since I used it surprisingly often. And not just for checking the serial number.
For example, Vantage has a "stationary mode" setting for the battery to preserve the endurance of the battery. The bottom line is you choose the maximum and minimum charge level. The laptop will charge, starting from the minimum, and when it reaches the maximum – it will stop. Avoid overcharging, increase survivability. Cool.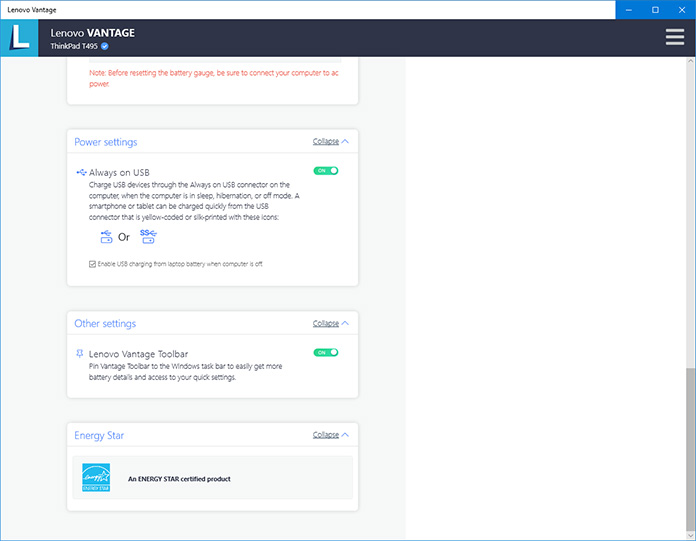 UPDATE: after a little glitch with Lenovo Vantage and (most likely) due to a subsequent visit to the Microsoft Store, the laptop installed two casual games from King, namely Candy Crush and Bubble Witch. Casual games for housewives are, of course, hyper-useful – especially in a BUSINESS LAPTOP.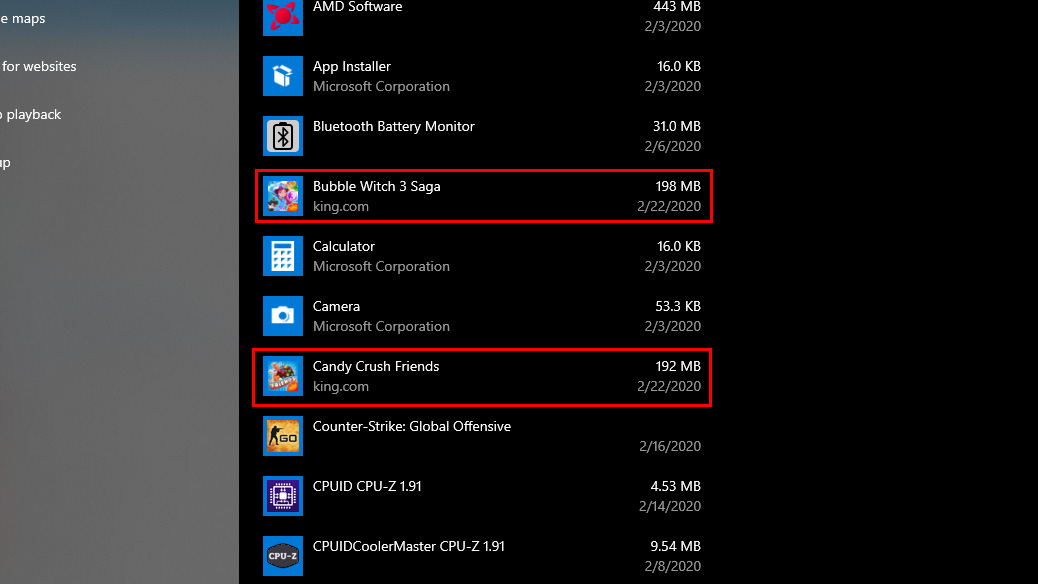 Lenovo is not to blame for this – thank Microsoft.
Keyboard
Lenovo ThinkPad T495 is equipped with an island-type membrane keyboard without NumPad, but with two-level backlighting. Spillproofing is declared. The keys from F1 to F12 are jammed under the Fn function right from the get-go. To access directly the functionality of F (X) (let's call it that), you need to push Fn + F (X). The behavior of the keys can be configured in the BIOS, as well as swapping the Fn and Ctrl functions. Although entering the BIOS from a corporate laptop is not easy.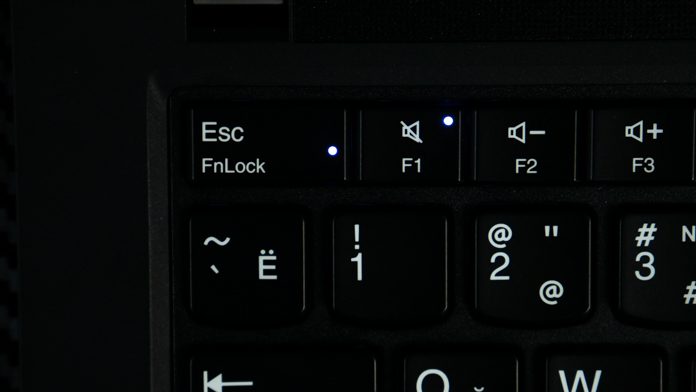 The layout is default enough, and almost immediately I got used to the small size of the keyboard, blindly typing with almost no errors. But there are some new features. I can forgive the change of Ctrl to Fn. You can change it in BIOS, but… PgUp and PgNown have moved to the most probably the worst place possible, right above the arrows.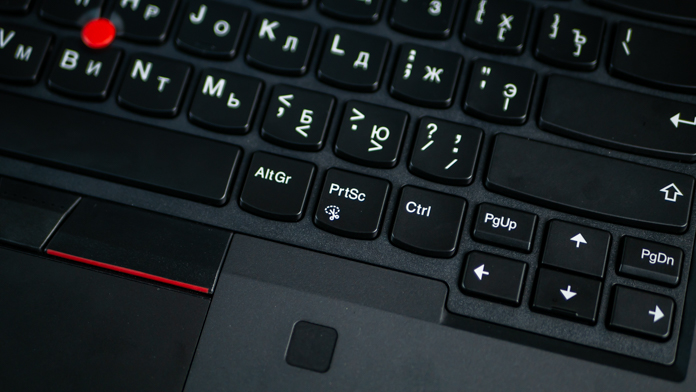 Where the arrows usually are, now we have Page Up/Down. Fortunately, the buttons can be turned off, which is what I will do in the material about upgrading the laptop. I also note the almost perfect stabilization of the caps. This, in addition to the excellent distance between them, the shape and the small stroke, means that typing on ThinkPad is incredibly pleasant.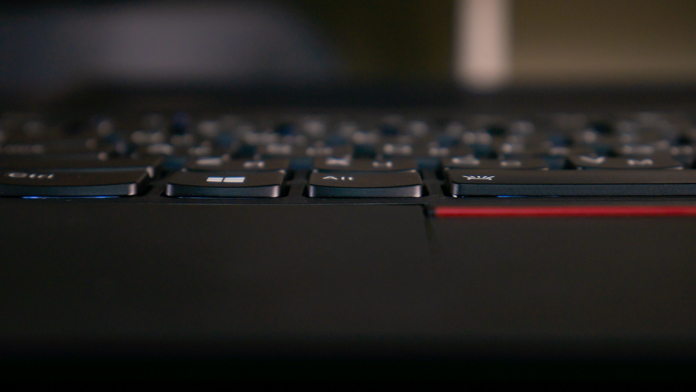 Moreover, due to the sensitivity of the buttons, when typing, I was sometimes scared that I was typing with errors – but the text came out perfect. I had a strong feeling that ThinkPad had some kind of built-in mechanism for correcting typos, because I had never typed so quickly on such a tiny keyboard.
And now TrackPoint and touchpad. The latter is quite decent in size, made of matte material, with three buttons on top and two below, hidden under the surface. In general, it's nice to work with, although it doesn't have enough smoothness, and the cursor lacked accuracy.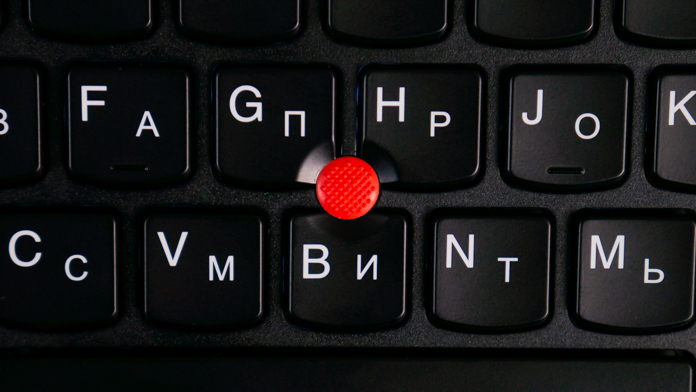 But in this case TrackPoint comes to the rescue. Its accuracy is higher, but there is no way to click on it, like a touchpad. You can get used to it. In general, the choice between the touchpad and TrackPoint comes down to personal preference, and each tool has its own drawbacks.
Multimedia
T495 is equipped with a 720p webcam. In one version the webcam can be infrared, with support for face recognition through Windows Hello. And all models have a ThinkShutter safety blind, although it is not very convenient to use it.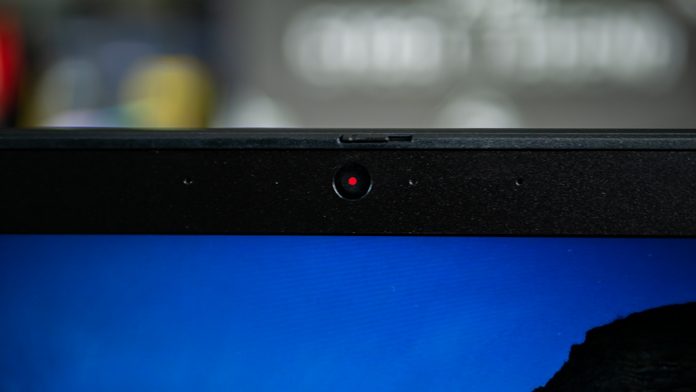 The speakers in T495 are quite adequate. Stereo Dolby Audio Premium speakers, 2 to 2 watts, are located above the keyboard. They have a good volume ceiling. A hybrid slot for headphones and a headset also works fine.
Data transfer
ThinkPad T495 has an Intel Wireless-AC 9260 wireless adapter, with Wi-Fi 2 × 2 ac and Bluetooth 5.0. Other versions may have Realtek RTL8822BE with Bluetooth 4.2 installed. For wired internet, Realtek RTL8111 is responsible.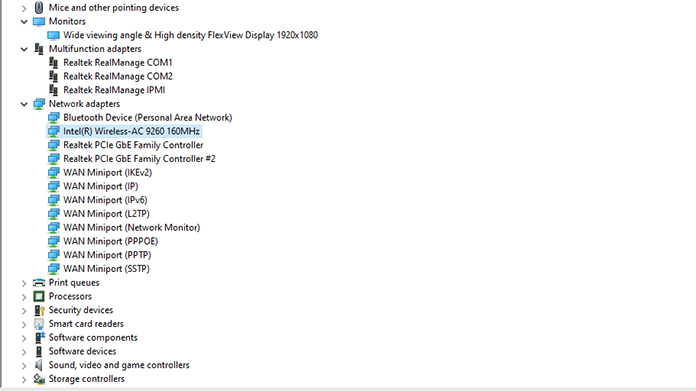 Interestingly, AC 9260 theoretically supports AptX, but out of the box this codec does not work. What to do? My friend found the driver on the Dell website, and this driver, judging by the reviews of enthusiastic users, is universal for this model of network card. Check it will be in a separate material for upgrading T495.
Lenovo ThinkPad T495 battery life
The laptop is equipped with a 50 W*h battery, and supports Rapid Charge fast charging technology, which allows you to fill the laptop with life-giving current by 80% in just an hour. You know, some smartphones we reviewed were charging slower.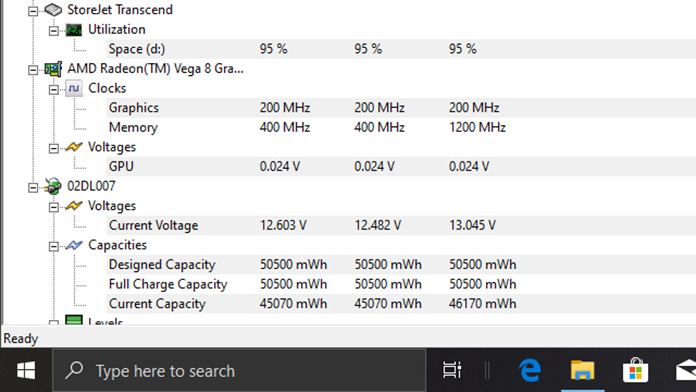 Charging can take place on either of the two USB Type-C ports, and the laptop comes with a 65 Watt charger. And T495 charges for exactly as much as it was promised, from 5% to 88% in an hour and one minute.
As for endurance – here the results are quite decent. At maximum brightness we have 8 and a half hours of simple screen time, under 7 hours of video, 4 and a quarter hours of work in office applications and 1 hour 51 minutes in games with maximum and hybrid load on the system.
Cooling system
I wouldn't call T495 especially quiet, particularly when it's under serious stress. If we believe Benetech GM1352 noise meter, then at a distance of half a meter at maximum speed, the fan produces exactly 40 dBa, and when typing, the noise is 41 dBa.
The nominal temperature of the processor and video core during office work is 50 degrees. With the stress test, temperatures began to rise slowly, stopping at 77 and 69 degrees for the processor and video core, respectively. The CPU frequency was close to 2000 MHz.
After reaching the peak, the frequency was reset to 1900 MHz for all cores, because of which the temperature dropped by 5-6 degrees, although the fan was still working at its maximum.
Verdict
Lenovo ThinkPad T495 is a good business laptop. Sturdy, with decent battery. Stylish and discreet. Collected and functional. Some features rival even the ultra-class models… although you have to pay extra for them.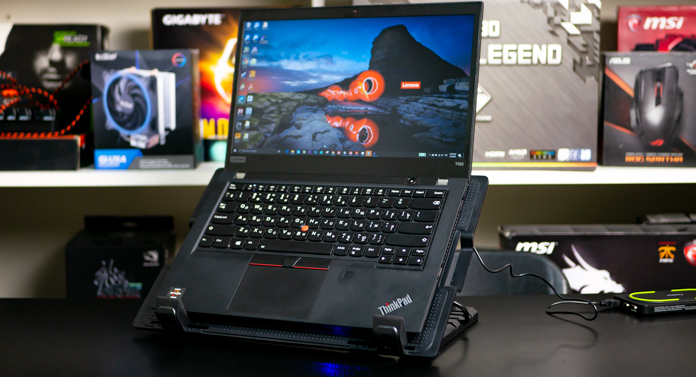 This last phrase is very important here. "Pay extra." If you don't need a smart card reader, Ryzen PRO, or a dock connector (which costs as much as a third of a laptop, but DOES NOT have a full SD card reader), and if you don't care about the premium build, keyboard drainage and its backlight, as well as other little things… Then I am not ready to recommend Lenovo ThinkPad T495.
I am ready to recommend either the twice as affordable E495 (still ThinkPad, and on Ryzen 5 3500U), or, for the same $1100, Lenovo Legion Y540 on Core i5 and GTX 1660 Ti, which is a great deal. But if you are a corporate client, then T495 may be right up your alley.