Chinese manufacturers continue to make low-cost smartphones. There are a lot to choose from, but often it's hard to distinguish one model from another. But today we take a look at Doogee Shoot 2. A dual camera and a fingerprint scanner for $80-90 – how about it?
Doogee Shoot 2 – first impressions
The first thing I noticed about the phone is its size. The smartphone seemed a bit bulky and heavy. There were good surprises, too – the fingerprint scanner is located underneath the screen, which is a rarity in low-cost phones. Also, the body has metal in it. But let's take a more in-depth look.
Doogee Shoot 2 specs
We have a low-end phone with appropriate low-end specs.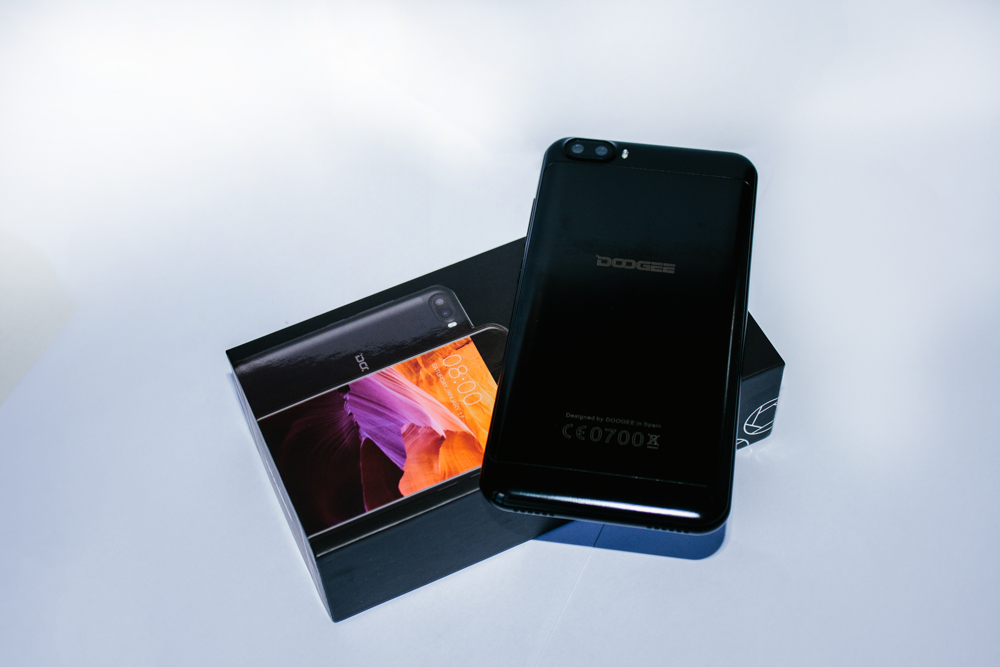 Processor: MTK6580, 1,3 GHz, four cores
GPU: Mali-400 MP
RAM: 1 GB / 2 GB
Storage: 8 GB / 16 GB
microSD support: up to 32 GB
Wi-Fi: 802.11b/g/n
Connectivity: GSM+WCDMA – 2G: GSM 850/900/1800/1900MHz, 3G: WCDMA 850/1900/2100MHz
Display: 5″, IPS, 1280 x 720 pixels
Main cameras: 5 MP (interpolation up to 8 MP) and 5 MP additional monochrome, automatic focus, flashlight
Frontal camera: 5 MP
Battery: 3360 mAh
Dimensions: 142,6 x 72,6 x 9,5 mm
Weight: 174 g
Overall, your typical Chinese smartphone.
Also read: Doogee T5 Lite pretected phone review
Doogee Shoot 2 packaging
The phone can be found inside a fairly compact cardboard box. The device has a protective layer, 1A small charger, USB/microUSB cable, a small instruction manual and a warranty certificate. No protective case. Nothing fancy, only bare necessities.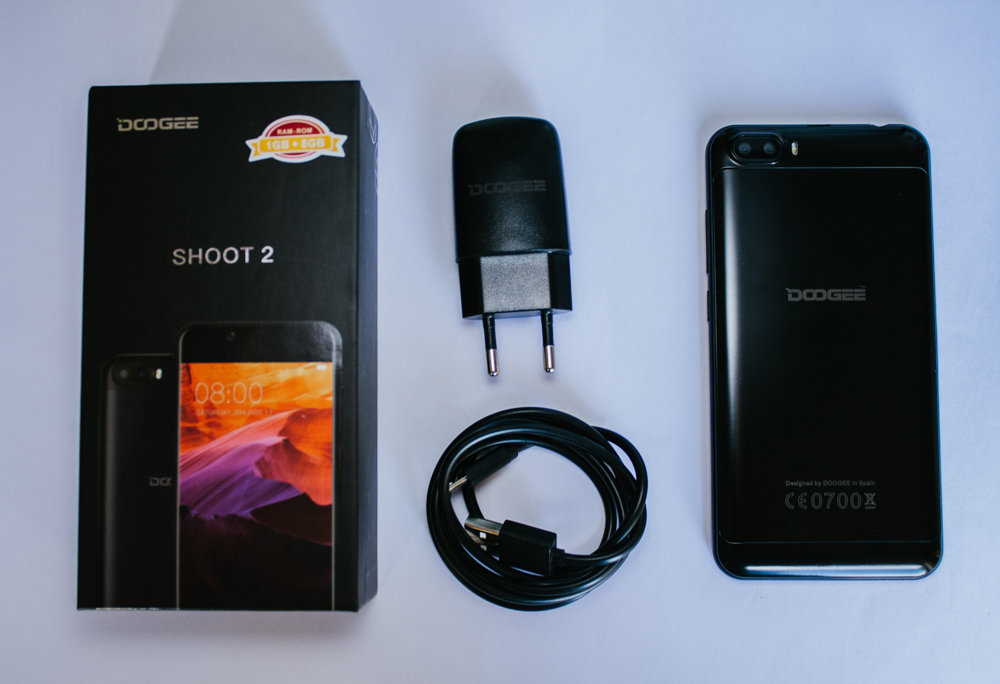 A couple of words about the cable. The standard USB/microUSB cable refuse to connect to the smartphone. The problem is with the connector, which here is unusually deep. That leads to the cable being a bit longer than customary. If something happens to it, you'd have to take off the back plate and connect any other cable. That is one unusual thing about Doogee Shoot 2.
Design, materials, build quality, configuration
I have a black Doogee Shoot 2. There are also a gold and silver model, but the color is different only at the back. The frontal panel always stays black.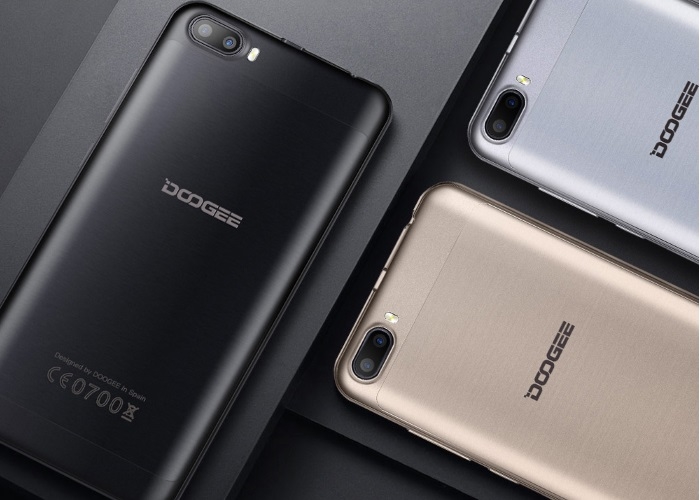 Visually, it's a nice looking device with stern design. While the back plate is detachable, the phone looks like a monolith without any looseness. The build quality is lacking, though. The back plate screeches, and no amount of locks underneath and inside it can help with that.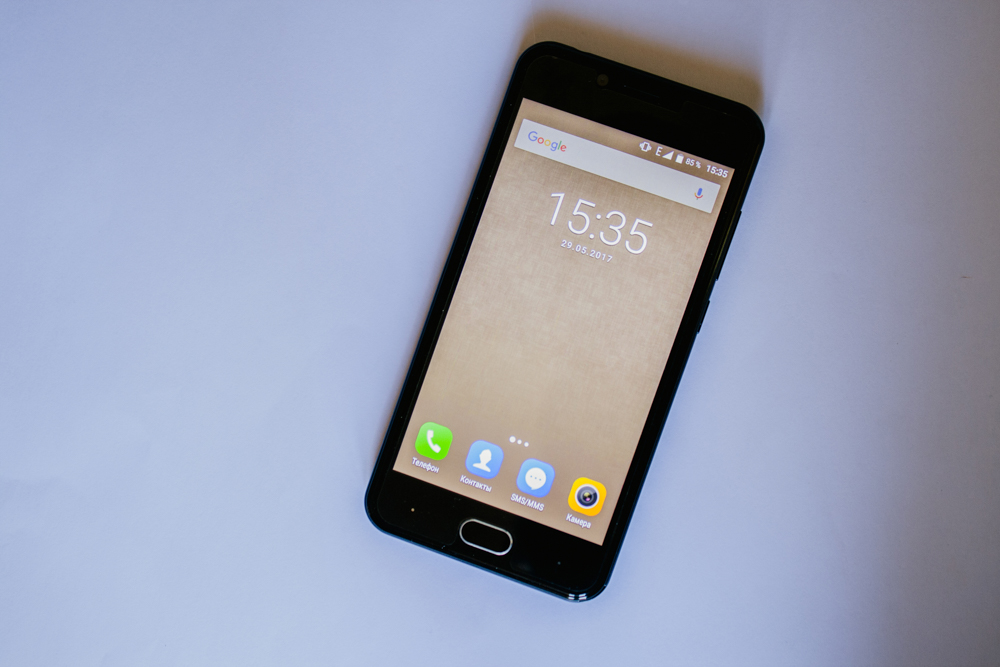 The elements' configuration is standard. The front plate is covered with 2.5D glass. Above is a frontal camera, a speaker, light and proximity sensors. No light indicator.
Below is a Home button, merged with a fingerprint scanner, and two sensor buttons in form of dots with no backlight.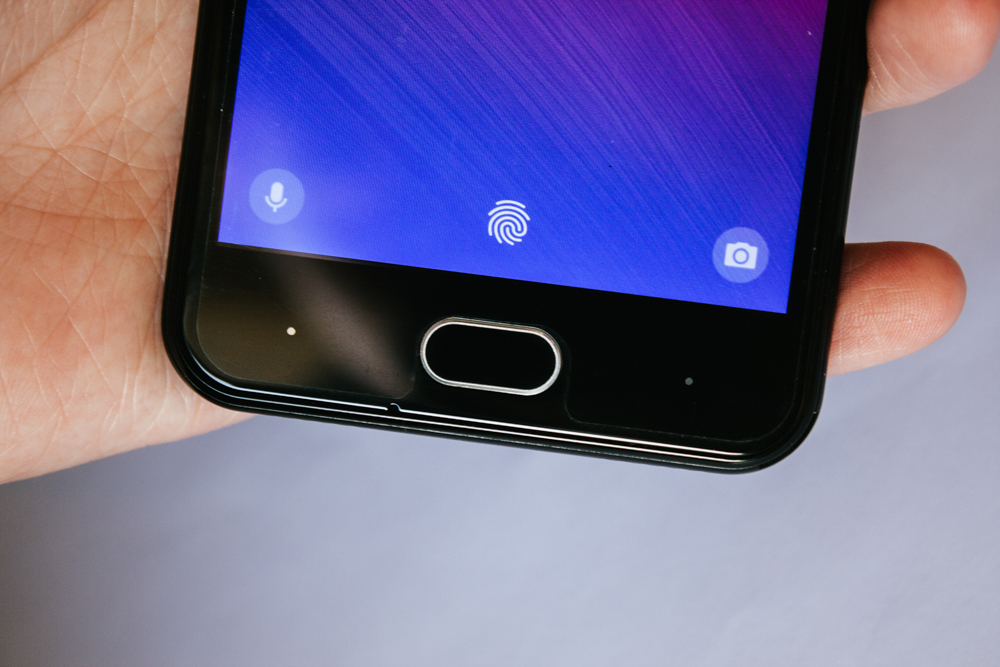 On the right there's a power button/unlock button, and above it is a volume button. The left side is completely blank.
Underneath the phone are six indents on the left and on the right, with main speaker and the only mic. On the top we have 3,5 audio jack and a microUSB port, which we discussed previously.
The back plate is hybrid and can be detached. It's mostly plastic, but has a metallic layer, which gives the phone a more premium look. It is a fingerprint magnet, though.
On the left there's a dual camera and a flashlight. Below is a manufacturer logo and some technical text.
Under the plate is a non-detachable 3360 mAh battery, two micro-SD slots and one microSD slot.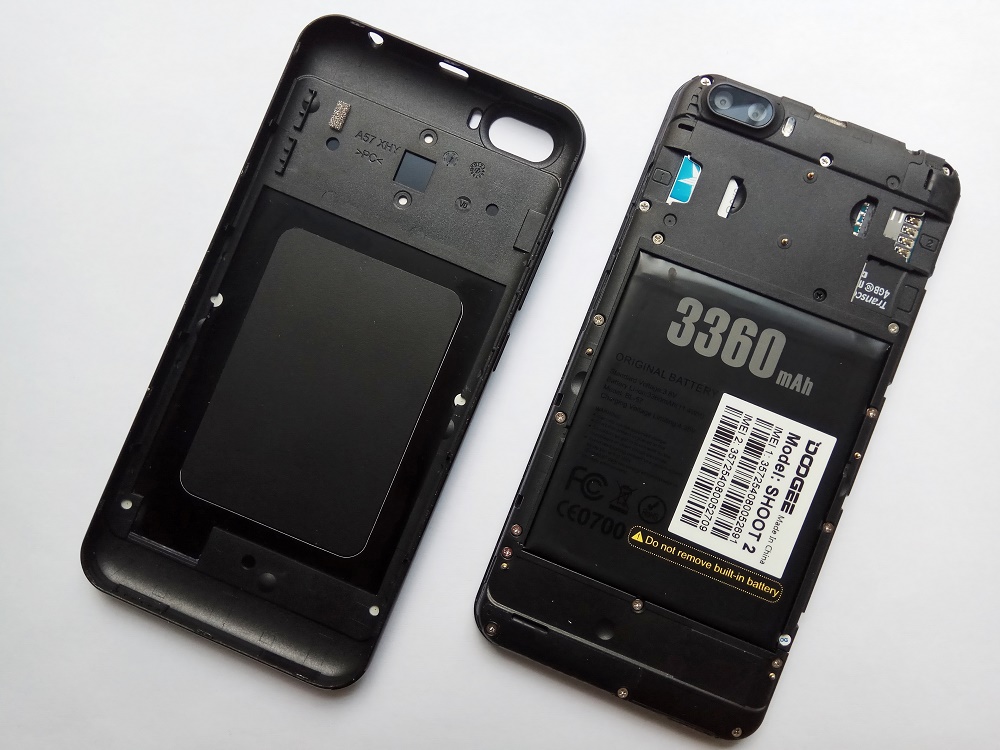 Doogee Shoot 2 ergonomics
The phone is bulky and quite heavy, but it helps its ergonomics. The phone is nice to hold, it can be used with one hand and it doesn't slip. The metal layer adds pleasant coldness. The configuration is also fine, although the hard Home button is a bit stiff, but you can get used to it. Overall, the phone is comfortable in use.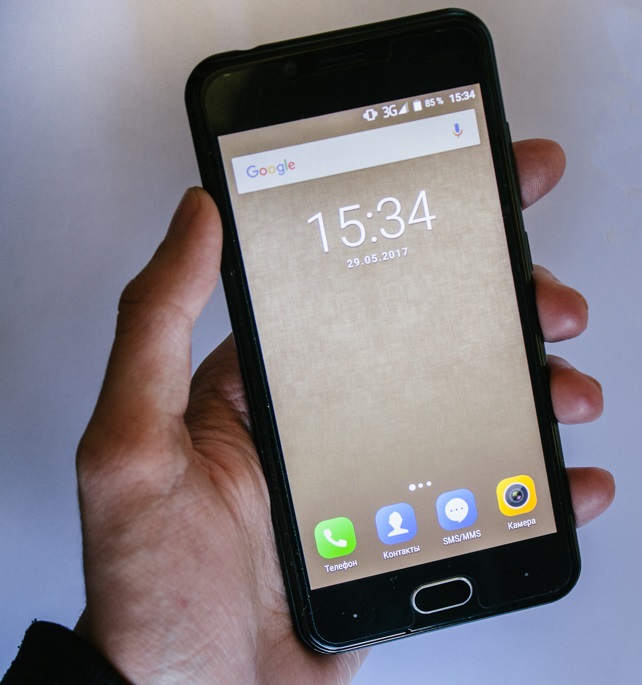 Display
The IPS display in Doogee Shoot 2 has a resolution of 720 x 1280p. The screen is bright, has nice contrasts and saturation. The brightness level is a bit off: while using the phone in the dark, I constantly wanted to lower it, but the lowest setting was still too bright for me. Automatic brightness works okay. Standard settings make the picture seem "cold", which is obvious when comparing Doogee Shoot 2 to other smartphones. Thankfully, the temperature can be adjusted in settings – the phone has pre-installed utilities like MiraVision or LiveDisplay.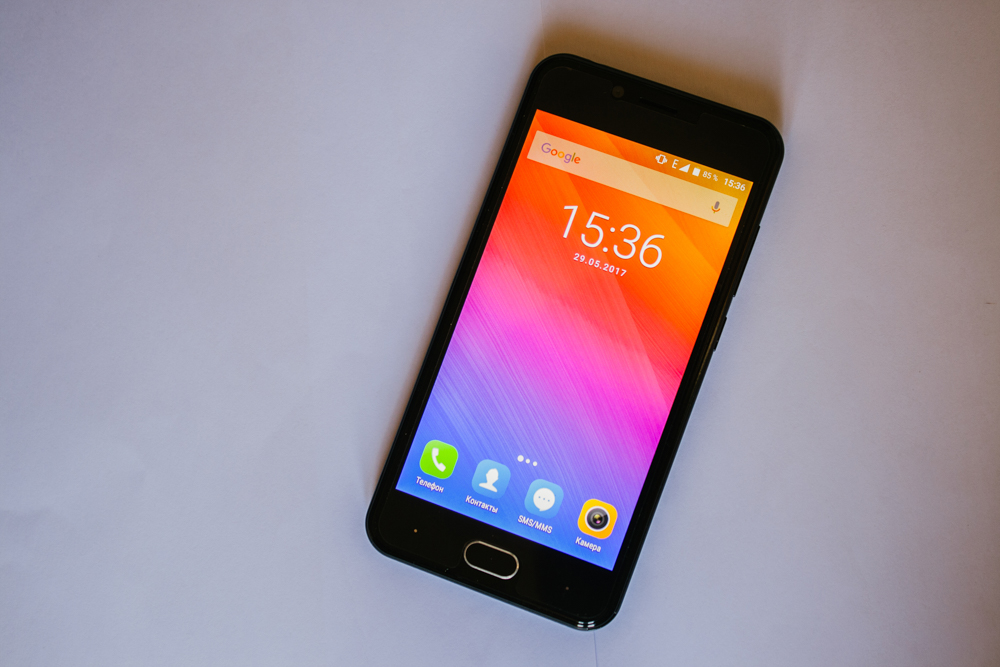 The angles of view are decent enough. The colors stay true no matter what. When shifting the phone diagonally it's possible to notice deteriorating contrasts. That's okay, but what's not okay is the fact that the screen (the touch panel) only supports two touches, which is bad, even for a cheap phone. But overall the screen is more than adequate.
Performance
The hardware of Doogee Shoot 2 is standard for the price. The good old four-core 1,3 GHz MTK6580 processor and Mali 400-MP GPU. We've seen this a lot, but it's enough to guarantee normal work. The results of synthetic Antutu and Geekbench 4 tests can be seen below.
I have an inferior model with 1 GB of RAM and 8 GB of storage. There's a model with 2 GB of RAM, and I'd recommend buying that model. While the storage can be expanded with a microSD card, the RAM can't be fixed. The phone often thinks twice before opening apps and it's hard to work with a couple of apps in the background. Google Play updates can also considerably slow down the phone. Still, email, social networks, calls and other trivial tasks are no problem for Doogee Shoot 2.
In terms of games, the phone is capable of running small casual stuff. Bigger games work on minimal settings, but not without glitches. This is not a gaming smartphone.
Cameras
And now to the main attraction – the cameras.  The main camera in Doogee Shoot 2 is dual. The first one is a 5 MP module with interpolation up to 8 MP. The additional monochrome module has the same resolution.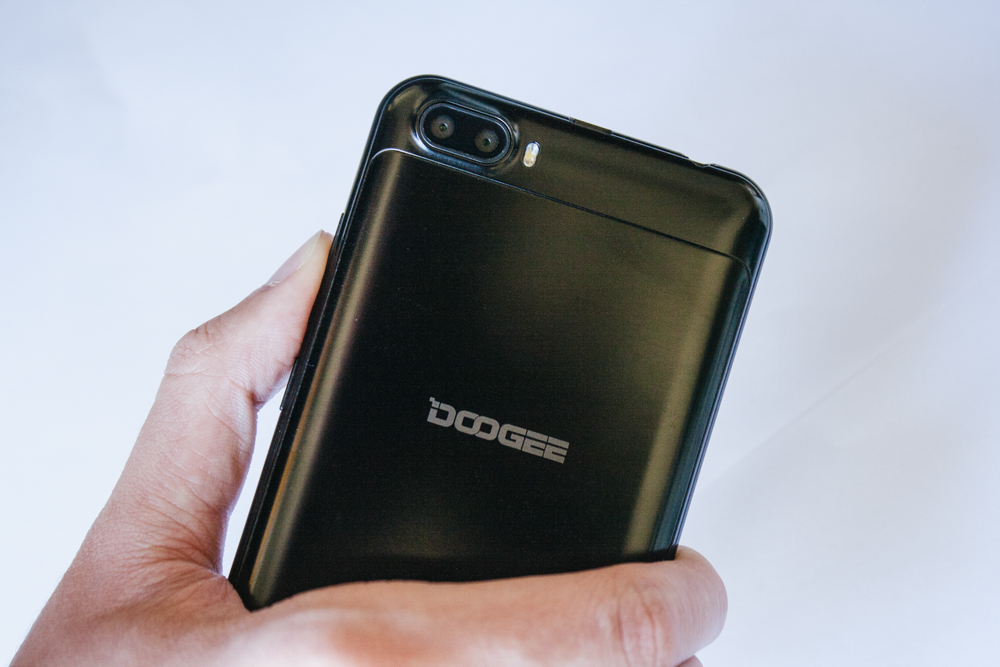 The second camera is here mostly for bokeh with wide diaphragm effect and photos in monochrome. Doogee also promise us double optical zoom, but, frankly, I don't believe it.
For bokeh you first need to activate a special mode in the standard camera app. Here you can also turn on the monochrome mode. HDR is also here. The app is convenient: you can change modes with swipes.
The camera is slow, and the darker it is, the slower is the process of taking a single photo. You need good lighting to shot anything decent with Doogee Shoot 2. The camera also has a bad aperture ratio (f/2.8). If you want to make it work faster, activate ZSD (Zero Shutter Delay) function. Now phots take virtually no time. The downside – the camera has no time to focus on an object. LED flash is weak, but it can work as a flashlight.
There's nothing to say about the quality of photos. In good lighting pictures are crisp, but I had to lower the exposition – otherwise pictures tended to be too bright.
The maximum video resolution is bit weird – 1920 x 1088. The quality is severely lacking.
The frontal camera has a resolution of 5 MP. The quality is surprisingly good. I was amazed to learn that it is a wide-angle camera.
Samples of photos in full definition
Fingerprint scanner
Now to the second feature. While the phone costs very little, Doogee managed to equip it with a 360 angle fingerprint scanner.
You can use it for unlocking the phone or buying stuff, but the sensor also helps to change photos, control music, launcher, video etc. All these additional features can be turned on in settings.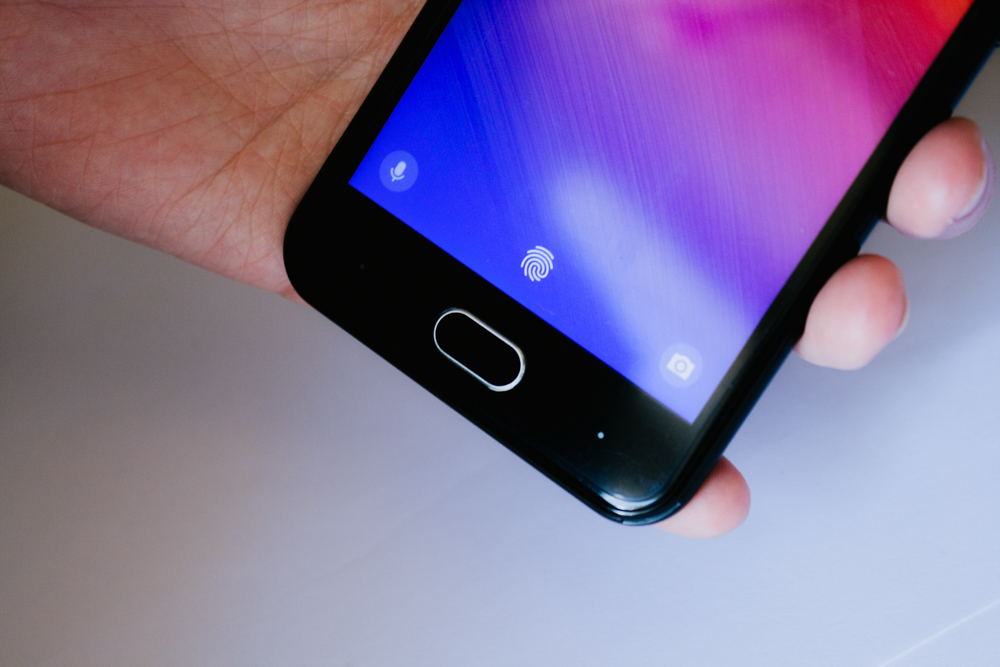 The sensor works fine, but it's not particularly fast, and there are some lags. Out of 10 test unlockings it worked 8 times. In order to minimize potential mistakes, register one finger in the system a couple of times.
You can use it for unlocking the phone or buying stuff, but the sensor also helps to change photos, control music, launcher, video etc. All these additional features can be turned on in settings.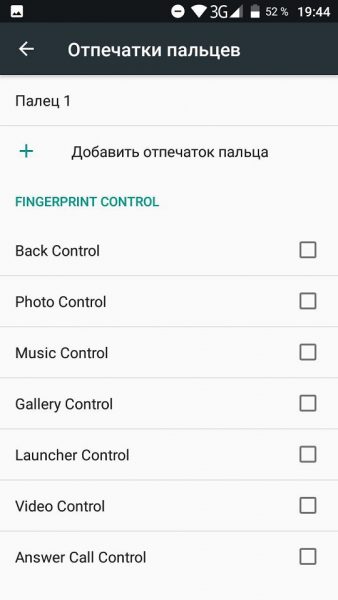 Battery life
The battery in Doogee Shoot 2 is excellent. The non-detachable 3360 mAh battery is impressive for such a device. The maximum screen time is about 7 hours, which is a decent result. Normally, the phone lives for 6 hours. It is a whole day of active use. If you use it sparingly, it will work for a day or two.
Sound
The speaker has good loudness for making calls. The quality is nothing to write home about, but it'll be enough for most of the people. The frequency range is average.
The main speaker is loud so you won't miss any calls or notifications. Movies and music also work okay, but once again, the quality is bad.
The sound in headphones is adequate at the most. It's acceptable, considering the price. Equalizer in the pre-installed app helps to adjust the sound and make it a little bit better.
Connectivity
It's all well in terms of connectivity. Wi-Fi module in Doogee Shoot 2 is strong and works fine without any hiccups. Bluetooth 4.0 also has no problems. GPS is slow (it takes about 10 seconds to start), but it's precise. The cellular network works flawlessly. The phone is quick to find network.
Firmware and software
Doogee Shoot 2 has Android 7.0, which is great. It's modified, though – both launcher and icons are different, along with lock screen and app curtain. The lock screen can be changed back in settings. You can have multiple windows.
Goggle Services are pre-installed, as are third-party apps. Along with traditional Google stuff we have WPS Office and brand apps – DG Security (password protection) and DG Xender (sending files to other devices). There's a special energy saving app and an app for OTA updates.
In settings there are additional sections: DuraSpeed (brand Mediatek technology for speeding up the running app by closing all apps that are not in use) and Parallel Space, which "clones" app in the same way MIUI 8 does it.
You can control the phone with gestures. Wake the device with a double tap, draw symbols on a turned off screen to open specific apps and so on. There are a lot of neat little features like that.
For the duration of my testing I had one OTA update, but it was an old one – these updates are slow.
Verdict
Doogee Shoot 2 is a fine low-end device. It is a good smartphone for a user with ordinary needs. It has features which can be absent in a much more expensive models.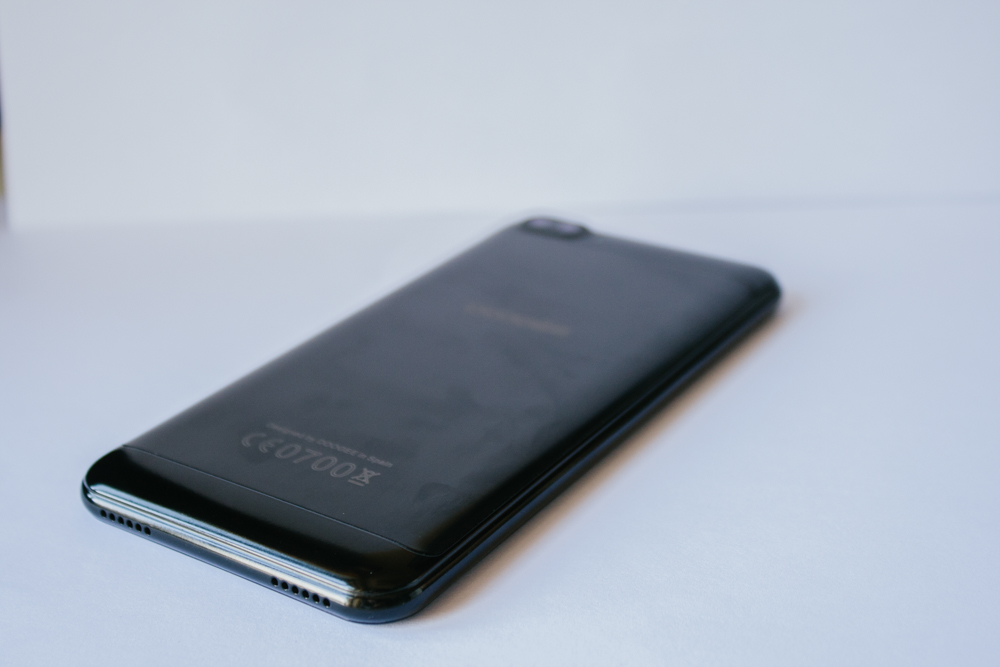 So, the conclusion:
Pros of Doogee Shoot 2:
Ergonomics
Android 7.0 Nougat
Good IPS screen
Normal cameras
Great battery
A lot of software features
Fingerprint scanner
Cons:
Build quality
It is a fingerprint magnet