Infinix brand has existed for a reasonably long time and has made some splashes in the market. Back in 2021, it became the TOP-3 smartphone brand in the Ukrainian market, alongside its sister brand TECNO (commonly referred to as Transsion Holding). But let's agree that it's hard to call Infinix a household name in the smartphone industry. And seeing Infinix out in the wild is a rare experience, like seeing a wild animal in its natural habitat. You know of its existence; you've seen the pictures but still can't believe your eyes. And in many ways, this animal analogy applies perfectly to Infinix Note 12 2023. Why? Follow the review of this beast to learn more.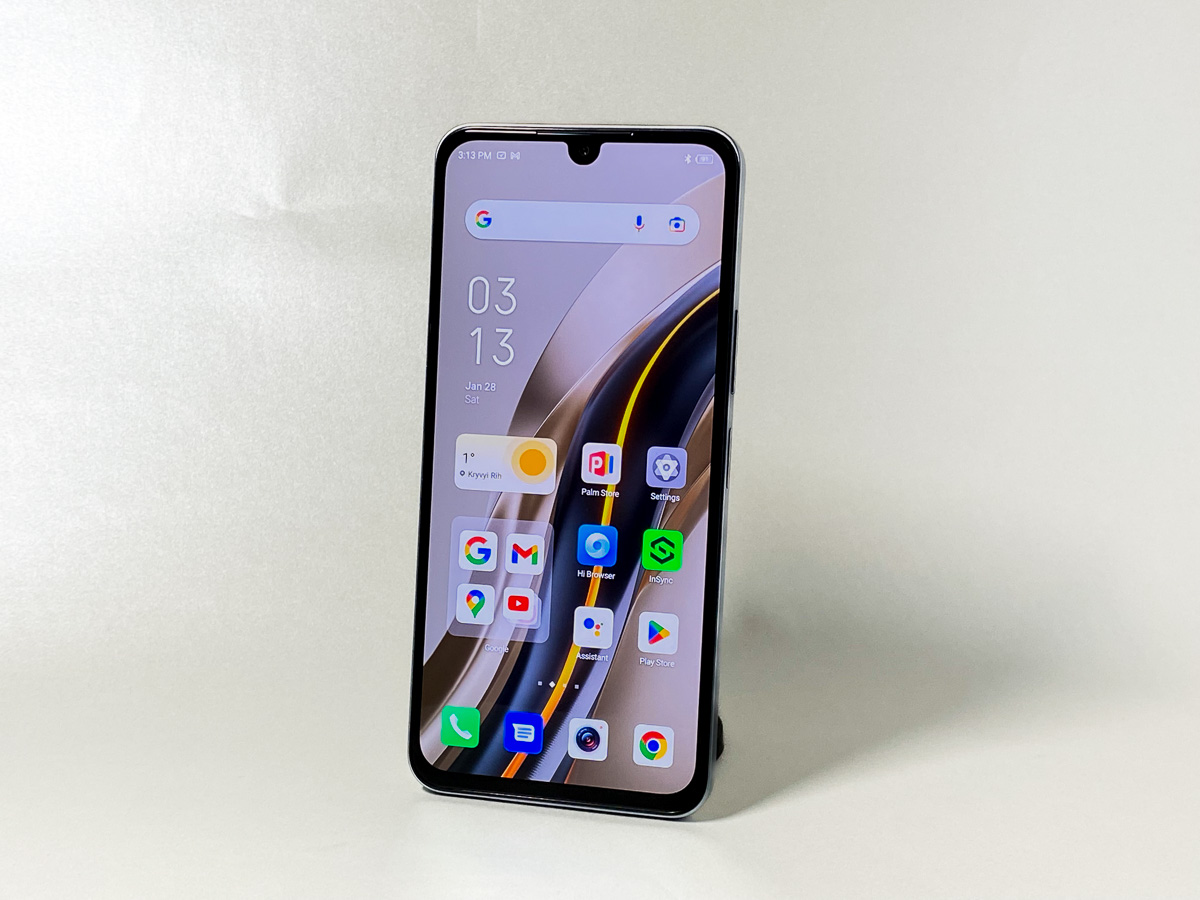 Read also:
Infinix Note 12 2023 Specs
In terms of specs, we are looking at a midrange beast. Note 12 2023 even manages to bring some surprises. Namely, 8 GB of RAM and a front LED flash.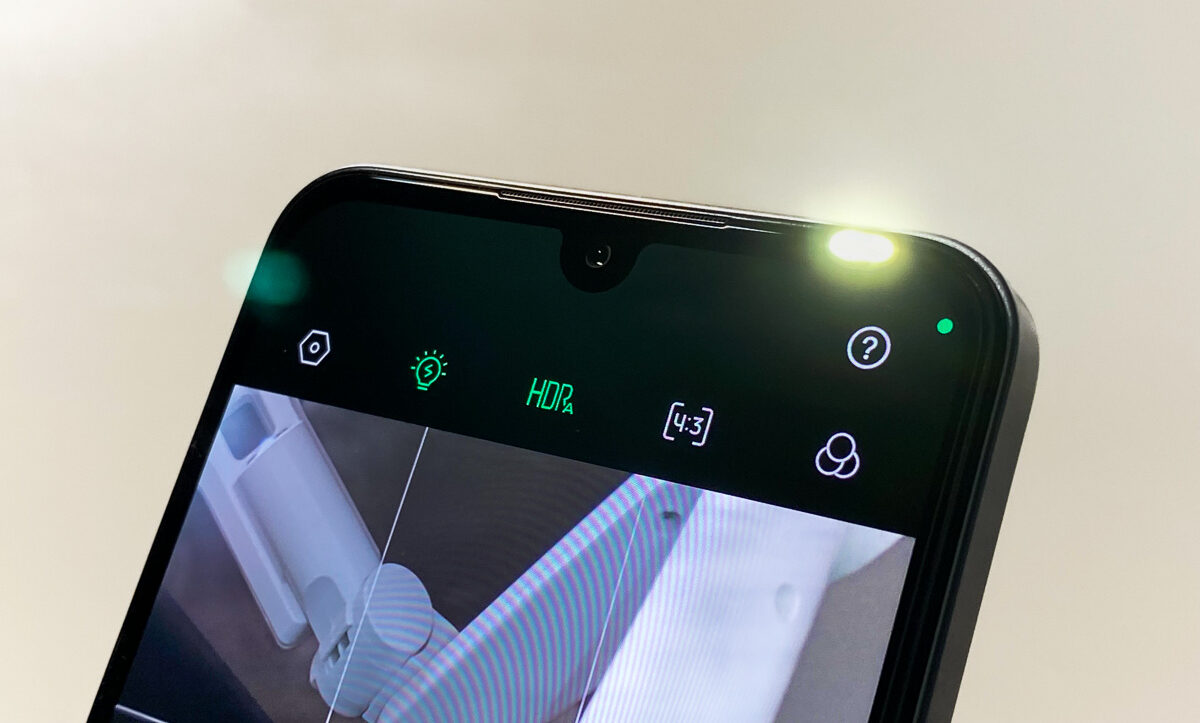 SoC: MediaTek Helio G99 (2×2.2GHz Cortex-A76 + 6×2.0GHz Cortex-A55)
RAM & ROM: 8+128 GB
OS: XOS 10.6 (based on Android 12)
Battery: 5000 mAh
Charging: 33W Shwid charging
Screen: 6.7″, AMOLED, FullHD+ (1080×2400), 60 Hz
SIM: 2 × Nano-SIM + MicroSD card
Rear camera settings: 50 MP wide angle lens + 2MP depth sensor + AI camera
Front camera: 16 MP, front flash
Connectivity: Wi-Fi 802.11 a/b/g/n/ac (2.4 and 5 GHz); Bluetooth, USB Type-C + OTG, GPS, NFC, 3.5 mm headphone jack
In the box: smartphone, USB Type-C to Type-A charging cable, 33W charger, SIM ejector tool, silicone case, and quick start guide
Dimensions: 164.4 × 76.5 × 7.8 mm
Weight: 195 g
Body material: plastic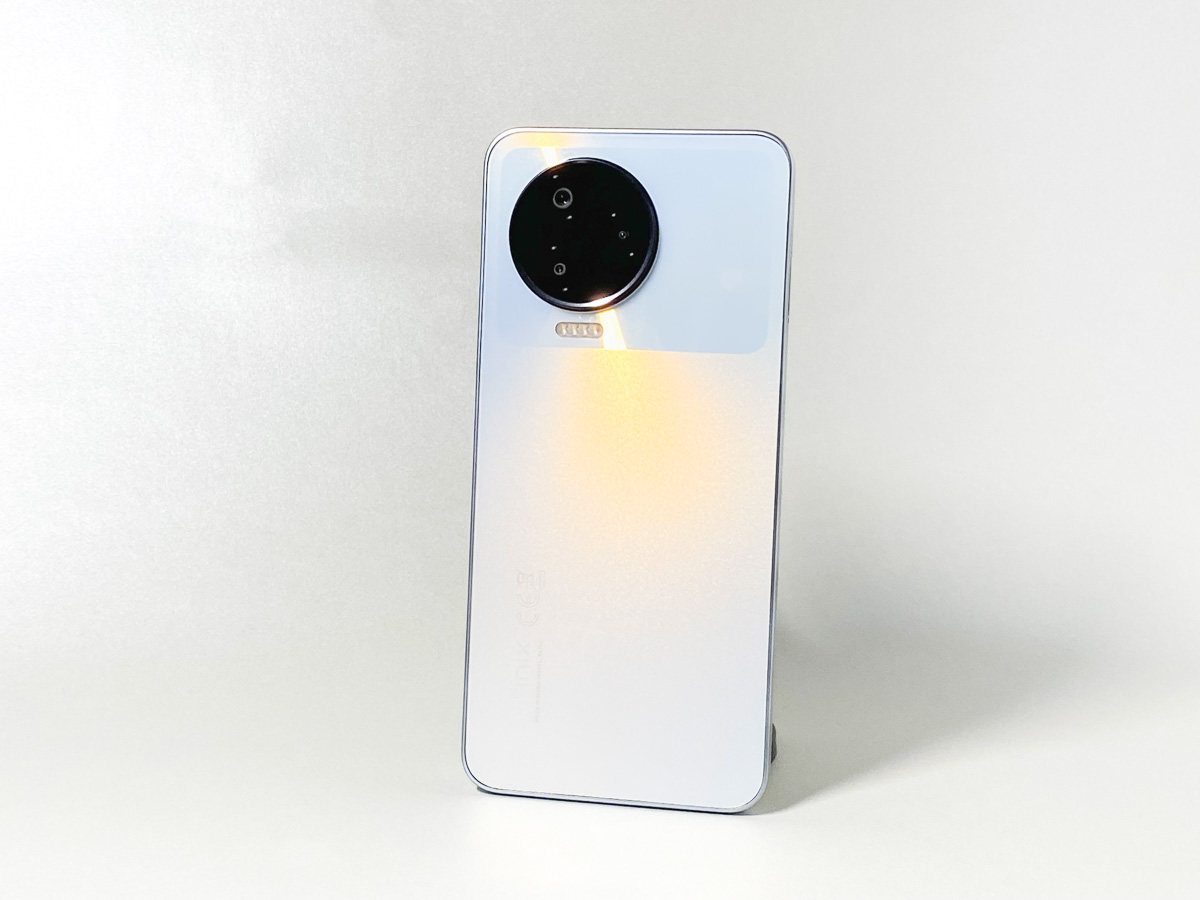 I received the basic version of the smartphone with 8 GB of RAM and 128 GB of ROM in Alpine White color. There is also a version with 256 GB of ROM and two additional color options: Volcanic Gray and Tuscany Blue.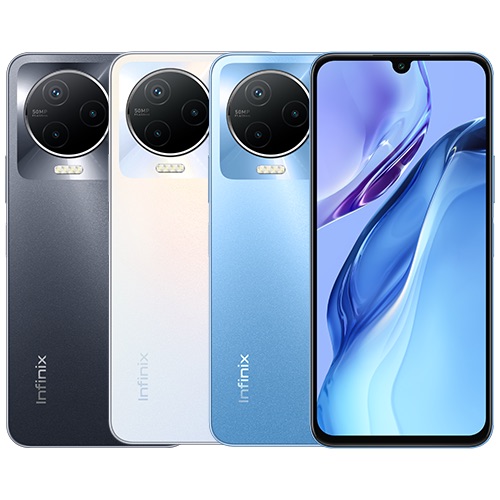 Read also:
What's in the box
There are no surprises with the in-box content. Infinix Note 12 2023 has everything that you might need for your daily use: a USB-C to USB-A charging and data cable, a 33W power brick, a SIM ejection tool, a silicone case, and a warranty card.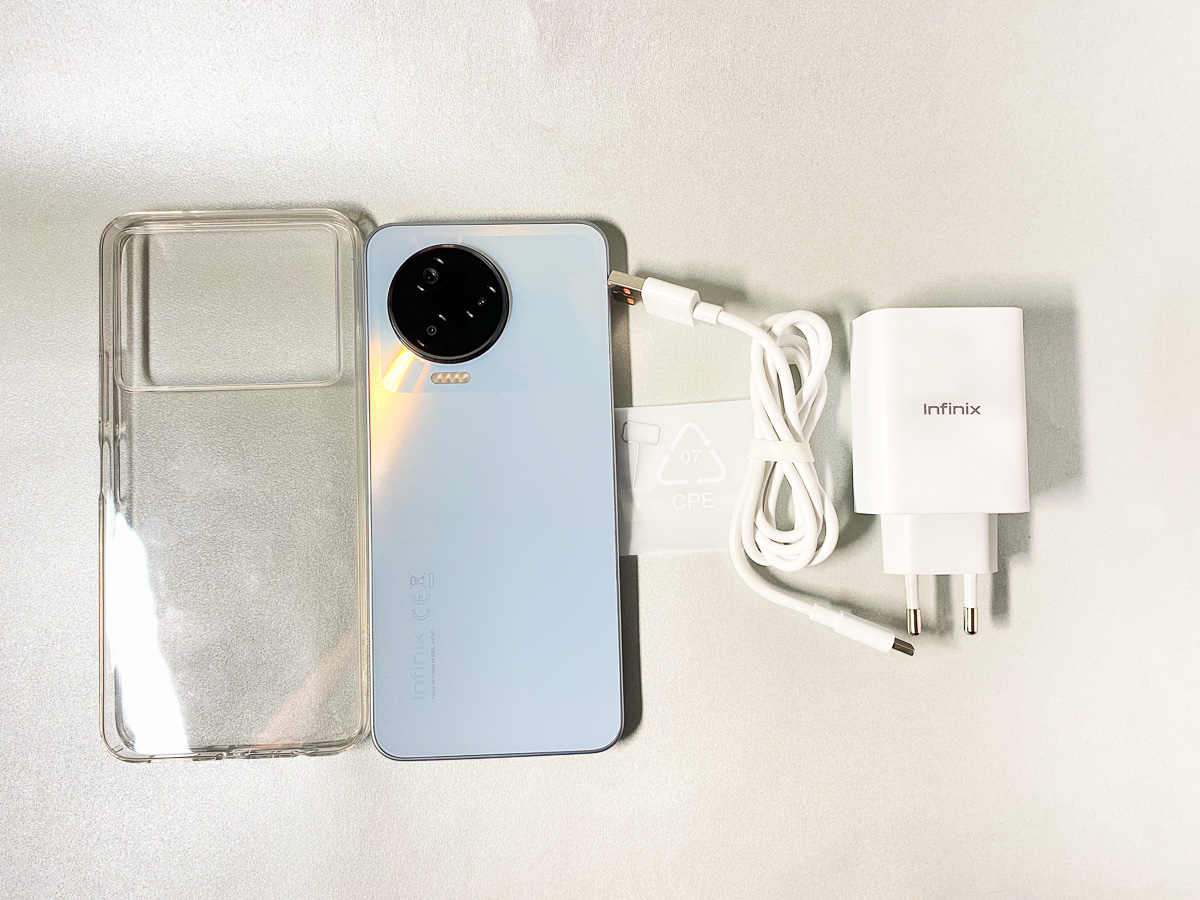 A retail sample should also have a protective film on the screen. And that's a great addition. The smartphone has a giant screen that definitely needs protection.
Design & build quality
I'd call the design of Infinix Note 12 2023 "wild." Because in the era of blank slabs of plastic and glass, Infinix designers definitely tried to make this phone stand out.
The round camera bump really looks like a distinct feature of the back of the phone, and that's the first thing that draws attention when you unbox Note 12 2023.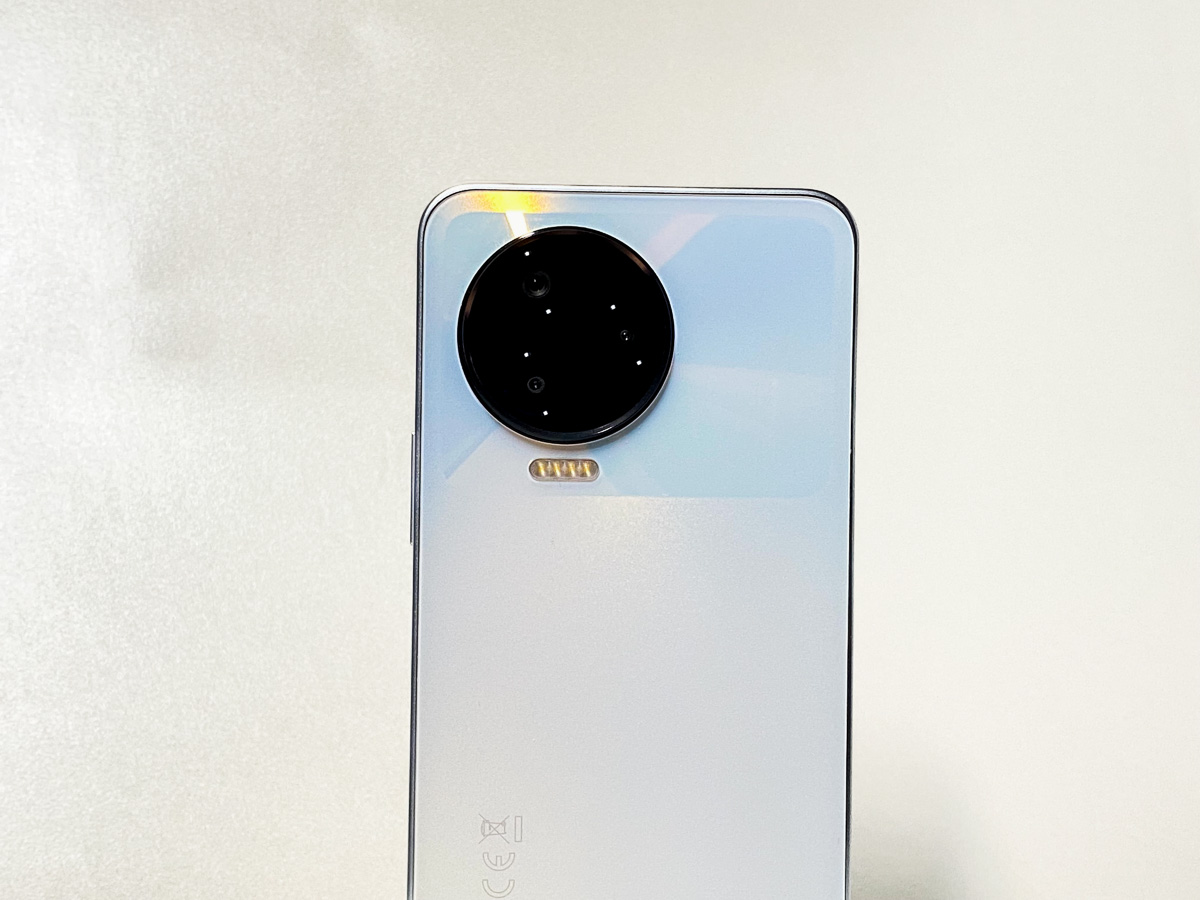 The back of the phone is a flat surface made mostly of matte plastiс. Only the rectangle area around the camera is left glossy, and the included case highlights the area for a truly unique look.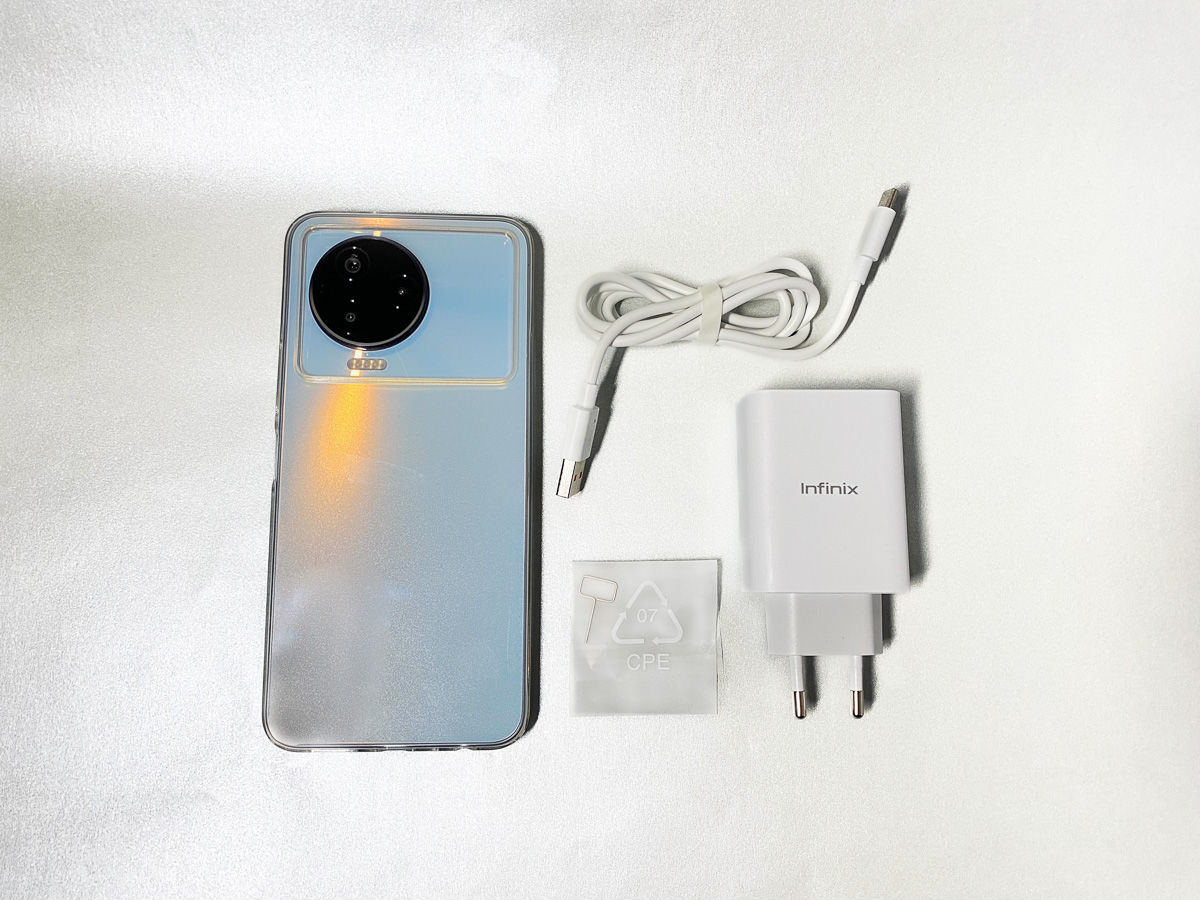 However, a wild design doesn't mean bad build quality. While the phone is entirely made out of plastic, it feels solid and lightweight. The latter is important because Infinix sports a massive 6.7" AMOLED screen. The feature even earned a spot on the phone's box.
Infinix Note 12 screen 2023
And the Screen totally deserves the spot on the box. It's extremely bright and offers great contrast and color reproduction.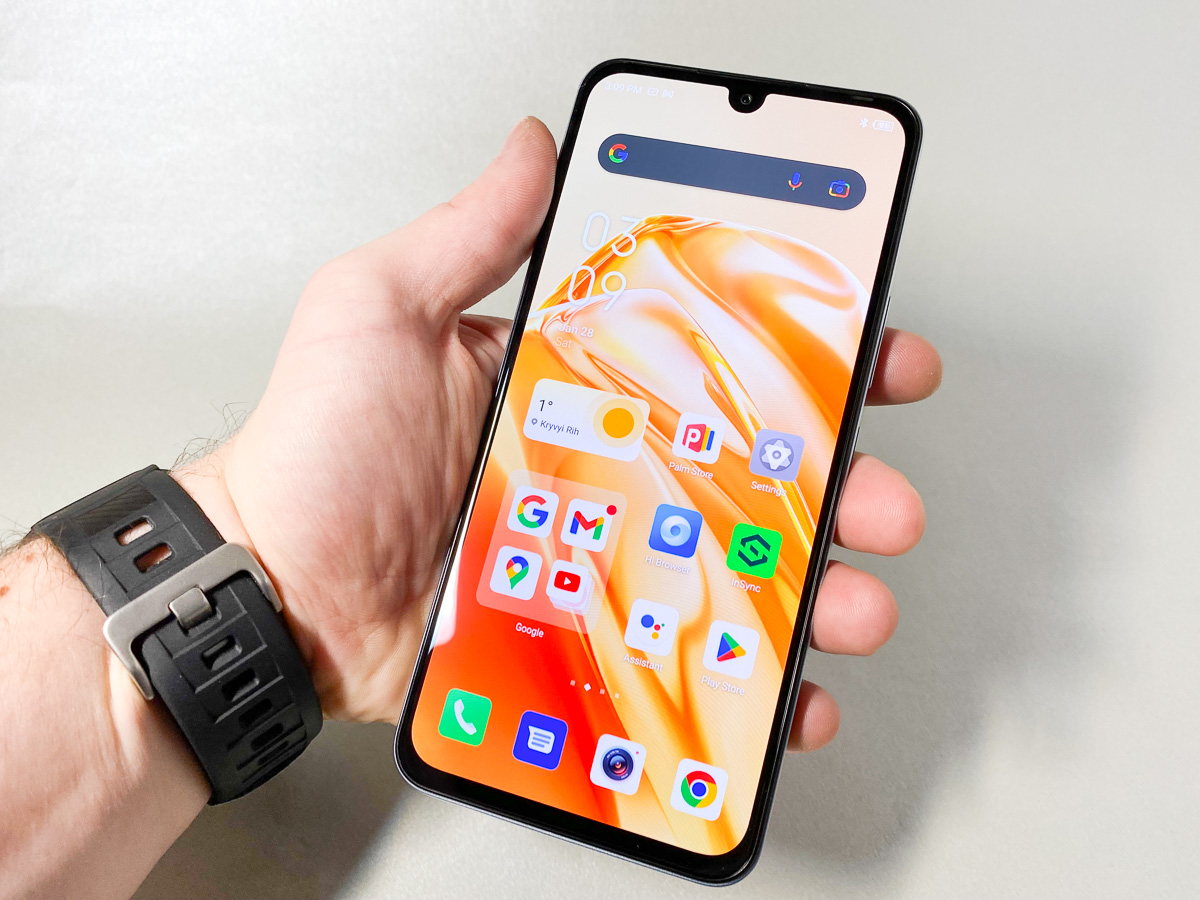 There's no high refresh rate, just a good old 60 Hz. But the phone doesn't feel slow, especially when you set up the animation speed to high in the settings.
And while the bezel around the screen is noticeable. Infinix made it as uniform as possible so that there's no visible chin or forehead.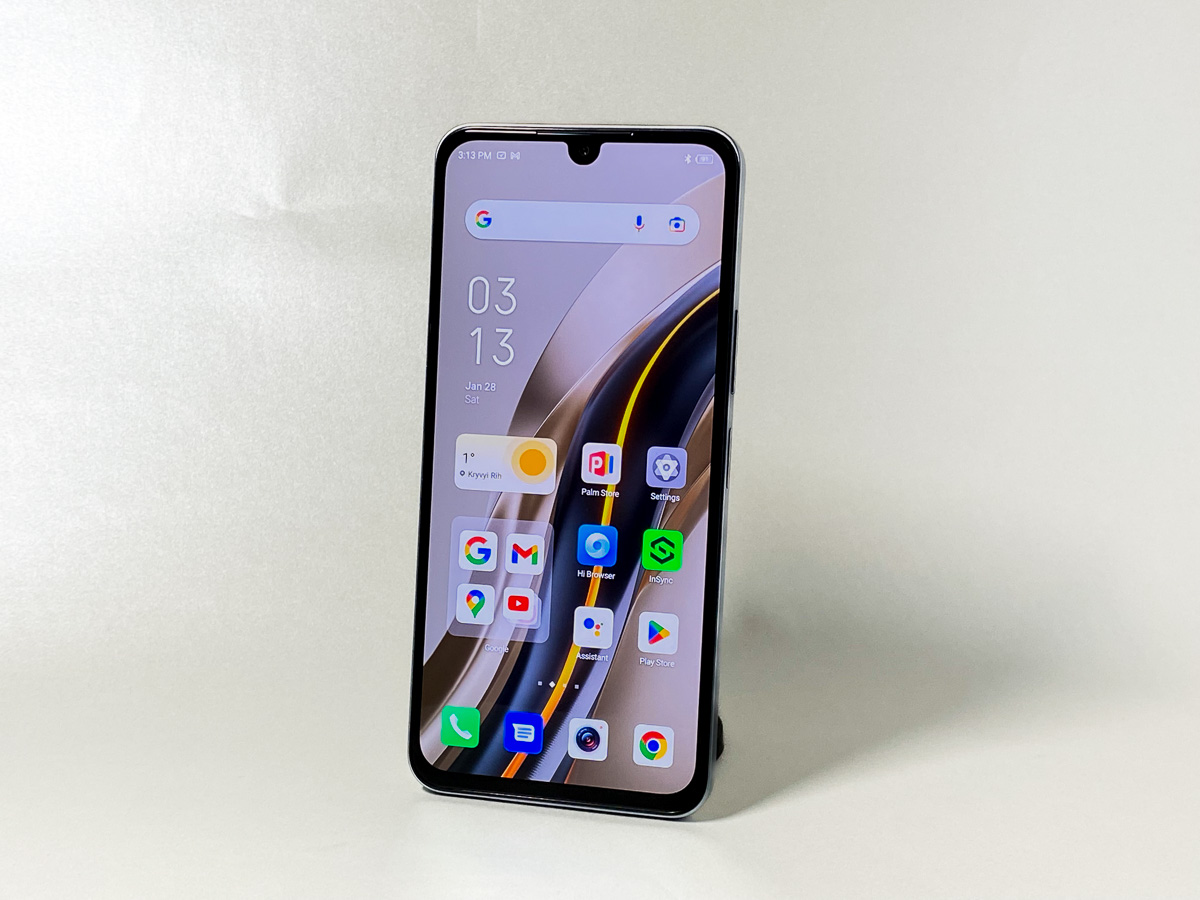 And while, in my opinion, the teardrop notch is so 2019, I don't mind it because Infinix managed to squeeze a loudspeaker on top of the screen and even an LED flash for your low-light selfies.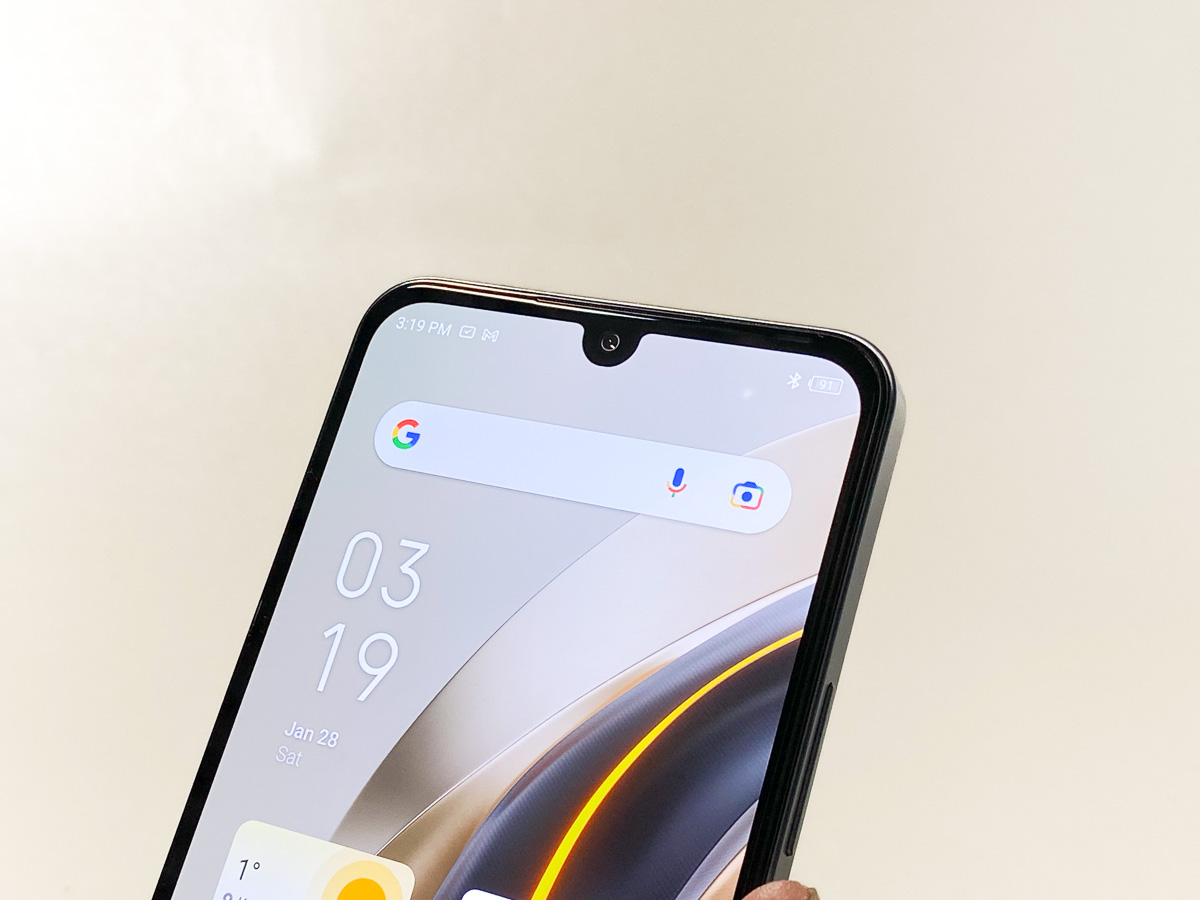 The screen also supports Always-On-Display, so you can see the time and important notifications, such as calls and messages, without turning on your smartphone. In addition, there are many visual styles to customize the appearance of AOD. I would only suggest that Infinix add more settings to this mode to enable popular messengers (such as Telegram) and extend the AOD activity period beyond the 10-second limit.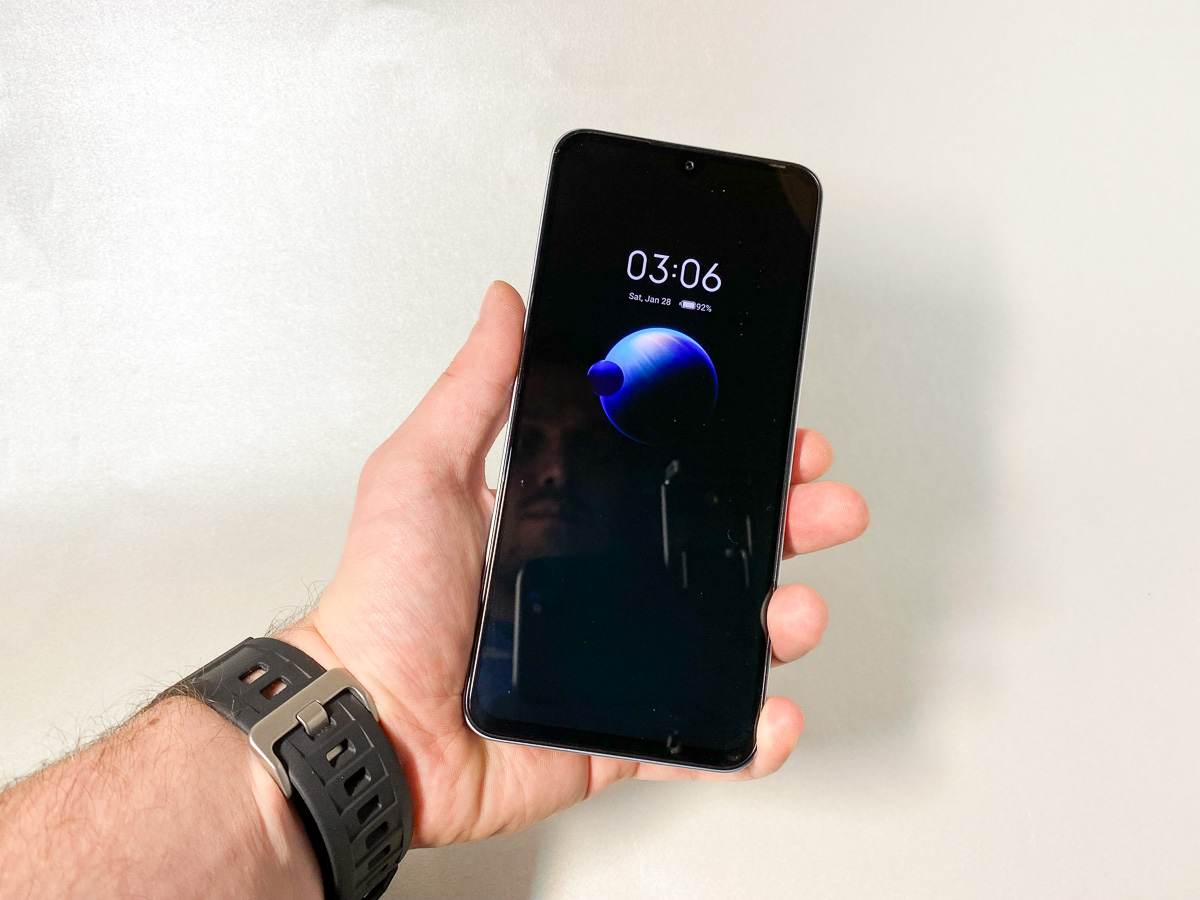 Read also:
Infinix Note 12 2023 software
On the software side, Infinix Note 12 2023 offers a truly wild experience. Its XOS feels different. As a heavily modified version of Android 12 (finally, someone moved on from Android 11), it even requires some learning curve. So let's look at it in detail.
Style
The looks of the ROM reminded me of the Xiaomi phones for the local Chinese market: we have a completely new launcher, quick settings, widgets, folders… If there were no Google Folder and Play Store on the home screen, I'd probably ask how to install a global ROM on this – everything looks so changed – definitely, an interesting option if you want something different than vanilla Android 12.
Features
Infinix included some interesting software features:
there's a floating window mode that works just as advertised – lightning fast (unfortunately, with no split screen mode);
app cloning feature, useful for messengers when you need to use multiple accounts;
smart panel with quick access to some apps and features that can be triggered with a longer swipe from the side;
a dedicated button to enable SWAP (Infinix calls it MemFusion);
a Game Mode to record game footage easily and even boost CPU & GPU.
There are also features that I find less useful:
Social Turbo is to enhance the WhatsApp experience, but I rarely use WhatsApp;
Video Assistant should somehow enhance your video experience, but I didn't notice any difference;
Peek Proof darkens the screen except for predefined lines. I find the whole mechanism a little bit confusing, but privacy-minded people might find it useful.
Built-in apps
Infinix seriously decided to provide alternatives to almost every Google app available on the phone. There's a Chrome and Hi Browser, Google Photos & AI Gallery, YouTube Music & Boomplay, Google Translate & MOL – if you're not satisfied with Google's own set of apps, Infinix got you covered.
While I prefer some App space diversity, I'm not a big fan of Palm Store – Infinix's alternative to the Play Market, Phone Manager – the utility to manage your phone's battery, memory, and other stuff, and XClub – sort of an Infinix-branded community/social network.
All of these apps cannot be uninstalled from your smartphone, and they like to send you notifications when you least expect them. But fortunately, Android allows you to block them if they annoy you.
Read also:
Performance
In the performance department, Infinix demonstrates great results: all-in-all, MediaTek Helio G99 is a well-known and capable 4G SoC.
In all synthetic benchmarks, it outperformed the flagship killers of yesteryear (bye-bye POCO F1, your time has long gone) and some proven midrange kings (POCO X3 NFC is thousands of points behind in ANTUTU). But does it translates well into real-life performance?
In daily tasks, Infinix Note 12 2023 is snappy. With adjusted animation speed, it feels like the fastest phone with a 60 Hz screen in the world. I haven't noticed any freezing or sluggish performance while opening apps or browsing the web.
If we'll switch to games – Infinix performs on par with other Helio G99 phones. Asphalt 9 and Diablo: Immortal both were not particularly good-looking but still managed to handle medium graphics at 30 FPS.
Call of Duty Mobile is again the optimization king with 60-ish FPS on Medium Graphics settings with HD pack enabled.
In general – if you want to play some modern games and don't expect stunning graphics or high framerates – Infinix Note 12 2023 will not disappoint you.
Infinix Note 12 2023 cameras
Where it will also not disappoint you is in the camera department. For a brand that is not famous for its camera performance, Infinix manages to take sharp-looking photos quickly.
In Auto mode (which is called AI Mode here), I've managed to take some good photos and never missed a moment.
Yes, the processing might be harsh, and photos will require some color grading, but they are fairly enough for demonstrating on the phone's screen.
50 MP mode also surprised me with more detailed photos that don't require waiting for the end result. It is also a good option if you don't like the overprocessed look of the AI mode.
I was also impressed by the portrait mode – while edge detection is obviously not on par with iPhones and Galaxies of the world, the end result was more predictable than on Vivo V23E, which is based on the same SoC. I even managed to take not one but several portrait shots of my dog, who, I must admit, never sits or stands still.
Another achievement is the night mode. Here it is not just a fancy name that does nothing. It uses AI power to squeeze additional detail out of low-light photos indoors and outdoors. So you can count on Infinix even in these scenarios.
The night mode even works on the front camera to take low-light selfies. And with a built-in LED Flash, you can achieve much better results.
The front cam also makes some decent photos in bright daylight scenarios. They come out detailed and more or less natural, considering that the beautifier is a separate mode that is turned off by default.
As for the video – the phone can record in up to 2K resolution with 30 FPS, but I find 1080P at 60 FPS the sweet spot: it is perfectly clear and maintains a stable frame rate – just enough to record some memorable moments, like a walk with your dog.
And if you want to play with your videos, slow motion, time-lapse, and even a film mode are available. Just keep in mind that all the videos in special modes are recorded at 720p
I would only add the ultrawide-angle lens to this great camera setup. But even without it, Infinix Note 12 2023 provides a solid camera performance in its price category.
Battery and charging
Another solid aspect of the phone is the battery life. Even under the heavy load, I've squeezed 7 hours of screen time and 29% left at the end of the day. And what an eventful day it was: games, benchmarks, messengers, YouTube, music streaming, and browsing all day long.
And even if you run out of charge, the 33W in-box charger can quickly prepare you for new adventures. In my case, it took around 20 minutes to charge from 29 to 70 percent, just enough to shoot more photos and videos…
Experience using Infinix Note 12 2023
Or do some other fun stuff, like watching videos and listening to music. Because loud built-in stereo speakers are built just for that, they are even too loud. I suggest using the phone at around 80% of the volume or even less, or your neighbors might call the police.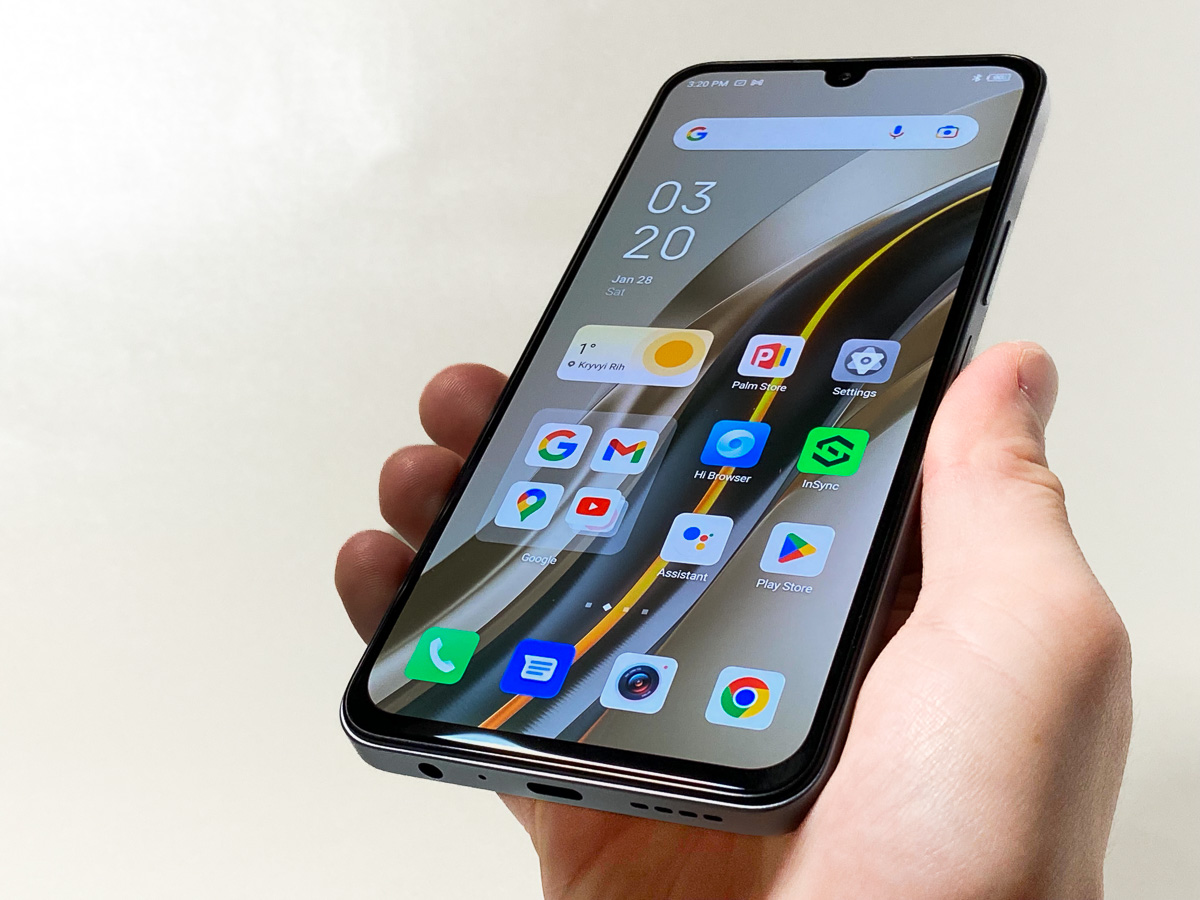 You can also listen to music with earphones. I prefer the wireless option, as my AirPods Pro worked just fine with Note 12 2023, but if you prefer wires – there's a 3.5 mm jack at your service.
You'll also never miss a call thanks to stereo speakers and a haptics motor that is powerful enough to feel it even when you put the phone in your jacket. Should I also say that Infinix Note 12 2023 is great for phone calls and mobile data alike?
It is also great for contactless payments. NFC worked instantly, and I had no problem paying for various stuff on the go. Just note that Google Wallet is not pre-installed; you must download it from the Play Store.
Verdict
So, while we're on payment, should you pay your hard-earned money for this wild beast?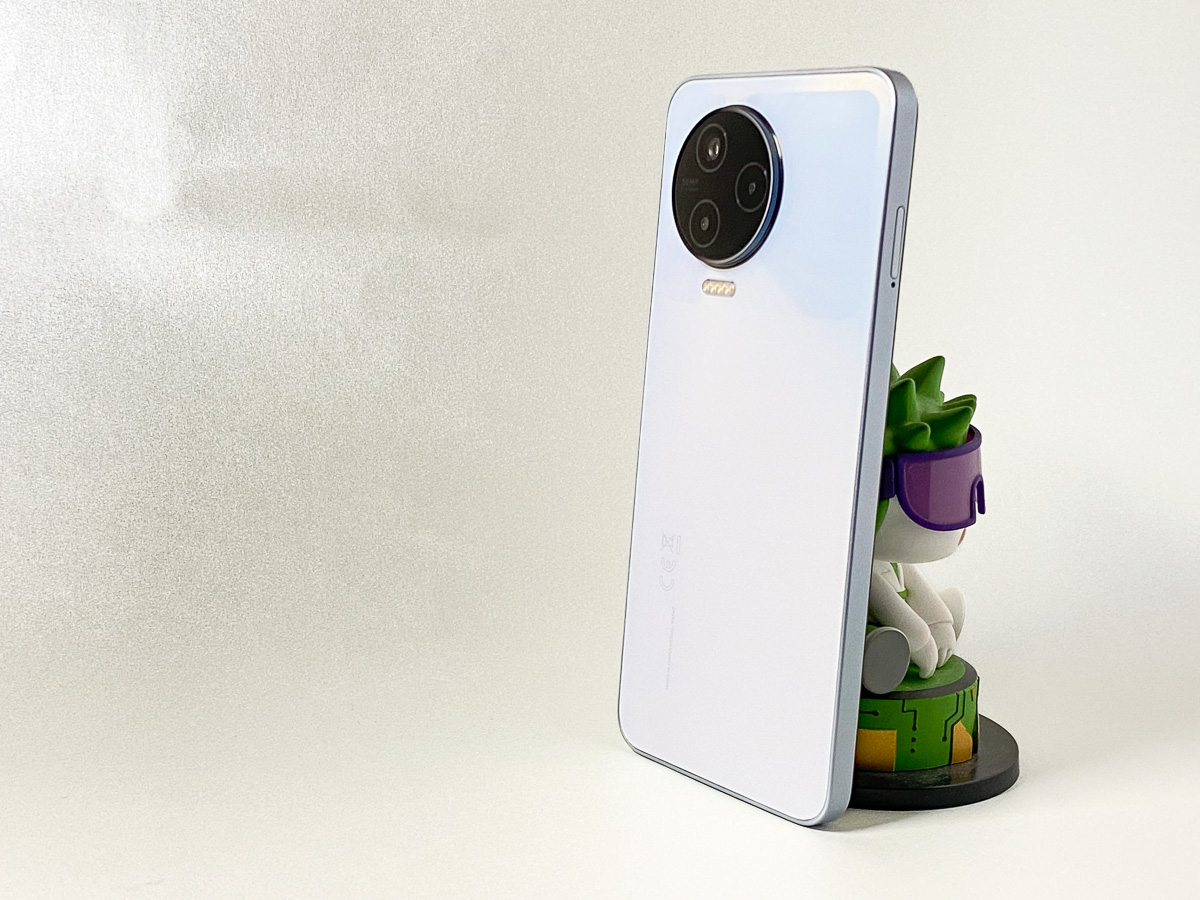 While the Note 12 2023 name might not be all over the web, the phone itself is a solid option to consider. If you're in the market for a mid-range phone with an interesting design, great camera performance, a good screen, and solid multimedia capabilities – give Infinix a shot.
There might be some rough edges: the software needs a polish, and the ultrawide camera is missing. But the company is moving in the right direction. So pay close attention to Transsion Holdings and its Infinix brand, I'm sure you'll hear these names more often really soon
Read also: