The European Space Agency's (ESA) Mars Express has taken a picture of the Red Planet, where a large, city-sized crater is pictured. It has dark spots that make it look like a huge human eye. Such satellite images can help scientists better understand the geology and history of Mars. The study found that these channels may be filled with some dark material and may be elevated in some places. The image of the Aonia Terra crater indicates that in this region on the southern plateau of Mars about 3.5-4 billion years ago water flown on the surface.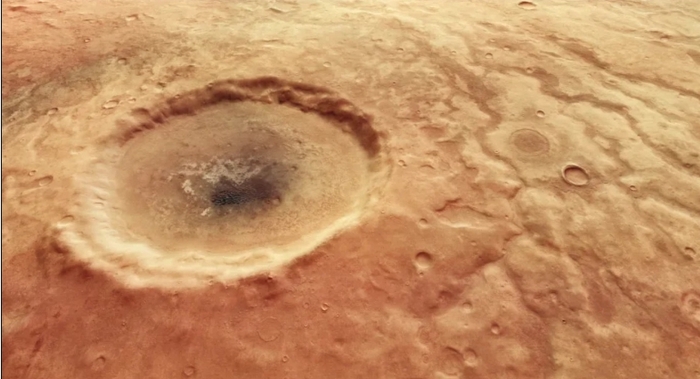 According to reports, the photo shows the 30 km wide Aonia Terra, located in winding canals. These channels resemble veins that pass through the human eyeball.
The study found that these canals may have been filled with some dark material and may have risen above the surrounding ground in some places. The space agency has offered several explanations in this regard. Among them is the possibility of erosion-resistant deposits that settle to the bottom of these channels when water flows.

The picture also shows different colors on the surface of the crater, which indicates that the region consists of different materials. The report also assumes that this surface is warm and melts to a dark brown-gray color closer to the crater on the left side of the image. Many booths can be seen in this region. These stone towers are formed when the surface is affected by wind, water or ice.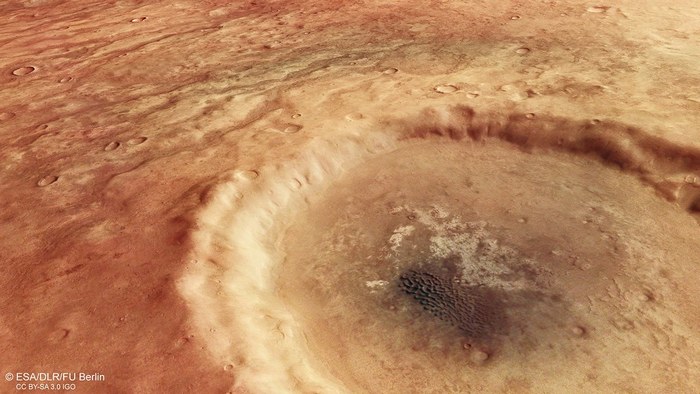 In addition, a dark field is located on the surface inside the crater. The study also shows that the crater may be filled with a large number of boulders and cone-shaped hills. This may indicate that a large amount of material has previously accumulated inside the crater. Interestingly, in the north of the crater the surface is smoother. From this side, the edges and channels of the crater seem clearer. The surface is even smoother on the right side of the image.
You can also help Ukraine fight with Russian occupants via Savelife or via an official page of the National Bank of Ukraine.
Read also: