Nowadays, fast mobile Internet is no longer a surprise, and a large number of people use it. This issue became acute during the pandemic, when many employees switched to remote work and children started studying at home. Some families moved to the countryside, and the situation with wired networks there is not as rosy as in big cities. Therefore, 3G/4G mobile networks are an obvious choice for many. And now, when, for example, in Ukraine, there are frequent power outages, such an LTE router will be very necessary. And then ASUS offered me to test its router, and there was no point in refusing. The ASUS 4G-AX56 is an excellent LTE router that delivers superior performance and advanced features thanks to its 4G technology.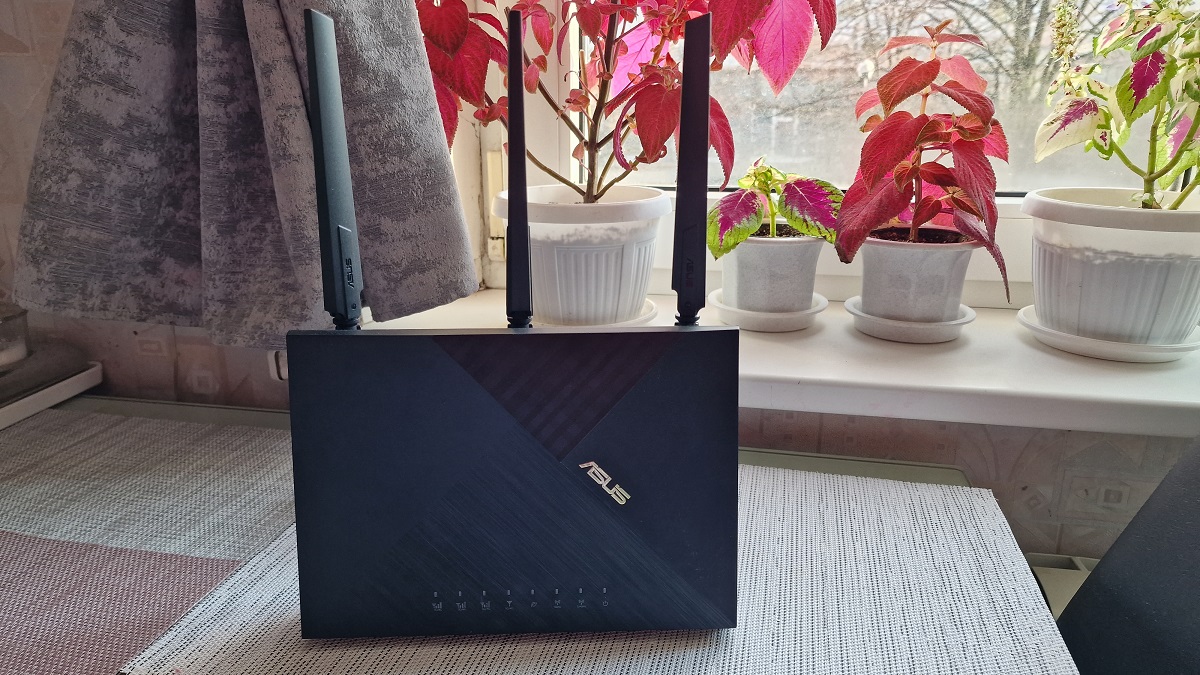 Read also: ASUS ROG Cetra True Wireless Review: Gaming TWS Headphones
What is interesting about ASUS 4G-AX56
This new 4G router from ASUS is the first to include the Wi-Fi 6 standard with dual-band simultaneously. We are talking about a mid-range router. A very important feature of this new model is the presence of a dedicated Gigabit Ethernet port for the global network. This means that we will be able to use this equipment as a neutral router for fiber, cable or ADSL connections, and then we will be able to have a second WAN with a 4G LTE network. The Asuswrt firmware will allow you to configure this aspect in detail by defining a primary WAN and a secondary WAN, as well as configure a dual WAN with load balancing, you can even configure it to switch connections after a failure.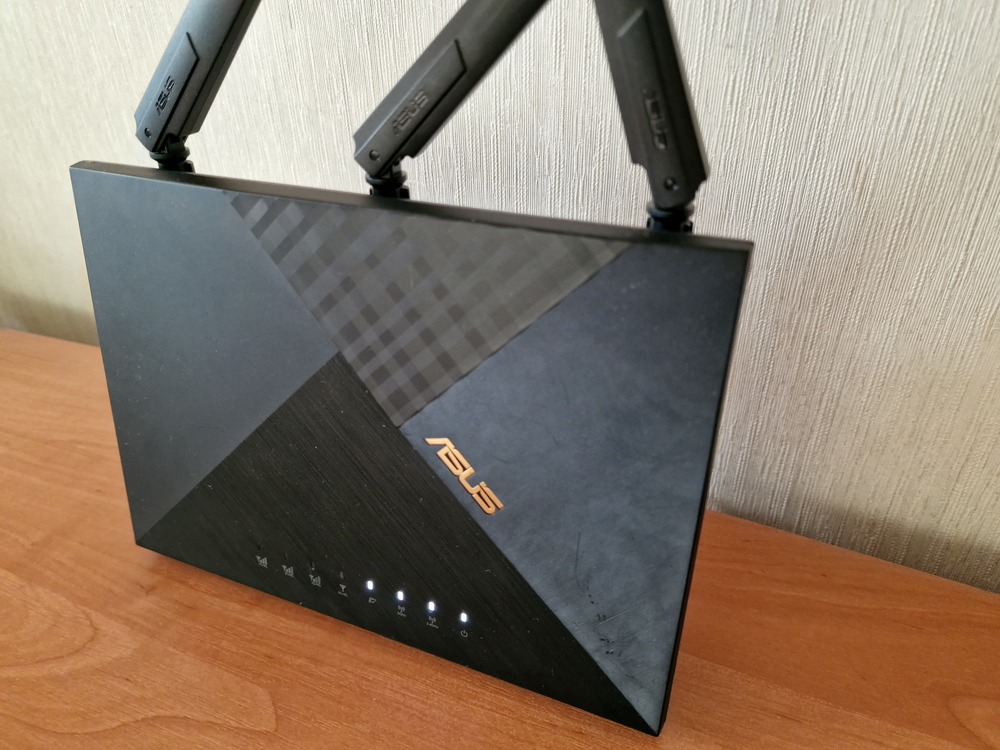 The ASUS 4G-AX56 can also be useful in other cases, such as combining 4G and wired data to increase speeds and as a backup network in the absence of a landline connection.
The ASUS 4G-AX56 is a dual-band router with 2×2 LTE Wi-Fi 6 modem that provides 80 MHz bandwidth and 1024-QAM for high-performance wireless connections. It is capable of reaching a theoretical maximum speed of approximately 1800 Mbps: 574 Mbps at 2.4 GHz and 1201 Mbps at 5 GHz. In addition, thanks to Wi-Fi 6, the router offers high speed, performance, and coverage throughout your home, even in large rooms and with multiple connected devices. This is primarily due to OFDMA technology, which allows ASUS 4G-AX56 to offer a longer Wi-Fi signal range and better coverage by dividing each channel into smaller subchannels. These subchannels have lower bandwidth, which allows them to increase coverage by up to 80%.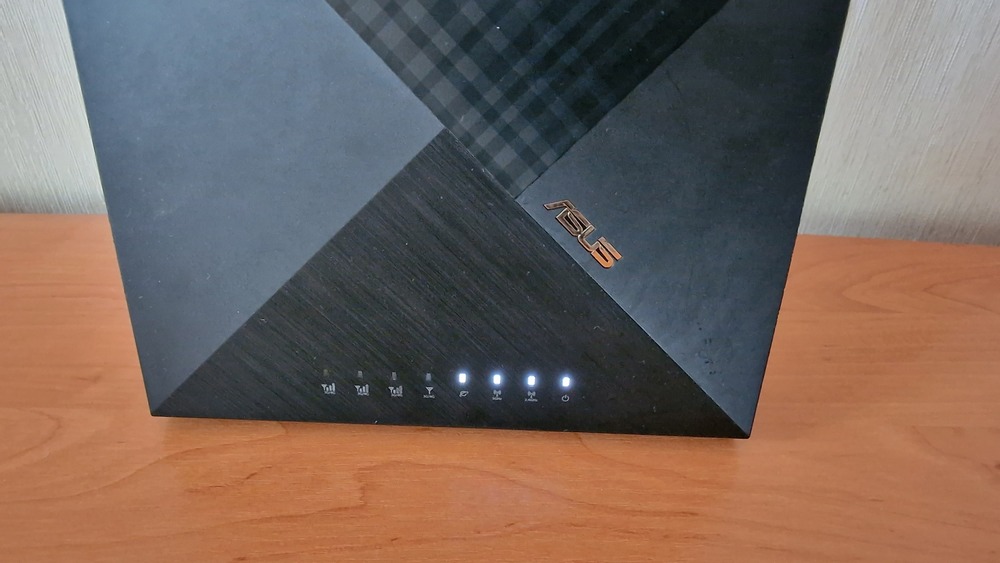 Even the LTE connectivity performance is optimized and fully utilized with the ASUS 4G-AX56. The router is equipped with the latest LTE Category 6 mobile broadband, which combines two cellular bands to deliver Internet download speeds of up to 300 Mbps. This is essential if you need to share large files or stream particularly detailed content, such as 4K resolution.
This new router with built-in 4G LTE modem is currently available for UAH 7,009, which is a very competitive price considering its specifications.
Read also: ASUS ROG Rapture GT-AX6000 EVA Edition Review: Powerful Gaming Router
ASUS 4G-AX56 specifications and price
Interfaces: 1×1 Gbps WAN, 4×1 Gbps LAN, 1×Nano-SIM slot
LTE mobile frequencies: B1, B3, B5, B7, B8, B20, B28, B32, B38, B40, B41; WCDMA: B1, B3, B5, B8
Antennas: 3 external non-removable, 1 internal
Flash memory: 128 MB
RAM memory: 512 MB
Operating frequencies: 2.4 and 5 GHz
Bandwidth: 802.11a/g: up to 54 Mbps; 802.11b: up to 11 Mbps; 802.11n: up to 450 Mbps; 802.11ax (2.4 GHz): up to 574 Mbit/s; 802.11ax (5 GHz): up to 1201 Mbps
Encryption: WPA/WPA2-Enterprise; WPA/WPA3-Personal; WPS
Functions: UPnP, DNS Proxy, DHCP, NTP Client, DDNS, Port Trigger, Port Forwarding, DMZ, System Event Log
Features: MU-MIMO; AiProtection; ASUS Router App; 3G/4G 300 Mbps Cat.6 LTE
Power supply: 12 V, 2 A
Dimensions: 220.0×160.0×87.2 mm
Weight: 513 g
Price: ~$195
Of course, for this price, one would expect USB connectors or removable antennas. Nevertheless, the solutions used are certainly well suited to the class of the device. ASUS has focused on the latest Wi-Fi standard and supports the highest LTE speeds (in the Cat. 6 band).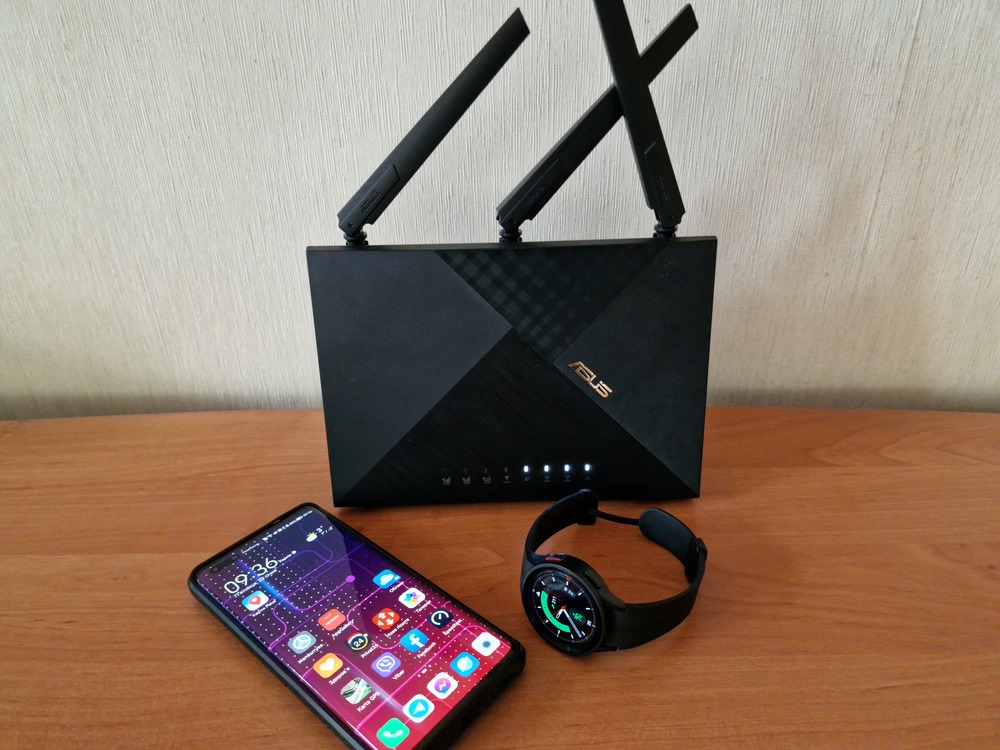 What's in the package?
We receive the ASUS 4G-AX56 router in a classic box, where you will find all the necessary information about this network equipment.
Along with the router, the company provides everything you need, i.e. a complete documentation package, a power adapter (with two plugs), an Ethernet cable (RJ45), and a paper clip to open the SIM card tray. Nothing that would surprise us, but on the other hand, it's no use expecting anything more.
I should note right away that we're not dealing with a cheap router, so the manufacturer hasn't forgotten about the latest technologies that are mandatory for equipment of this class. This network device will cope well with the needs of small offices.
Modern design and high-quality materials of the ASUS 4G-AX56 case
The ASUS router is made mostly of plastic, but of a fairly high quality. I can't complain about the finish, because the matte paint job in different shades of black looks equally good both after the first time you take the equipment out of the box and after a few days of testing. The build quality is high, the original design and finish that imitates brushed aluminum will undoubtedly appeal to many. The embossed ASUS logo gives the router an additional charm.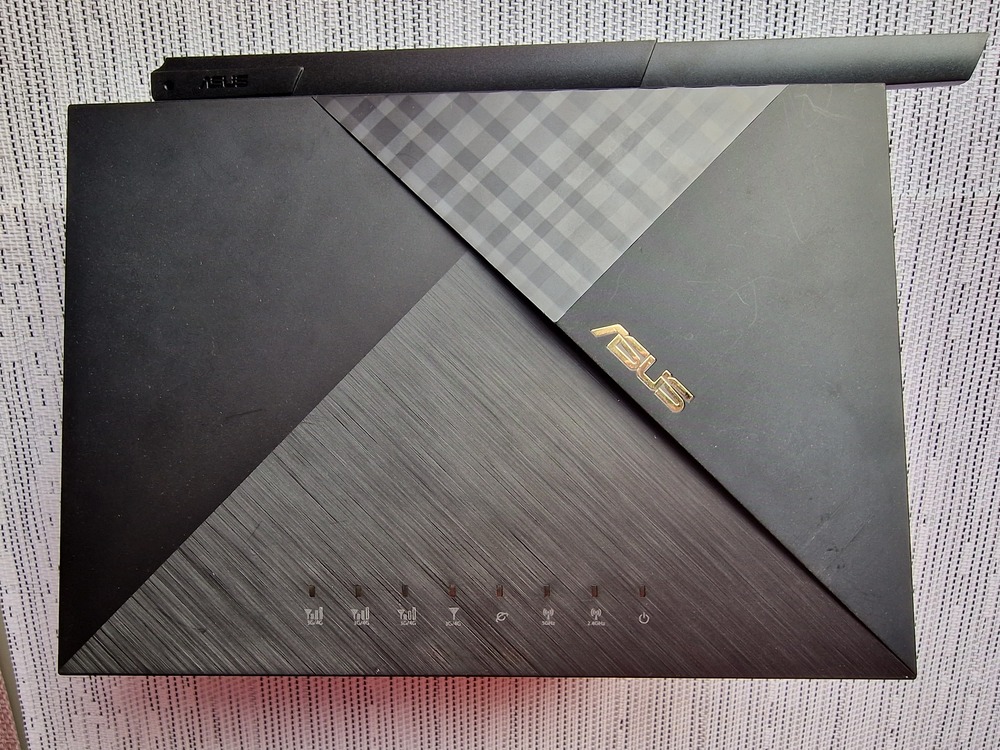 The front panel of the case looks interesting and, in addition to the company logo, contains a set of LEDs, the color of which indicates the status of individual modules. If we look from left to right, we can see three indicators of 4G LTE coverage that this router can achieve, we also have a 4G connection status indicator, the Internet connection itself, indicators for the 5 GHz and 2.4 GHz bands, and finally a general LED status indicator for the router. Unfortunately, there is no way to disable the indicators in the app, so when choosing a place for the router, you should take this into account so that the LEDs do not disturb your sleep at night.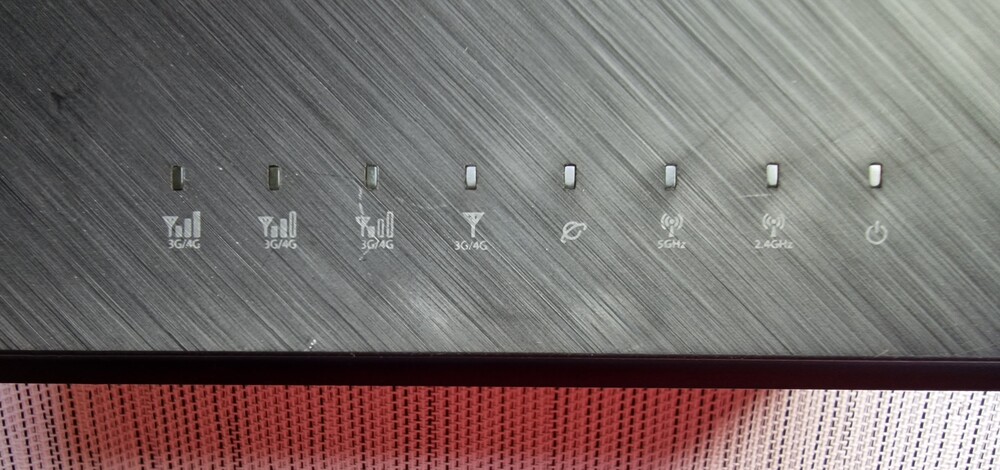 The side panels have a slightly cut-off shape, there is nothing on them, although additional cooling grilles could be placed.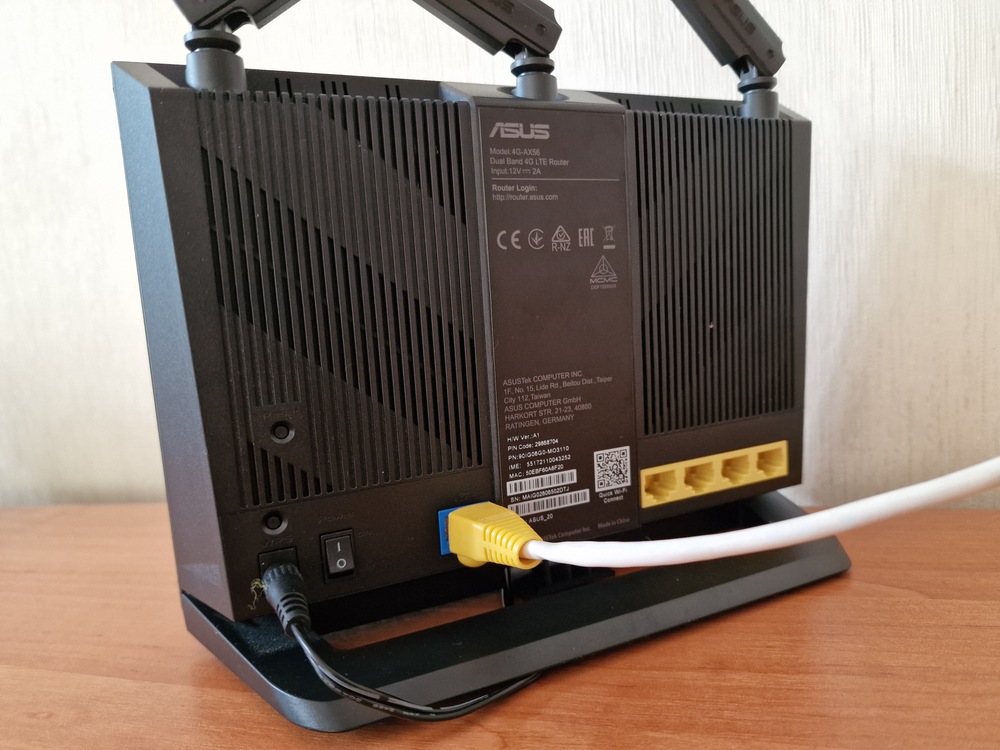 All connectors, ports, and connection and control buttons are located on the rear panel. On the left side, the company's engineers placed the router's power connector, a two-position power switch, a WPS button for easy and quick synchronization of WiFi clients without the need to enter a password, and a Reset button. By the way, it's interesting that we can't activate WPS with a finger/nail – the key is very deep, so you'll need to use, for example, a paper clip for the SIM card tray.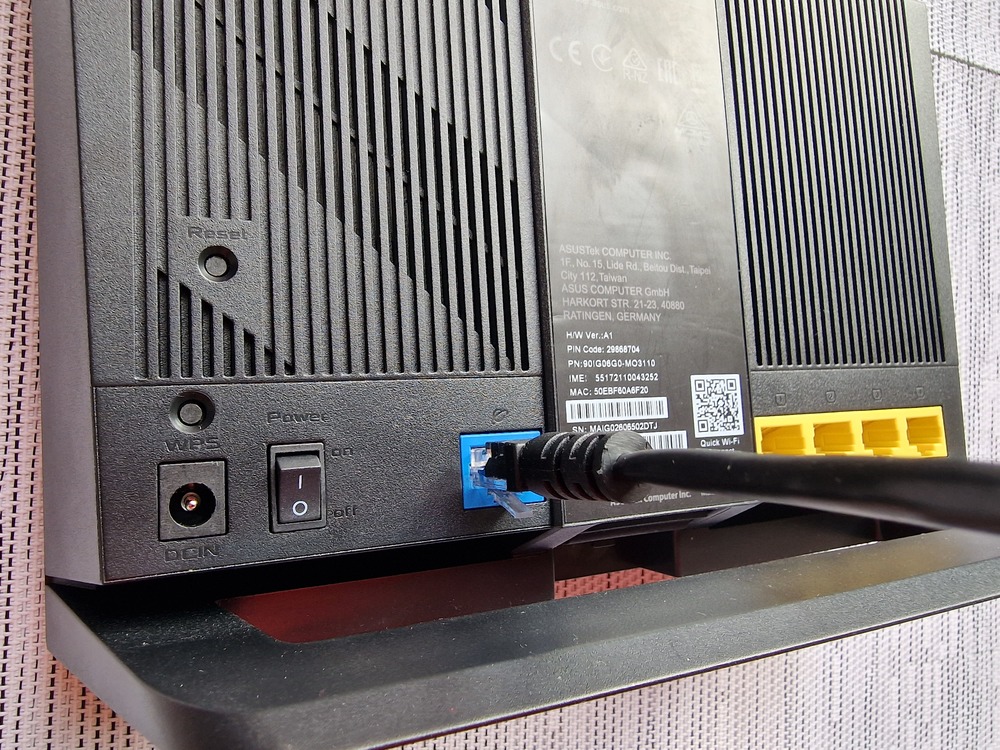 Moving on, we come to the important ports and connectors. In the central part, there is a Gigabit Ethernet port for connecting a wired WAN Internet, it is blue, and on the right side we see four Gigabit Ethernet ports for the local network. I was surprised why there was not at least one USB port. I believe that it's high time that modern routers, even in the budget and mid-range segment, were equipped with USB, but that's just my personal opinion.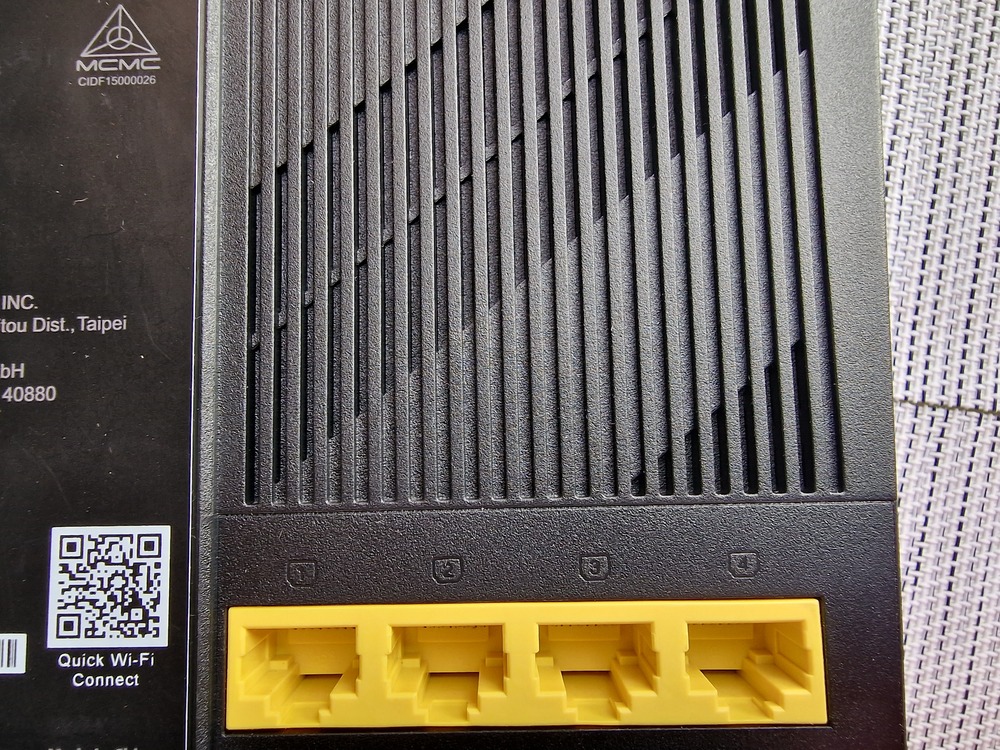 The sticker in the central part indicates the exact model of this router, the main characteristics (dual-band with 4G LTE), the characteristics of the electrical input, as well as the domain to access the router's administration via the Internet. At the bottom, we can see the hardware firmware version, hardware version, serial number, MAC address, and IMEI of the integrated 4G LTE modem. Of course, there is also the SSID of the equipment with a default password, as well as a QR code to facilitate connection to mobile devices such as smartphones.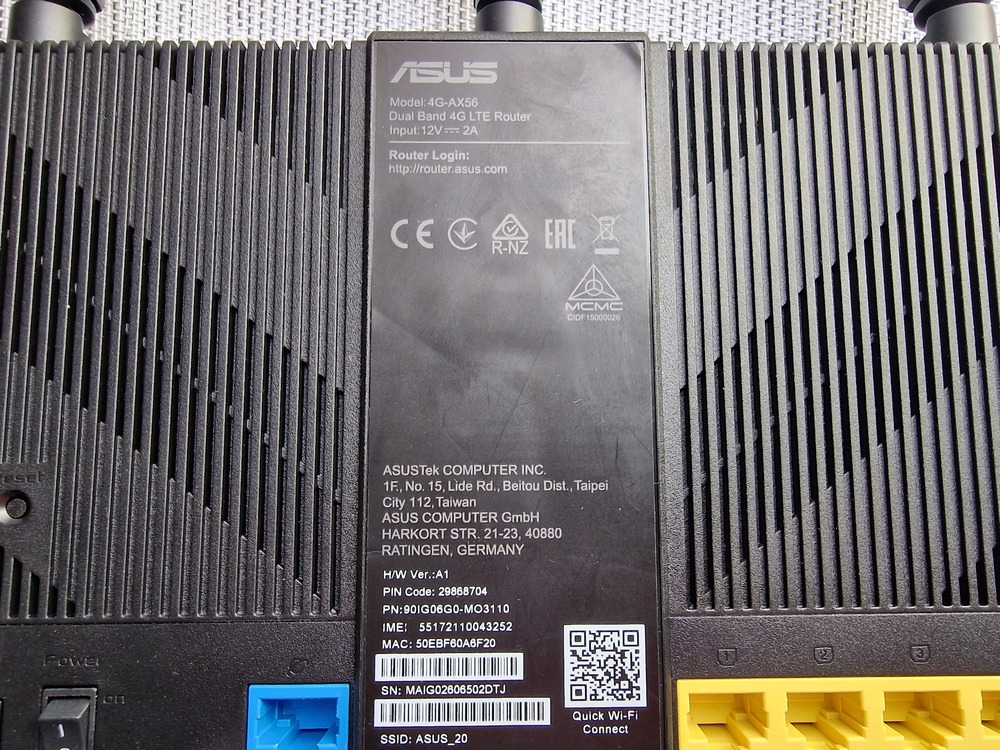 The router stands on an interesting stand with rubber feet, so it does not slip even on a smooth surface.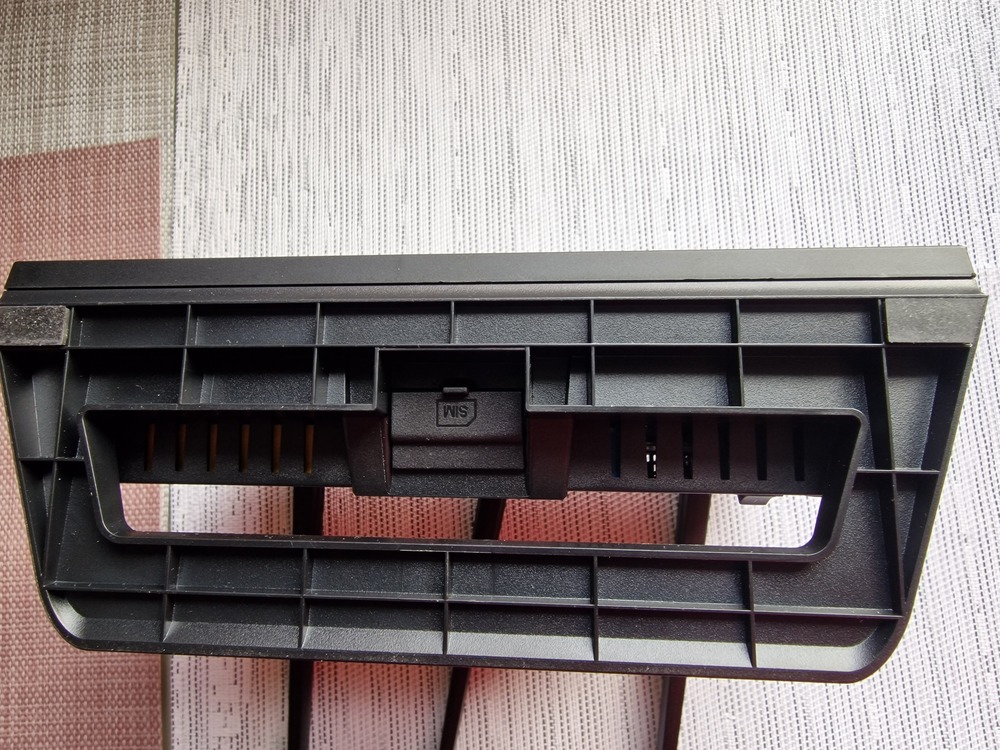 This stand has a place for a nanoSIM card tray, which also has a rubber cover.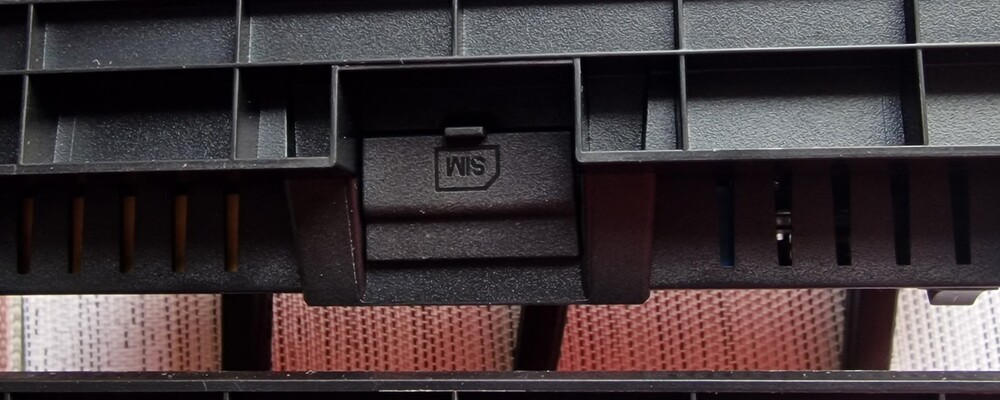 Yes, it's a nanoSIM card, which is quite unusual, given that most routers with LTE modem use a regular-sized SIM card, not a nanoSIM, as in this model. But it's also convenient, because you can simply remove the SIM card from your smartphone (most of them use a nanoSIM) and insert it directly into the router.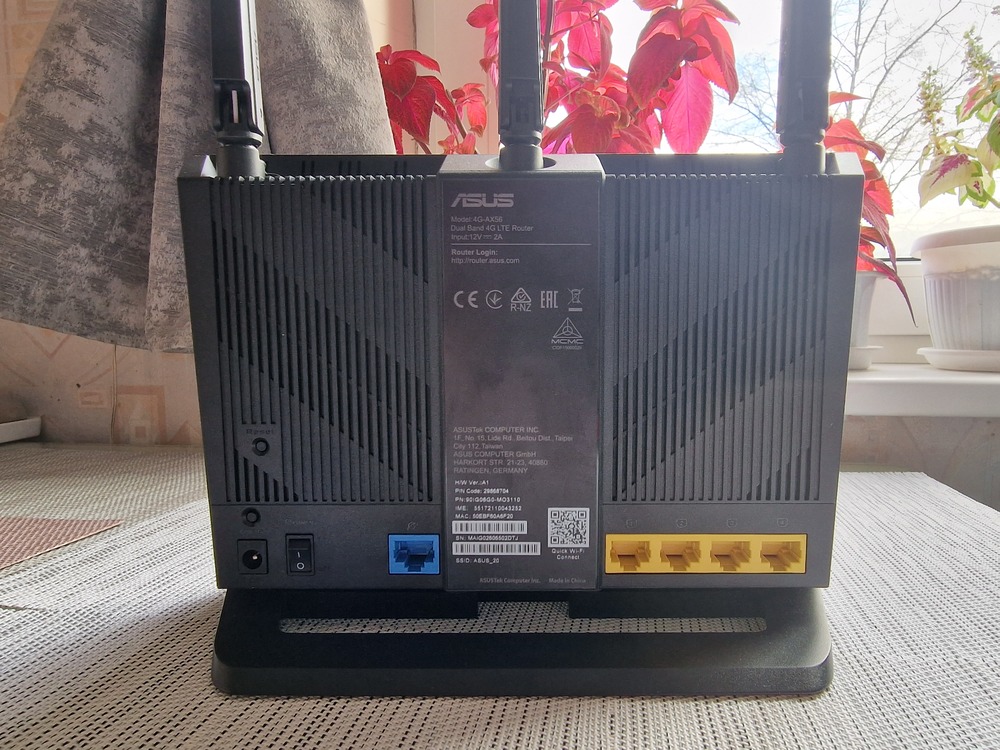 At the top of the ASUS 4G-AX56 there is a place for three antennas, which, unfortunately, cannot be unscrewed, which limits the possibility of expansion. However, the company has made it so that two antennas are responsible for the Wi-Fi signal, and the third is for the LTE modem. The latter also receives and transmits information using the second built-in antenna.
As you can see, this new router has some very interesting connectivity options, not only is it compatible with 4G LTE networks, but it also has a dedicated WAN port to use it as a regular dual-band router with Wi-Fi 6 support, which is actually very important for Dual WAN.
ASUS 4G-AX56 hardware
ASUS 4G-AX56 is powered by the well-known Mediatek MT7621A SoC, which can be found in other routers, such as ASUS RT-AX53U, and has been successfully used in networking equipment of this class for many years. The computing part of the MT7621A includes two cores with 32-bit MIPS 1004K architecture operating at 880 MHz and processing two independent data streams. The system-on-a-chip is complemented by 512 MB of DDR3 RAM and 128 MB of MCL NAND flash memory, which operates as read-only memory. The SoC includes a Gigabit Ethernet switch, as well as USB and PCI Express bus controllers. It is the latter that connects two Mediatek MT7905D radio modules, which are responsible for Wi-Fi at 2.4 GHz and 5 GHz. The chips provide wireless networks of IEEE802.11 a/b/g/n/ac+ax standards, support MU-MIMO, Beamforming, 1024QAM and MIMO technologies in 2T2R configuration.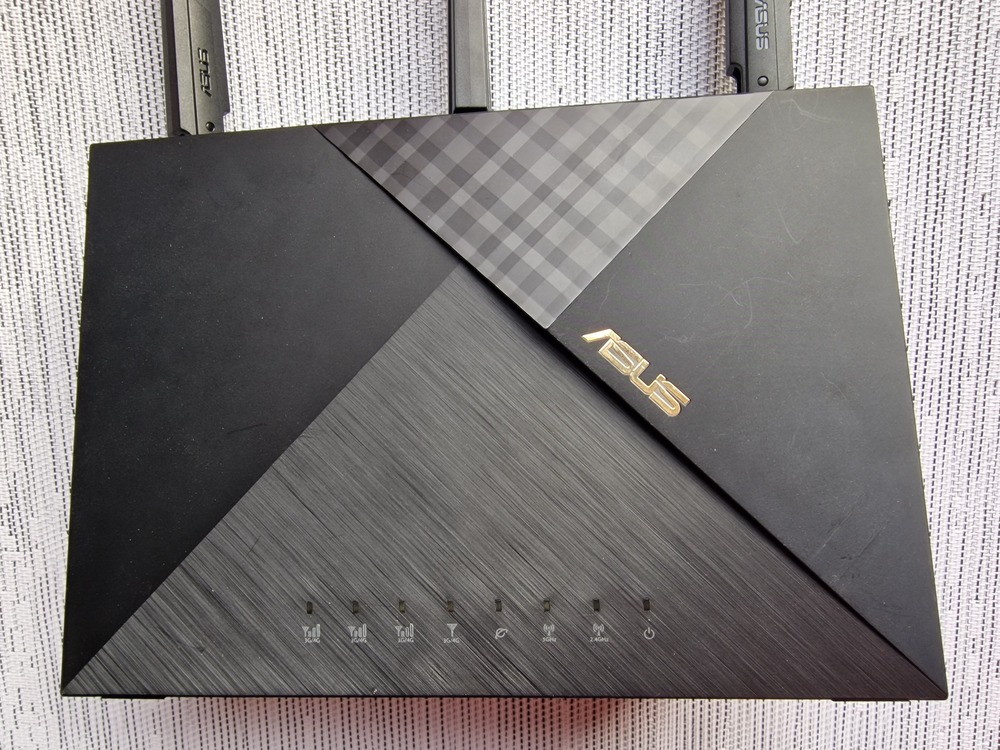 Each of the radio modules is paired with MT7975DN chips responsible for processing and amplifying high-frequency signals. Supporting a bandwidth of up to 80 MHz for Wi-Fi 6 at 5 GHz, the ASUS 4G-AX56 delivers 1201 Mbit/s data transfer rate and up to 574 Mbit/s at 2.4 GHz, making it an AX1800-class wireless router. Finally, the Fibocom FG621-EA modem with LTE Category 6 and DC-HSPA+ support is responsible for 3G/4G mobile networks. Among the supported frequencies are 900 MHz, 1800 MHz and 2600 MHz, which are relevant for Ukraine for 4th generation networks, and 2100 MHz for 3G. The theoretical LTE Cat.6 bandwidth reaches 300 Mbps for download and 50 Mbps in the opposite direction, while DC-HSPA+ allows for 42 Mbps and 11 Mbps for downlink and uplink, respectively.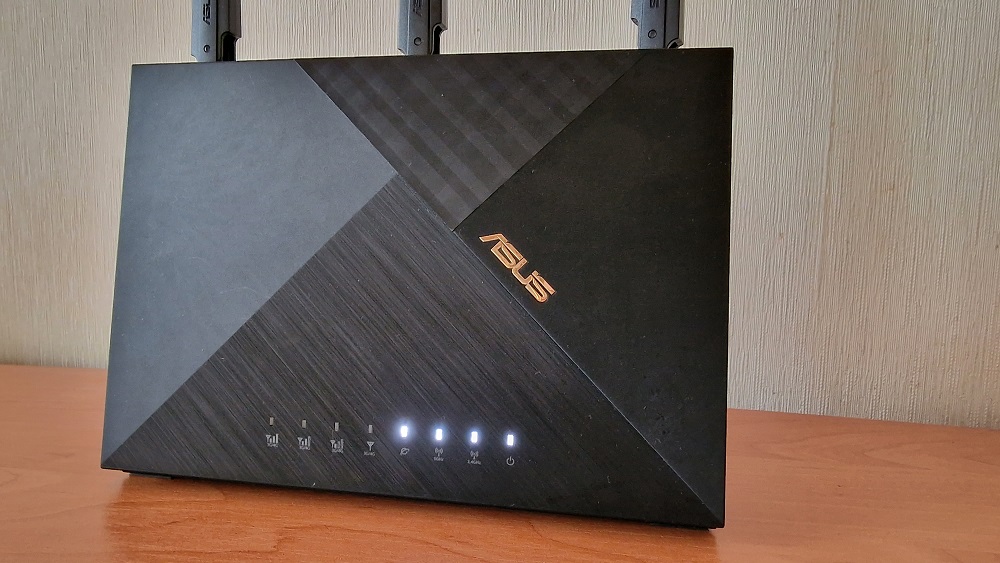 The use of a dual-core processor may seem insufficient, but the manufacturer positions the device as a basic-level model with built-in LTE support and work with 802.11ax wireless networks. This is also indirectly evidenced by the lack of Mesh support. We'll talk about the speed and stability of the device below.
Read also: ASUS ZenBook Flip S (UX371EA) review – Top-Of-The-Line Transformer
Easy setup and software
The ASUS 4G-AX56 router can be administered both from a mobile application and from a regular browser console. The first option is convenient and very practical, because we are with our smartphones almost all the time, but the second gives us more options and access to more advanced options.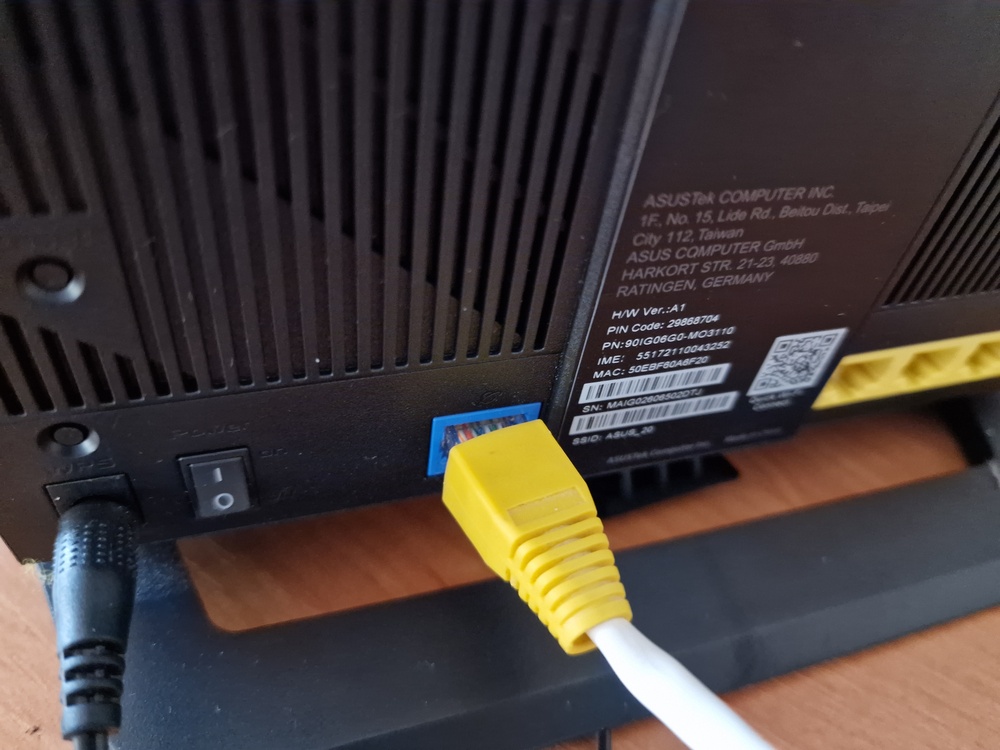 ASUS Router app
Nevertheless, I like the trend of using mobile apps to configure routers, especially because the average user will find almost everything they need in them, and their interface is very simple and intuitive, which is why the ASUS Router app is a good example. That's why I decided to use the mobile app for the initial setup of the router, which can be easily downloaded from your smartphone's app store.
The whole process takes just a few minutes. All you need to do is connect to the SSID of the equipment with the default password and find your router among the connected ones in the app. Follow the prompts of the configuration manager and in just a few minutes you will have a configured router. There's nothing complicated, even an inexperienced user can handle it.
A few words about the program itself. Here we find almost all the basic functions and even a little more, and the app also offers the ability to track customers or bandwidth, allowing you to impose certain restrictions. It's hard to find fault with anything, so the mobile app is a big plus. For simple management and tracking, it's enough. For those who want more, there is a web interface, which I will talk about later.
Read also: ASUS ZenBook 13 OLED (UX325) review: Versatile OLED Ultrabook
ASUS 4G-AX56 web interface for settings
To access the web interface, you need to go to router.asus.com (or 192.168.50.1). The interface seems a bit overwhelming, and while anyone who has recently had the opportunity to get acquainted with ASUS routers and their administration panel will feel right at home, it can be a bit overwhelming to approach this interface for the first time. This is mainly due to the fact that all the settings are laid out in one place, so it seems that a slightly better option, at least from the point of view of less experienced users, would be to divide the interface into basic and advanced, as it looks like, for example, in TP-Link routers.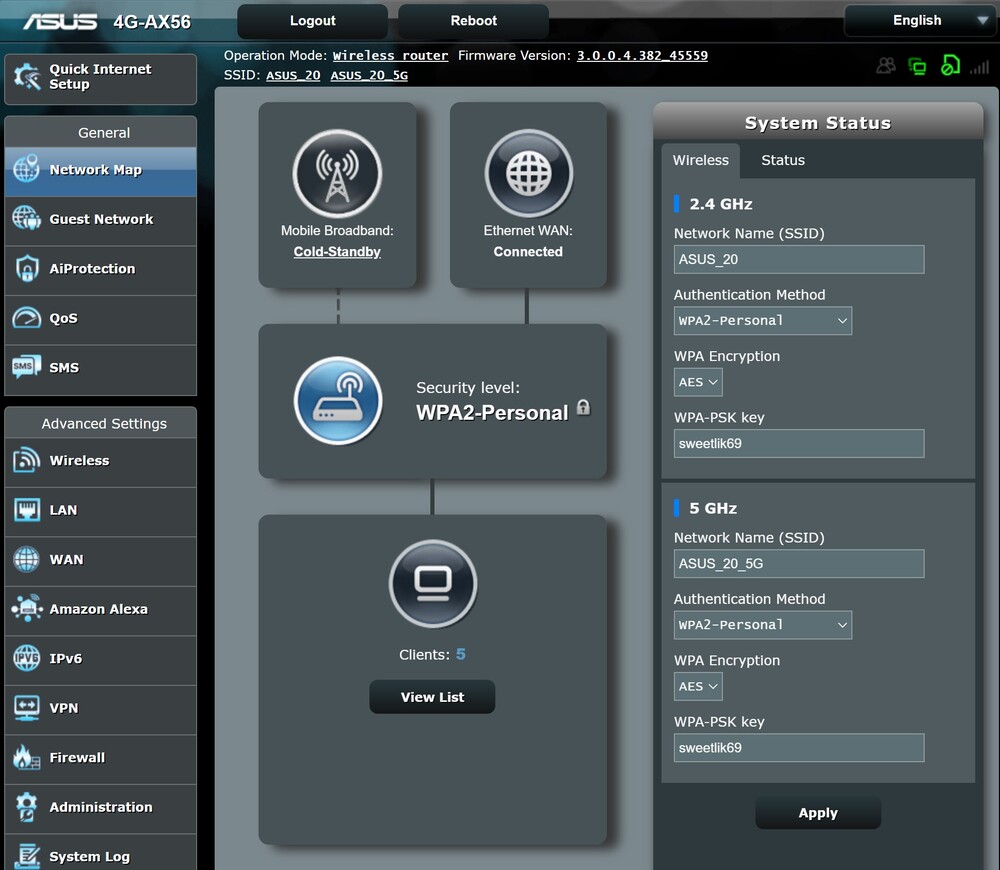 However, those who like to tinker with the settings will appreciate the large number of options (ASUS is better than its competitors in this regard), so the graphical interface should meet the requirements of more advanced users. It may not be as transparent and visually modern as some competitors' interfaces, but it can't be denied functionality. Like its competitors, all tabs are located in a column on the left (with the difference that they don't expand down to more detailed options, but we switch between tabs on the right), and the top bar has several shortcuts, including a button for rebooting, logging out, network status for guests, WAN and USB, and an option to change the language. A better help system would also be useful, in which the manufacturer would take care of explaining and describing specific options in a practical way.
That said, the ASUS 4G-AX56's software is really impressive, so I won't go into all the features, especially since the vast majority of them are basic options that can be found in most modern routers. If you're interested in a more detailed overview of the most interesting options and features, such as AirProtection developed in collaboration with Trend Micro, parental protection, adaptive or traditional QoS, or traffic analyzer, you can easily find it in our previous ASUS router reviews.
I was more interested in whether this router is really worth the price and how it works in practice.
How does ASUS 4G-AX56 work in practice?
4G-AX56 should satisfy most advanced users. The router allows you to simultaneously connect LTE and WAN networks, as well as work with Amazon Alexa. There is also network monitoring, a set of security features, multiple firewalls, VPN support, and port control. A large number of applications means that there are no problems with setting up the equipment for corporate and hotel networks.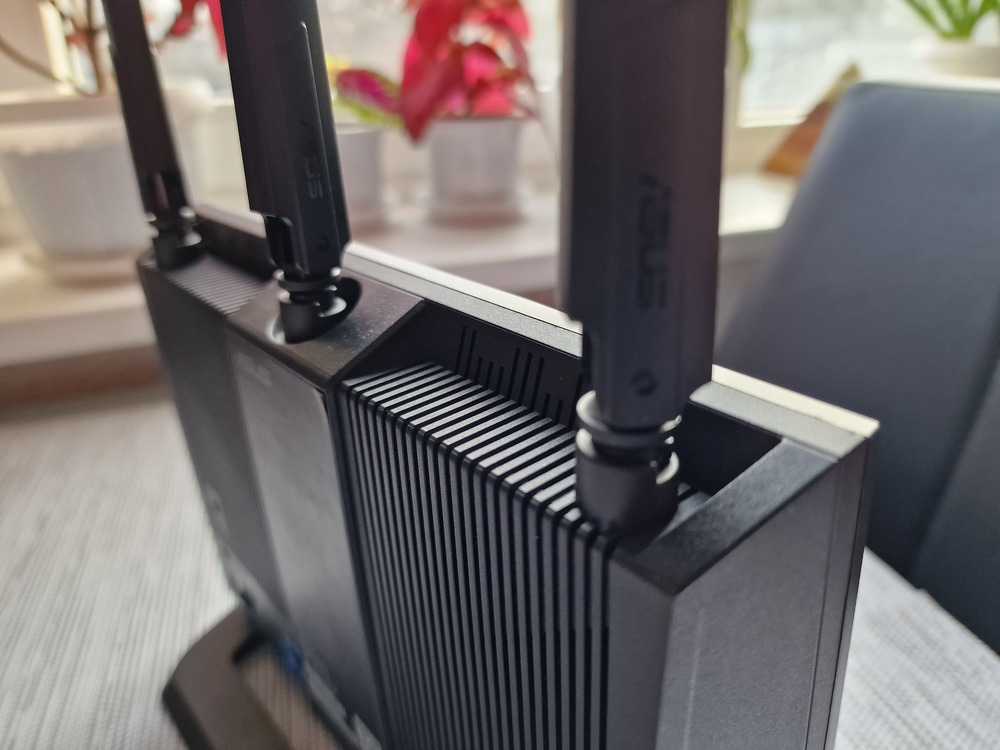 What do you need from a modern router? That's right, data transfer speed and connection stability. In this regard, you will definitely not have any problems with ASUS 4G-AX56. This router coped with the tasks perfectly. In my Kharkiv apartment in a panel house with its reinforced concrete walls, the Wi-Fi signal was in every corner. There were no problems with the intensity and stability of the connection.
For almost 3 weeks of operation, I have not rebooted the router once, except for installing new firmware. The signal has always been stable and strong. Sometimes it seemed that some powerful gaming router was working, not the ASUS 4G-AX56, which was a pleasant surprise, especially considering the price of the device.
LAN/WAN performance
But let's move on to the practical part of the review. You will definitely not have any problems with a wired connection. I received almost a gigabit in the Gigabit Ethernet standard, which indicates the high performance of ASUS 4G-AX56.
If you're using a wired connection on your desktop PC, you'll enjoy the speed and stability of your Internet connection to the fullest.
Wireless performance
But nowadays, Wi-Fi connection plays the main role. It's hard to imagine a smartphone, game console, or Smart TV not connected to Wi-Fi. It is this connection that comes to the fore in routers. We want them to provide not only good speed, but also a stable connection anywhere in the apartment, private house, or office.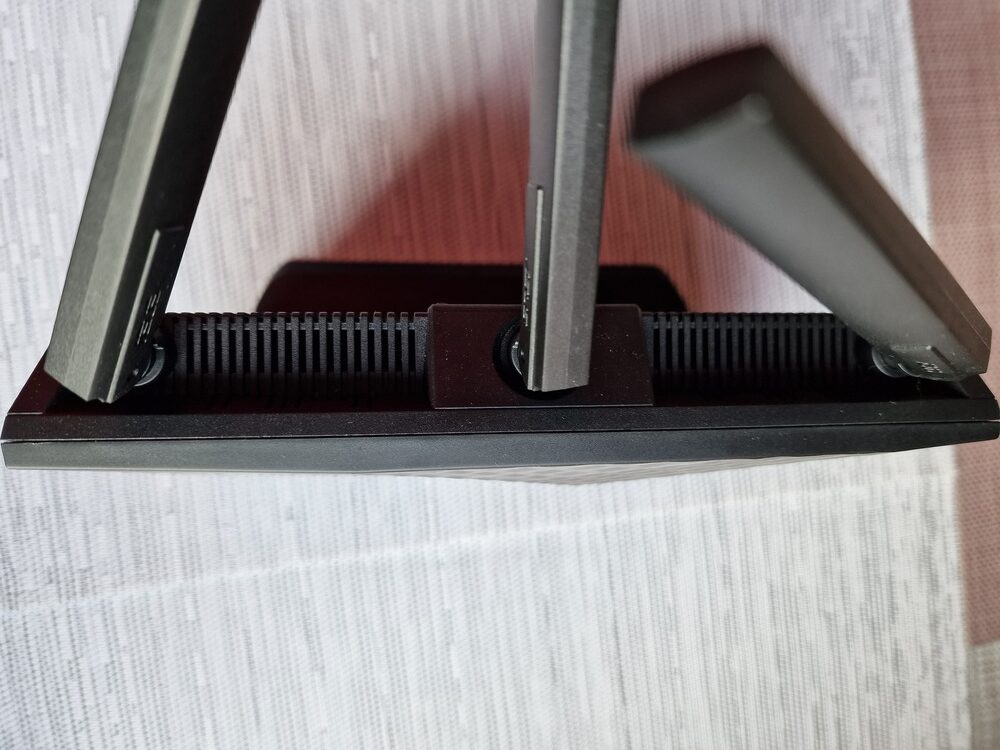 In the case of Wi-Fi, this is also very good. First of all, it is worth noting the presence of the Wi-Fi 6 standard, so the achieved speeds can be clearly higher than the much more common Wi-Fi 5. Naturally, this does not matter in the context of working with an LTE modem, which does not guarantee adequate bandwidth.
WiFi Analyzer-ASUS 4G-AX56
Let me remind you that ASUS 4G-AX56 has three non-removable antennas, but it uses MU-MIMO 2×2 technology. It is thanks to this technology that the Wi-Fi signal could easily reach anywhere in the apartment. There were no dead spots, the router delivered the signal steadily, and I could work without interruption. This is important in a metropolitan area, because there are many network devices in a multi-story building, where the signal from different routers covers each other.
ASUS 4G-AX56-SpeedTest-5G
The tested ASUS 4G-AX56 seemed to know no barriers. It is not afraid of various obstacles in the form of reinforced concrete walls or jumpers. The test results, especially in the 5 GHz band, were sometimes really pleasantly surprising.
ASUS 4G-AX56-SpeedTest-2,4G
And in 2.4 GHz mode, the signal was stable, although the speeds are not so high here, because there are practically no free channels left in my house. But all connected devices received a stable signal. I could easily run video content in 4K on my KIVI TV, work on an article or review, and at the same time my family could easily communicate on social networks or play on a game console.
Read also: ASUS ZenWiFi Pro ET12 Review: Powerful Mesh System
LTE connection quality
ASUS has relied on the LTE Cat. 6 model, which is certainly a disadvantage in the 5G era, although looking at the existing infrastructure, some compromises need to be taken into account, especially given that 5G is not available everywhere.
Another rather specific solution is the division of antennas into indoor and outdoor. This means that we have to choose the right place for the router so that it is within a sufficiently strong LTE signal range and at the same time guarantees a Wi-Fi network.
But are there any big problems with this? It turns out not, because you already know the capabilities of the router, and in the case of LTE, you can also count on good results. The equipment does not have any special problems with receiving a powerful LTE signal, and this leads to quite satisfactory results.
Power consumption
ASUS 4G-AX56 has a declared power consumption of just under 7 watts, which is practically confirmed by the actual result. Of course, power consumption under load when working with multiple devices may increase slightly. But even at full load, it remains below 10 watts.
Read also: ASUS Vivobook Pro 16X OLED (N7600) review: 16-inch laptop with OLED screen
Conclusion
The ASUS 4G-AX56 is definitely a good Wi-Fi 6 and LTE router. I liked the tested router, in particular, because of its wide configuration options, functionality, very fast Wi-Fi 6 and LTE, and one of the best mobile apps. These features make it an exceptionally good deal in its price segment.
Of course, we can mention that it lacks support for a 160 MHz channel, but this does not significantly affect the signal strength, quality, and stability.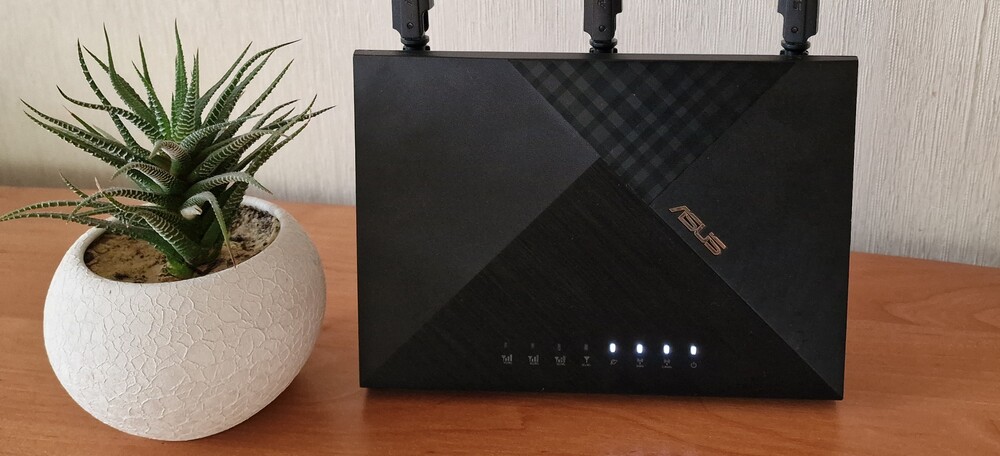 For a fairly reasonable price, you get a very decent piece of hardware that additionally stands out from the competition in terms of stability and configuration options. Like many other ASUS routers, the 4G-AX56 has an impressive list of advanced features that will be useful to many users, especially 4G LTE support. If these features are important to you, then this model is definitely worth recommending, even if its price is higher than your initial budget.
Advantages
interesting modern design
quality of materials and assembly
performance with support for Wi-Fi 6 and 4G LTE
excellent security tools and parental control
convenient ASUS Router mobile application
uninterrupted operation of all communication modules
The app, and especially the web interface, is multifunctional and easy to use.
Disadvantages
non-removable antennas
lack of USB connectors and Mesh support
lack of support for 160 MHz channel bandwidth.