What makes Wi-Fi 6 routers better than previous generation devices? And can the Huawei WiFi AX3 router become popular for home use?
I asked myself these two questions even during the presentation of the router. I wondered if the new router from Huawei is really as good as it is described in the marketing materials, and I especially wanted to know why the company used the Wi-Fi 6 Plus label for its device. It's not clear whether this is a marketing ploy or if there really is an advantage to the Plus in the name. I will try to answer these questions in my review, and also share my experience of using the new Huawei WiFi AX3 router. But I'll start from afar.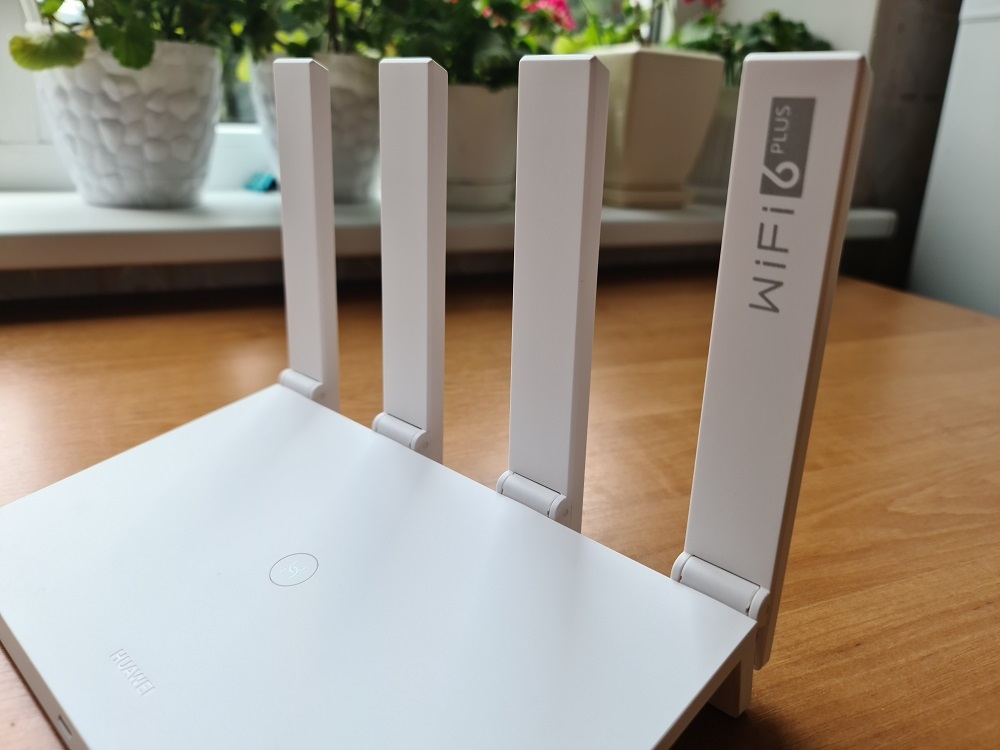 Why is Wi-Fi 6 better than Wi-Fi 5?
Before we start our Huawei AX3 Pro router review, we need to finally understand what is the difference between a Wi-Fi 5 and a Wi-Fi 6 router. I am sure that the majority of users so far know little about the new standard for Wi-Fi connections. And this is not surprising, because Wi-Fi 6 is just appearing on the market, as well as devices supporting it.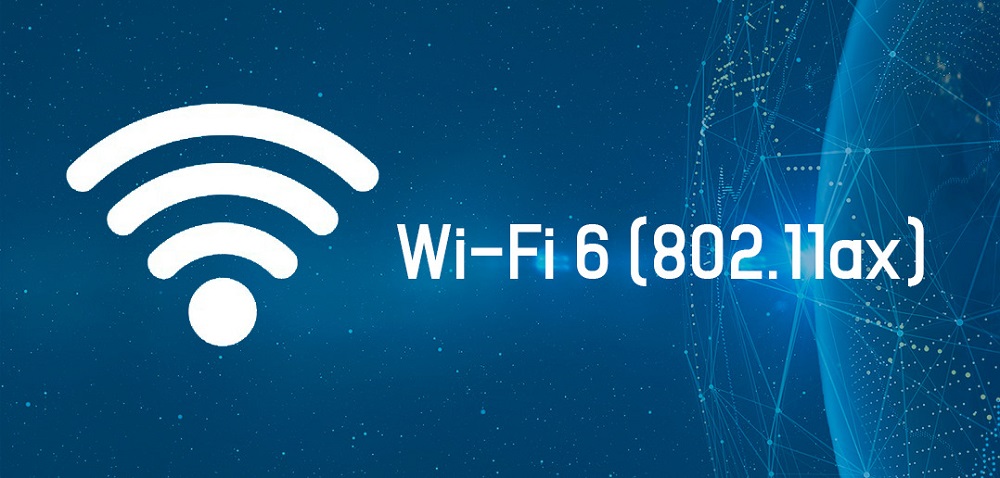 WiFi 6 (or IEEE 802.11ax) is the latest wireless standard that comes right after Wi-Fi ac. Invariably, the IEEE 802.11ax standard support 2.4 GHz and 5 GHz bands, but it is much faster, and most importantly it is better adapted to modern realities, when not one computer is connected to the Internet, but almost every other device.
Compared to the previous generation Wi-Fi 5, the biggest improvement in Wi-Fi 6 is the significant increase in the capacity. The OFDMA and 1024-QAM technologies can significantly reduce the impact of interference, as well as improve transmission efficiency. And the use of MU-MIMO technology for multiple antennas provides increased transmission and reception capacity for simultaneously connected devices.
The transfer speed and coverage have also been improved to some extent. The theoretical single 5GHz antenna speed has been increased from 433 Mbps to 600.5 Mbps, and the range of each data transmission is increased up to 4 times, which reduces the packet loss rate. The range of a stable signal is also much higher than that of Wi-Fi 5. In other words, the network range in the new standard is seriously expanded.
So, no matter which router you use, as long as it supports the Wi-Fi 6 standard, you will find all these features in it. However, the issue may be with firmware and hardware support. Some of the routers either have poor hardware configuration or poor firmware, which limits the capabilities of Wi-Fi 6. With these limitations, devices connected to the same router at the same time do not reach the peak data rates, and in addition there may be network stability problems. The same goes for the firmware. If there are no frequent firmware updates (especially in the early days of the standard) that fix the initial stability problems, then buying such a device is not a good idea. Often, these routers still do not support 160 MHz bandwidth.
What are the advantages of Wi-Fi 6 Plus over Wi-Fi 6?
I found out that Wi-Fi 6 Plus is slightly different from Wi-Fi 6. Why? There is a private agreement between Huawei and the Wi-Fi Alliance. Unlike other products using standard Broadcom and Qualcomm platforms, Huawei continues to develop its own hardware solutions on its own. A set of Wi-Fi 6 Plus solutions with Chinese Gigahome and Kirin chips are only used in Huawei and Honor routers and client devices (smartphones, tablets, laptops).
This standard fully supports all WiFi 6 specifications, but also has many different improvements. But to experience the full benefits of this technology, you must have a Huawei router and a Huawei/Honor device with Wi-Fi 6 Plus support. Although from my own experience I was convinced that the router perfectly serves any client devices with Wi-Fi 6 modules. For example, a Samsung Galaxy S20 Ultra smartphone and an ASUS ZenBook Duo laptop in conjunction with a Huawei WiFi AX3 router also work without any problems.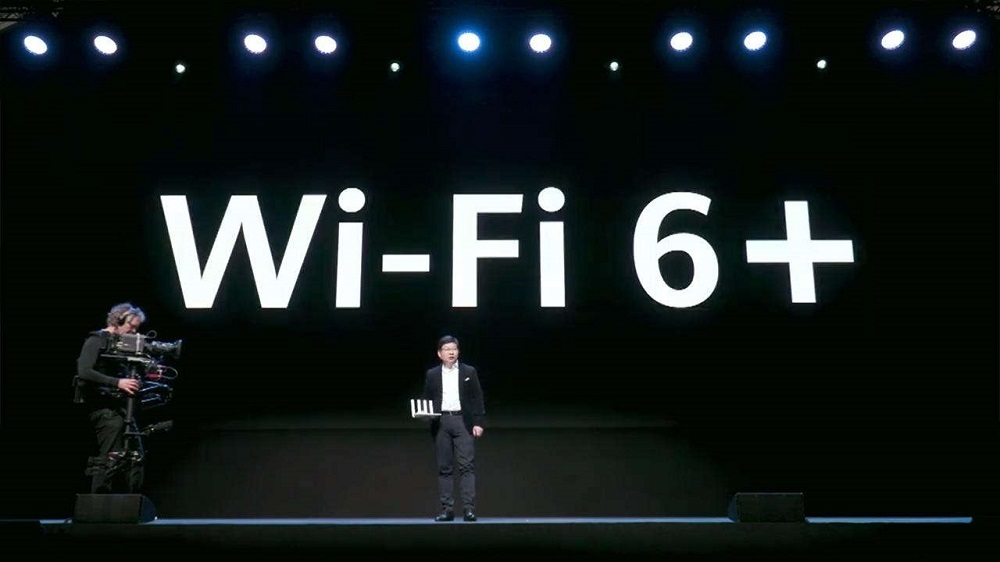 Compared to regular Wi-Fi 6, Wi-Fi 6 Plus adds two main technologies. First, the range of the network increases, since the signal is amplified by 6 dB. In addition, a signal with a higher power is able to more easily overcome various obstacles, for example, in the form of a wall. By working together at the chip level and dynamic bandwidth technology, the power spectral density (PSD) of smartphones and other Huawei devices supporting Wi-Fi 6 Plus can be significantly improved. Typically, Wi-Fi 6 routers and smartphones provide a minimum bandwidth of 20 MHz, while Huawei Wi-Fi 6 Plus devices can communicate with a minimum bandwidth of 2 MHz. This improves the signal quality of the network over long distances and eliminates false signals.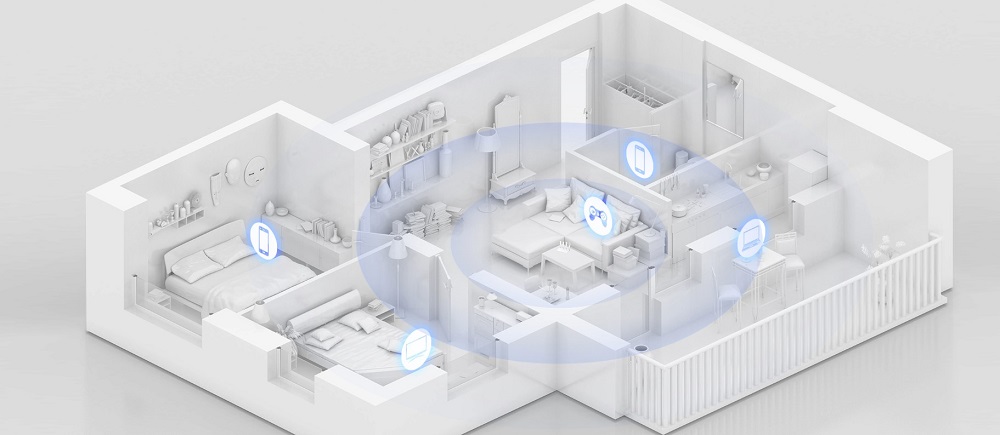 At the same time, in the case of a short-range network, the transmission speed increases dramatically. And all thanks to end-to-end support for ultra-wide 160 MHz bandwidth. In short-range scenarios, Wi-Fi 6 Plus is twice as fast as 80 MHz on a regular Wi-Fi 6 network.
And that's Huawei WiFi AX3, an impressive device that I was able to test.
Huawei WiFi AX3 (Quad Core) WS7200-20 specs
Type
Router
Wi-Fi version:
802.11b, 802.11g, 802.11n, 802.11a, 802.11ac, 802.11ax

Dual band

Number of antennas:
4 external
Protocol support:
DHCP, PPPoE
Wi-Fi speed:
More than 300 Mbps
Antenna design:
Fixed
Wi-Fi frequency:
2.4 GHz, 5 GHz
Dimensions:
225 х 159.2 х 39.7 mm
Weight:
403 g
Color:
White and black
Additional:
Wireless: 802.11ax/ac/n/a 2×2 and 802.11ax/n/b/g 2×2
MU-MIMO wireless speed: up to 2976 Mbps (2.4 GHz: 574 Mbps; 5 GHz: 2402 Mbps)
1.4GHz Gigahome Quad Core or 1.2GHz Gigahome Dual Core
H button for one key pairing and WPS-compatible independent reset
Status indicator
Power supply: DC 12V, 1A; Consumption <12 W
Huawei HiLink and 802.11v, IPv4 / IPv6
Static IP address
Wi-Fi timer
Guest Wi-Fi
Limiting device speed
MAC address filter
Parental control
DMZ/virtual server
Security: WPA3, Firewall, DMZ, PAP/CHAP, DMZ/DoS attack protection
Connection interface:
Ethernet, Gigabit Ethernet (10/100/1000), Power grid
LAN port speed:
1 Gbps
Availability of USB port:
No
Number of LAN ports:
3
WAN port:
Ethernet
In the box:
Wi-Fi router
Power adapter
Manual
Warranty card
Where to buy:
What's in the box and first impressions
Let's go directly to the hero of our review, the Huawei WiFi AX3 router. It came to me in a white cardboard box. The front of the box is marked with a few key features of the product, such as Wi-Fi 6+, a maximum bandwidth of 3000 Mbps and a one-click network connection.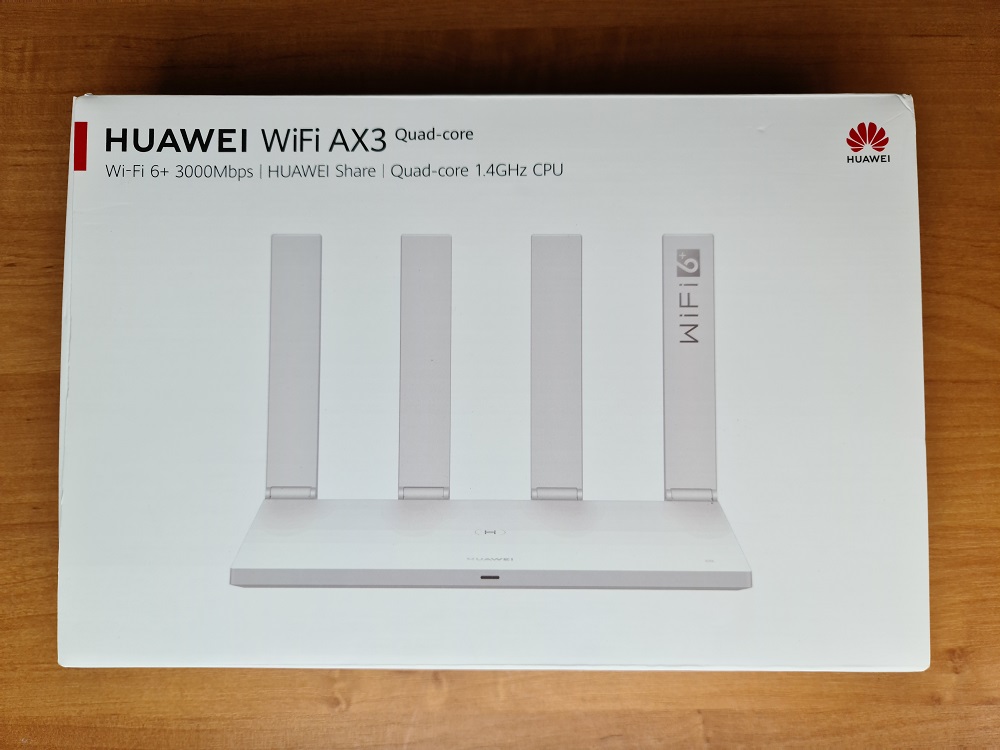 Surprisingly, the box is rather small. Inside you can see the router itself, which lies there with the antennas fully folded and resting on the main body.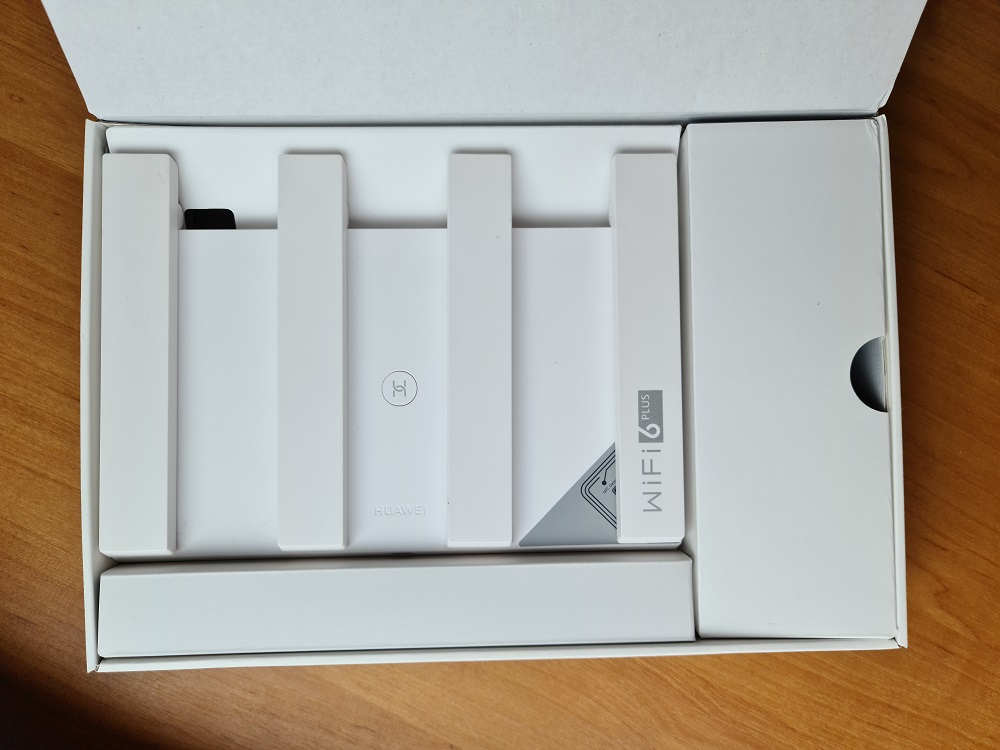 The router is really thin, and at first it's hard to believe that a router of such small size can effectively support a high-speed WiFi 6 network for a long time. But it did not disappoint me.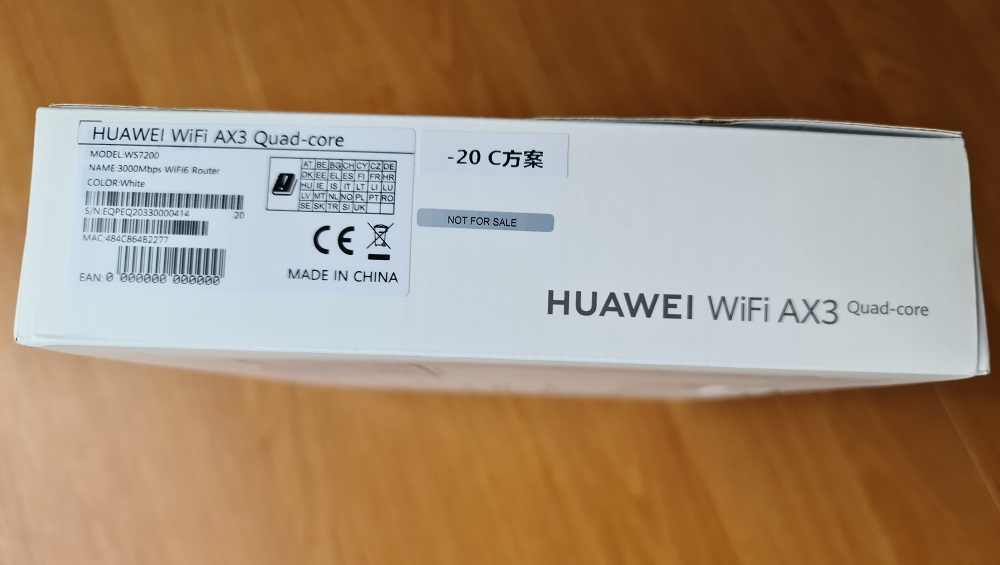 There is a label on the side of the package that allows you learnthe main parameters of the product. For example, this particular router is the WS7200 model, there is a MAC address and serial number of the device. In my case, white, although the router also has a black case.
In the kit, in addition to the router itself and instructions for it, you will also find a white power adapter. I was glad that this the usual European standard. The 24W, 12V/2 A power brick is quite massive, and the power cord is about 1.5 m long.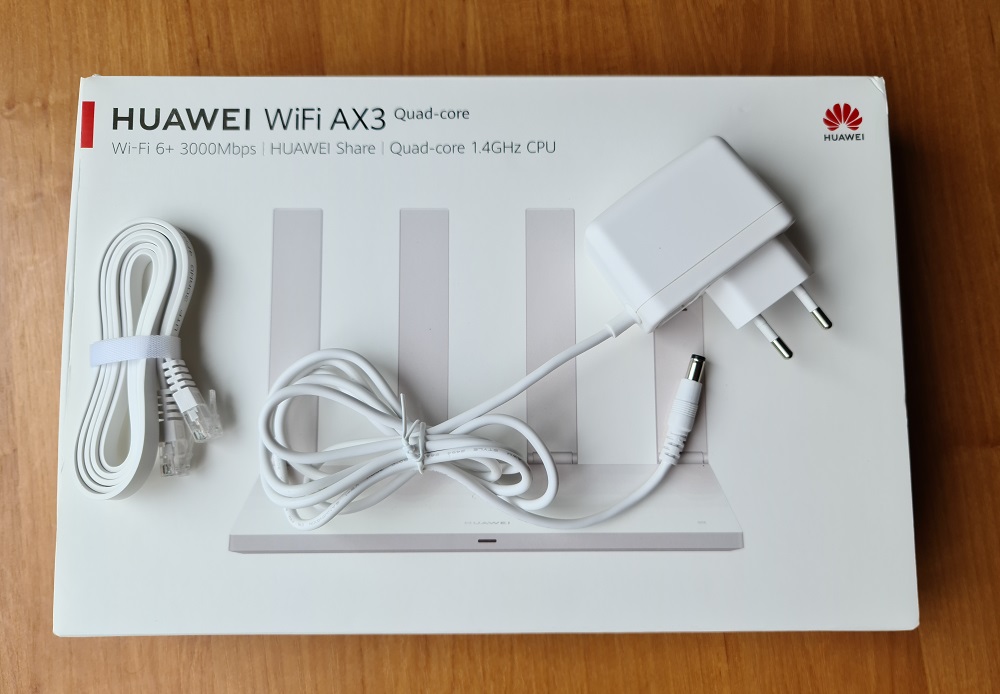 Interestingly, Huawei's router is very neat, almost invisible on the desktop. The same cannot be said about, for example, my oversized TP-Link Archer C5400X home gaming router. The difference is obvious.
Simple yet elegant design
In the first minutes, the design of the Huawei WiFi AX3 router might seem overly simple. It even strongly resembles the design of the old WS5200 router from Huawei. The same slim body with four antennas.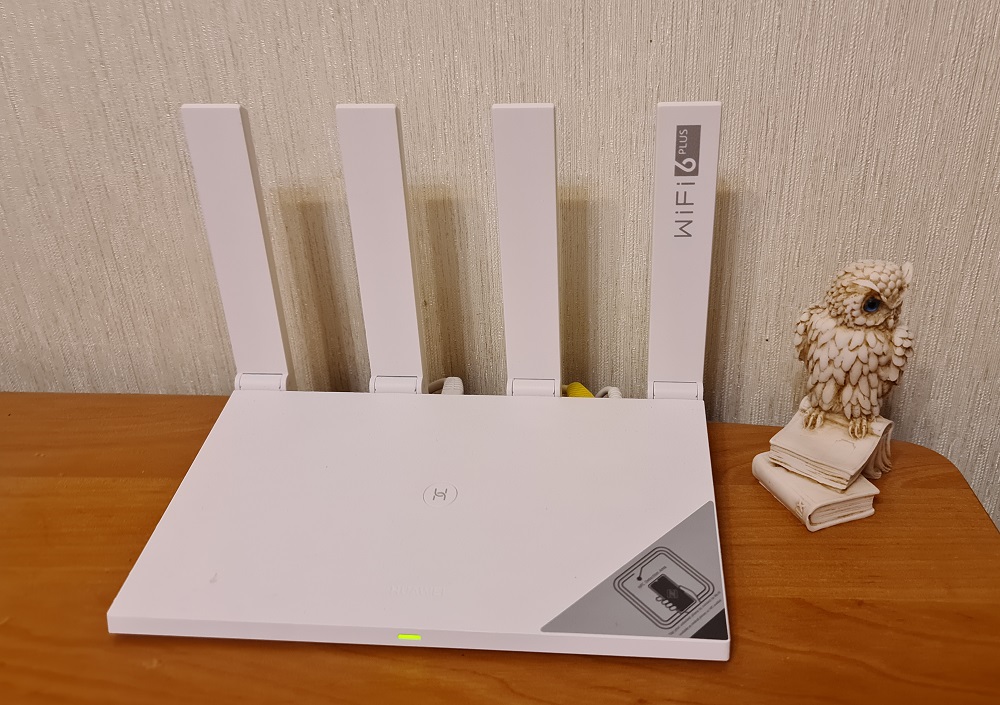 But at the same time, it's hard not to appreciate its elegance. The router will definitely not spoil your interior, and, most likely, will complement it with its stylish and light design. There are no annoying thick cases or huge antennas. The materials of the case are quite high quality, the plastic is durable. It is obvious that the company has decided to focus on antennas. And as a plus of the simple design, we have one of the cheapest WiFi 6 Plus routers out there.
Elements configuration
The router itself takes up little space on the desktop, since its dimensions are only 225 × 159.2 × 39.7 mm. But the most interesting thing is that the router is very light, as it weighs only 403 g. This is quite impressive.
Let's move on to antennas. They are also thin and neat, but not removable. We have four identical foldable antennas with a high 5 dB gain level (two 5 GHz and two 2.4 GHz), which are installed in the back of the case. Unfortunately, they do not have directional adjustments. The only option is to change the angle from 0º to 90º. This is a rare occurrence as routers with only a foldable antenna can only have two positions. The surface of the antennas is matte, and one of them bears the inscription "Wi-Fi 6+". This does not match the minimalist design of the router, but as this is their first WiFi 6 router, Huawei can afford to boast a bit.
The overall shape of the Huawei WiFi AX3 body is relatively simple and similar to most external routers. The front is completely flat with a circular H key in the center.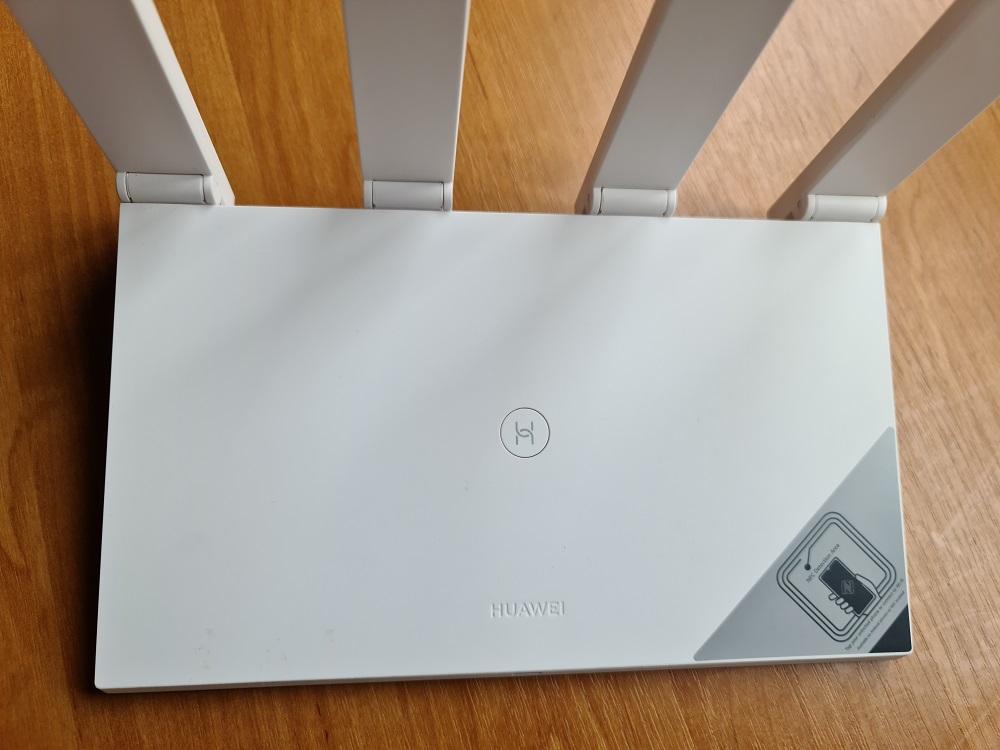 The purpose of this button is to connect other Huawei Wi-Fi devices with one key, which can also be used as a WPS key. In addition, the name H also reminds of the company itself, which, if you remember, is called Huawei.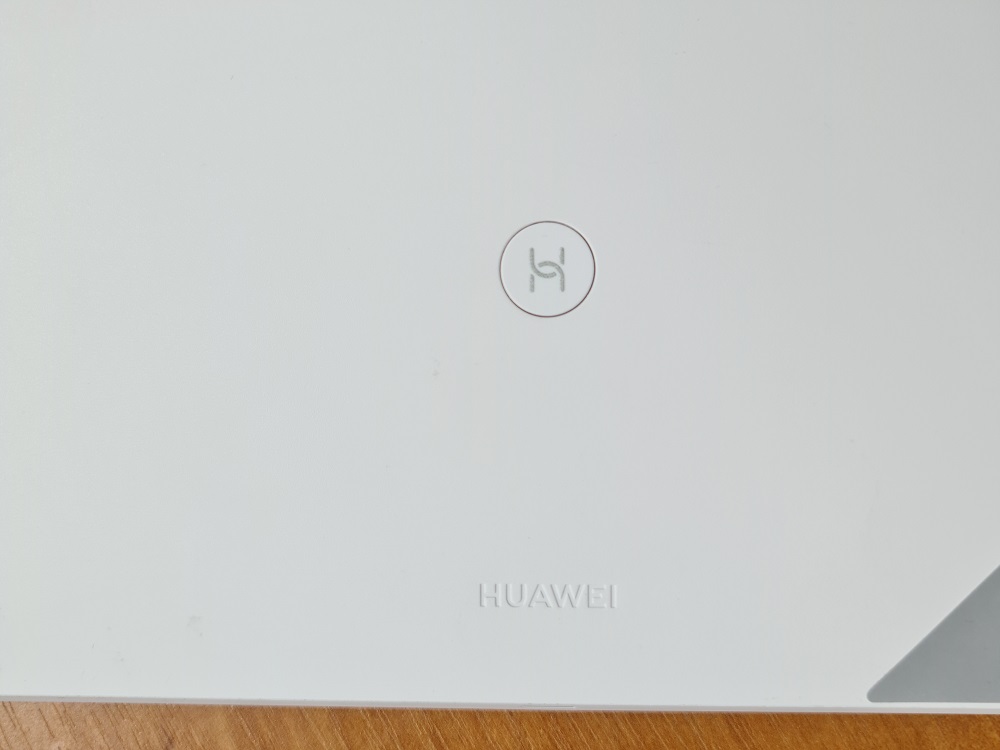 An NFC sensor chip is embedded in the lower right corner, covered with a sticker. It is enough to unlock the smartphone, turn on the NFC module and bring it to this chip, and it will immediately connect to the router.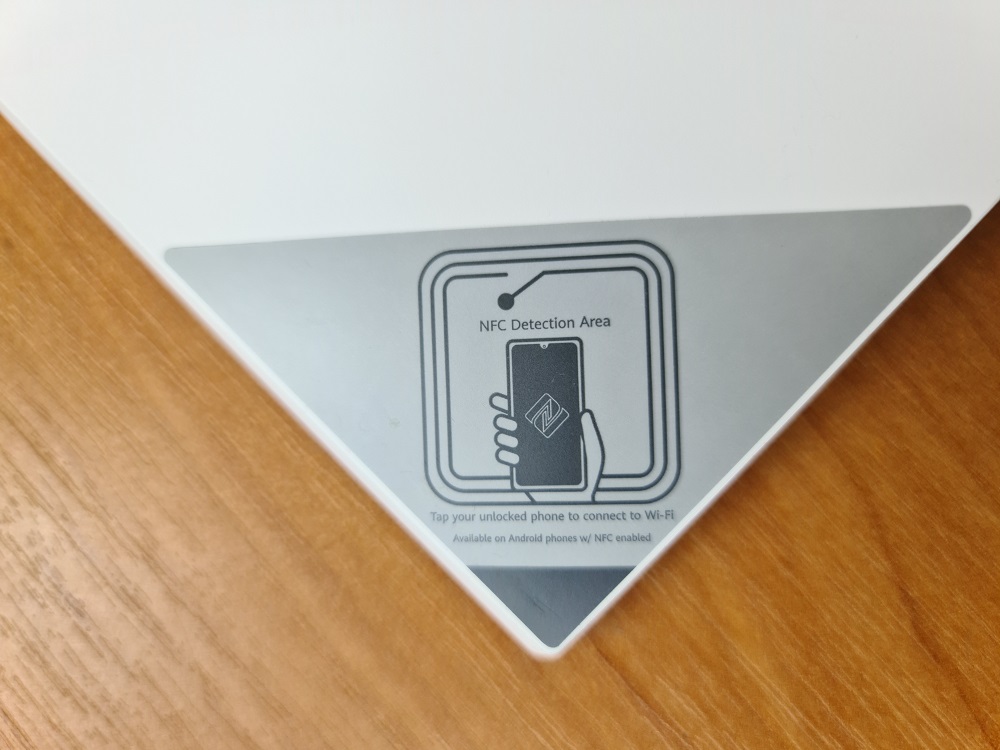 That is, you don't have to find the required network connection or enter passwords. You raise a smartphone and it will get an Internet connection in just a couple of seconds.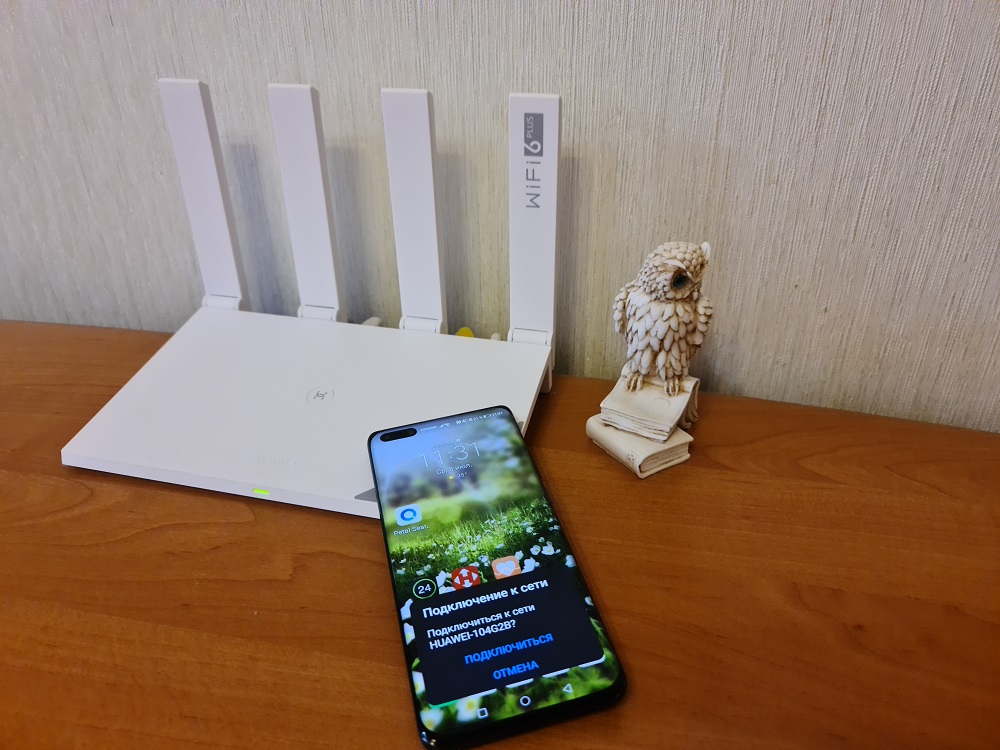 It is very convenient when guests come to you or you buy a new smartphone. But this trick only works with Huawei and Honor smartphones. This feature is no longer new to Huawei routers. A similar feature was already available in the Huawei A2 router. It's amazing how the Chinese company is systematically trying to develop its ecosystem of smart devices.
There is also an LED indicator in the center of the front of the router. Its green color indicates normal Wi-Fi connection, red color means the router cannot access the Internet. And if you see light flashes of turquoise color, then the router is working in the access point mode.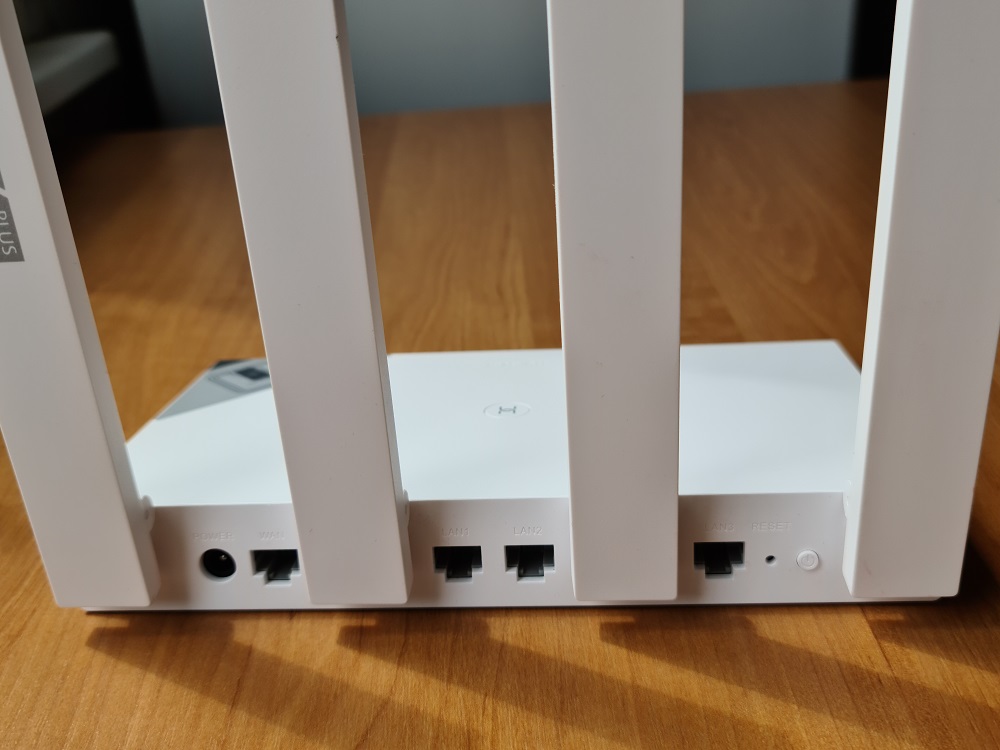 Under the antennas, there is a place for a power connector, a WAN port, three LAN ports and a reset button. You may notice that the placement of WAN/LAN ports actually had to make some compromises due to the location of the antennas.
Unfortunately, for some reason there was no room for a USB connector in the router. There is a ventilation slot between the ports and antennas, which runs along the entire width of the case and at the same time it is almost invisible from the side.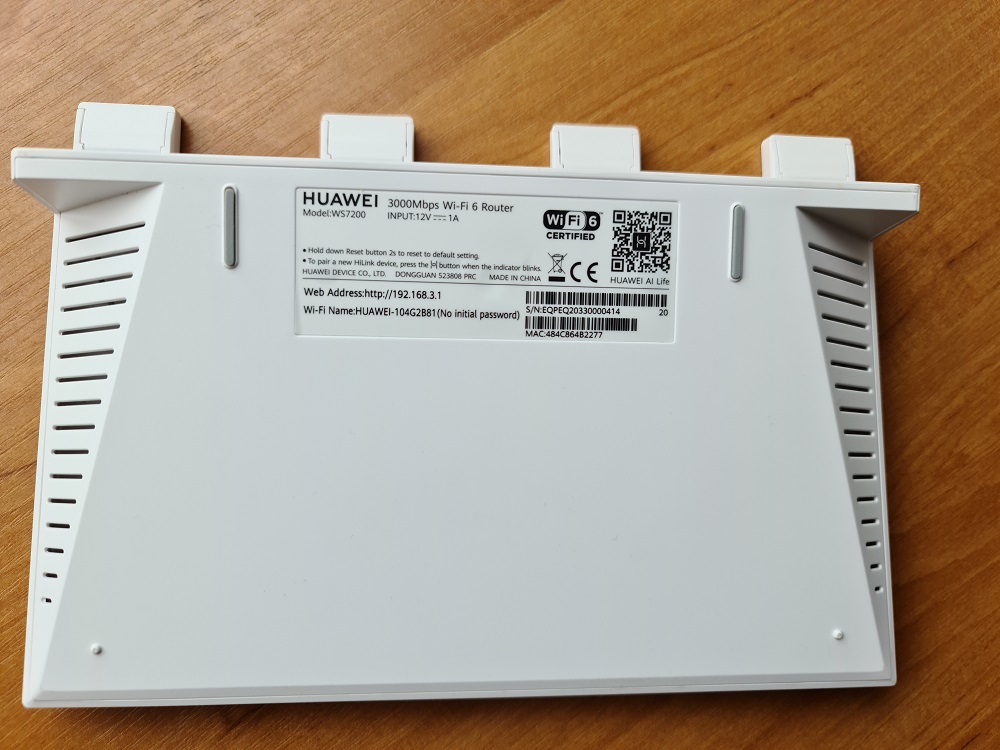 On the lower part there are ventilation grilles. Symmetrical design can form an air channel to accelerate heat dissipation. We also see four legs (only two rubber ones) and a sticker with basic information about the router. It has a QR code to download the Huawei SmartHome app and the default name of the Wi-Fi network.
Installing and configuring Huawei WiFi AX3
Launching the Huawei WiFi AX3 router is extremely simple and intuitive. Even an inexperienced user can easily complete this process with the help of the Getting Started Wizard. There are two ways to configure the router for the first time: using the Huawei AI Life mobile application or classic web interface in any browser using a PC or laptop.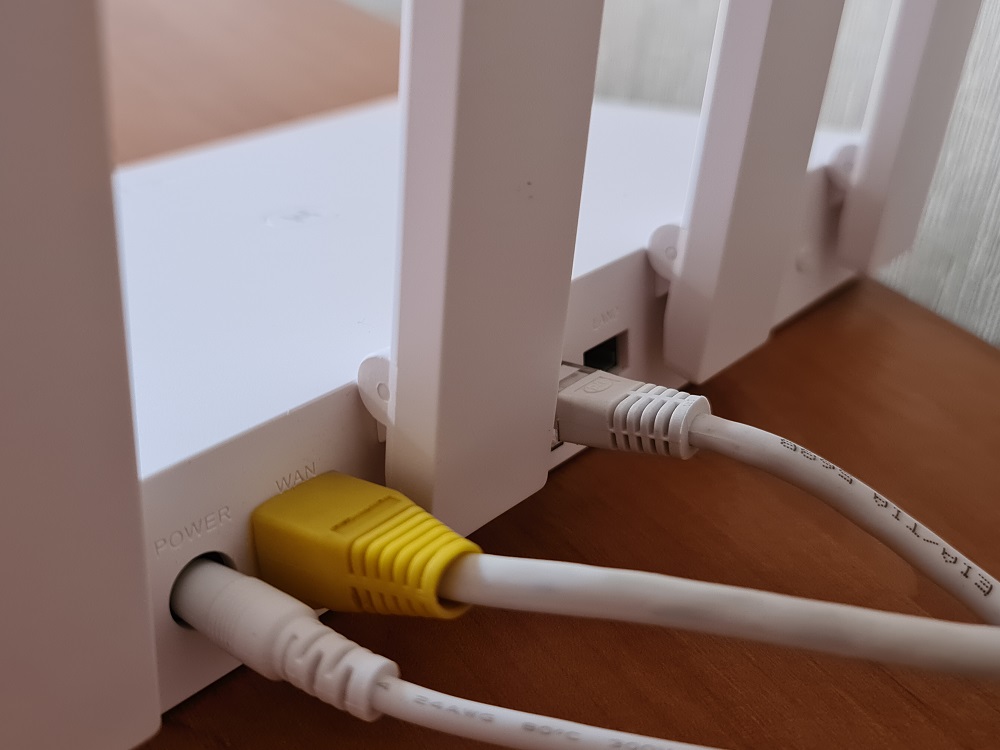 To get started, plug the router into a power source and use the RJ-45 cable (included) to connect the router to your modem, or plug in an existing cable from your ISP. To do this, you must use the WAN port on the router, which is located on the left next to the power connector. At this stage, we also need to decide whether we want to configure the router using an Android or iOS smartphone/tablet with a preloaded application, or a laptop.
Download Huawei AI Life app:
Huawei WiFi AX3, as befits a modern router, allows you to configure it using the classic web interface available at 192.168.3.1 in any browser on your home PC. I did it the classic way. To do this, I first had to connect to the HUAWEI-104G2B network and start the setup process.
At the very beginning, you must accept the terms and the license agreement. At this point, the router also reports that an application is available for smartphones with Android and iOS. In the next step, we can choose to automatically update the firmware, which will be performed at night from 3:00 to 5:00. The next step in the setup is to create your own Wi-Fi network. Since the router supports dual-band technology, a single 5 GHz priority network is created by default. You can disable this option though.
After rebooting, the router will create a new network to which client devices can connect. The whole procedure took me no more than 15 minutes, which was a pleasant surprise. The router is now configured and Wi-Fi 6 is available for your devices if they support this standard.
The procedure for configuring the router through the Huawei AI Life mobile app is very similar to the web version. I will describe the application interface in more detail below.
Web interface for configuring the router
It immediately becomes clear that the manufacturer has extensive experience in designing network devices. Indeed, Huawei has been making modems for years and knows how to create user-friendly software for them.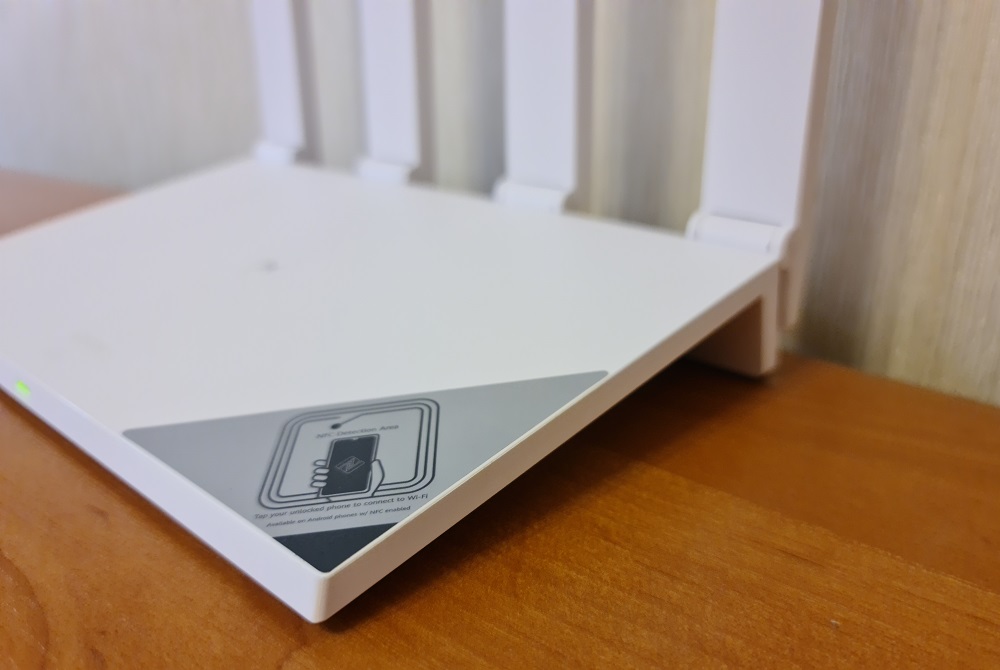 If you have already used the network equipment of this company, the interface will seem familiar.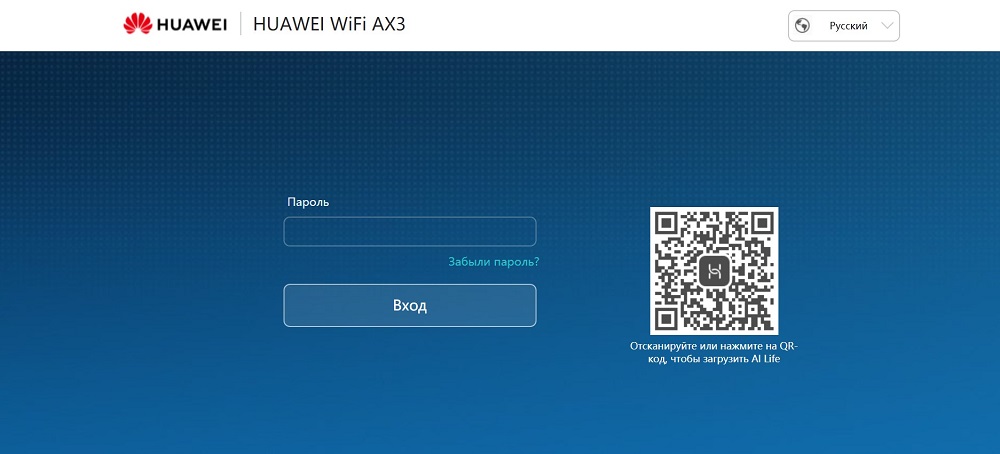 The router interface is divided into 5 main tabs:
Home.
Internet.
My Wi-Fi network.
Device.
Additional functions.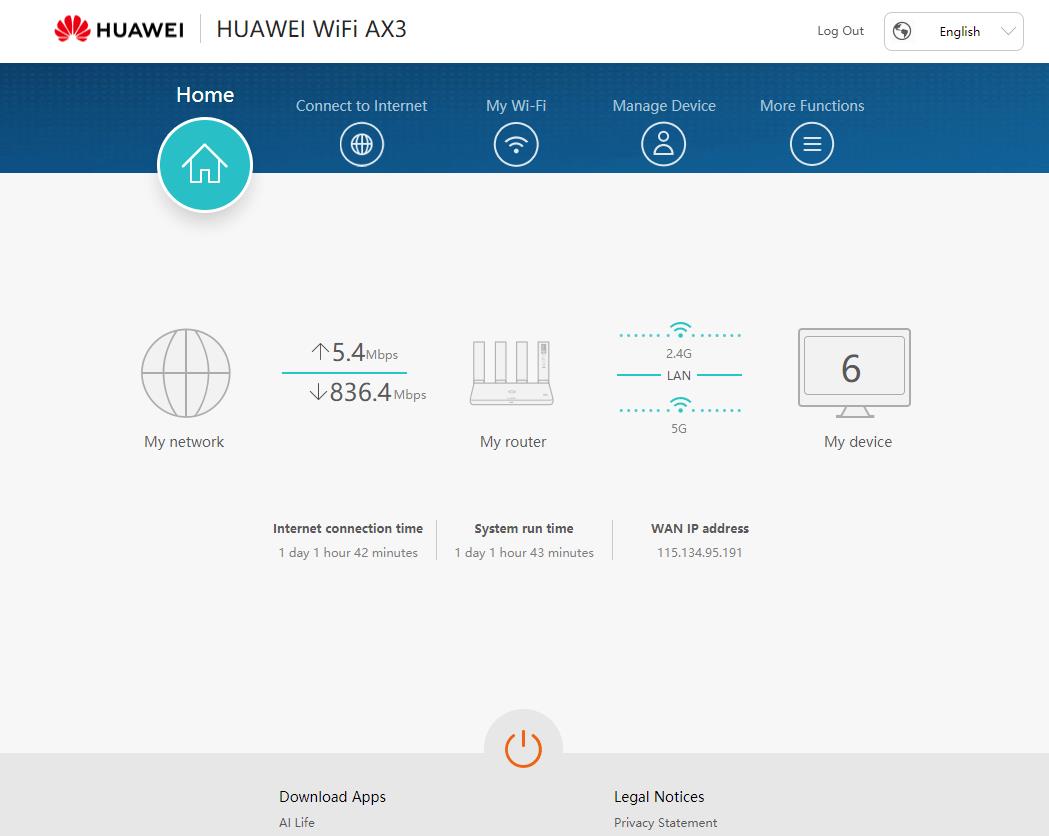 The main page displays basic information about the router, such as Internet connection, number of connected devices, connection time, system uptime, and WAN IP address. You can also turn off the device remotely.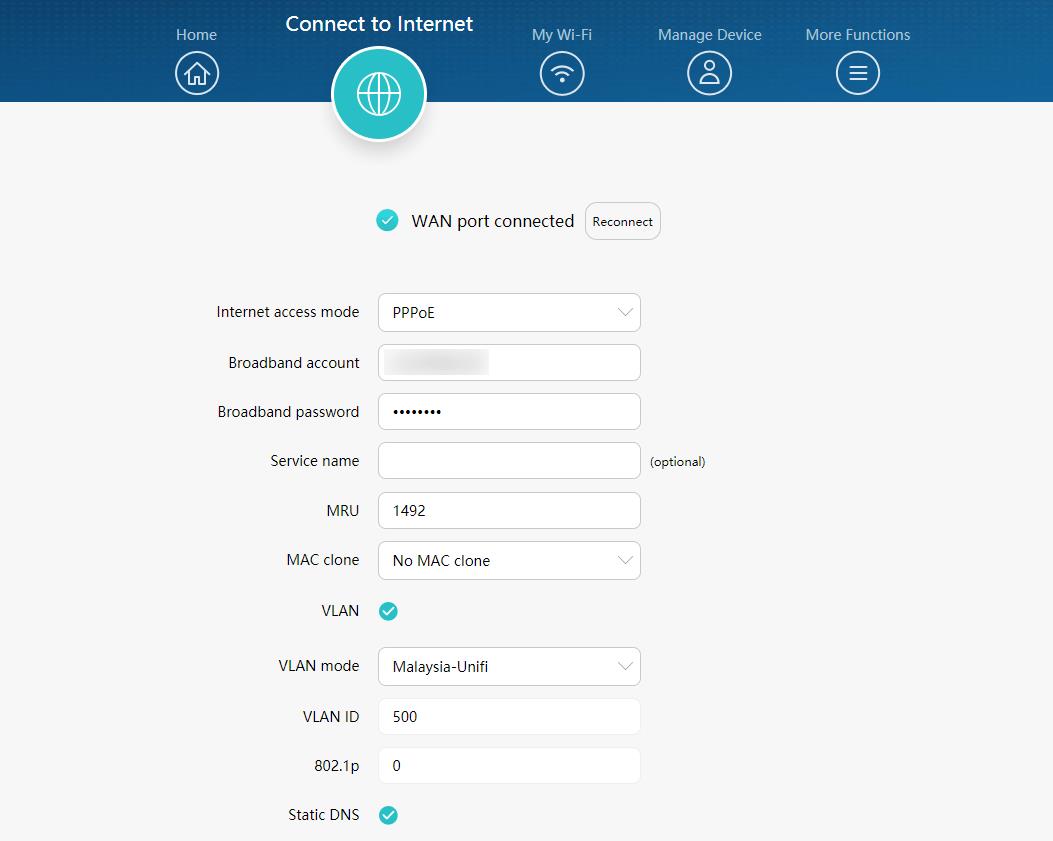 The Internet tab allows you to configure network access. Here you will find options such as Internet access mode, MAC address cloning, WLAN and static DNS. Most users won't look at this part of the interface at all though.
In My Wi-Fi Network you can manage your main Wi-Fi network. The Wi-Fi network for guests is located in the Additional features section, but there is also an interesting feature called Backup Wi-Fi. It allows some Wi-Fi 5 devices with earlier versions of NIC drivers (for example, laptops with Intel NICs) to use the network if they cannot detect the Wi-Fi 6 network. This solves the problem of connecting older devices.
Device Management allows you to view a list of currently connected clients. From here you can change the speed limit and internet access settings for them.
The last section, Additional functions, contains all the options that the manufacturer considers less important. This tab is divided into additional subsections with more advanced options such as IPv6 settings. But the most interesting stuff is in the Wi-Fi Settings section. Here in the Advanced Wi-Fi Settings subsection you have the option to enable the 160 MHz ultra-wide bandwidth in the 5 GHz Wi-Fi settings.
Huawei AI Life App
I was pleasantly surprised by the Huawei AI Life mobile application, which can be used to connect and configure the Huawei WiFi AX3 router. It not only makes it possible to check the signal strength of your Wi-Fi router, but also view all connected devices, diagnose the operation of the router itself, create a guest Wi-Fi network and set up parental controls.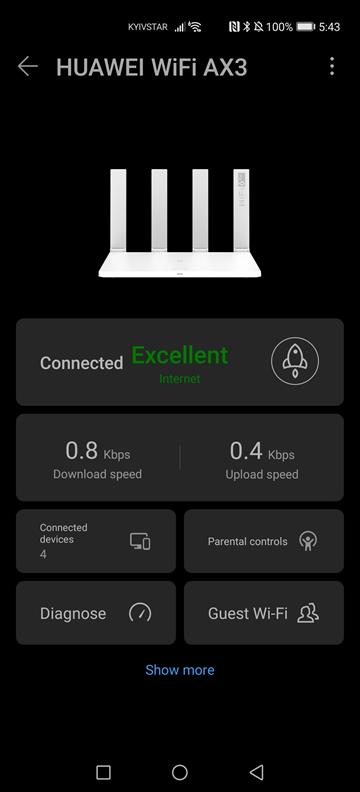 In addition, there are a number of additional features, such as setting up a Wi-Fi network, the ability to select a network signal level, checking the quality of a Wi-Fi network with the ability to eliminate interference, connecting a Wi-Fi repeater if necessary, enabling/disabling WPS (connection without a password) using that mysterious H button on the front panel, as well as creating a backup Wi-Fi 5 network.
Also, by going to the Router Settings you can reboot it, set the timer to turn off the device, for example, at night from 24:00 to 7:00. You can turn off the network indicator of the router at night if it interferes with your sleep. Here you will also find the option to change the password and exit the router settings, as well as the time zone settings.
The network settings, where you can see the type of Internet connection and the iPv6 protocol, aren't very useful, since the router will automatically configure these parameters correctly by itself.
Huawei WiFi AX3: Hardware and performance
The configuration of the Huawei WiFi AX3 matches that of a high-performance router. It has 256 MB of RAM and 128 MB of ROM, which is enough to support a maximum bandwidth of 3000 Mbps and connect up to 128 devices at the same time in accordance with the Wi-Fi 6 standard. The router is powered by a 1.4 GHz Gigahome quad-core processor, which is in no way inferior to competitors from Qualcomm and Broadcom.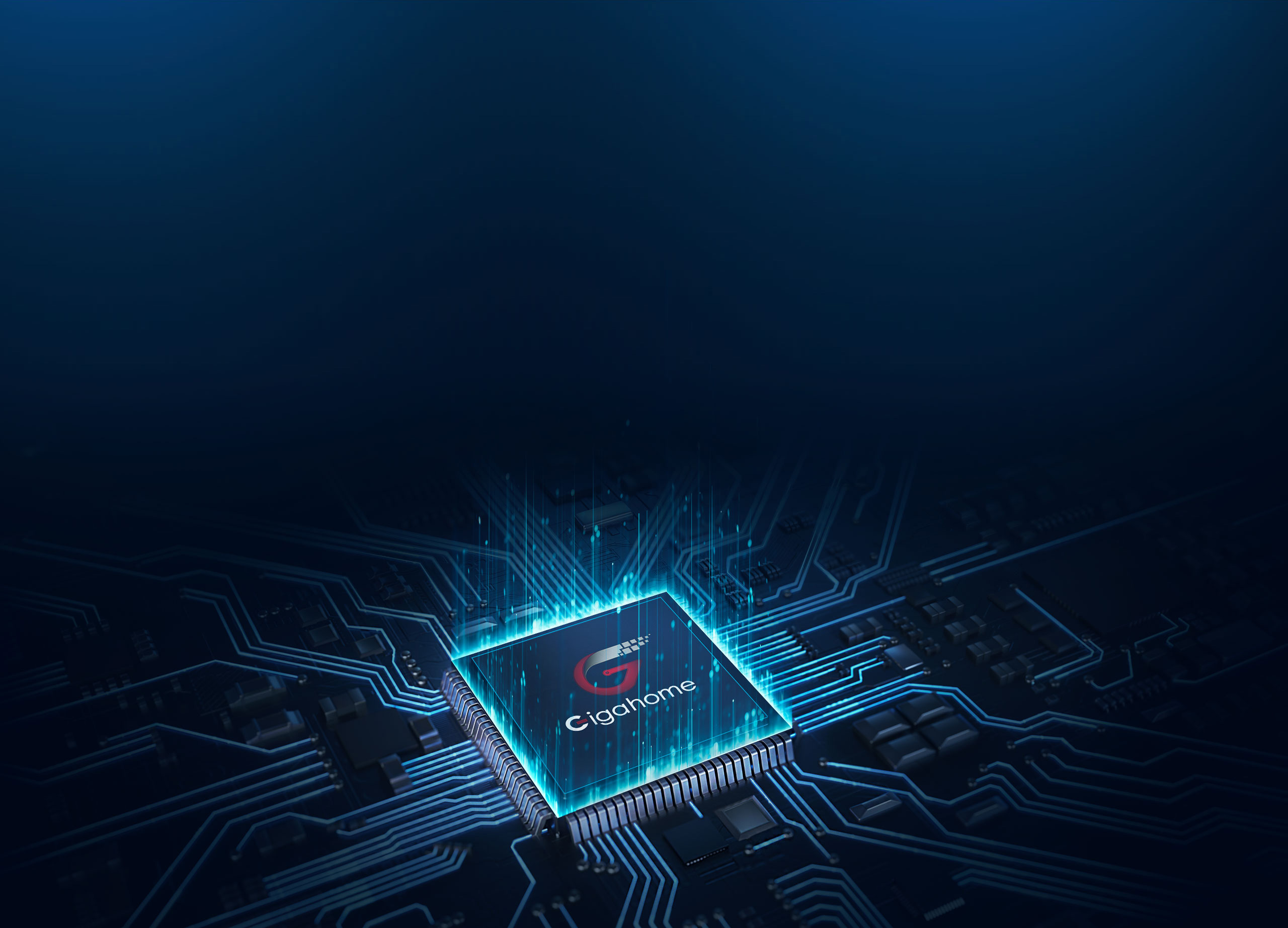 In terms of maximum throughput, we have dual-band with MU-MIMO support. This means a maximum bandwidth of up to 2976 Mbps, where the 2.4 GHz band accounts for 574 Mbps, while the 5 GHz band accounts for 2402 Mbps. The 2.4GHz frequency has a wider range but lower speed, while the 5GHz frequency has an incredible speed but mediocre range.
Experience of using Huawei WiFi AX3
You know, I did not believe that a router from Huawei would be able to even compare in speed and bandwidth with my home TP-Link Archer C5400X. But I was pleasantly surprised.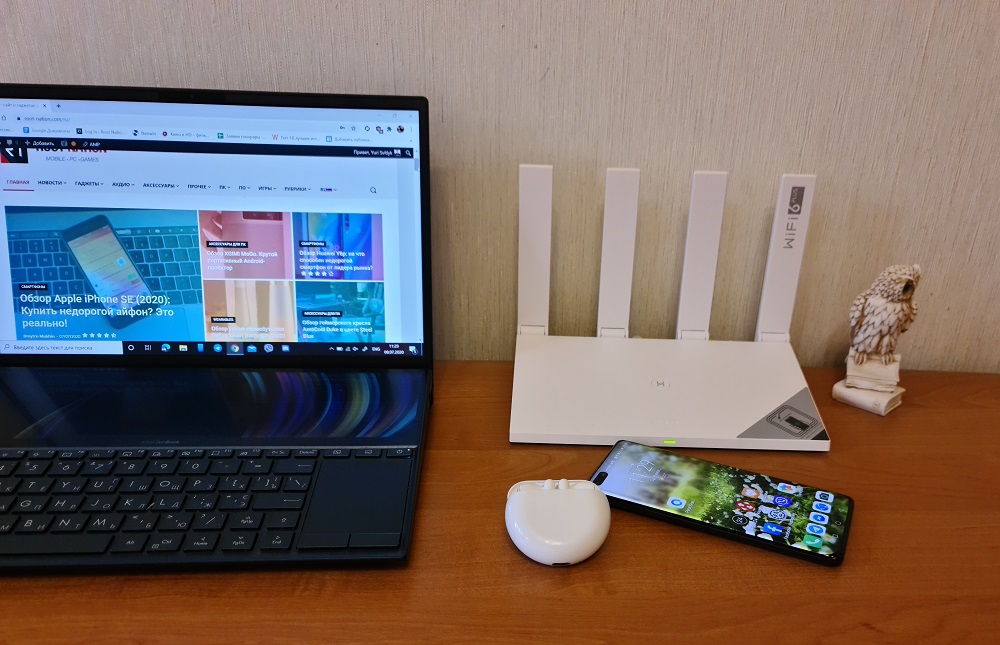 Let's start with the fact that this small, inconspicuous white thing from the first minutes proved to be very fast. It is not inferior in this parameter to my home router. Given that Huawei WiFi AX3 is much cheaper.
And of course, Wi-Fi 6 Plus. I had the experience of using the ASUS ROG Rapture GT-AX11000 tri-band router with 802.11ax support and I remember well its capabilities and speeds. But a router from Huawei may be inferior in some technical parameters, but an increase in signal power by 6 dB really allows it to not notice the walls in a high-rise building. It's amazing, and I practically did not feel any loss of speed in any corner of my apartment. According to this parameter, an inexpensive Huawei router can be compared with a gaming router from ASUS.
Also, don't forget about the use of an ultra-wide 160 MHz bandwidth. At 160 MHz, the amount of data transmitted is even larger than with double antennas at 80 MHz, up to 2 times. But the 160 MHz bandwidth naturally has certain trade-offs. Wider frequency bands are more likely to be affected by interference and are not as directional as shorter frequency bands, which are effective over long distances. Thus, in the test at a long distance from the router, the speed indicators were slightly worse, and the latencies are higher. And the combination of dual +160MHz antenna, the lack of MU-MIMO addition caused by the number of antennas, the simultaneous low latency of Wi-Fi 6 and the low interference advantage can not be fully utilized during multi-device operation. But it turned out that the router itself selects the required bandwidth for a particular device, depending on its distance and the presence of obstacles. This contributes to more consistent data transmission.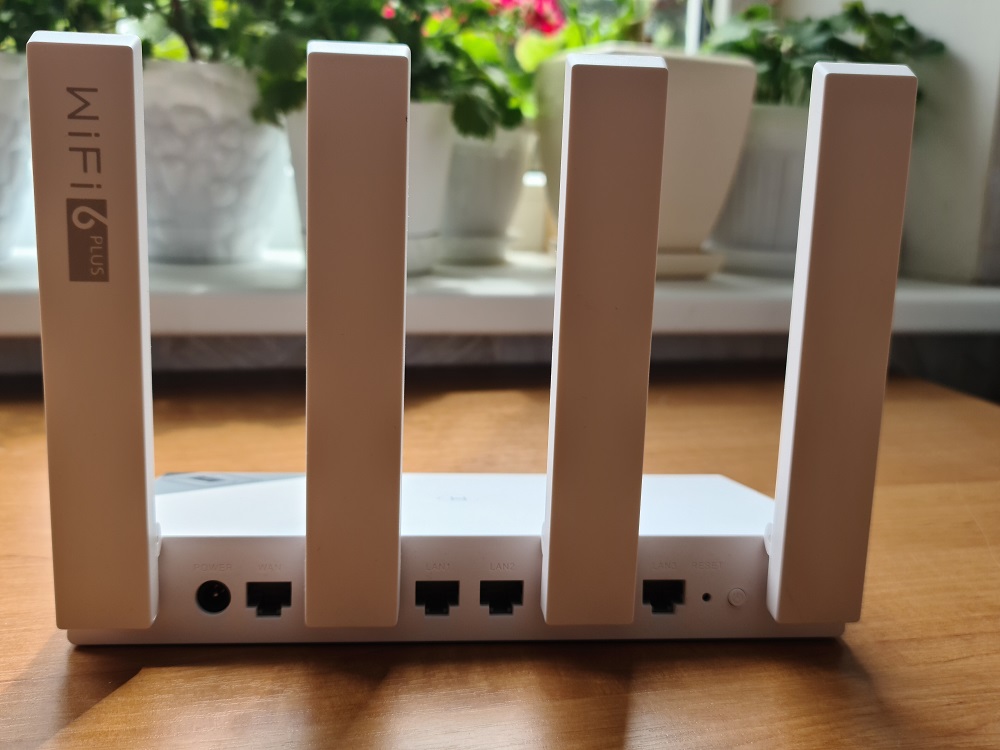 Of course, a few words must be said about the temperature regime of the router. There are no problems. Even in the heat, Huawei's equipment never got too hot. The case was always slightly warm,no malfunctions, unwanted reboots or other problems associated with overheating. Despite the fact that I have an early test device.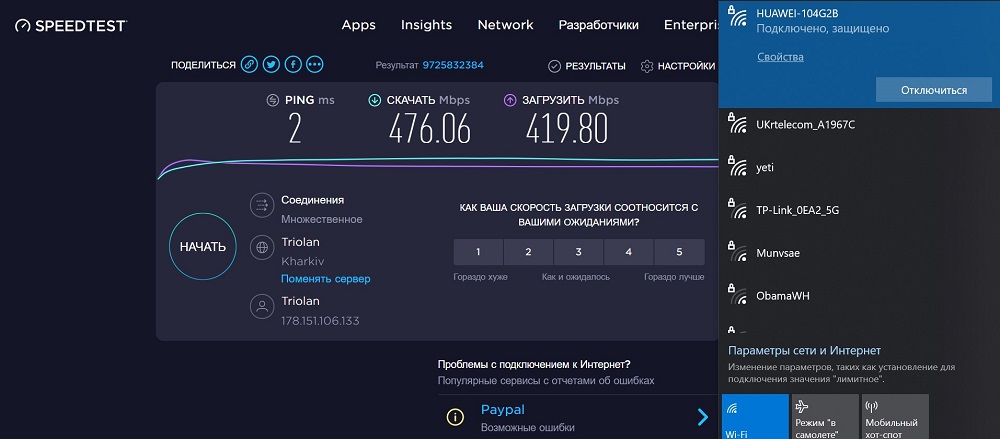 Let's sum up
Concluding this review, I want to say that the new Huawei WiFi AX3 router pleasantly surprised me. I even regretted at some point that I didn't need a new router now.
This little white gadget can do a lot. It simply don't notice any walls. In any place in the apartment, the quality of access is practically the same.
It is also worth noting the thoughtful software, good performance and a very well-tuned system for automatically switching between 2.4 GHz and 5 GHz networks. It is impossible not to appreciate a great mobile app. Add in the incredible ease of connectivity with the H button and NFC. You will especially like the last option, as it is very convenient and simple. If you have a Huawei or Honor smartphone, of course.
The Huawei WiFi AX3 is not a perfect device. The biggest drawback is undoubtedly the lack of at least one USB port to expand functionality. Some may also dislike antennas that are not fully adjustable.
But all these minor disadvantages are leveled out by sufficient bandwidth, high Wi-Fi connection speeds and smooth operation of the router. You will also be pleased with the price of the device. But the most important thing is the router for the future, as more and more Wi-Fi 6 devices appear on the market. By purchasing the Huawei WiFi AX3, you will not only get a quality router, but also make the right investment for several years to come.
Where to buy
Subscribe to our accounts: