Recently, more and more people decide to take a desperate step and move to MacOS. There are many reasons for this – fatigue from the far from perfect Windows 10, the desire for something new, the new M1 chip outperforming everything, or even trivial curiosity. And every new Mac owner will have to relearn and get used to a completely new UI, but few people remember that Apple has its own everything, from office programs to the file system and even the keyboard. It has its own hotkeys and layout, and this is the hardest thing to get used to. Especially when the instructions and tips mention the Mac keys, which are not found on the vast majority of standard keyboards. It's a small thing, but a thing that seriously interferes with productivity.
Why MX Keys for Mac?
For this reason, as soon as I became a Mac user, I went in search of a new keyboard. Most people have one impulse – to go to the official Apple store and order their Magic keyboard. It seems only logical that the best accessories are be made by Apple itself, but do not rush to buy. I myself almost made such a mistake, until I realized that there is an alternative keyboard that's not only better, but also more affordable, too.
I am talking about the MX Keys for Mac, from Logitech's flagship Master series. Logitech has been offering Apple users a good reason to stop paying for accessories like Magic Mouse or Magic Keyboard for years now.

Before we start a detailed discussion, a few dry facts: the official price is €109.00. Apple Magic Keyboard with Numeric Keypad costs €149,00. This is the model without keyboard backlight by the way. The only thing Apple has that Logitech doesn't have is an aluminum case. But I don't want to pay extra for this pleasant, but unimportant element. Another prominent Mac-specific keyboard is Satechi Slim X3. This is the most affordable option, and I hope I'll get my chance to test it as well.
The numbers make it is clear that MX Keys for Mac seems to be the most reasonable choice. But before I can recommend it, I should test it for myself. Fortunately, I also used Magic Keyboard, so I have something to compare it with.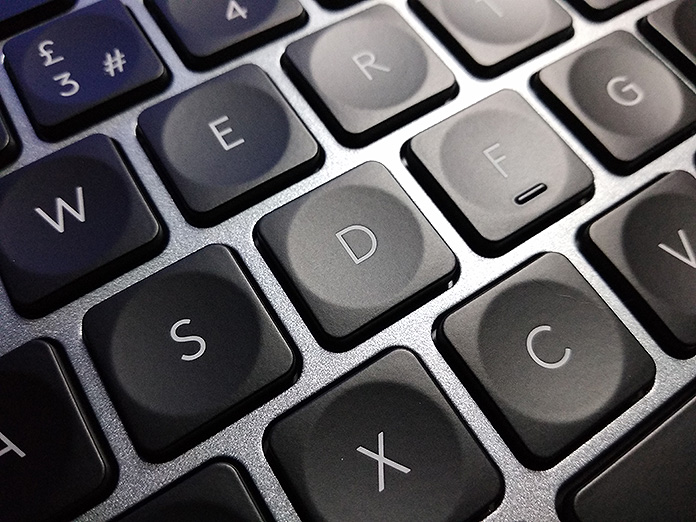 The MX Keys for Mac is not much different from the universal MX Keys model, which you can usually see in stores. The main difference is that it has the Mac keys (no double designation), the body color is metallic, in the spirit of Apple products, and the charging cable is USB-C – USB-C, not USB-A – USB- C.
Read also: ASUS TUF Dash F15 gaming laptop review: Reliable and Powerful
What's in the box
The keyboard comes in a light-colored cardboard box. Inside there is another black box that hides the keyboard itself, wrapped in a protective bag, and a Unifying dongle that supports not only MX Keys, but also the MX Master 3 wireless mouse, which we will discuss in a separate article. The presence of a dongle is important, especially considering the Mac Mini's unstable Bluetooth.
Somewhere in the box there is a small "business card" of the company. On the back of the black box there is a manual on how to connect the keyboard. Here you'll find the address of the official website where you can download the Logi Option utility, which allows you to remap the keys as you please. Of course, there is no disk with the software inside.
Design and the layout
The MX Keys for Mac design is discreet and unexciting. To be honest, I like the official Apple keyboard more, but this is hardly surprising, because Apple never cares about ergonomics or usability! I can confirm the words of many victims: while the Magic Keyboard looks just great, fingers constantly slip off the small keys, resulting in a lot of unnecessary typos.
MX Keys emphasizes, above all, the ergonomics of the keys, which have characteristic notches. Thanks to them, the finger "sticks" to the desired key and does not slip at all, which is very helpful when typing quickly.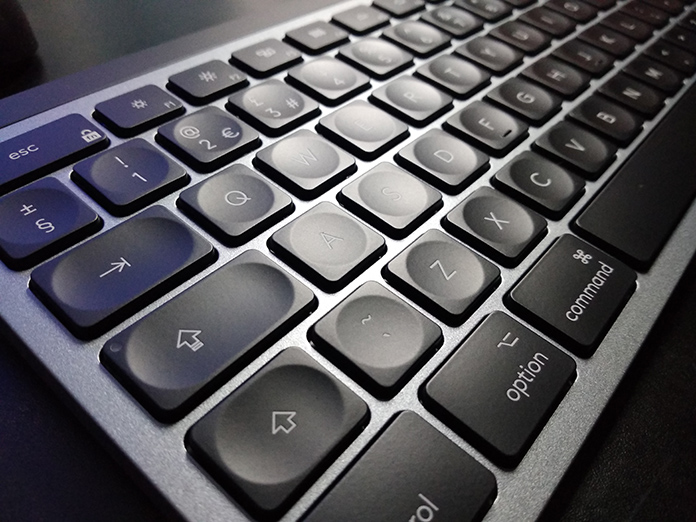 This is a scissor-switch keyboard with a short stroke. But not as short as the Magic Keyboard has, and the "resistance" is more noticeable here. It is a pleasure to press the keys. Nothing shifts, and the response is very pleasant. For the first time in my memory, I switched to a new keyboard and started typing immediately and without errors.
The keyboard is compact: its height is 20.5 mm, width is 430.2 mm. It is surprisingly weighty: despite the plastic case, it weighs 810 g and doesn't move on the table at all. It's great, but you can't call the MX Keys very portable either, and for an iPad it's better to buy a separate mobile keyboard. But at home, switching between such devices is easier than ever: there are three buttons for selecting paired devices.
The CAPS key has an indicator. The second indicator is located in the upper right corner, it indicates low battery or a connected cable.
Read also: ASUS ExpertBook (B9) review: Lightweight Business Laptop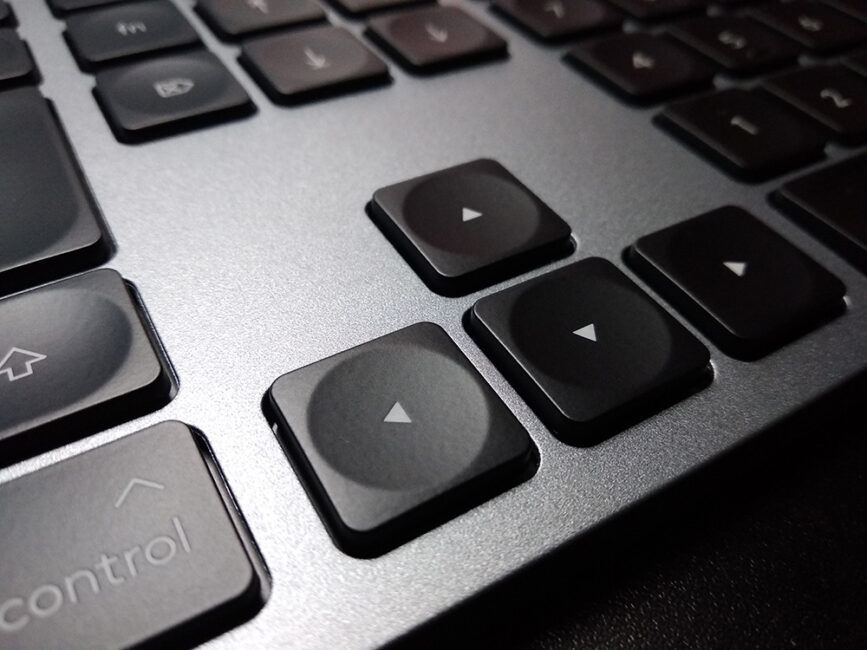 The MX Keys for Mac has multi-level backlighting that can be adjusted with the F5 and F6 keys. But its main feature is the motion sensor, thanks to which the backlight turns on before you even touch them. What sorcery is this! During testing, the technology did not fail; it is even too responsive: sometimes the keyboard reacted to my mouse.
The keys are matte and do not collect any fingerprints. The keyboard is fixed in only one position since there are no retractable legs. There is no palm rest in the box either, which is kinda disappointing; it would've been nice to see an added bonus. However, the keyboard is low already and doesn't really require it. You can buy a palm rest separately, but it's not cheap: the set with the rest costs €119.
As I mentioned, the keys can be reassigned. However, out of the box, they all perform most of the necessary functions: there is a music control key, Mission Control, screenshots and even a calculator. Still, when icons are already on the keys keys, it is a bit strange to assign something else to them.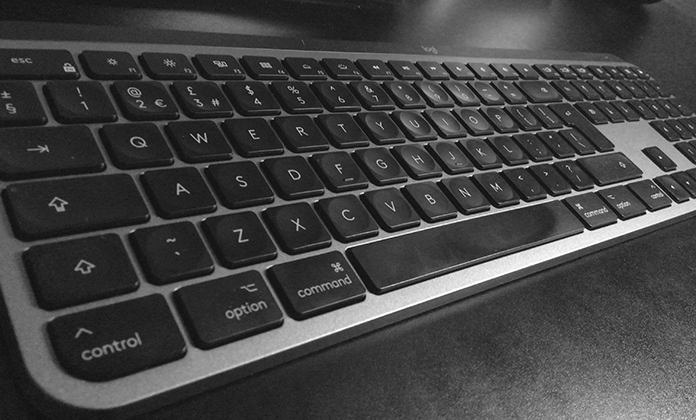 Next to the charge indicator you can find the shutdown button. Use it to save power.
Since we're talking about Mac-specific keyboard, there are absolutely no native Windows keys here, which makes it pretty much useless for Windows PCs. This model is for MacOS only, even though it will theoretically work with Windows as well.
The keyboard is completely silent. You can work in the same room with a sleeping person with no issues.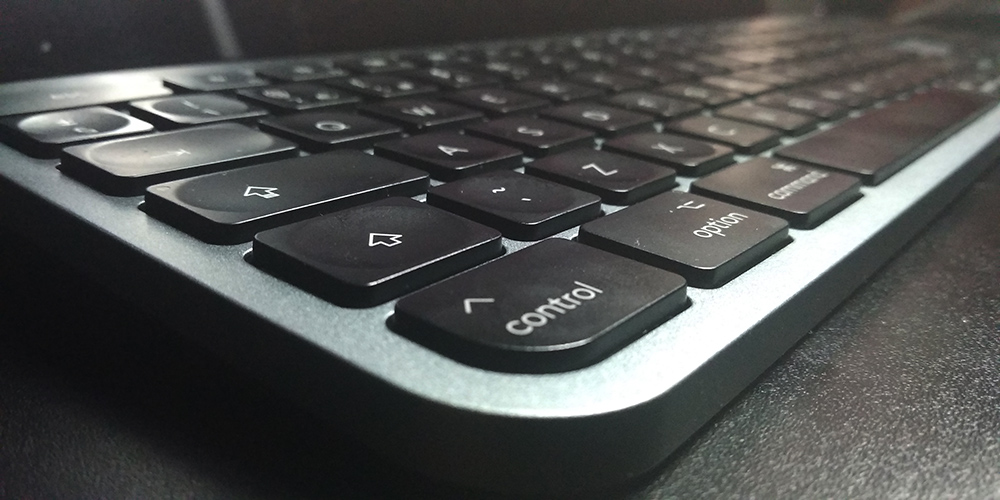 Software
Logitech is quite proud of the software that ships with its MX Master keyboard and mouse. Logi Options allows you to not only customize your keyboard, but also remap keys. So you can assign any action either for the entire system, or only for a specific program.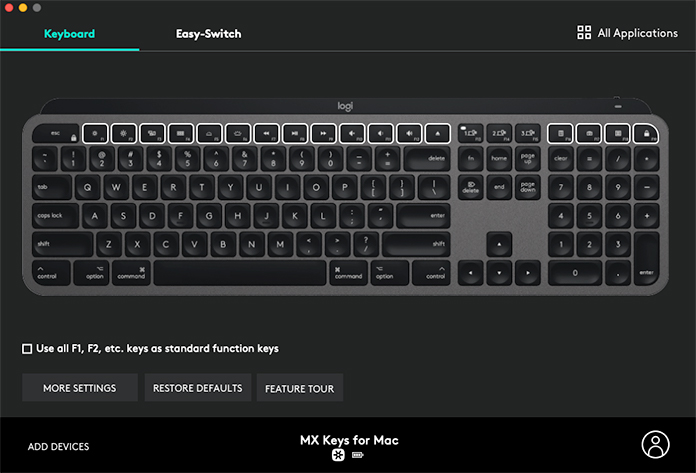 Installation is easy, although due to the numerous Big Sur security restrictions you will have to provide the utility with several "freedoms" in the settings. If you use Bluetooth, the keyboard will start working even before installing the program, and if you need a dongle, you will have to flip the switch on the edge several times for pairing. I use a dongle that practically guarantees interruption-free workflow.
Read also: HyperX Pulsefire Raid gaming mouse review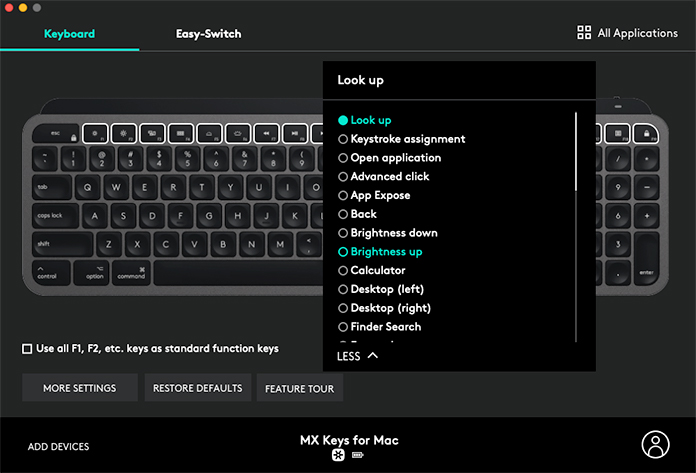 In Logi Options, you can also see a list of paired devices, and also the level of charge since the keyboard itself does not show it, except for the moments when it's on the verge of shutting down.
By the way, devices from the Master series allow you to conveniently use up to three devices simultaneously. For example, the MX Master 3 mouse, thanks to the Unifying dongle, can magically move the cursor between desktops, and the keyboard, in turn, follows it so that you can immediately type on the computer you are currently using. This makes it possible to conveniently transfer images, files and documents.
Verdict
I moved to MX Keys for Mac effortlessly, and I don't want to go back. It is a very comfortable keyboard that is a pleasure to work with. It has it all: actually useful software, ergonomic keys, multi-level backlighting and a battery that promises to last up to five months without backlighting and up to 10 days with it.
The MX Keys is one of the best modern models of keyboards of this type, and if we talk about Mac-specific keyboards, there is no choice at all.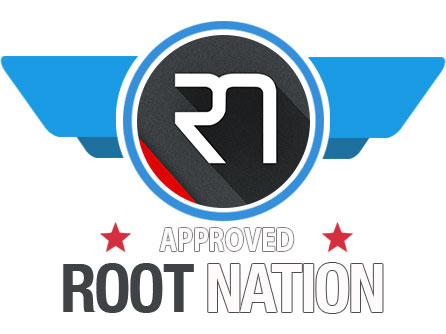 Prices
Subscribe to our accounts: