Few power supply manufacturers offer a power supply that exceeds 1500 watts in their product range, even among the first-tier manufacturers that have their own electrical platforms. Actually, even one and a half kilowatts is an unattainable bar for many. The maximum is 1600 watts. EVGA and Corsair have these, essentially representing the same thing. Some Chinese no-name power supplies declare 1800 W and even 2000 W, but it's 'written on the fence', since the bitcoin icon on one of the faces immediately makes it clear that 2000W is only part of the name, and praise the Lord if they make up to at least fifteen hundred.
At Computex 2018, EVGA demonstrated the 2200W SuperNova 2200P2, a year later Super Flower  presented 2500W Leadex Platinum at the same exhibition, but they never reached the release status. As of the sadly depressing year 2022, only a couple of decent power units have conquered the 2 kilowatt mark – these are the FSP Cannon Pro 2000 W and the Cooler Master M2000 Platinum. What is important, these are the 'honest' 2 kilowatts, although there are still some nuances here as well.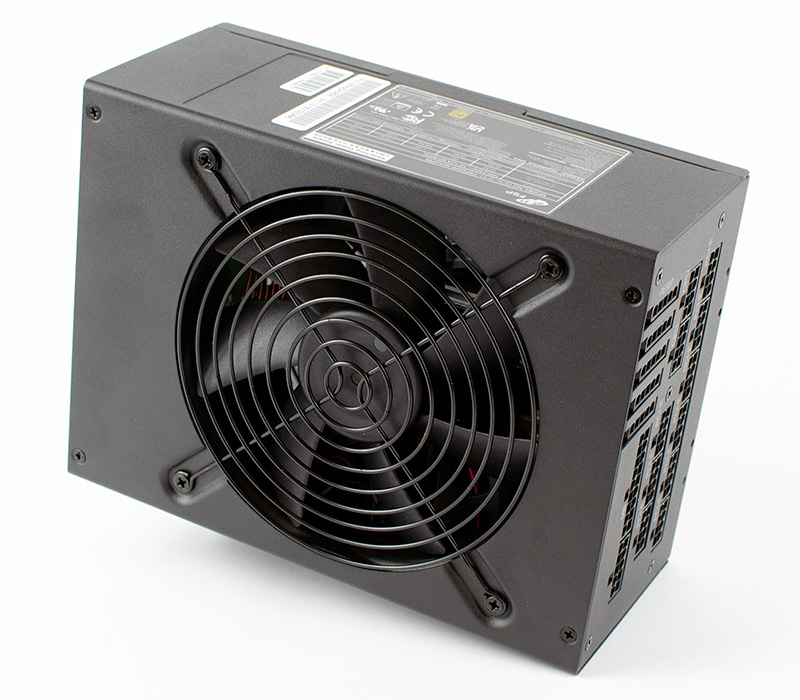 It would seem that the subject of today's review, the FSP Cannon Pro 2000 W, is considered to be the ideological successor of the Cannon 1600 W, but in reality the progenitor of this model is rather the FSP1200-50AAG, they are too similar in terms of the 'filling' and not only. To cut a long story short, the Cannon Pro 2000W is the FSP1200-50AAG on steroids and a bit of style.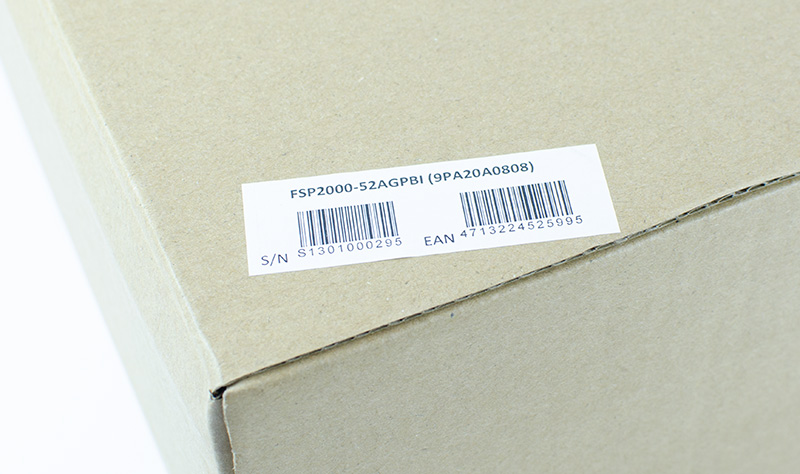 Apart from the impressive power, the Cannon Pro 2000W boasts full input voltage support, a double ball bearing fan, and Gold certificate for energy efficiency. In fact, there are nuances with each of the listed pluses, the FSP Cannon Pro 2000 W is literally woven from them. There's a good reason why power supply manufacturers don't offer 2-kilowatt models, because otherwise they'd have to look for compromises. However, everything is discussed in the relevant sections.
Market positioning and price
FSP Cannon Pro 2000 W is a unique unit, definitely not for everyone, and very expensive. In foreign retail, it will cost almost $500. At the local market, suddenly, even less – about 15,000 hryvnia.
The manufacturer straightly offers it as a solution for the 5G era and a response to the need for a growing day by day demand for high power. 18 PCI-E Power connectors, each of which is 8-pin, and cables with a thick section of 16 AWG, seem to hint at a real audience. Of course, we are talking about the laborers of cryptocurrency deposits.
And since I am not a fan of 'spherical reviews in pure vacuum' , since the FSP Cannon Pro 2000W does not exist alone, but in conditions of fierce competition, a reasonable question immediately arises: is it not easier to take a couple of ~ 1 kW units and connect them with a cheap adapter? The question is very serious, because it immediately breaks the whole ideology of Cannon Pro 2000W. This approach ensures the distribution of risks, better efficiency, more profitable in terms of cost, more cost-effective.
You don't have to look far for an example. There is the Hydro G PRO 1000W in the range of the same FSP. This is a normal 'gold' kilowatt unit without nuances and restrictions, corresponding to the Gold-certificate of energy efficiency over the entire power range. It is compact, 'filling' with a single 12 V line, 10 noble years of guarantee, no considerable drawbacks. And the key moment is that it costs $170. Okay, it is going to have 16x PCI-E Power instead of 18, but having added a couple of cents to the cost of Cannon Pro 2000W you can buy as many as 3 pieces of Hydro G PRO 1000W.
All in all, the offer is of course interesting and unique, certainly very showy, but this PSU costs like 2 good kilowatt units plus the change, and the profit is only in the amount of  occupied space and sockets.
Read also: Cougar Blazer Essence Review: Open and Cool
Specifications
The declared electrical characteristics differ from those that are usually seen in conventional consumer-grade units. The first thing you should pay attention to is the support for the full range of the input voltage. It says 100-240 V, but in fact it works at ~ 84 V to 270 V. But everything is not so simple here. FSP Cannon Pro 2000 W is generally very dependent on the input voltage.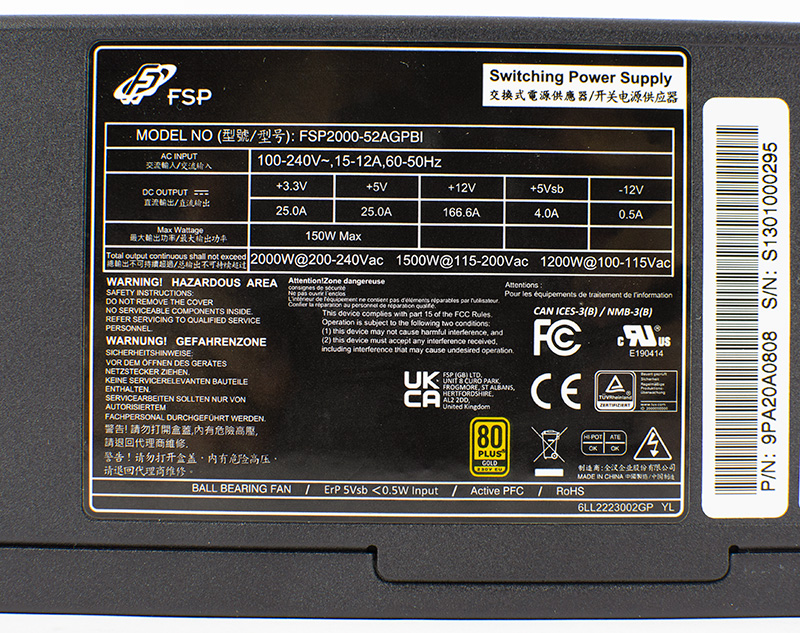 It fully corresponds to the declared specifications at the usual ~220 V in our area. Yes, the output at 12 V line is going to be 2000 W, and the efficiency will correspond to the 80 Plus Gold certificate (up to 92%). That's why the 80 Plus Gold badge has the '230V EU' suffix after the common '80 Plus Gold'.
In the input range of 115-200 V the maximum power sags down to 1500 watts. Efficiency is unknown, but most likely it loses 1-2% (judging by the curves provided by manufacturers, where the efficiency is compared at 110 and 220 V input).
A direct proportion works here: more input voltage – more output power. The declared 1500 W is the guaranteed power at 115 V incoming. Usually, in case of problems with voltage, it drops down to around 160 V, it hardly ever goes lower. As a result, in our area, with a filthy voltage, the FSP Cannon Pro 2000 W will provide around 1800W. But for residents of the countries with a voltage of 110 V, this unit turns, in fact, into a 1200-watt unit, and loses another 1-2% efficiency.
As expected, the unit is able to deliver all 100% of the power to the 12 V line. As expected, there is only line, and it gets as much as 166.6 A of current! Some welding machines might have a more modest current output.
Unloaded 3.3 V and 5 V lines can deliver 25 A of current, but not more than 150 watts of power in total. There is nothing much to comment on here, typical values ​​for a modern PSU, and who cares about 3.3 V and 5 V in a block for a couple of kilowatts?
Design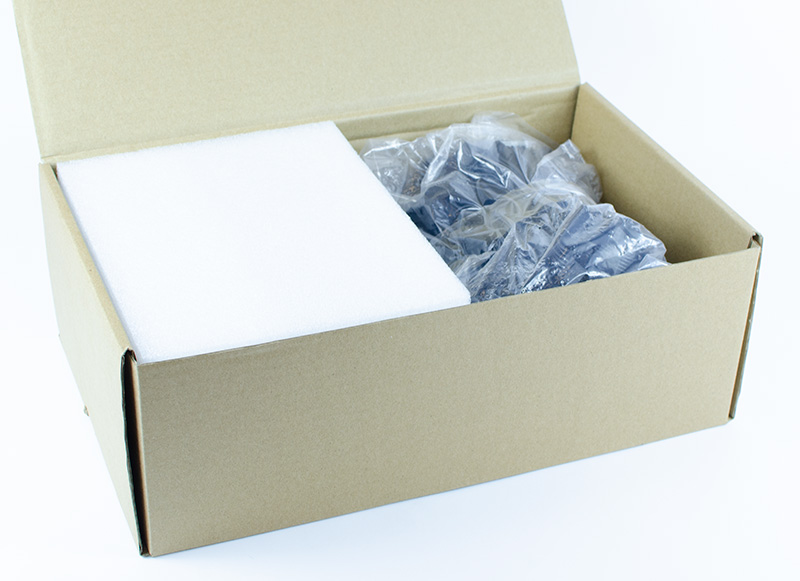 The FSP Cannon Pro 2000 W came to me for a test in an unsightly box made of rough cardboard.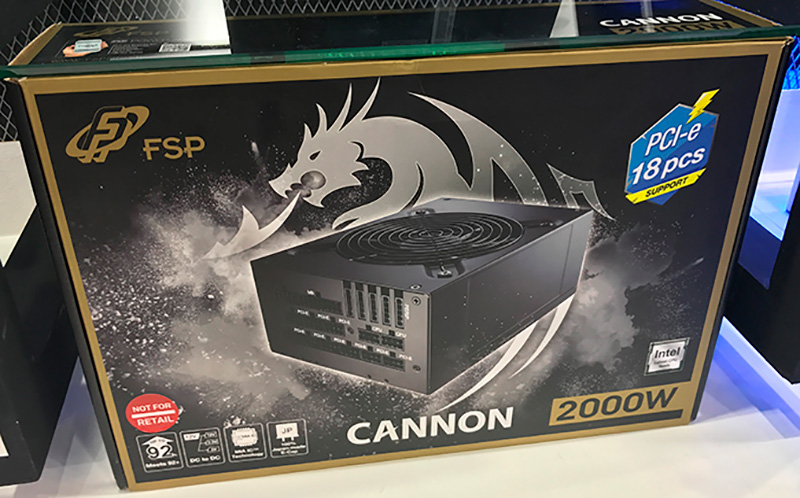 In general, there is a version in the usual colorful-beautiful box. As the representative of FSP explained, boxing and packaging have been simplified to reduce the cost. Apparently, this is why this unit costs even a little cheaper than overseas, and after all, VAT is as much as 20%. However, a plain box is not uncommon for industrial power units.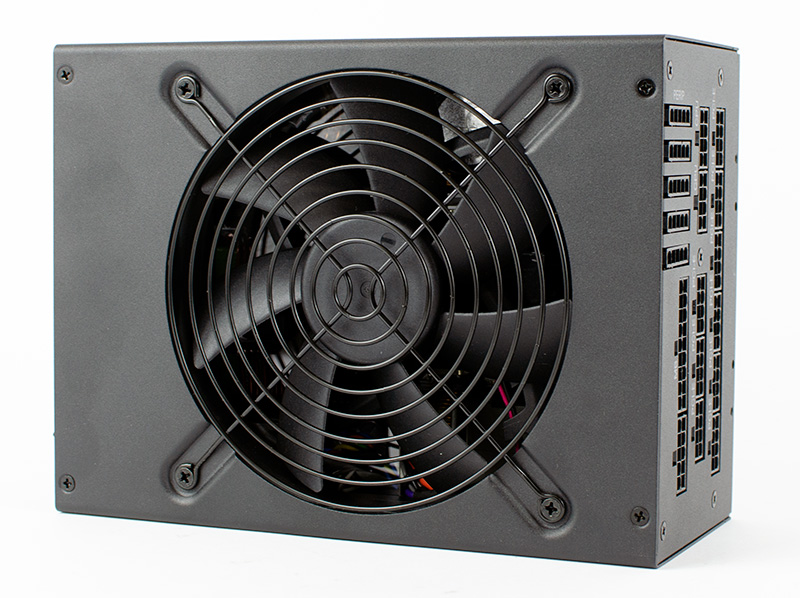 Relative to the previous high-power FSP blocks, the 'top gun' has been upgraded. The unremarkable gray painting was replaced by noble black, and that's about it. This is not a glamorous a la gaming power unit, it does not need embellishments.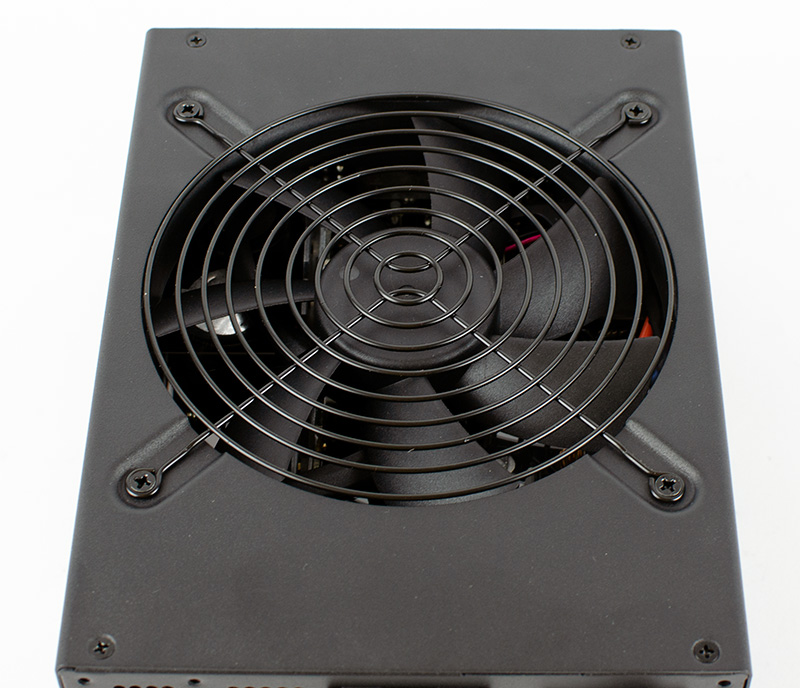 The ventilation grate is the simplest, grill type. It has 2 significant advantages: it is inexpensive to manufacture, and, more importantly, it is this kind of grill that provides the least resistance to airflow among any of them. Even if it looks simple, it is practical, besides, it is easy to blow out the dust through it with a compressor.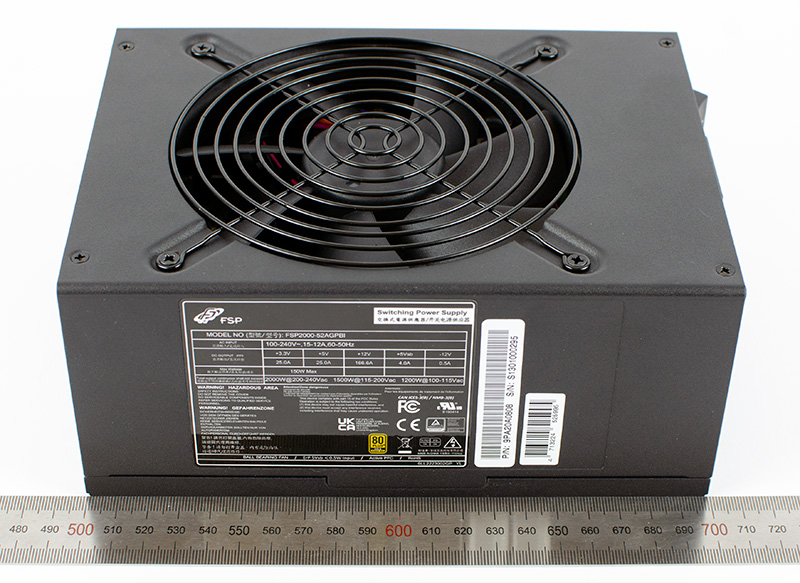 In terms of height and width, the FSP Cannon Pro 2000W complies with the ATX standard (150 × 86 mm), and in depth it is 200 mm, surely one of the larger ones, if not the largest. Those who like to evaluate the quality of the PSU by weight will be satisfied – 2.64 kg without cables – exactly as heavy as a hollow brick.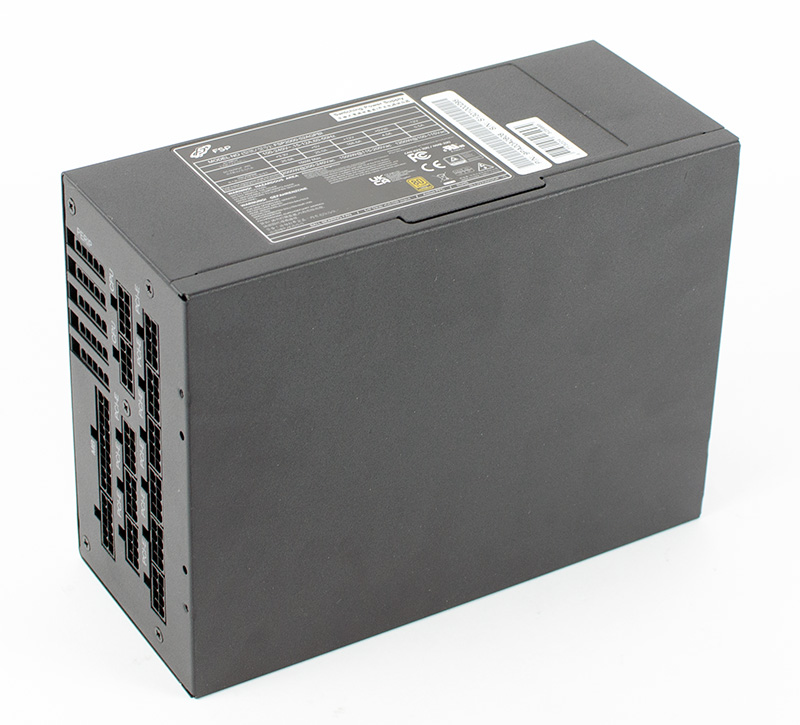 One side face is decorated with a sticker with electrical specifications, the bottom and the opposite wall are bare. It would not be out of place to make a couple of ventilation slots in the area next to capacitors/transformers, as it was done in the FSP Hexa + PRO.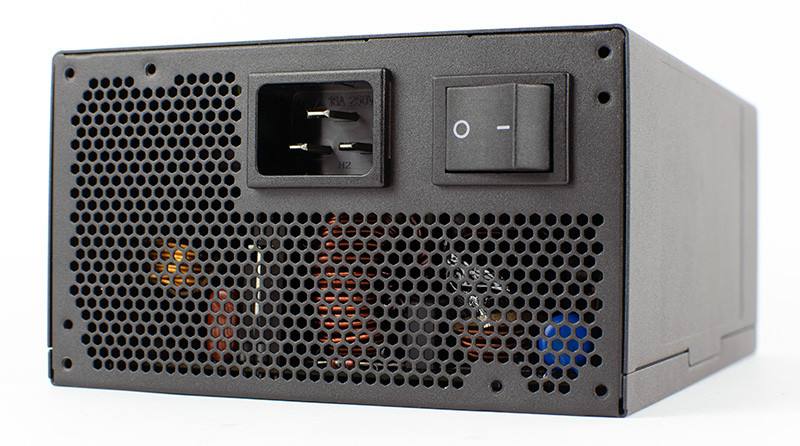 There is abundant perforation on the back wall, as well as a large power button and an input socket. Here it is worth noting the socket itself. The input connector is type C20, it is designed for a current of up to 16 A, while a conditionally 'ordinary' socket (type C14) is characterized by 10 A. In networks with a voltage of 220 V, C14 would be enough, but for lower voltages C20 is already needed.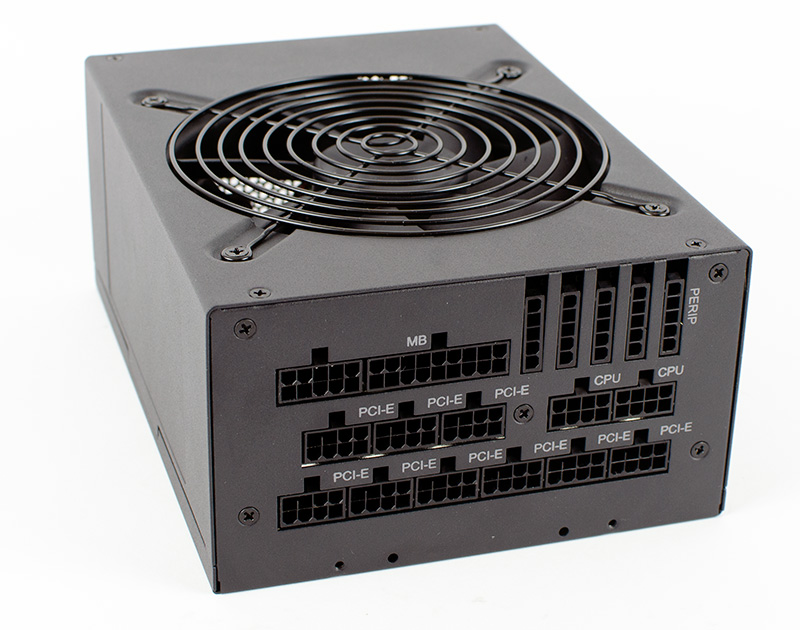 Everything is as usual on the opposite side, a large number of connectors. Curiously, the connectors for powering the processor and video cards are not interchangeable, and even mechanically do not fit due to the different location of the bevels. It's strange, because both the processor and the video cards get the same 12 V.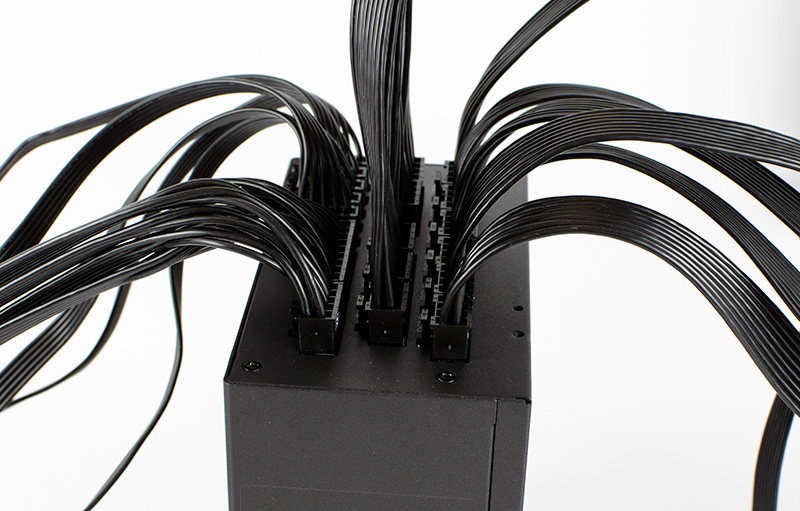 By the way, the number of cables in the box allows you to occupy all the connectors on the unit. There are no extra cables either. And since we are talking about cables, let's move on.
Cables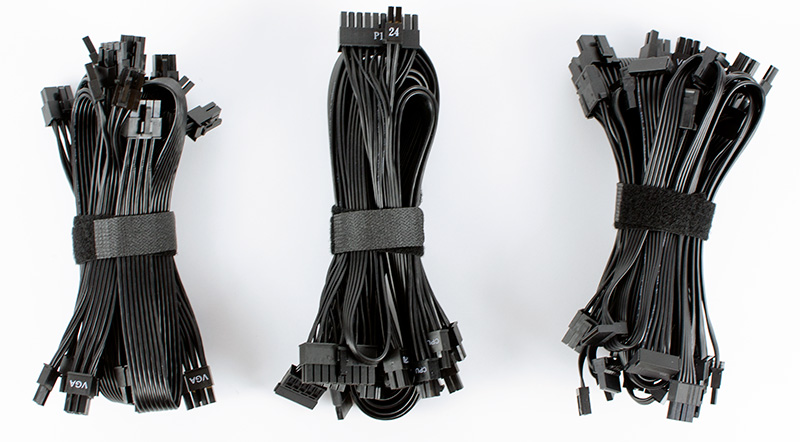 FSP Cannon Pro 2000W, for the sake of design, received a completely modular cable connection structure. The following set of cables / connectors was found in the kit:
1×ATX 20+4 pin
2×EPS/ATX12V 4+4 pin
18×PCI-E Power 6+2 pin
14×SATA
5×Molex
1×FDD
Here's a visual description:

The number of connectors is impressive. Of course, 18×PCI-E Power are pleasing most of all, an unprecedentedly huge, literally record-breaking amount for a unit in the standard ATX format. The need for this amount of SATA Power is doubtful given the positioning, but more is not less. FDD is completely useless, it is even strange to see it in a modern block.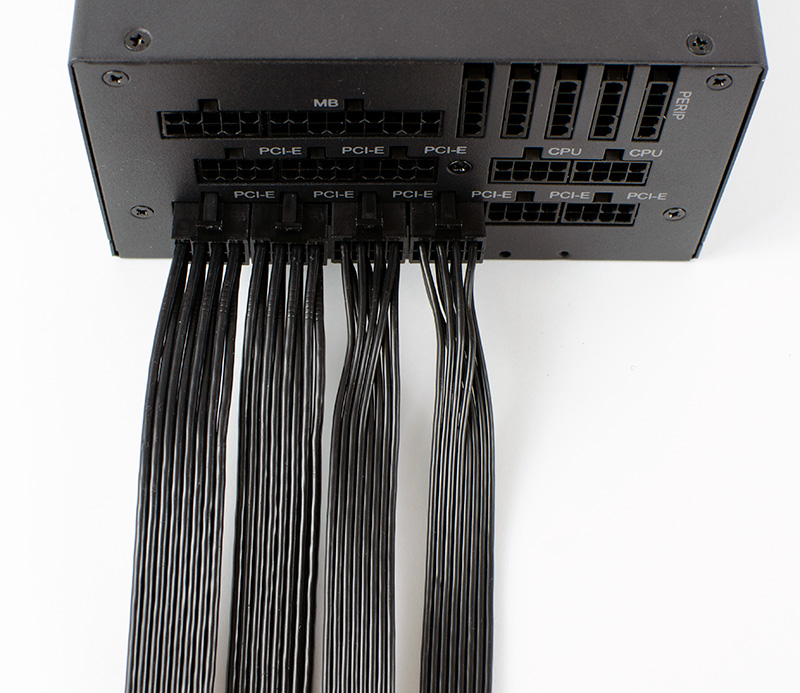 The cables themselves deserve my respect. Loaded lines, namely the power of the processor and video card, as well as most of the cores of the main 24-pin power blocks, have a thick section of 16 AWG. However, it's true that only half of the PCI-E cables have 16 AWG, the other half have 18 AWG. The difference is clearly visible in the photo.

They did not save on copper in the case of peripheral connectors – 18 AWG, although, given the low load on these lines, 20 AWG would be enough.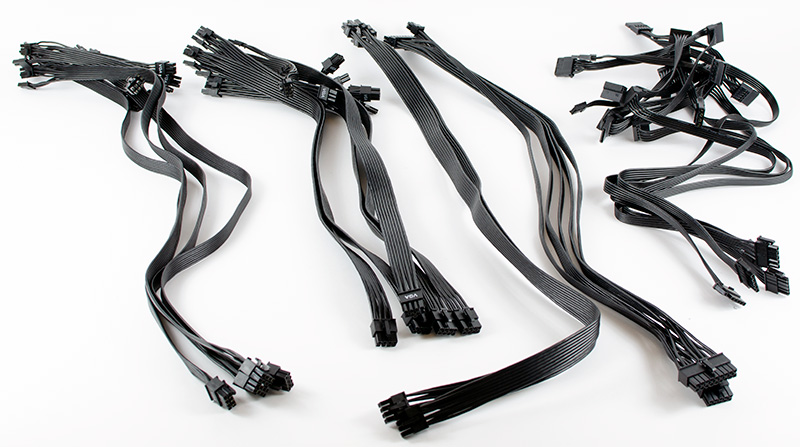 The length of the cables is not an issue. It is mostly 750 mm. This is the exact length of  EPS/ATX12V to power the processor and PCI-E Power cables up to the first connector.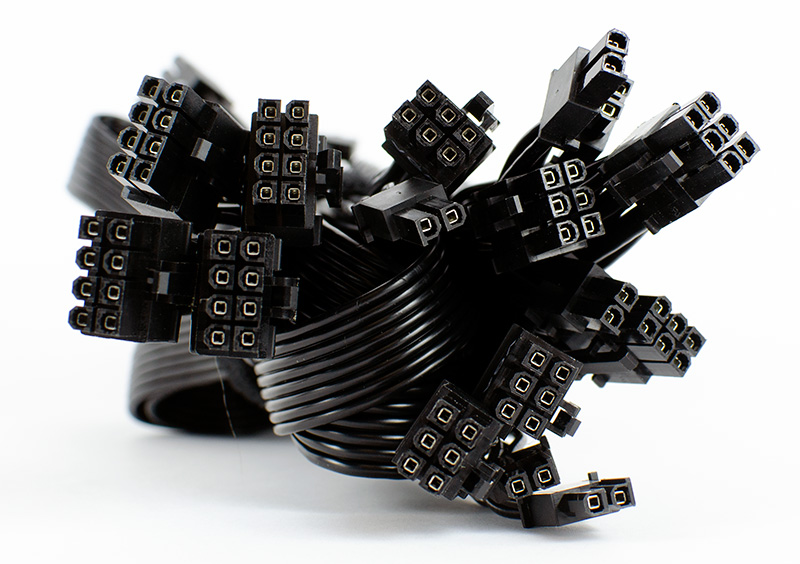 But FSP does not use gold-plated veins. Considering its intended purpose, it would not be superfluous. The fact is that some video cards have an uneven power distribution. Some take less than the prescribed 75 W from the PCI-Express slot (sometimes 30 W, sometimes just a couple of watts), and they get more than they should from the additional power connectors. As a result, the video card gradually burns out the contacts, and the gilding prevents this.
However, the FSP Cannon Pro 2000W has contact pads of normal thickness, not like Chinese mining units. They will live without gilding, but still it would not be superfluous.
Filling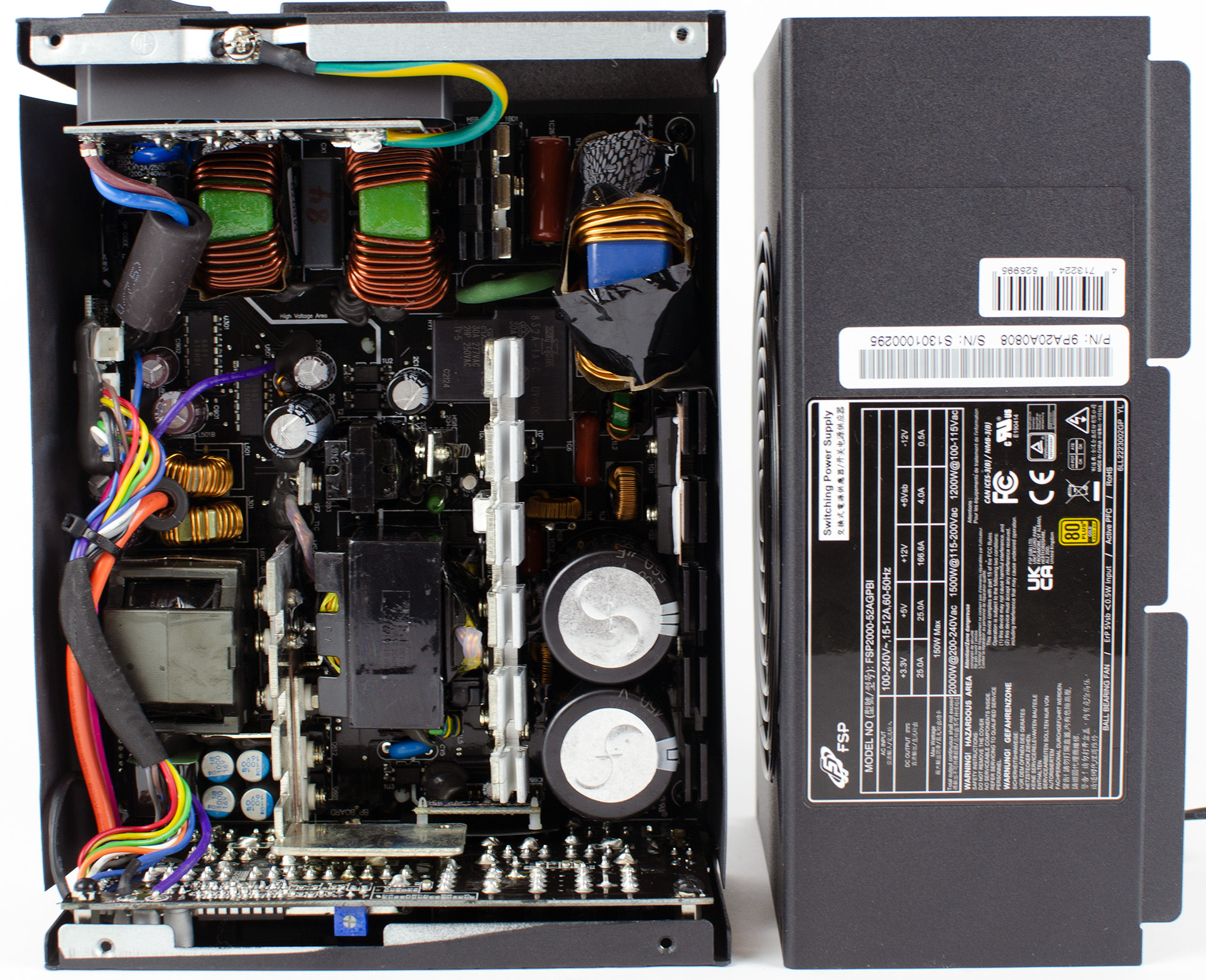 The unit is disassembled simply, even classically – just unscrew 4 screws on the top cover. To completely disassemble and remove the board, you need to unscrew 5 more screws on the panel with modular connectors. There are no hidden 'tricks'. By the way, the case is made of decent steel with a thickness of 0.8 mm.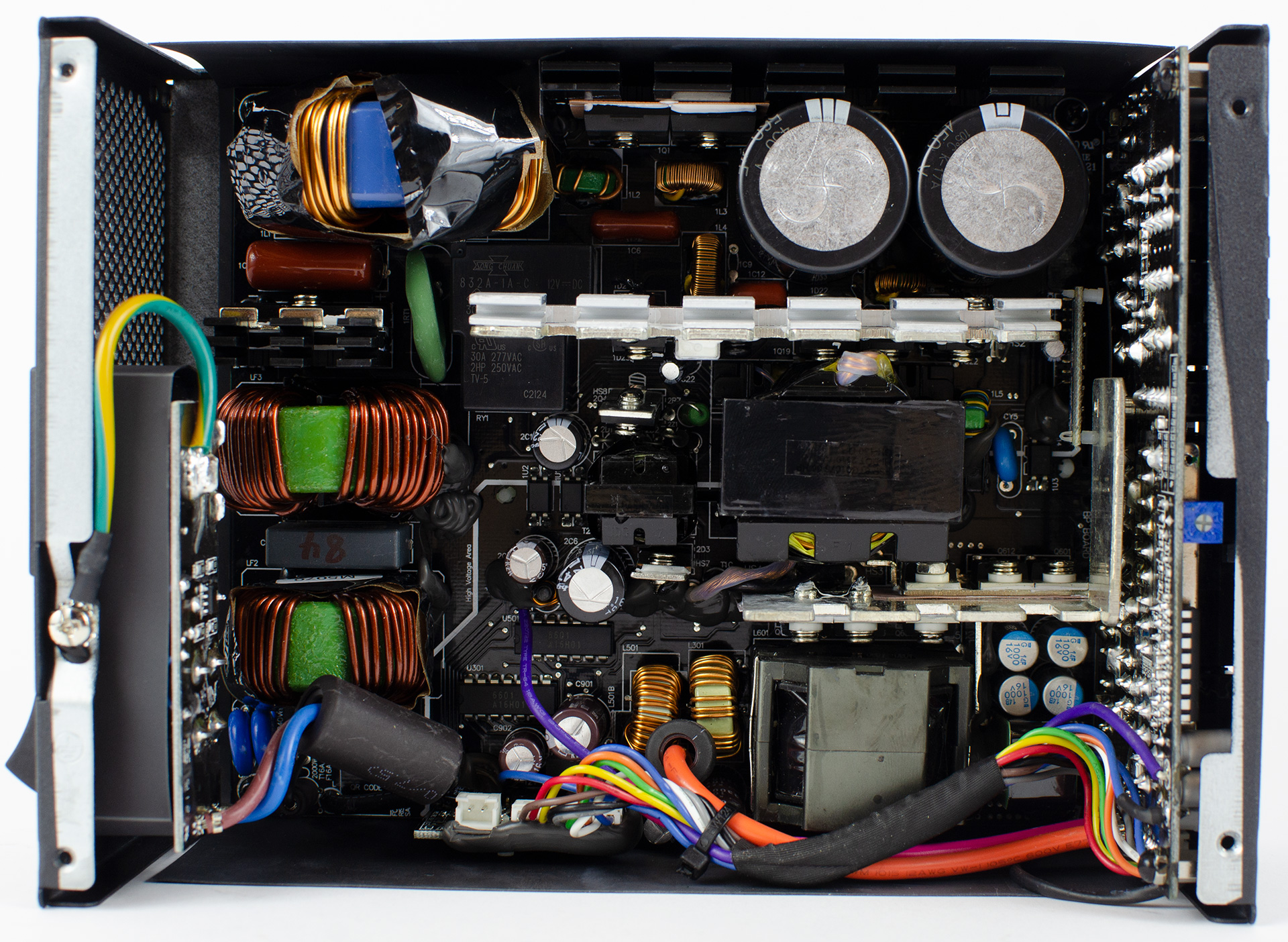 Let me remind you that FSP is one of the few PSU manufacturers that have their own electrical platforms. All FSP power units come specifically from FSP, and not just a purchased platform, packed in a case with some branded stickers. This is, of course, a respect and an immediate plus to karma.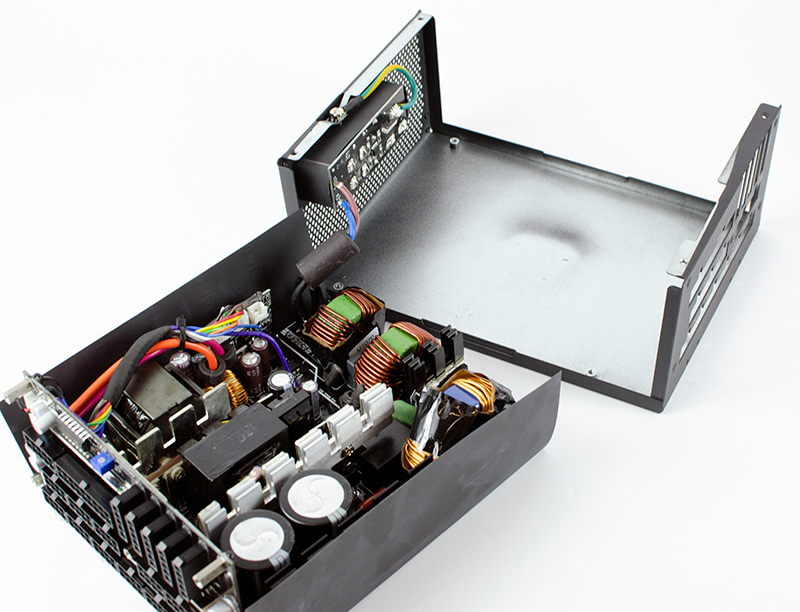 First of all, attention was drawn to the dielectric. It is unusual, like rubber, and also about twice as thick as usual.
The FSP Cannon Pro 2000W does not have thermal pads to drain the heat from the back side of the board to the case, and this is strange. In general, FSP is not greedy, it puts a thermal pad even in units of a much lower class, but not in this case. But it certainly wouldn't be superfluous, especially considering the dimensions of the case and the maximum load.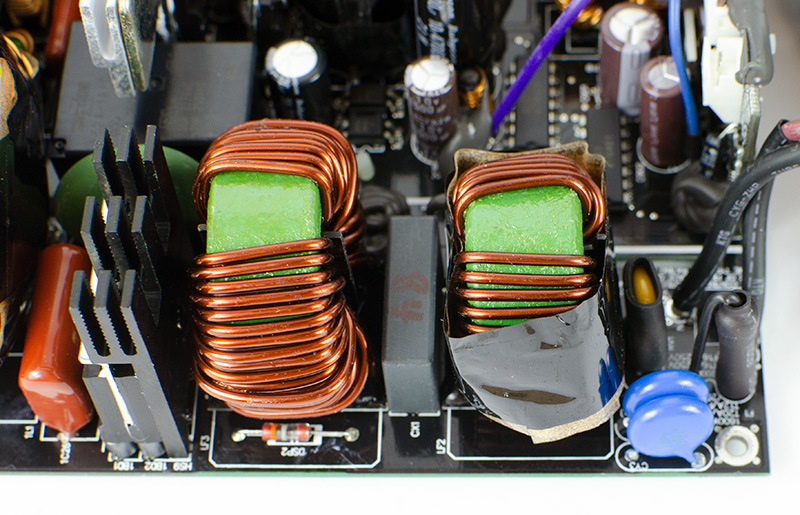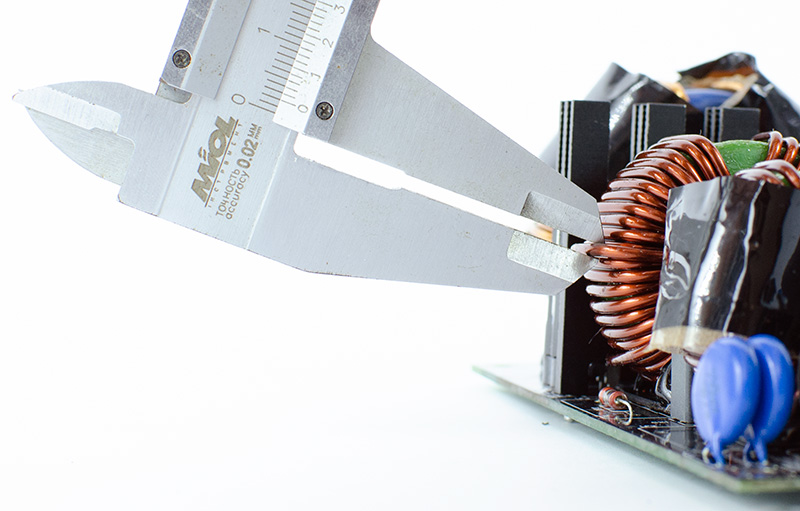 The internal space of a large 200-mm case is packed to full capacity. The layout is very dense, this is mainly due to the chokes of simply gigantic dimensions. Just look at this winding – a 2 mm thick rod!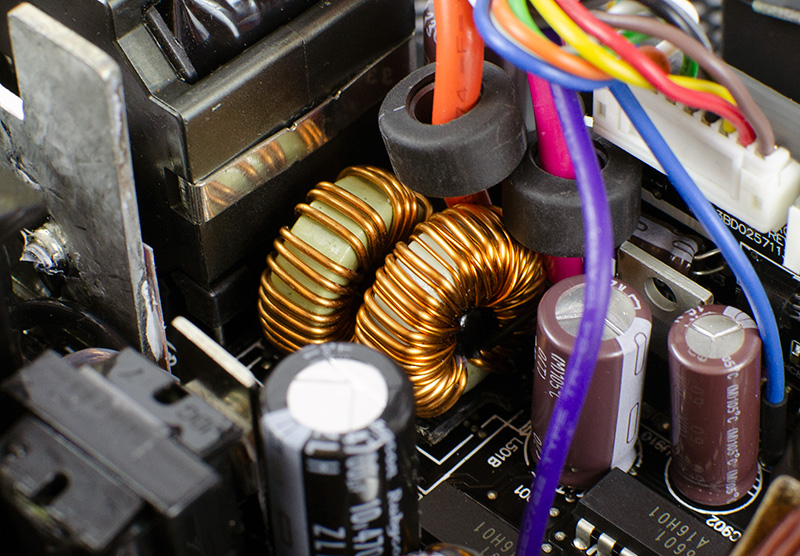 The DC-DC converter chokes that form the 3.3 V and 5 V lines look childish against these giants.
In general, the small number of radiators is surprising, as well as the by no means heroic amount of 'meat'. Often, good 750-watt units have larger radiators. Most likely, this was done because the main transformer, which is alone, gets very hot, the fan spins powerfully, and with such an air flow, massive radiators are not needed.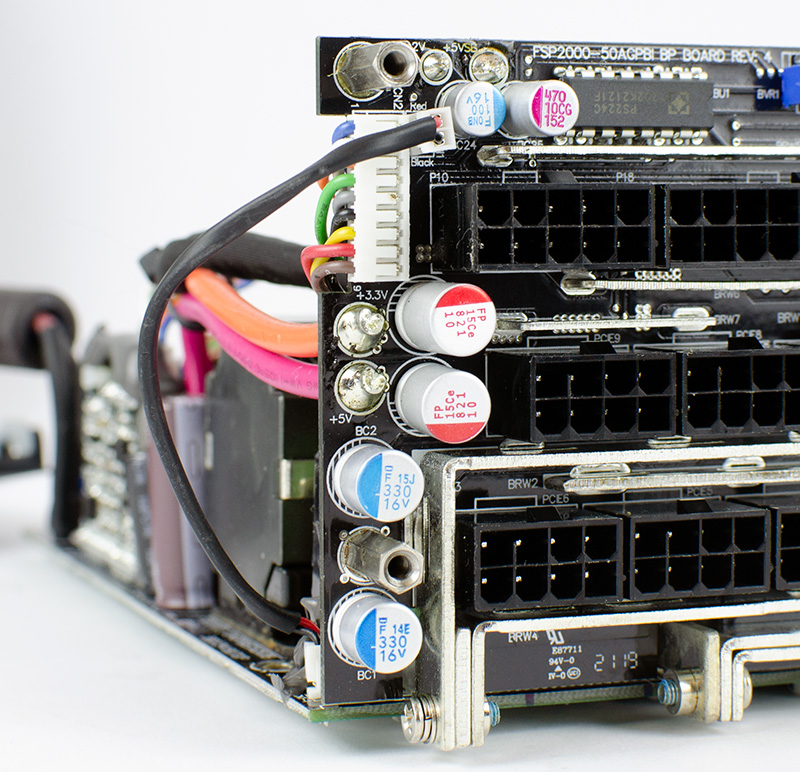 In general, the schematics of the FSP Cannon Pro 2000W come from somewhere in 2015. Modern platforms are 'clean', with no flexible conductors, and all currents are transmitted either by buses or through layers of the board. Here, only the 12 V line is transmitted by bus, and 3.3 V and 5 V, like the signal lines of the main 24-pin block, are transmitted by wire.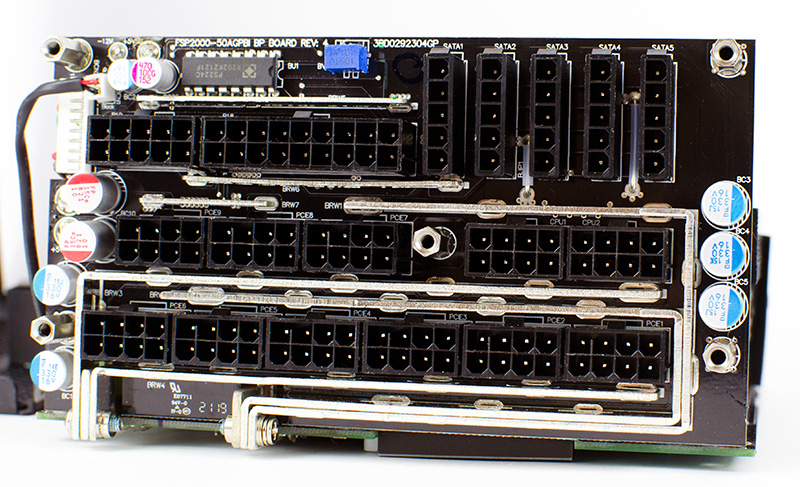 Perhaps this is the first time I see the 12V line buses tightened with bolts and nuts. Taking into account the rather large currents, and hence the increased requirements for the contact density, and also remembering the rather large thermal expansion coefficient of aluminum, this approach does not look like overkill.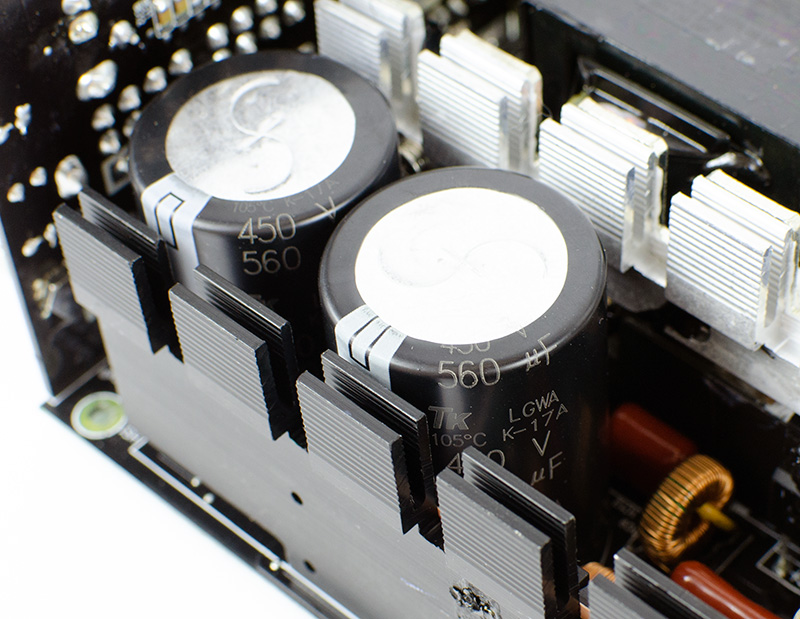 There are two main condensers. These are Japanese TK rated at 560uF, 450V, from the high temperature 105 degree series. TK is not as well known as Nippon Chemi-Con/Hitachi/Rubycon, but is also Japanese and their products are decent. 1120 microfarads at 2000 watts of power is frankly not enough. However, they are 450 volts, and not the usual 400 volts, which means that the real capacity for return will be greater. Secondly, FSP promises a 17ms hold time, which is standard. In other words, with a load of 2000 W, the unit will be able to compensate for the loss of incoming voltage for 17 ms with a capacitor, that is, it will withstand the 'blinking of light'.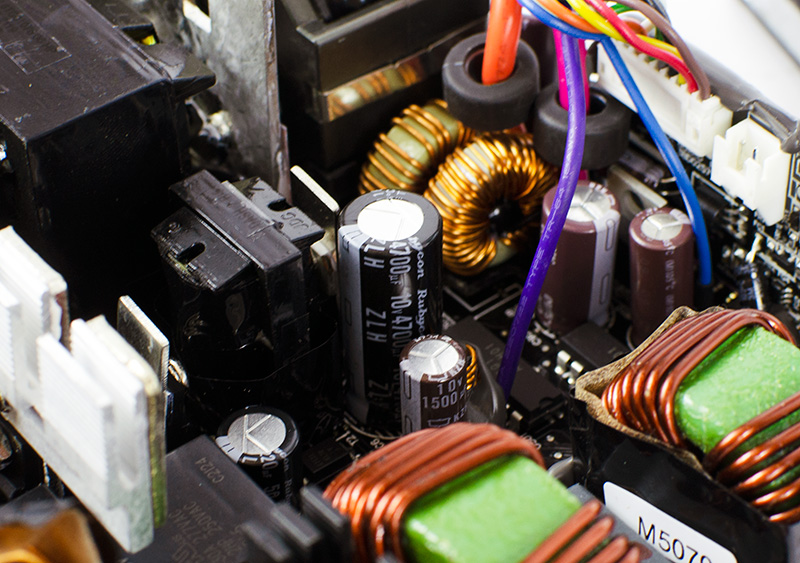 The Secondary filter and smoothing capacitors are supplied by Nippon Chemi-Con and Rubycon. Electrolytic capacitors are all 105 degrees, there are also many solid state capacitors. However, not as much as we would like. I counted 13 solid-states, although in units with a power of over 1000 W there are usually more than 20 of them.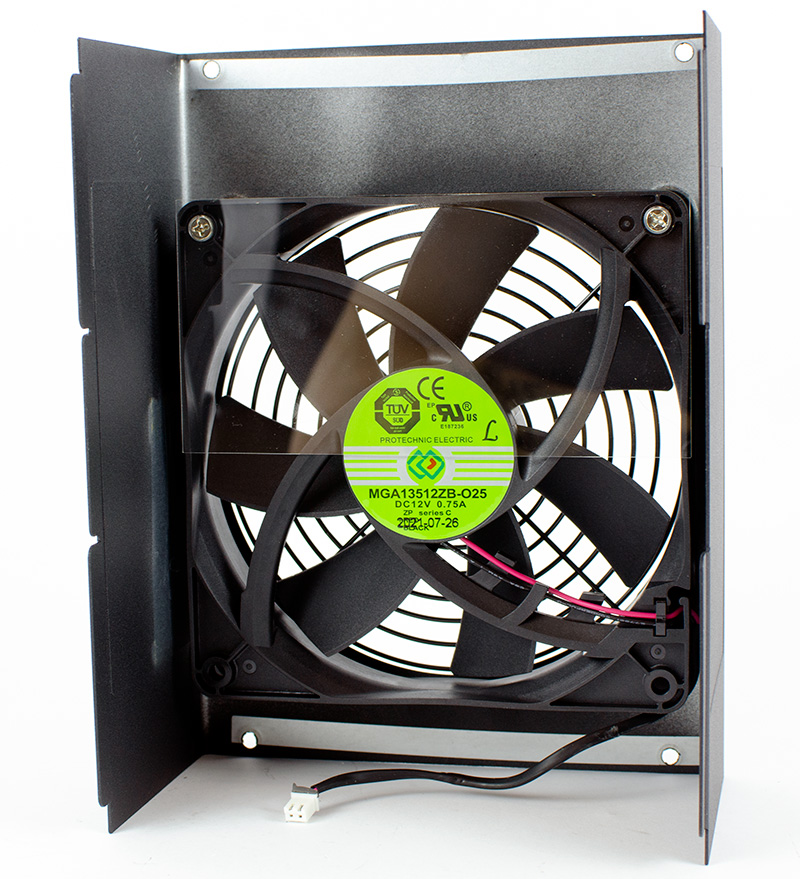 There are at least 2 versions of the FSP Cannon Pro 2000W. One has a hydrodynamic bearing propeller (PLA13525B12HH), the other (tested) has a double ball bearing. In this case, a Protechnic Electric MGA13512ZB-O25 with a size of 135 mm with characteristics of 12 V, 0.75 A is installed. It is immediately worth noting that 0.75 A for a 135 mm Carlson is a lot (often 0.15-0.3 A). It's scary to imagine to what speed it can spin.
There is very little information about this fan on the Web. I managed to find a mention of use in server equipment, a short datasheet, and that's it. Double ball bearing is pleasing. It's not the quietest bearing, but definitely the most reliable.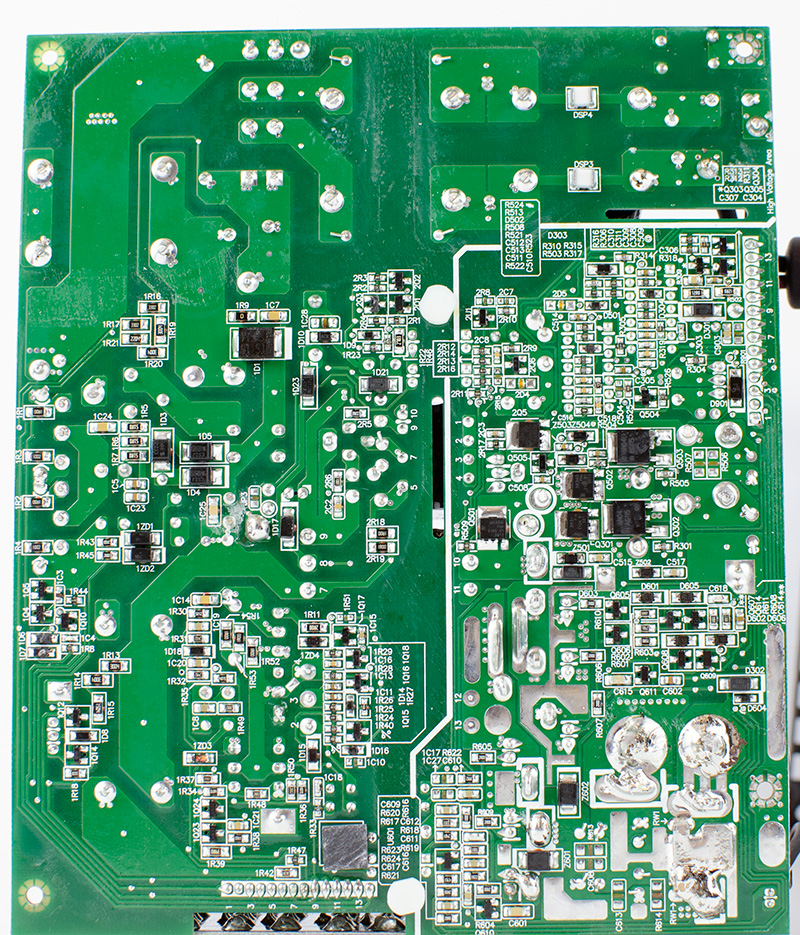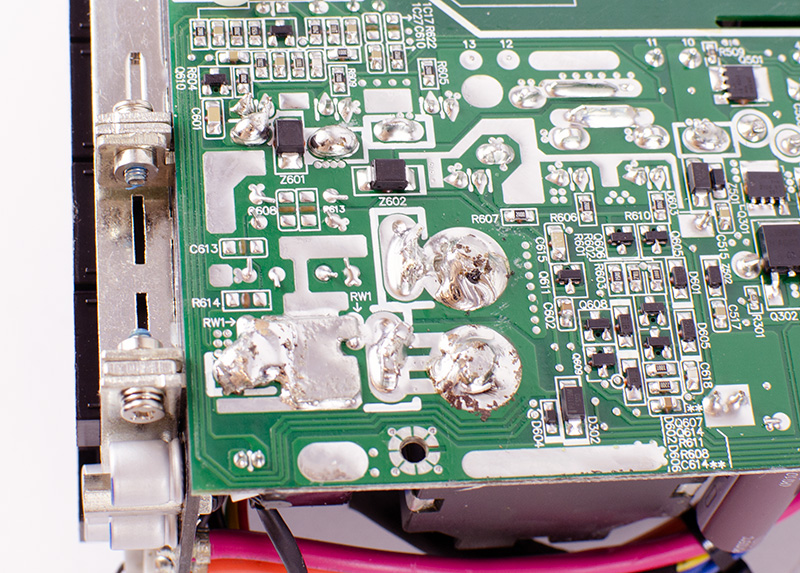 The overall soldering quality is good. Not perfect, just good. In some places there is a bit too much solder, in many places the flux has not been washed, but these are more and more aesthetic nuances. I did not find any considerable flaws on soldering.
Load and testing
My partially self-made test bench based on field-effect transistors, which is essentially a heater, allows you to smoothly adjust the load in the range of 50-1500 watts. To test the FSP Cannon Pro 2000 W, I had to turn on both the stand and the mining farm on 6x GTX 1080 in parallel. It was merely a scrapheap with a bunch of adapters, so at a load of more than 1500 W, the efficiency indicators may be somewhat distorted (within 1%).
Testing was carried out at a real voltage in the socket of 225 volts. With a different input voltage, the unit was not tested, there was simply no opportunity.
Efficiency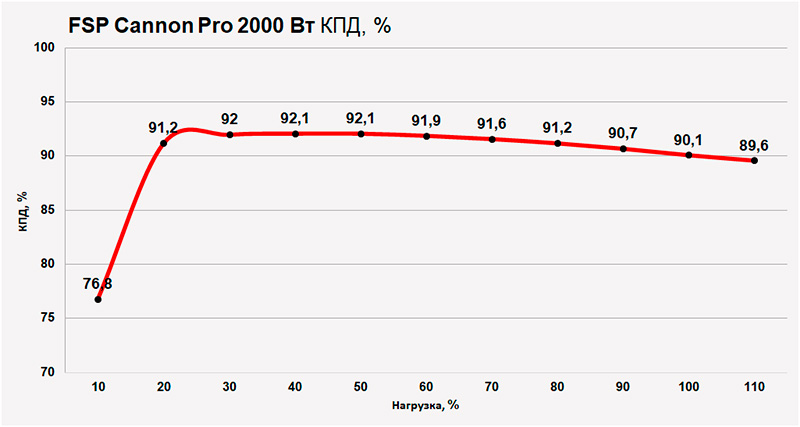 Stability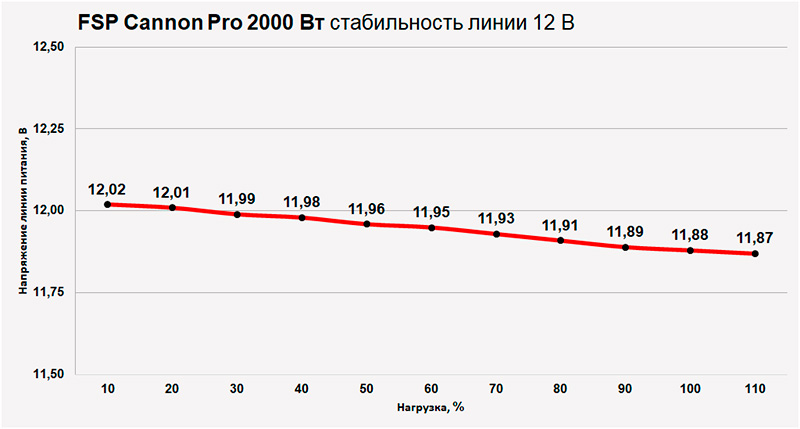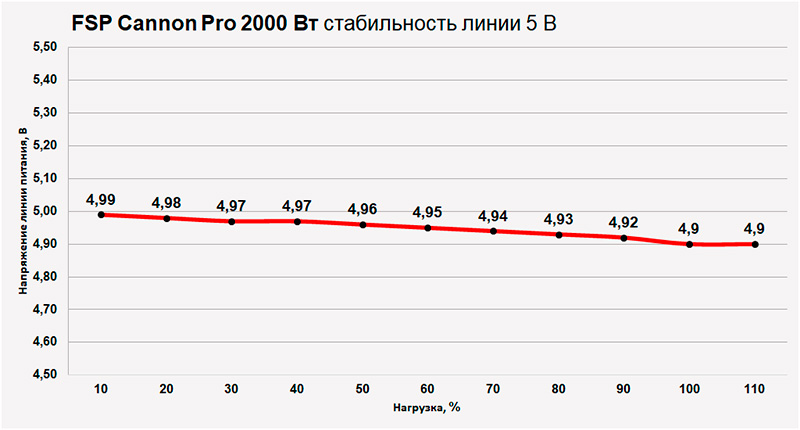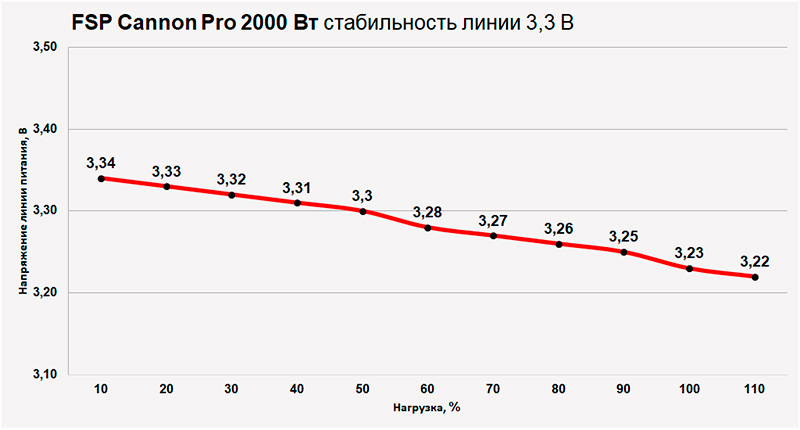 Fan speed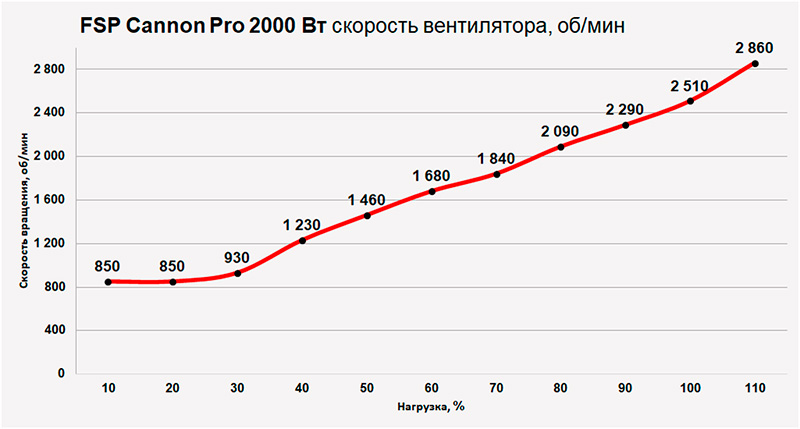 Extraneous noises
FSP Cannon Pro 2000W does not emit extraneous noises like squeaking or chirping of the fan rotor. They may be there, but they are simply not heard behind the fan.
Protection
FSP Cannon Pro 2000W received a full list of protections, namely:
OPP – against power surges
UVP/OVP – against excessively low / high input voltage
OCP – against current surges
SCP – against short circuit
OTP – against overheating
As for the extreme operation mode,  the FSP Cannon Pro 2000W withstood a half-hour test with a continuous overload of 10%, delivering 2200 watts of power. Output electrical parameters remained within acceptable limits on all lines. Impressive.
SCP (short circuit) protection works on all lines, not just 12V.
OCP protection (overload protection) has also been tested. Here I was surprised. I thought that the block would not show a significant result on the 12V line, but with a high input voltage, the protection cut off at a load of as much as 210 A at the 12V line, which is 2520 W of power, which is equal to 26% overload.
The unloaded 3.3V and 5V lines are also protected by OCP. They turn off at an overload of 30%, which is 31 A of current or up to 188 W of power.
Conclusions on FSP Cannon Pro 2000 W
The FSP Cannon Pro 2000W is a very complex unit and not for everyone. So much 'not for everyone' that, to be honest, it's hard for me to figure out where its use is generally reasonable. This is a niche product, an image product. Apparently, for the most part, it was made not with an eye to satisfying demand in this segment, but as a demonstration of engineering capabilities with the message, 'Yes, we can!'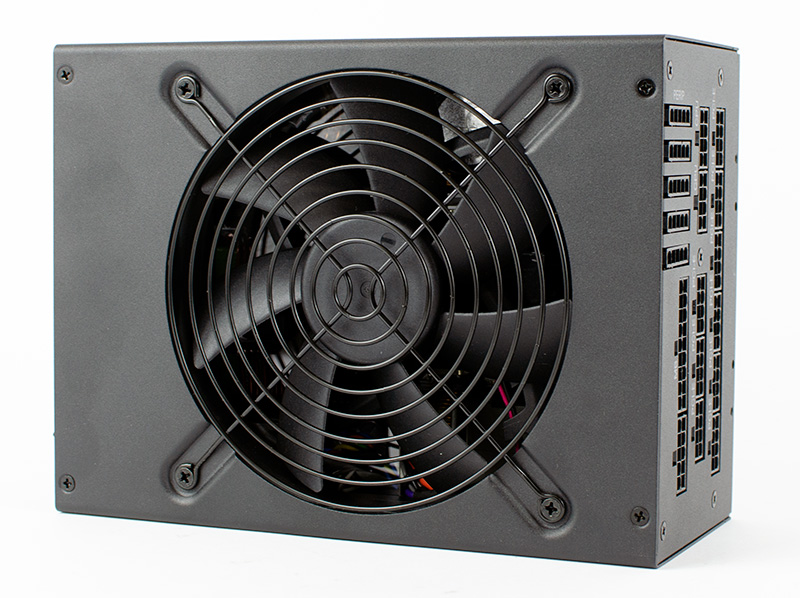 As befits, pros first. The Cannon Pro has good points, and quite a few. It is built according to the patterns of PSUs of the industrial segment with a fair margin of safety. Recall the same fan on an ultra-reliable ball bearing, thick cables with a cross section of 16 AWG, bolted 12 V bus lines, heroic chokes with a 2 mm winding, a socket for a C20 server plug.
At the same time, the roots of the industrial segment brought bad things. The first is the noise level. The propeller impeller spinning up to 2850 rpm is very noisy. At a load of more than 500 W, the unit can no longer be called quiet due to the constant 900 rpm, and at a load of more than 1000 W it is already completely uncomfortable. It is noisier than the entire mining farm.
You can close your eyes to the decrease in efficiency with a decrease in the input voltage. Nevertheless, in our area the standard is ~ 220 V, in our country it corresponds to the Gold-certificate of energy efficiency, and will give out all 2000 W of power.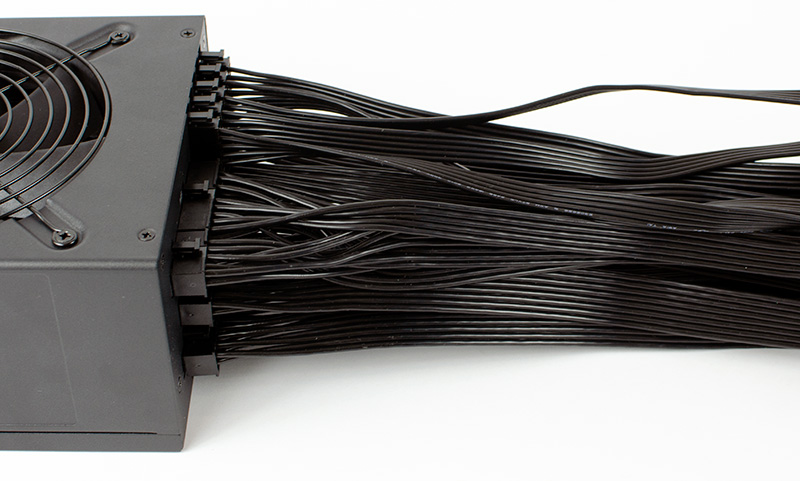 But you can't close your eyes to two fundamental problems that might become a deal breaker – these are warranty and cost. For $500 you can buy a couple of 1000W units, even almost three units. You don't have to go far – the Hydro G PRO 1000W costs $170. If you want a smell of quality, there is a platinum Hydro PTM Pro 1000W for $240. And there will be no problems with guaranteed output power, you don't need to think about the incoming voltage, and on a bad day on the secondary market they will be taken much more willingly.
Ну и просто карательным для FSP Cannon Pro 2000 Вт является гарантийный срок – 2 года. По соотношению цена/гарантия это безапелляционно худшее предложение на рынке. Вышеупомянутый Hydro G PRO 1000W, если что, сопровождается 10-летней гарантией.
Well, the final blow to the FSP Cannon Pro 2000 W is the warranty period – 2 years. In terms of price/warranty ratio, this is by far the worst offer on the market. The aforementioned Hydro G PRO 1000W, if anything, comes with a 10 year warranty.
Where to buy
Read also:
You can also help Ukraine fight with Russian occupants via Savelife or via an official page of the National Bank of Ukraine.