Today we'll take a look at ASUS ROG Strix Go 2.4 – a gaming headset with maximum compatibility with current gaming platforms, which can be connected both wirelessly and with a cable to PC, PlayStation, Xbox, Nintendo Switch, smartphones and tablets. What is this versatile soldier capable of? Let's find out!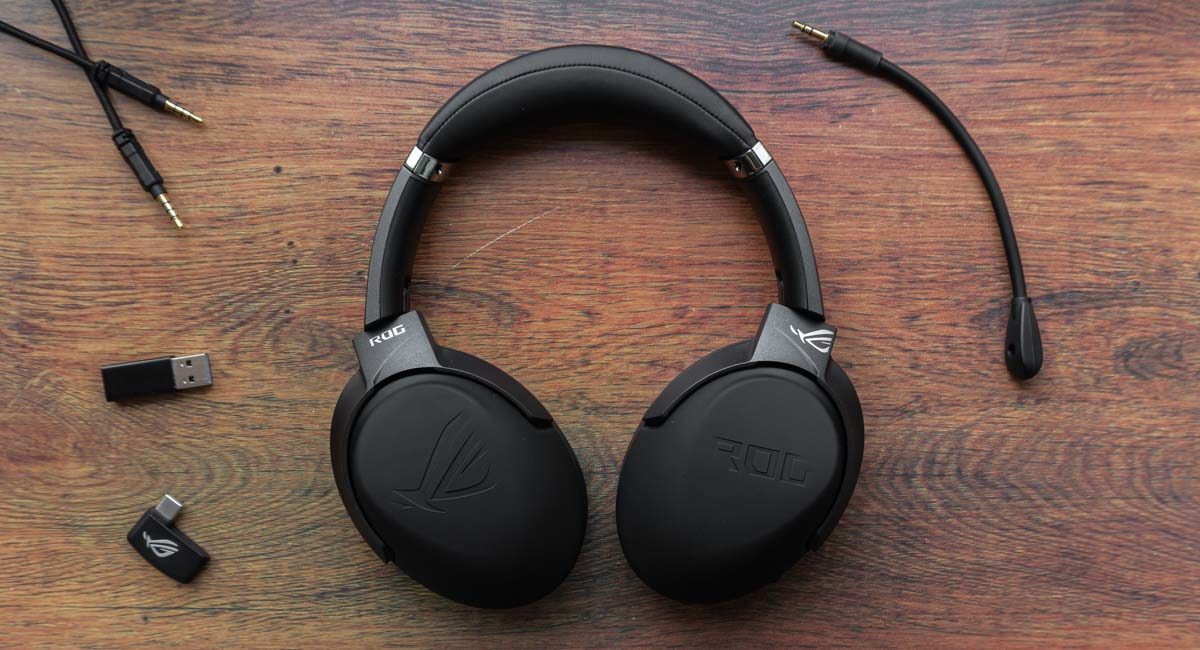 ASUS ROG Strix Go 2.4 specs
Model
ASUS ROG Strix Go 2.4
Connection
Wired and Wireless
Connector
3,5 mm;

USB Type-C

Cable length
Type-C — 1 meter;

3,5 mm — 1,2 meter

Wireless tech
USB 2,4 HHz
Speakers
Diameter: 40mm;

Neodymium magnet

Impedance
32 Ohm
Frequency range
3.5mm: 20 ~ 40,000Hz;

USB-C: 10 ~ 40,000 Hz

Battery type
Lithium polymer
Battery life
Up to 25 hours
Mics
Detachable: bi-directional;

Built-in: omnidirectional

Detachable microphone sensitivity
-54 dB
Frequency range of microphones
100 ~ 8000 Hz
Noise canceling (microphone)
Smart AI
Weight
290 g
Platforms
PC;

MAC;

PlayStation 4;

Nintendo Switch;

Mobile devices

Set
Case;

Wireless adapter;

USB/Type-C cable;

3.5mm cable;

Detachable microphone;

Type-C / Type-A adapter;

User guide
ASUS ROG Strix Go 2.4 price
The ASUS ROG Strix Go 2.4 gaming headset costs about $195. This is not the most affordable model from the manufacturer, but it will cost significantly less than the flagship ROG Theta 7.1.
What's in the box
The headset comes in a medium box with typical ROG styling. Inside there is a hard case, a user manual and warranty card. The case itself contains the most important and interesting stuff: ROG Strix Go 2.4 headset, wireless adapter with USB-C interface, USB Type-A/Type-C cable, a detachable microphone, AUX cable (3.5 mm/3.5 mm ) and an adapter from Type-C to Type-A.
Let's look at each element separately. Let's start with the shipping case. It is tough, and made of pleasant material. On the front there is an embossed logo and the ROG inscription. On the reverse side there is an additional fabric pocket with an elastic band for quick access to any small items, such as a wireless adapter or something else. Inside, on the left side, there is another pocket and several fixing rubber bands for cables, a microphone and an adapter. On the right is a place for a headset and a notch for a wireless adapter.
1 meter USB Type-A/Type-C charging cable with blue connector. AUX, in turn, received a fabric braid and gold-plated plugs, and its length is 1.2 meters. The microphone is obviously detachable and flexible, also with a gold-plated plug. The L-shaped adapter has a silver ROG logo. An adapter in a metal case will certainly come in handy, since not every device is equipped with a USB-C port.
Design, materials and elements' configuration
Visually, the ASUS ROG Strix Go 2.4 is less of a gaming headset than the previously mentioned ASUS ROG Theta 7.1. But nevertheless, this gaming style is recognizable. The form factor is one thing, and a scattering of ROG logos and markings is another. But the largest of them are not highlighted in a separate color and don't even have RGB backlighting.
The headset is predominantly made of plastic and eco-leather, and even a little metal. The base of the headband is plastic, but reinforced with a metal plate. Outside in the center it is covered with a pleasant eco-leather with a soft filling inside with a slight "memory effect", and there's a Republic of Gamers embossing. The ends of the arc are completely covered with a pleasant matte plastic, and they are also separated by glossy plastic silver dividers. The headband is adjustable within six positions on both sides, the fixation is quite reliable, with a characteristic click.
On the inner side, where the cups are attached to the headband, there are L and R markings. The cups themselves on the same inner side have glossy embossing with the ASUS logo. On the outside there's a silver logo and ROG lettering, on the right and left sides, respectively. It is also worth noting that on the outside, these cups are painted dark gray rather than black.
The "forks" allow the cups to tilt slightly forward relative to the axis of the mount itself, as well as to rotate them 90° in one direction, and about half less in the other direction. The cups, if desired, can be "hidden" inside the arc for more convenient transportation.
Now to the cups themselves. They are entirely covered in matte black soft-touch plastic. As expected, the coating is soft, velvety and pleasant to the touch, as well as the appearance, but only until it gets dirty. It is easy to leave stains on such a coating, and over time it is likely that in some places it will completely rub off. Although, of course, it is better this way than some kind of gloss.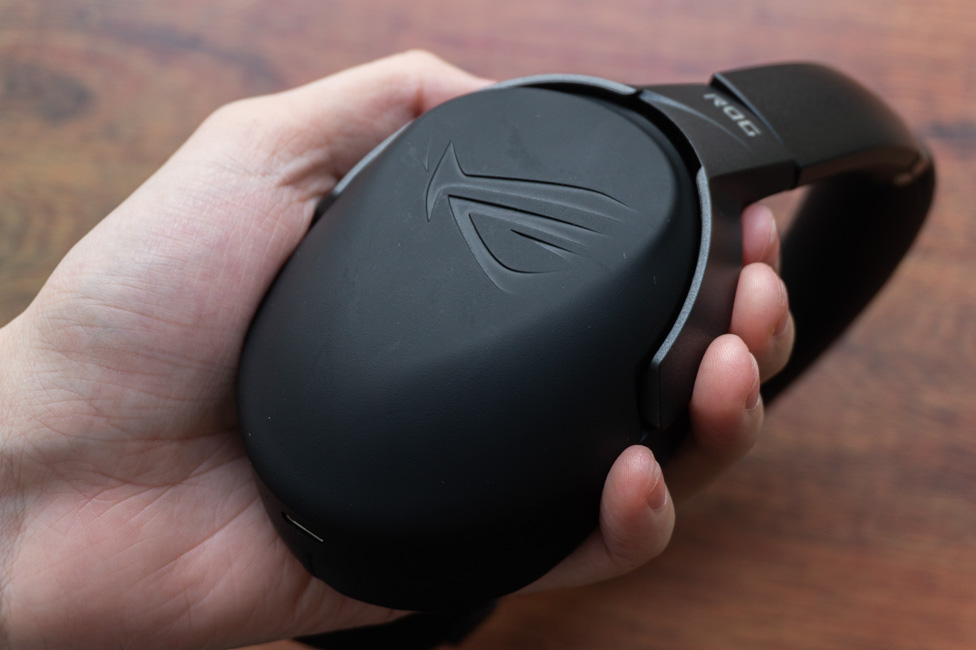 On the left cup there's the ROG inscription, and on the right is the Republic of Gamers logo. Inside the cups, we can see only the fabric of the ear cushions with the next logo of the series. The ear pads are not removable. Well, most likely they can be removed somehow, but not on the fly. They are soft, covered with the same pleasant eco-leather as the headband.
There are few elements on the right cup: USB-C for charging and an LED indicator. On the left there is a connector for an external removable microphone, a built-in microphone hole, a 3.5 mm audio jack, a headset operating LED in wireless mode, a two-position switch for these modes, a playback control button, and a wheel button for adjusting the volume and turning on/off the microphone.
Ergonomics
From the point of view of ergonomics, ASUS ROG Strix Go 2.4 is more or less fantastic. The headphones are lightweight, weighing only 290 grams. The headband does not press, the ear pads are soft and it is quite possible to play or work with this headset for hours. As I said, the size of the headband is adjustable within 6 positions.
The cups can tilt, which means they fit snugly against the head and therefore improve passive noise isolation. All buttons are located on the same cup, it is quite possible to distinguish them by touch.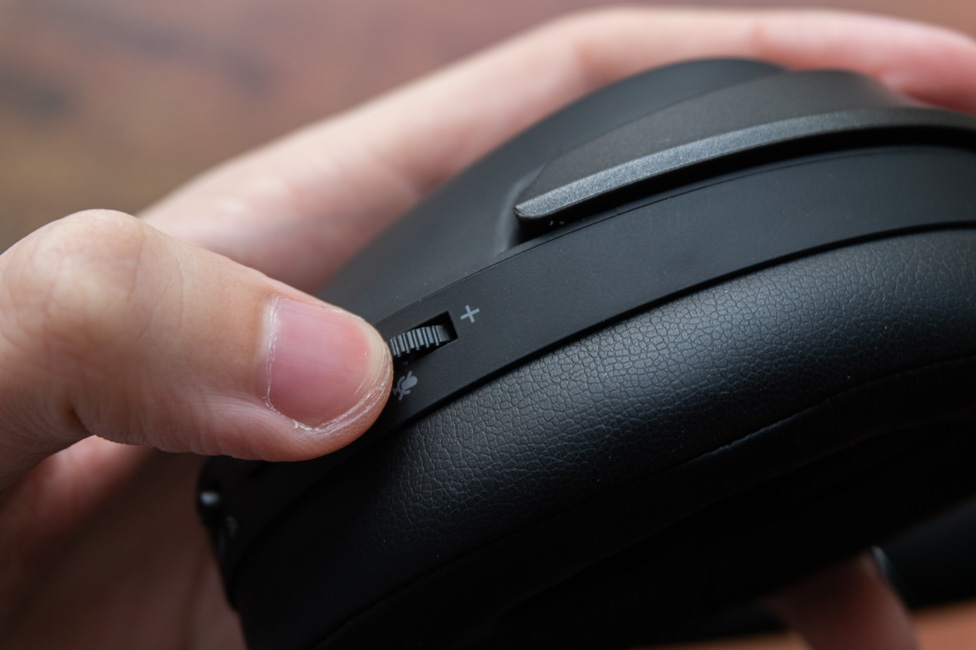 ASUS ROG Strix Go 2.4 features
You already know that the ASUS ROG Strix Go 2.4 is a 2.4GHz wireless gaming headset with a USB-C adapter. Why the radio channel was chosen, and not Bluetooth, is explained by the manufacturer itself. The example shows the minimum delay for this transmission protocol, as well as a wide range; 20 meters is declared.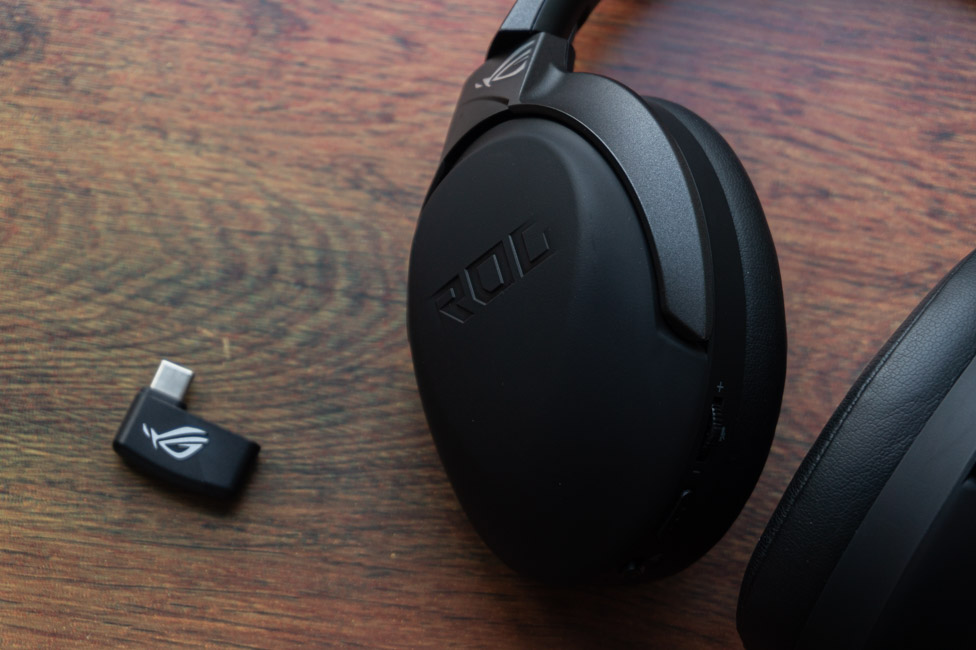 USB-C requires no explanation. Now most modern smartphones, tablets, laptops, motherboards of computers have such a port. Also, the portable Nintendo Switch console played a certain role, since you can't just connect headphones via Bluetooth to it. So yes, the versatility of ASUS ROG Strix Go 2.4 in this regard is evident.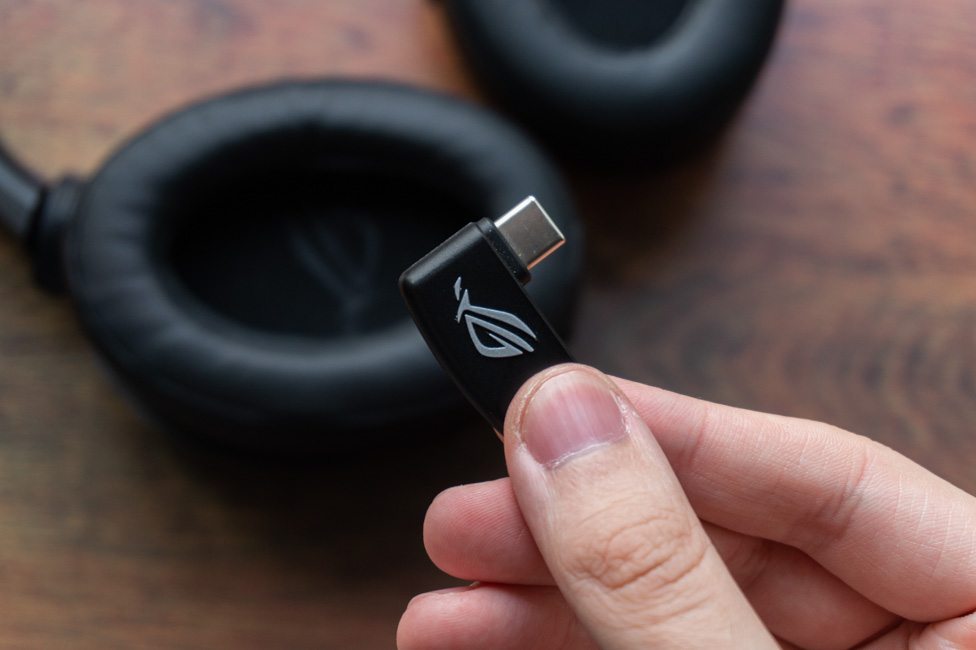 What to do if there is no USB-C in the device? There are actually two solutions here. If it's an older PC or laptop, just use the supplied adapter and connect via a standard USB Type-A. Although I agree that the solution is not the most aesthetically pleasing, it's working. There also remains a standard 3.5 mm jack. In this case, audio transmission via USB Type-C cable is impossible.
With regards to compatibility with smartphones, not every device will perceive the adapter as an audio device. Although the manufacturer provides a list of compatible devices, it is outdated by at least a year, or even more. But from it you can understand that even if the headset will sound, other functions such as playback control may not work. I tried connecting the adapter to Pixel 2 XL and Samsung Galaxy M51, and the headset worked with both smartphones perfectly.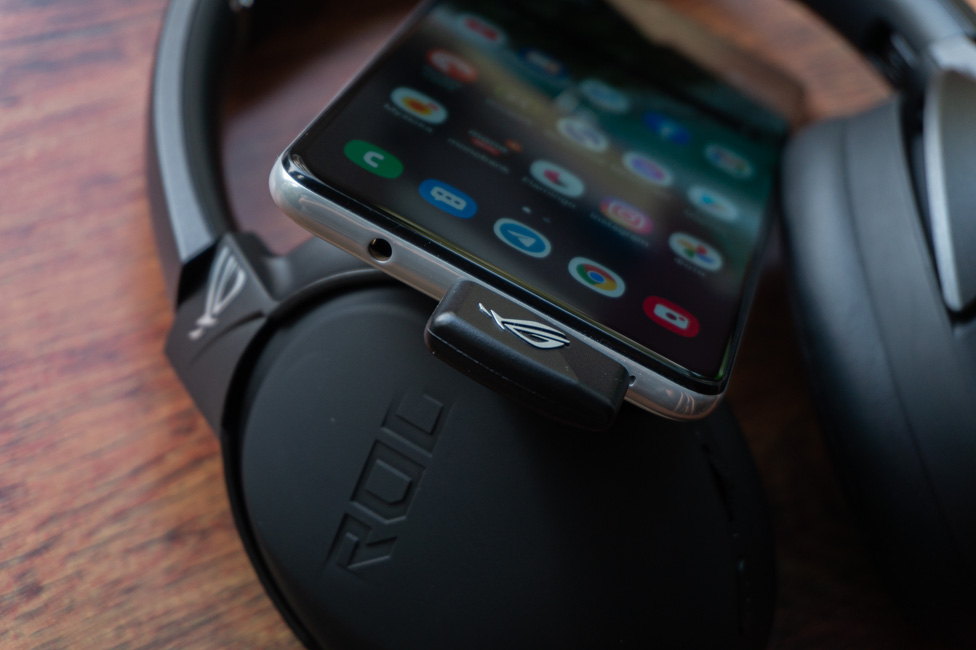 The volume control changes the sound of the headset itself and does not affect the system one. On the connected device, it remains the same as it was originally. By pressing this "wheel" you can turn off the microphone. The multi-functional playback control button works like this:
Single press – play/pause
Double tap – next track
Triple tap – previous track
I might also add that you can control playback only in the wireless mode of the headset. When connected via a wire, you can neither change the volume nor switch tracks. The smart noise canceling microphone will not work either. But at least you get Hi-Res Audio via cable, which cannot be achieved through a wireless connection.
Inside the headset are 40mm Essence speakers with neodymium magnets and sealed acoustic chambers. The impedance is 32 ohms and the frequency range depends on the type of connection. So, for 3.5 mm it is 20 ~ 40,000 Hz, and for the USB-C adapter it's 10 ~ 40,000 Hz.
Despite the presence of a removable microphone, which the manufacturer calls the main one, there is one additional microphone in the headset itself. The detachable mic is certified by Discord and TeamSpeak developers and features smart noise canceling technology that filters out and filters out ambient noise. Built-in mic is a little simpler, but it also supports this technology.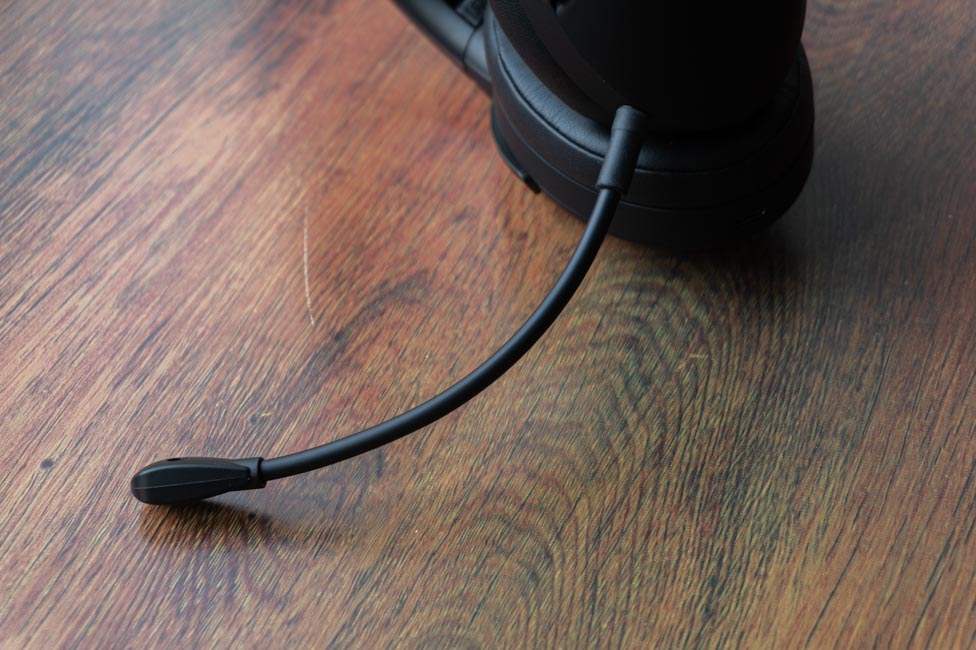 For the ASUS ROG Strix Go 2.4 to work over the 2.4 GHz channel, you will have to charge the battery built into the headset. Its volume is 1800 mAh and according to the manufacturer's assurances, this will be enough for up to 25 hours of playback. Fast charging is supported – 15 minutes is enough for the headset to work for about 3 more hours.
Read also: ASUS ROG Zephyrus Duo 15 review – Premium Gaming Laptop with Two Screens
Sound, voice quality and experience
The way the ASUS ROG Strix Go 2.4 sounds out of the box raised a few questions. The sound seemed slightly muffled and reverberating, with low frequencies that sound "distant." But as soon as I installed the proprietary Armory Crate utility, everything became clear. For some reason, the reverb effect is active by default. But if you turn it off, as well as adjust the equalizer with your hands or select a suitable preset, then everything will change. So I recommend installing the utility and adjusting the parameters first thing after buying it.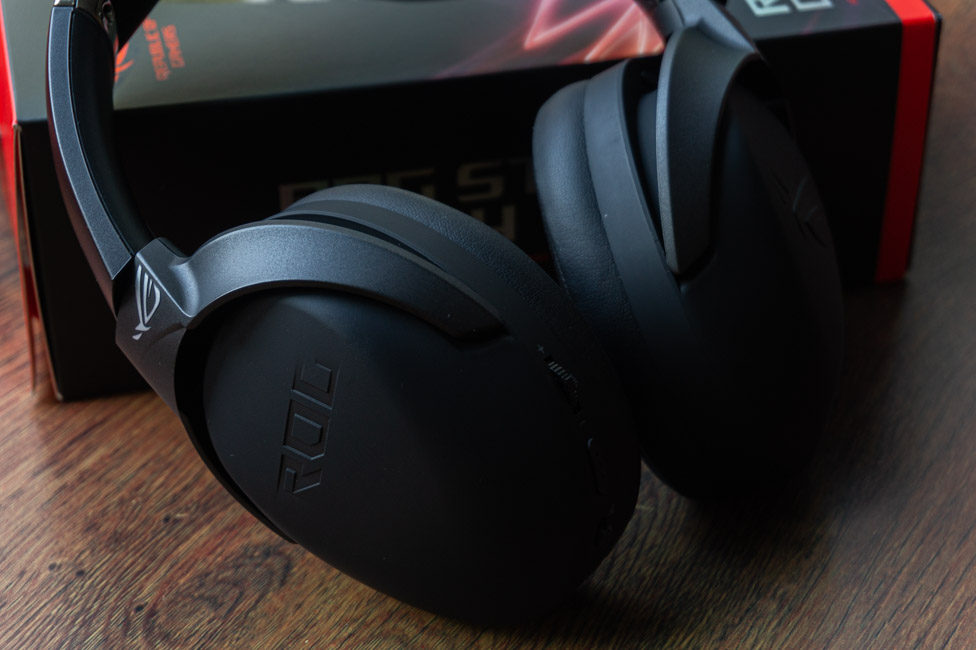 In just a couple of clicks, you can make the sound a little more detailed, add the missing bass and get very good sound. Well, for a gaming headset. So for music for the money that is asked for the ROG Strix Go 2.4, you can find a more suitable option. In general, the headset performs best in games rather than music. There is an effect of presence, and, thanks to virtual surround sound, positioning is clear, are the sound effects.
All of the above applies to wirelessly connecting a headset via an adapter. When connected via a cable, you will not be able to change the settings, but the sound will be completely different. Clearer, denser and generally more comfortable for listening to music.
Recording/transmission of voice, let me remind you, can take place both via the built-in and an external microphone. In terms of quality, the second is slightly better, but most importantly, the smart noise control works with both microphones. And it does work, really. Mouse and keyboard clicks are cut off completely, albeit at the cost of a slight loss in voice quality. There is no need to talk about other monotonous noise, there are no problems at all with its filtering. An example, traditionally, can be heard on the manufacturer's website.
The built-in battery lasts on average for a week of operation of the headset for 2-3 hours a day, which corresponds to the declared 25 hours on a single charge. I didn't check the charging speed, because there was no need to – you can plug in the power cable and continue using the headset. But the frequent reminder of a low battery charge is irritating to say the least.
Proprietary software
In the proprietary Armory Crate utility you can change the sampling rate, select a preset for optimizing the sound for one of the tasks, select a reverb effect and adjust its level, select a preset in the equalizer, enable virtual surround sound, set the degree of bass boost, compressor and voice clarity, as well as manually adjust noise reduction. In separate tabs of the application, you can view the battery charge level, select the time to turn off the headphones when idle (from 2 to 30 minutes) and update the firmware.
Verdict
ASUS ROG Strix Go 2.4 is an excellent versatile headset for those who play frequently and on different devices and are looking for a high-quality, convenient solution with good noise control.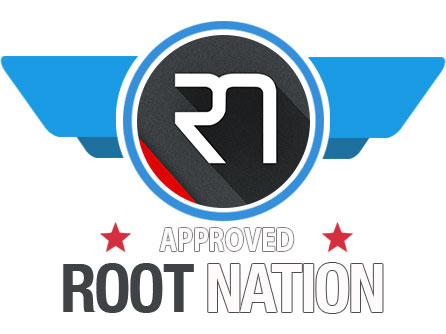 Subscribe to our accounts: