A modern gaming mouse, what should it be like? What functions and characteristics should it have? Do the latest technologies influence the development of such a long-standing class of devices as gaming manipulators? These questions were running through my head while looking at the Razer Cobra Pro. At first glance, it's quite a classic mouse, but looking closer, you start to notice details that give it its own charm and uniqueness. Today I will share my impressions with you and try to give you maximum information about this mouse.
Read also: Razer Leviathan V2 X gaming soundbar review: not just for gamers
Specifications
Direction: Gaming mouse
Connection types: HyperSpeed Wireless 2.4GHz, Bluetooth, USB Type-C
Sensor: Razer Focus Pro
Sensor resolution: 30000 DPI
Acceleration: 70 G
Speed: 750 IPS
Number of buttons: 8
Foot material: Teflon
Backlight: RGB Razer Chroma
Power supply: rechargeable battery
Dimensions: 120×63×38 mm
Weight: 77 g
Positioning and price
Price, price, price and price again. It may well scare off a potential buyer. No kidding – $170. But don't rush to look for cheaper options. Keep in mind, Cobra Pro is the top of the evolution of mice from Razer, and the company itself is famous for gaming peripherals of the best quality. That is to say, the mouse is made up of the latest designs and most advanced materials. Many years of improvements based on your feedback and…. it's also comfortable and incredibly beautiful.
I hope I have convinced you of the reasonable price of the Razer Cobra Pro. I should note that the top line of Razer gaming mice is represented not only by Cobra Pro. There is a whole arsenal of modern models: BASILISK PRO, VIPER PRO, DEATHADDER PRO and NAGA PRO. You will definitely find one that will be to your liking. The cost of each manipulator from the new range also remains within $170.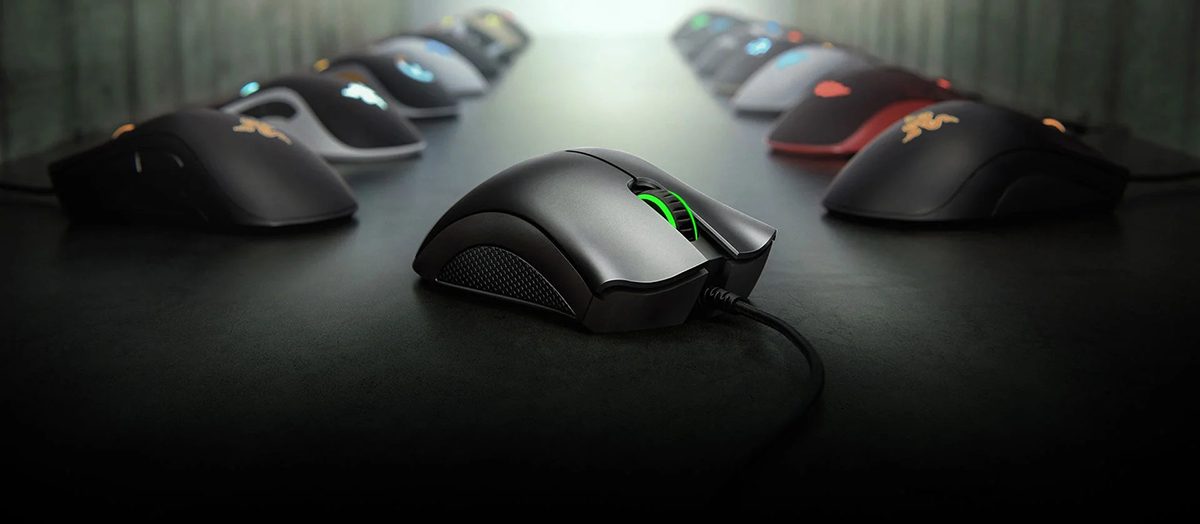 Does Cobra Pro have any competitors? Yes, there are many of them, they are strong and angry. Razer has to fight for a place under the sun with such mastodons as, for example, Logitech. And I'll tell you, it's doing quite well. Razer mice deservedly occupy the top ratings among the best models on the market.
Package contents
I propose to go back to the very beginning, to the moment when I had a sealed black and green box with the cherished Cobra Pro inscription on my desk. Then it came, the cherished moment of unpacking.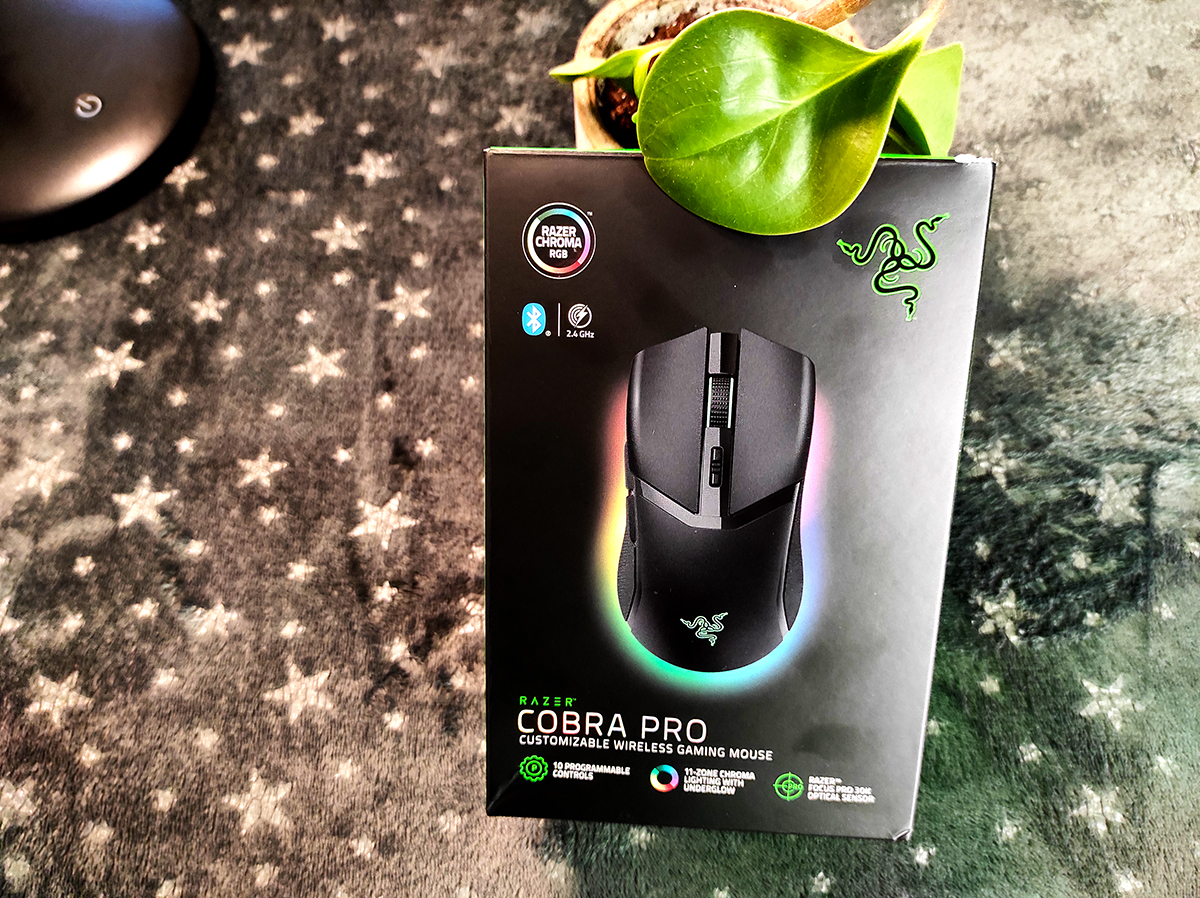 The package turned out to be far from meagre, but without unnecessary accessories, only the essentials. The mouse comes with a USB cable in a cloth braid. It is soft and tactilely pleasant, made to the best of our knowledge. The adapter for the USB receiver has also found a place. It is needed to place the dongle closer to the mouse if the PC is under the table. This is so that the signal is not lost. The silkscreened instruction was very pleasant. It is illustrated, by the way, and is quite friendly. Razer has also put some branded stickers in the box so that everyone can see who is the best master roller in the house.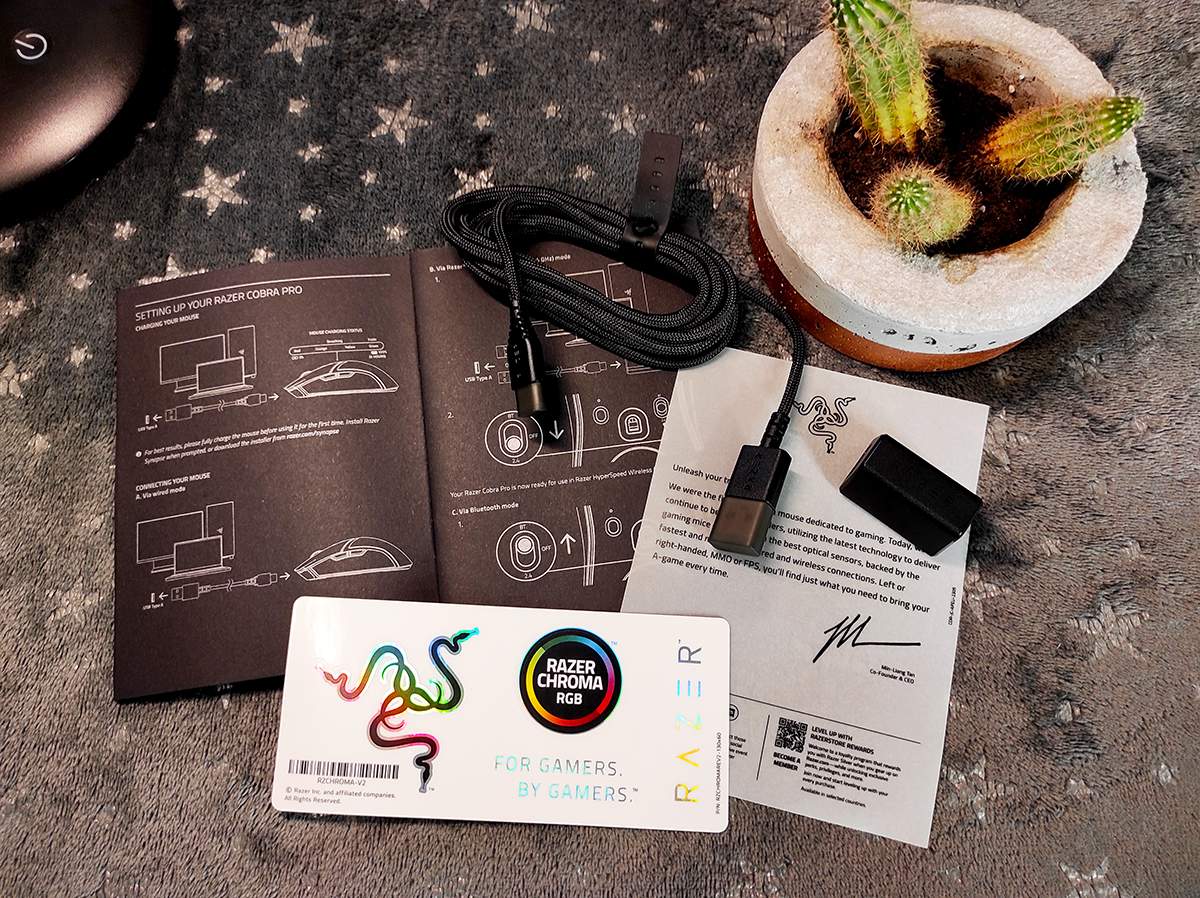 Read also:
Appearance
Let me start by saying that the mouse is light, very light, only 77g, and that's very comfortable. The visual component was not bad either.
Design
Immediately after switching it on, I noticed the backlighting. It is present on the Razer emblem and the scroll wheel. But that's not the most interesting thing. Another thing that struck me was a thin RGB strip along the bottom of the case. Thanks to it, the mouse seems to levitate above the mat. An inexpressible feeling of lightness and grace.
The Cobra Pro feels confident in the hand. The grip for medium and large palm is very comfortable. The surface of the case is made of matt plastic, but the side covers are rubberised. In a word – comfortable. Razer Cobra Pro slides on the mat like on ice. This is facilitated by large Teflon pads. By the way, I have never seen such pads anywhere else.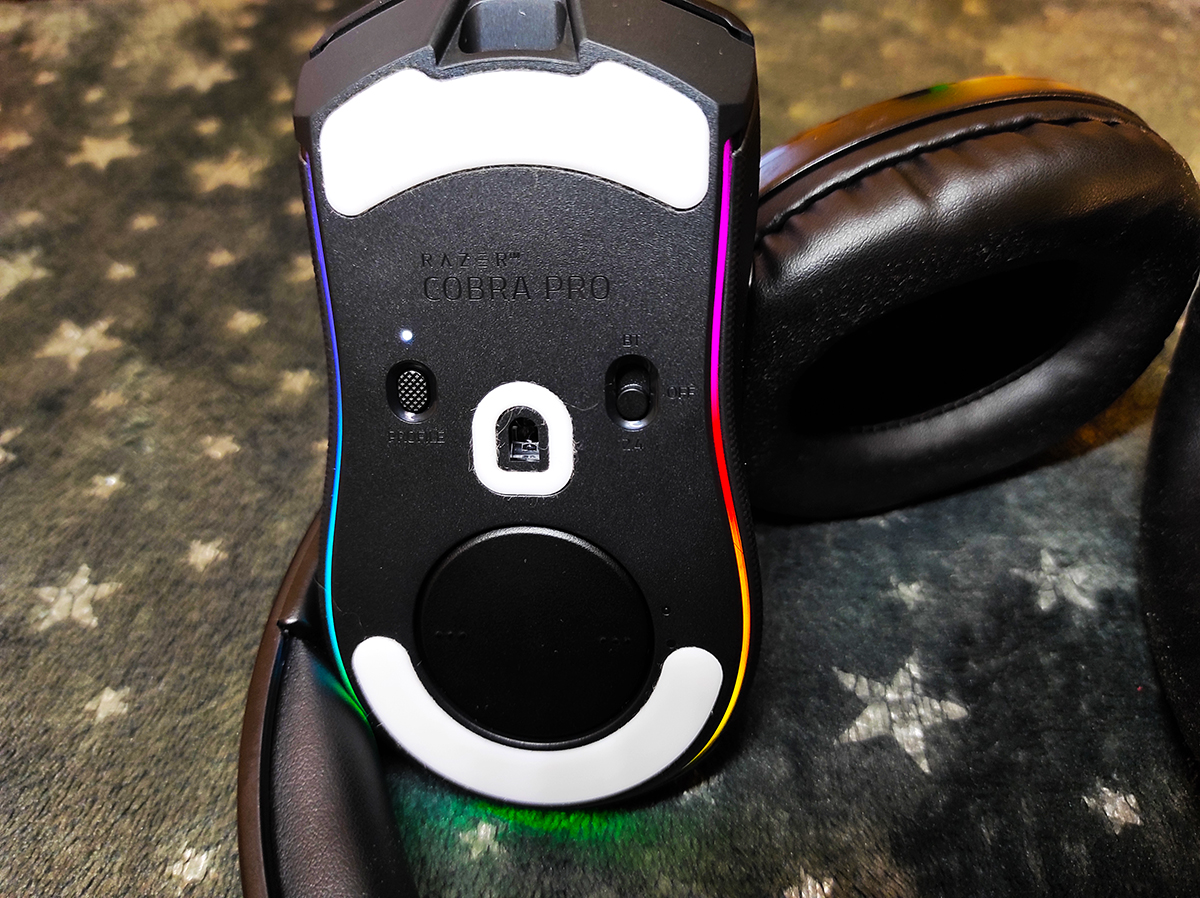 Buttons, switches and connectors
In addition to the classic set of two keys and a scroll wheel, there are two switches at the top for changing the sensitivity. They are quite tiny, which protects you from accidental presses. A pair of side keys are located under the right thumb, although the Cobra Pro is designed in a symmetrical body. On the bottom part of the mouse there is a button for switching working profiles. And this is correct in my opinion. Again, no false clicks. There is also a place for the switch of connection type: wired, wireless or Bluetooth.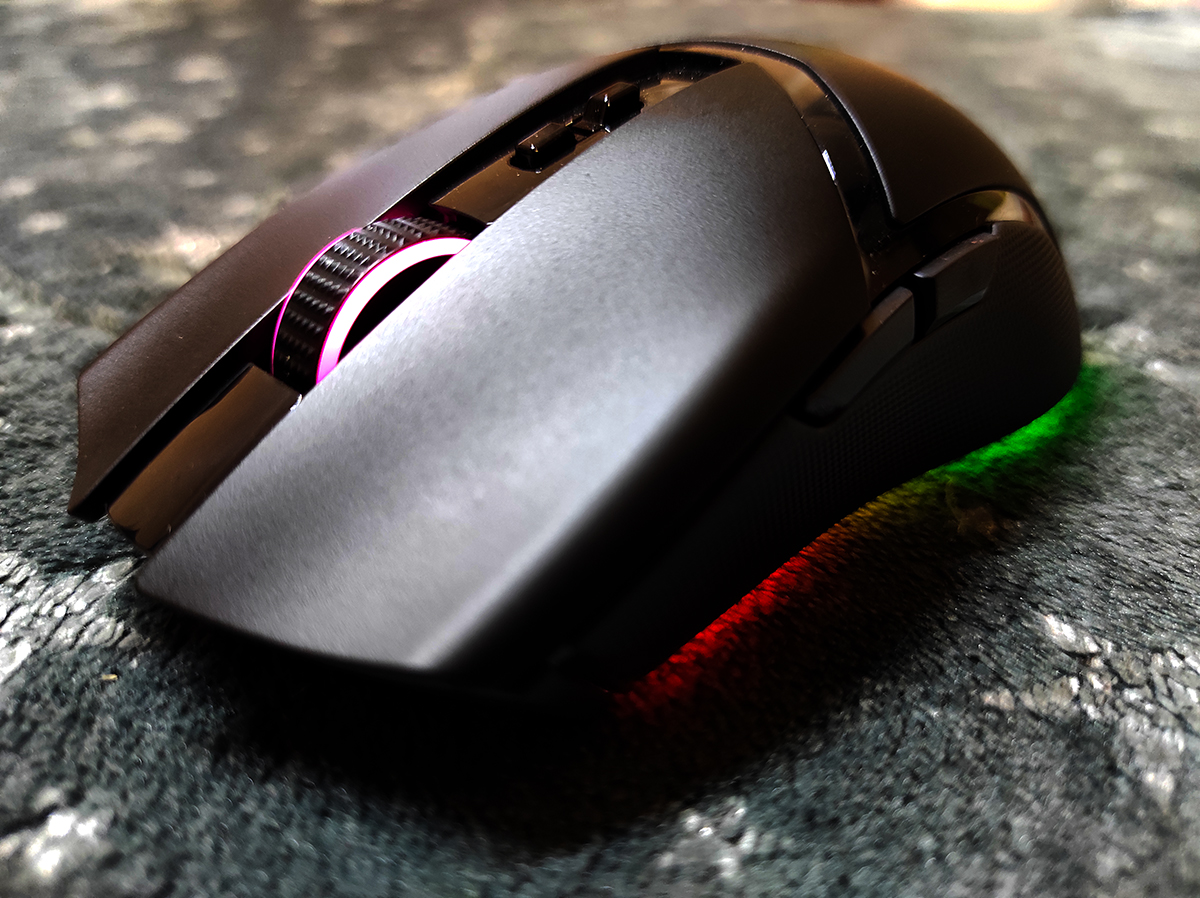 Under the aggressively bevelled front keys there is a USB Type-C port, which is used for charging the battery and for the wired mode of the mouse. And it would seem what other interfaces can a manipulator have? But Razer Cobra Pro surprised. Under the cover, which hides the wireless adapter, there are metal contacts for connecting Razer Wireless Charging Puck. This is a special device that is used to wirelessly charge the mouse. Unfortunately, it doesn't come in a kit. Although it costs only $20.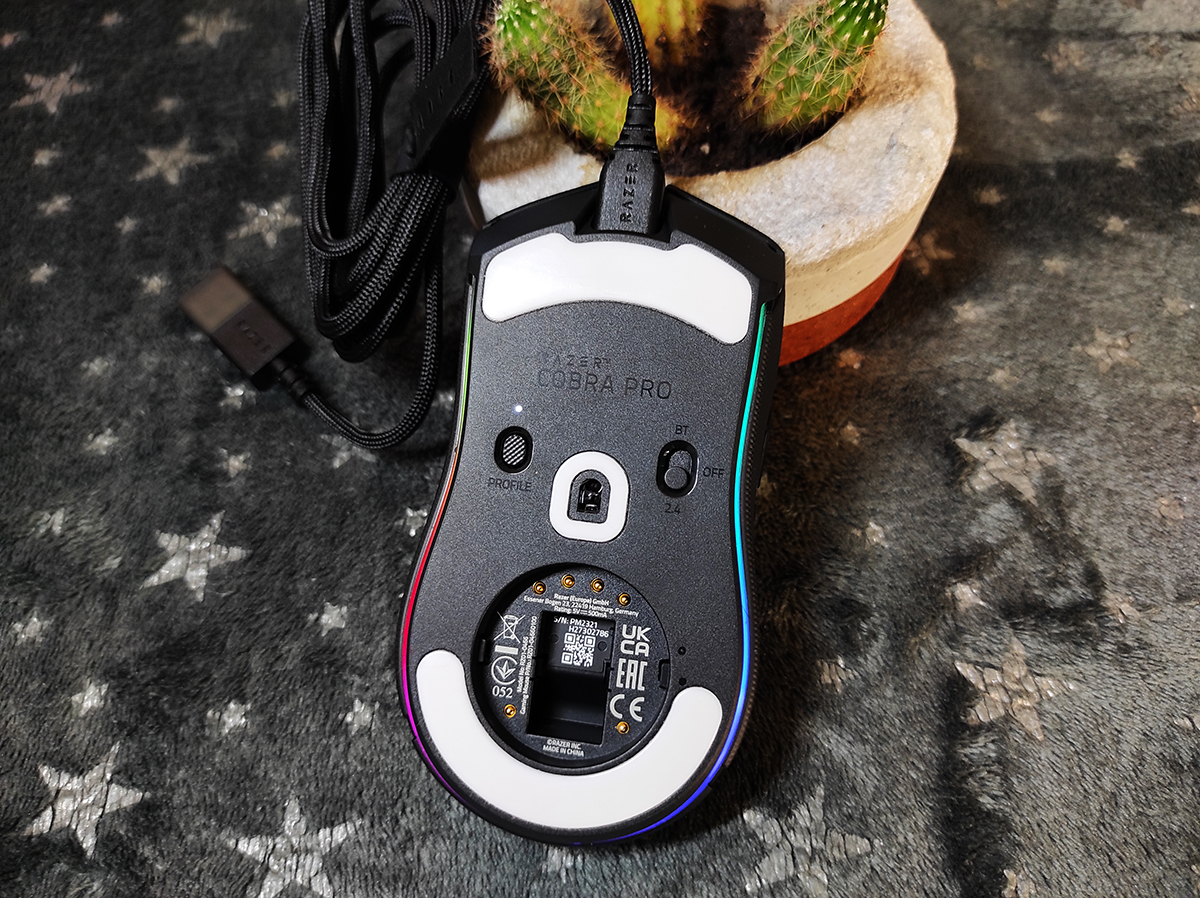 The design of the Razer Cobra Pro resonated with me. Modest, but serious. No unnecessary gadgets. All the stuffing is hidden under the case.
Read also:
Razer Cobra Pro features
Let me start with the backlighting, which I liked so much. It is, of course, RGB, but, among other things, it is also 11-zone. This means that the lower contour of the backlight can be divided into eleven colour zones, each of which can display a certain effect.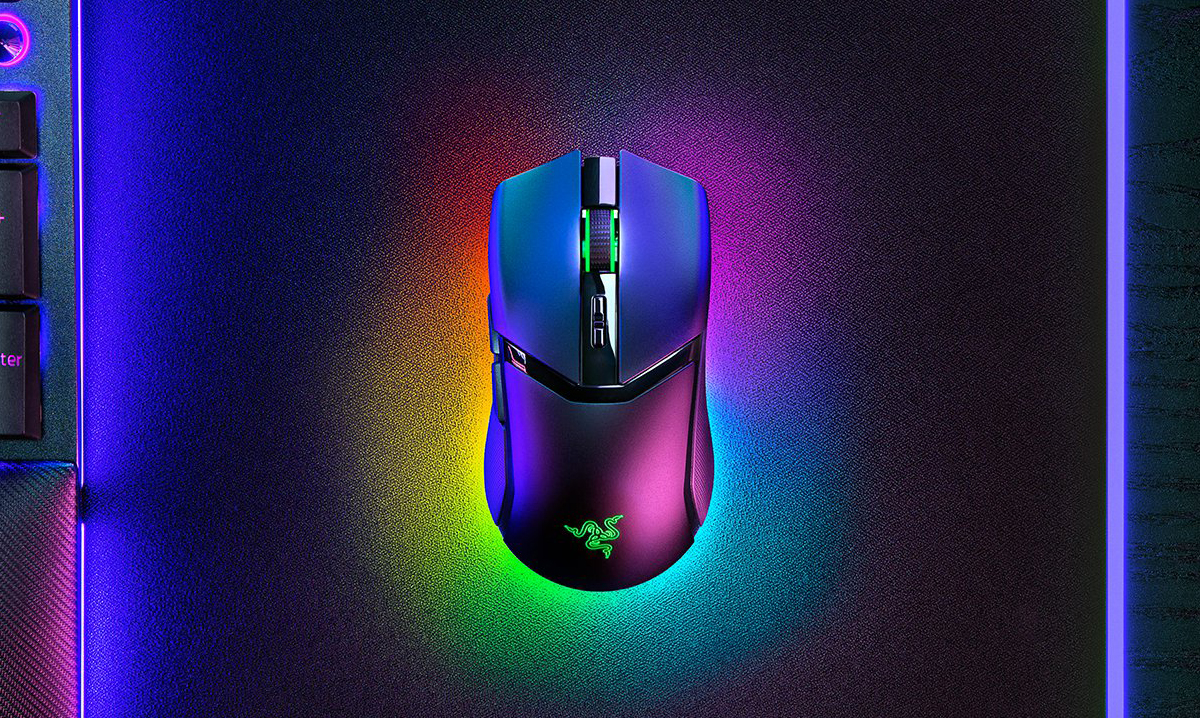 Now about the buttons. Each key can be configured for a certain action, or even create a macro. The obtained settings are saved in a profile. There can be five such profiles, and they are switched using a special button, which I mentioned earlier. At the hardware level, the main keys are also not simple, but branded Razer Optical Mouse Switches GEN-3. The manufacturer claims about their resource of 90 million clicks. The key response speed is 0.2 ms – excellent values!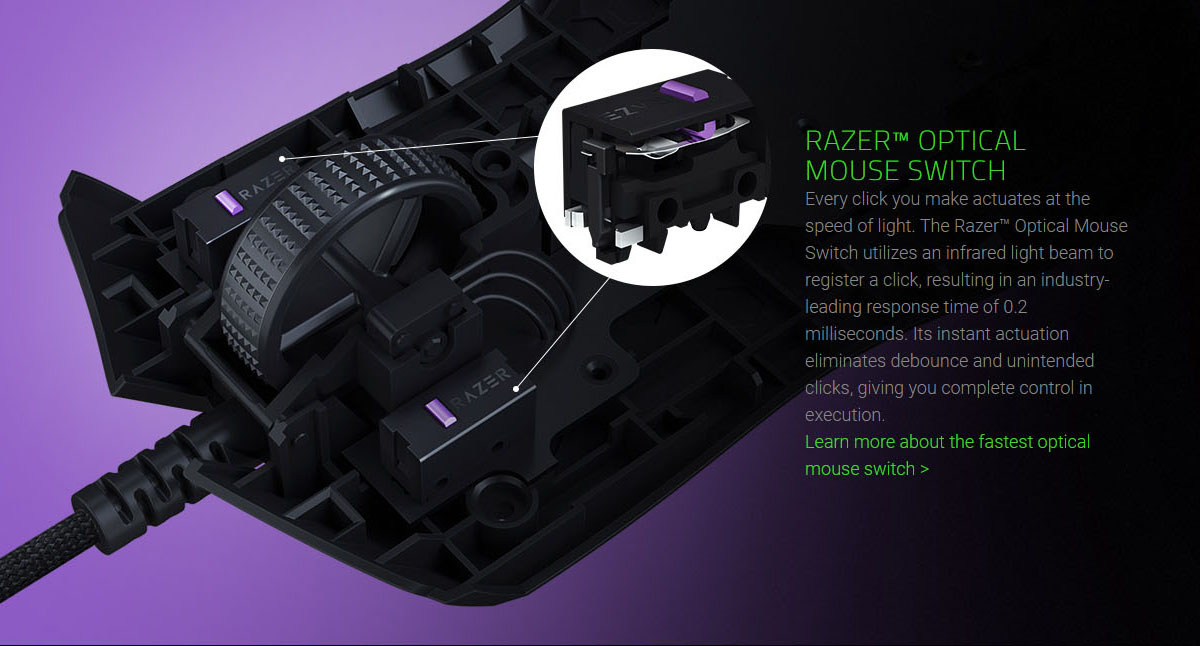 The most interesting technical trick in the Razer Cobra Pro is the Focus Pro 30K optical sensor. It is thanks to this sensor that we see the well-deserved PRO prefix in the name of the mouse. The sensor has 26 levels of precise adjustment of the detachment from the surface. It will add precision and smoothness to your mouse manipulations. Regardless of whether you play carefully or aggressively, the cursor will always be accurately positioned when the mouse bounces off the surface of the pad. The sensor has a fantastic polling rate and allows you to comfortably use the mouse on any surface without losing accuracy. Even on glass! Checked it personally, no cheating!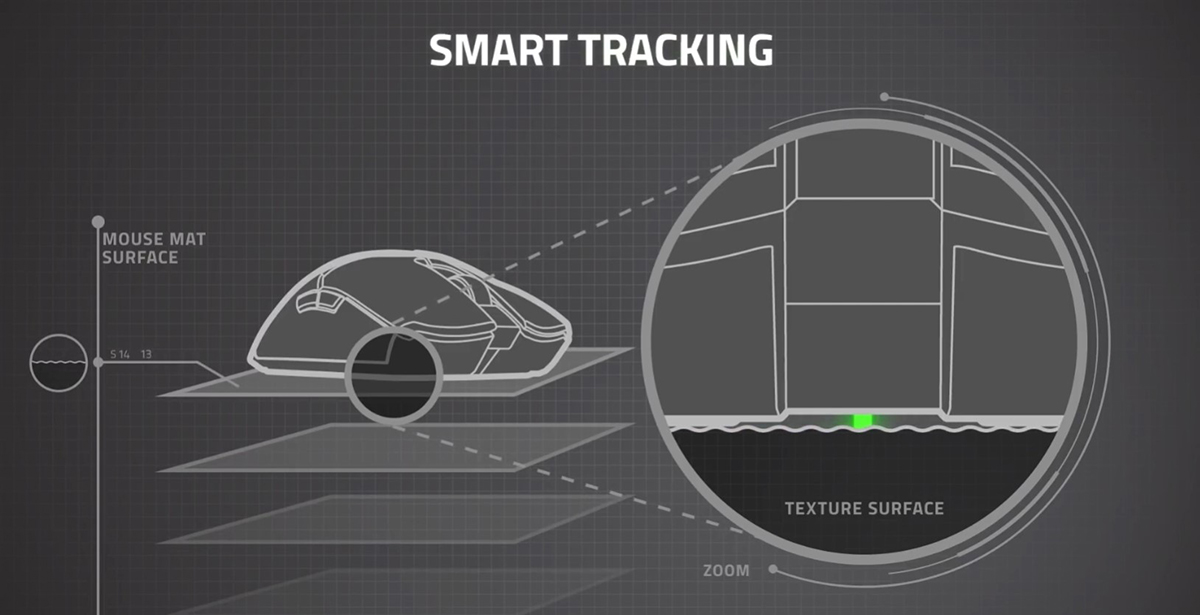 Proprietary software
Razer has done a great job with the mouse software. To begin with, when you first connect the mouse to your PC, a window automatically appears in which you can tick all the utilities you need for installation. All descriptions of the programmes are informative, so you can see at a glance what you need and what you don't.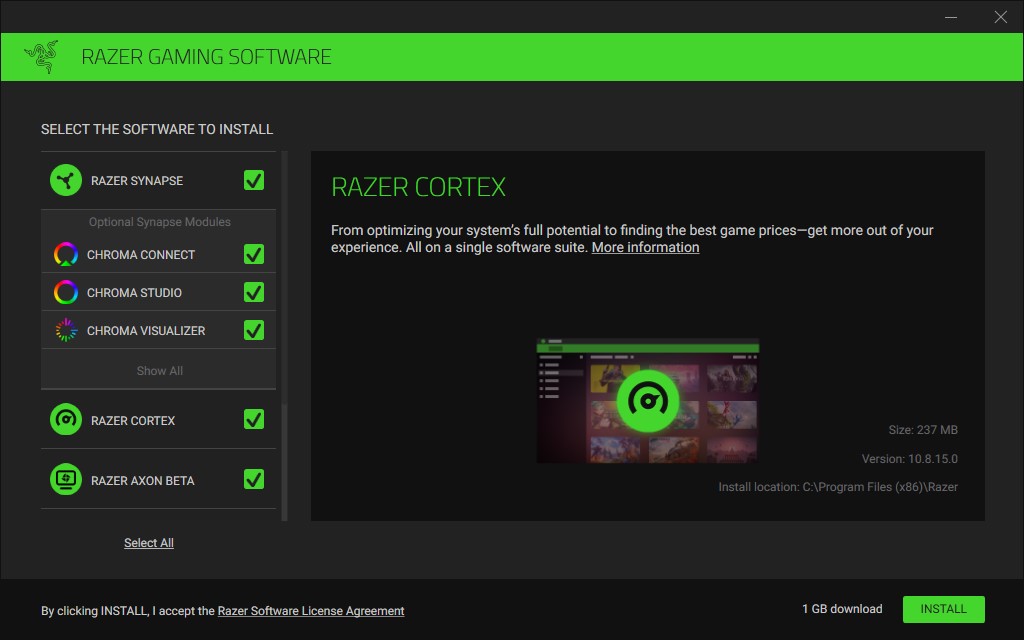 I have installed all the apps to show you everything the manufacturer offers.
Razer Cortex
This program is used to optimise your interaction with games. In it you can configure disabling of background processes and services when launching games, disable key sticking and power saving modes on your PC. This is a kind of optimiser program that allows you not to be distracted by all sorts of system alerts of the operating system, and fully immerse yourself in your favourite virtual worlds.
An extensive game library will give you the opportunity to select an operating system optimisation profile with parameters already set.
Razer Cortex also has a system acceleration menu. In it you can configure rubbish collection, defragment discs and analyse your hardware.
You will also find a game shop in the app. With promotions, sales and special offers.
Razer Axon
The application is a shop of wallpapers for desktop. You will find a huge variety of illustrations on game motifs and not only. Many catalogues of animated images and regular gallery updates will not make you bored. There is also an editor for creating your own live and static desktop wallpapers.
THX Spatial Audio, Streamer Companion App and Razer Virtual Ring Light
I will single out three interesting applications separately, as they have nothing to do with the mouse, but still come bundled with other software. They require special devices to work, but since I don't have any of them, unfortunately I won't be able to demonstrate their functionality to you.
So, THX Spatial Audio is an advanced equaliser and headphone control app from Razer. Streamer Companion App – an app for customising unique devices for streamers that display emojis and other graphic information. Razer Virtual Ring Light is an app for controlling Razer ring lights.
Razer Synapse
I will focus on the Razer Synapse software in more detail, as it is the heart that controls the Cobra Pro. It contains all the elements that help you customise and customise the behaviour of your beast.
The "Mouse" tab gives access to the mouse key settings and saved profiles. Templates and macros are customised here as well. Five variants of mouse sensitivity are available for setting, which can be adjusted manually if desired. You can also control the frequency of polling from the receiver to the manipulator. A separate item contains elements for setting the backlight brightness and its colour effects. There is even a dimming mode, when the brightness of illumination decreases in proportion to the capacity of the built-in battery. You will also be able to calibrate the mouse sensor. It will be useful for precise adjustment of the cursor behaviour depending on the mat used. There are also fine adjustments of the power saving mode.
The next menu item has an eloquent name – "PROFILES". A reasonable question: the mouse has a separate button for switching profiles, right? The answer is simple. In the programme you set up not button profiles, but backlight profiles for the selected games. Very interesting.
The "ALEXA" menu is necessary for pairing with Amazon's smart speaker of the same name. I have nothing to say about it, as I don't have Alexa installed at home.
But what I can tell you about is the following menu item called "CONNECT". CHROMA CONNECT is a technology from Razer that allows you to synchronise the backlighting of different devices and peripherals. Whether it's a mouse, a mouse pad, PC components or even a gaming chair. All of this can be customised here. It looks great!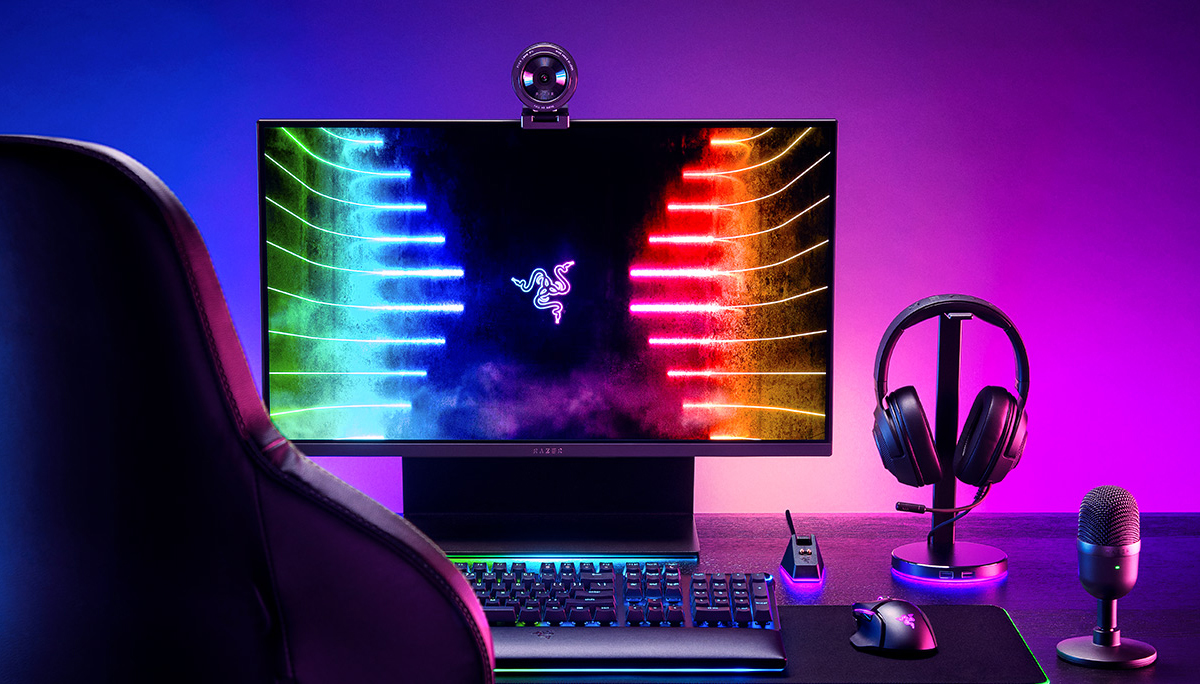 The "STUDIO" menu item is for making magic outside of Hogwarts! Here you can create your own graphic effects for the backlighting of the Cobra Pro and other Razer devices. You can customise almost any element. For example, choose one colour effect for the scroll wheel and another for the logo. There are plenty of variations of unique colour schemes and all of them can be fine-tuned. And how about the ability to organise the backlighting of all your Razer devices, taking into account their location in the room? For example, a wave that smoothly rolls from the chair to the table, then through the mat to the keyboard, and gradually fades in the system unit. I find it mesmerising!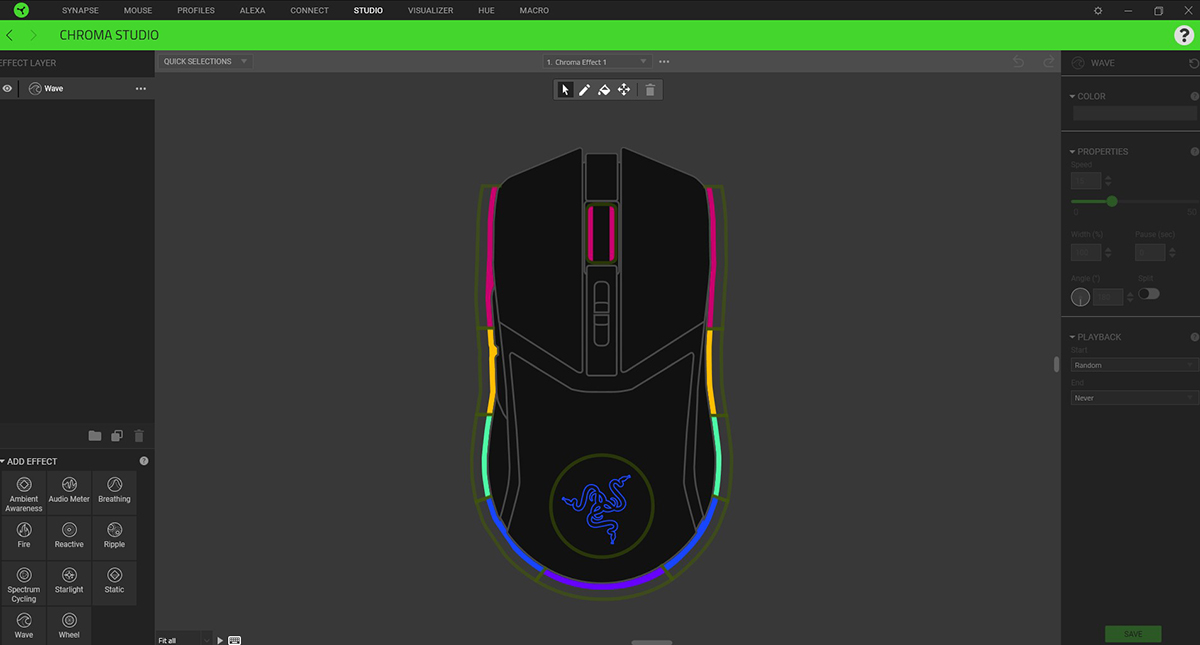 "VIZUALIZER" is another menu for controlling the backlight of Razer devices. Well, if you can't have too much backlighting, why not turn it into a light music? No problem! Just with this tool you can set up your peripherals to display graphic EQ waves while playing films or listening to tracks. All this to achieve maximum relaxation and full content experience. Well, miracles are everywhere!
Once again we have a menu item where the backlight is set up – "HUE". You may ask, why so much backlighting? We forgot about the TV set. Do you remember the ambient backlighting of Philips panels? Well, they've teamed up with Razer. Now you can control the backlighting on your TV with the click of a mouse. And you can add your TV to CHROMA CONNECT synchronisation, of course.
And the last menu "MACROS" is necessary, as you have already guessed, for creating macros. I have nothing to add here. Strategy and RPG fans – this is all for you.
Read also: 10 facts about Cougar Puri Mini: My first 60% keyboard
Summary
Well, it's time to draw conclusions about the Razer Cobra Pro. I'll tell it like it is – it's the best mouse I've ever used. Both in the context of a gaming manipulator and for everyday work. It is as comfortable as possible, balanced in weight and dimensions, beautiful and harmonious. What is important – without excessive posing. Who would I recommend it to? Of course, gamers, professional and beginners. Everyone who wants to feel the ownership of a top product. For people who want to move from an old mouse to something modern and technologically advanced – Cobra Pro is a great option. I promise you won't be disappointed.
Read also: