Definitely, in modern daily life, the frequency of changing mobile phones for average people increases. For phone manufacturers launch new products continually, which lets consumers not attend to them all. When you plan to change your smartphone with a new spec, have you ever been upset about transferring your data from your current phone to the new one? Especially your current mobile phone is powered by Android or iOS, but the new one is powered by another OS. Data stored in the phone is very important for people nowadays. Thus, you need a good data transferring program to figure out the problem above. Therefore, hoping to help you, in this article I will give a review about Apeaksoft MobieTrans.
What is Apeaksoft MobieTrans?
Apeaksoft MobieTrans is a program for users who need to transfer phone photos, contacts, music, videos, notes, etc. to other devices powered by Android, iOS, and Windows. Meanwhile, you can also use it to manage your data on your phones and back them up to other devices. As for its interface, with the concise design, you can enjoy an excellent user experience during the transferring and managing procedure. What's more, a clear interface makes the operation easier so that you learn how to use Apeaksoft MobieTrans quickly.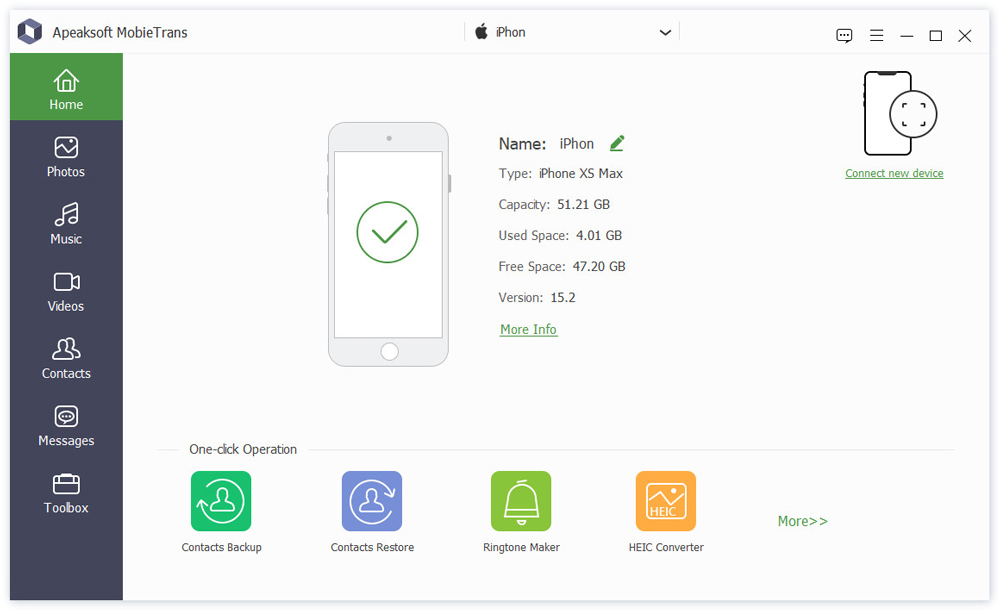 In addition, Apeaksoft MobieTrans supports mobile devices that are widely used like iPhone 13/13 mini/13 Pro/13 Pro Max/12/12 Pro/12 Pro Max/12 mini/11/11 Pro/11 Pro Max/XS/XS Max/XR/X/8/7/6/5, Samsung, HTC, Motorola, etc. And it is also compatible with iOS 15 and Windows 11/10/8.1/8/7/Vista/XP.
Supported Devices for Transferring
The Apeaksoft MobieTrans software supports files transferring between devices with different or the same systems. Whether you want to transfer files from Android to iPhone, backup your iOS device to PC, or switch from an old Android smartphone to a new one, this software can be satisfactory. Even you need to transfer your data from PC to iOS or Android devices, you can use Apeaksoft MobieTrans. But you should note that this software only supports transferring photos, music, videos, contacts, and SMS from iOS/Android devices to PC. With regard to other transferring directions between devices, Apeaksoft MobieTrans does not support transmitting messages.
Primary Features
Except for transferring files between devices, Apeaksoft MobieTrans offers other valuable features and tools for you.

1. Photo Manager
You can use this Photo Manager function by clicking on the "Photos" option. Here you are allowed to add pictures from your Windows computer to your mobile devices. You can also choose photos and export them from your smartphone to PC. Besides, you can make changes in the Gallery of your mobile devices on PC, like deleting pictures and creating new albums.
2. Music Manager
Music Manager enables you to freely add music files from the computer to your phone or pad and output music files from your mobile devices to PC. Apart from that, you can delete music files of your smartphone on the Windows computer directly. New playlists can also be created for your mobile phone using this function. If you want to make a ringtone with the music you like, you can use Music Manager too. What's more, you can play music at this window.
3. Video Manager
When you want to input or output videos between PC and mobile devices, remove videos from your mobile devices, or play videos stored in your mobile phones on the computer, you can use this Video Manager feature.
4. Contacts Manager
Including similar usages with the Photo Manager function, Contacts Manager allows you to find repeating contacts so that you can delete the duplicated contact to free up space. Besides, you can use this function to manage your contact groups too. You can create new groups, rename existing groups, and edit contacts in groups. Thus, organizing contacts on your mobile devices becomes more accessible and more precise.
5. Message Manager
Users can export their messages of mobile devices to PC with this Message Manager feature. And you can choose the output format from CSV, HTML, and TXT.
6. Toolbox
In the Toolbox interface, Apeaksoft MobieTrans offers four functional tools for users. They respectively are Contacts Backup, Contacts Restore, Ringtone Maker, and HEIC Converter.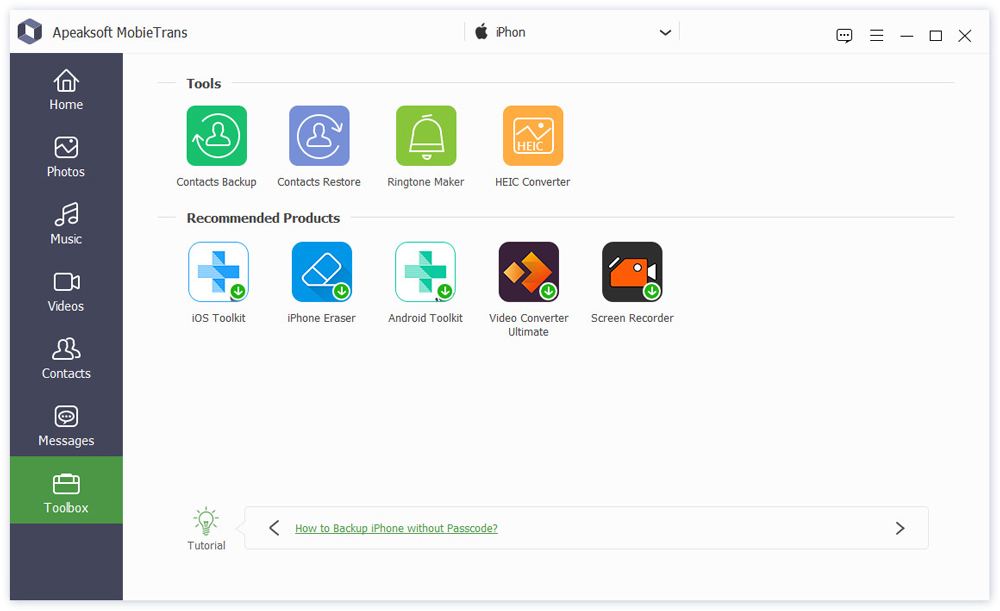 If you are worried about losing contacts because of some breakdowns on your smartphone, you can back them up to your computers with the Contacts Backup feature. One day, when you need to restore them, you can use the Contacts Restore tool. Ringtone Maker is a tool that enables users to turn their pleased music into a ringtone for happier daily life. As for the HEIC Converter tool, you can use it to convert your HEIC pictures into JPEG or PNG format.
Final Words
Overall speaking, Apeaksoft MobieTrans is a convenient program. It can meet almost all needs for people who would like to transfer their data from one device to another device. In addition, files managing functions and little tools improve the quality of using mobile devices. More importantly, it is easy to use, which reduces the cost of learning time. Therefore, if you are looking for a data transferring tool between different devices, you can download Apeaksoft MobieTrans to have a try.