It's story time again. Not long time ago I told you about the way Disqus makes money on trustful webmasters. Now I have something even better to tell. Once again, it's 100% real – that's why it's so fascinating. This article might help all webmasters who use Google's AdSense for revenue.
Thank you Dmitry Lupich, the owner of Galagam.com, for telling me about the problem
How it works
So, the thing is, I started noticing everywhere ads for bodo.ua. Nothing out of the ordinary, usual ads. But what's interesting, you can't click on these banners. They are everywhere, but just "for show". That means webmasters can't get their honest revenue.
Example:

As it turns out, the advertiser exploits the recent Google AdWords bug, which allows to upload banners with a displaced CTA button. As a result, the button cannot be clicked on.
Furthermore, bodo.ua has unusually high rates – from 2 and up to 4 dollars per click. That's why their banners are always a high priority and displayed constantly. They must be viewed by tens of millions every day. Not bad, eh?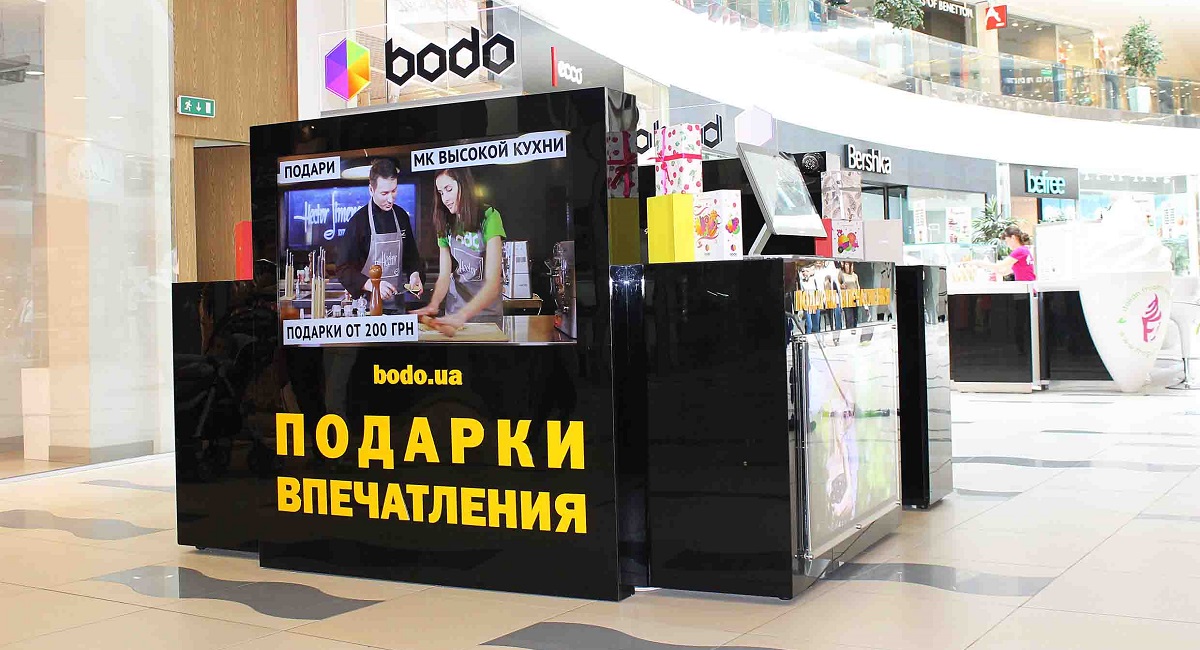 You can't go to that site via the banner, but the URL itself is visible. People can enter it in the address bar and find the site. Who would do such a thing? Lots of people, it turns out. Thanks to that, the site gets "organic search results" which helps Bodo in Google even more. I couldn't even fathom the effect of such manipulations. Here's bodo.ua traffic from the start of their "marketing stunt":
How websites lose money because of bodo.ua
It's all very simple. Bodo banners should bring money from clicks, but you can't click on them. AdSense still shows these ads to the target audience (in Ukraine).
If you owe a website, you'll see that the price for ads and their CTR is falling. That's because bodo.ua exploits the bug and you pay for it.
How to fight it?
Ban it, of course. The advertiser has a lot of banners and some of them come from fake domains. It's better to block all ads with banners.
Go to admin panel of AdSense and click on "Allow and block ads" in the left vertical menu. Here you'll be able to block the advertiser's domains.
Next, go to Ads (ad review center) tab. Here you'll find a couple of banners we're looking for. You can ban any of them – just push the right button.
We need to block all similar ads. And there are a lot of them – too much, in fact. Don't try to manually find them, just click on "similar ads" and ban them all with one swift click.
After that you'll stop seeing bodo.ua ads. They might change something, so visit the admin panel from time to time.
You can ban AdWords account – the one that generate these ads. But AdWords is a big deal. It can potentially block "good" banners too, so I'm not eager to ban it.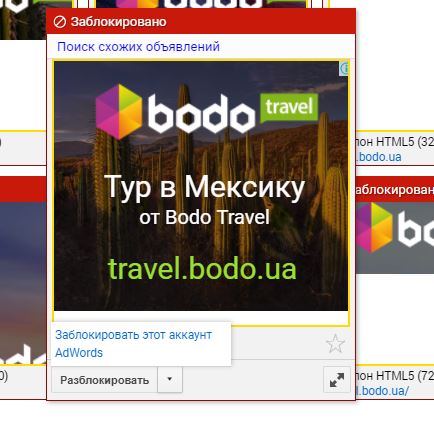 Alternative "partisan war"
Not a strictly legal way, as it violates the AdSense rules. I'm not the one to use it and I don't advise you to do it as well. I won't talk about it in details. If you want, you can find the tutorial on how to make bodo banners clickable. That way you can earn some money for yourself and hit them back. But there's a risk. These clicks can earn you permanent ban in the system, so don't try your luck. But sure, you can ask friends, hire students… although if you ask to get more clicks, you might still get blocked. Any experienced webmaster knows that.
And what about Google?
We're talking about a big network from Google – why don't they do something about it? We don't know. I know that there are threads on the company's forums, but still no official confirmation of the problem's existence. We know that Google can be slow, but when it wakes up, it can bring on swift justice. We'll just wait and see.
PS. Not only webmasters lose money. Sites are spammed with bodo ads, but honest advertisers lose views and clicks because of this. Google is also the victim, since it gets some percent of the revenue from each click.
History of blocking
UPDATE 30.07.2017
00:45 It gets curiouser and curiouser! These guys make more and more of these ads. Now they've got another banner otpusk.com, whose owners might not even know what's going on. It is a real site with no real connection to bodo:
06:05 They just don't give up. We can't ban their banners fast enough. We block all AdWords accounts that support the spammers. Let's see for how long. There are 2 IDs of these accounts: adv-3748548401022892 и adv-1326639513149899.
15:30 New banners, now from gogoshar.com, but AdWords blocks them with no problems. No new accounts from the bastards:
UPDATE 31.07.2017
01:00 New banners from saga.ua and new AdWords account: adv-2700364396928167. Shut it down.