It wouldn't be too much of an overstatement to say that Marshall Major series is well-known to virtually every modern music lover. For the last 10 years the market has changed considerably thanks to innovations by leading smartphone manufacturers. The tried and tested audio jack is on its last legs and the size of headphones is getting smaller and smaller with every new year. Gone are the inconvenient and fussy earphones, now everything is (true) wireless. Still, not everyone is eager to say goodbye to on-ear headphones, and for such people Marshall offers Major IV — the best of both worlds. 
I was always interested in Marshall headphones: I like this brand's aesthetic, which is very hard rock. But hey, I love hard rock and I love good on-ear headphones I don't have to shove down my ear canal. In 2020 we saw the release of Marshall Monitor ll A.N.C. — model that I consider one of the main competitors of the obscenely overpriced AirPods Pro. But Major IV is a more portable and simple model, combining both classic features like the ability to share music over the wire and support for wireless charging. But how good is it really? Let's take a look.
Full Specifications
FREQUENCY RESPONSE: 20 Hz – 20 kHz
DRIVER SENSITIVITY: 99 dB SPL (100mV @ 1kHz)
DRIVER TYPE: Dynamic
DRIVER IMPEDANCE32 Ω
DRIVERS: 40 mm
What's in the box
The box Marshall Major IV comes in is familiar enough, and inside there's nothing particularly interesting. First we have the headphones themselves, sitting tightly right in the center. Underneath there's a separate 3,5 mm cable for connecting the old-school way or sharing your music with the others, and the USB-C cable for recharging.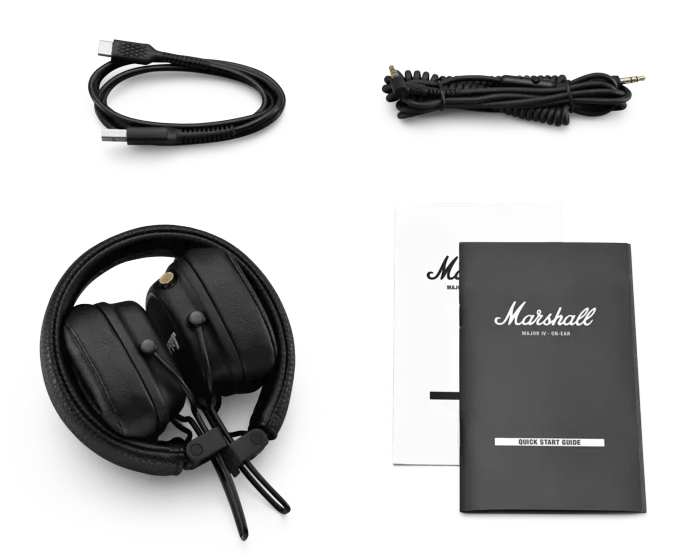 I like the fact that there's the 3,5 cable. You might say it's a small thing, but this small thing makes a big difference for those who are still unsure about going fully wireless. Some think that the smaller your headphones, the better, but I value most of all versatility. I want to use both my smartphone and an iPad and my iPod Classic I've had for 10 years now. Just look below at how good it still looks. 
Design and layout
I'll say right off the bat that Marshall Major IV look quite good, although not very exciting — Marshall is Marshall, which means that the ear cushions are squarish, and the form is easily recognizable. It's an evolution, but not a revolution of the series, which is fine by me. There's no way you won't recognize these headphones as Marshalls if you see them on the street.
Like I said, I like Marshall's design, which means I like Marshall Major IV. They are stylish and comfy, as well as light and compact. Compared to them, Monitor ll are huge.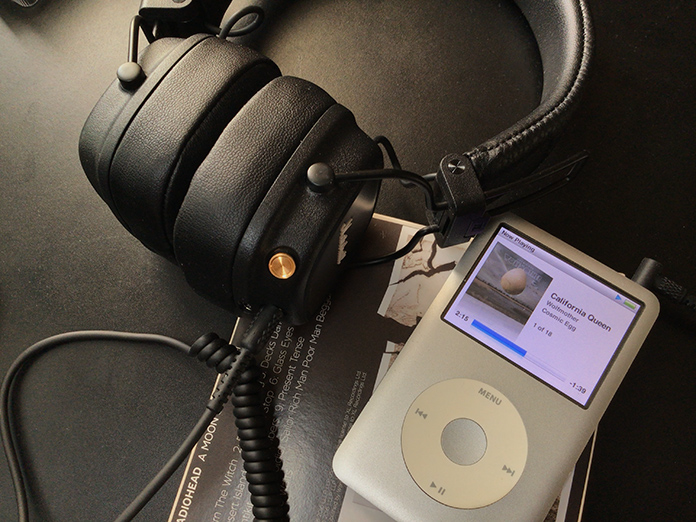 On the right ear cup we have a couple of elements: USB-C port for charging, 3,5 mm jack and a multi-directional control knob for controlling the playback. There's also the notification LED to let you know when the 'phones need recharging.
The fake leather material of the speaker cushion and the headband might not be as good as the real thing, but it's still soft and nice to the touch. The headphones are extremely comfortable and not at all tight; I can wear them all day. But I suspect that on a hot summer day the situation will be a bit different.
Major IV aren't massive and it's easy to take them with you. Although the inability of the ear cups to rotate means that they are still not quite as compact as one would like. My Sony MDR-ZX660AP are about the same size, but they take a lot less space. I would also like to see a protective case in the box, but no luck. 
Read also: Marshall Monitor ll A.N.C. Wireless Headphones Review — Stylish Transformers with Active Noise Control
Headphones in action
Marshall Major IV are perfect for those who doesn't see the attraction of AirBuds, Galaxy Buds and other wireless earphones that are all the rage nowadays. This model is for music and that's about it. Still, there are some new features that separate them from the rest. First and most important is the battery, which was massively improved. Marshall Major III promised us 30 hours of uninterrupted play, which is a lot, but the latest model offers 80 hours of work — not bad, huh? It's more than enough for a week of use. 
You can charge the headphones via a USB-C cable (good riddance to Micro-USB) or wirelessly — any QI-certified charger will do. This is the second big feature of the model, but while it's cool, it's hardly a game changer.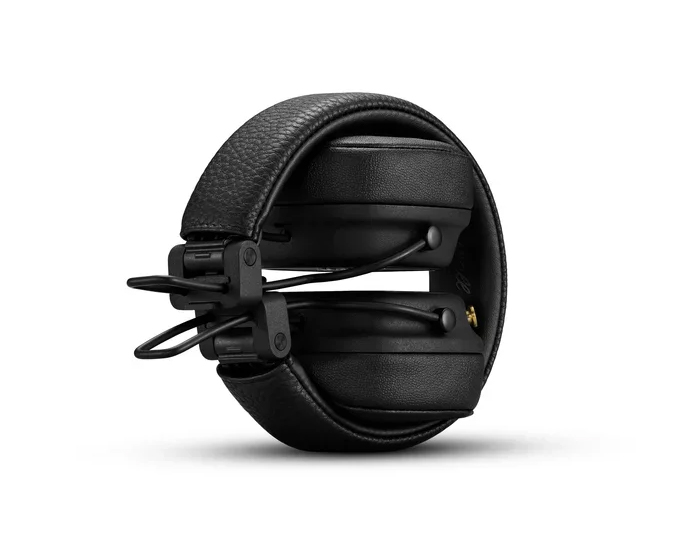 The multi-directional control knob allows you to play, pause, change tracks or adjust the volume of music, and it's as easy and convenient as I remember from models like Marshall Monitor ll A.N.C or Adidas RPT-01. 
Pairing the headphones is easy: just push the knob for a couple of seconds until the LED light starts flashing, and then find the model in the list of Bluetooth devices. 
When it comes to controls, everything here is the same as in the other models from Marshall. Well, almost everything: for some unexplained reason gone is the support for Marshall Bluetooth app. I remember using it a lot to adjust the equalizer, but the new model is not supported. I asked the representative of the brand, and she confirmed that there are no plans to add support in the future. Which is huge bummer, but hardly surprising — just look at the app's ratings. Looks like Marshall is dropping the ball a bit when it comes to the software side of things.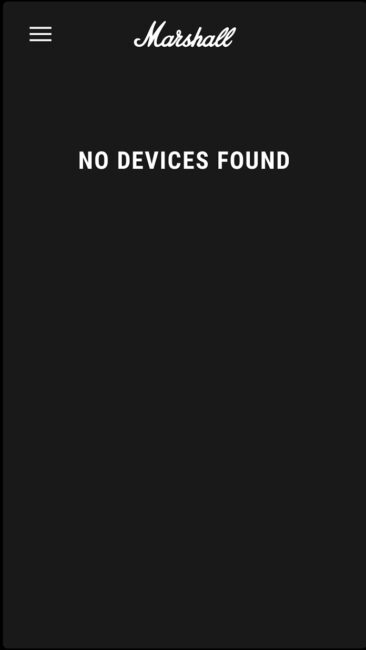 I will also note that there's no active noise control here, unlike many similar models from other companies. That is something Marshall will surely fix in the near future — after all, we've already seen ANC in Monitor II. To be honest, I consider this feature much more meaningful than wireless charging.
Read also: Big comparison of 10 (+1) TWS earbuds: Samsung, Huawei, Sony, Panasonic, Tronsmart, Realme
The headphones support Bluetooth 5.0, which guarantees stable connection with virtually no delays. The only device that I have that has issues with connection is the new Mac Mini, but we all know that it's Apple's fault. My phone and iPad work flawlessly.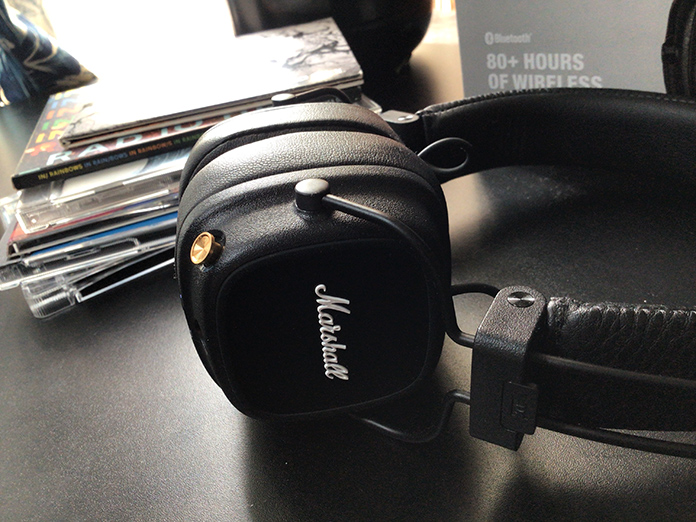 Sound and microphone
Now to the main thing. Marshall brand headphones don't usually disappoint when it comes to sound, and I always rated them highly. Major IV continues the tradition: the headphones sound great. The sound is very much neutral, without over-reliance on bass like so many modern headphones. This results in an honest sound — once again, quite a rarity nowadays.
Immediately it seems that there is no clear "preference" for the genre here: I started the test with Love in Vain from The Rolling Stones, and, got, as expected from such a rock and roll brand, a very juicy sound. Then I went into blues territory and tried Twice As Hard from The Black Crowes: the sound is wide and rich, the music really comes to life. Moving into the world of electronic music, I tried the timeless Rockafeller Skank. Everything is just fine here: the lower frequences aren't overpowering, but they are more than tangible. Skulls by Röyksopp sounds even more powerful. I also tried softer music: for example, the sumptuous notes of John Coltrane or Eiji Kitamura's jazz clarinet. All fine here as well. I am sure that some fans of flattening bass may be upset by the fact that some compositions do not sound as bassy as they would like, but I personally enjoy a more neutral sound.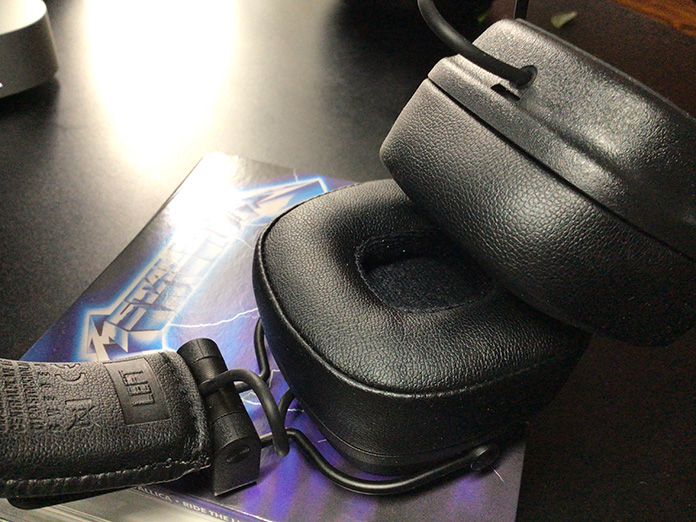 You can use Major IV for watching movies or YouTube since there's no delay. And don't forget that this model also doubles up as a headset. The mic is good and the sound quality is decent, but modern TWS earbuds are better in that regard – especially those with bone sensors. 
Read also: Samsung Galaxy Buds Pro review: TWS earbuds with unique features and a couple of compromises
Verdict
Not once did people see my headphones and asked me if these were the new Majors. Sure, these aren't Beats by Dre or Air Pods, but the Marshall Major IV is still very recognizable, and among the music lovers the this series is considered one of the best thanks to good sound quality, wired and wireless connection and legendary design. I am glad to report that Marshall did good again, and the new model just might be their best yet. The only things missing are ANC and support for a smartphone app. Nowadays even smart kettles have one.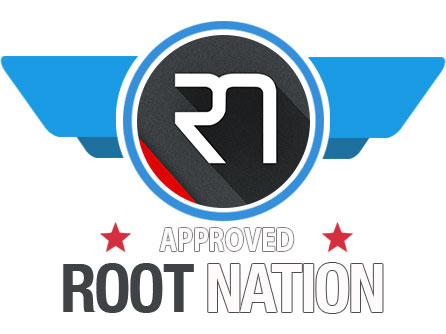 Subscribe to our accounts: