Not so long ago, the realme Buds Air 5 Pro headphones were presented. This model shows great promise, because it has everything for comfortable use. And even more – LDAC (Hi-Res audio) codec, advanced noise cancellation system, surround sound, bass boost, personalised audio algorithm, 40 hours of operation on a single charge.
"Pro" will be an ideal option not only for ordinary users, but also for those who have high demands on sound. At the time of publication, the headphones cost just over $100. What do they offer for this price?
Read also: Realme C53 review: cheap and cheerful
Technical specifications of realme Buds Air 5 Pro
The model is available in two colours – Atral Black and Sunrise Beige.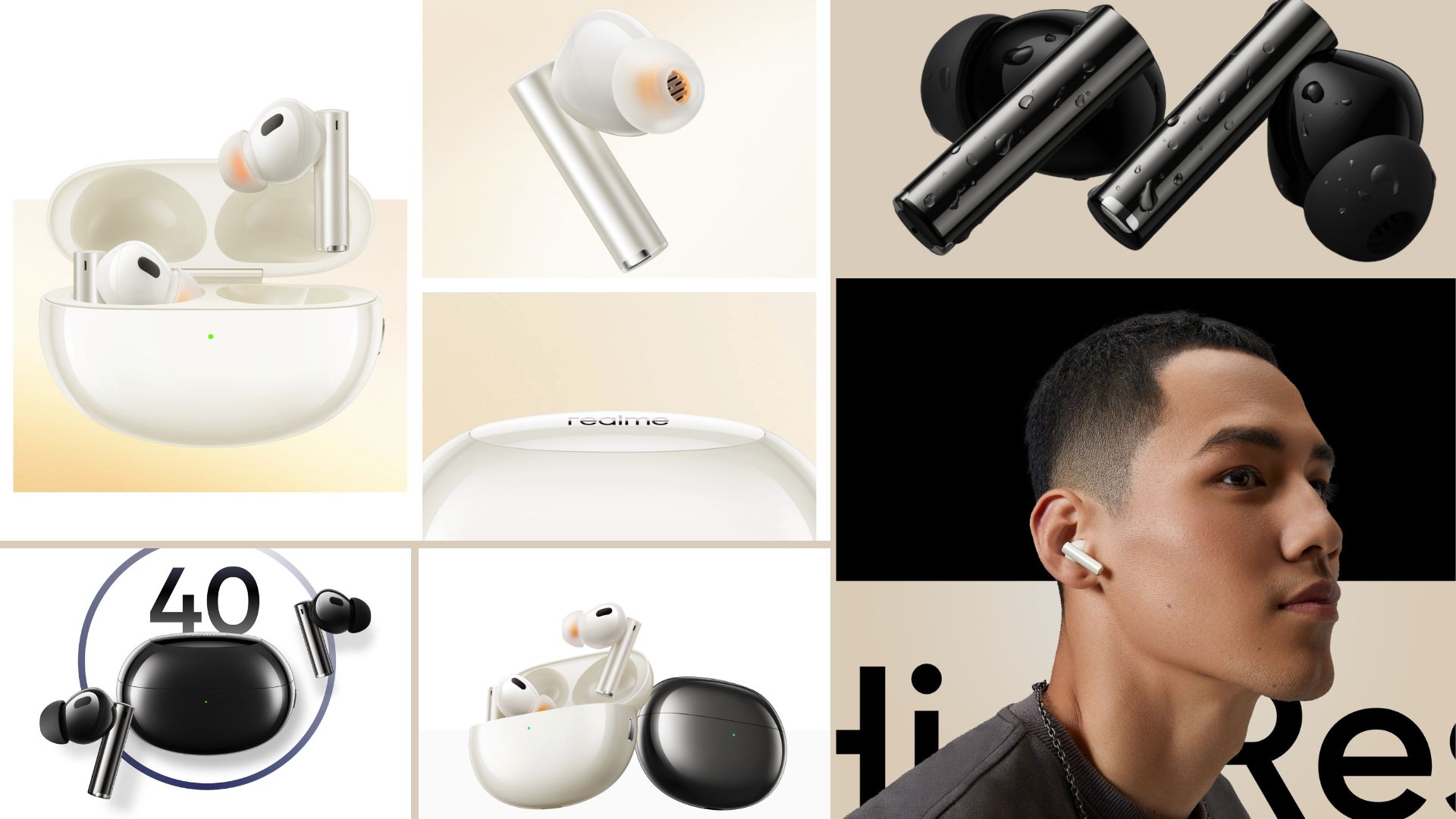 We have a beige version on review here. But black, in my opinion, looks more impressive – almost like liquid metal!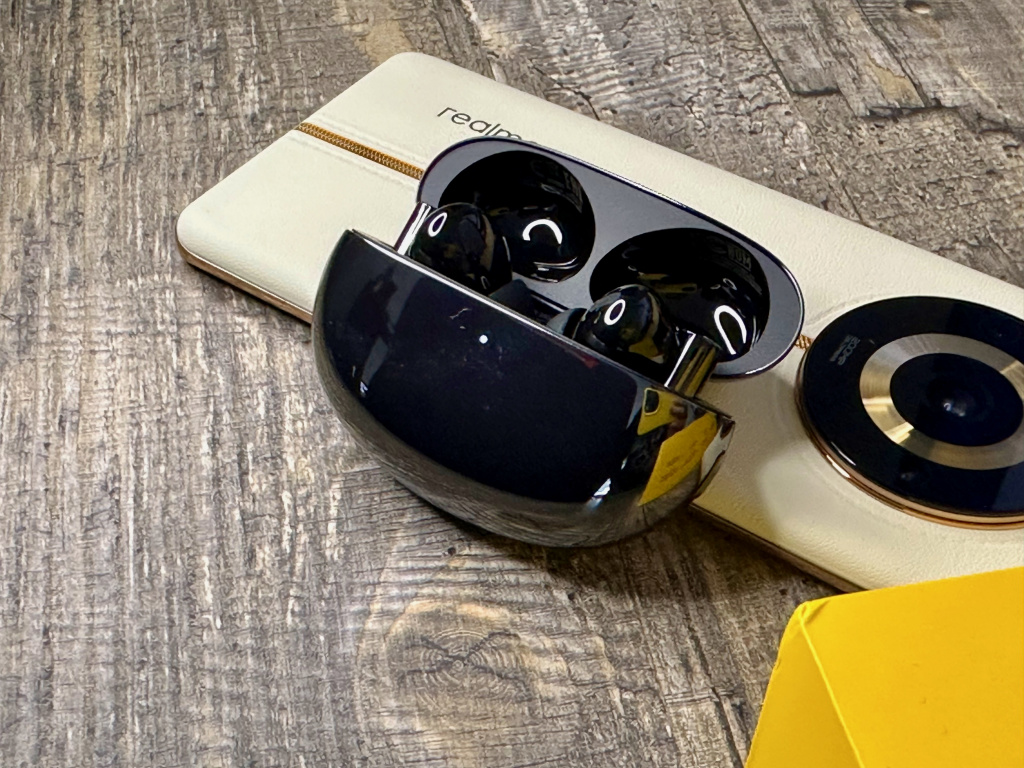 Technical characteristics:
Type: in-channel
Bluetooth version: 5.3
Bluetooth profile: HFP, A2DP, AVRCP
Bluetooth codecs: SBC, AAC, LDAC
Port for charging: USB-C
Operating frequency: 2.4 ~ 2.48 GHz
Maximum transmission power: <15 dBm
Noise cancellation: active – ANC
Operating time: up to 10 hours with headphones alone, up to 40 hours with charging case
Charging time: approx. 50 min (headphones), approx. 2 h (case)
Water resistance: IPX5
Weight: 5 g (single earbud), 45 g (earbud + case)
Package contents
realme Buds Air 5 Pro comes in a yellow box. It is worth noting that this packaging is standard for the company – you see the yellow colour and it is immediately associated with realme. The package includes the headphones themselves, an instruction manual, a black Type-C cable, and earbuds of different sizes S, M, L.
The arrangement of the components in the box is an interesting design element. There are caps, manual and cable in a separate box at the bottom. And the headphones are on top. And this is a plus, because you don't need to play Tetris, everything has its place, there is a certain order.
Read also: Realme 11 Pro review: A mid-ranger that looks like a flagship
Design and layout of elements
It should be noted that the "Pro" model is a kind of improvement over its predecessors – Buds Air 3 headphones. There are no significant changes in appearance. The novelty looks classic. We have an oval white case (yes, the name suggests that it is not white, but I think otherwise). The headphones themselves have rubber tips and mini-legs.
Visually, it looks like the case is flattened from above – this effect is achieved thanks to the transparent top of the lid. In the centre is the inscription "realme".
The case is made of high-quality and durable plastic. Therefore, even after active use, scratches and traces of use will not be so noticeable. However, I still recommend using a case for the case.
There is an LED on the front of the case that changes colour depending on the charge level (green – battery is full, red – needs to be charged) and blinks when the lid is opened. When charging, the LED is on steadily.
There is only one function button to connect the headphones to other gadgets (interestingly, it is metal). There is a charging port on the bottom, and that's it.
This simple-looking gadget is packed with technology. There are 6 microphones with an AL directional pattern, as well as two emitters with a diameter of 11 and 6 mm, respectively. All of this should create a surround and high-quality sound.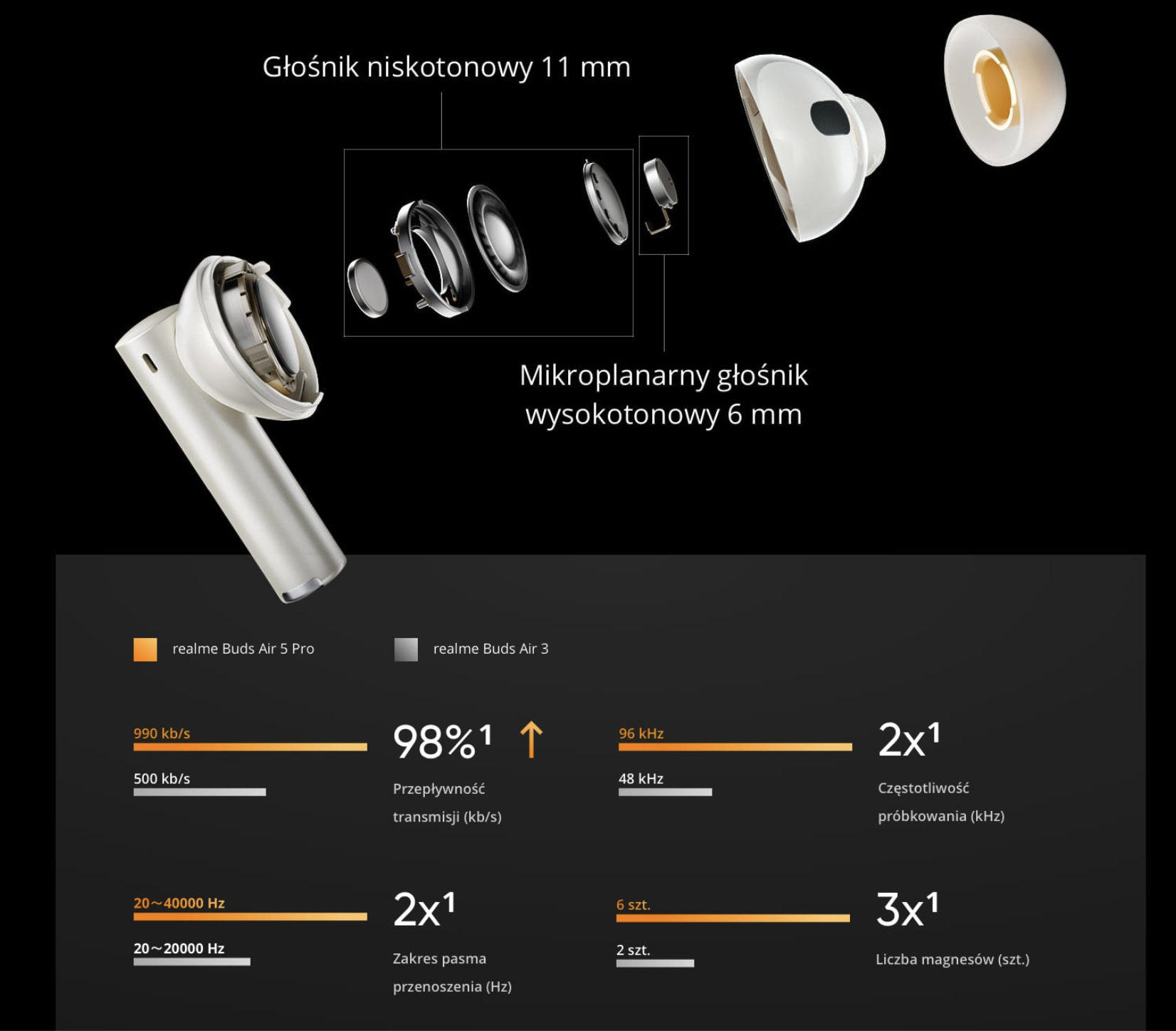 The ear cushions fit perfectly on the headphones – every size fits, and there is no discomfort when wearing them. If necessary, the earbuds can be replaced with other ones, as the shape is universal.
The headphones are very comfortable and fit well in my ears. I tested the new product in three scenarios: on a treadmill, in static, and during a normal walk on the street. In all cases, the Air 5 Pro provided a secure fit and did not fall out. Of course, people do not have the same ears, but I conclude that Air 5 Pro will suit most people. The headphones are lightweight and almost invisible when worn for a long time.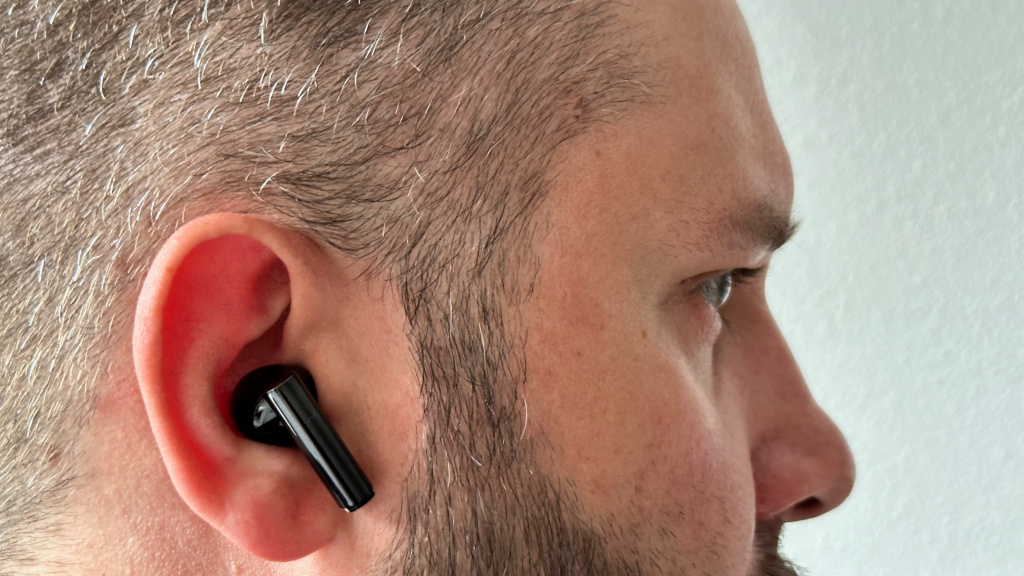 The build quality is very good. Nothing creaks, everything is perfectly fitted. The case is small and fits easily into a pocket or handbag. The lid of the case can be opened with one hand – convenient, the magnets automatically close it without interfering with the opening.
Read also: Realme 11 Pro+ review: Truly extraordinary
Headphone connection, control
If you've ever connected headphones to a smartphone before, nothing will surprise you, the procedure is standard: switch on Bluetooth, open the case, hold the pairing button for three seconds until the indicator starts flashing white, and find our device in the settings. And this is the easiest connection option that works very quickly – so you can pair with both a smartphone and a laptop. The wireless headphones are compatible with iOS and Android smartphones.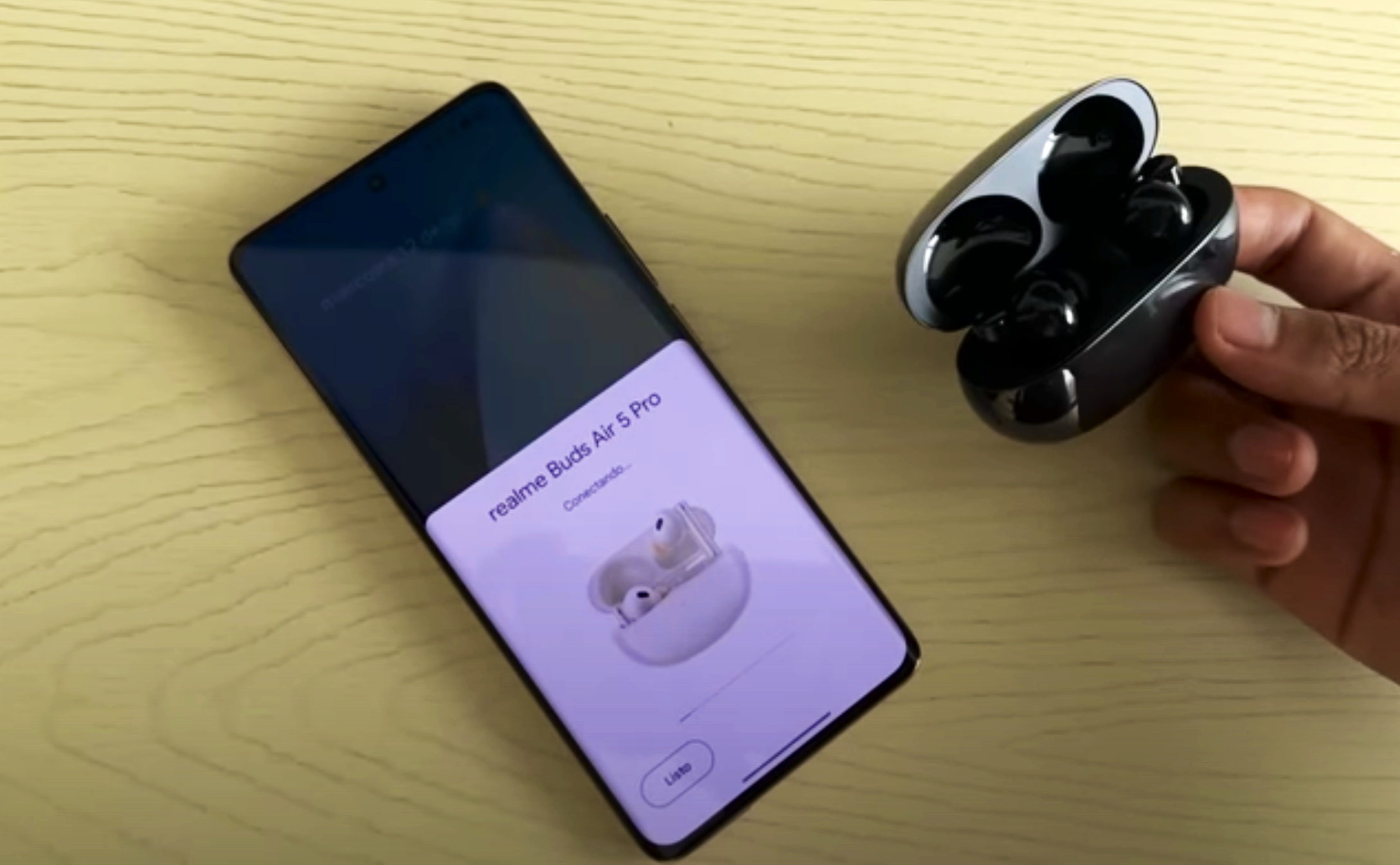 The second way is to connect the headphones through the realme Link app. Then you will get more features and settings.
Android:
iOS:
Pairing with the app doesn't take much time. You open it, register an account (unfortunately, you can't do without it) and immediately see the "Pair" function, after which realme Link asks you to turn on Bluetooth and connects your device to the headphones. The realme Link app is a simple tool that will help you customise your headphones to your liking.
The interface is simple and intuitive. In realme Link, you can check the battery level, select a sound effect (Vocals, Original Sound, Clear Bass, Deep Bass, Custom, Volume Up), noise cancellation mode, set up connection of two devices, and game mode, Golden Hearing function (studio sound – the function requires a test in complete silence for about 3 minutes), detect wear and tear, enable advanced LDAC codec, adjust the fit, adjust the equaliser, update the software, change control gestures, etc.
realme Buds Air 5 Pro - realme apps link
realme Buds Air 5 Pro supports low-latency gaming mode: it takes only 40ms after activation. You can play games and watch movies without any problems – the mode works flawlessly on both Android and iOS, providing perfect audio and video synchronisation.
In my opinion, the most important thing is that the realme app has a full-size equaliser, while many competing headphones, including more expensive models, are limited to adding only a few presets. Here you can easily adjust the sound exactly as you need it.
The headphones can connect to two devices at the same time and switch independently if necessary. For example, if I run a video on my laptop and someone calls me on my smartphone, and so on. You don't have to do it manually, and you don't have to, for example, turn off Bluetooth on your smartphone so that the device doesn't "fight for access to the headphones".
Read also: Test drive of the Realme GT3 smartphone: Need for speed
Control
The headphones support touch control. The user manual describes and illustrates how to operate the headphones. The control area is located on the top of each earbud.
Double-click on any earbud to play/pause and answer/end a call
Triple-click on any earbud to skip forward music
Press and hold one of the earbuds for 2 seconds – switch tracks, end an incoming call
Each gesture is useful and necessary, you just need to learn which one is responsible for what. You can clearly hear the vibration when you press, and it also tells you how many times you pressed the touchpad – the recognition accuracy is high.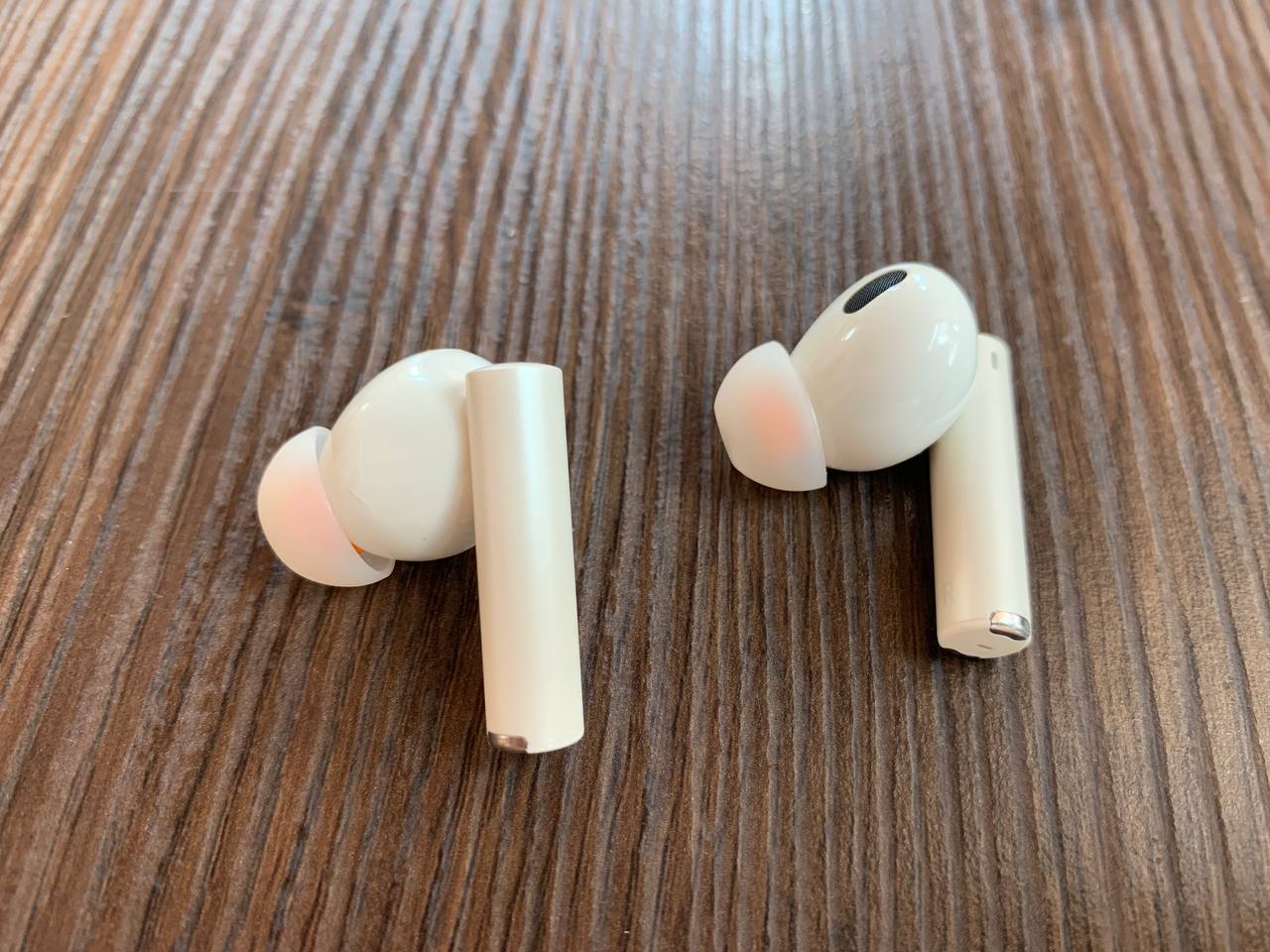 In the app, you can change how the headphones respond to double and triple presses, for example, by adding the ability to skip to the previous song or activate the voice assistant.
An additional advantage is the auto-pause function. If you remove one earphone, playback is paused. However, unfortunately, the volume cannot be adjusted from the headphones.
Sound, ANC, voice transmission
Thanks to the use of advanced technologies, the sound is rich and three-dimensional. This is facilitated by the speakers (there are four of them – 11 mm woofer + 6 mm tweeter), as well as the presence of advanced codecs (SBC, AAC and LDAC) and the latest Bluetooth 5.3. The headphones are certified according to the Hi-Res Audio Wireless standard and support surround sound – Spatial Audio.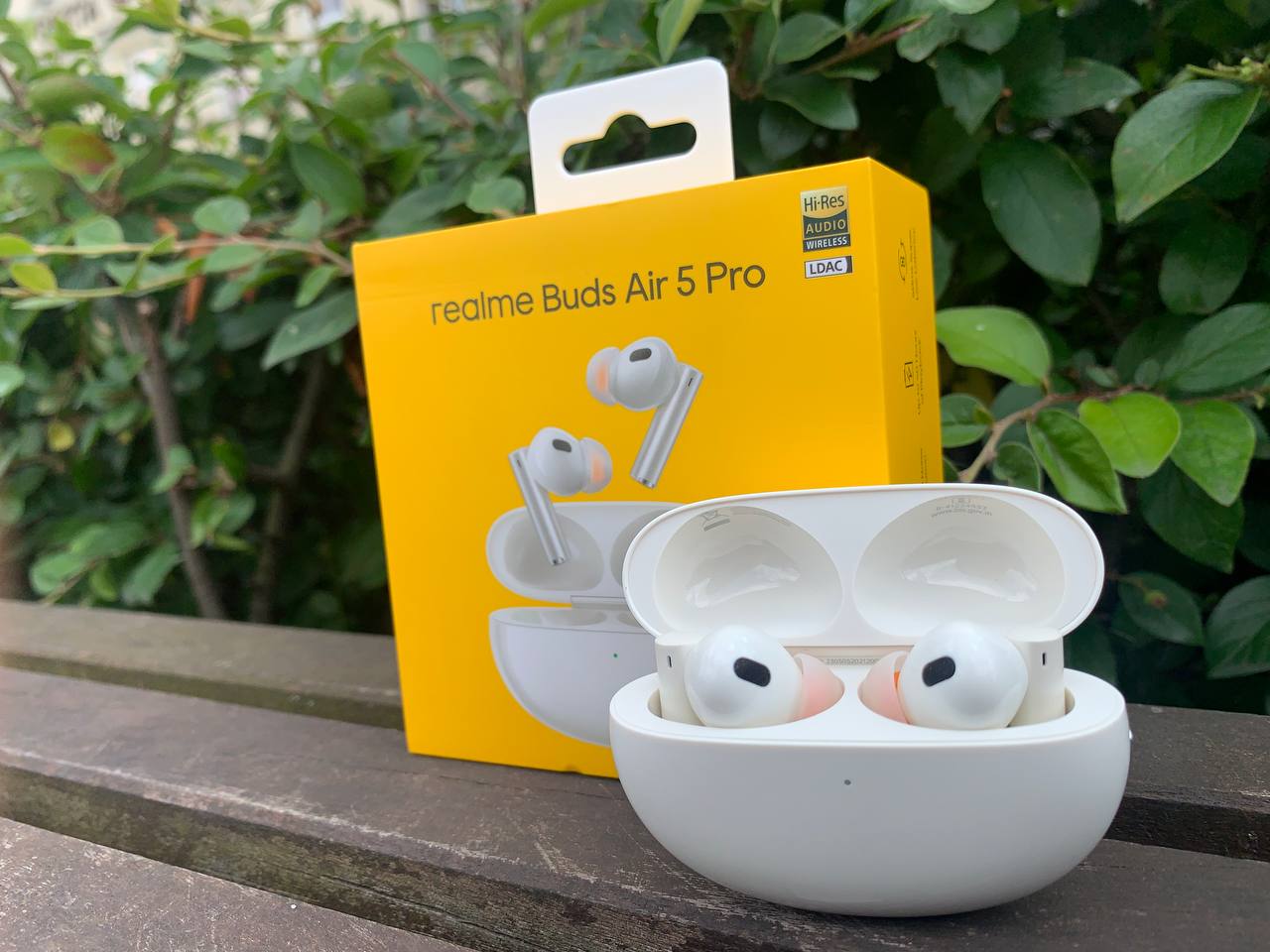 Air 5 Pro has ANC noise cancellation. This option will reduce the noise level by up to 50 dB. There is also a low latency mode of 40 ms for gamers, which I have already written about.
The location of the microphones and the presence of so many features makes the sound of realme just great! I love the sound of music and YouTube videos. I didn't miss any bass or volume.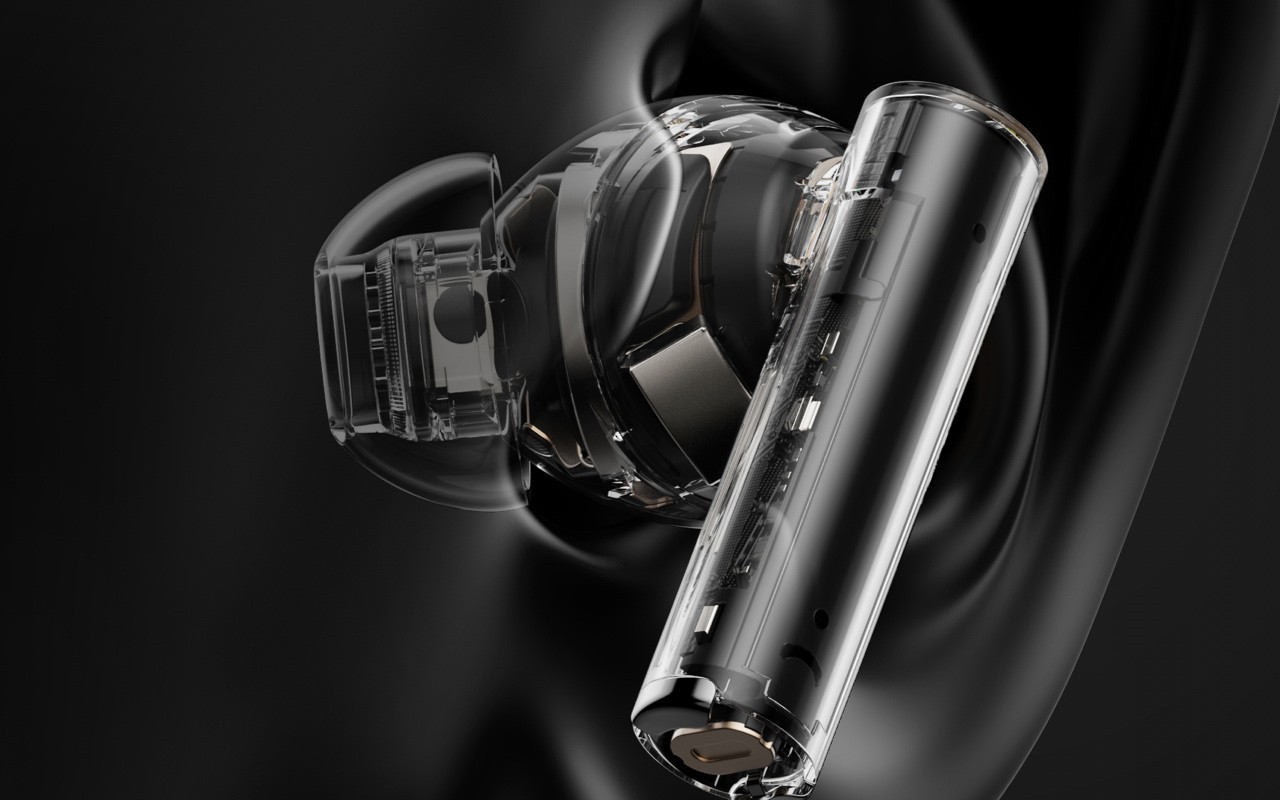 The bass in Buds Air 5 Pro is much deeper and "juicier" than in the previous Buds Air 3, and the highs are more detailed and noticeably clearer. In general, the amount of low frequencies in the headphones is sufficient, the mids are transparent and delicate, and vocals are full and detailed.
With the inclusion of LDAC, spatial sound, Dolby Atmos, and personalised Golden Hearing calibration in the Realme Link app, the Buds Air 5 Pro headphones experience will be even better.
With LDAC enabled, the wireless transmission speed reaches 990 kbps. Thanks to this protocol, the headphones will be able to fully reproduce Hi-Fi sound and retain more musical detail. Of course, LDAC itself is an effective codec – if you want to hear more details clearly, the quality of the sound source must be sufficient.
When Spatial Audio and Dolby Atmos are enabled, the soundstage in the headphones becomes wider. The effect is obvious – even users who rarely listen to music can appreciate the difference when surround sound is enabled.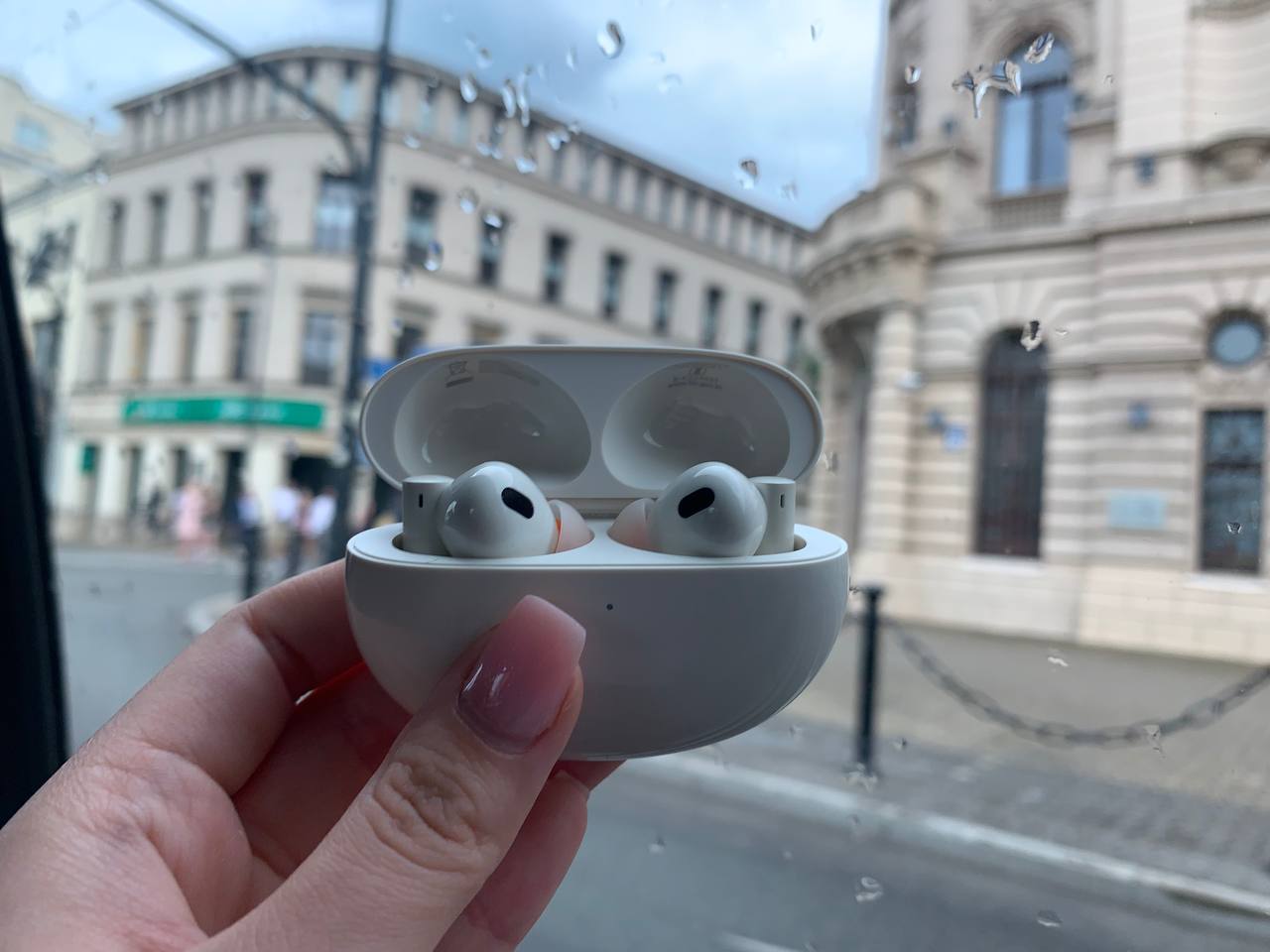 During a conversation with headphones, even the lowest volume was enough to hear all the details. I was also clearly audible. So the microphones and speakers do their job well.
The Deep-sea Noise Cancellation 2.0 active noise cancellation function is a real friend for those who don't like noise in public places or the noise of passing cars. I was very pleased with it, ANC on Air 5 Pro works much better than on the previous generation Buds Air 3.
Air 5 Pro continues the idea of dual noise cancellation (forward + return microphone). As a result, the ANC range reaches 4,000 Hz and the noise reduction depth is 50 dB.
With ANC, you can listen to your music in peace in noisy environments. The function will muffle the sound of passing cars or the noisy atmosphere of an airport. However, the voices of people in public places are not 100% muffled. But this is normal – this is how ANC technology works: cars or other devices generate sound of the same frequency and intensity, and "conversation sounds" are usually emotional. On the bus, for example, I couldn't hear what my neighbours were talking about at all, but in the mall I had to turn up the music to artificially muffle the sound of children screaming.
Рівень шумозаглушення можна регулювати в застосунку realme Link:
Auto – automatically reduces the noise level depending on the environment.
Max – The optimal level for noisy environments, such as on an aeroplane or in the subway.
Medium – Best for noisy environments such as streets or public places.
Moderate – gentle noise reduction for home, library, office.
Custom – selected by the user.
In my opinion, the realme Buds Air 5 Pro is a competitor even to flagship models, as the sound is at a high level and ANC eliminates unwanted sounds very well.
Read also: realme Buds Air 3S headphones review: Good sound for an affordable price
Realme Buds Air 5 Pro battery life
The battery capacity of each earphone is 60 mAh, and the case is 460 mAh. You can listen to music for 10-11 hours! With ANC enabled – up to 7 hours, which is also a great result. In the phone call mode – about 5.5 hours.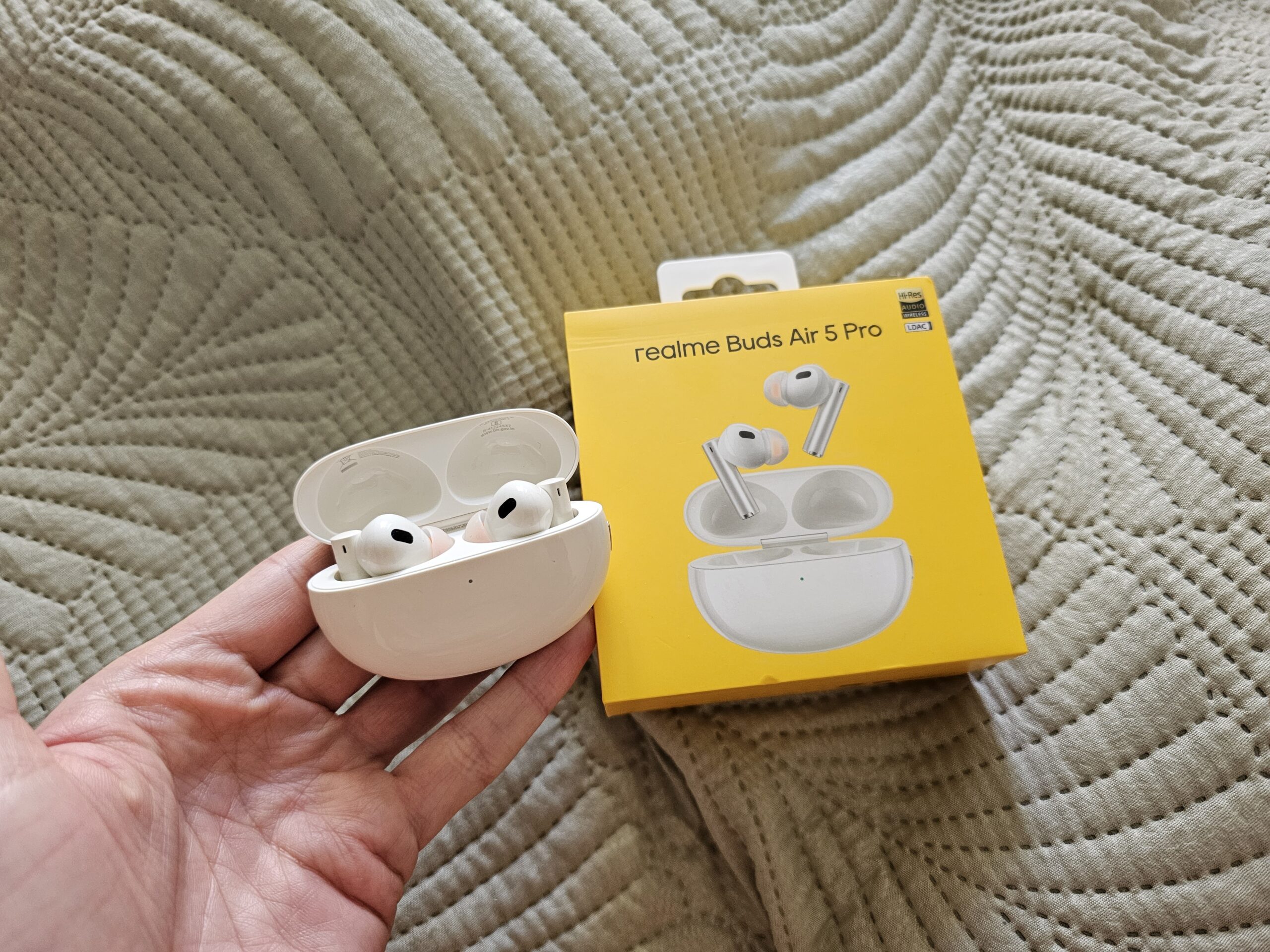 My tests confirmed the figures declared by the manufacturer, which is almost a record – you don't have to worry at all about whether your "plugs" will last another hour.
In addition, the operating time of the headphones with the charging case is significantly extended. It allows for about three full charges!
It is worth noting that the headphones take approximately 50 minutes to charge from 0 to 100%, and it may take up to 2 hours to fully charge the case with the headphones. The headphones also support Dart Charge fast charging – 10 minutes of charging provides 7 hours of music playback. So, five stars for battery life!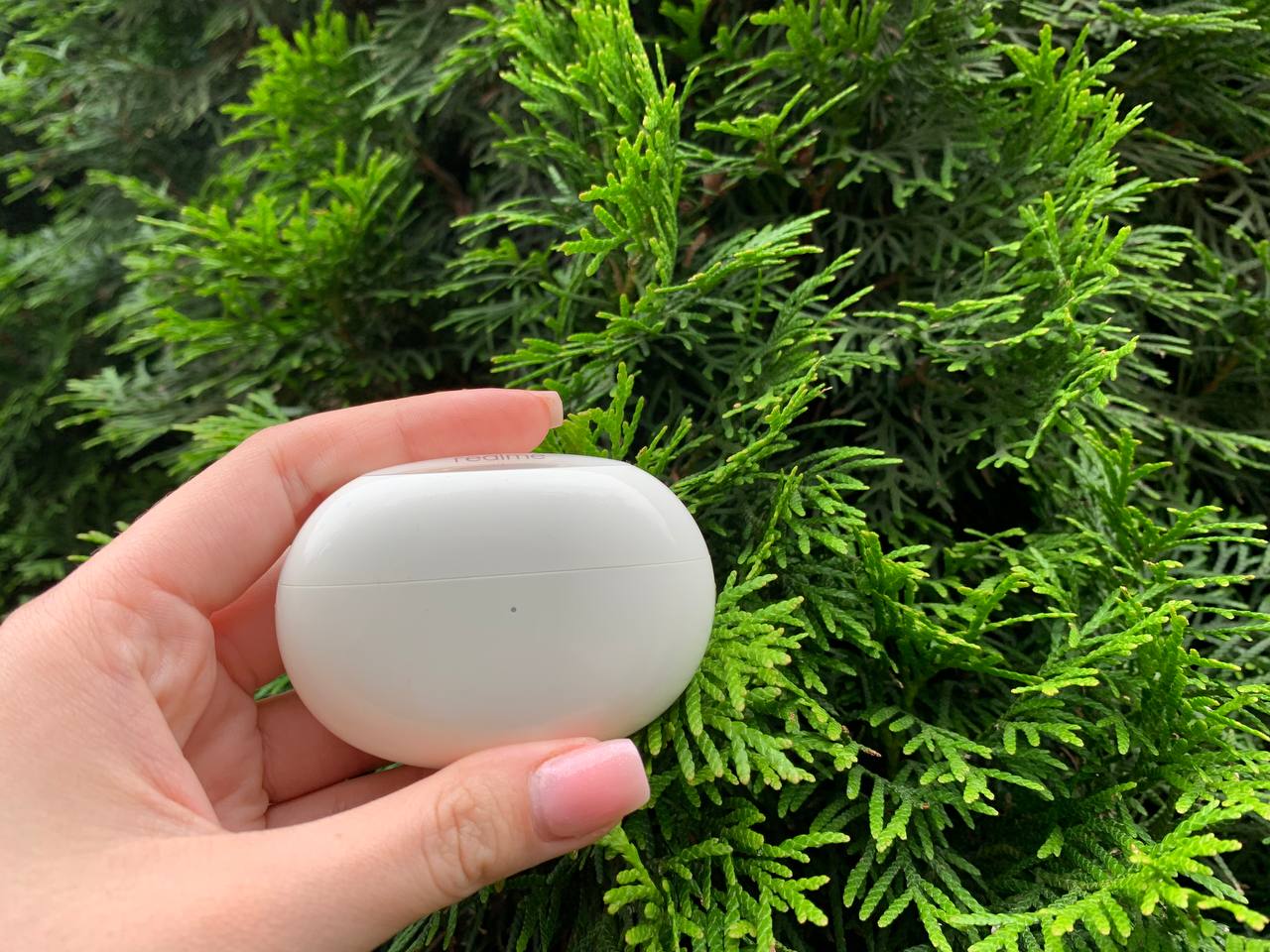 Conclusions
I liked the realme Buds Air 5 Pro in all respects. For a very reasonable price, this headset offers balanced and detailed Hi-Res sound, excellent ANC noise cancellation, a very comfortable design and fantastic ergonomics. It also has a record-breaking operating time (music is my passion, and I'm happy to keep my headphones on longer than usual), a user-friendly app, and a lot of options and settings.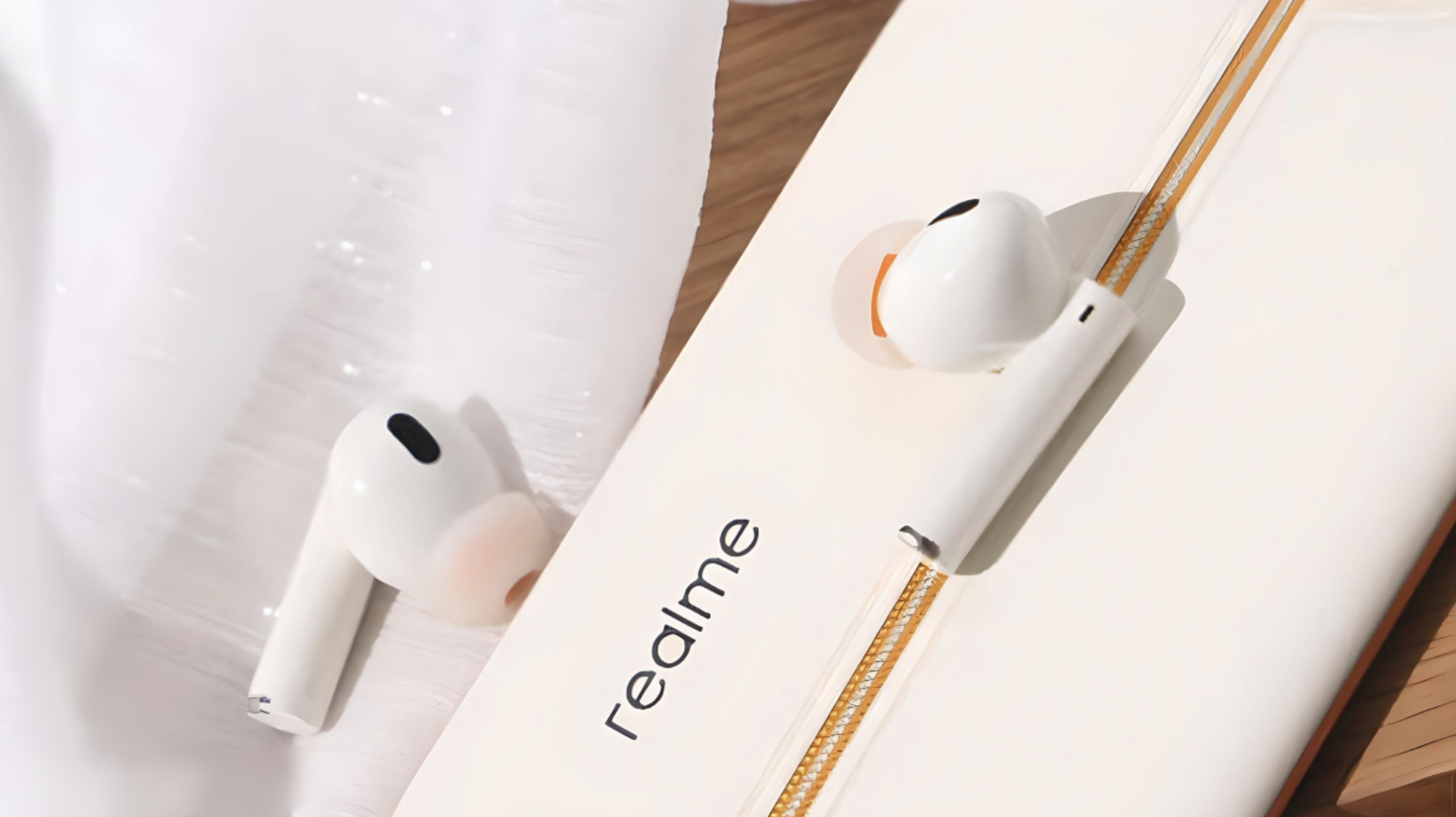 In my opinion, $100 is a very reasonable price. I just fell in love with the sound of realme! It's the perfect golden mean between quality, price and functionality.
I can't believe that realme has managed to create something really special. Of course, this is not the first time (for example, we really liked the budget hit realme C55), but every time such a successful gadget at a good price is a pleasant surprise!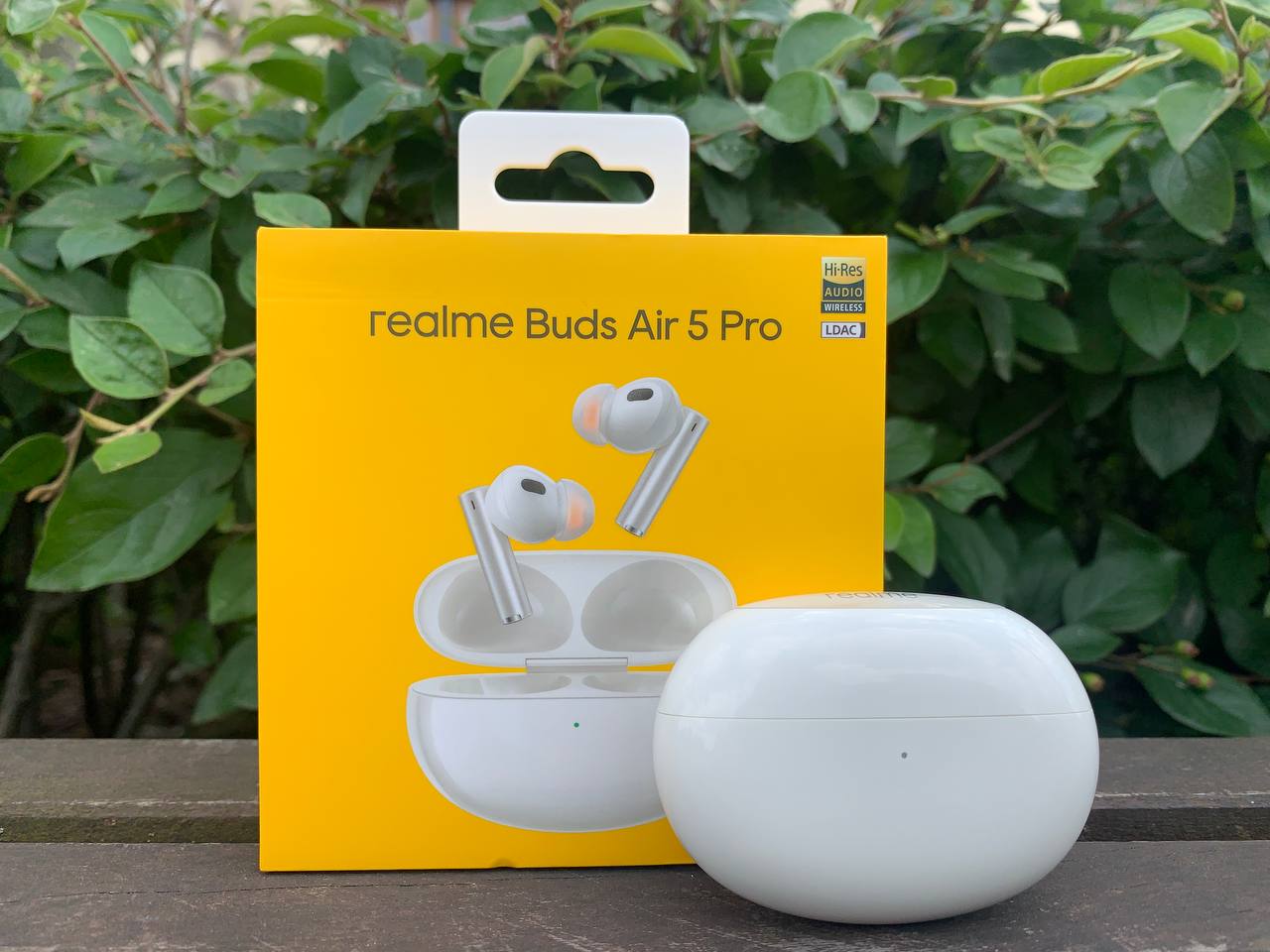 What do you think, has the audio market received another worthy competitor to other established devices in the person of Air 5 Pro? Be sure to write in the comments!
Read also: