A few months ago, we looked at a stylish and productive ASUS ZenBook 15 UX533FD laptop. It was the smallest 15-inch laptop. Now it's the turn to talk about ASUS ZenBook 14 UX433FN, which – who would have thought – is what ASUS calles the most compact 14-inch laptop. In general, we have know the characteristic feature of the ZenBook line of 2019 – the dimensions. Now let's understand what the average model of the series can offer and how it differs from the more expensive one.
ASUS ZenBook 14 UX433FN Technical specifications
The laptop is offered in different configurations and you have to choose between the screen cover, processors, the amount of RAM and the amount of storage.
Asus ZenBook 14 UX433FN

Screen
14.0 inch, 1920 x 1080 px, IPS, non-touch, glossy
Processor
Intel Whiskey Lake Core i7-8565U CPU
Video
Intel UHD 620 + Nvidia MX150 2GB DDR5 (10DE 1D12 variant, Nvidia 419.77 drivers)
Memory
16 GB LPDDR3 (soldered)
Storage
1 TB M.2 NVMe SSD (80 mm)
Connectivity
Wireless AC (Intel AC 9560), Bluetooth 5.0
Ports
1x USB-A 3.1, 1x USB-A 2.0, 1x USB-C 3.1 gen2, HDMI, microSD card-reader, mic/headphone
Battery
50 Wh, 65W charger
Size
320 mm or 12.56" (w) x 200 mm or 7.83" (d) x 15.9 mm or 0.63" (h)
Weight
1,19 kg
Extras
backlit keyboard, HD webcam, IR Hello camera and near-field mics, available in Royal Blue or Icicle Silver
What's in the box
This time, we got not only a laptop with a charger, but also with a bundled cover-envelope. A 65 W charger, compact and without a separate power cable, which was in the older model. In this form, it is much more convenient and more suitable for transportation. Small case, fabric, with Velcro closure.
Design, materials and build quality
The appearance of ASUS ZenBook 14 UX433FN is almost completely identical to what we saw in the aforementioned ZenBook 15. It is recognizable and is unlikely to be confused with anything else. For example, the cover with a traditional ASUS pattern in the form of concentric circles emanating from the center.
I have a laptop in a dark blue color, with golden accents. These elements are scattered throughout the body. The logo on the cover, a strip in the upper part of the topcase above the keyboard and various badges with inscriptions.
On the case and keyboard there you get traces from use and they have to be wiped off. But in addition to dark blue, you can choose a silver model, which is might be better in that regard.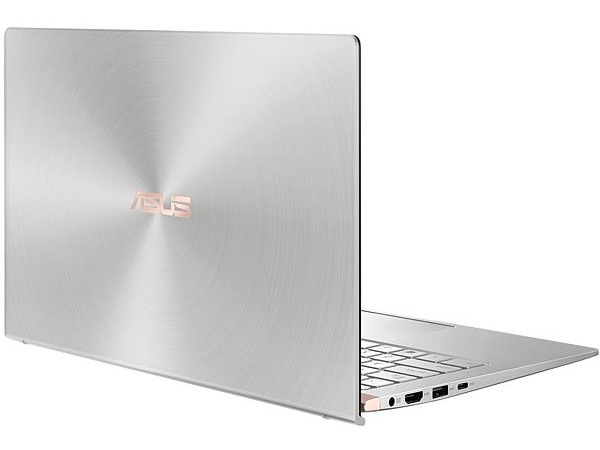 But the screen is the most important thing. It has minimal bezels, or more precisely, 2.9 mm at the sides, 3.3 mm at the bottom and 6.1 mm at the top. It is really mesmerizing – it's really nice to watch and use a laptop with thin frames.
The dimensions of the device are 319 × 199 × 15.9 mm, which is very small for 14 inches. So, as expected, ZenBook 14 can be called an ultrabook. Or an ultraportable laptop, if you like.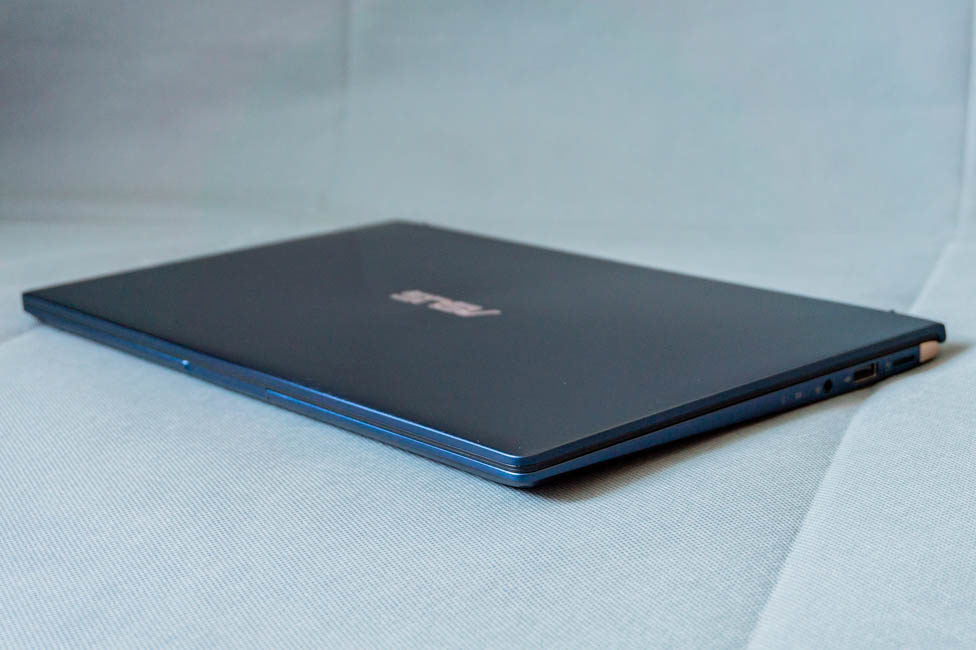 Weight depends on the type of display . In our model with a standard glossy one it's 1.19 kg, but with a matte one it's only 1.09 kg. So, carrying it with you is not a problem at all – it is compact and not heavy. This is an important parameter for those who are used to taking a work tool with them everywhere.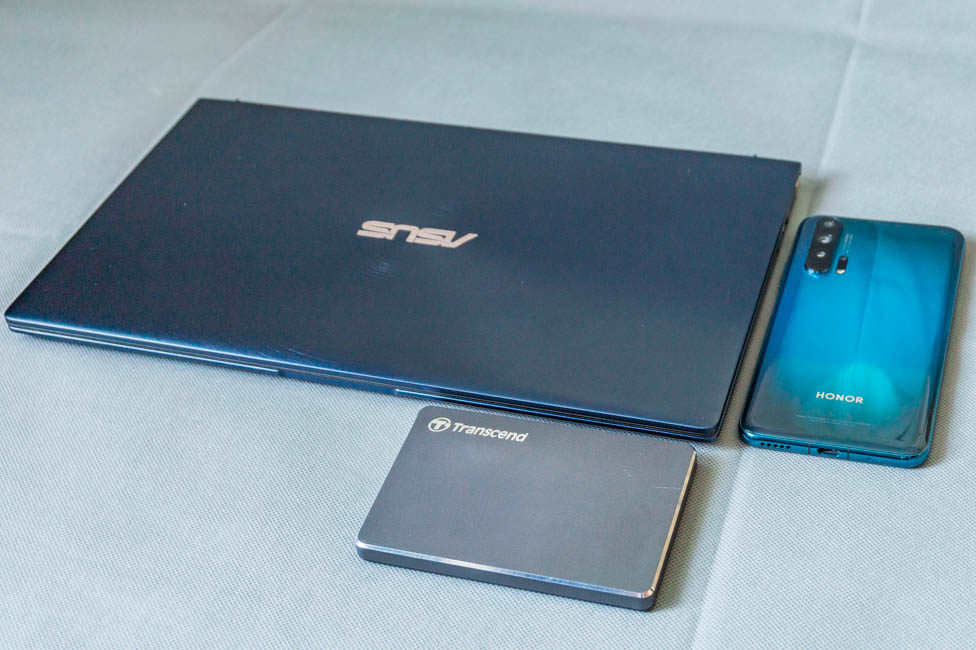 The case of the laptop is metal, the build quality is not bad. But the keyboard unit is not as sturdy. The upper part, where the golden insert is, also bends under relatively strong pressure on it and the display module can stagger. But with careful handling everything will be fine.
The ErgoLift hinge is still here and contributes not only to high-quality cooling of internal components, but also makes typing more convenient. The gap between the surface and the bottom of the laptop is 3°, which isn't much, but definitely better than nothing. The maximum opening angle of the lid is 145°, the hinges are not very tight.
Element configuration
In the center of the lid is a golden ASUS logo. Nine screws hold the bottom cover, which also has service stickers and inscriptions. There are also slots with speakers, ventilation holes and four rubberized legs for greater stability.
On the right side there is a microSD card reader, a USB 2.0 Type-A port, a combined 3.5 mm audio jack and two LED indicators. And on the left side is a proprietary port for charging, HDMI, USB 3.1 Type-A and USB 3.1 Type-C.
There are enough ports, in my two weeks of operation I never felt there wasn't enough. Also I'm pleased with the presence of a card reader, albeit not a full SD. But for me personally, this did not become a big problem, because I use such card in the camera and can transfer photos from it onto my laptop. However, in such an advanced device, I probably would like to see not a proprietary charging connector, but a modern universal USB-C port. It is here, actually, but not Thunderbolt, unfortunately.
In front you can see the cutout for convenient opening of the cover. You can open it with one hand, although this does not always work. At the back are the barely visible Zenbook Series inscription and two rubberized stripes. Underneath this part are ventilation slots.
Above the screen we have a front camera in the center, a pair of infrared sensors and microphones on each side of it. Under the glass in the corners of the upper part there are magnets with which the display unit is magnetized to the top case.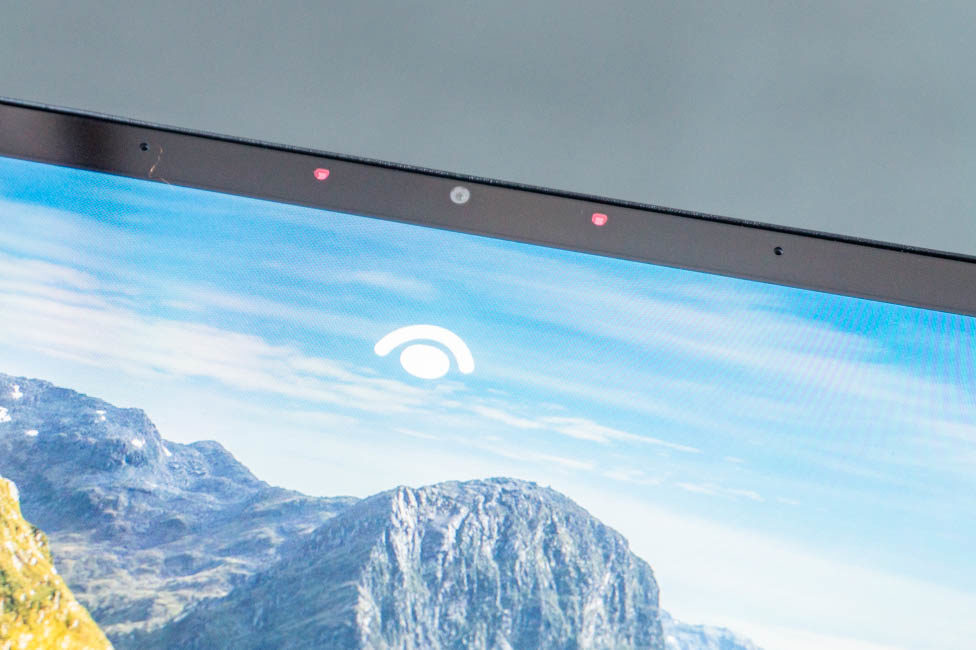 The block with the keyboard is recessed, under the keys there's a functional touchpad. harman/kardon and other various stickers are present.
ASUS ZenBook 14 UX433FN Screen
The display has a diagonal of 14″ with an aspect ratio of 16:9. The resolution of the panel is Full HD, IPS. In our case, it is glossy, so for those who often work on laptops outdoors you should probably pay attention to the version with a matte finish, but the clarity of the glossy version is certainly pleasant.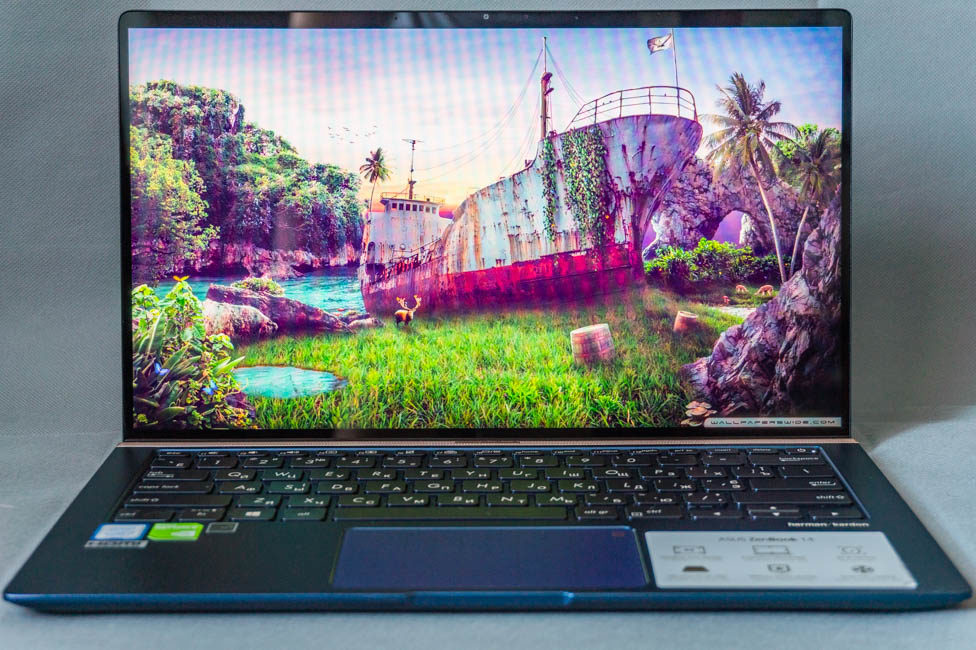 In general, the screen is excellent and it is comfortable to work or relax. The color gamut, according to the company, is 100% consistent with the sRGB color space. The color rendition is really good here, the saturation also did not disappoint when processing photos, and I was very pleased with it.
The screen brightness is enough to work indoors, but on the street it will not be enough if you don't use a laptop in the shade. Viewing angles are wide, 178° according to the manufacturer. No losses of brightness under extreme angles.
Sound and security system
The sound surprised me in ASUS ZenBook 15, because for such dimensions it is actually good. And ASUS ZenBook 14 also pleased in this regard, despite the even smaller dimensions of the case. There are two speakers at the bottom from ASUS and specialists from Harman Kardon.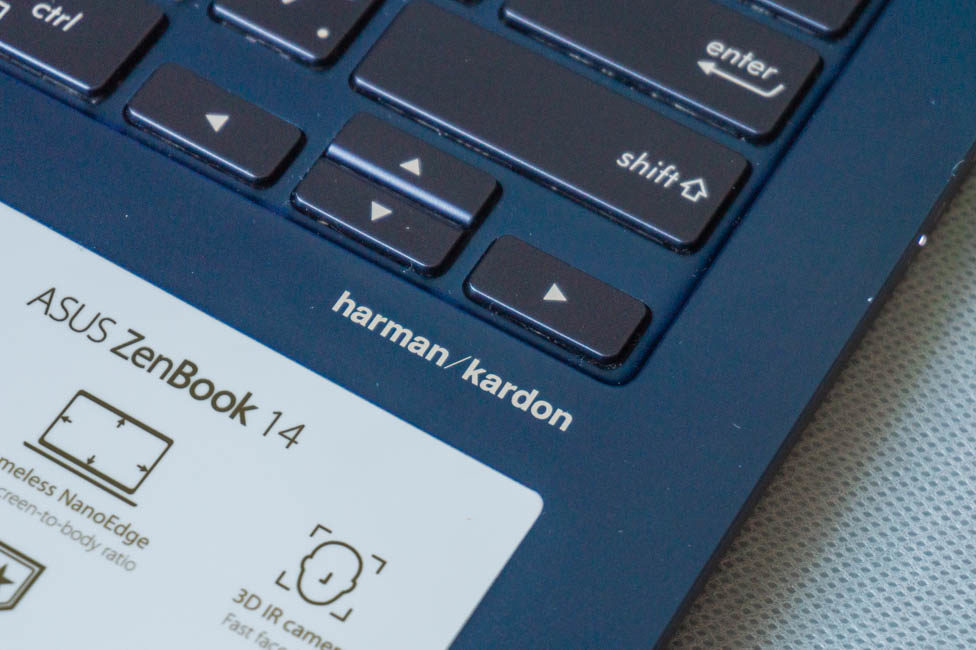 The speakers sound very good, considering the dimensions. Not the loudest, of course, but the sound is relatively big. For home use – just right. Plus, with the built-in AudioWizard utility from ICEpower, you can customize it even more accurately using the built-in sound presets or the advanced equalizer.
As in the other model, the fingerprint scanner is absent. The fast and convenient authorization function in the system is performed by the front camera, which is supplemented by infrared sensors. Sensors increase the overall security of this method and, importantly, make it possible to use it under any lighting conditions. There are no questions about the work of the system – it's quick, reliable and accurate. The camera has a fairly wide viewing angle, which further simplifies the interaction with the unlocking method.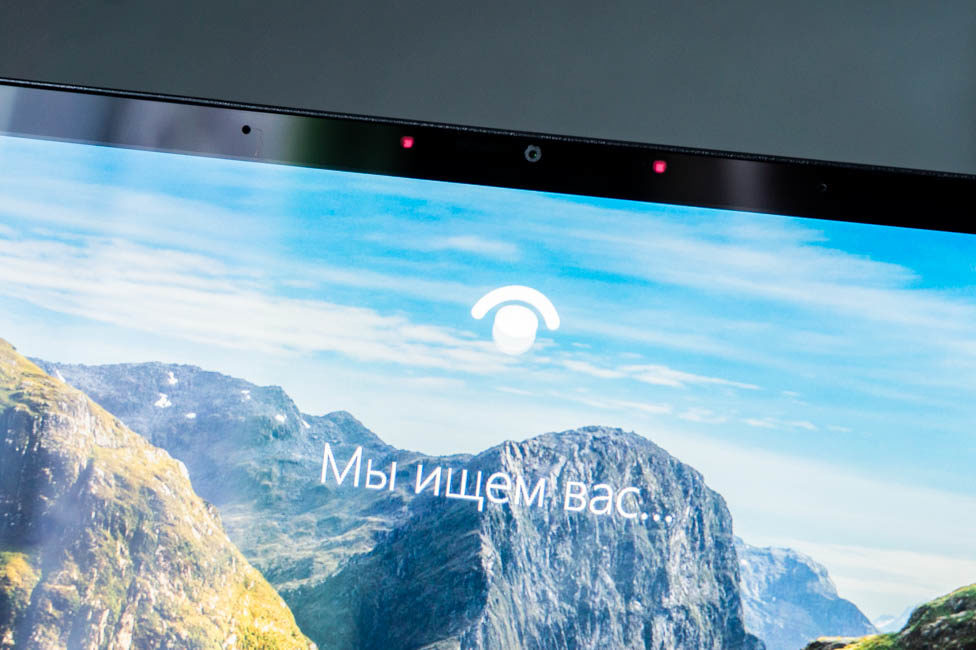 Keyboard and touchpad
The average ZenBook got almost the same keyboard as the older one. With only one feature missing: the numeric keypad, which couldn't fit in a smaller case. But this is not a problem, I will tell you a little later why. This layout for compact laptops is quite common.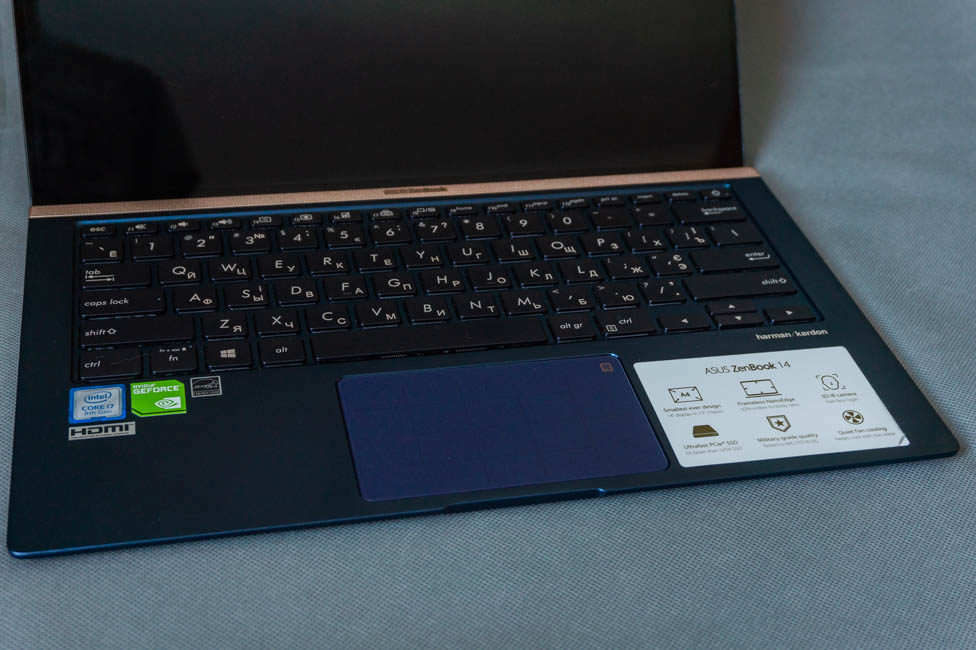 A number of function keys is reduced in height and is used by default to control some parameters of the device. For example, adjusting the brightness of the screen or the volume of media . But you can use the standard F-keys by pressing them simultaneously with Fn. Or press Fn + Esc to return to the old method.
I had to adapt a little to this keyboard, most likely due to the unusual overall dimensions of the device. But after that I easily typed several rather large texts on it. The key travel is 1.4 mm, the response, of course, is lightning fast. And in general, I can't say anything bad about it. It is simply convenient and this is one of the main characteristics for keyboards on such devices.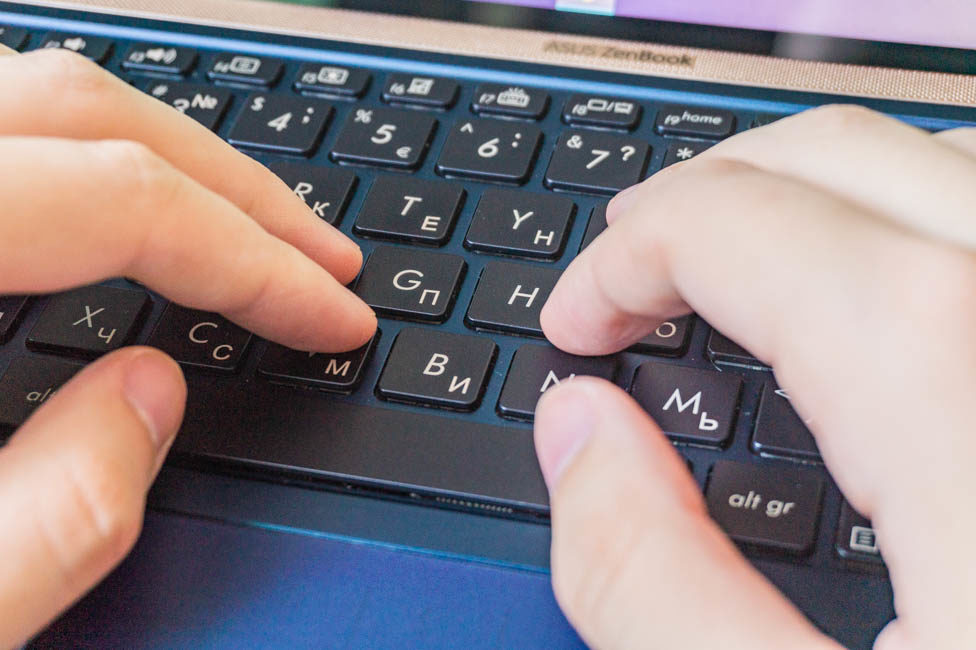 Although no, there is one issue. It is about backlight, a standard three-level. But its evenness is not exactly excellent. Especially considering the cost, because ASUS VivoBook 15 (X512UF), which is from a completely different segment, for some reason everything is fine with this matter. This is a little odd.
The touchpad in some laptop models can act as a numeric keypad. This is indicated by the a calculator icon or something, in the upper right corner of the touch panel. When you hold your finger in the area of ​​this icon, the numbers and other important symbols instantly appear on the touchpad. That way it turns into a real NumberPad.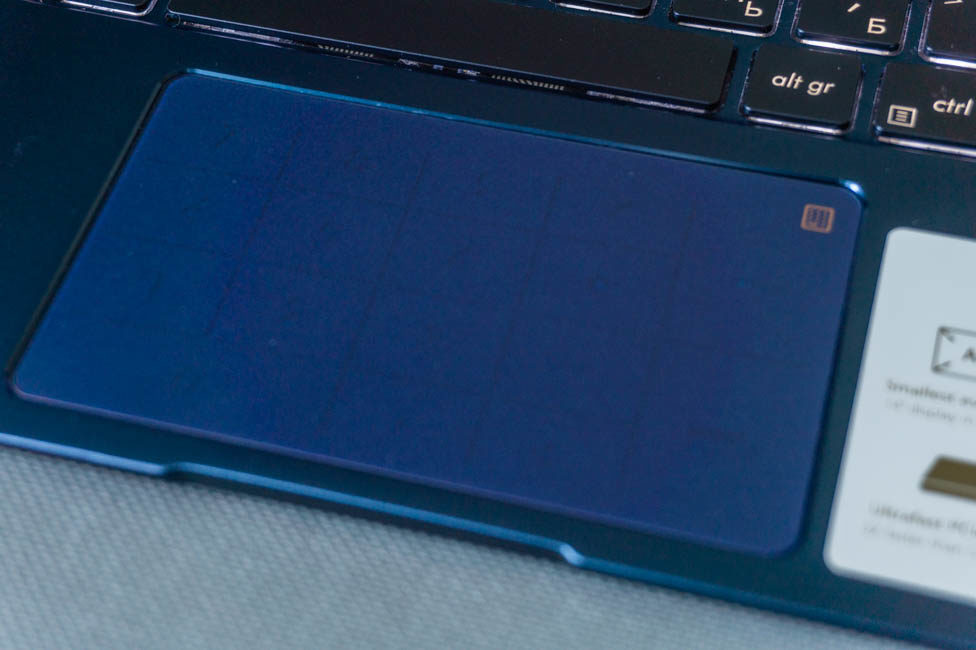 At the same time, you can use it in the usual format even with the "accountant mode" turned on – you can use gestures, move the cursor – all this continues to work. True, for clicks, you have to physically click on the panel itself, because simple touches on it are now tied to a grid of numbers and symbols. In principle, you can use this, the response is fast, the boundaries of the conditional buttons are clear.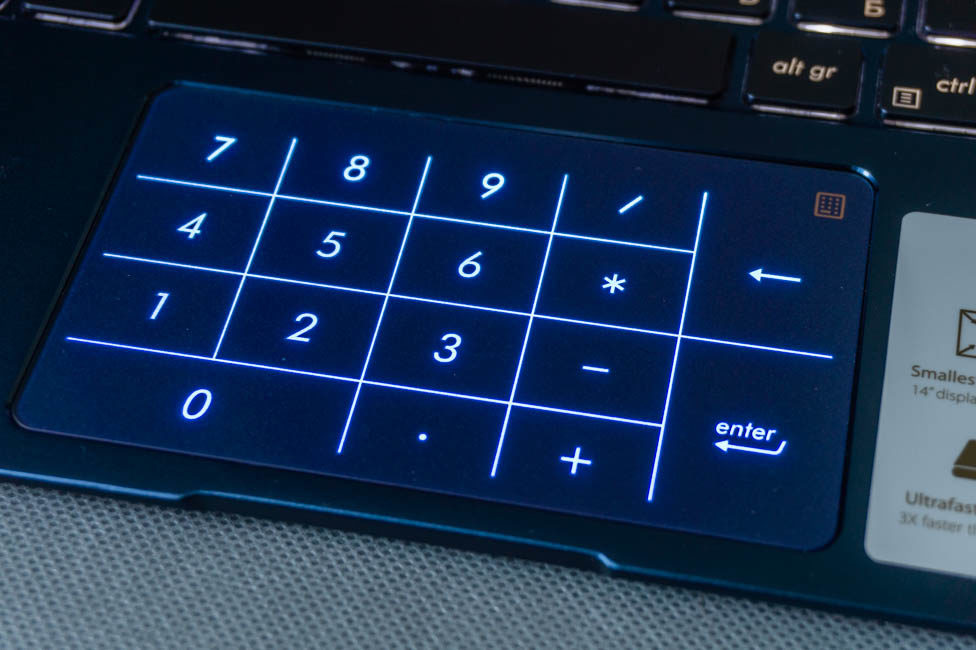 The touchpad itself I would call small, but comfortable enough to use. With a glass coating and support for gestures that work well. We can say that for most standard tasks, such as surfing the net, it works well.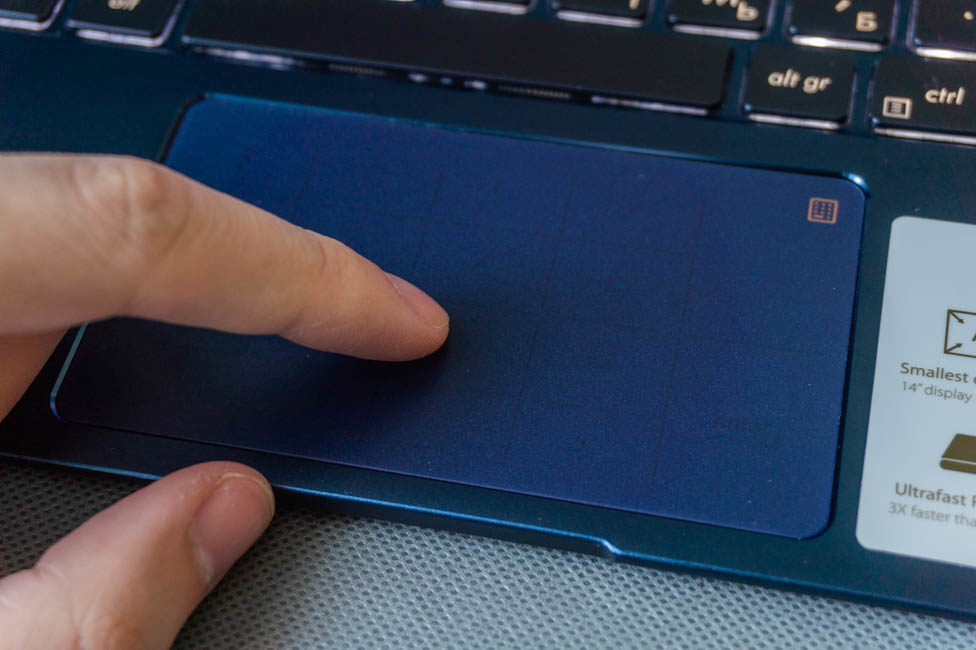 Features and performance
Our test ASUS ZenBook 14 UX433FN is equipped with top-end hardware. There is Intel Core i7-8565U processor, a discrete NVIDIA GeForce MX150 video card (2 GB, GDDR5 type), integrated Intel UHD Graphics 620, 16 GB of RAM and a 1024 GB SSD.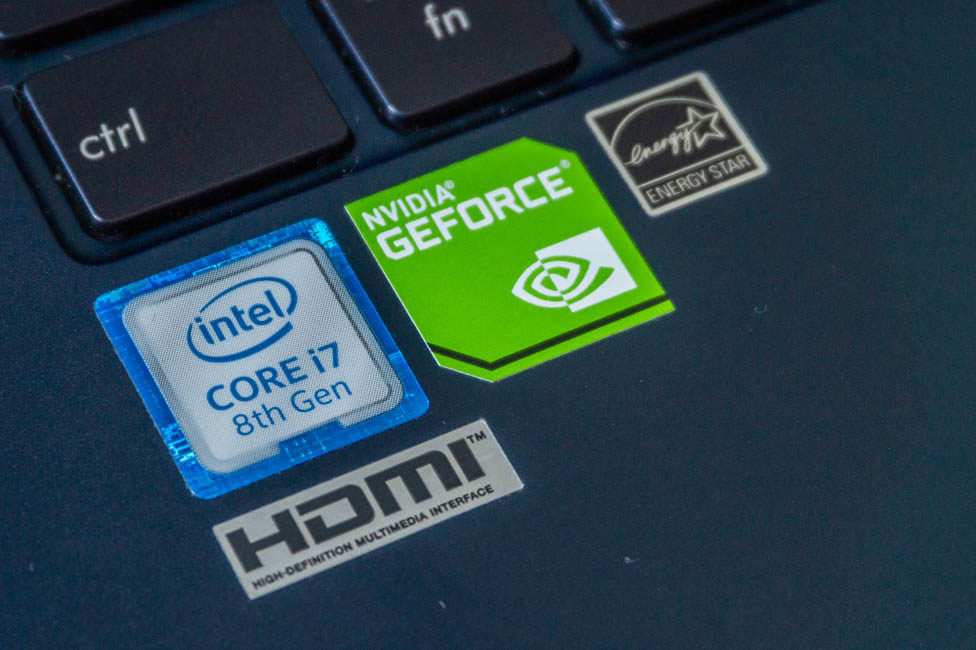 As mentioned earlier, simpler configurations are represented by Intel Core i5-8265U processor and 8 GB of RAM with 256 or 512 GB of SSD-drive. Only a high-speed disk can be upgraded, since the RAM is soldered to the motherboard.
The Intel Core i7-8565U is already familiar to us from the ASUS ZenBook 15 UX533FD. It belongs to the Whiskey Lake family, manufactured according to 14-nm technological standards. 4 cores work with clock frequencies from base 1.8 to 4.6 GHz in Turbo Boost mode. As it happens in modern processors from Intel we get eight threads thanks to Hyper-Threading. The cache memory is 8 MB (Intel Smart Cache), the estimated thermal power – 15 watts. The processor also integrates Intel UHD Graphics 620 graphics with a maximum operating frequency of 1150 MHz, which is enough for simple tasks and working with the OS and application software.
NVIDIA GeForce MX150: although discrete graphics, you should not expect great performance from it. It will certainly be better than the built-in graphics, but much weaker than GeForce GTX 1050 in the Max-Q design, which is installed in ZenBook 15 UX533FD. So, if the main criteria is graphics, then it is definitely worth considering the oldest of the current ZenBooks.
In our version, 16 GB of RAM with an effective frequency of 2133 MHz is installed, or rather, soldered. Fortunately, it works in dual-channel mode, but the memory type is LPDDR3.
The SSD in the laptop is by Samsung, model 1 MZVLB1T0HALR with PCIe 3.0 x4 drive interface; very fast, which is confirmed by the tests. But it's important to consider that simpler versions with 256 or 512 GB of storage will use the PCIe 3.0 x2 interface. That is, two lines will be involved, not four, as in a laptop with a terabyte disk. The speeds will not be as impressive, but still quite good.
As for the overall performance of Asus ZenBook 14 UX433FN, it is good, except when we're talking about heavier tasks on graphics subsystem. Browser with dozens of tabs, simple work in graphic editors, office tasks – it's all great. Benchmark test results can be found in the gallery below.
Games – well, this machine is not for them. In any case, one cannot count on new AAA projects. Any older toys or simpler ones will start if you really want to. In GTA V in native resolution, you can get stable 30 FPS, but the graphics will be almost minimal. Plus there are drawdowns up to 13-15 FPS. In The Witcher 3: Wild Hunt the situation is also not great.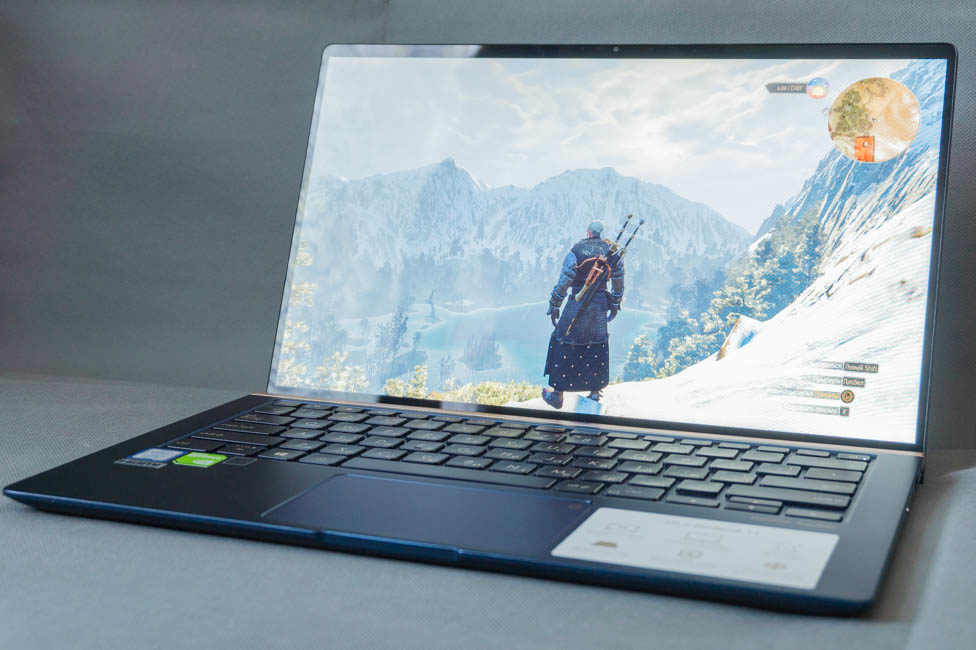 Cooling is active and sounds quite loud, but not critical. A half-hour stability test in AIDA64 did not show any throttling at all, but as I said above, drawdowns occur in games. The temperature of the processor under load does not exceed 82°, most of all the laptop is heated in the upper part of the top case, as well as in the area of ​​the golden band.
Battery Life
ASUS ZenBook 14 UX433FN received a three-cell lithium-polymer battery. Its volume is 50 and the manufacturer says that this is enough for up to 14 hours of battery life. In practice, usually it all depends on the operating conditions: screen brightness, power mode, tasks performed. In browser mode, text and graphic editors with an average display brightness it will last at least 5-6 hours.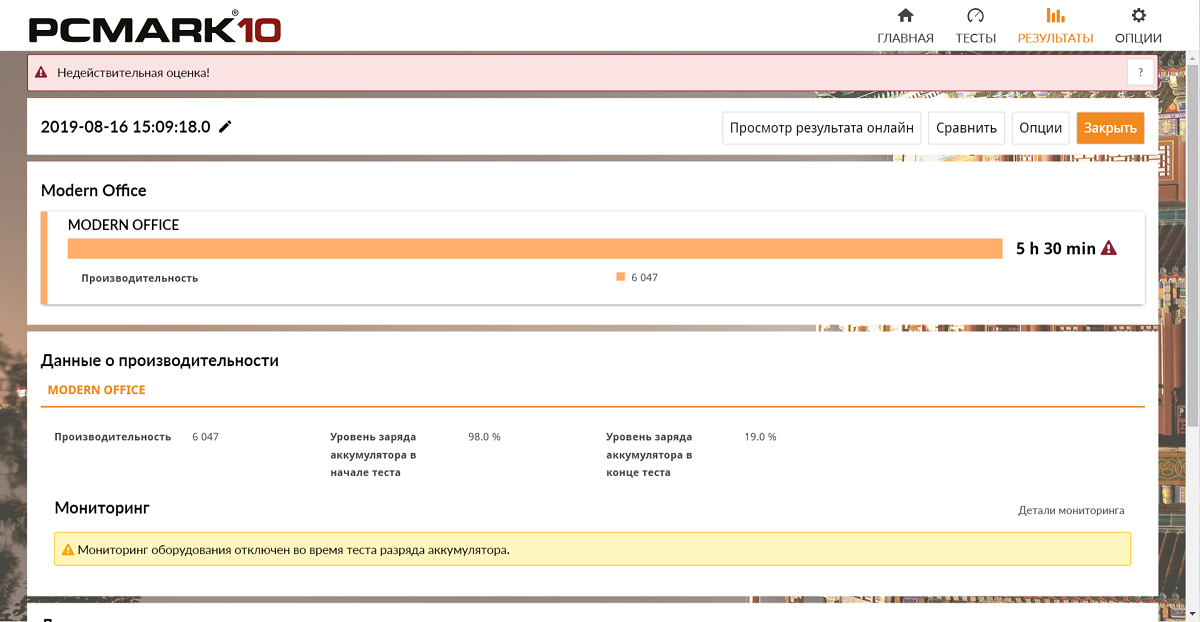 In the Modern Office test from PCMark 10, which simulates active office work, in optimal performance mode with 50% brightness of the backlight, the laptop worked for 5 hours and 30 minutes. The charging speed from the bundled unit is as follows: from 15% in half an hour you get 46%, in an hour it reaches up to 80% and in another 30 minutes almost 100%.
Verdict
ASUS ZenBook 14 UX433FN is a compact and stylish laptop with thin bezels around a great display. The hardware component stands out for its good performance in the context of the modest dimensions of the case. In addition, it is equipped with a modern security system with infrared sensors, and offers fairly good sound.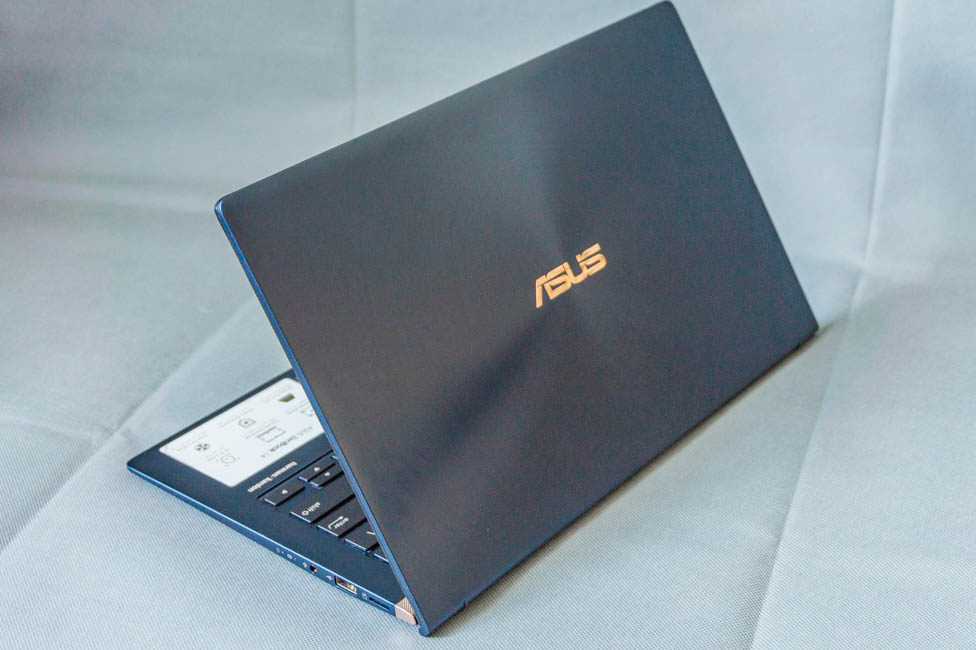 The laptop at the same time is not intended for games and it has a couple of minor flaws, such as uneven keyboard backlight and the inability to charge via the modern USB-C port.
Subscribe to our accounts: