Nowadays two cameras in a smartphone seem like a norm. It's hard to find a flagship phone with only one camera, and Chinese manufacturers finally start to catch up. Let's take a look at Cubot Rainbow 2 – one of the first low-end $80 smartphones with two cameras.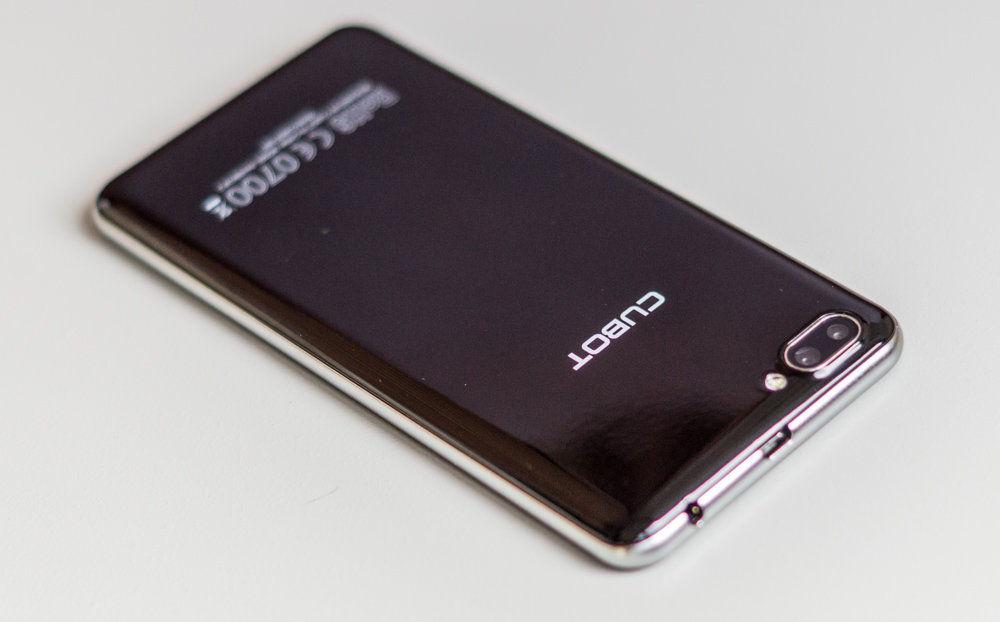 Cubot Rainbow 2 – First impressions
I've never seen any devices from this brand, although it's been active since 2007.
When I first opened the box, I was pleasantly surprised. Nothing here indicates that this is a low-end device safe for a screen, which is more gray than black. The back panel illustrates clearly what inspired Cubot to make this phone. The screen is quite good – I expected something much worse. So, my initial impression was very positive. But let's take a closer look.
Cubot Rainbow 2 specs
The phone is made to be cheap, so don't expect breathtaking specs. Still, you will have a hard time finding anything better at than price.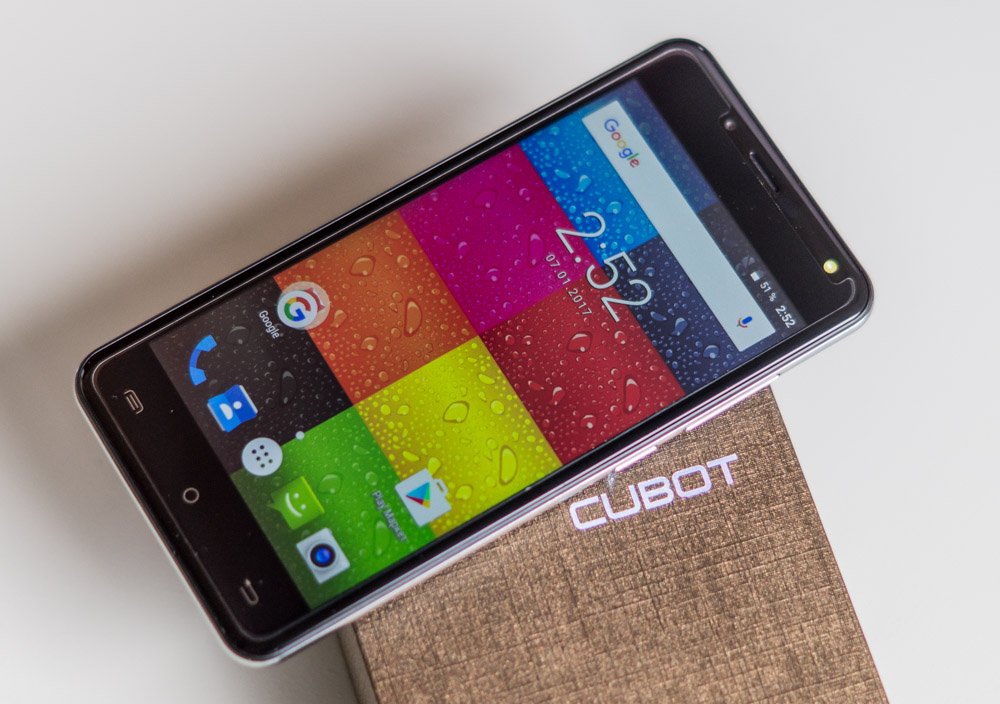 CPU: MT6580A, 1.3GHz Quad-core
GPU: Mali-400 MP
RAM: 1 GB
ROM: 16 GB
microSD support: up to 256GB
Wi-Fi: 802.11b/g/n
Mobile networks: GSM+WCDMA – 2G: GSM 850/900/1800/1900MHz, 3G: WCDMA 900/1900/2100MHz
Display: 5", IPS 1290×720
Main cameras: 8 mp (interpolating up to 13 mp) and 2 mp, auto focus, LED flashlight
Frontal cameraL 2 mp (interpolating up to 5 mp), LED flash
Battery: 2350 mAh
Dimensions: 144 x 72 x 7,9 mm
Weight: 145 g
Package contents
The phone rests inside a bronze-colored box. The phone itself is sheltered by a screen protector and a silicon case with conrners protection. Inside are power adapter, usual USB/microUSB cable and a small instruction manual. Nothing fancy, although it was nice to see some protection included – It'd be nearly impossible to find anything for Cubot Rainbow 2 at our retailers.
Design, materials, build quality, architecture
Visually, it is a nice looking phone. I had a black version, but there's also a white, gold, blue and red one. It is called Rainbow, after all.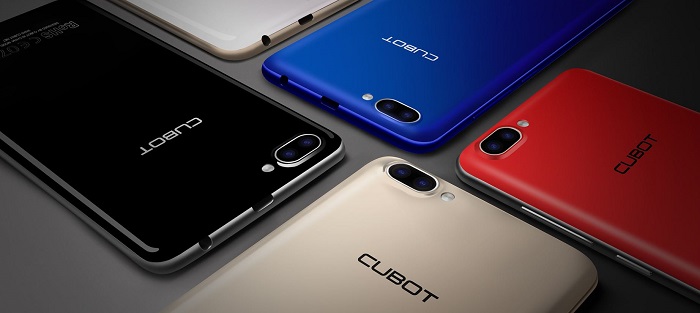 The build is sturdy enough thanks to high-quality plastic. At first I was really impressed, but after some time my model started squeaking when I pressed on it. The ON/unblock button and a volume button feel kinda cheap and unstable, but nothing serious, considering the price.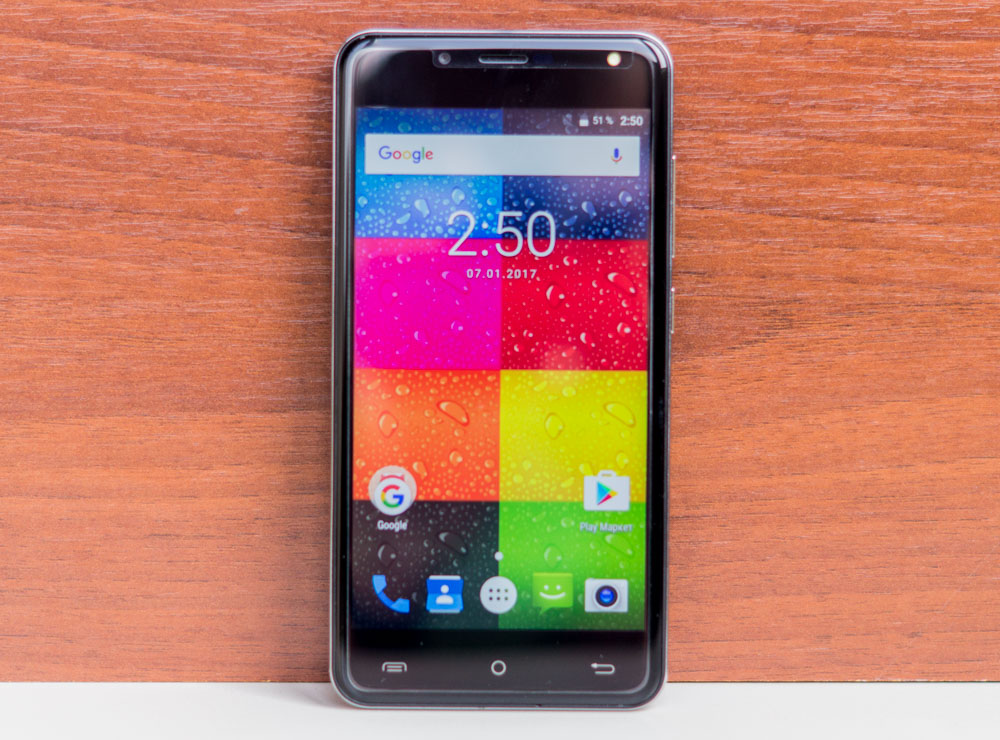 All elements are in their usual places. The face of the phone is made of 2.5D glass. Above is the camera, a speaker, light and proximity sensors, LED flash and a notification indicator with only one color available – blue. The last two items are particularly impressive – even more expensive phones don't always have them.
Underneath there are three sensor buttons without backlight.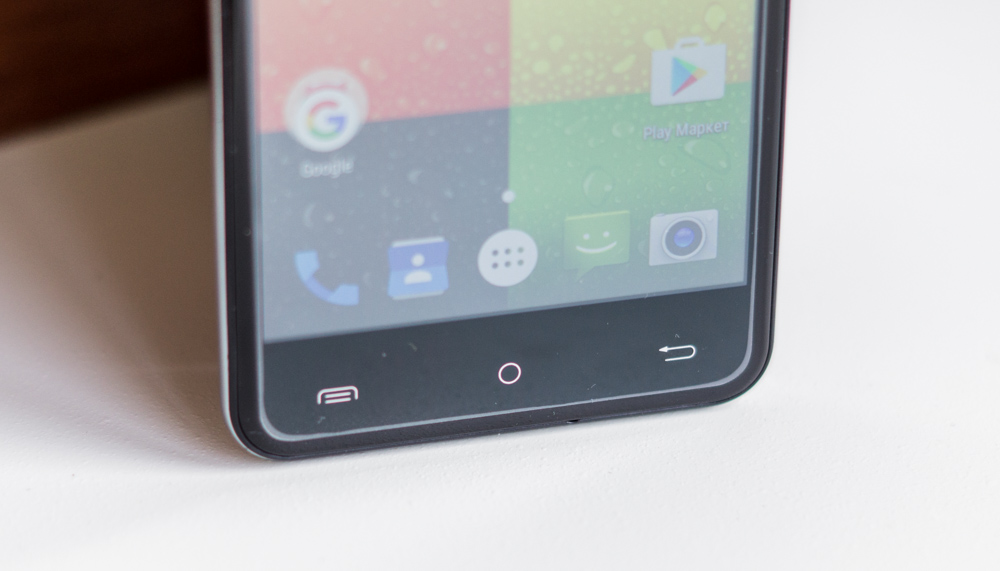 It may look like Cubot Rainbow 2 has a metal frame, but don't be fooled.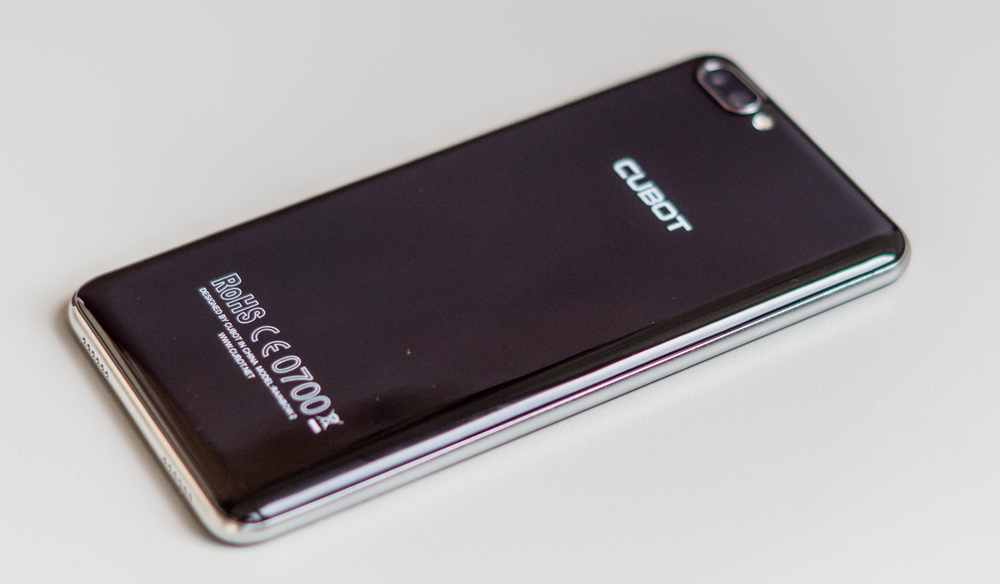 On the right there's the ON/unblock button and the volume button. The left side is completely empty.
Below we have a set of holes with the main speaker and the only mic. On the upper side there's the 3,5 audio jack and a microUSB port right in the middle.
The back plate can be taken off. It is, unfortunately, a fingerprint magnet, and is also prone to scratches. Maybe that's why the case was included. Maybe the situation is better with other colors, I don't know. It looks cool in black, though.
In the upper left corner there's a dual camera and a flash. The logo and technical text are a bit lower. Under the plate, which is very hard to open, is a 2350 mAh nondetachable battery, two micro-SIM slots and a microSD slot.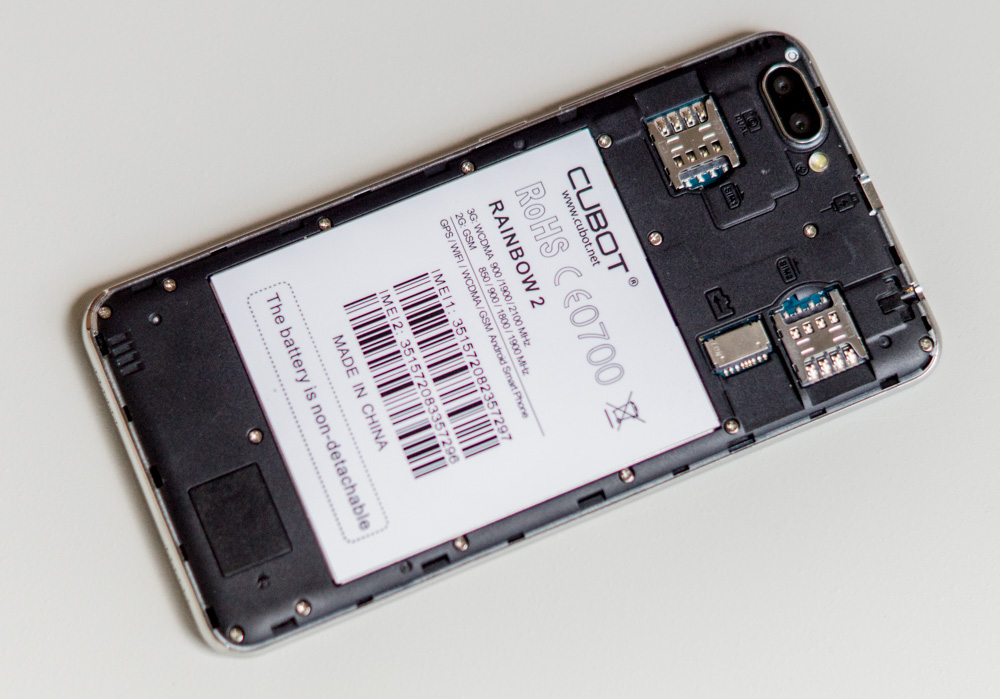 Cubot Rainbow 2 ergonomics
The phone is very nice to hold thanks to its size. It won't slip out of your hand, and it's possible to use the phone with one hand. All elements are in their right place. The phone is very comfortable to use.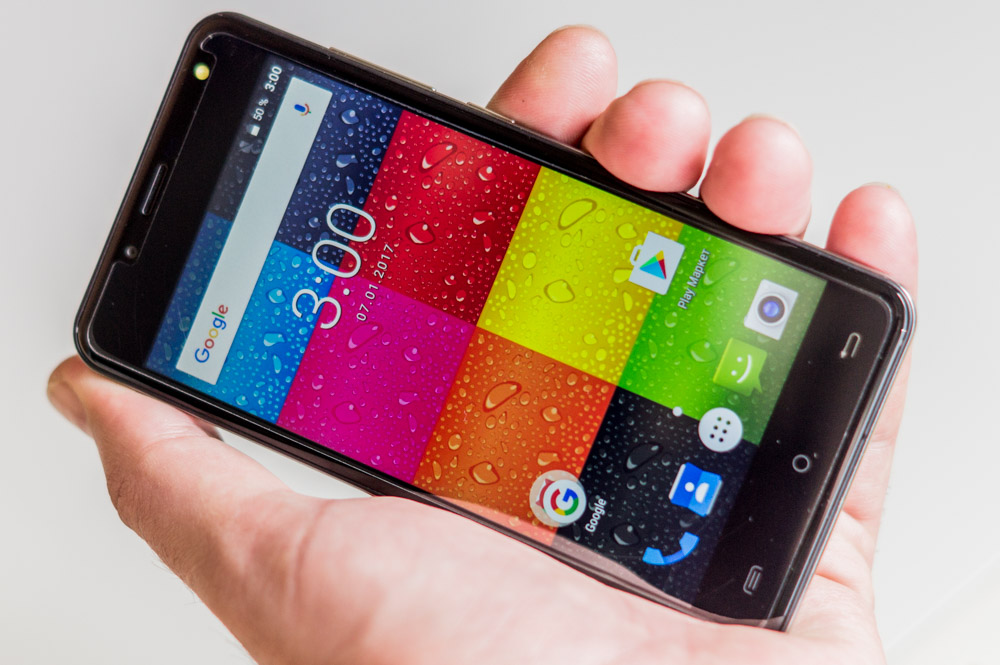 Display
The 720×1280 IPS display is very nice. It's bright, vibrant and rich in contrast. The brightness is a bit too much though – especially for reading in the dark. Thankfully, it can be remedied with a third party app. The colors look natural – as they should in an IPS matrix.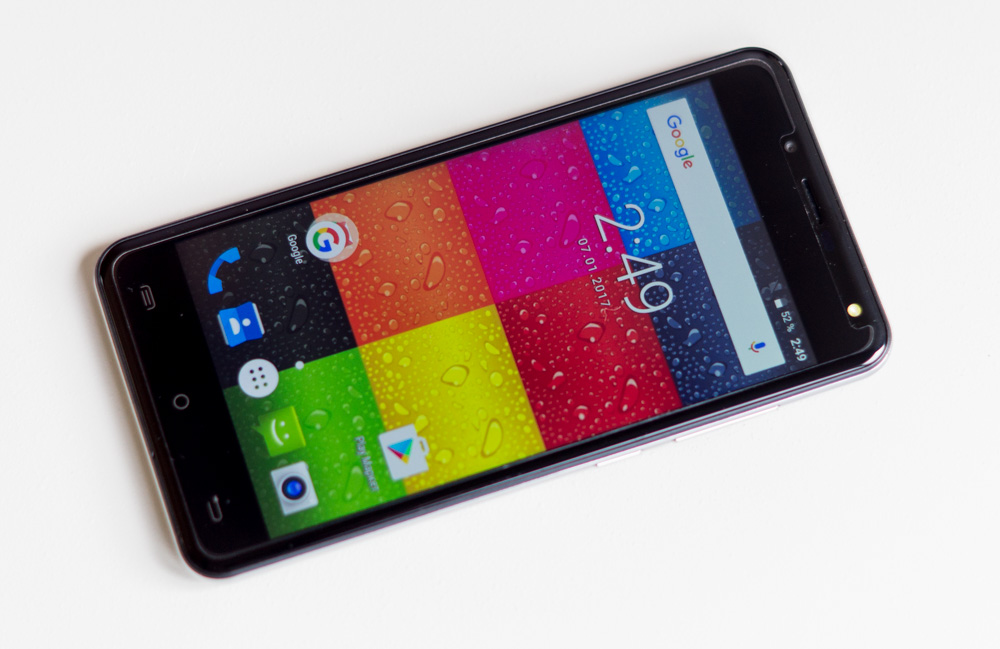 View angles are wide, colors stay true, although contrast fades a little. When tilting the phone diagonally, the screen can look a bit blueish. Overall, it is a great screen – considering the price.
Performance
We all know that Cubot Rainbow 2 is a low-end phone, so let's not expect anything extraordinary in terms of performance. Quad-core 1,3 Gh processor MTK6580 and Mali-400 MP GPU are enough for Android 7.0, but don't expect much. Below are the results of Antutu and Geekbench tests:
1GB of RAM allows to multitask, but with a few limitations. Don't expect huge apps to work alongside each other, but a couple of ordinary apps in background won't be a problem.
Overall, Cubot Rainbow 2 functions admirably. The UI is smooth, animations are fast and fluid. Maybe we have a clean Android 7.0 to thank for that. While installing apps the phone may lag a bit, but it has more than enough power to use messengers, social networks and making calls. You can surf the web or watch videos online without a hitch. But that's about it.
Cubot Rainbow 2 was not made for games. Well, you can play something simple, but don't expect too much – there's not enough RAM for serious stuff. World of Tanks Blitz works fine on lower settings with 25-45 FPS. You can even run it at 50 FPS on ultralow settings, but where's the fun in that? The new Asphalt looks sluggish, but it's playable.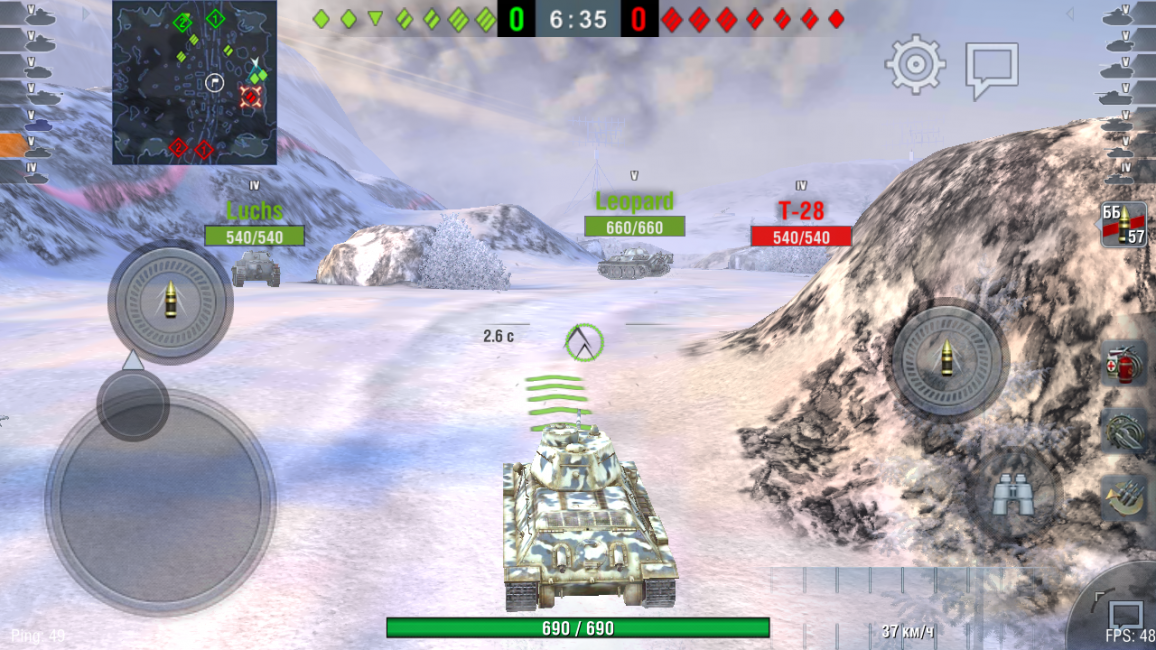 Cameras
The main feature of the phone. The main camera in Cubot Rainbow 2 is dual, by which I mean that the main camera here is the one with 8 MP and the second one is an addition with 2MP.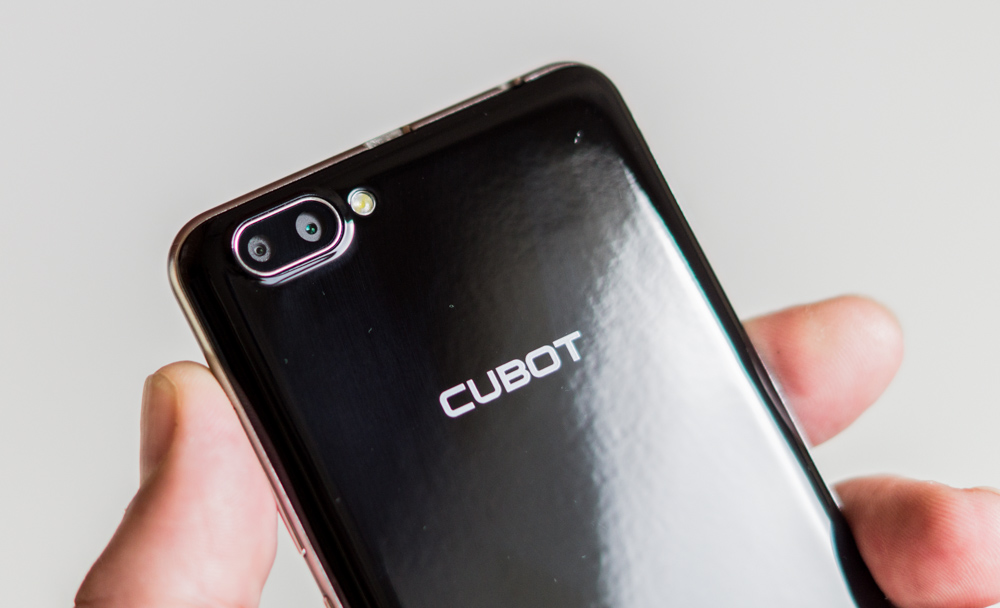 The dual camera is there for nice bokeh with wide diaphragm effects. We've seen this already in other phones. Activate the special mode – and voila. If you close the camera eye, the phone will automatically return to the normal mode.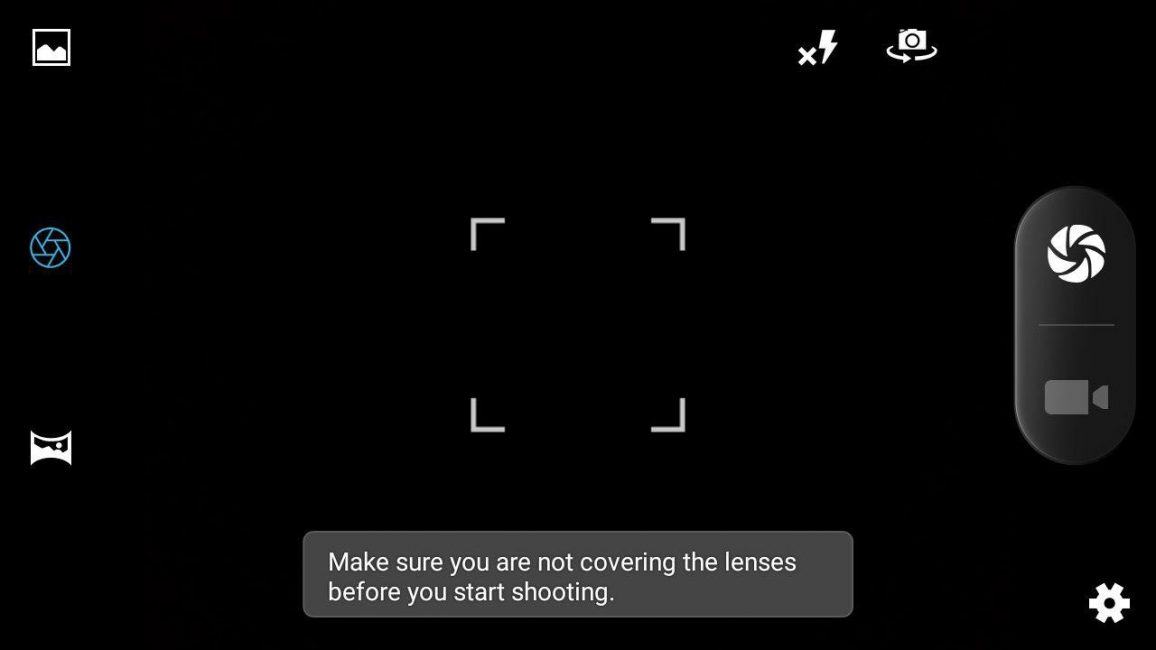 The soft here is nothing special – the usual Mediatek app. The only addition is the aforementioned "blur" button.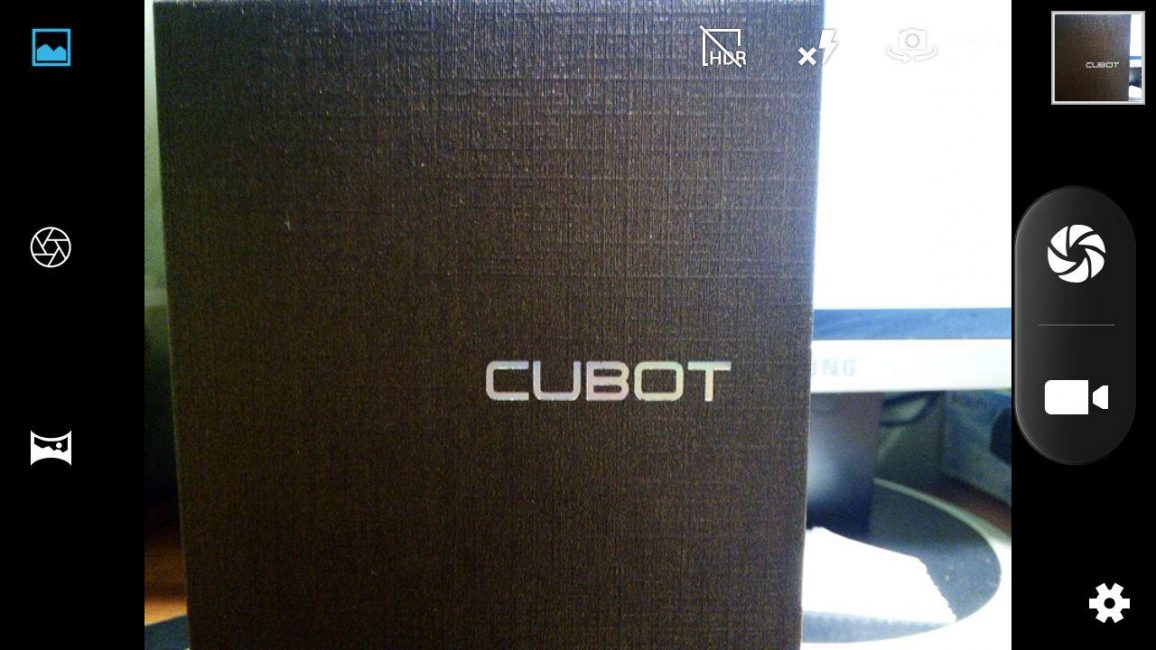 The main module is not super-fast, and it's speed hugely depends on the lighting. In the light of the day it's fast. The zero shutter delay helps making photos faster, but a lot of the time the camera won't focus properly. There is HDR mode, and it works, but there's nothing to write home about. In HDR mode the camera is even slower. The LED flash looks a bit green to me, but it serves as a decent flashlight.
The picture quality is decent for a low-end phone. In good lighting it's possible to take great shots. The blur function works – see the proof below. Still, you'll have to spend a lot of time to get a decent result.
Cubot Rainbow 2 makes videos with 1920×1088 resolution; there is some kind of electric stabilization. The quality is poor.
The frontal 2MP camera with 5Mp interpolation is no different: in good lighting it works quite well. Don't forget about the flash, which helps when it's dark. The quality will be worse, but it'll be possible to recognize faces.
PHOTOS AND VIDEOS IN FULL DEFINITION
Battery life
I was actually impressed by the battery life. The battery itself is nothing special, but Cubot Rainbow 2 works a lot longer that I anticipated. The maximum battery life without charging is about 5 hours; normally it's something between 3,5 and 4 hours of active usage. In other words, Cubot Rainbow 2 will survive from morning till evening. Or even longer. It depends on how are you going to use it. I used it as a second device and Cubot Rainbow 2 worked for one and a half days. For normal users it would be more than sufficient.
Sound
The speaker is bit underwhelming. It's too quiet and the overall quality is lacking. It's hard to hear the person you're talking too if your surroundings are loud. The sound itself is also not very good. The main speaker is the same: you'll probably hear it, but it's no good for movies or music. The quality is below par; the volume is not loud enough.
The sound itself is not bad while using headphones – just don't touch any special modes (Settings / Sound / Sound improvement), which only butcher the sound. You can use player's equalizer, though – it helps a lot. Make the phone sound just how you like it.
Connectivity
Wi-Fi module in Cubot Rainbow 2 is adequate. The signal is stable, no problems with the radius either. Bluetooth (4.0) also works perfectly. GPS is a bit slow – it takes 10 seconds to start. No problems with positioning, though.
The cellular network is another thing. The phone finds network fast enough, but sometimes it changes from 3G to 2G without any reason. Why – I have no idea. Maybe problems with firmware. It wasn't a big deal for me, but I had to mention it.
Firmware
Cubot Rainbow 2 uses Android 7.0 which is simply great. It also helps with the overall speed of the system.
The shell is not pure Android  – there are some additions from the manufacturer. The standard launcher and settings were modified a bit. In terms of soft, there's nothing fancy, only usual AOSP Android 7.0 stuff. Google services are already installed. Among other apps are the file manager, standard AOSP player with equalizer and the app for OTA updates. FM radio is not supported by the firmware.
As I said before, the standard launcher was a bit modified. Cubot added some sort of control center which you can open by swiping upwards. Here you can open the apps you use the most, change brightness settings, turn ON/OFF Wi-Fi and Bluetooth, open Clock to set up the alarm or clean and optimize the memory.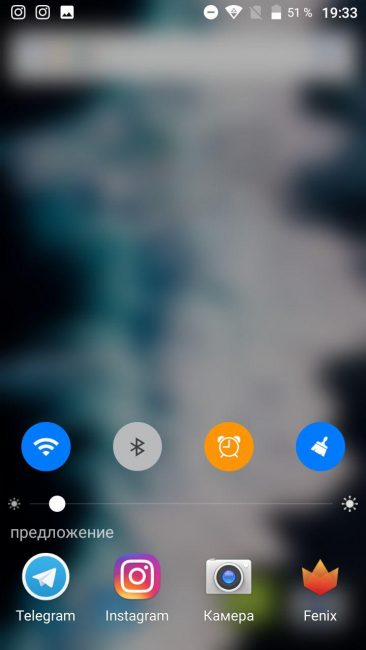 There are also some kind of shortcuts. You can use them by swiping up/down on the icon. Supported are both the standard apps (contacts, SMS, camera) and third party apps (like Chrome and Gmail). If the app doesn't have any shortcuts, you can delete it or look at detailed information. I haven't noticed any other modifications.
In settings there are some additions as well: DuraSpeed is a Mediatek technology, which allows to speed up the current app, Breathing Light allows to turn on and off the light indicator, and Parellel Space helps to create the app clone like in MIUI 8.
You can also use gestures. Wake up the device with two taps or draw symbols to open any app while the screen is off.
The firmware is solid with no noticeable problems, although once the "Phone" app stopped working and I had to reboot the device. Maybe new updates will fix this – I have just gotten the latest patch.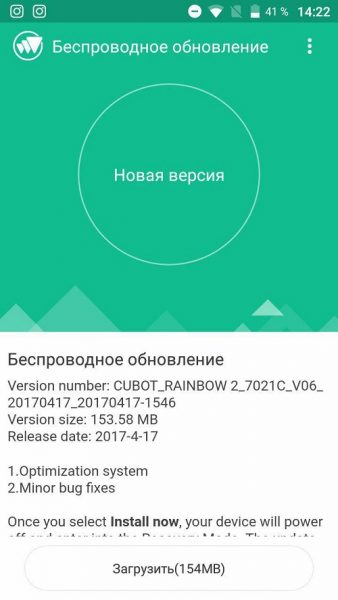 Final thoughts
Cubot Rainbow 2 can be recommended to anyone looking for an affordable phone with good design and a decent screen. It's great for unsophisticated users or as a second device.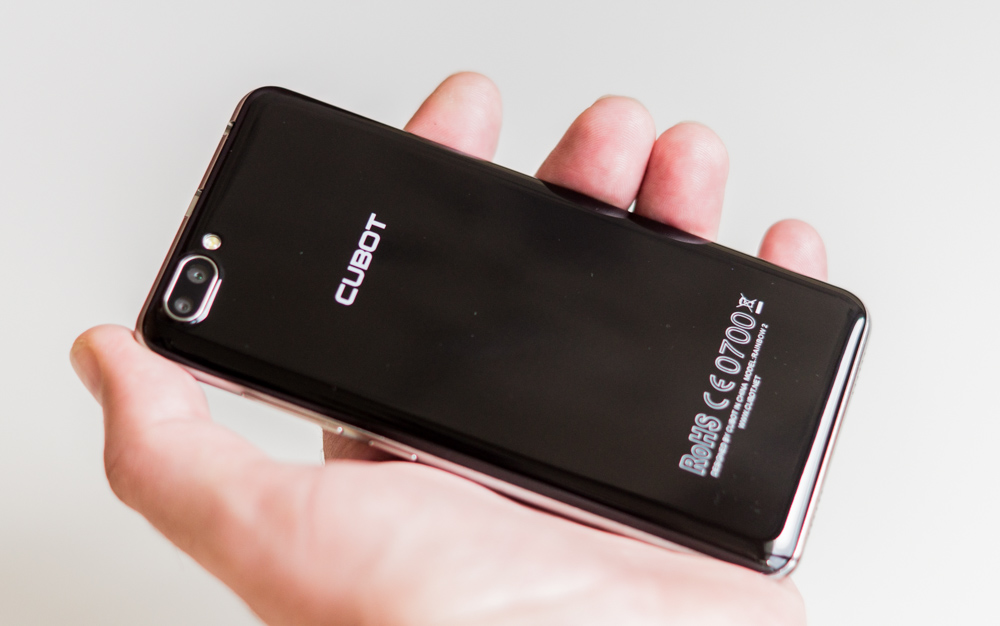 The phone has no serious flaws. As for the price, it is one of the best. So let summarize:
Pros of Cubot Rainbow 2:
The design
Ergonomics
Package contents
Android 7.0 Nougat
Good IPS screen
Adequate cameras
Good battery life
Fast system and smooth UI
Light indicator and flash on the front
Cons:
The back plate is a fingerprint magnet
The speakers are too quiet
You can buy Cubot Rainbow 2 at GearBest with free shipping, use the coupon code Cubotoff for a discount of 8%:
black
white
gold
blue
red