A week before the presentation of flagship P20 and P20 Pro Huawei announced a lighter version of its series. Today we take a look at Huawei P20 Lite and decide what features from the bigger models is still there.
Technical specifications of Huawei P20 Lite
Display: 5.84″, IPS, 2280×1080 pixels, aspect ratio 19:9
Processor: Huawei Kirin 659, 8-core (4 cores 2.36 GHz and 4 cores 1.7 GHz, Cortex-A53)
Graphics Accelerator: Mali-T830 MP2
Memory: 4 GB
Storage: 64 GB
Support for microSD cards: up to 256 GB
Wireless networks: Wi-Fi 802.11 a/b/g/n/ac, Bluetooth 4.2, NFC
Main camera: Dual 16 + 2 Mp, f/2.2 (f/2.4 in the optional module), PDAF
Front camera: 16 Mp, f/2.0,
Battery: 3000 mAh
Dimensions: 148.6×71.2×7.4 mm
Weight: 145 g
The phone costs about $450.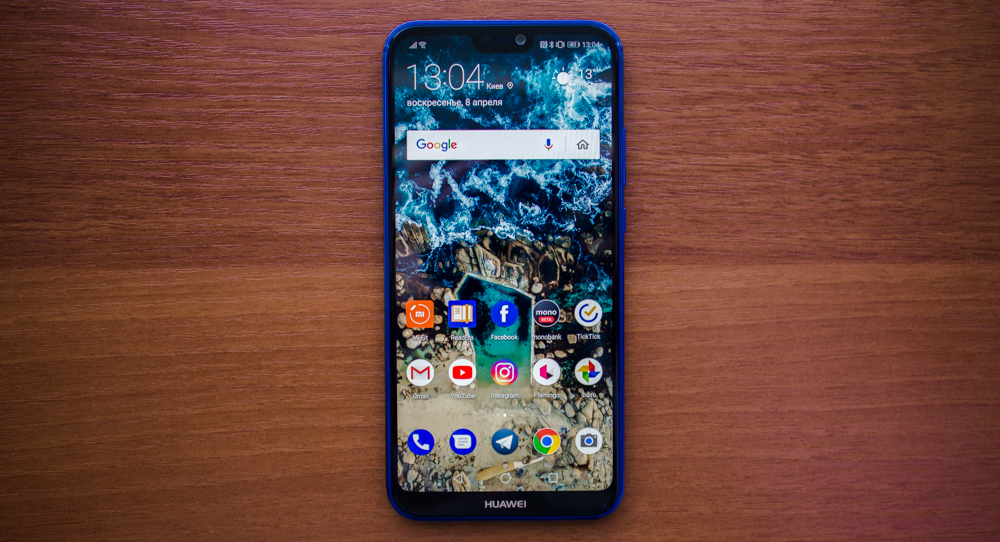 Design, materials and build quality
Huawei P20 Lite has three possible color variations: black, blue and pink. I had a model in blue, and it is definitely the best looking one. Why? Just look at how amazing the phone's back looks.
No other color has that kind of iridescence. The blue model also is not that of a fingerprint magnet – unlike the black one.
In terms of the design, the device has slightly rounded edges on the front and back, and a metal frame in the color of the case around the perimeter. Glass on both sides has a good oleophobic coating. The build quality is great, although Power/Unlock and Volume buttons are a bit wobbly.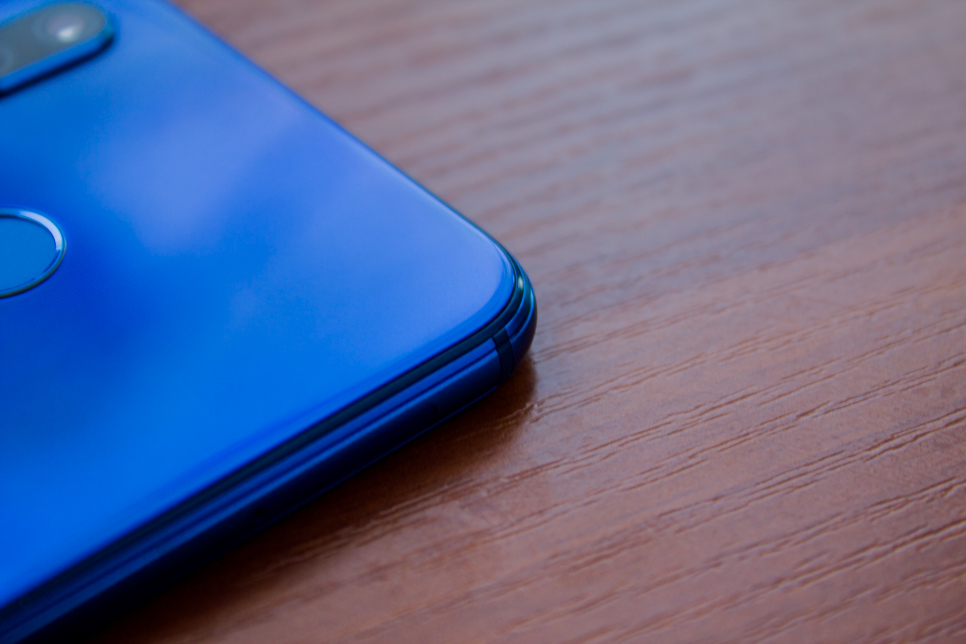 We can't ignore one on the most noticeable features – a notch on the display and a vertical camera module.
Yeah, we know perfectly well who "inspired" Huawei, although I wouldn't call Huawei P20 Lite a clone of iPhone X. Still, both the notch and the camera module look almost exactly the same. It doesn't hurt Huawei P20 Lite looks – the phones of this lineup look great. I still dislike this iPhone envy, though.
Bezels on the sides of the screen are not very narrow, but it helps with unintended touches. The bezel below the screen is noticeably thicker, and the manufacturer's logo is located here. I'd very much prefer they ditched the logo, which spoils overall looks a bit.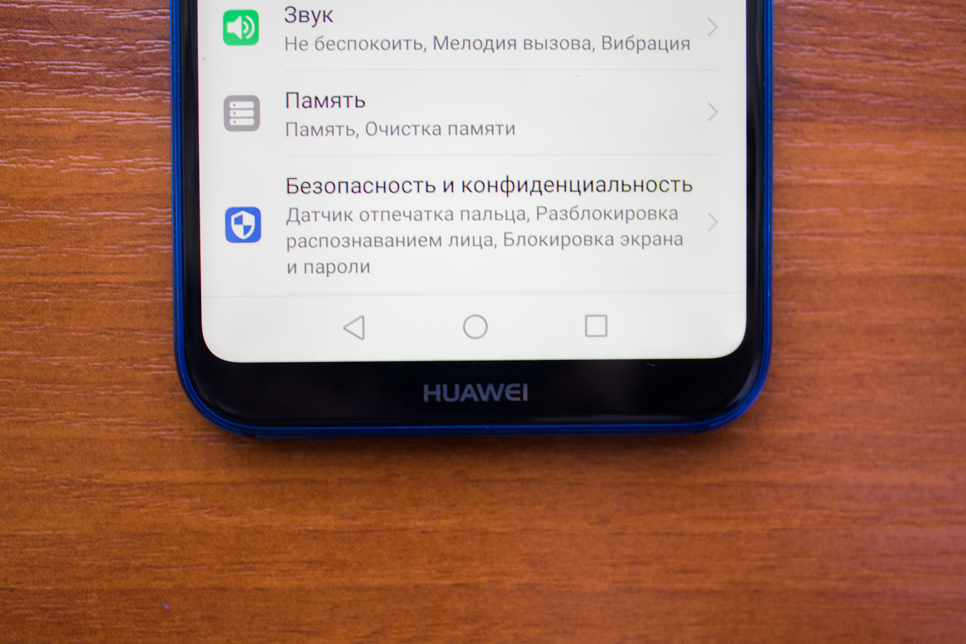 Elements' Configuration
The notch host lighting and proximity sensors, a speaker and a front camera. The LED notification light is also there, but it is located slightly higher and to the right of the camera – not in the notch, but in the bezel itself.
Below the screen, as I already said, is the Huawei logo.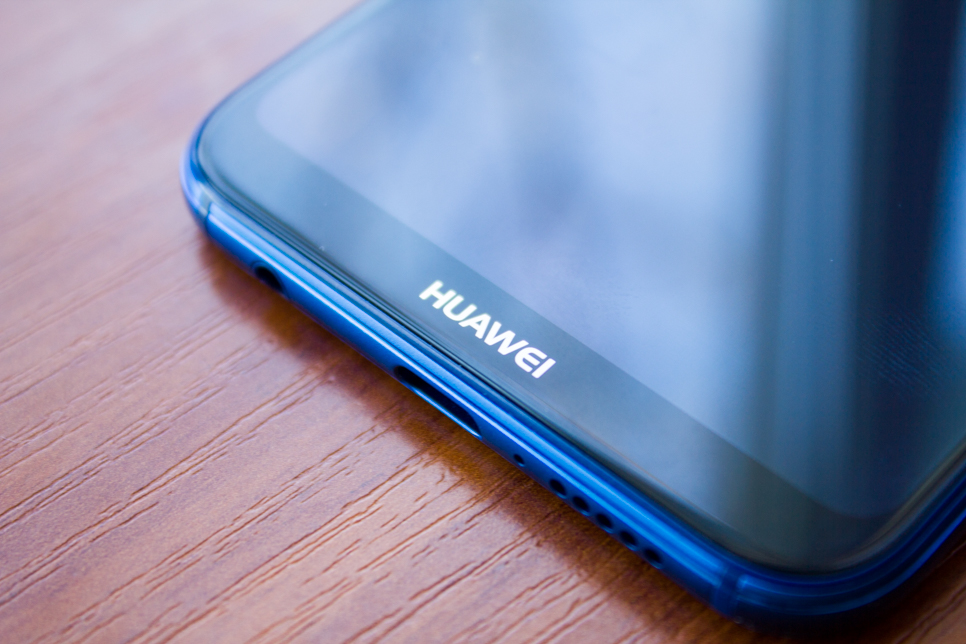 On the right side there's a Power/Unlock button, a volume button and a plastic splitter.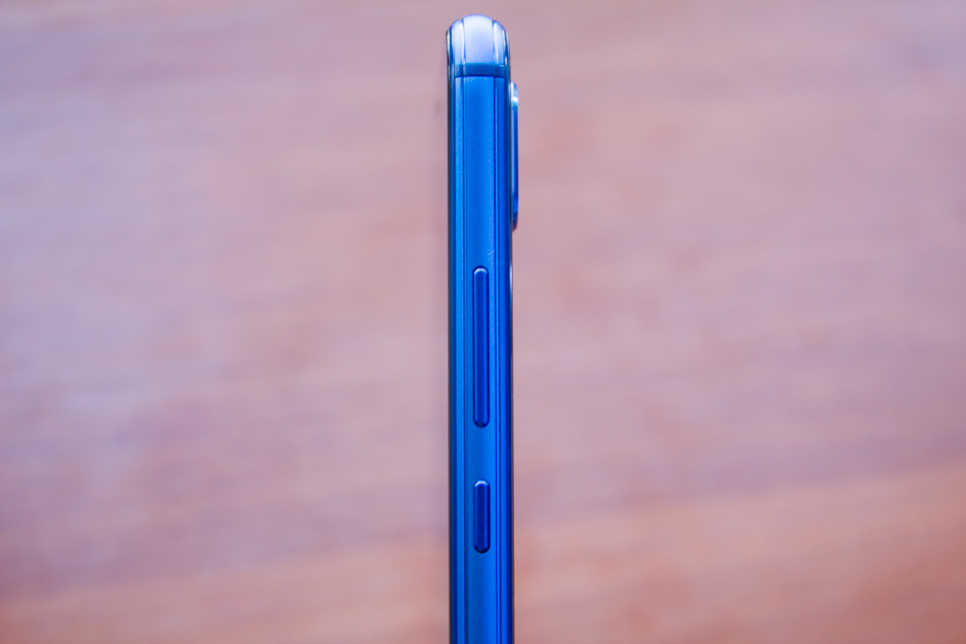 On the left side is a combined slot for two SIM-cards (nano), or for one SIM-card and a microSD card, and a similar plastic insert under for the antennas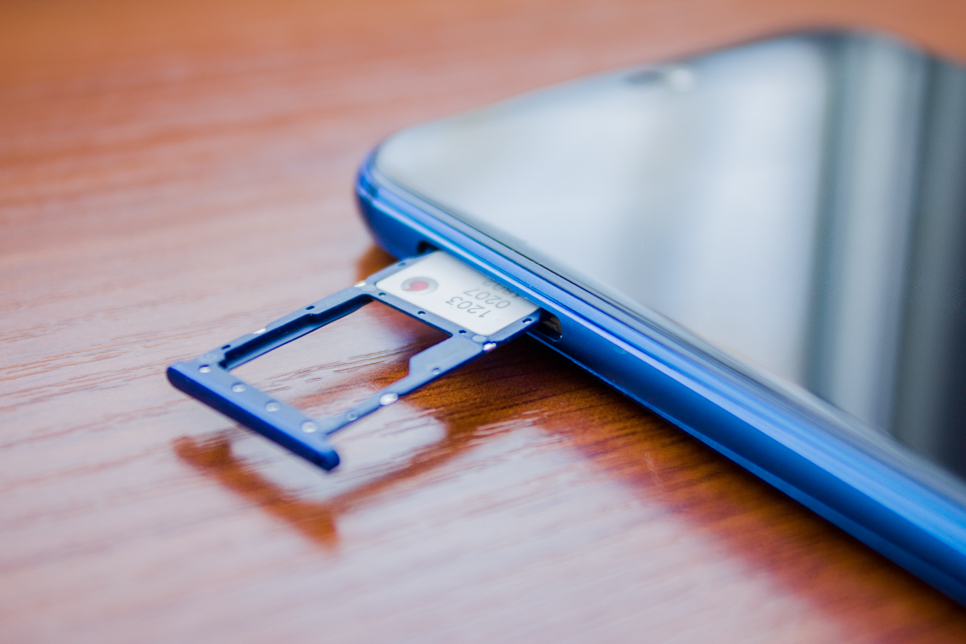 On the lower edge in the centre is the USB Type-C port, to the right of which is the main microphone and the main speaker. On the left is 3.5 mm audio jack, thankfully. On the sides of all elements are plastic antenna splitters.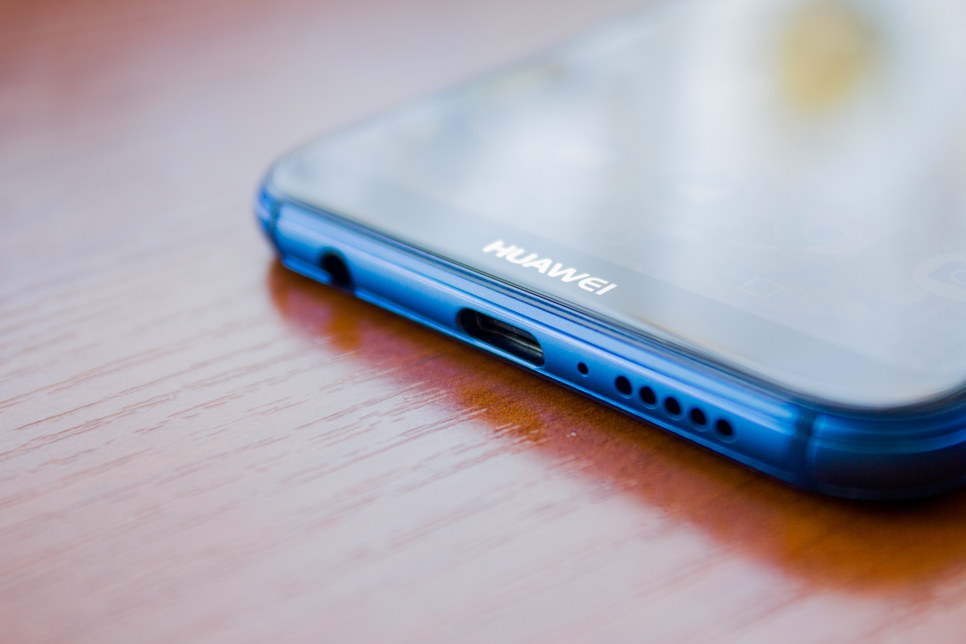 There's nothing on the top except for the additional mic for noise cancellation.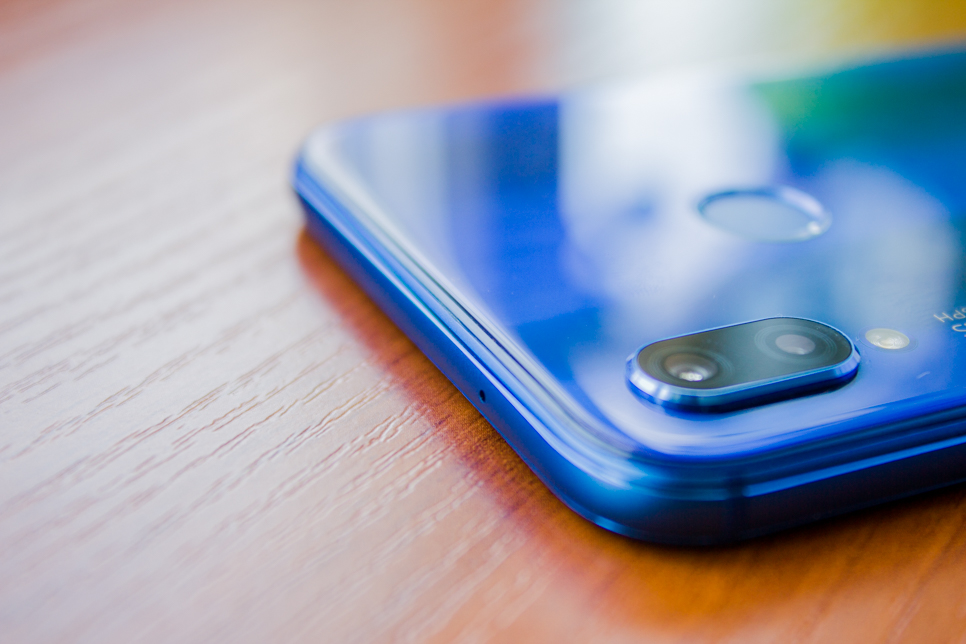 On the back in the upper left corner there is an area with two camera modules protruding from the case, in a metal frame (the cameras are slightly recessed), and below it there is a flash and info about the optics.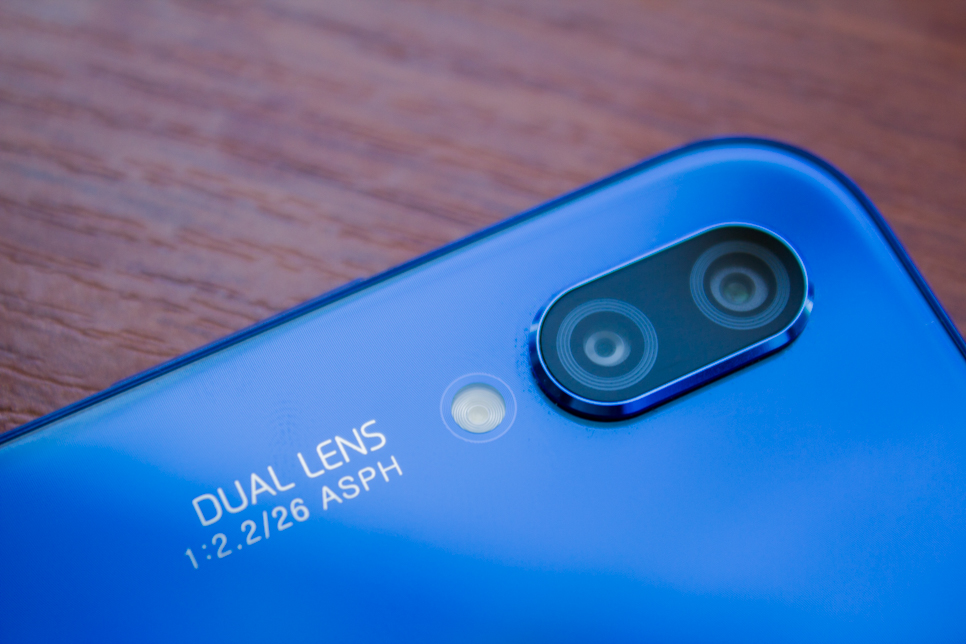 In the center we have a round area for the fingerprint scanner.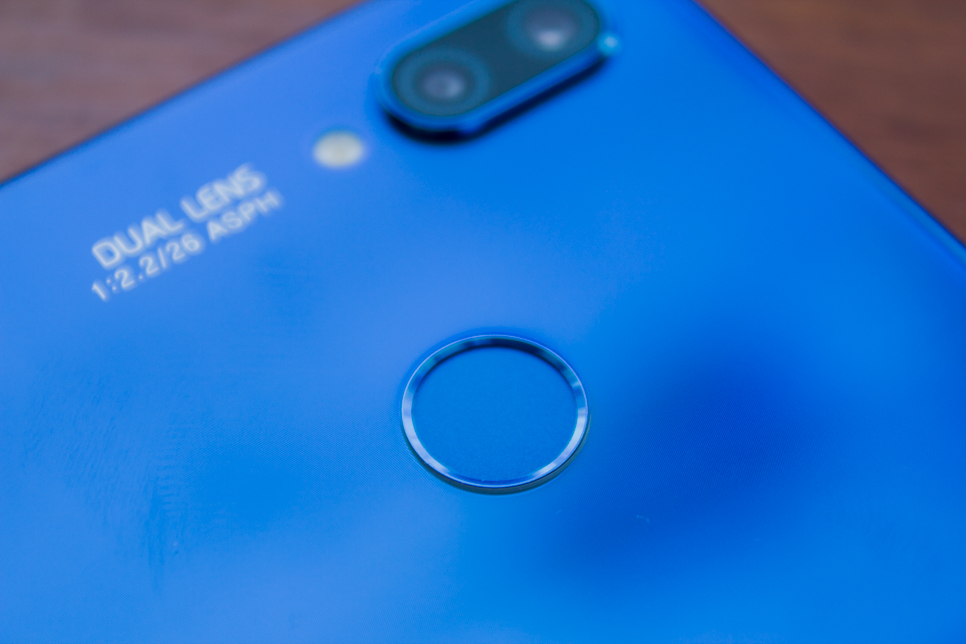 Almost at the very bottom to the left is another Huawei logo and some official information.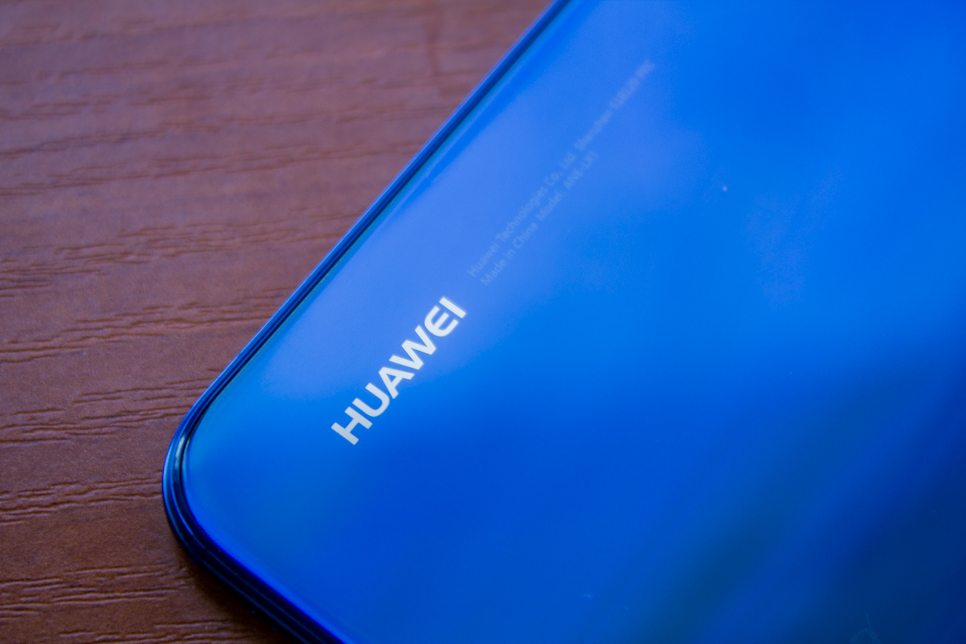 Ergonomics
Huawei P20 Lite is very convenient and satisfying to use. That is very much thanks to the trendy screen ratio which allows for a thin body. The phone is also very slim and light. All of this creates a very pleasant device.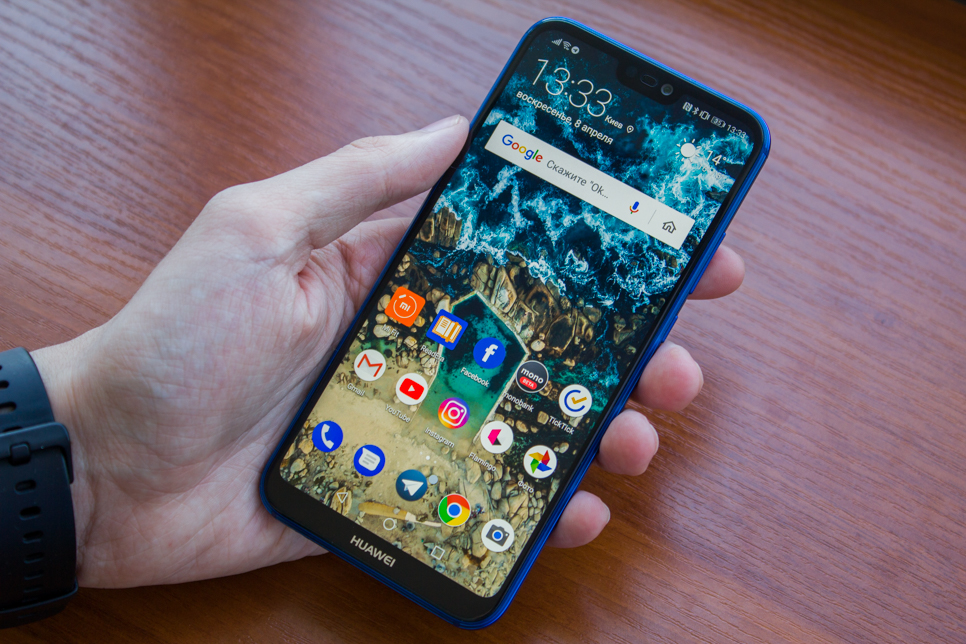 After a couple of days with P20 Lite all other "older" phones with 16:9 and 5,5" screens seem ancient and uncomfortable. You get used to good things fast.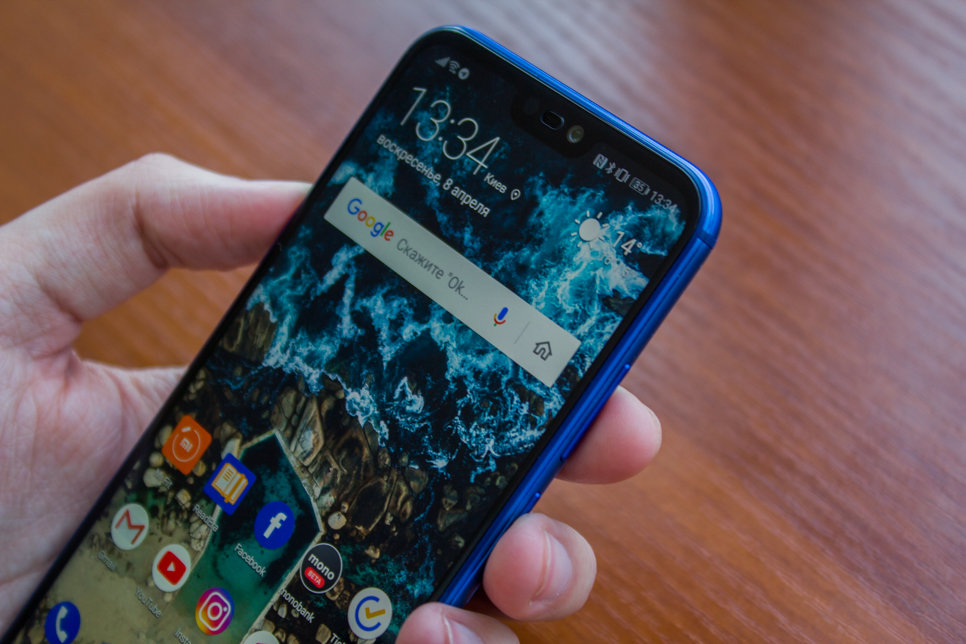 The glass is, as expected, very slippery, so hold on tight. The phone can fall from a slightly uneven surface.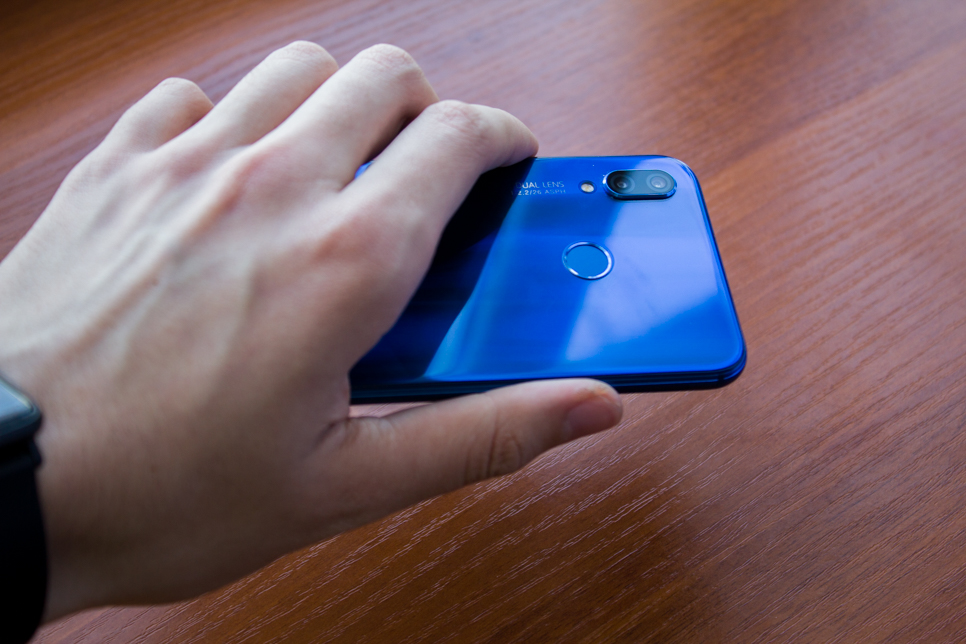 Screen
Let's get technical: 5.84″, IPS-matrix, 2280×1080 pixels with density 433 dots per inch, and the aspect ratio is somewhat non-standard 19:9.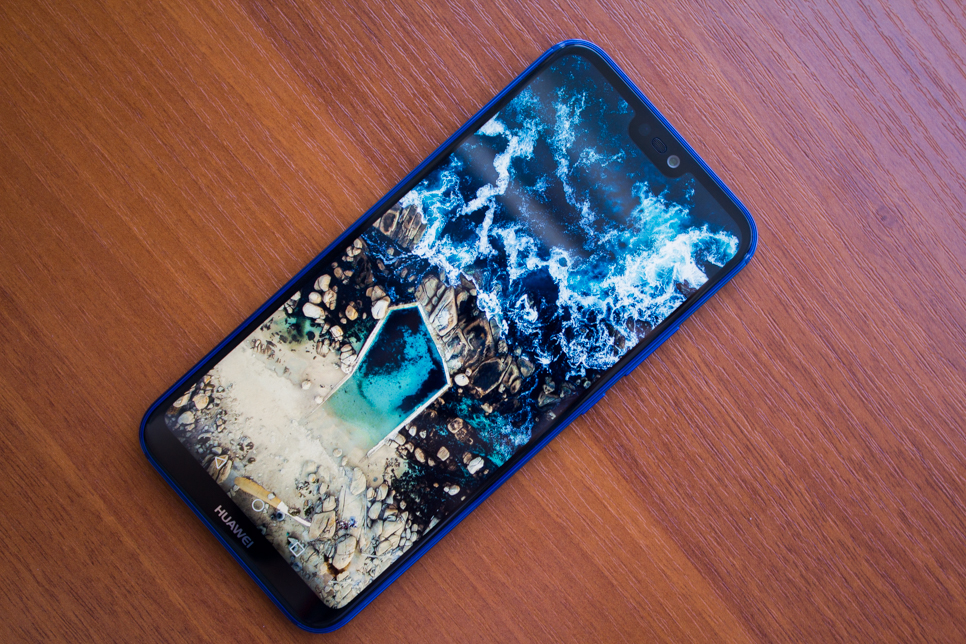 The quality of the display is excellent, as it should be in a good quality IPS-matrix. It is bright, with rich colors and exceptional contrasts. Viewing angles are excellent. The colors are neither too cold nor too warm – the screen is calibrated to perfection.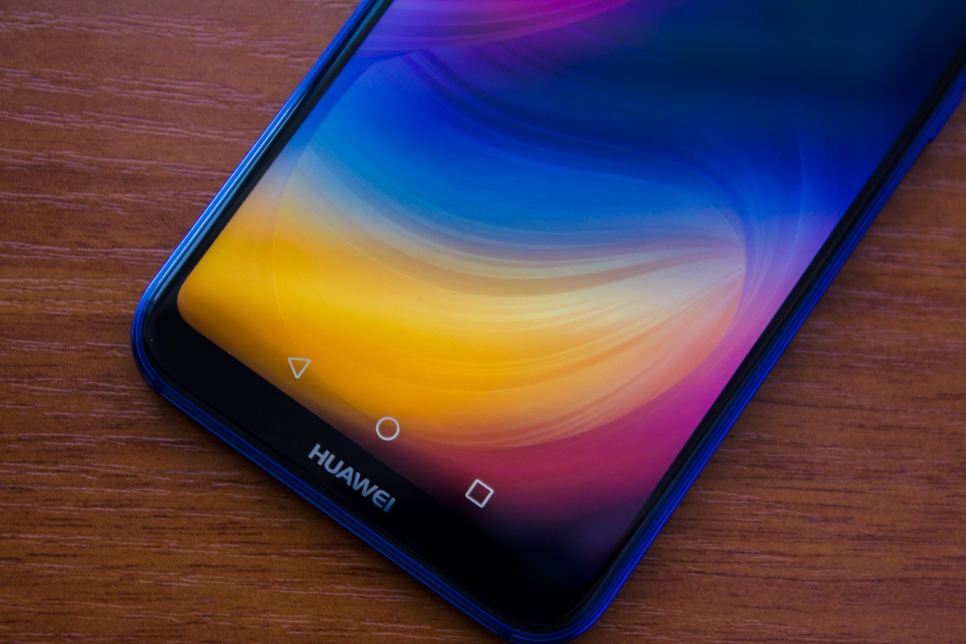 You won't be disappointed with the screen. It's great for absorbing content from the web.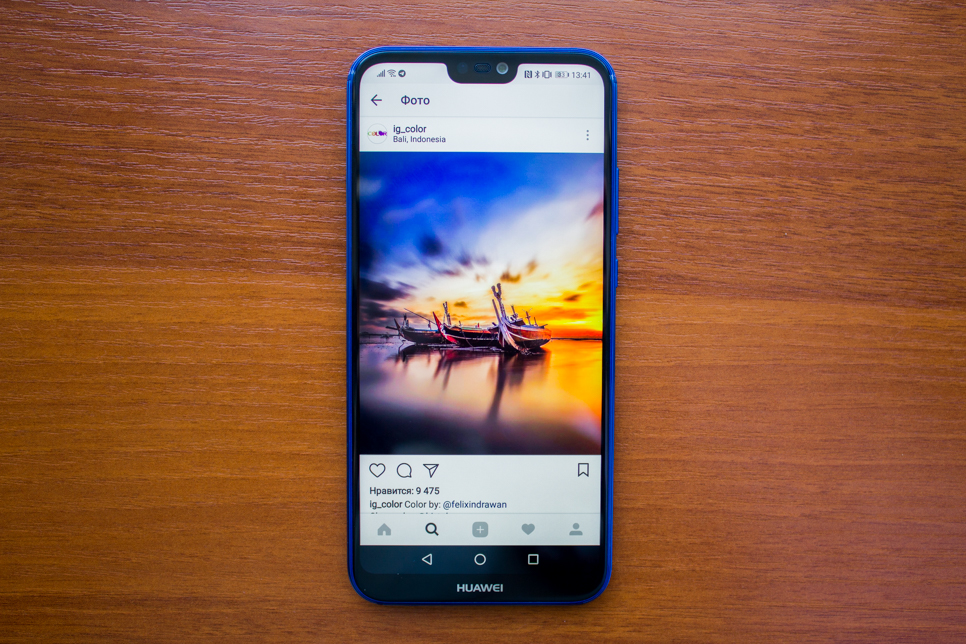 I liked auto brightness, which I sometimes turn off when it doesn't work correctly. But there are no problems with it here – P20 Lite is very smart in that aspect.
In the screen settings, you can adjust the color temperature if the default settings aren't to your liking. Naturally, there is also a night mode for protecting the eyesight by reducing the intensity of the blue color. If necessary, you can lower the screen resolution from FHD+ to HD+, which in theory should save you battery, but reduce the picture quality.
There's also a neat little feature which allows you to hide the notch.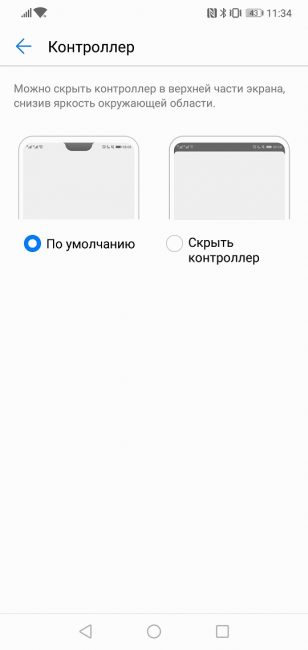 It's very simple: the top part of the screen is filled with black. The results are below:
It's definitely great to have a feature like that. Whether to use it or not is up to you. I didn't mask the notch.
Most of the apps are accustomed to the notch and either color the area around it or just make it all black.
While watching YouTube, you don't have to worry about the notch – the picture is scaled accordingly, unlike in, say, iPhone X.
Performance
Huawei P20 Lite is equipped with a proprietary HiSilicon Kirin 659 processor. We know it from Huawei P Smart, Mate 10 Lite and Nova 2.
It is based on TSMC's 16nm process and consists of 4 Cortex A53 cores with a clock speed of 2.36 GHz and 4 cores with a frequency of 1.7 GHz. Mali-T830 MP2 is used for graphics.
Synthetic tests results of Huawei P20 Lite in AnTuTu and Geekbench 4 are below:
The smartphone is stable and quick, but there are some noticeable micro-freezes. For example, the apps' opening animations are not as fluid as we would like, although the applications themselves work flawlessly, with no slowdowns whatsoever. This will probsably be fixed with in subsequent firmware update. Otherwise, I did not notice any problems.
With games, P20 Lite is doing fine. Casual time-killers all work fine, and as for heavy ones, you will have to rely mainly on the average graphics settings. In the World of Tanks Blitz on average graphics settings with shadows off the FPS varied from 35 to 45 FPS. The massively popular PUBG Mobile on average settings is quite playable. The famous Asphalt 8 works great even on the highest settings. In general, everything depends on the optimization. As always.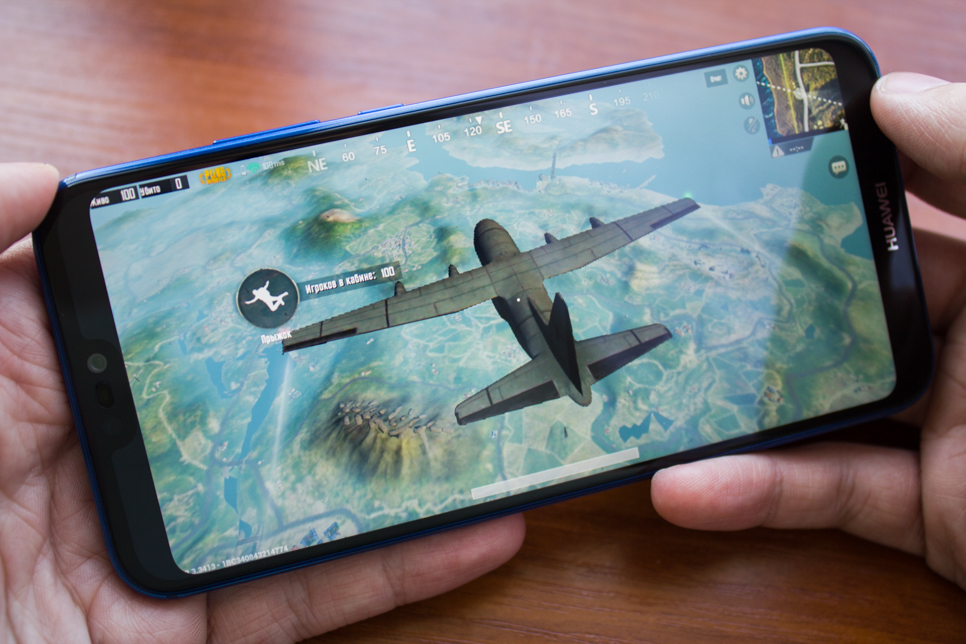 Huawei P20 Lite comes with 4 GB of RAM and 64 GB of storage. RAM performs well, without unloading programs while multitasking. Switching between running applications is quick. Of 64 GB of permanent memory, about 50.5 GB is free to use. The memory can be expanded with a MicroSD card up to 256 GB.
Huawei P20 Lite cameras
Huawei P20 Lite has a dual main camera. Main module has a resolution of 16 megapixels and f/2.2 aperture, the second has a resolution of 2 megapixels and f/2.4 aperture. The second module helps create pictures with a wide aperture effect.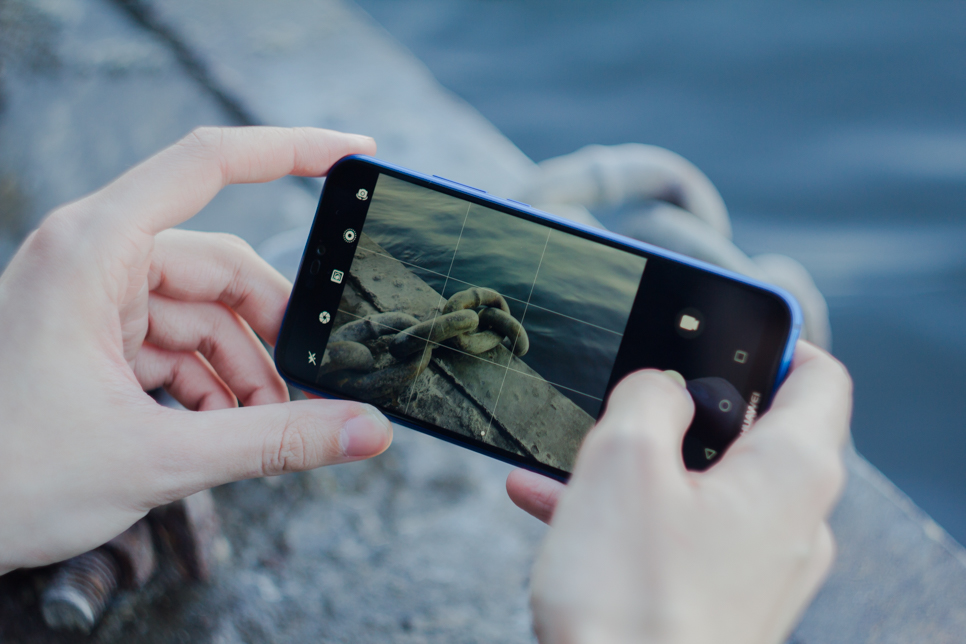 The phone makes excellent photos with good detail and color rendition. Autofocus is fast and accurate, as expected. The camera is lightning fast.
PHOTOS IN FULL DEFINITION
The smartphone makes videos in FullHD resolution with 30 fps. The quality is average, and there is no electronic or optical stabilization. You can also make slow motion video but in a meager 640 × 480 definition. Time-lapse works in 1280×720, though.
But the front camera here is suddenly very good. 16 Mp, aperture f/2.0. Good quality, the ability to blur the background (you can do this with the main camera as well). Both cameras do portrait mode fine.
The interface of the camera app is familiar to Huawei connoisseurs: it's simple, convenient and has a wide range of features. There is a manual mode, both for photos and for video. There's the ability to save in RAW format if you're feeling professional. There's a mode for snapping pics at night. You can also change the location of different modes.
Unlock methods
There are two ways to unlock the phone: a familiar fingerprint scanner and a trendy face recognition.
First, about the scanner. There's nothing unusual here – it works as expected from a Huawei device; it is fast and hardly ever makes mistakes.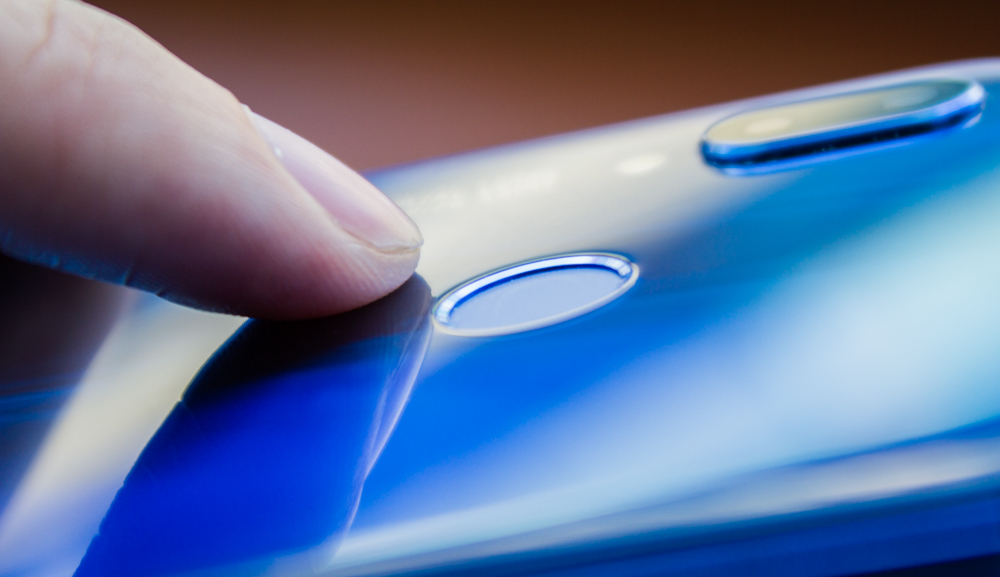 You can also use the scanner to navigate the photo gallery, use the camera, open and close the notification panel, answer a call and disable an alarm.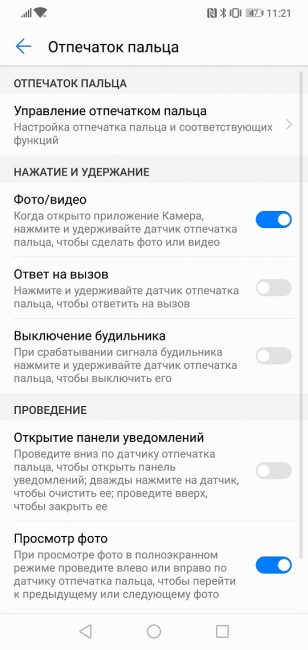 Now to face recognition. You can't add any faces other than yours. The whole process is fairly quick.
You can choose how to unlock the phone; similar to iPhone X, you can activate the screen and let the phone recognize you. Than, you slide to unlock. You can completely exclude the swiping gesture to unlock the phone right after the software recognizes you.
In the unlock settings there's a smart notifications function. This means that by default the content of notifications on the lock screen is hidden, but after you are recognized the phone will spill the beans.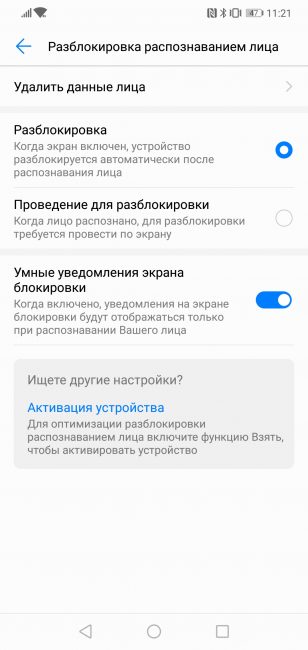 In addition, in a separate menu, you will find an option to activate the device when you pick it up, which a cooler way of utilizing the face recognition soft.
Overall, the smartphone's face recognition software works good. It is also fast, if you're not using it at night. It can't at all see in the dark, because it uses a front camera for recognizing you – no other sensors.
Huawei P20 Lite battery life
The smartphone is equipped with a small battery with a capacity of only 3000 mAh. Not impressive by today's standards, so don't expect anything extraordinary. The device survives for about 5 hours of active use with Wi-Fi, which is alright. Turn on 3G, and it's 4 hours at the most.
Huawei P20 Lite can live though the day, but that's about it. All of that is excluding all battery saving modes, of course.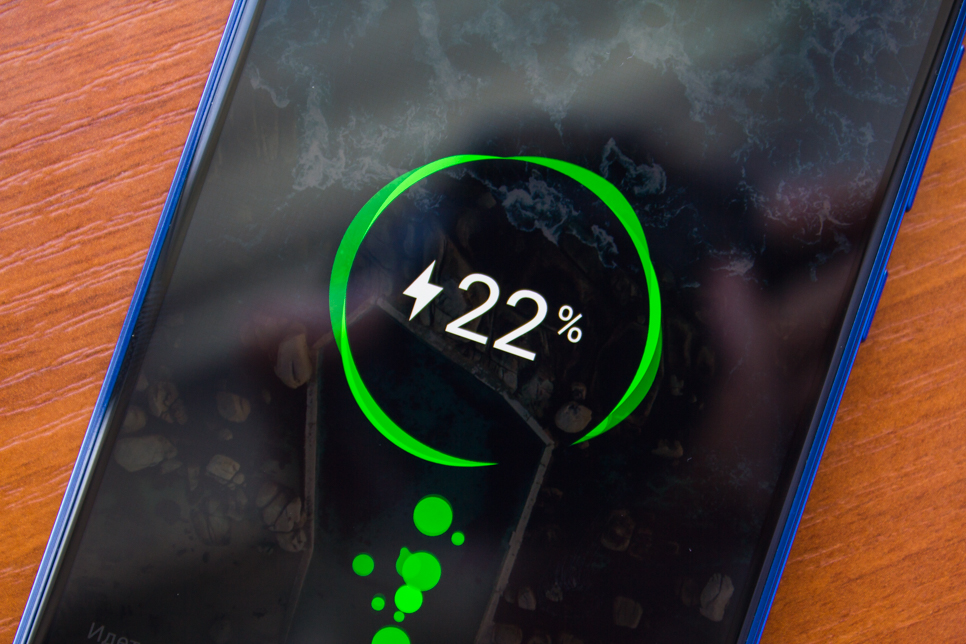 I can't tell you the usual time it takes to charge, since I don't have a standard charger.
Sound
The earpiece speaker is loud and clear.
The same can be said about the main speaker, which is loud and balanced in terms of frequencies. Still, on high volume mid frequencies tend to disappear. Still, it's more than enough.
The sound in the headphones is not outstanding, but in the settings there is a "Huawei Histeni Effects" tab that lets you choose the type of headphones, turn on "3D audio" or adjust the equalizer, which I did. After a couple of minutes spent in the settings, the sound became a lot better.
Communications
In terms of communications, the smartphone is okay: Wi-Fi 802.11 (a/b/g/n/ac) module works well. The GPS module starts quickly, positioning is accurate. Mobile network works fine, mobile internet is stable. Bluetooth 4.2 functions well, and there's support for aptX codec. Huawei P20 Lite is also equipped with NFC module.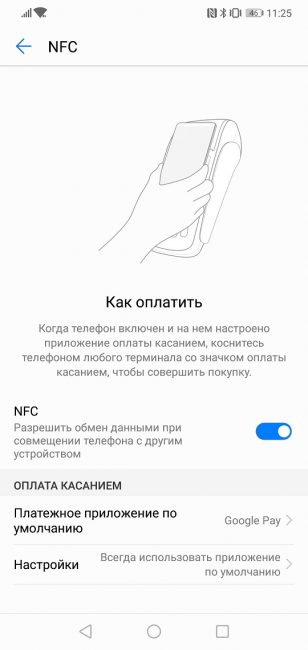 Firmware and software
The phone runs on Android 8.0 with EMUI 8 proprietary shell.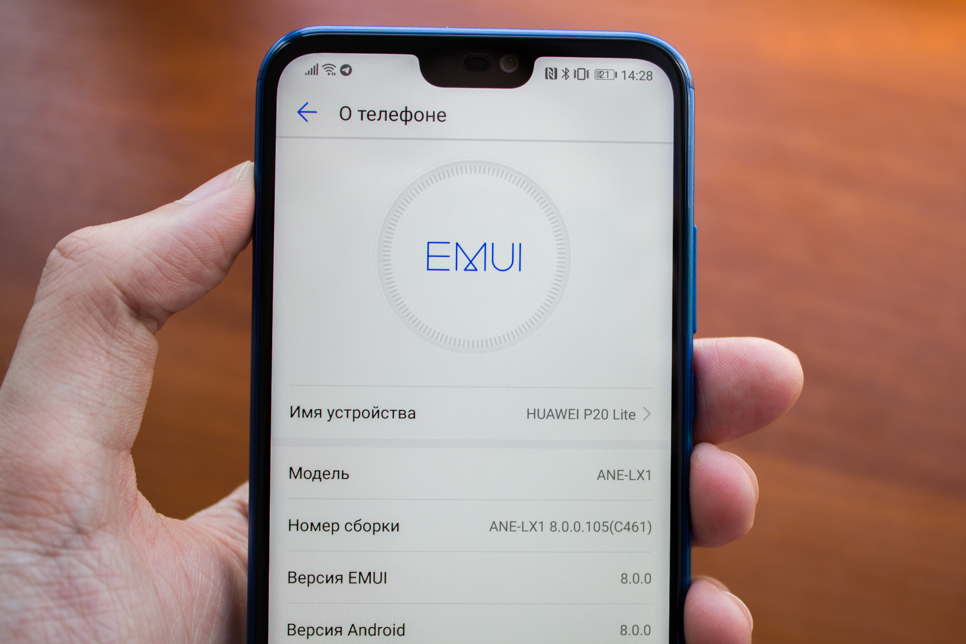 The shell has a lot of bells and whistles, and supports custom themes.
You can change the layout of the desktop, create clones of applications to use with different accounts (although for some reason only Facebook and its Messenger are supported), and use various gestures and one-hand control. And don't forget the features of a "clean" Android Oreo, like round labels on app's icons.
The shell is packed with useful features which are actually handy.
Verdict
Huawei has made a good balanced mid-ranger. It looks great in blue and is stylish even with the stolen notch and vertical camera block. There's also good ergonomics, a great screen and nice cameras.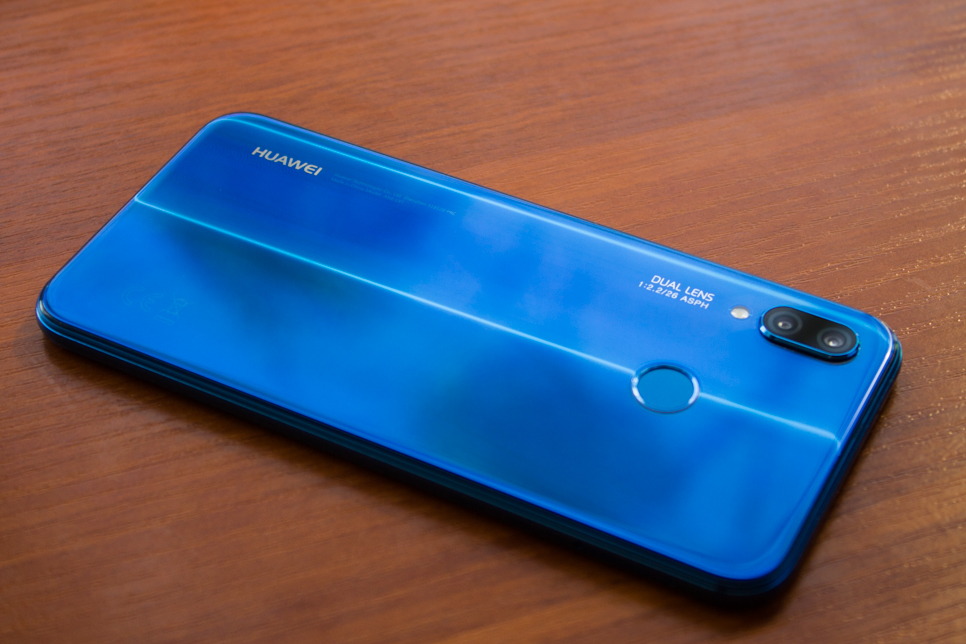 There are some cons: the battery life does not impress, and it's not that powerful, although it is powerful enough for day-to-day tasks.
Overall, Huawei P20 Lite is like a lighter version of a proper flagship. It is a bit expensive, but how can it possibly be any cheaper?