In the age of devices with sizeable screens any compact gadget looks a bit odd. Yes, in 2019 these are rare beasts, but they do exist. They can be both expensive (Galaxy S10e) and affordable, like Samsung Galaxy A30, which I reviewed not long time ago. It is a nice smartphone, very balanced. But there's another one a bit like it – the compact-sized Samsung Galaxy A40. Let's take a closer look.
Our video about Samsung Galaxy A40
A short video – only the most important thing! If you need more detailed information – read the review below.
Specifications Samsung Galaxy A40
Display: 5.9″, Super AMOLED, 2340 × 1080 pixels, 19.5:9 aspect ratio
Processor: Exynos 7885, 8-core, 2 Cortex-A73 cores with a frequency of 1.77 GHz, 6 Cortex-A53 cores with a frequency of 1.59 GHz
Graphics accelerator: Mali-G71 MP2
RAM: 4 GB
Storage: 64 GB
Support for microSD memory cards: up to 1 TB
Wireless networks: Wi-Fi 802.11 a/b/g/n/ac, Bluetooth 5.0 (A2DP, LE), GPS (A-GPS, GLONASS, BDS), NFC
Main camera: dual, main module 16 MP, aperture f/1.7, PDAF, 26 mm; additional ultra wide angle module 5 Mp, f/2.2, 13 mm
Front camera: 25 megapixel, f/2.0, 25 mm
Battery: 3100 mAh
OS: Android 9.0 Pie with One UI 1.1 shell
Dimensions: 144.4 × 69.2 × 7.9 mm
Weight: 140 g
Price and positioning
Samsung Galaxy A40 fits perfectly into the Samsung A-series not only by name, but also by price. Indeed, in its only configuration with 4 GB of RAM and 64 GB of storage it costs about $270.
And this, I recall, is the price tag of Samsung Galaxy A30 in a similar 4/64 GB configuration. Let's see what A40 offers in addition to its compact size, and how it differs from A30.
Design, materials and build quality
The design Samsung Galaxy A40's front panel is ordinary. In the upper part of the front we have a drop-shaped notch, the bezels on the sides are small, even relatively thin.
The field under the screen is the only good thing about the design so far. It's not as thin as on the sides, but still okay. In general, it is somewhere at the level of Samsung Galaxy S10e.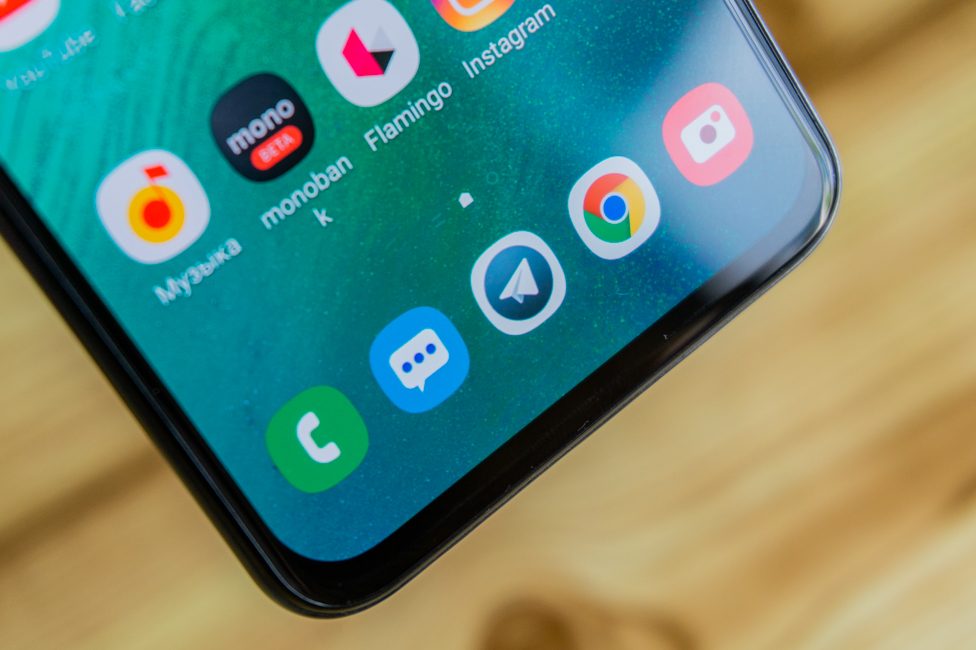 At the back of the smartphone, at first glance, we see a boring black panel. But look again – under the light various rainbow overflows begin to appear on it. Very similar to the effect of gasoline on water. It looks good, a similar technique is used in the more expensive A50, but it's very different from A30, where there was a regular diagonal overflow. It looks beautiful, but also depends on the color of the case itself.
My sample is traditionally black, but Samsung Galaxy A40 comes in other colors: white, blue and coral.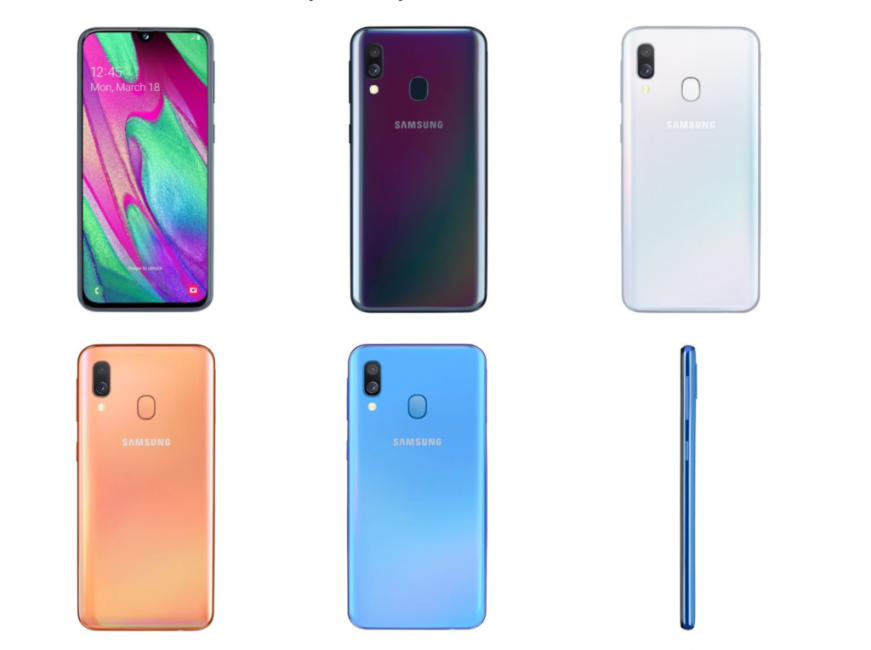 Naturally, the vertical camera block is in the upper left corner. But at least it almost does not protrude above the surface. That is good – that means there's no real reason for extra protection.
The gadget is made of plastic, which Samsung calls "Glasstic". Some type of a hybrid. But in reality, of course, the cover and frame are plain plastic. The coating is glossy and gets scratched easily. But the scratches aren't really noticeable – unlike fingerprints.
The build quality is top notch, but I would like it to have a slightly better oleophobic coating.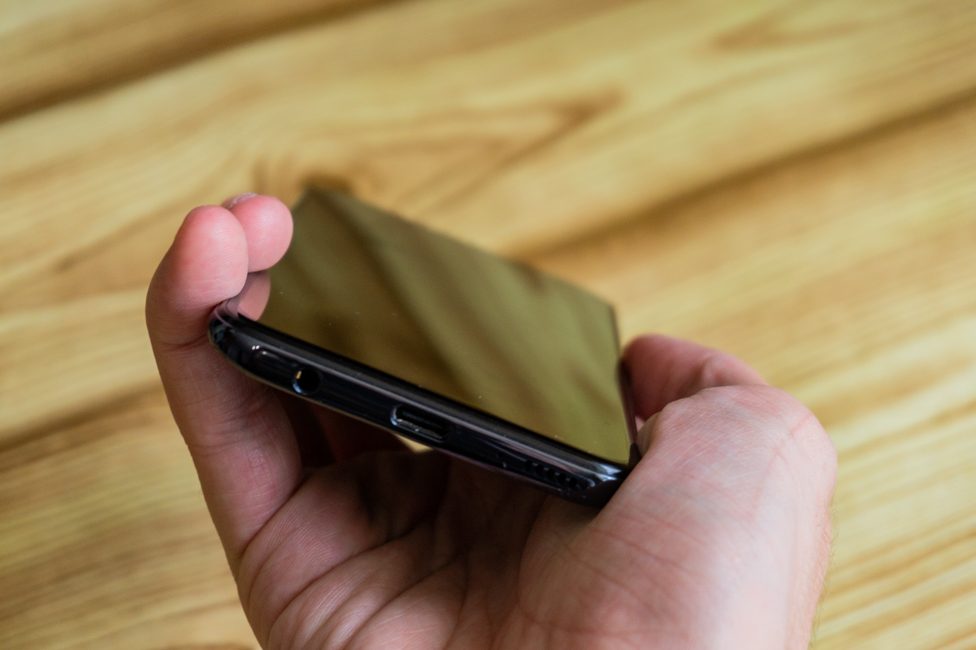 Elements' configuration
Above the drop-shaped notch with a front camera there is a compact mesh with the earpiece speaker. To the right of these elements are light and proximity sensors. There is no notification indicator.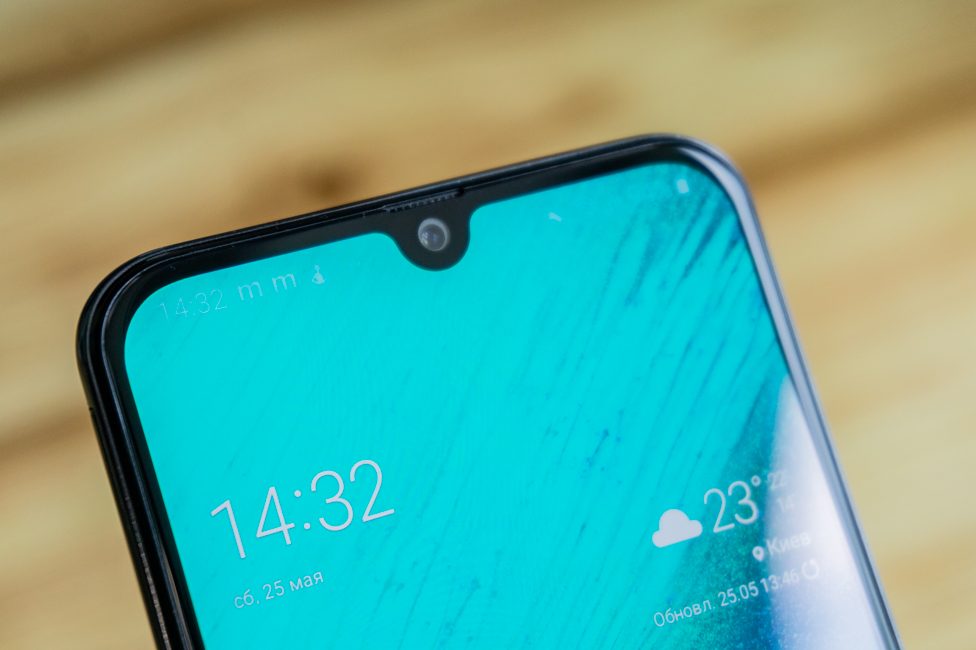 On the right side are the volume and power control buttons. On the left is a "wide" slot for everything – two nanoSIM cards and one microSD memory card, no compromises.
The top bottom contains the 3.5-audio jack, an actual Type-C port, a microphone and a multimedia speaker. There's an additional microphone at the top.
The back panel is pretty simple: in the upper corner we have a dual main camera unit with a flash, in the center is an oval platform with a fingerprint scanner. Under it is the manufacturer's logo.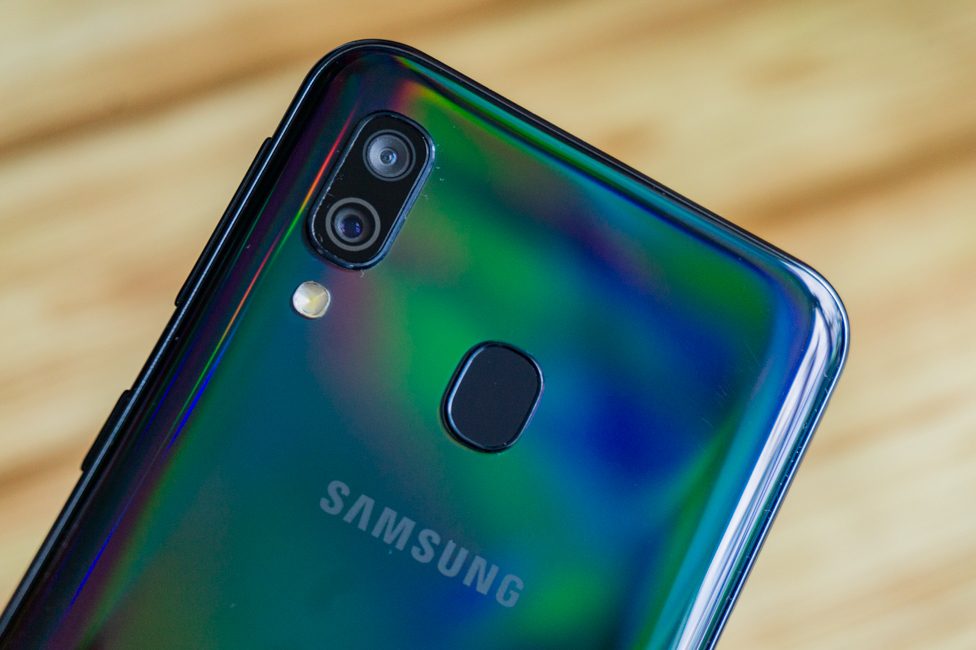 Ergonomics
As we found out at the beginning, A40 is a compact smartphone. Its dimensions are 144.4 × 69.2 × 7.9 mm, which is slightly higher in height than Samsung Galaxy S10e (its dimensions are 142.2 × 69.9 × 7.9 mm). The back plate at the edges is curved.
Like the compact Korean flagship, Samsung Galaxy A40 is incredibly easy to use. It has excellent dimensions, it is quite light, only 140 g. In general, everything is great.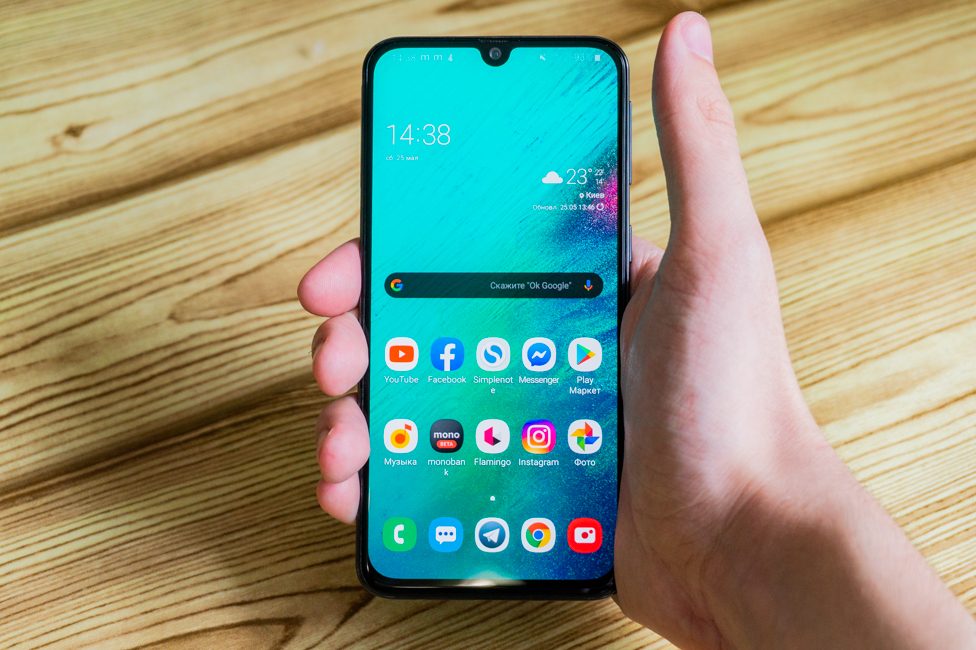 When using the smartphone with the right hand, the thumb is located directly between the power and volume keys. You can reach these buttons with ease, especially since they are are very large. 12 points out of 10.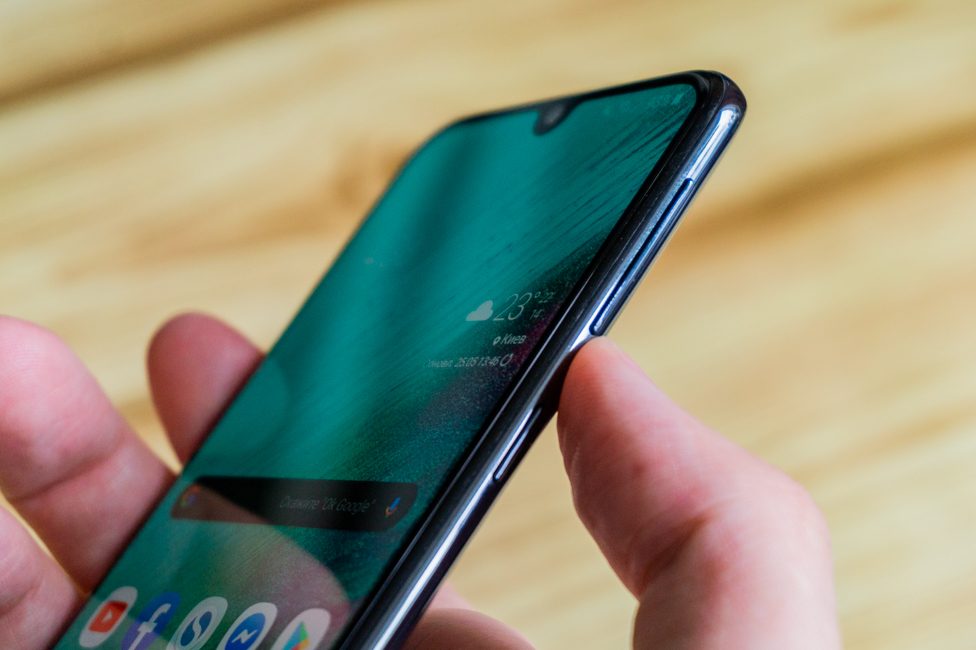 Samsung Galaxy A40 display
Samsung Galaxy A40 has a 5.9-inch Super AMOLED screen. Its resolution is Full HD+ (2340 × 1080 pixels) with an aspect ratio of 19.5:9. This allows for greater density, 437 ppi.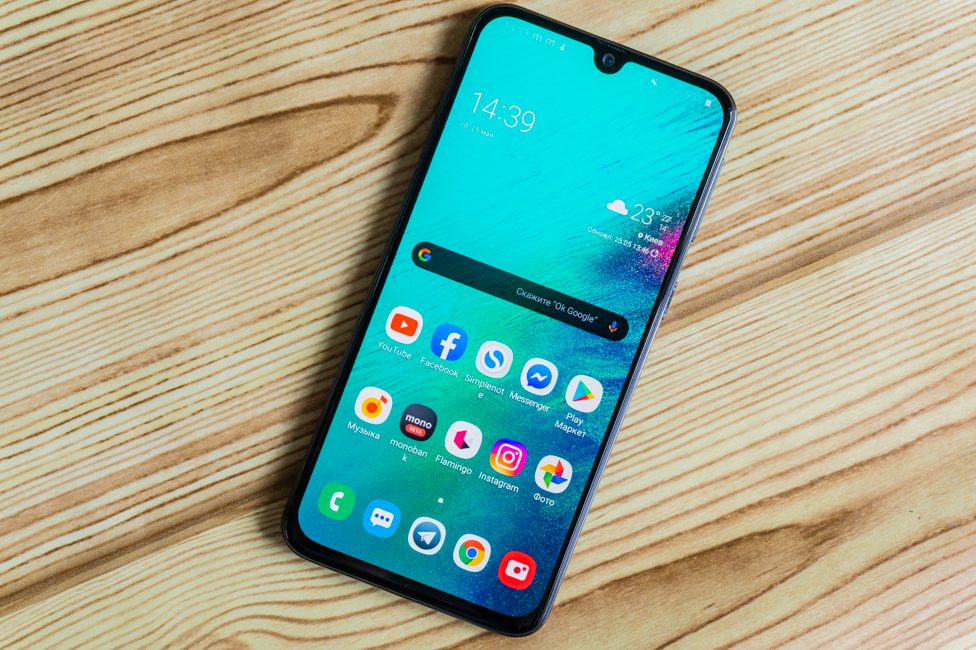 There is no problem with the display of pictures – the matrix is ​​good in terms of color palette, black depth and maximum brightness. This is the most traditional AMOLED from Samsung, so there's no need to worry about its quality. Viewing angles are excellent, if you do not take into account some typical nuances.
By that I mean green and pink shades. But they are visible only if you look at the white color from an extreme angle, which in a normal situation is not necessary at all.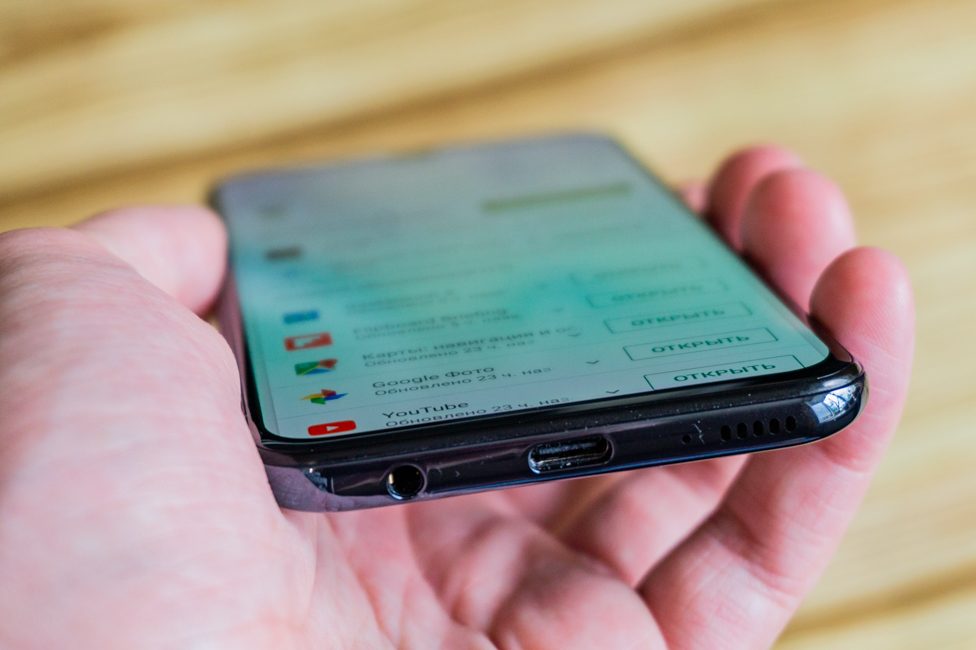 Naturally, supporters of IPS with natural colors will want to "calm down" the saturation of colors and this is done very easily. Just switch to the "Main" display mode and get a calm color rendition. You can also choose three other options. In "Adaptive" you can also rotate the white balance sliders.
Of the other typical settings of the shell there is a blue light filter, masking the notch in the screen and full-screen mode of applications.
But why there's no Always On Display? I think this option is essential in a smartphone with this type of matrix. Moreover, A30 has it, so the lack of AOD in Galaxy A40 is even more strange. At the same time, I would not count on a possible update that will introduce this feature. I think if they didn't add it right away, then you shouldn't expect it now. Although, of course, the probability is always there.
Performance
Samsung Galaxy A40 works on Exynos 7885, consisting of two high-performance Cortex-A73 cores with a clock frequency of 1.77 GHz and six energy-efficient Cortex-A53 with a frequency of 1.59 GHz with Mali-G71 MP2 graphics.
The device exists in a single modification – with 4 GB of RAM and 64 GB of storage. This amount of RAM today is enough to work with multiple applications. 5-6 apps will work simultaneously, but don't open too much. In general, the RAM is more than enough for most users.
The user can use 51.05 GB of storage, but do not forget that the memory in A40 is a loose concept (it's expandable). I remind you that there is space for a microSD card up to 1 TB and it is always available. The memory card slot is separate.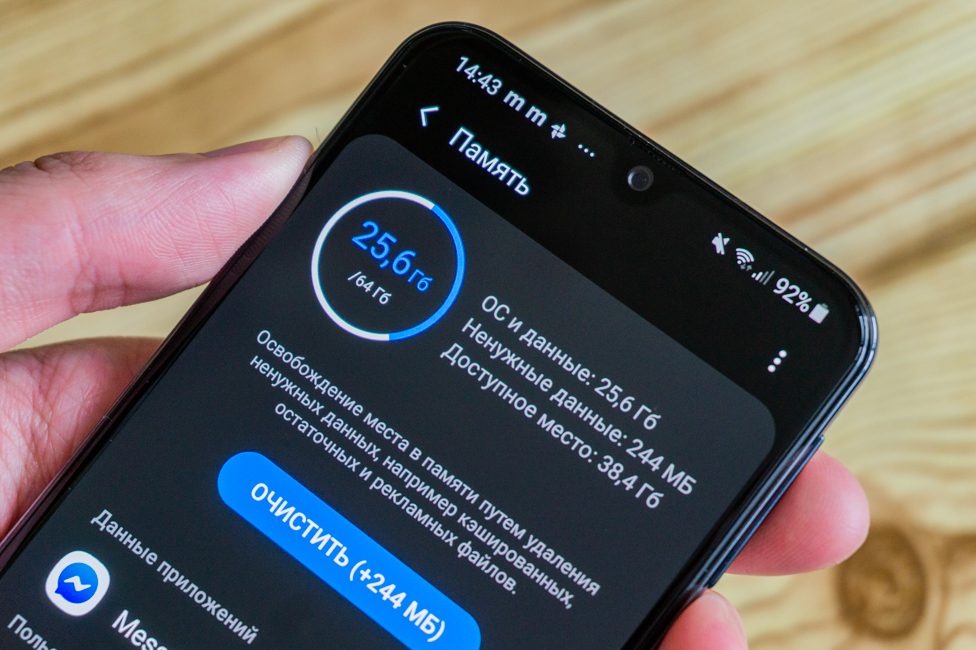 The phone is powerful enough that the user can use any apps or shells. Of course, sometimes there are lags, especially in long lists. But these lags are few and far between. With social networks, messengers and other undemanding tasks there are no problems.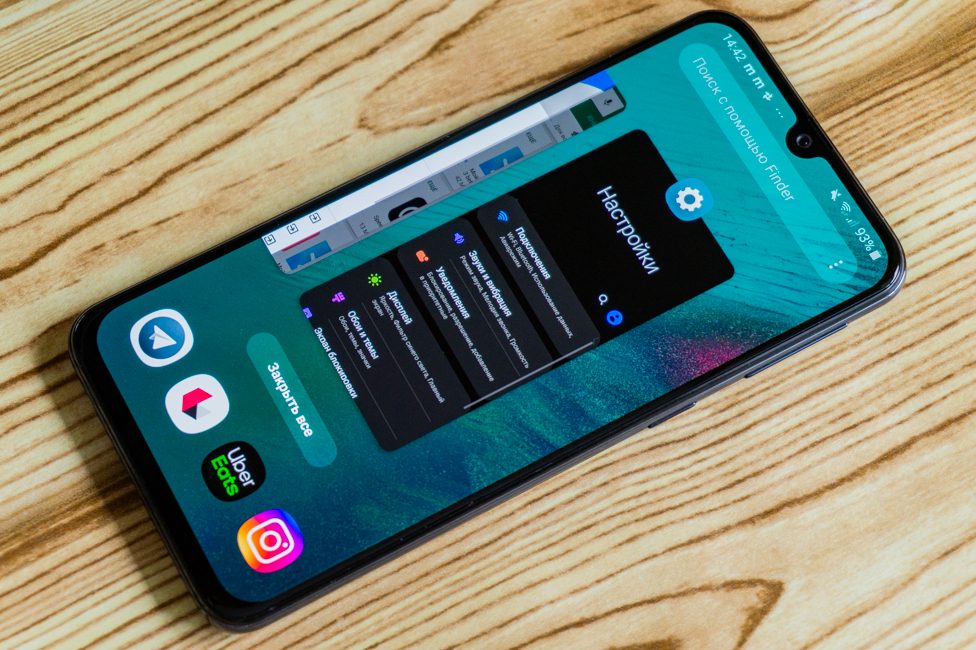 But don't expect to run heavier games. However, I again do not understand how this works. In the review of A30, I noted that PUBG Mobile runs on average graphics. But the specs are the same as in M20, where it was more more comfortable to play on low settings. And again there's the same problem. A40 runs PUBG only on minimum settings. But there are still noticeable lags, I don't know why. Perhaps this problem will be fixed by updating the firmware.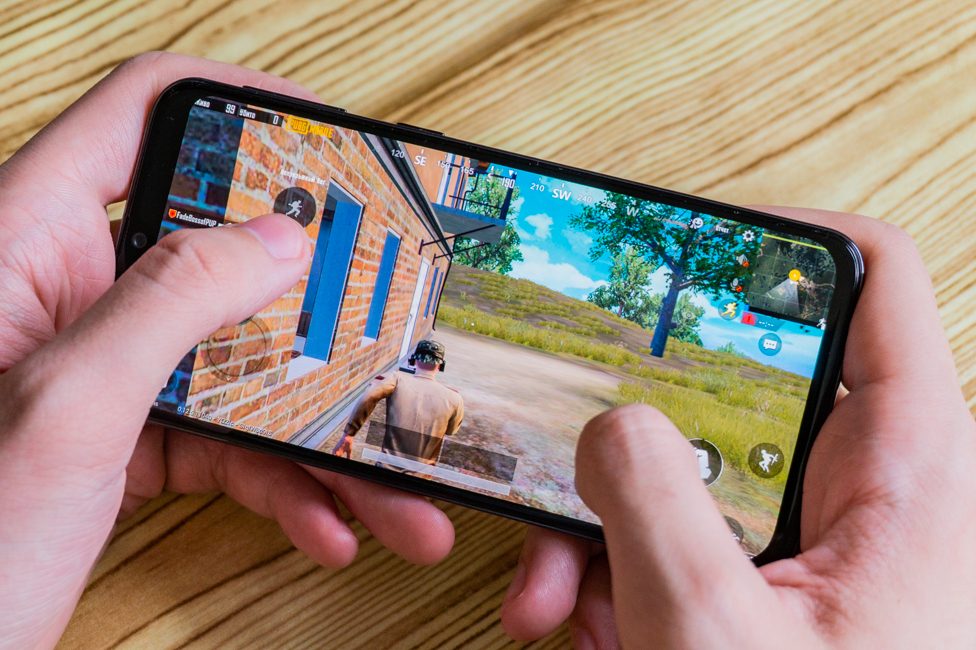 In non-PUBG related news, Samsung Galaxy A40 runs most lightweight games with little to no effect. But, once again, don't go in expecting heavier titles to run effortlessly. You can try and set the lower settings, that might work.
Samsung Galaxy A40 Cameras
The main cameras in the Samsung Galaxy A40 are almost the same as in A30. The block consists of a main module with a resolution of 16 megapixels, an aperture of f/1.7, focusing PDAF and a focal length of 26 mm. The second is an ultra-wide-angle module with only 5 Mp, f/2.2, and DF of 13 mm.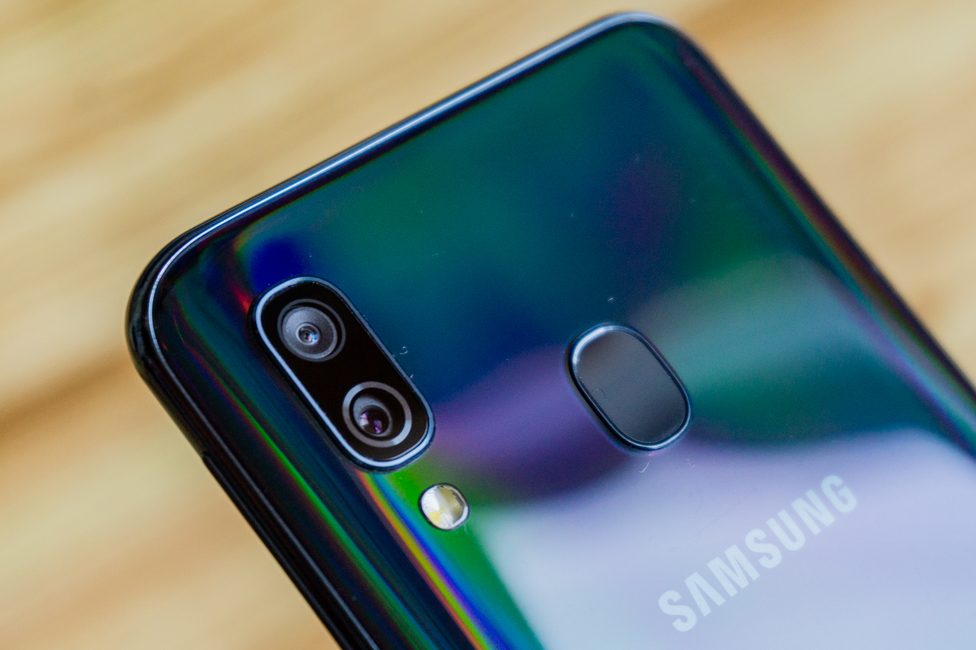 In fact, I can say that the cameras in the A40 and A30 show identical results. This means that during the day we get a very decent detail in the photos, the normal dynamic range and good colors. In a room with a weak light or at dusk, along with the noise, the auto mode also misses details. Nothing out of the ordinary – just a good-quality middle-budget camera with no surprises.
PHOTO EXAMPLES IN FULL RESOLUTION
The wide-angle module, as before, is not great. It is here is and allows you to capture a photo with a very wide viewing angle (123°). But you will most likely have to use it only on the street on a clear day to get a decent pic from a technical point of view. In the evening and at night the camera is powerless, and the white balance is very unpredictable in the room.
The camera has a scene optimization using AI, with the help of which the photo can become a little brighter, more contrasty and saturated. You can also blur the background if you shoot people in the "Live Focus" mode.
The smartphone can record video in Full HD with 30 fps. Of course, you expect more from a smartphone in 2019. But not in this case. The quality is rather average, but there's a very good electronic stabilization, which makes it all a little better.
Today, manufacturers install multi-megapixel front cameras and Galaxy A40 is no exception. Here is a great camera with 25 Mp (f/2.0, 25 mm), which is enough for everything. If you like selfies, then the only thing you can complain about is the lack of autofocus.
The camera application is not surprising at all – it is standard for One UI shell. There are the usual number of different shooting modes. In addition to the bokeh effect mentioned, panoramas, manual shooting parameters and hyperlaps are provided.
Unlocking Methods
The fingerprint scanner in the device is placed on the back panel and is in a very small recess. Despite this, you can find it easily. But the response speed is the same as in A30. And by that I mean that it's not very fast, which is sad. I do not know why the company has difficulties with this. At least the sensor is stable and makes no mistakes.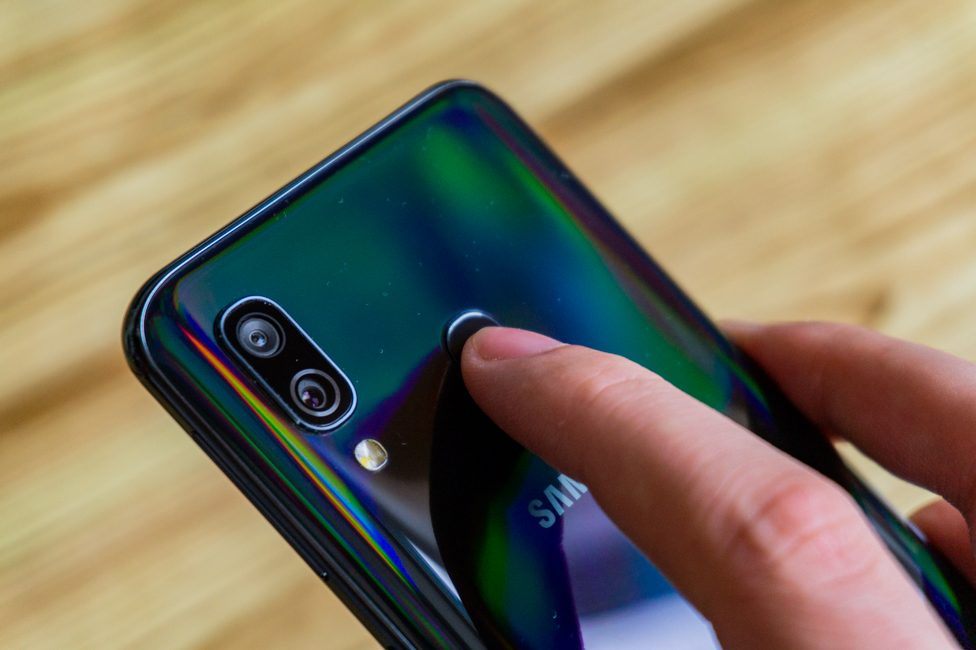 If we talk about the second method, then face recognition is a little faster, but less safe. Although, if you enable accelerated recognition, it will be slightly better, but again there is a possibility it will be fooled by a photo or something else. In the dark, it can be used by activating the option to increase the brightness of the display.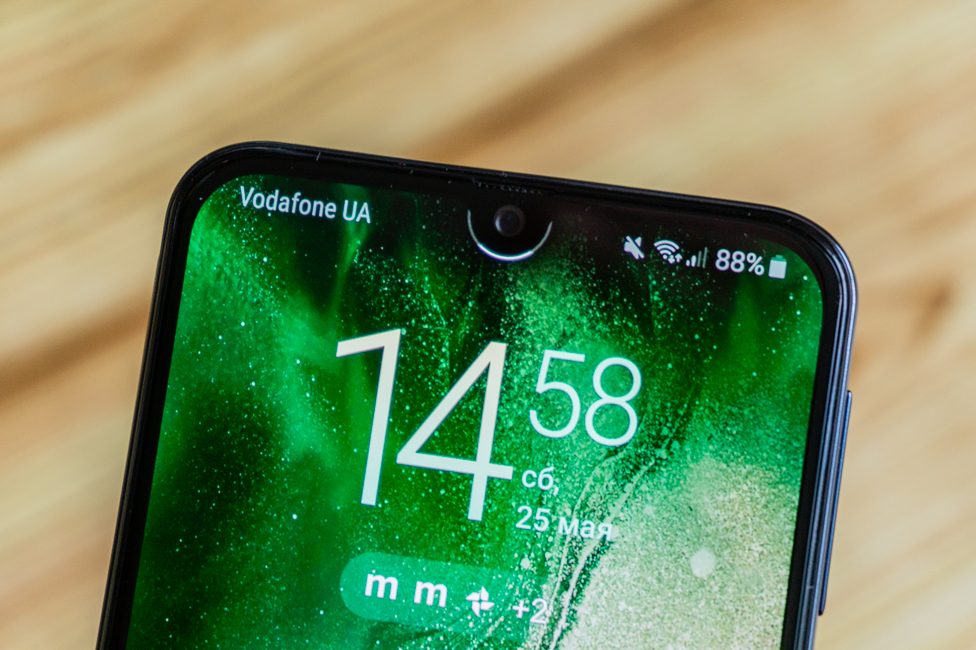 Battery life
With a decrease in size, the smartphone has gotten got the smaller battery. In this case, we have a 3100 mAh battery. But it's not all bad. It is not as good as 4000 mAh, but in general it will suffice.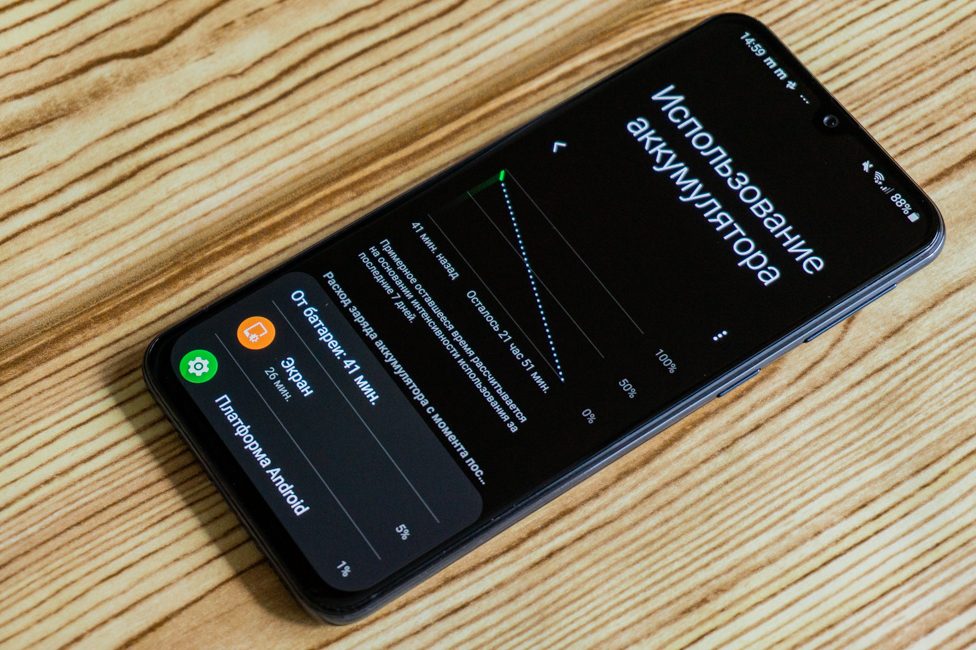 With 22 hours of battery life, on average, I squeezed 5.5-6 hours of active screen. This is with a dark interface theme, but my test device doesn't allow to deactivate GPS. PCMark Work 2.0 battery test was failed.
Support for fast charging is reported, but I didn't have the bundled charger to test it.
Sound and communication
The sound component of the smartphone is mediocre. The sound from the earpiece speaker is loud and clear enough. A multimedia speaker has a rather low maximum volume and the louder it is the worse is the sound quality. But it's enough, in the headphones especially.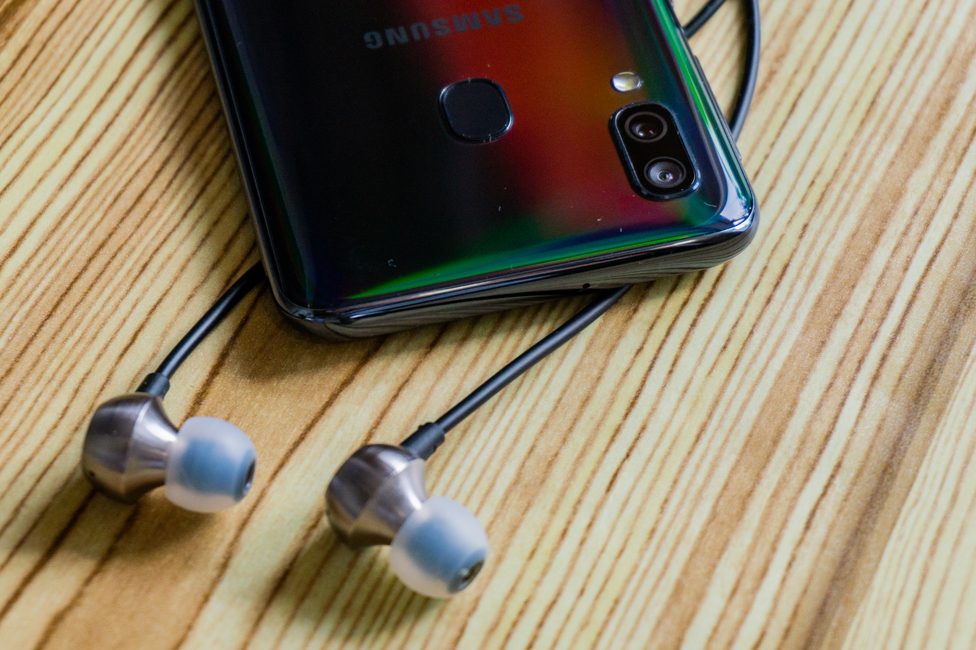 Besides the fact that the headphone jack is located below, there are various sound settings. For wireless headphones, only an equalizer is available.
But the communication part of the Samsung Galaxy A40 is great. Here you will find dual-band Wi-Fi 802.11 a/b/g/n/ac, and current Bluetooth 5.0 (A2DP, LE), and accurate GPS (A-GPS, GLONASS, BDS) and the much-needed NFC module. All that is a must in a modern smartphone.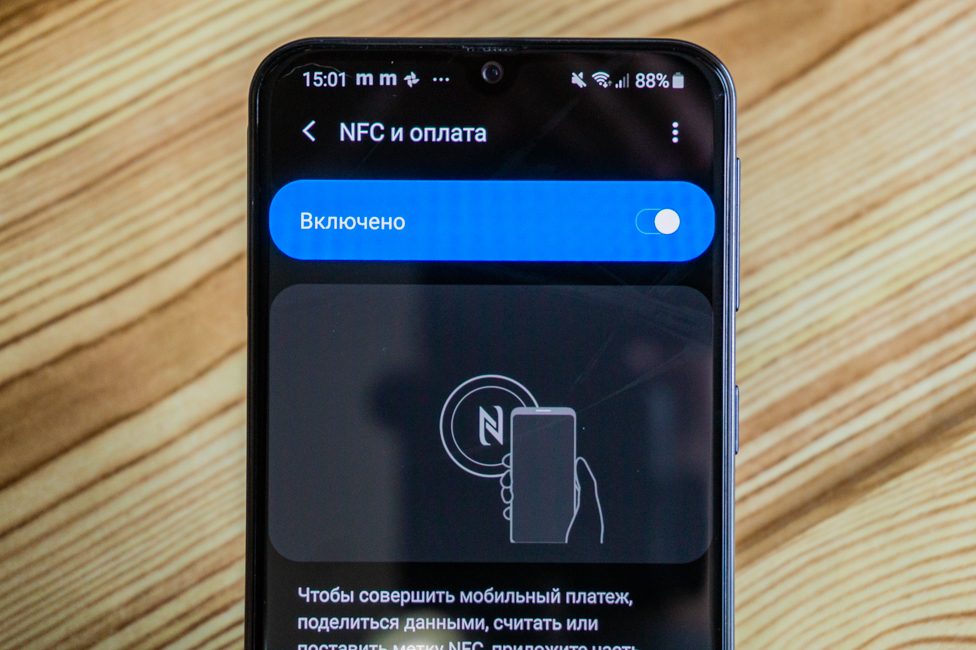 Firmware and software
The phone runs on One UI 1.1 based on Android 9.0 Pie. I did not see any distinctive features designed specifically for Galaxy A40. One thing separates it from the rest: the lack of Always On Display, which I have already noted before. And the rest is just One UI: stylish, comfortable and functional. Nothing bothers me about it – a great shell.
Verdict
Samsung Galaxy A40 is a good compact model. It doesn't really have any alternatives, especially for this money. There is Samsung Galaxy S10e, which is the best compact solution, but it costs a lot more.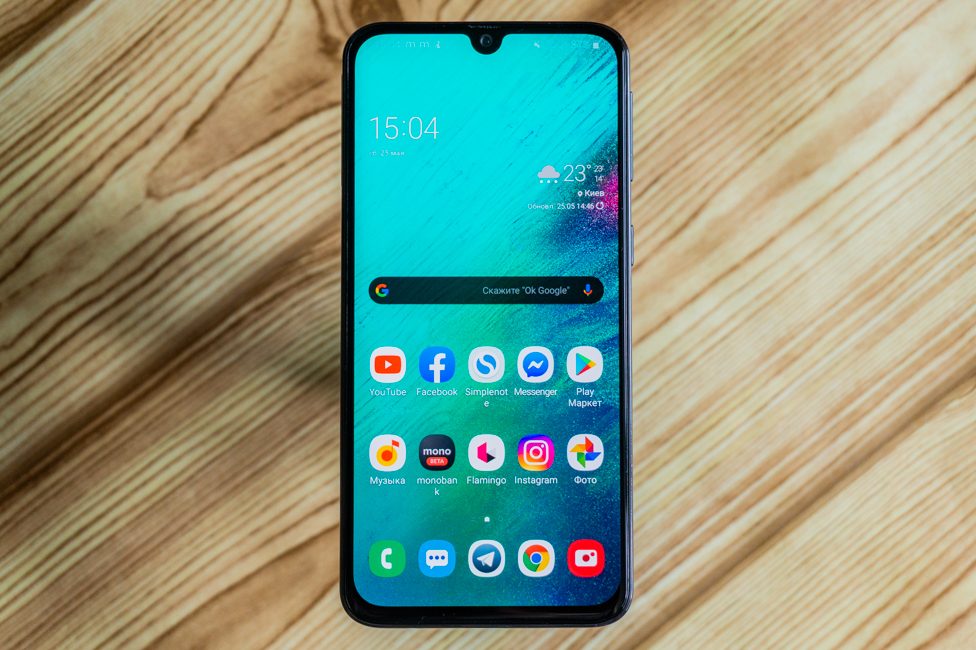 Xiaomi Mi 9 SE is the closest rivalling device, and it might be the better option overall. It has a premium metal and glass body and is more powerful. Even if it's a little more expensive.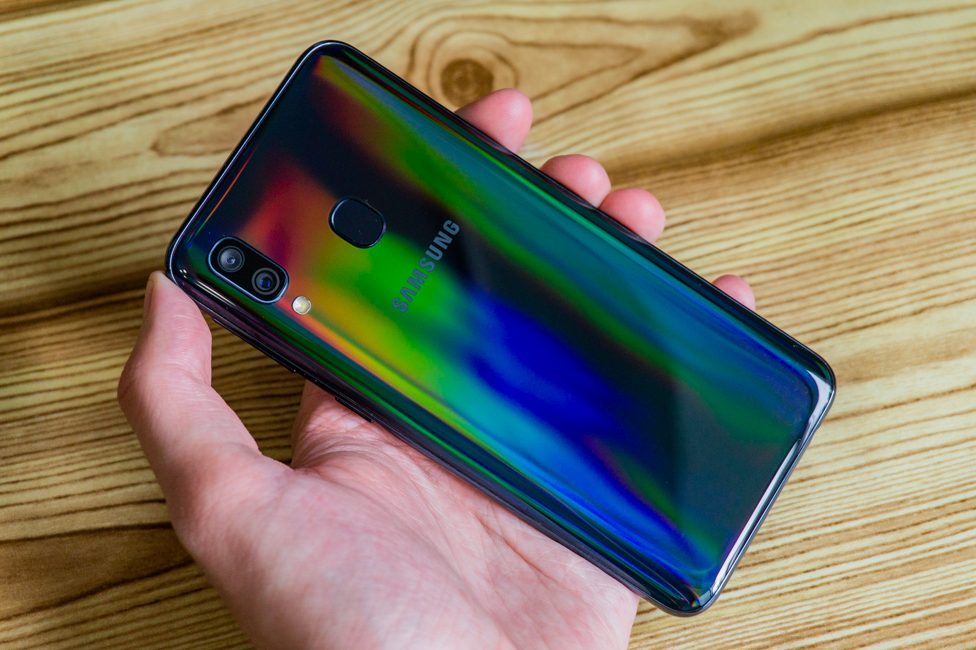 If you need a small and comfortable smartphone that costs about $285, look no further – Samsung Galaxy A40 is a quite good. It's a decent mid-ranger, like Galaxy A30, but smaller.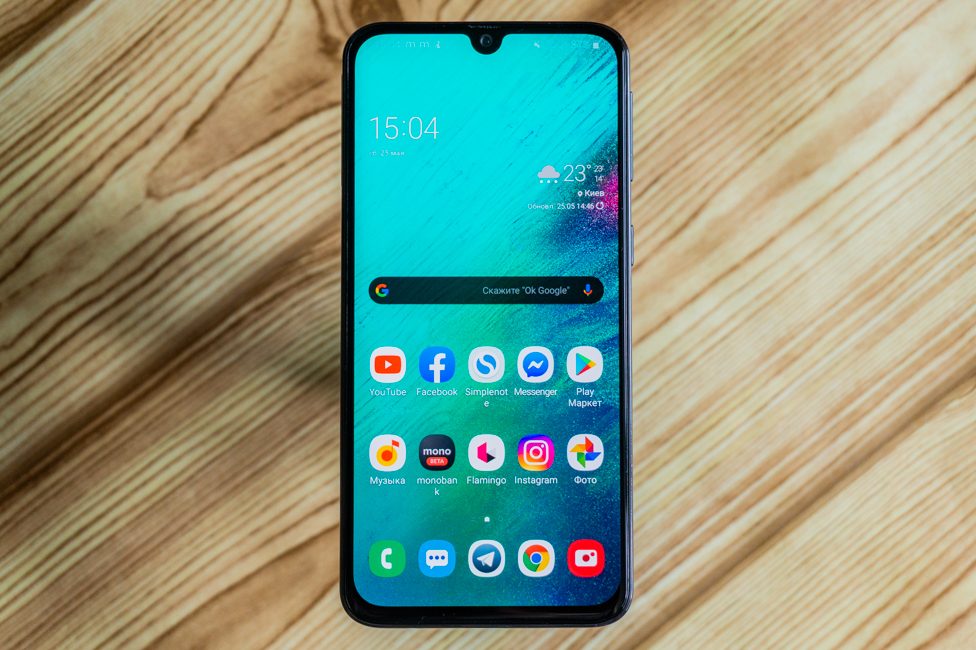 Subscribe to our accounts: