At the end of 2017, Samsung showed us another update of the A series. Today we'll take a look at the premium model – Samsung Galaxy A8+ (2018). Let's see what's so special about this smartphone.
Technical specifications of Samsung Galaxy A8+ (2018)
Display: 6″, SuperAMOLED, 2220 × 1080 pixels, aspect ratio 18.5:9
Processor: Samsung Exynos 7885, 2 cores A73 and 4 cores A53, clock frequency 2.2 GHz
Graphics Accelerator: Mali-G71
RAM: 4 GB
Storage: 32 GB
Support for microSD memory cards: up to 256 GB
Wireless networks: Wi-Fi 802.11 a/b/g/n/ac, Bluetooth 5.0, NFC
Main camera: 16 MP, f / 1.7, PDAF
Front camera: double 16 + 8 MP, f/1.9
Battery: 3500 mAh, support for fast charging
Dimensions: 159.9 × 75.7 × 8.3 mm
Weight: 191 g
Officially, Samsung Galaxy A8+ (2018) costs about $600 which is a lot of money. Still, it competes with a number of models, and, in some cases, even flagships. It is true that this series has never been known as affordable, and nothing has changed in 2018 – that's just how Samsung operates.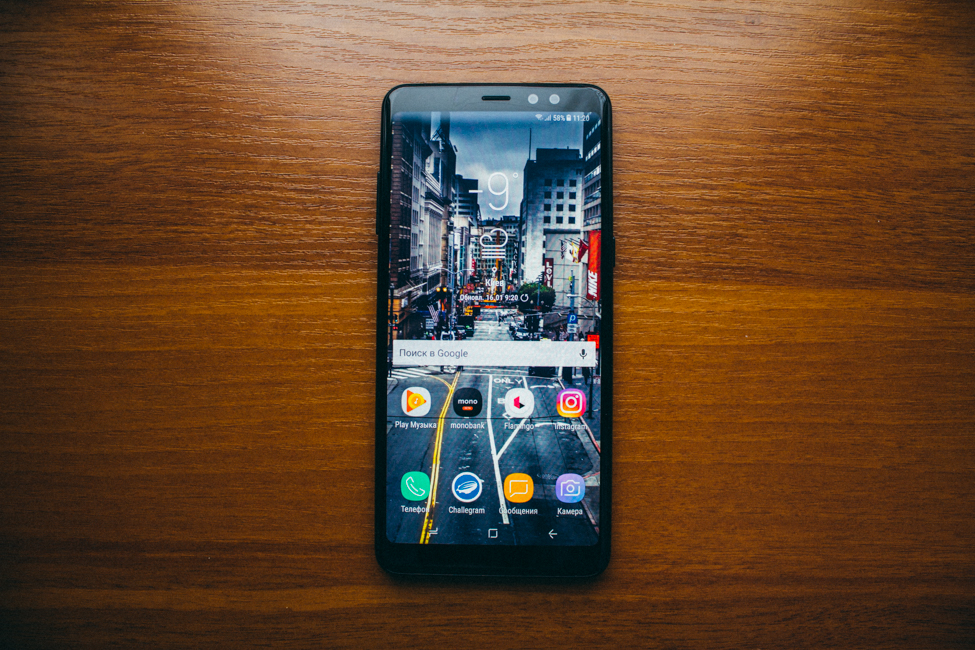 Design, materials, build quality
With every new update of the Galaxy A series, these phones borrow a lot of features from the flagship models. Just take a look at the new Samsung Galaxy A8+, which sports Infinity Display with the screen ratio of 18,5:5, previously seen on flagship Galaxy S8 and Note8. When it comes to Galaxy A8+, it doesn't have a curved screen – only 2,5D glass. So, of course, there's no "wow factor" of the said premium devises – if you've already seen them. Still, simpler doesn't mean worse when it comes to design.
Bezels. They are, of course, here. The width is usual for any standard phone with 16:9 screen, but there's something different about Galaxy A8+: because bezels on vertical sides are thin and the display is long, there's something exotic about how it looks. There are no navigational elements or logos under (or above) the screen.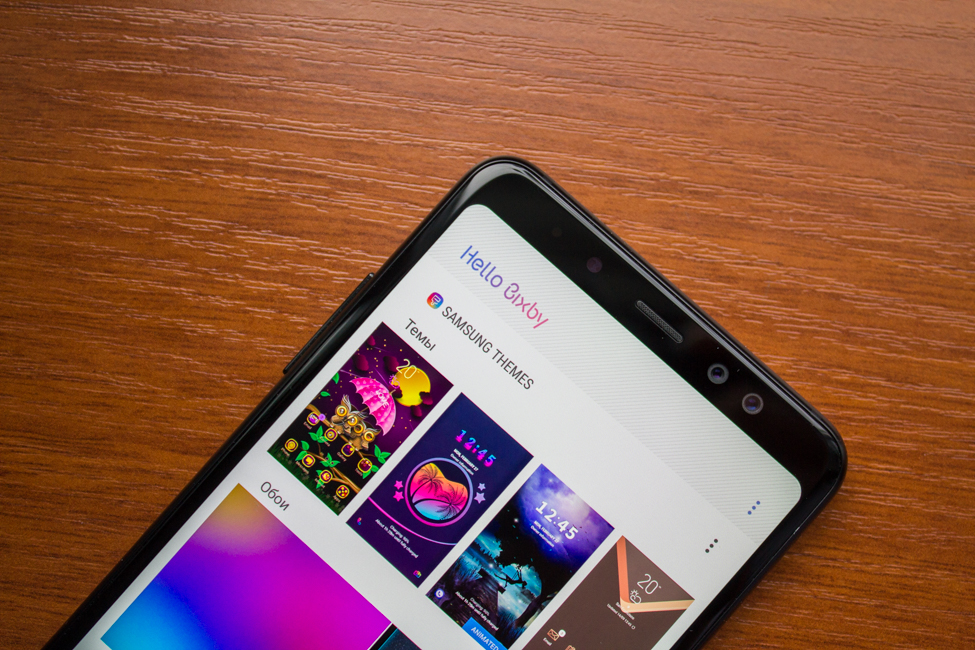 Materials stayed the same. Glass in front gradually turns to the metallic frame. The glass on the back is curved at the sides, which makes the phone very nice to hold.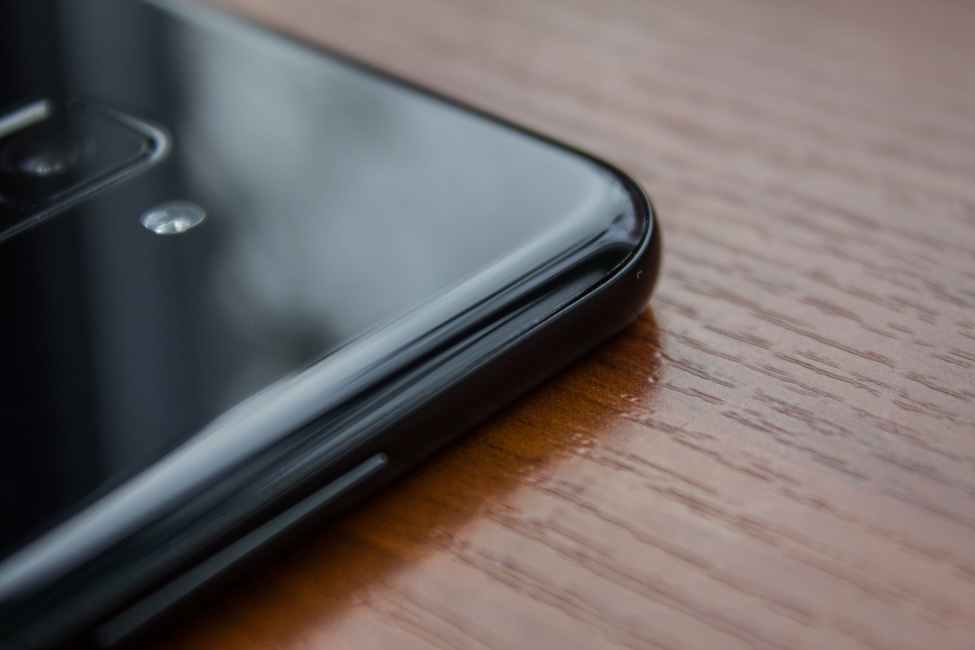 This is a monolithic slab of a smartphone, at the build quality is excellent. Thanks to the IP68 ingress protection, you can submerge it into water for up to 1,5 m. Rain or splashes don't scare it.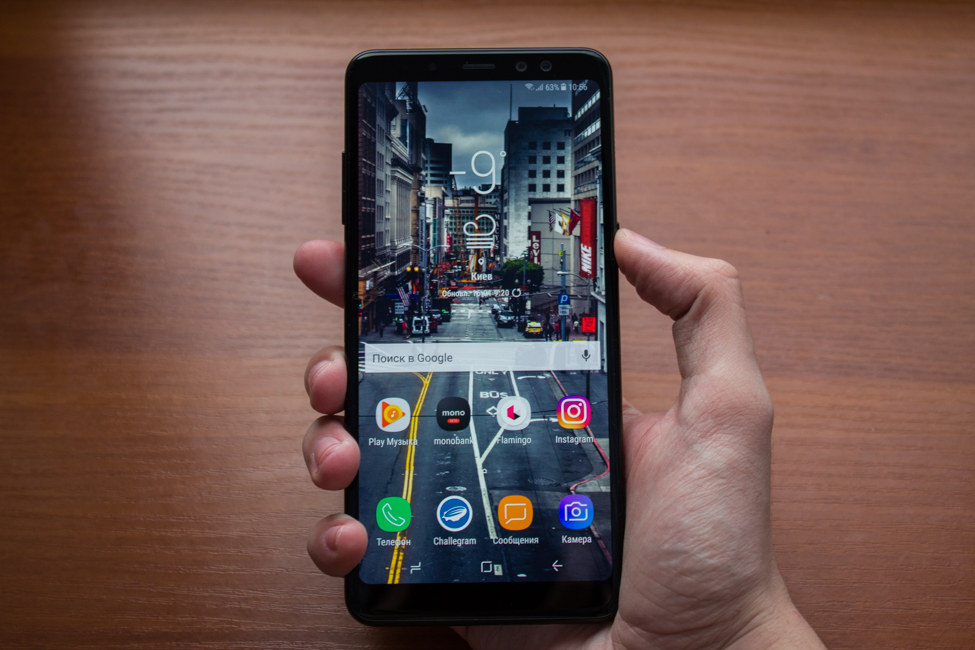 I have the black model, which is a fingerprint magnet. You can clean it fairly easily, but I suspect other models don't suffer from that problem as much.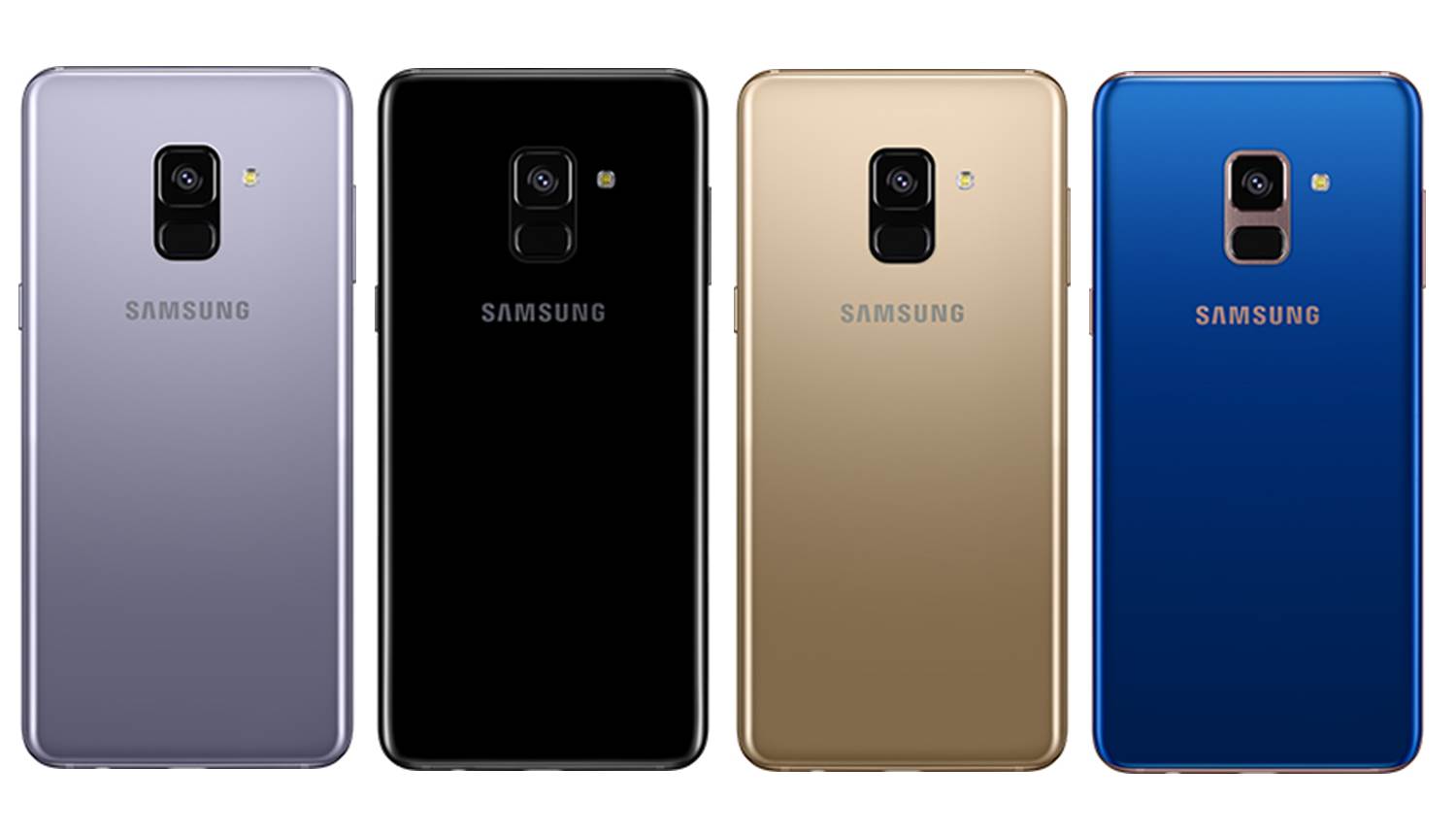 Additionally, you can buy Neon Flip Cover protective case, which lights up when you have a notification. It looks neat and is very nice to the touch.
Elements' configuration
Above the screen, there's an LED indicator, sensor array, a speaker and two cameras. Yep, Galaxy A8+: boasts two camera modules. The indicator has three colors – blue, green and red and is used for notifications, battery charge level etc.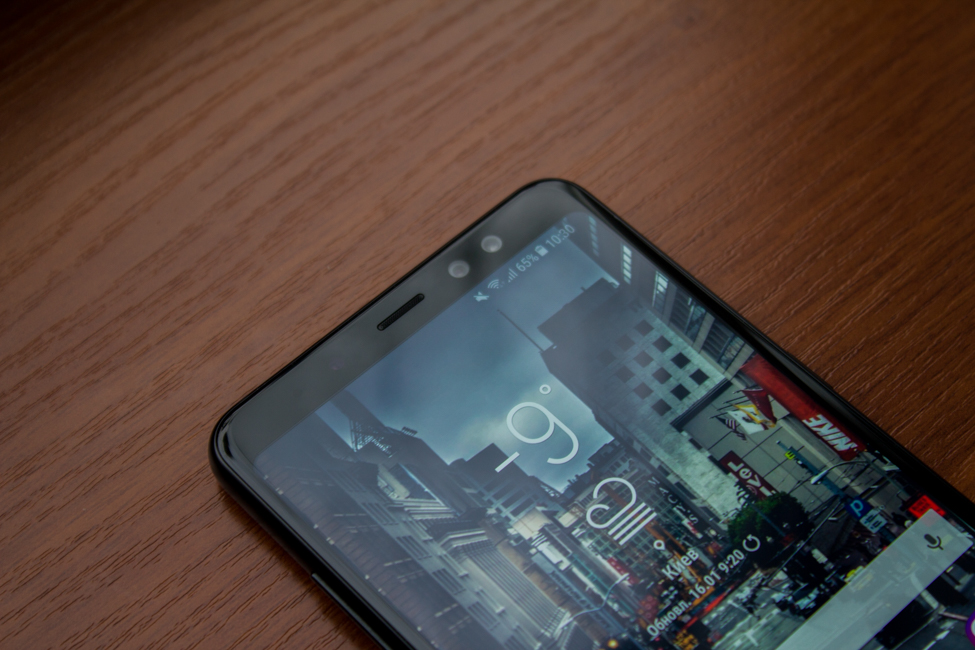 Below the screen there's practically nothing.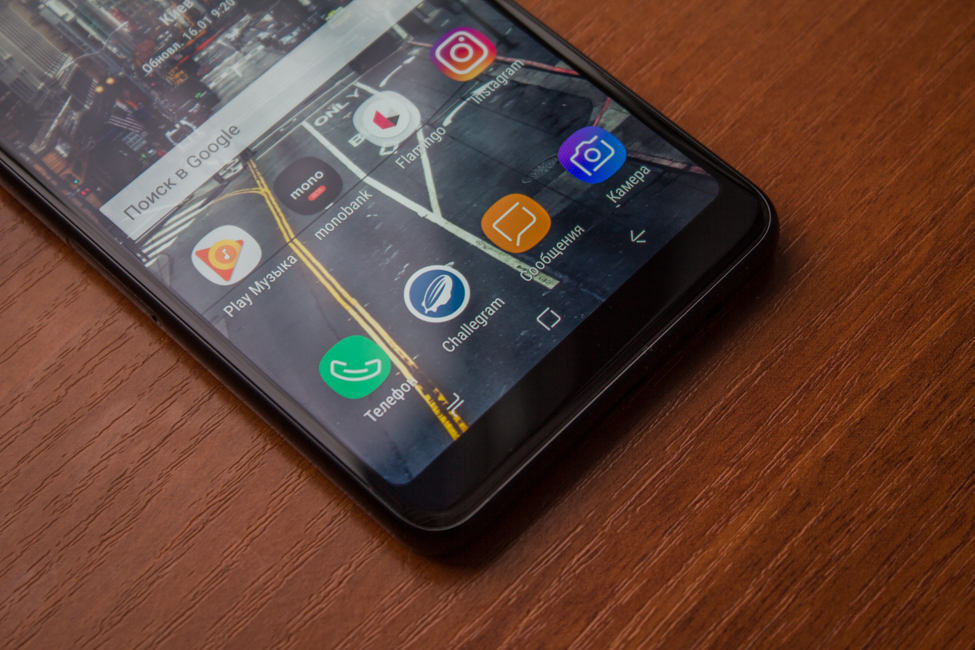 On the ride side, there's a power/unlock button (just like in previous models of A and J series) and the main speaker.
The configuration feels very right to me, especially since it's almost impossible to block the speaker – unlike when it's located below.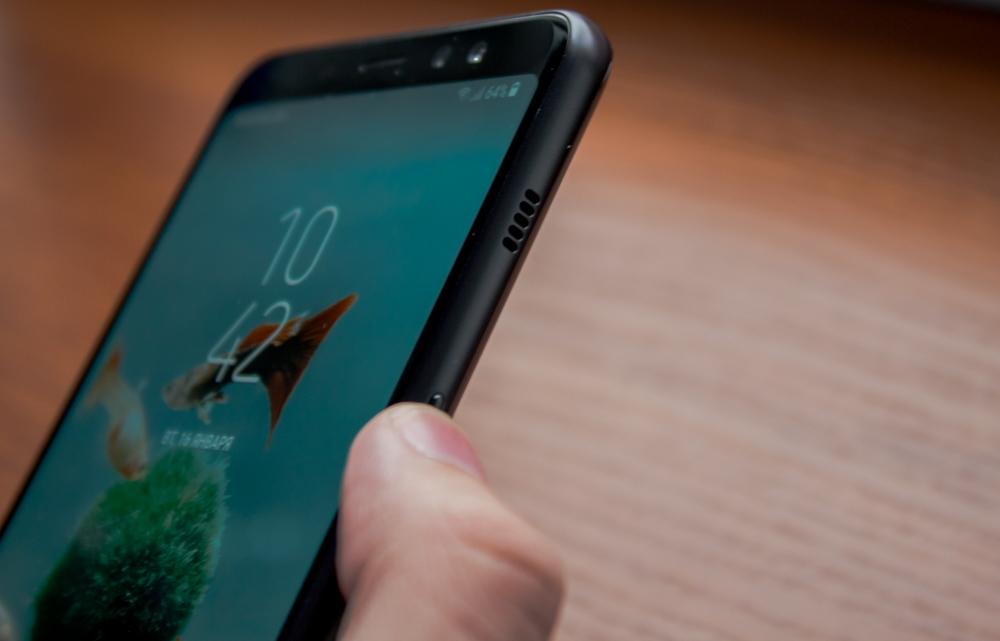 On the left, we have a volume button and a SIM-card (nano) slot. The volume button is a bit too high which forced me to constantly change my grip in order to use it.
On the lower bezel we have neat plastic stripes of antennas, a bit uneven USB Type-C port and 3,5 audio jack.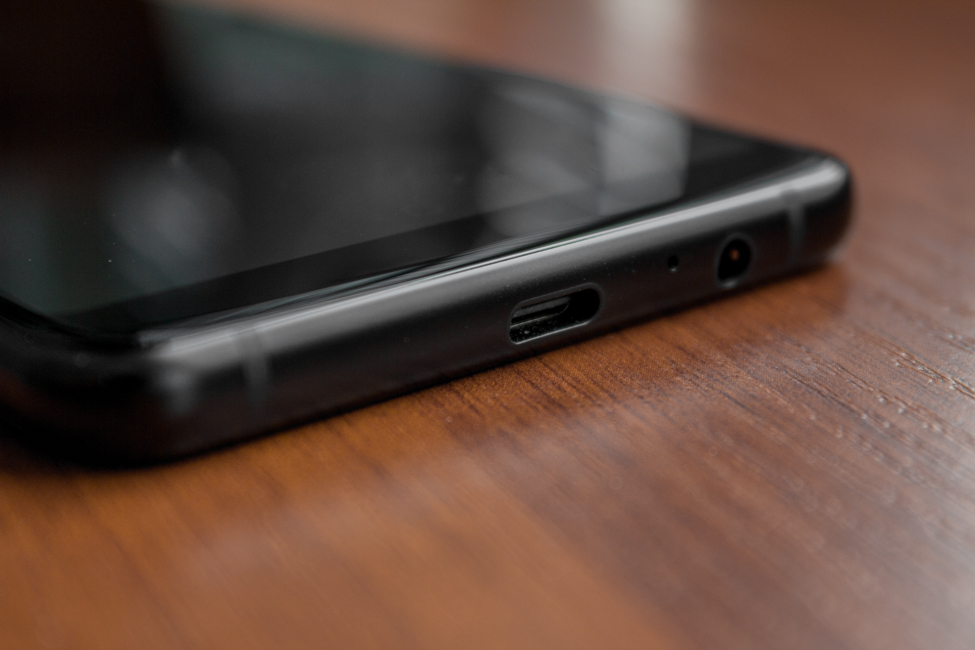 The same antennas can be found on the upper bezel – as well as a slot for a second SIM-card, a microSD, and an additional mic for noise canceling.
On the back panel there's a camera eye, and to the right – the flash. The fingerprint scanner is, at last, under the camera. Below it all is a Samsung logo.
They obviously learn, which is good. A quick reminder: on flagship models, the scanner is located to the right of the camera, which is very inconvenient. Although I still involuntarily touch the glass from time to time.
Galaxy A8+ ergonomics
Galaxy A8+ is very handy for everyday use. Three factors are at work here: curved glass, the small width of the body (about the same as a standard 5,5 smartphone) and smooth corners.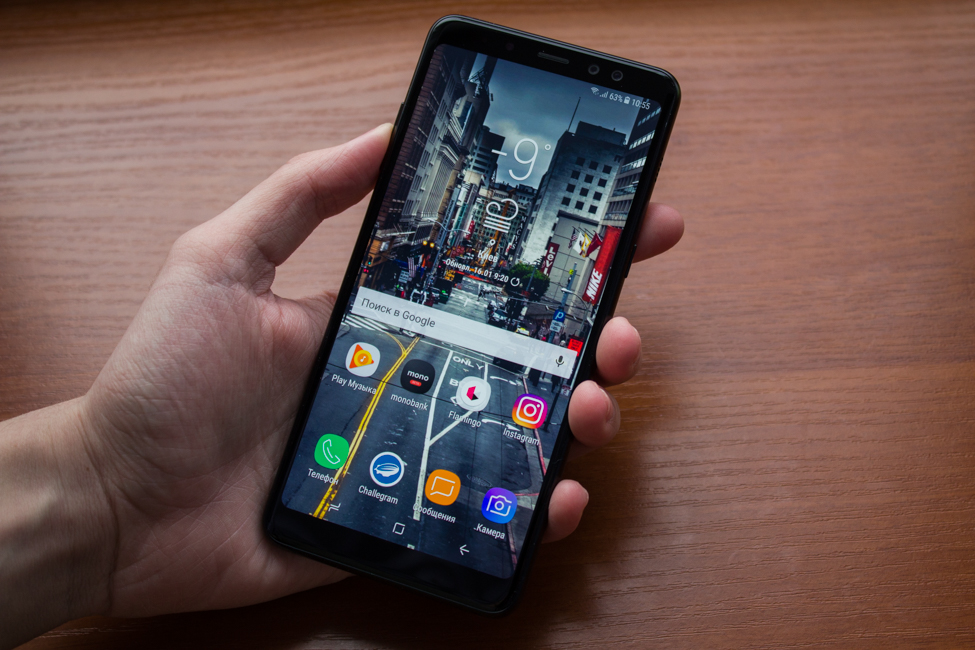 I already commented on the volume button, so I won't repeat myself. The phone is slippery and will fall from any uneven surface, so hold it tight. Someone may say it's a bit heavy – 191 grams is noticeable. I don't have any other gripes with it.
Galaxy A8+ display
I already mentioned that Galaxy A8+ has Infinity Display with 18,5:9 ratio. Other specs are: 6″, FullHD+ resolution (2220 × 1080 pixels), pixel density of 411 ppi and SuperAMOLED matrix.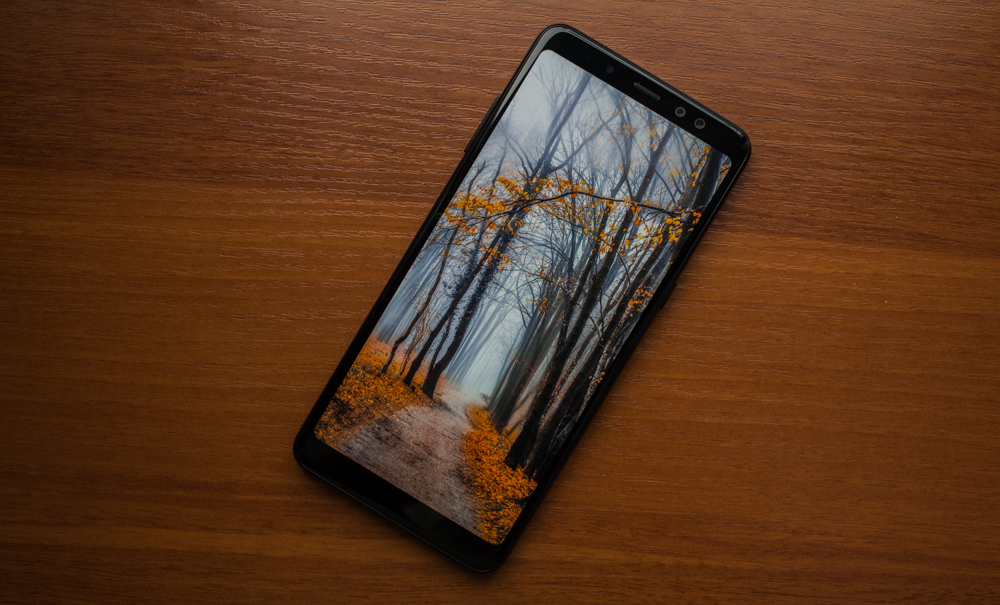 The screen is great. All of the best qualities of SuperAMOLED are here: the screen is bright, contrasty, saturated, with deep black color, excellent color rendition and maximum viewing angles. It is a very good screen, but it has its problems: from certain angles the blue color becomes prevalent.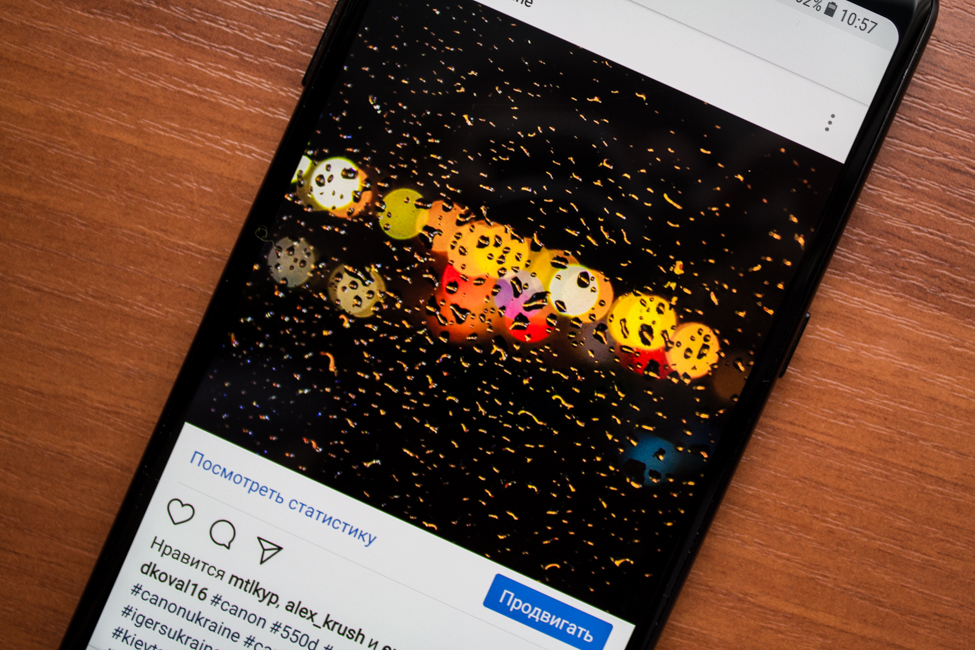 Automatic brightness works as promised, although it's not very fast. You can turn on the blue color filter, adjust the color balance and choose the apps which should always start in full-screen mode.
Overall, a very good screen.
Performance
Samsung Galaxy A8 + (2018) runs on the new Samsung Exynos 7885 processor. This processor is created using a 14-nm process and consists of 2 Cortex A73 cores with a clock speed of up to 2.2 GHz, and 6 Cortex A53 cores with a frequency of up to 1,6 GHz. The graphics accelerator is Mali-G71 MP2.
The results of the synthetic tests are available below.
The smartphone is quick and can run any app you'd want without a hitch. All simple games also run smoothly. The heavier ones also work, but not as good, and not on the highest settings. Still, the phone has no real problems with games. The World of Tanks Blitz show from 20 to 60 FPS on the highest settings; on average, that's about 35 FPS. Asphalt 8 is very smooth on the maximum settings.
What's interesting, the phone is never noticeably warm – even after long periods of play.
My model has 4 GB of RAM and 32 GB of storage. There is a version with 6/64 GB, but only in certain countries. I can't complain about RAM as it's more than sufficient for comfortable use; there's never a need to restart the device. While the box says about 32 GB of storage, the user gets only 23,97 GB, which is barely enough but can be expanded with a MicroSD card (up to 256 GB). Thankfully, there's no need to sacrifice the second SIM.
In short: Samsung Galaxy A8+ can handle all usual tasks.
Cameras
Let's talk about the cameras. The main one has a resolution of 16 megapixels, the aperture is f/1.7. It makes high-quality images with good details and a fairly wide dynamic range. Autofocus is fast but sometimes misses the mark. This is especially noticeable when shooting small and unstable objects, like branches.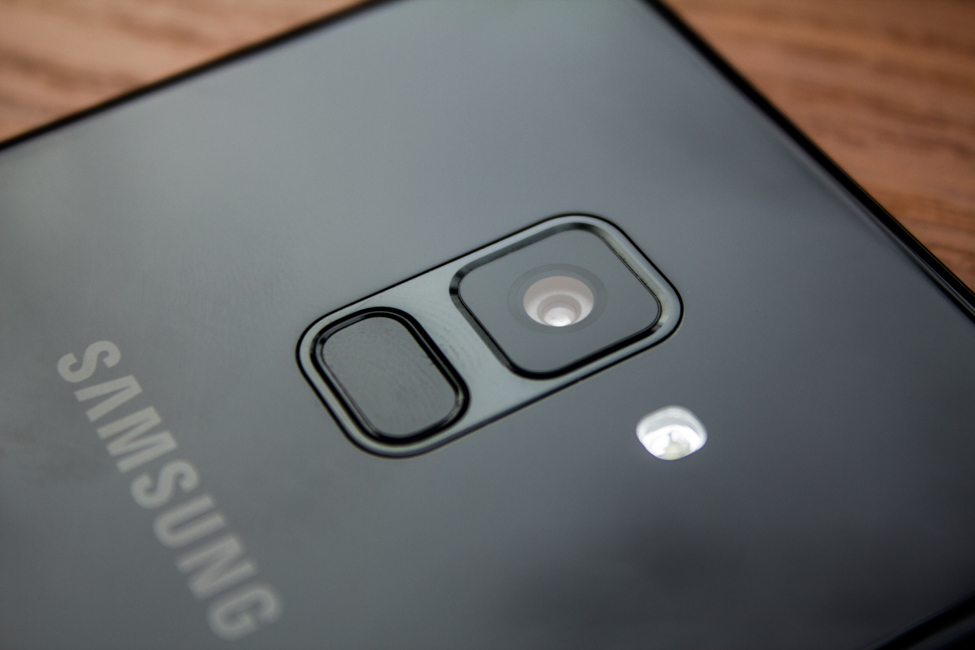 The camera has a great shutter speed, even with activated HDR which is, by the way, excellent. In the badly lit environment the photos are blurry but overall is good.
PHOTOS AND VIDEO IN FULL DEFINITION
The smartphone shots video at the maximum resolution of FullHD, or FullHD+ (2200 × 1080, like the device's screen aspect ratio) with 30 frames per second. That's where Samsung has dropped the ball: they could've, and should've, added the support for 4K. The hardware is more than capable of it. A bit weird, to be honest. Still, the quality of videos is great. There's no optical stabilization, but decent digital stabilization. The device supports time-lapse in 1080p.
The front camera is interesting. It consists of two modules: 16 and 8 MP (f/1.9).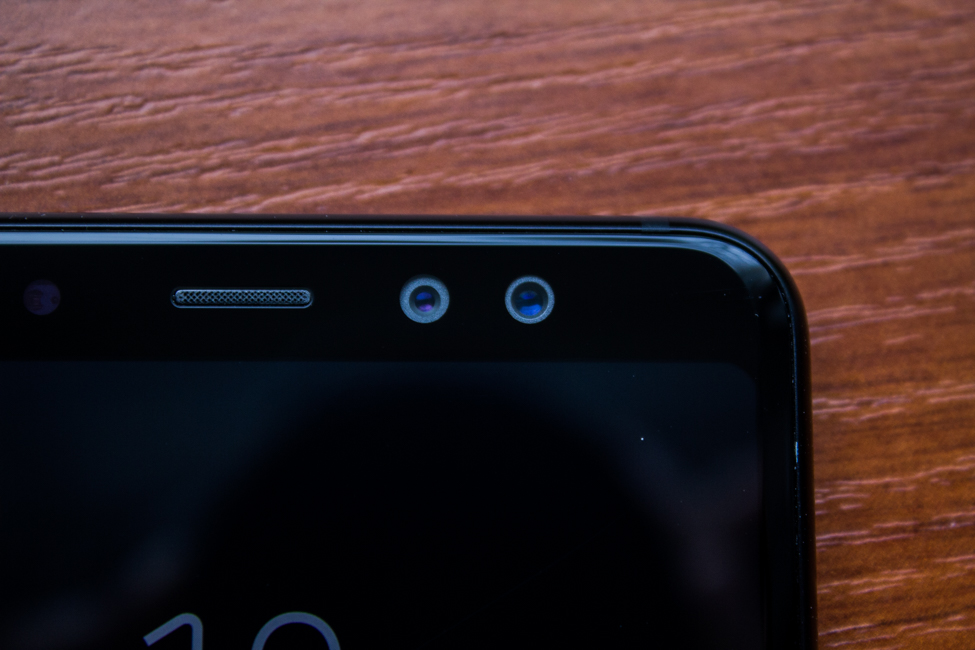 The main module makes great photos. The second (8 Mp) has wider view angles but noticeably worse detailing. The Live Focus feature blurs the background in the pictures. The software separates the person from the background very precisely. The degree of the blur is adjustable both during shooting and afterward, from the gallery. Simply put, Samsung Galaxy A8+ (2018) is very good for selfies.
PHOTOS AND VIDEO IN FULL DEFINITION
The camera app doesn't have many additional bells and whistles, but it's more than enough as it is. There are different shooting modes, filters and stickers. You can search for photos with the help of Bixby assistant.
Fingerprint scanner
Like I already said, the phone's fingerprint scanner is located below the main camera.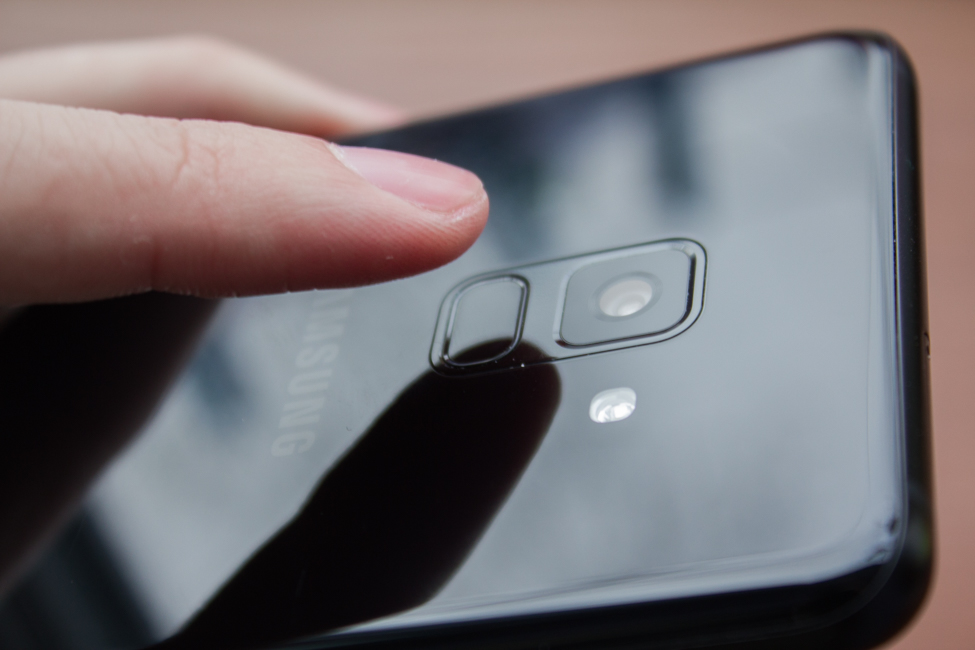 It works fine and rarely makes mistakes. Still, I think that the device takes too much time waking up from the standby mode. Probably something with the software of my test model. Overall, the scanner works as promised. There's really nothing more to add to that. You can open the notification shade by swiping on the scanner.
Samsung Galaxy A8+ (2018) battery life
Samsung Galaxy A8+ has a 3500 mAh battery. I used the browser, music player, messenger and other usual apps with ALWAYS ON DISPLAY feature, and the smartphone survived for 7 hours. Simply put, the battert is more than enough for active use.
Samsung Galaxy A8+ also has supports fast charging, but the basic charger in the box prevented me from testing the feature.
Sound
Samsung Galaxy A8+ sounds okay. Both speakers are loud and clear. The sound in headphones also does not disappoint.
Communications
Samsung Galaxy A8+ (2018) has no problems with communications – whatsoever. It finds mobile signal instantaneously, there are no breakages or other bugs. The Wi-Fi module (802.11a/b/g/n/ac) works well, the range is normal. GPS functions perfectly, positioning is accurate. The device has Bluetooth module 5.0, so you can sync several headphones. There is also an NFC module for contactless payment with Android Pay.
Firmware and software
Samsung Galaxy A8+ uses Android 7.1.1 and Samsung Experience 8.5 shell. Looks neat and has a lot of additional features.
There are a lot of typical customization options like a theme store. You can change the layout of the main screen – with either icons or a separate app menu. You can also change the main grid and the app menu, hid unnecessary apps from the menu, customize the navigational buttons. There are gesture controls and the mode for controlling the device with one hand.
Bixby is still here – you can launch with a swipe to the right. No separate hard button, thankfully. ALWAYS ON DISPLAY is also present and is as convenient as ever.
Samsung Galaxy A8+ also has face recognition. In the daytime it works fine, if only a bit slow. During dark, it doesn't work at all. I can't vouch for the method's safeness either.
The verdict
Samsung Galaxy A8+ (2018) is a great continuation of the lineup, with lots of features straight from the flagship devices.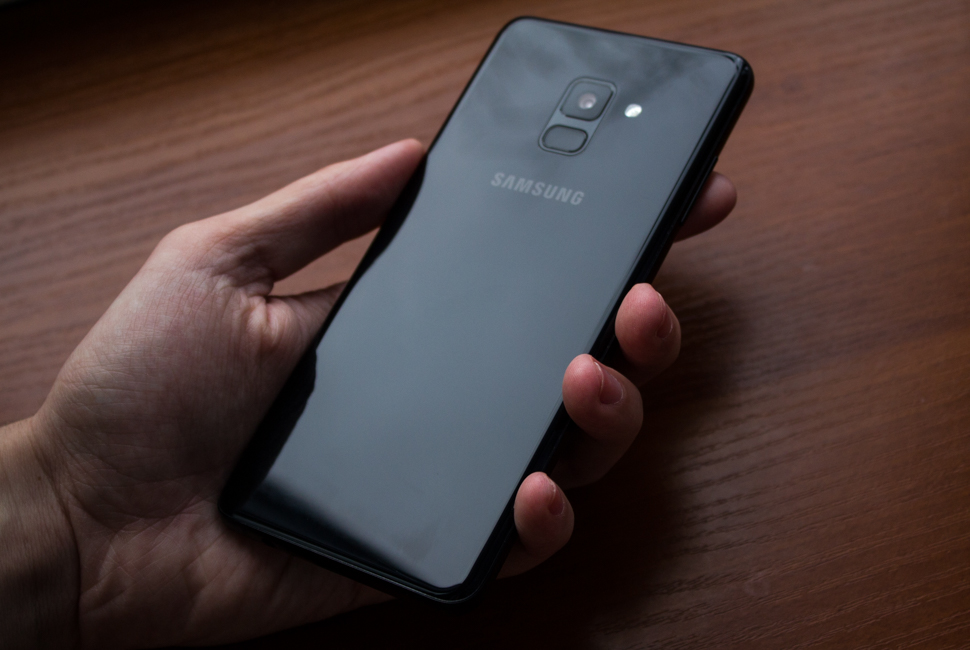 It has both the 18,5:9 display and IP68 ingress protection. It has a great display, fantastic build quality, good cameras, and is powerful enough for almost any task.
Samsung Galaxy A8+ has a lot of competitors, and it's hard to say whether it'll succeed.