At the end of August Samsung announced Samsung Galaxy J2 Core – the first Android Go powered budget phone from the company. The OS was developed specifically for weaker gadgets, and oday we'll find if the debut is a success.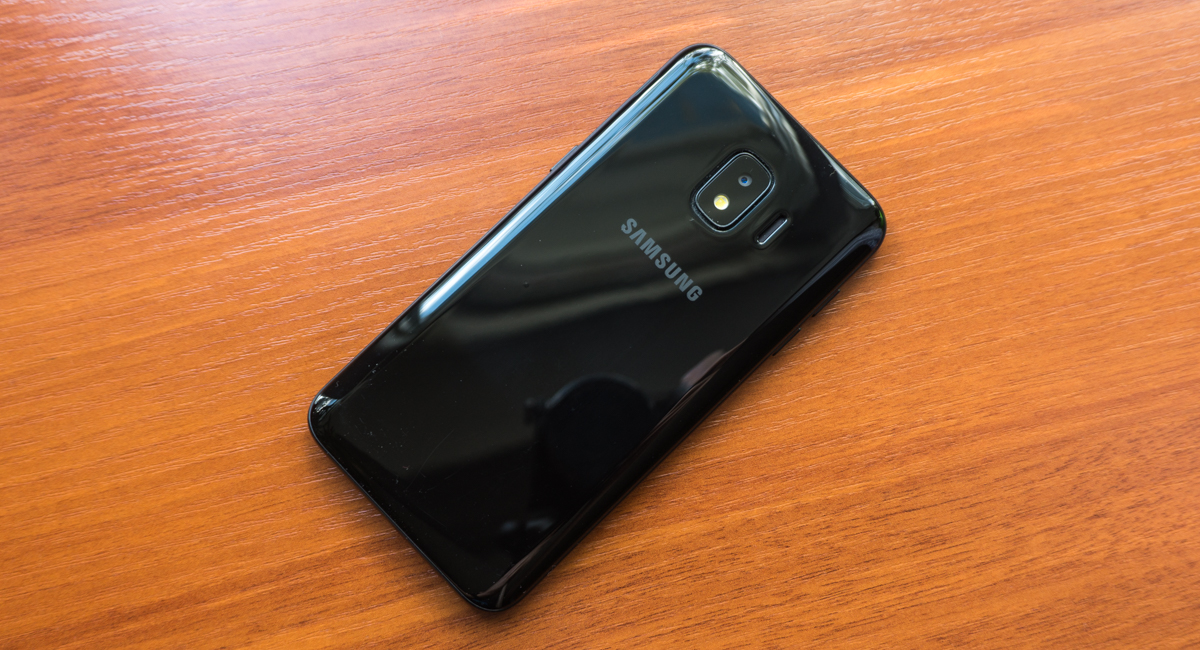 Specifications of Samsung Galaxy J2 Core
Display: 5″, TFT, 960×540 pixels, 16:9 aspect ratio
Processor: Exynos 7570, 4-core, with a maximum speed of up to 1.4 GHz, Cortex-A53
Graphics accelerator: Mali-T720
RAM: 1 GB
Storage: 8 GB
Support for microSD memory cards: up to 256 GB
Wireless networks: Wi-Fi 802.11 b/g/n, Bluetooth 4.1
Main camera: 8 MP, f/2.2, autofocus
Front camera: 5 megapixel, f / 2.2
Battery: 2600 mAh
OS: Android 8.1 Oreo (Go Edition) with Samsung Experience shell
Dimensions: 143,4×72,1×8,9 mm
Weight: 154 g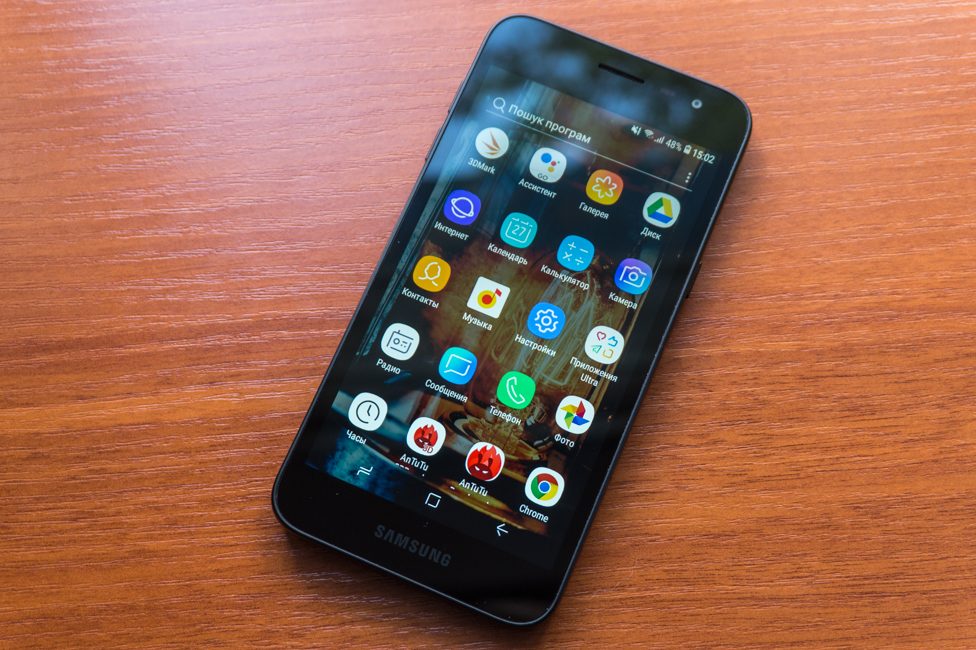 Design, materials and build quality
Samsung Galaxy J2 Core does not look like a modern smartphone. At all. There is a feeling that it had been developed a couple of years ago, and certainly wasn't released in 2018.
The device has a plastic case with a glossy back cover, which gets scratched easily and collects fingerprints all the time.
In front we have huge bezels around the display with the classic 16:9 aspect ratio. The area above is slightly higher than the bottom.
If we want to justify Galaxy J2 Core, we have to note that it's unreasonable to expect trendy features from a budget device. But nevertheless, we can't help but look at some other smartphones from different manufacturers. Practical form factors, 18:9 displays, small bezels… why can't Samsung do it?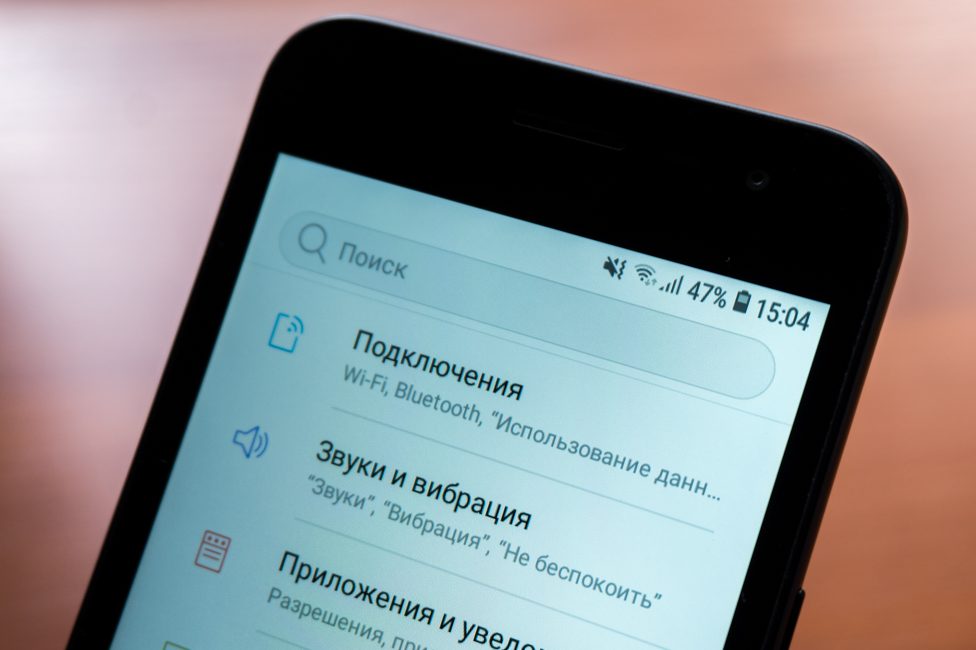 Still, even with everything mentioned above, the build quality is decent – nothing bends of creaks.
There's no oleophobic coating, which, in combination with the glossy plate noted above, does not create pleasant tactile sensations. Fingerprints, stains, dust particles – the whole set.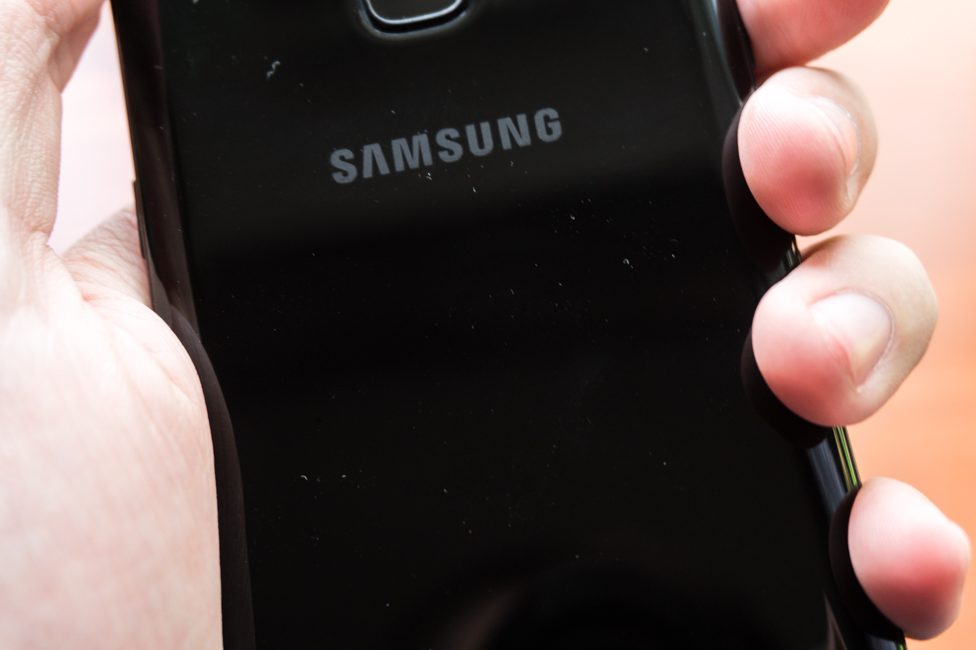 There are two colors: black and gold, but both versions have a black front panel. The gold model won't suffer from fingerprint as much, I would guess.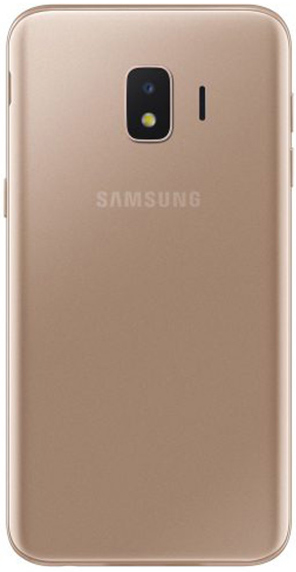 Read also: Samsung Galaxy J8 2018 review – AMOLED-clad mid-ranger
Elements' Configuration
Above the display there are a cutout with a speaker, a proximity sensor and a front-facing camera. The light sensor is missing, but there is a certain substitute that uses the front camera to determine the level of ambient lighting – I will tell about this method a little later.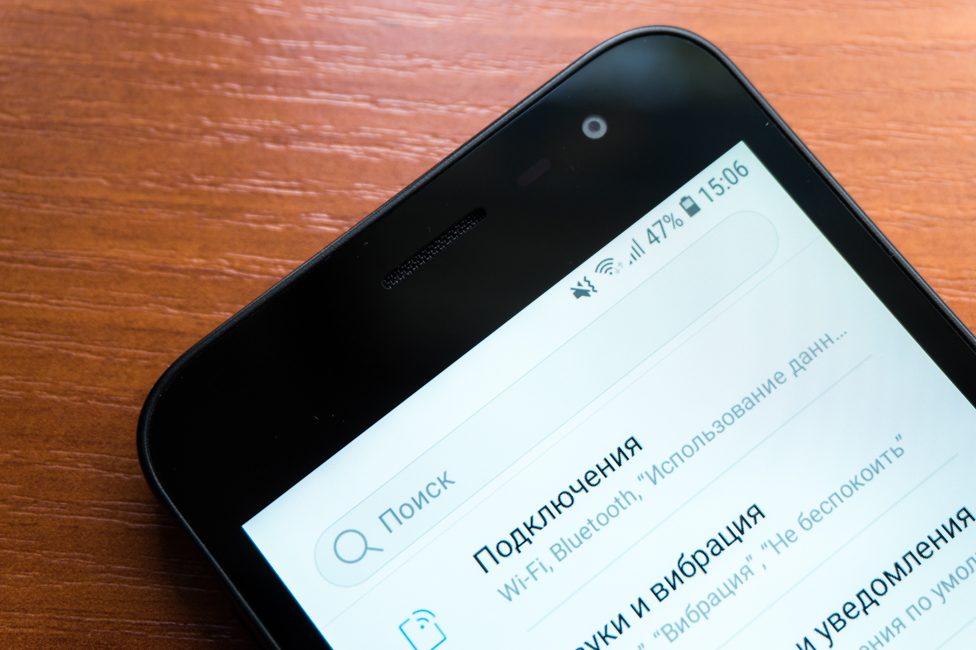 Below the screen we have the Samsung logo. The inscription is a bit dark, so it doesn't stand out, but it would be better if it wasn't there at all.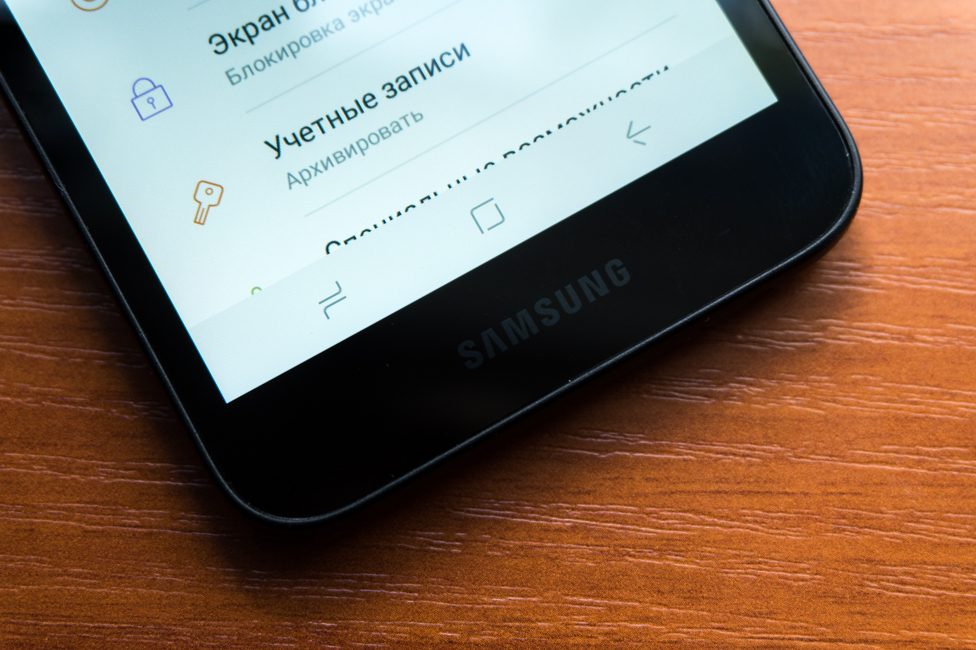 On the right side is the power button, and on the left are two separate volume keys. All buttons are plastic.
The top area is completely empty, and on the bottom are the microUSB port, a single microphone and a 3.5mm audio jack.
Behind, we see a protruding unit with an eye of the main camera and a flash (the protective glass is slightly recessed in the frame), a cutout with the main multimedia speaker to the right of the unit and the manufacturer's logo under it.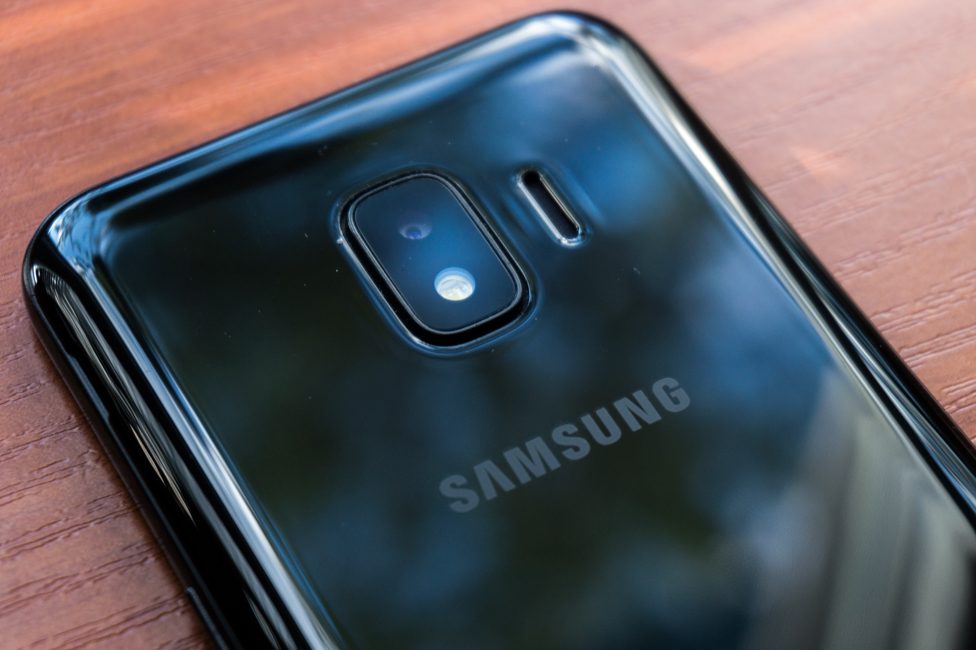 Under the cover there are two slots for a micro SIM card and a slot for a microSD memory card. There is also a removable battery.
Read also: Samsung Galaxy Note9 review – Top-of-the-line phablet with a stylus
Ergonomics
The smartphone feels nice in the hand due to the small size and rounded shape of the case. It is comfortable to use it with one hand – you can reach any area on the screen.
The arrangement of the controls is also nothing special – all the buttons are easy to grope, the device does not slip out of the hands.
Samsung Galaxy J2 Core display
If you look at the parameters of the screen, the situation might seem dire. 5-inch TFT display with a resolution of qHD (960 × 540 pixels) and an aspect ratio of 16:9.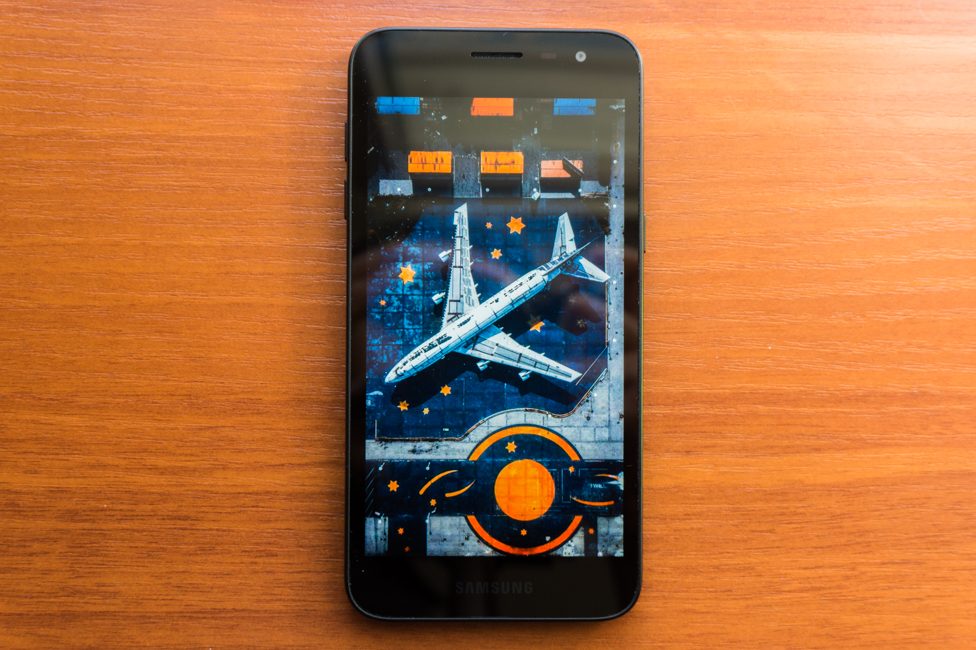 In fact, the display is not bad. Now, the screen resolution. The fact that it is not high is noticeable. In particular with the small objects in applications. But for budget segment it's okay. Of course, I would like HD-resolution – there are some budget phones with better screens.
The colors are saturated, the picture is contrasty and bright. Viewing angles are quite decent with no distortion.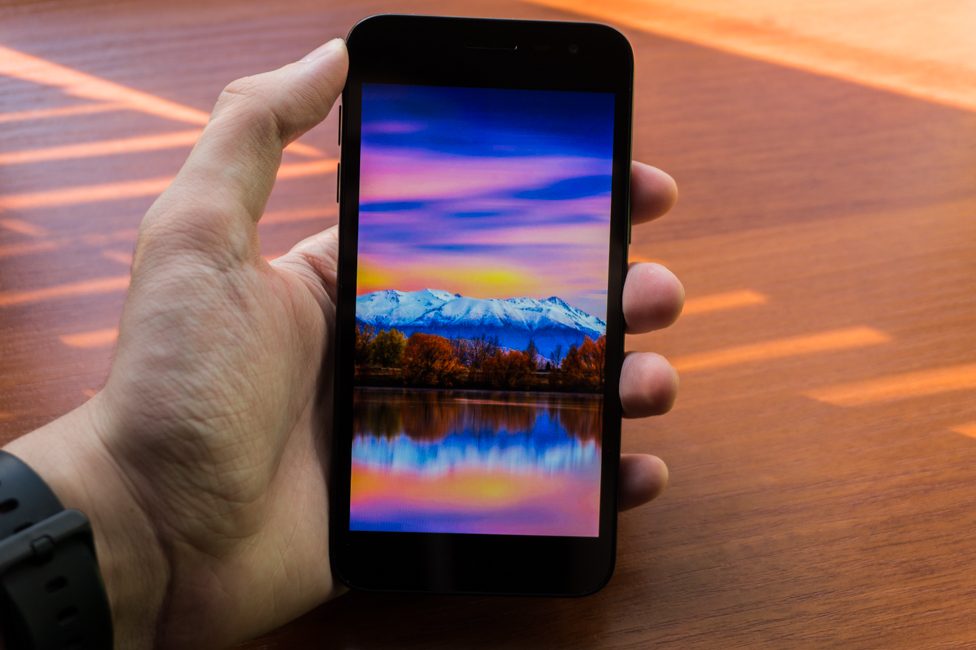 In general, the matrix is ​​sound, even if it is TFT. You cannot adjust or correct colors or white balance using standard tools. But there is a street mode – when it is activated, the maximum brightness of the screen increases a little more for greater comfort of use.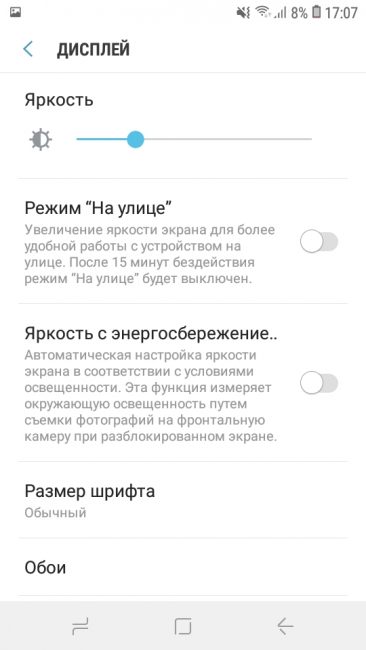 A little earlier, I promised to talk about the auto-adjusting brightness (remember, there is no separate dedicated sensor). Each time the screen is activated, the smartphone takes a picture with the front camera and measures the ambient light, after which the brightness changes. Clearly, this is not as convenient and fast as in the case with a normal light sensor, but it's something.
Performance
Samsung Galaxy J2 Core hardware is fully consistent with its positioning. In the role of the processor is a proprietary SoC Exynos 7570. Cortex-A53 processor with 4 cores, made according to the 14-nm process technology, works with a maximum clock frequency of up to 1.4 GHz. The graphics chip is a Mali-T720 MP1.
In synthetic tests the smartphone does not impress. Moreover, it could not pass some tests – for example, AnTuTu or partially 3DMark.
However, this is not so important, because the main thing is how it shows itself in normal use. And here Samsung Galaxy J2 Core is surprisingly good. The shell works smoothly and the smartphone does not think during work. This situation is achieved through the use of a lightweight version of the OS Android 8.1 Go Edition and its optimization. But we'll talk about it in more detail later. In short, for messengers, social networks, calls, casual active browsing and other typical tasks the smartphone is more than okay.
As for the memory, it can't be lower in 2018. RAM only 1 GB, and a storage is 8 GB, of which 5.51 GB is available to the user. Storage can be expanded with a microSD card up to 256 GB.
No surprises with gaming. Heavy games are a no-go, but you won't be buying this device for those. Casual games are okay.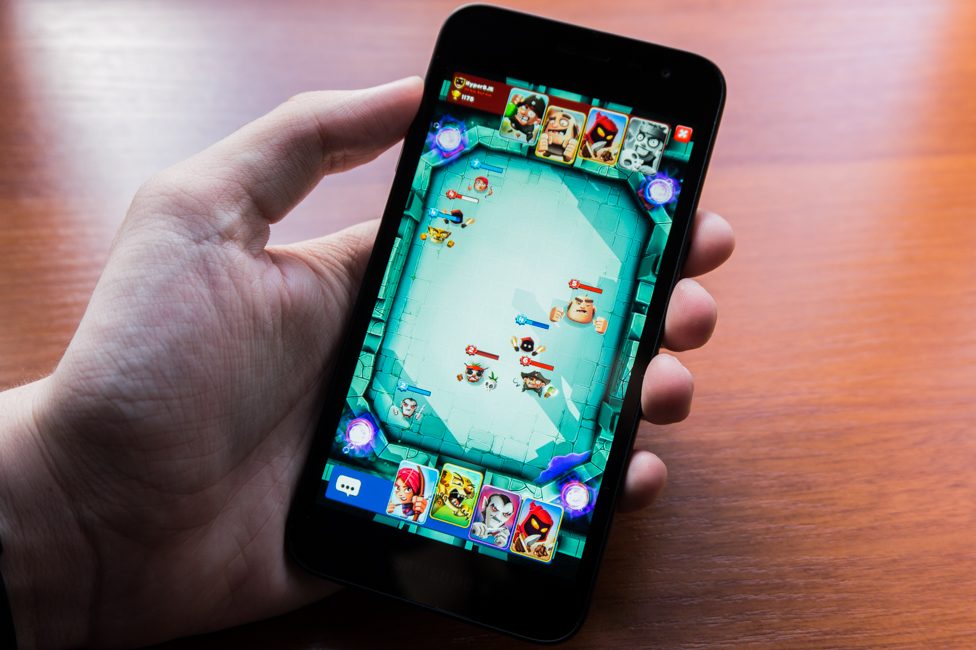 Read also: Doogee X50L on Android Go review – Face-to-face with a low-end smartphone
Cameras
The Samsung Galaxy J2 Core has a main camera module with a resolution of 8 megapixels, f/2.2 aperture and autofocus.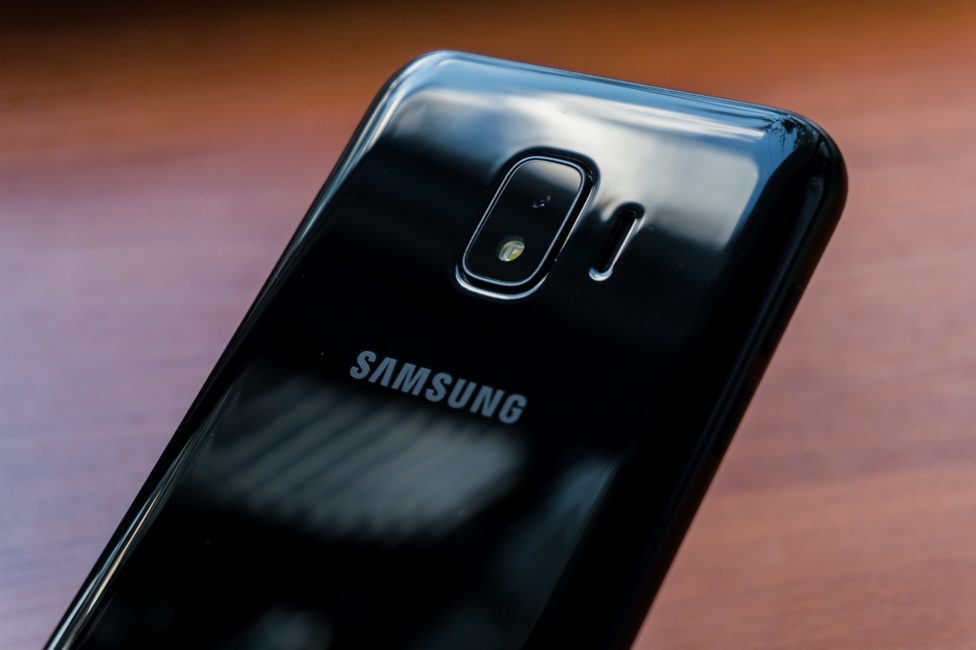 About the quality… you can just say that it is okay. In general, for this price most of the phones shoot similarly. Even in daylight photos come out weak, and with bad lighting it's even worse. Little details. And with artificial lighting there are problems with the while balance.
PHOTO EXAMPLES IN FULL RESOLUTION
The camera is fast, autofocus is working fine, but even so, if there isn't much light around, everything gets blurry. No HDR. The smartphone is able to record video at a resolution of 1920×1080, but the quality is very weak.
Front camera module: 5 megapixel, f/2.2 aperture. The front camera is also below average.
The camera application is very simple and there are practically no additional options. Everything is limited to a couple of filters, a timer and the ability to turn on the grid.
Overall, don't expect much.
Battery life
Samsung Galaxy J2 Core is equipped with a removable 2600 mAh battery, which, in combination with a 5-inch display with a low qHD-resolution, simple hardware and software lasts approximately for 1.5-2 days of work.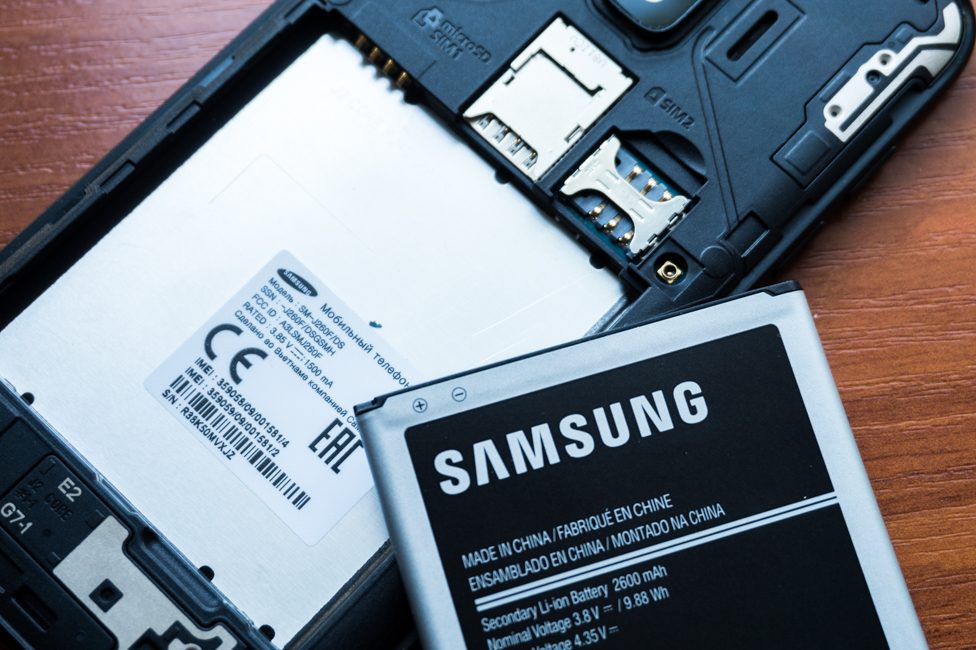 Of course, the gadget can die in a day, but with moderate use, if you do not load it with heavy tasks, the result is very good. For example, I used J2 Core as a second smartphone and it worked from one charge for 3 days 9 hours with 7 hours and 24 minutes of active screen.
Naturally, the smartphone does not support fast charging, and it charges fully from a normal charger in a few hours.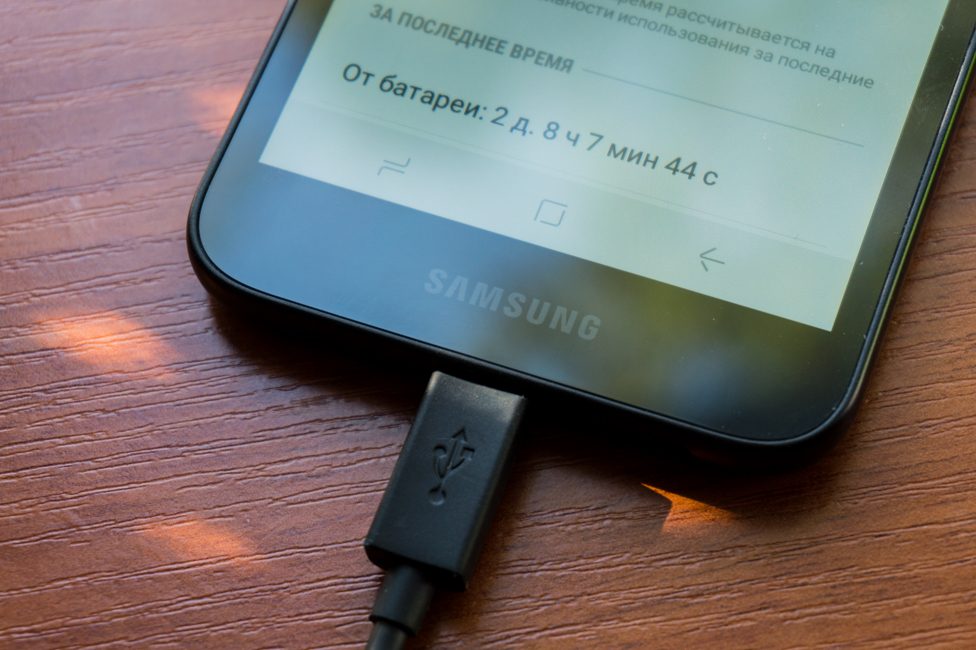 Sound and communication
The smartphone speaker has sufficient volume and quality. Samsung did not save money, and the earpiece speaker is not the same as a multimedia speaker.
Although the main speaker is not very well located – if the smartphone is on the back, the sound will be slightly muffled. It's good that the block with the camera protrudes a bit, so you can easily hear the call.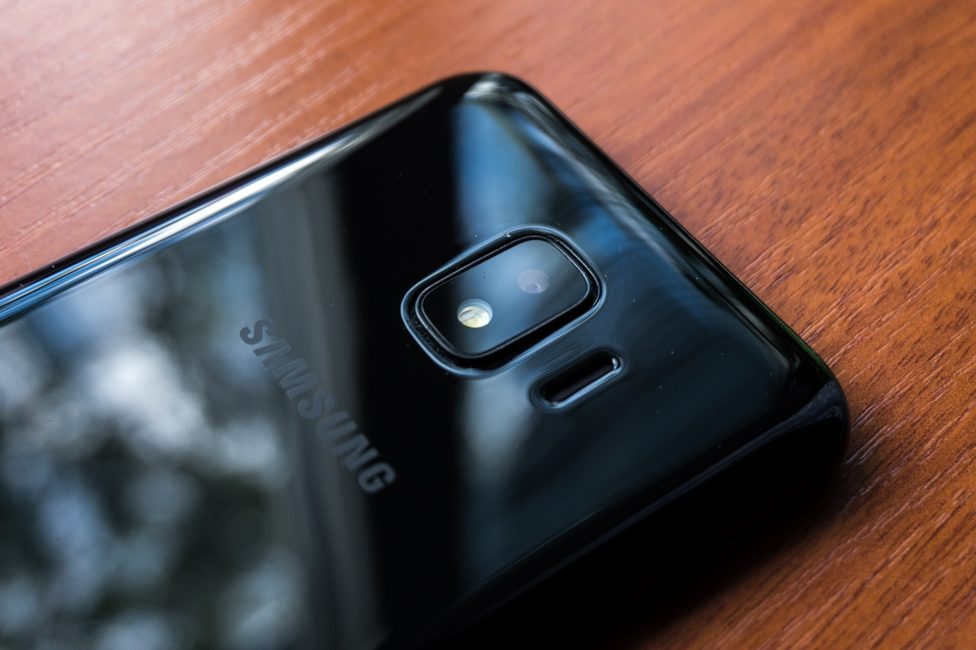 The speaker does not sound very loud, and the quality is average.
The sound in the headphones is acceptable, but I can't say anything else about it. And maybe for someone there's not enough volume. There's no built-in equalizer for adjusting the sound.
The smartphone supports 2G, 3G and 4G. The Wi-Fi module works fine, but it is limited to 2.4 GHz networks.
With Bluetooth 4.2, there were no problems. GPS (A-GPS, GLONASS, BDS) also works fine. NFC module is absent.
Read also: Samsung Galaxy A6 (2018) review – A Mid-Ranger with Infinity Display
Firmware and software
Samsung Galaxy J2 Core runs on Samsung Experience firmware, which is based on Android 8.1 Oreo Go Edition. The lightweight OS with the Android Go prefix was designed specifically for entry-level smartphones with weak hardware. And as I already noted, everything is smooth.
In terms of design, this is a typical Samsung Experience shell, but in terms of functionality there's not much. There are practically no additional features like gestures or the ability to install themes. The set of pre-installed programs is minimal. From Samsung we get the following: Samsung Max Go – an application for tweaking data saving and protecting information when transferring data over networks, as well as Samsung Ultra Apps – through it you can launch web versions of popular social networks and sites immediately with a traffic saving function.
Google has a package of Go apps: Google Go, Gmail Go, YouTube Go, Files Go, Maps Go and the Go-version of Google assistant. At the same time, applications differ slightly from the usual versions. For example, Gmail Go is not much different from the standard Gmail application. Maps Go is generally a mobile web version of the map service.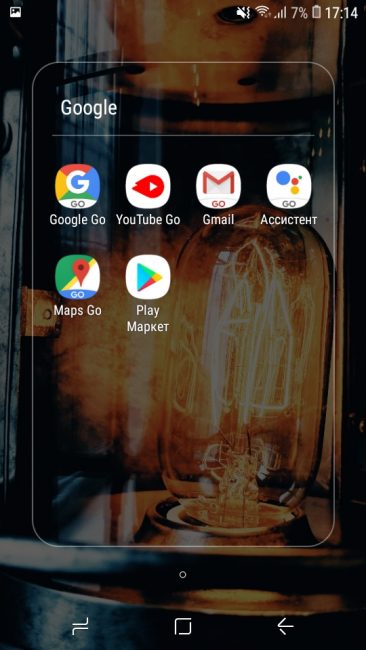 There's no face recognition in the settings.
Verdict
On one hand, Samsung Galaxy J2 Core surprised me with its decent screen, even if the resolution is bad. The battery life is alright, and the UI is smooth.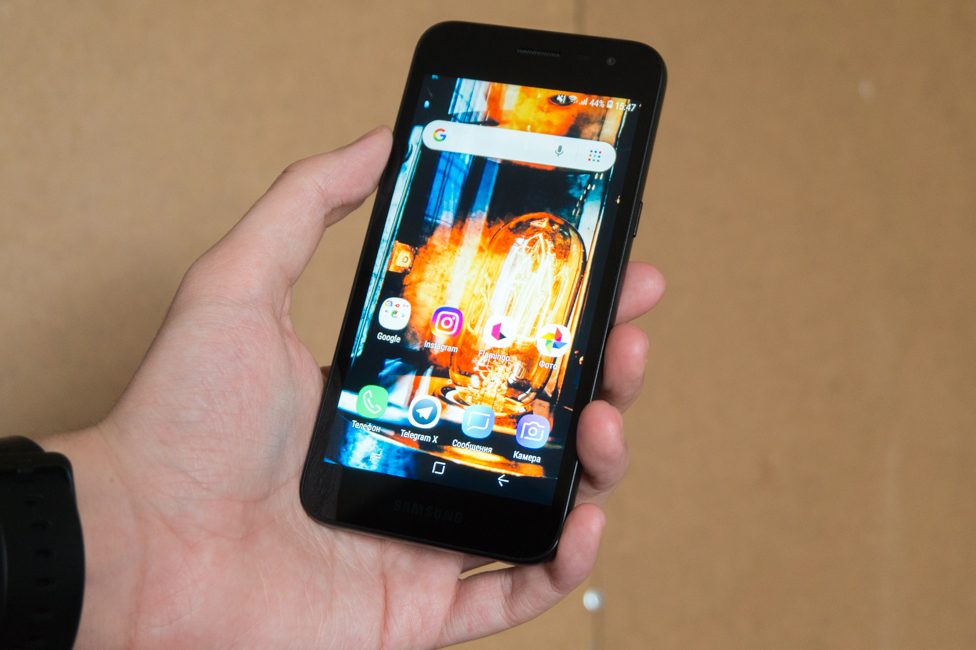 On the other hand, there are similarly-priced rivals with more features. Huawei Y5 2018 and TP-Link Neffos C9A both look better, have better screens and more storage.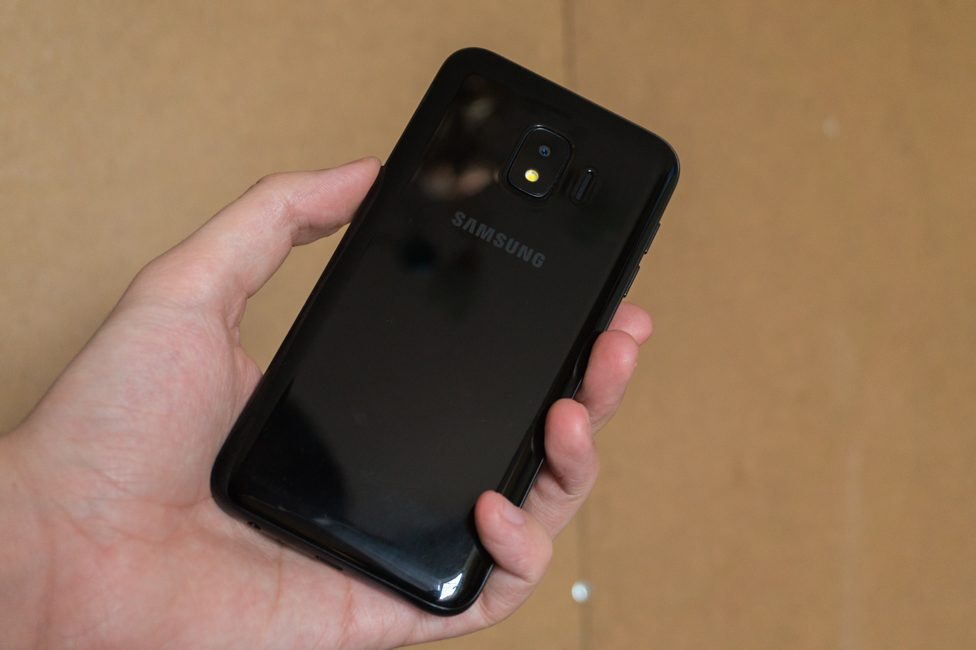 Sure, they are inferior in terms of smoothness. The shell here is better optimized, and the low resolution helps the UX a bit. The undemanding users who seek a stable workhorse won't be disappointed with Samsung Galaxy J2 Core.