Traditionally, Samsung releases Galaxy Note devices about half a year after the announce of Galaxy S lineup. This year it's the same: Galaxy S9/S9 Plus was shown in February, and Samsung Galaxy Note9 in August. Let's talk about it in details.
Samsung Galaxy Note9 specs
Display: 6.4″, Super AMOLED, 2960×1440 pixels, aspect ratio 18.5:9
Processor: Exynos 9810, 8-core (4 Mongoose M3 cores with a frequency of 2.7 GHz and 4 Cortex-A55 cores with a frequency of 1.8 GHz)
Graphics Accelerator: Mali-G72 MP18
Memory: 6/8 GB
Storage: 128/512 GB
Support for microSD memory cards: up to 512 GB
Wireless networks: Wi-Fi 802.11 a/b/g/n/ac, Bluetooth 5.0 (A2DP, LE, aptX), GPS (GLONASS, BDS, GALILEO), NFC
Main camera: dual, main module 12 Mp, aperture f/1.5-2.4, 26 mm, 1/2.55″, 1.4μm, Dual Pixel PDAF, OIS, additional TV module 12 Mp, f/2.4, 52 mm, 1/3,4 ", 1μm, autofocus, OIS
Front camera: 8 megapixels, f/1.7, 25 mm, 1/3.6 ", 1.22 µm, autofocus
Battery: 4000 mAh
OS: Android 8.1 with Samsung Experience 9.5
Dimensions: 161.9×76.4 × 8.8 mm
Weight: 201g
Price and positioning
Galaxy Note9 6 GB /128 GB costs about $1256. Of course, this is a lot, but modern flagships from A-brands get more expensive every year, but no surprise here.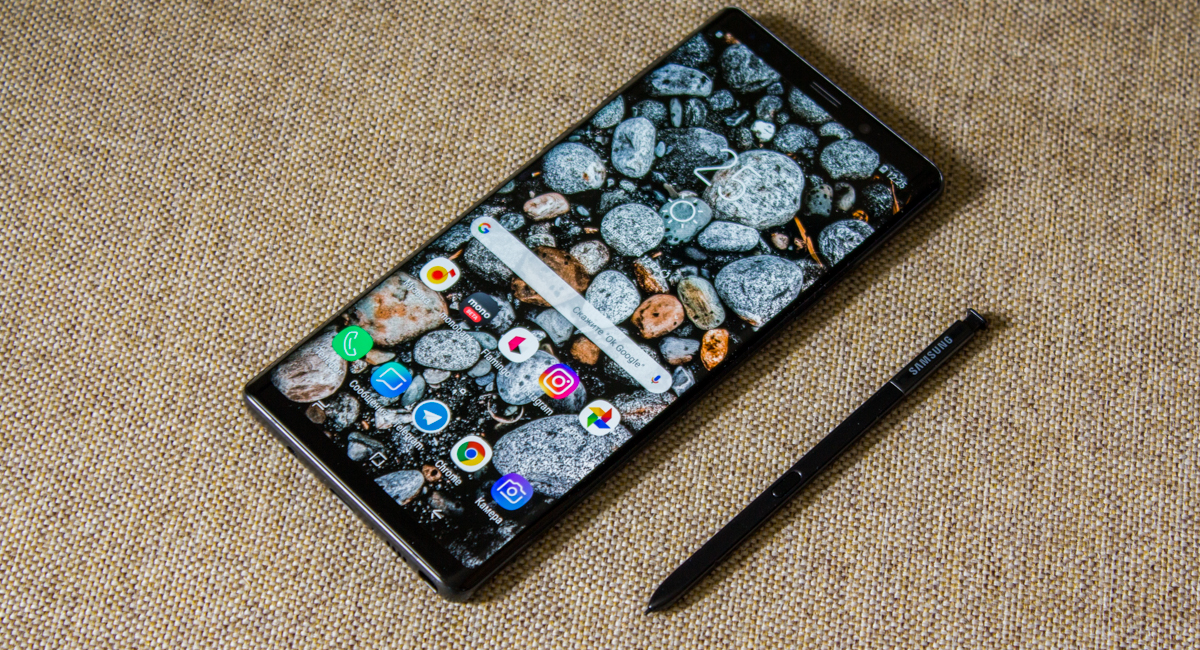 It's is necessary to say that Galaxy Note is positioned differently than Galaxy S. The Note line has a certain audience and these users know what they're getting for the price. Roughly speaking, the S series is "for everyone", and Note is not "for everyone", it's for… certain people.
What's in the box
I would like to start with the bundle, but my test sample came without the box, so I can only assume what will be bundled with the commercial model. Naturally, will get the smartphone with a Pen stylus, a power adapter with quick charge support, a USB/Type-C cable, wired headphones developed in conjunction with AKG and additional ear pads, a pair of adapters, a SIM card eject tool and documentation.
On Samsung Galaxy Note's official page there's a picture of the set, but the bundle may differ depending on the country or the supplier, so we can't say 100% what will be in the box.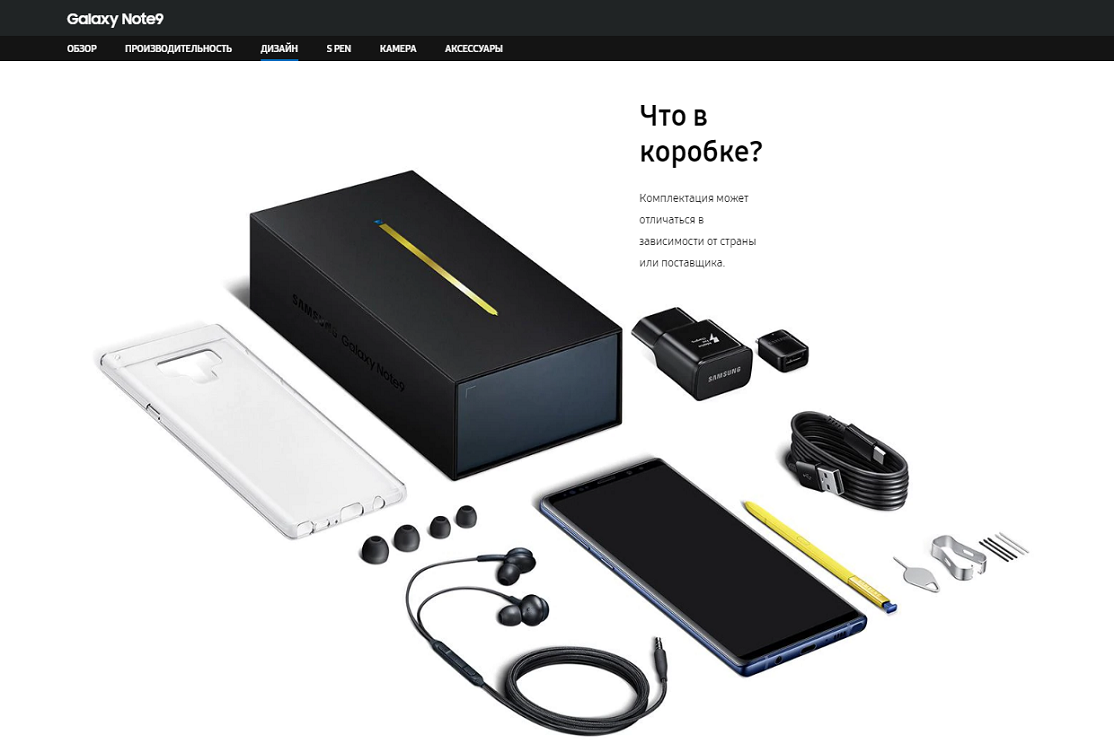 Design, materials and build quality
The design is about the same as Note8, but there are some differences. First of all, the updated Samsung Galaxy Note9 has a more angular shape.
The second difference is the fingerprint scanner, that is now under the block with cameras, and not in a row with it.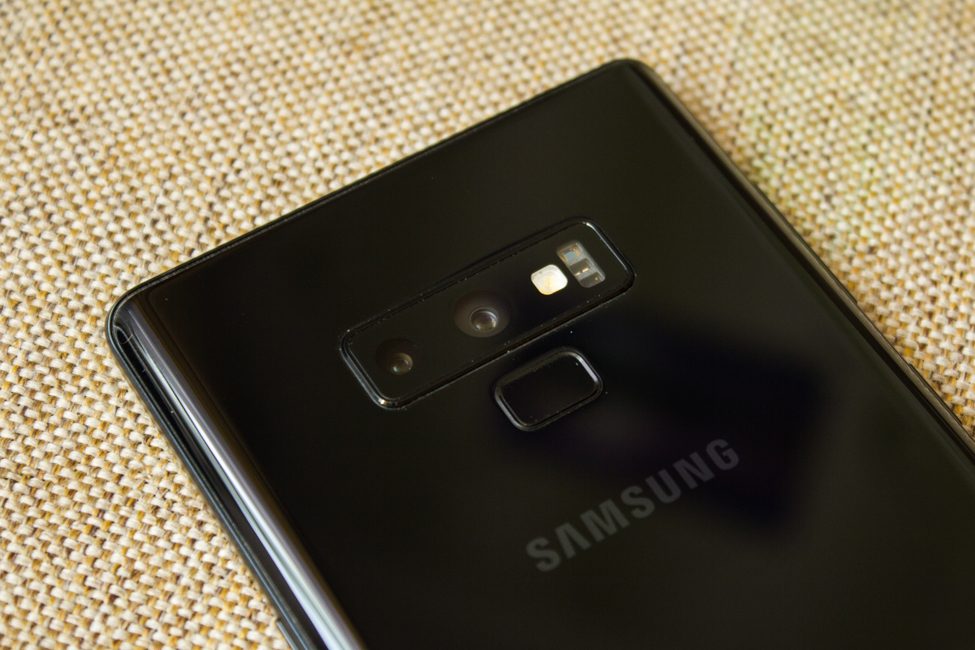 At the front, the smartphone retained its previous design: minimal bezels around the perimeter of the screen, no logo, and a large infinity display with curved sides and rounded corners. The feeling that you hold just the screen and nothing else in your hand is preserved.
The materials are usual: a metal frame around the perimeter and Corning Gorilla Glass 5 on both sides.
In terms of design we have the same situation, as with Galaxy S8 and S9. Changes in appearance seem to be there, but they aren't obvious and are more about convenient interaction with the smartphone.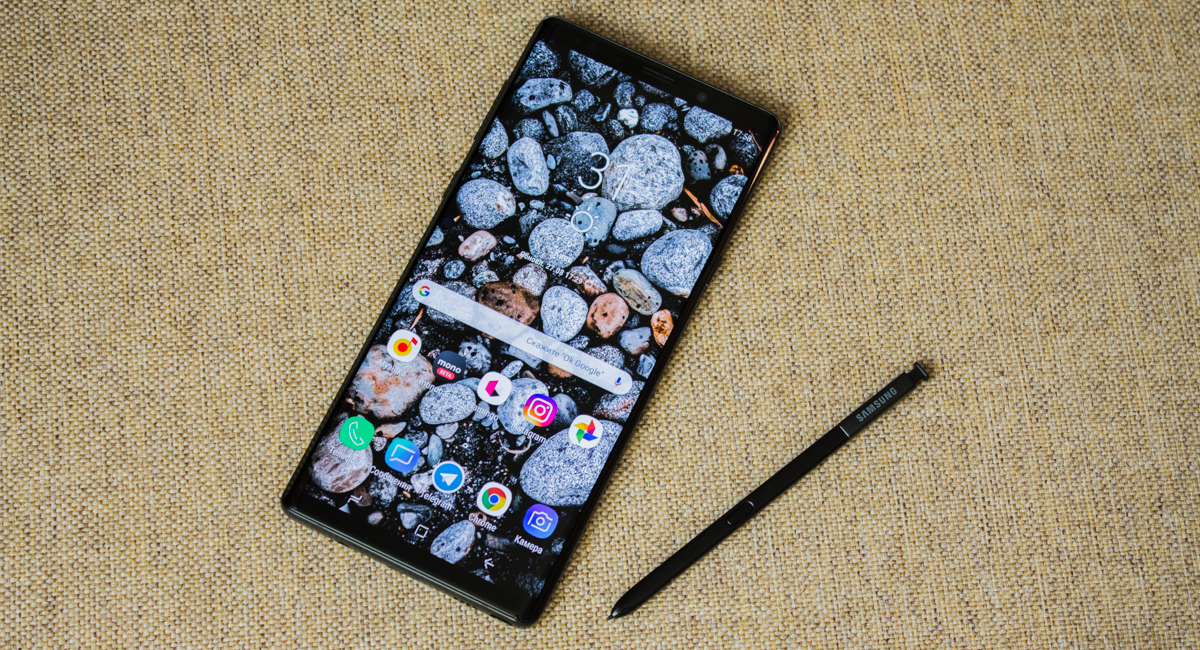 I don't think that this is bad. And design was a success, so why not use it again? There were no serious differences between S8 and Note8, so there was no reason to expect it here. It is quite logical that both flagships of two series are similar to each other.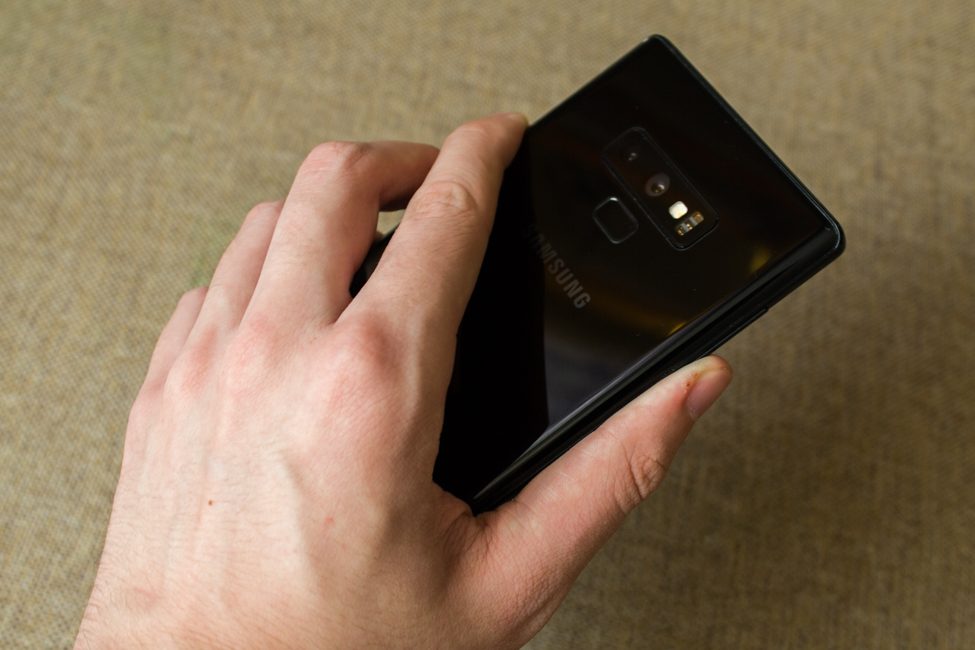 Oleophobic coating is applied to the glass in front and behind, but it does feel like the back's coating is somehow worse, or at least different.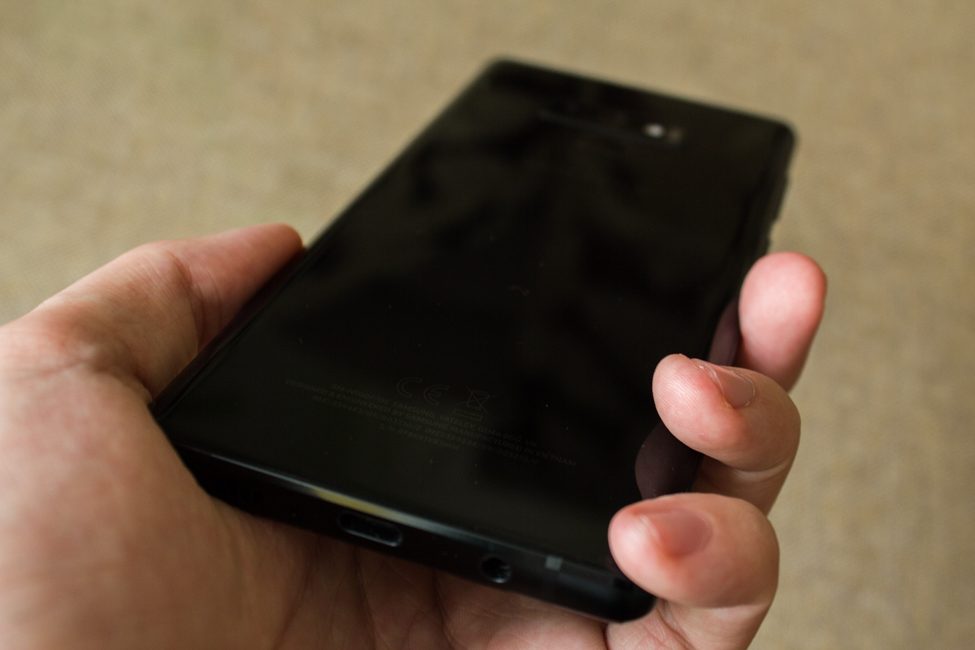 That's not bad though: the chances of the phone slipping out of your hands is minimal. But the risk is still there. Better hold the device tightly or use a cover.
Build quality is perfect, as expected. Almost. I'm talking about S Pen: when it is inside the device, the mechanical eject button of the stylus dangles a little. A small thing, but with price that high it matters. Maybe this is my specific S Pen sample, or maybe even not a bug, but a feature. Still, I had to mention it.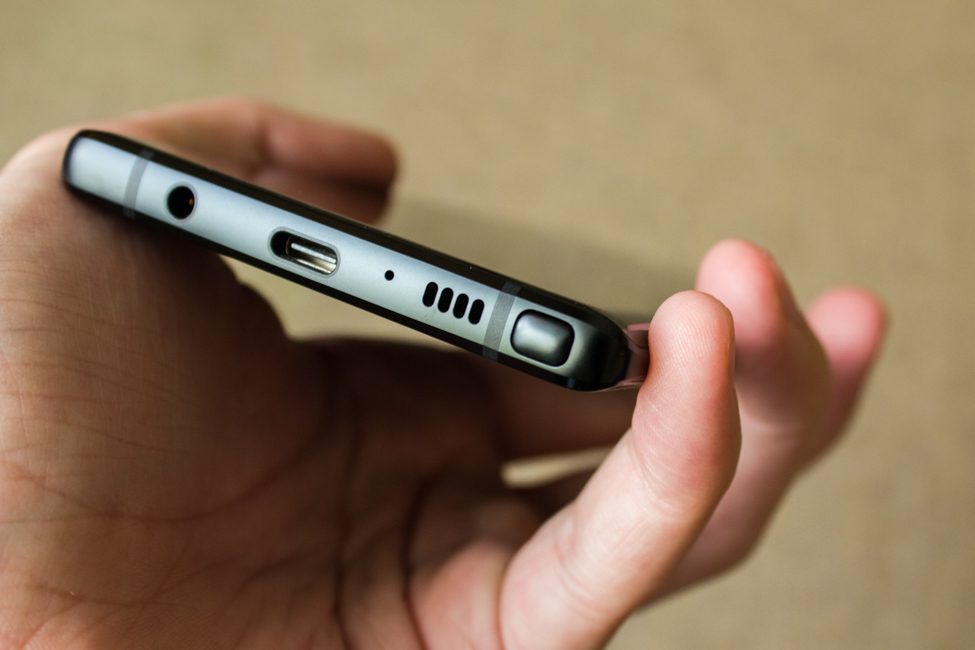 The device is IP68 dust- and water-resistant; immersion for 30 minutes to a depth of 1.5 meters should not damage the smartphone.
As you can see on the photo, I have a sample in black (Midnight Black). In addition, Samsung offers lavender (Lavender Purple), blue (Ocean Blue), and copper (Metallic Copper) options. The front part is black in all colors. I would like to note the blue model, because all other models have the Pen in the same color as the back plate, but with blue model, the stylus is yellow.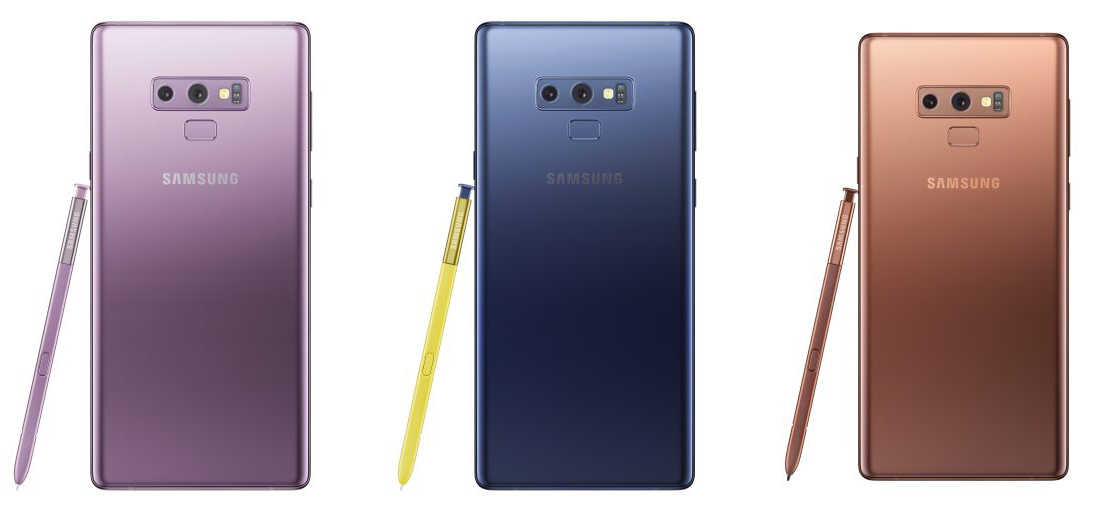 If you have the black model, you'll notice fingerprints on the body, but they are easy to wipe off. The phone doesn't really attract dust.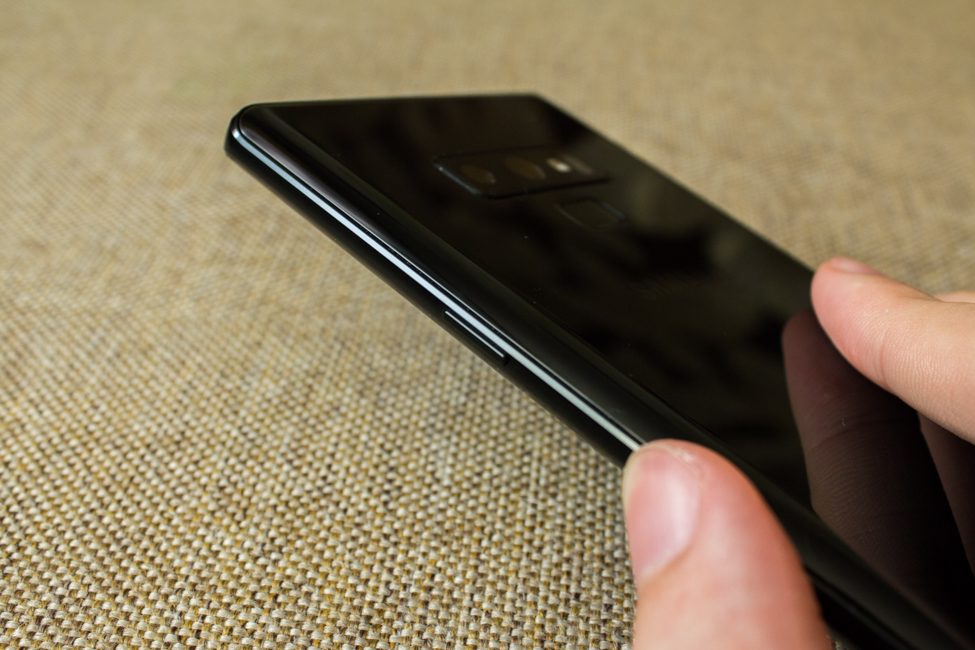 Elements' Configuration
Above the screen in front there is a large set of sensors and elements: an LED notification indicator, iris sensor, light and proximity sensors, a speaker, a second iris sensor and a front camera. There's nothing below the screen.
Power/unlock button is the only element on the right side.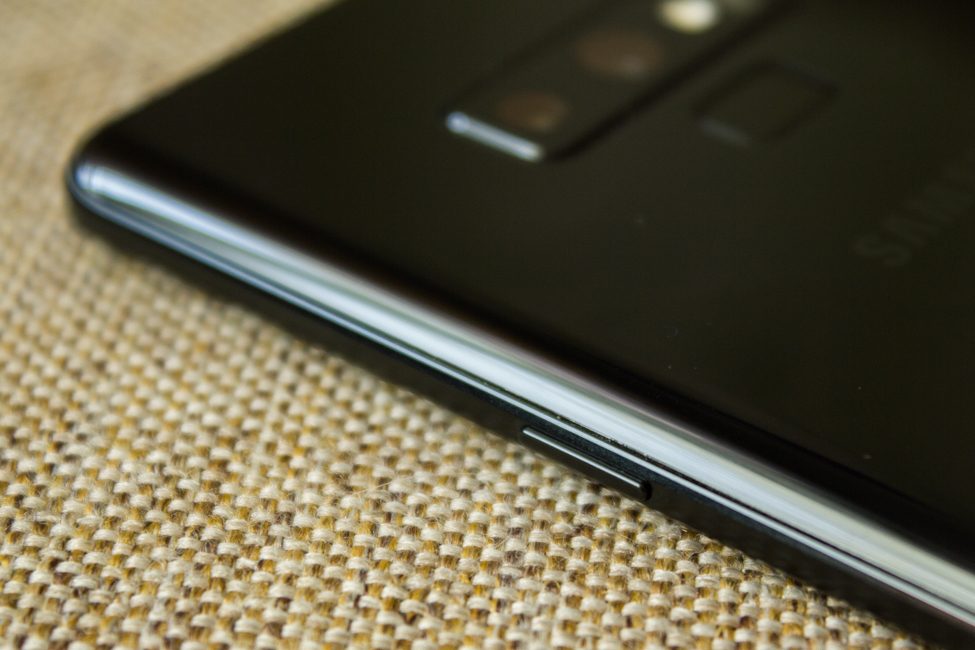 On the left there is a volume control key and a separate button for Bixby assistant (we'll talk about it later).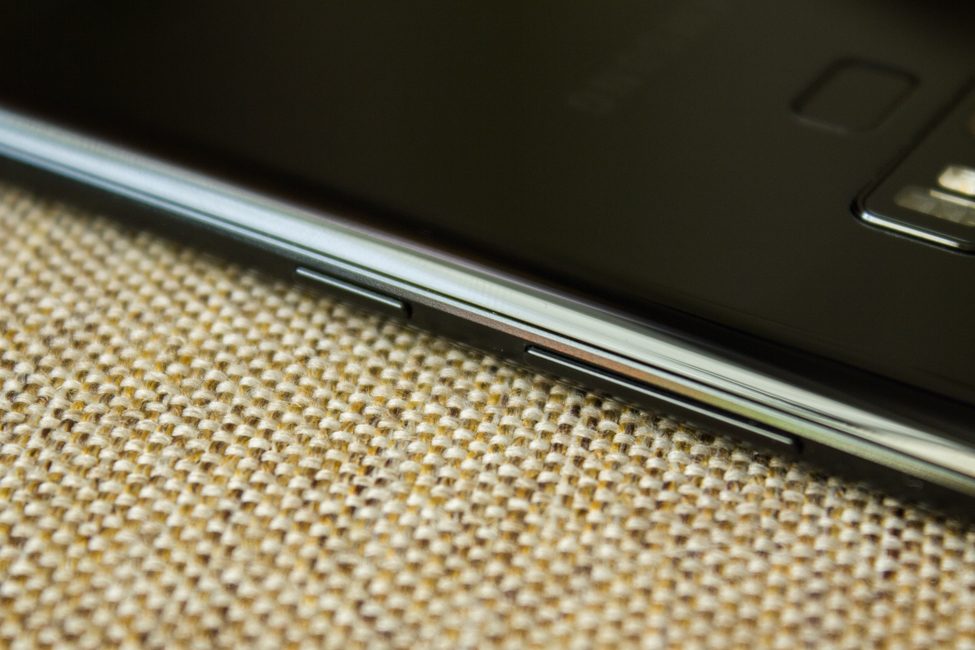 On the side below we have are 2 plastic inserts for antennas, 3.5 mm audio jack, Type-C port, microphone, four cutouts of the main speaker and the main feature – the S Pen connector.
On the top side there's an additional microphone and a slot for two SIM cards (nano) or one SIM-card and a microSD memory card. There are also two plastic inserts under the antennas.
On the back there is a camera block protruding from the case, the flash and light and heart rate sensors (you can also measure the level of oxygen saturation of blood). The glass that covers this block is slightly recessed into the frame.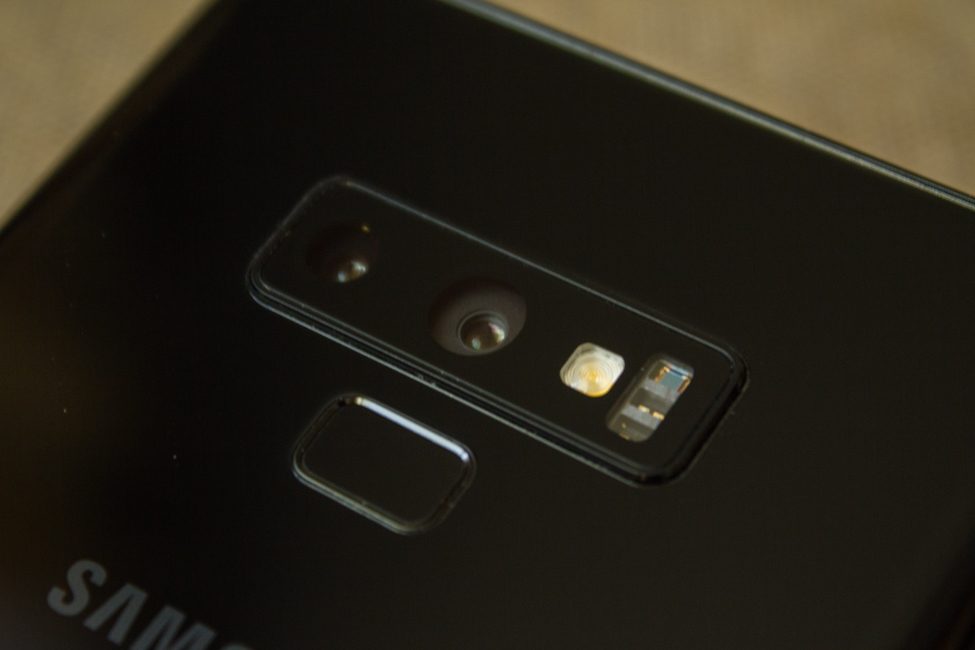 Under the block is a fingerprint scanner. Under it is the manufacturer's logo. And at the very bottom we have official markings.
Ergonomics
Samsung Galaxy Note9 is a large phablet, which is typical for all Note devices. In comparison with Note8, Note9 is slightly shorter (161.9 against 162.5 mm), but at the same time wider (76.4 compared to 74.8 mm), thicker (8.8 vs. 8.6 mm) and heavier – 201 grams against 195 in Note8.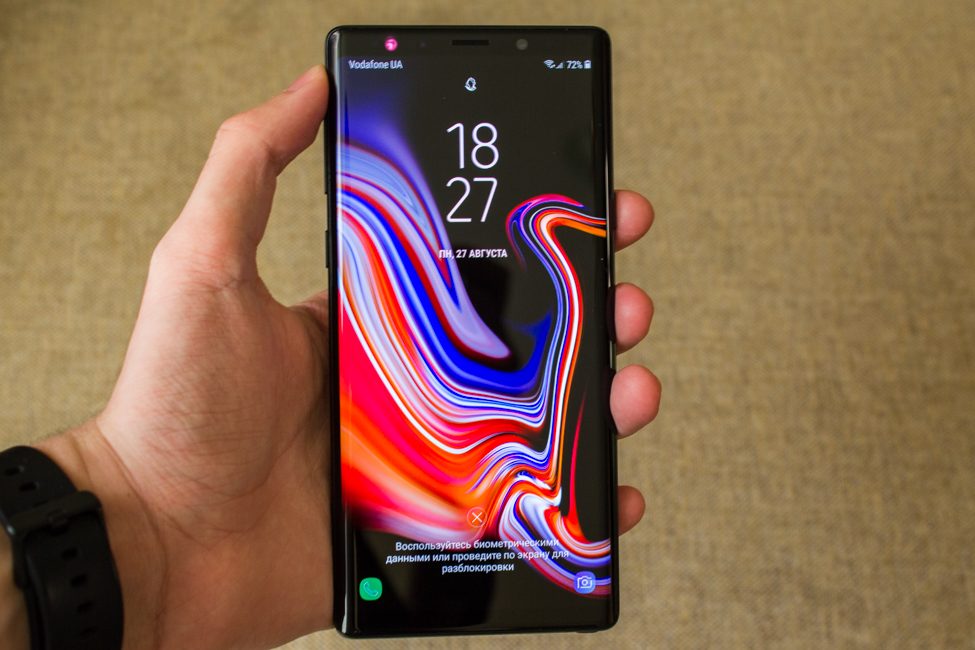 But the device is still convenient to use. I can use the phablet even with one hand. Although I agree that 8.8 mm of thickness is a bit too much for the flagship. However, unlike Note8, this increase is justified. But we'll talk about it later.
The glass feels nice to the touch, and the angular body is noticeable, although it's still nice to the touch.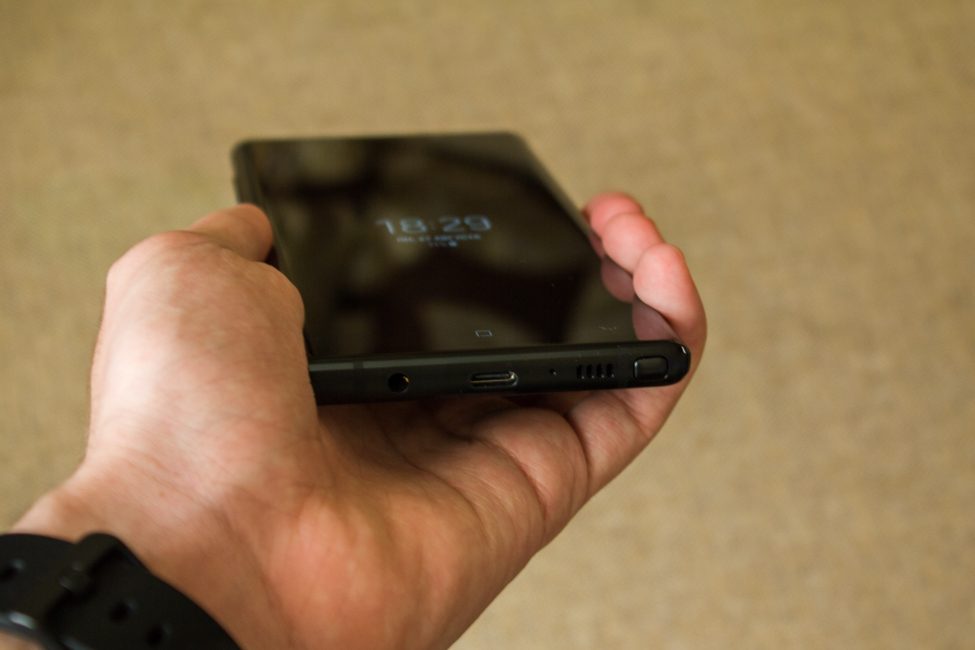 The most obvious negative is the separate Bixby button. No matter how much I wanted to avoid accidental touches, it was difficult. The location is a bit too convenient. Interestingly, I could not even turn off the assistant. S9 Plus and Note8 had such options.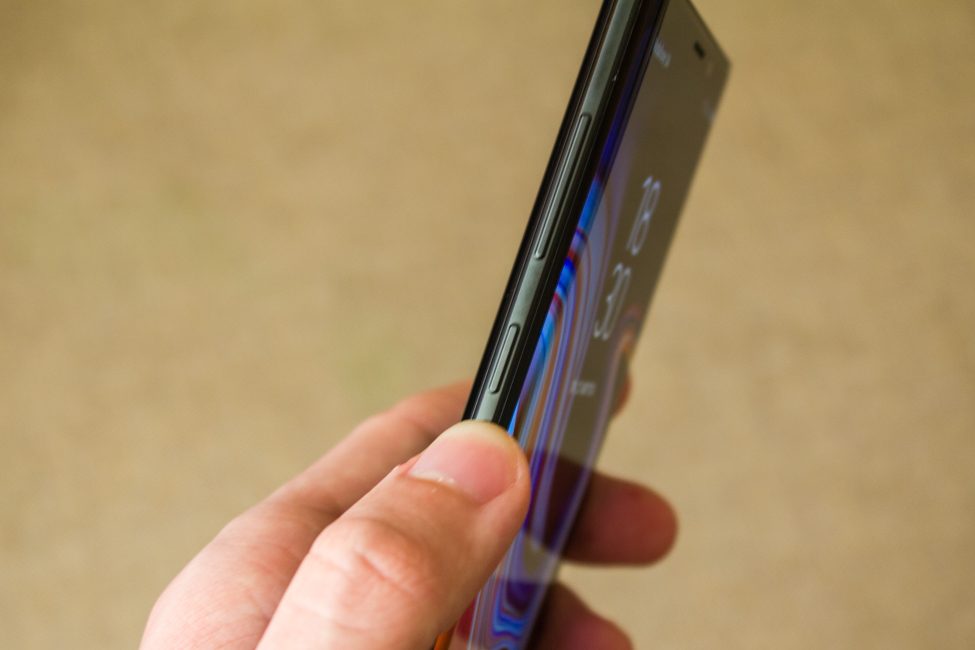 Maybe in Note9 it will appear with time (or maybe not), but at the moment you can not disable the button. I watched how it is done with the other "galaxies" and tried to repeat the same actions in Note9, but to no avail. Let me remind you, I'm talking about the standard method provided by the manufacturer. There are other means from third-party programs, but for $1250 it's really not okay. I did not personally test the workarounds.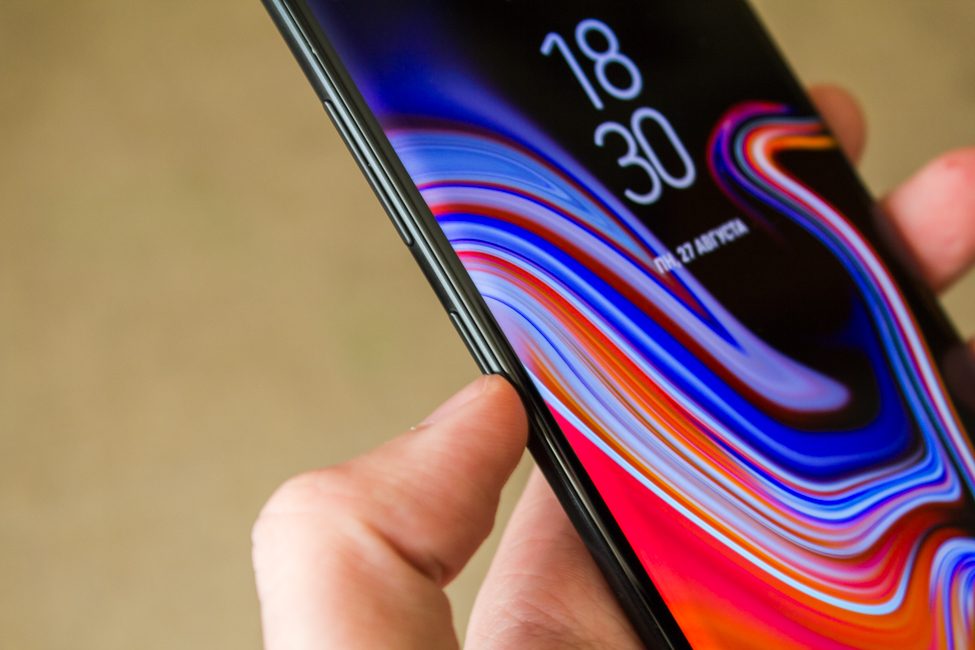 The Bixby button should really be turned off, and not reassigned, because … what's the point of reassigning it? You'll still accidentally click on it from time to time.
The volume key was also not in the most reasonable place and to use it, sometimes you need to change the grip. But the placement of the power button and fingerprint scanner did not bother me at all.
Accidental touches thanks to the curved screen happen, but not often.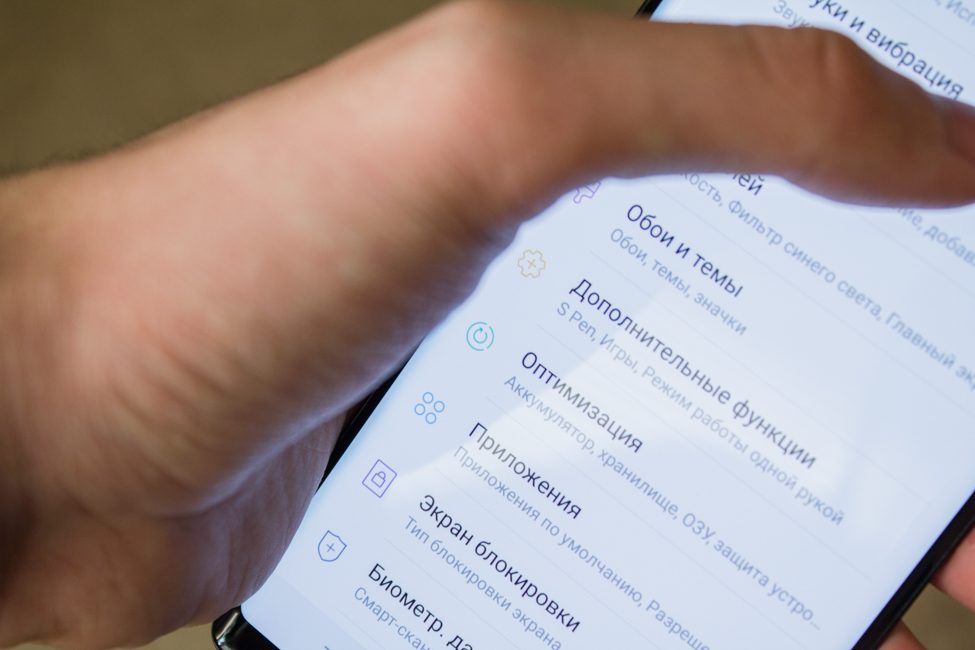 Display
Samsung Galaxy Note9 is equipped with a large Super AMOLED-display with a diagonal of 6.3″. The resolution is 2960×1440 pixels with a density of 516 dots per inch and a ratio of 18.5:9. The ratio of the screen area to the front panel is approximately 83.4%.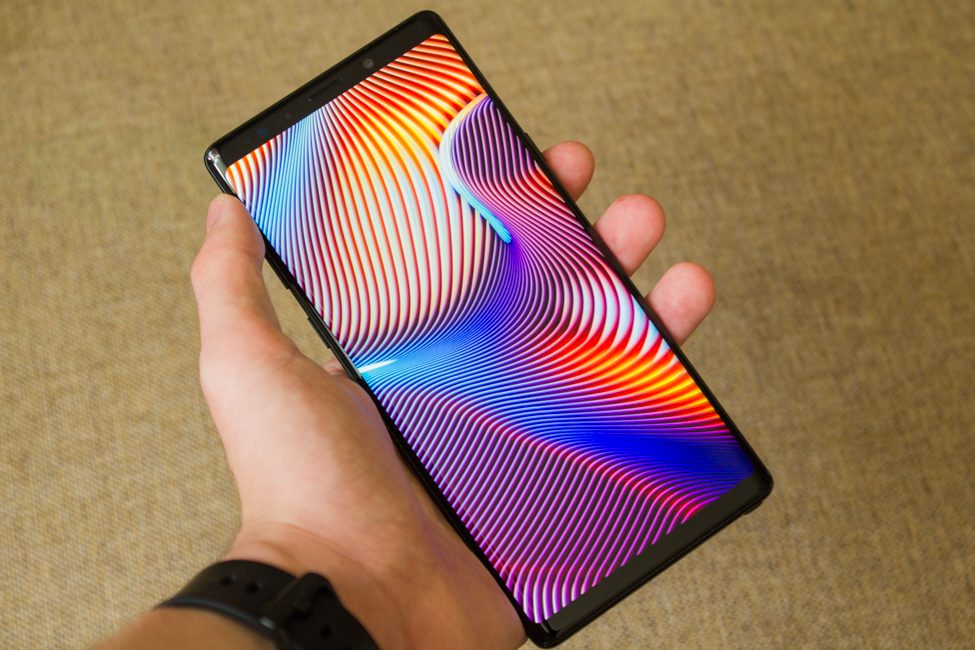 The display is awesome as usual for a flagship. Great viewing angles, high margin of screen brightness, saturated expressive colors and deep black color.
The range of brightness adjustment is also very wide – on the street on a sunny day the display remains fully legible, and in the dark the minimum level of brightness is comfortable for the eyes. Auto brightness adjustment works well.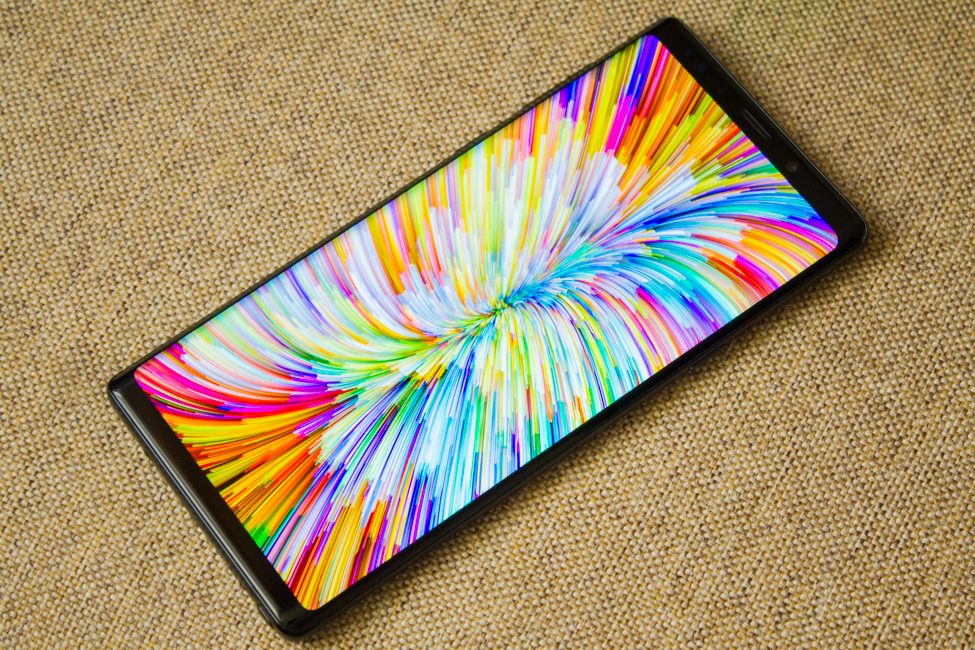 So, excellent Super AMOLED, which has all the advantages of this technology. The are cons, too: the whites can be a bit too blue at certain angles.
Any type of content, whether it be a video, a photo or a game, looks fantastic. Samsung Galaxy Note9 even topped the list of YouTube Signature Devices which includes smartphones that provide the most high-quality experience when viewing videos on YouTube. The list also includes last year's flagships.
There are tons of different screen settings. Starting from the typical night mode, which reduces the level of blue, and ending with different modes of displaying the colors of the screen and adjusting the white balance. Personally, I liked the "Adaptive display" mode.
In addition, you can change the screen resolution. The default is FHD+ (2220×1080); the manufacturer recommends using this resolution in order to save battery charge, but the user can either reduce it to 1480×720 (for even greater batter life) or increase to WQHD+ (2960×1440). I did not notice a striking difference between the maximum resolution and FHD+, so I used FHD+ resolution.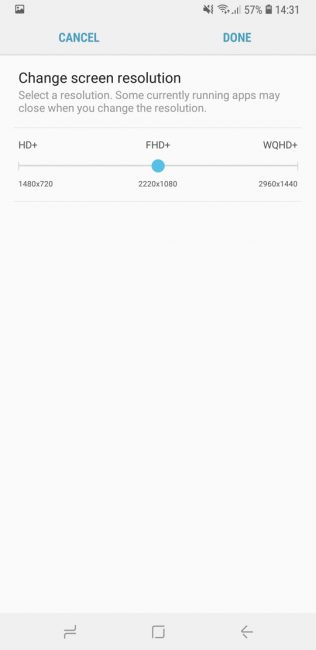 The curved screen allows for some special features, like highlighting the Edge panels with incoming notifications. The latter are called by swiping on a special marker on the left or on the right, where you can add applications, selected contacts, reminders, quick tools etc.
Of course there is a signature Samsung Always On Display, with very wide customization capabilities. Plus you can download additional dials from the store themes.
Samsung Galaxy Note9 performance
And now to the technical part. The processor is similar to Galaxy S9/S9+ – 10-nm Exynos 9810, which consists of 8 cores: 4 Mongoose M3 cores with a frequency of 2.7 GHz and 4 Cortex-A55 cores with a frequency of 1.8 GHz. Along with it is Mali-G72 MP18 graphic chip. In synthetic tests, the smartphone impresses enormously, like the other devices from the S series.
The US and China markets will be get Qualcomm Snapdragon 845 chip with Adreno 630 graphics accelerator, but in Europe and other regions we get the Exynos version.
Note9 exists in several configurations: with 6 GB of RAM and 128 GB of storage (like my sample) or 8 GB of RAM and 512 GB of ROM. The version with 128 GB allows for 111, 20 GB of flash drive.
But 512 GB in a smartphone is really impressive, I cannot even think why would you need that much memory. You can also use a microSD card (instead of the second SIM), with up to 512 GB of storage. That's huge for a smartphone! I don't know why would you need that much, but it's impressive nonetheless.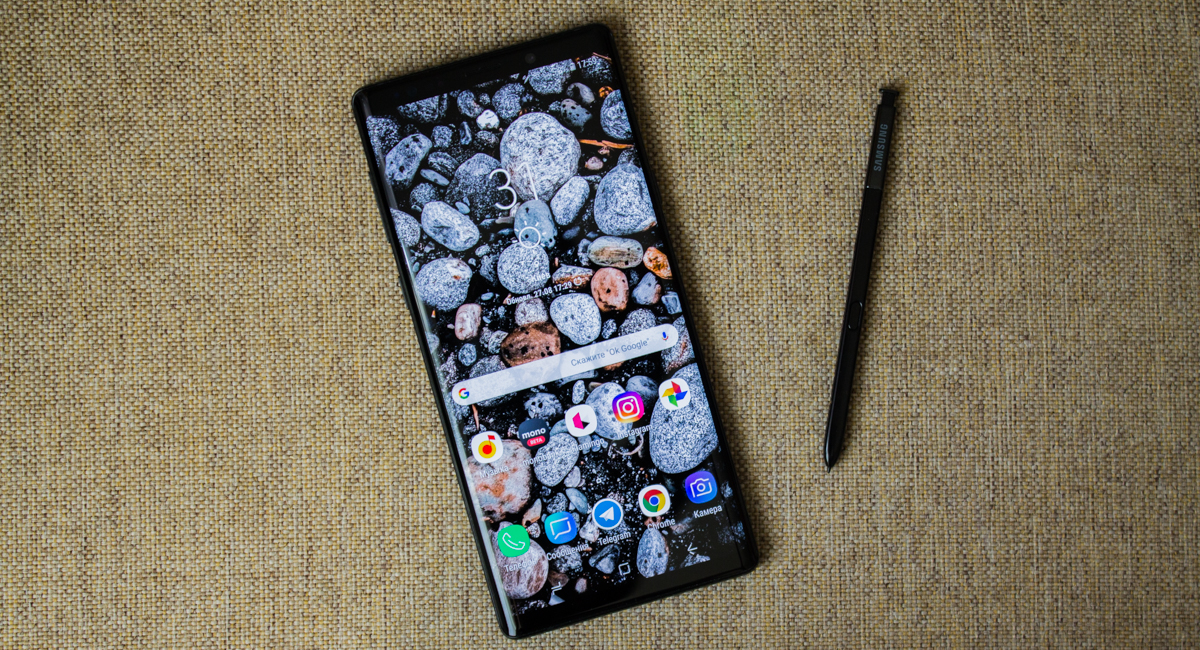 In general, Samsung Galaxy Note9 is a typical flagship and one of the most powerful smartphones in general, so it is obvious that it runs everything you throw at it. Any heavy game on maximum graphics settings run great, and the system itself is very fast. No lags, freezes or anything of that kind. I know that some people tend to think that Snapdragon processors are faster and smoother than Exynos. I cannot confirm nor deny it, because I used only Samsung devices with Exynos chips.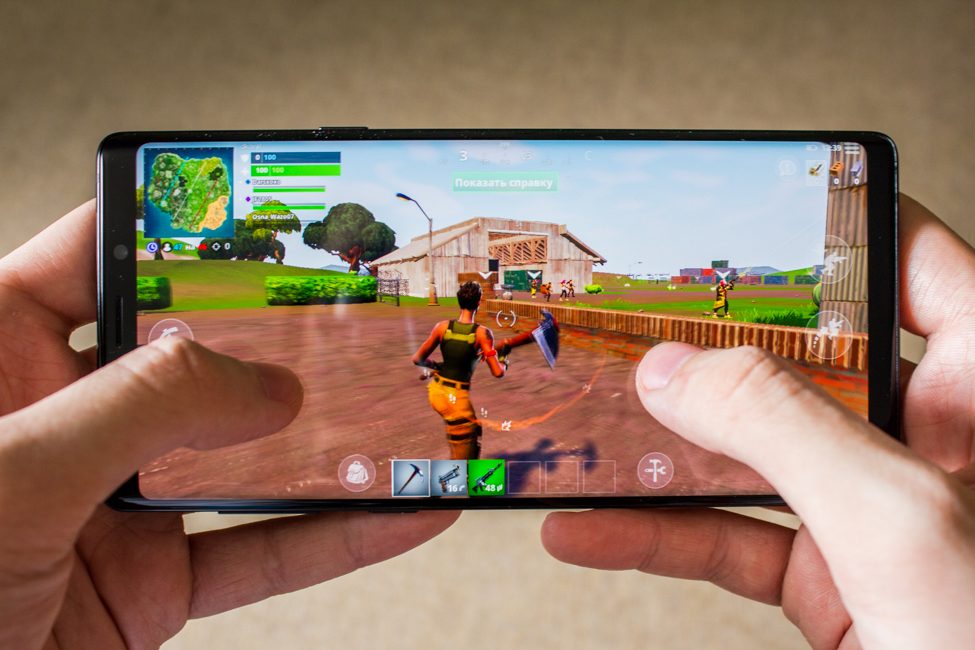 With games, the smartphone gets warm, but only a bit.
Cameras
Samsung Galaxy Note9 uses camera modules similar to the Galaxy S9+. Still, let me remind you of their characteristics. The main camera is dual, the main module has a resolution of 12 megapixels, a variable f/1.5-2.4 aperture, a focal length of 26 mm, a matrix size of 1/2.55 ", a pixel size of 1.4 μm and a Dual Pixel PDAF focusing system.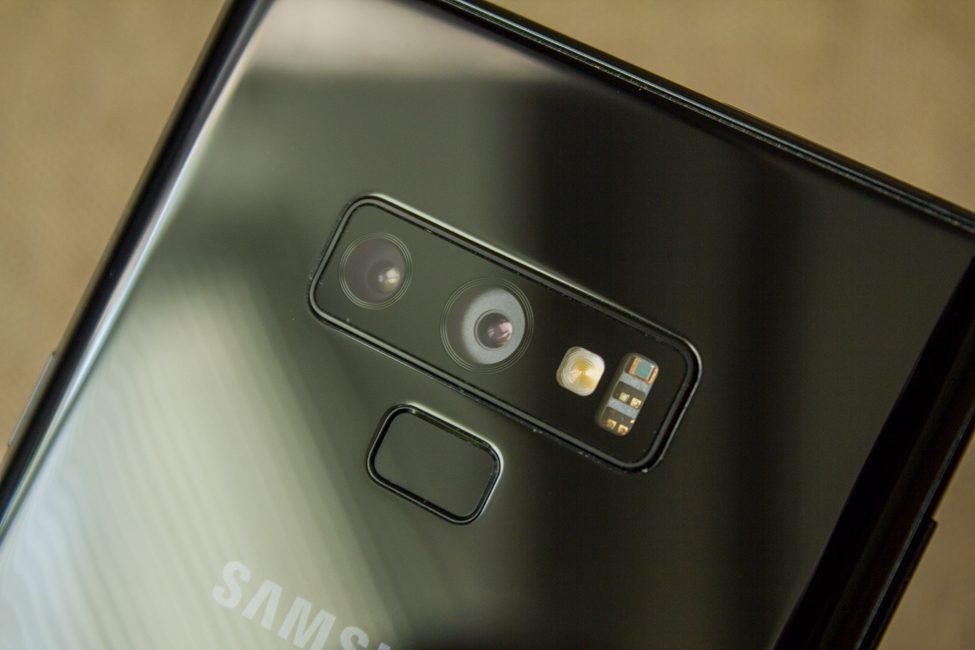 The second module has telephoto lens with an equivalent focal length of 52 mm, a resolution of 12 megapixels, a fixed f/2.4 aperture, 1/3.4″ matrix, and 1 μm pixel with autofocus. Both modules are equipped with an optical stabilization system, a double optical zoom without loss of quality and blur mode during shooting or post-processing in the standard gallery app.
The quality of photos is, unsurprisingly, excellent. Great details and sharpness during day and night, outdoors and indoors. Note9 is a true flagship when it comes to photos. All-purpose camera allows to create any type of photo, from macro to excellent portrait photo.
EXAMPLES OF PHOTOS IN FULL RESOLUTION
The telephoto lens further extends the practical application of the camera. Pictures with bokeh effect are very good, especially if you do not overdo it with the level of blurring and do not twist the slider to maximum. Automatic HDR is available.
Video recording is also at the highest level. The maximum resolution is 4K (3840×2160) at 60 or 30 fps. The result is very good, and optical stabilization is near flawless. Of the additional video shooting modes, there are time-laps in the Full HD resolution and familiar super-slow-motion video shooting in HD resolution at 960 fps.
In the camera application, the modes can be switched by swiping to the right and to the left, and in the manual mode you can save the images in RAW format and independently switch the aperture of the main module of the main camera. Let me remind you that in automatic mode, the light sensor, depending on the conditions of shooting, determines whether it is necessary to cover the shutter or not. AR animoji are still here, as well. But that's just a gimmick if you ask me.
The front camera has resolution of 8 Mp, aperture f/1.7, 25 mm focal length, 1/3.6″ matrix, and 1.22 μm pixel. It is equipped with autofocus and also can blur the background – the result is also decent. The quality of selfies is good. The camera shots video in QHD (2560×1440) at 30 fps.
Note9 has automatic scene recognition and can detect the object in frame with the help of machine learning and AI. In total AI is able to recognize 20 scenes: food, portraits, flowers, indoors, animals, landscapes, greens, trees, sky, mountains, beach, sunrise and sunset, near water, street, night, waterfall, snow, birds, backlight, text. But there is no noticeable beautification of the images, which is good: you can leave frame optimization on in the settings.
The Flaw Detection feature detects photo defects. It tells you right away if there's any sort of blinking, blurring, dirty lenses, back lighting or other problems during shooting.
Samsung Galaxy Note9 

unlock methods
Not for the first time Samsung offers us a couple of different ways of unlocking: a fingerprint scanner, face recognition and an eye scanner. Let's go through each of them.
The fingerprint scanner on the back of the smartphone works well, but the unlocking speed is not as high as in Huawei smartphones. Not slow, but in direct comparison Samsung lags behind, even if for a fraction of a second. Nothing critical, really. But you can add a fingerprint very quickly – just double-finger on the scanner's area. In addition to accessing the smartphone and applications, the sensor can open and minimize the notification panel.
Unlocking by face recognition is slow with the accelerated recognition function turned off and a little faster with it enabled. But then there is a chance to deceive the smartphone with a photo, and Samsung recognizes this problem. The choice is yours. It's a viable, but imperfect option.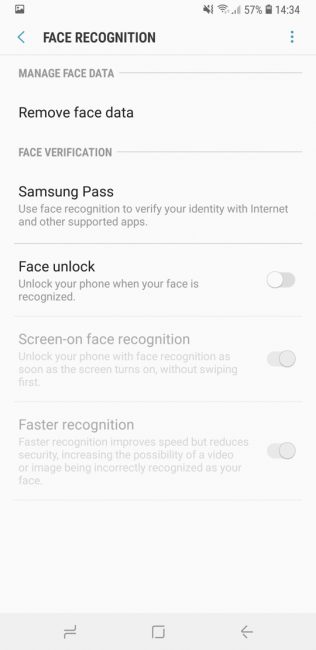 The iris scanner works at about the same speed as face recognition, and in some cases even faster. This method is a bit inconvenient, since the smartphone must be kept vertically and at eye level.
There is also a smart scan function. With it, recognition accuracy and safety can be enhanced. This is a combined method that simultaneously uses iris and face data.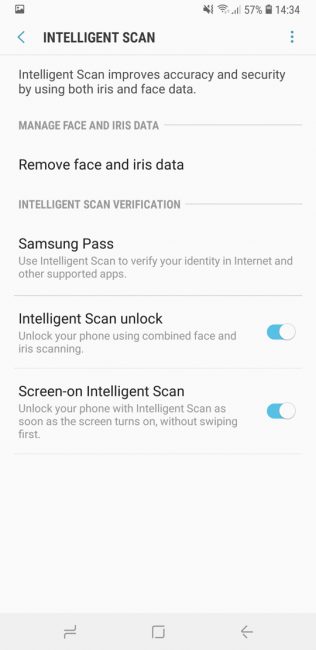 The smart scan and the fingerprint scanner are the best ways of unlocking the device. It turns out that you can use all possible methods in different situations. For example, when the smartphone is in your pocket and  you need to get it, just grip it by the scanner and as soon as Note9 is out of the pocket, it's already unlocked. This is faster and more sensible than getting a smartphone, removing it from sleep mode by pressing the power button (or the Home button) and afterwards scanning the face (or irises).
Battery life
Note8 was a bit of an enigma when it come to battery life: after all, it was big, thick (8,6 mm) and expensive, but its 3300 mAh battery was disappointing.
Samsung Galaxy Note9 has become even thicker by 0.2 millimeters, but at the same time the capacity of the battery has been increased to 4000 mAh, which is pretty decent, although not unusual: Huawei P20 Pro boasts similar battery.
My test sample constantly uses GPS, which was noticeable during my testing. The commercial devices will definitely get better results.
With 34 hours since the last full charge, with permanent Wi-Fi connection and Always On display for 19 hours, the charge level got to 8%, and the active screen time was 5 hours 43 minutes.
In short, everything is typical – you get a day of very active work, or about 1,5-2 with moderate use.
The smartphone supports quick wired and wireless charging, but how quickly it charges from the bundled power adapter I cannot say since I wasn't provided with one.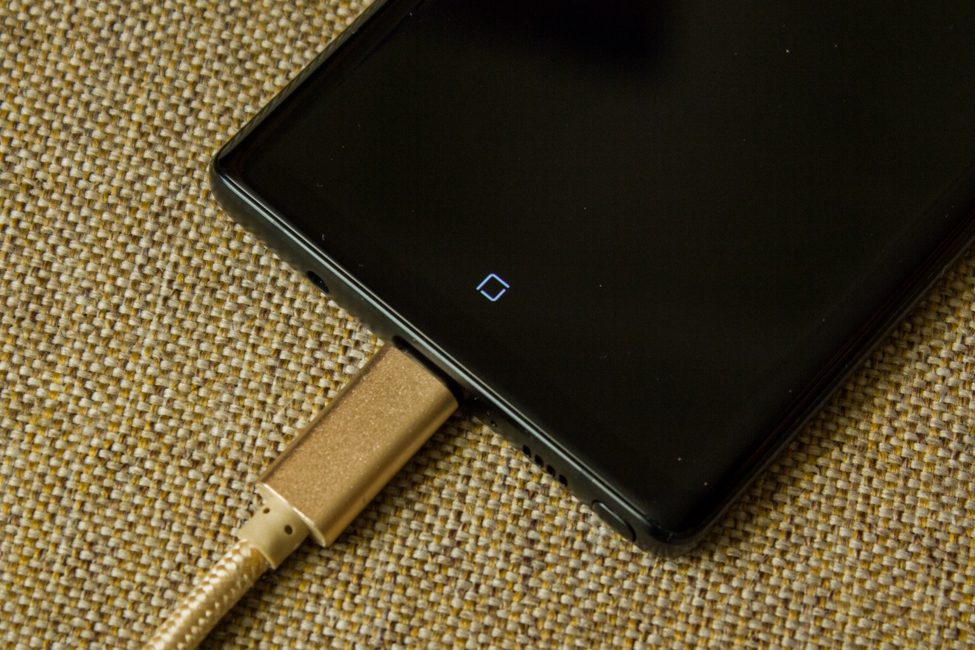 Sound and communication
Samsung Galaxy Note9 finally got stereo speakers, absent in Note8. Stereo sound is possible with the help of the second speaker which works in tandem with an earpiece speaker. Nothing we haven't seen. But before I tell you about the sound in multimedia tasks, I have to praise the sound during calls. You can hear the person you're talking to loud and clear.
And with multimedia everything is simple – the stereo speakers from AKG produce an excellent sound, very loud and voluminous. The frequency range is well balanced: at maximum volume there are no distortions of any kind. The speakers sound great: I listened to different music through them and there was no desire to connect the headphones. There is support for Dolby Atmos technology and customizable equalizer, which, incidentally, works with the speakers.
The headphones also have excellent sound, 3.5 mm jack survived, which is great news. Like S9+, the smartphone supports audio playback with 32-bit 384 kHz bitrate. The sound in the headphones uses the same effects, even more than speakers.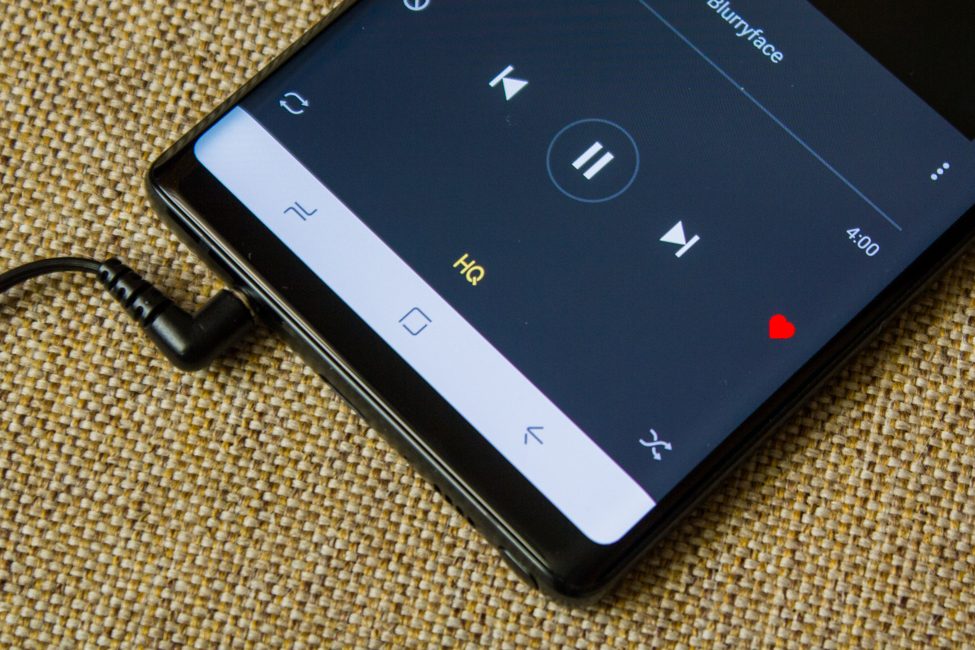 Communication capabilities of the smartphone are of the highest level. There's no infrared port for controlling household appliances, which will probably make one Xiaomi owner very happy.
The rest is as you might expect: Wi-Fi 802.11 a/b/g/n/ac (2.4 GHz and 5 GHz), Bluetooth 5.0 LE with aptX codec, ANT+, NFC, GPS (GLONASS, BDS, GALILEO). All modules are working, including mobile connection. Also, I will separately note the good accuracy of the GPS-module.
Firmware and software
At the moment Samsung Galaxy Note9 works on Android 8.1 and the original Samsung Experience 9.5. shell.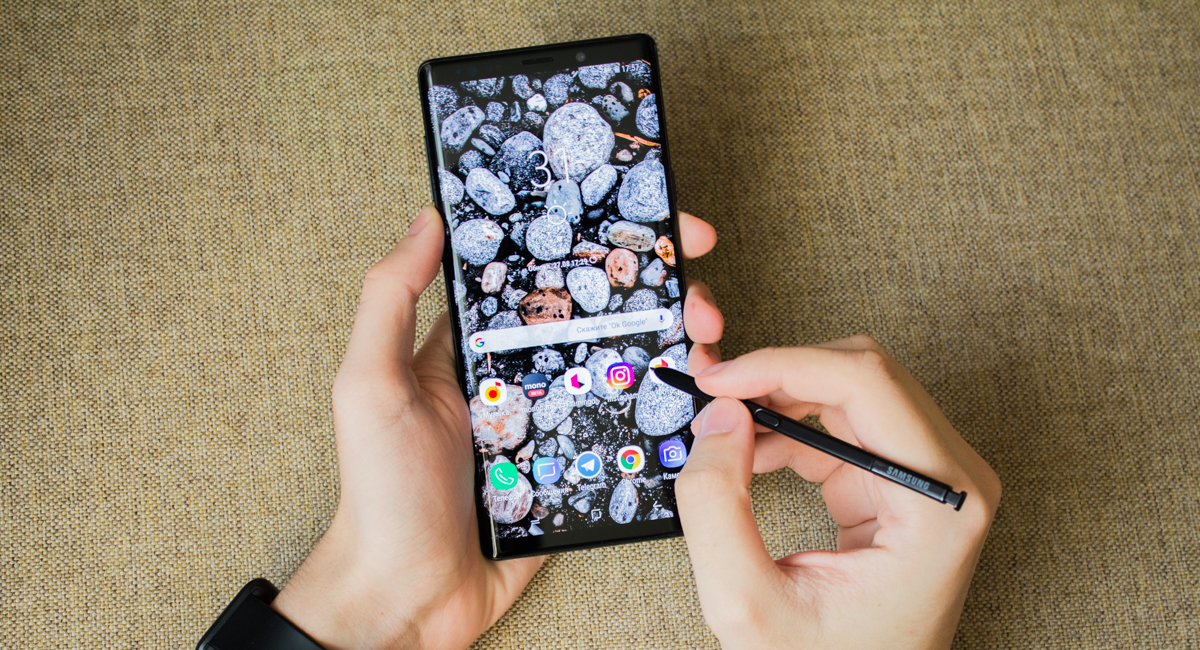 A functional and customized shell we already know well. Own store with themes, two possible desktop layouts, a customizable grid (as well as buttons of the navigation bar) of the main screen and the application menu.
There is a Game Launcher, a performance mode for games. It also allows disabling notifications during the game, taking screenshots or recording video of the game process. It also hides navigation buttons.
Also in the shell there are a lot of other useful functions – different gestures, one-handed mode and cloning of applications.
In fact, the main difference between the shell of Note9 and S9 is the presence of digital S Pen settings. I'll describe it in detail in the next section.
Now a little about Samsung DeX. The company has expanded the number of accessories that will  transform the  smartphone into a desktop computer, but if earlier you had to buy a full-fledged dock with various ports and a cooling function, now you can simply connect the device via Type-C to HDMI adapter.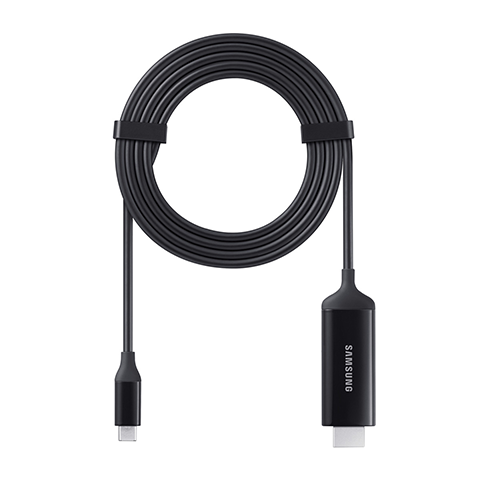 That way you can connect the keyboard and mouse only wirelessly, or use the smartphone itself for this, which is not very convenient. But additional cooling is not necessary, because of the reworked cooling system in the smartphone itself, which should be enough to work in DeX mode.
There are also two compact solutions: an HDMI adapter or a multiport adapter with an Ethernet port, USB Type-C and Type-A, and of course HDMI. They will be sold separately.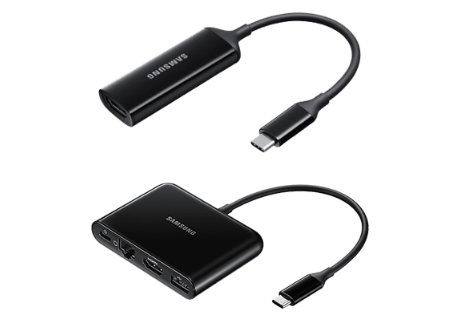 S Pen
Someone finds the Pen Pen in the Note series useful, someone on the contrary thinks that it is a gimmick, but not one other company can offer anything like it.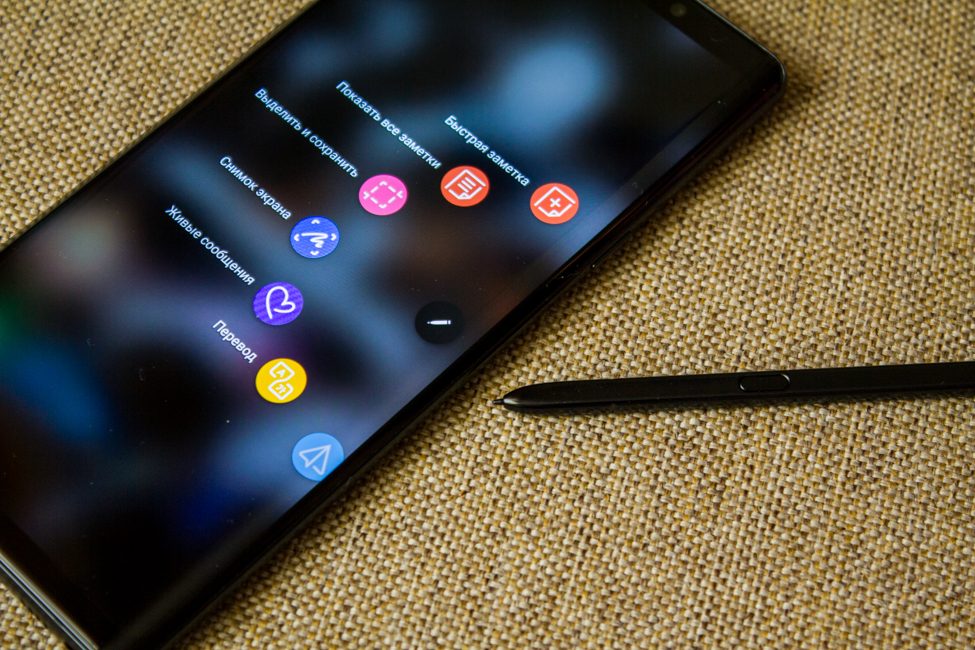 The stylus design is almost the same as in Note8, and all changes are inside. You cannot insert it in reverse, of course.
The concept of the stylus has slightly changed: now it is not just a "stick" that can recognize 4096 degrees of pressing force and determine the angle, but a separate device with a Bluetooth LE module, as well as its own battery, which can be recharged with the help of the phone itself. With it, you can remotely control some actions in the smartphone at a distance of up to 10 meters.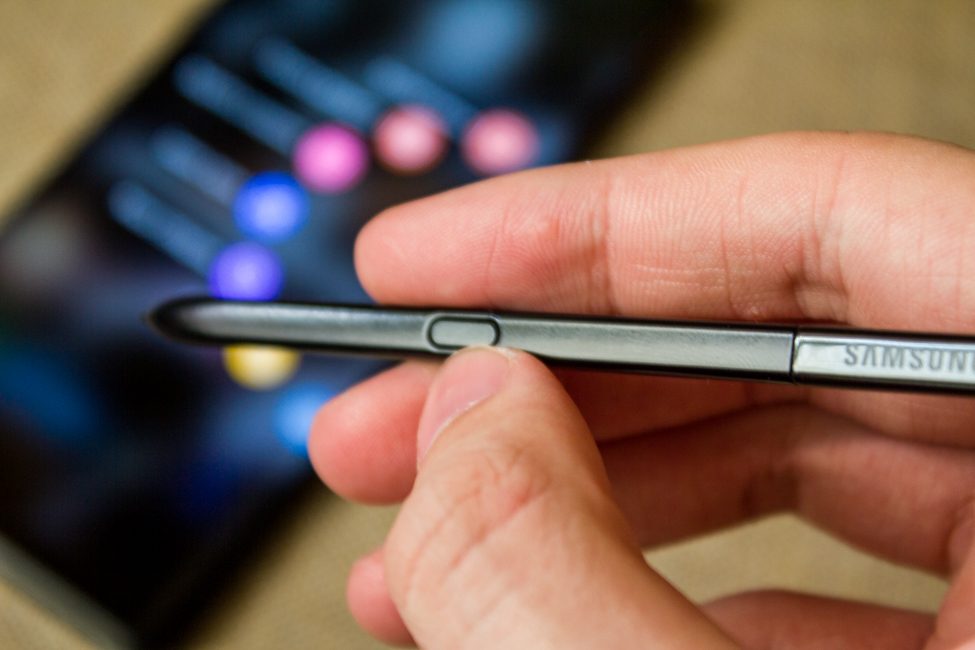 The life of the battery depends on how often do you press the button. The company's website promises an average of 30 minutes of work. Although, as for me, this is not so important, because for charging from 1% to 100%, according to my measurements, it takes no more than 20 seconds, although Samsung itself promises about 40 seconds.
The smartphone signals when the Pen is low on charge and when there's a risk of losing it (when you're too far away from it).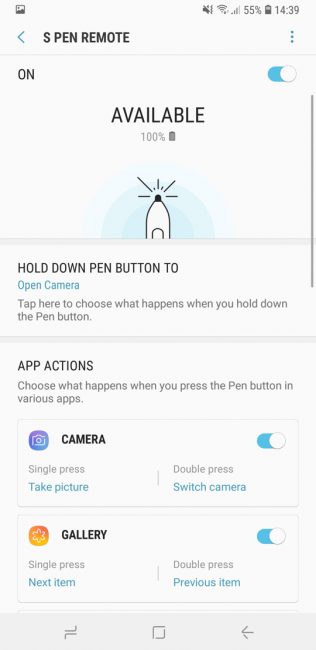 So what can S Pen do? First, let's go through the previously familiar functions: you can draw and create handwritten notes on the deactivated screen. At the same time the speaker will emulate the sound of drawing on a paper.
In addition, you can create screenshots, highlighting the desired area or just make notes. Yes, all shells have this option, but everything is much easier to do with a pen than with a finger. The function of live messages will help with creating gif animations. In the PENUP program you can create drawings or simply color the available templates.
Now about remote management. You can unlock the phone remotely: if the screen goes out and the stylus is not inside the device, you can just press the Pen stylus to turn it on.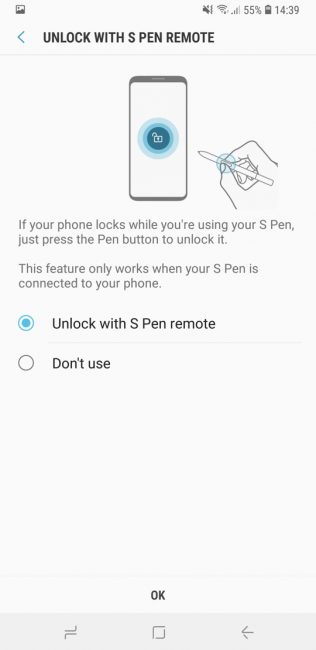 You can also select the default actions that will be performed when you hold the button on the S Pen. For example, launching the camera or any other application.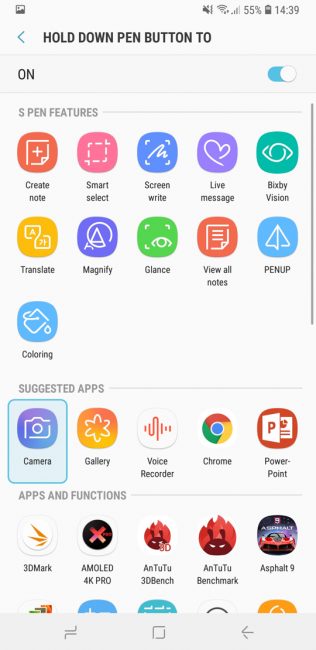 In some applications, you can control the actions. While there aren't many, third-party developers will definitely think of something. Right now in the camera application you can take a picture with a single or double tap, switch the camera and start recording video. This applies to multimedia – you can change photos, pause/play/switch music or video – and it works not only in the preinstalled applications. Also there is a record/pause in the recorder application, page scrolling in Google Chrome and PowerPoint application support.
Is the S Pen really that useful? You decide for yourself. I described almost everything it can do. I personally used remote control of camera and multimedia. Many times it was easier using the phone with the stylus, especially when we talk about big tables. I made a couple of quick notes on the deactivated screen. In my opinion, S Pen is a neat bonus, but it's by no means a necessity.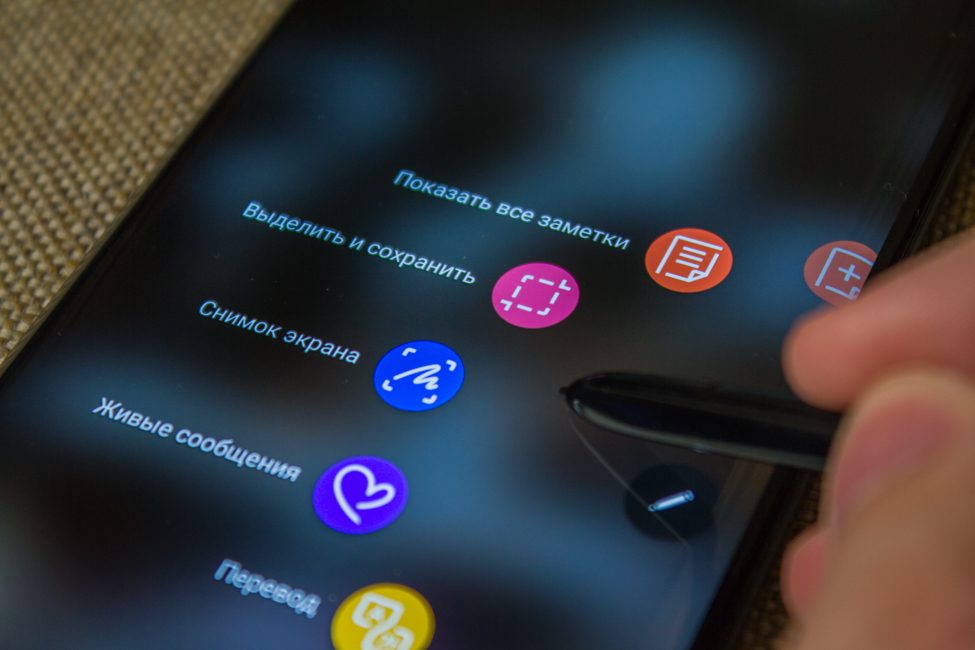 Verdict
Samsung Galaxy Note9 is a fantastic flagship with marvelous Super AMOLED display, powerful hardware, dual camera, high-fidelity stereo speakers, high-capacity battery and improved S Pen.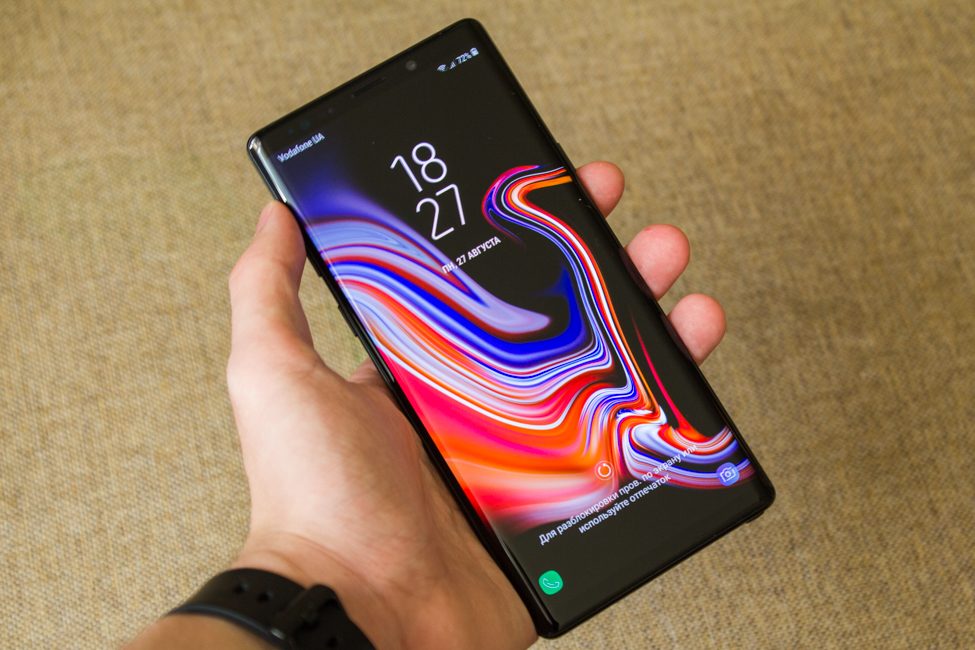 All of the above is not a technological breakthrough, but a logical improvement over Note8. The same thing happened with S9/S9+.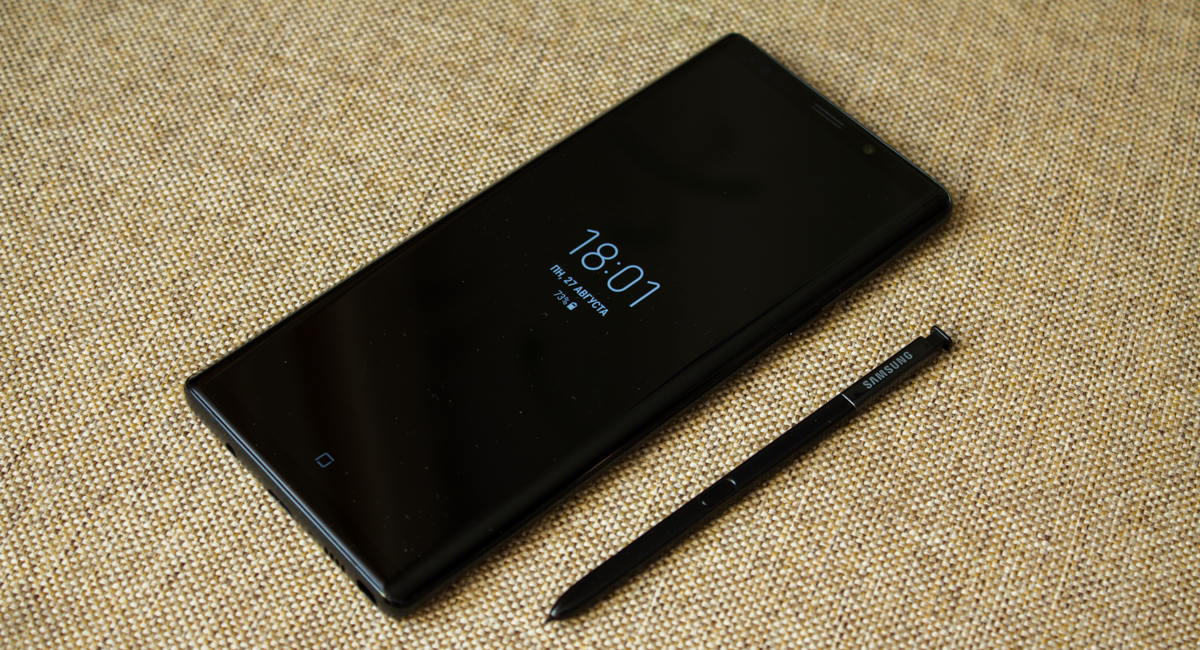 When we talk about differences between Galaxy S9+ and Note9, the latter has more storage, a better battery and bigger display. The camera AI is also better. The main difference is S Pen – a curious and unique little thing that can do a lot of things.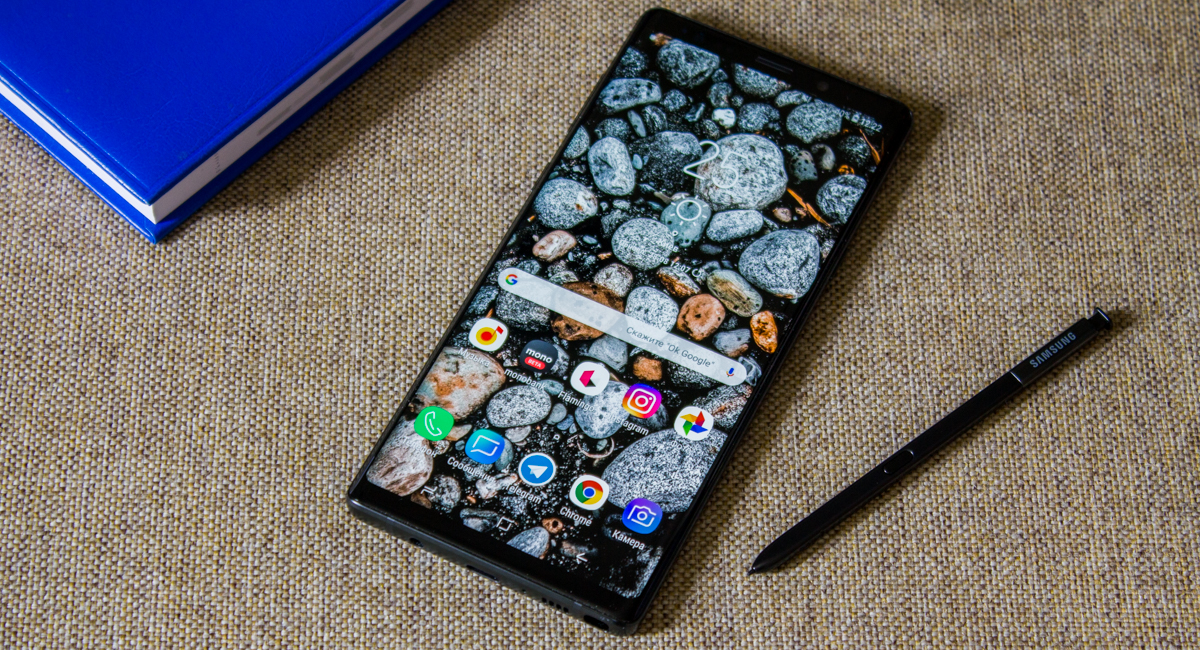 The main question is whether you need all of the features and are they worth the price? You decide that for yourself. If you want the top-of-the-line Android phone, you can't go wrong with Samsung Galaxy Note9.