The Samsung Galaxy S21 FE 5G will definitely be able to surprise not only the brand's fans. This is a modern smartphone with great features. It looks like a Samsung Galaxy S21, acts like an S21, takes photos like an S21, and even costs the same as an S21. If you want to find out what is interesting about the Samsung Galaxy S21 FE 5G, read about it in our review.
Read also: Samsung Galaxy S20 FE (Fan Edition) review – Not Only for the Fans
What sets the Samsung Galaxy S21 FE 5G apart?
I want to start my review in a very unusual way. I recently heard a rather interesting story about twins, one of whom is a year older than the other. How is this possible? The youngest was born just 15 minutes after the eldest, but the first was born on December 31, shortly before midnight, and the second was born in the first minutes of the new year. This story comes to mind when I look at the new Samsung Galaxy S21 FE. The new smartphone is almost a year younger than the Samsung Galaxy S21, but it looks like its twin brother.
The device marked "Fan Edition", as the name suggests, is intended for fans of the brand, or at least that's what Samsung wants. However, I'm not quite sure if I can recommend it as a potentially good purchase. Don't get me wrong…
Samsung made a phone hardly any different from the base model S21. This is good news because it means that the Samsung Galaxy S21 FE 5G is a successful device that meets most user requirements. However, the Galaxy S21 can still be bought in stores, and both models cost almost the same. Why even release the new model?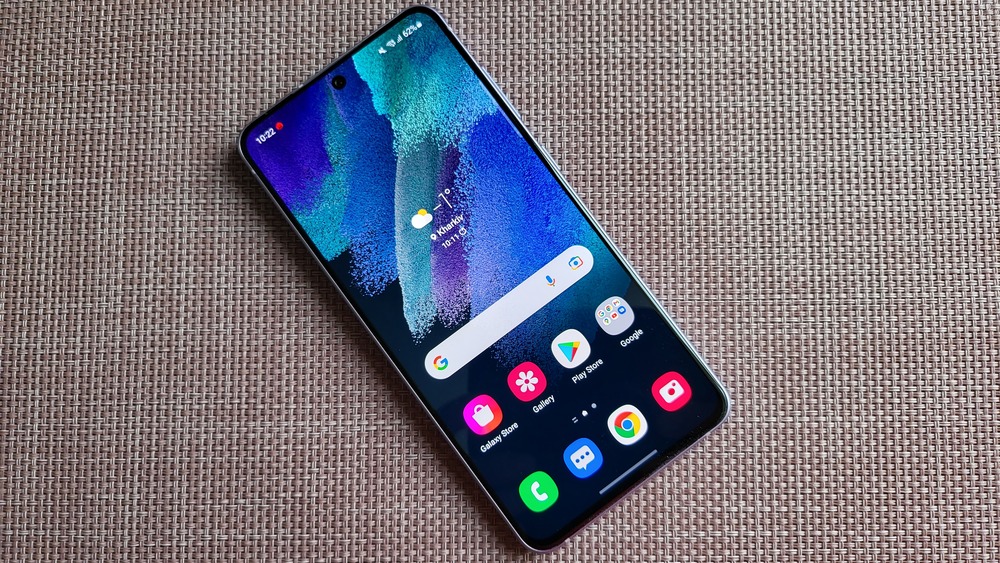 Although, to be honest, the smartphone turned out to be very, very interesting. The Samsung Galaxy S21 FE 5G is running a Qualcomm Snapdragon 888 5G system, based on 5-nm process technology. The chip is supported by the Adreno 660 GPU, 6 GB of RAM and 128 GB of internal UFS 3.1 memory. The hardware is also available in the 8/256 GB configuration, but I tested the basic version.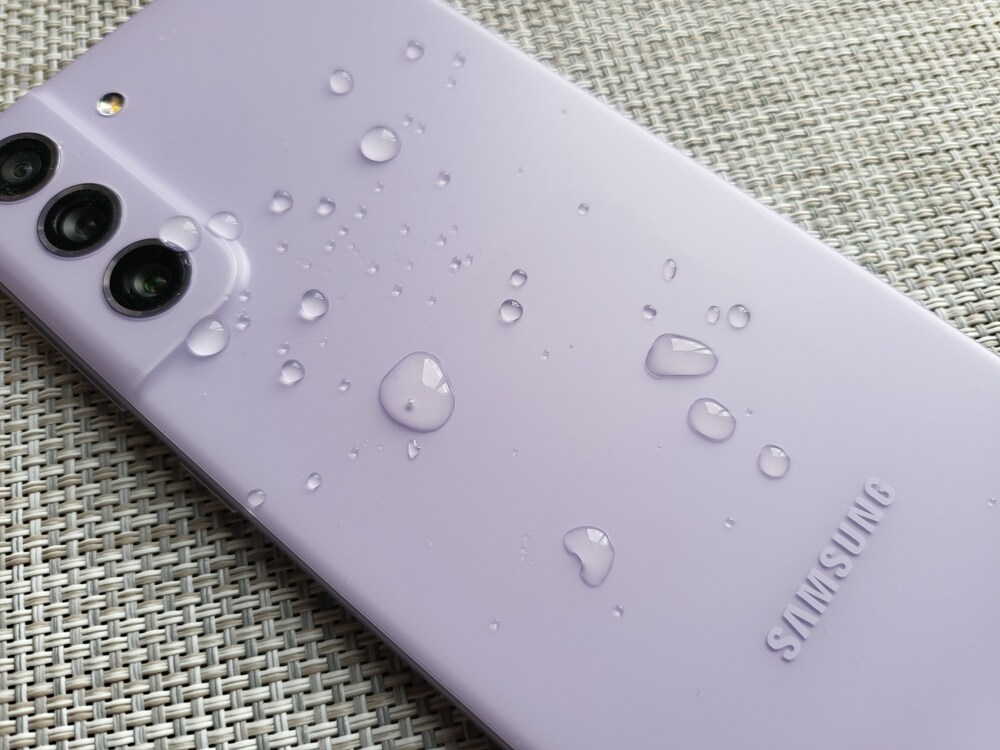 On board there are stereo speakers, an NFC sensor and support for the new 5G communication standard. The battery with a relatively small capacity of 4500 mAh, with a 25 watt charger. As I type these characteristics I realise that I am holding a true flagship device in my hands. Although with some nuances that will definitely not be important to the fans. Okay, let's look at the technical specifications of the Samsung Galaxy S21 FE 5G and make the conclusion yourself.
Full specifications of the Samsung Galaxy S21 FE
Dimensions: 155.7×74.5×7.9 mm
Weight: 177 g
Dust and water protection: IP68
Display: 6.41″, Dynamic AMOLED 2X, resolution 2400×1080, 411 ppi, refresh rate up to 120 Hz, Corning Gorilla Glass Victus
Chipset: Qualcomm Snapdragon 888 5G, 8 processor cores (1×Cortex-X1 2.8 GHz + 3×Cortex-A78 2.4 GHz + 4×Cortex-A55 1.8 GHz)
GPU: GPU Adreno 660
RAM: 6/8 GB (LPDDR5)
Storage: 128/256 GB (UFS 3.1)
Memory card support: No
Operating System: Android 12 with One UI 4.0 interface
Wireless connections: Wi-Fi 6 (802.11a/b/g/n/ac/ax, 2.4/5 GHz), Bluetooth 5.2, A2DP, LE, NFC, GPS, A-GPS, GLONASS, Beidou
Main camera: Master sensor: 12 MP, f/1.8, 1/1.76″, 0.8µm, OIS, 8K video recording (7680×4320), wide-angle module: 12 MP, f/2.2, 1/2.55″, 1.4µm, telephoto:8 MP, f/2.4, 76mm, 1/4.5″, PDAF, OIS, 3x optical zoom
Front-facing camera: 32 MP, f/2.2, 26mm (wide), 1/2.74″
Battery: 4500 mAh
Charging: Fast (25W)
Read also: Samsung Galaxy Z Fold3 5G review: Addictive foldable smartphone
Positioning and price
Of course, the Fan Edition prefix hints that, first of all, this device is intended for fans of the Korean company. The phone can also attract the attention of those who want a flagship device, but are not ready to overpay.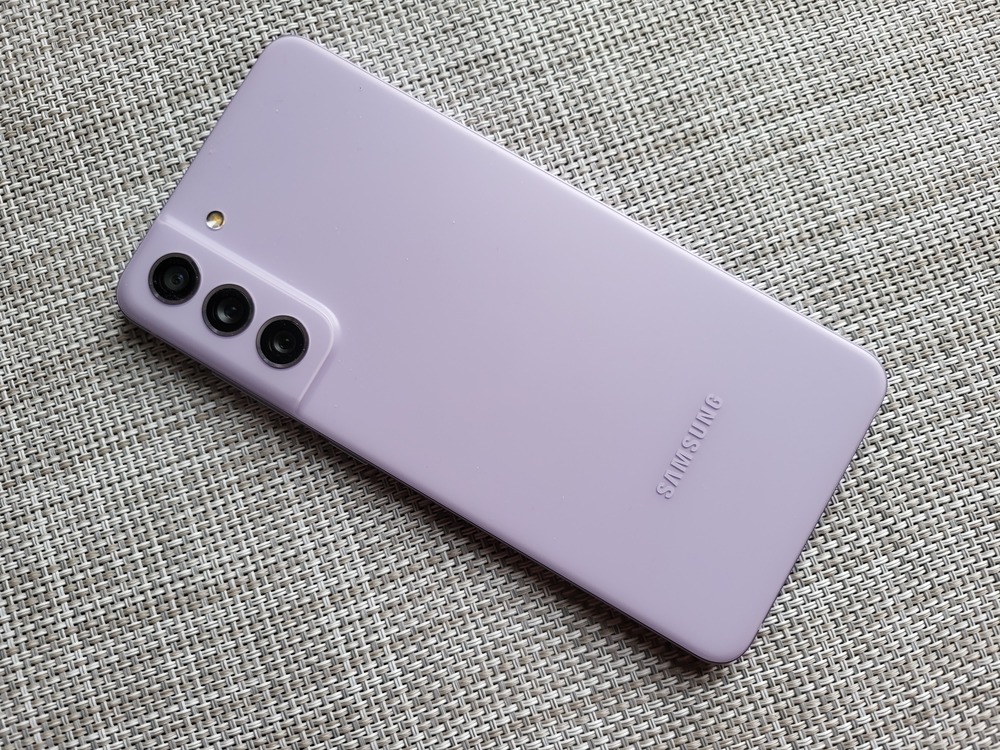 The Samsung Galaxy S21 FE in the 6/128 GB modification costs about $757, and for 8/256 GB you will have to pay from $825. However, when buying a smartphone, customers can get Samsung Galaxy Buds2 as a gift. The promotion itself will last from 04.01.2022 to 07.02.2022. The Galaxy S21 FE is available in four color options: graphite (closer to black), white, green and lavender.
Buy Galaxy S21 FE on Amazon
Design
For those who follow the latest developments in the world of mobile devices, the Samsung Galaxy S21 FE 5G may seem quite familiar. At least, from the point of view of design and style. Yes, the smartphone looks very similar to the flagship Samsung Galaxy S21 5G, but there are differences. Firstly, the photo module is far neater and better looking. In the Galaxy S21 5G, it looked like it was glued to the back of the smartphone.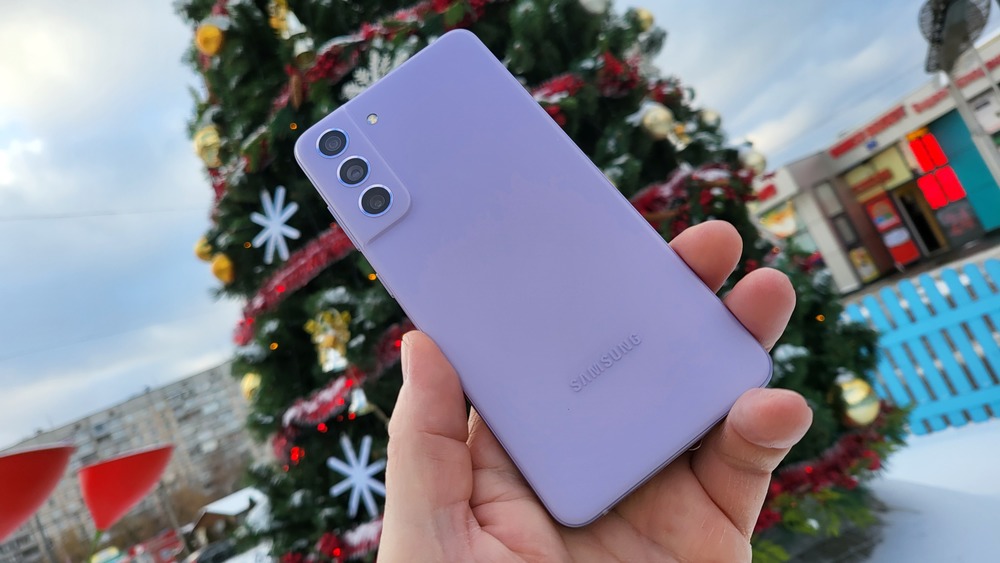 The back is made of the well-known Glastic plastic, which feels like glass. The case is equipped with a metal edge with a matte finish. I like this matte finish because fingerprints are almost invisible on it. The Glasstic bidt also offers more advantages. It is less fragile than glass, which is much more expensive. This has its advantages, especially in the case of a possible fall, but personally I prefer glass in a smartphone of this class.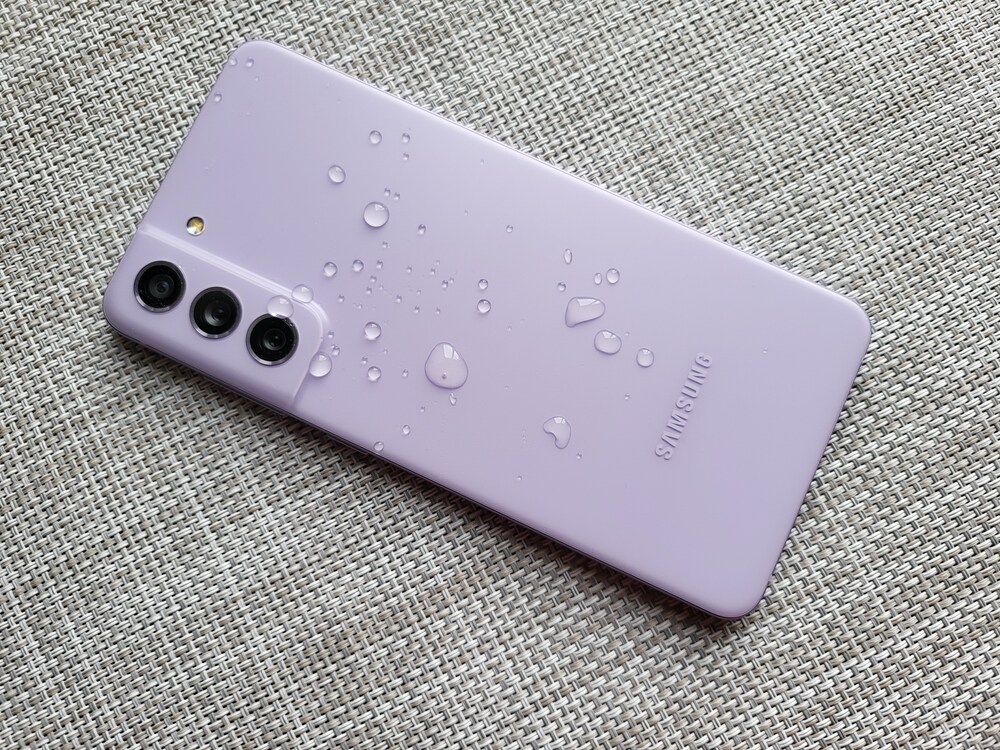 Otherwise, Samsung honors its know-how with an impeccable finish, IP68 certification (dust protection, immersion under water for 1 hour) and Gorilla Glass Victus, which protects the display from scratches and bumps.
The volume buttons and the on/off button are on the right side, and the USB Type-C connector, SIM card slot and speaker are on the bottom. The second speaker is located directly above the screen. There is no 3.5mm headphone jack.
In terms of colors, unfortunately, there is less choice than the Galaxy S20 FE. There you can still choose from six colors, and the Galaxy S21 FE has only four of them: green, lavender, white and graphite. I had a lavender-colored smartphone in testing, and it looks very modern and attractive.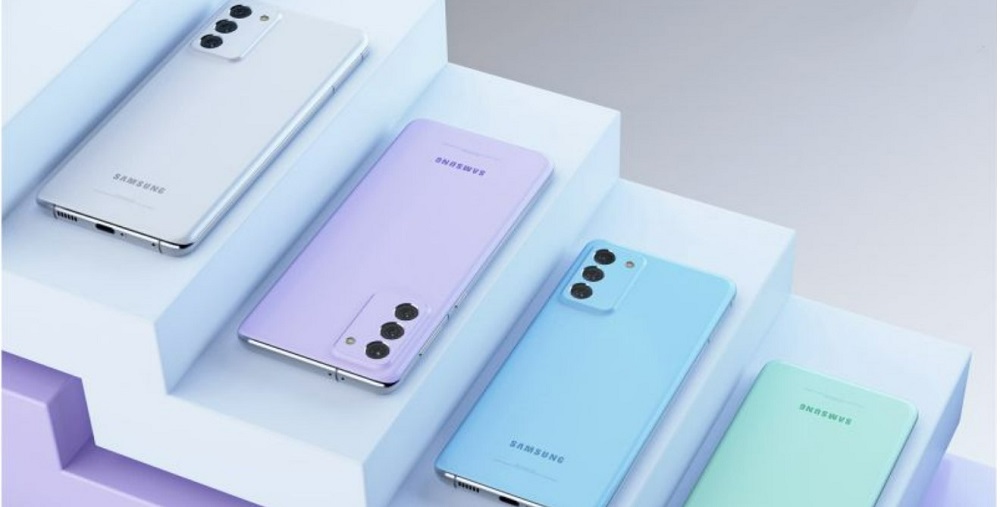 The whole thing is enclosed in a case with dimensions of 155.7 × 74.5 × 7.9 mm, which, with a weight of 177 g, makes the device portable and comfortable to use. The smartphone is very comfortable in your hand, it is easy to control it, its weight feels nice. I don't really like ultralight smartphones. Here you feel that this is really a premium smartphone, although with some nuances. But you forget about them when you start using this device.
The back panel is plastic, and that really is a shame, but the front panel is all-glass. Durable protective glass, a high-quality Super AMOLED display with a round notch for a selfie camera in the center at the top suggests that there will definitely be no issues with displaying content.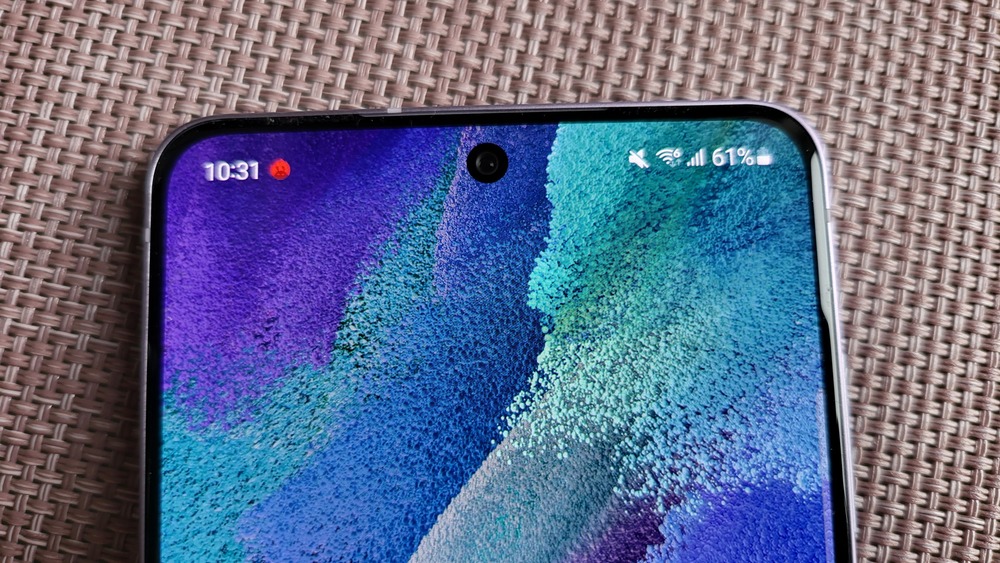 The last feature related to the screen is the fingerprint scanner built into the OLED screen. In the Galaxy S21 it was an ultrasound scanner, and in the S21 FE we are dealing with an optical sensor.
The first one will work better in the bright sun, the second one will recognize a wet finger better. Are these differences even felt in practice? Definitely not. Both are very fast and accurate.
Samsung Galaxy S21 FE-biometric
The smartphone also uses biometric protection in the form of user face recognition, unlocking is quick and easy. However, a fingerprint scanner is still considered a more reliable way to ensure security.
Di6.4-inch 120 Hz screen
With a 6.4″ screen, the Samsung Galaxy S21 FE is slightly larger than the Galaxy S21 (6.2 inches). However, it is difficult to see the difference with the naked eye. From the point of view of quality, Fan Edition convinces without any "ifs" and "buts". The state-of-the-art AMOLED technology provides a high-contrast, bright image, and the screen has a Full HD+ resolution.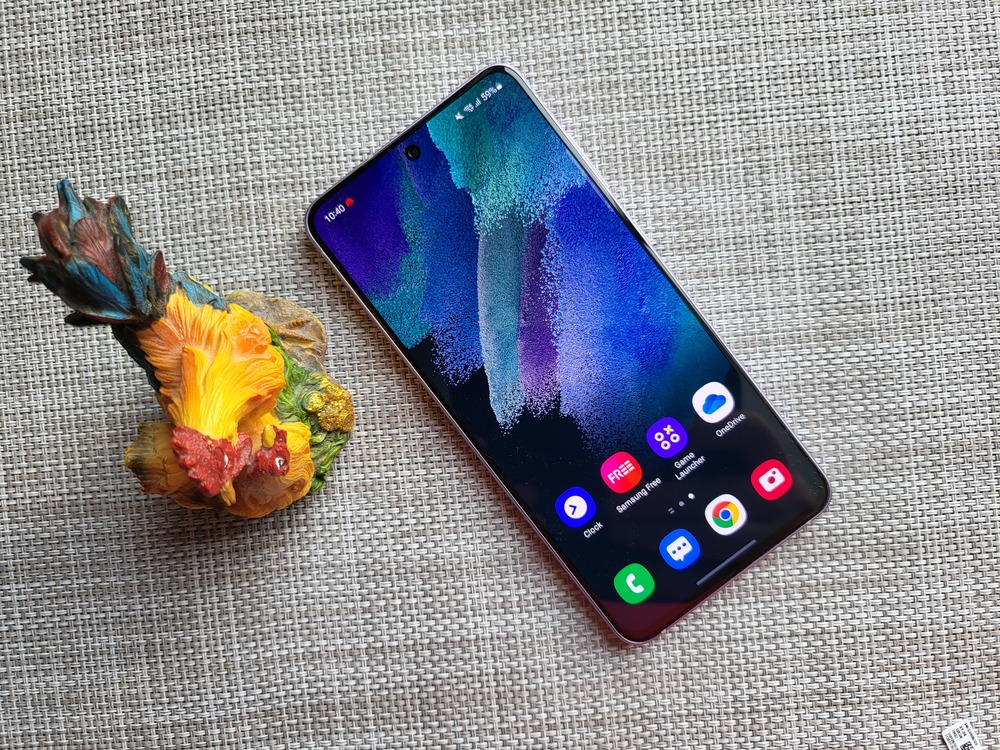 To be precise, the 6.4-inch Samsung Galaxy Type S21 5G panel has a resolution of 2400×1080 pixels with an aspect ratio of 19.5:9 and a pixel density of 441 dots per inch. This guarantees a clear image and the absence of uneven fonts. The maximum brightness in automatic mode, which is up to 1200 nits, also deserves praise. In fact, it is comfortable to work with such a screen even in direct sunlight. I have had no problems using the device in theoretically unfavorable conditions. At the same time, the minimum brightness of the backlight is also set optimally. When browsing the web at night, it provides comfort and convenience for the eyes. However, the most important thing is that here we are dealing with a Dynamic AMOLED 2X display that stands out in its class. This is a significant improvement over the Samsung Galaxy S20 FE 5G.
The display is protected by the Corning Gorilla Glass Victus, the front part of it is not quite flat. Here we are dealing with the so-called 2.5D screen, which provides a rounded, three-dimensional, eye-pleasing effect. The refresh rate of the image is up to 120 Hz, but it is not adaptive. The user must choose from two values: either 60 Hz or 120 Hz. Unfortunately, greater smoothness means higher power consumption. On average, the difference is about 20%.
The Galaxy S21 FE offers two screen modes: Vivid and Natural, both of which we have reviewed. In saturated color mode, the coverage of the sRGB and DCI-P3 spectrum increases to 180% and 121%, respectively. Very good results, which, nevertheless, remain lower than those of the classic Galaxy S21 (200% and 150%).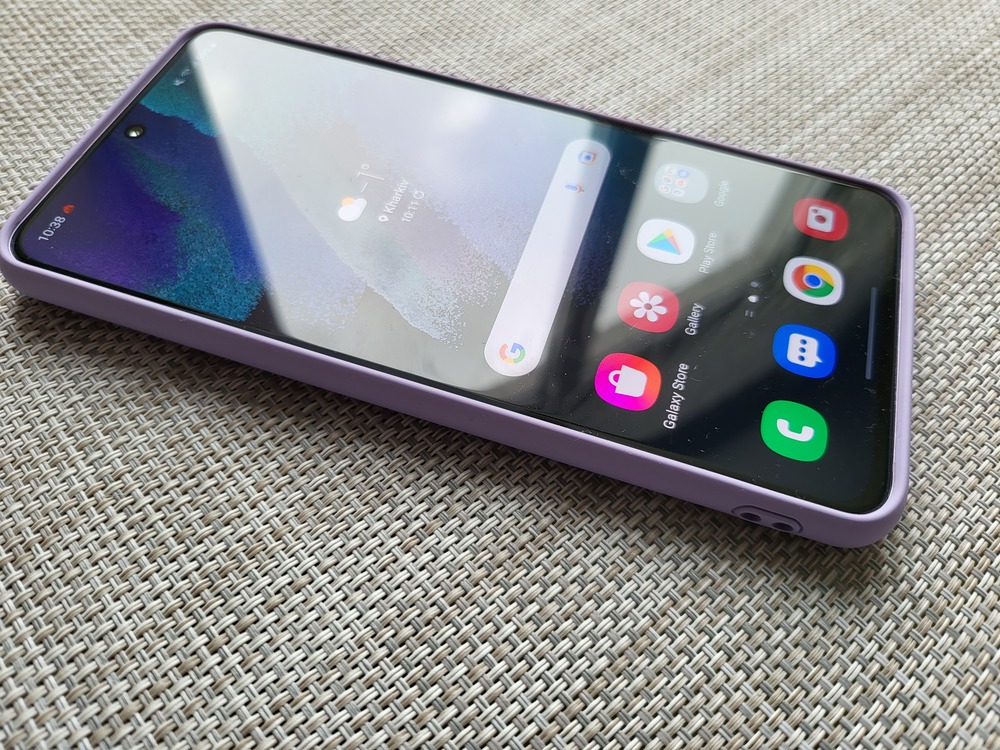 The situation becomes more complicated with the average delta E, which characterizes the accuracy of the displayed colors. We got a result of 7.12, which is far from the ideal score of 3. The color temperature tends to be blueish (7075 K), while the maximum brightness of 703 cd/m2 is excellent. You will have no problems with visibility in direct sunlight.
Samsung Galaxy S21 FE-EKRAN
Let's now move on to the natural mode, which does not quite meet expectations, since the spectrum of sRGB and DCI-P3 is covered by 95% and 64%, which is too small for this price range. The average Delta E in this mode worsens with an indicator of 8.33. The only thing that saves the situation is the temperature of 6661 K, which is close to the desired 6500 K.
To summarize the situation: the Vivid mode is better. It does not accurately convey colors, but provides many beautiful shades. In addition, the mode allows you to play with white balance.
Although some may not like the Dynamic AMOLED 2X's overly bright colors, I think this screen is perfect for gaming and watching movies.
Stereo speakers
A few words about the sound of the Samsung Galaxy S21 FE. The "fan" smartphone is equipped with stereo speakers and the sound is pretty good. Although there are some nuances that may surprise you. There is nothing wrong with the balance between the speakers, but there is no bass anywhere. High frequencies are too prevalent, and  the sound becomes quite shrill when you increase the volume. In addition, sometimes it seems that Samsung focuses on the volume of sound, not the quality. Equalizers do not save the situation either. Tuning slightly reduces the effect of high frequencies, but this shrillness and loudness of the sound is still there.
Read also: Samsung Galaxy Watch4 Classic review: As classy as they come
Android 12 and One UI 4.0
The Samsung Galaxy S21 5G is  running the latest version of Android 12 and One UI 4.0. This is nice, and hopefully means several years of system updates. Samsung's software supports a new design where the UI color, icons and notifications adapt to the wallpaper you have installed. By the way, this is not a Material You theme system developed by Google. Samsung has made its own version, and it works very well, although not all Samsung apps are yet adapted for this feature.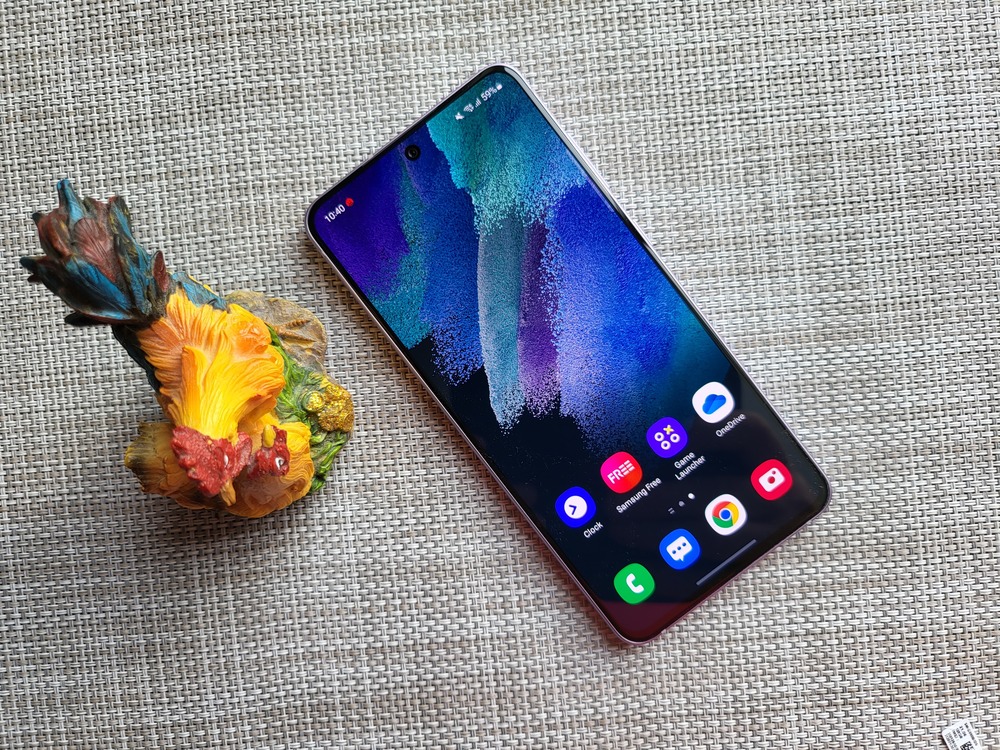 Samsung has also redesigned the widgets and added a privacy toolbar from Android 12.  It helps you to control access to your device by various applications and can immediately revoke permissions through the toolbar.
Samsung Galaxy S21 FE-system
In addition to the new features of Android 12, I've always liked the Edge and Edge Lighting windows for an additional visual effect on incoming notifications. It should be noted that on the far left screen you can find Google Discover, and not an alternative from Samsung itself.
Samsung Galaxy S21 FE-OneUI
The system offers a fairly extensive mechanism for using gestures. We can, for example, wake up a smartphone by picking it up or touching the screen. In addition, the display does not turn off when we look at it. We can mute the sound by covering the screen with our hand. These are just some examples. Fans of good sound will be interested in the presence of Dolby Atmos. Moreover, the standard also applies to mobile games. The One UI 4.0 shell can be easily adapted to your preferences with themes, wallpapers, icons and AOD elements. However, it should be remembered that not all add-ons available on the Galaxy Themes platform are free.
In addition, Samsung's software is, as usual, extremely extensive. It will take many days to discover all its features, especially if you have not encountered Samsung smartphones before. I think it's definitely worth it, and the search function in the settings saves time. We will have a separate review soon, where we will tell you more about the new Samsung One UI 4.0 shell.
Read also: Samsung Galaxy Z Flip3 review: Better, cheaper and for everyone?
Galaxy S21 FE and Snapdragon 888
If there is something for which the "Fan Edition" deserves its name, then it is probably the SoC's choice, since it meets the wishes of most fans. The Samsung Galaxy S21 FE is equipped with a high-end chipset, a powerful Snapdragon 888, about which so much has already been said. This chipset consists of one Kryo 680 core with a clock frequency of 2.84 GHz, three Kryo 680 cores with a clock frequency of 2.42 GHz and four cores operating at a frequency of 1.8 GHz. Galaxy S21 and Galaxy S21 Plus are powered by the Exynos 2100 chipset, which is a comparable chipset, but produced in-house.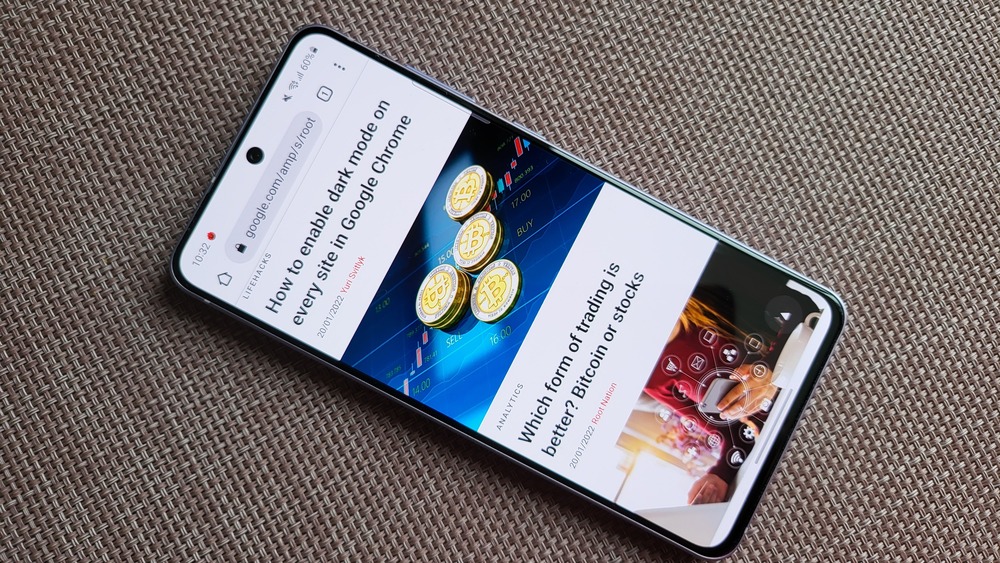 Although the Snapdragon 888 was released in 2021, it is still one of the fastest chipsets at the moment, and you will notice it in everyday life with the S21 FE. You can easily play games with heavy graphics on this device, open tabs in the browser, chat with friends on social networks, etc.
As for memory, there is a choice between 6/128 GB and 8/256 GB. I had the first configuration for testing. From time to time I noticed lags when launching an app. This is probably due to 6 GB of RAM, but Samsung is very good at closing applications running in the background.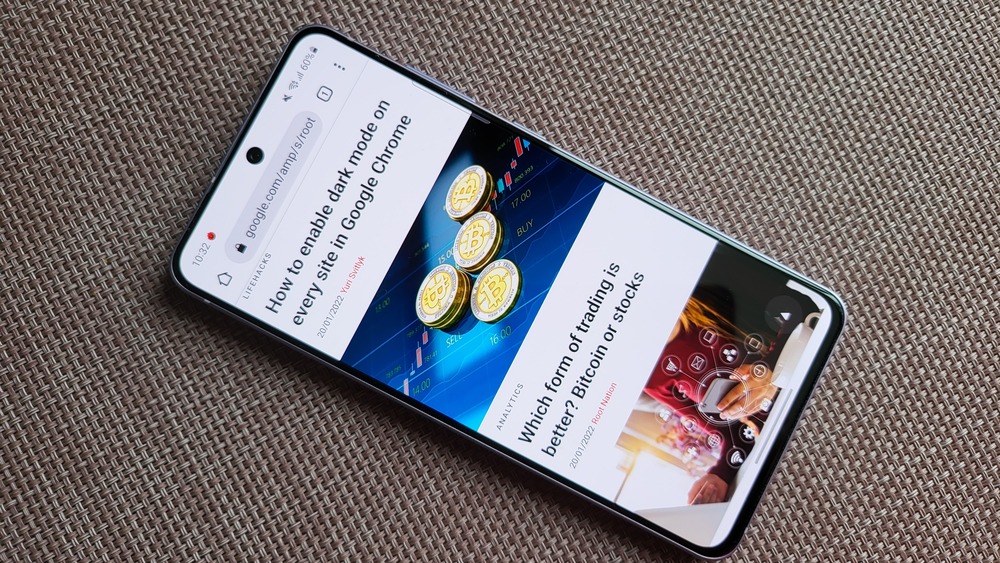 Memory expansion is not possible.
The smartphone works smoothly, quickly and without issues. A truly flagship device. The Samsung Galaxy S21 FE 5G is equipped with Wi-Fi 6, Bluetooth 5.0 LE, NFC and 5G.
Samsung Galaxy S21 FE -TEST
And what about performance in practice? I have already written above lags when launching applications, but they are very rare and occur if you open more than 10 applications at the same time. As for the heating of the smartphone, then everything is almost standard for this chipset. The smartphone heats up a little during video shooting or in games, but not critically. You can hold it in your hands.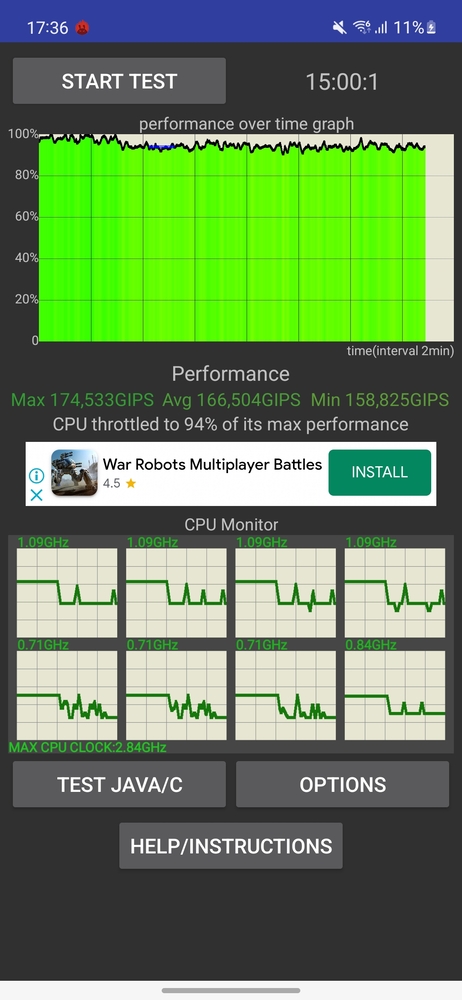 If you need a powerful smartphone, then Samsung Galaxy S21 FE will satisfy all your needs in this regard.
Read also: Samsung Galaxy Tab S7 FE review: Surprisingly reasonable compromise
Battery life
The battery capacity of Samsung Galaxy S21 FE 5G is 4500 mAh. This is a little more than its predecessor. Recently, we have seen that most smartphones do not have any outstanding indicators in terms of battery life. This also applies to the Samsung Galaxy S21 FE. The device worked for only 7 hours and 33 minutes in the PCMark Work 3.0 Battery Life test, which is quite weak.
One of the reasons may be the aforementioned absence of the LTPO panel with the simultaneous constant switching on of the 120 Hz mode. Of course, this also means that if you want to improve battery performance, you can switch to the classic 60 Hz mode, but in this case, of course, you will have to do without a much smoother display animation. But then in the aforementioned test, the smartphone worked for 9 hours and 55 minutes. This is a little better, although not too good. Be glad that Samsung has chosen "just" an FHD+ display and dispenses with higher resolutions of some other modern smartphones.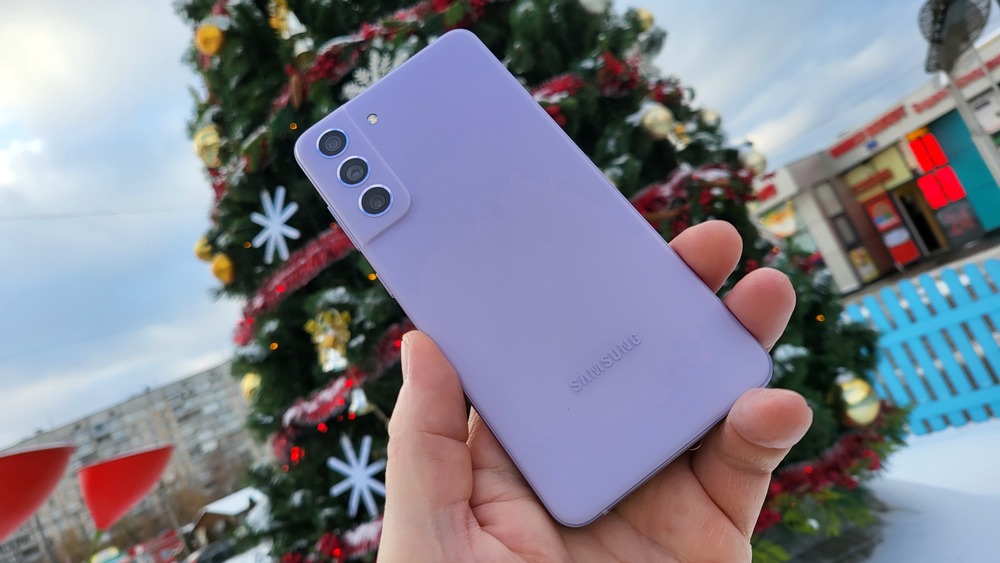 You can use a 25 watts charger, which means that the 50% charge level will be reached in a little more than 30 minutes. Wireless charging is still possible with 15W power if you have a suitable charging station.
Cameras
In terms of cameras, the Samsung Galaxy S21 FE does not bring anything interesting. Compared to the S20 FE, some things have certainly been changed, but the cameras are almost the same as the Galaxy S21 and S21 Plus, except for the telephoto lens. This does not mean that the cameras are bad, but do not expect a big jump in quality. So, in the "fan" smartphone, we have a 12-megapixel main sensor with an aperture of f/1.8 and optical image stabilization, a 12-megapixel ultra-wide-angle camera (f/2.2), an 8-megapixel telephoto lens (f/2.4) with 3x optical zoom and 30x digital zoom, as well as a 32-megapixel selfie camera (f/2.2).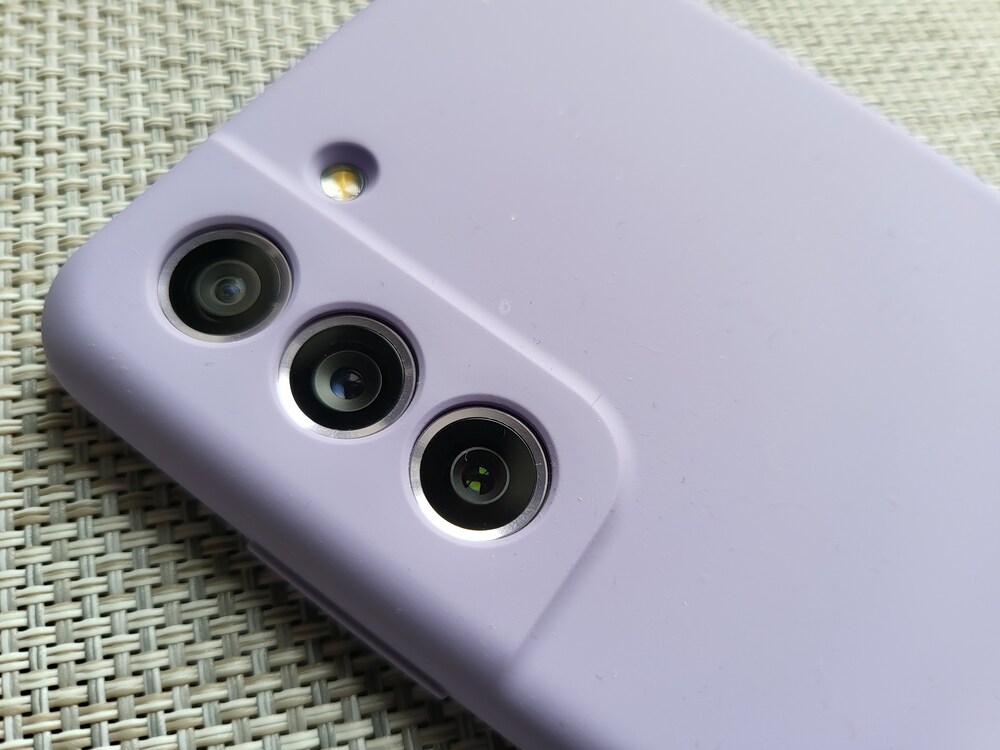 But let's go back from theory to practice. As expected, the Galaxy S21 FE once again delivers a good and sometimes very good image, but can no longer keep up with the best devices currently available. Weaknesses are, for example, the tendency to take very "soft" pictures, which in certain situations even leads to a kind of glow effect surrounding bright areas and thin structures.
Samsung Galaxy S21 FE-CAMERA
Also, Samsung's software usually tends to remove excessive noise, resulting in a very "clean" but often unrealistic image. The S21 Ultra was the same, but it is less obvious there due to a much better sensor.
Samsung Galaxy S21 FE-VERT
On the positive side, it should be noted that Samsung has finally improved the night mode, which now works more reliably, so in the evening with automatic settings you get high-quality pictures. However, the Galaxy S21 FE is hardly one of the best in this category, since the physical limitations of the sensor are obvious.
Samsung Galaxy S21 FE-NIGHT
The second camera is an ultra-wide-angle lens with a 12-megapixel sensor and a 123° viewing angle. The captured photos, as a rule, are also good, but they tend to blur the image around the edges of the frame, so in this regard, the Galaxy S21 FE is also inferior to various competitors. This effect is further enhanced in lower light — more clearly than in other models of the Galaxy S21 series. This is probably due to the fact that the 1/2.8 inch sensor used is slightly smaller than in other devices in this series.
Samsung Galaxy S21 FE - 12 MP
What remains is a telephoto lens with optical triple magnification and a hybrid 30x zoom. As pleasant as their integration is in general, the results are quite mediocre. There are always good shots under optimal conditions, but as soon as you deviate from the native zoom, or the lighting conditions become more complicated, the results are practically no different from a purely digital zoom. In general, the 8-megapixel sensor, which was also used in the Galaxy S20 FE, produces few details, but a lot of noise.
Samsung Galaxy S21 FE-zoom
But, as I said, having a telephoto lens is better than not having one, and in favorable lighting conditions, there really are times when using a telephoto lens is more appropriate than cropping and enlarging the main camera.
PHOTO AND VIDEO IN THE ORIGINAL RESOLUTION
Do not forget about the front-facing camera. There's the old familiar 32-megapixel sensor again, which has already been seen in the Galaxy S20 FE. This sensor provides very good images, even though there is no autofocus, like in other Samsung Galaxy S21 models. The viewing angle is quite narrow (81°), so this is not enough for "group selfies", unless you have very long arms.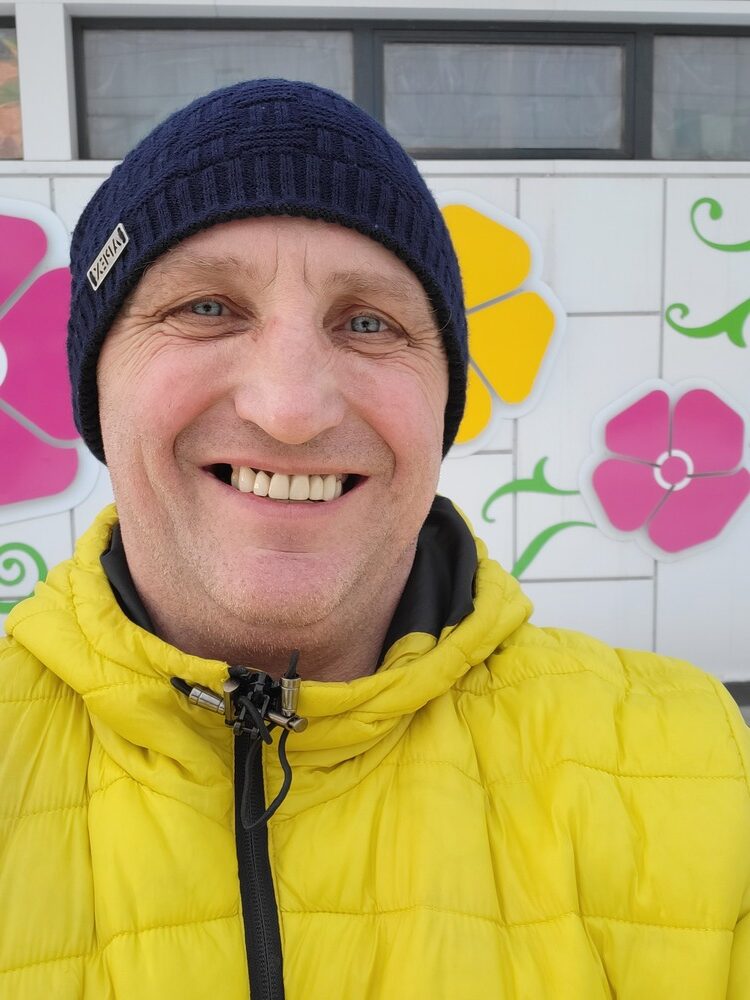 Finally, note that the Samsung Galaxy S21 FE is capable of shooting in 4K at 60 frames per second using the main sensor, with an x3 optical zoom maximum speed of 30 frames per second.
Verdict
It's time to summarize the advantages and disadvantages of the Samsung Galaxy S21 FE 5G. The device has a 120 Hz screen, Android 12 with Samsung One UI 4.0, and withstands short-term bathing in salt water, which is confirmed by the IP68 certificate. What really caught my attention was the magnificent Dynamic AMOLED 2X screen and the excellent set of cameras which takes good photos, albeit with some small issues. You can put up with the subpar battery life, as well as with lags when opening some apps.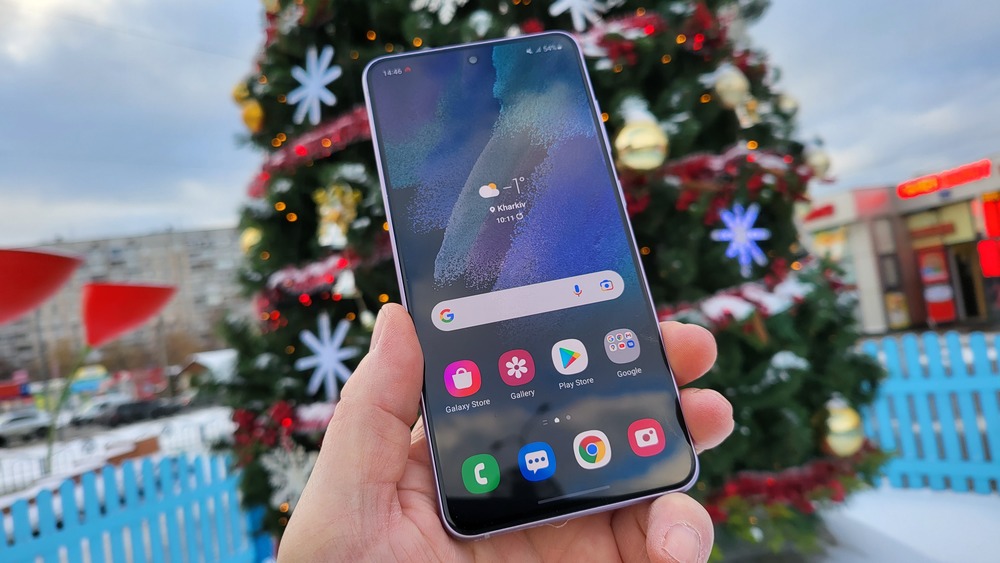 In general, a pretty good smartphone. However, it is difficult to recommend it, mainly due to the timing of its release. If it had appeared on the market six months ago, the assessment would certainly have been different. Can I recommend Samsung Galaxy S21 FE for purchase? I think that it's worth waiting for the release of the new Galaxy S22 line, to see what interesting Samsung will offer us then. And the price of the Samsung Galaxy S21 FE is, in my opinion, too high.
But if you have been dreaming of a modern smartphone from Samsung for a long time, but are not ready to overpay, then the Galaxy S21 FE might be a good choice for you.
Pros
nice design
convenient and compact smartphone
excellent AMOLED display with a refresh rate of 120 Hz
waterproof (IP68)
Android 12 paired with Samsung One UI 4.0 out of the box
high performance, thanks to Qualcomm Snapdragon 888
excellent set of cameras
sufficient battery life
Cons
small changes compared to its predecessor
gaps in software optimization
too high a price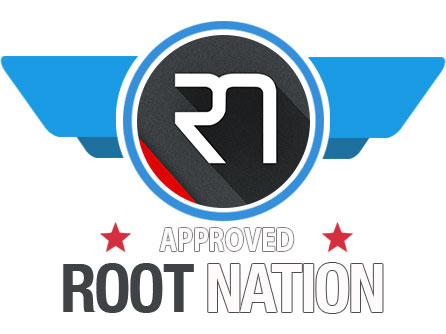 Where to buy
Subscribe to our accounts: