Samsung Galaxy Z Flip is another attempt to realize the benefits of flexible OLED screens in a real device. This time, Samsung decided to resurrect the seemingly forgotten format of a classic clamshell phone, but in a modern implementation. Let's see whether they succeeded or not.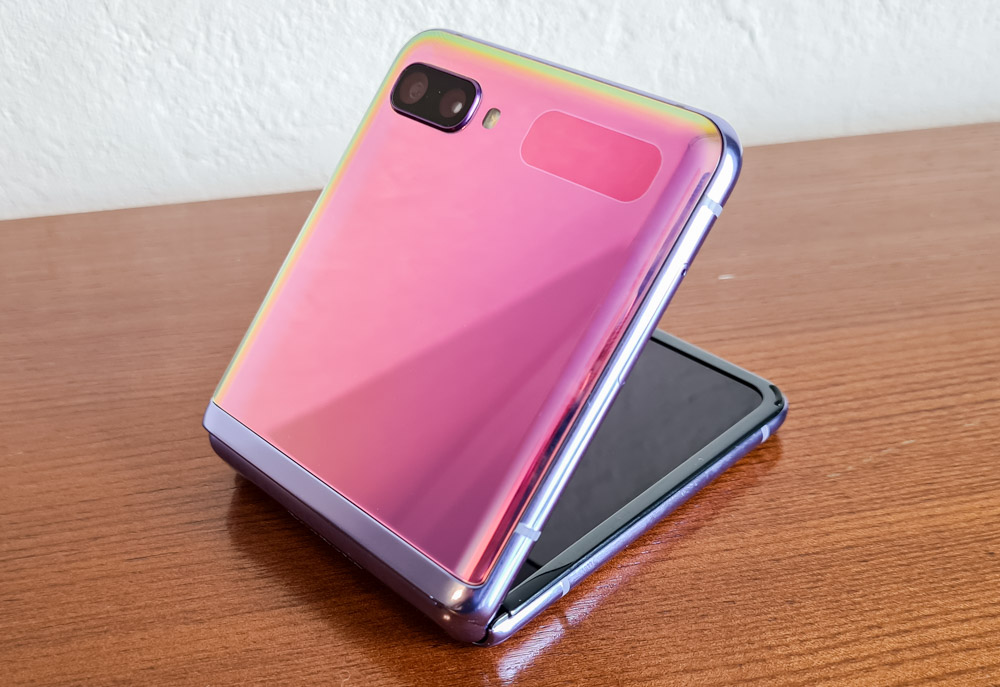 All photos are made on Samsung Galaxy S20+
I remind you that the manufacturer's portfolio currently consists of 2 generations of folding Galaxy Fold smartphones. Or, to be precise, there's only one model with 2 revisions. The first was not very successful and looked more like a concept (people tried to remove the "protective film" from the screen, which in reality turned out to be part of a flexible display). In addition, the hinge collected all sorts of junk. In the second Fold revision, these shortcomings have been eliminated – the outer layer of the screen is now under frame, the hinge was improved and completely covered with a casing.
But Flip is significantly different from Fold in concept. This is no longer a tablet, but an ordinary smartphone, which can be reduced in size for comfortable use and also for protection of the screen from accidental damage.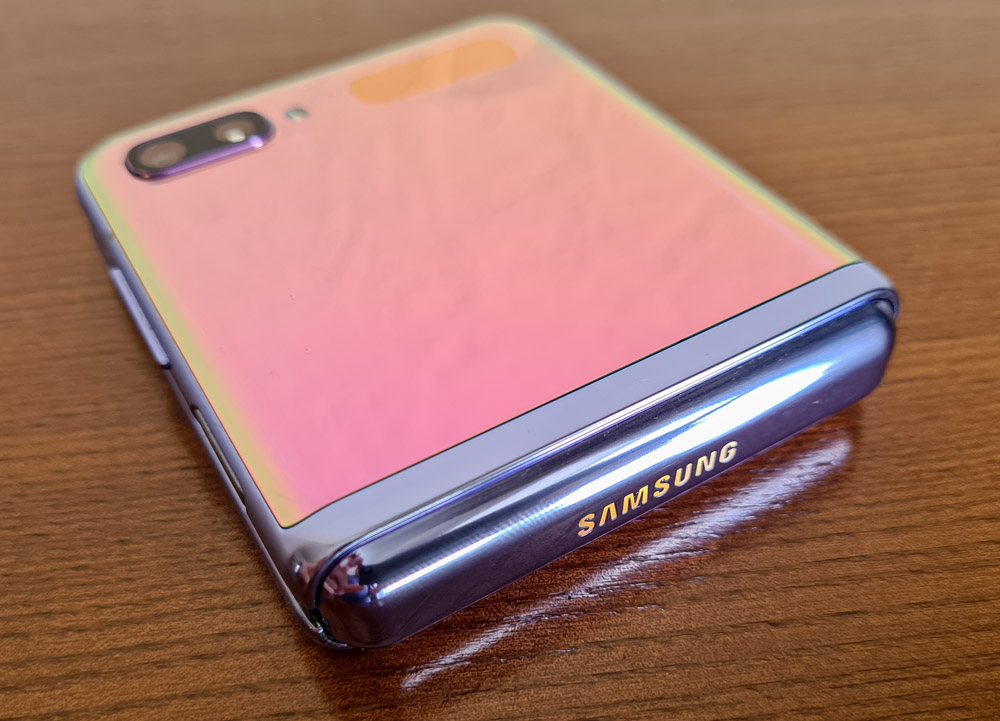 The manufacturer took into account all the experience gained from its previous mistakes. At least in the testing process, I did not feel like this was simply a proof of concept. No, this is a viable commercial solution.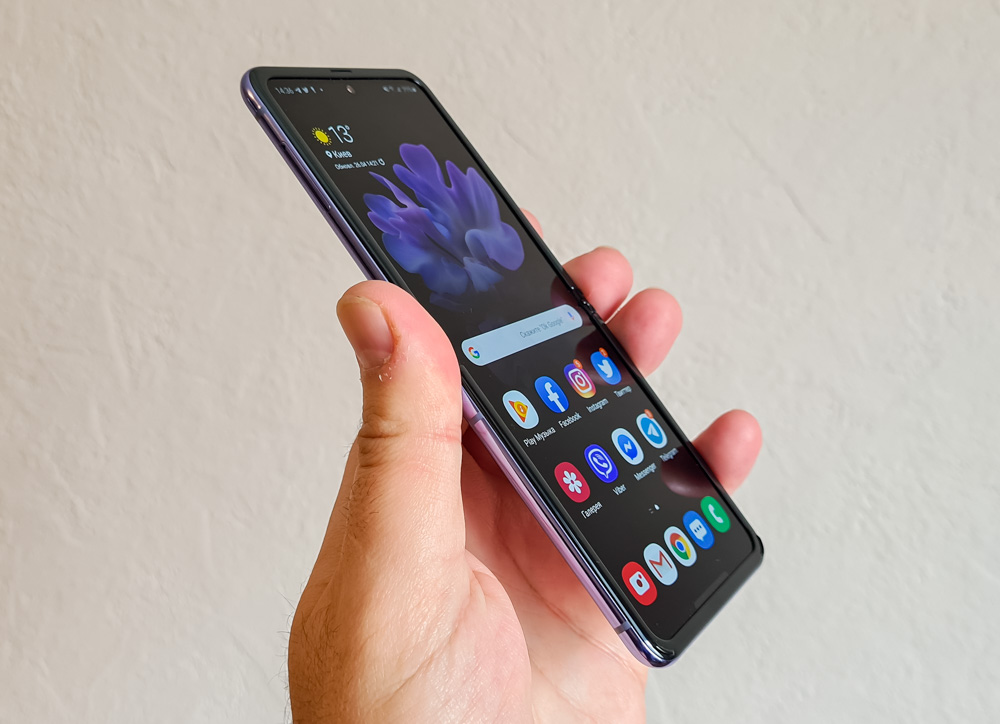 Positioning and price of Samsung Galaxy Z Flip
For Galaxy Z Flip, the buyer will have to dump quite an impressive sum – 1,500 USD. Yes, clamshell design fans will have to fork out for now. But it is worth considering that this is only the beginning of the revival of the foldable smartphone segment. In fact, the only analogue of Galaxy Z Flip present on the market is Motorola RAZR 2019. And it's even more expensive.
You can argue for a long time about which smartphone is cooler. We already have a small preliminary comparison of these smartphones on our site. The author prefers the Samsung device, as a more feature-rich option. And in this regard, he is undoubtedly right, in terms of hardware Z Flip is a strong favorite. But Moto has tons of loyal fans, stimulated by nostalgia for the classic device and the recognizable design. Which approach is more correct – I can't judge, time will tell.
Read also: Opinion: Why Samsung Galaxy Z Flip is better than Motorola RAZR 2019
If it seems to you that the prices of folding smartphones are too high, then you probably just do not understand modern mobile devices from an engineering point of view. You can't just take and fold the smartphone in half. In fact, just in the screen itself there is nothing complicated, the OLED technology without problems allows you to make matrices with organic pixels on a flexible basis. But what's hard is actually dividing the phone into two halves; in addition to the obvious problem of a reliable hinge, there's also the separation of the motherboard and all equipment, including batteries, speakers and so on. All the components still need to be tied together in hardware (cables and connectors) and software. And in this regard, Galaxy Z Flip is more complicated than Galaxy Fold – simply because of the smaller size of the case in which you need to compactly place the necessary components. Therefore, all commercial solutions now are indeed impressive – if only from an engineering point of view.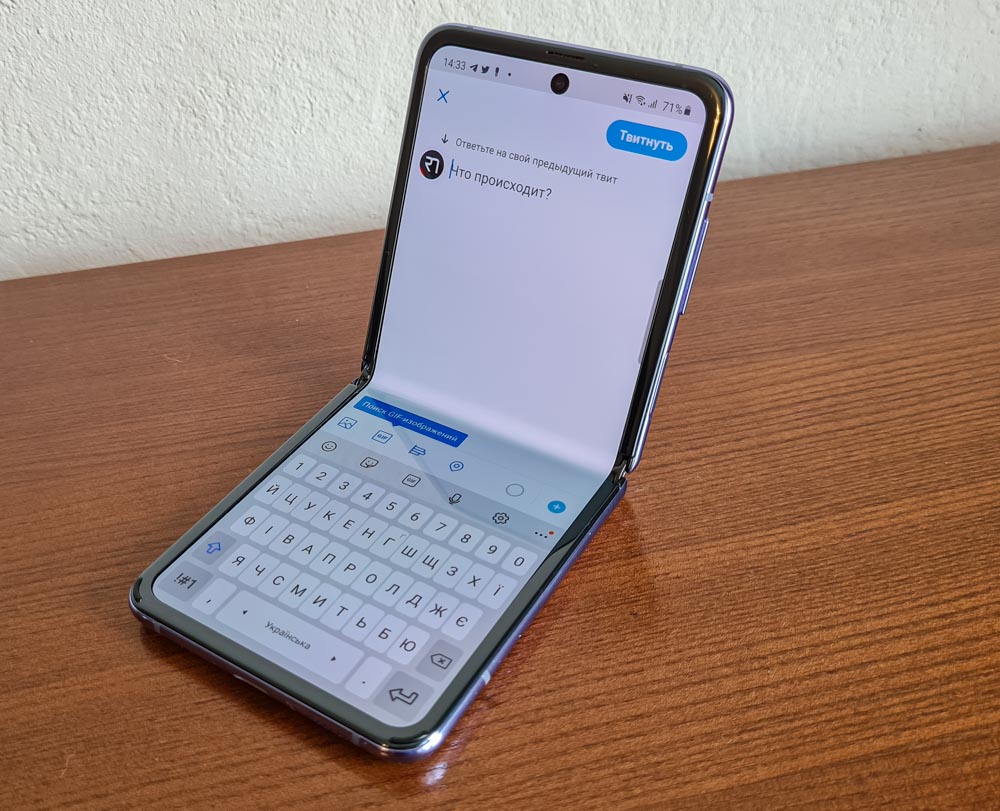 You don't need to be a prophet to predict that in a year or two similar folding solutions in various configurations will appear on the market. Clamshells will become less expensive, at first mid-rangers will begin to appear, and later gadgets available to a wide army of buyers. But for now Galaxy Z Flip is almost completely unique.
Later, the industry will take advantage of all these developments. The Chinese guys will reverse engineer all current devices and do the same. There is no doubt about it. But this requires investment and time. In the meantime, if you want to be at the peak of the trend, you will have to pay double the price. And many of us can afford to pay such an amount for a unique device. So a certain commercial success of Galaxy Z Flip is almost guaranteed. Yes, folding smartphones will not become super popular this year, but they already have their own niche in the market, despite the high cost.
Design of Samsung Galaxy Z Flip
Galaxy Z Flip preserves the design concept of the classic Samsung monoblock from the premium segment, which here is folded in half.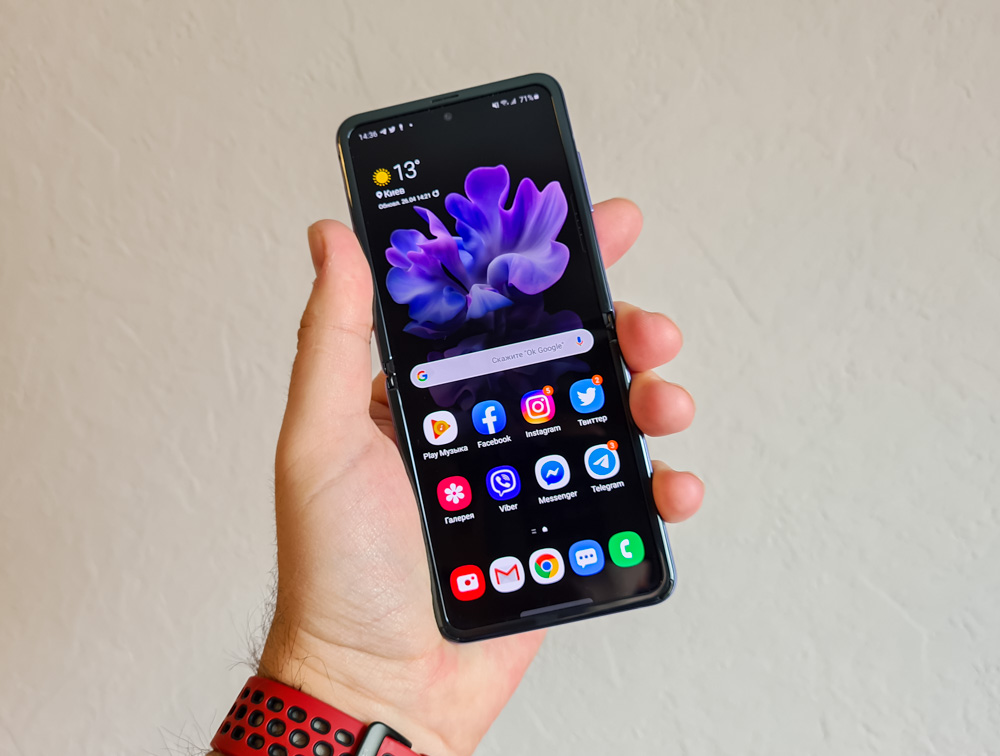 When folded, the smartphone resembles an expensive cigarette case or an ultramodern powder box. Especially in purple, like I have on the test.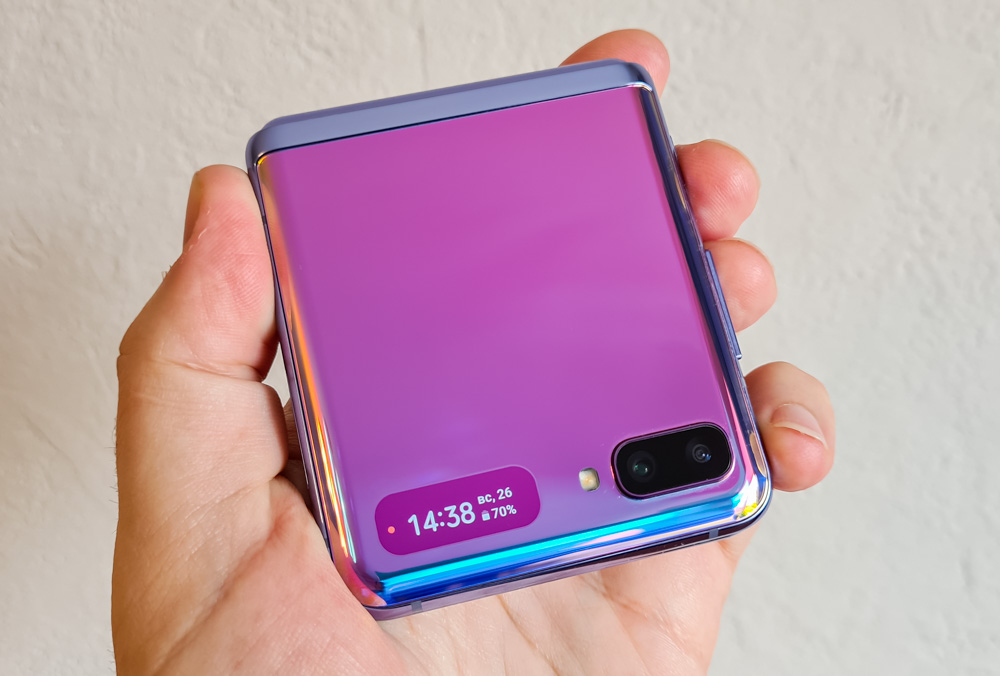 In addition, there is also a gold version and a classic black one. Actually, 2 girly options against one universal or male. It is clear that the gadget is aimed at a female audience, but I think that a similar thing happened with classic clamshell phones.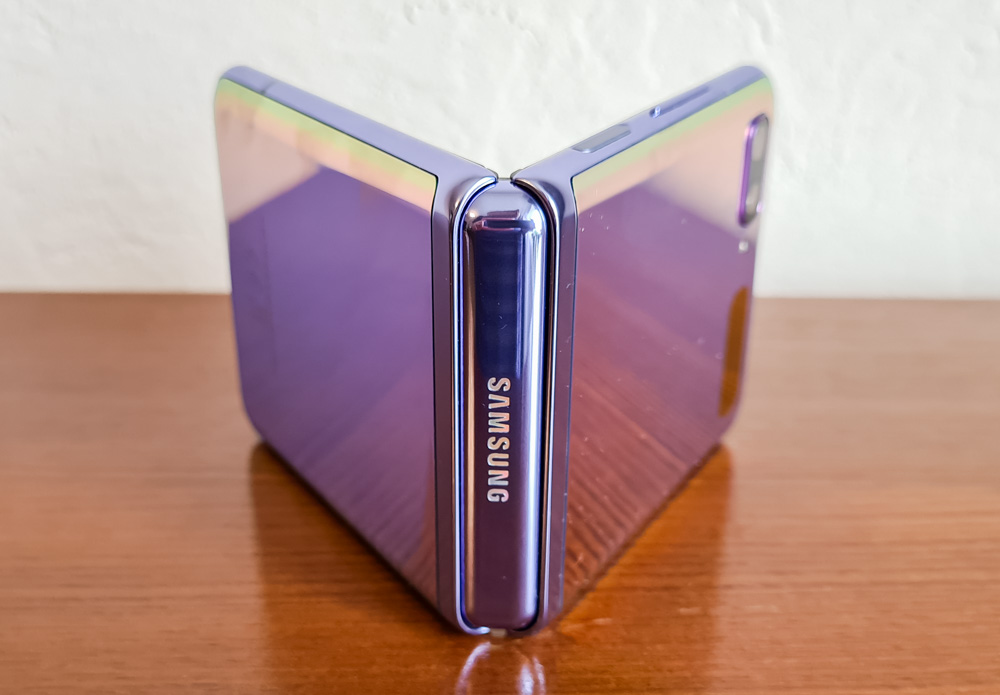 Personally, I never used clamshell phones, but my wife had as many as three (by the way, two of them are from Samsung). But I would use black Galaxy Z Flip without any problems, after all, this smartphone is fully consistent with the unisex format. I would advise the manufacturer to make a phone that's white with shiny metal, I think it would look neat.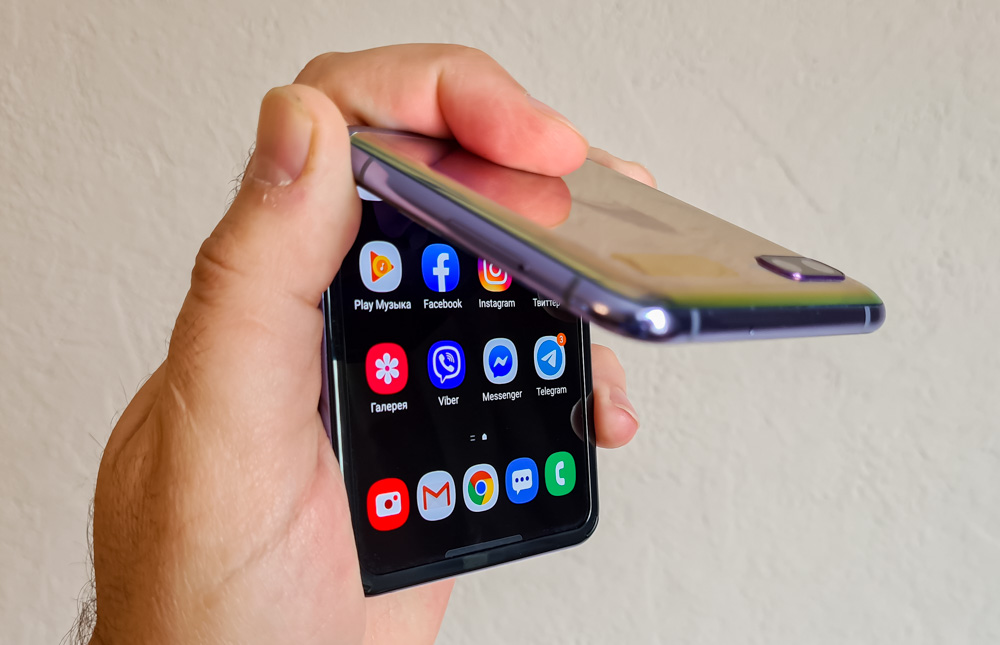 Materials and build quality
The basis of the smartphone is a powerful metal frame around the perimeter. There is glass at the back. Moreover, the frame is not interrupted by a hinge, it surrounds the entire glass part of each half of the smartphone. And when unfolded, we get a double metal belt in the middle of the back of the smartphone.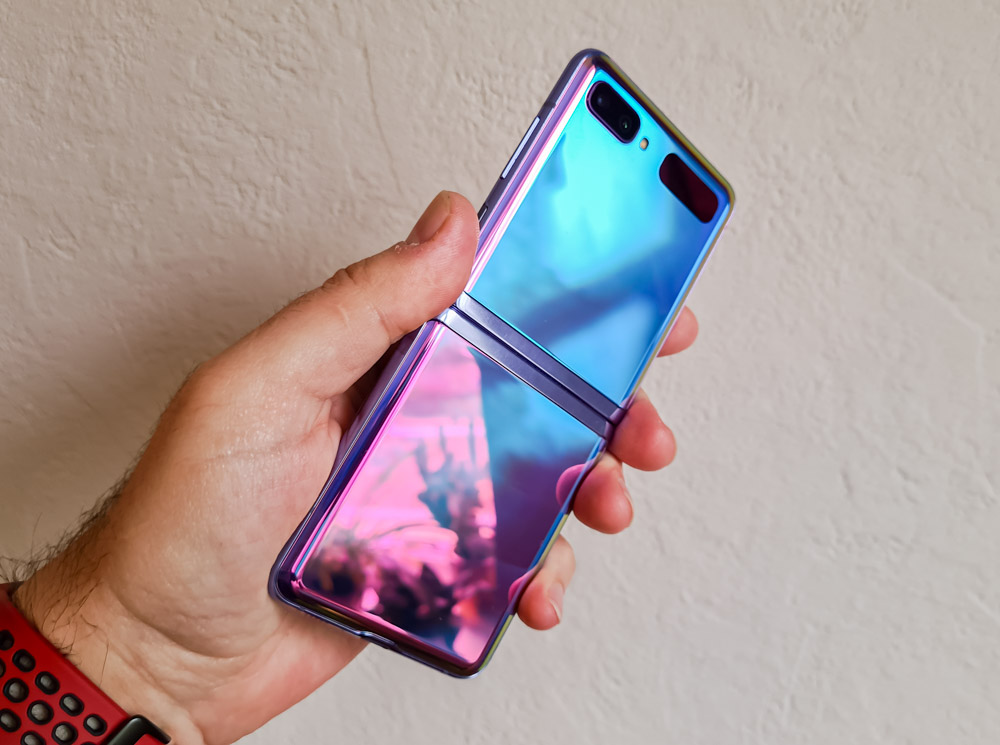 The front part, of course, is bent in half, so there is some kind of polymer coating. Of course, the folding format dictates its own adjustments. They are here expressed in the form of a thin patch of plastic bezel, under which the edges of flexible glass are driven.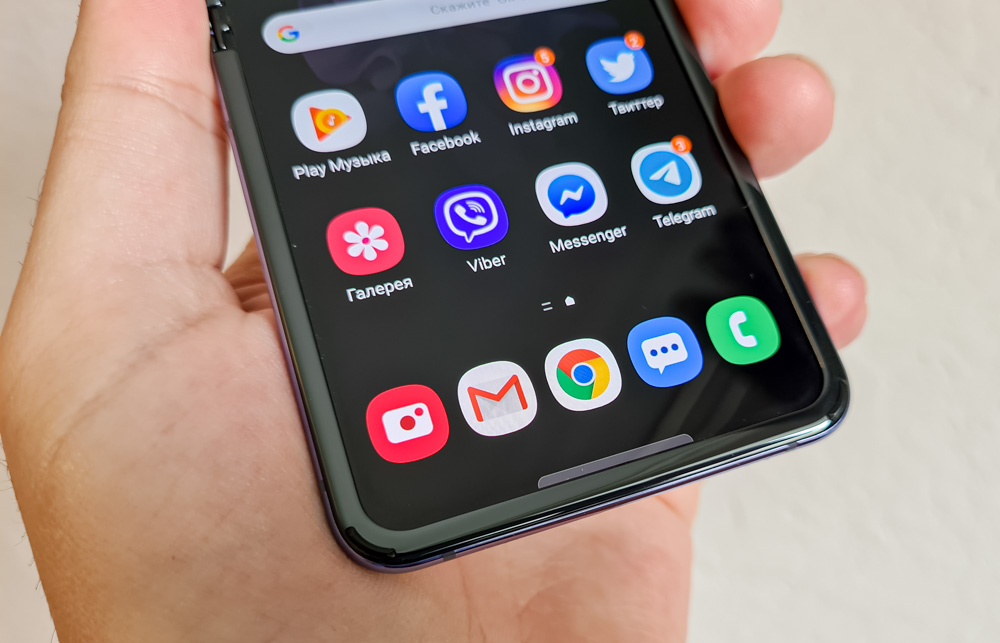 The bezels around the display are the same thickness around the perimeter, which makes it look very nice. But the bezels are quite massive compared to modern flagships.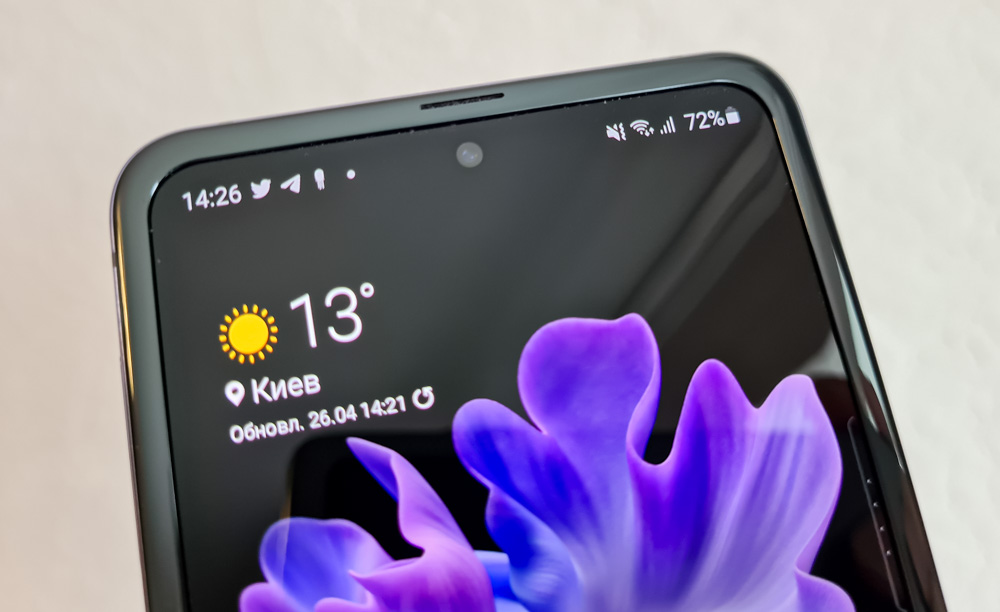 Also, two silicone dampers are mounted in the lower part of the frame to protect the structure from shock during sharp folding (like those used in laptops).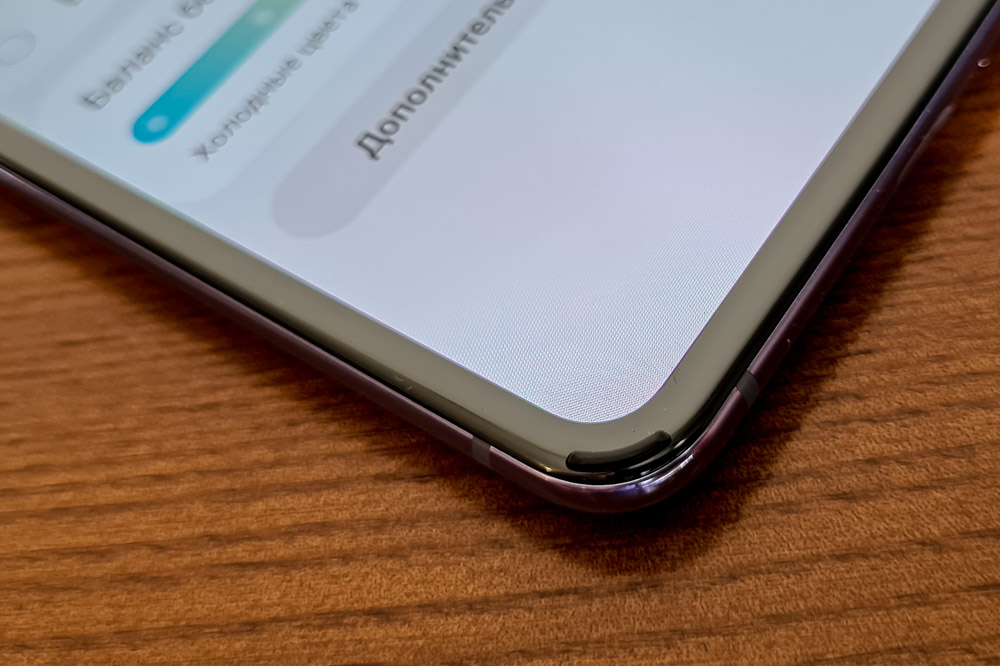 Of course, the smartphone does not have glass in front, but rather a thick film. Samsung claims that this smartphone is the first to use "flexible glass." But it sounds like usual marketing to me. Yes, there is some transparent and flexible material, the composition of which is not disclosed. In any case, the basis of the material is polymeric, that's how you get flexibility. It feels like this is not glass, but rather a thick film. But it does not collect scratches, at least my model. It's definitely not ordinary plastic.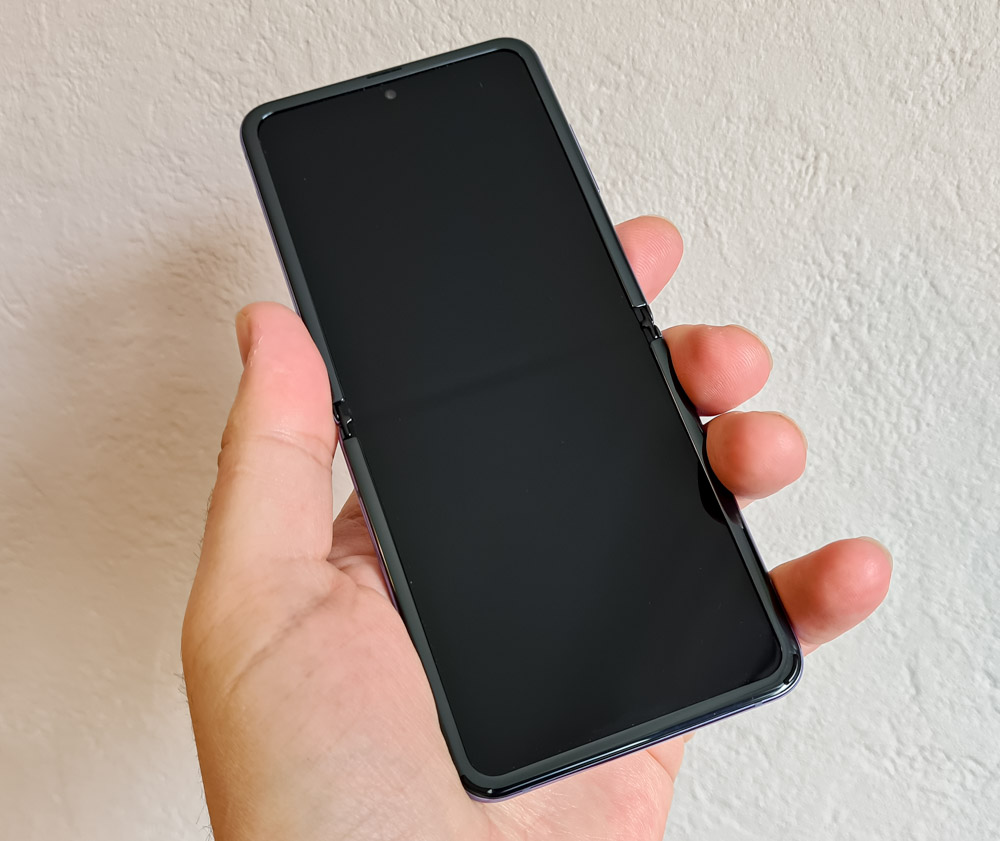 Well and of course, the highlight of the device is the hinge block, which seems similar to the one Galaxy Fold had, only smaller. The hinge body is completely made of solid metal. Great to the touch, with an embossed logo of the manufacturer, which also shimmers with all the colors of the rainbow.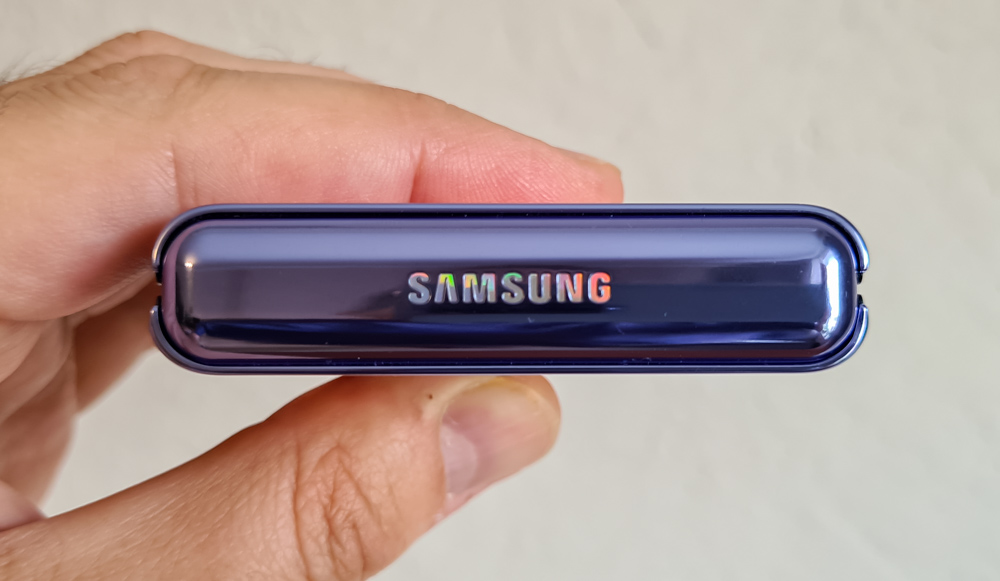 In general, the design of Samsung Galaxy Z Flip deserves praise. Great build quality all around. The smartphone is pleasantly weighty and sturdy. Even in the unfolded state, structural rigidity is felt and both halves do not move at all, except in the folding direction. In general, there is a persistent sense of reliability. Although how the mechanism will manifest itself during the long-term operation is an unanswered question. But at the initial stage it looks and feels fine.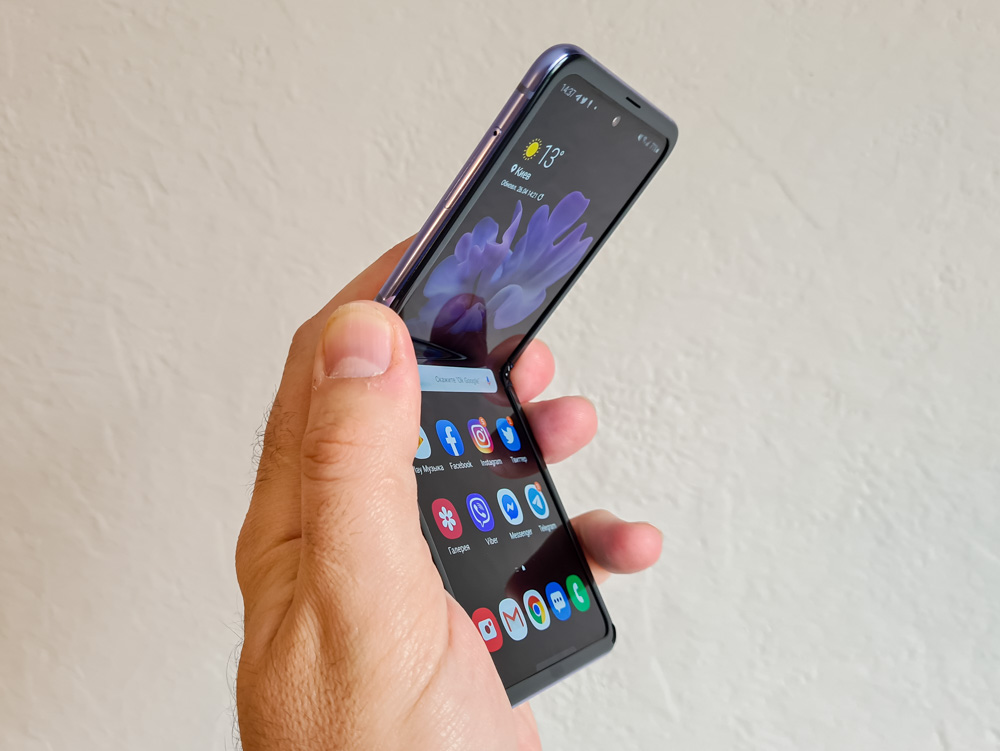 It is also worth noting that when folded there is a gap in which a business card, a plastic card or some similar flat object can easily fit in. So I would not recommend carrying a smartphone in a pocket with such things. There is no moisture protection of the case either, I have no idea whether it is possible for the device in the clamshell format.
Elements configuration
In front we have the screen and a thin earpiece speaker slot in a plastic overlay frame. The top display has an Infinity-O notch in which the front camera is located. Somewhere here there are definitely light and proximity sensors, but I can't find them. They are not in the bezel; it seems that they are placed in the slot of the speaker.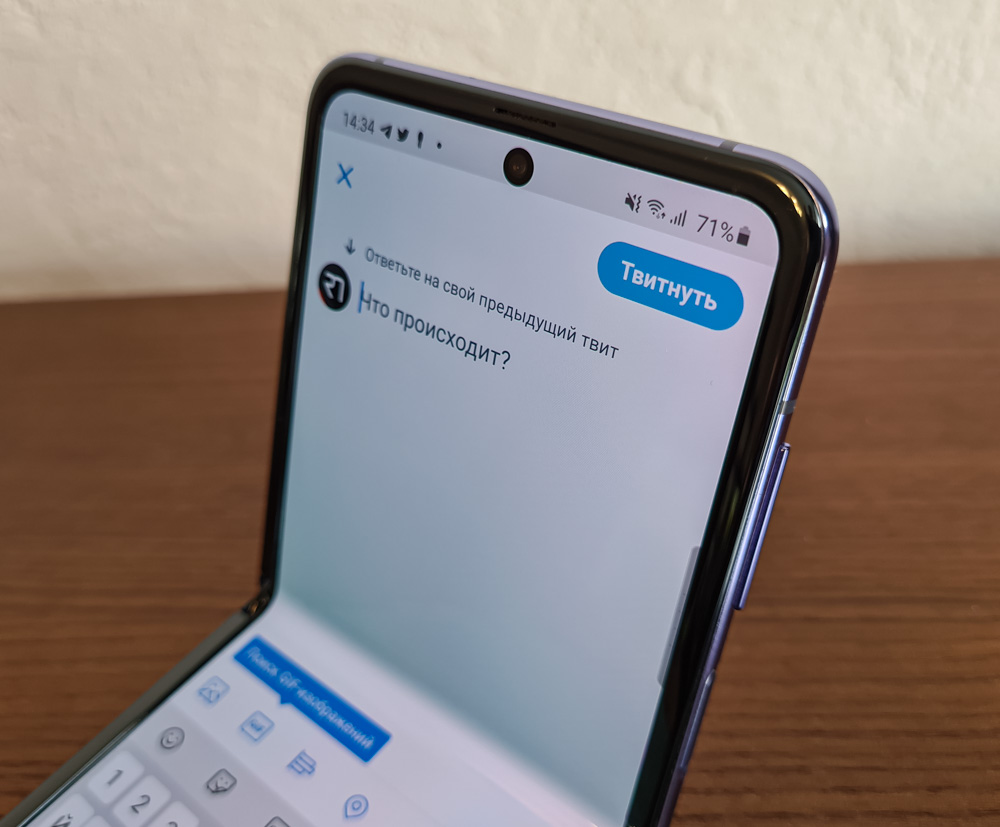 On the right is a flat recessed power button, which in combination serves as a fingerprint scanner. Above is the volume key.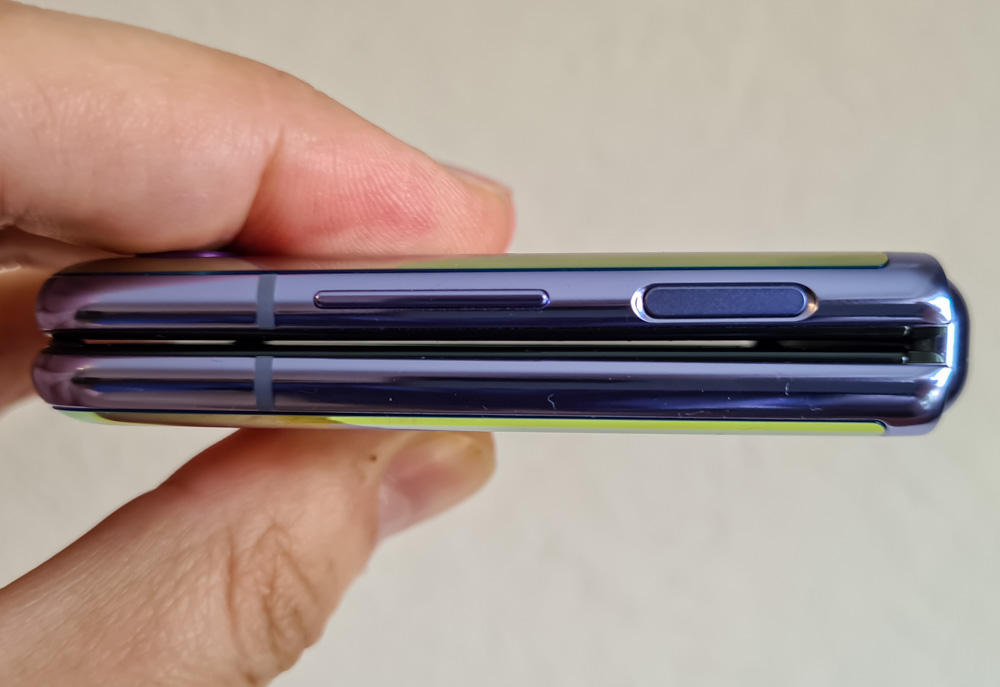 On the left there's a SIM card (Nano) tray.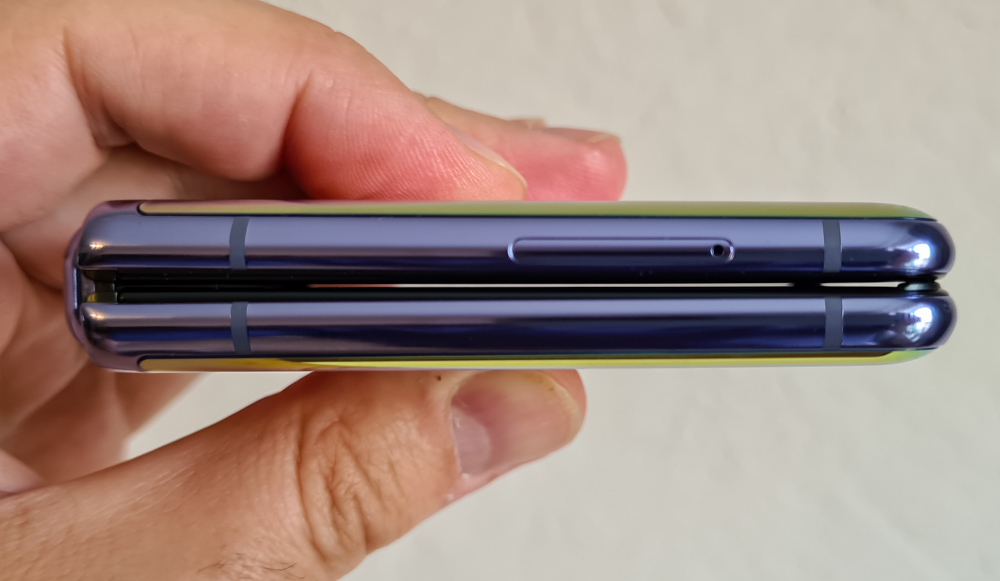 Below we see the Type-C port, microphone, and the main speaker. Above is just an extra microphone.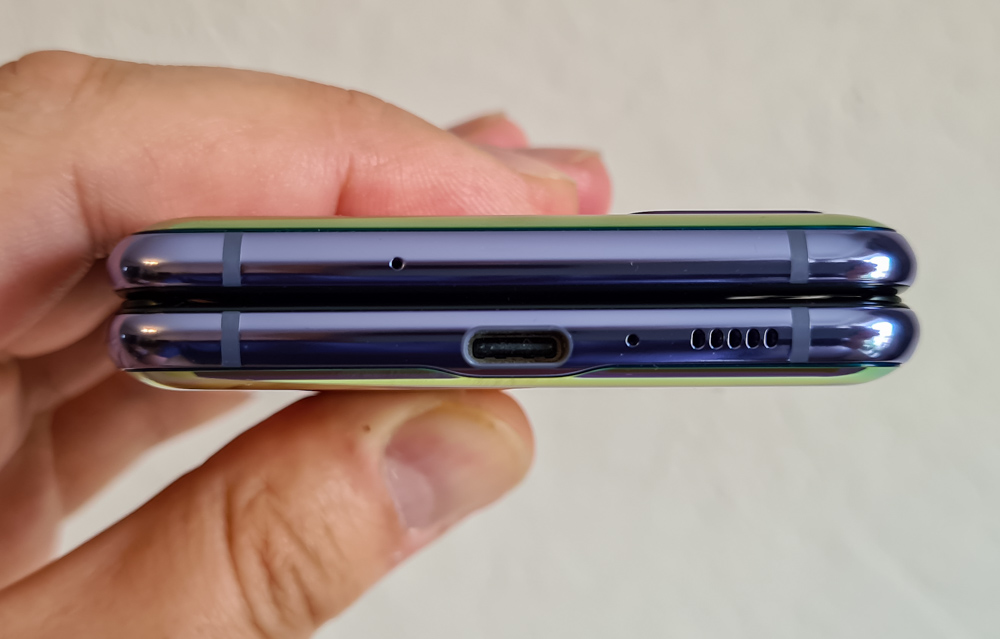 There is a dual camera unit, a dual flash and an additional information display at the top.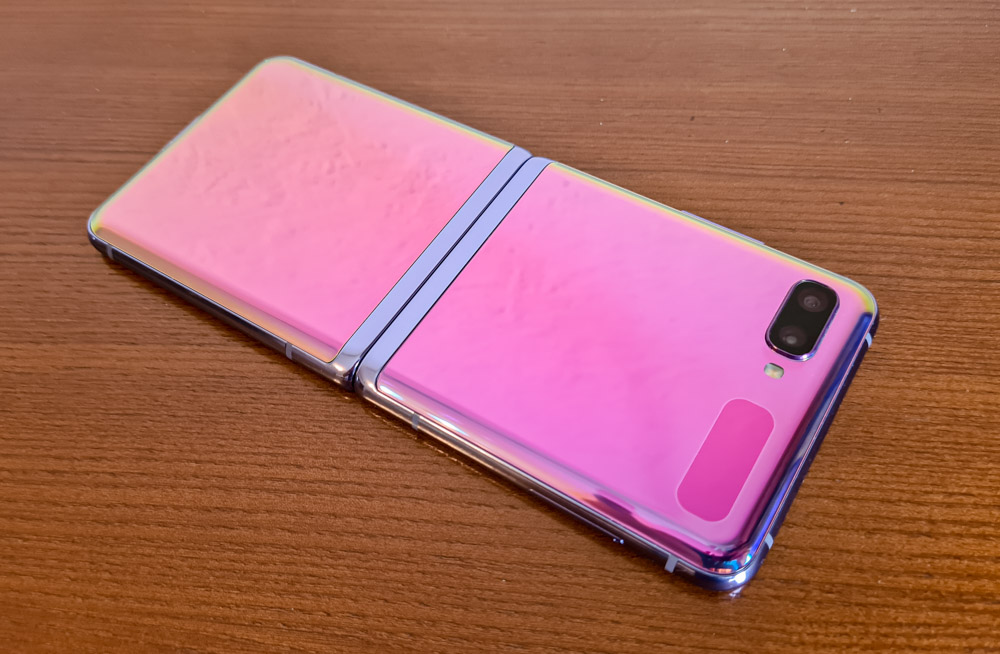 The strangest thing is that there is no logo on the smartphone, neither front nor back. Only engraving on the hinge body. It is very unusual. Maybe just a feature of my test model and the traditional inscription on the back will appear on the commercial device.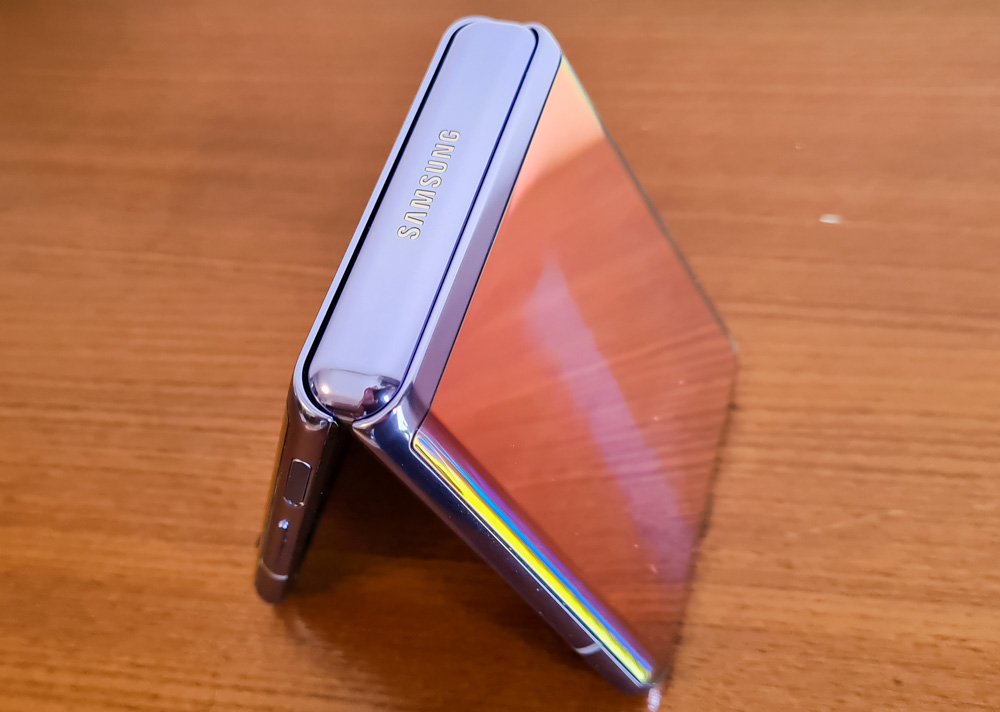 Galaxy Z Flip Ergonomics
Galaxy Z Flip is a large smartphone. I would even say that it's unusually large when unfolded. Very long. When compared with the classic S20+, it is almost a centimeter longer with a similar width.
In general, using a smartphone is quite convenient. But the screen is too high, so reaching the top of the screen without changing the grip is simply impossible. Partially, the situation is saved by One UI – its UI design is great for use with large screens and gesture control. For example, you can call the notification panel by swiping down on the desktop. Or pull the interface in any proprietary application down to lower it into the accessibility zone of the thumb.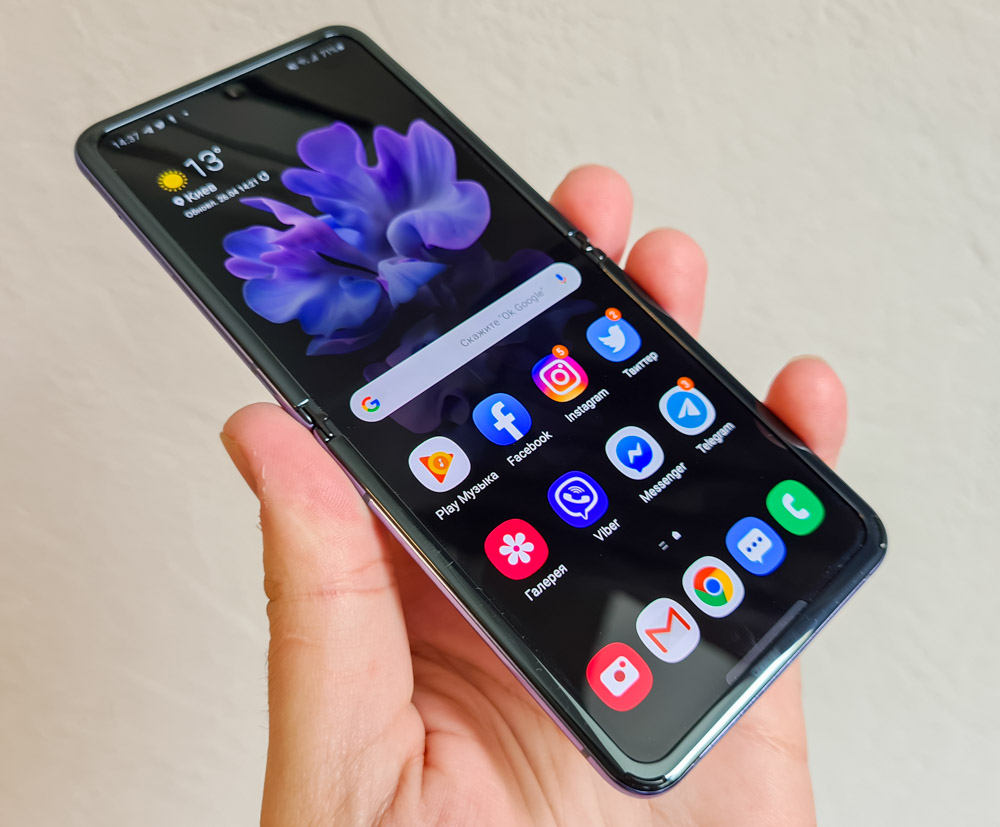 As for the buttons, they are not very conveniently located. But they're not unusable. Although the scanner, combined with the power button, falls directly under the thumb, it is slightly recessed and groping is not very good. And the volume key is too high, you can get to it, but you need to slightly shift the smartphone in the palm of your hand.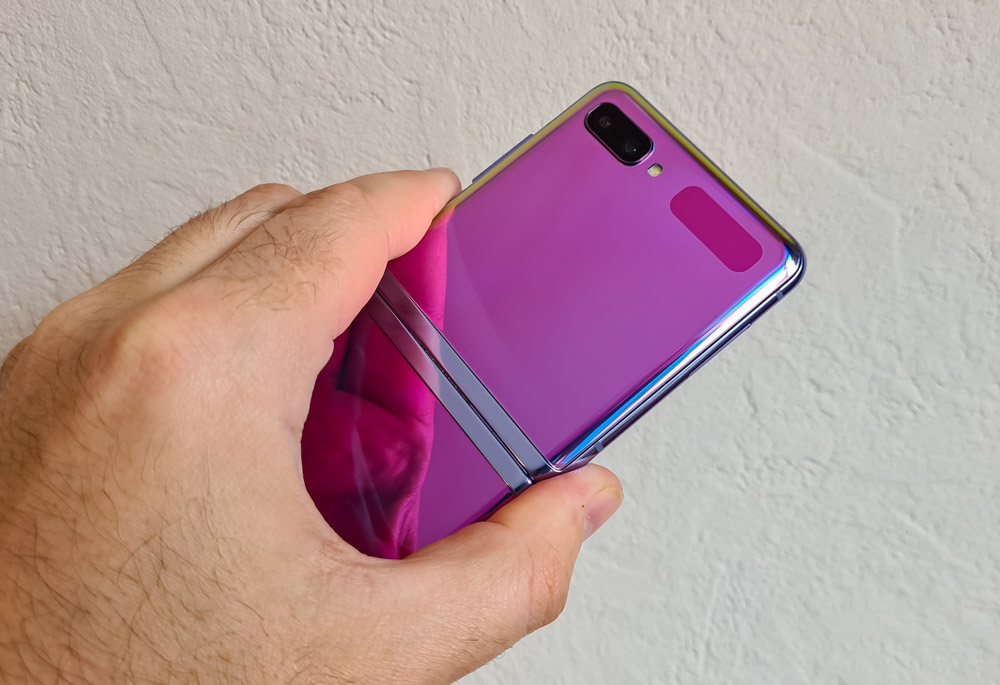 But, Galaxy Z Flip is slippery, which is worth considering. As always, the case will help to eliminate this problem.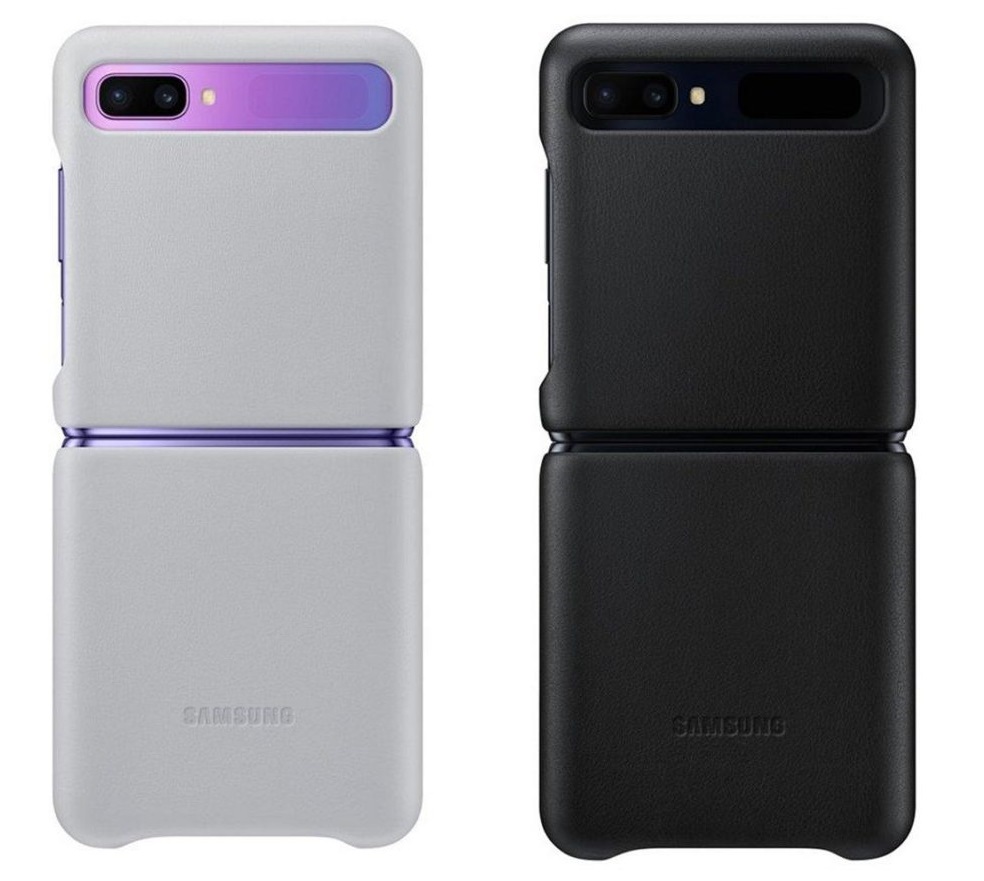 As for the folded state, in this form the device is quite compact, but 2 times thicker than a regular smartphone. And this imposes certain restrictions for me personally. For example, it can't fit in the front pocket of tight-fitting pants. It just doesn't look very good. This, in my opinion, is another sign the the device is aimed at women. It is best to carry such a smartphone in a bag or backpack. Or in the inside pocket of a jacket.
Screen
The smartphone has a flexible 6.7″ Dynamic AMOLED screen with a resolution of 1080 x 2636 pixels and a decent density of 425 ppi. In terms of picture quality, it is in no way inferior to the flagship Galaxy S line. Contrast, brightness, good viewing angles – it's all there.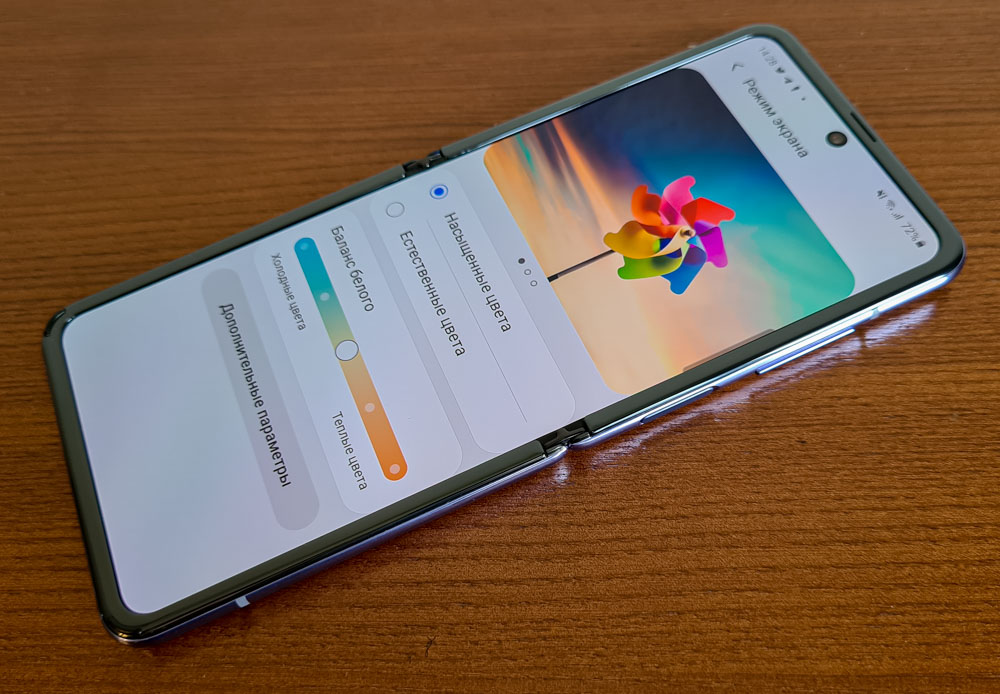 But across the screen in the middle there is a clearly visible fold. It is especially clearly visible when the screen is deactivated. Also, when using a smartphone, the finger regularly clings to this recess, so you definitely feel it physically.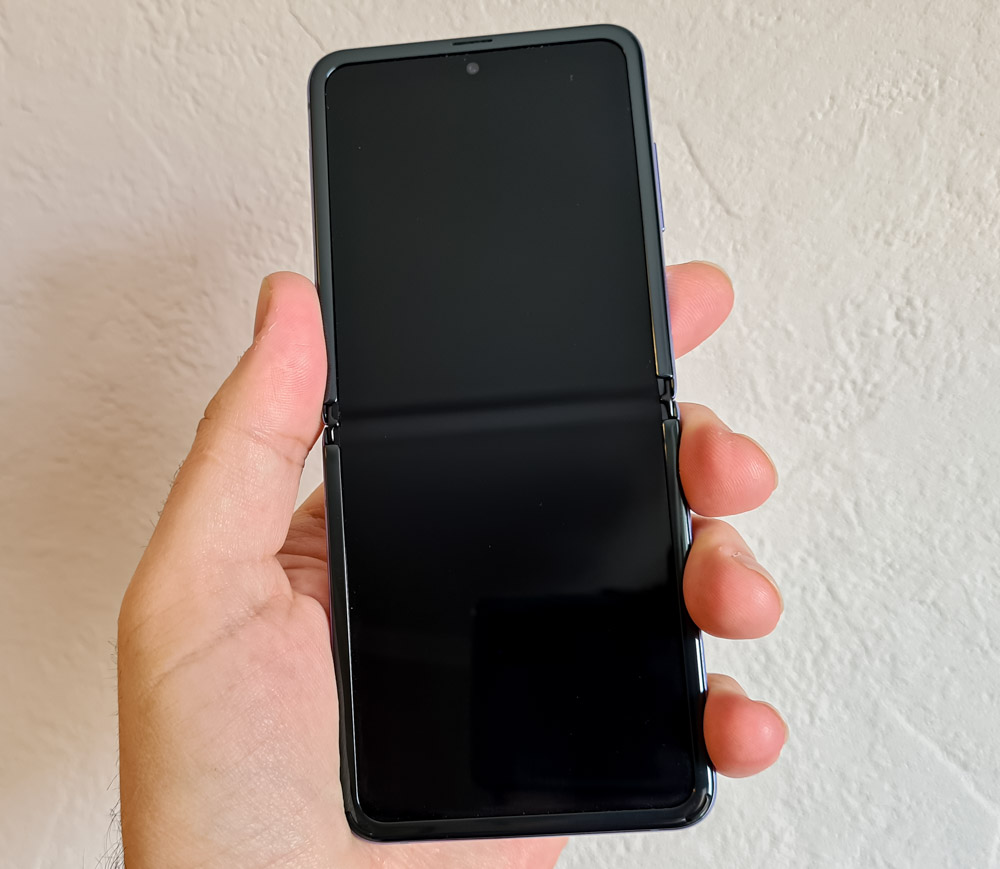 But in real use, if you look directly at the screen, the fold does not interfere with the consumption of content. Especially if the picture is bright. But if you deviate slightly from the normal, a light and dark strip appears on a white background. At the same time, on a black background, the crease is even more noticeable in any state due to the distortion of reflections on the surface of the "glass".
But this is all a matter of habit. The visibility of this artifact is very dependent on the color palette of the content and the angle of view. Over time, you just stop paying attention to it. For this reason I prefer the bright theme of the UI – with it, the fold is less obvious.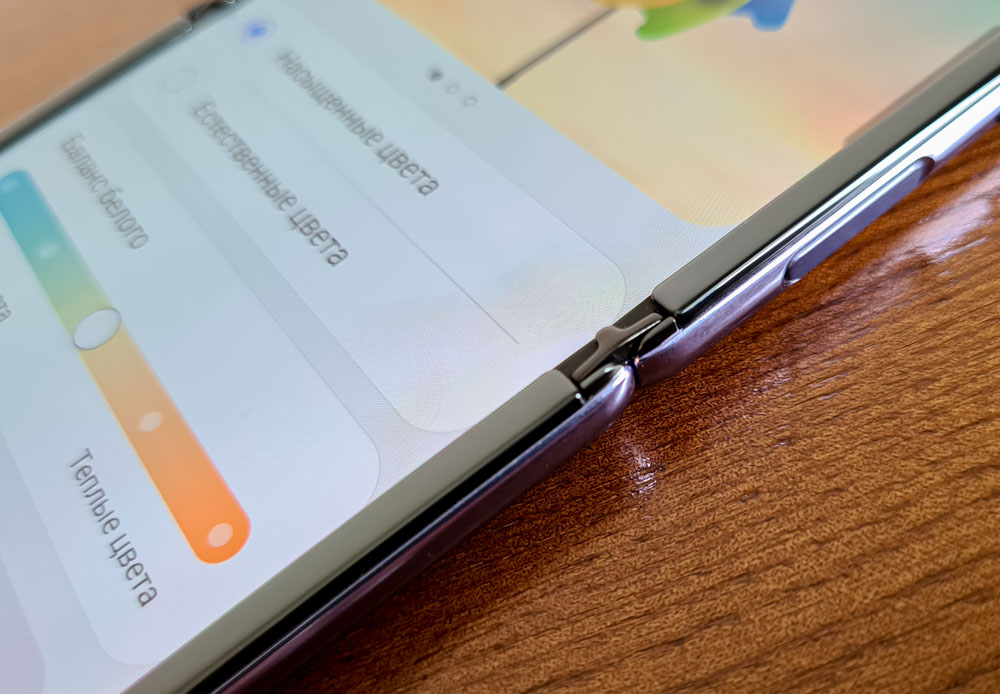 In the screen settings, you can find standard options specific to Samsung smartphones – switching between a dark and a light theme, a blue filter, fine-tuning the color temperature in the "saturated colors" mode or switching to natural color reproduction.
In the settings there are some "artifacts" of the system that are relevant for classic phones, like protection against accidental contact, which seem inappropriate for the clamshell format. Who carries the phone while it's unfolded? There is also a function to increase sensitivity when using a third-party film or glass. Really, is that even possible?
Galaxy Z Flip, unfortunately, does not support increased refresh rate of the screen. Also, I still can not understand why Samsung has not yet implemented the option to eliminate flicker in their smartphones, as almost all Chinese manufacturers have already done. Representatives of the company prefer to keep silent or laugh at this question. But PWM is really there, just point the camera at the screen (of any Samsung flagship) to see the characteristic ripples.
In order not to end this section on a negative note, I note that it is excellent in actual use. I have no complaints, but I am immune to PWM and it never bothered me.
Separately, it is worth noting the unusual aspect ratio of the screen, 22:9. Due to the large display height on this smartphone, it is especially convenient to interact with content from social networks, work with messengers and browse sites. Here you get much more information without too much scrolling. It's obvious that you can watch movies on such a screen, but the content will not stretch to the entire area. In many games, content is stretched to full screen, but sometimes margins on the sides also appear. In addition, do not forget about the crease in the middle. Although in the middle of a game you are unlikely to notice it.
I almost forgot about the second AMOLED screen next to the camera. It performs the simplest functions of informing the user about the main events – displays the time, date, day of the week, battery charge and app icons with notifications.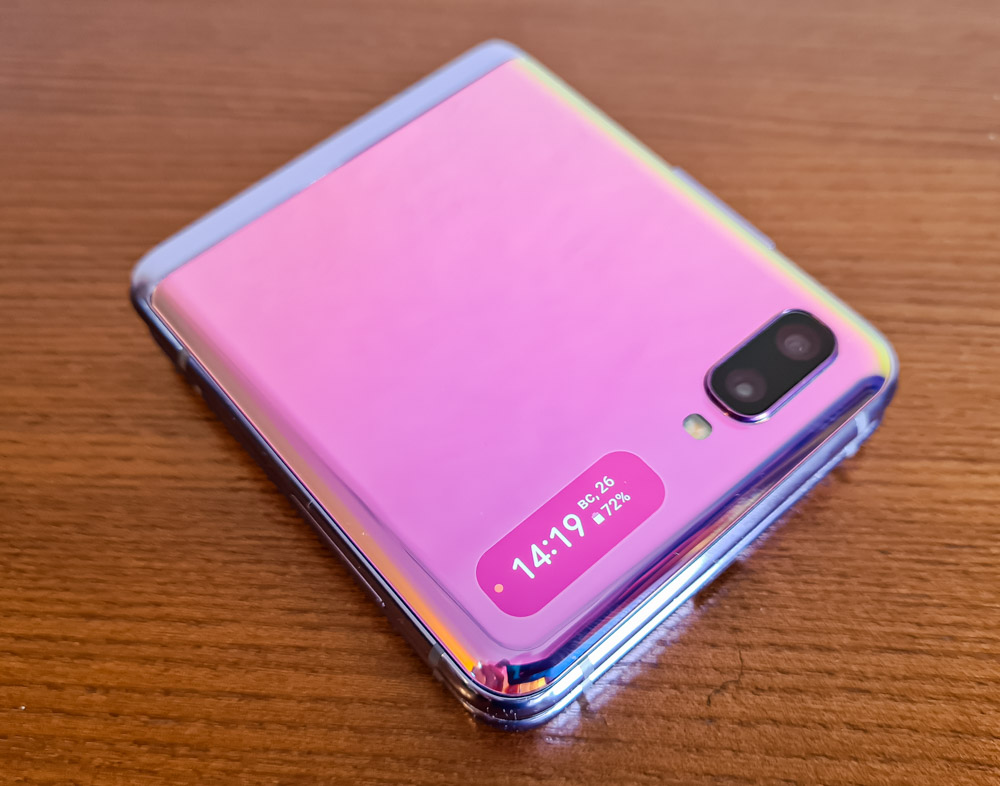 It's similar to Always On Display, only here it's activated by a button. You can see what's up without opening the phone.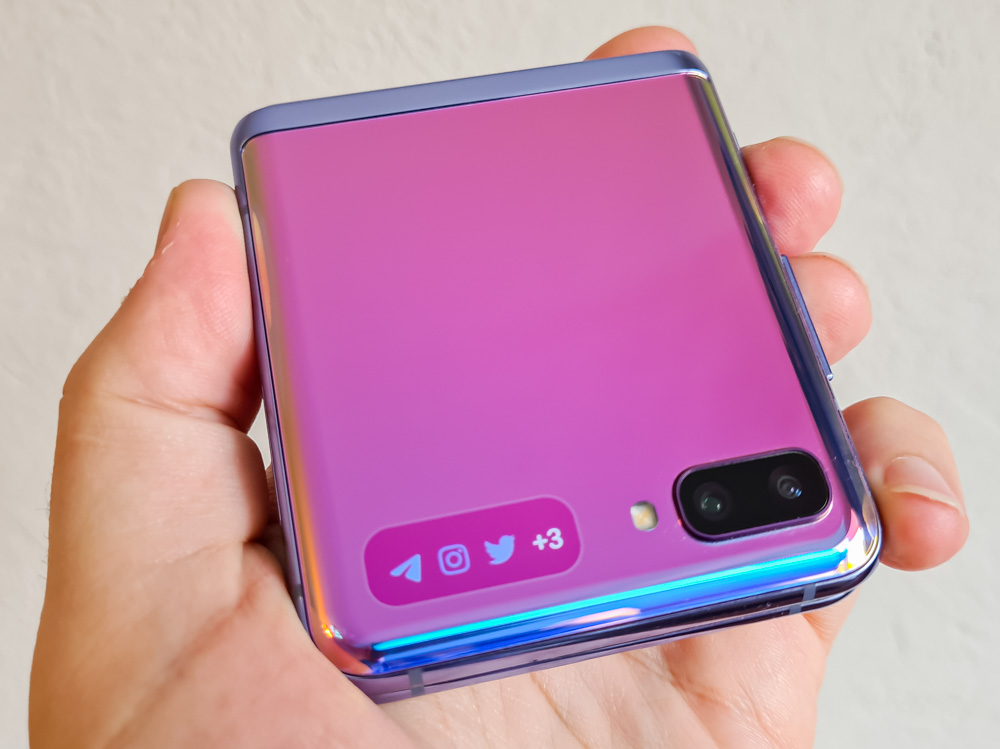 Performance
Choosing a processor for this smartphone is strange. So, inside we have a mid-ranger by the standards of the rapidly changing market, Qualcomm Snapdragon 855+. SoC is based on 7-nm technology, eight-core (1 × 2.95 GHz Kryo 485 + 3 × 2.41 GHz Kryo 485 + 4 × 1.78 GHz Kryo 485), Adreno 640 graphics accelerator, overclocked to 700 MHz (which is what the plus sign indicates). Galaxy Fold has the same chipset, but without a plus, so it's non-overclocked.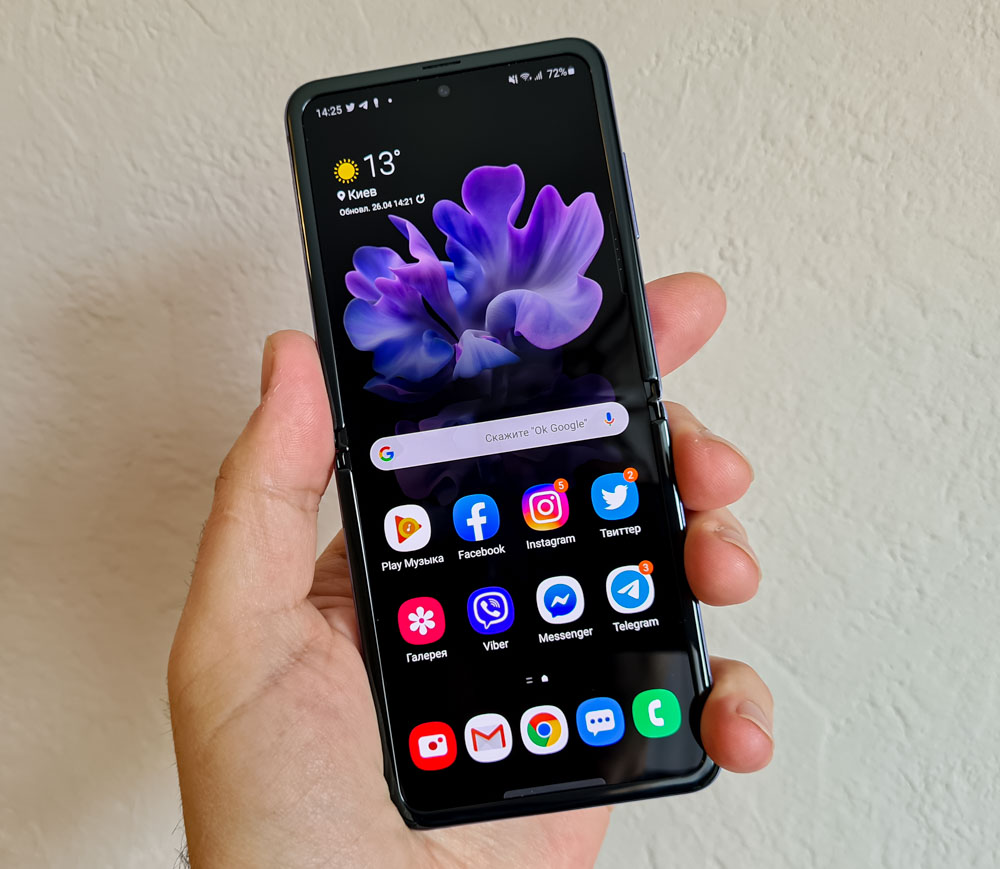 In principle, the chip itself is excellent, but it does not support 5G networks. Why they didn't install their own Exynos I understand – the adaptation to all possible markets, primarily the USA. Samsung really wanted to release a commercial device faster, and the use of Snapdragon 865 series would further increase the price of an already expensive device. Perhaps later the device will be updated and a version with a 5G modem will be released. Is it worth it right now? It depends whether your country has 5G already.
In general, Samsung Galaxy Z Flip is a modern flagship with all the ensuing consequences. The processor is more than enough for any tasks, the GPU is top-end and runs any games on maximum settings. Plus, 8 GB of RAM and 256 GB of fast storage (UFS 3.0 standard) (the smartphone does not support memory cards). In short, I do not think that smartphone owners will feel limited in terms of performance. The smartphone is fast, that's for sure. Here are its results:
The only conditional compromise of the smartphone in terms of equipment is that the tray accepts only one physical SIM in Nano format. But there is support for e-sim, so a certain freedom is possible.
Cameras
In this regard, Galaxy Z Flip feels inferior by modern standards. The main camera is only dual. There is a standard module for 12 megapixels, f/1.8, 27 mm, matrix size 1 2.55″, pixel size 1.4µm – with support for Dual Pixel PDAF and optical stabilization. As well as an ultra-wide 12 MP, f/2.2, 12 mm, 1.12µm pixel size.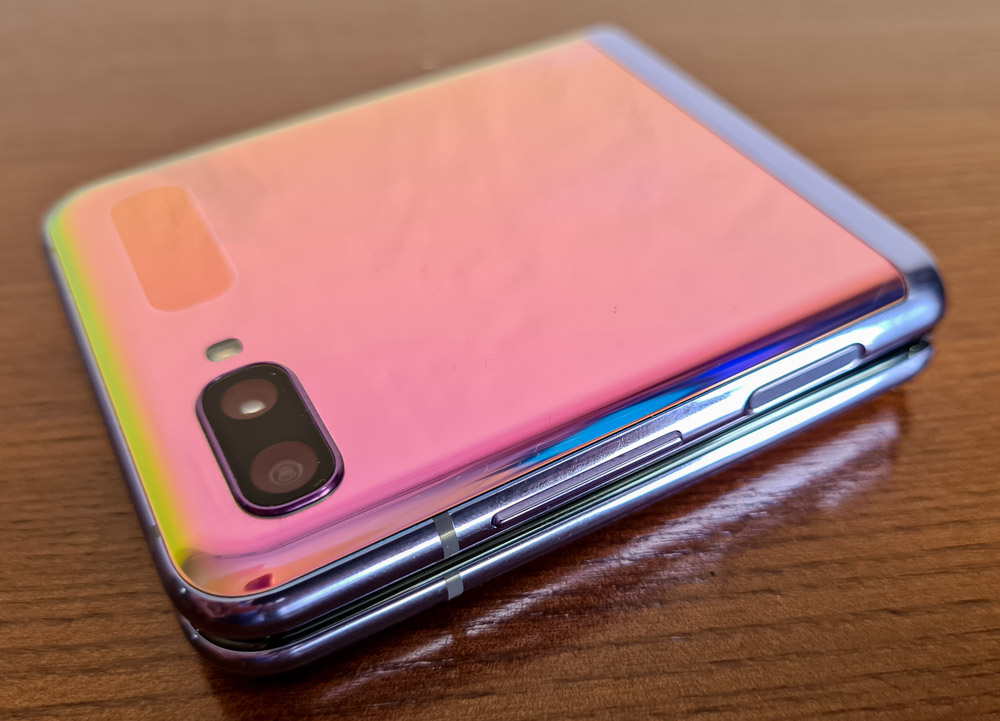 If we digress from the bare numbers, then the main module here is essentially from Galaxy S10 (+), but with advanced optics of Galaxy S20 level. But the proprietary shutter for controlling the variable aperture has been removed. In general, the camera is quite good, but it is hardly the best on the market. Nonetheless, it will satisfy most users. Both in terms of photo and video. And in any lighting conditions.
Front camera is 10 megapixels, f/2.4, 26 mm, pixel size 1.22µm. Okay, but not outstanding. The quality of the photo is generally decent. Again, it seems to me that this is the same camera as in Galaxy S10, but with less aperture optics.
PHOTOS AND VIDEO IN FULL RESOLUTION
Galaxy Z Flip camera shoots video at 2160p @ 30 and 60fps, 1080p @ 60 and 240fps (slow motion), 720p @ 960fps (super slow motion), and an extended dynamic range of HDR10+.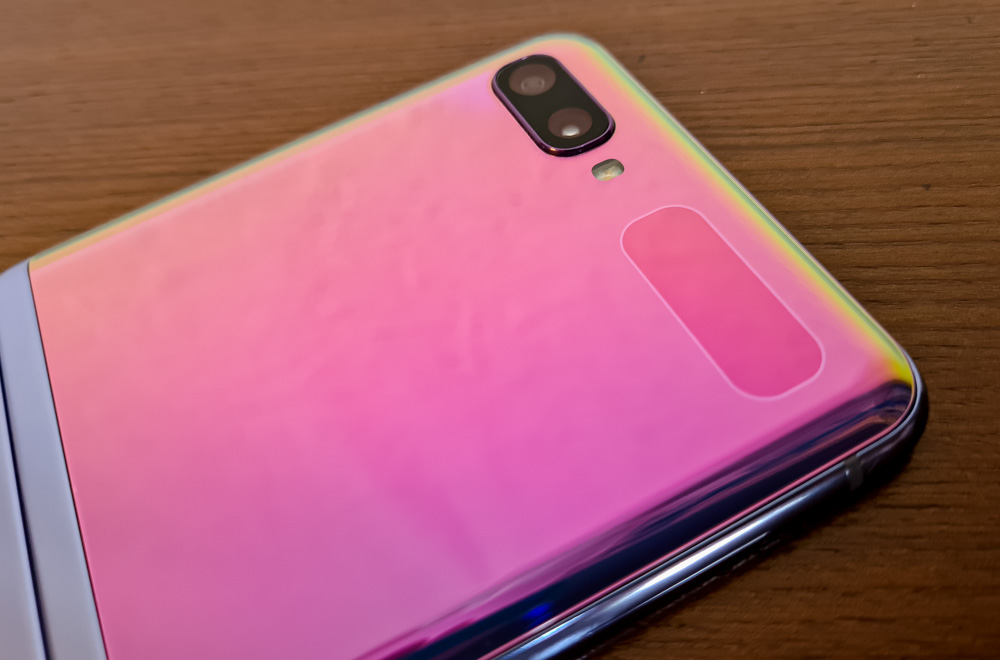 The camera software is completely similar to Galaxy S20 Plus. All the features  are present, like Auto HDR, intelligent optimization, recommendations for pictures on the camera screen. Photos can be saved in a more compressed "economical" HEIF format and uncompressed RAW for further processing. Among the available modes we have photo, video, a series of photos and clips, professional modes for photos and videos, panorama, separate mode for shooting food, night mode with long shutter speed, photos and video with "live focus" for changing depth of field background (imitation of a variable aperture). In general, there is everything that the average user may need. And even digital zoom up to x8.
Battery life
The 3300 mAh battery doesn't surprise anyone now. In fact, all modern flagships have already exceeded 4K in this parameter. Nevertheless, everything is completely okay here as well. Qualcomm chipset proves to be rather energy-efficient. For a full day of active use of the smartphone, the battery is guaranteed to last if you don't play games, but it seems to me that a typical buyer of such smartphone will not do this anyway. With moderate use it survives 1.5 or even 2 days – it is quite realistic, especially in the version with one SIM card.
In the PCMark Battery Test, which simulates real use, the smartphone has an excellent result – almost 10 hours of active screen. There's nothing to complain about.
The smartphone supports fast charging (15 watts), but the adapter is not included. If you use the bundled charger, the smartphone will not charge fast. Here is the timing from 15 to 100%:
00:00 – 15%
00:10 – 30%
00:20 – 44%
00:30 – 58%
00:40 – 70%
00:50 – 81%
01:00 – 87%
01:10 – 91%
01:20 – 93%
01:30 – 100%
In addition, Galaxy Z Flip supports wireless charging and reverse charging function of other devices.
Read also: Samsung Galaxy A51 review – A good upgrade of the popular series
Sound
There is no 3.5 mm jack in the smartphone, as well as stereo sound. Otherwise it has a decent flagship sound, both through the main speaker and through the headphones. There are no complaints about the earpiece speaker, it works fine.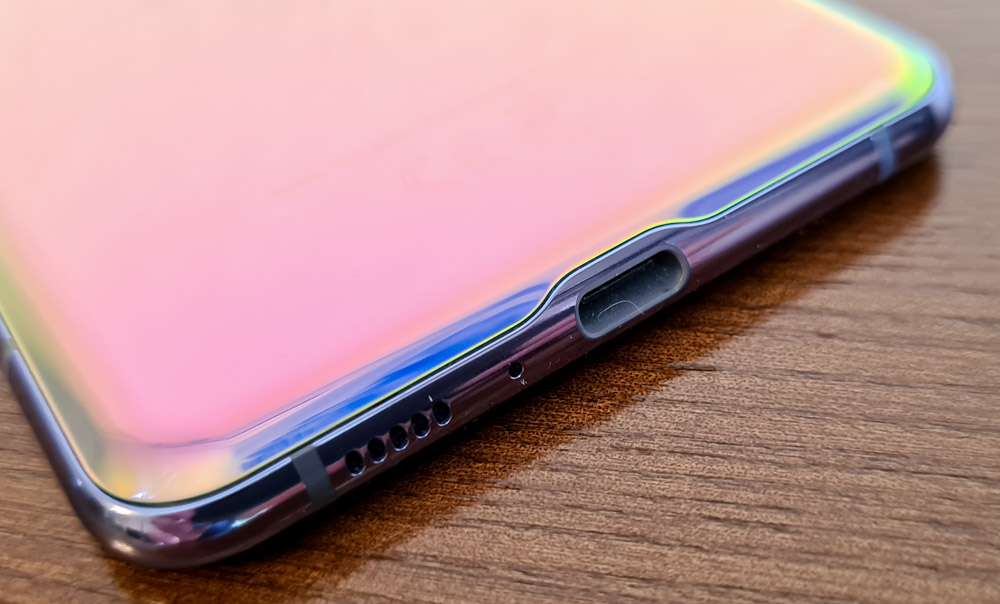 In the box you will find a very decent wired AKG headset, which connects to the smartphone via the USB-C port.
Security
The smartphone has a classic capacitive fingerprint scanner embedded in the power button on the side. There are no complaints about the scanner; it works quickly and reliably. There is the possibility of unlocking in various scenarios.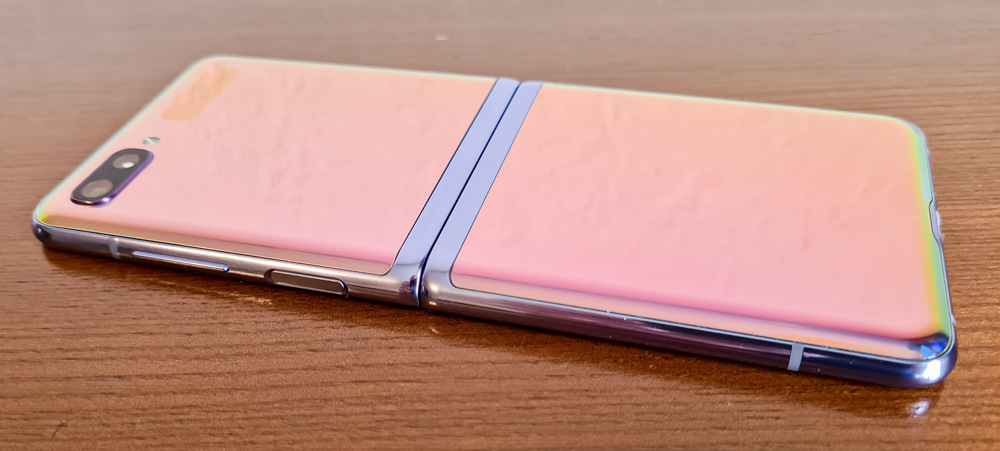 There is also a face unlocking feature with the front camera, which also works well, even in low light conditions, but not in total darkness.
Read also: Samsung Galaxy Buds+ review – The best TWS earbuds on the market?
Communications
As for communications, here we also see the full flagship set: Wi-Fi 802.11 a/b/g/n/ac, Bluetooth 5.0, geolocation with support for A-GPS, GLONASS, GALILEO, and BDS standards. There is an NFC module for contactless payments and quick connection with devices.
Firmware and software
There is nothing surprising here, what we got is Android 10 and One UI 2.1 which we discuss in every review of Samsung smartphones. The UI is convenient, rich with features and settings. One UI is one of the best shells on the market, in my opinion.
Read also: Samsung Galaxy S20 Ultra 5G review — One Step From Perfection
Verdict
Samsung Galaxy Z Flip is an expensive smartphone, and mostly it is a purely prestige solution (unlike Galaxy Fold, which had a certain business attitude). The device has a great design, excellent materials and build quality.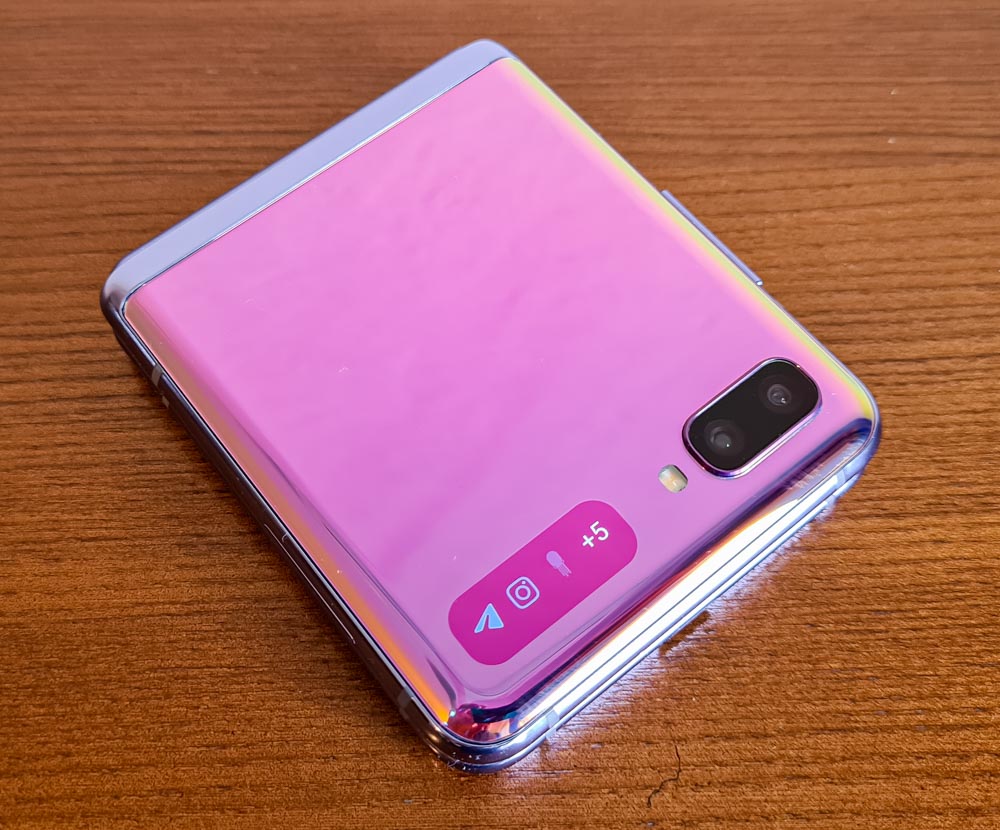 The main feature here is folding format, thanks to which the large smartphone becomes compact. How practical this solution is, and whether it brings any real advantages, is up for a debate. What I personally found convenient was the improved convenience of surfing the internet and work in social networks and instant messengers, thanks to the increased screen height.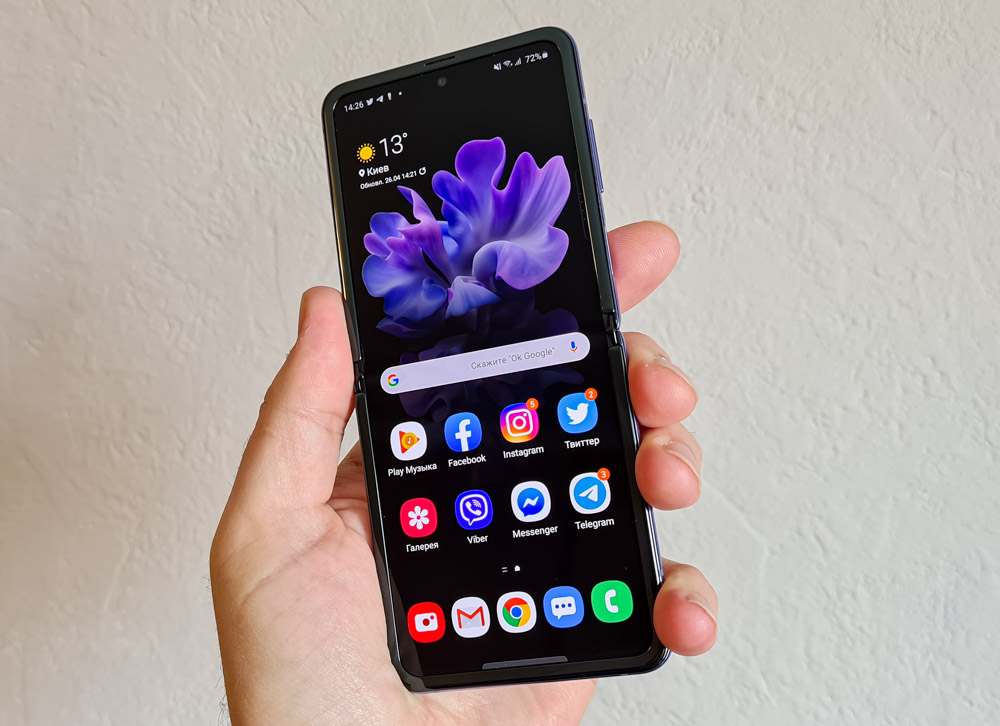 But if you miss the clamshell format and still want to get top-end performance and a camera, then you simply can't find a better option, because this smartphone has only one competitor, which is clearly worse, as well as more expensive.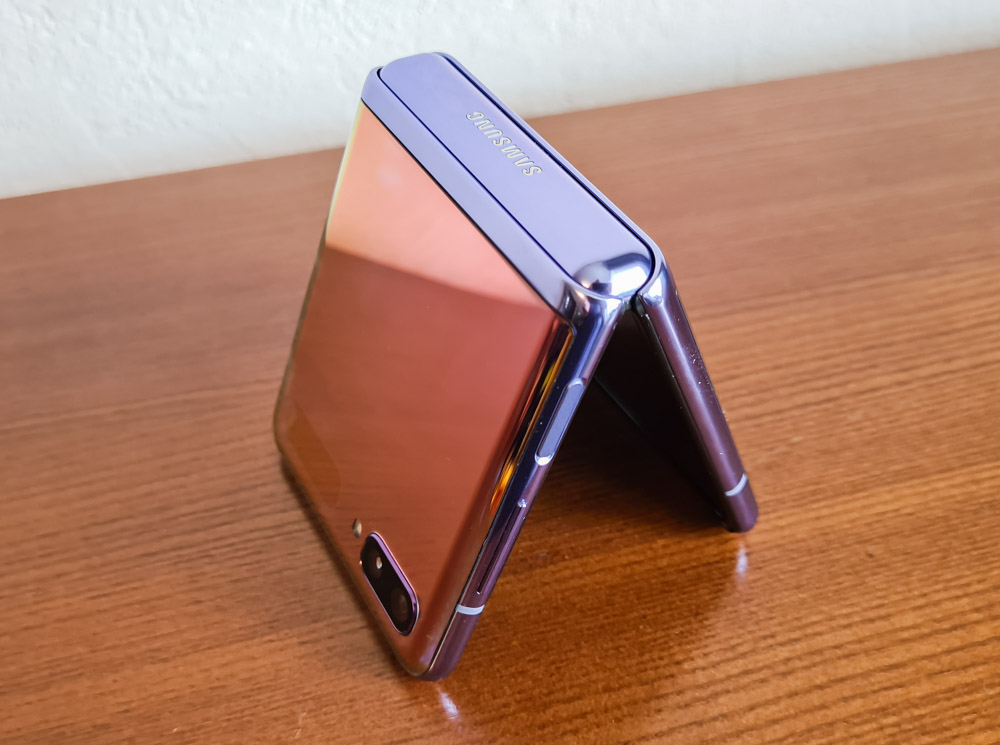 Yes, compared to current flagships, Samsung Galaxy Z Flip seems a bit simplistic in terms of hardware. For example, the camera is not as impressive as in Galaxy S20 line. The battery seems small, although in real operation it seemed more than enough to me. It is clear that the manufacturer had to make some compromises in order to release the original device before anyone else.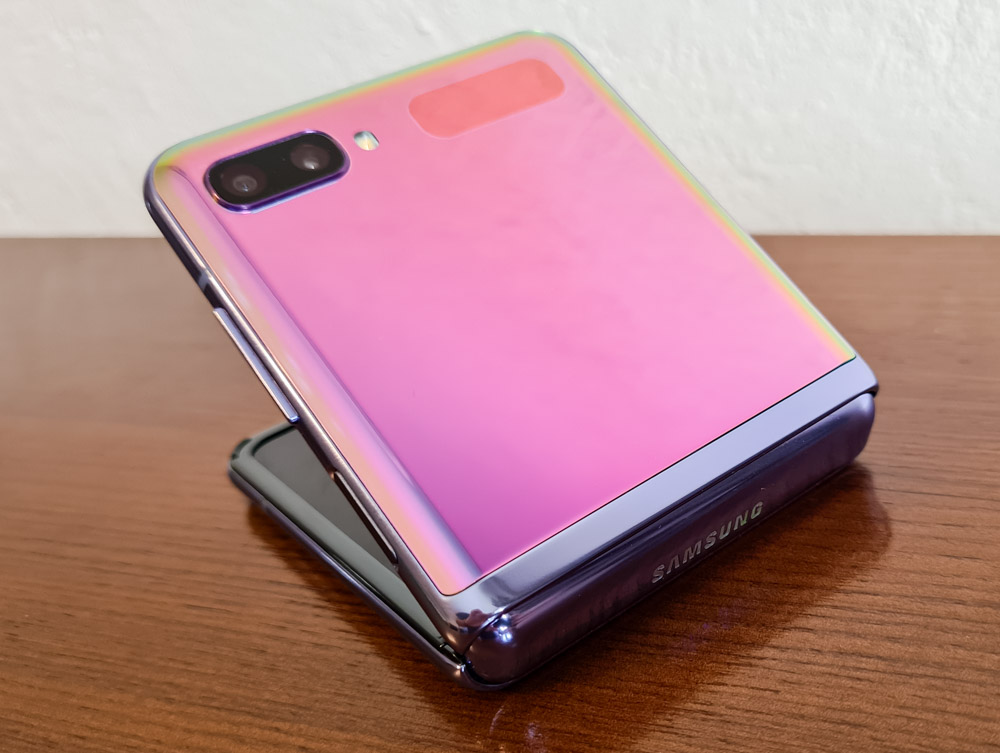 Nevertheless, I have no real reason not to recommend this smartphone to anyone who can afford it. Personally, I liked Galaxy Z Flip, but I always preferred classic form factors. This is a device aimed at certain consumers who understand why they need it. And since there are no competitors, it receives a well-deserved reward.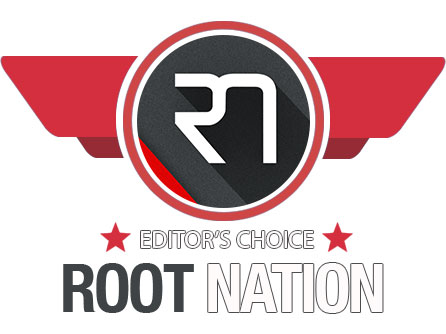 Subscribe to our accounts: