Today, Motorola branches around the world are very quiet. Their show of strength, their greatest innovation, the jewel in the crown… has just been defeated. Motorola RAZR 2019 has no chance in the fight against Samsung Galaxy Z Flip. And I have strong evidence of this.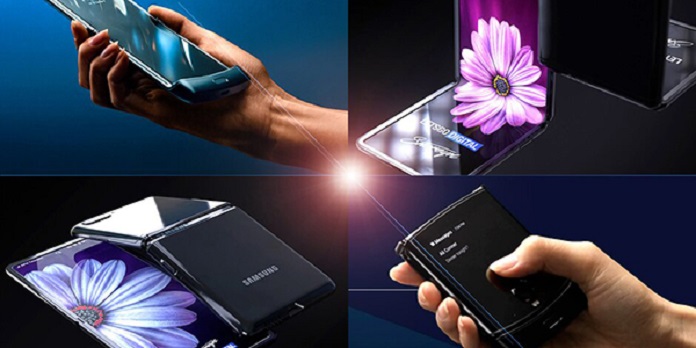 How could this happen? What's wrong? Until now, I wonder how Motorola could «screw up» the premiere of its most interesting product in recent years so much.
Let me remind you that Motorola RAZR was first introduced in the United States last November. Then it was presented again, this time in Europe, in December. In some countries the miracle folding phone went on sale on February 6, 2020.
I cannot describe how enthusiastic Motorola RAZR made its fans and some experts. But there were those who did not believe in the success of this device. I am one of such people. It amazes me how ugly Motorola did everything. From the presentation to the start of sales. There was a lot of noise, but mostly problems, excuses. And now finally Samsung has dealt a crushing blow by releasing its own variation on the idea, Galaxy Z Flip.
Is there little in common between Motorola RAZR and Galaxy Z Flip?
Someone will say that smartphones are very similar and have the same functionality, but this is not so. I apologize for the analogy, but it's a bit like comparing the Dacia Duster and Mercedes GLC. Both have four wheels, a steering wheel and are SUVs. But in fact, they have little in common, because Mercedes is in a completely different league.
The situation is similar in this case. Yes, there is a folding screen, but besides that Motorola RAZR and Samsung Galaxy Z Flip are completely different devices. The latter simply tears to pieces the famous nostalgic brand. And I will try to prove why.
Screen
Both screens fold, it's true. Only Motorola has a plastic screen which peels off and is made using POLED technology.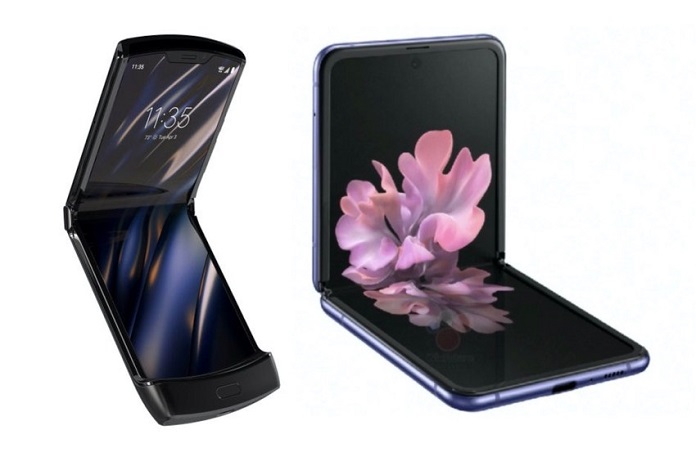 Samsung has a Dynamic AMOLED glass panel with a larger diagonal and higher resolution. The screen in Galaxy Z Flip is an order of magnitude better, both in terms of picture quality and usability.
Technical equipment
The components that are used in the Samsung Galaxy Z Flip are a completely different level to which Motorola RAZR is very far. Judge for yourself. Motorola's device runs on a mid-range Snapdragon 710 processor, supports 6 GB of RAM, 128 GB of storage and a 2510 mAh battery.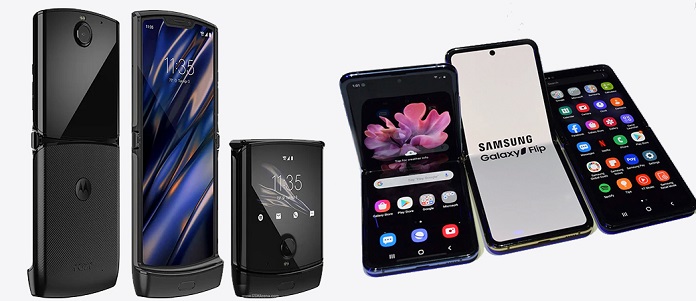 At the same time, Samsung equipped its Galaxy Z Flip with the most powerful Snapdragon 855+ at the moment, 8 GB of RAM, 256 GB of ROM and a 3300 mAh battery. The victory of iron in obtuse power is obvious, there's no point in arguing.
Cameras
Comparing the cameras is more like beating a baby. Motorola equipped its RAZR with a lone 16-megapixel camera, a similar one we could see in the two-year-old flagship OnePlus 6. A 5MP selfie camera is completely perplexing, given the price of the device.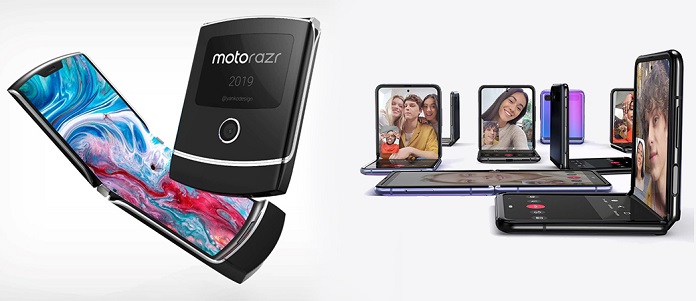 Galaxy Z Flip has two 12-megapixel cameras (with wide-angle and ultra-wide lenses) and a 10-megapixel front camera, similar to those installed in the latest flagships of the Galaxy S20 series.
Hinge
It would seem, but what is wrong here? The fact is that we can only fold or decompose the Motorola RAZR.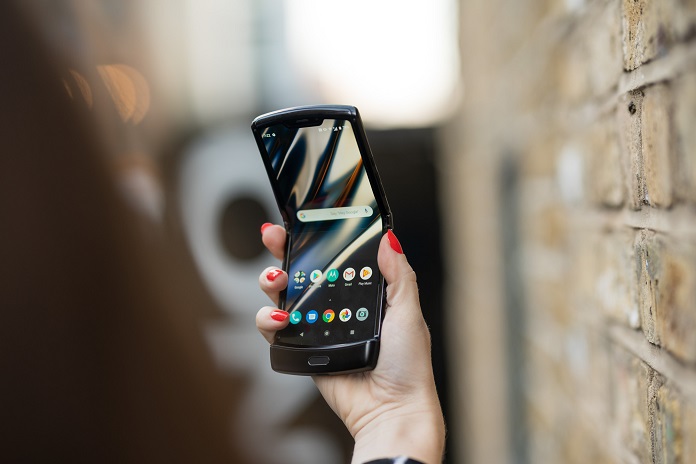 Meanwhile, in Samsung Galaxy Z Flip, the screen can be adjusted at any angle as part of a swivel operation. This allows, for example, to place the phone on a horizontal surface in order to use it as a tripod or launch two applications simultaneously on a split screen.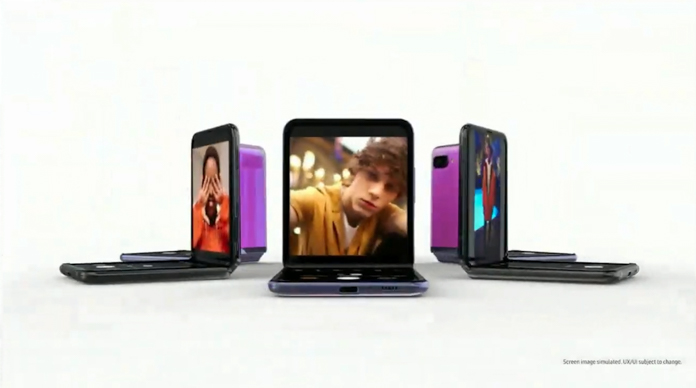 SIM card support
Motorola does not have a physical SIM tray, but only an eSIM module. This means that you can buy a virtual SIM only from operators that support this standard if you live in the USA or Europe.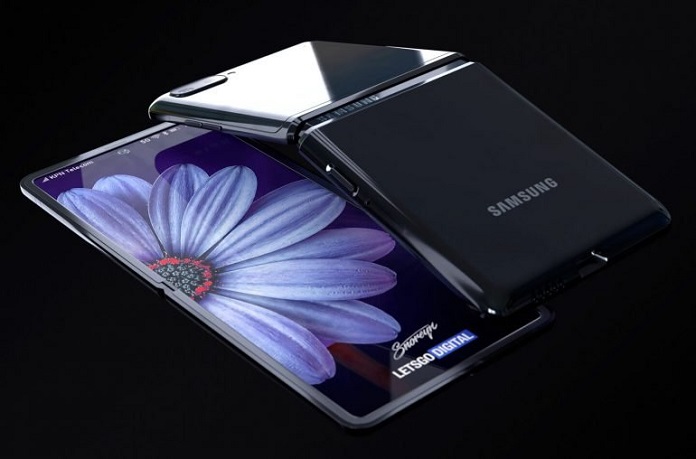 In turn, the Samsung Galaxy Z Flip also has an eSIM module, but it also has a slot for a Nano SIM card. This means that we can buy a card anywhere and immediately start using a smartphone on any mobile network.
Battery
Motorola RAZR has not only less battery capacity, but also more limited charging options, since you can only charge the device using a USB-C cable.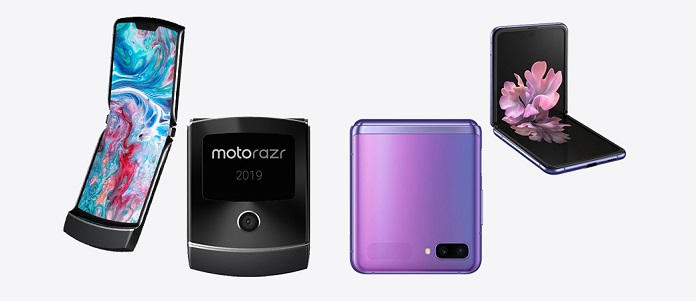 But the Samsung Galaxy Z Flip can be charged via a cable that supports fast charging, it has fast wireless charging, and thanks to the Wireless Power Share function, you can share energy with other devices, such as Galaxy Buds or smart watches.
Price
This is the weirdest advantage of the Samsung Galaxy Z Flip over the Motorola RAZR. After all, it is better in all respects, but costs a little less than a competitor. Indeed, the price of Motorola RAZR just stunned me at the time. And having learned the price of Galaxy Z Flip, I did not feel disappointment and did not hear indignation from colleagues. Nevertheless, the technology of bendable smartphones is still an expensive pleasure.
Defeat for Motorola?
The fans of the brand like the design of Motorola RAZR 2019 much more, which is not surprising, because they feel a powerful surge of nostalgia and recall the good old days of the original RAZR.
As for the software. I am sure that there will always be those users who will be closer to Motorola software than Samsung software (although here it is purely nominally that Z Flip wins again because it has Android 10). However, it's foolish to say that the Motorola RAZR is anyway better than the Samsung Galaxy Z Flip. Moreover, One UI now is a very stylish and functional shell for Android. And she also has tons of fans around the world, perhaps even more than Moto. So, I would not take fan cries to heart when considering this issue.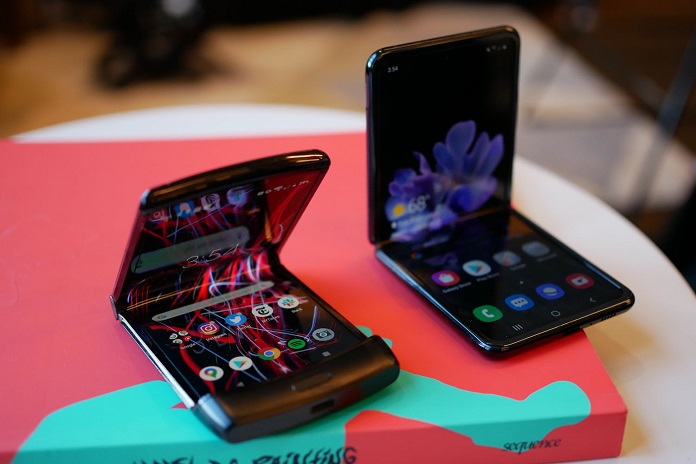 Who knows, maybe the situation will still change and the scales will begin to outweigh towards Motorola. This can happen only in one case if the manufacturer revises its pricing policy. Well, maybe the Galaxy Z Flip will have some structural problems. Nevertheless, it is worth recognizing that at the moment I do not see the slightest chance that Motorola will win this battle.
It is a pity that Motorola did not start selling its RAZR immediately after the premiere, as Samsung is doing now with the Galaxy Z Flip. Then one could say that Motorola was the first. Now, both devices are separated by such a small time gap that the Samsung Galaxy Z Flip not only overshadowed the RAZR but also pushed it to the sidelines on the road to success.
If you do not agree with the author, then please state your arguments in the comments.
And of course, our traditional poll:
If you were offered to take one of these smartphones for free right now, which one would you choose?

Loading ...
Subscribe to our accounts: