Don't you doubt it: I begged TCL to give me the TCL 10 Pro for a review. Begged, because its price is truly hard to explain. This smartphone might be cheap, but it certainly doesn't feel like it!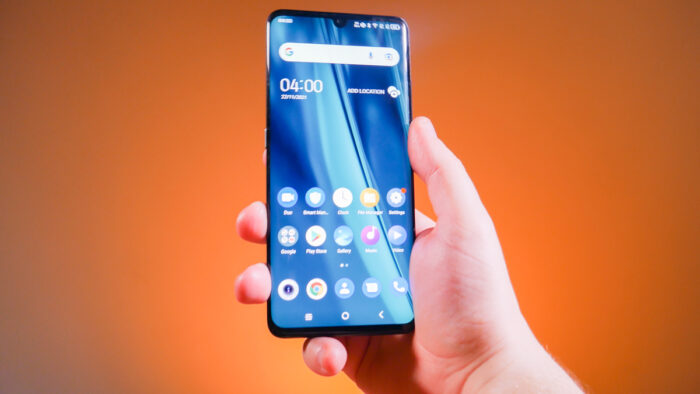 TCL 10 Pro video review
Do you want to read the text? Watch our video!
Who is who?
If you don't know them, TCL are virtuosos when it comes to televisions, and in 2018 the company was in second place among manufacturers of this kind of equipment .. in the world! And second only to Samsung.
Since then the company decided to spread out. And it has achieved great success in the field of Android smartphones. I actually found out about them thanks to a video on the LinusTechTips channel.
The phone looked, quite frankly, too good to be true. And if you still don't believe that a TV manufacturer can make top-end smartphones for an affordable price without experience, then you are generally right.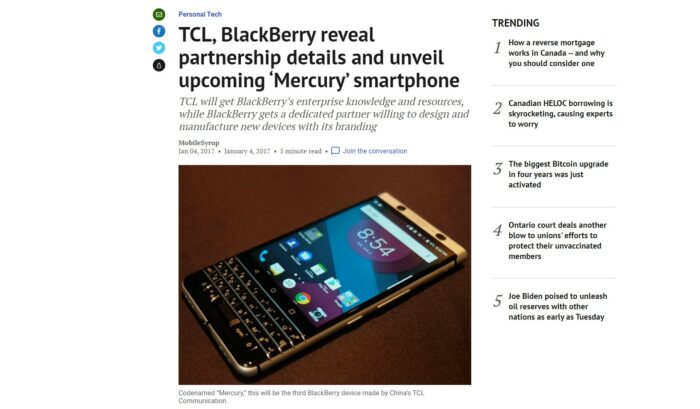 The thing is, TCL was already making smartphones in the past. For Blackberry. From 2018 to 2020. And when the cooperation stopped, TCL started releasing its own smartphones. And, as you know, they succeeded.
Positioning
A $250 phone doesn't surprise anyone anymore. My colleague Evgenia, for example, did a review of a good mid-ranger the Moto G60, and praised the price tag of $300, which dropped to $250 at least once. And what is so special about the hero of this review?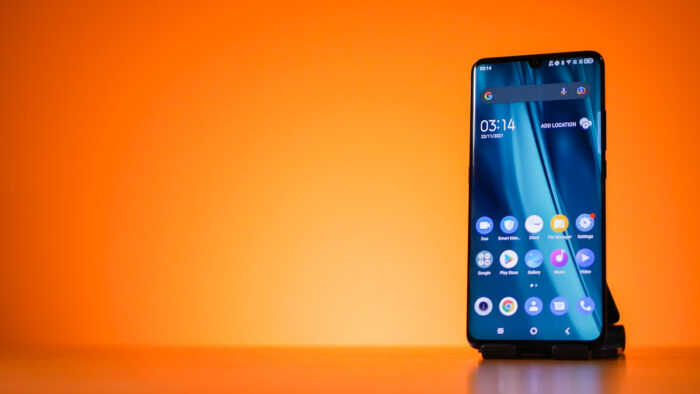 Oh, guys, you have no idea. The TCL 10 Pro is packed to the brim with features. Why? This is ordinary dumping, the technique of "so-and-so for your money" for the sake of capturing a piece of the market, like Xiaomi liked to do.
This is how TCL makes itself known on the market, so use it to your advantage while you can. Also, with all sorts of coupons, the price of a smartphone on AliExpress can be reduced to $220, or even up to $200.
What's in the box
Everything in the box is usual. The smartphone itself, as well as instructions, a SIM eject tool, a good silicone case, a USB Type-C cable and even an 18W charger.
Design
The design here is one of the main features. The TCL 10 Pro looks like futurism in glass-metal flesh. It is difficult to convey this in photos.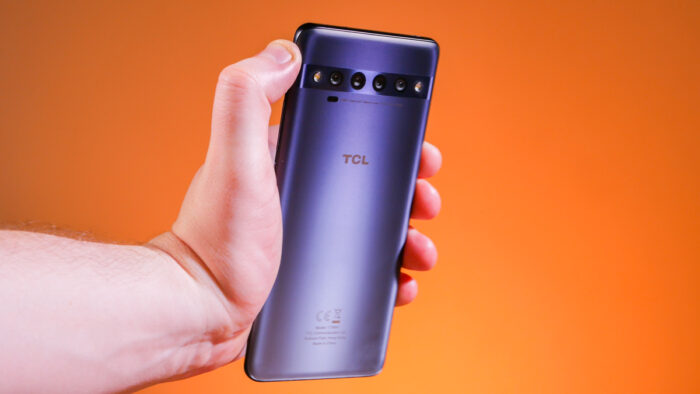 Imagine a budget smartphone on AliExpress, some kind of cheap parody of Huawei or Samsung. A smartphone with embellished photos where the screen stretches from one side to the other. But in reality, everything is much worse and we get huge bezels.
Well it's not like that at all! The TCL 10 Pro in reality is exactly the same as on the renders. No cheating! The waterfall screen on the left and right, the oleophobic coating on the glass back and front, the AMOLED screen and the front-facing camera in a teardrop-shaped notch make the smartphone look like a flagship from market leaders.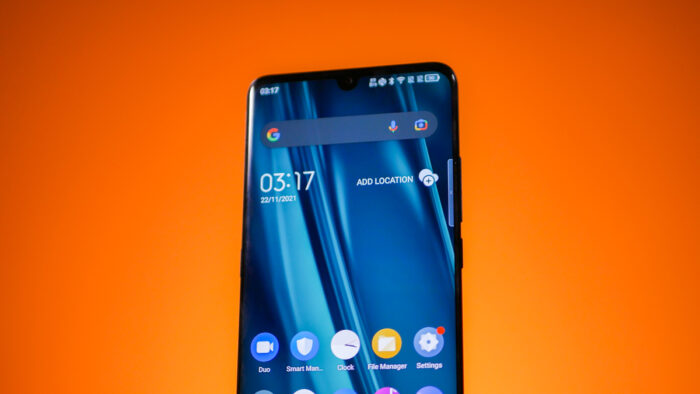 At the back, everything is no less cool – a deep gray three-dimensional texture, a horizontal block of four (!) cameras and two (!) flashes, plus the company logo and basic information at the bottom.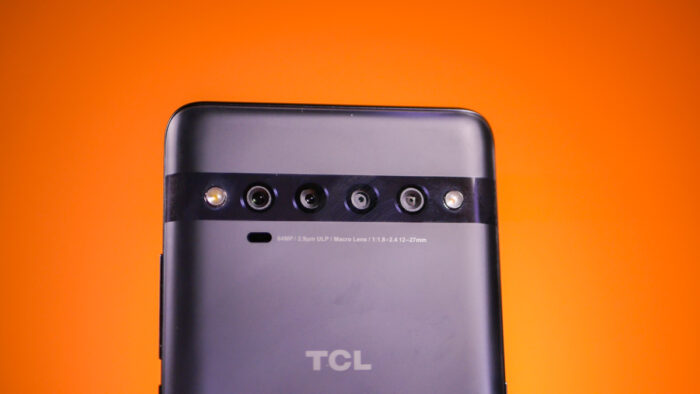 Here, taking the opportunity, I will tell you about the second available case color – Forest Mist Green, in addition to Ember Gray. The body is rounded on the sides, and in the hands it feels slippery. It's a true fingerprint magnet. Thankfully, there's a silicon case for that.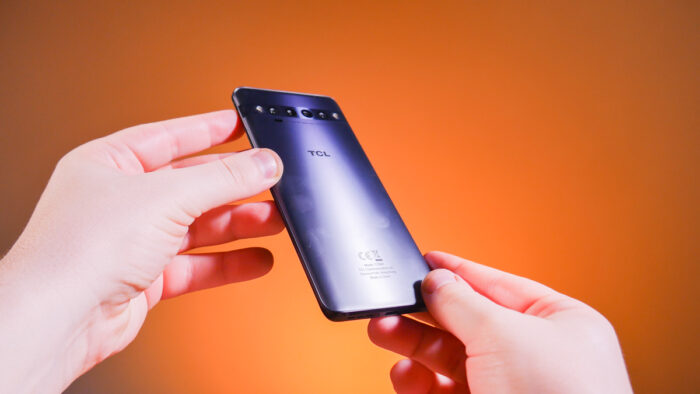 It also protects the cameras; the block with them barely protrudes because of the rings around the flashes.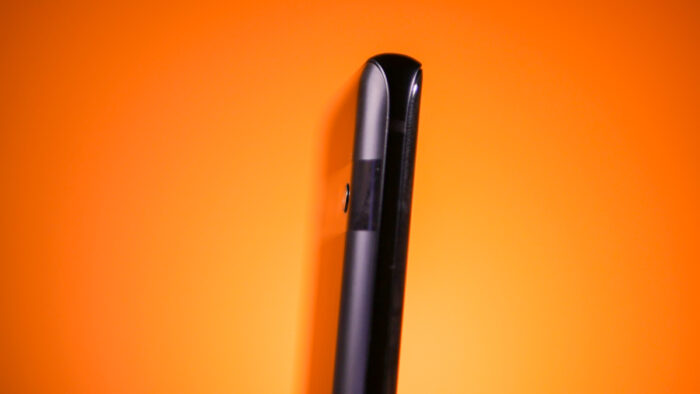 On the left is the assistant call button.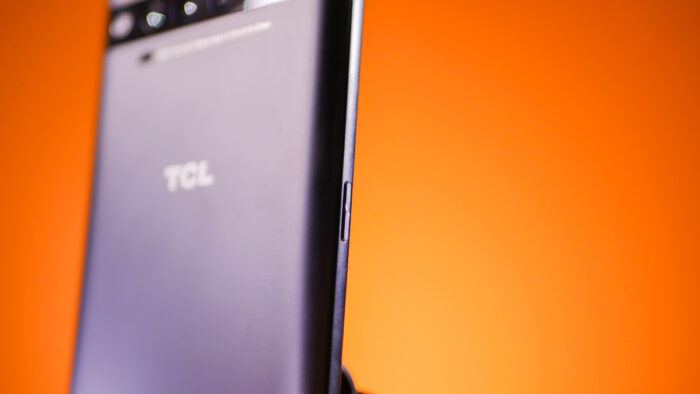 On the right are the volume and power buttons.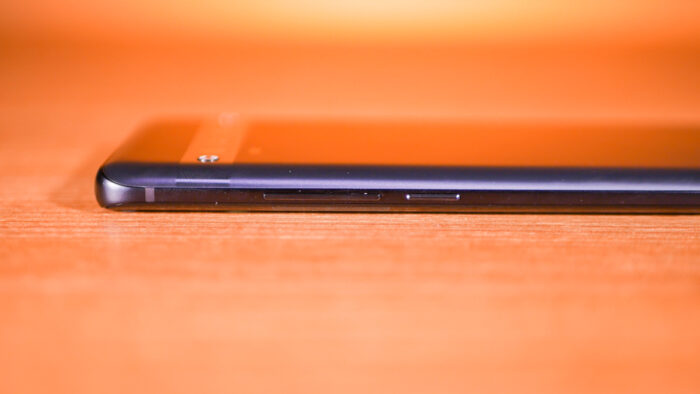 On top there is a mini jack, an IR emitter and a microphone.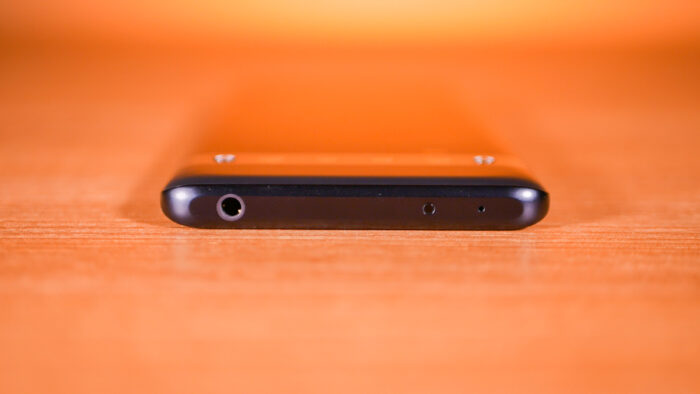 Below there is a speaker, a microphone, Type-C connector for charging, and a SIM card slot.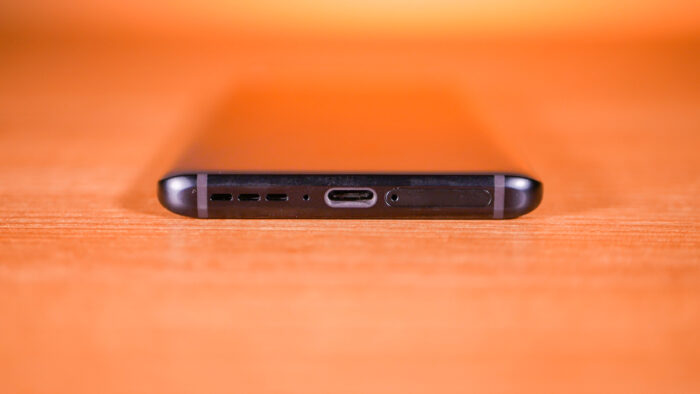 Note this about the SIM slot: do not lose a compact tool for its removal. Because the pin of this very tool is twice as long as the usual ones, including those on AliExpress.
See for yourself.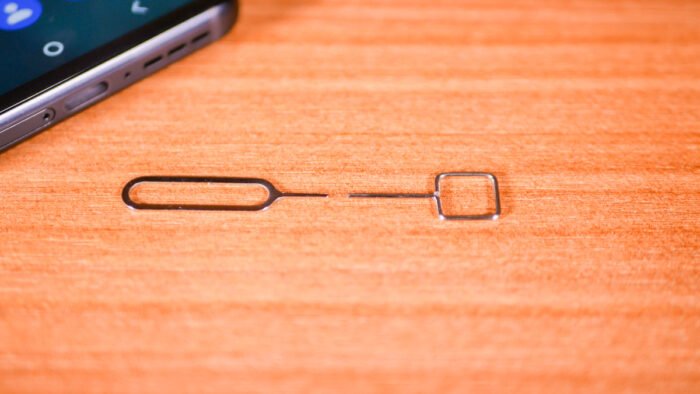 Ergonomics
The TCL 10 Pro feels unreasonably good in your hands. It is compact, since the size of the screen is "only" 6.47 inches, and the bezels are minimal. The overall dimensions of the smartphone are 158.4×50.8×8.6 mm. Almost the TCL SE, if you know what I mean.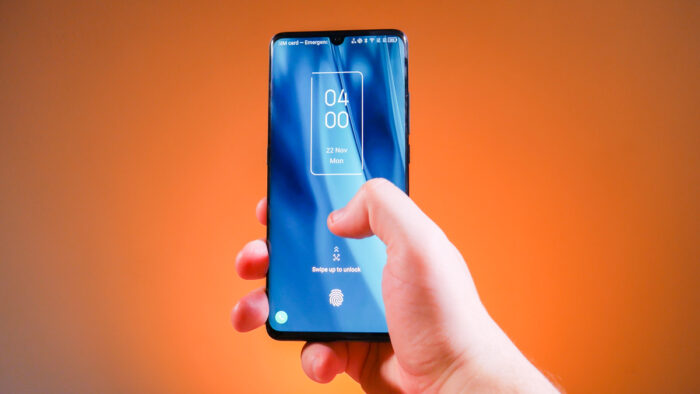 The weight is 177 g, and the smartphone feels much denser than you think. The case materials cool the hand, giving a feeling of a premium device, and the buttons are firm.
Screen
I remember Samsung a couple of years earlier was very proud of its budget smartphones with AMOLED screens. Now we have a $200 AMOLED competitor.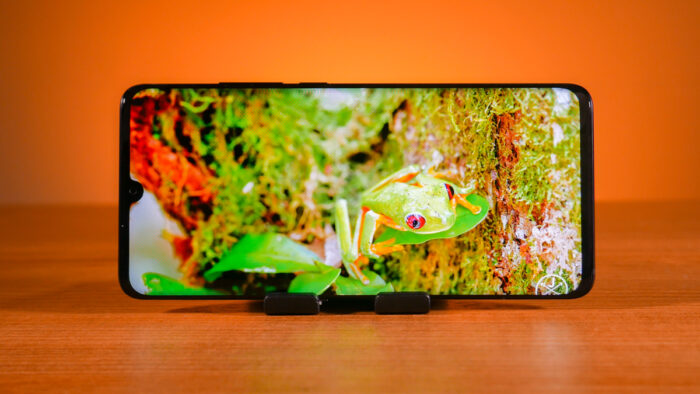 The screen, as already mentioned, is top-end. Full HD+, 2340×1080 pixels, HDR 10 support, Gorilla Glass 5 protection and almost 400 PI. The maximum brightness is almost 1,000 nits, the average is about 600, the contrast is 2000000 to 1. The body to display ratio is 93%.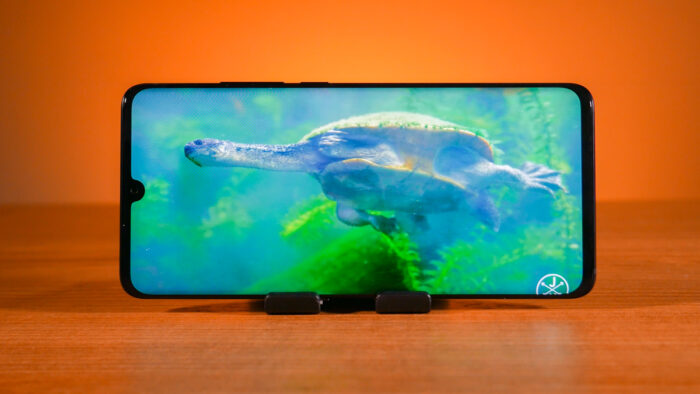 If it's not enough for you, then TCL in addition has a picture improving feature called NEXTVISION. This is a combined hodgepodge of proprietary technologies that improves SDR content, making pictures better by embellishing contrast, clarity and shadows.
You can change the display temperature point-by-point and even set the reading mode, if necessary. If, by the way, you want to see the result of NXTVISION's work, there is a switch in the native gallery, and the difference is immediately visible. Also, there's Always On Display and a in-screen fingerprint scanner. For 200 bucks!
Performance
The TCL 10 Pro has a Qualcomm Snapdragon 675 system-on-a-chip. This is an eight-core processor from 2018, with two Kryo 460 Gold cores at 2 GHz and a brisk six Kryo 460 Silver cores with a frequency of 300 MHz lower. Plus the Adreno 615 video core.
The processor is not new, 11-nanometer, in AnTuTu it scores 232,000 points, in GeekBench 5 it scores 400 for a single thread and about 1400 for multithreaded performance. So that you understand, the Samsung Galaxy M40 and the Redmi Note 7 Pro have the same SoC.
Which, however, does not mean that there is not enough performance. All the games that I launched on my smartphone – Genshin Impact, Asphalt 9 and PUBG Mobile – ran fine.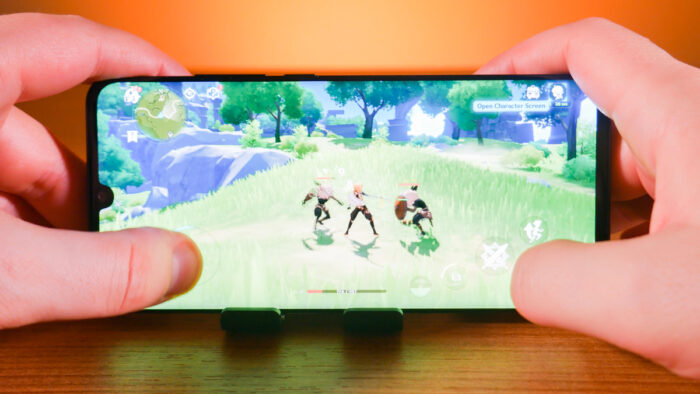 Of course, at low graphics settings, and sometimes with slowing down, but this mainly concerned Genshin Impact. The rest of the games ran better.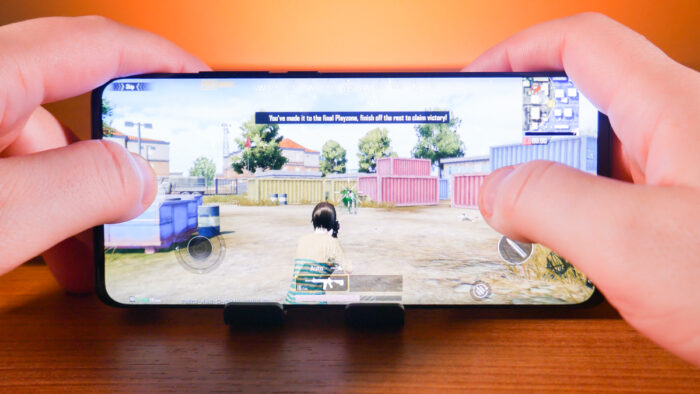 Overheating was also not a problem, fortunately this is not your flagship processor. In any case, there was no trottling in the games. But the TCL 10 Pro does not always cope well with cooling. While downloading apps for the test – in my case, additional files for Genshin Impact – the CPU heated up to a not quite comfortable 65 degrees Celsius.
Which is kind of scary for a smartphone without a case. And yes, the glass case conducts heat very well.
The smartphone has 6 GB of LPDDR4X RAM, 128 or 256 GB of storage, UFS 2.1 format. You can't beat records with these numbers, but for a smartphone for $200, the set is very good. Especially considering that some modern smartphones for $300 have 4 GB of RAM and are buggy because of this. However, TCL 10 Pro does not support RAM expansion via permanent memory.
Cameras
The camera set is impressive. The main module is 64-megapixel, with laser autofocus, a pixel size of 0.8 µm, an aperture of F/1.79, a 1/1.7″ Samsung ISOCELL Bright GW1 sensor and an optical viewing angle of 79 degrees.
The quality is not bad, as for a budget device. Very good, even. The detail of the photo is pleasant, the noise is minimal, even in low light conditions. There is no stabilization, but autofocus with a laser solves it.
Photos in full resolution (main module)
The second module is an ultra-wide (16 MP and 123 degrees), F/2.4, a 1/3″ Samsung ISOCELL Slim 3P9 sensor with a pixel size of 1 µm. It is very good, in particular, because it is equipped with autofocus, and the color temperature does not differ much from the main module.
Plus, there's less noise right here than I expected. But it is there, don't even doubt it.
Examples of photos in full resolution (ultra-wide module)
The third module is macro, and it's not lousy 2 Mp, but for as many as 5! With an aperture of F/2.2, with a 1/5″ GalaxyCore GC5035 sensor and a pixel size of 1.12 µm. The viewing angle is 83 degrees.
Let me tell, it's something else. Of course, this is not a full-fledged microscope a la Oppo Find X3, but the photo is still ten times better than any 2-megapixel macro camera that I have ever tried. This module does not rely solely on autofocus, and manual focus also works.
Examples of photos in high resolution (macro module)
The fourth module is the strangest, 2 MP for low-light shots.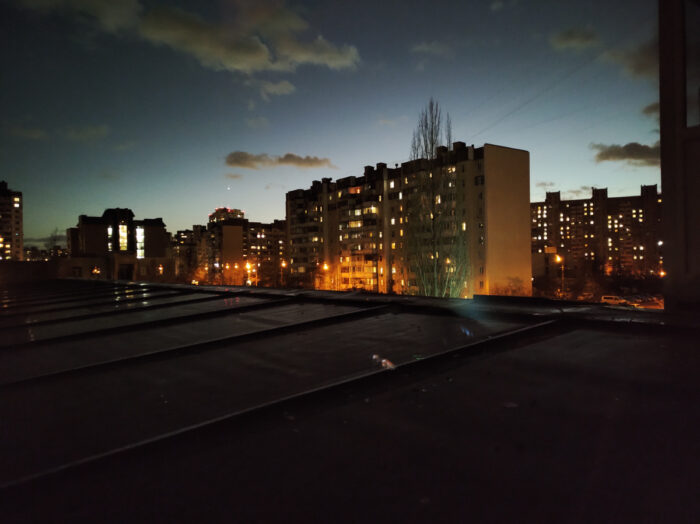 The pixel size is 2.9 µm, the sensor of the OmniVision OV02K10 model with a size of 1/2.8 inches, a viewing angle of 77 degrees. Does it help? I am not sure, but night photos are pleasant.
The front-facing camera is 25 MP, with an aperture of F/2.0, an OV24B sensor, a sensor size of 1/2.8 inches and a pixel size of 0.9 µm.
The viewing angle is 79 degrees, which is a bit strange, because ultra-wide lenses are more usual. The front-facing camera has no autofocus, but its quality is not bad.
Examples of photos in high resolution (front-facing camera)
The video is shot in 4K 30 FPS, with excellent digital stabilization, but without optical. Super slow motion 120/240/960 FPS and a special super-lighting mode are also supported. Which makes more noise, but shoots much more clearly in weak light.
Examples of videos in high resolution
Shell
The smartphone uses TCL UI version 3.0.8AHQ based on Android 11. And either the AMOLED screen impressed me, or the pure Android refreshed my taste buds after the Moto G60, but I really liked the shell.
The shell is nimble, pleasantly animated, with a bunch of features from colleagues in the market. There is double tapping to wake up, hardware acceleration for games,  sorting of installed apps by type, name, installation time and more.
It was unusual to see the rotation icon in the gallery, which does not respond to the general settings of the smartphone auto-rotation. Need to view a landscape photo in a horizontal position? No problem. Just ap the icon and rotate the screen instantly.
There are other brand features like the NXTVISION. Yes, TCL UI is not a record holder in aesthetics or ergonomics – the settings icon in the notification curtain, for example, is still too high, and requires you to reach for it with your finger. Also, I have not found a way to change the purpose of the Assistant call button to something useful.
But there is a menu coming out from the side, cloning applications, simple gestures, several smartphone control modes. You can even program the power button to do a certain action with a long press!
Communications
Due to the fact that the SoC is quite old, we have to be content with basic Wi-Fi 5 and Bluetooth 5.0 with aptX HD support. But there is NFC, an infrared port, GPS, A-GPS, GLONASS and GALILEO.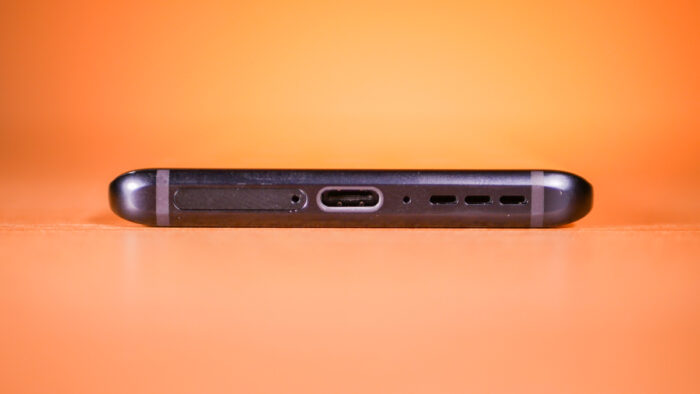 USB 2.0 supports OTG. There's also a mini-jack, and the port for the SIM card is hybrid, and storage can be expanded. There is no 5G support.
Biometrics
The fingerprint scanner is the in-screen type. The fingerprint is recognized in less than a second, which is decent. Face recognition is also available, and it is also fast.
Battery life
The battery of the TCL 10 Pro is lithium polymer, 4,500 mAh. The PCMark Battery Test Work 3.0 shows almost 8 hours at maximum screen brightness and with Wi-Fi enabled, which is almost the level of the Moto G60. Which has 25% more battery capacity and an IPS screen.
But charging is only 18 watts. 40% takes half an hour, 60% needs 50 minutes, and it takes almost an hour and a half to fully charge. Which is not very fast, but not particularly slow either.
Verdict
The phone is very, VERY good at misleading you about its price. This design, a set of cameras and partially the hardware, for $200 the device almost feels like the LG V50, only with new Android.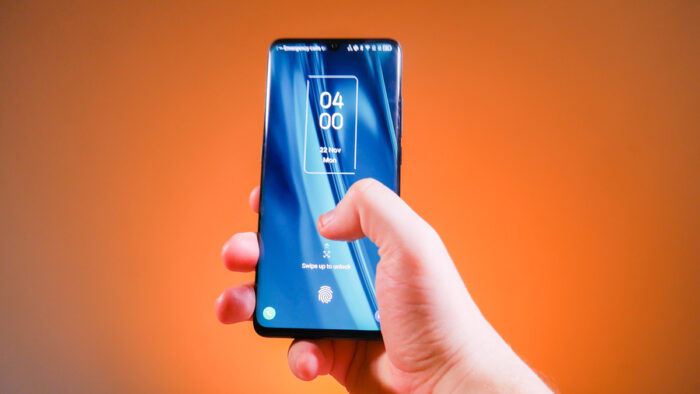 The beautiful body, stunning cameras, a top-end display, an in-screen scanner, adequate battery life and performance – all this more than compensates for an old SoC and some overheating. The TCL 10 Pro for $200 feels almost like a flagship smartphone. Very modern and aesthetically stunning. I recommend it!
Цены в магазинах
AliExpress – to buy the smartphone use:
💲 Promotion price (without code): $214.99
🔥 Promotion duration: 11.25 0:00 PST -11.29 23:59 PST
⚡️ Limited Code: BFCM23 for discount $23