TP-Link continues releasing budget phones under the Neffos name. Recently they've shown us another of their ultra-budget phones – TP-Link Neffos C7 Lite. Today we'll see what separates it from its brothers.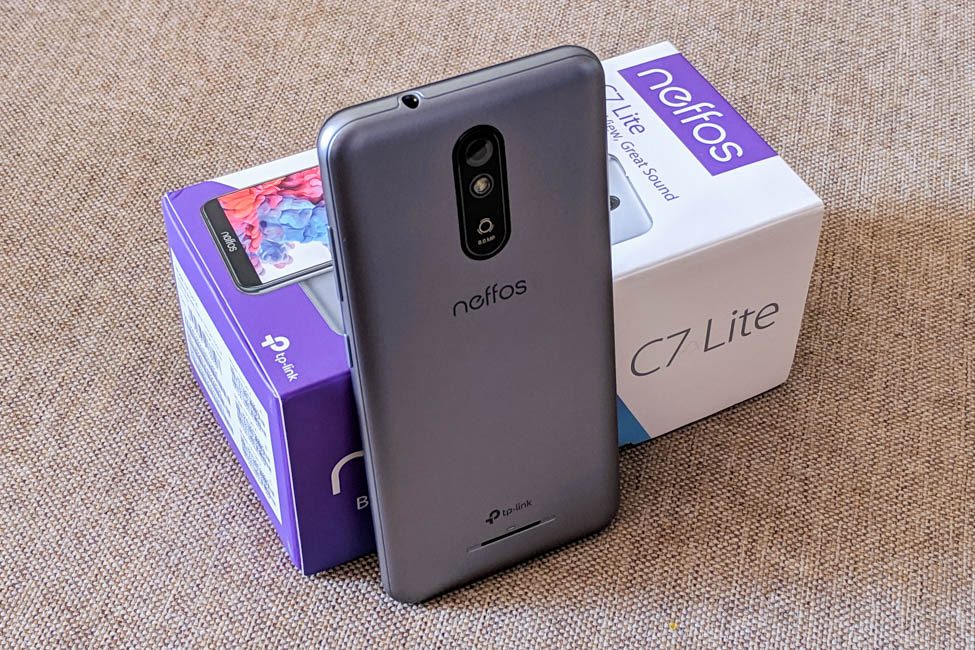 TP-Link Neffos C7 Lite technical specifications and price
Display: 5.45″, TN, 960 × 480 pixels
Chipset: MediaTek MT6739WA, 4 cores Cortex-A53 with a frequency of 1.3 GHz
Graphics accelerator: PowerVR Rogue GE8100 (IMG8XE1PPC)
RAM: 1 GB
Storage: 16 GB
MicroSD memory card support: up to 128 GB
Wireless networks: Wi-Fi 802.11 b/g/n, Bluetooth 4.2, GPS (A-GPS, GLONASS)
Main camera: 8 MP, f/2.0, PDAF
Front camera: 5 megapixel, f/2.8, flash
Battery: 2200 mAh, removable
OS: Android 8.1 Go Edition
Dimensions: 150.7 × 72.5 × 10.2 mm
Weight: 164 g
Positioning and price
TP-Link Neffos C7 Lite costs about $74. It boasts warranty for two years, like any other product from this company. It shares the price tag with Neffos Y5s and costs about as much as C5 Plus, so comparisons are inevitable.
What's in the box
Here, nothing special. In the box are: a smartphone and a battery, a standard power adapter (5V/1A) and a USB/microUSB cable. In addition, there is a set of supporting documentation and a nice bonus in the form of a protective film for the screen.
Design, materials and build quality
Due to the fact that the smartphone belongs to the ultra-budget category, it doesn't have either a cool design or expensive materials. But TP-Link did everything they could. TP-Link Neffos C7 Lite does not look like a dinosaur from 2016 due to the fact that it has an elongated screen.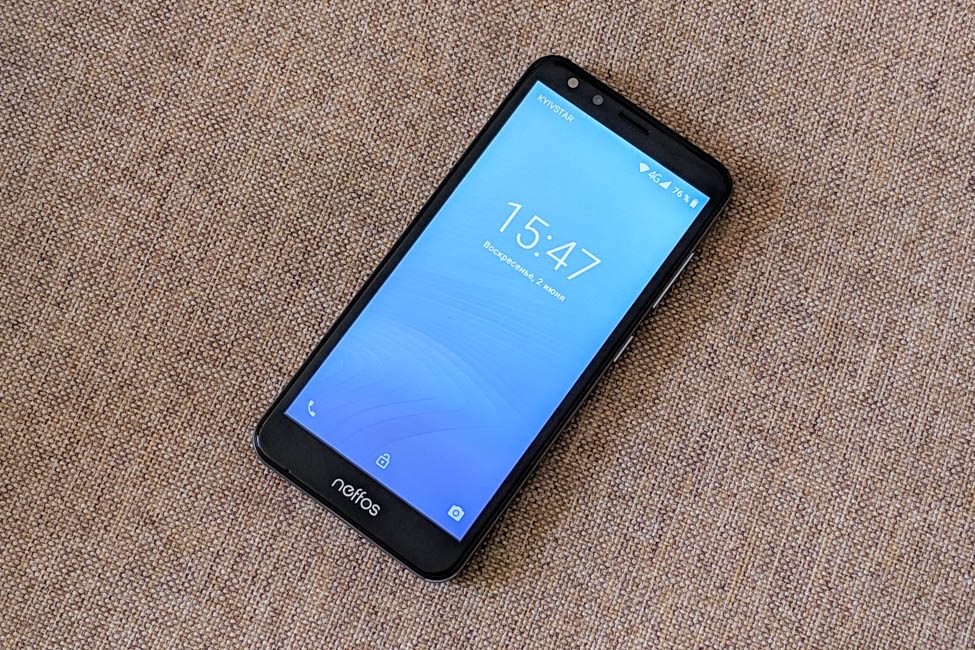 But the device still does not follow current trends, because the bezels around its screen are wide enough, especially at the bottom. Please note that on the box and in the promotional materials they look thin, but in reality they are much bigger. I cannot call the front panel very attractive also because there is a manufacturer's logo on the front.
But perhaps I am spoiled, and for cheaper smartphone this can be considered the norm. In addition, I can note the use of a 2.5D effect for glass in front.
Looking at the rear panel all the attention goes to the camera unit. It is quite large and it may mistakenly seem that there are a couple of camera eyes there. But no. Plus I was pleased that it's not in the upper left corner – well, at least in this segment you can find this arrangement. The smartphone is available in just one color – corporate gray.
According to the materials, I think you already understand that plastic is all there is. It scratches naturally, but it doesn't get dirty. The back cover is very good, sturdy.
There is not a single hint of an oleophobic coating, but we remember that there is a protective film in the box. You know what to do with it.
Elements' configuration
Above the screen are a flash, front camera, an earpiece speaker, proximity sensor and LED notification indicator. Light sensor, alas, is absent, which is a little sad. Under the display there is a Neffos logo and a microphone.
On the right side of the smartphone is a large power button and volume button. On the left there's nothing.
On the bottom right there is a microUSB port and a notch for the nail, to make it easier to remove the cover. Above, approximately in the same place, is a 3.5 mm jack.
Behind we see the massive unit with a camera, a flash, and an inscription with the number of megapixels. Below it is the Neffos logo, at the very bottom is another TP-Link and a notch for a multimedia speaker. In the same place there is a small shallow ledge, so that it won't be muffled.
By removing the cover you can find a slot for microSIM, a second SIM card of the nano format and a place for microSD. There's a removable battery, of course.
Ergonomics
TP-Link Neffos C7 Lite is far from the smallest smartphone – 5.45″. The size of the bezels around the screen influenced by this in some measure. Therefore, the smartphone is a little tall – 150.7 mm, its width is 72.5 mm. A mass of about 164 grams. But the width is a bit uncomfortable – 10.2 mm.
This is too much by modern standards and somewhat beyond the acceptable limits. Moreover, there are no obvious reasons for this. I know what you think: if the smartphone is thicker than 9 mm, then it probably has a large battery. Well…
TP-Link Neffos C7 Lite display
The display diagonal is 5.45″, the matrix technology is TN, the resolution is 960 × 480 pixels and the density is 197 ppi. Even on the basis of characteristics one can already estimate that all of this is mediocre.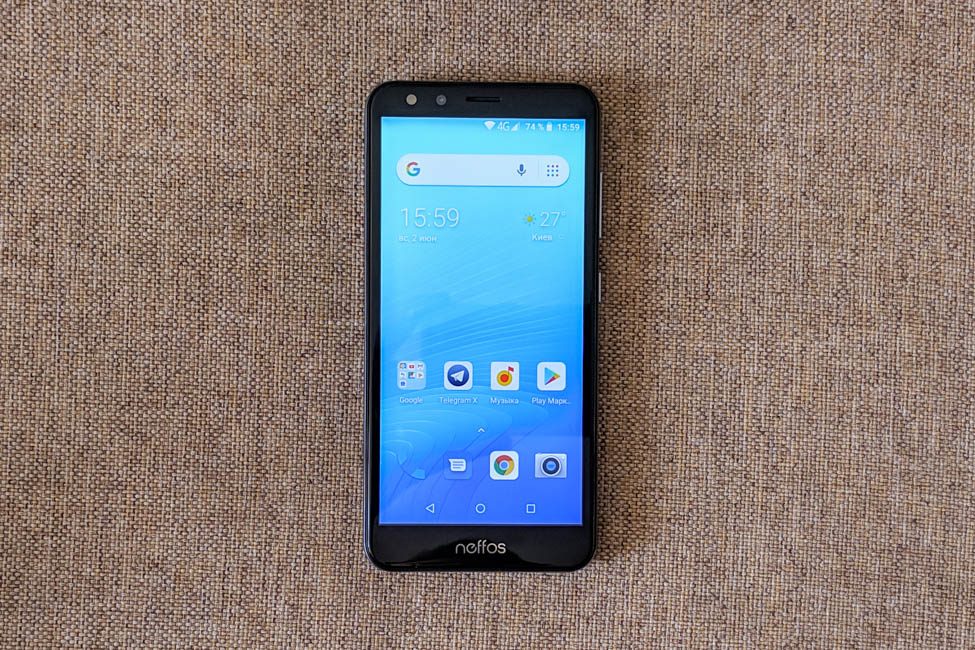 And that's about right. The main problem of the display is not even in the resolution and therefore a small number of pixels per inch, but in the matrix itself. This is an old technology that can be replaced by something else. The basic parameters here are more or less tolerable for the class: muted colors and normal brightness and contrast, slightly below average.
But with viewing angles the situation is very bad. The image is distorted under minimal deviations, up to a deep inversion of the image. If you go with IPS you need to be ready for this. There are no standard remedies for these problems.
In general, in search of a quality screen for the money you need to look at Neffos Y5s, which I mentioned above. If the old 16:9 format does not bother you, because in all other aspects there is a serious gap – after all, there's an IPS matrix.
TP-Link Neffos C7 Performance
And again, no surprises – the older, weaker MediaTek MT6739WA is used as a chipset. It consists of 4 core Cortex-A53 with a maximum clock frequency of up to 1.3 GHz. Paired with PowerVR Rogue GE8100 (IMG8XE1PPC) graphics accelerator. The smartphone could not be tested in most benchmarks: they either freeze or refuse to download from the app store.
Regarding the amount of memory, there are extremely small amounts – 1 gigabyte of RAM and 16 gigs of permanent memory. As for the first … let's say thanks to Android Go. This is not a single-task smartphone, which, as soon as possible, will reload open programs when switching between them. But don't expect comfortable multitasking. However, an undemanding user will be satisfied, that's for sure.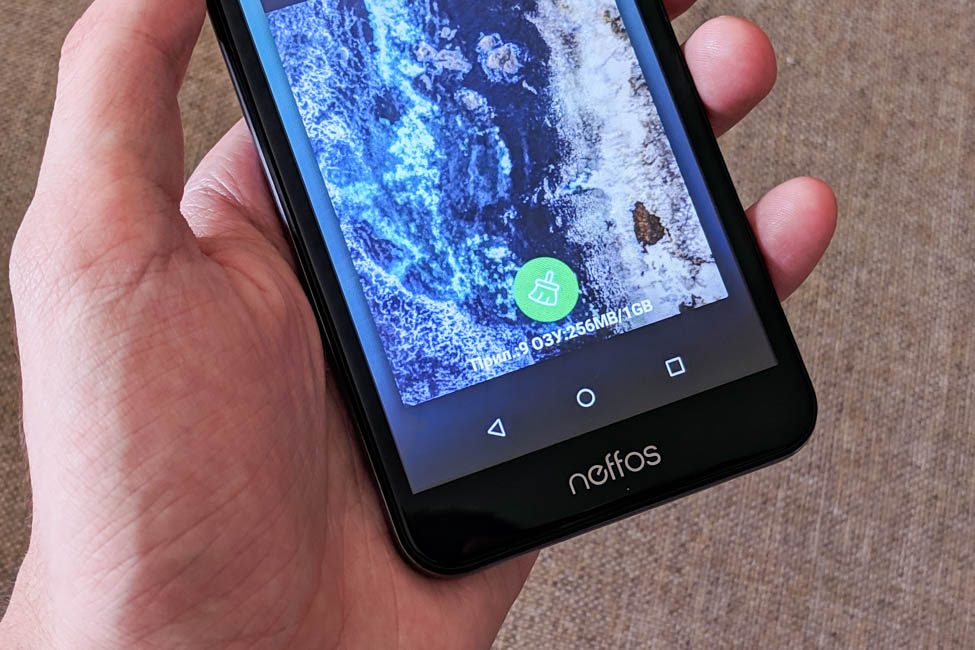 Of the 16 GB of storage the user has 11.89 GB. It can be expanded by installing a microSD memory card up to 128 GB.
The speed of work, again thanks to the software, is okay. Yes, applications open slowly, sometimes the device can think for a few moments – this is a reality for a smartphone of this level. Nevertheless, I can say that the device works out pretty well in general terms.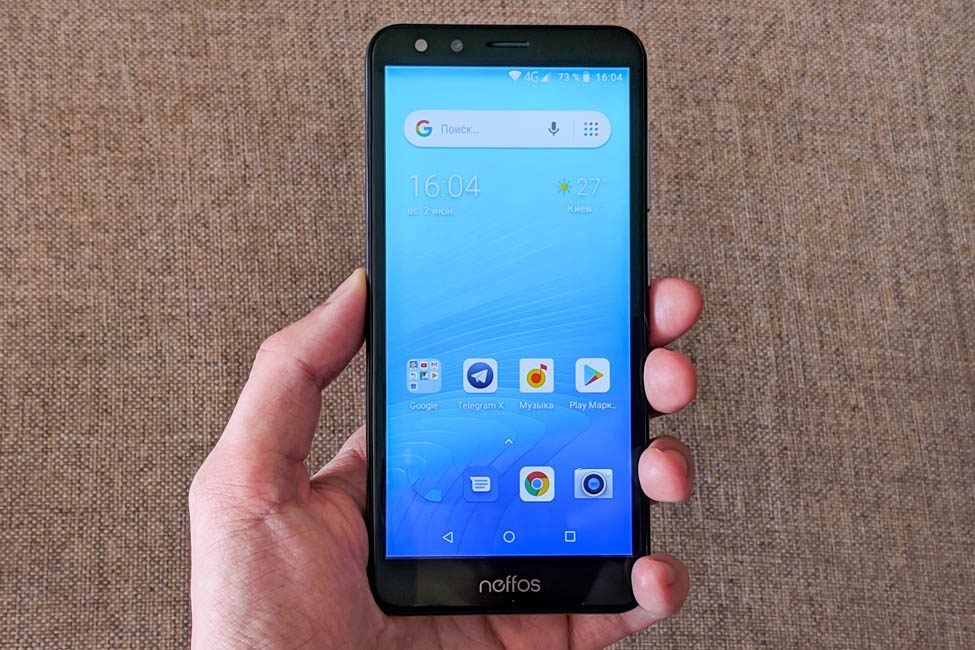 Especially if you remember its target audience. The phone is for people who do not play games on a smartphone and do not expect lightning-fast responsiveness of the interface. In short, everything is relatively good with the system, but don't expect to play the heavier games.
TP-Link Neffos C7 Lite cameras
The main camera consists of a single module with a resolution of 8 megapixels, f/2.0 aperture and PDAF focusing.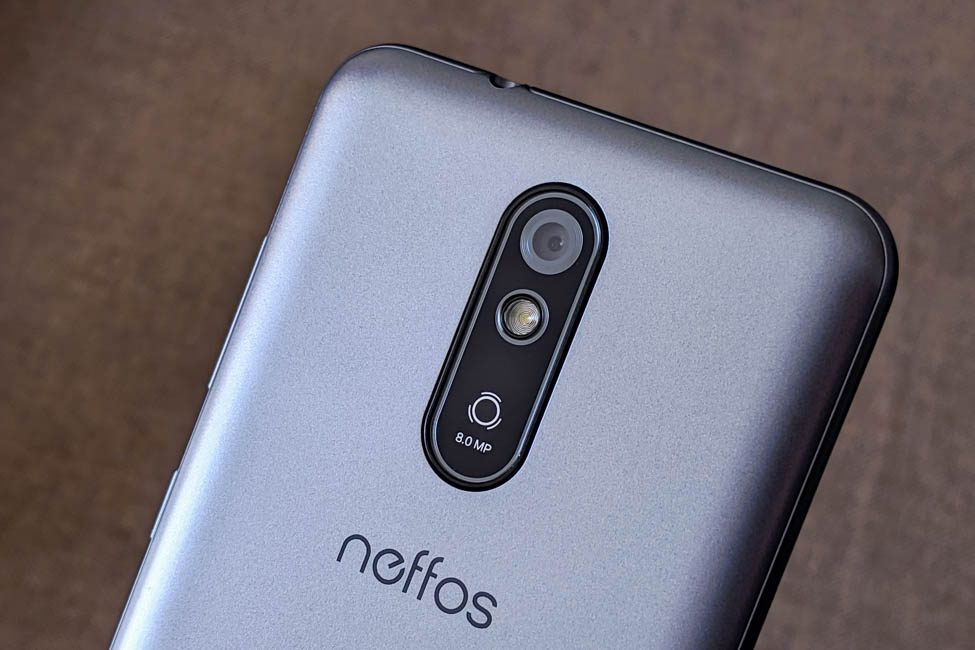 The camera, traditionally for this segment, is far from perfect. But if there is a lot of light around, you can try to get an acceptable result. But don't expect much. The thing is that there is a problem in the form of digital noise in a very large amount, even in seemingly ideal conditions. So yeah, the camera is mediocre at best.
PHOTO EXAMPLES IN FULL RESOLUTION
Video capabilities are also not the best. The device can shot video in Full HD and even with electronic stabilization, but the result can hardly be called satisfactory.
The selfie camera is 5 megapixels, but with a very closed diaphragm – f/2.8. It has a flash, but the photos are weak in every sense. Also a camera application is from some ancient era. But at least it works.
Battery life
In TP-Link Neffos C7 Lite has a smaller battery, 2200 mAh, and even weak hardware and low resolution screens do not save the situation. If we talk on average, the device with more or less intensive use will be able to hold out for the day. With 3.5-4 hours of active display. In PCMark Work 2.0 at maximum display brightness, it lasted 4 hours and 3 minutes.
Sound and communication
The earpiece speaker is quite loud, and will be enough in almost any situation. The second multimedia speaker is not good for listening to music or watching a video, because its range is too narrow. Reserve volume is enough to hear an incoming call or SMS-message on the street. For the sound in the headphones, the smartphone can be commended – good quality and normal volume margin.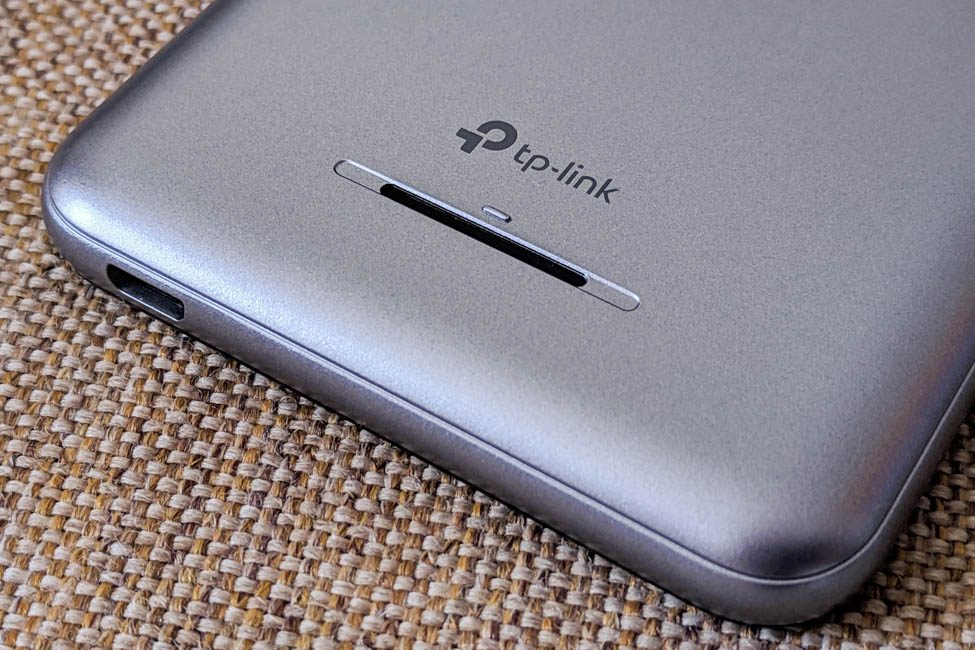 The wireless modules are minimum. Normal Wi-Fi 802.11 b/g/n, older Bluetooth 4.2 and GPS (A-GPS, GLONASS). In principle, I can only note that everything is stable and works. In short – everything is typical.
Firmware and software
The smartphone runs on Android 8.1 Oreo Go Edition. This lightweight version of the operating system was designed specifically for inefficient smartphones. The system is clean almost completely without the needless junk from the developers. There is a desktop with the ability to change themes, although more likely just application icons and wallpapers. Its main difference from the "adult" 8.1 Oreo is that the main package of Google applications is lightweight, has Go prefix and takes up less space. There are no other distinctive features.
Verdict
This smartphone should've been released instead of TP-Link Neffos C5 Plus. And the reason? 4G. C Plus only supports the older platform, which did it disservice.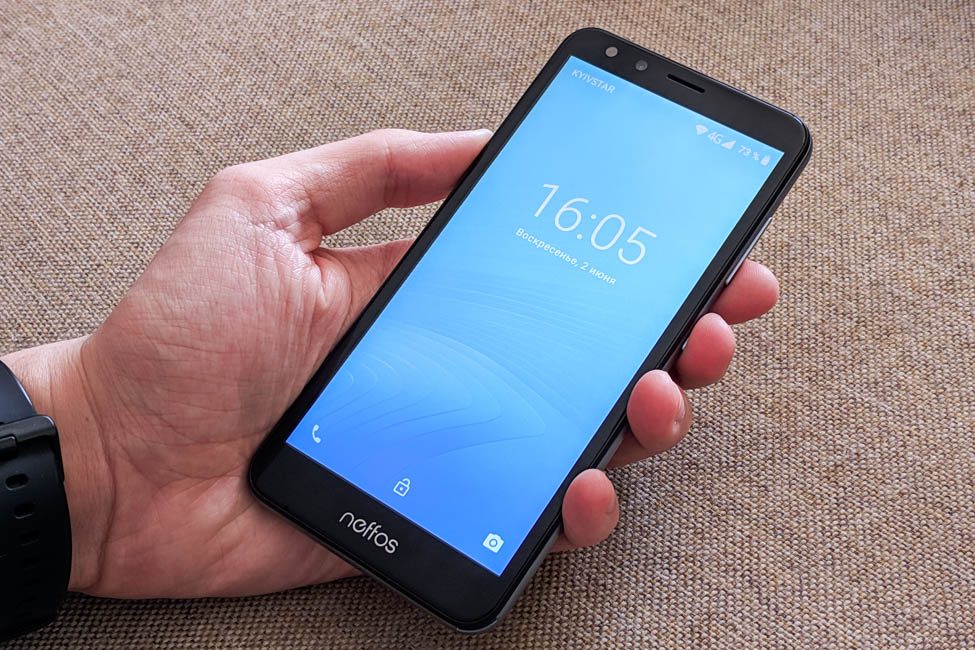 Neffos C7 Lite has more modern hardware and has a couple of winning features. The camera now supports autofocus and has a couple more megapixels. Between these two, I prefer Neffos C7 Lite. Just another ultra-budget phone without anything truly distinctive. But it's reliable and offers 2-year warranty.
Subscribe to our accounts: