Xiaomi Redmi Note 5 is the newest version of the popular affordable lineup, which has gotten big updates this year. Unlike previous models, not only the innards were changed (new processor and RAM), but also the overall design. Here we have the new 18:9 screen and dual camera with AI! So, is it any good? Let's take a closer look.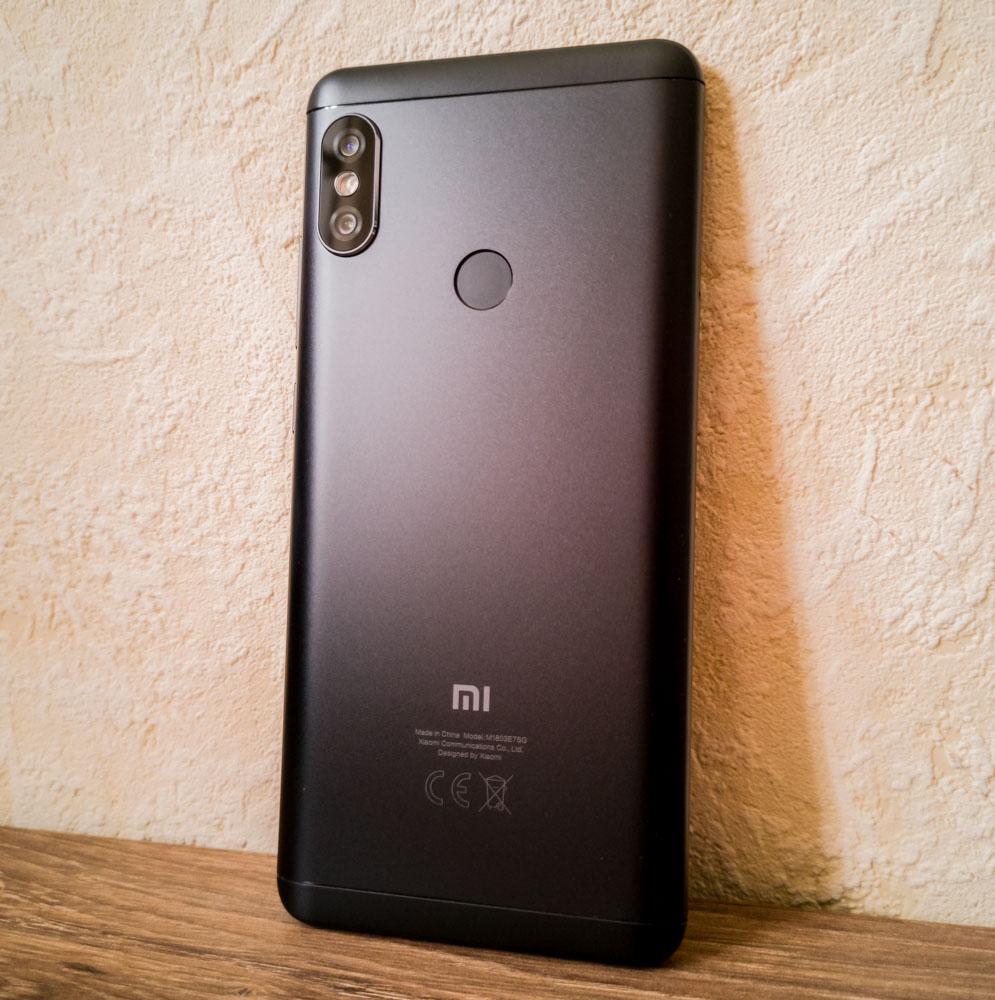 Xiaomi Redmi Note 5
The Redmi lineup and overall the larger models like Note have always drawn my attention. They have their certain magic which grows rare in modern age of consumerism and dry marketing. It seems impossible that there is a really good smartphone that costs only $200.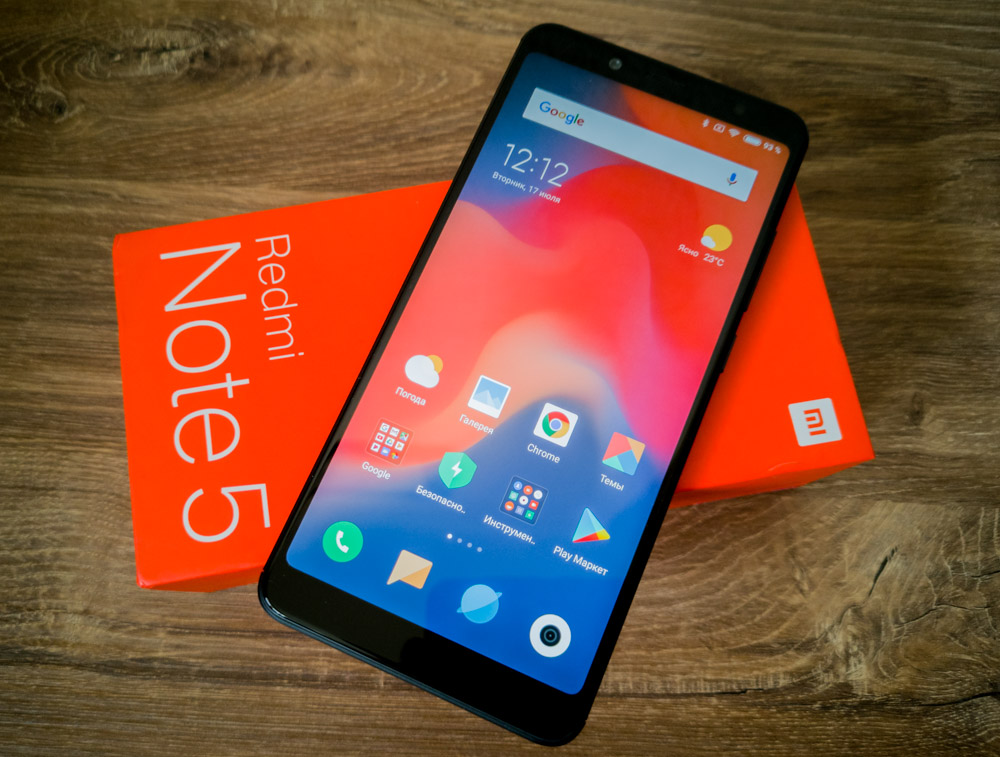 Usual pros of Redmi Note – good specs, nice screens and battery life – are all here. There has only been only one big issue – really bad cameras. But the day Xiaomi puts an end to it is here: here you have a phone that has all that was good about the predecessors plus a dual camera with AI. A camera that can compete with much more expensive flagships.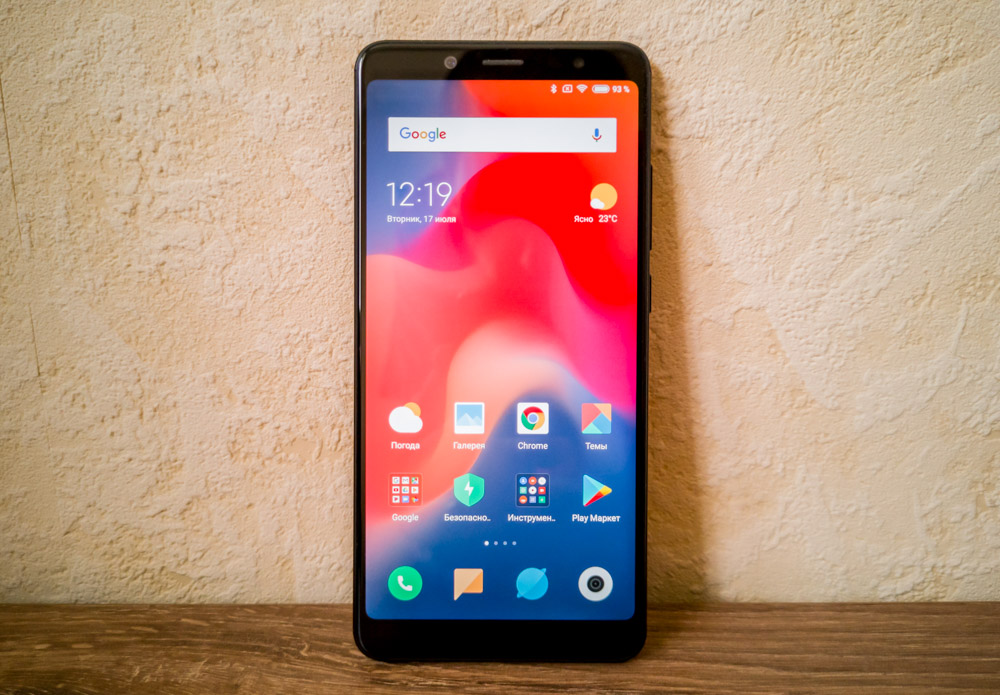 I was stunned. I didn't believe Xiaomi, but still I had to check if there was some truth in their words. I ordered the phone on GearBest, choosing the cheapest black model with 3 GB of RAM and 23 GB of storage.  The device costed me about $200 and after a month of active use I can finally say was it worth it or not.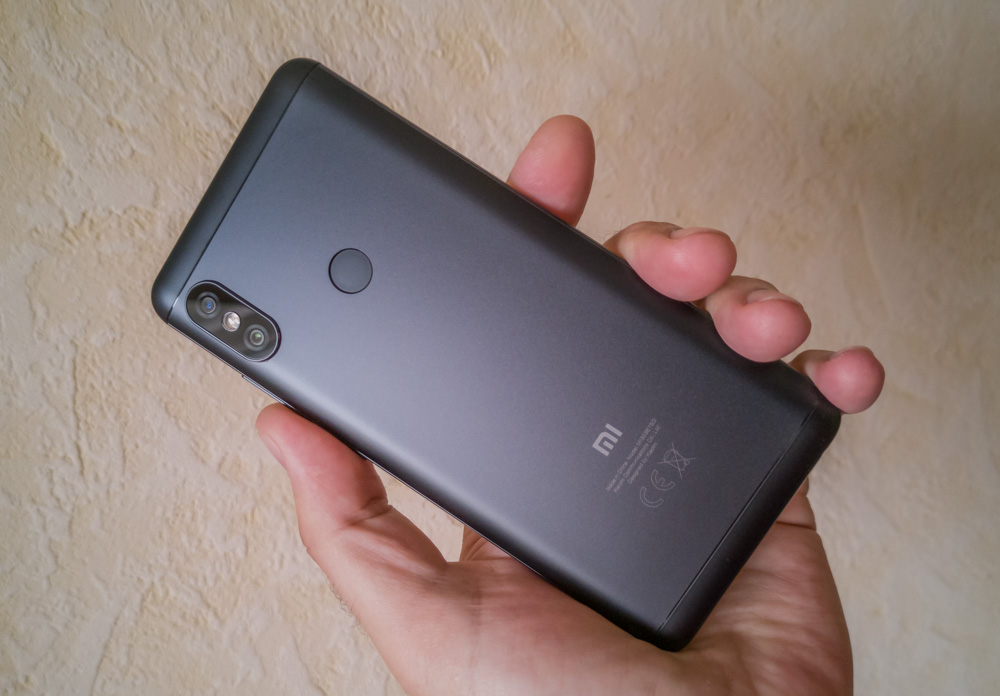 What's in the box
In the bright orange cardboard box we have the phone, a microUSB cable, a 5V 2A charger, SIM eject tool and a good opaque silicone case, toned black.
The case is thin and won't really protect your device if you drop it, but it makes the phone less slippery and improves the grip.
Design and materials
The design is ordinary, and the phone looks a lot like the previous Redmi Note devices. But at the same time, the appearance is a lot different.  First, of course, is the new 18:9 screen. There is no notch here, but there are large enough bezels on top and bottom. Side bezels, too, are noticeable. In any case, while maintaining the overall dimensions of the classic 5.5-inch smartphone, Xiaomi increased the screen size to to 5.99″, thus expanding the work area. This is very good news.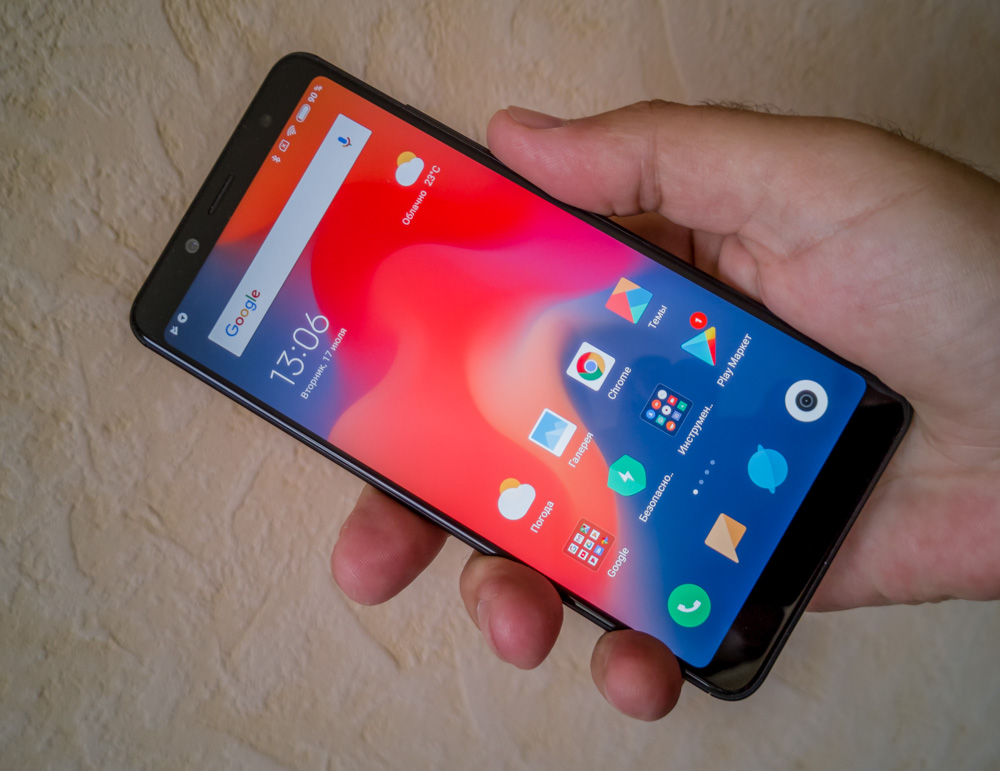 Also in Redmi Note 5 the manufacturer moved away from the central location of the camera above the fingerprint scanner and opted for a protruding vertical block of the dual camera on the left. We know all too well who inspired them. I can only say that lots of companies did exactly the same.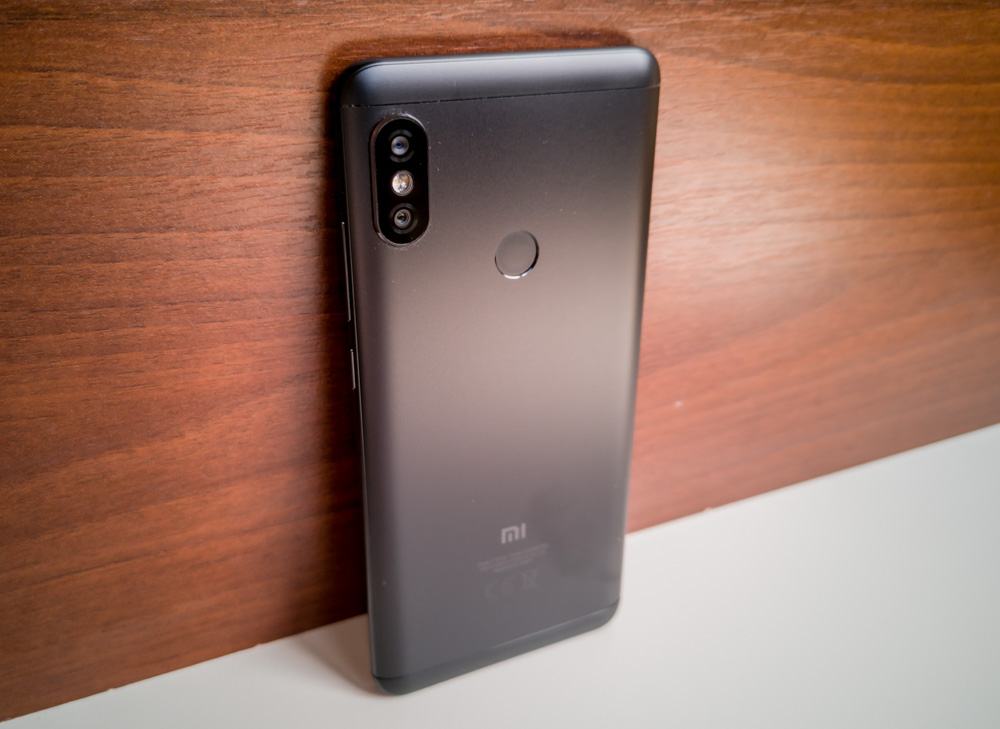 The front panel is made of glass, the back panel is metal with plastic frame and edges on top and bottom. Very similar to Note 3, except that the height of plastic parts is not so large, and the metal is predominant.
Redmi Note 5 looks nice and feels good in hand. The metal is slippery, so thank the maker for the case.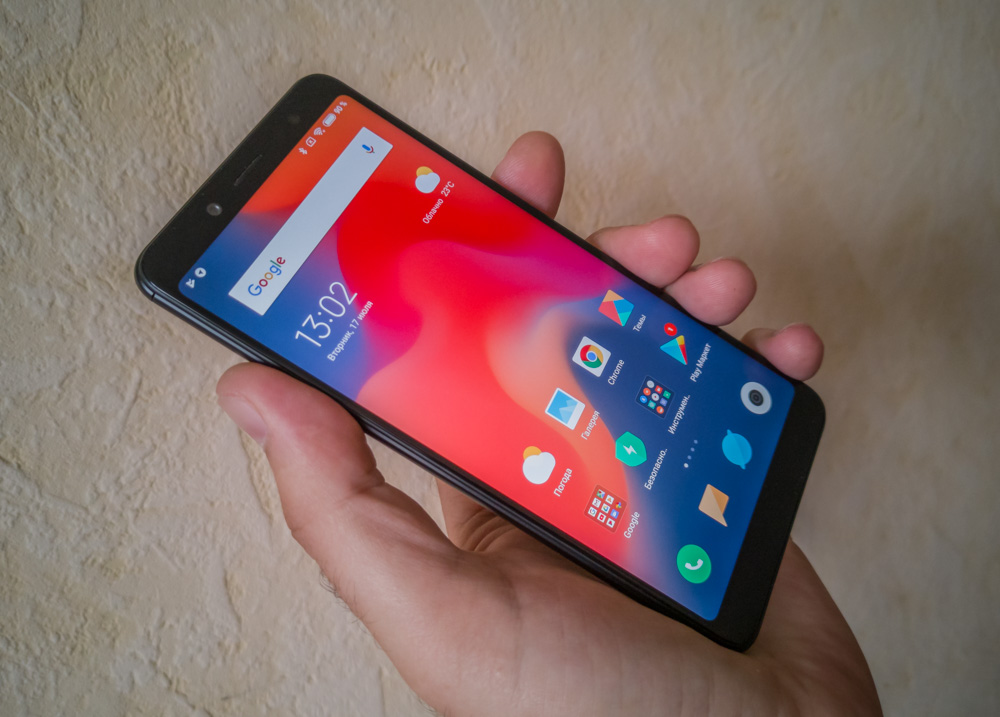 I tested the black model. You can also buy gold, rose, blue and red variations
Key Features:
Dimensions: 158.6 x 75.4 x 8.1 mm
Weight: 181 g
Elements' Configuration and Ergonomics
On a large area above the display we have all the traditional elements – an earpiece speaker, front camera, flash (!) and light and proximity sensors. There's nothing below the screen.
Power buttons and volume control are on the right. On the left there's a hybrid slot for two SIMs  (nano) or one SIM card and memory card.
On the bottom are a speaker, a microUSB port, a microphone and a 3.5 mm jack. On top is the second microphone and the infrared port. A dual camera unit with a dual flash and a round fingerprint reader are located at the back.
Due to streamlined shape and slight curvature at the edges of the back, the smartphone comfortably lies in the hand. The buttons and the scanner are conveniently located under the fingers. It's difficult to use the smartphone with one hand, but it's possible if you have long fingers.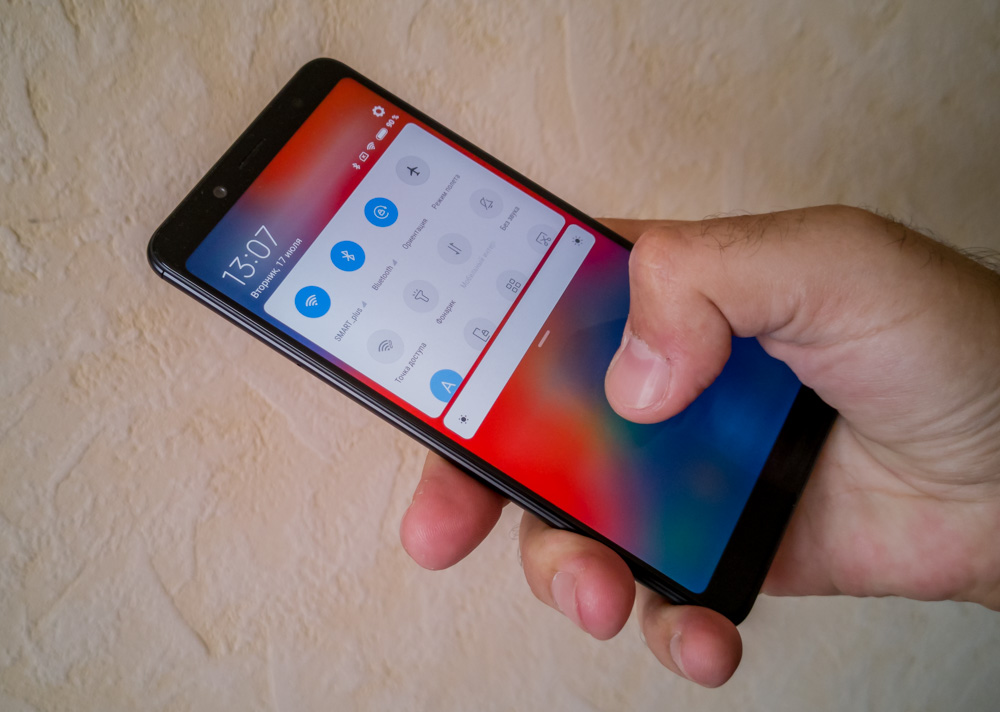 Matte back surface is hardly a fingerprint magnet – especially if your hands are dry.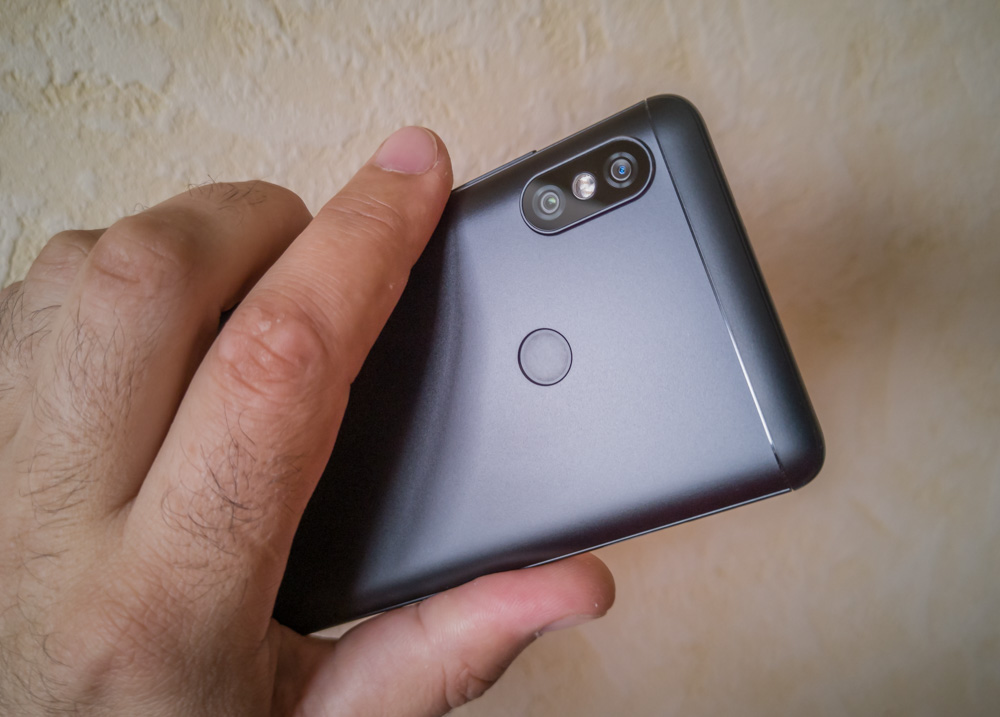 Corning Gorilla Glass (version unknown) is installed on the front part and boasts excellent oleophobic coating – even some flagships have it worse. The prints are wiped off easily.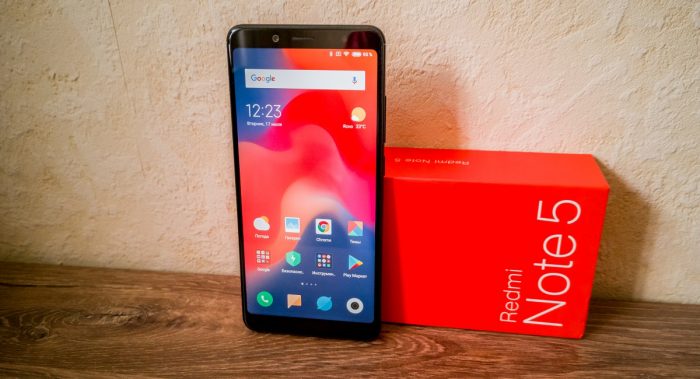 In general, the ergonomics of the smartphone is all right. If you are used to the 5.5-inch classics, then Redmi Note 5 will feel familiar.
Screen
Xiaomi Redmi Note 5 has a usual IPS screen of medium quality. It has a good range of brightness. The maximum level slightly falls short of modern flagships. The minimum brightness is slightly overstated, but not critical. The viewing angles are fine. The color rendering of the matrix is close to natural, although is a little to "cold" for my taste.
In the screen settings there are simple tools for adjusting the color and contrast; you can choose the three color tone options (warm, natural, cold) and contrast (automatic – depending on the lighting, higher, standard). Fine color adjustment is nonexistent.
There is also a reading mode (similar to the night mode with blue filter), which is activated either manually or according to a schedule, but also completely automatically – after sunset. How exactly it works is not entirely clear. There's another neat feature: wake the smartphone with a double tap on the screen.There's no support for using the phone with gloves.
Auto brightness adjustment works correctly, but always tries to lower the current level. I never liked how it works.  Fortunately, you can adjust this moment by using the slider in the notification bar and the system will gradually remember your preferences for different levels of lighting.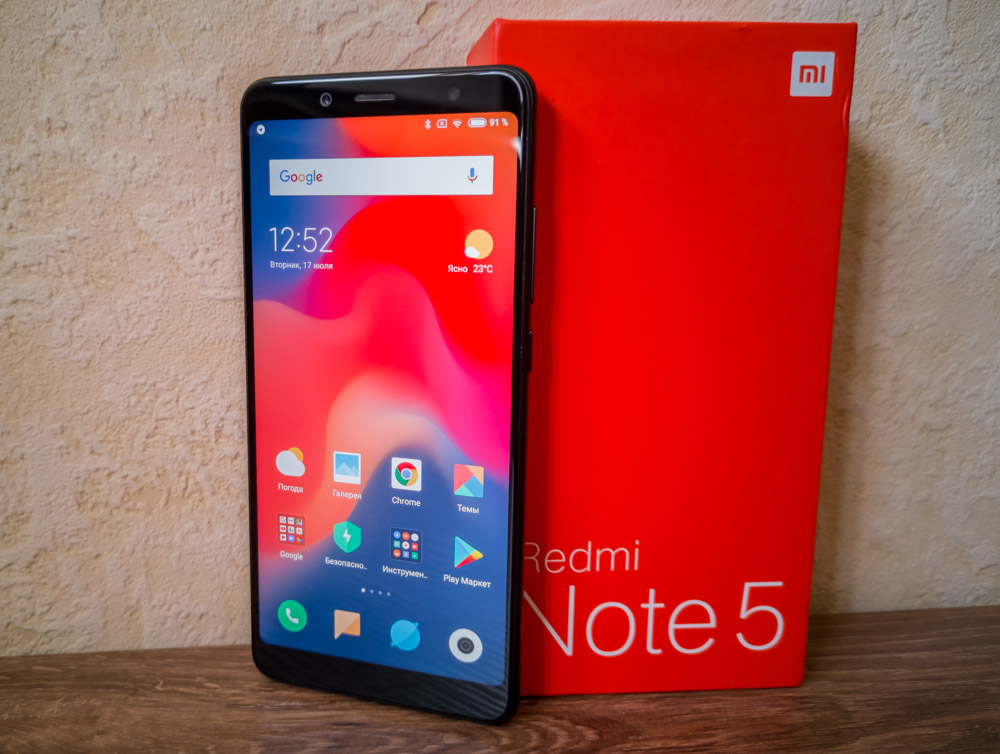 Key Features:
display diagonal: 5.99 "
type of matrix: IPS LCD capacitive touchscreen
aspect ratio: 18:9
resolution: 1080×2160
pixel density: 403 ppi
the ratio of the screen area to the frontal part: 77.4%
Performance
In terms of speed, everything is predictable. For the comfortable Android experience the new Snapdragon 636 is more than enough. The smartphone works quickly, but there are nuances associated with the flaws in the software shell. Namely a new way to use the smartphone with gestures (I'll talk about it later). When you activate it, the animation starts lagging. If you control with the traditional on-screen navigation buttons  this does not happen. Most likely this bug will be fixed in the future.
Key Features:
Processor: Qualcomm SDM636 Snapdragon 636, 8-core, 4 × 1.8 GHz Kryo 260
Video Accelerator: Adreno 509
Memory versions: 64 GB, 4/6 GB RAM or 32 GB, 3 GB RAM, support for memory cards up to 256 GB
Multitasking in Xiaomi Redmi Note 5 directly depends on the amount of RAM on board. The device with 3 GB of RAM can keep running only 3-4 simple applications, which is quite enough for the average user. If you are more demanding, then it's better to look at the smartphone with 4 and 6 GB of RAM.
In general, opening applications and switching between them is not instant, but quick enough. You don't feel like you're using a cheap device. Of course, it's not as fast as some of the flagships. But there's no reason for such comparisons.
As for games, everything is okay here. The phone is powerful enough to run virtually any game from Google Play. Of course, some heavy titles require you have to lower the graphics intensity. In the specialized 3DMark Sling Shot Extreme test the results are not impressive. But we must understand that tests in complex synthetics have little in common with real games and rather show the potential of a graphic subsystem. There's no real potential here. But in the "old" Ice Storm test, which corresponds to the current level of graphics of modern games, the smartphone earns the maximum result. Yes, the benchmark writes: "This test is too easy for your smartphone." Overall, you can play on Redmi Note 5 no problems, but this is clearly not flagship level.
In any case, Xiaomi Redmi Note 5 is at the moment the most powerful smartphone of the lineup. Before it was Redmi Note 3 Pro with Snapdragon 650. The current phone is about 1.5 times more powerful.
Results in benchmarks:
AnTuTu = 113870
GeekBench CPU Single Core = 1342
GeekBench CPU Multicore = 4934
GeekBench COMPUTE = 4688
PCMark Work 2.0 = 6143
3DMark Sling Shot Extreme = 936
3DMark Sling Shot Extreme Vulkan = 762
3DMark Sling Shot = 936
Cameras
AI in a budget phone is a big deal, and the marketing team made sure we know it. Allegedly, AI selects the best shooting parameters that correspond to the current scene. In practice we can't understand whether it really works it not, because the AI ​​does not show itself in the camera software, as it happens with the other devices with similar functionality, where at least there's an icon corresponding to the currently applied preset of artificial intelligence. Actually, the user also can not influence  automatic mode in any way. And yes, in the settings there is no way to disable the AI in order to see the difference, if there's any. How good is AI and whether it's actually there we cannot know. It's a mysterious and magical camera, and let's leave it at that.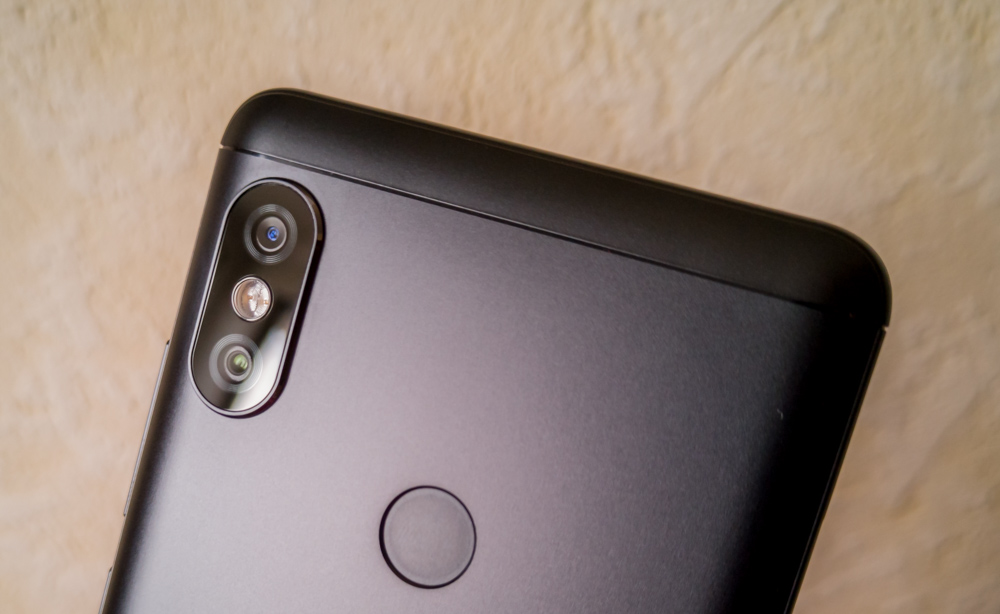 If we forget about this AI nonsense and just judge the photos for what they are, the results are great. This is arguably the best smartphone camera for this price. That's to be expected with the module like that. This is very unlike the previous models.
Key Features:
The first module: 12 Mp (f / 1.9, 1.4μm, dual pixel PDAF)
The second module: 5 Mp (f / 2.0, 1.25μm, without autofocus, depth sensor)
Flash: two-tone LED
SEE EXAMPLES OF PHOTO AND VIDEO IN FULL RESOLUTION
SEE EXAMPLES OF PHOTO AND VIDEO IN FULL RESOLUTION
The speed of the camera is average. There is a way to start the camera from sleep mode using the volume button. Also the volume key works as a camera shutter button.
As for the camera features, there is Auto HDR. Focusing methods are: phase and Dual Pixel. The autofocus is fast. Also there is PRO mode, although it's not very serious since you can adjust only ISO and white balance.
When making video, electronic stabilization is available. The maximum video resolution is 1080p @ 30fps. Quality is average.
The front camera has a resolution of 13 MP, f/2.0, pixel size of 1.12μm. There's LED-flash for selfies and advanced face beautifiers. But let's not dwell on that.
Battery life
Beginning with the third generation Redmi Note smartphones started getting good batteries. The current device also has a 4000 mAh lithium-polymer battery.
In combination with an energy-efficient processor, we get an excellent result. Good battery life is the most obvious pros of the phone. More than 12 hours of continuous work with an active screen is a possibility. In real life, of course, no one will use the device for as long. Therefore, depending on your perseverance, Redmi Note 5 will work a day, two or three on one charge. 7-8 houts of active screen is pretty good. And all of that if you do not bother with the settings of energy saving and background processes. If you want, MIUI has such built-in tools to further prolong the battery's longevity.
Redmi Note 5 supports fast charging (Qualcomm Quick Charge 3.0), although Xiaomi decided to cut costs, and bundled the usual 5В 2А  charger with the global version of the device. Want fast charging – buy a compatible adapter separately. Remind you of anyone?
Nevertheless, even with this shabby charger, the smartphone charges quite quickly. Here is a listing of charging from 15%:
00:00 – 15%
00:15 – 24%
00:30 – 38%
00:45 – 55%
01:00 – 68%
01:15 – 80%
01:30 – 90%
01:45 – 95%
02:00 – 100%
Sound
Curiously, Redmi Note 5 sounds great. I was pleasantly surprised: too often companies completely ignore sound in affordable devices. The main speaker here is loud with wide frequency range. Be sure, you won't miss any notifications. It's more than enough for movies and games as well. There's no stereo, but that's to be expected.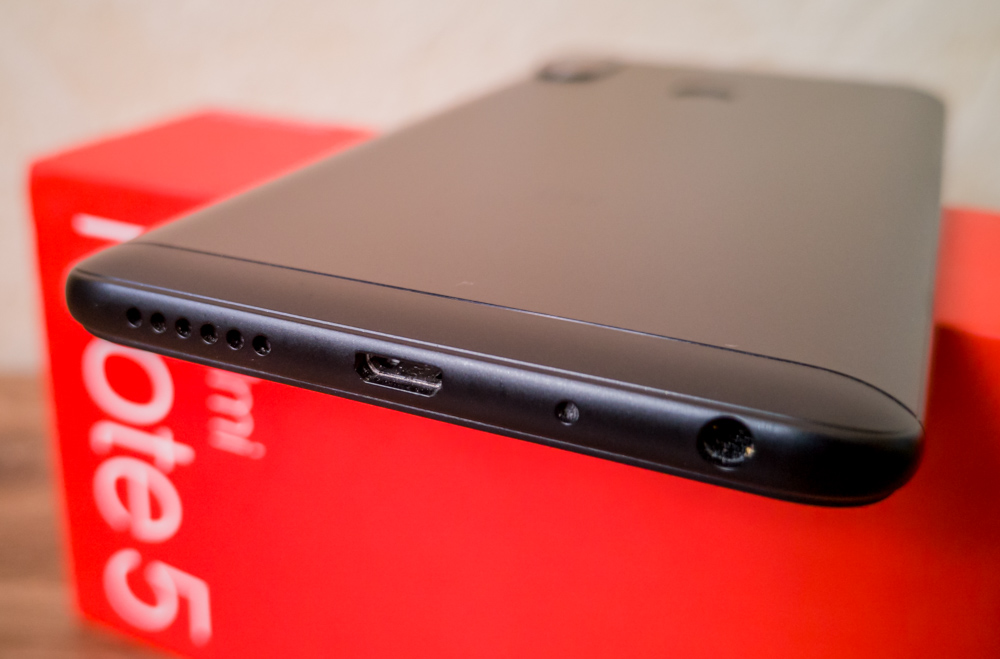 The earpiece speaker is of a flagship level; the sound is clear and very nice.
Let's talk a bit about sound in headphones. First, there's a 3.5 audio jack that's located in a very convenient place on the lower edge. Second, the sound quality is very good, and it can even be better with the help of the built-in MIUI utility that allows you to choose the type of headphones. What it does is it selects presets of the equalizer and panoramas. Better find one that suits you. There's also manual adjustments of the equalizer. All of this helps archiving a very good result.
Communications
There are no issues with cellular network. Same goes for WiFi – even 5 GHz support is there. Bluetooth functions normally, just like GPS. As a bonus, there's an infrared port for controlling household appliances.
There are two disadvantages in communication aspects: absence of NFC module and microUSB port. microUSB is  annoying, but understandable, but the absence of contactless payments is a much bigger issue. If you're not already used to it, then it's probably not a big deal for you. Personally, I feel somehow uncomfortable without NFC. But again, I understand people who do not need it.
Key Features:
Wi-Fi 802.11 a/b/g/n/ac, dual-band, WiFi Direct, hotspot
Bluetooth 5.0, A2DP, LE
Location: GPS, A-GPS, GLONASS, BDS
FM radio
Port: microUSB 2.0
Firmware and software
Here we have the traditional MIUI, which is both loved and hated by many. Personally, I am not a fan of the shell, but I know it well, I understand many aspects of architecture, accept it and can safely use it without righteous anger.
I started using the smartphone on stable version 9.5, but then installed MIUI 10 Beta – just to see what's new. I did not see much. Of the visible changes – a new notification bar (looks like something I saw 5 years ago), multitasking menu in the form of tiles and indicators of volume control.
Both 9.5 and 10 work satisfactorily fast, with smooth animations. There is customization with themes and many different functions and built-in tools for setting up the system and optimizing its operation.
The main motto of the shell at the moment is "infinity", that is, working with large screens using gestures. You can turn off the onscreen navigation buttons and use gestures from the edges of the screen; swipe from the bottom and go to the desktop and multitasking menu, if you hold your finger at the end of the gesture. Swipe on the right and left in the lower half of the screen to go back, and if used with a delay to switch to the previous application. Swipe in the upper half of the screen to call the application menu.
In general, it is convenient, and at first I was delighted, but there are several moments. Firstly, when returning to the desktop, the animation noticeably lags. This happens only when you use gestures. Secondly, I, for example, use the Gboard keyboard with continuous input and when I want to start inputting a word that starts with the letters closest to the screen edge, the system often perceives this as a gesture "backwards". It is necessary to get used to this feature; sometimes stuff like that is bound to happen.
Even MIUI 10 has a bug that just refuses to go away. This is a problem with displaying Cyrillic in the curtain when using standard font. There is a workaround – to install a custom font in the system through the theme manager, but to be honest, I did not find anything normal. In addition, in many cases it becomes even worse and the letter "И" turns into an "N". So if you're using Cyrillic font, be prepared for some nastiness.
In general, I recommend to stay on MIUI 9.5 and not rush to upgrade to 10, especially to a weekly beta. In addition, there can also be problems with rollback. There are rumors that when you roll back from MIUI 10 to 9, the device turns into a brick. I have not completely figured out whether it will happen in the transition between stable and development branches. So I did not take risks.
A bit about the fingerprint scanner. It works flawlessly. It is quick, and in addition to unlocking the screen the scanner is used for authorization in applications and password-protected partitions of the file system. There is no other type of biometric unlocking in the smartphone. There's no trendy face recognition onboard.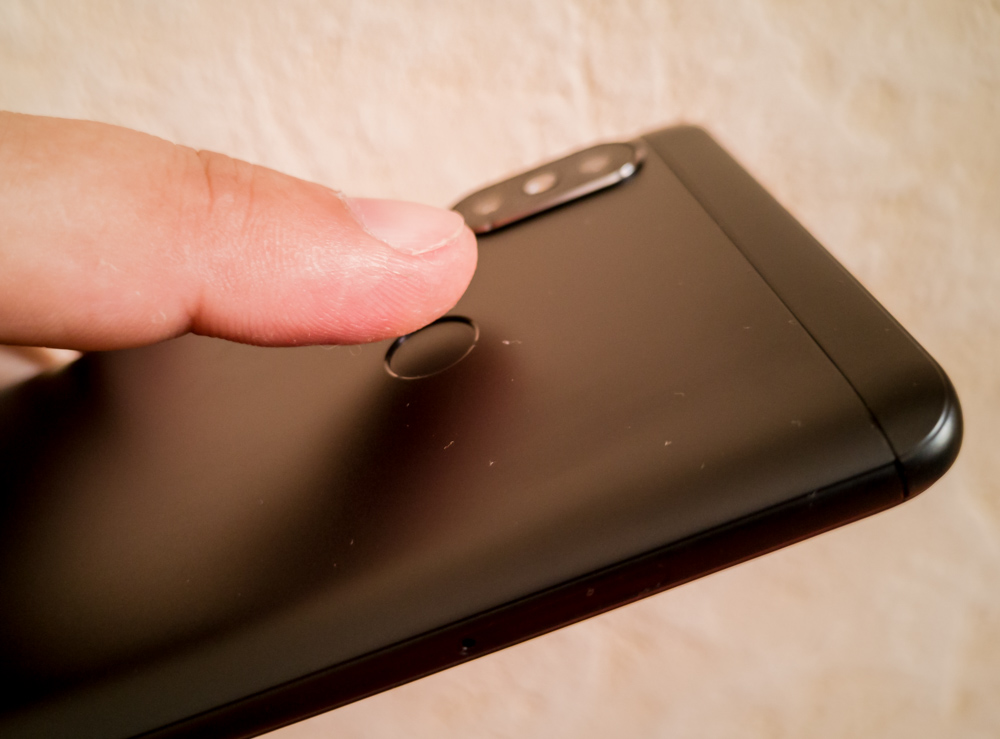 In general, the firmware is alright, especially the stable MIUI 9.5. Bugs of version 10, of course, should not be taken into account. The firmware is stable, performs all its functions fast.
But there is a moment that I do not understand at all. I am talking about the non-removable leftmost desktop screen with a limited set of widgets. This peculiar clone of Google Now is some kind of a half-assed dashboard, which nobody needs, but cannot deactivate. Be prepared to just never go there. I recommend that you turn off all the widgets so that they do not burn the battery. Or adapt and use this "tool". Still, this is very lame and something Xiaomi needs to work on.
Verdict
I see no real reason to not recommend Xiaomi Redmi Note 5. With this price, it'd be a great purchase for anyone. You can easily use it on a daily basis. It's a massive upgrade for anyone who uses cheaper or older devices. 2-3 year old flagships aren't really better that this.
In fact, the more I was using it, the more I though that modern flagships aren't really worth the price and are quite overrated. Sure, when the euphoria is gone, you see lots of differences, but for usual buyer this smartphone is a rare find. A real hit from Xiaomi. Only another Redmi device can beat it.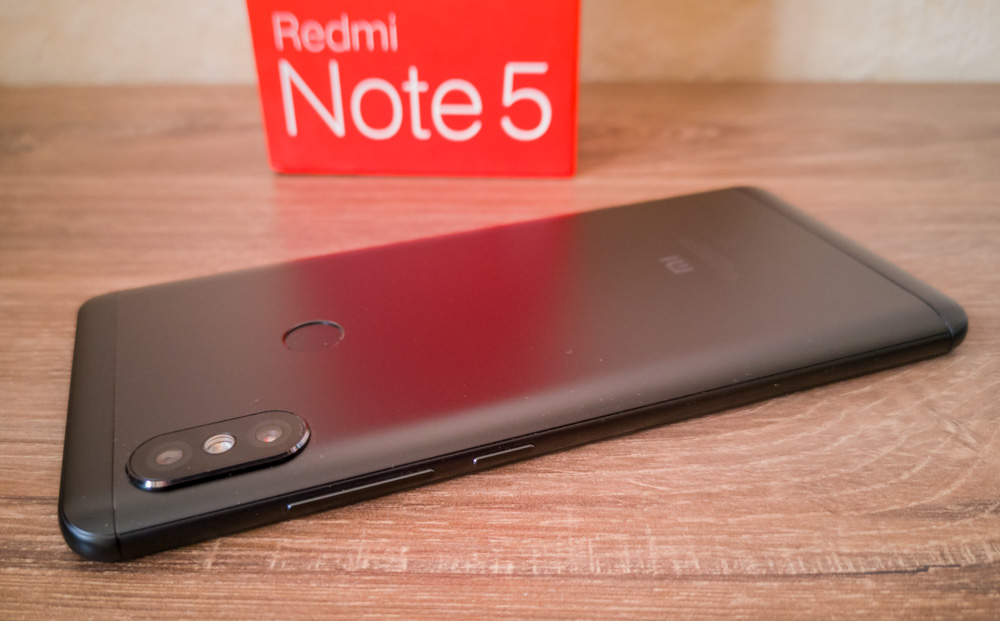 Among the pros: sturdy plastic/metallic body, good build quality, decent 18:9 display, fantastic battery life, all communications, infrared port and stable firmware. And the main thing is a camera with AI. There's no better camera for that kind of money.
And cons: no NFC, no face recognition software, old-fashioned microUSB and, well, firmware, which is also a pros. MIUI is great for most of the users, but it's not for everyone. The phone's also not dust- and water-resistant, and doesn't support wireless charging, although that's not really a minus – even flagships don't always have that.
Overall, buy Xiaomi Redmi Note 5 – you won't regret it. For $150-200 there's nothing better.
All photos of the device in the review are made on Huawei P20 Pro