I do not know about you, but for me new flagship smartphone Huawei P9 seems very significant in terms of the development of the company's products. At first glance, you realize that this is an uncompromising product, both externally (bright design, premium materials, a fingerprint scanner, dual main camera) and internally (powerful hardware and Android 6.0 with a latest version ofproprietary EMUI-shell). Huawei has grown from the image of "the Chinese company claiming for Success" and the release of P9 has made it clear to the other leaders of the mobile market that Huawei is now firmly takes its place at the same level with experienced giants, and even hints some of them that they won't always be on pedestal.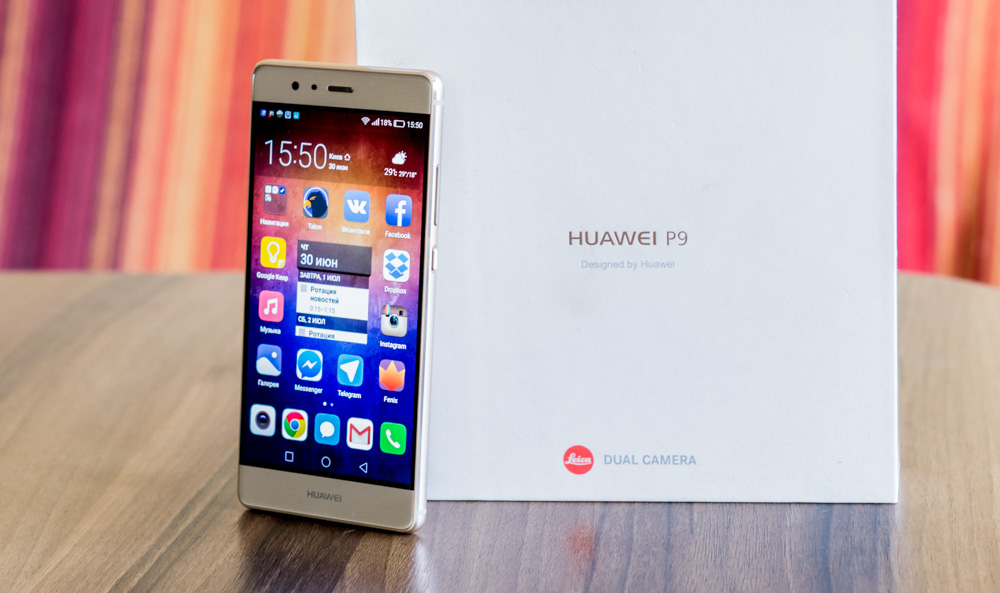 Huawei P9
Of course, before P9 Huawei also showed us interesting smartphones. Those P7, P8, Mate 7 and 8 now positioned as the flagship devices with the price of $ 200-300 cheaper than traditional market leaders are offering. And yet in all previous models, it was felt that Huawei acts as a catch-up. I couldnt say with confidence – these smartphones are not worse than conditional flagship of brand that all of you know (write the name of your liking). But with Huawei P9, it seems to me, this is no longer happening. Yes, and this smartphone price almost "grown" to the price of top iPhone, Samsung, LG. Chinese "fear of losing"? Or Huawei P9 really so good? Is it able to compete on an equal footing with competitors from the smartphone higher league, and maybe even somewhat surpass them? We'll try to understand.
Design, materials, construction, assembly
Very often the evaluation of any smartphone design comes down to a discussion of how much it looks like the iPhone. With Huawei P9 this can not happen in any way. Somehow, the Chinese company managed to find its subtle, but recognizable style, which it adheres to the design of the flagship and mid devices.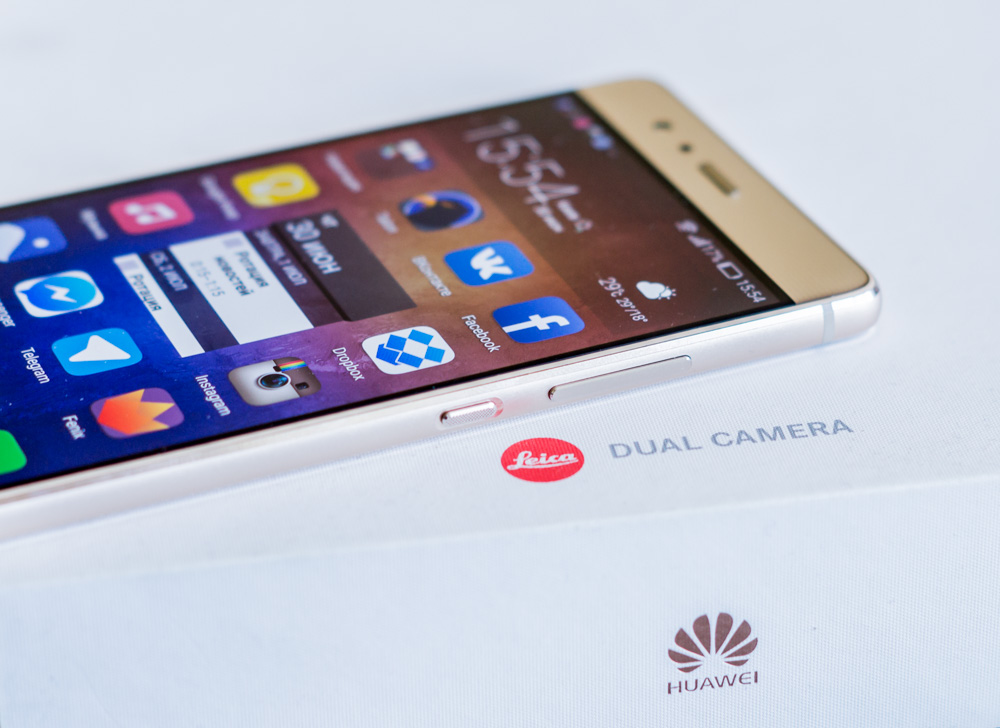 However, the similarity with apple smartphone is still there. It is not external, but rather a similarity in sensation, especially tactile, when you take Huawei P9 and then did not want him to let go. In many ways, this similarity is provided by the design of thin unibody casing, made of anodized aluminum and glass panels with rounded edges.
Traditionally for Huawei in the P9 housing decoration was applied a combination of two types of metal processing – flat matt behind and on slightly rounded ends, but the edges have a thin flat polished facet, creating a very clear contrast silhouette of a smartphone like encircled by these shiny facets. Furthermore, polishing is applied around the fingerprint scanner on the rear side of the housing. It looks very stylish.
The front is covered with a 2,5D glass. Between the metal casing and the glass panel is laid barely noticeable thin plastic strip around the perimeter. Apparently, in order to enable it to partially accept the deformation on impact during a fall and reduce the risk of damage to the glass and the screen.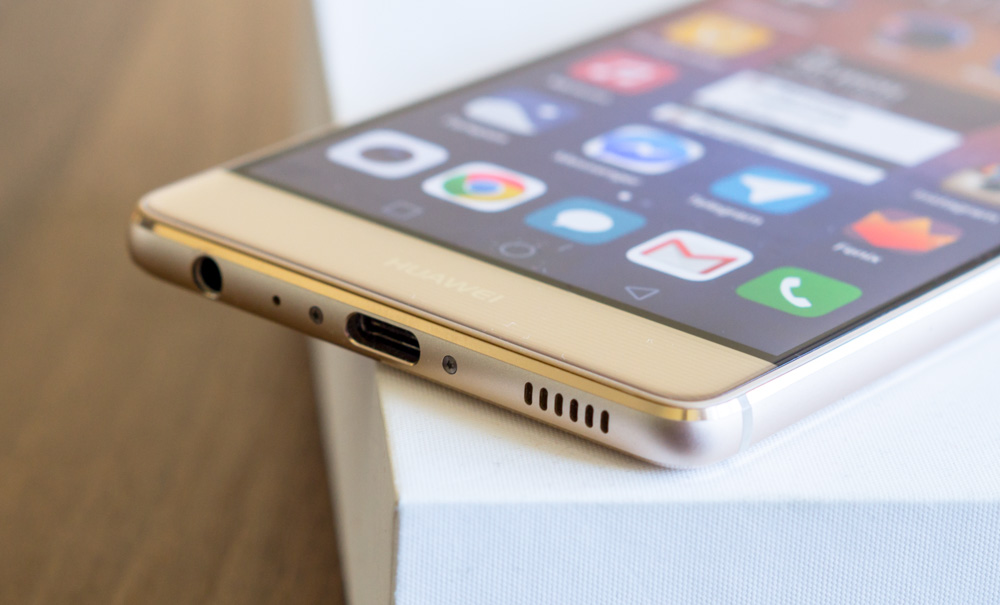 As for Huawei P9 assembly, then everything is just perfect, thanks to the all-metal solid casing design and exactly fitting glass panels. No gaps, no cracks. There is just nothing to squeack. Absolutely solid construction. And only a little loose buttons create a barely audible noise when shaking your phone. Trifle, but unpleasant. A small gap is present.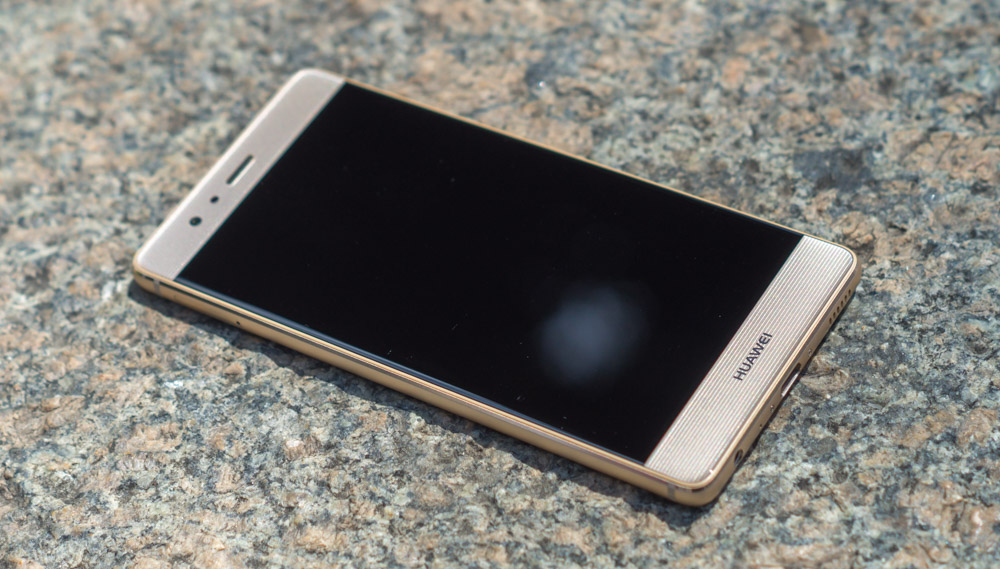 In general, Huawei P9 – slim, stylish smartphone, appearance and assembly of which, I am sure, will satisfy the most demanding customers. It looks great and luxurious. Let me remind you that there are three versions of the entire smartphone – dark gray with black facade, silver and white, and completely gold – such as we have in the review.
Elements' layout
There is nothing unusual in the arrangement of elements in Huawei P9. But at the same time, it is really comfortable.
In front, as usual, most of the area is occupied by the screen diagonal of 5.2″ with a resolution of 1080×1920 pixels. Looks like screen have no side frames while it is turned off.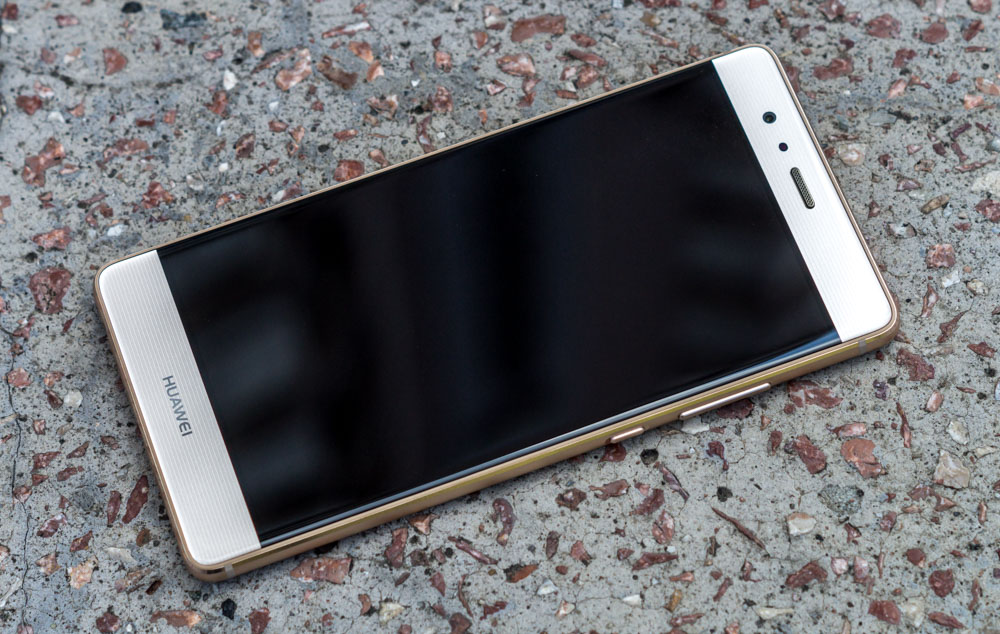 But this is not the case. Around the screen there is a small black area of a few millimeters width. If you do not like that sort of frame – just use dark wallpaper on your desktop, the screen lock and dark color themes in the programs as much as possible. Then the black screen frame is not to rush into eyes and irritate you.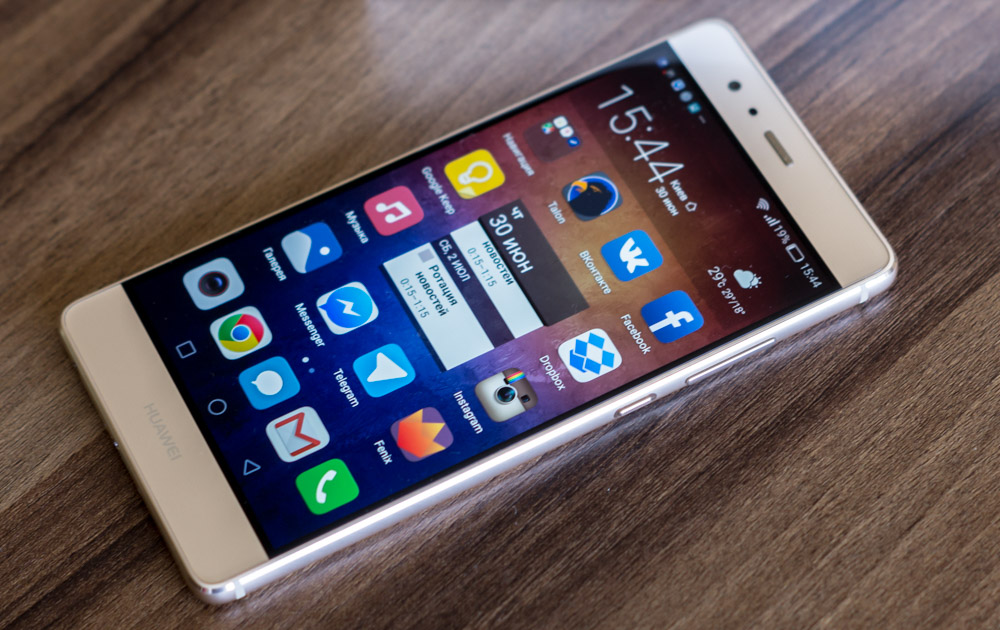 Exterior glass above and below the display has a barely noticeable pattern in repeated horizontal stripes. Under the display – Huawei logo. The physical navigation buttons are absent, netherless there is a place for them.
Above the display is the speaker under the perforated grid, LED for notifications is hidden underneath as well. Left – illuminance and proximity sensors and front camera.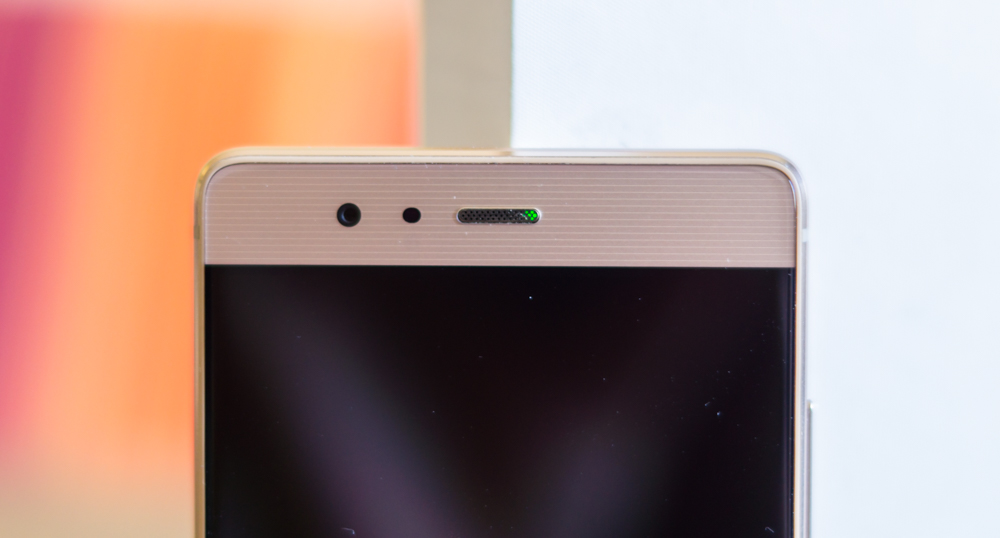 On the right edge of the Huawei P9 we see metal buttons – power and coupled volume key. The power button has a grooved surface, there is a polished bore around it made as a recess in the housing.
On the left – only carriage of paired slots for two Nano SIM-cards. The second seat hybrid – here you can insert a microSD memory card instead of the SIM card.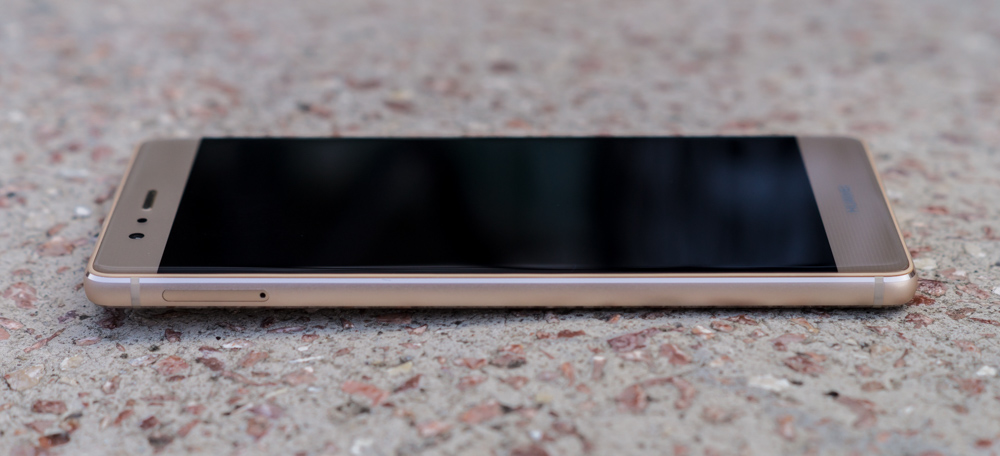 At the top end of the smartphone – the emptiness. Only a small hole for an auxiliary microphone.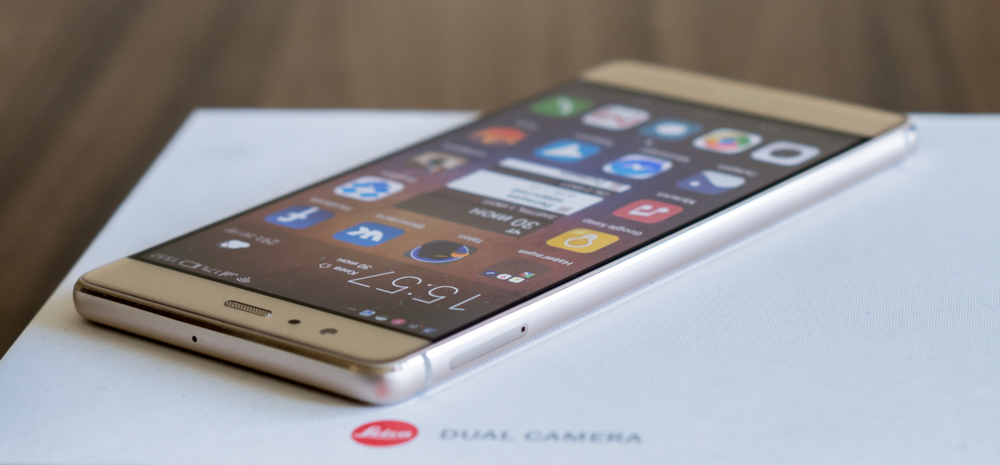 On the bottom – the whole group of elements. From left to right: 3.5 mm jack for headphones or headset, basic conversational microphone port USB-C and the two screws on the right and left of it, the grating of the main speaker in six oval cross-cuts.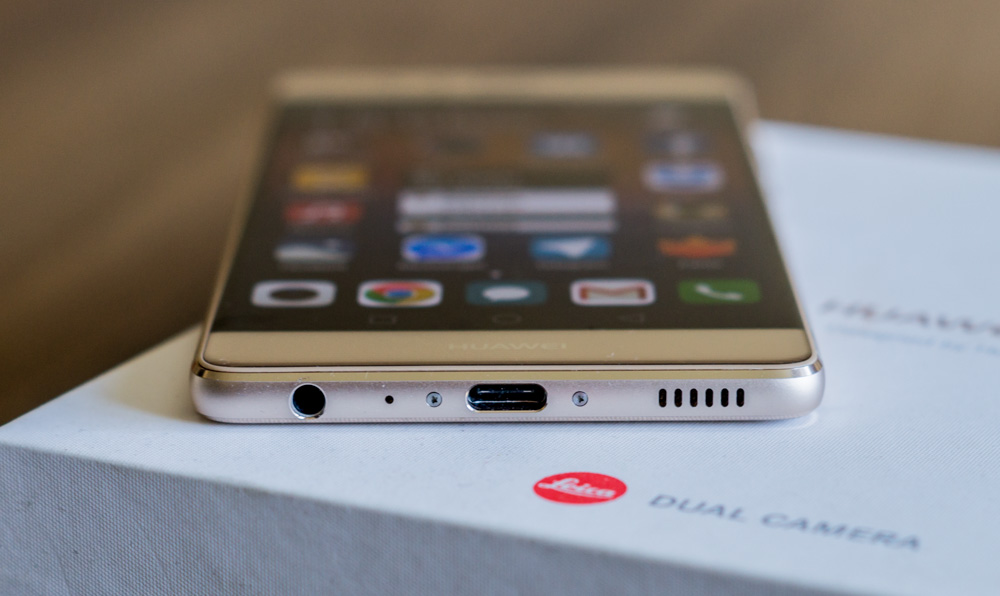 And finally, the back side of the smartphone. Of course, first of all, attention was attracted by a glass plate with a two-eyed camera, dual LED flash, laser focusing unit and the proud inscription LEICA SUMMARIT H 1: 2.2 / 27 ASPH.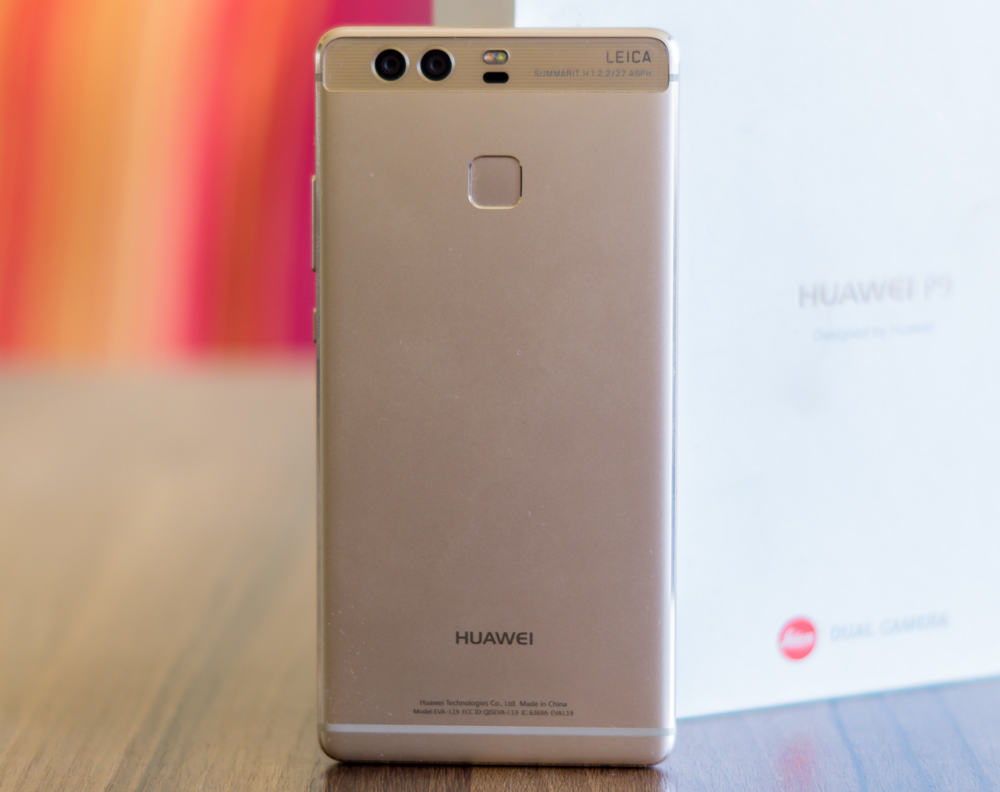 Below, we see the recess of fingerprint scanner – a square with rounded corners. At the very bottom is Huawei logo and official marking. Top and bottom of the metal casing cross plastic strip inserts, which are located under the antenna of wireless modules.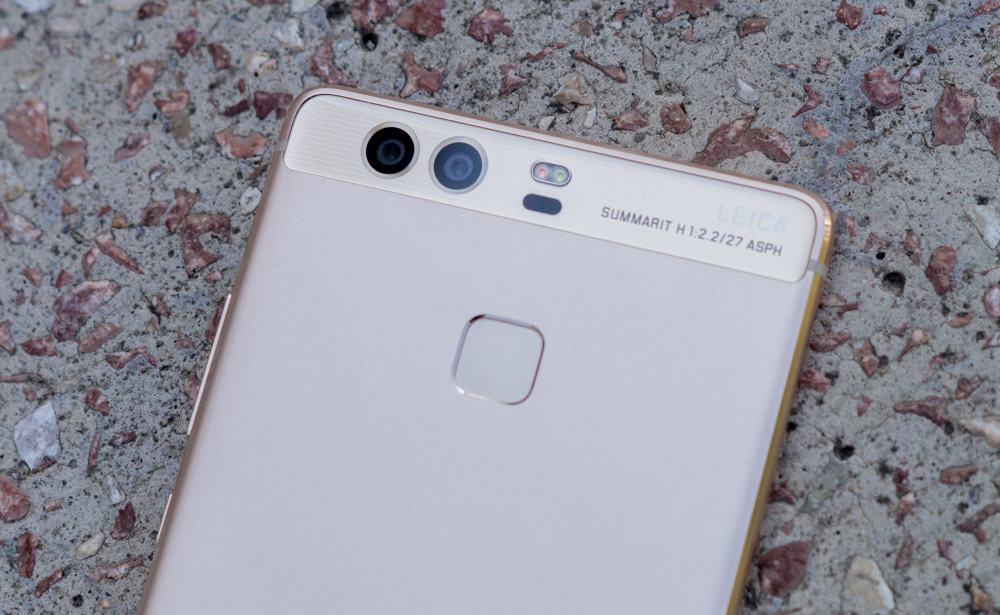 Ergonomics
Personally for me smartphones with a screen of 5.2″ are the most convenient to use because of its relatively small size. Smartphone can be easily operated with one hand. At the same time, such a screen size makes it comfortable to read information from it.
Huawei P9 is comfortable in the hand due to the rounded corners and edges. But at the same time it is very thin and slippery, which increases the risk of dropping the device. I recommend using a smartphone in a case or bumper.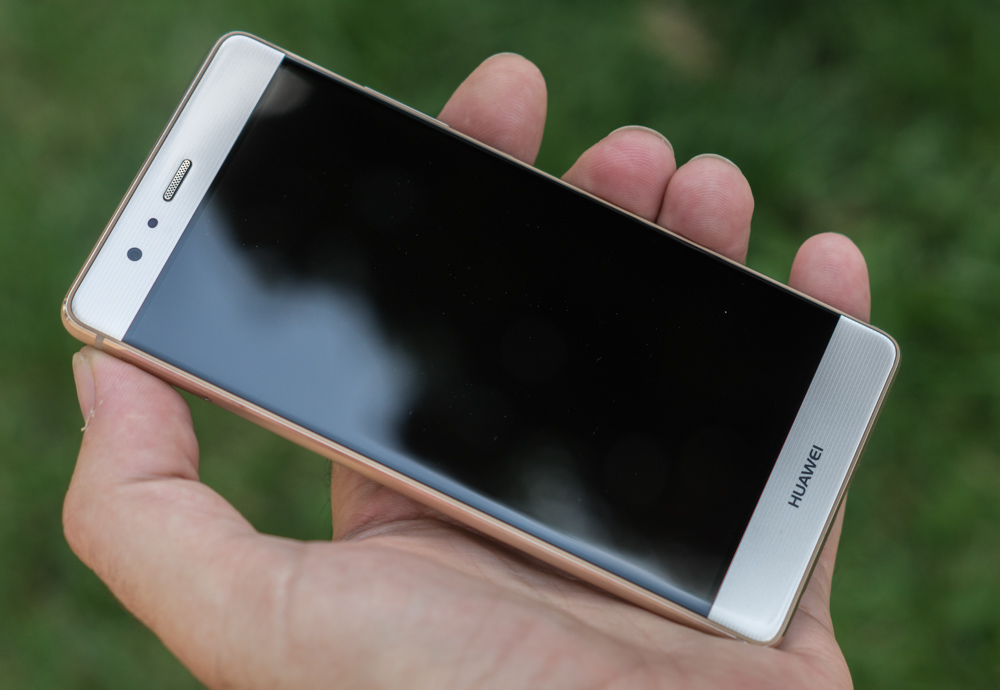 As for the location of the buttons – with this point everything is perfect. They fall directly under the thumb of your right hand. Or under the left forefinger. The buttons are well groped and well pressed. The power button is well discernible due to the textured notch and it can't be confused with the volume button.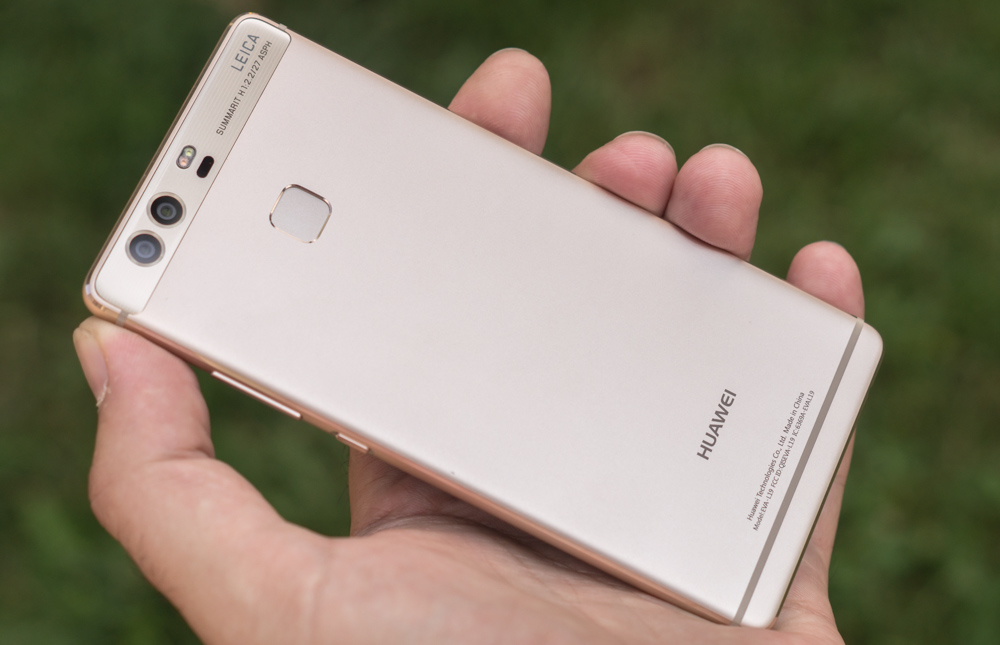 Just a few things that have a positive impact on ergonomics of Huawei P9. First – USB Type C. This port is really convenient, especially when you connect the smartphone to the cable in the dark. The second – the location of the audio jack of 3.5 mm on the bottom. You take out a smartphone with connected headphones out of his pocket, and it is right in the correct orientation.
Screen
I've read first reviews on Huawei P9 in internets and was really surprised. Some of reviewers say that the screen is not the best. People, are you kidding? As for me – the screen is great. I use it with pleasure. Of course, the diagonal glare on a dark background are present and the brightness/contrast slightly decreases for large deviations. But in which IPS there is no such thing?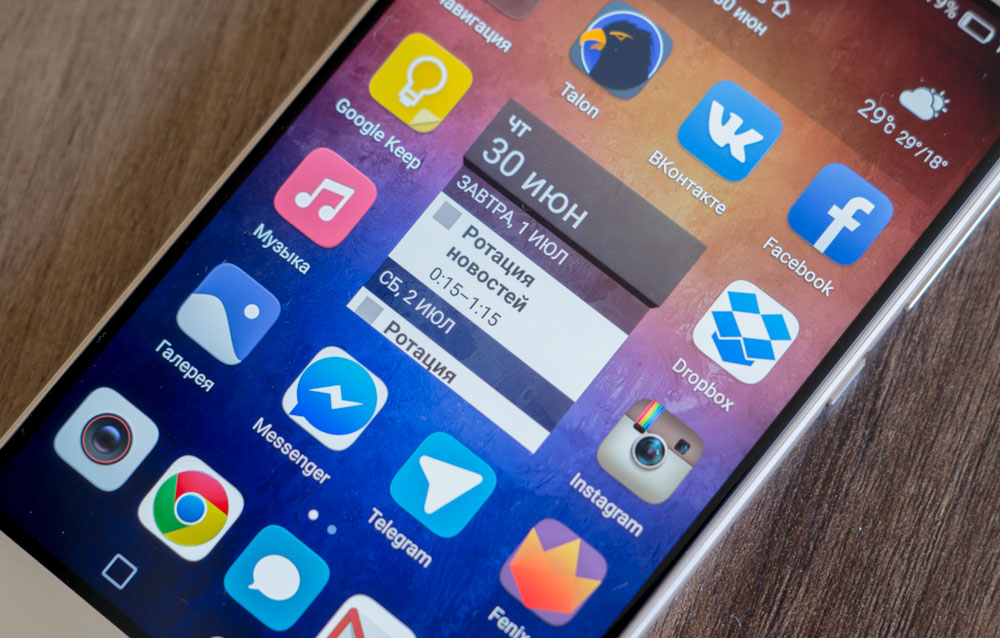 As for me, Huawei P9 display is completely satisfying. He has a huge range of brightness and automatic adjustment works fine. The screen wonderfully shows itself during the actual operation under all lighting conditions. The display contrast is also pleasant. As well as viewing angles and color reproduction.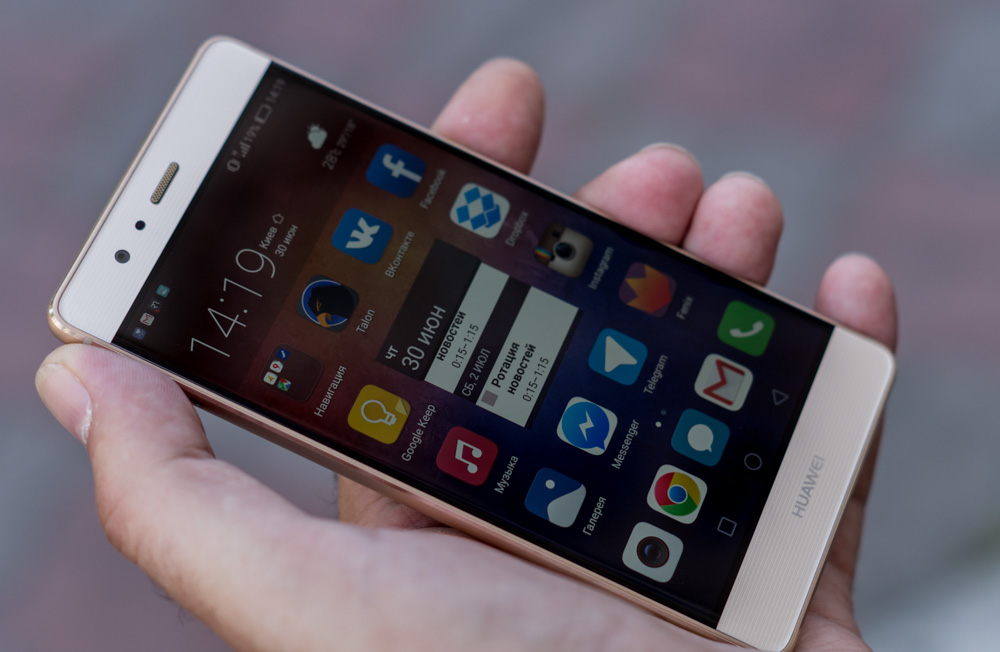 If you have something you are not satisfied with, color temperature can be adjusted "for yourself" with a special tool in the settings menu.
With image clarity and everything is fine. Resolution 1080×1920 pixels on the screen of 5.2″ provides even slightly excessive density of 423 ppi, and to notice the pixels is simply impossible.
Also it is possible to note a decent quality of oleophobic glass coating display. Screen is almost not collecting fingerprints, and they are easily wiped off; the finger slides on the glass well.
The smartphone has the option of working with a screen with gloves, which is activated via the Settings menu.
Hardware and Performance
Huawei P9 is running by the latest 64-bit 8-core processor of its own design of the manufacturer – HiSilicon Kirin 955. For the Graphics is responsible the  newest GPU Mali-T880MP4. Add to this set a 3 GB of fast RAM. This bundle does not set absolute record in the synthetic benchmarks, but hardware is sufficient for the performance of any task. Actually, I am tired to repeat the trite phrase in each review. Any modern smartphone, which gathers around 30k AnTuTu points, already provides it at a normal level. If there is more than 50k – a productive unit. And Huawei P9 we get power at 80-96k points depending on the screen resolution (you can switch between 720p and 1080p in the settings). Is it necessary to specify that this performance basically excessive for any task that can be performed modern Android-smartphone?
But when we talk about the tasks that puts the user in front of your smartphone, you need to understand some of the nuances and exceptions. The first – is to use your smartphone as a basis for the VR-system. Huawei P9 is rather not suitable for such a task. And it's not in performance, but in the display. For the function VR Full HD screen resolution is still not enough, you need a minimum of 2K, 4K and better.
The second point – is the gaming. It would seem that GPU Mali-T880MP4 must run all games at maximum settings. But in practice, many hardcore gamers who have been testing smartphone were complaining on drop in fps in some heavy games using Huawei P9. I have not counted these issues to critical. It seems to me (in fact, I'm pretty sure) – it's all because of optimization. Huawei P9 – a new smartphone that runs on the new corporate Kirin 955 CPU, which can be considered exotic in terms of game developers. Of course, the situation is gradually correcting, and every year, with the growth of Huawei popularity, process of games optimization for HiSilicon Kirin platform happening faster and faster. But at the start of sales such kind of incidents happens. You just have to wait a little longer, and I am sure that very soon Huawei P9 will be revealed as an uncompromising gaming gadget.
Battery and power-saving
In our time with the battery capacity of 3000 mAh it is already difficult to surprise the customer. But at the same time a similar capacity batteries have become unofficial standard for the current year flagships. And Huawei P9 amazes me how it could fit into such a tiny and slim body. However company engineers have succeeded. What is the level of autonomy Huawei P9 shows?
I have to say – the miracle did not happen. But, nevertheless, all quite well. If you do not perform any additional manipulation by the software to configure power-saving (and this is possible – will be told a little below), the smartphone confidently "live" full-time at a sufficiently active use mixed-mode Wi-Fi + 3G network. Unfortunately, there is no LTE in Ukraine, so it is impossible to check smartphone in 4G.
If we'll talk about numbers, Huawei P9 is able to:
10 hours of active reading
About 8 hours of browsing and social networks
7-8 hours of video
About 5 hours of gaming
But if you want to, you can really improve autonomy of your P9. Phone has some own tools for this. I will tell you about some of them:
Few modes of performance and power-savings, "smart" mode.
The ability to manage energy-intensive background applications – to allow or restrict their activity when the smartphone is in sleep mode. Smart alert system for energy-intensive processes.
The option of compulsory switching on 720×1280 screen resolution to decrease consume of power of GPU.
If you will use the tools shown above, Huawei P9 battery life can be increased up to 2 days. And in the case of periodic limitation of mobile data smartphone can "survive" for 3-4 days.
Cameras
Of course, the greatest attention in smartphone promotion policy was given to cameras. Firstly, phone has two main cameras. They are absolutely the same, with 12 MP modules. But first is taking black-and-white pictures, and second – color pictures. It is alleged that by software combining of both images it is possible to significantly expand the dynamic range of the final photo, just due to the properties of black-and-white image.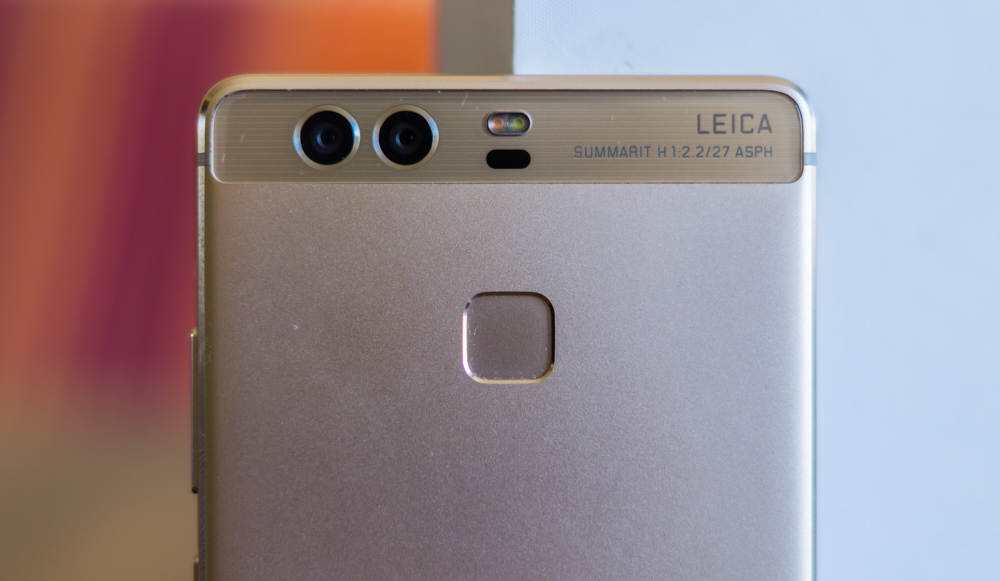 But that is not all! In the photographic possibilities of the new flagship is the main focus of Huawei promotional materials. Only cooperation with the Leica – well known in the photographic business brand – worth a lot. The manufacturer claims that the new smartphone has Leica optics installed and certified by this expert partner software algorithms are used to photo post-processing. In general, a close co-operation is not a novelty in the mobile industry. We can recall the same Nokia and Carl Zeiss. What happens in practice? How good a smartphone camera to practical tasks? Alleged cooperation of Huawei and Leica – a marketing ploy or real benefits for the consumer? I'll try to answer all the questions.
Just describing personal experience I would say that the quality of the photo, which Huawei P9 takes, satisfies me completely. The camera is good, and the end result is generally making happy. The camera takes good pictures in all situations and with all lighting levels. Of course, the best pictures are taken in daylight. Bright day, cloudy, twilight – in all of these situations on the street camera shows itself perfectly. In the room in the afternoon – everything is also very good. With electric light quality drops a bit, but still quite acceptable. And in general, if there is at least some light, you'll get a decent picture. Of course, at very low light detalization drops and noise and graininess begin to appear.
The dynamic range of the camera is also good. If you take a picture of an object against a background of bright sky, the background does not get lightened, the object and the background can be clearly seen. The brightness and color of differently illuminated areas of picture remain in comfortable norm.
In general, the camera transmits the scene perfectly. The white balance is mainly set correctly, contrast and sharpness of images pleasant.
Useful features:
Manual mode – very convenient. It is enough to pull the slider on the right and you'll get a complete set of image control settings – ISO, shutter speed, exposure compensation, focus mode switch and manual focus, white balance correction. This mode also works when recording movies.
Shooting mode with a broad focus and the ability to postfocus such images. That is, you can choose the focus point on the already finished image.
In general, the camera application is simple and convenient. For snapshots you can apply color filters. Particularly interesting black and white shooting with adjustable gradient – should please fans of classic vintage photography.
Main camera making videos pretty good, but it is probably not the best in the mobile segment. The lack of optical stabilization does not benefit the quality of the image. But overall the video quality is good. Smartphone shoots in 1080p, 60 fps.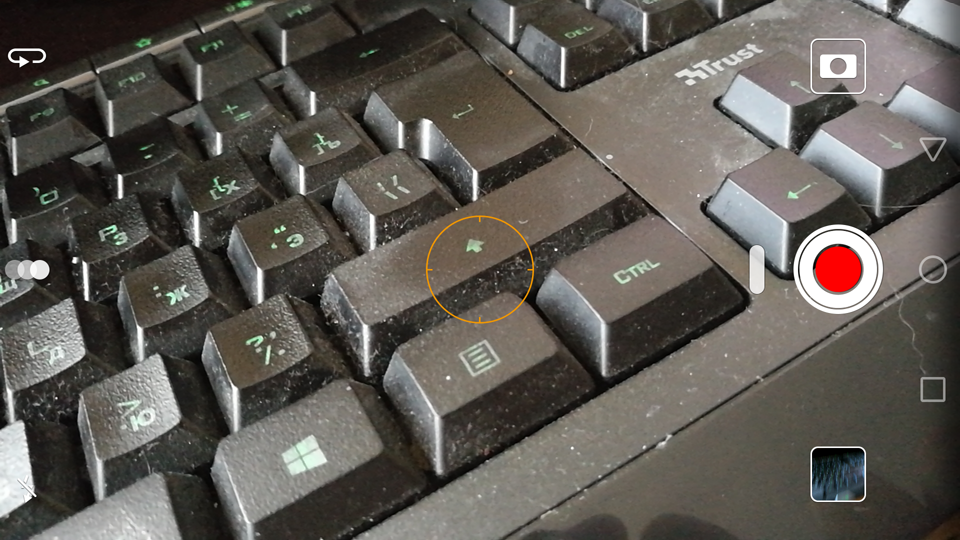 As for the 8 MP front-facing camera for selfie – it is not bad as well. For this camera manual mode does not work, it is replaced by the decoration mode (in fact – smoothing).
Disadvantages camera, as I have already said, is the lack of optical image stabilization, which affects the quality of video, plus the camera is necessary to be reliably fixed during the photo shoot, to improve the clarity of images. And the descent is not the fastest. I'm used to more fast-shooting cameras. The Huawei P9 is kind of slow. Possibly, this function should be optimized, and shooting speed can be increased. May be the complexity of the algorithm that reads the data from the two modules affects on the shooting speed.
Huawei P9: Photo & video examples in full size
Huawei P9: Photo & video examples in full size
Camera resume
Does Huawei P9 have the best camera? My answer is no. Galaxy S7 with only one camera is taking pictures little bit better. For the video – it is doing it really good, which cannot be said about hero of this review – video is not its forte. Still, Huawei P9 has pretty good camera. I'd use it every day. Was it good to company to co-work with Leica? Seems like yes. But I didn't get about two cameras. That decision doesn't show serious improvements to the "single-camera" competitors. But at the same time smartphones which take pictures better than Huawei P9 can be listed on the fingers. Not being able to compare them directly, I can assume that P9 is at least one of 10 of the best on the market, or even one of top 5, if we are talking about quality of the camera.
Sound
Main speaker is located on the lower edge of the smartphone. Let me remind that the total thickness of body is 7 mm, so it would be silly to hope it will sound great. In practice, it happened that way. The sound is good as for the smartphone. The speaker doesn't wheeze at the maximum level, which is pretty high. But it's as always with frequencies – there are high and medium, and there are almost no low frequencies. In general, there is nothing great, but it still not bad. Speaker is loud, and it is the main thing that is required of such an element.
As for the sound in the headphones, in this test, in my opinion, Huawei P9 shows the result of higher than average. Especially good sound is activated with built-in DTS sound "improver" which expands the stereo and pulls the missing frequencies. Listening to music was performed using the built-in music player with Panasonic RP-HD5E-K, Panasonic RP-HJX5E, Awei A980BL and LG QuadBeat LE410 headphones. With all headphones I liked the sound. It is worth to say that there is no equalizer in built-in player, and if you are lacking in any frequency, it is best to use a third-party solution with the possibility of frequency tuning. In general, I can safely recommend Huawei P9 for listening to music on headphones – it is very good.
And the last thing – the sound of the earpiece. Everything is just fine, at the highest level. You feel that you are talking on the flagship phone. The sound is clear, deep, voluminous and full bodied. I like it.
Fingerprint Scanner
Such high fingerprint recognition rate as in Huawei P9 I've never seen previously in none of the smartphone on market. It seems that it does not take time to switch the screen when touching the scaner. Moreover, the fingerprint sensor is omnidirectional – it can be touched in any smart phone orientations. This is very helpful when, for example, the device is in car carrier. You can unlock a smartphone running a hand through the top face or the side.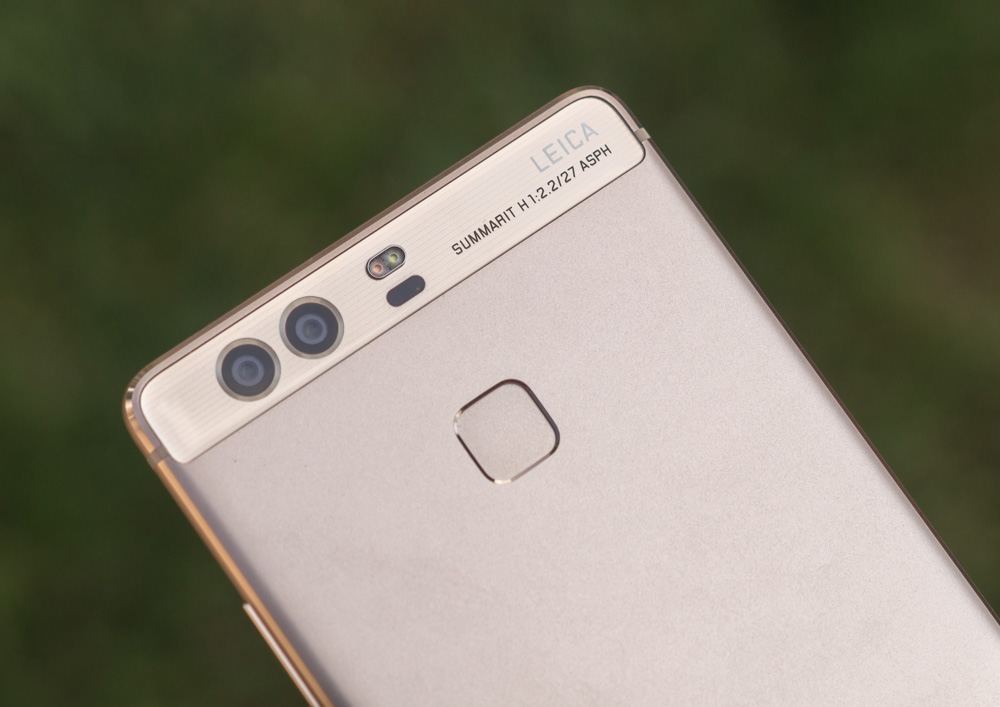 Of interesting – you cannot register one finger for several times. The smartphone informs that the mark has already been registered. Normally, such a technique is used to improve recognition, but this is not necessary, because this function works great. Accuracy of recognition is really good, failures almost absent, unless you touch the scaner too awry.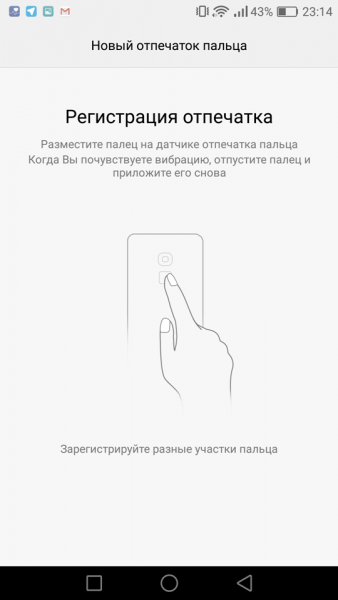 Besides unlocking the smartphone, the scanner performs some additional features that can be activated in the settings menu – such as the photo shoot, answer a call, turn off the alarm. Furthermore, you can set up your personal files and applications, access to which will be carried out by fingerprint.
Unfortunately, the navigation function using fingerprint gestures, which I liked in Huawei GR5 (Honor 5X), the new flagship is not providing. There is only possibility to call status-bar via swipe-down and full-screen view of photo in gallery mode via side-swipes was added.
Comunications
For those who do not know, I'm telling. Huawei Company – one of the world's largest suppliers of "serious" communications equipment, such as mobile operators. In general, the Chinese are experts in this matter.
As for Huawei P9, then at the official presentation of a lot of time given to the new triple omni-directional antennas, which are installed in a smartphone – it supposedly improves the reception and transmission of data and voice communications. In practice, with this issue everything is fine, I confirm. Device keeps mobile network confident.
Wi-Fi is also held to the last in the uncertain reception area at the far my balcony – where other devices are powerless, Huawei P9 still shows a few "bars" and you can watch YouTube videos online.
For GPS functionality in Huawei P9 I also have no complaints. I have not done any special measurements, but on a coldstart it takes just a few seconds and no problems with the positioning in the operation has been noticed.
Firmware and Software
The smartphone runs on the latest version of Huawei Emotion UI 4.1 which based on Android 6.0.
The interface was slim design and the functionality remains the same. On the desktop, no applications menu – all the labels, as well as widgets are located on the main screens. Curtain notification screen is divided into 2 – The notifications and switch buttons.
The shell contains a bunch of options for comfortable use. You have controlling your smartphone using gestures and movements, improving the use of one hand, security settings and tools to increase the autonomy.
Smartphone regularly reminds you to clean system from debris, cache and duplicate photos. This program is called "Phone Manager", which in addition to cleaning functions offers security features.
Also Huawei P9 shell allows you to manage pre-installed applications. And there are enough of them here, in fact. Full package of Yandex, some local blend of Instagram with Clashot — EyeEm, an additional third-party Cleaner (not clear why, built-in is enough ) and more different stuff. Therefore, the manufacturer has provided a handy built-in memory management tool with the ability to disconnect and remove the pre-installed applications.
And also there is little things like switching SD card to be used as the main memory for the camera and to install applications.
And also there is little things like switching SD card to be used as the main memory for the camera and to install applications.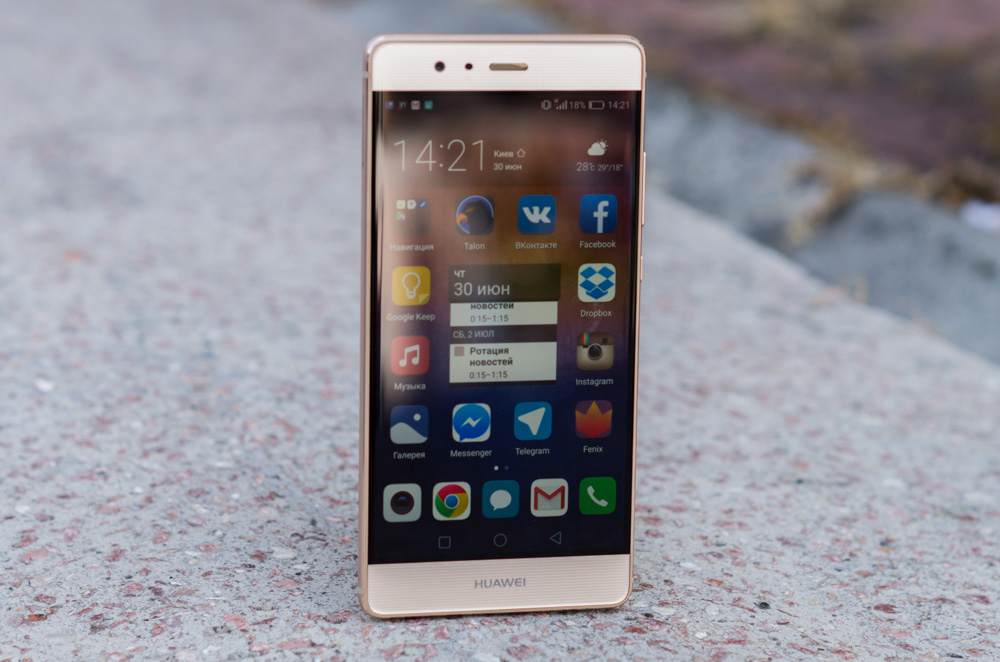 Resume
Huawei P9 came out as very successful product. Undoubtedly, at the moment this is the best smartphone of this company. Briefly summarize what I liked and will note the points that I would like to improve.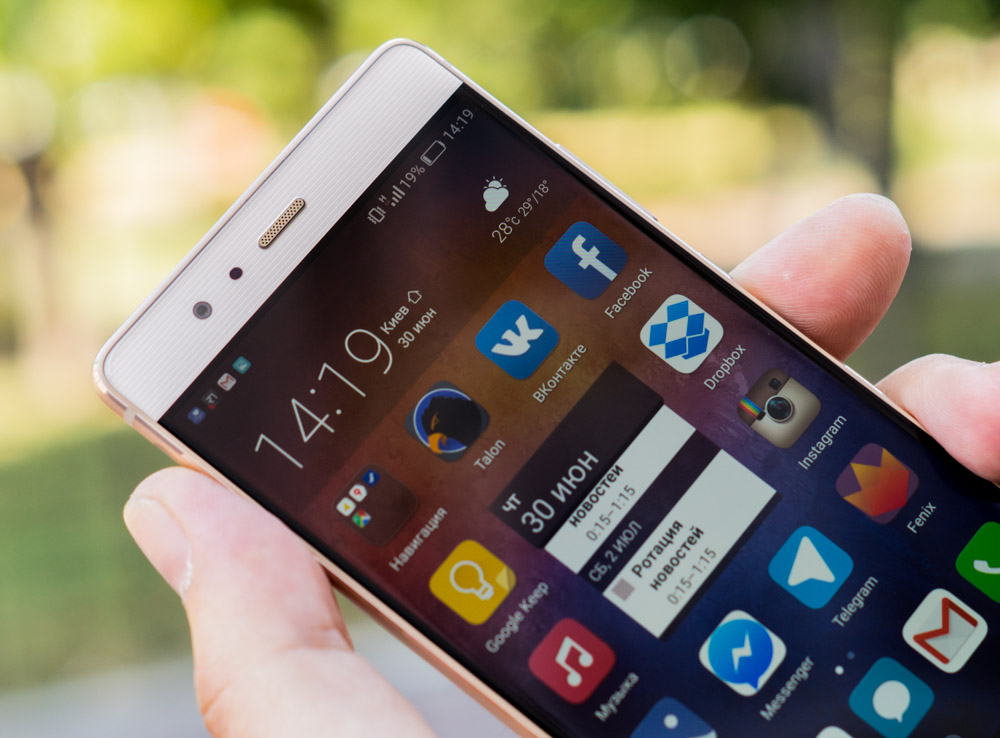 Pros:
Design, materials of body, assembly. External view of smartphone is uncompromisingly luxurious.
Ergonomics. It is pretty easy to keep phone in hand, control buttons are located really conveniently.
Screen. I don't know who said the opposite, but it's great.
Sound of headphones and earpiece.
Really fast fingerprint scanner.
Cameras are taking great pictures, presence of convenience hand mode for professionals and software of camera in general.
Firmware and software – comfortable, functional, beautiful, fast.
Cons:
No NFC-module. Not so critical for me, but I know people whose really need it.
No infrared port for controlling appliances. It seems to be a trifle, but sometimes this feature is very helpful when traveling.
No optical stabilization of the main cameras. However, smartphone takes wonderful without it. The absence of stabilizing deals a greater effect on video quality.
Slow camera shutter.
No water or dust-proof.
No wireless charge.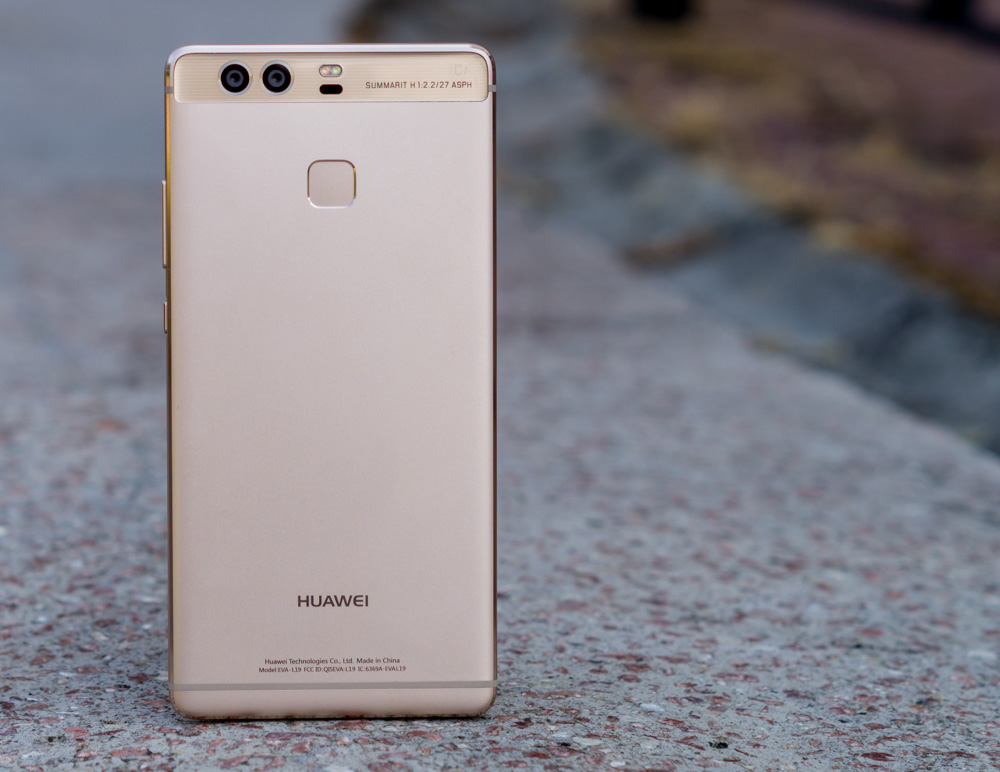 Overall – Huawei P9 is one of the coolest flagship smartphone of the year. And probably the most balanced by cost (about $ 680). If these deficiencies I showed to you are immaterial for you, it can be recommended to buy. Personally, I liked the smartphone so much that I'll give him the award website.