A special device came to me for the test – a large tablet of the TOP segment. And in the company of functional accessories that reveal its potential. This is the brand new Huawei MatePad Pro 12.6 (2022) with its own unique features. You pick it up and immediately realize that it's a flagship. A real one, without any "buts". Although a couple of controversial moments did come up during the test. And it was an interesting experience of using the equipment. Let me share my opinion.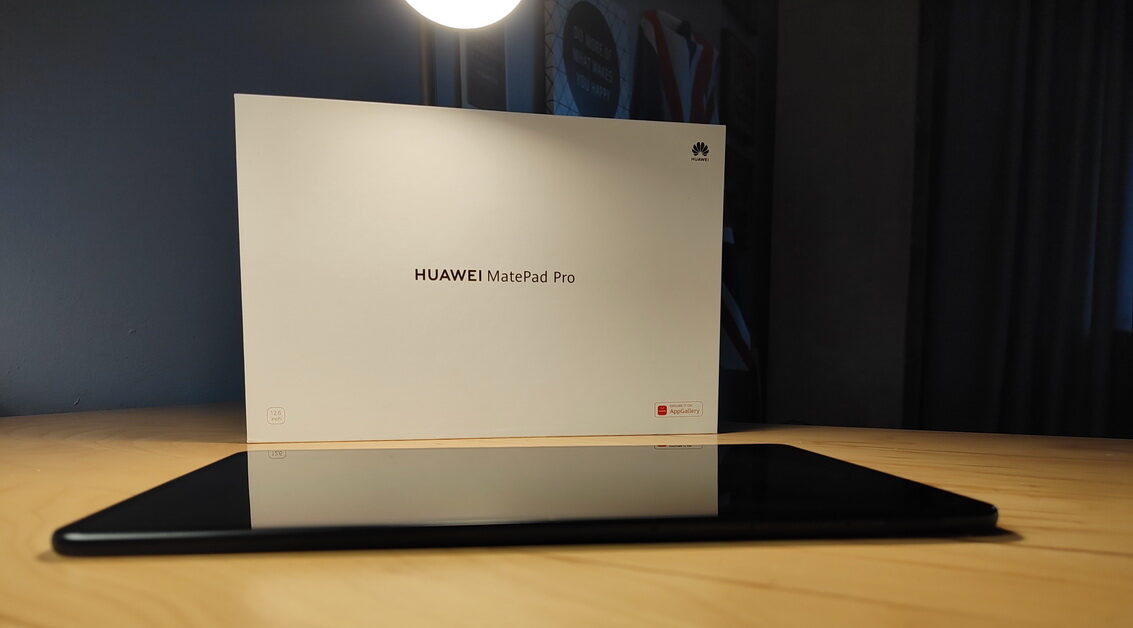 Specifications of Huawei MatePad Pro 12.6 (2022)
Screen: OLED, 12.6 inches, 90% of the front panel area, 2560×1600 pixels resolution, 1000000:1 contrast ratio, 600 nits maximum brightness, 1.07 billion shades, 120 Hz  Care Display 3.0 frequency, Delta E<0.5 calibration accuracy, P3 wide color gamut
Chipset: Kirin 9000E CPU, Mali-G78 GPU
Operating system: HarmonyOS 3.0
Battery: 10050 mAh, support fast, wireless and reverse charging
Memory: 8/256 GB (also available in 12/256 GB version)
Communications: Wi-Fi 802.11ax, Bluetooth 5.2, GPS, GLONASS, BeiDou, GALILEO, QZSS, USB 3.1
Main camera: 13MP (f/1.8) + 8MP (f/2.4) + depth sensor
Front camera: 8 megapixels (f/2.0)
Audio: 8 speakers, 4 microphones, Huawei Sound sound customization technology, support for LDAC audio codec for better sound quality when transmitting via Bluetooth
Dimensions and weight: 286.5 × 184.7 × 6.7 mm, 609 g
Colors: Golden Black
Read also: Huawei MatePad 11 review: Testing the first HarmonyOS tablet
Package and positioning of Huawei MatePad Pro 12.6 (2022)
The tablet came to me in a large white box. The device comes with a USB-C cable and a standard 40W adapter.
For the test, it was accompanied by additional accessories: a Huawei M-Pencil stylus and a detachable Huawei Smart Magnetic Keyboard. Each came in its own box with accompanying documentation and instructions.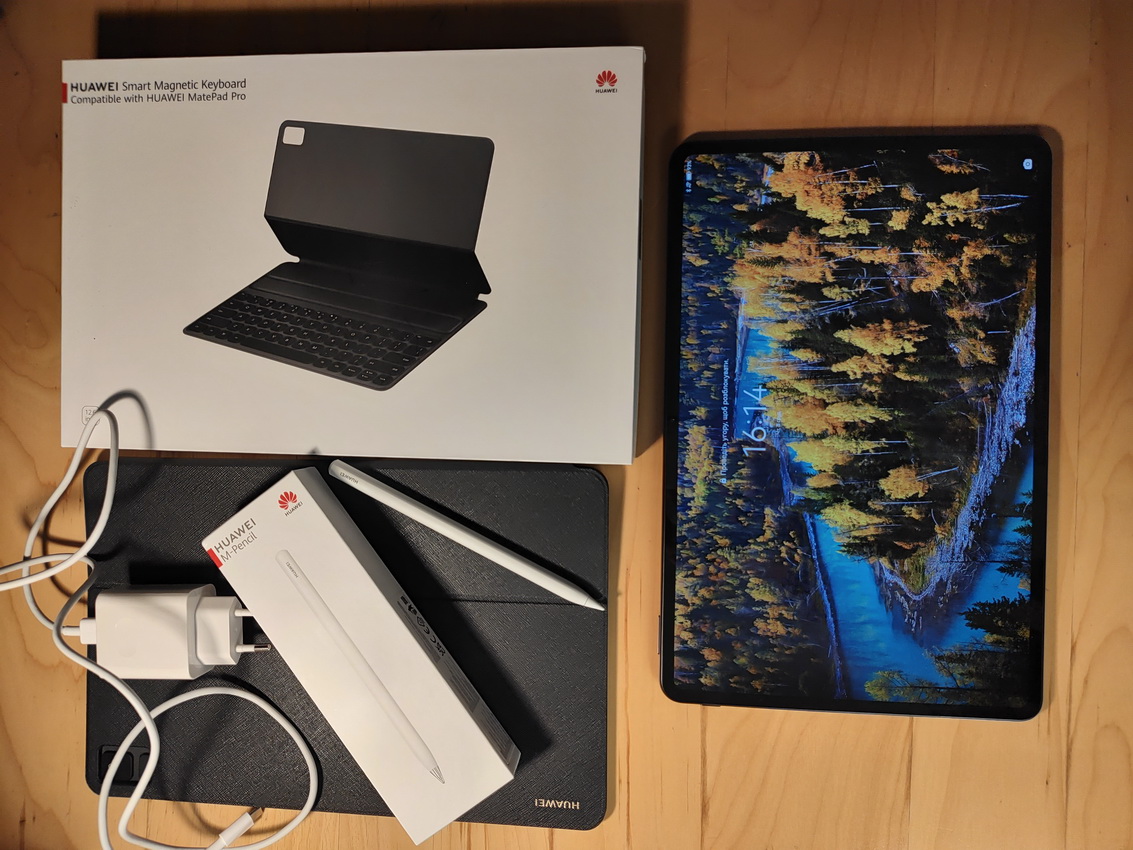 The Huawei MatePad Pro 12.6 2022 is positioned as a device for comfortable content consumption and the most versatile tool that can partially replace even a laptop: with great capabilities for working with documents and editing them, for online meetings, creating notes, and professional drawings. It has a calibrated screen matrix, supports the second-generation M-Pencil stylus, and the Hauwei Smart Magnetic Keyboard, which also doubles as a protective case. And all this is necessary to meet the needs of the most demanding friends.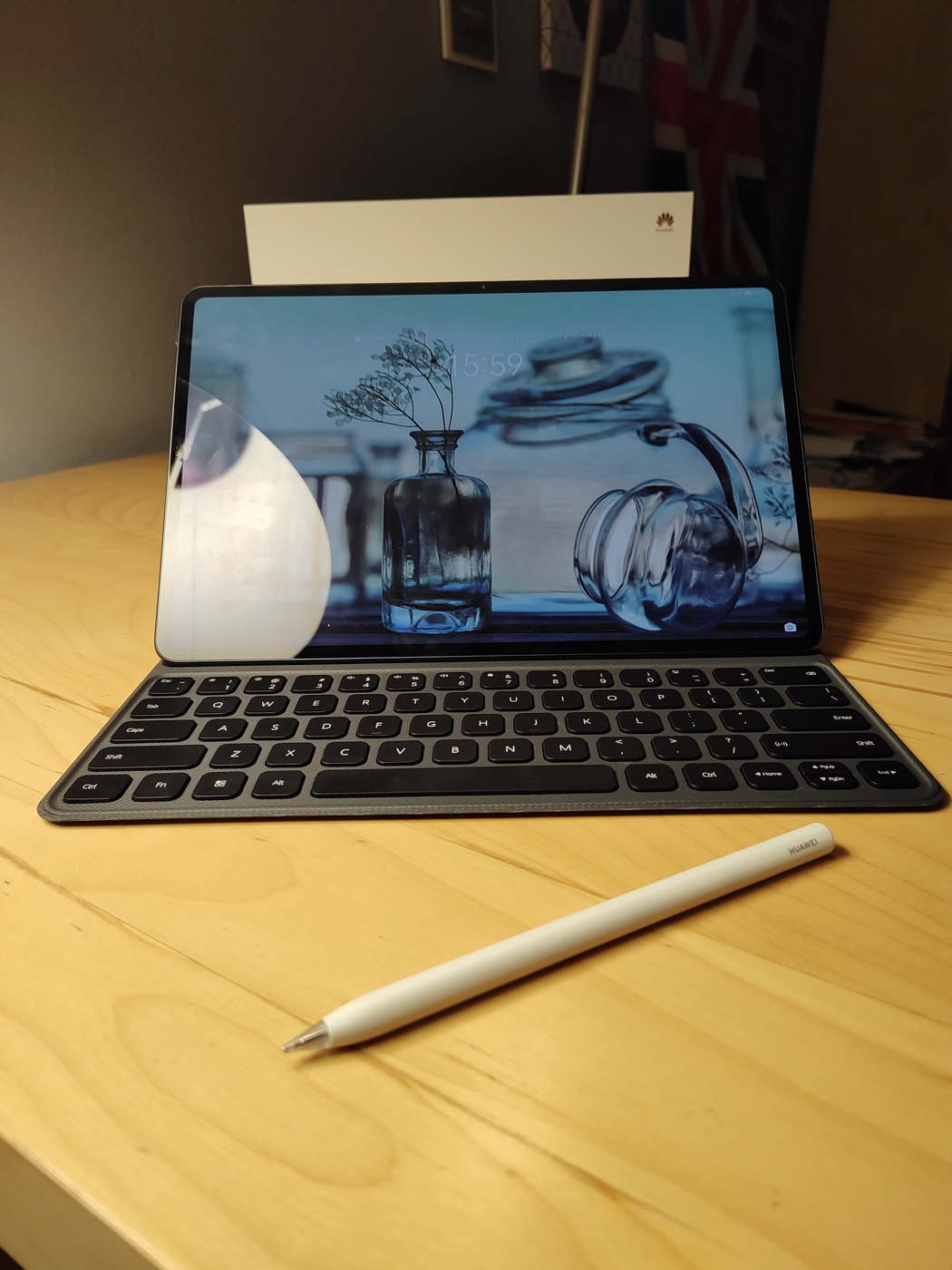 A large 12.6-inch OLED matrix, powerful hardware combined with the updated HarmonyOS 3 operating system and a long-lasting battery contribute to an exceptionally pleasant user experience.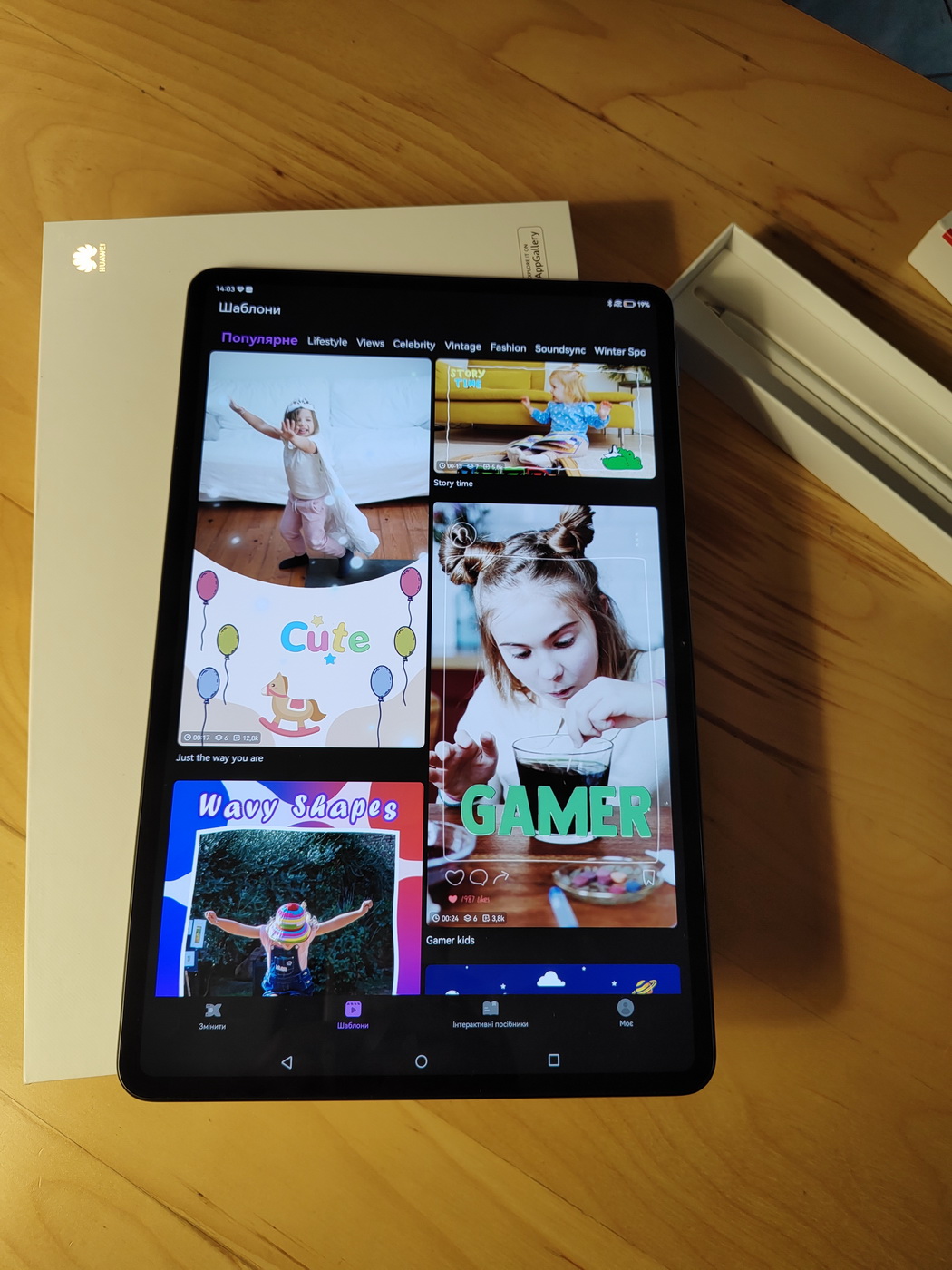 Undoubtedly, this is not a model for the masses. Obviously, Huawei MatePad Pro 12.6 (2022) will not be able to take off as a budget or mid-range tablet. And the tablet segment itself has never been easy. On the one hand, they are being squeezed by compact smartphones with increasingly larger screen diagonals, which makes tablets not so necessary. Sales data from IDC is proof of this: last year, 168.8 million tablets and 1.354 billion smartphones were sold worldwide. For every tablet, there are about ten smartphones. These are some interesting statistics.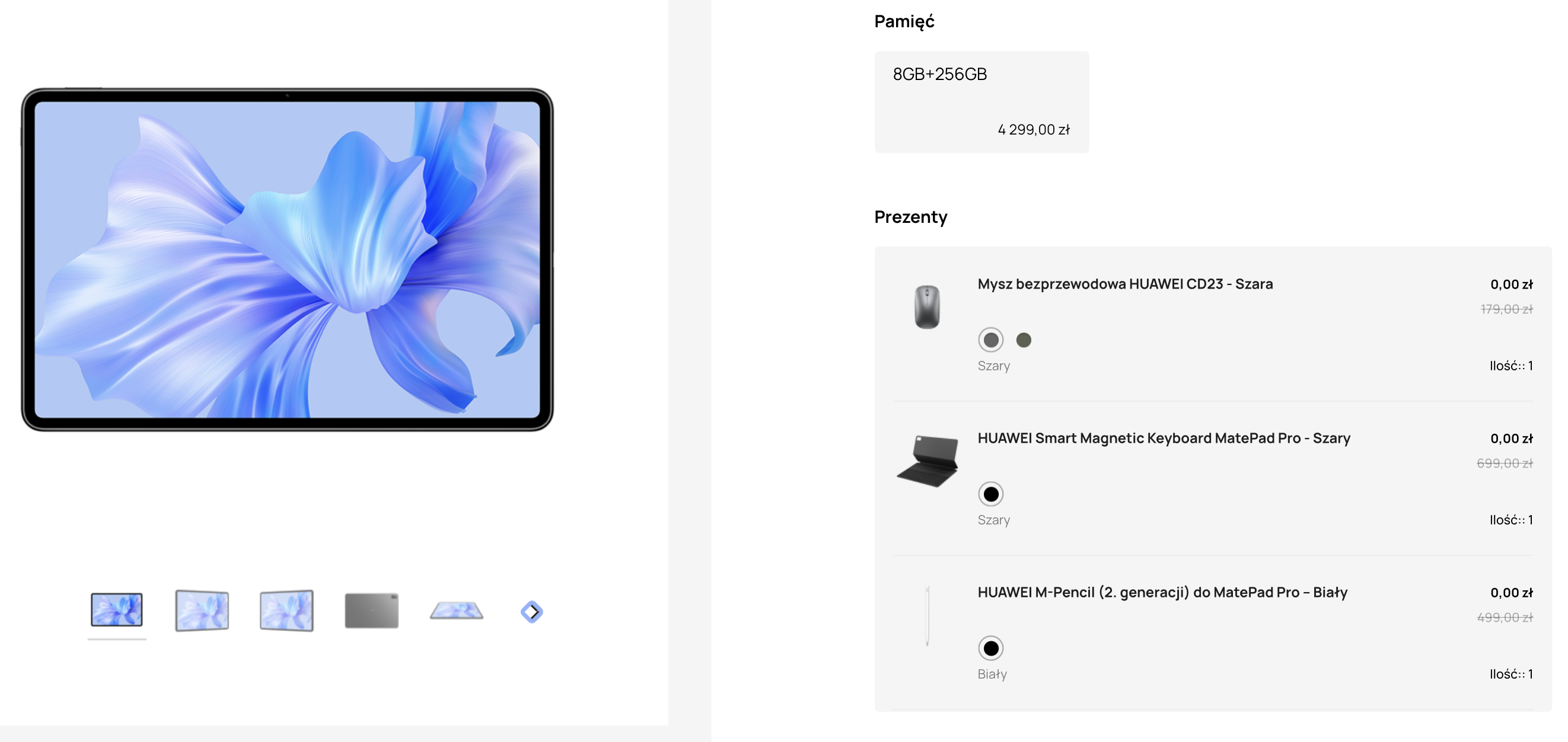 On the other hand, computers are gaining market share. Their life cycle is virtually unlimited. In addition, a versatile tablet with accessories that bring it closer to a PC often loses out in terms of cost. Even compactness doesn't help, as modern laptops are also quite "thin and sleek." Therefore, we have to talk about the niche nature of tablets. But the market is formed, and tablets are not dying out, but remain in demand. Huawei MatePad Pro 12.6 (2022) is one of them. And I'm sure that Huawei MatePad Pro 12.6 (2022) will find its enthusiastic connoisseur.
Design, construction and ergonomics of Huawei MatePad Pro 12.6 (2022)
Classic design. You can't go too far wrong here. And I like that the company did not even go for minimal experiments like installing a front-facing camera in the display surface, as in MatePad Pro 2020. Often, such eccentricities do not go over well with the people.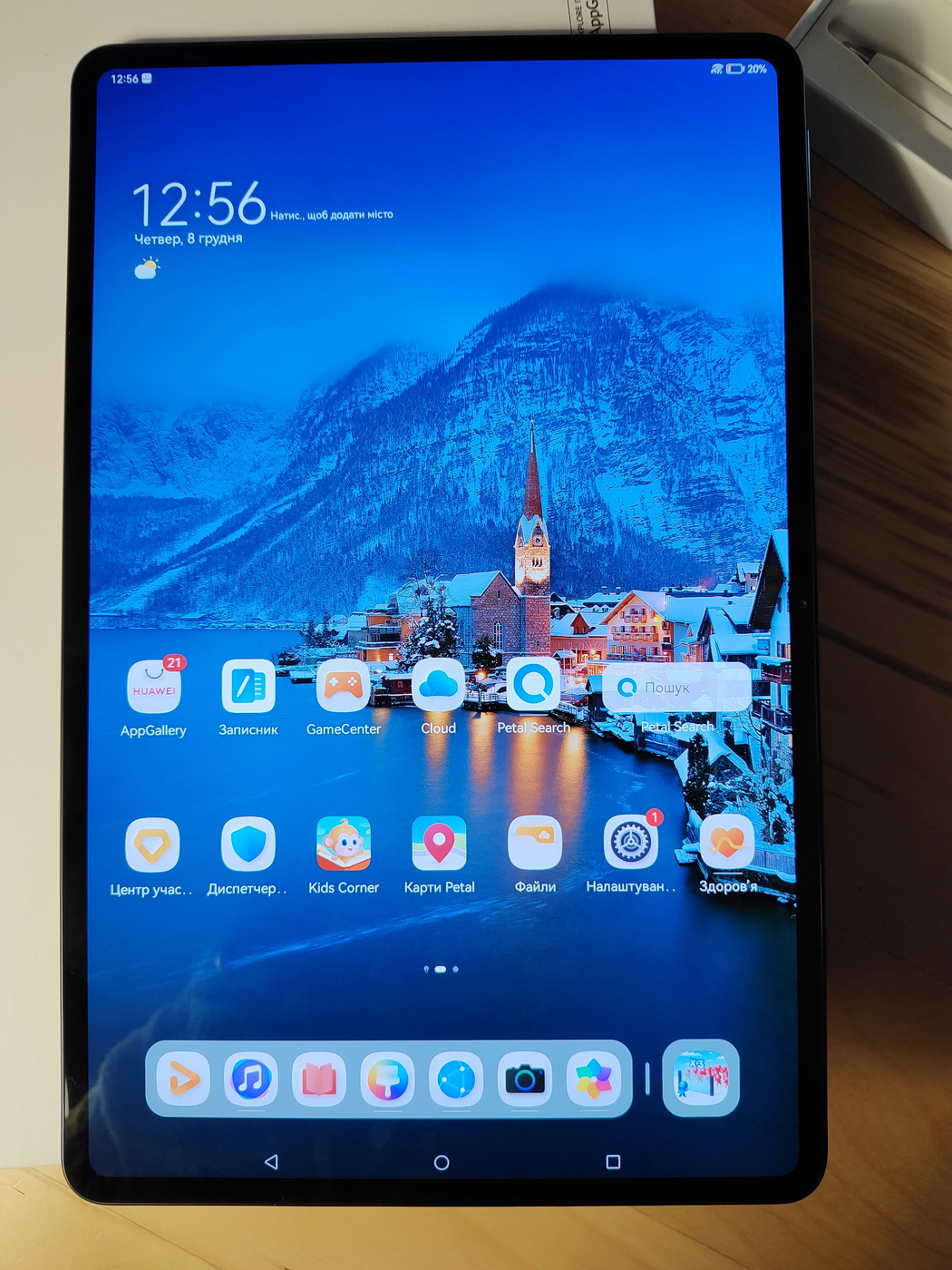 The new model, like last year's, has a front-facing camera inscribed in a frame around the display. The bezels themselves are small. The front side is one large 12.6-inch glass panel. When you see the background picture, your eyes are immediately pleased.
I received a tablet in Golden Black color for testing. Its back panel is not made of metal, but of durable matte plastic. This decision was made in order to implement wireless charging. And it's good that it's there. The use of plastic, which is not at all popular in the premium segment, has lightened the design. The material also has an advantage over glass in that it does not slip. The plastic itself is slightly matte. This makes fingerprints less visible. Although sometimes you have to wipe the device with a napkin.
On the back is a camera island protruding from the body, which, like the 2021 version, is rectangular. There is also a minimalist manufacturer's logo.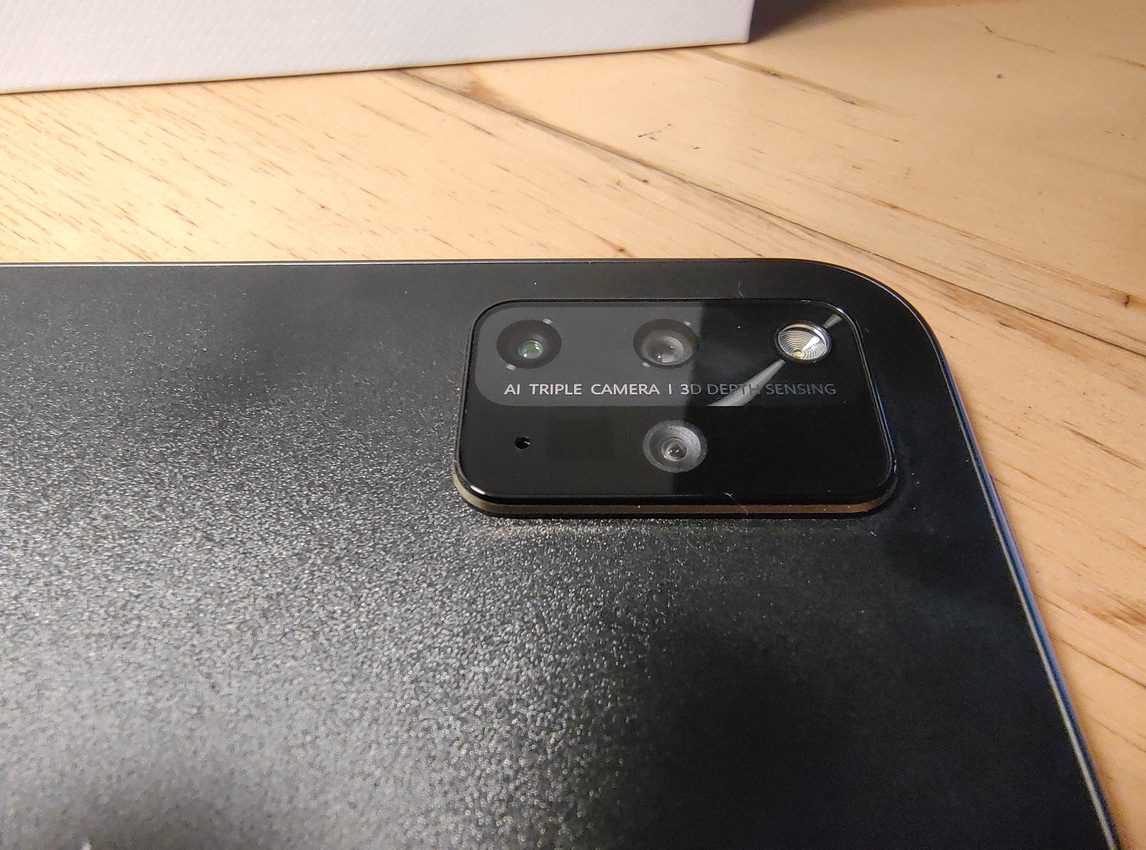 The inner frame is made of lightweight and durable magnesium alloy, and the outer frame is made of aluminum. The tablet is well assembled. It is monolithic. No creaks or backlashes were noticed.
There are two sets of speakers and a switch on the left edge, and two more sets of speakers and a USB-C port on the right.
The volume control is located on the top edge of the tablet near the power button.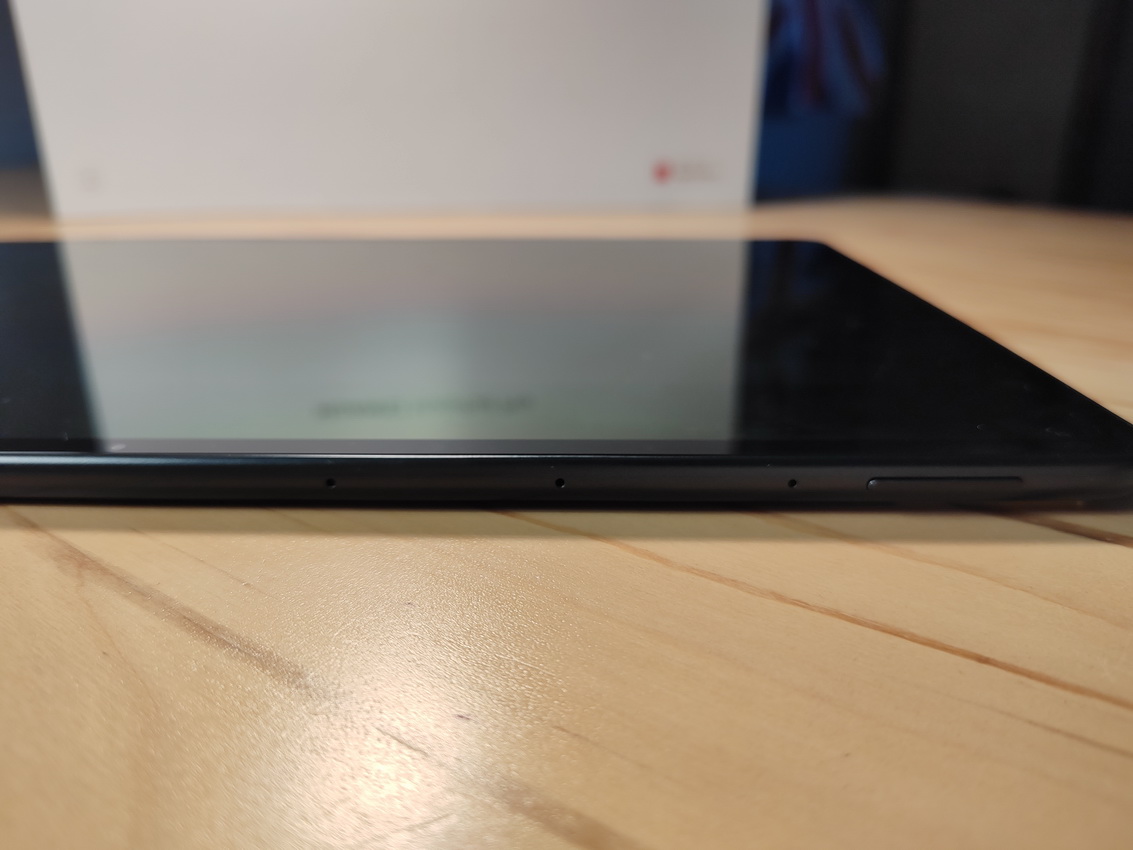 The tablet is compact and lightweight for such a large diagonal. With dimensions of 286.5×184.7×6.7 mm, it weighs 609 g. The white model is even thinner – 6.5 mm. It's worth mentioning that Huawei MatePad Pro 2021 was also available in two colors – matte gray and olive green.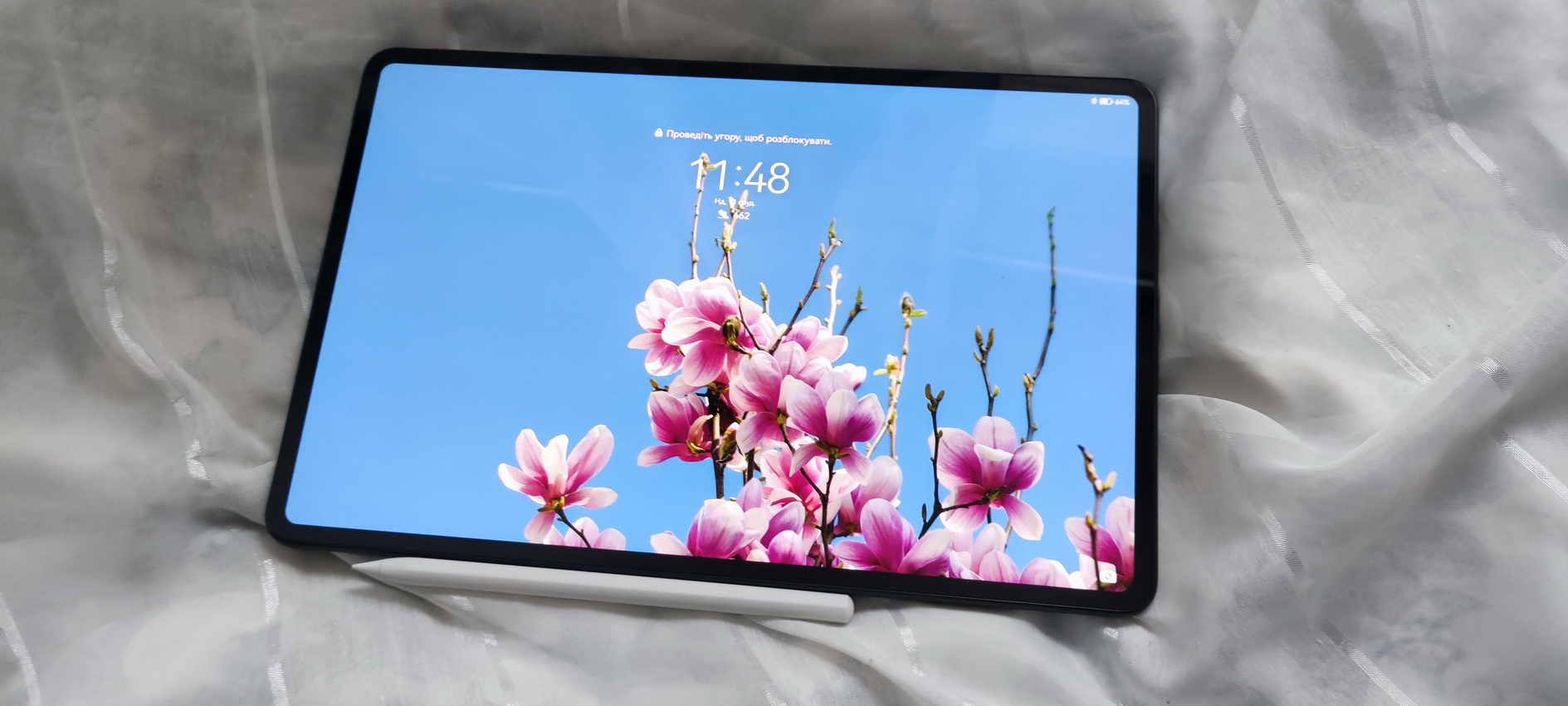 You won't be able to carry Huawei MatePad Pro 12.6 (2022) everywhere with you, and it won't fit into every woman's handbag, unlike a smartphone that can hide even in a more or less hospitable roomy pocket. However, it's definitely worth taking on a trip. At least to spend time on the road watching movies and TV shows. When I was a kid, I could only dream of such a portable TV.
Huawei MatePad Pro 12.6 (2022) display
The guys from Huawei really went to the trouble with it. Judge for yourself. It has a 12.6-inch OLED matrix with a resolution of 2560×1600 pixels. Thanks to the format, it solves a number of tasks more efficiently than its smaller counterparts. The screen covers 90% of the front panel area, which is a record figure in the class of such devices.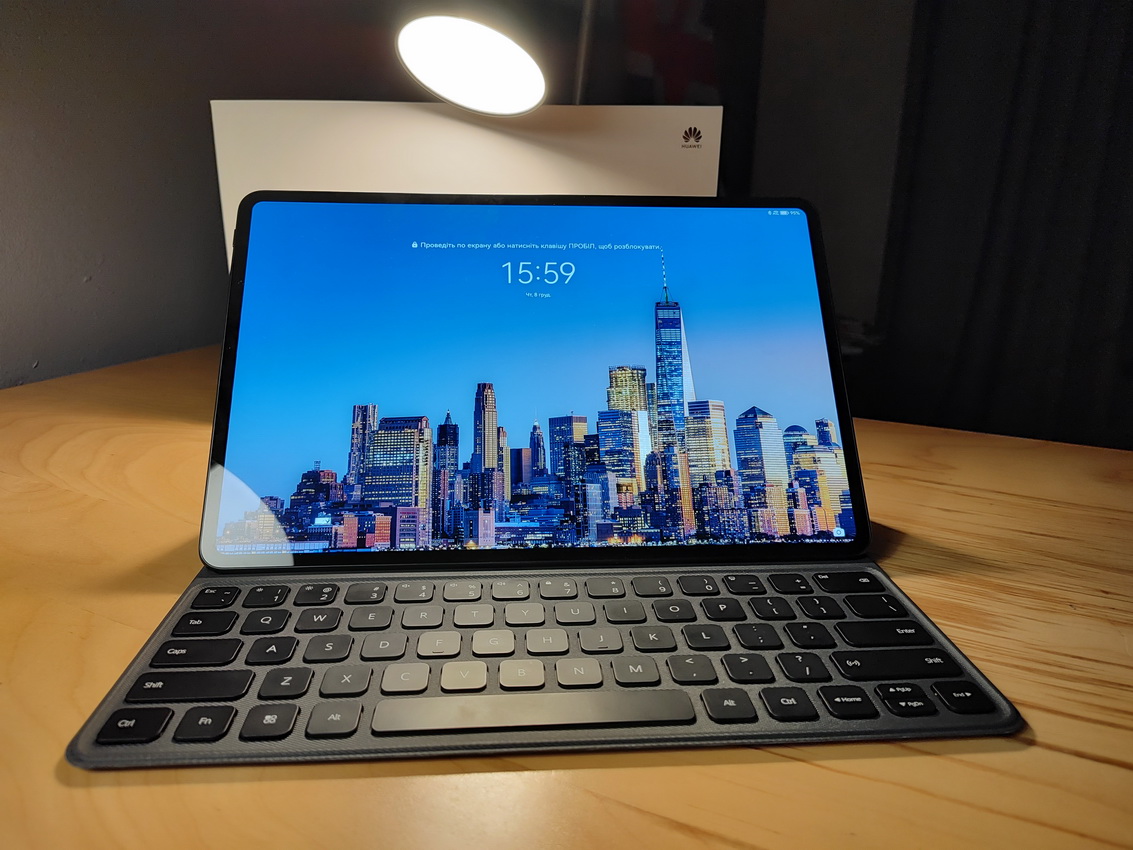 I can safely say that the large diagonal of the Huawei MatePad Pro 12.6 (2022) screen is its advantage, not a disadvantage. It is thanks to it that it has become a kind of portable TV. 12.6 inches diagonally allows you to watch movies comfortably. By the way, according to statistics, 98% of user time is spent on this – consuming video content -. The remaining couple of percent is spent searching for information in a browser.
The company's engineers have not forgotten about the strength of the case. The edges of the screen are protected by an aluminum-magnesium alloy frame.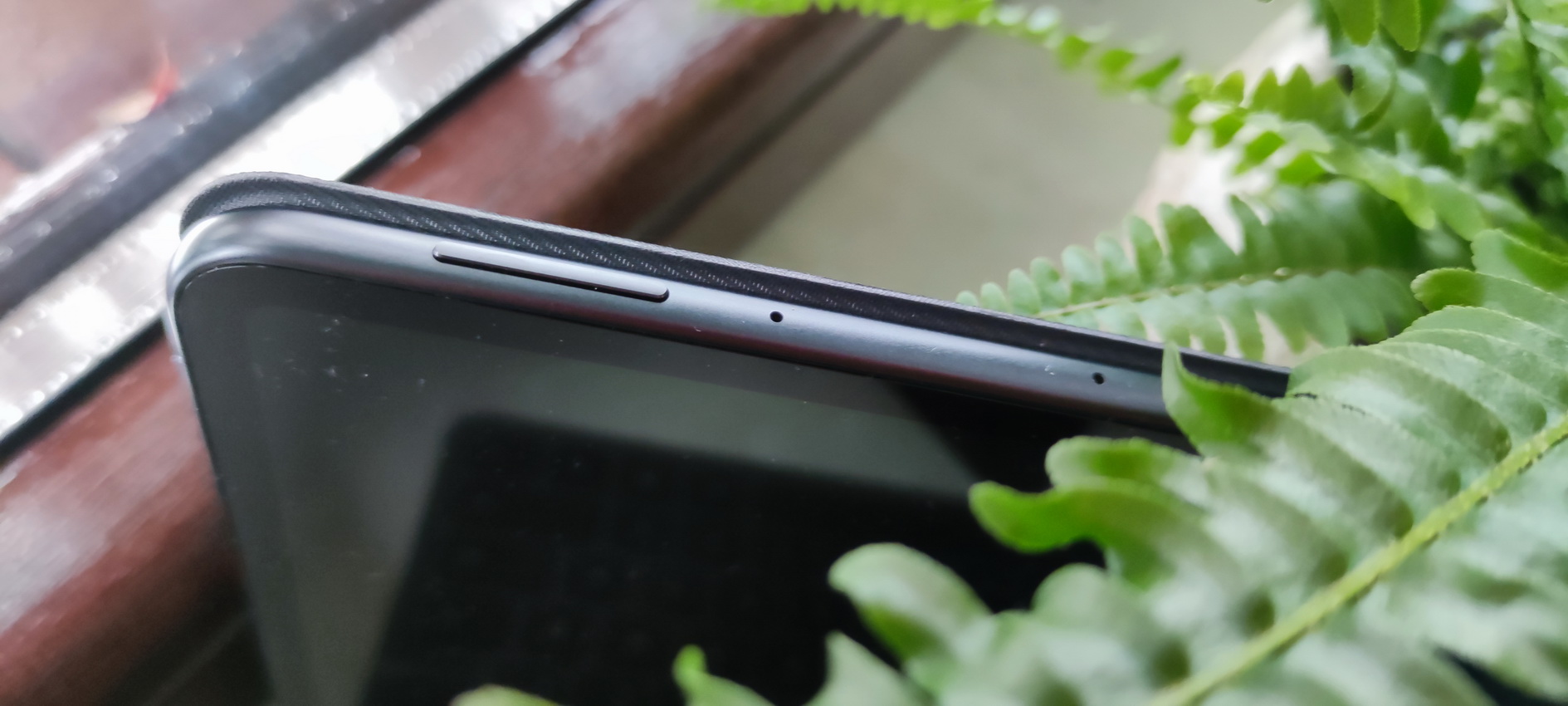 The bezels themselves are no more than 5.6 mm thick. We even managed to place the camera in one of them to make a notchless display. I have already mentioned this.
A few words about the matrix. This is the best OLED panel among Huawei tablets. Deep black color, infinite contrast, high maximum brightness of up to 600 nits, sufficient for comfortable work… In general, everything about it is great. Especially the 120 Hz refresh rate. Recall that last year's Huawei MatePad Pro 12.6 has another 60 Hz. And this is the main complaint about the device. Huawei MatePad 11 became the company's first tablet with a screen refresh rate of up to 120 Hz. The hero of our review also took up the baton. This parameter primarily brings aesthetic pleasure, making the picture smoother: it increases the dynamism in games and increases comfort when browsing the web or typing.
The difference between 60 Hz and 120 Hz is just incredible. The images in the new product are pleasing to the eye, the animation is smooth and beautiful. Actually, it should be so.
The company has minimized PWM, which is often a problem with OLED matrices. The tablet also has automatic white balance adjustment depending on the lighting.
Another important point is the color reproduction of the display. It covers the P3 range by 100%. And the iPad Pro can boast of this. I can't think of any others. Huawei promises a Delta E calibration accuracy of < 0.5. This parameter shows the color deviation from realistic shades. And the lower its value, the better. As a rule, budget devices have Delta E < 3, professional line – Delta E < 2, current iPad Pros – 1.5. With a value of less than one, our eyes do not notice deviations at all. And the Huawei MatePad Pro 12.6 (2022) has less than 0.5 in standard mode! The manufacturer has overdone it. You shoot with a professional camera, upload content to the tablet, and you see the same shades as in real life.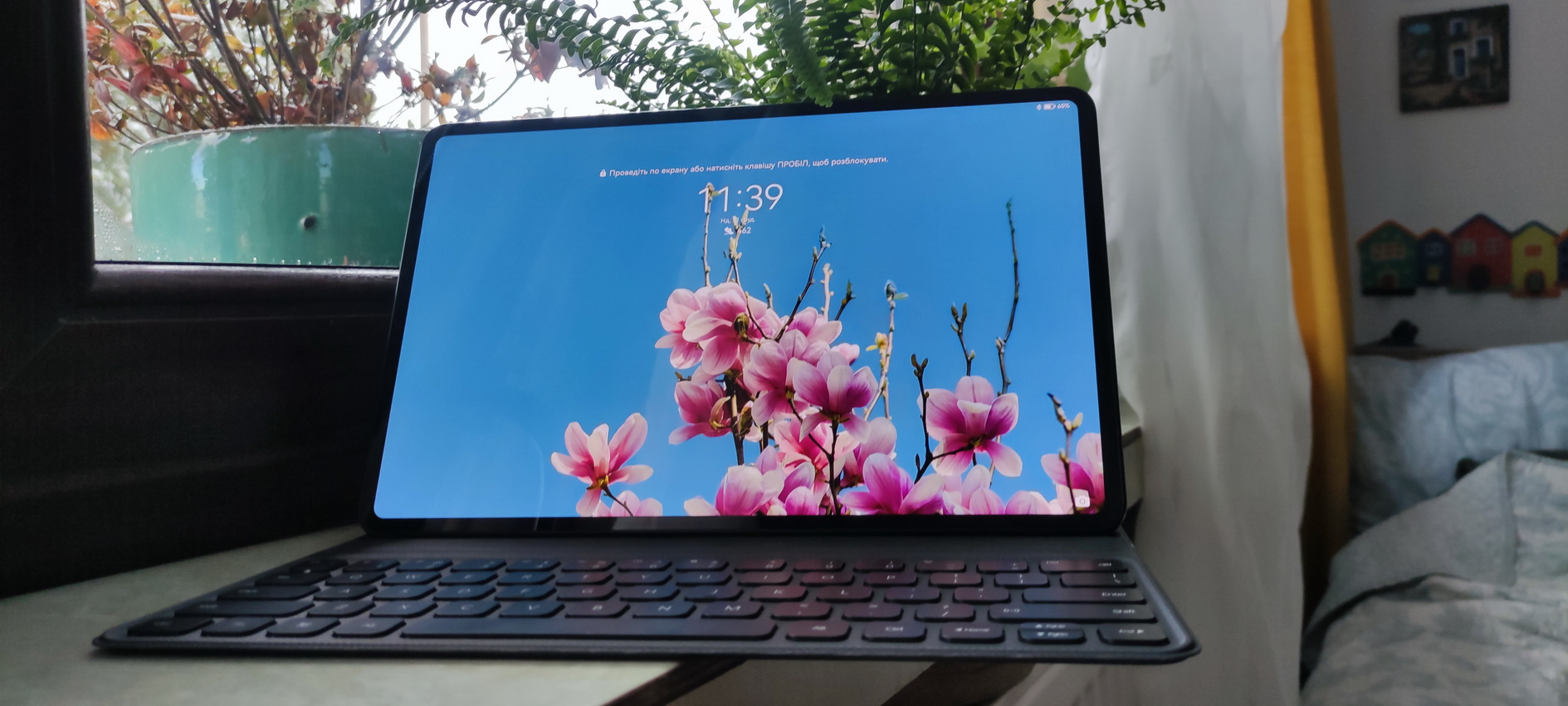 Huawei MatePad Pro with such parameters is comparable to professional-grade monitors in terms of screen color accuracy. Bravo!
It's nice that the company took care of users' eyesight. The harmful spectrum of blue radiation is cut off at the hardware level.
Read also: Huawei Mate XS 2 Folding Smartphone Review: Two Weeks With A Miracle Of Technology
Hardware and performance of Huawei MatePad Pro 12.6 (2022)
The test tablet is powered by Kirin 9000E. It's not the fastest system on the market today, but it's still the top of the line. It works smoothly. And 8 GB of RAM is also quite enough. During the time I used the device, there was not a single task in which it would fail. The amount of permanent memory reaches 256 GB.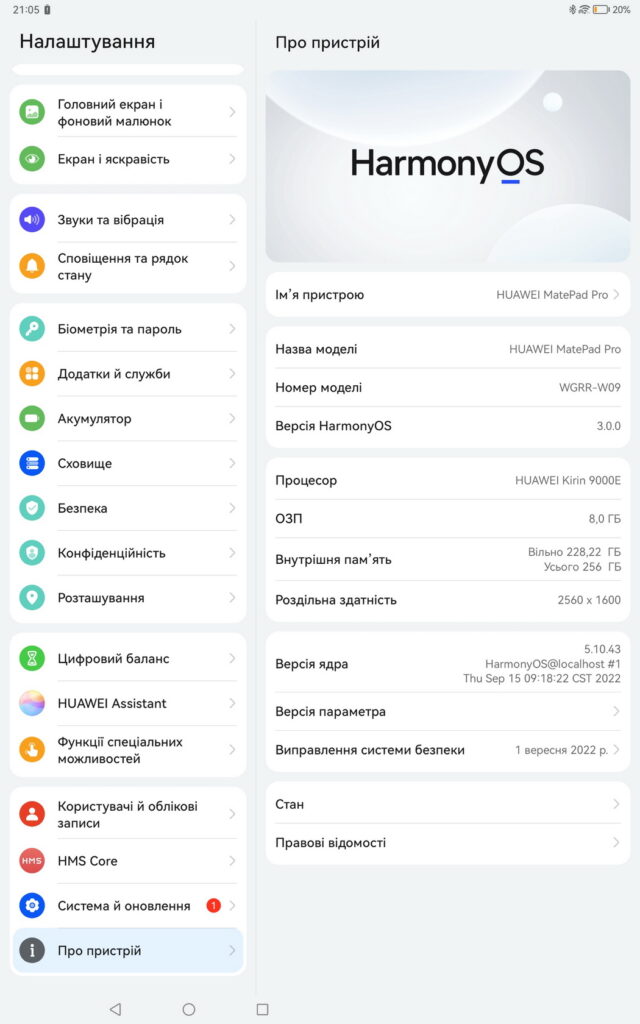 Results of benchmark tests:
PCMark 2.0 – 9358
Geekbench 5 – 864 (single) and 2928 (multi)
AI Benchmark – 155,6
3D Mark Wild Life Extreme + Stress – 1159, 72,9%
GFX Bench Aztec Ruins 1440p Offscreen – 1496

Software Huawei MatePad Pro 12.6 (2022)
The first Huawei tablets running the proprietary HarmonyOS operating system were released in 2021. With its development, the company intended to make it easier for users to solve professional and everyday tasks, as well as interact between devices, making them all friends. We must admit that it succeeded. Its summer hits of 2021 with HarmonyOS 2.0 on board – MatePad 11, MatePad Pro (12.6 inches) and MatePad Pro (10.8 inches) – received up-to-date screens and powerful processors along with stylish design. People took them, people praised them.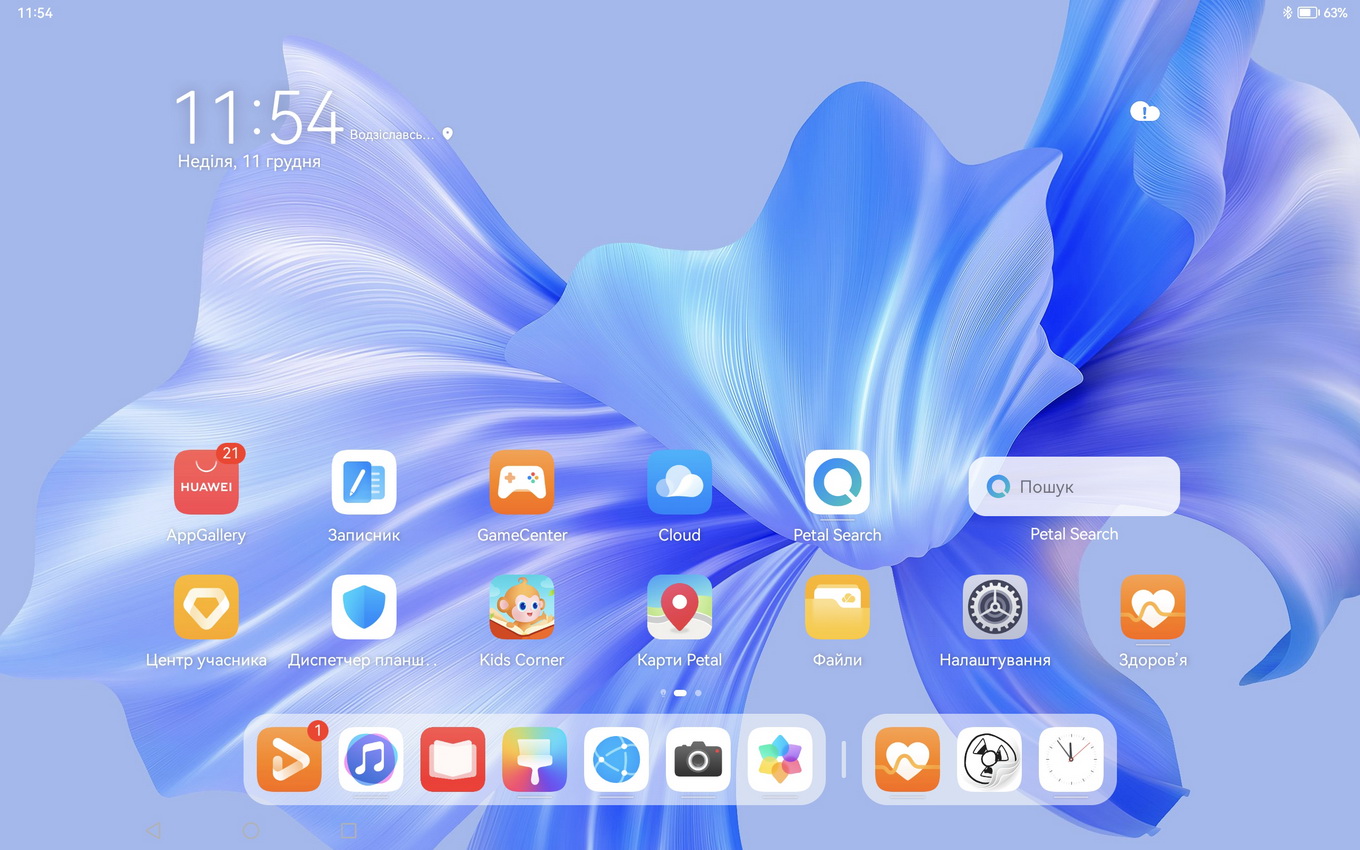 After the flagship devices, Huawei began to install its own Harmony OS operating system on more budget-friendly tablets. Huawei MatePad Pro 12.6 2022 has version 3.0.
In fact, it is a modified Android. And every user of the Google system will feel at home here. The system looks almost like EMUI 13. Everything is aesthetically pleasing and clear.
You can pin up to eight applications to the bottom panel. This version has no problems with running two programs on a split screen and a third in a floating window. A bonus for productive work. It looks like you're working on a Windows laptop.
When you install two applications on a split screen, they are processed by the system as a single unit. And this is a plus for quick switching. The size of the windows is adjustable, including the floating window.
Harmony OS 3.0 MatePad Pro 12.6 2022
Colorful themes catch the eye. Their customization is traditionally easy. My son, who enjoyed learning about the features of the new high-tech inhabitant of our home, handled the settings on an intuitive level.
The tablet also has a lot of interesting things for children, even though it is not aimed at them. For example, there is a special gaming app for the little ones. It's still hard to get out of it, even for an adult.
In the AppGallery store, you can find analogs of Google services. The Petal Search search engine will come to the rescue if something is missing. Or you can install programs via APK files.
I would like to emphasize the convenience of Huawei Assistant TODAY. The app is positioned as a personal assistant that provides one-touch access to various services and content.
Together with the tablet, I received a HUAWEI WATCH D SMART watch with a blood pressure measurement function. This is also an unforgettable experience. I will definitely tell you everything in a detailed review of the device. I tested it in conjunction with both a smartphone and a tablet. I did not feel much difference.
When using the tablet, I had problems with account identification. It took a lot of time to restore access, but I still had to create a new one. I used it to log in to the Huawei Health app.
The app, among other things, allows you to track your physical activity and record your progress. True, I never opened the door to the world of big sports, but I am grateful to the watch for its timely reminders to get up and move.
But what the watch and Huawei Health really helped with was sleep. Sometimes it seemed that the gadget itself was shocked by its quality. The program even records extraneous sounds during sleep, such as snoring or talking. This was not a problem, but the amount of time I had to rest was. Below is proof of how the device motivated me to improve.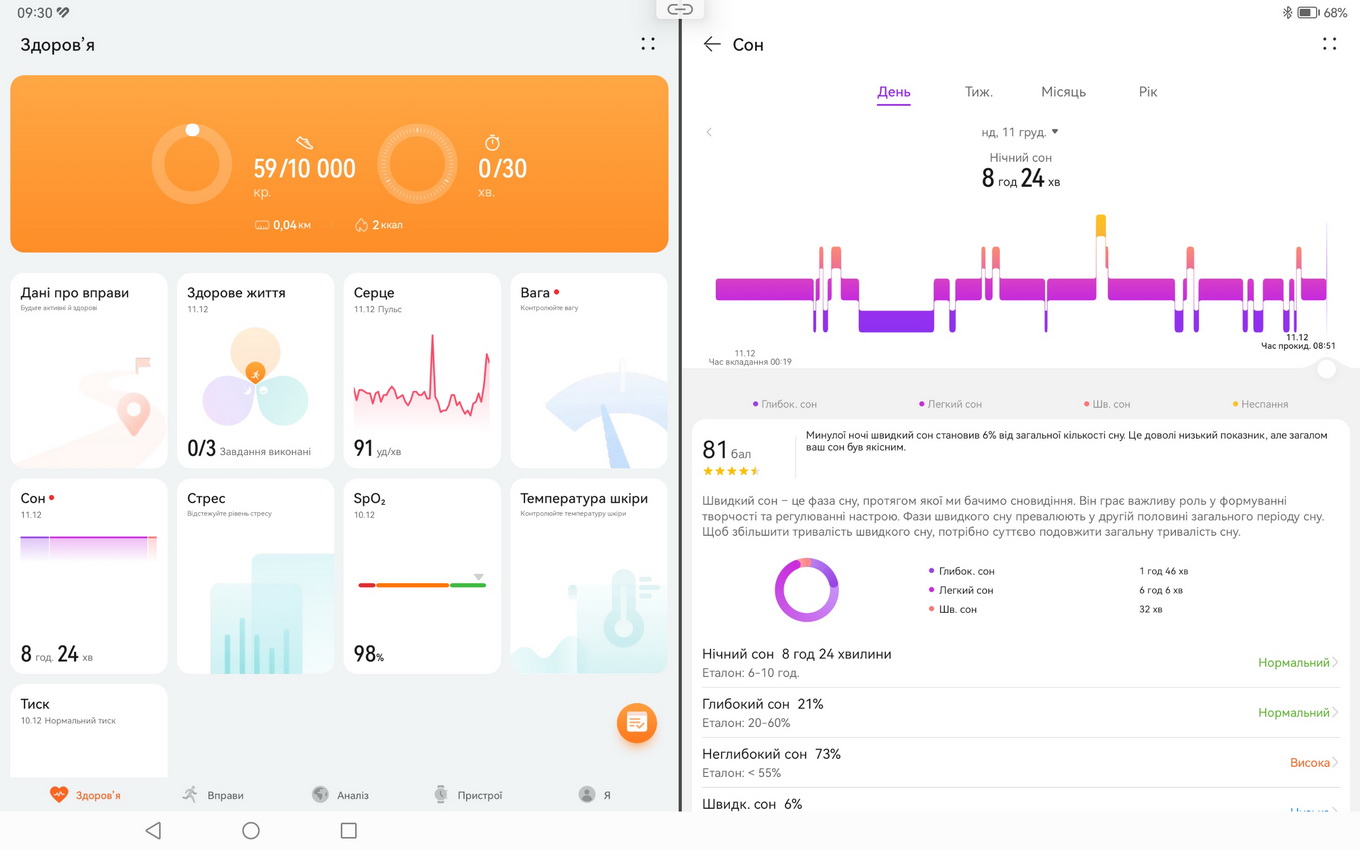 Other useful features include additional stylus functions, such as handwriting in all forms of text input, and the ability to create a quick annotation on the current screen.
A unique feature of the HarmonyOS 3.0 operating system is that the tablet can be connected as an external screen for a laptop. It mirrors the image or is used as an additional monitor. To do this, you need a Huawei laptop and the latest version of the PC Manager program.
The tablet can also be paired with a smartphone in Multi-screen mode. It's great for taking calls or swiping files back and forth.
Read also: Huawei nova 10 Pro Review: Curved Screen, Super Cameras And 100W Charging
Huawei MatePad Pro 12.6 (2022) camera
Some people think that a tablet is not for taking photos. Unless you have the device at hand if you want to capture a moment. For example, a cat warming up at your feet while you watch a movie on the screen. Or how the same furry animal is trying to pull a sausage off the table. This happened during the test as well. However, the animal's reaction speed was faster than mine. And I don't have any photo or video evidence of the animal's crime. But in order to admire the flame of a candle or catch snow, personal speed does not matter – I took pictures with pleasure.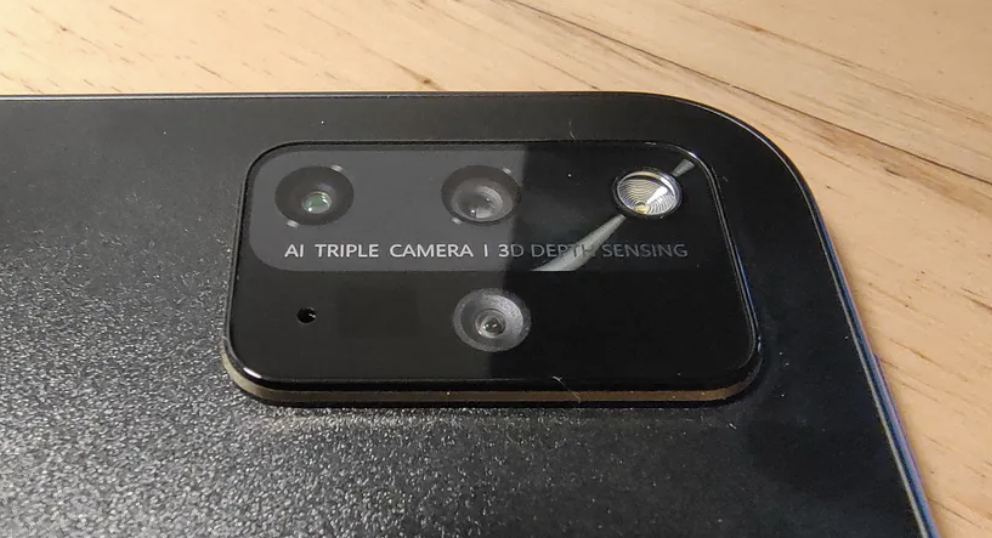 I show my photos taken in different modes, weather conditions and moods, in different lighting and with different settings, standard, wide angle, with and without zoom, at home and outdoors. The sharpness and dynamic range are not bad, but no more.
Speaking of specifications, the new Huawei MatePad Pro has a camera with three modules. The main sensor is 13 megapixels with a high aperture of f/1.8. The ultra-wide-angle camera has 8 megapixels and f/2.4 aperture. There is also an infrared 3D depth sensor that is involved in shooting portraits and blurred video.
The tablet records video up to 4K (30 frames per second). Autofocus is slow, but it's there. Below are HD and Full HD videos. The zoom is 10x.
There are fast and slow motion videos to play with, as well as light painting, stickers, and much more. From what we noticed. The Monochrome mode adds atmosphere to any shot.
The front-facing camera has its legitimate 8 megapixels. It is suitable not only for video calls, but also for selfies. Record 1080p video. And Huawei's powerful sound processing and array of microphones only contribute to the creation of high-quality content. For girls, a "beauty mode" has been introduced that smoothes the skin. But it works so-so.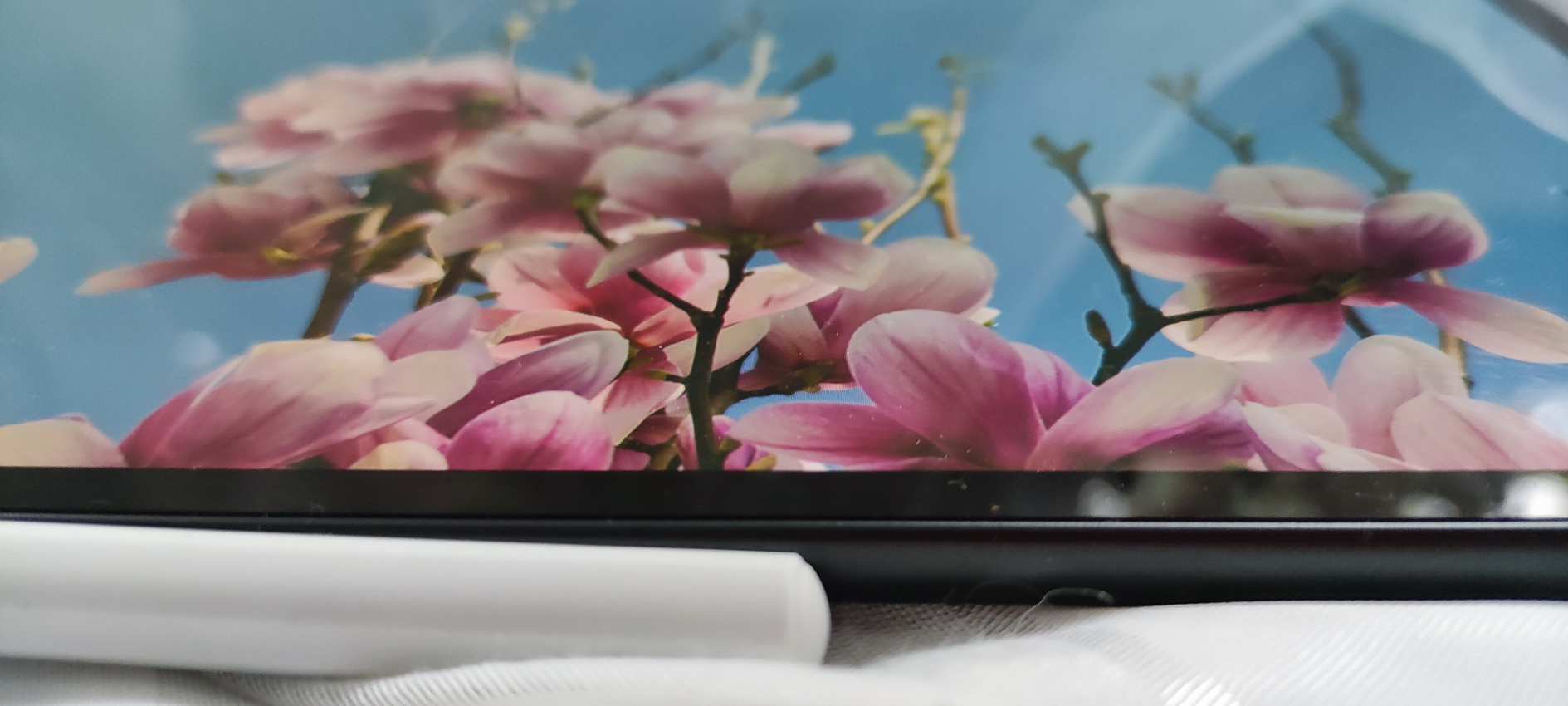 When it comes to editing visual content on a tablet, it's very convenient. Even those who feel comfortable with mobile editor interfaces on a smartphone will appreciate it. Favorite apps on a large diagonal are a must-have in the digital sphere for SMM managers and other professionals.
Звук Huawei MatePad Pro 12.6 (2022)
In terms of audio capabilities, the tablet also surprised us. There are as many as 8 speakers. They are located in pairs on the sides of the device. It's perfect for watching movies and TV shows. For listening to music, I would recommend connecting good headphones to make the sound more surround. Although in this parameter, as well as in volume, the novelty is easily ahead of the competition.
It should be noted that the sound setting of this model is Huawei Sound. The last Pro was developed by Harman/Kardon.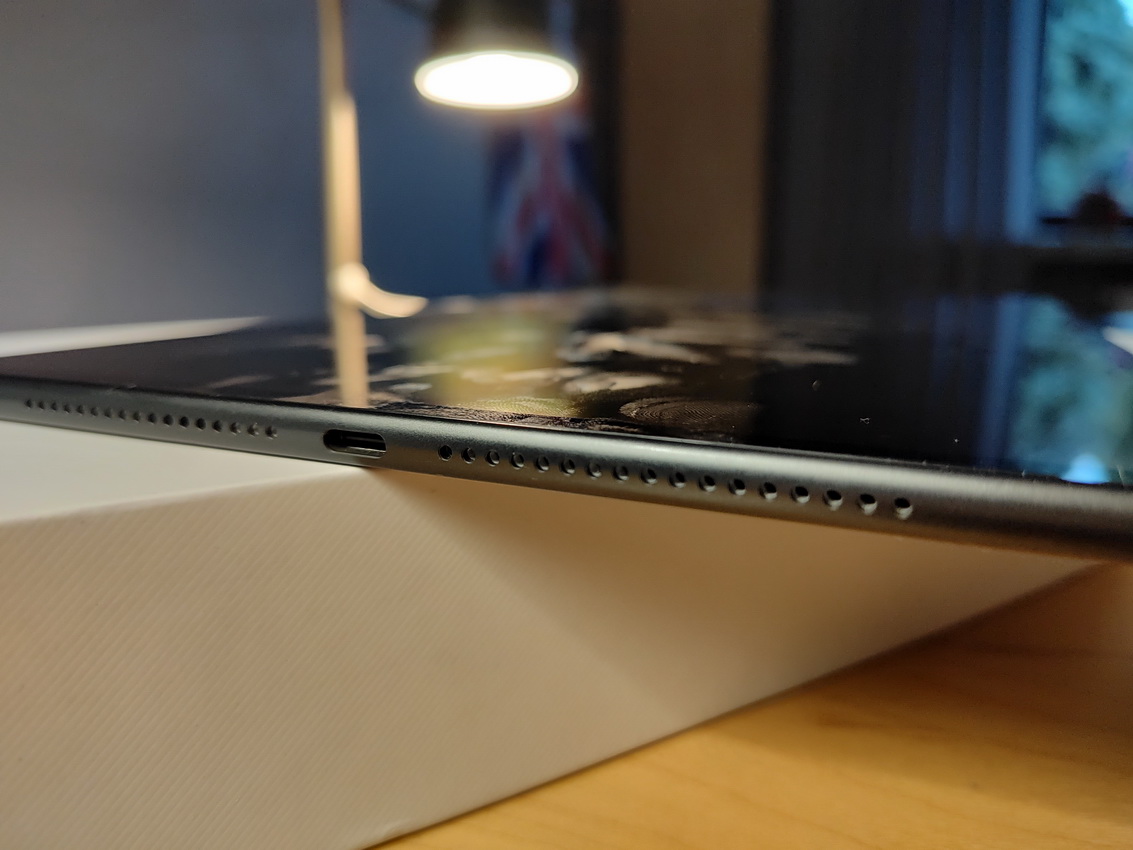 Huawei MatePad Pro 12.6 (2022) battery life
In short, the work is long and the charging is fast. The model is equipped with a 10,050 mAh battery, which lasts for 14 hours of video playback and 8-9 hours of web surfing. Looped video in airplane mode can be played for 22 hours. As for the consumption in games, Perfect World consumes about 10-11% per hour of gameplay.
Such good performance is the result of a competent combination of a capacious battery, OLED screen, energy-efficient processor and HarmonyOS.
For better battery life, it is recommended to choose a dark theme, 60 Hz refresh rate, and auto-brightness, but the tablet will last a long time even without these restrictions.
It's good that the new product supports fast charging at 40 watts. It takes a couple of hours to charge from 0 to 100%. For a battery capacity like Huawei MatePad Pro 12.6, this is not much. For comparison: Samsung Galaxy Tab S8 Ultra with an 11,200 mAh battery with all super and ultra-charges takes more than three hours to charge.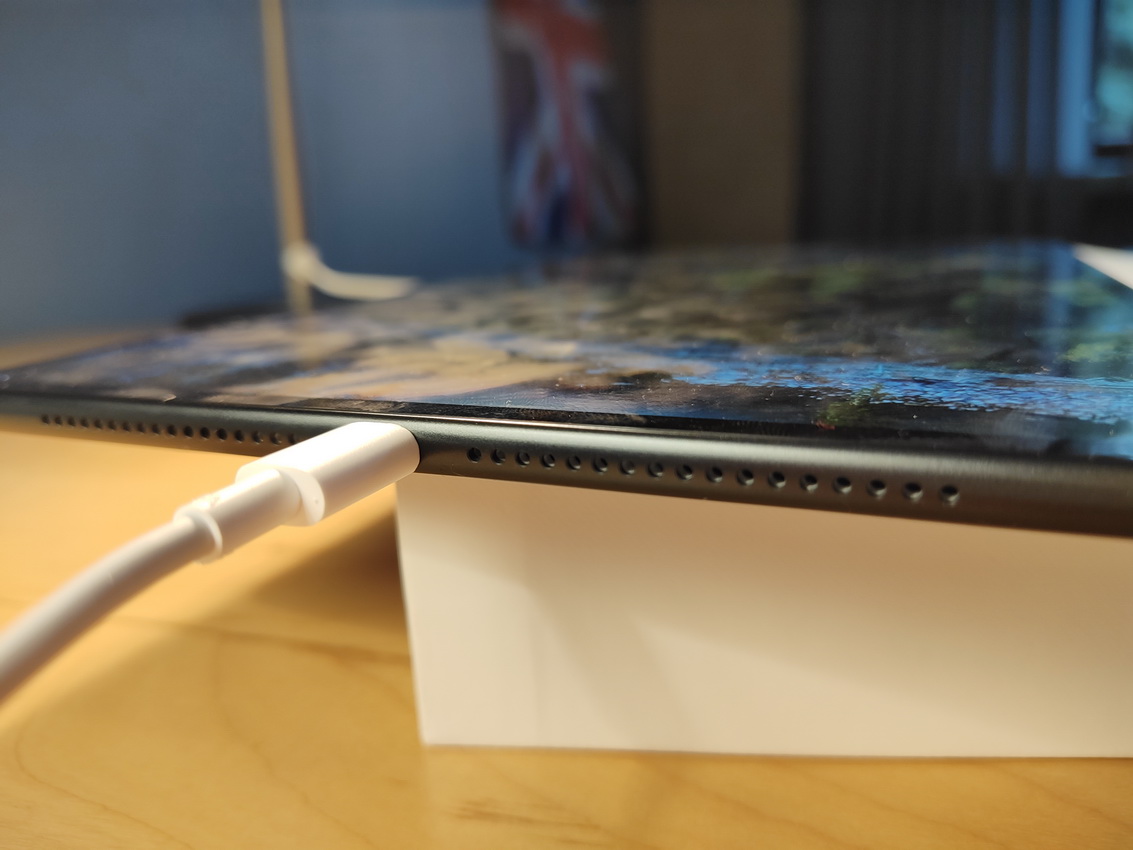 But that's not all. The model also knows about fast wireless charging with a power of 27 watts. Yes, it's on the tablet and "over the air". After all, not all flagship smartphones can boast of supporting such power over the wire.
In addition, there is reverse wireless charging. You just put the headphones or smartphone on the back and they charge.
Accessories
Accessories that extend the tablet's functionality beyond content consumption deserve special attention. They also came to the test. And without them, the experience of using the new product would not be complete.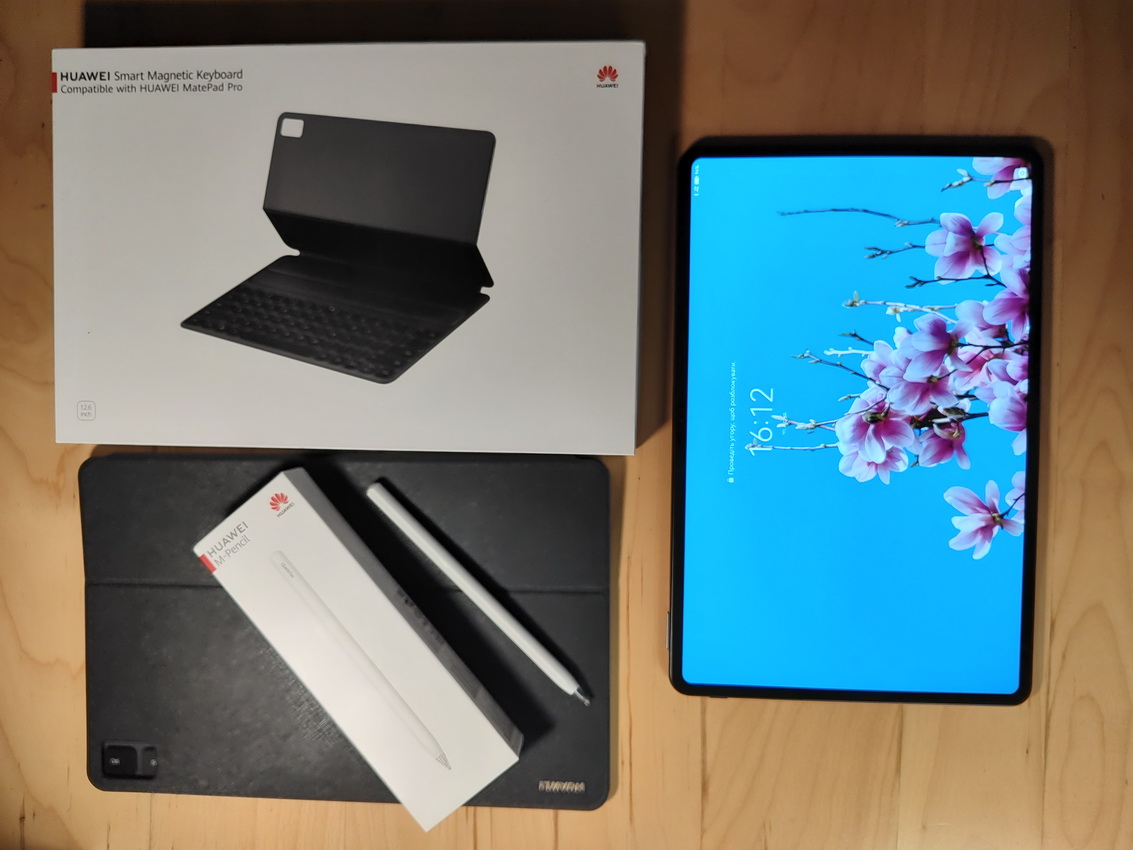 Keyboard
Let me start with the Hauwei Smart Magnetic Keyboard. Visually, it looks like a regular case, only slightly thicker and heavier. It is made of plastic, so it is lightweight. It has a nice rough texture on the outside, and inside it is covered with a soft material that protects the screen and back of the device from scratches.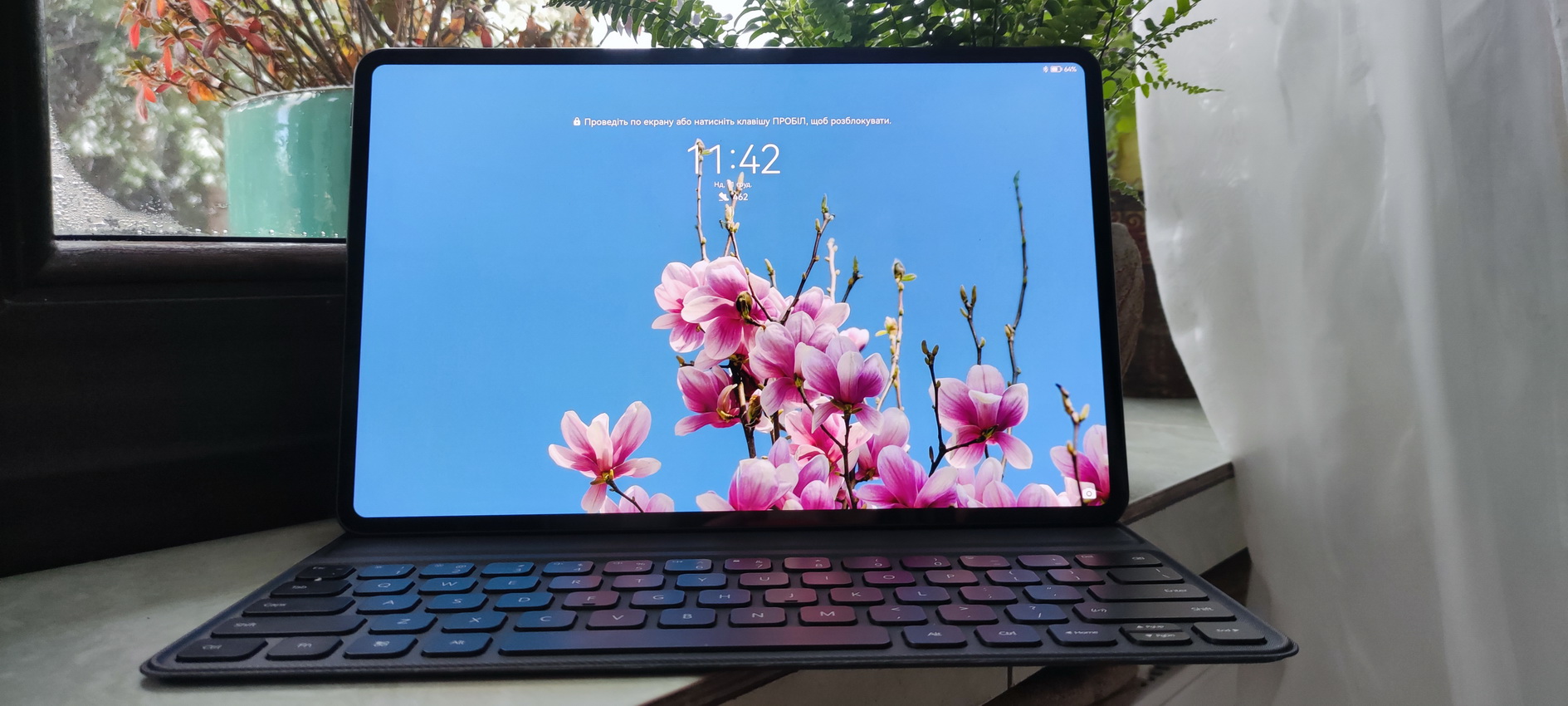 The keyboard is comfortable. It has an island design with fairly large gaps between individual keys. Although after a laptop, you still need to get used to it and adapt. With its help, the tablet actually turns into one.
The test set had a keyboard without Cyrillic characters. It is assumed that all reviewers know the blind keyboard.
An accessory for such a large tablet is a must. It is needed in different usage scenarios, because it is a keyboard, a case, and a stand for two positions. It is rigidly fixed with a built-in magnet.
Stylus
Now about the stylus. This is a second-generation Huawei M-Pencil with a platinum-coated pen. The tip is transparent.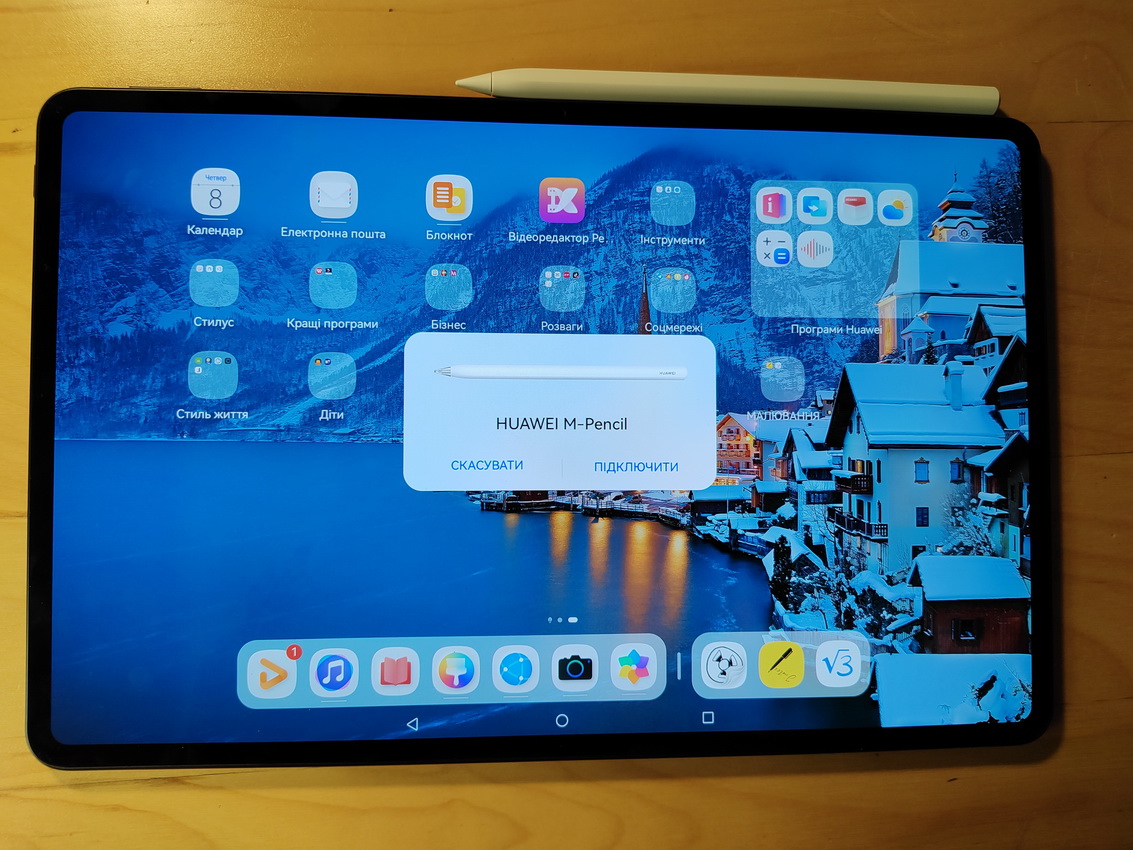 Recognizes 4096 degrees of pressure. Delay is close to zero. And it really is. The most convenient tool in the hands of creatives. A tablet complemented by it becomes a full-fledged professional device. Designers, artists, and videographers can safely realize their fantasies and create with the most accurate colors, getting exactly the result they intended. This is worth a lot.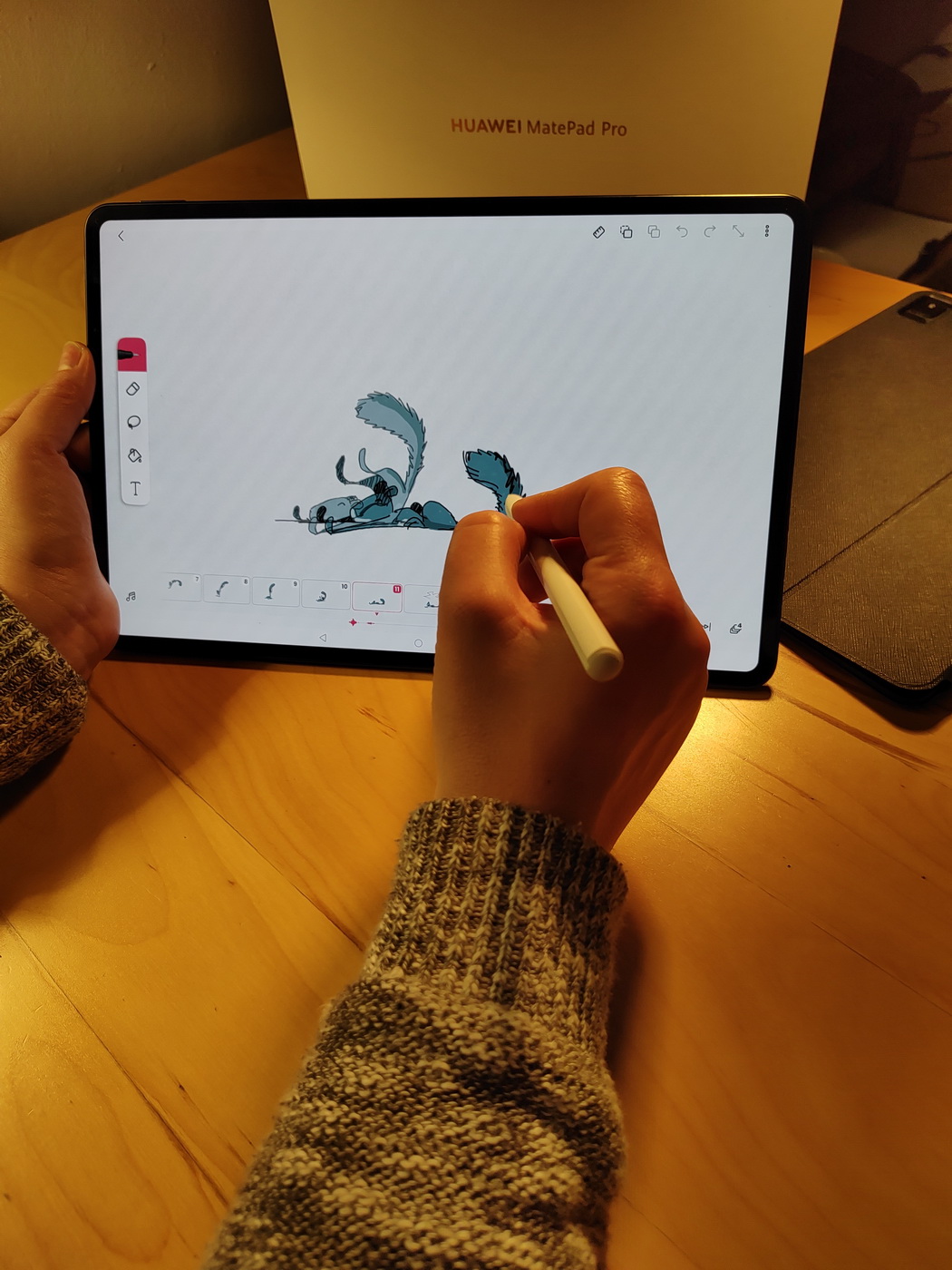 The system automatically converts handwritten text to print. You can double-click on the pen to switch to, say, eraser mode. There are many other interesting things here. I can't even mention them all.
The stylus is magnetically attached to the top edge of the device. It holds firmly: I shook it and it didn't fall off. It charges right there. When you remove the stylus from the case, you see a pop-up window with information about the charge level of the accessory.
For whom and why
I agree that a tablet is not a vital device. Nowadays, sometimes a generator is even more necessary. A tablet covers only a small range of human needs. However, this does not exclude the fact that it – Huawei MatePad Pro 12.6 (2022) – is a powerful multimedia machine ready to brighten up your leisure time, allowing you not only to consume content but also to create it, to create, to be creative, to develop.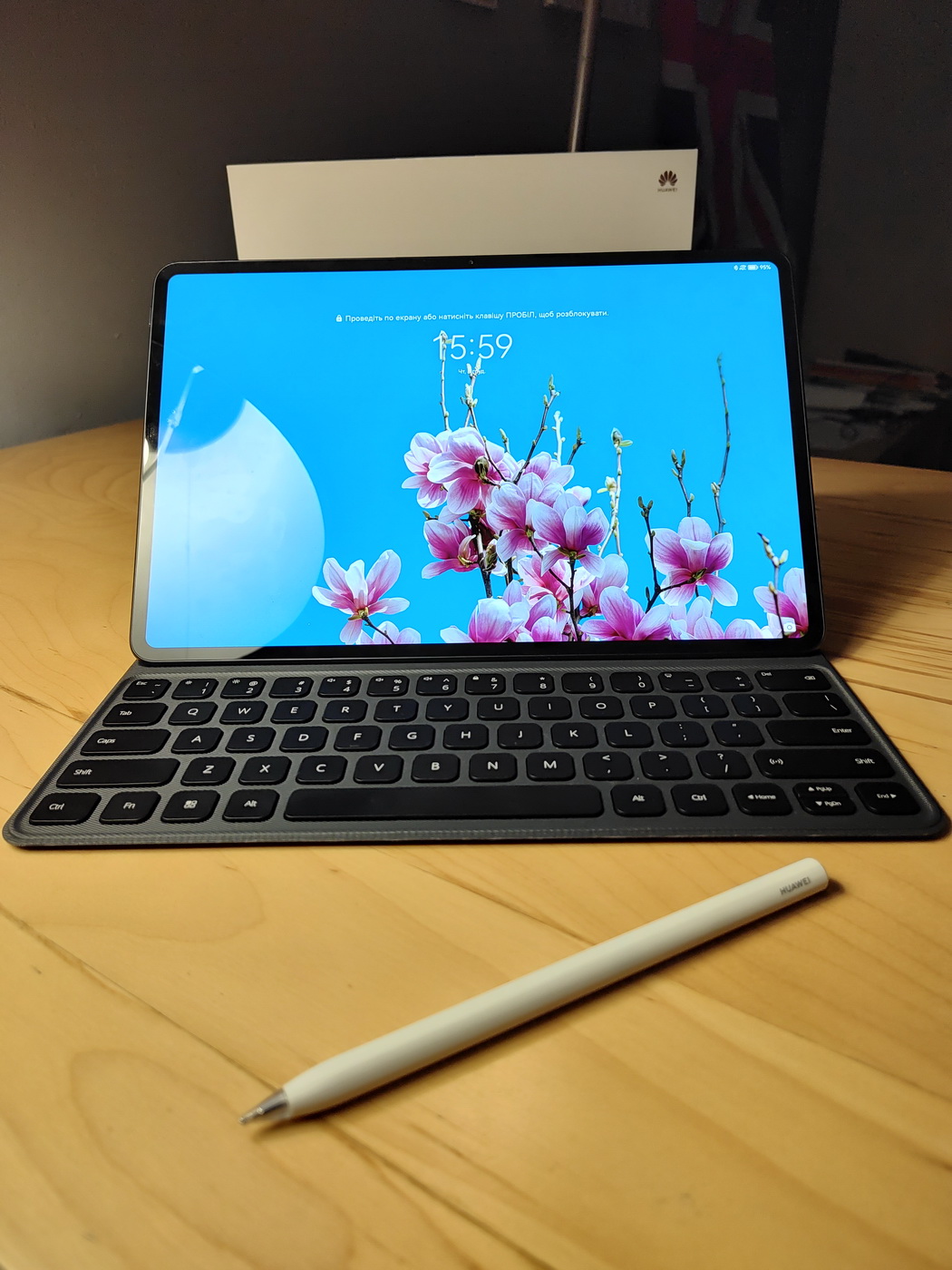 There will surely be users who will use Huawei MatePad Pro 12.6 (2022) simply as a portable TV. It should be said, very advanced, because the screen is the most impressive part of the new MatePad Pro. And a keyboard case with a stand function will come in handy for this use case, so you don't have to hold the device in your hands and close to your eyes.
Another function of such a "bedside device" is a book reader. Huawei MatePad Pro 12.6 (2022) can be one. The large screen holds a lot of information, there's no need to constantly scroll – in general, you get used to it easily. Although I understand people who can't replace a paper book. I myself like to rustle the pages and inhale the fresh and sharp smell of books that have recently come out of the printing house, in anticipation of enjoying the yet-to-be-explored stories that are hidden inside, the new meanings that lie between the lines. There is a special romance in this.
There are also users for whom the brand new Huawei MatePad Pro 12.6 will become a universal device for solving office and professional tasks and exciting leisure. This is the best way to use such a tablet.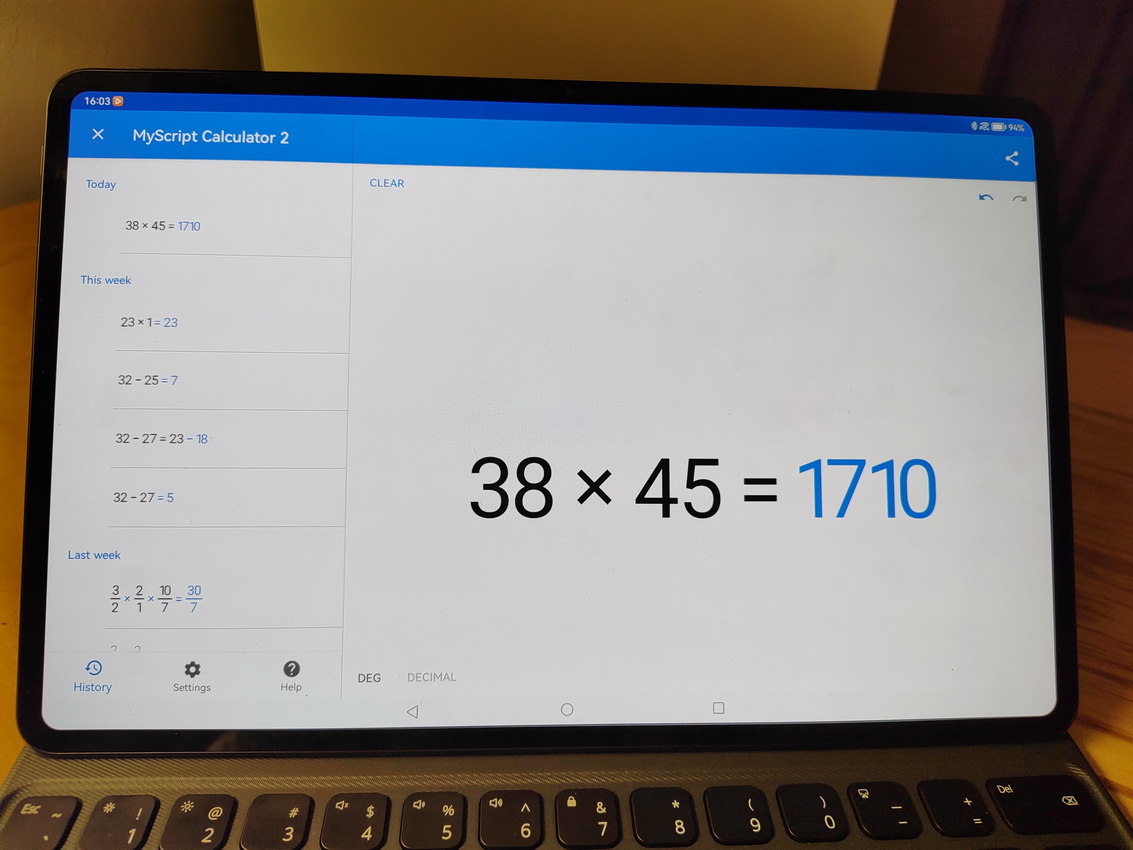 A large calibrated screen with the most accurate color reproduction, suitable for multi-window multitasking and convenient interaction with familiar applications via a touch interface, loud speakers with high-quality sound reproduction, a powerful processor that unlocks the potential of other system components, a removable keyboard, which also doubles as a case and a stand, a stylus with minimal latency, the functionality of which is used here to the maximum possible level, handwriting – all this makes the device ideal for watching videos, playing games, creating and processing photo and video files, working with text, tables, and presentations. And as a second screen for a laptop, the tablet is convenient.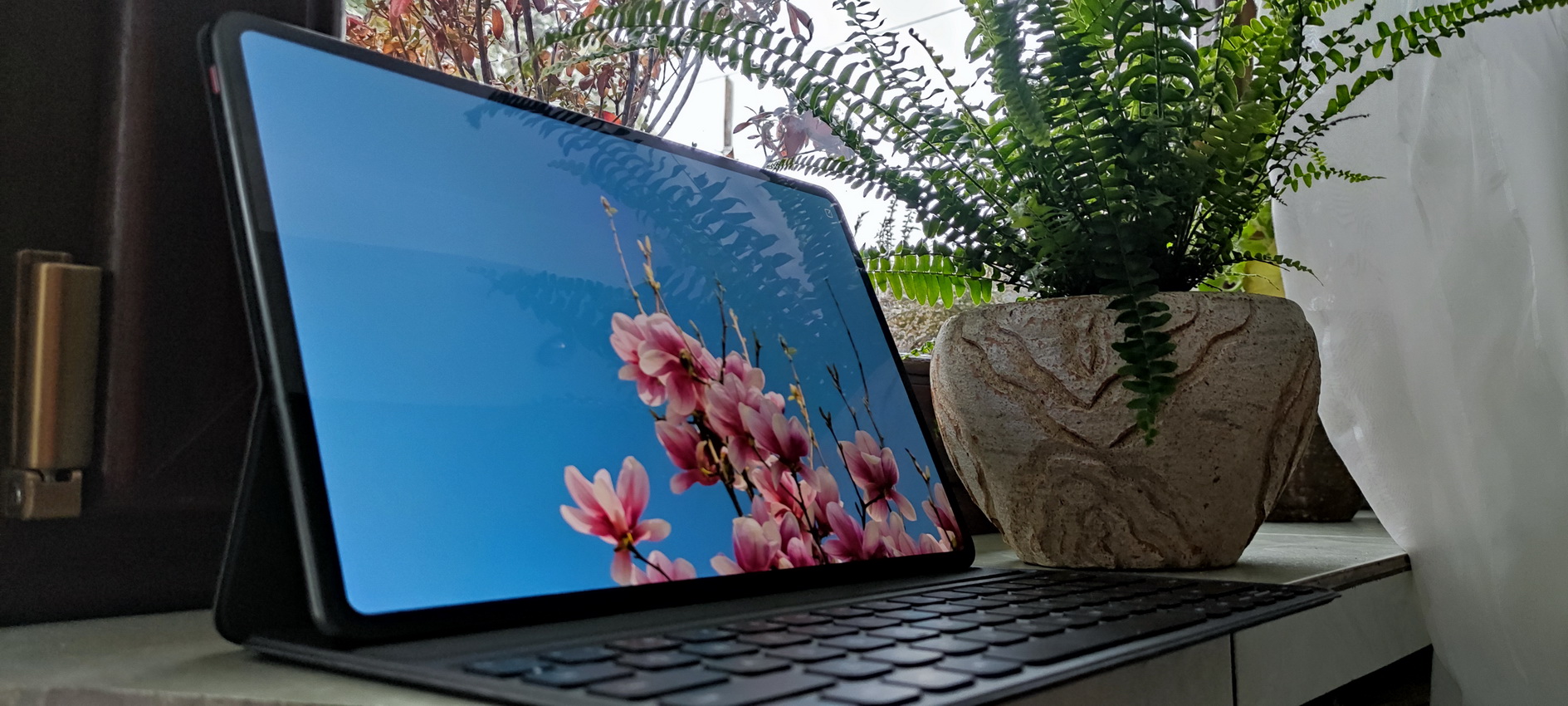 The interface is smooth and fast, and the simultaneous launch of applications is instantaneous, as is switching between them. Even complex tasks are completed quickly. And the fact that MatePad Pro trumps with 27W wireless charging and reverse charging, which turns the tablet into a platform for charging headphones and smartwatches, makes it worth a closer look. The experience of using the tablet is exceptionally pleasant.
And the fact that Huawei MatePad Pro 12.6 (2022) cannot be called an ultimatum, since it does not support Google services, is not a problem for many. They are less critical on a tablet than on a smartphone. Besides, almost everything you need can be found in the Huawei AppGallery.
Some users may be upset by the lack of a fingerprint scanner. And this is another controversial point. But personally, it didn't bother me at all.
My verdict is as follows: the new Huawei MatePad Pro 12.6 is a decent device that can bring back to the ranks of users even those who have stopped buying tablets, calling them an endangered species.
It's definitely worth the money. But you have to understand why you need such a tablet. Huawei MatePad Pro 12.6's diagonal and weight, as well as its functionality, may be excessive. Still, the device is more niche.
And if you think that the time of tablets is over and they are extinct as a species, be sure to try to get acquainted with Huawei MatePad Pro 12.6. Perhaps you will change your mind. And if not, you'll have a good time with your advanced tech friend anyway.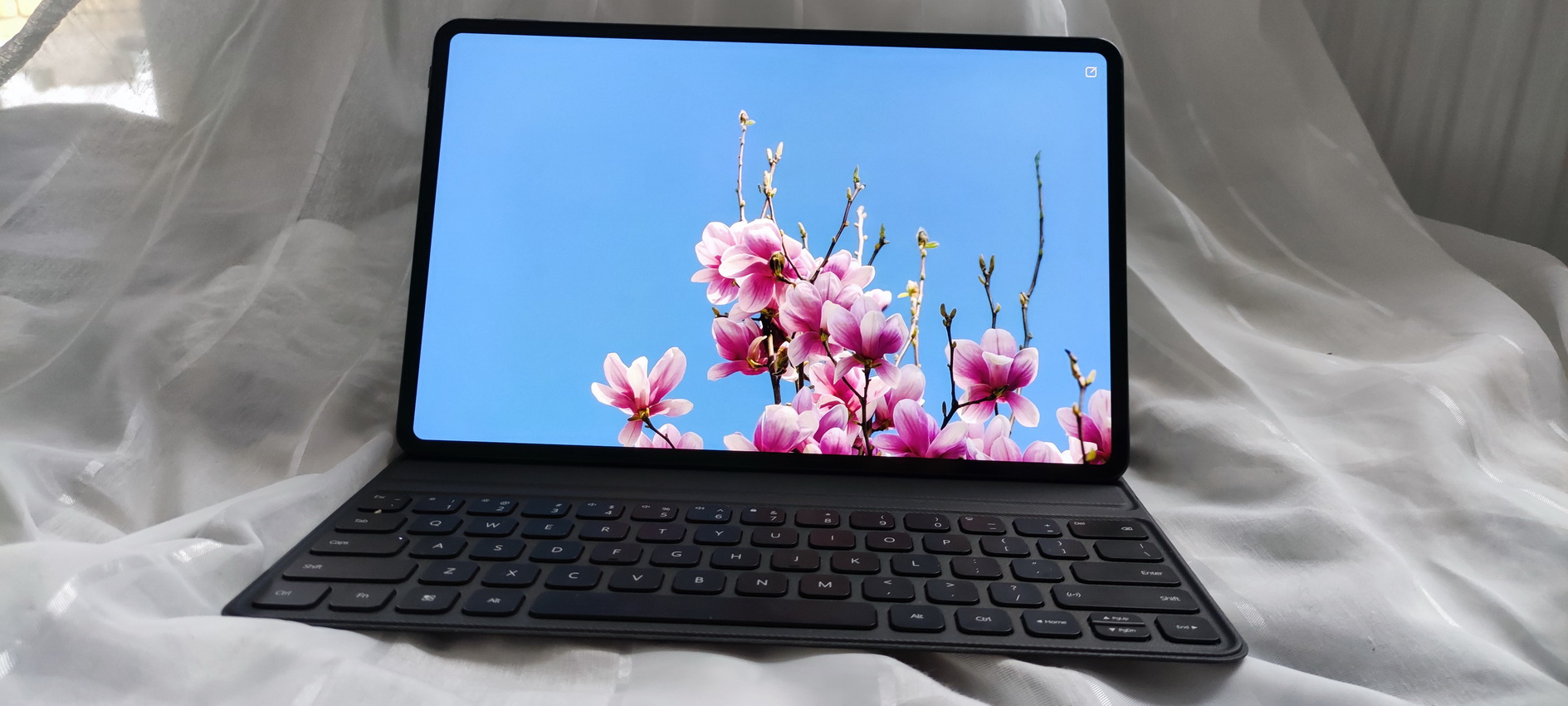 One more thought
My son, who is 9 years old, tested the new product with me with undisguised excitement. And yes, I express my deepest gratitude to him. If one night he hadn't had a fever, putting all my tasks on hold except one – to cure the child – this review would have been written a week earlier. But the device brightened up hospital routine with cool features. The child watched, played, listened, drew, and from time to time said something enthusiastic like "wow!" or "wow!". At the beginning of the test, ten times a day I would hear something like: "Mom, did you see that?" And in different variations and intonations. You go to the kitchen, and another one rushes after you: "Look at this!" And on the screen is some kind of animated drawing or colorful toy.
For a child, such an advanced tablet is a whole world: bright and interesting. Watching cartoons, drawing, playing all kinds of games – to a certain extent, for parents, this is also a children's device that frees their hands, which are always busy. And here, a specific usage scenario takes precedence over versatility. Indeed, for many people, large tablets have really ceased to be universal, turning into specialized devices that are theoretically suitable for different tasks, but are practically used for two or three. The large screen diagonal also played a role in this.
About prices
I must admit that my son's tablet has been gathering dust on the shelf for a long time because, as it turned out, it "can't do that." But Huawei can: it makes devices that will satisfy everyone from small to large. We are sure that even the most demanding users, who have seen the best of the best, will be satisfied. There is nothing to complain about: neither the design, nor the screen, nor the performance, nor the battery life, nor the sound. Even the camera is better than it could be in a tablet. However, the price for such rich equipment is not small. It is, of course, predictable – the TOP segment. For example, in Poland, where I tested the device, a tablet with a stylus and keyboard will cost about $1200, if you buy accessories. And this is already the level of decent ultrabooks. The device itself is priced at $930. During the pre-sale, accessories are available for free. However, the promotion will end at some point, and then you will have to decide whether you are ready to part with such a substantial sum.
In fact, buying a universal soldier to solve a wide range of tasks for many years is a very wise investment. It is clear that marketers of manufacturing companies see the ideal world as one where everyone has a smartphone, a tablet, and a TV in every room. However, the reality is somewhat different – you have to choose the best option. Huawei MatePad Pro 12.6 (2022) may well be it.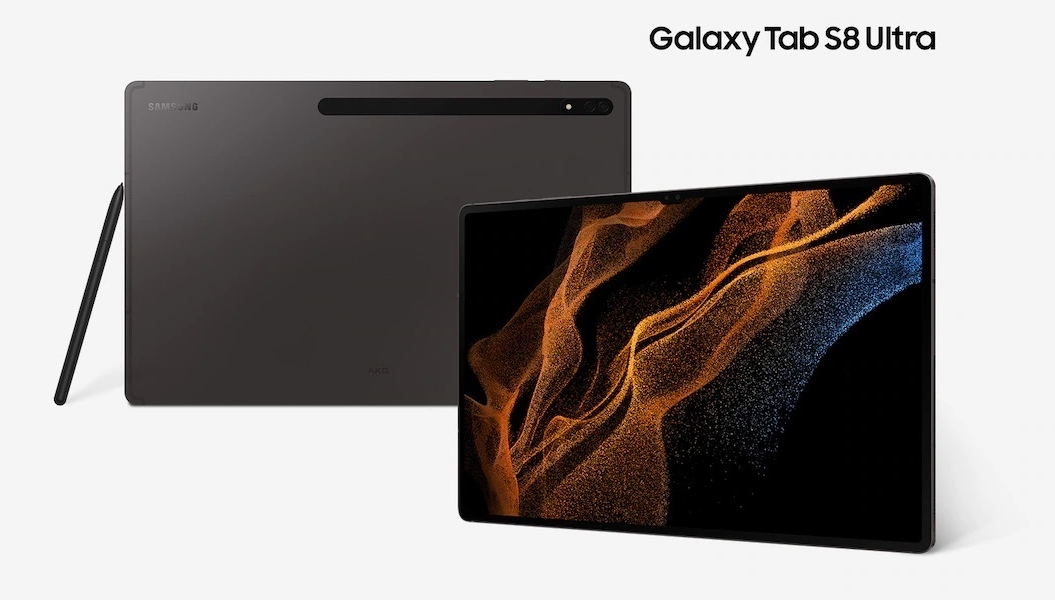 Now for the price of competing tablets at the time of writing. The price for the 14.6-inch Samsung Galaxy Tab S8 Ultra 5G with 8 GB of RAM and 128 GB of storage in Poland starts at $1190. Here, by the way, is its new review. The model without 5G is cheaper – $1040. The 5G configuration of the Samsung Galaxy Tab S8 Ultra with 12 GB of RAM and 256 GB of storage is even more expensive – from $1300.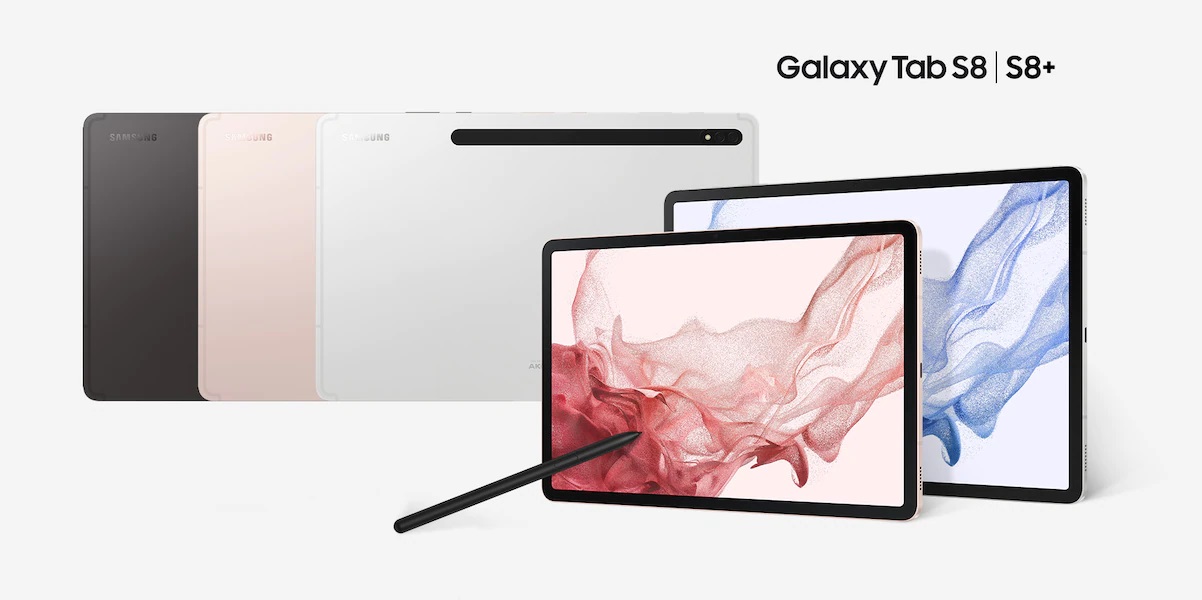 Among the more affordable mastodon competitors is Samsung Galaxy Tab S8+ with a 12.4-inch display. Its 8/128 GB Wi-Fi version will cost at least $830, 5G – $875.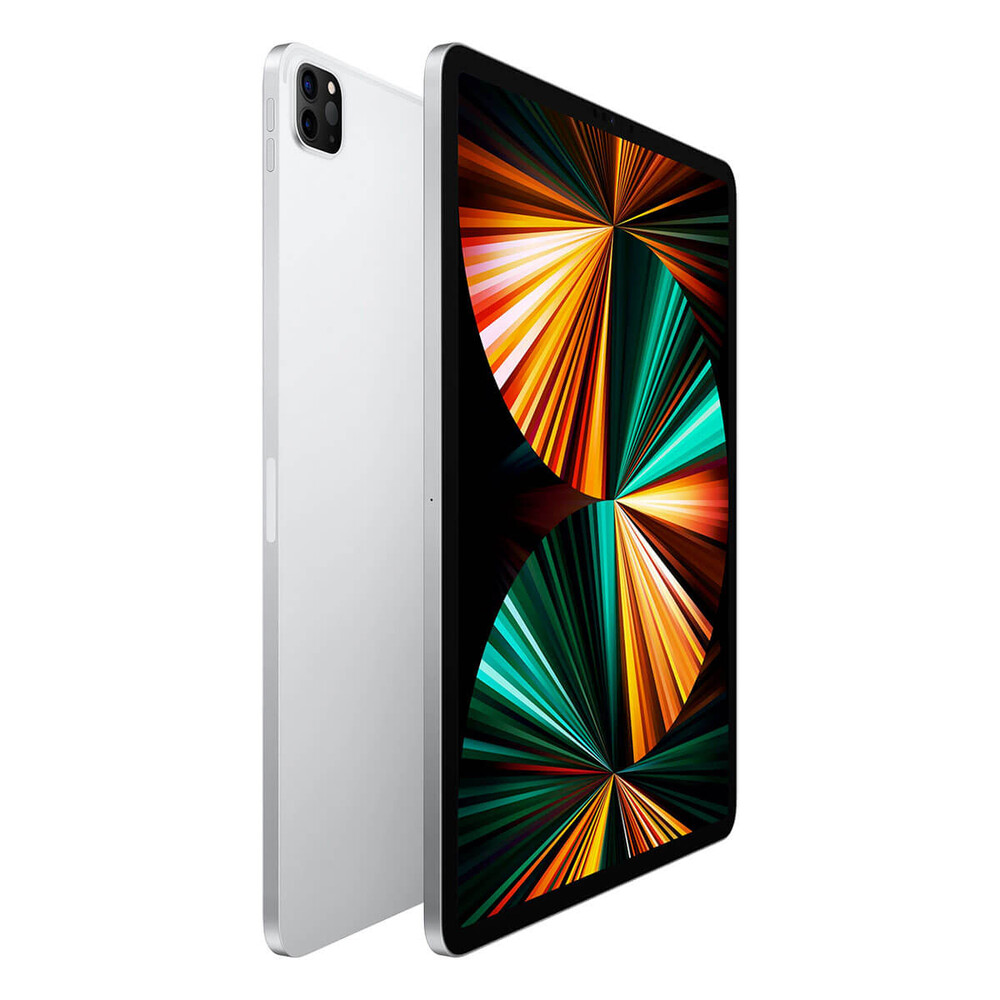 The 12.9-inch Apple iPad Pro 2021 with 128 GB of storage in the Wi-Fi version in Poland costs at least $1300. Other configurations are even more expensive.
Read also: Huawei MateBook 14s laptop review: 90 Hz and premium design
Summary
Huawei knows a lot about tablets. The manufacturer has created a cool top-of-the-line device. It is almost perfect. It has a gorgeous large OLED screen with a frequency of 120 Hz, which displays a juicy picture. And the power reserve of the device is impressive. During the entire time of use, the tablet has never failed in any of the tasks. And there were no problems with application compatibility. Except with account identification.
The new OS works very quickly. And how this novelty, with an advanced eight-speaker system, sounds: clear and loud. I didn't turn on my speakers even once during the test.
A nice bonus is reverse charging, which transforms Huawei MatePad Pro 12.6 (2022) into a mat for recharging gadgets. And the autonomy of the tablet did not disappoint. The price is a bit high, but this fact should be taken for granted. If you want a top-end device, you need to be prepared.
Read also: