To be honest with you, until a certain time I couldn't understand what's so special about Samsung devices, but something has finally changed my perception – Samsung Galaxy Tab S4 tablet. What makes it the ultimate device from the company? I'll tell you by the end of the review.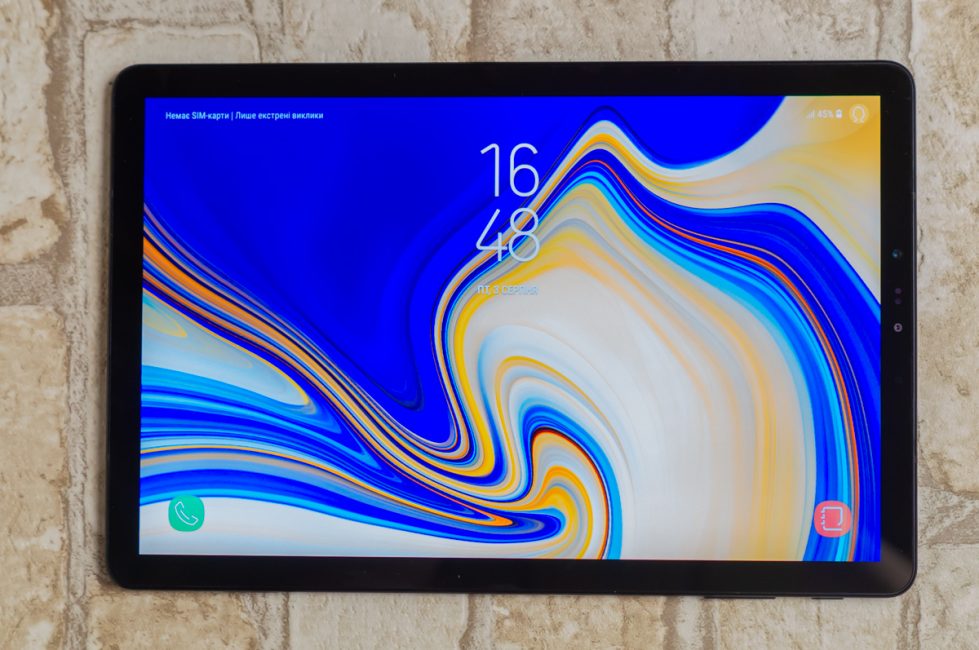 Samsung Galaxy Tab S4 price segment
The tablet was announced along with Galaxy Tab A 10.5, it's "younger brother" for undemanding users. The recommended cost Galaxy Tab S4 is $1000, and about $290 for Tab A 10.5. S4 is a direct competitor to iPad Pro and of course Microsoft Surface. The tablet is directed at buyers of top products and business users, as well as people who work with color and graphics. Designers will likely enjoy working with the tablet.
Read also: Samsung Galaxy A6 (2018) review – A Mid-Ranger with Infinity Display
What's in the box
Since I had a pre-sale model in my hands, it had only the necessities. Well, not really – I got not only a stylus, cable and charger, but also a brand cover.
Too bad there were no keyboard, because the keyboard-stand connector is one of the many features of the tablet. It turns the Galaxy Tab S4 into a competitor to Microsoft Surface, in many ways thanks to DEX mode, which I will describe later.
Design, materials and build quality
The tablet looks like a typical Android device of this class, and only the azure hue of Super AMOLED-screen, which is noticeable at certain angles, gives away Galaxy S4's royal origins.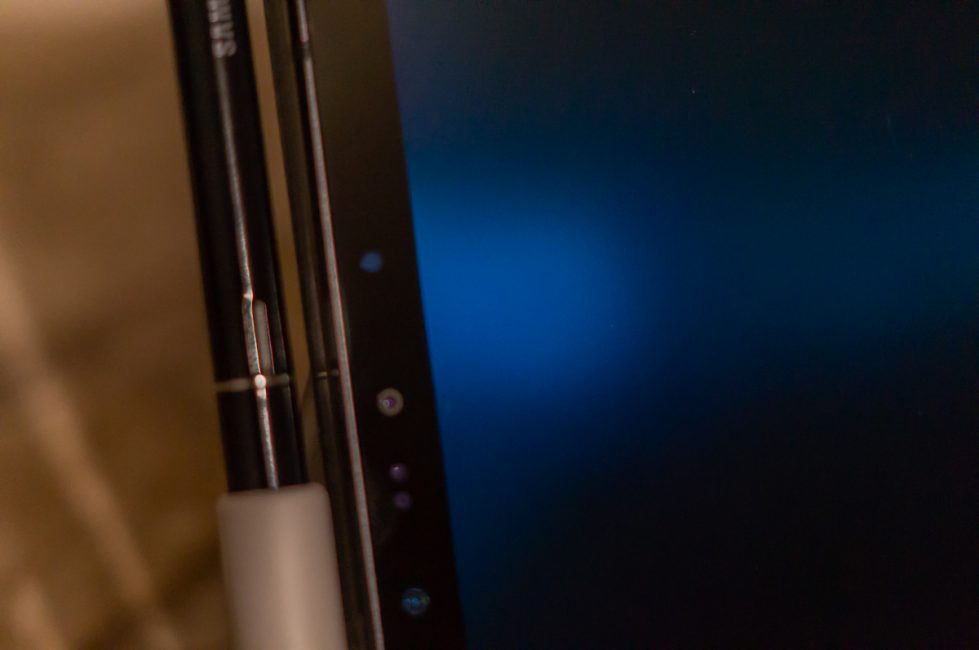 The display is located on the front panel with a webcam and a set of sensors. On the right side are the power and volume buttons, as well as a slot for nanoSIM, on the back of which there is a vacant place for a microSD memory card. On the left is a famous connector for the keyboard.
On the back we have protruding main camera, flash, Samsung logo at the center and the "Tuned by AKG" inscription. At the top to the edge is a pair of speakers and two stripes for antennas, as well as a sticker with a processor model. At the bottom is the same set of speakers and inserts for antennas, but instead of a sticker we have 3.5 mm audio jack and USB Type-C 3.1 port.
The body is monolithic, solid and does not slip from the hands. Naturally, the sturdy body doesn't bend of creak. The combination of glass front and rear and aluminium frame around the perimeter is a solid one, and the chances of its survival can and should be increased with protective cover. Luckily, Samsung has given us this option.
Display
The tablet display is divine. 10.5 inches, Super AMOLED, 2560×1600 pixels, 288 PPI, 16:10 aspect ratio – even those numbers can't describe the sheer awesomeness of the screen.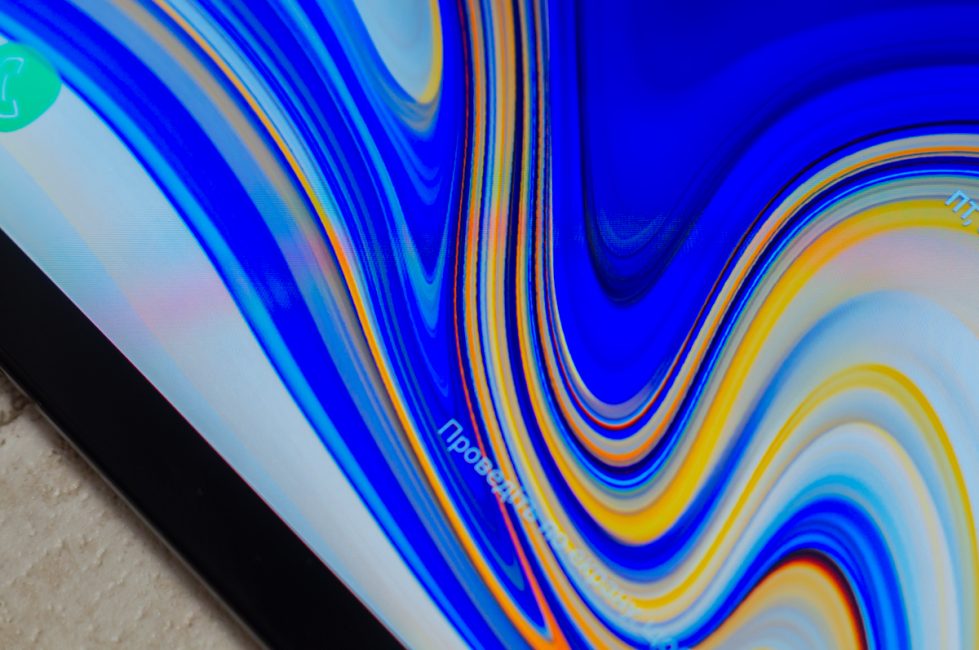 In practice, we have juicy deep colors, excellent contrast, maximum viewing angles and the ability to change the color gamut directly through the menu. You can select one of the three presets or customize the RGB filter yourself with sliders. In addition, users can use night mode – the inclusion of a blue filter is available in the menu and notification curtain.
Add extravagant 219% of color coverage by sRGB standard, and we have not just one of the best tablets for working with graphics, but also one of the most suitable devices in general. And in this list I include not only tablets, but also laptops, and even professional monitors. However, on the other hand, the diagonal of the screen (10.5 inches) is too small for serious professional work.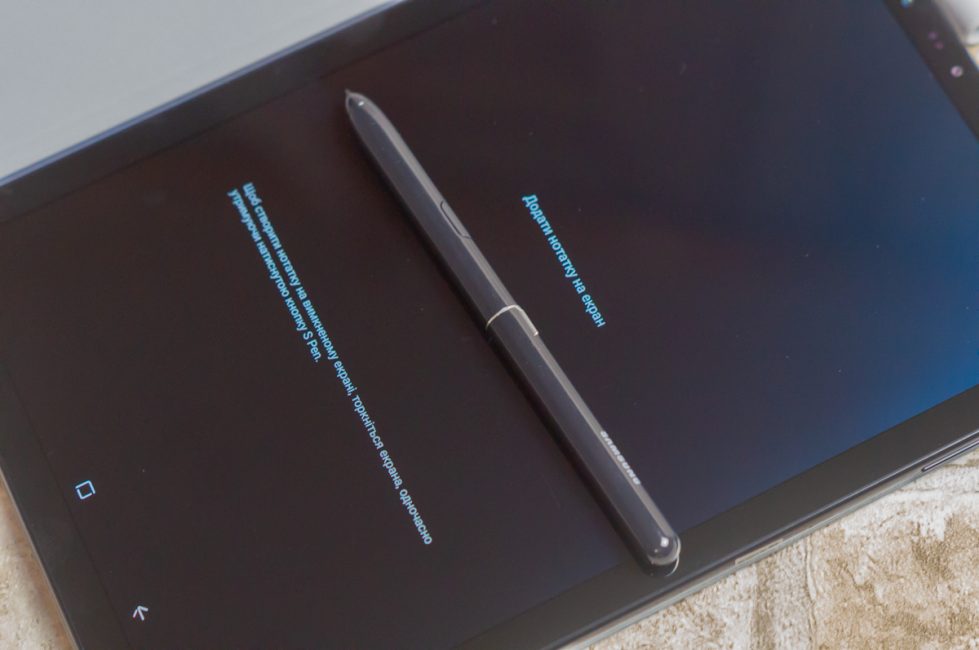 S Pen stylus
The bundled S Pen stylus is very pleasant; it is made of glossy plastic with a silver rim, has a false button in the center, and also a real button just above the body. In the hand it feels great, reminiscent of both the pen and the pencil.
Support for S Pen is crucial for the tablet, it's not a gimmick. Not only does the stylus now support fast entry of notes with the context menu of the Galaxy S9, so also the DeX mode.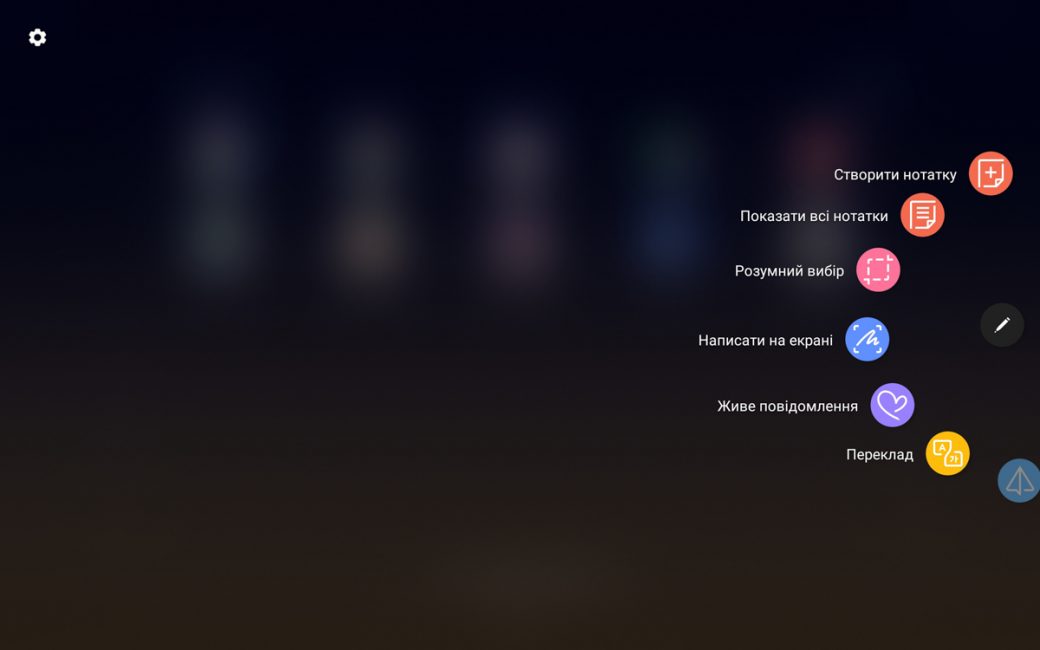 The Penup application is something between the drawing program and social network for artists. But if you are an introvert and specially bought a wholesale batch of styluses to create a palisade against social interaction, applications like Autodesk will suit you even more.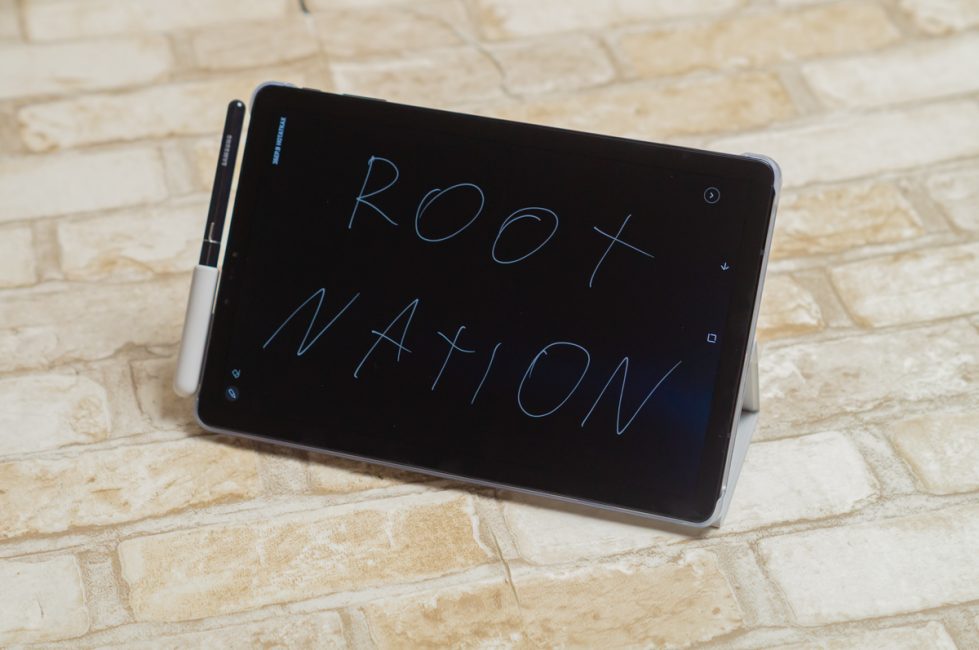 To be honest, it's not easy starting using the stylus. The device detects the stylus when it's millimetres away from the screen.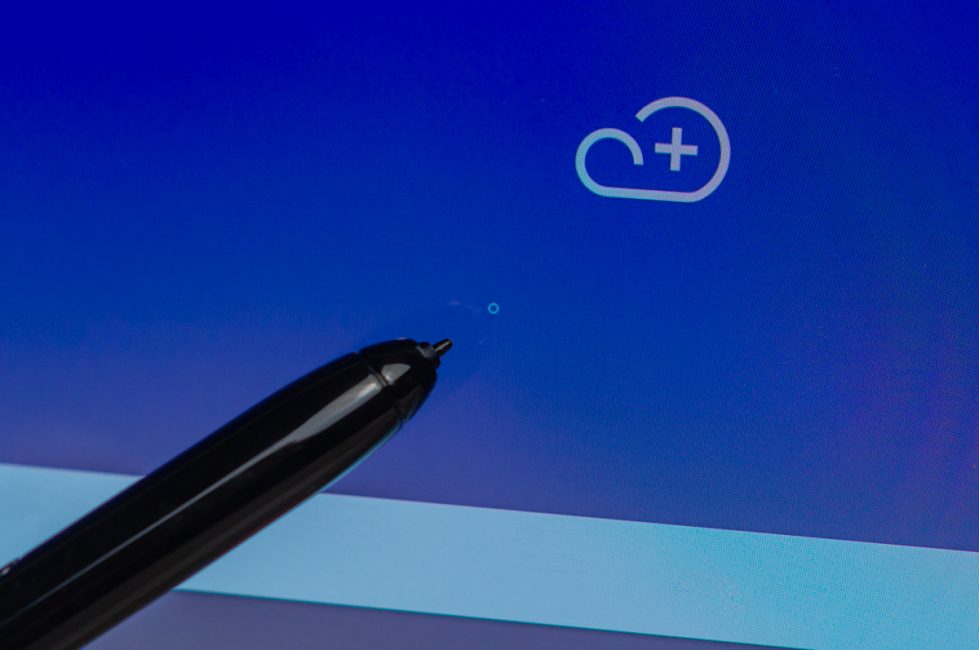 But the flagship tablet does not register touch. It simply shows where the point of contact will be, and registers this very contact only with direct touch. Plus, it recognizes up to 4096 levels of pressing force, which allows for drawing with strokes or bold lines in Autodesk.
Performance and equipment
The power of the tablet is provided by a system-on-a-chip Qualcomm Snapdragon 835. Eight Kryo 280 cores with a frequency of up to 2.36 GHz, Adreno 540 video core, 4 GB of RAM and 64 GB of ROM. Support for microSD memory cards is also available. Last year's flagship is still the flagship, and 200K on AnTuTu proves that. In PCMark Work 2.0 the result is also excellent – 6401.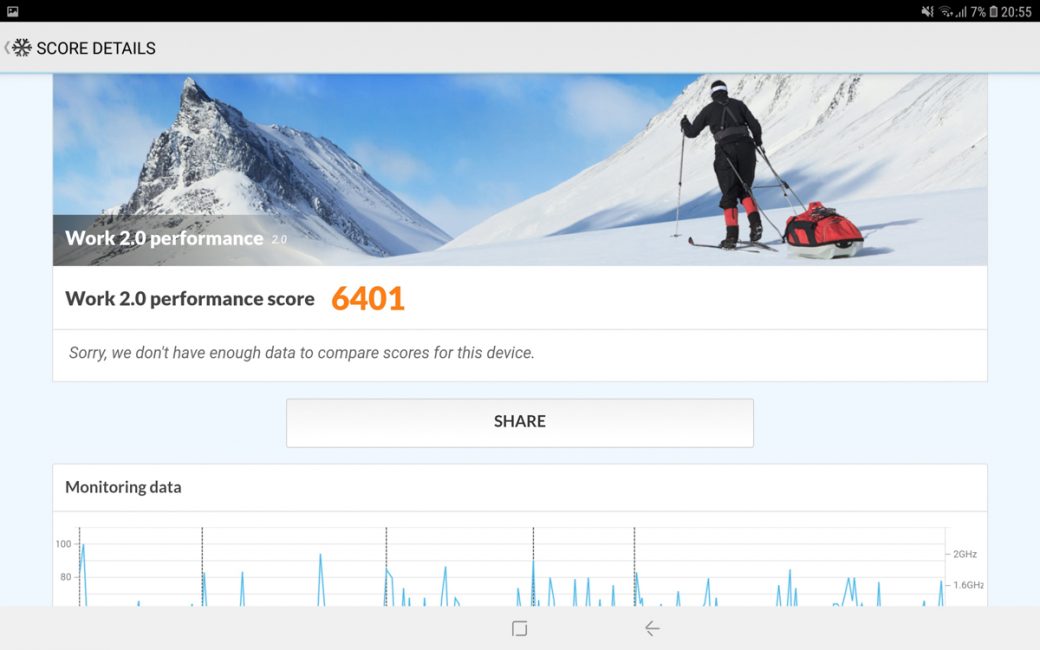 Games on the device will not be a problem – the newly released PlayerUnknown's BattleGround for Android runs smoothly, without a single hitch. Anything else, from 2 Dots to Asphalt 9, runs even better. If any game has problems, its developers are to blame, not the device.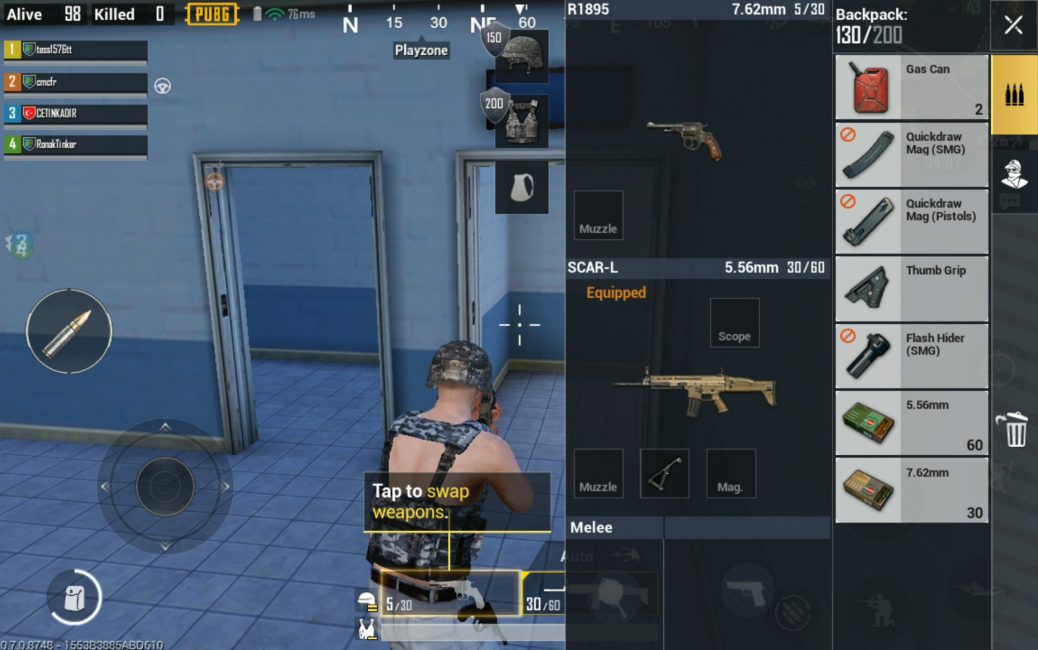 Support for communication technologies is broad. There is wireless data transmission in 3G/4G networks with the ability to make calls, Wi-Fi 802.11 a/b/g/n/ac, Bluetooth 5.0. With navigation, too, there will be no problems – GPS, GLONASS, BeiDou and Galileo are all supported.
The most troublesome thing about the Galaxy Tab S4 is 4 GB of RAM. Whatever the flagship format memory is, to work with DeX and a ton of open applications/tabs you need more than four gigabytes. And no, there is no 6 GB version, only a model with 256 GB ROM.
Cameras
Samsung Galaxy Tab S4 has two single-module cameras. The 12-megapixel main camera with support for 4K video shooting, aperture f/1.9, pixel size 1.12 micron and LED flash is quite suitable for shooting documents thanks to fast phase autofocus.
And there's the front 8-megapixel camera with Sony IMX320 sensor, f/1.9 aperture and 1.12 micron pixel. It's more than sufficient for video calls and chats with business partners.
However, the awkward ten-inch tablet is not a hindrance if you want to snap a picture of a beautiful landscape or make a selfie with digital jewelry in post-processing. Galaxy Tab S4 has a standard camera interface from Samsung, easy to use and very rich in features.
There is a manual professional mode, hyperlaps, stickers, auto-refinement and even a grid of thirds, included in the settings. The front camera has selfie modes, wide-angle selfie and stickers again. No escape from them.
Sound
There are four speakers from AKG. The peak loudness reaches 94 dBA, the frequencies are also all right. Bass is adequate, for a mobile device, highs are also okay, no cracks.
There is also support for 3D Dolby Atmos environment. The only thing left is to find content that supports Dolby Atmos.
Let me tell you a secret: there's a Dolby demo video with this feature on YouTube. Tell no one.
Battery life
The device is very energy efficient. The battery capacity of 7300 mAh with support for fast charging allows Galaxy Tab S4 to survive for the whole working day. In the stress test of the battery from PCMark the tablet lived for 12 hours, and when watching the video it is possible to count on up to 16 hours on one charge with 50% brightness of the screen.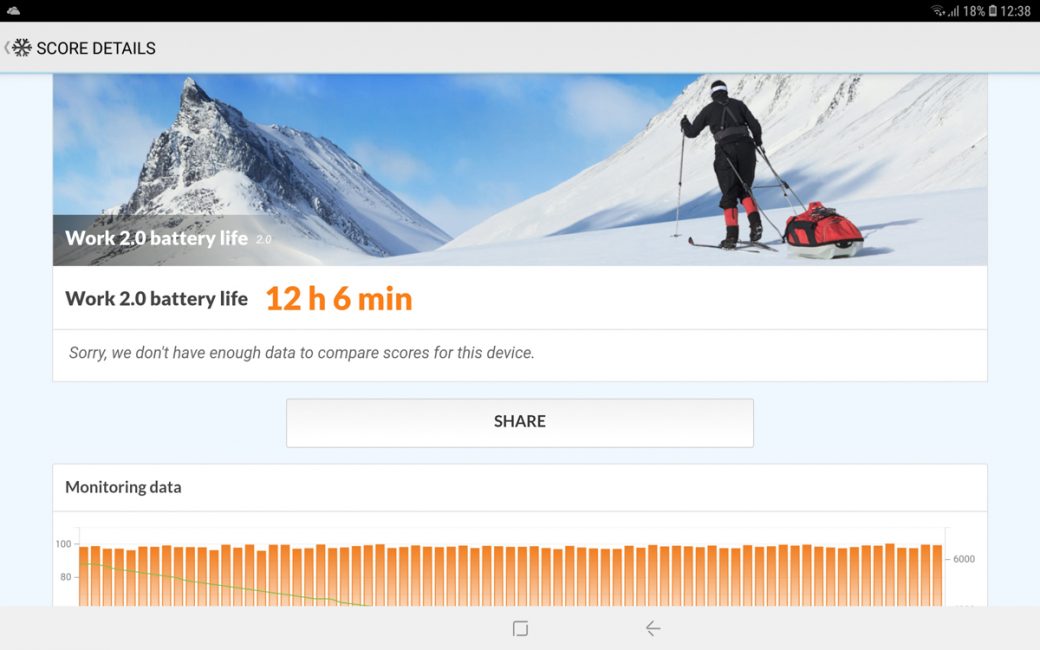 At maximum brightness in PCMark the tablet lasted for 5 hours 37 minutes. Half an hour playing 2K-video from YouTube drains 5% of the battery.
Adaptive Quick Charge is capable of delivering from 1.5A to 2A when needed. For half an hour you can increase the battery charge level from 0% to 18%, and full charge will take just over 3 hours.
Software
Samsung Galaxy Tab S4 works on Android 8.1 with Samsung Experience 9.5 shell. In the past, Samsung had problems in that respect (I remember Galaxy Gio all too well), but Samsung Experience is just great. It is not inferior to the beauty of iOS, and it feels faster than the "clean" Android or any other shell.
Soft animations, specially selected themes and icons create a particularly pleasant impression, which I see as "professional". This feeling is strengthened by pre-installed Microsoft Office, which, incidentally, only works with subscription.
Additional functions that have become familiar for many users are face and iris scanning, Bixby for tracking, double tap on the screen to wake-up, tablet manager with RAM, ROM and battery monitoring, as well as DeX technology.
Samsung DeX
Samsung DeX, if anyone does not know, it's the OS in the OS, or rather the shell in the shell, which mimics the desktop interface with windows, a bunch of small icons on the edges of the screen and a solid increase in productivity if you test it on a large screen.
Previously a separate docking station with connectors for all sorts of things, now DeX is just a program installed on a smartphone or tablet. And I don't really know what to think of this approach.
On the one hand, there are obviously more advantages, because the dock costs a lot of money, and without it DeX (if I remember correctly) was impossible to use. Even to broadcast video on Miracast.
On the other DeX is the closest analogue of Windows and other "adult" OS, which are designed to work with the keyboard, mouse and monitor. Therefore, to fully work with the technology, you still need at least one USB Type-C to HDMI adapter and preferably a keyboard with a wireless mouse.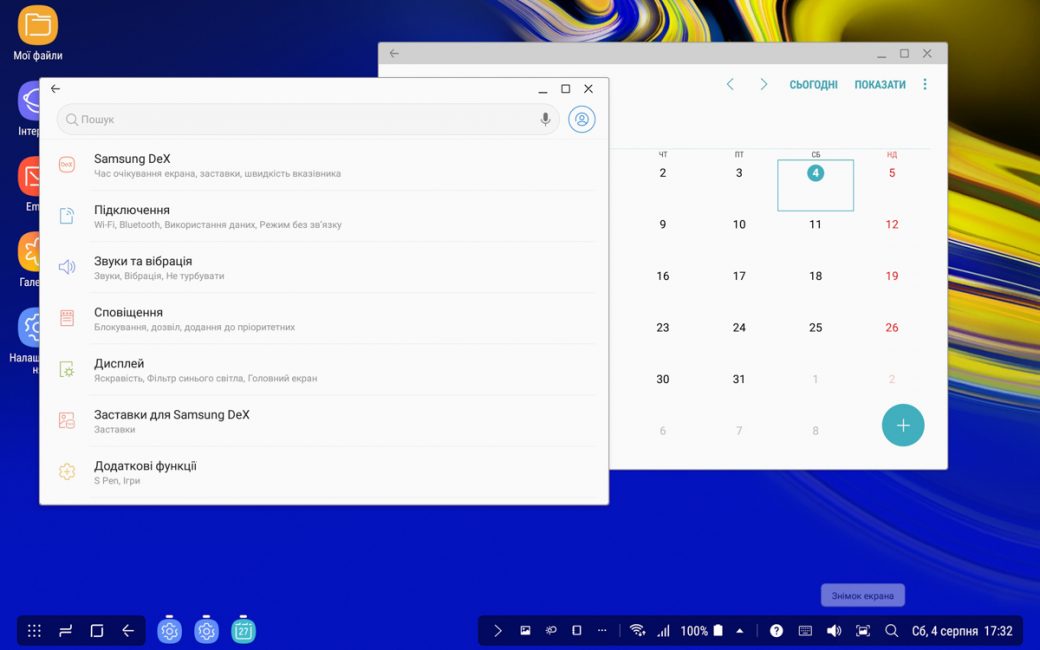 You can use the stylus, but it's not convenient, and without a monitor and everything else Galaxy Tab S4 reminds me of tablet on Intel Atom and Windows 10. That personally makes me very happy – I'm digging this format.
Samsung Galaxy Tab S4 verdict
Samsung Galaxy Tab S4 is everything that's good about today's Samsung. This is a premium device, but not like a highly specialized Linux laptop where distributions are installed via the command line. No, this is, to coin the phrase, "prestige professionalism". Some would call it fancy, but I like how it looks.
Read also: Samsung Galaxy S9 Plus review
This is a tablet that inspires. You can take it to office located on the 50th floor to have a videoconference and earn your first million. After that just sign the contract and watch the new Avengers movie at home. A device for every need. Only one thing is bad – the astronomical price.