During the September presentation of Apple Time Flies, Apple traditionally presented a new generation of Apple Watch. And today we will get acquainted with the new 40mm Apple Watch Series 6 and find out how the new AW differs from the Series 5 from the previous generation.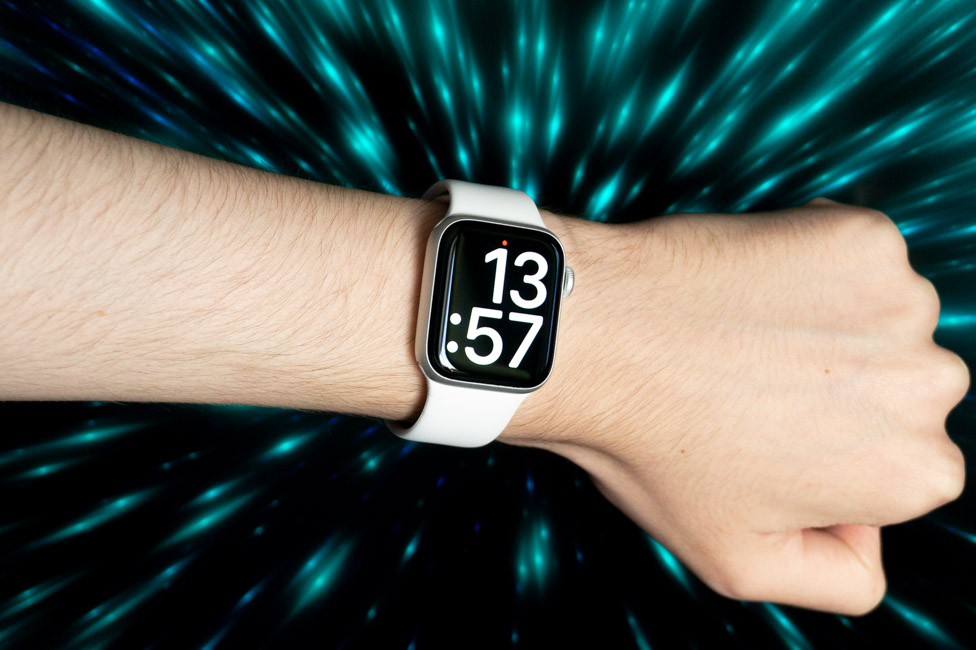 Apple Watch Series 6 40/44mm – Full Specifications
Below are the main technical specifications of the Apple Watch Series 6 40mm. The 44mm version differs from 40mm only in display size and display resolution, as well as, of course, in dimensions.
Display: 1.57", OLED LTPO with Retina, 324 × 394 pixels, 325 ppi, 1000 cd/m²
Chip: Apple S6 with dual-core 64-bit processor and W3 wireless chip
Storage: 32 GB
Connectivity: Wi-Fi 802.11b/g/n (2.4GHz and 5GHz) and Bluetooth 5.0
Power supply: built-in lithium-ion battery, up to 18 hours of operation
Sensors: gyroscope, accelerometer, blood oxygen level sensor, optical heart rate sensor (2nd generation), ambient light sensor
Other: speaker, microphone, GPS/GLONASS
Case protection: ISO 22810: 2010, waterproof up to 50 meters
Band: silicone
Dimensions: 40 x 34 x 10.4 mm
Weight: 30.5 g
The "small" Apple Watch Series 6 is equipped with a 1.57-inch display with a resolution of 324×394 pixels and a density of 325 ppi, and the "large" one has a 1.78-inch display with a resolution of 368×448 pixels and a density of 326 ppi. The dimensions are as follows: the aluminum version with a 40 mm case measures 40 × 34 × 10.4 mm and weighs 30.5 grams, while 44 mm received a 44 × 38 × 10.4 mm case and a weight of 36.5 grams.
New features and hardware
Usually, I start reviews of different smartwatches by listing all the features of a particular device. However, in the case of Apple Watch Series 6, just like with any other generation of Apple watches, I will move away from this. Because the list of possibilities here is kind of outrageous and it would probably be easier to tell that they can't do.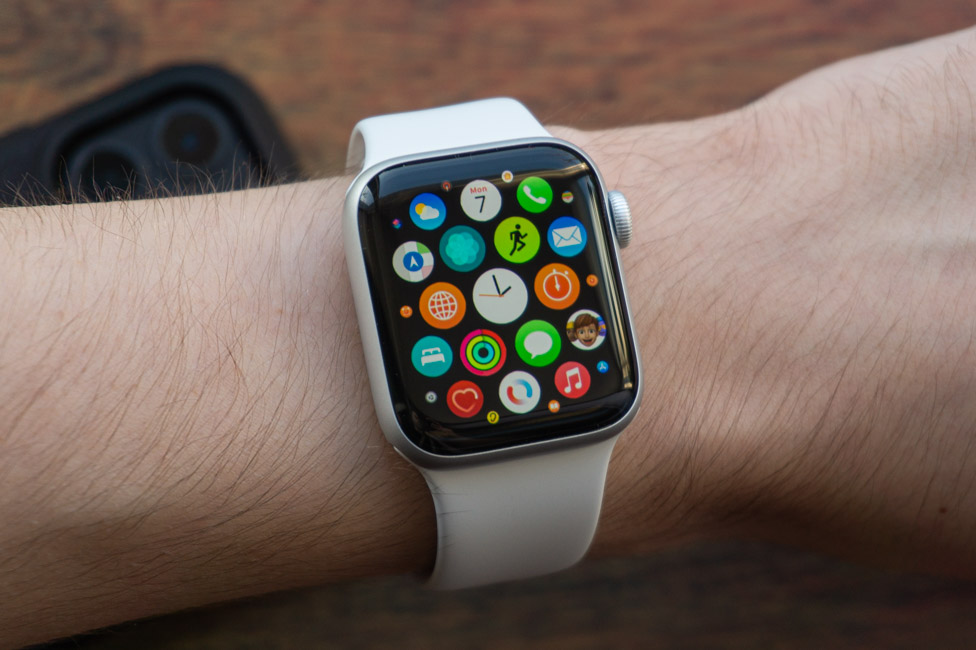 But are all these functions necessary for a smart watch? This is purely individual and someone might all (or almost all) features, while someone just checks the time and reads notifications. So I propose to see what's new in Series 6 compared to Series 5 in terms of functionality and hardware. We will talk about other improvements and changes later, in the relevant sections of the review.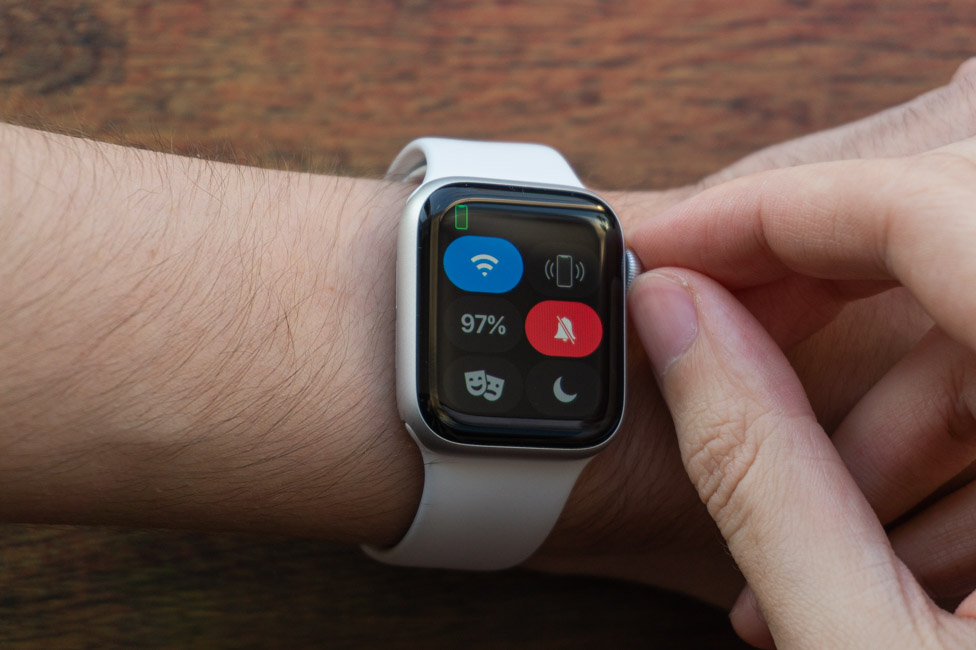 So, now you can measure the level of blood oxygen saturation. SpO2 shows how well the blood is supplying oxygen to the body, and this information can help detect respiratory conditions in the early stages, such as influenza and COVID-19. The function is realized by means of four LED clusters and four photodiodes built into the back of the watch.
Of course, this is not a medical device and the indicators are not intended for medical purposes or self-diagnosis. What it means is that the data can be used to assess the overall physical condition, but you should not rely on it entirely.
The new watch also has an always-on altimeter, which works in tandem with GPS and uses data from nearby Wi-Fi networks, which allows you to find out the height above ground level when moving up or down with an accuracy of 30 cm. Apple Watch Series 6 also received a new processor, the S6 SiP, which is based on the A13 Bionic (used in the iPhone 11); the manufacturer promises a speed increase of up to 20% when compared to the S5 in the previous generation of watches. Plus there is an improvement in the display area, but I will talk about this separately.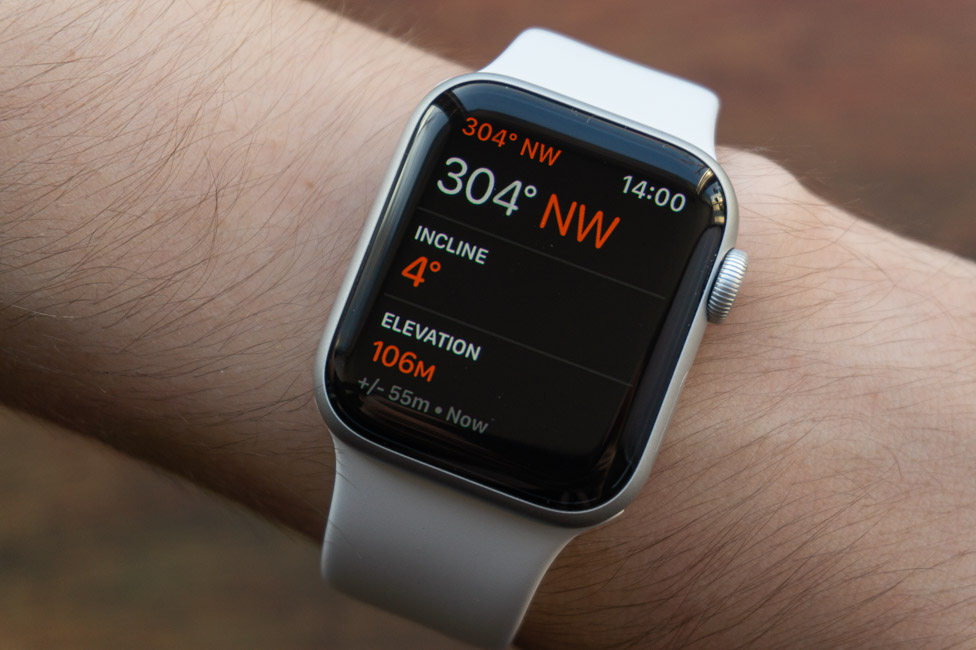 Read also: The differences and similarities between iPhone 12, 12 Pro, 12 Pro Max, and 12 mini. How to choose a new iPhone
What's in the box
Apple Watch Series 6 comes in an oblong box, inside of which there are two separate boxes. One contains a watch, a magnetic charging cable, and various pieces of paper. The second, in turn, comes with a strap with two halves of different sizes – S/M and M/L. They have different lengths, respectively, and fit different wrists.
This time, the 5W power adapter disappeared from the box. Caring for the environment or trying to save money? In fact, I think this is absolutely normal. How often do other gadgets from the wearables segment come with adapters? This is a rhetorical question, so I personally don't see a problem here.
However… it's not nice that the adapter was included with the expensive Apple Watch Series 6 Hermes, for example. This selective approach is not very clear to me. It seems to me that it is more logical to remove an item from the box of any model. Regardless of any other factors.
Another point is the charging cable with a Type-A plug, not a Type-C one. The problem is not that USB-A is some kind of rarity, but that somehow it all does not stick to the so-called ecosystem. The current iPhone 12 also did not receive power adapters, but there is also a Type-C to Lightning cable. And for how many years has MacBook had Type-C? This vague approach is confusing.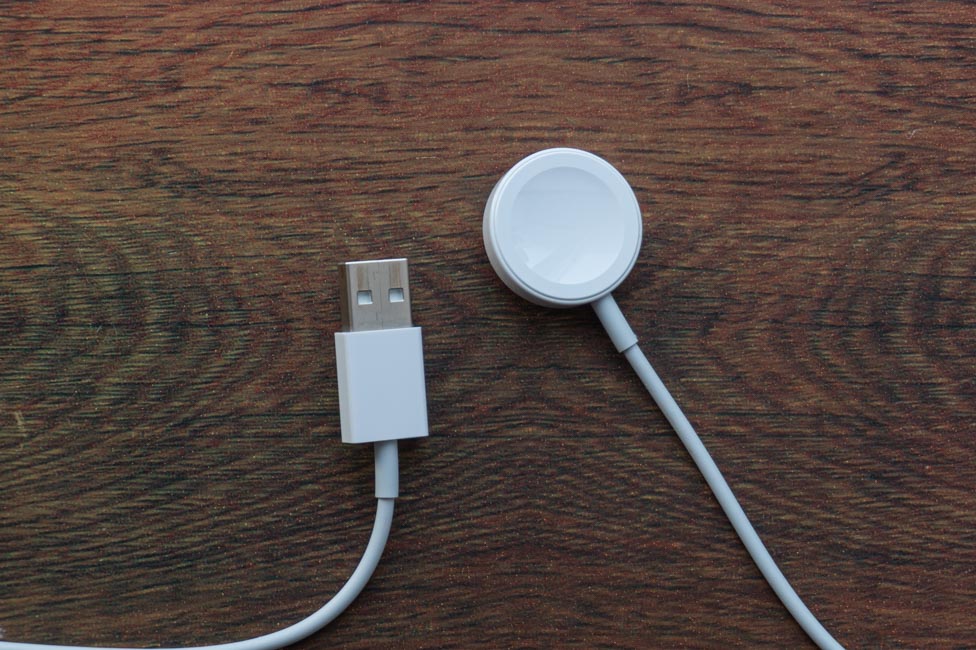 Design, materials and elements configuration
Apple Watch Series 6 is basically the same design as Series 5. At least from the side visible to others, if you do not take into account the new colors. And Series 5, in turn, is  no different from Series 4. And judging by Apple's approach to a three-year design update cycle, something new can be expected only next year.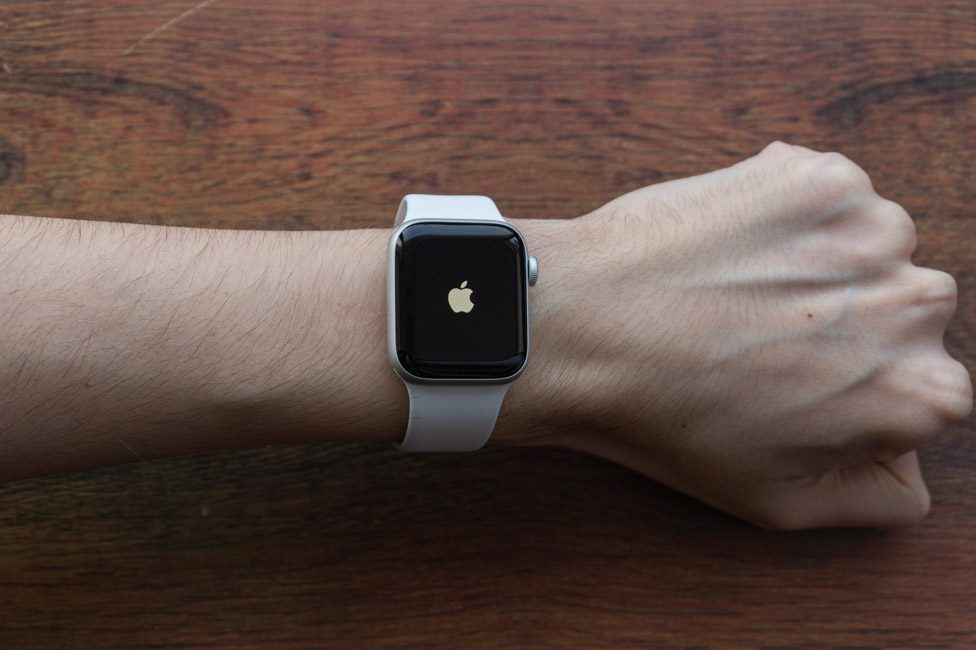 Well, this is a typical Apple Watch, the design of which is well known to everyone and even other manufacturers of smart watches are not indifferent to it. Especially those that make affordable devices, if you know what I mean. A rectangular case with rounded corners, glass with rounded edges and a Digital Crown are the hallmarks of AW.
The new generation can be distinguished from the previous one by two new colors of the aluminum version: (PRODUCT) RED and blue. The rest of the usual colors for the case made of this material remain: space gray, gold and silver.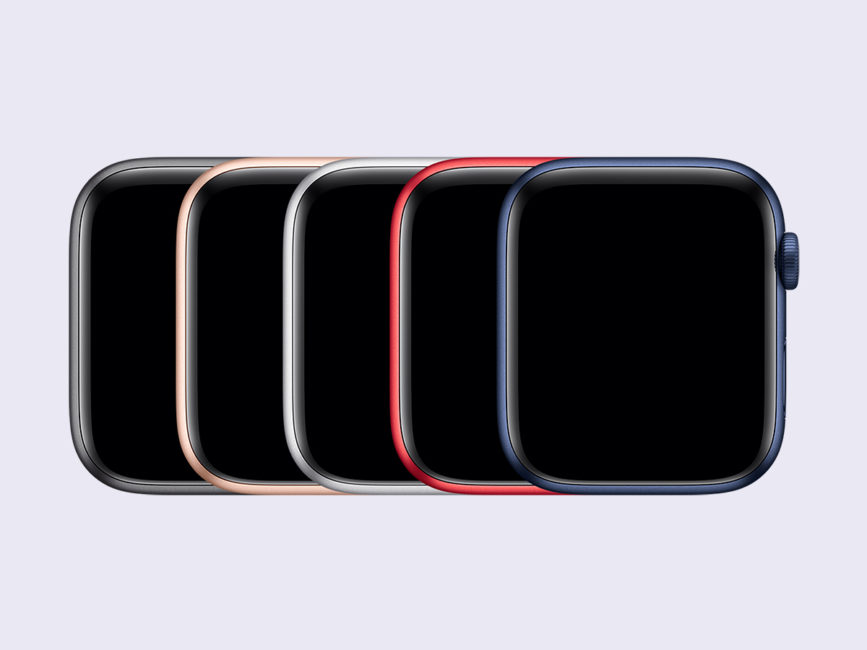 The front panel is covered with Ion-X glass with a high-quality oleophobic coating, the body is recycled aluminum, and the back is covered with ceramic. The layout of the elements is as follows: the screen is in front, on the left side there are speaker slots, on the right is the Digital Crown, a microphone and a side button. Above and below there is a band, in the classic Apple Watch style. The back plate retains the same buttons, engraving with information about a specific watch model, but the window in the center has changed. It now consists of four optical sensors and light emitters required for the operation of a pulse oximeter.
The watch is protected from moisture according to ISO 22810: 2010. And although the description speaks of protection from water at a depth of 50 meters, not every activity with a watch is possible. For example, it can be used for shallow diving: for swimming in a pool or sea, but not for diving, water skiing and other sports involving diving to great depths or contact with water at high speed.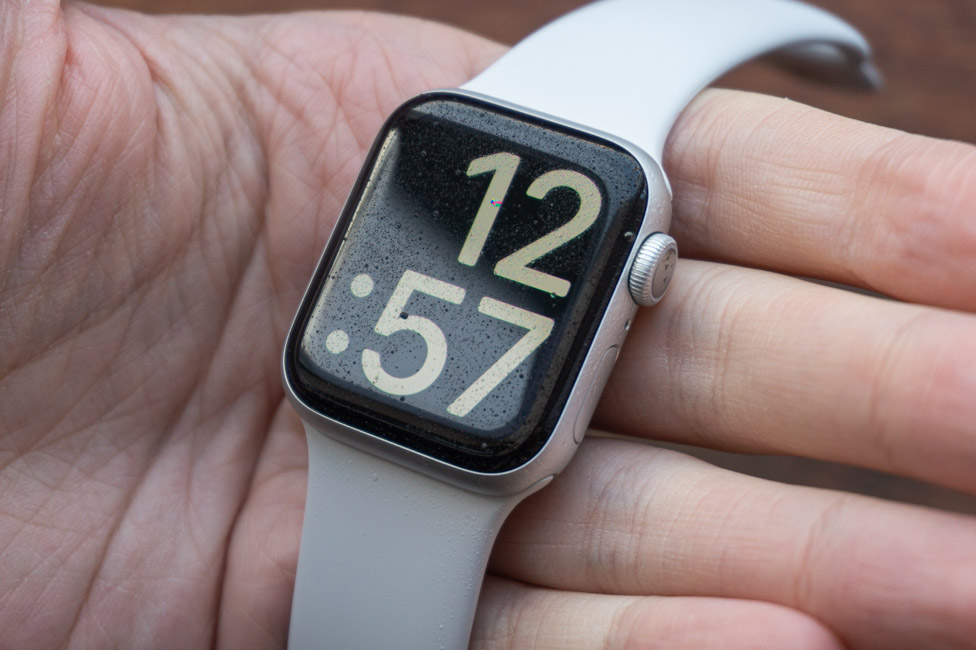 The silicone band remains the same. The usual package has not changed in any way. It is made in exactly the same way. White, like mine, is certainly not the most practical for the long term and will get dirty over time. But for two weeks of daily use, nothing happened to it. Just a sturdy, soft and comfortable band.
Along with Series 6, new monobralet bands were also introduced. As the name suggests, this strap has no buckle or clasp at all and comes in two materials in nine sizes. There is a silicone monobralet and a braided band made from silicone threads and over 16,000 recycled polyester fibers. A very interesting option, but I could not personally test it. The price of these bands is, of course, also impressive – $49 for the silicone and $99 for the braided Solo Loop. You can choose the size by printing out a special dimensional scale or with an ordinary paper strip, which then needs to be measured with a ruler.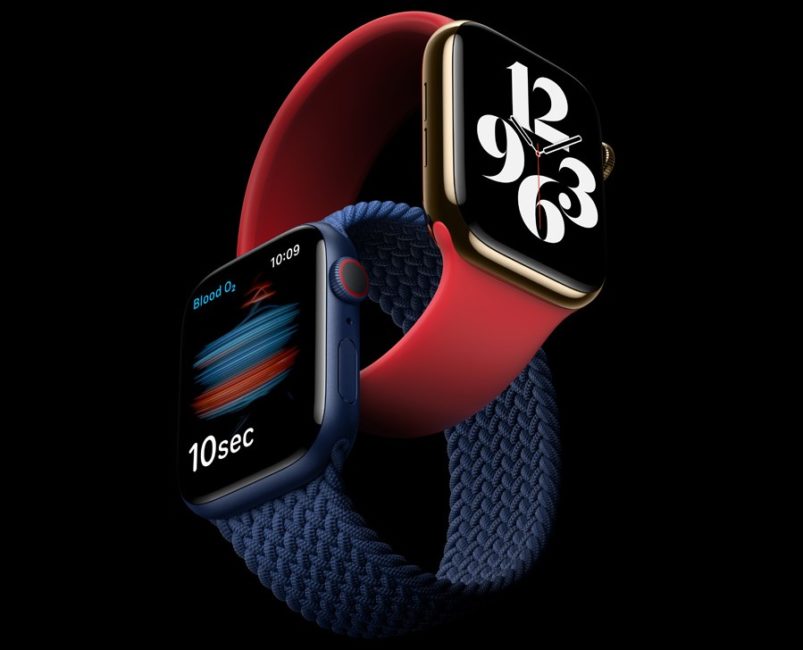 Having learned the result of measuring the girth of the wrist, we indicate it on the Apple website and get the appropriate size of the band.
Read also: Apple iPhone 12 Pro Max review: The Ultimate Productivity Tool
Apple Watch Series 6 display
The Apple Watch Series 6 display differs from the Series 5 display in only two ways, but before we talk about them, let's look at the specifications. Let me remind you, we have a 40 mm version with a 1.57″ diagonal and an OLED LTPO matrix. Its resolution is 324 × 394 pixels, which translates into a pixel density of 325 ppi. Peak brightness is declared at 1000 cd/m².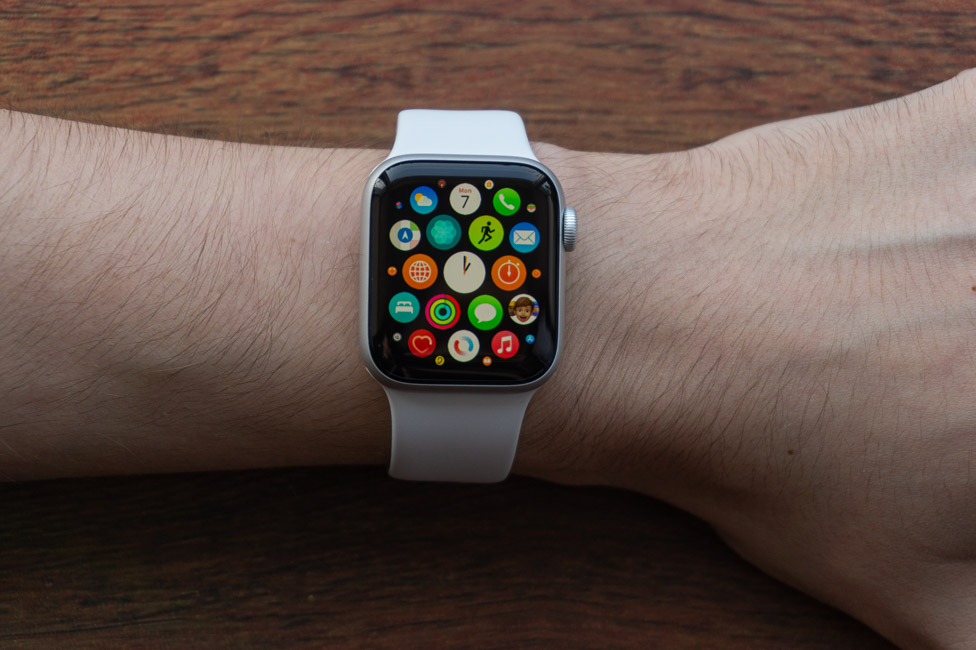 According to the specifications, nothing seems to have changed. The display can still operate in Always-On mode and display information at all times. But it was in this mode that it became twice as bright. And second, the Force Touch hardware components are missing. The ability to determine the pressing force was replaced by a long-term hold at the software level in the beta version of watchOS 7, therefore, now it is not present in previous generations of watches. It's just that Series 6 does not have this "layer" at all at the hardware level, which additionally allowed to increase the battery and the Taptic Engine drive, while maintaining the same dimensions.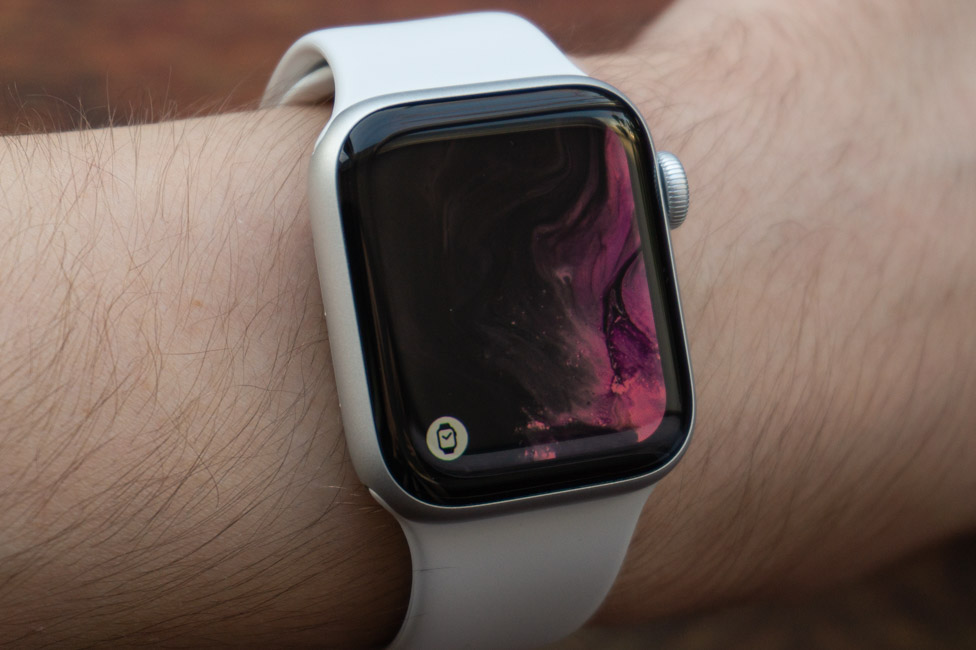 The display itself is excellent. Bright, saturated, with with very good viewing angles, but a slight bluish white at an angle. The brightness is more than enough, indoors and outdoors. In addition, it is OLED, which means that watch faces and apps with a black background simply "merge" with the bezels.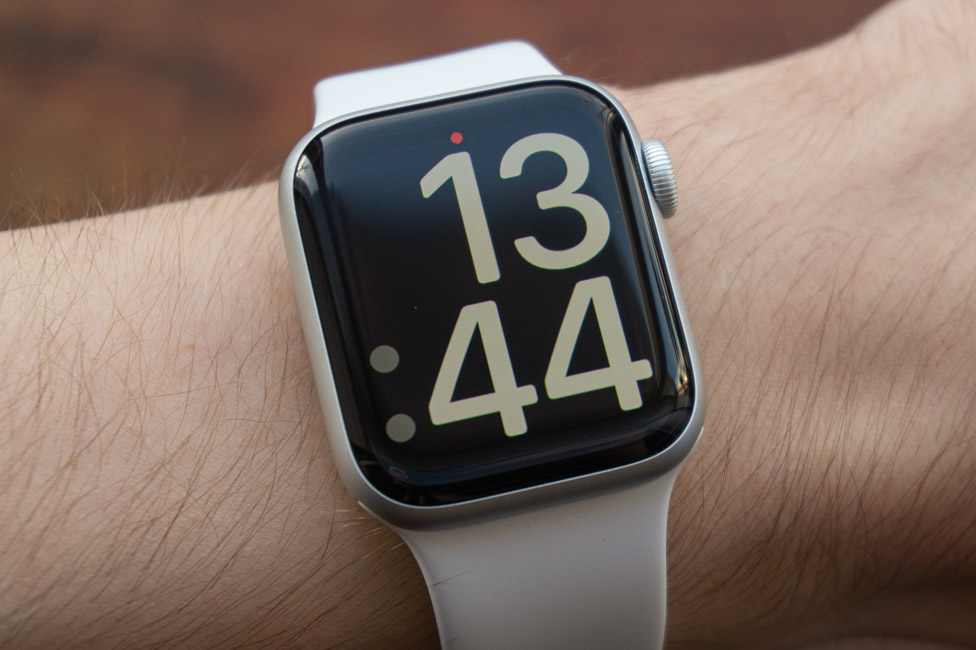 There is an automatic adjustment of the display brightness and it is always active, despite the fact that in the settings there is an opportunity to choose one of three brightness levels. But I did not notice a special need for it.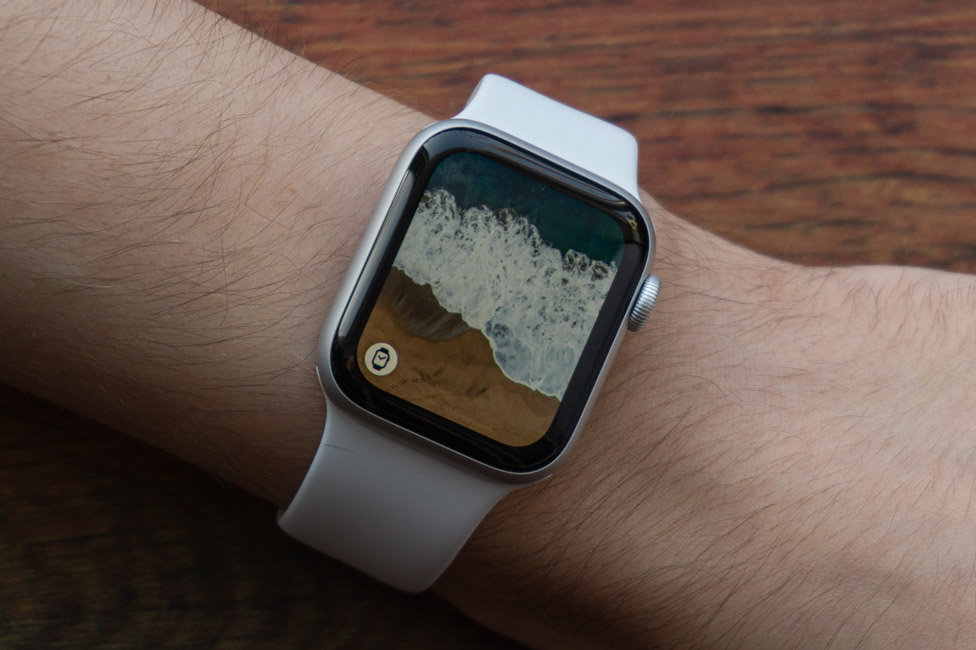 In the settings, in addition to adjusting the brightness, you can enable the previously mentioned always-on screen function. It works simply: the screen is always on, but the watch face is slightly darkened and, depending on the selected watch face, the amount of information displayed on it in this mode may also decrease. There is no reason to talk about the convenience of this option once again.
Time is always displayed and you do not need to make any movements. Although, in all fairness, it is worth noting the high accuracy of the gesture. The display can be activated in other ways: by pressing the side button or crown, scrolling the latter up or by a simple tap on the screen. You can switch the screen to Always-On by simply covering it with your palm. The same movement turns it off if the Always-On function is on.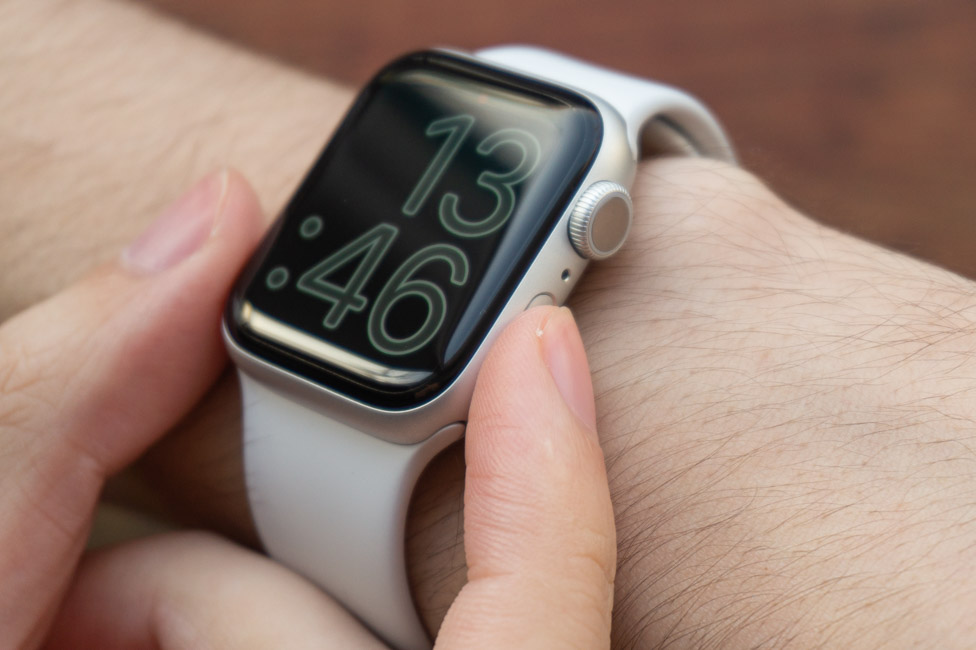 In addition, in the screen settings, you can set the text size and make the font bold. Some of the other settings are hidden: you can turn on/off different ways of activating the screen, choose how long the display will be turned on after touching (15 or 70 seconds), and how long it takes to return to the main screen after displaying the app (you can configure the parameter for each individual application).
Apple Watch Series 6 Settings
Apple Watch Series 6 battery life
The Apple Watch Series 6 specifications say that the watch is capable of surviving for up to 18 hours on a single charge. This figure has not changed in any way and the same 18 hours were promised last year for the Series 5. In fact, the operating time depends on the nature of the operation, but the promised 18 hours still ring true. On the other hand, what is 18 hours for a wearable device? This is hardly impressive.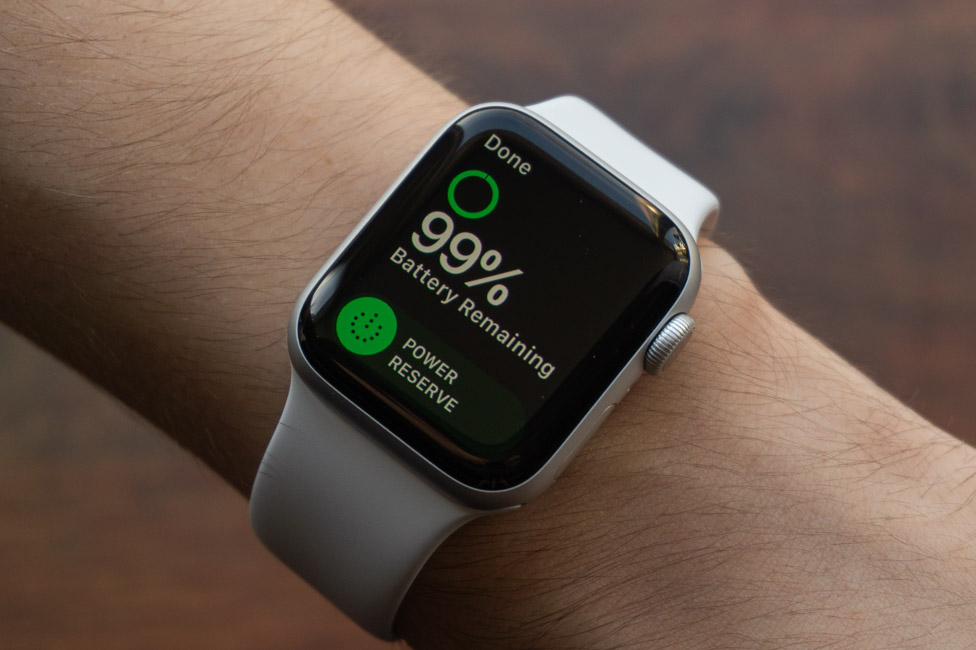 I tested the battery of the 40 mm version both with the always-on display turned on and off. In normal mode, without Always-On, with viewing data on activities, notifications, as well as with not very frequent calls to other apps, my watch lived for almost two days. That is, if I took them off charge on Monday at 9:00, then on Wednesday around 8:00 I will have to put them on charge.
Under the same conditions, but with the Always-On function active, the results are expected to be worse. If the watch was charged on Wednesday at about 14:00, then by the evening (somewhere at 20:00) the next day, they will have to be put on charge. Ideally, of course, they should be charged daily, either at night or in the morning before going out if you use sleep tracking.
Everything is very subjective here, but on average it turned out like this: with Always-On – a whole day, without – two days. Some other smartwatches, of course, can do more in this regard: a week, two weeks, or even a month. But the functionality, as a rule, is noticeably different there. Apple Watch Series 6 is capable of a lot, but the price for all these features is the battery life.
The brand new cable with a magnetic mount charges the new watch 20% faster than previous ones. The process takes no more than 1.5 hours from a regular 5 W adapter, below are detailed measurements in 10-minute increments:
00:00 — 7%
00:10 — 23%
00:20 — 40%
00:30 — 57%
00:40 — 71%
00:50 — 84%
01:00 — 93%
01:10 — 98%
01:15 — 100%
Blood oxygen measurements with Apple Watch Series 6 and new WatchOS 7 features
At the time of this review, the watch runs on WatchOS version 7.1. And it's very quick: apps, various windows and menus open swiftly and without delays. The merit of the new S6 processor? Quite possibly. I have the opportunity to compare the performance of the Apple Watch Series 6 with the Apple Watch SE (which has last year's S5 processor) and Series 6 turn out to be somewhat faster in some places. But the difference is insignificant and without direct comparison it is quite difficult to notice it.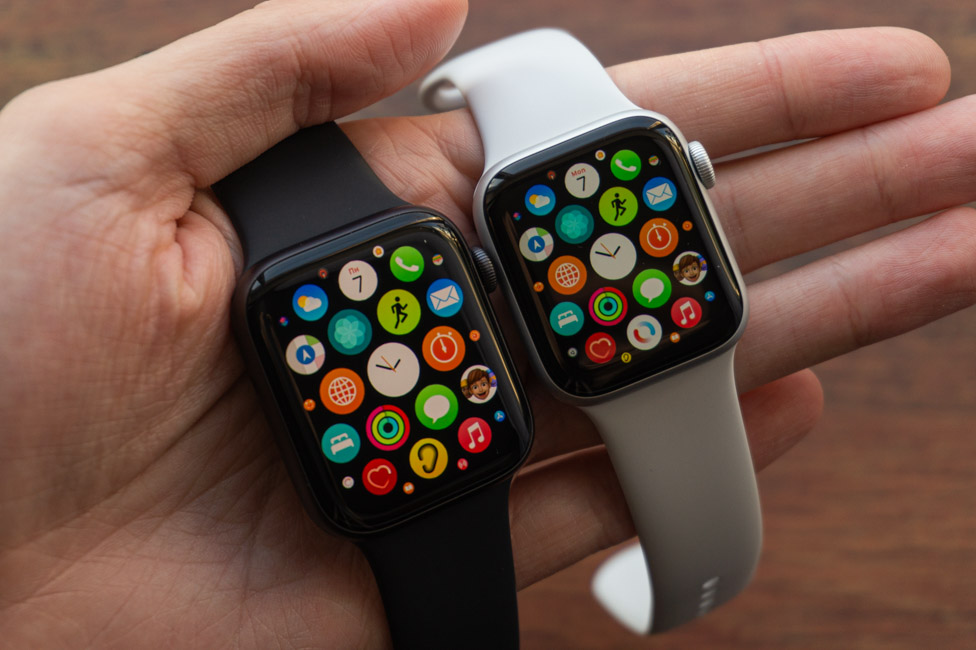 And before talking about the general changes in the new version of the operating system, let's look at the implementation of the pulse oximeter, which appeared in Series 6. The watch has a corresponding Blood oxygen app with an icon in the form of red and blue stripes forming a circle.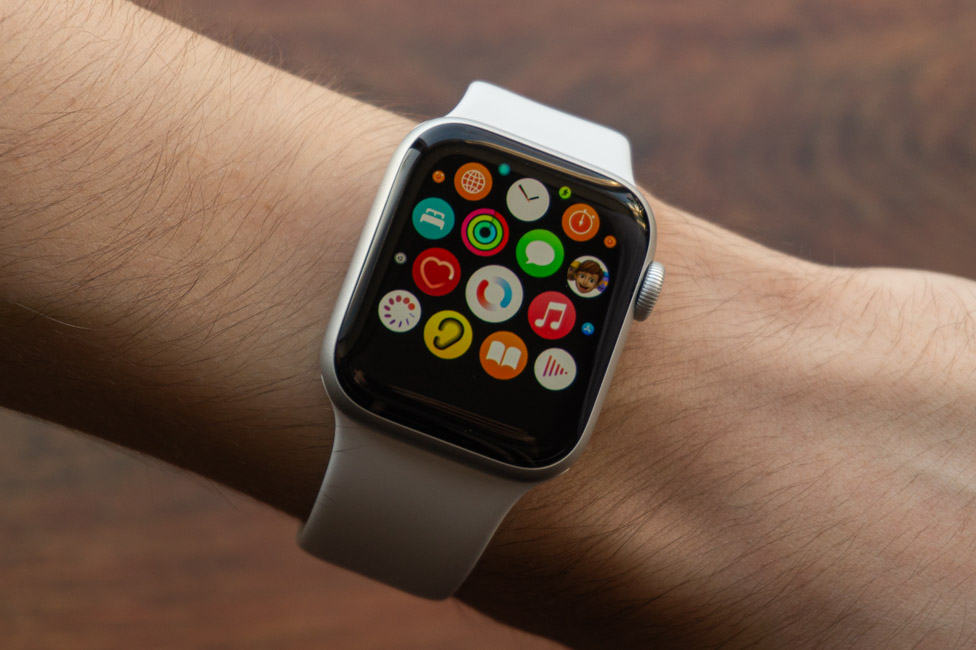 When the application starts, we see the animation and data of the last measurement: percentage and when it was taken. The measurement itself can be carried out automatically in the background. Usually when the owner of the watch is in the most calm and motionless state. But you can also start the measurement manually. To do this, you need to make sure that the watch is snug against your wrist, put your hand on the table or knee and start the measurement. It lasts 15 seconds, during which you need to keep your hand motionless.
All measurements are sent to the iPhone Health app, where you can see the range and averages for the day/ week/month/year, as well as at high altitudes and while sleeping. There you can also learn more about the level of oxygen in the blood and how it affects health.
Apple Watch Series 6 SpO2
As I already said, it is impossible to be completely sure of the results and the watch cannot be compared with a medical device. In addition, all measurement rules must be followed: the band should not be fastened too tightly, and the watch itself should not be worn too close to the wrist. A certain inconvenience lies in the fact that the watch sometimes cannot immediately report if the measurement cannot be carried out due to some error. Of course, in case of some gross error it will say it outright, but it often happens only after 15 seconds of measurement.
As for the accuracy of measurements, it too raises questions. Even if you take measurements one after another and do not change the position of your hand in any way, then each time Apple Watch Series 6 can give a different result: 98%, 99%, and then three times in a row 100%.
Now about the general changes in WatchOS 7. First, the watch faces. There are more of them and customization options have improved too. You can change colors and shades, as well as add extensions from various apps. The created watch faces can be shared with other users.
Apple Watch Series 6 Watch Faces
The Sleep app allows you to track your sleep and helps you fall asleep faster and develop the habit of going to bed at a given time. In the app, you specify the time when you go to bed, and the watch will automatically turn on Do Not Disturb mode, including on iPhone, reducing the screen brightness and turning off all vibrations and sounds. If you stayed longer, it will remind you that it's time to go to bed. It is also worth noting that the watch will remind you of a low battery level (below 30%) before going to bed and ask you to recharge. And when the alarm goes off and you wake up, you will see the weather forecast for the whole day on the watch screen, the battery level and the scheduled events in the calendar. True, no sleep phases, smart alarms and all that.
Apple Watch Series 6 Watch Sleep Monitor
A little more information about sleep can be found in the Health app on the iPhone: heart rate, average sleep time over the last 7 days, and there you can set up different schedules. In the same place you can set up commands in such a way that for the selected time before bedtime you could relax while listening to music, a podcast, reading a book or something else.
Apple Watch Series 6 Health
An option for "Washing hands" has appeared and now the watch can detect when you started washing your hands. Since the recommended washing time is about 20 seconds, the corresponding timer with animation is activated on the watch. Some users complain that the function turns on by itself, but personally I have never encountered such a problem. The watch immediately detects when I start washing my hands and starts the countdown.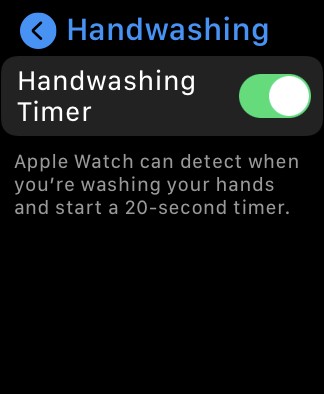 Several new workouts have also appeared: dancing, strength training, core training and cooldown, which is performed after the main session. The Siri voice assistant has also been updated. Now you can translate spoken language simply by asking for voice translation, and you can also launch Quick Commands created on iPhone directly from your watch in the Commands app.
Apple Watch Series 6 workouts
Otherwise, nothing seems to have changed. This is a very functional operating system for watches with excellent implementation of notifications and the ability to respond to them, a variety of applications, listening to music, contactless payments with Apple Pay, navigation, a large list of workouts, partial remote control of a smartphone and Apple TV. Like a mini copy of the iPhone, only on the wrist. It is simply impossible to find something better for the iPhone. But it should be noted that not all functions are available in some countries. For example, ECG.
Read also: Apple iPad 8 10.2″ 2020 review – New Old Acquaintance
Verdict
The main thing that has been added to Apple Watch Series 6 is, of course, the sensor for measuring the level of oxygen in the blood, which is more relevant than ever. The display in Always-On mode has become brighter, and the new processor will allow the watch to stay "in shape" longer. Less significant improvements are: always-on altimeter, 5GHz Wi-Fi support, and faster charging speeds.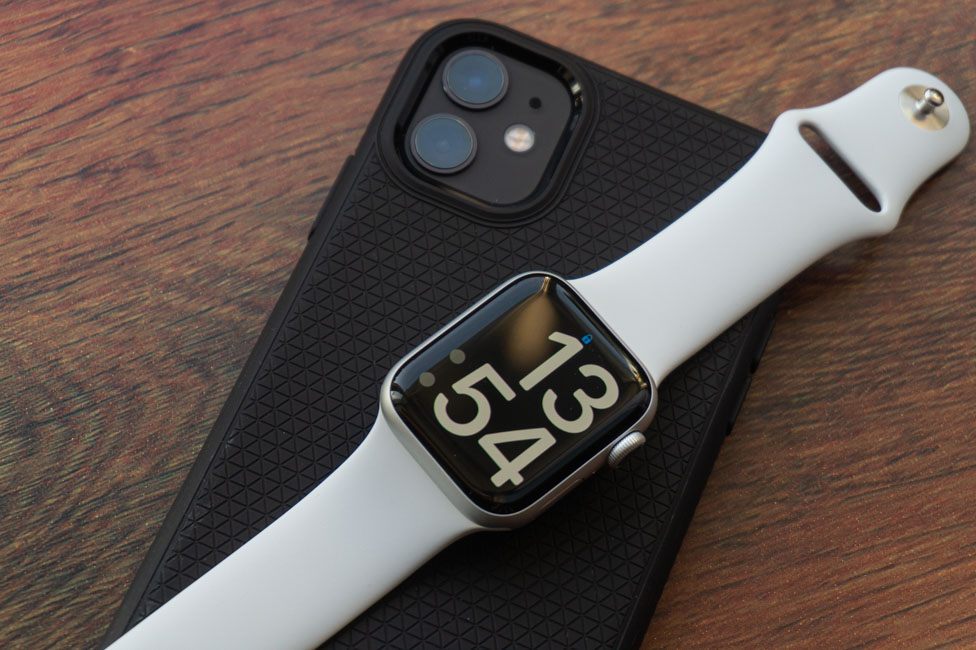 Should you upgrade from Series 5? I don't think there is much sense in this. Unless you really need the new features. But the owners of Series 4 and below might consider these new models. The speed of work, the amount of memory, Always-On – at least a user will get this with the new Apple Watch Series 6. The main disadvantage of most smart watches is bad battery life, to which, however, users of Apple Watch of any generation will not have to get used to.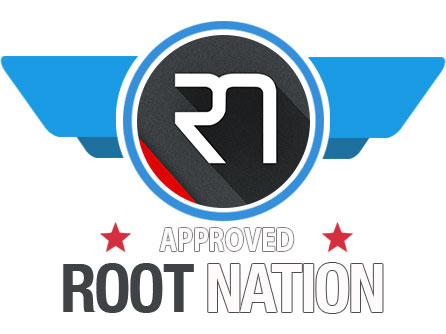 Subscribe to our accounts: