2019 has been a mixed bag of a year for gamers. We did enjoy an awful lot of quality titles, but, safe for one or two hits, there hasn't been a lot of true behemoths. The last year gave us Red Dead Redemption 2, God of War and Spider-Man, but in 2019 all we did was talk about how silly the whole Death Stranding premise is.
Still, I won't complain. The developers and manufacturers cannot help but think about the impending new generation of consoles. The end is nigh for PS4 and Xbox One, and the biggest exclusives await us in the new decade. But why speculate about what's to come when we can discuss what has already been released? So let's do just that.
Disclaimer: As usual, there have been an awful lot of games recently, and some were bound to fly under our radar. So today we rate only the games that we actually tried and played. As esteemed Mr. Satoru Iwata would say, please understand.
10. A Plague Tale: Innocence (Asobo Studio)
A Plague Tale: Innocence from the little-known Asobo Studio may as well be called the best surprise of the year.  The gorgeous indie game telling the gruelling story of 15 year old Amicia and her little brother impressed us all, and lots of people call it one of the best games of the year. We think so as well.
A Plague Tale: Innocence looks like an AAA-title, with great visuals and good voice acting. The story is also very interesting, and the setting – plague-riddled France – feels fresh and exciting. The game is scary, sad and eye opening, although I will say that its presentation is more impressive that the gameplay, which would hardly impress the lovers of stealth games.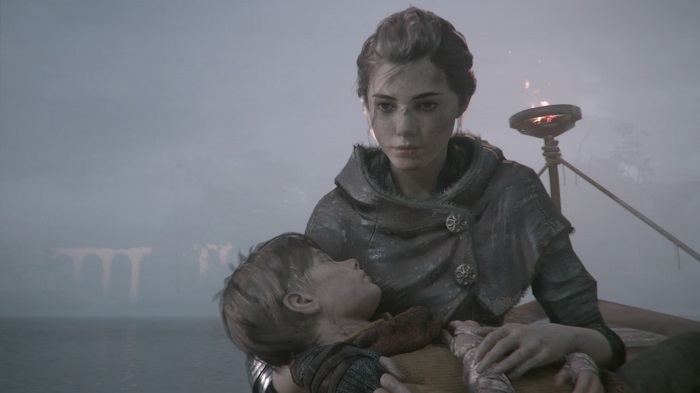 One of the most original titles of this year, A Plague Tale: Innocence is a must-play.
9. Mortal Kombat 11 (NetherRealm Studios)
Everybody knows Mortal Kombat and almost everybody loves Mortal Kombat. The gore, the violence, the iconic characters and tons of replayability, these games have always been one of the most popular. And Mortal Kombat 11 might be the best one yet, with phenomenal graphics, great gameplay and a fun story. It has it all, with lots of content to keep you busy for hundreds of hours. NetherRealm Studios really are the best at creating fighting games: not long time ago we were telling similar things about Injustice 2.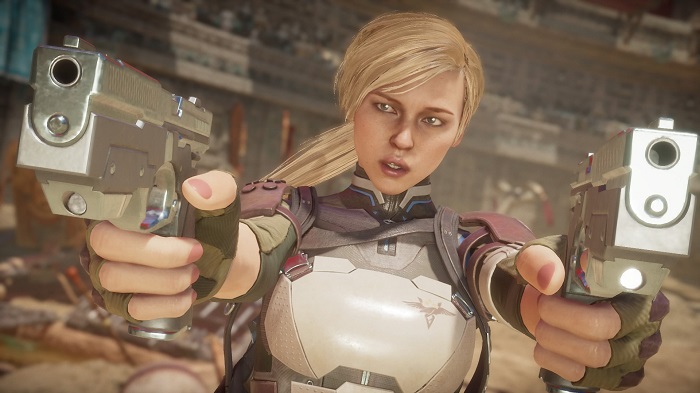 I was especially surprised at the story. Nobody makes story modes in fighting games as good as NetherRealm. Everything else is good too: the game is a joy to play, even for beginners thanks to new and improved tutorial. Some things never change, and Mortal Kombat still is the best in the biz.
8. Control (Remedy Entertainment)
Few companies inspire confidence like Remedy Entertainment – the legendary Finnish studio that gave us Max Payne, Alan Wake, and Quantum Break. And now they are back in force, with completely new IP. So what is Control? It's a mystery game inspired by SCP Foundation. It tells a story of Jesse, who arrives at Federal Bureau of Control in hopes of learning about the fate of her brother.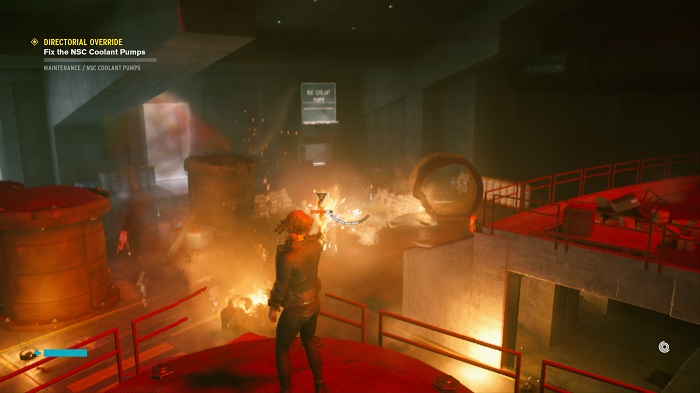 Control deals with supernatural, and our hero has lots of powers at her disposal. While the story is intriguing, I wouldn't call it amazing. The visuals, on the other hand, are spectacular: it's a next-gen game that came a year early. But, ironically, I wouldn't call it a plus, since most of the consoles simply can't run it properly. A bunch of patches made things better, but I still think that it wasn't prudent releasing the game in 2019; it was obviously made with PS5 and Xbox Series X in mind.
Still, it's a very ambitious project, which looks and plays unlike anything we've seen. It definitely deserves your attention.
7. The Legend of Zelda: Link's Awakening (Grezzo)
Nintendo loves remaking Zelda games, but The Legend of Zelda: Link's Awakening needed it more than the most. The black-and-white original looks a bit too archaic, but now, thanks to Grezzo, it has been remade with the help of Unreal Engine 4. As expected, it looks fantastic, even if the new style is a divisive topic among the die-hard fans. But we, we like it a lot.
The Legend of Zelda: Link's Awakening for Switch shows us how to make a remade. The reworked game looks and feels like new, and it's a joy to play. Also, Link has never been this cute.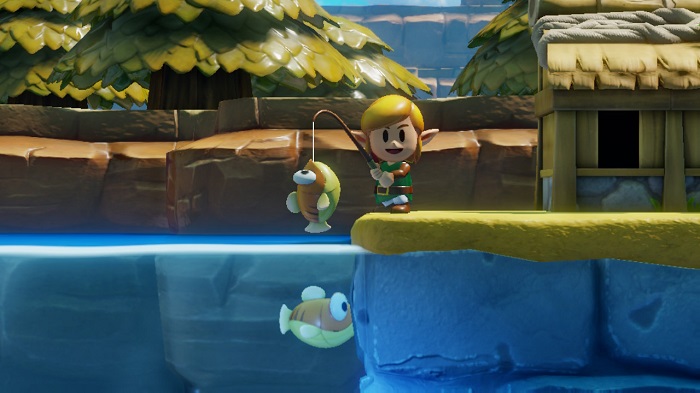 The game has it all: great timeless puzzles, lots of secrets, funny dialogs and gorgeous music. Of course, it's nowhere as lengthy and content-rich as The Legend of Zelda: Breath of the Wild, but if you like the more traditional titles in the vein of A Link Between Worlds, you will surely enjoy this one – even if you've played the original.
6. Luigi's Mansion 3 (Next Level Games)
What a weird series Luigi's Mansion is. Starring "the other Mario", it tells a story about the most cowardly ghostbuster you've ever seen. It's not scary, but it's charming and very, very funny. Overall, this has been a good year for Nintendo, with new console models and lots of exclusive games. Although most of them (New Super Mario Bros. U Deluxe, Yoshi's Crafted World, Mario & Sonic at the Olympic Games: Tokyo 2020, Marvel Ultimate Alliance 3: The Black Order etc.) don't really warrant the place in the list, these are still good games. But Luigi's Mansion 3 might be one of the best games Nintendo has even made – or at least the best Luigi's Mansion game overall.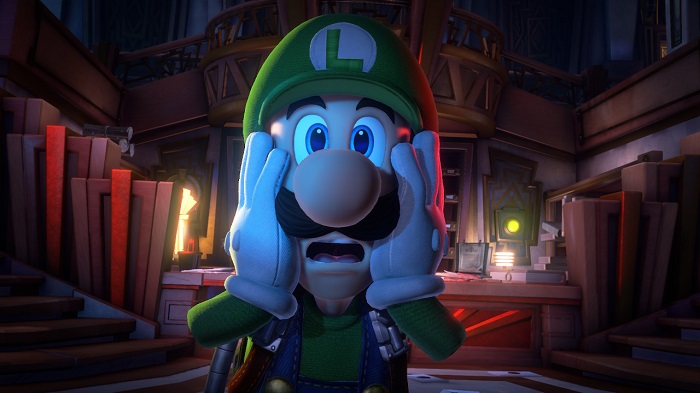 Just like before, fan favorite Luigi hunts ghosts (and now even boos), collects ludicrous amounts of money and searches for secrets. Just like before, the game looks amazing on Nintendo hardware: the previous one was one of the best-looking titles of 3DS, and now Luigi's Mansion 3 follows suit. As of now, there are probably no games for Switch with lighting so good. Next Level Games have outdone themselves.
5. Star Wars Jedi: Fallen Order (Respawn Entertainment)
It was an eventful year for Star Wars. New TV series, another divisive movie and a brand new game kept fans busy. But somehow it's the game that impressed us the most. It's been more than 10 years since the last serious game in the saga, and it seemed that EA will never give us something worthy of LucasArts legacy, but it finally happened in 2019.
Respawn Entertainment is a respected studio, famous for its shooters, but Star Wars Jedi: Fallen Order is unlike anything they've done before. Completely devoid of online component, this game has more plot and interesting characters than the latest cinematic episode, and its visuals aren't a joke either. It is, in every way, the game we've been waiting for.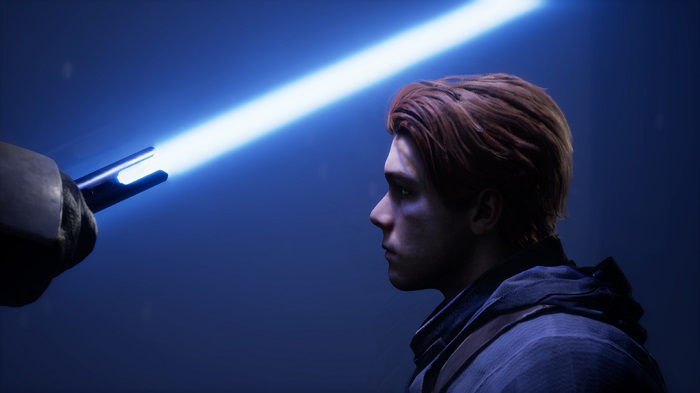 Star Wars Jedi: Fallen Order tells a story of Cal Kestis, a former Jedi padawan now in hiding. But the death of his friend forces him to take action. Now, along with the merry band of misfits, he roams the galaxy in the search of a way to restore the fallen Jedi order to its former glory. A doomed quest, yes, but fun nonetheless. Mostly thanks to diverse cast of characters and different locations. The gameplay is also fine, although I never did like Bloodborne-like battle systems. It's a flawed game, but at least it's a complete game with no microtransactions, loot boxes or broken progression systems. That alone makes it worthy of our list. Or not?
4. Judgment (Ryu Ga Gotoku Studio)
I expected nothing from Judgment because I never really played Yakuza series. But when I got the chance to try the newest game from the highly respectable Ryu Ga Gotoku Studio, I couldn't pass. And I am thankful that I didn't, because that's the game that certainly deserves the high placement on our list.
Fans of the Yakuza series don't need my persuading: as a spinoff, Judgment is everything they might have wanted and even more. The well-known location, the modified but basically unchanged battle system and tons and tons of fun and quirky storylines and side quests Ryu Ga Gotoku Studio is known for – it has it all. And on top of that, we get to play as a completely new character – a detective who finds himself in the midst of the conspiracy involving (who else?) yakuza.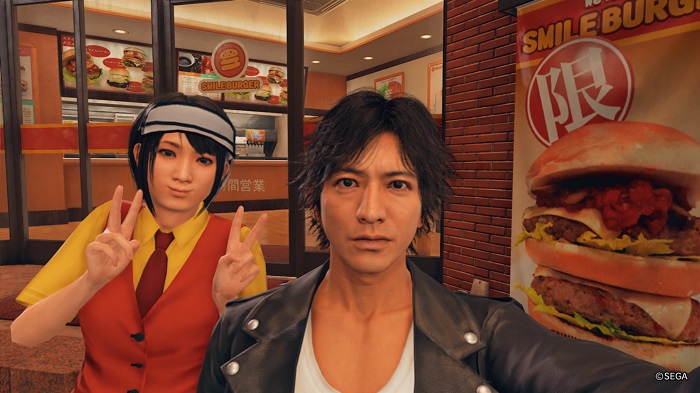 Judgment is filled to the brim with content. Its map might seem small, but don't let that fool you: you can spend here 100 hours and still find something new to do. It's not a western open world game, which is a plus, if I am honest.
Eccentric, beautiful and polished, Judgment is a hidden gem of 2019. Be sure to check it out when you have the time.
3. Fire Emblem: Three Houses (Intelligent Systems/Koei Tecmo)
When I called Fire Emblem: Three Houses the best Harry Potter game ever made, I didn't lie. Well, I did a little, since it's not a Harry Potter game per se, but it imitates J.K. Rowling's atmosphere beautifully. Probably no other game in that list surpassed my expectations quite like Fire Emblem: Three Houses. Where I expected the same brilliant but tired tactical gameplay, I got something more polished and refined that I ever hoped for. Where I expected a story riddled with anime clichés, I got a rich plot full of twists with literally dozens of memorable characters.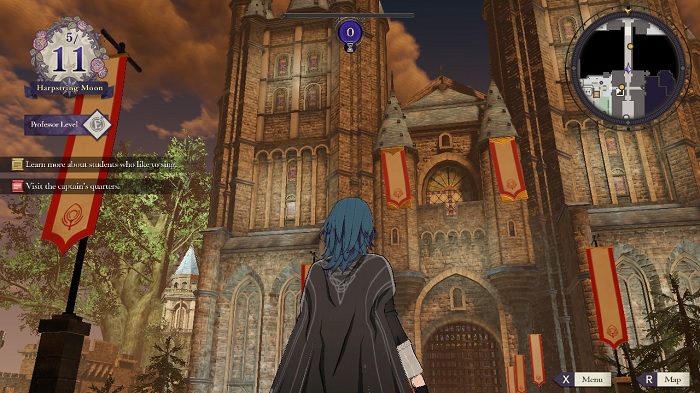 Fire Emblem: Three Houses has so much content, I still can't finish it. It's a game that keeps on giving, and it looks even better when comparing it with other somewhat similar titles on Nintendo Switch. Pokémon Sword and Shield comes to mind. While Intelligent Systems/Koei Tecmo proved that you can always get better, GameFreak gave us something we've seen a thousand times, albeit with hardly noticeable visual improvements. Fire Emblem: Three Houses is how you take a well-known franchise and make it better in every way possible.
2. The Outer Worlds (Obsidian Entertainment)
Ah, Obsidian. The name that brings back so many fond memories. Where have you been all these years? I mean I know where, but why did it take you so long to come up with a game like The Outer Worlds?
Forgive my rambling, it's just that I had been waiting for The Outer Worlds long before it was announced. There's a certain charm in the old-school RPG games, and we hadn't had one for a whole. Fallout 4 was fine, I guess, but it never managed to capture the magic of Fallout: New Vegas. But with The Outer Worlds the famed Obsidian Entertainment have proven that they still got it. And got it, they do.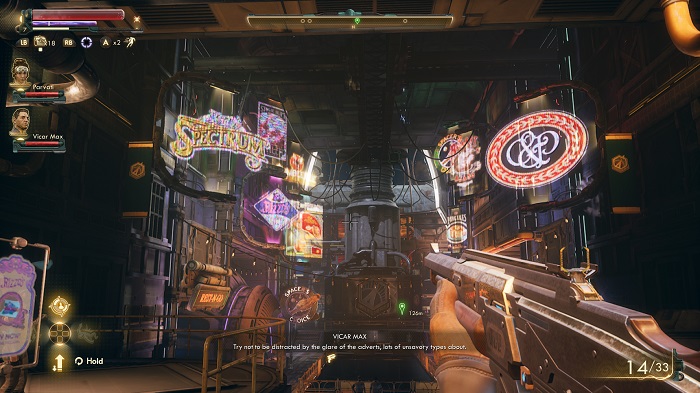 So what's so good about The Outer Worlds? In short, it has all the ingredients that I haven't seen in a long while in a game. It has a genuinely fantastic script, which is both incredibly funny and memorable, a set of lovable characters, an uncluttered game world, and no microtransactions whatsoever. It's an old-style game with modern visuals and very strong gameplay. It's almost a complete package.
But every game has its cons, and The Outer Worlds, even with all its pluses, still feels a bit… rudimentary. Its story, while interesting, doesn't really go anywhere, and its gameplay is a bit too simple for my taste. After a while it just gets too easy, but that's okay – there's more than enough to keep you happy for 20-40 hours. Especially if you happen to download it from Game Pass for practically free.
The Outer Worlds reminds me of good times when games shipped finished and complete, and I'm grateful for that.
1. Death Stranding (Kojima Productions)
I like making jokes about Death Stranding as much as the next guy, but when it comes to criticism, I'm not the one to throw rocks at famous Hideo Kojima and his band of Japanese magicians. In spite of all my skepticism, I really, really enjoyed all my time spent with Death Stranding. Sure, it's corny and silly and pretentious to no end. Yes, it's monotonous and grindy, and its story is convoluted. But in spite of all this, there's a unique brand of charm and addictiveness that kept me going back. I may not care one bit about America's demise and Sam's holy quest to "make it whole again" (a direct quote, I might add), but the unique "strand" gameplay just kept me hooked right till the end.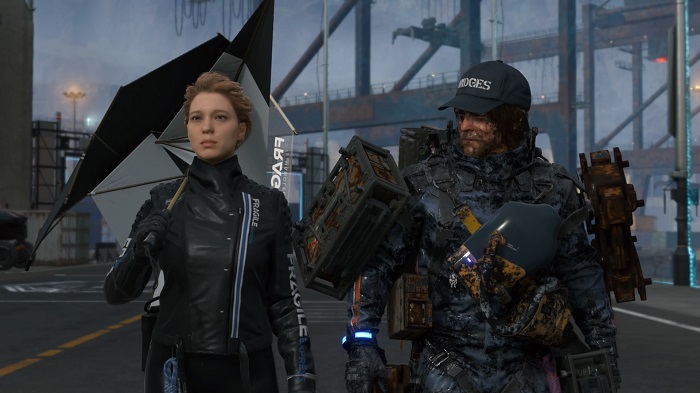 If we're being objective, Death Stranding is a game for a specific type of player. You must really be patient with it and accept its many flaws; think of it as marriage. Suffer through its worst parts and you'll be rewarded with an amazing reward. Like a great show that's slow to start, Death Stranding's first season (and by that I mean first 3 chapters) may be wonky and unappealing, but power through and you'll get it. You'll understand why it all works – and how. You'll start enjoying interacting with various unseen players. And you'll even, maybe, start caring about Sam, who may not be the charismatic Arthur Morgan, but there's a certain type of charm to him.
Death Stranding manages something no other game managed to do in a while – it surprises with plethora of fresh ideas. It's not a sequel or a spin-off, and even its genre is hard to define. It's art-house in a game form. In other words, everyone must at least try and play it. Because one way or another, it will surprise you.

Loading ...
Subscribe to our accounts: