Looking for a smartphone that combines high performance, advanced technology and impressive design? You should take a look at the Motorola Moto G54 Power 5G.
I never thought I would ever write something like this. It seems to me that Motorola is on the right track, because it has quite a broad offering – for any customer, and the price / features / user experience ratio is always on the right level. That's really impressive. Want a modern flared smartphone? Buy the Motorola Razr 40 Ultra and you'll be happy. Do not want to overpay, but still would like to try a fold-out? Get the Razr 40. Want something with an attractive design and good cameras? Get the Motorola Edge 40 Neo off the shelf. The list goes on for a long time.

Today we are going to talk about another pretty good new product from Motorola – Moto G54 Power 5G. Yes, you are not mistaken. It has an almost sibling – Moto G54 5G. But there are many differences between the smartphones. First of all, we should mention the powerful 6000 mAh battery. Also, the smartphone boasts 12GB of RAM and a camera with OIS.
Intrigued? Then sit back and make yourself comfortable, because we're getting started.
Read also:
What makes the Motorola Moto G54 Power 5G interesting?
Long battery life is one of the key aspects when choosing a new phone, but with a higher battery capacity also comes a larger size and weight. The Motorola Moto G54 Power 5G manages to combine a 6,000 mAh battery with a user-friendly size, and it has a large 120Hz display and eSIM support. Will it be able to withstand stiff competition with other smartphones of similar class?

After the recently tested Motorola Edge 40 Neo and Motorola Razr 40 Ultra, a more affordable model with a gigantic 6000 mAh battery also came to me for testing. Besides the promise of long-lasting performance, the new Motorola Moto G54 Power 5G also attracts with a large storage, 12GB of RAM and a camera with OIS.

It also attracts a very affordable price for the novelty from Motorola. So on the shelves of Ukrainian stores the new Moto G54 Power is available in 12/256 GB configuration for $225.
Before I start my story, I suggest you familiarize yourself with the full specifications of the Motorola Moto G54 Power 5G.
Motorola Moto G54 Power 5G Specifications
Screen: 6.5″ LCD, 2400×1080, 20:9 aspect ratio, 405 ppi, 120Hz refresh rate
Processor: MediaTek Dimensity 7020, 8-core, IMG BXM-8-256 GPU
Operating system: Android 13
RAM: 12 GB
Permanent memory: 256 GB, expandable by 1 TB via microSD
Rear cameras:

50 MP main module with optical image stabilization (OIS), f/1.8 aperture, 1.55 μm and PDAF
8 MP macro with f/2.2 aperture, 1.22 μm

Front camera: 16 MP, f/2.45, 1.0 μm
Video recording:

Main Camera: FHD (60/30 fps)
Front camera: FHD (30 fps)

Battery: 6000 mAh with TurboPower 33 W charging with TurboPower 33 W charging
Connections: 5G, dual SIM (nanoSIM + eSIM), Bluetooth 5.3, NFC, Wi-Fi 5, GPS (A-GPS, LTEPP, GLONASS, Galileo, QZSS, Beidou)
Sensors: fingerprint reader, proximity sensor, accelerometer, ambient light, SAR, gyroscope, electronic compass
Dimensions and weight: 161.56×73.82×8.89mm; 192g
Connectors: 3.5mm headphone jack and USB Type C (USB 2.0) port
What's in the package?
The novelty arrived to me in the familiar eco-friendly packaging. The box itself is compact, does not contain plastic packaging materials, and it is printed with soy ink, for which, undoubtedly, we can praise Motorola. Inside, besides the smartphone itself in Pearl Blue color, there is a charger, which supports TurboPower 33W fast charging technology, and a meter long USB-C/USB-C power cable.

In addition to the necessary instructions, warranties and a tool for removing the SIM card slot, the kit also includes a transparent silicone case. It will definitely come in handy for the first time. The protective case is transparent and soft, it fits perfectly to the body of the phone and protects it quite well. Although I think it's a crime to cover up such beauty!
Read also:
Very attractive design
Yes, the new Motorola Moto G54 Power 5G has a very attractive design. Although the body (except for the screen of course) is made entirely of plastic, you get the impression that it is made of metal, so high quality. The Moto G54 Power feels very good in the hand.

At the beginning of this review, I noted that large dimensions are usually some disadvantage of smartphones with a large battery, but the Motorola Moto G54 Power 5G is a clear exception in this regard. Its thickness is only 8.89 mm, and the rest of its dimensions (161.56×73.82 mm) are not excessively large either. Considering also the mass of 192g – this is one of the smallest and lightest smartphones with such a capacious battery.

I really liked the build and materials used to make the Moto G54 Power 5G. Yes, we are dealing with a plastic case, but it is very high quality. There are no warps or backlashes – everything is well fitted and assembled. The device lies perfectly in the hand, it is pleasant to use, you can even operate it with one hand.

The smartphone has an IP54 protection level, so it is not afraid of dust or splashing water.

On the front, we have a 6.5-inch screen with a cutout for the selfie camera. Its side frames are also plastic, they are relatively narrow, only the "chin" is noticeable. The screen is protected by glass, Motorola does not specify what kind of glass it is, but it looks very high quality.

We can also praise the design of the back panel – it is matte, the plastic imitates glass well. The blue color of the panel makes the smartphone noticeable and very attractive.

On the back panel in the center, already traditionally, is the recognizable Motorola logo.

The top right corner houses a dual camera module. It is not high, so the lenses of the two sensors do not protrude too much above the surface of the back panel. The smartphone does not wobble on the table surface like some competitors.
Ports and connectors
On the right edge there is a fingerprint scanner, which is hidden in the power button. The button is located at a convenient height, so your thumb can easily reach it. The volume key (or rather a couple of separate buttons) is located a little higher. Overall, I am happy with the layout of the physical controls.

The fingerprint reader itself is quite fast and reliable. I have never had any problems with it. Although I was a little surprised at first, because some competitors in this price segment already install a fingerprint scanner on the screen.

The SIM card slot, which is located on the left side, can hold one nanoSIM and one memory card with a maximum capacity of 1TB, there is also eSIM support.

There is nothing on top except Dolby Atmos inscription and an additional microphone for conversations. This is not surprising, because this concept is followed by most modern smartphone manufacturers.

On the bottom end everything is much more cheerful. There is a grille for two speakers (Dolby Atmos certified), a USB Type-C port for charging and connecting the device to a PC, and a microphone. The manufacturer decided to place here also a 3.5mm jack for wired headphones, but unfortunately, they are not included in the kit. But Moto fans will definitely like this approach.
120 Hz display
The novelty has a 6.5-inch screen with a maximum refresh rate of 120 Hz, which can be left in automatic mode or forced to 60/120 Hz, so the user has several options.

For some users, the type of display panel is also an important parameter. In this case, it is an IPS matrix.

Nevertheless, it is important to emphasize the rather good Full HD+ resolution and, in my experience, quite sufficient maximum brightness.
Here I would say that a compromise has been made in that an IPS panel is used instead of OLED. Once you start interacting with the Motorola Moto G54 Power, though, you simply have nothing to complain about.
Sure, this matrix doesn't display perfect blacks, but contrast levels are unexpectedly high and colors are intense, especially in Saturation mode.
Moto G54 Power 5G-Display
The maximum brightness is quite high, but far from record-breaking. On a sunny day and under direct sunlight, the readability of the screen is somewhat reduced, but nothing terrible. Viewing angles are also not extreme, but the "original" image quality is also not too lost. A slight decrease in contrast and color saturation and that's all.

In general, the screen is far from bad. It is enough for comfortable viewing of content, surfing the Internet and mobile games.
Stereo sound
The external stereo sound with Dolby Atmos support exceeds expectations. No, of course it's not perfect sound, but in this price range, I think you can hardly find anything better. This sound without excessive bass, but still present, with very clear mids and well-presented highs, can't help but convince you.

Especially because it has a very high maximum volume. Only at 90-95% volume some slight distortions appear, so overall we have a really decent external sound.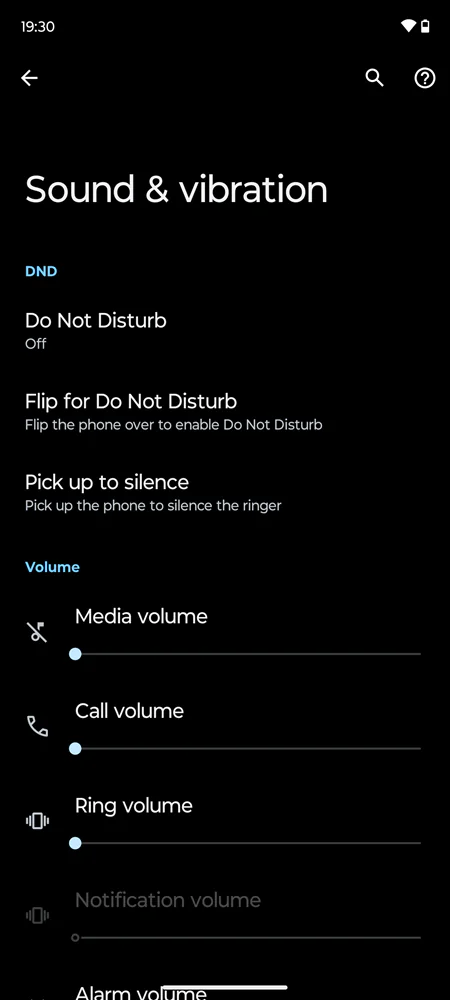 Even with a 3.5mm jack, the situation is no different. With a pair of quality headphones, you'll get well above average sound. But it's clearly not Hi-Fi or Hi-Res, although you can't wish for more than that, given the Moto G54 Power 5G's price range.
Read alsо:
Hardware performance: MediaTek Dimensity 7020
I don't remember ever testing a smartphone with a MediaTek Dimensity 7020 processor, so this was a first for me.

And this chipset pleasantly surprised, being more than capable of performing common tasks. Although it is not a "monster" in terms of performance, it is quite enough for an ordinary user. It is worth noting that it copes with its work more than decently.
Moto G54 Power 5G-Perfomance
The integrated IMG BXM-8-256 graphics gas pedal also helps well in this. Fast multitasking or gaming is not a problem. The smartphone copes with any game from Google Play Store, but with the most complex ones not in the best way.
It can't reproduce high refresh rates, and the detailing is not at the level that an avid gamer might expect. Therefore, this mobile device is definitely not suitable for them.
RAM and built-in memory are more than enough. I would even say that here Moto G54 Power 5G has prepared one of the most pleasant surprises. We have no less than 12 GB of RAM, most likely of the LPDDR4X type (no official data available) and 256 GB of internal UFS 2.2 storage (approximately 220 GB available to the user). Moreover, you can use the second SIM slot to accommodate a microSD card up to 1TB. You also have eSIM technology available to you, which is very surprising considering the Moto G54 Power's price segment.
Moto G54 Power 5G-Testing
As far as connectivity is concerned, you can rely on 5G support, Bluetooth 5.2, Wi-Fi 5 and of course NFC for contactless payment. There is also no shortage of navigation services such as GPS, GLONASS, QZSS, Beidou or Galileo.
To summarize briefly, we can say that the performance of the tested mobile device is quite enough for the average user. But don't expect any record figures in terms of speed and performance. This is an ordinary workhorse, which will not let you down in difficult situations, but will not gallop.
Read also:
Software: pure Android with Moto features
The Motorola Moto G54 Power 5G came out with the latest version of Android 13 and a warranty for one major update and three years of security updates, which is a nice offer. It's also good to see that the environment is traditional, more or less pure Android with a few programs directly from Motorola. Among them are the traditionally popular Moto gestures, with which you can, for example, activate the flashlight by shaking it, or flip through photos.

Yes, there are a few add-ons from the hardware manufacturer, but nothing intrusive or confusing. On the contrary, more useful options and extensive customization options enhance the user experience. And the most important thing here is that the operating system always runs very smoothly. Even when there is an update in the background, you don't feel any lags or annoying hangs, which for me is a big plus.
There aren't many features, but some are very useful. For example, I liked to control the player with the volume buttons when the screen was off. It is also convenient to quickly launch a pre-selected function by opening programs in a floating window.
Moto G54 Power 5G-Moto Apps
I like that the Motorola system is a quality, albeit limited, alternative for more complex builds. Competitors may have more features, but when compared to the graphically colorful but functionally black and white builds of typical Chinese manufacture, the Moto G54 Power 5G has the edge. After all, it doesn't forget that a smartphone should first of all function well and secondly look good.
Excellent battery life
In terms of battery life, Moto G54 Power 5G will not disappoint you. The 6000 mAh battery will be a reliable companion for those who don't like to charge their smartphone too often. Thanks to a very efficient hardware build and a large battery capacity, I was able to achieve even three full days of battery life under normal usage conditions.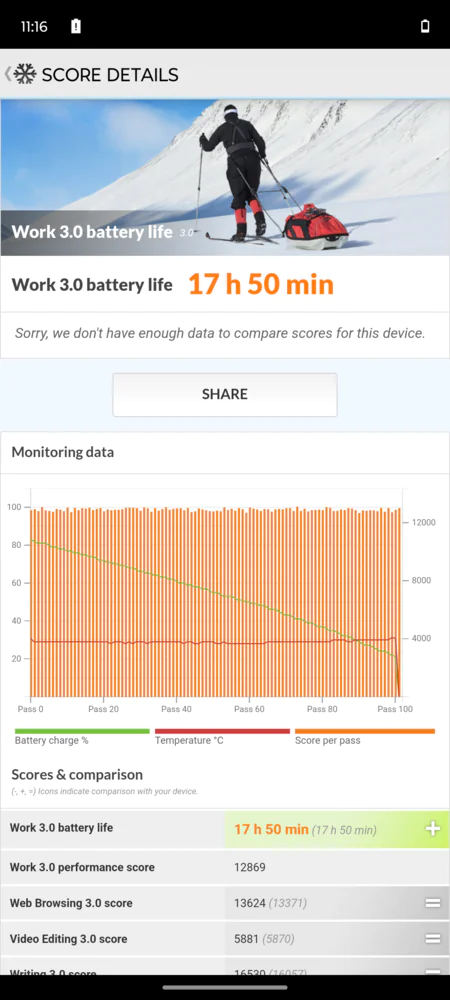 With heavy use you still get a day and a half, so only a plus on that side. I feel like with more frugal use you could get one charge a week, and that's great.
| Battery charge capacity | Charging time |
| --- | --- |
|   10% █ ░ ░ ░ ░ ░ ░ ░ ░ ░ |  8 mins |
|   20% █ █ ░ ░ ░ ░ ░ ░ ░ ░ | 19 mins |
|   30% █ █ █ ░ ░ ░ ░ ░ ░ ░ | 25 mins |
|   40% █ █ █ █ ░ ░ ░ ░ ░ ░ | 30 mins |
|   50% █ █ █ █ █ ░ ░ ░ ░ ░ | 34 mins |
|   60% █ █ █ █ █ █ ░ ░ ░ ░ | 39 mins |
|   70% █ █ █ █ █ █ █ ░ ░ ░ | 43 mins |
|   80% █ █ █ █ █ █ █ █ ░ ░ | 48 mins |
|   90% █ █ █ █ █ █ █ █ █ ░ | 54 mins |
| 100% █ █ █ █ █ █ █ █ █ █ | 58 mins |
With 30W wired charging, you can top up the battery from 10% to 75% in 45 minutes, which is very decent considering the price of the device and the large battery capacity. There's also optimized charging, which should extend the overall battery life.

Cameras
The novelty uses a 50MP main sensor, an 8MP ultra-wide-angle lens, and a 16MP selfie camera. The camera does not really stand out among competitors, if you look at the resolution of individual sensors, but it has several advantages. First of all, the main sensor should be praised for its optical stabilization, which helps not only when recording video, but also when shooting in low-light conditions.

Motorola also deserves praise for integrating an ultra-wide-angle auto-focus lens that can also perform macro functions. And just for not having a completely unnecessary 2-megapixel bokeh/macro sensor.
Moto G54 Power 5G -CAMERA
During the day, depending on the scene, you can either have convincing detail or vice versa. For example, in shots with leaves or many such details, both cameras get lost, not generating optimal results.
Moto G54 Power 5G-Camera 2
Otherwise, fairly well-tuned contrast, normal dynamic range and natural colors, perhaps a bit pale at times.
Moto G54 Power 5G-Camera 8 MP
Low-light scenes aren't handled too well by the main 50MP sensor, the only one on which you can enable night mode. The results are a bit disappointing, although perhaps we should not demand too much from a smartphone from this price category.
The video capabilities of the Motorola Moto G54 Power 5G are limited to recording in the maximum Full HD 1080p resolution with a choice between 30 and 60 fps on the main module. The ultra-wide lens and front camera can shoot at the same 1080p resolution, but only at 30 fps.
The videos aren't spectacular, but they don't disappoint either. I noticed while shooting on the main sensor that the optical image stabilization system is not set up the best. When you try to hold the phone steady, it further emphasizes small and quick movements that should have been "leveled out". There are also some issues with exposure adjustment during sudden transitions. But otherwise, accurate autofocus, good colors and contrast, with acceptable dynamic range.
ORIGINAL PHOTOS AND VIDEOS CAN BE SEEN HERE
Conclusions

The Motorola Moto G54 Power 5G is a good device that has a capacious battery, a decent chipset and a clean interface. It's a good option for those looking for a hassle-free smartphone, or for those who don't want to deal with the over-bloated UI that devices in this range usually offer.

It should be noted that the Moto G54 Power is a surprisingly powerful budget smartphone that offers better performance than I expected. Its camera could have been better and more full-featured, the charger is more powerful considering the large battery capacity, but still, it's hardly the best phone in its price category. All in all, the Motorola Moto G54 Power 5G is a great choice for those looking for a budget smartphone with good functionality and decent performance.
Read also: