When we were invited to a sneak peak of the juiciest and freshest Samsung devices, I was incredibly surprised and extremely happy. What a chance to touch the amazing world of technology that is not yet available on the market! Today I'll tell you about my first impressions of the Samsung Galaxy Note20, Samsung Galaxy Note20 Ultra, Samsung Galaxy Tab S7, Samsung Galaxy Tab S7+, Samsung Galaxy Watch3, and Galaxy Buds Live wireless headphones.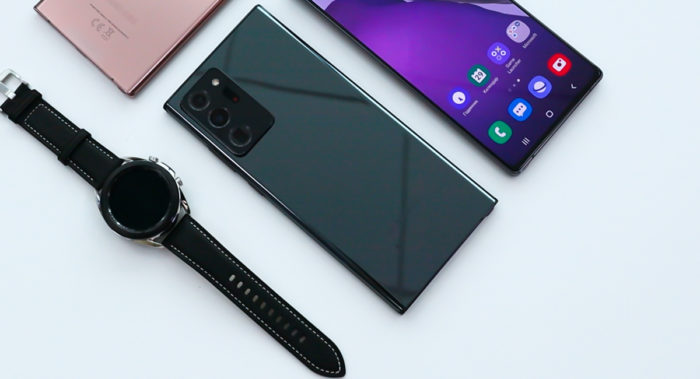 In this report I will try to skip boring numbers. I will simply tell you what I felt about the devices. Numbers and specs will come later.
Samsung Galaxy Note20 and Note20 Ultra
Samsung once again brings 2 new models of Note smartphones at once. Both devices have metal frames around the perimeter and glass at the front and back.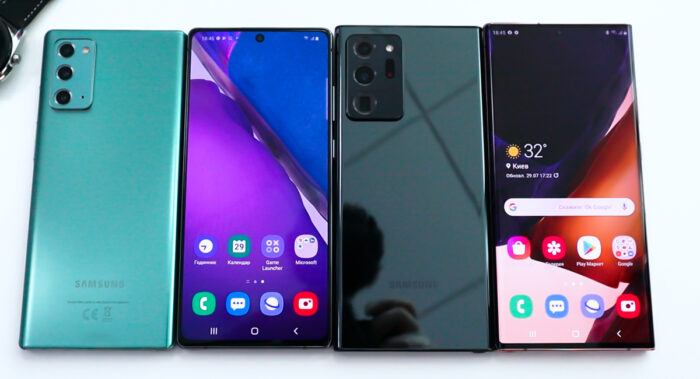 Galaxy Note20 is a large smartphone equipped with a completely flat classic 6.7-inch Super AMOLED display with HDR10 support and the thinnest bezels. The front 10-megapixel camera with 4K video support is embedded in the top center of the display. The processor is Exynos 990, there's Mali-G77 MP11 video core, 8 GB RAM, 256 GB UFS 3.1 storage, USB Type-C 3.1, NFC, IP68 waterproofing, triple main camera and 4300 mAh battery with fast wireless, wired and reverse wireless charging.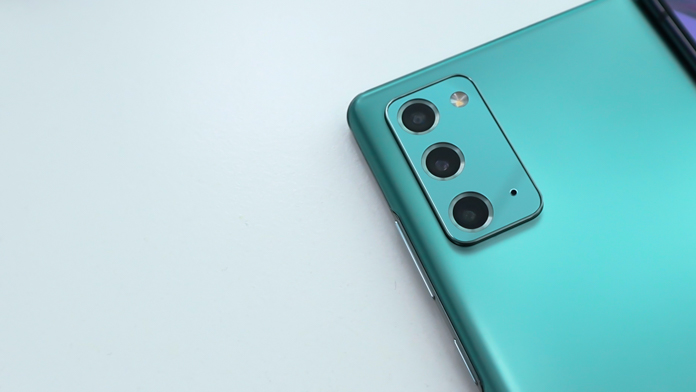 But the super-flagship Note20 Ultra is even larger, with Dynamic AMOLED 6.9-inch display, which is slightly curved, and even its refresh rate is 120 Hz! The processor is the same, the selfie camera is exactly the same and is also embedded in the display from above; USB, waterproofing, wireless and wired charging are the same. The difference in the amount of memory: you get up to 12 GB of RAM and there is a slot for microSD, and a 4500 mAh battery.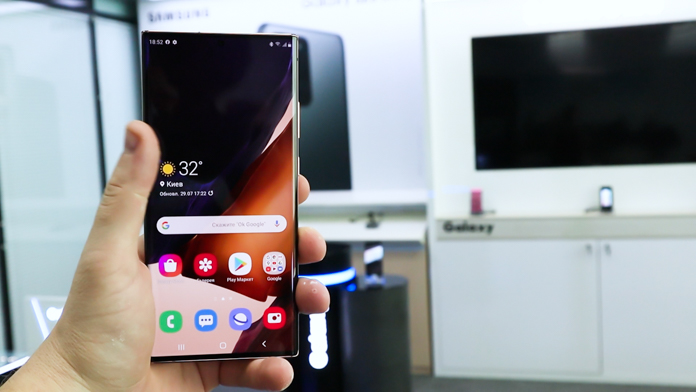 Note20 Ultra may not be so different in characteristics and design but man is it good. Actually, do not succumb to deception – at the time of release and for some time it will be an ideal Android smartphone. Until the release of the new Galaxy S series, that's for sure.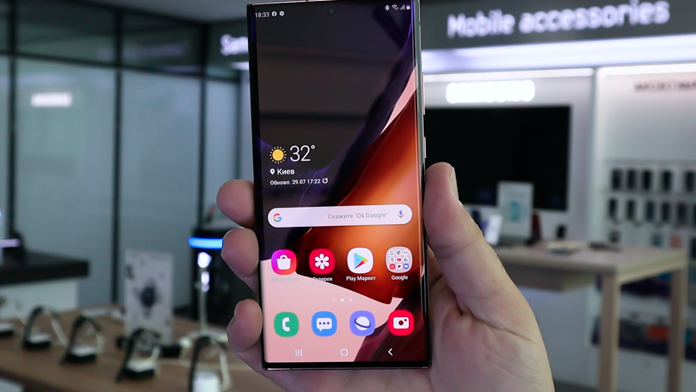 Do not expect to use only one hand – for this device you'll need both of them. Feel free to use the stylus, which has reduced the latency by almost three times – up to 9 ms; it also has gestures without touching the screen at all. And enjoy a 120Hz refresh rate that will dramatically increase your productivity with a fluid interface. Which is also adaptive, from 10 to 120 Hz!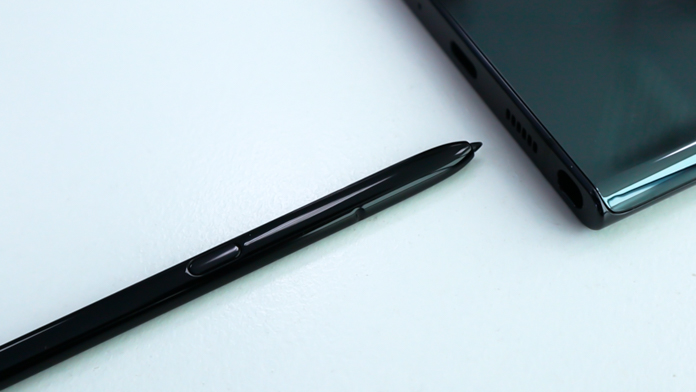 The DEX mode was noticeably improved. Now it does not require wires and works with any monitor or TV with support for Miracast, which means that in theory it is compatible with any SmartTV, and if the receiver supports Wi-Fi 5 and higher, it can even broadcast 4K video to the screen.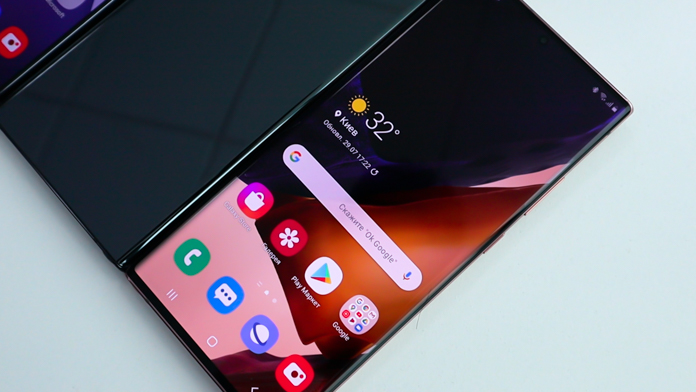 And this despite the fact that the screen of your smartphone remains free. Put on cartoons on YouTube for your child and then conduct business or sketch out notes by hand. The camera has been improved in quality, and the stabilization – especially in video – is great. Although there are three main cameras, Samsung decided to abandon the ToF module due to low demand among consumers.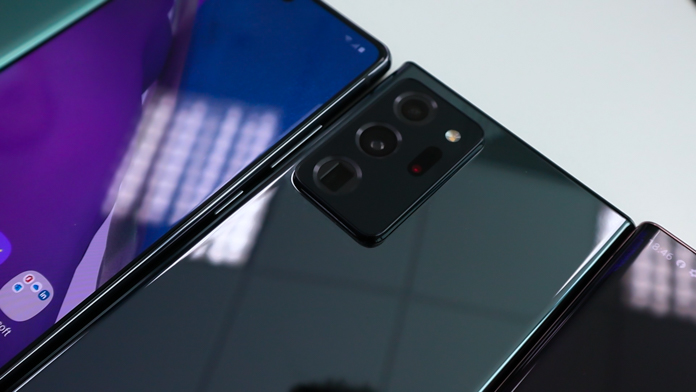 The main camera of the Note20 Ultra looks classy and protrudes quite a lot from the body. And for good reason – the main module has a resolution of 108 Mp and it is equipped with an ultra-fast laser autofocus; a 12 Mp periscope telephoto lens provides 5x optical and 50x hybrid zoom. And don't forget the 12 MP ultra-wide camera.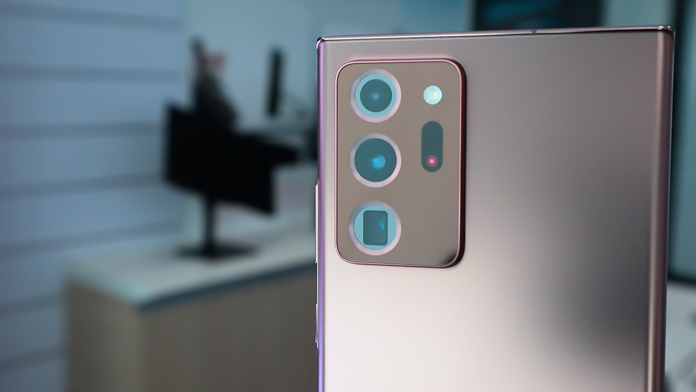 The junior model has simpler cameras, but they also impress with their capabilities. We have a 12 Mp main module, a 64 Mp telephoto and a 12 Mp ultra-wide.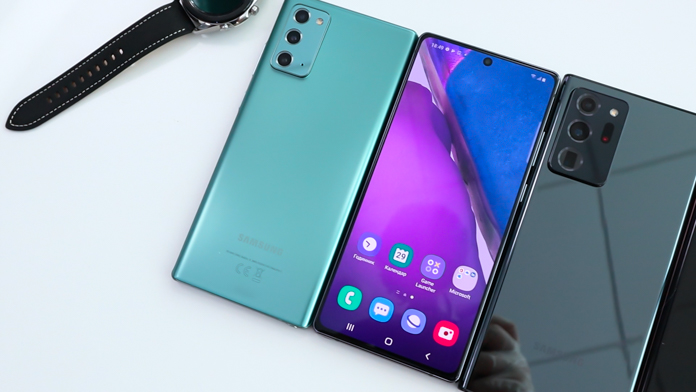 All modules, except the ultra-wide, have optical stabilization and support for gyroscopic intelligent super stabilization during video shooting.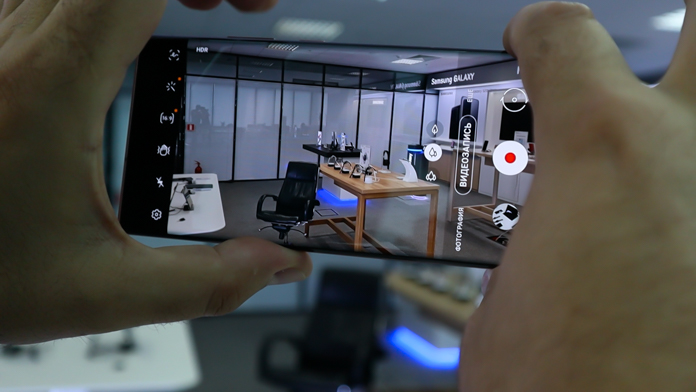 Professional video mode now supports recording sounds from different sources between which you can switch on the fly! You can choose between the front, rear or both microphones of the smartphone, as well as microphones connected via USB (!) and even via Bluetooth (!). We tested the feature using the latest Galaxy Buds Live headset.
Read also: Samsung Galaxy Note10 Plus review – An almighty phone?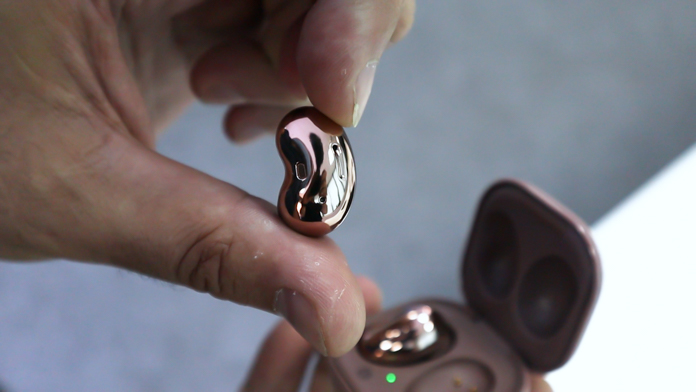 True, sound is not recorded from all microphones at once. And the trademark of the most modern smartphones – video recording in 8K – is produced with a noticeable crop and without super stabilization. Is this a reason to get a tripod and connect an external microphone? We hope to answer this question soon – in separate smartphone reviews.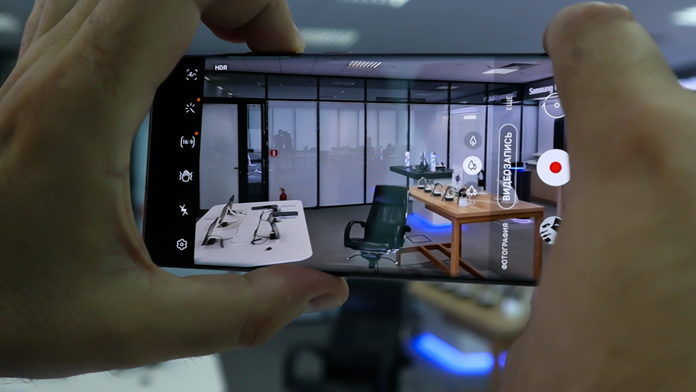 It is also nice that the Samsung Galaxy Note20 is not that different from the Galaxy Note20 Ultra in characteristics and equipment. It feels like it's still a great smartphone for a businessman/professional/philanthropist/millionaire/playboy or whatever Tony Stark was in Batman vs. Justice League.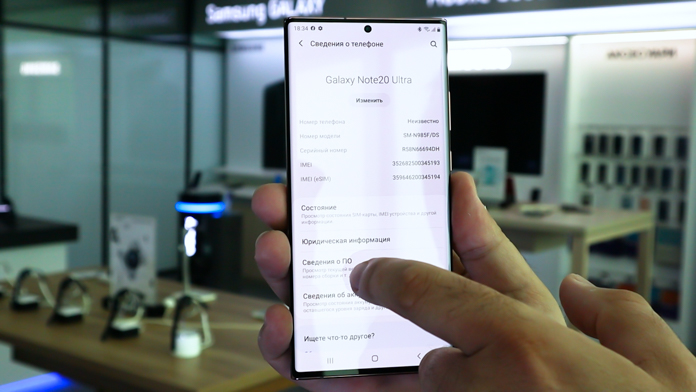 You get the freshest Android 10 and an amazing proprietary OneUI 2.1 shell, which is not without reason called one of the best on the market. I won't say that using the Note20 is more convenient, but for someone two tenths of an inch of the screen can really be decisive. In general, an excellent top-end smartphone with a stylus – just what the Galaxy Note line has always represented.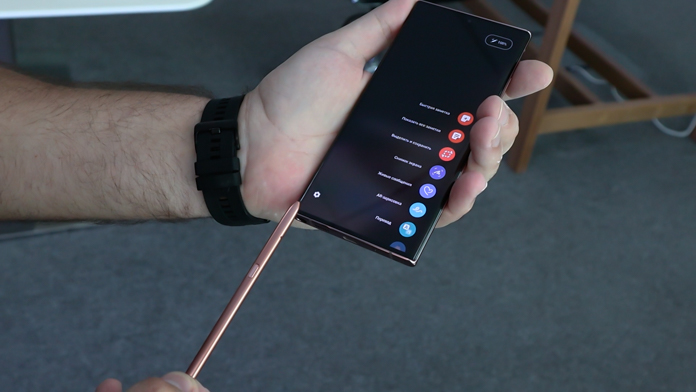 What else is worth noting about smartphones? Of course, there is IP68, support for 5G networks and the latest Wi-Fi 6, ultrasonic fingerprint scanners under the screens, and full stereo sound! New smartphone colors are also very cool: they are green and bronze, as well as black and white. You can get both matte and glossy variants.
Samsung Galaxy Tab S7 and Tab S7+
Now the tablets. This is pure bliss. Real flagship tablets made of noble aluminum, both with Snapdragon 865+.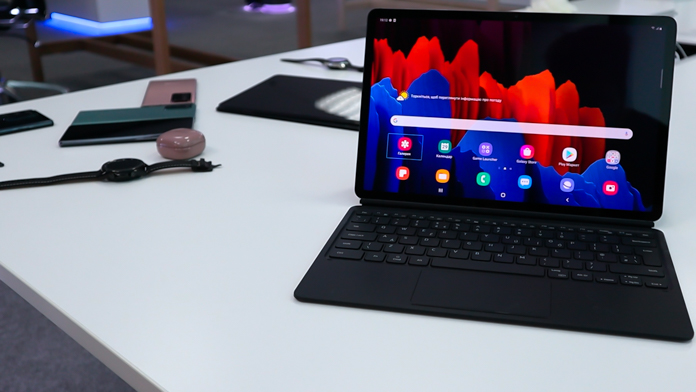 Particularly impressive is the Galaxy Tab S7+, which has acquired not only a huge 12.4-inch SuperAMOLED display with an impressive 1752×2800 resolution, 120Hz and HDR10+ support, but also a cool stylus, just like the Note20 Ultra has.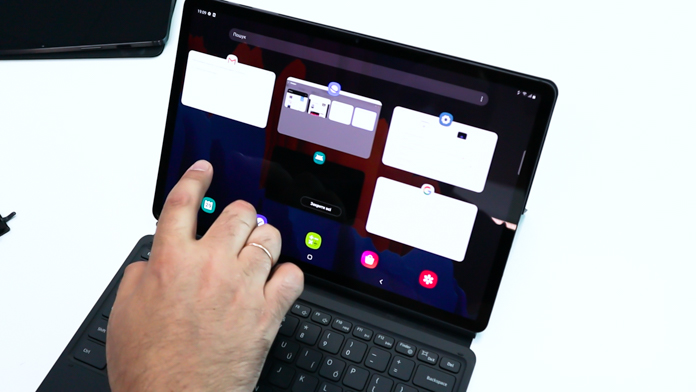 Galaxy Tab S7+ can be equipped with a convenient keyboard case with a folding leg and a special compartment where this stylus fits perfectly. And in general, the more expensive model don't look like a classic tablet, but more like a compact ultrabook-transformer, which is ideal for working with text and graphic tasks; it even has with Fn+ keys.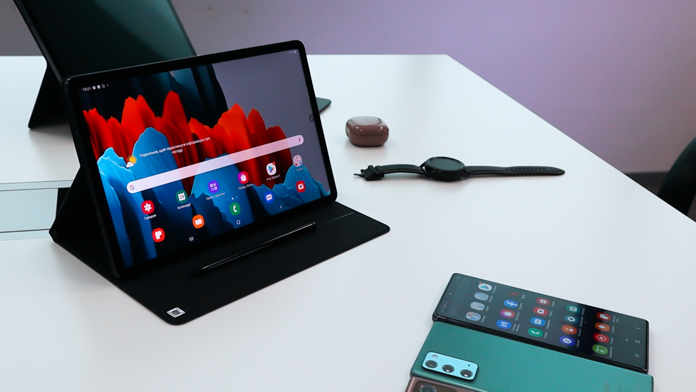 Since the Galaxy Tab S7 is a direct successor to the Tab S6, it has an 11-inch LTPS TFT 1600×2560 screen, although the refresh rate is the same; 120Hz and support for HDR10+ are here, the tablet is very nimble and responsive. And it's great for games – after all, the Adreno 650 accelerator does its job perfectly well. The stylus here is also great.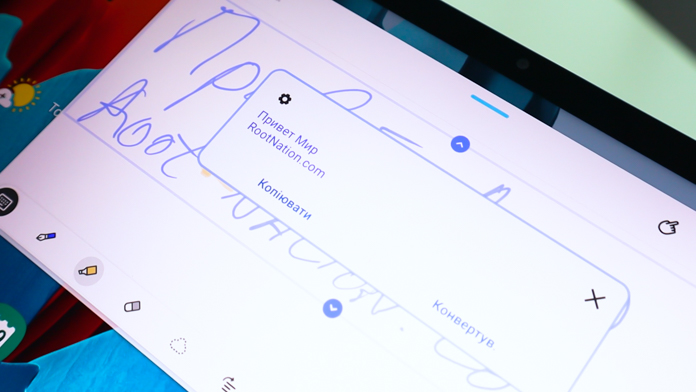 What else about tablets? It is worth mentioning the 4 speakers from AKG in both models, large 10090 mAh and 8000 mAh batteries with 45W fast charging. There are 8-megapixel selfie cameras and dual main ones; we're talking 13 + 5 megapixels with the ability to shoot 4K video. The RAM is 6 GB, which is pretty cool for a tablet. You get 128 GB UFS 3.0. There's support for Wi-Fi 6 and LTE networks.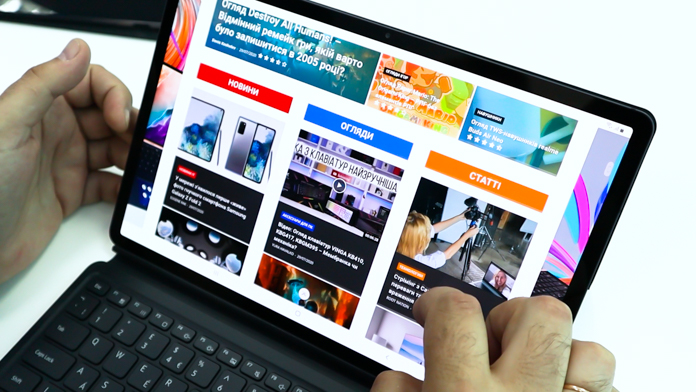 And yes, I almost forgot. In addition to the face recognition, the flagship model has an optical fingerprint scanner under the screen. The more affordable model has a capacitive scanner in the power button on the side.
Samsung Galaxy Watch3
The updated version of the smartwatch has received a more advanced health monitoring system and a bunch of training modes. The rotating bezel, traditional for Samsung watches, remains in place: it is used to control and navigate the system. The watch itself is thin and graceful, but at the same time restrained and stylish.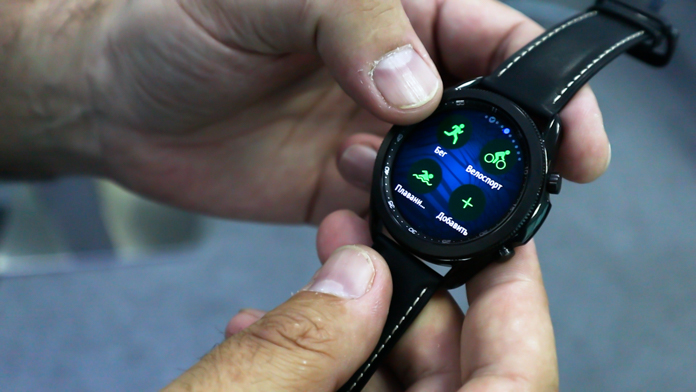 The watch will go on sale in two sizes – 45 and 41 mm. We hope to review it soon, and then we will tell you about it in more detail.
Samsung Galaxy Buds Live
Finally, new headphones. Every sceptic there ever was predicted the same old stuff and promised us that every company was doomed to copy AirPods. But Samsung did it! They introduced a completely new design of open-type earbuds, making them look like metallized beans.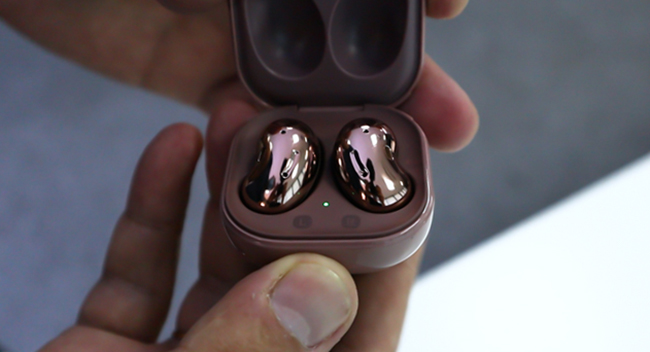 In fact, the new headset is a lot like Galaxy Buds+ with an additional active noise canceling function, which, although it reduces the battery life from 11 to 6-8 hours (which is still very good), works quite well.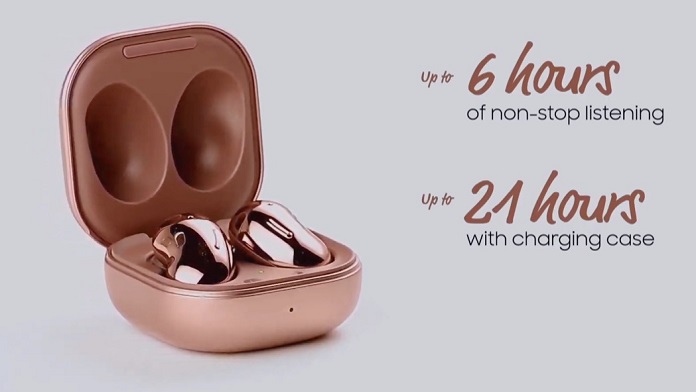 In addition, Buds Live can detect and separate low-frequency noise – the hum of a car, trainand plane noise – from high-frequency sounds, such as conversation. So, if someone speaks to you, you can easily hear the interlocutor without taking the headphones out of your ears.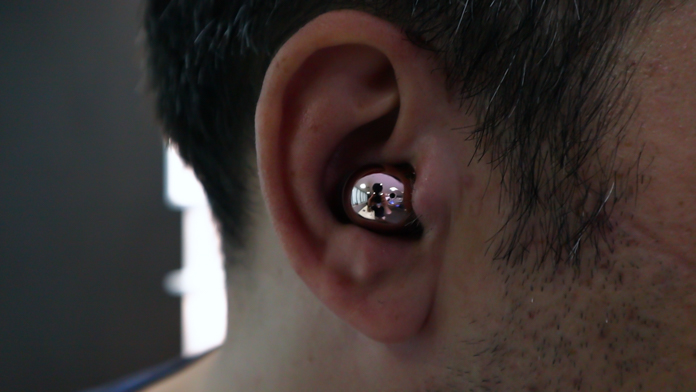 There are two 12mm speakers in each bean, with a separate channel for bass, as well as 4 external microphones and 2 internal microphones to improve the quality of voice transmission.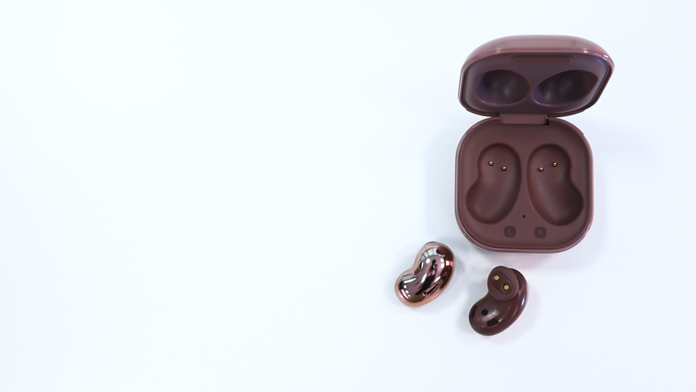 We have yet to test the sound quality. But already it can be noted that they are surprisingly ergonomic, anatomically correct and fit in the ears with no issues. They definitely look exciting and attract attention.