Ukrainian volunteers launched a cross-continental flash mob to support Ukraine against Russian aggression. #WorldForUkraine was created to uplift Ukrainians during this difficult period.
This was reported to Ukrinform by the State Special Communications Service.
The world unites to help Ukraine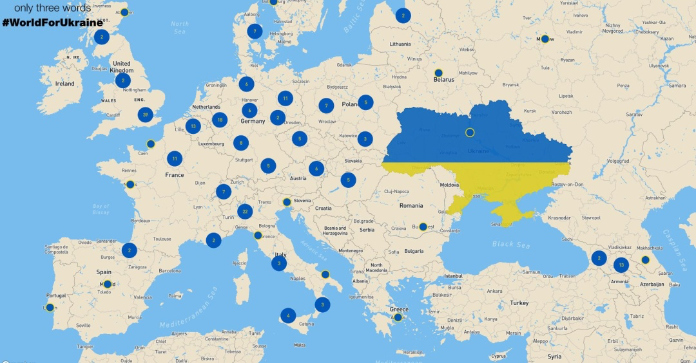 The authors of the project noted that the citizens of Ukraine are counting on their army and diplomats who turn to the world community for help in this difficult time for Ukraine. America, Canada, France, Israel, Georgia, Singapore, Germany, Poland, Ireland, the Czech Republic, Italy, Spain, Australia, Norway and many other countries are raising blue and yellow flags of unity and support for Ukraine.
"We urge the whole world to tame the aggressor in order to protect our right to life and liberty. The global project #WorldForUkraine has been created for this purpose – it is a platform that unites the whole world that chooses peace and justice," the press release reads.
Read also:
The authors of the project urge to spread this information among friends and relatives in their country and abroad so that they know about the situation and help Ukraine:
if there is a political action in your city in support of our country, visit it and write about it on social networks with geolocation and the hashtag #WorldForUkraine
organize such an action in support of Ukraine, publish it on social networks with geolocation and add the hashtag #WorldForUkraine
send this information to as wide a circle of people as possible, tell your friends and relatives abroad about the project, share the link to worldforukraine.net.
The more people know about the project and the fate of Ukraine, the stronger will be the pressure to persuade the aggressor to cease hostilities.