In the last hour, dozens of high-profile Russian news sites were subjected to a massive cyberattack. 
TASS, Izvestia, Fontanka, Forbes.ru and other well-known Russian media were hacked around 14:00 Moscow time on February 28. They appeal to "stop this madness" and "not to send your sons and husbands to certain death" was signed simultaneously by Anonymous (a community of hackers that declared "cyber war" on the Russian government after the invasion of Ukraine) and journalists of Russia.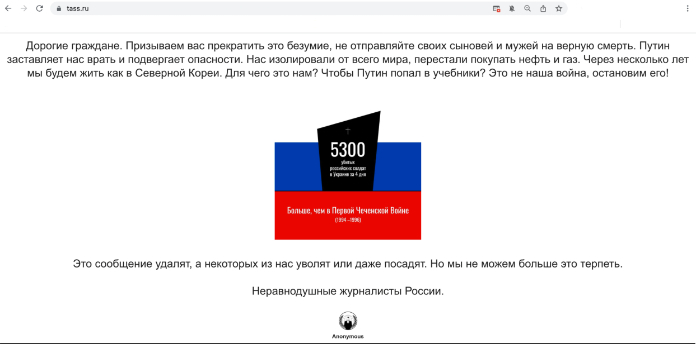 We remind you that Anonomous announced that they were starting a "war" against Russian propaganda. Now their messages can be seen everywhere from government sites to gas stations.
Read also:
TASS published a message about the hack saying that "the editors of TASS have nothing to do" with the published statement. The most prominent victim, TASS is is the largest Russian news agency and one of the largest news agencies worldwide. It is registered as a Federal State Unitary Enterprise, owned by the Government of Russia. Headquartered in Moscow, TASS has 70 offices in Russia and in the Commonwealth of Independent States (CIS), as well as 68 bureaus around the world.