Windows 11 has a new handy privacy tool currently in testing. It will allow you to see which applications have recently used key hardware items, such as a webcam.
The privacy audit function was demonstrated on Twitter by David Weston – Microsoft's Vice President of OS Security and Enterprise, and is now available in the new preview build on Windows 11 dev channel.
New Windows 11 Privacy Auditing features allow you to see history of sensitive device access like the Microphone pic.twitter.com/vq3IJkAIMO

— David Weston (DWIZZZLE) (@dwizzzleMSFT) June 16, 2022
The feature is in Settings (under Privacy and Security> Application Permissions), where you can view a list of recent activities: for example, which apps have used your microphone in the last week, or possibly your camera – another obvious point for checks for any potentially suspicious activity. It also saves tabs on apps that have accessed your contacts or location information, phone calls, and more.
In each case, the user is also informed of the exact time and date of access to the relevant equipment or function.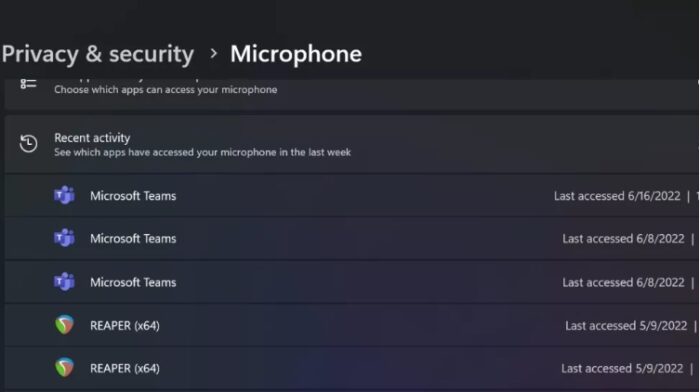 This is great information to ensure transparency about what the software is doing in your system. Periodically checking the privacy audit in Settings can lead to interesting results by identifying applications that you wouldn't know were using different aspects of your system (or even detecting something malicious that went unnoticed).
Microsoft is infamous, when it comes to Windows privacy, especially since Windows 10, so it's nice to see the software giant take a positive step forward on that front – one that should help Windows 11 users maintain a better level of vigilance and overall security when it comes to their PC. Assuming that the feature will pass the testing stage, of course…
You can also help Ukraine fight with Russian occupants via Savelife or via an official page of the National Bank of Ukraine.