Are you dreaming of a stable, fast, versatile Mesh network system with Wi-Fi 6 that can meet your needs? Then you should pay attention to ASUS ZenWiFi XT9.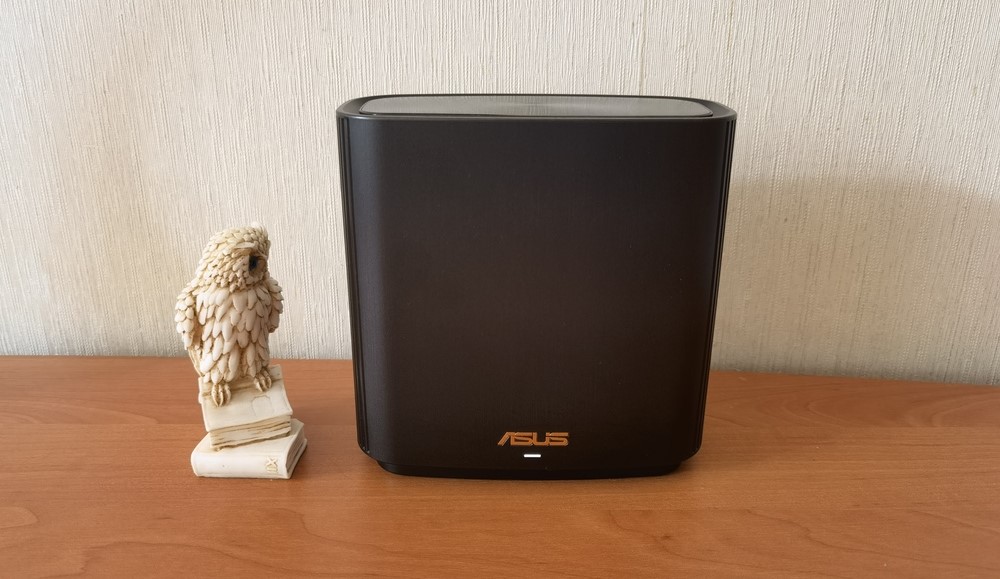 Mesh Wi-Fi systems are nothing new, and most people know what they are. However, few people know that you can create your own mesh Wi-Fi system using traditional wireless routers. For example, if you have an ASUS router, you can buy a second one and configure them to work as a Wi-Fi mesh network system using AiMesh.
Read also: ASUS ROG Rapture GT-AX6000 EVA Edition Review: Powerful Gaming Router
What is an AiMesh network?
ASUS AiMesh is an innovative feature that allows multiple ASUS routers to create a mesh Wi-Fi network. You can combine different ASUS router models: older and cheaper Wi-Fi 5 routers, newer Wi-Fi 6 routers, and ASUS mesh Wi-Fi systems such as the new ZenWiFi line. One of them will be the main node that will manage the internet connection and all network settings, while the others will be secondary nodes that copy the settings they receive from the main one.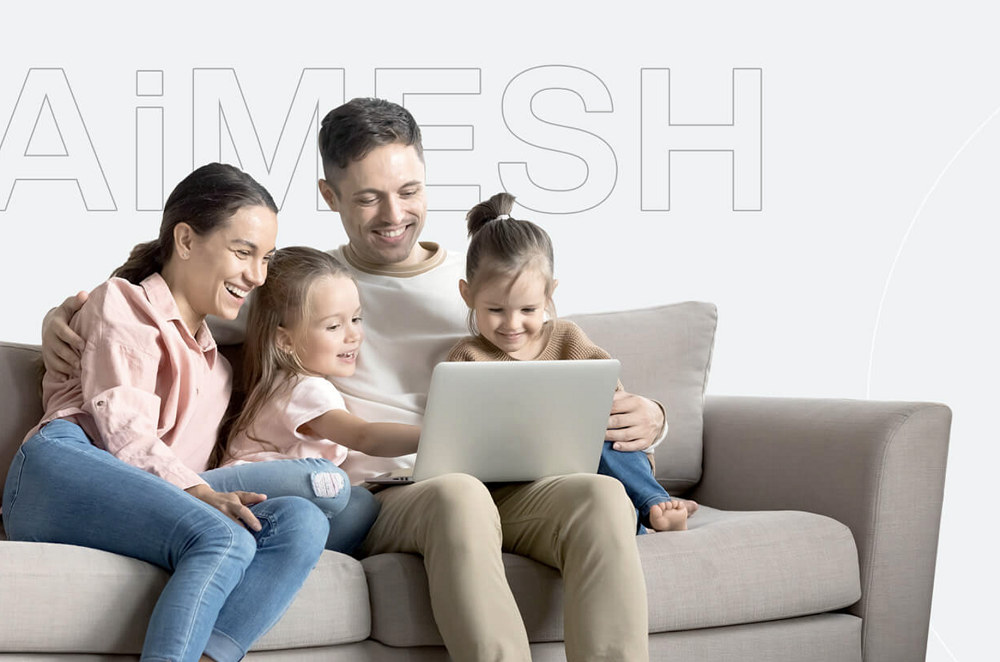 The AiMesh network has the following advantages:
Allows you to reuse your old ASUS Wi-Fi 5 routers to increase wireless coverage in your home or workplace
Allows you to get the same advanced features and capabilities across all ASUS routers and devices that are part of the AiMesh network
Ability to set up a dedicated backhaul network (via Wi-Fi or Ethernet) to increase the speed of the entire network
The downside is that AiMesh only works with ASUS routers and mesh Wi-Fi systems. You can't build an AiMesh network using routers from other manufacturers.
This is the present and future of Wi-Fi connectivity. A space completely covered wherever you are, with a high-quality signal and the ability to enjoy maximum speeds, with no loss when moving from one device to another, as is the case with previous range extenders.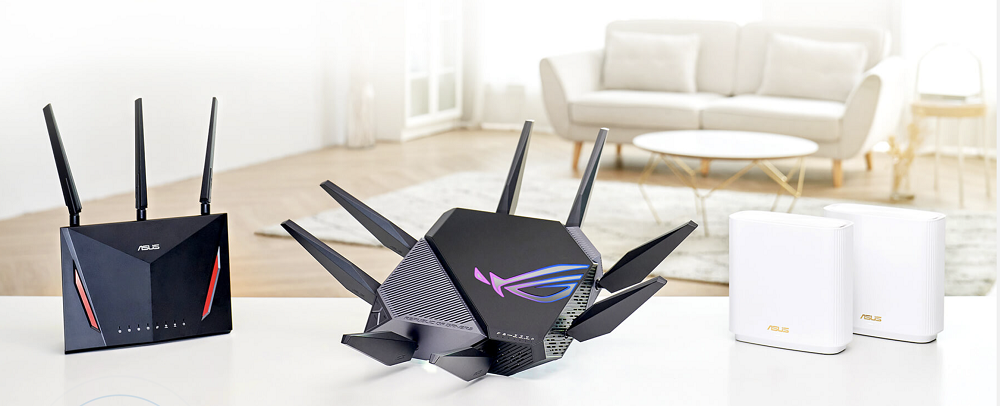 It's one of the best options available for smart home, IoT, streaming, and gaming, all of which are tasks where connectivity is crucial to ensure a good experience and proper functioning of all connected devices.
So it's no surprise that ASUS has been talking about so-called extendable routers, which are designed to enhance and expand your home network.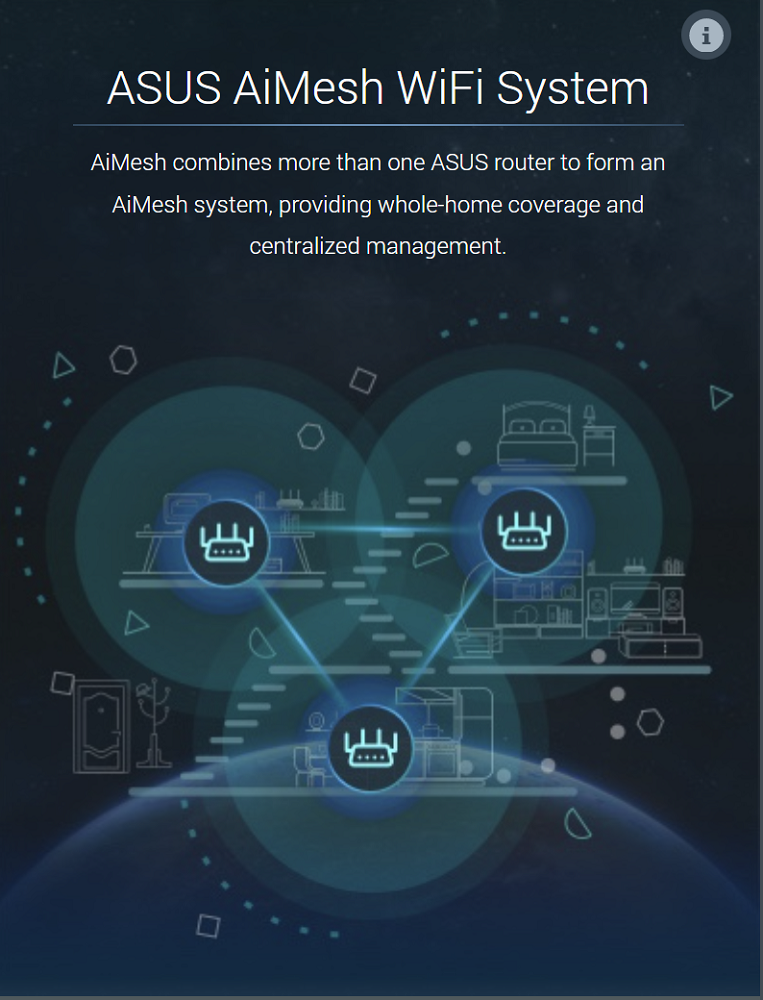 One such router is ASUS ZenWiFi XT9, which ASUS Ukraine kindly presented to us for review.
Read also: ASUS ROG Rapture GT-AXE16000 review: router for the most demanding users
What is interesting about ASUS ZenWiFi XT9?
The ASUS ZenWiFi XT9 system consists of one or a pair of ASUS AX7800 WiFi 6 routers, which, as the name suggests, support the latest generation of Wi-Fi connectivity. These are tri-band routers with a total bandwidth of up to 7800 Mbit/s, or rather up to 574 Mbit/s in the 2.4 GHz band, up to 4804 Mbit/s in the first 5 GHz band, and up to 2402 Mbit/s in the second 5 GHz band (theoretically, it also provides 4804 Mbit/s, but most of its bandwidth is used as a loopback). In addition, ZenWiFi AX has all the benefits of Wi-Fi 6, which means it supports the 160 MHz band and 1024-QAM modulation, allowing for much faster wireless connection speeds.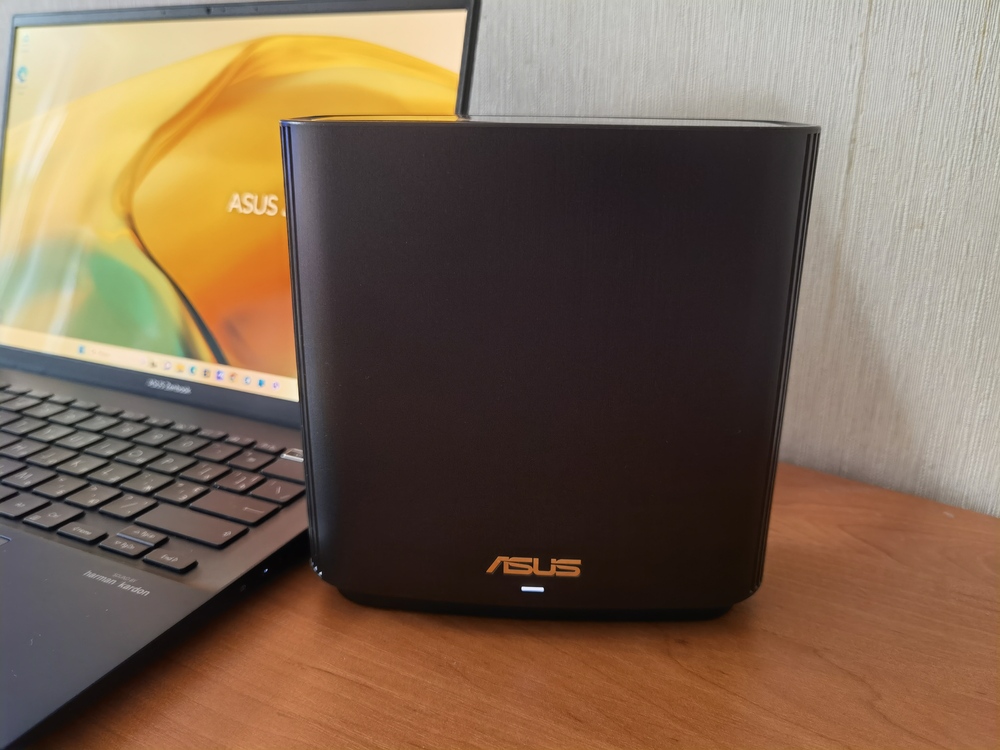 Moreover, it supports not only MU-MIMO technology, but also OFDMA for efficient channel allocation and communication with multiple devices simultaneously (divides each channel into smaller sub-channels that have a shorter range so they can reach other locations). We can also count on reduced latency and a fourfold increase in the number of supported devices. In addition, there is support for functions such as Beamforming, Range Boost, which is responsible for increasing the signal strength, or Smart Connect, which is an automatic selection of the optimal range.
The latest ASUS ZenWiFi XT9 is aimed at the most demanding users who are looking for top-of-the-line networking equipment with a modern and stylish design that delivers high performance and support for the latest technologies. It seems that ASUS ZenWiFi XT9 meets all these requirements, but we decided to take a closer look at it and check whether it's worth its high price of $300.
Technical specifications of ASUS ZenWiFi XT9
For those interested, here are the full specifications of the ASUS ZenWiFi XT9:
Memory: 512 MB of RAM and 256 MB of Flash memory
Ports: 3 ports 1G/100M/10M LAN, 1 port 2.5G/100M/10M WAN, 1 port USB-A 3.2 Gen 1 Type-A
Buttons: Wi-Fi on/off button, reset button, WPS button
Power: AC input 110 V ~ 240 V (50 ~ 60 Hz). DC output 19 V with a maximum current of 1.75 A
Dimensions (W×D×H): 160×75×160 mm
Antennas: 6 internal antennas
Wireless communication standards: IEEE 802.11ax/ac/n/a 5 GHz; IEEE 802.11ax/n/b/g 2.4 GHz
Operating frequency: 2.4 GHz and 5 GHz
Transmission rate: 802.11a: up to 54 Mbit/s; 802.11b: up to 11 Mbit/s; 802.11g: up to 54 Mbit/s; 802.11n: up to 400 Mbit/s; 802.11ax (2.4 GHz): up to 450 Mbit/s; 802.11ax (2.4 GHz): up to 1300 Mbit/s; WiFi 6 (802.11ax) (5 Hz-1): up to 2402 Mbit/s; WiFi 6 (802.11ax) (5 Hz-2): up to 4804 Mbit/s
Wireless transmission functions: OFDMA (Orthogonal Frequency Division Multiplexing for Multiple Access Source); beamforming – standard and universal; high data rate 1024-QAM
Transmission ranges: 20/40/80/160 MHz
Wireless transmission security: WPA3-PSK, WPA2-PSK, WPA-PSK, WPA-Enterprise, WPA2-Enterprise, WPS support, WPA3-Enterprise
Guest network function: 2.4 GHz guest network, 5 GHz guest network
Quality of service: advanced QoS function
WAN: types of Internet connection – automatic IP, static IP, PPPoE (MPPE support), PPTP, L2TP
Management: UPnP, IGMP v1 / v2 / v3, DNS proxy, DHCP, NTP client, DDNS, port enable, virtual server, DMZ, system event log
DHCP: server, DHCP client list, address reservation
Port Forwarding: virtual server, port activation, UPnP, DMZ
VPN: VPN server – PPTP server, OpenVPN server, IPSec server; VPN client – PPTP client, L2TP client, OpenVPN client.
That is, we are looking at a fairly powerful and modern Mesh node capable of creating a reliable and versatile Wi-Fi network system.
Read also: What is Wi-Fi 6 and what makes it better than previous standards
What's in the package?
This WiFi Mesh system comes in a large grey box with one or two black Mesh nodes. It should also be noted that we can also purchase these same ZenWiFi XT9s in white. I had a configuration with one node in black. On the front of the box we will see the exact model of the equipment, the ASUS ZenWiFi XT9, in addition, we will have a link to its most important feature – simultaneous triple-band with Wi-Fi 6 and AX7800 class. In the lower left part, we can see that this WiFi Mesh system is capable of covering up to 265 square metres, and the ASUS ZenWiFi XT9 package consists of a single node.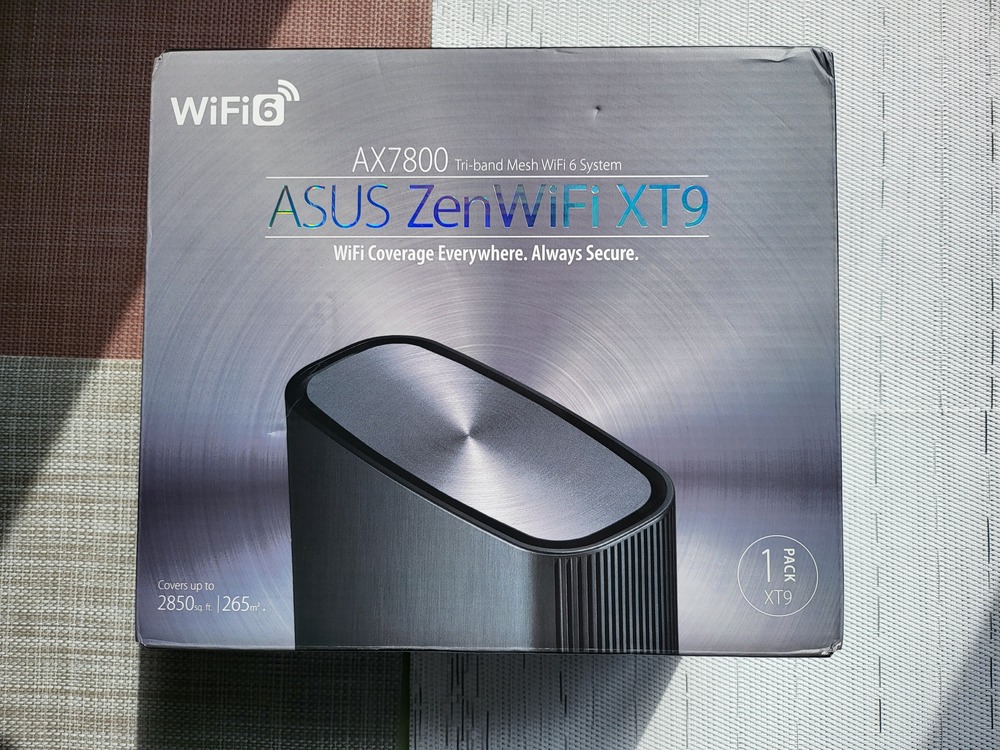 On the back of the box, we can see the network diagram of how the nodes will be connected to each other, as well as the wireless WiFi clients. In this section, we will be able to see the main characteristics at the Wi-Fi level, such as compatibility with 160 MHz channel width in two 5 GHz bands, which will allow us to have higher real-world connection speeds, in addition, we will have greater stability of the wireless connection thanks to the very powerful built-in hardware. We also have to take into account that it has AiProtection Pro with bi-directional IPS, a fundamental feature to protect computers on a home LAN. This model also includes ASUS RangeBoost Plus, a feature that allows us to have 40% more speed and coverage.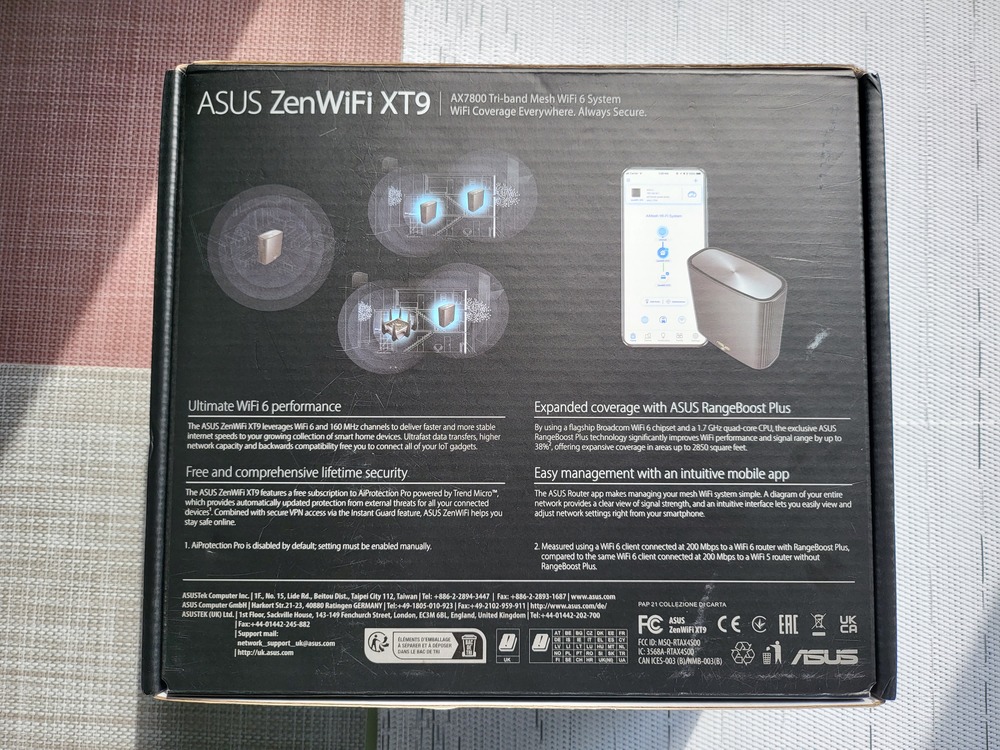 On the right side of the box we can see the main features in different languages. Here we can see that this system has triple AX7800 class range, that it is compatible with advanced parental controls and has ASUS AiProtection Pro. On the left side of the box, we can see the specifications of this model, as well as its Ethernet ports, maximum speeds in different WiFi frequency bands, some software features, as well as the serial number, MAC and other information related to this hardware.
In the box, the first thing we find is an Intel brochure recommending that you update your WiFi card drivers. If you do not update the drivers to the latest version, we may have many problems connecting to the WiFi Mesh since it has WiFi 6 according to 802.11ax standards. Below we will find all the accessories and other documentation included with this Mesh system.
First of all, it's the black node itself, with a 12 V and 3 A power supply for up to 36 W. It also comes with standard and Euro plugs and a black Cat5e Ethernet cable. We also didn't forget about all sorts of paper instructions, like the one from Intel, for updating WiFi network drivers, a quick installation guide, a warranty card, and safety recommendations for using it.
As you can see, this is standard equipment for modern routers and Mesh systems.
Familiar design
ASUS did not invent anything new in the design of Mesh system nodes. That's why ASUS ZenWiFi XT9 routers are visually very similar to the previous generation ZenWiFi AX (XT8). The design is in the format of an elongated tower with outwardly curved main surfaces, which is made entirely of durable plastic. The routers are available in black or white, which will allow you to adapt them to any interior.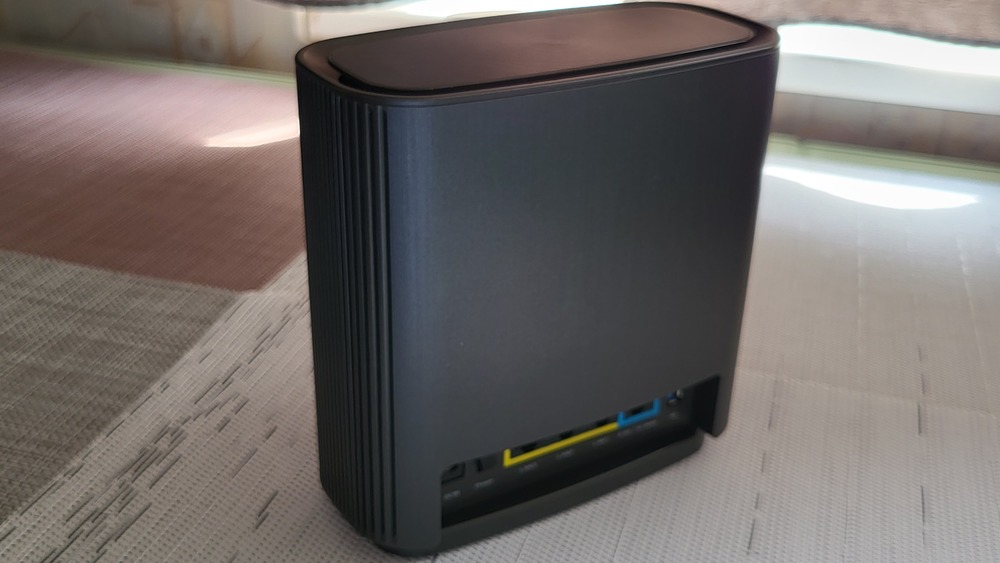 The top has a hidden opening along the contour that allows the router to exhaust hot air, while the two side grilles act as inlets for cool air. In other words, cooling is based on natural convection, as this system has no fans.
On the front face, we have only the brand's trademark and the LED status indicator of the device, the colour indication of which is provided in the instructions or in the mobile application. So, it will light up green when you start setting up the Mesh system, and white when the setup is complete and the connection is available. If there is no Internet access, the indicator will be red. You can turn off the status indicator itself in the ASUS Router mobile app so that it does not disturb you at night.
The base is interesting because it contains WPS and reset buttons along with a typical non-slip rubber footing. There is also a lot of information about the router itself, a QR code for installing the mobile app, the router name and password for initial setup, etc.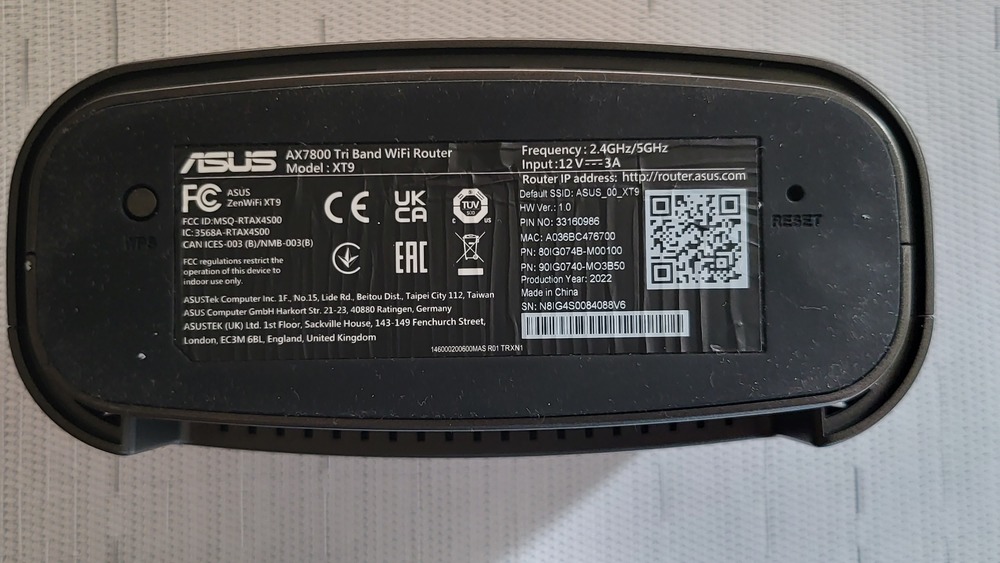 What are your impressions of the design of ASUS ZenWiFi XT9? This is a solid Mesh system that looks quite modern. The body is made of high-quality plastic, nothing creaks or bends. Everything is carefully made and looks very aesthetically pleasing. Most importantly, such a tower will easily fit into any interior and will take up little space, even on a bookshelf or desktop.
Read also: ASUS ROG Cetra True Wireless Review: Gaming TWS Headphones
ASUS ZenWiFi XT9 ports and connectors
On the rear panel of each of the ASUS ZenWiFi XT9 routers we find the following set of connectors and buttons. From left to right, there's a DC input port, a power switch, three RJ45 1G LAN ports, a nearby RJ45 2.5G/1G LAN/WAN port, and a single USB 3.2 Gen1 Type-A port.
If you buy two modules, they will be exactly the same in terms of port allocation. This means that the 2.5 Gbps port can be used on the satellite modules as a high-speed connection. The speed will be determined by the quality of the backbone connection between the routers, which can theoretically reach 4.8 Gbps if they are located very close to each other.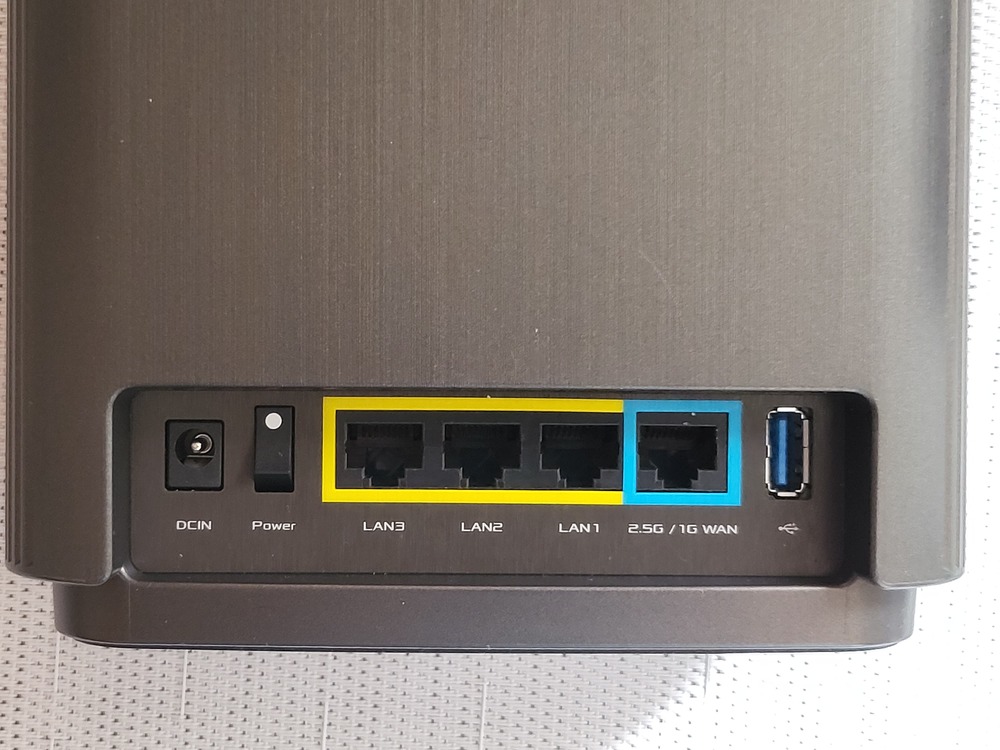 As usual, the 1Gbps ports should support Link Aggregation, while the USB port is useful for enabling a file server from the router's operating system. It will support the HFS, FAT, ExFAT or NTFS file system on the attached drive, as well as an AiDisk, Samba or FTP file server, network print server, Time Machine, PCless download management or 3G/4G modem. The latter feature is particularly interesting for turning them into LTE routers.
Features of the ASUS ZenWiFi XT9 system
Each ASUS ZenWiFi XT9 router is equipped with a 1.7GHz quad-core Broadcom BCM6756 CPU that supports Ethernet connections, and has 512MB of DDR4 RAM and 256MB of internal flash memory for operating system storage. The 2.4 GHz and 5 GHz-1 connections will be handled by two Broadcom BCM6756 processors, while the more powerful 5 GHz-2 connection uses a Broadcom BCM6715.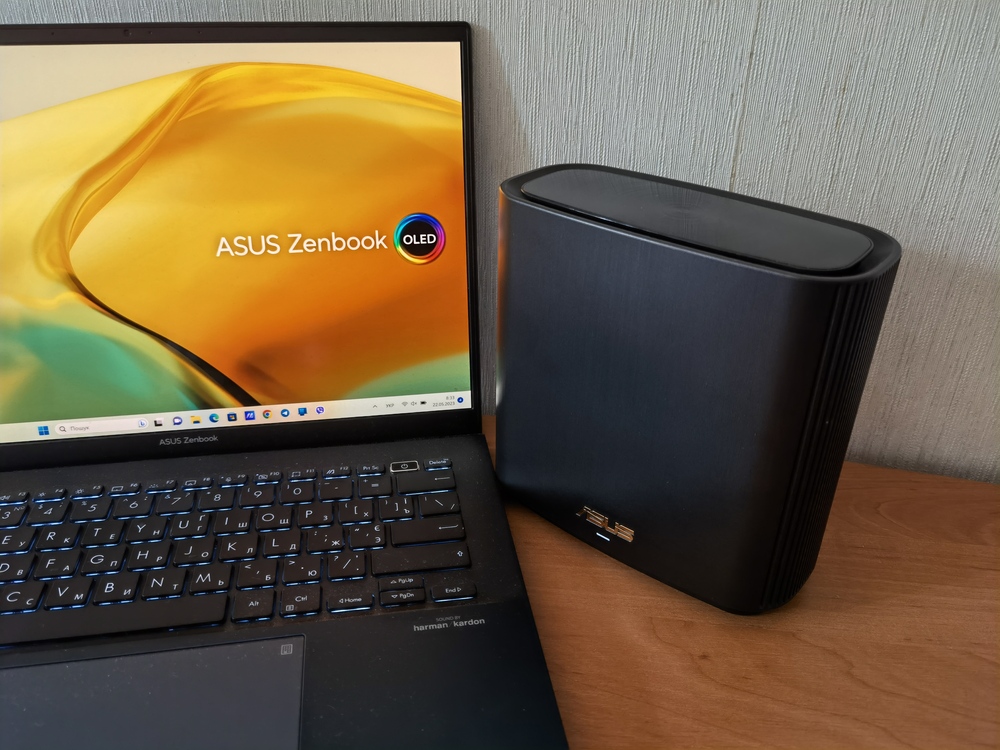 These are tri-band devices, meaning that they operate simultaneously with three wireless signals, providing a total bandwidth of 7800 Mbit/s, which is distributed as follows:
2.4 GHz band: provides a maximum speed of 574 Mbit/s in a 2×2 connection, i.e. 2 antennas between the client and router in the 40 MHz band at the same time
5 GHz – 1 band: will offer 2,402 Mbit/s throughput in 2×2 connections, still compatible with 160 MHz channels and 1024-QAM modulation. This band operates on low channels (less than 100), although it supports DFS channels and is designed to connect to customers in a mesh network.
5 GHz – 2 band: This is the most powerful 4×4 connection with 4804 Mbps in the 160 MHz band, but it is pre-configured as a backbone between routers in a mesh network. In this case, it operates on high channels, although it can also be used as a normal network if we have only one router.
Like all ASUS ZenWiFi Wi-Fi 6 routers, they feature MU-MIMO, which allows multiple clients to transmit data simultaneously, OFDMA, which improves simultaneous client connectivity, and BSS Color, which assigns different carrier frequencies (colours) so that clients instantly identify theirs without scanning the entire spectrum. Assigned Wakeup Time allows Wi-Fi clients to be put into standby mode to conserve resources and occupy fewer spectrum frequencies. While Beamforming makes it possible to focus a frequency beam on a client to achieve a longer connection distance.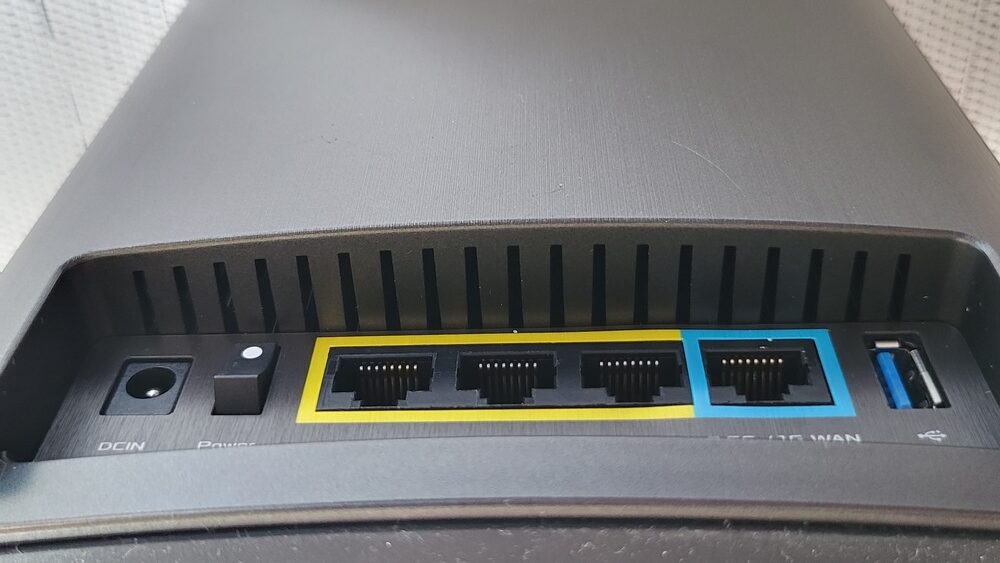 ASUS's proprietary AiMesh 2.0 wireless technology enables the Mesh system to be expandable and scalable with any compatible router. It provides an AiProtection security layer that prevents unwanted access or attacks on the mesh by encrypting the entire data stream.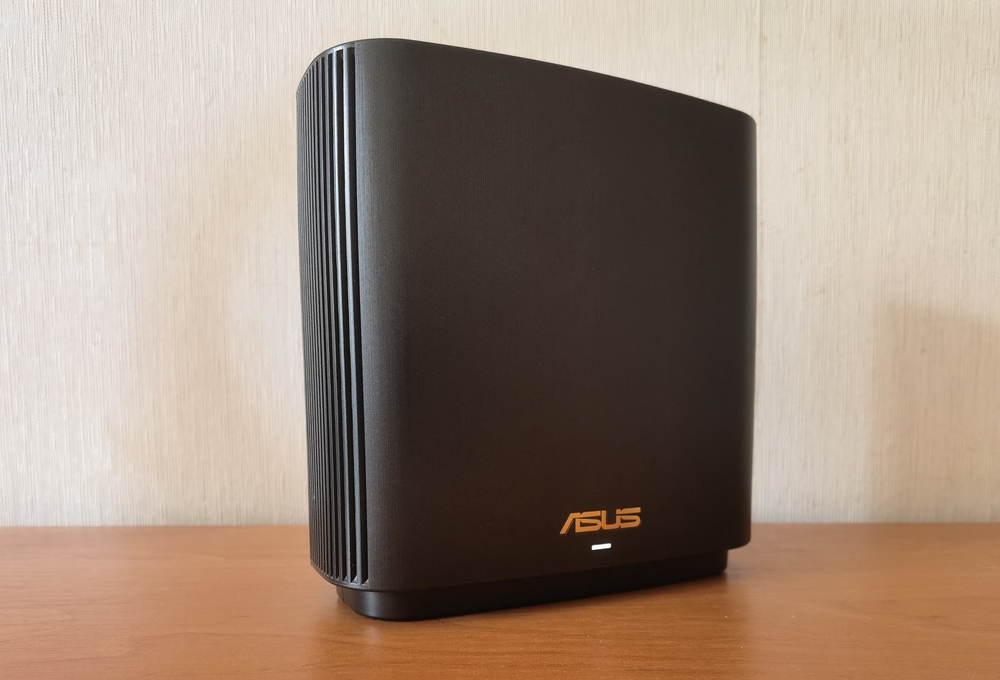 The system supports most WPA3-Personal and Enterprise encryptions in addition to WPA2. In addition, other advanced technologies are used, such as adaptive QoS management, guest Wi-Fi support, parental controls, traffic analyser, as well as IPTV, DDNS, DHCP, DMZ, hardware NAT, UPnP, and VPN capabilities as a client or server in PPTP, IPSec, OpenVPN, and now also WireGuard VPN.
Read also: ASUS Vivobook Pro 16X OLED (N7600) review: 16-inch laptop with OLED screen
ASUS ZenWiFi XT9 settings and software
I really like the fact that ASUS gives us the option to configure their Mesh kits both in the mobile app and through the browser interface, which will probably please a little more knowledgeable users who prefer traditional solutions. Moreover, the graphical browser interface usually offers more customisation options, and this is also the case here. Although some competitors have long preferred mobile applications.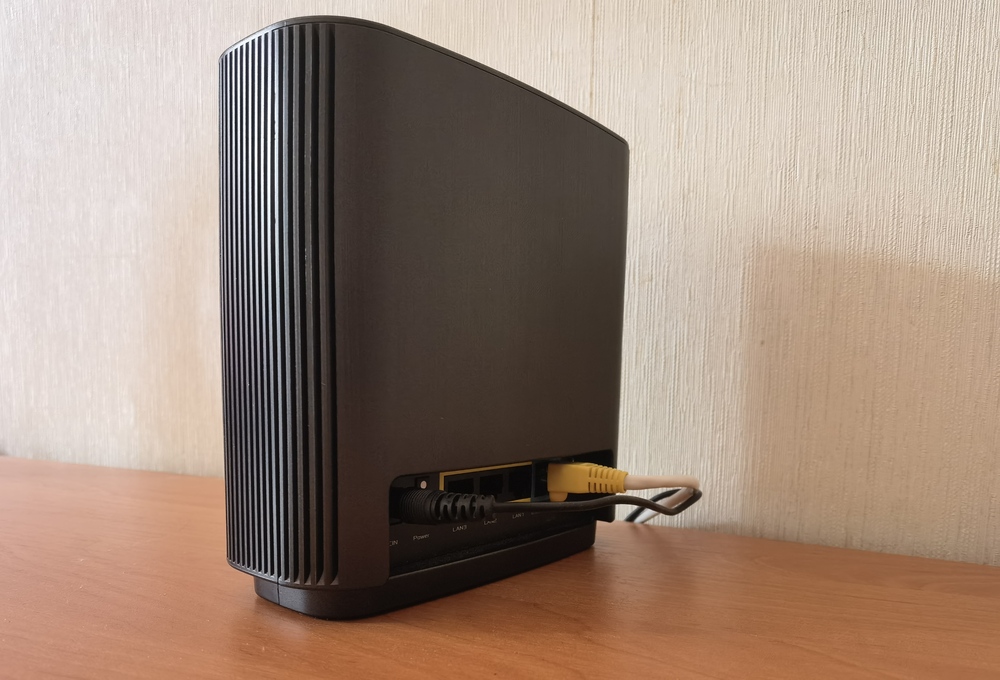 Yes, I understand that the trend towards mobile apps for routers is a very good thing, especially since the average user will find almost everything they need in them, and their interface is very simple and intuitive. By the way, the mobile app for ASUS routers is a good example of this. It has almost all the basic functions and even a little more, and the app itself offers client management, as well as parental control and QoS tools. That is, the app will be more than enough for an average user to manage a Mesh system.
The ASUS Router mobile app is a big plus, as it's hard to complain about anything, perhaps with the exception of the graphic design itself, which I would like to see a little more transparent and modern, but that's true of the browser version of the software as well. In this respect, ASUS' software seems to stand out a bit from the competition, which provides more visually appealing tools. Although this may be my subjective opinion.
However, the process of setting up ASUS ZenWiFi XT9 via the mobile app is quite simple and intuitive. Just find your Mesh node in the list and follow the prompts. In a few minutes, your router will be ready to go.
If you have an old ASUS router, you can easily combine it with the ASUS ZenWiFi XT9 into a single Mesh system without spending any extra money.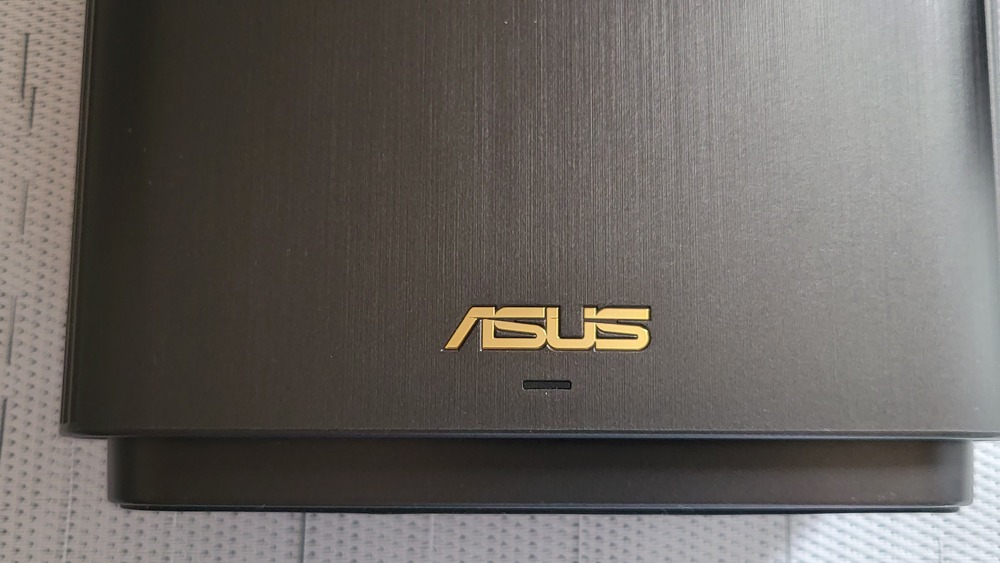 Now, a few words about the configuration options via the browser interface. It is most suitable for advanced users who want to get the most out of their Mesh system. Yes, some people may be annoyed by the ASUS GUI, some competitors have a more modern one, as I have already mentioned, but ASUS offers more features than its competitors. We've already discussed ASUS software in detail in our reviews of ASUS routers, so we won't go over it again. If you are interested, read it here.
It must be said that here we find an almost standard set of options, but the Taiwanese manufacturer has added additional ones, such as Traffic Analyzer, which is used to analyse network traffic, AiCloud 2.0 packages (Cloud Disk, Smart Access and AiCloud Sync), Air Protection (network protection and parental control) and QoS service.
It is worth mentioning the VPN capabilities as a client or server in PPTP, IPSec, OpenVPN, and now also WireGuard VPN. There is also support for guest networks, but unfortunately, they do not "follow" the user like the main network, and all guests connect only to the main module. It is also worth adding that most of the options have corresponding descriptions explaining their functionality, which can be very useful. In conclusion, ASUS still needs to work on the intuitiveness of its software and improve some things.
How does ASUS ZenWiFi XT9 work in practice?
ASUS states on its website that the ASUS ZenWiFi XT9 Wi-Fi 6 system, consisting of two devices, is capable of providing coverage of up to 530 m². And the single module configuration will provide an area of 265 m² with Internet access. Its quad-core processor and support for the latest technologies, including Wi-Fi 6, not only ensure a stable Wi-Fi network, but also delight with high performance. It is safe to say that we are looking at a modern Mesh system that should not disappoint the user. But what about in practice?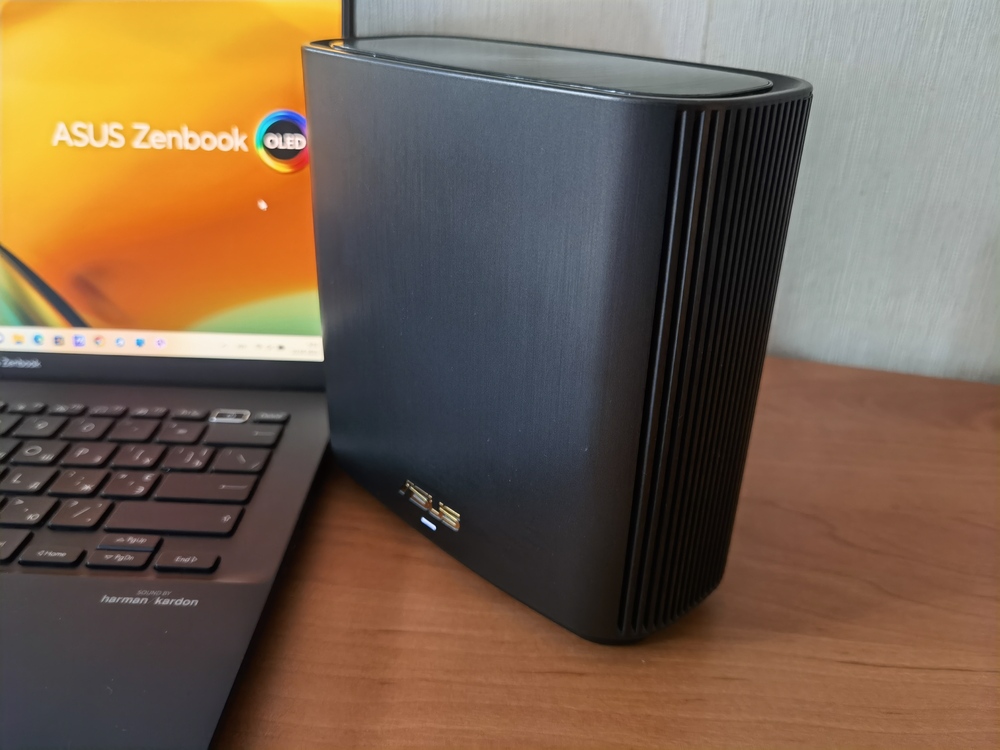 Many people are familiar with the situation with thick reinforced concrete walls in panelised multi-storey buildings in megacities. In such apartment buildings, there are often dead zones where the router cannot reach. In such cases, we buy, for example, repeaters-amplifiers or other equipment. Mesh systems are designed to eliminate this problem.
If we talk about the wired connection, then there are no special surprises. The tested ASUS ZenWiFi XT9 showed results close to those declared by my provider – 1 Gbps.
I decided to take full advantage of the ASUS ZenWiFi XT9 by placing one unit in the living room. Traditionally, I decided to test the Mesh system in the usual five measurement points located in the following places:
1 metre from ASUS ZenWiFi XT9 (in the same room)
6 metres from ASUS ZenWiFi XT9 (with 2 walls in the way)
10 metres from ASUS ZenWiFi XT9 (with 2 walls in the way)
15 metres from ASUS ZenWiFi XT9 (with 3 walls in the way)
on a landing 18 metres from ASUS ZenWiFi XT9 (with 3 walls in the way).
Since the router doesn't allow you to split the network, I don't see much point in showing the results of each range separately. I will only note that at four points, i.e. inside my apartment, the results were very similar.
Sometimes it seemed as if the devices were connected by invisible threads and transmitted my smartphone or laptop while I was moving around the apartment. You really start to understand the essence of the mesh system. It's a really cool feeling. It is worth noting the support for a 160 Hz channel. However, for this purpose, you should use the 5 GHz-2 band.
ASUS ZenWiFi XT9 SpeedTest 5 GHz
I would also like to note the stability of the signal. At any point in the apartment, the ping remained virtually unchanged, the signal from the Mesh system was consistently high. There were no breaks, failures, drops, not to mention dead spots in the apartment.
ASUS ZenWiFi XT9 SpeedTest 2,4 GHz
The situation changed somewhat when I started testing the signal strength and transmission speeds at the fifth measurement point – the stairwell. As soon as I closed the apartment door and tested the Mesh system here, it became clear that the ping became stronger and the speeds dropped 10 times.
Of course, I understand the distance, the three walls between us, the reinforced concrete floor, but it's really strange. It's worth emphasising that the Wi-Fi signal was stable, but the speed dropped. So, the Mesh system is certainly not a panacea for all problems, but it works. However, there is a solution. It's enough to connect even an old ASUS router as part of the Mesh system, and the problem disappears.
ASUS ZenWiFi XT9 WiFi-Analyzer
I did not have the technical ability to test the Mesh system, for example, in a two-storey building with reinforced concrete floors, but I assume that it will work similarly there. It should also be borne in mind that in the building where I tested the routers, there are at least 20 other 2.4/5 GHz Wi-Fi networks active, so the conditions are certainly more difficult than in a single house where there is no such interference.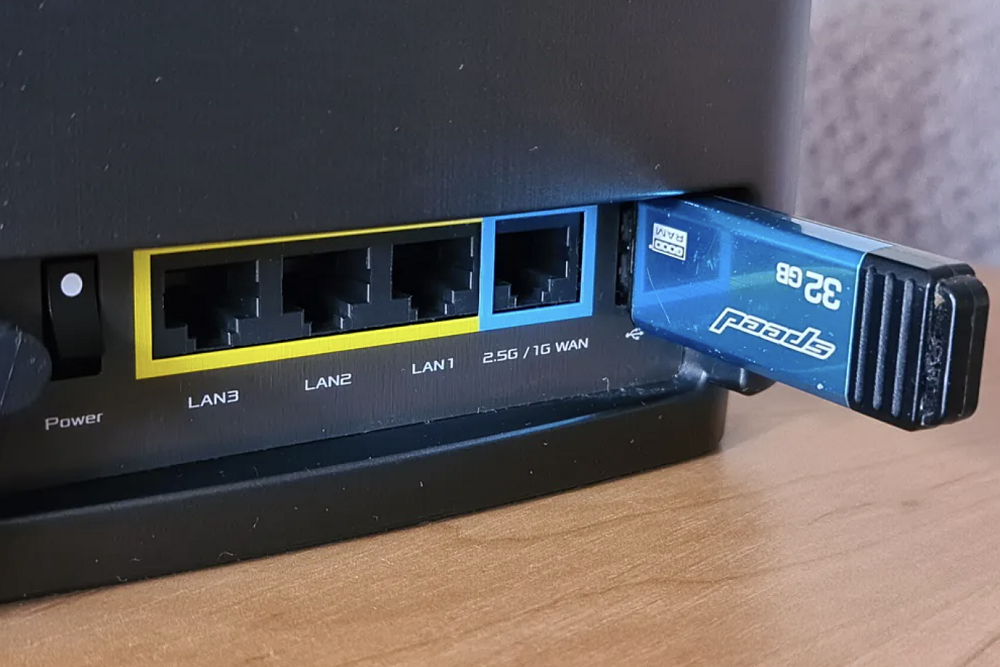 As for the speed of the USB port, don't expect any records, but it's enough to use it as an AiDisk, Samba or FTP file server, network print server, Time Machine, and download management without a PC or 3G/4G modem.
Conclusion
ASUS ZenWiFi XT9 tests have proven that Mesh networking is a great solution for everyone, especially if you have a large apartment or private house. Thanks to the decentralisation of the home network, we can quickly fix the biggest problems, such as places without coverage, or the problem with too many connected devices. In addition, with built-in Gigabit Ethernet ports and a 2.5 Gigabit WAN port in each of the routers, we don't need to create a wired network throughout the house to connect devices that don't have a wireless Wi-Fi connection to the Internet.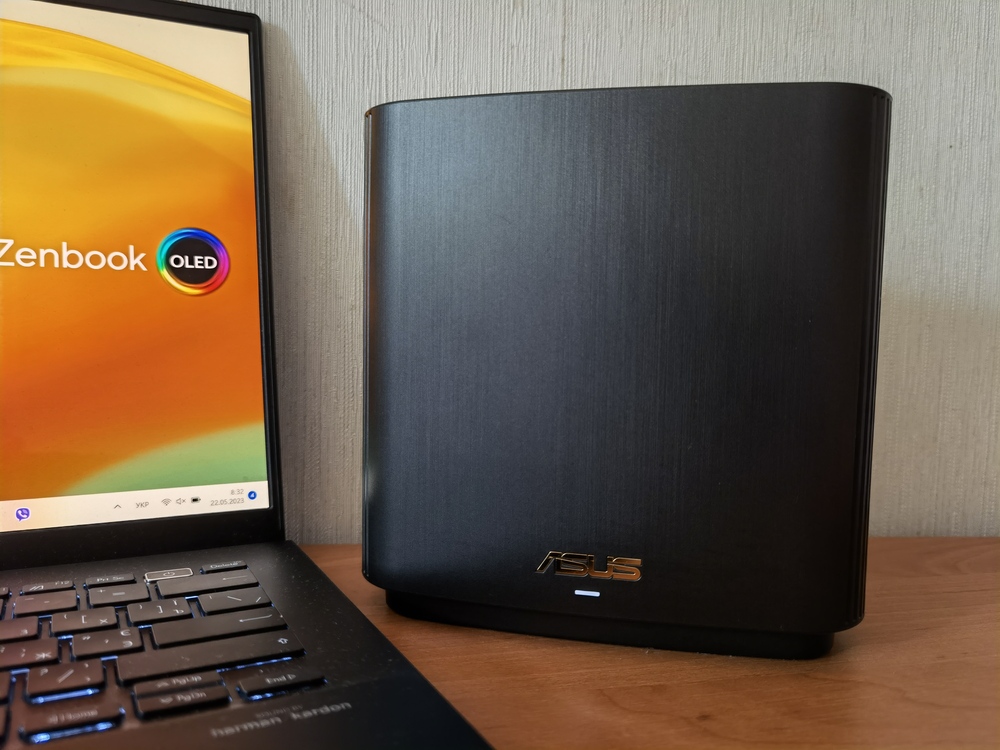 During the tests, I highly appreciated the ease of setup, the appearance of the routers, performance, the useful mobile app, and the range. The downside is that the web interface is not available in Ukrainian or Russian. You can also note a drop in connection speed at a great distance from the router, although the signal remains stable. But this is practically the only drawback of the system. To be honest, I started thinking about a Mesh system for home use myself.
Would I recommend buying a Mesh system from ASUS? The ASUS ZenWiFi XT9 Mesh system is an ideal solution for users looking for a fast, efficient, and easy-to-use router for a large home or apartment.
Advantages
Reliable build quality and high-quality materials
Stylish design
Global network in 2.5 gigabit standard
6 internal antennas
3 gigabit local networks in each unit
AiProtection Pro package with built-in antivirus and parental control
The software provides a variety of administration options
Mobile application
Supports MU-MIMO, Beamforming and Smart Connect
Simple configuration, stable operation, support for 4G modems, high speeds in Wi-Fi 6
Disadvantages
The speed of the USB 3.0 port is not impressive
No support for alternative software
160 MHz wide channel only on the 5 GHz auxiliary band
Read also: