Times are such that we are surrounded by smart and useful devices. Dishwashers, washing machines, robotic vacuum cleaners, and more have become commonplace. On hot days, many people use air conditioners at home, and in the winter, during the heating season, they use humidifiers. And, unfortunately, in many cities, even in the warm season, the air quality situation is such that you can't do without a purifier. Today we are going to take a look at the powerful Samsung AX32BG3100GG (or AX32 for short) air purifier from the respected South Korean company, which, among other things, can be controlled from a smartphone.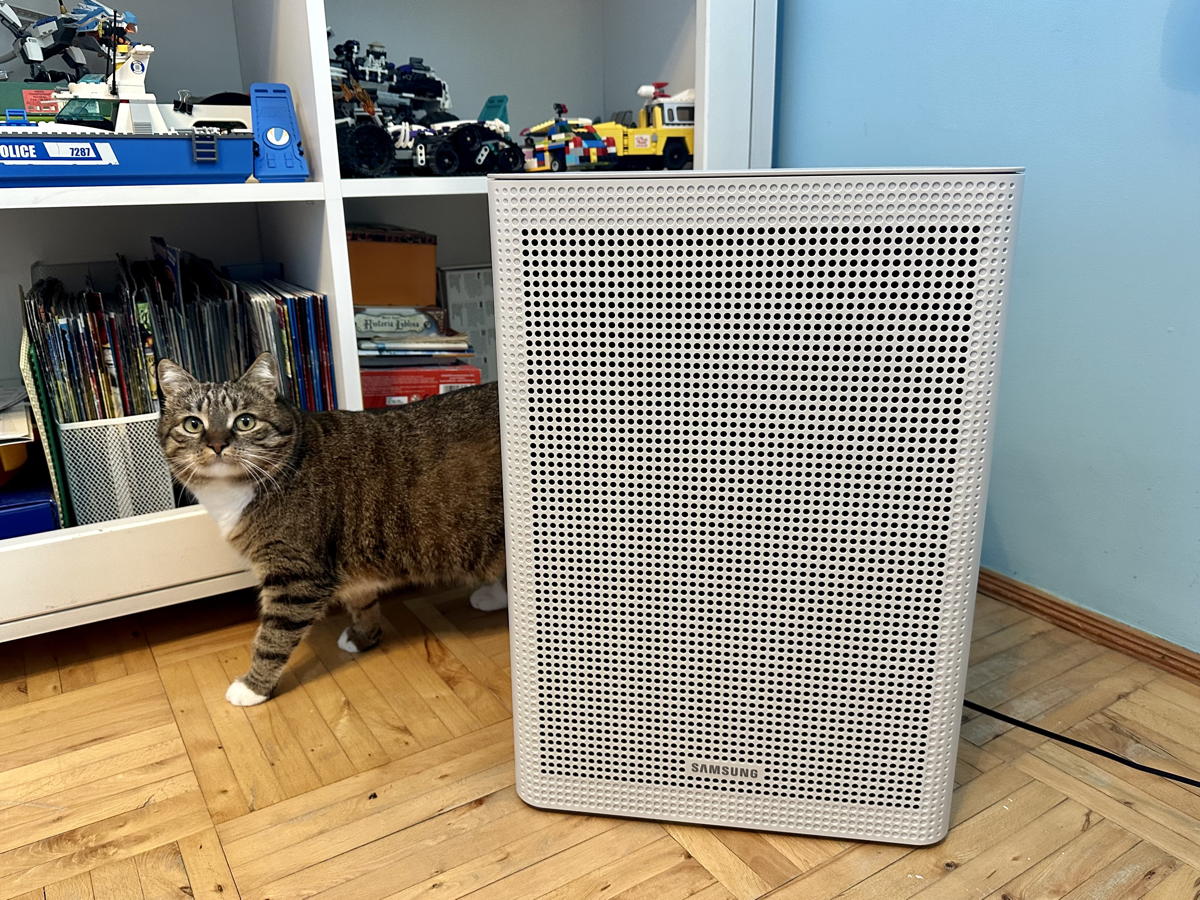 In general, air purifiers are simple devices. They have a large fan and an efficient filter system. The fan blows the air, the filters clean it – win-win. They differ only in the filters they use (although they all have the same principle), the size and area to be serviced, the design, and additional details such as remote control.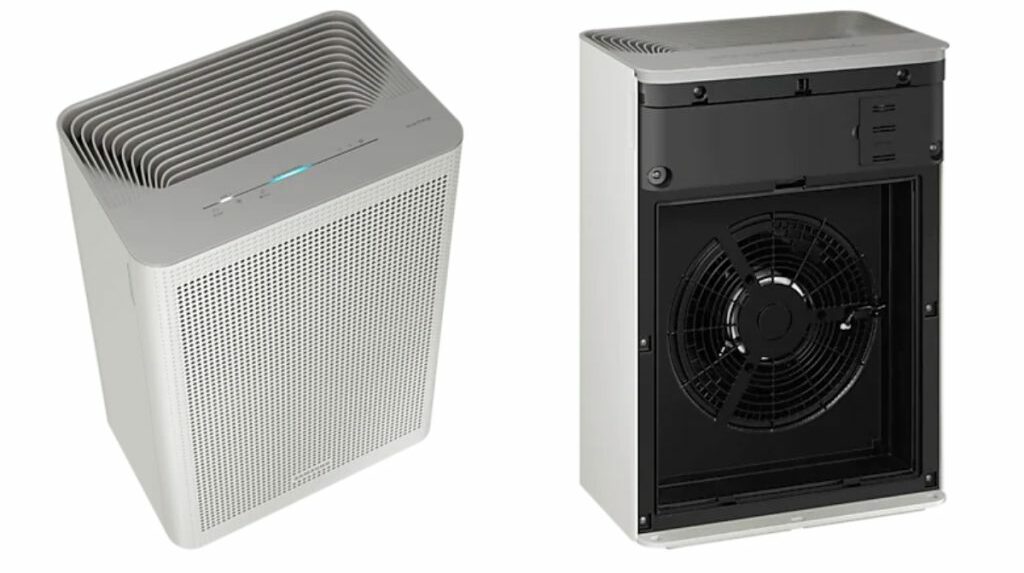 The Samsung AX32 has a three-stage filter and serves an area of up to 41 square meters, which is quite large. The manufacturer has smaller and larger cleaners, and this particular one is worth choosing for owners of very large rooms or, alternatively, small apartments. The model is not the most expensive in the lineup – with discounts, it currently costs from 840 zlotys or $190 in Poland (where we tested it). In Ukraine, we managed to find it in only one store for 13.5 thousand hryvnias.
Specifications of Samsung AX32BG3100GG
Capacity: CADR 320 m³/h (clean air supply rate, air purification capacity)
Power consumption: 41 W
Room area: up to 41 m²
Filters: preliminary, carbon, ultrafine dust for PM 2.5 particles
Operating modes: three speeds, as well as automatic and night mode (18 dB)
Sensors: air pollution sensor, 4-color pollution level indicator
Noise level: 51 dB max.
Dimensions and weight: 349×499×236 mm, 6.9 kg
Additional features: touch control, key lock, Wi-Fi support, contamination level indicator, filter change indication
Companion program: Samsung SmartThings
Read also: Samsung Bespoke Jet: Review of a vertical vacuum cleaner with a self-cleaning station
Air purifier design
Samsung has models of different designs, and I wouldn't call the AX32 in particular very stylish. But, in fact, not every home appliance should be striking and eye-catching. We are looking at a typical rectangular device with rounded corners in a milky white color.
Samsung may call the air purifier compact in its advertising materials, but I disagree. It may look small in a 40-square-meter room, but in a 12-square-meter bedroom, where I used it, it took up quite a bit of space. The device is 23.6 cm wide, almost 35 cm long, and half a meter high.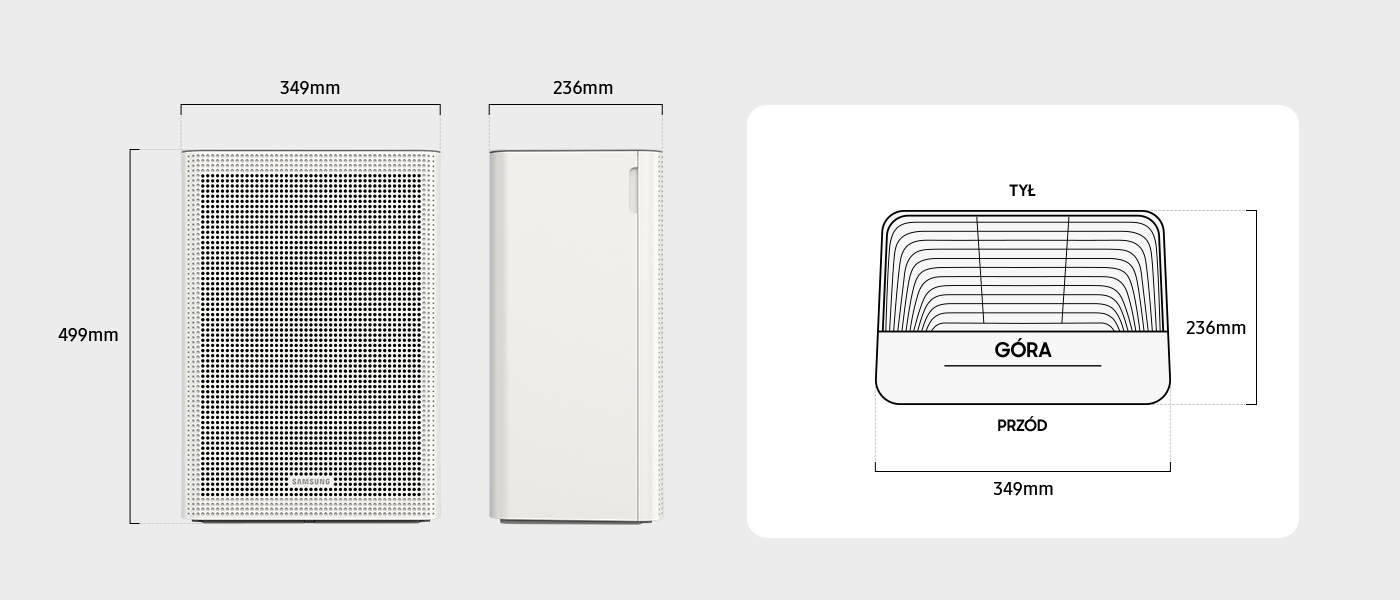 So when you buy a device like this, you need to immediately understand where you're going to put it so that it can work effectively (i.e., not behind a cabinet) and not get in the way.
On the plus side, the filters are accessed through the removable front panel, so if you put the cleaner against a wall, you won't have to move it regularly.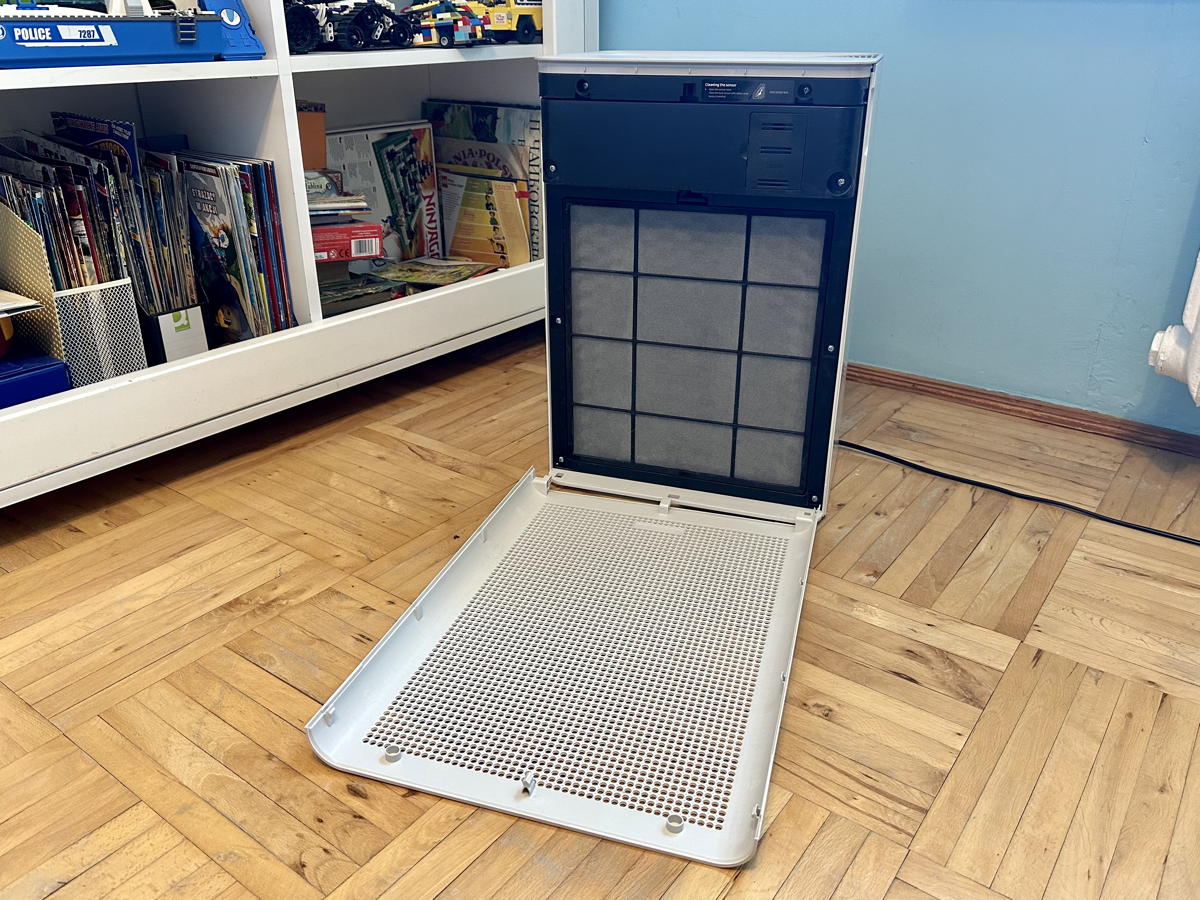 On the top panel, we see an opening through which clean air comes out, touch keys, and an air purity indicator.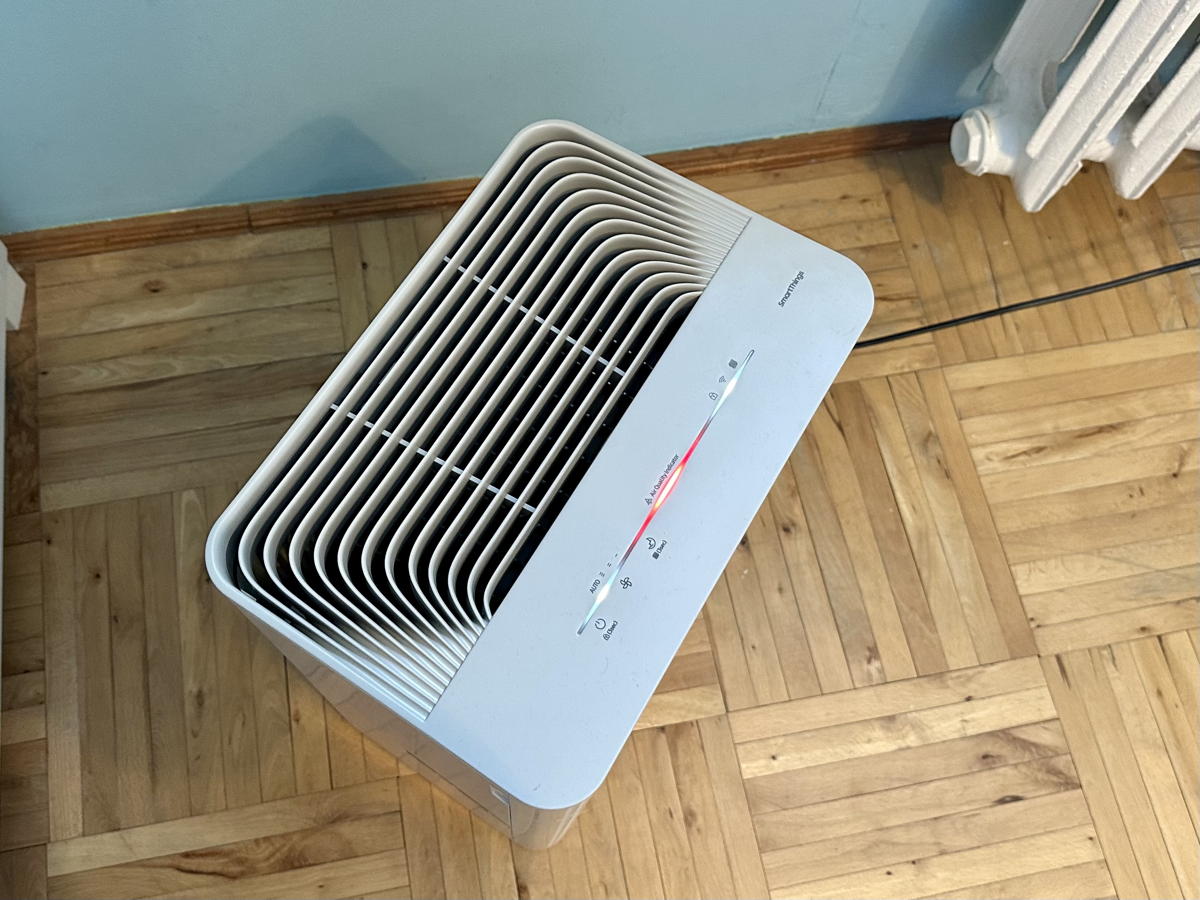 There is a carrying handle on the back of the case.
The device is heavy (almost 7 kg), although it is unlikely that you will have to carry it around the apartment often; it is enough to install it in one of the rooms where air quality is most important to you. In any case, if necessary, it is quite possible to move it and it does not require someone very strong.
The assembly of the device is excellent, there is nothing to complain about.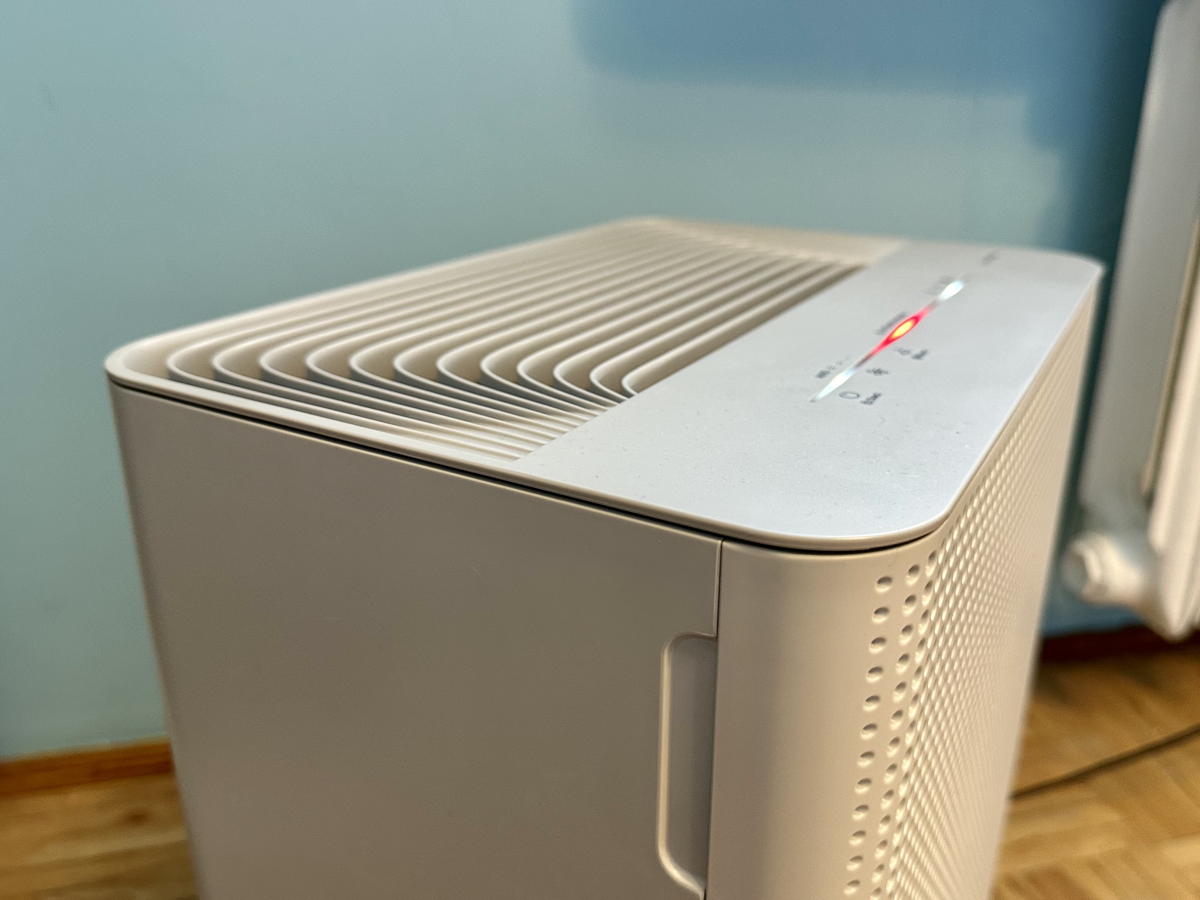 Samsung AX32 filters
To access the filters, you need to remove the front panel. This can be done easily by pulling the notches along the edges.
Насамперед ви побачите попередній фільтр – сітку, яка вловлює великий пил, волоски.
The photo below shows the condition of this filter after a week of testing the device. I did not collect even more dust, I just washed the filter: it can be washed under running water.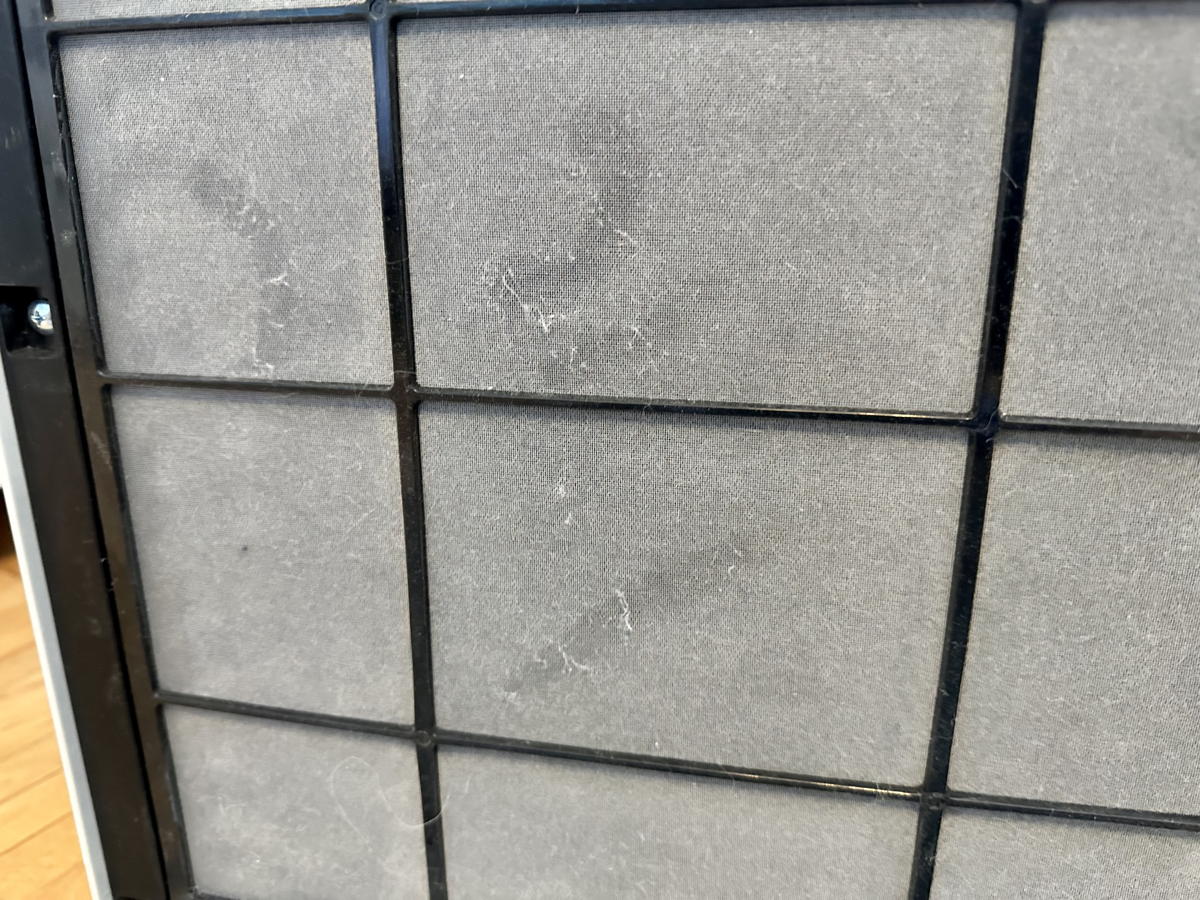 The other two filters cannot be washed, only replaced with new ones. How often should I change them? The manufacturer says once every 6-12 months, but it depends on the quality of the air in the room. In any case, the indicator on the panel and the app will let you know when the filters have become unusable.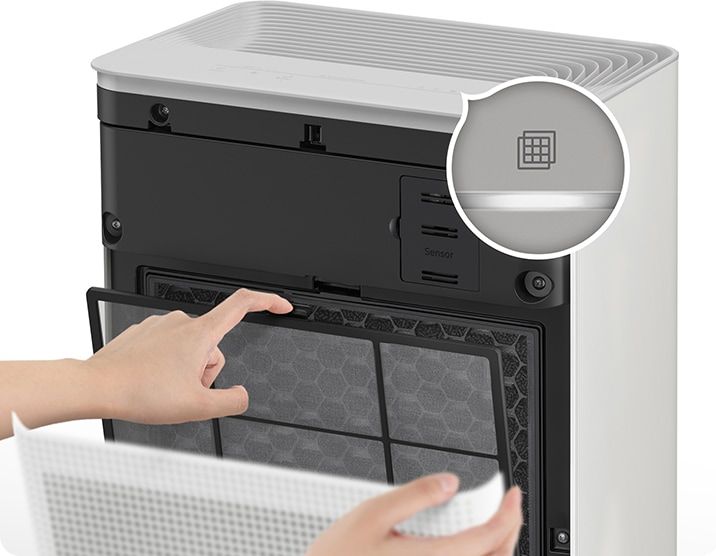 The preliminary filter is followed by a carbon filter, which is designed to remove unpleasant odors and harmful gases.
Behind the carbon filter is a HEPA filter (as in vacuum cleaners or cars), which captures the smallest particles of PM 2.5.
Carbon and HEPA are sold together as a single replaceable module. The original ones cost $57-65, which is certainly not cheap, but acceptable for the sake of clean air. There are analogs, although they are also not cheap – from $40.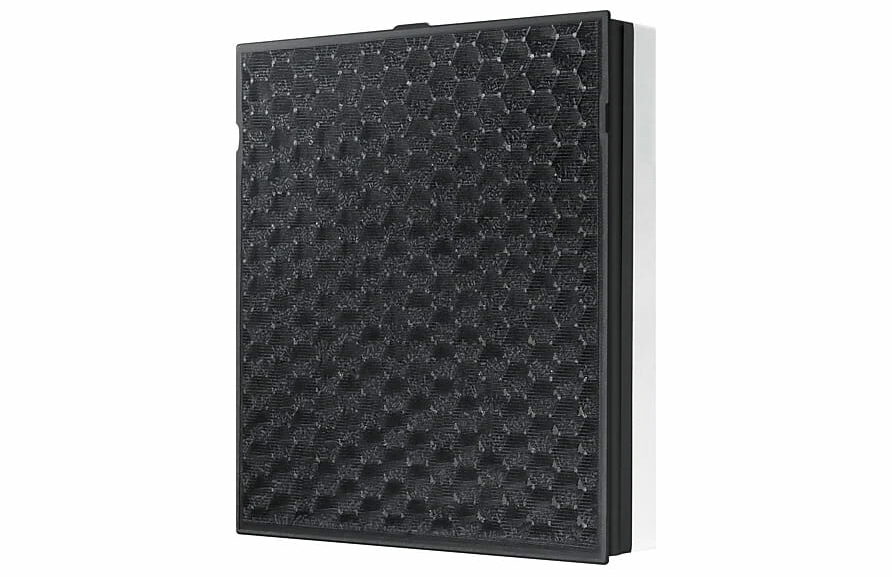 Samsung claims that the 3-stage filtration in the AX32 removes up to 99.97% of microparticles from the air, which has been tested.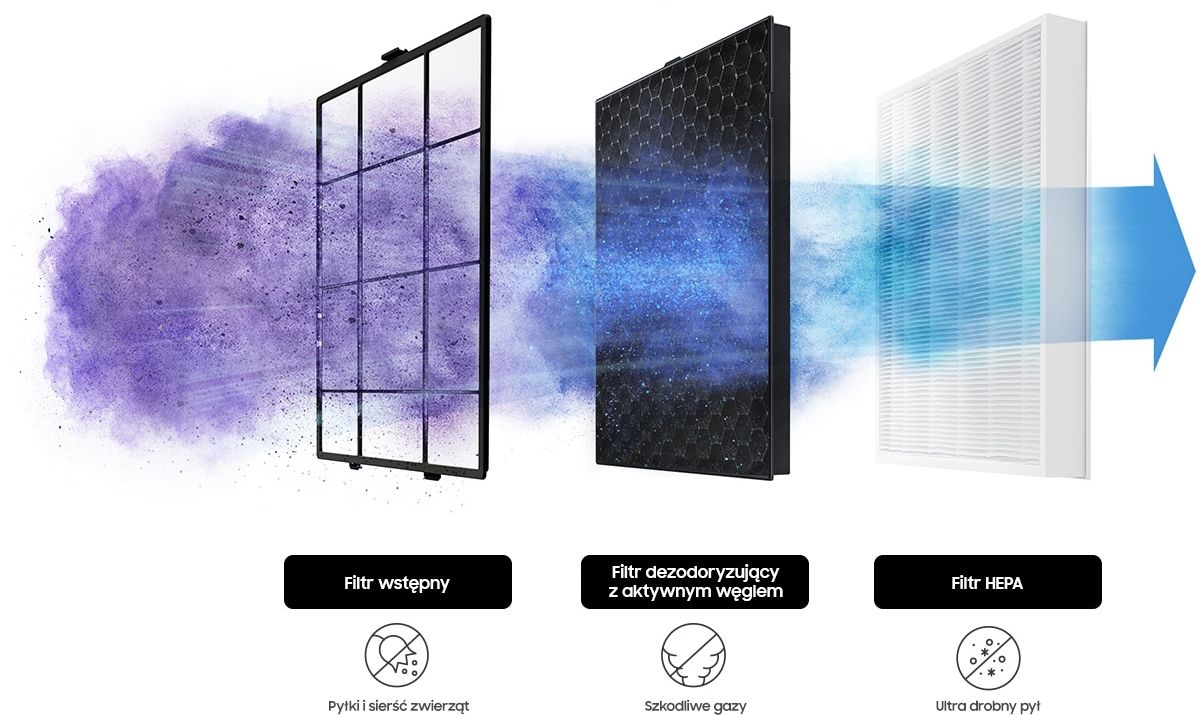 Behind the filters, we can only see the fan itself, which is driving the air.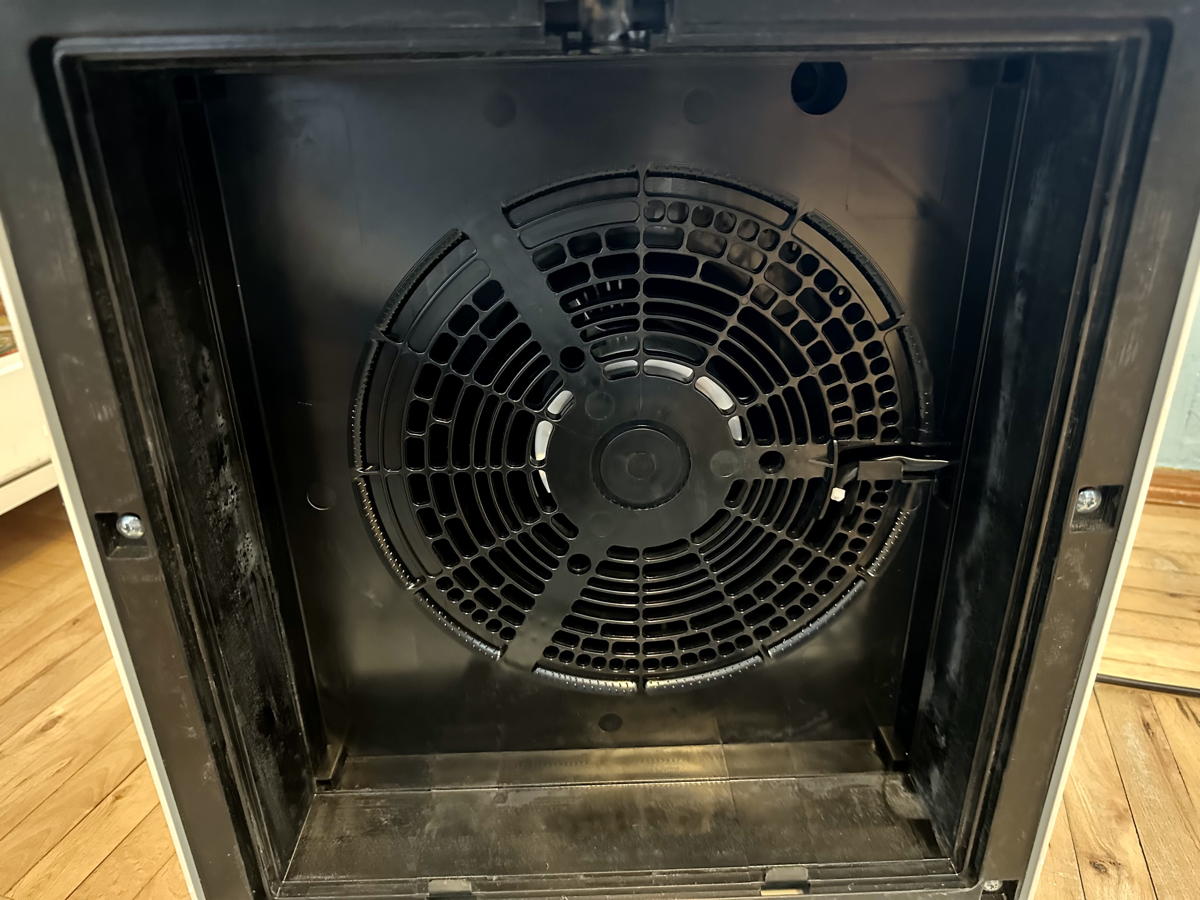 Read also: TP-Link Tapo C320WS Wi-Fi Camera Review: Better Be On The Safe Side
Air quality sensor, energy consumption
Above the filters, there is a small "door" labeled Sensor. It hides the air quality sensor turned "in profile". The manufacturer recommends wiping its lens with a cotton swab every six months.
The sensor analyzes the level of air pollution in the room and selects one of the operating modes – minimum, medium, or most powerful. And this is a plus for the Samsung AX32BG3100GG, as you don't have to change the settings yourself. In addition, electricity is saved: the device does not operate at high power when it is not needed.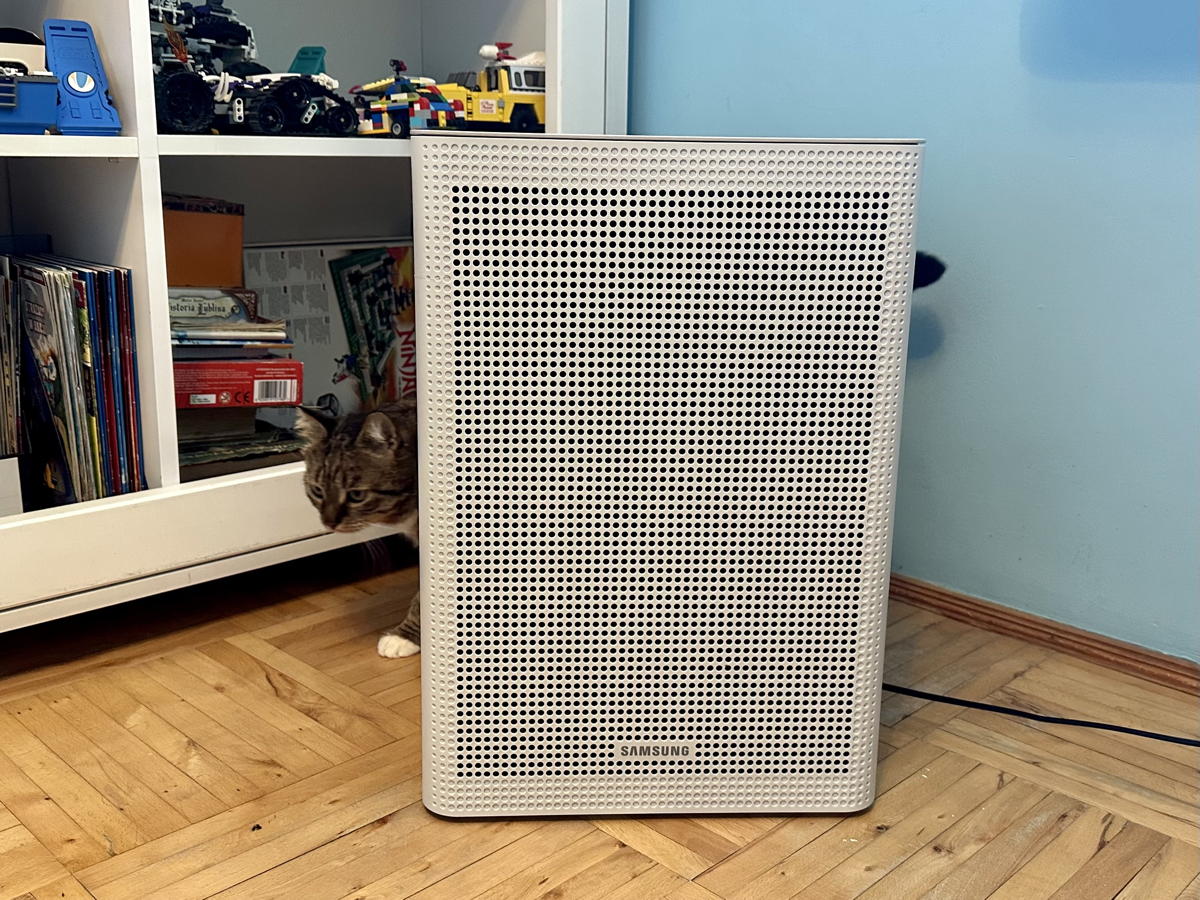 Speaking of electricity. In the app, you can see the data: the air purifier consumes about 0.1 A in low speed mode and 0.2 A in high speed mode. For the whole day, it consumes about 0.12 kWh, and for a month, let's say, no more than 4-5 kWh. So although the filters are expensive, you won't go broke on electricity.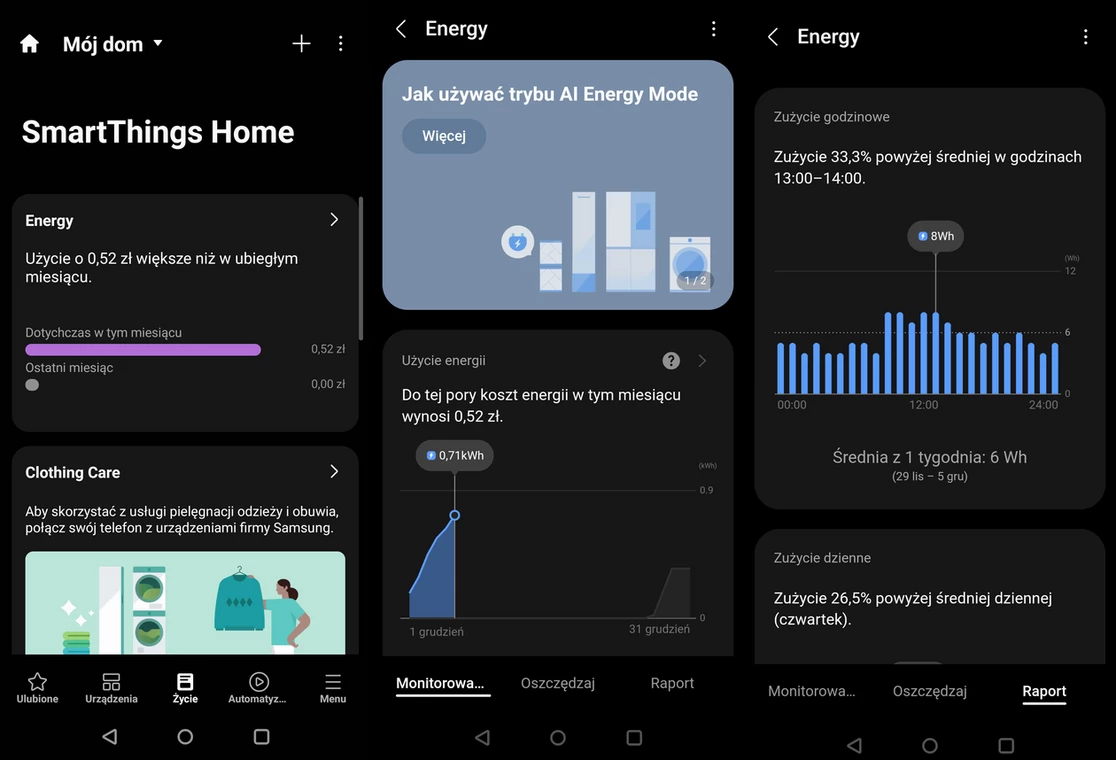 The only complaint is that even in the app, the purifier does not show accurate air quality data in terms of the amount of microparticles (PM1.0, PM2.5, PM10). Although I noticed such data in the app on one of the advertising pictures, it's not there in reality. And I would like to see it to clearly understand how dirty the air is and how effective the purifier is…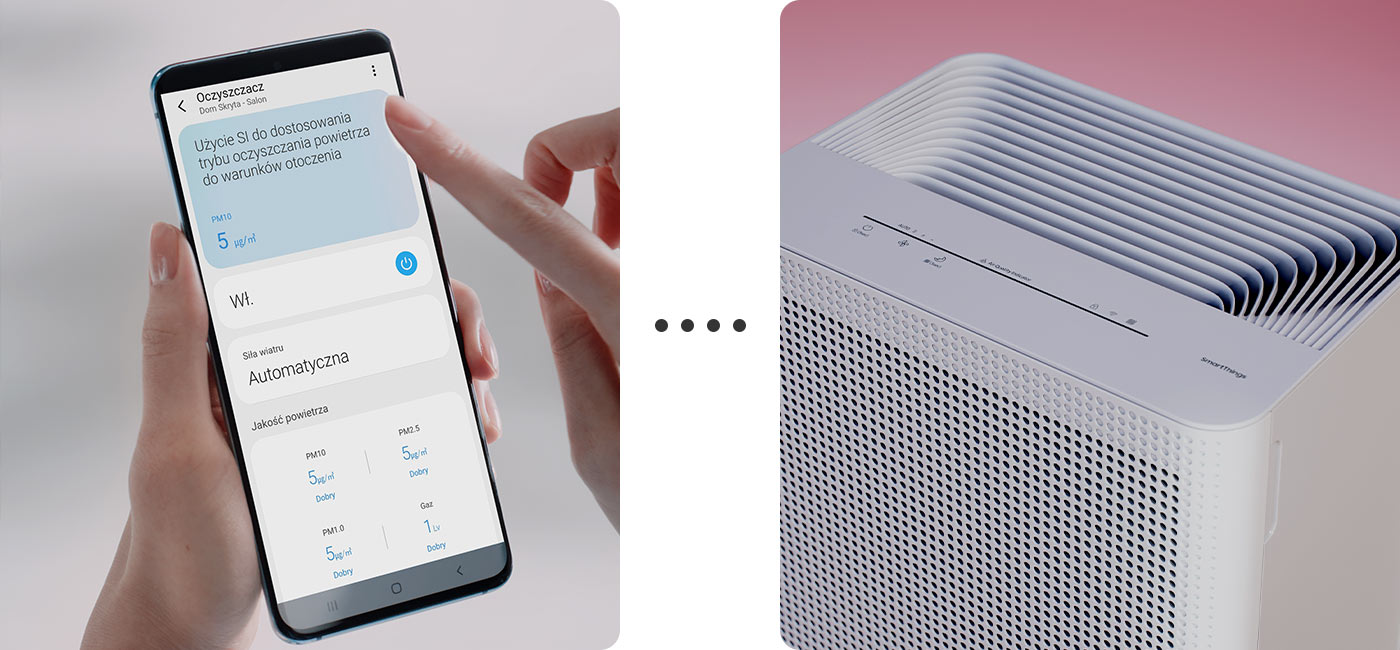 Without this, you can only be satisfied with approximate data on the levels – clean, almost clean, slightly dirty, very dirty. On the dashboard, these are blue, green, yellow, and red, respectively. It's strange that "clean" is blue, and intuitively I would like to see green, but you get used to it over time.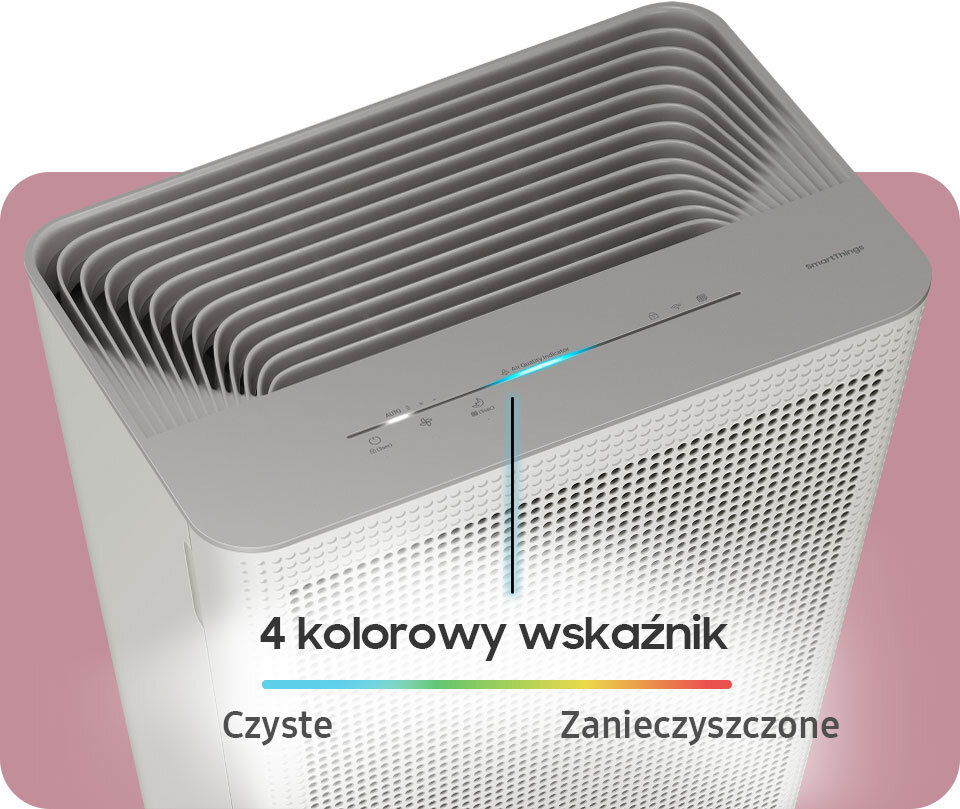 There are no colors in the app, only 4 levels with numbers.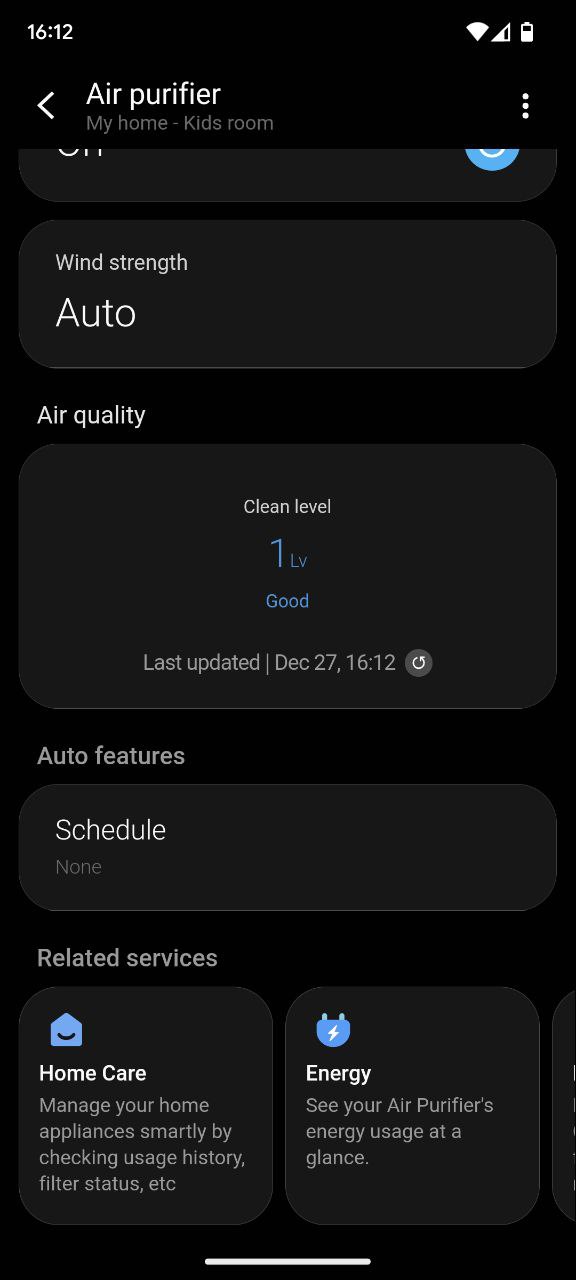 Read also: Samsung Galaxy Tab S8 Ultra Tablet Review: Isn't That A Bit Too Much?
Control panel and operating modes of Samsung AX32BG3100GG
On the top panel of the device there are touch control keys. The first one is the on/off button (you need to hold it for about three seconds), then the cleaning power switch (automatic + three levels), then the key to activate the night mode (you also need to hold it for 3 seconds), then the color indicator of air pollution. On the right side, there are keys for child lock, Wi-Fi, and an indicator for changing the filter.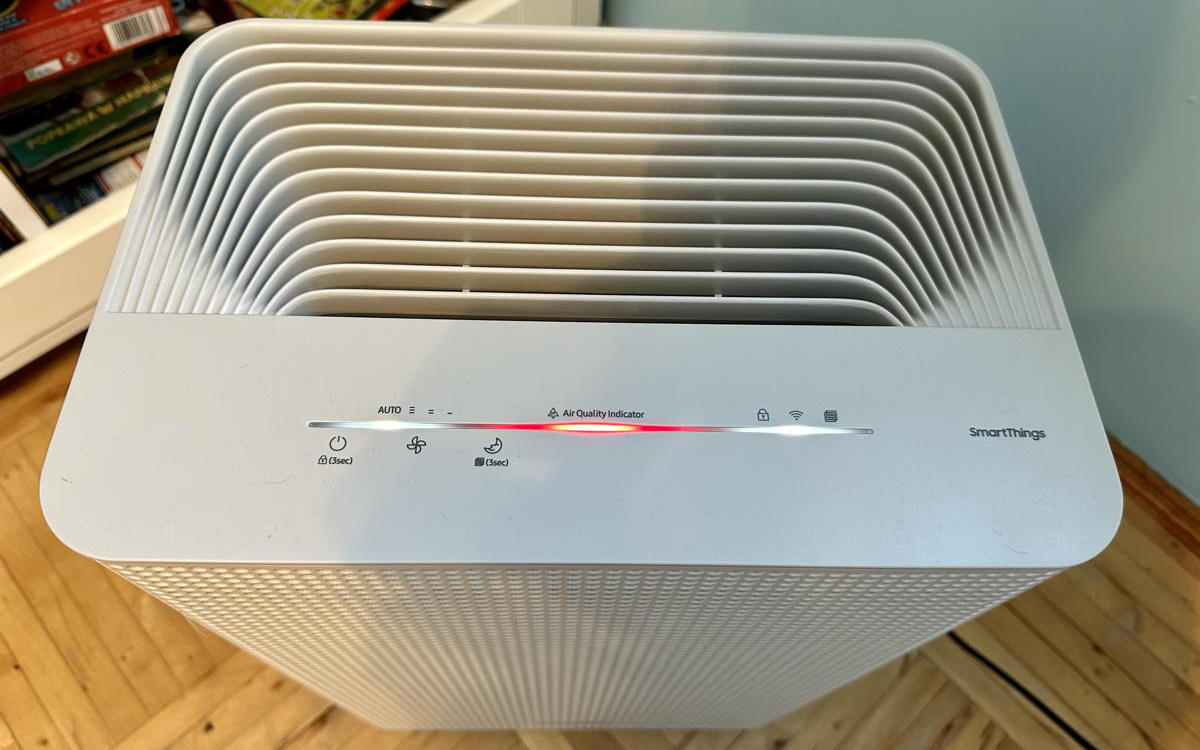 In automatic mode, the Samsung AX32BG3100GG relies on an air quality sensor to select one of three operating modes: minimum, medium, and maximum.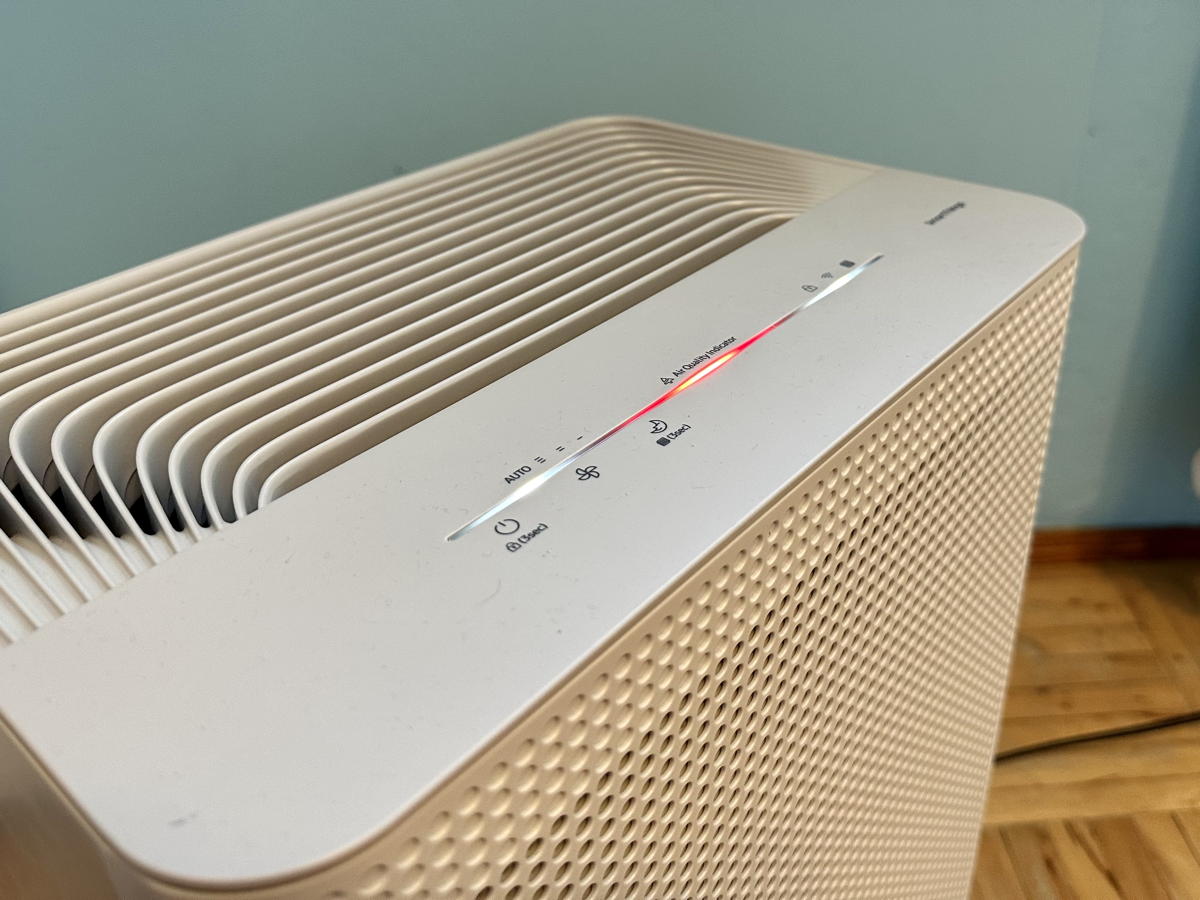 In my room (and we live in a city and neighborhood where smog problems are rare), the appliance almost always operated at minimum or medium speed. From time to time, I noticed that it switched to a powerful mode (for example, if something was cooking in the kitchen), but returned to a quieter mode in 1-2 minutes. At first, I even thought it was a glitch, but no, it's just the way it should be – the purifier is very powerful and it really takes a couple of minutes to clean the air. Besides, I used it in a small room.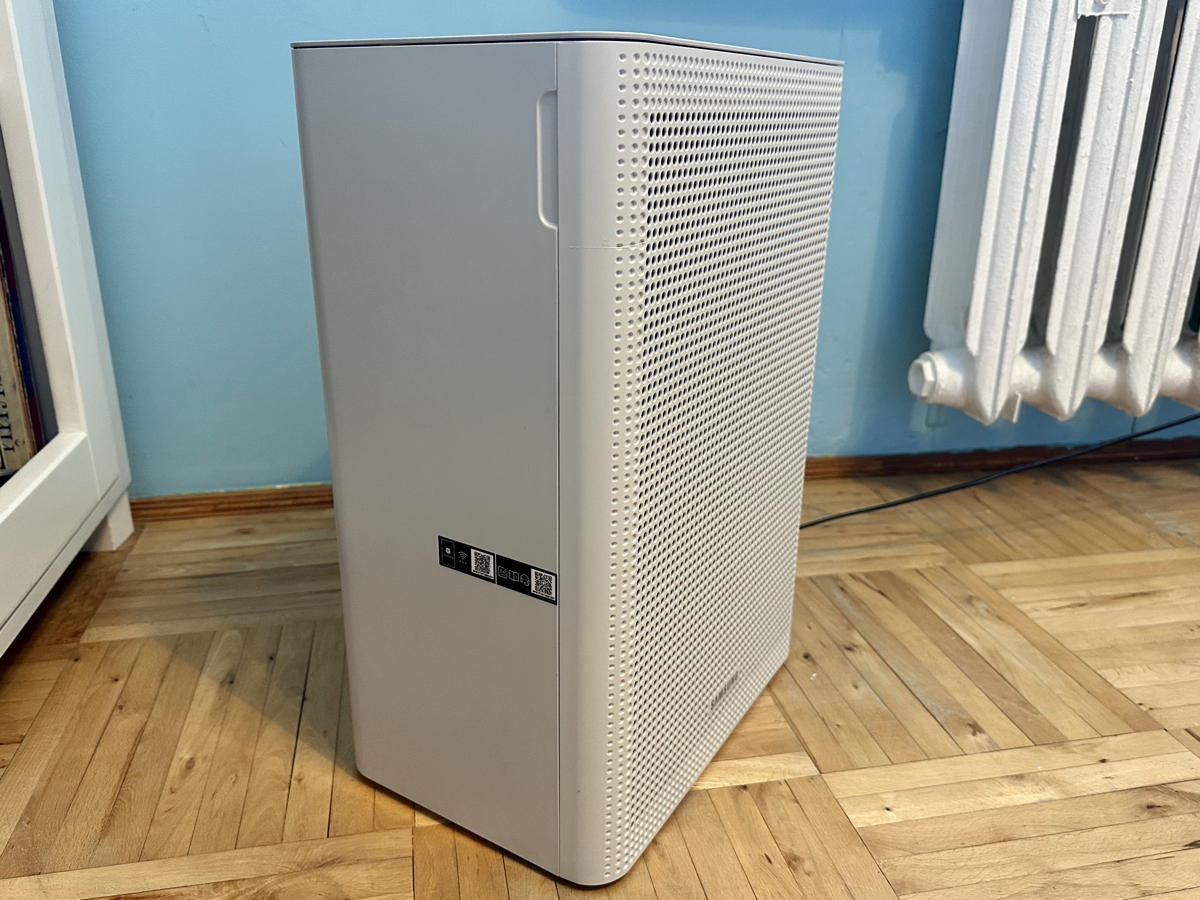 When you press the keys, the cleaner makes unusual and funny sounds like from old games, and you can even make music by switching modes.
Read also: Samsung Galaxy M53 Review: Slim Mid-Budget Phone With Great Cameras
Noise level
Let's move on to a question that many people are interested in, because we are talking about a device that will work in your home around the clock.
Well, the Samsung AX32BG3100GG is equipped with a large and powerful fan that moves a lot of air. And it's impossible to do it silently. On the minimum mode, the device, according to our calculations, emits about 40 dB. It's not much, about the noise of a road in the distance, and it doesn't interfere with work, reading, watching TV, listening to music, or talking. However, you can still hear the operation of the cleaner.
At an average level, almost 50 dB is already noise that is difficult to ignore, but it is possible, and any headphones with noise canceling will cut it out without a trace.
At the maximum air purification speed (320 cubic meters per hour), according to the technical specifications, the device makes 51 dB of noise, but according to our data, the level exceeded 62 dB. Perhaps it depends on the distance at which you measure – we measured a meter away from the purifier. And it's loud! About as loud as a vacuum cleaner operating at medium power. Or not the loudest hair dryer. By the way, the noise is not as loud on the video as it is in real life, I think the noise protection on the phone was activated when the video was recorded.
It's good that in the most powerful mode, the device automatically turns on only for 1-3 minutes and turns off after clearing the air; it would be unrealistic to listen to it all the time.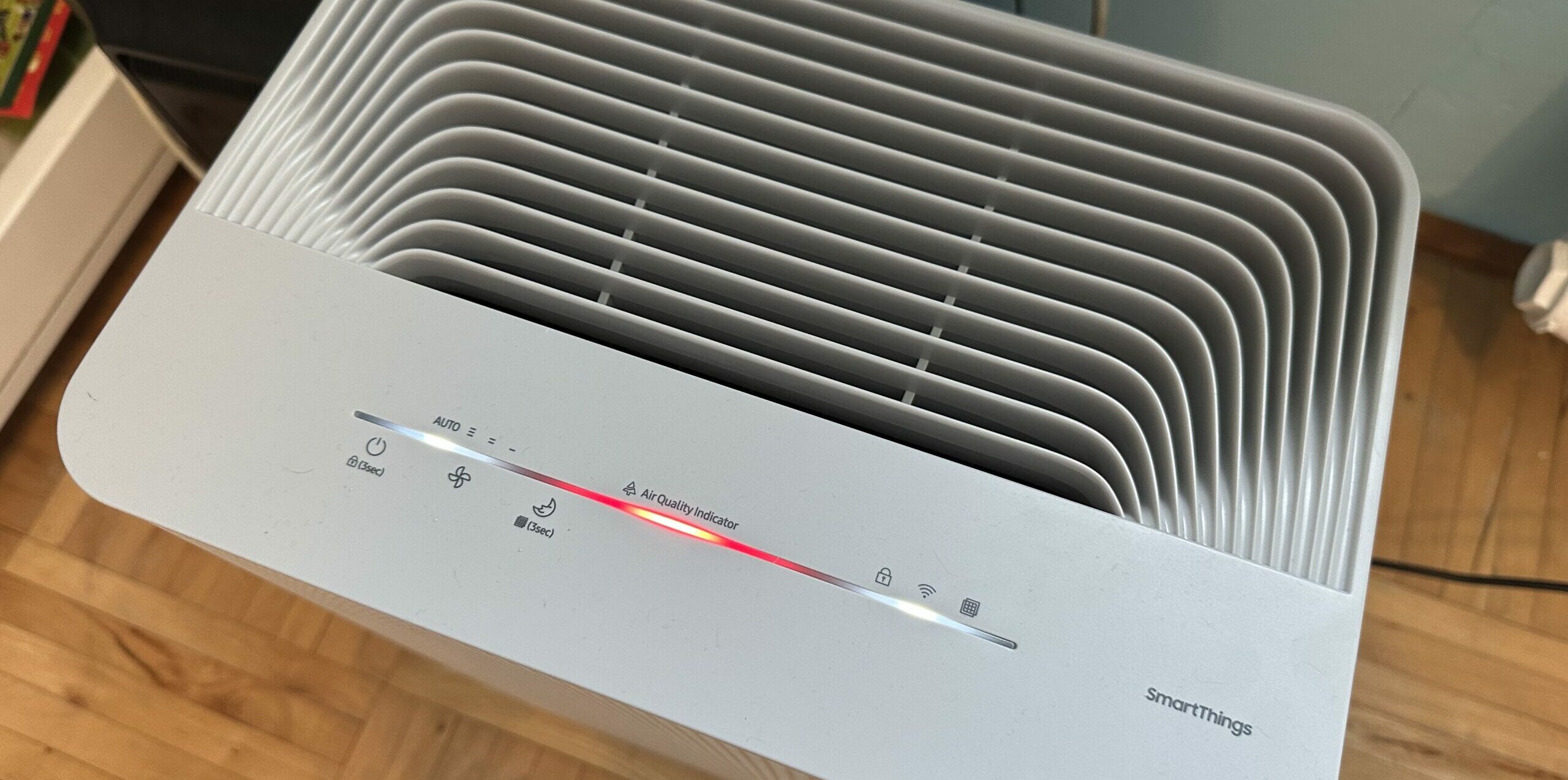 As for the night mode, according to our measurements, the noise is no higher than 22 dB (Samsung's data is up to 18 dB). In this mode, the device is inaudible during the day (unless you put your ear close to it) and almost inaudible at night in silence. However, it's hard to say whether this mode makes sense if, for example, your city has very polluted air. And the device will adjust its work based on the sensor readings only in automatic mode.
There is another advantage of the night mode – the bright air quality indicator is turned off and there is almost no light from the device (it disturbs many people).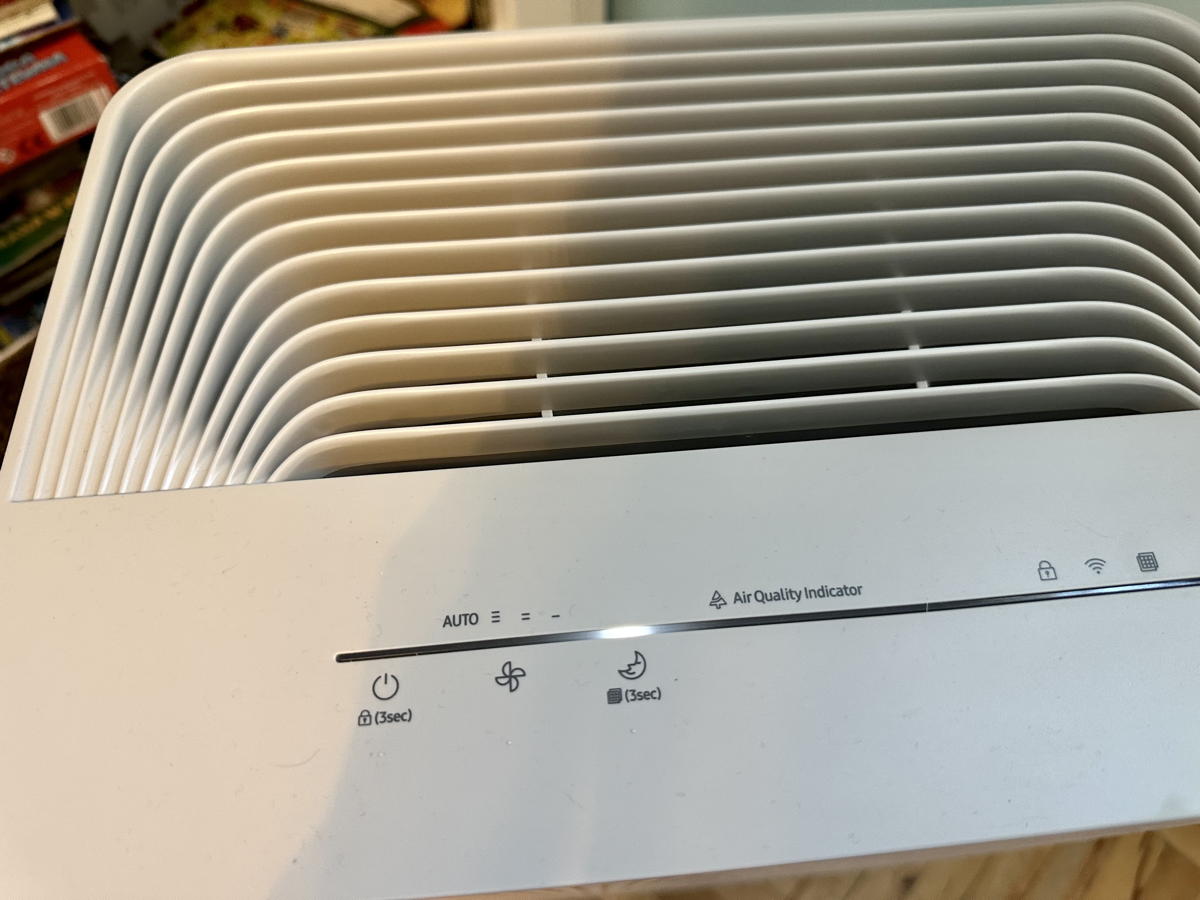 Read also: Choosing a Foldable Smartphone: Samsung Galaxy Fold vs. Flip – Which Type Is Better?
Mobile application
The special feature of the Samsung AX32BG3100GG is that it is equipped with Wi-Fi and can be controlled from a smartphone from anywhere. As with other smart devices of the South Korean manufacturer, the SmartThings program is used for this purpose. For some, it may be an inconvenience that you have to create a Samsung account in it. And then choose to add a new device and follow the on-screen prompts – nothing complicated.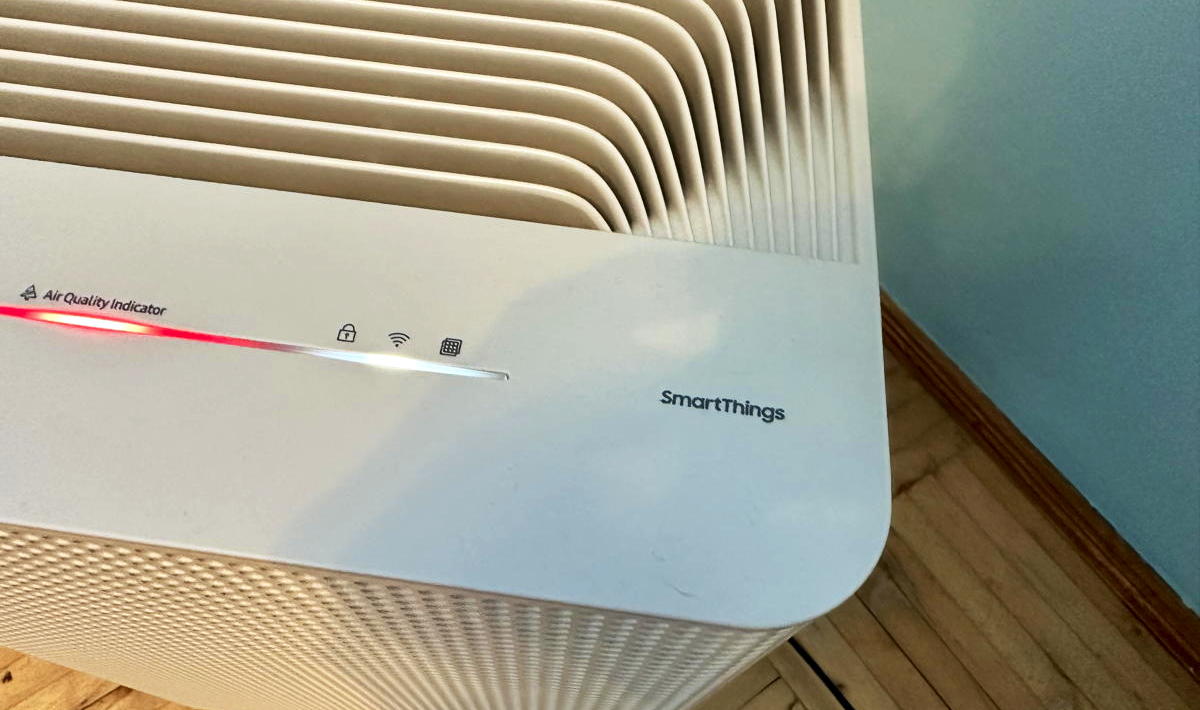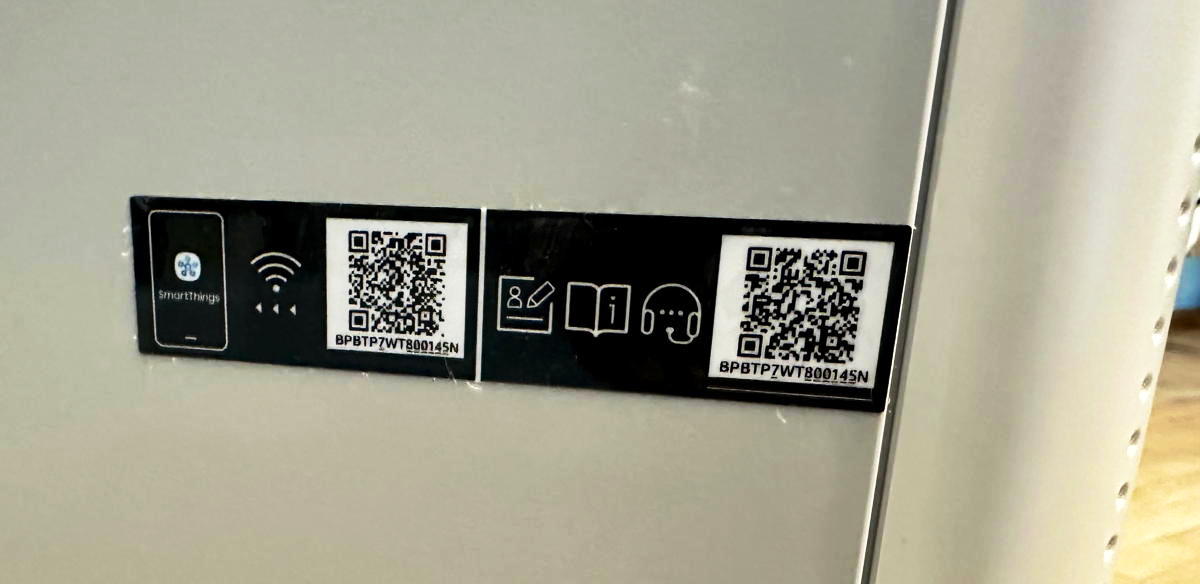 I found the app primitive. It offers a minimum of additional features beyond those available from the cleaner panel. You can see the current mode, change it, and set up a schedule.
As it turned out, after I sent the Samsung AX32 back to Samsung, the app also provided a log of the device's operation (when and how it switched between modes), as well as a percentage view of power consumption and filter status. Unfortunately, I didn't come across this while studying the program, which doesn't speak well of its intuitiveness and clarity.
And, again, it is a pity that there is no data on air quality in the figures. But in general, of course, it's convenient that you can control the device without going near it. For example, if you go to bed in a warm bed and realize that you haven't turned on the night mode, pick up the phone and turn it on. And it would be impossible to set up scheduled operation using a panel with buttons.
Samsung AX32BG3100GG: Impressions and conclusions
I live in a city where the air quality situation is calm. In addition, there are no polluting enterprises in the area, where there is no private sector and no heating with anything. In general, it is difficult to draw conclusions about whether the device cleans the air well. But, apparently, it does. The fan is powerful, the filters are good, and if we were cooking something in the kitchen, the device would turn on for just a few minutes in powerful mode and do its job, removing steam and odors. But mostly it worked automatically at a minimum or medium speed. And in the first week of operation, it collected a lot of dust on the pre-filter, which is important for allergy sufferers. I am sure that in areas where air pollution is high, the device will be effective and useful. In particular, because it is designed for a large area of 41 square meters.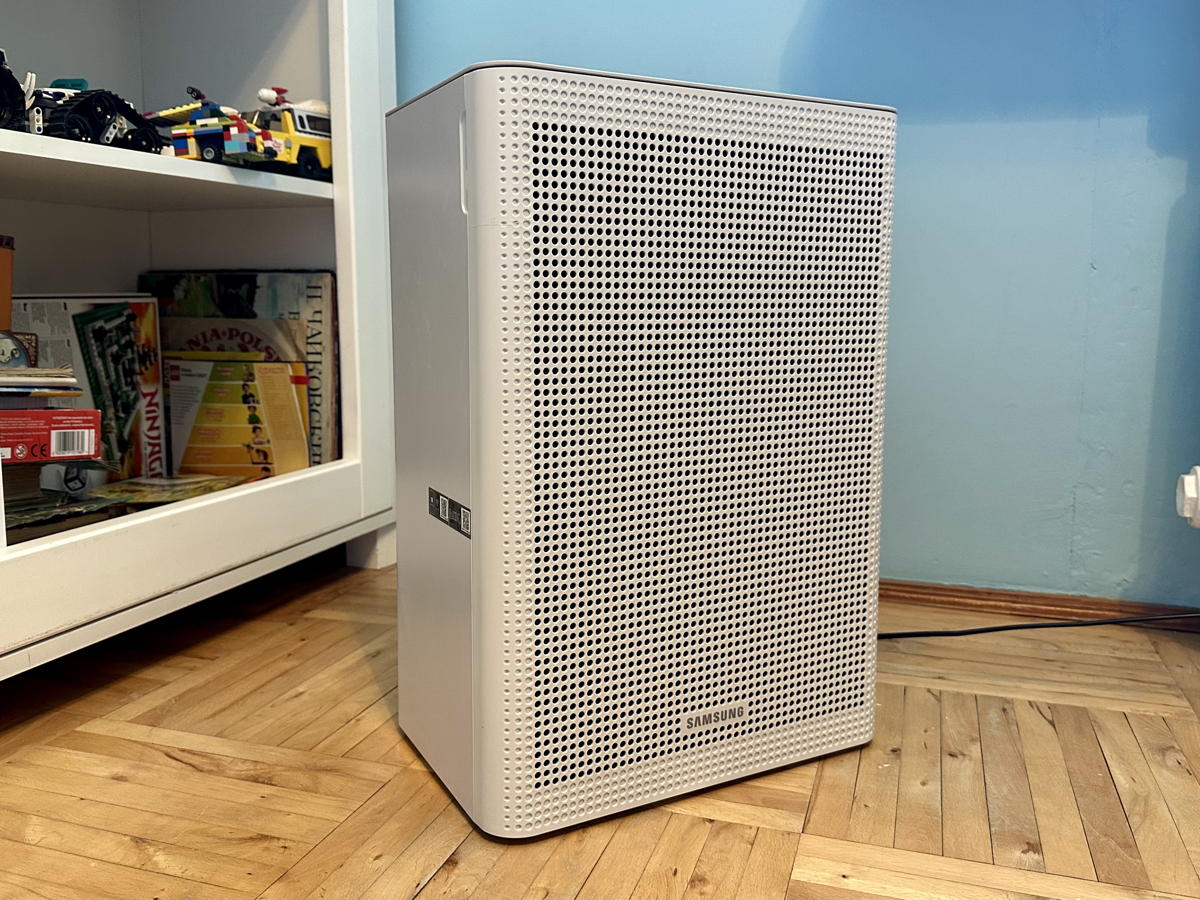 The advantage is the air condition sensor, thanks to which the device knows what power to turn on and saves electricity. There is also a night mode, in which Samsung AX32 is inaudible.
It is convenient that the purifier can be controlled from a smartphone via the Internet, and you can also set it to work on a schedule. The filters last for 6-12 months, depending on the intensity of cleaning.
Not a minus, but a nuance – the device is large and you need to decide whether you have a good place for it. It's also loud (especially in medium and powerful modes), but what can you do – it's powerful.
The downside is that the mobile app is not the most user-friendly, as you can't see specific data (in numbers) on air pollution. Still, the color indicators don't say much, but they are interesting.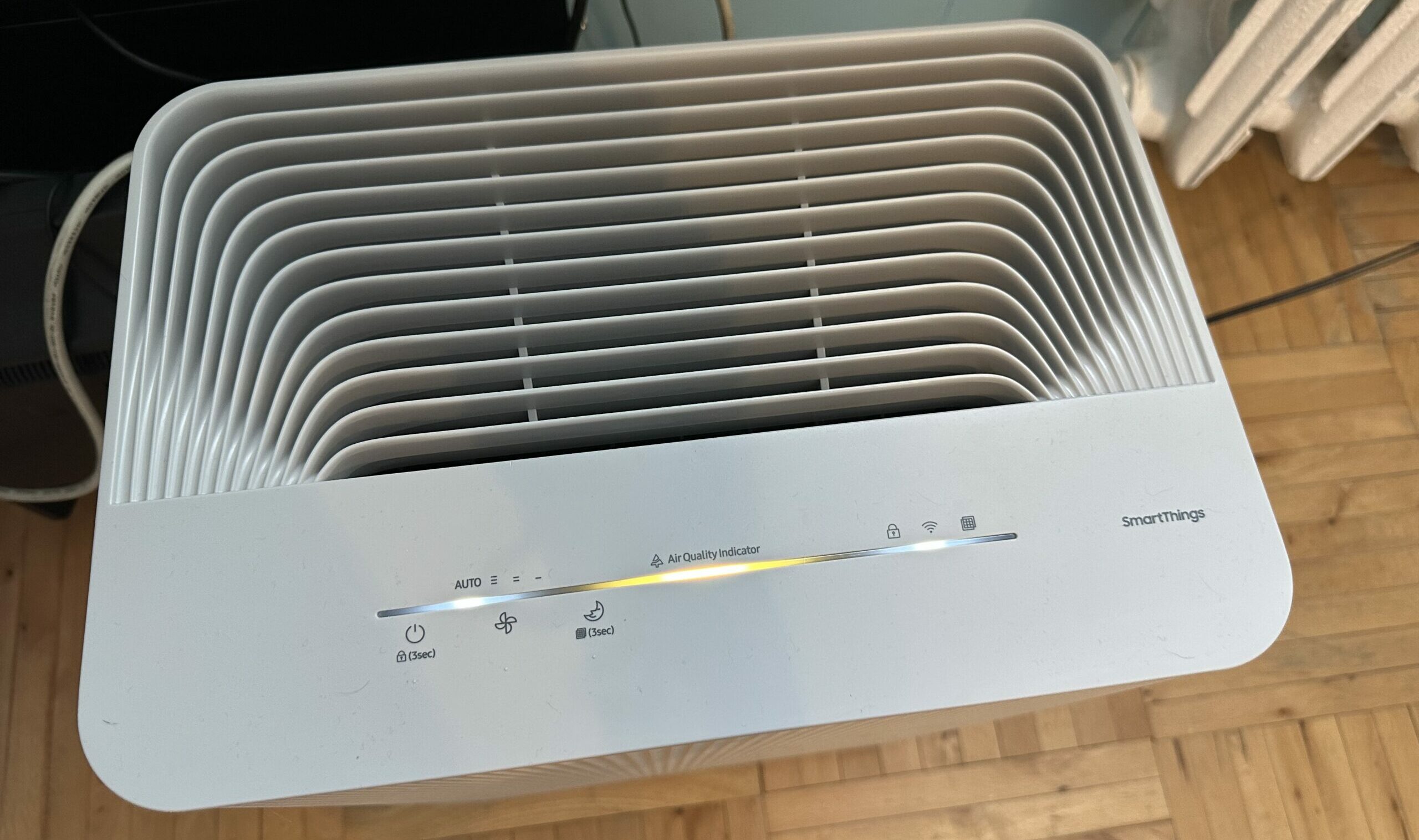 For all its advantages, the Samsung AX32 air purifier is relatively inexpensive, and you often don't have to spend money on expensive filters for it. We recommend it!
Read also: Samsung Galaxy Watch5 Pro review: the best among the best