With the new Galaxy Watch5 Pro, Samsung promises premium materials, double the battery life, exclusive features, and Wear OS 3. But what's the reality?
Usually, if someone wants to do their best, they don't actually do anything right. Obviously, Samsung took this as a challenge and asked me to hold its beer, because the Galaxy Watch5 Pro, at least in part, denies this saying. I must admit that at first I was a little skeptical about this watch. However, this feeling disappeared as I tested it and eventually turned into… maybe not delight, but recognition for sure.
Read also: Samsung Galaxy Watch4 Classic review: As classy as they come
What you should know before buying Galaxy Watch 5 Pro
The flagship version of Galaxy Watch5 Pro is designed for those who do not like compromises. Its appearance, case materials, features and functions, battery life – everything about it is premium, the most modern and best in the world of smartwatches.
Samsung Galaxy Watch5 Pro is compatible with smartphones based on Android 8.0 or later. In addition, such a smartphone must have at least 1.5 GB of RAM. iPhone users who would like to have Samsung's flagship watch will have to catch a break again, as WearOS still does not work with iOS.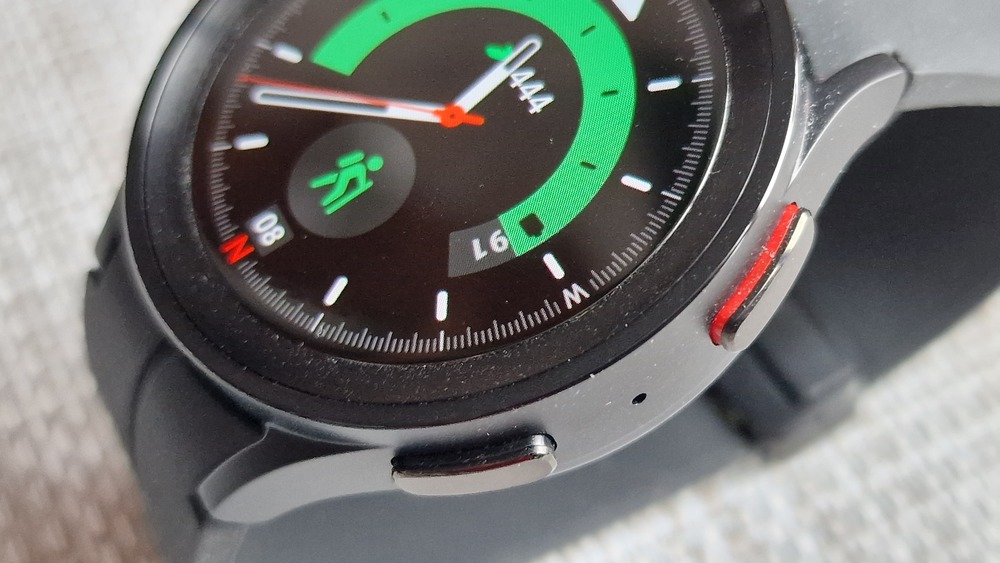 Owners of Android smartphones other than the Samsung Galaxy series should also be aware that they will not be able to use functions that require the Samsung Health Monitor app, such as ECG and blood pressure measurements. It is with the Korean manufacturer's smartphones that the smartwatch will reveal itself in all its glory. Of course, this is a somewhat strange decision from Samsung, but this is how they are trying to build their ecosystem.
As for the hardware specification of Galaxy Watch5 Pro, it is necessary to specify the processor, i.e. Samsung Exynos W920, as well as 1.5 GB of RAM. For storing files and installing applications, 16 GB of internal memory is available.
The watch has a 45-mm titanium alloy case. It weighs 46.5 g (the weight of the case itself) and is 10.5 mm thick. Full dust resistance and a high water resistance class (at the 5 ATM level) are confirmed by the IP68 standard, and durability is certified by the MIL-STD-810G certificate.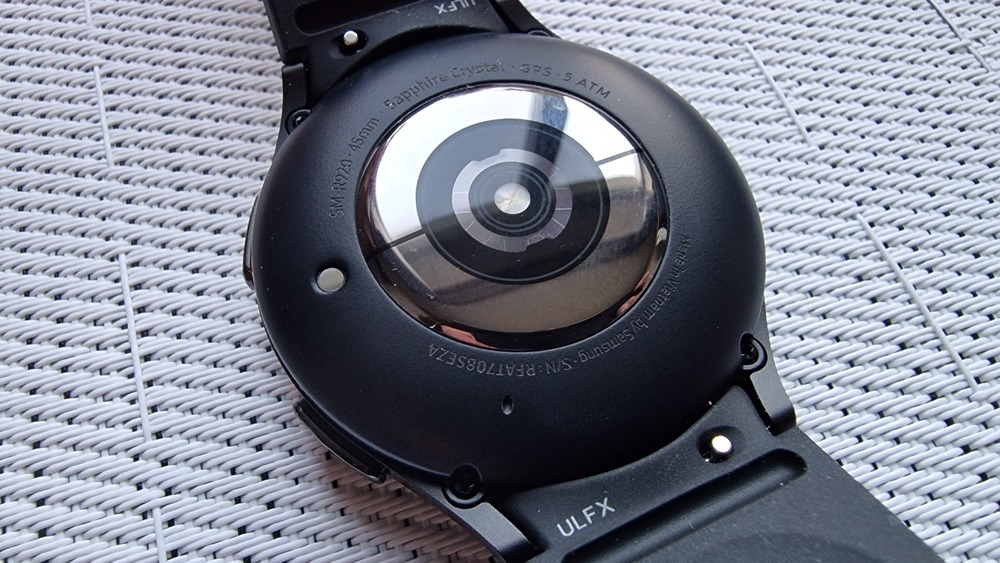 At the level of the smartwatch, we can, among other things, make phone calls, write or dictate text messages, launch navigation, make payments via Google Play, turn on the voice recorder, and view email. WearOS 3 also has the Google Play Store, which allows you to download and install third-party apps.
The best Galaxy Watch5 Pro ever released by Samsung can be bought at a recommended price of 17,999 UAH. To be honest, everyone expected an even higher price. On the other hand, the lack of a rotating functional bezel is surprising and is one of the rather unpleasant drawbacks.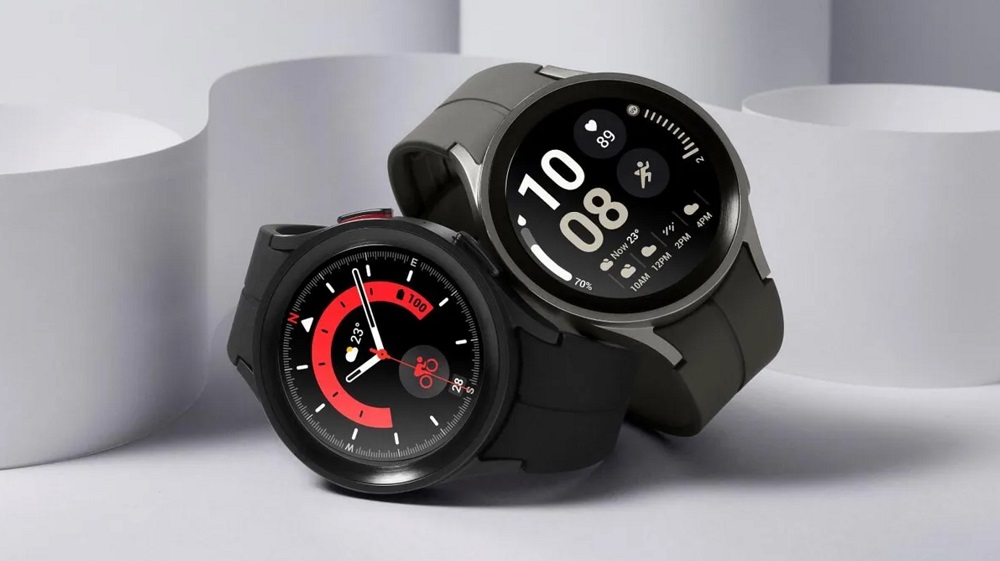 However, all the shortcomings are compensated by the battery, which allows you to use the watch for three to four days without recharging – a significant improvement over last year's version. Samsung Galaxy Watch5 Pro has everything you expect from an advanced smartwatch. Impressive functionality, very good build quality, a great Wear OS based on Android, and exemplary wearing comfort.
Read also: Samsung Galaxy A72 review: Getting Closer to Flagships
Technical specifications of the Samsung Galaxy Watch5 Pro
If you want to know more, here are the detailed specifications of the Samsung Galaxy Watch5 Pro:
Display: Super AMOLED 1.4 inches (450×450)
Processor: Samsung Exynos W920
Lithography: 5 nmCPU: 2×Cortex A55 (1.18 GHz)
Graphics processor: ARM Mali G68
Memory: 1.5 GB of RAM, 16 GB of permanent memory
Battery: 590 mAh
Wireless charging: WPC (up to 10 W)
Functionality: LTE (eSIM optional), Bluetooth 5.2, WiFi 4 (802.11n), NFC, GPS/GLONASS/Beidou/Galileo
Samsung BioActive: optical heart rate monitor (PPG), electrocardiogram (ECG), body analysis (BIA)
Certificates: waterproof (IP68 + 5 ATM), MIL-STD-810H
Operating system: WearOS 3.5 (OneUI Watch 4.5)
Dimensions: 45.4×45.4×10.5 mm
Weight: 46.5 g
Case materials: titanium, sapphire crystal
Color variants: black, gray
As you can see, Samsung focused mainly on a bigger battery and added faster charging. Other innovations are mainly related to software, although you should also pay attention to better materials. Nevertheless, the internal content has remained virtually unchanged, although, in fairness, it should be noted that smartwatches don't change as often as smartphones.
Read also: Samsung Galaxy Watch4 review: elegant smartwatch running WearOS
Package contents
In an elongated black box, I found the watch itself, instructions, and a magnetic charging stand with a cable ending in USB Type-C. This is a difference from the previous generation, which used USB Type-A.
However, the compatibility has been preserved. That is, if you have last year's Galaxy Watch4, you can also charge the new watch using the stand. But you won't find a charging adapter in the kit, as is customary now, so you'll have to use your own from your smartphone.
Read also: Samsung Galaxy S21 FE 5G review: Now definitely a fan flagship
Design and construction of Samsung Galaxy Watch5 Pro: titanium, sapphire and a giant battery
For a smartwatch, the Galaxy Watch5 Pro is quite large. The 45 mm case is really impressive. But if you assign it the role of a sports watch, then the dimensions seem quite adequate.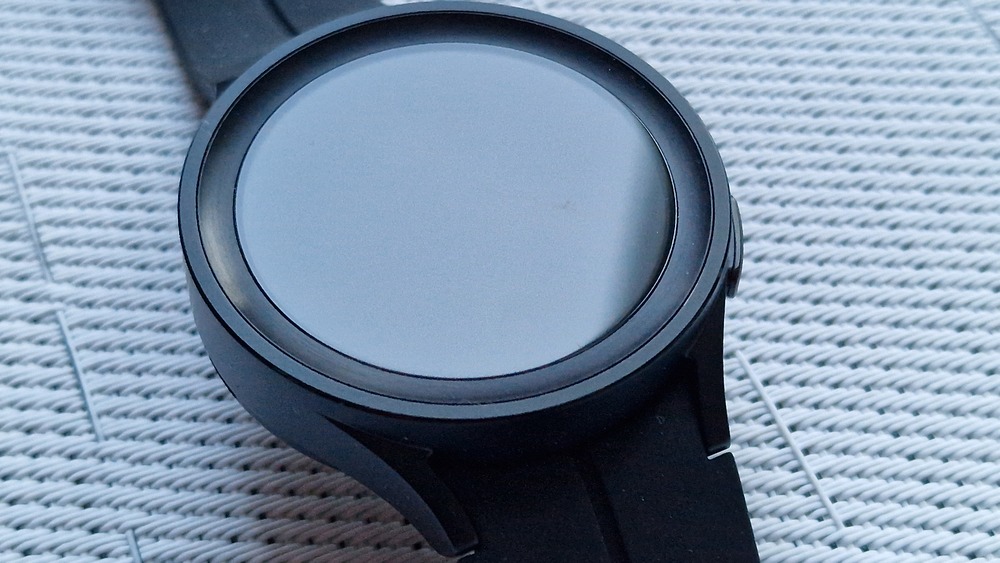 What do I like about Galaxy Watch 5 Pro? First of all, the quality of the case. The most impressive thing is the titanium frame surrounding the display. However, the fact that it protrudes above the surface looks rather peculiar, it looks a bit like an inverted bottle cap. However, it's easy to guess that this is a conscious decision aimed at additional screen protection.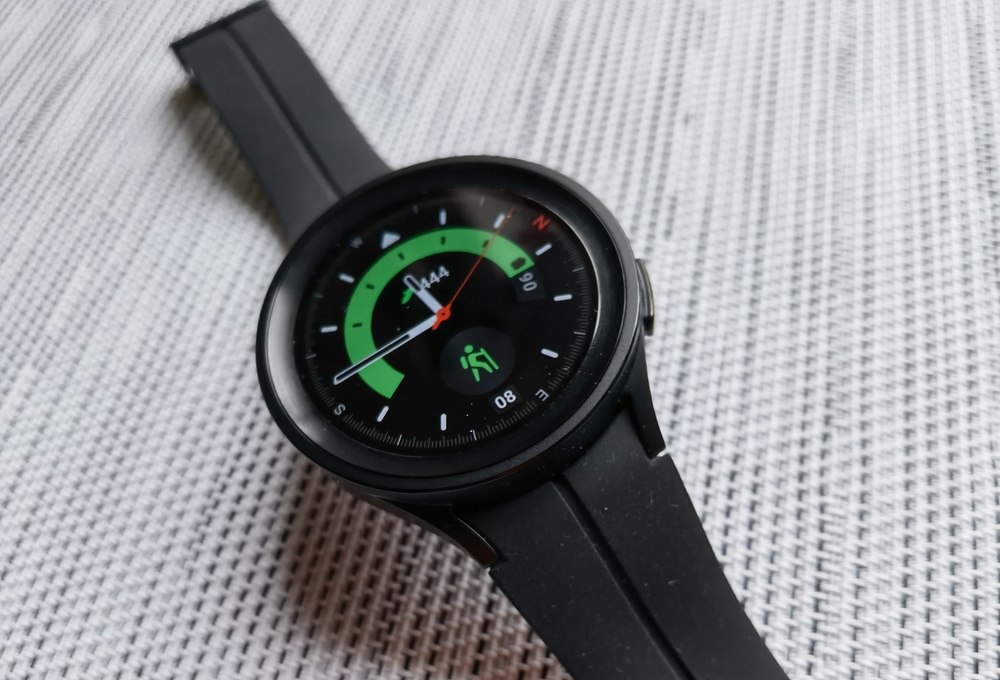 The sapphire crystal display glass has a Mohs hardness of 9. Thus, it provides 60% more hardness than the regular Galaxy Watch4 glass. The watch case is made of titanium, and the whole watch is of course waterproof, according to the IP68 standard, certified to 5 atmospheres and, accordingly, to the military standard MIL-STD-810G. Simply the best Samsung has to offer.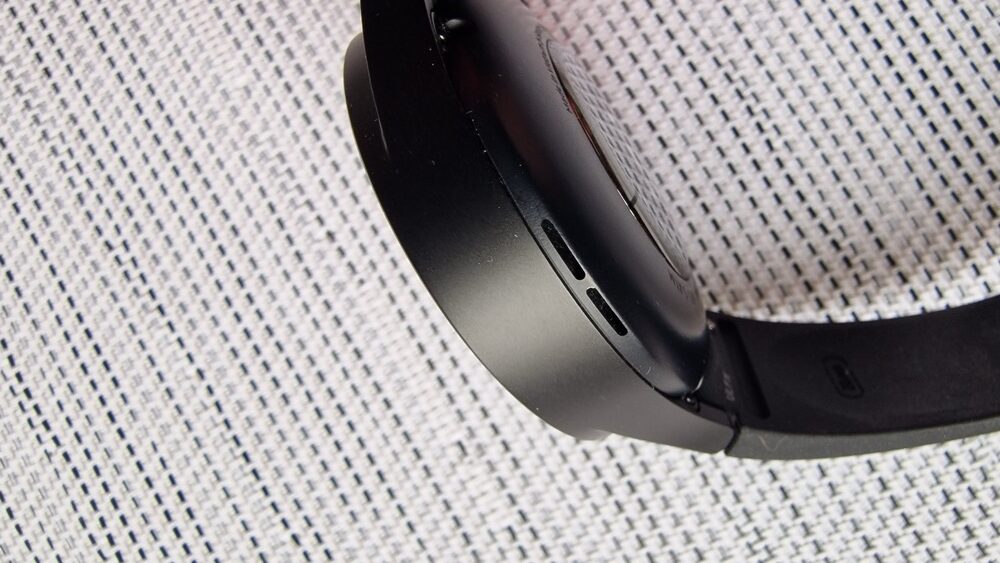 Although many fans of Samsung smartwatches will not like the absence of a mechanical rotating bezel, which has indeed been the hallmark of the Galaxy Watch for many years. Of course, the touch operation of the display significantly affects the aesthetics of the device. The Watch 5 Pro screen collects fingerprints no less than any smartphone. To keep the display clean, you need to have a cloth with you and spray it with a suitable liquid or foam from time to time.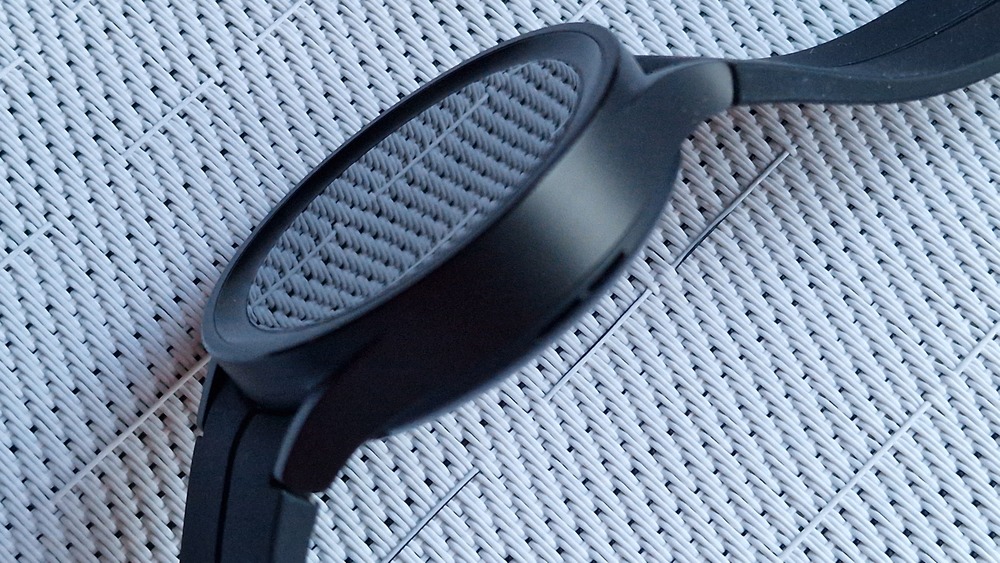 When I was familiarizing myself with the paper data of the smartwatch, I was afraid that the Galaxy Watch5 Pro would be too big and heavy. But you can rest assured. The dimensions are almost the same as the classic Galaxy Watch5 and smaller than the Watch4 Classic. All we know is that it is thicker and weighs 46 grams compared to the classic version, because we have a giant battery inside, by watch standards. Samsung claims that the Galaxy Watch5 Pro is only a millimeter thicker, but in practice, the difference is greater than that of the classic Galaxy Watch5. However, let me remind you that the weight of the hero of my review is even 5 g less than that of the Watch4 Classic.
I also have to say something about the design itself, although I would prefer to be careful here. After all, appearance is a matter of taste, and everyone has their own taste.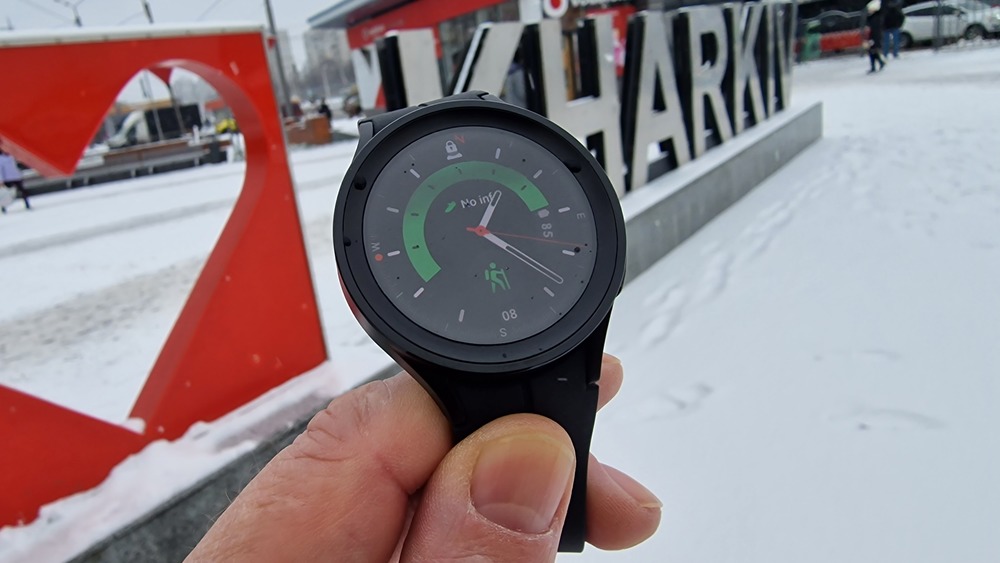 The watch looks elegant, neat, with a nice minimalism. But, as for me, well… I'm a little bored with this unisex style. I got the impression that Galaxy Watch5 Pro is trying to be both masculine and feminine at the same time, but it's not. It's more for men, because the size and weight are clearly not designed for fragile female wrists. However, objectively, it is difficult to consider this a disadvantage. From a business point of view, it's even an advantage, as the unisex format means more potential users.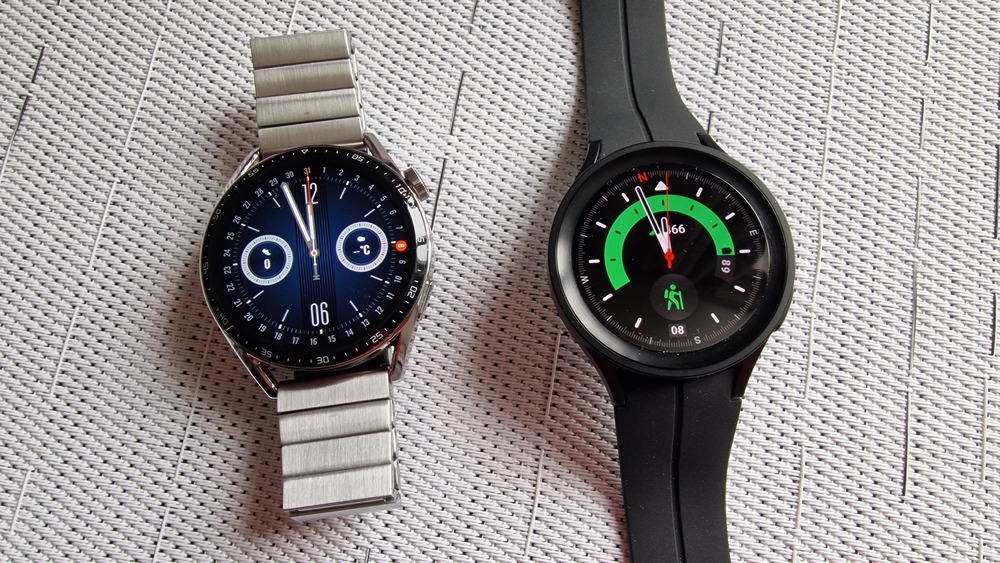 Read also: Samsung Galaxy Tab S7 FE review: Surprisingly reasonable compromise
It's inconvenient without a bezel…
As far as I could understand, this is probably the most common reason for complaints from testers and users of Galaxy Watch5 Pro. And I admit that I had to agree with this because I had enough experience with the Galaxy Watch 4 Classic to form my own opinion.
In any case, in Galaxy Watch5 Pro, you can't control the interface with a rotating ring. Instead, we get touch controls and two physical buttons on the right side of the case.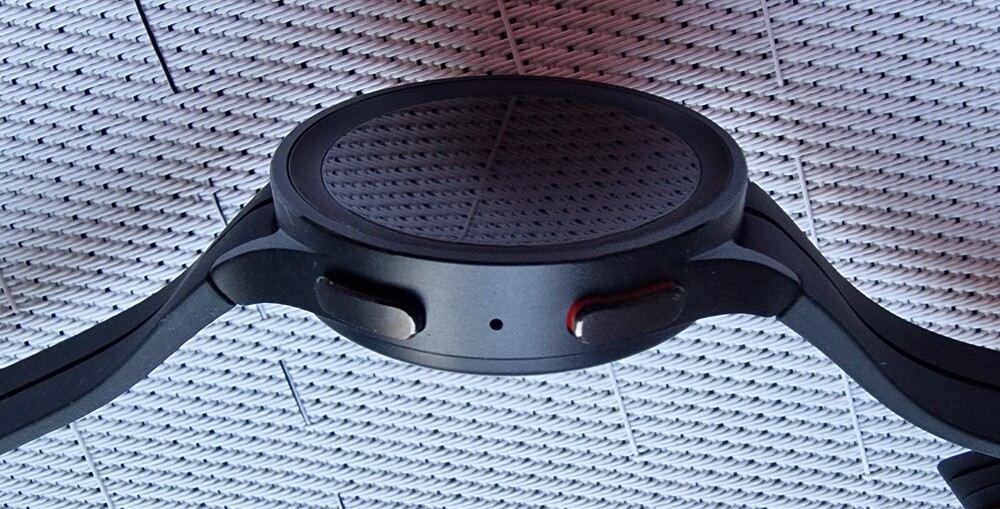 As I said, it's easy for me to compare both solutions and definitely choose the better one, but I'm not a fan of buttons, so I have to admit that the Galaxy Watch5 Pro's touch panel works surprisingly well. This is largely due to the system itself, which has been designed very carefully, so touch control is not a difficult challenge here.
Where did the idea of ditching the bezel come from? As the classic says: "I don't know, but I can guess". It seems to me that Samsung tried to make the Galaxy Watch5 Pro more slimmed down than its predecessor. This, in turn, means focusing on greater durability of the watch.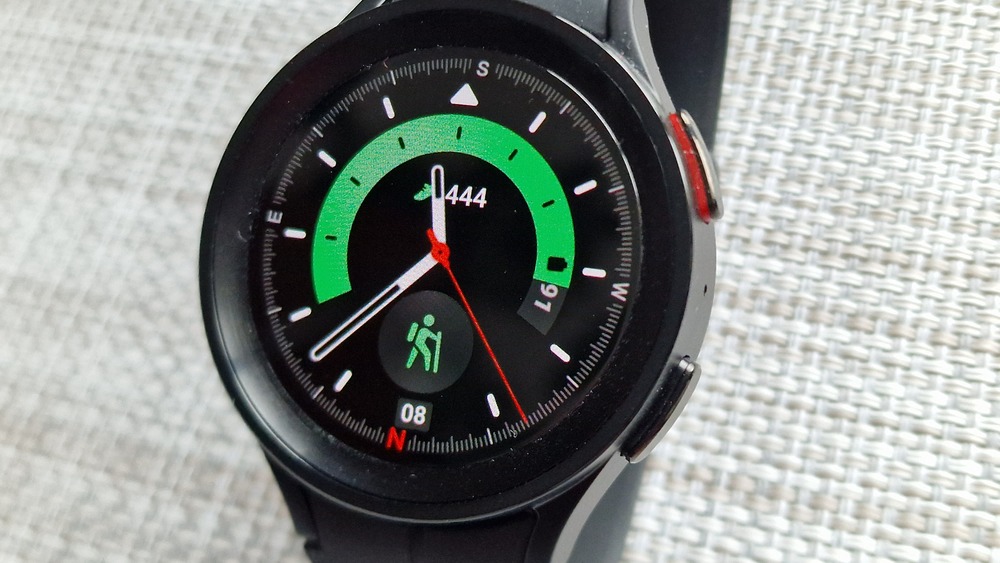 The movable ring, although easy to use, seems to be the weakest element of the design. All it takes is sand or dust to get into the mechanism, and what was an advantage a moment ago can quickly turn into a disadvantage. Abandoning the bezel and moving to a compact, tight and fixed design nips this type of threat in the bud.
Comfortable strap
You can buy the Pro version either in the classic black color, which I received for testing, or in silver gray. I would like to praise Samsung – the design is minimalistic, simple, thanks to which the watch goes well with the rubber fitness strap, and if you simply change the strap to leather, you can go to a business meeting, because it goes well with a business suit as well as with a fitness uniform. Again, the watch uses 20mm straps, so if you have a Galaxy Watch4, you can use the same strap, and there are many different straps available.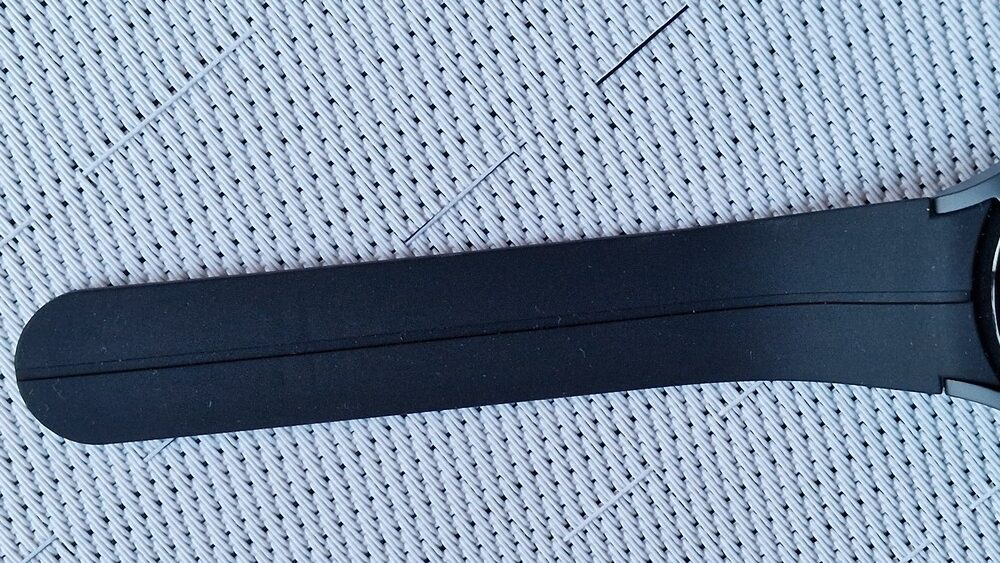 I received the watch with a brand new strap with no holes and a convenient magnetic clasp. It's incredibly practical, and I immediately got used to the convenient unfastening/fastening, with the watch firmly on my wrist and not coming undone during active exercise or while sleeping.
However, charging is a problem because with this strap, the watch cannot be placed on a wireless charger or power bank, for example. The only way is to charge via the included cradle or always remove the strap before charging, which is not very practical.
Read also: Huawei Watch 3 Pro review: premium smartwatch running HarmonyOS
Battery lasts longer than ever before
Galaxy Watch5 Pro has a really capacious (590 mAh) and efficient battery. At least compared to its less "packed" counterpart, the Galaxy Watch5, which the manufacturer equipped with a 410 mAh battery.
Samsung promises up to 80 hours of operation on a single charge in the technical specification. I was unable to get this result even when I played a scenario in which I did nothing with the watch except occasionally check the time. Although I must say that the Galaxy Watch5 Pro was constantly connected to the smartphone via Bluetooth, it measured my steps and sometimes my heart rate.
In any case, the maximum I scored was 71 hours. The result, as for me, is more than solid. Especially if you take into account the quality of the display, the premium functionality, and how the predecessors of the Galaxy Watch series looked in this regard.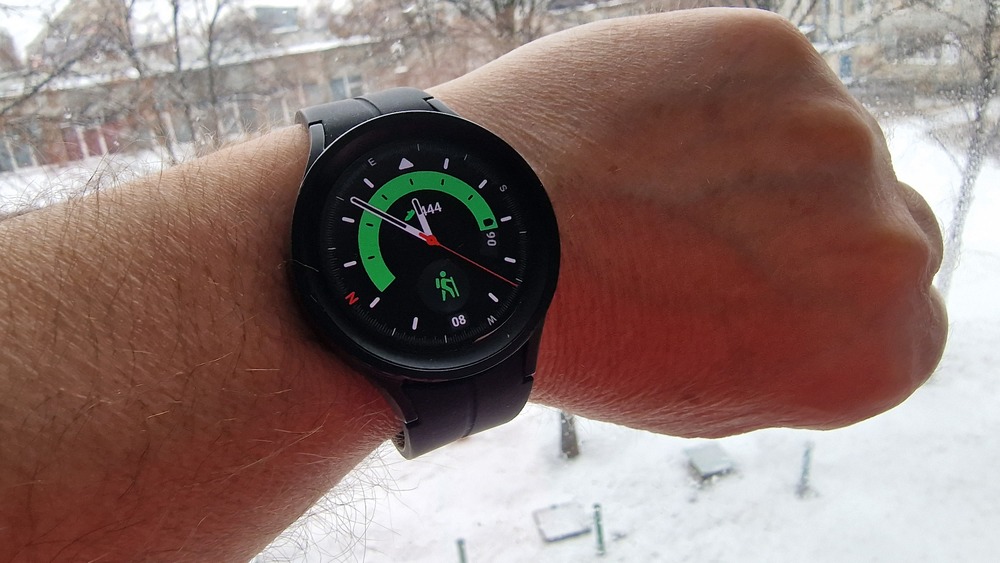 To be honest, I was most concerned about the battery life. I just can't imagine a watch that needs to be charged every day. I'm probably too lazy. Charging every three days makes a big difference in my case. I'm used to my Huawei Watch GT 3 lasting up to 7 days on a single charge. Moreover, during the periods when I used the Galaxy Watch5 Pro more intensively, the operating time on a single charge was up to 48 hours. And, for example, an hour-long cardio workout recorded by the smartwatch reduced the battery level by only 6%.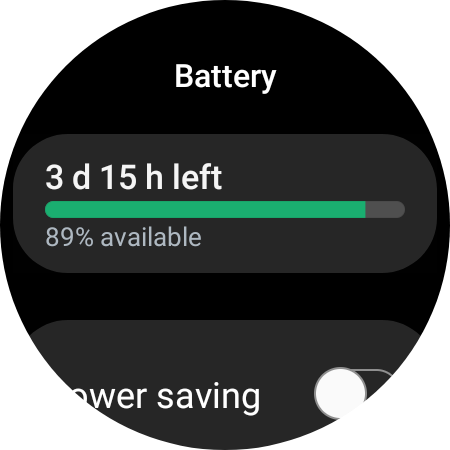 Interestingly, the watch needs several charging cycles to learn your usage habits. Only then does it optimize the battery to maximize its potential.
An undoubted advantage, but also an obvious one when we are talking about technology from this price point, is fast charging. However, if I had to be indignant about something, it would definitely be the charger. Or rather, its absence. The set includes only an inductive charging cable that connects to an energy source via… USB Type-C.
This can be a problem for many users. You will need to spend extra money to purchase one if your laptop or smartphone charger does not meet these requirements. A strange solution, but it is what it is.
Read also: Samsung Galaxy Z Fold3 5G review: Addictive foldable smartphone
Hardware: the same as last year
The internal hardware may be a bit of a disappointment, as it is almost identical to last year's models. In particular, I expected the introduction of a new generation processor that would be more economical and efficient, which would be reflected in better endurance. But once again, we have on board a proven combination in the form of a 5nm Exynos W920 processor with a Mali-G68 graphics chip, 1.5 GB of RAM and 16 GB of internal storage, of which approximately 8 GB remain available for your apps, music and pictures.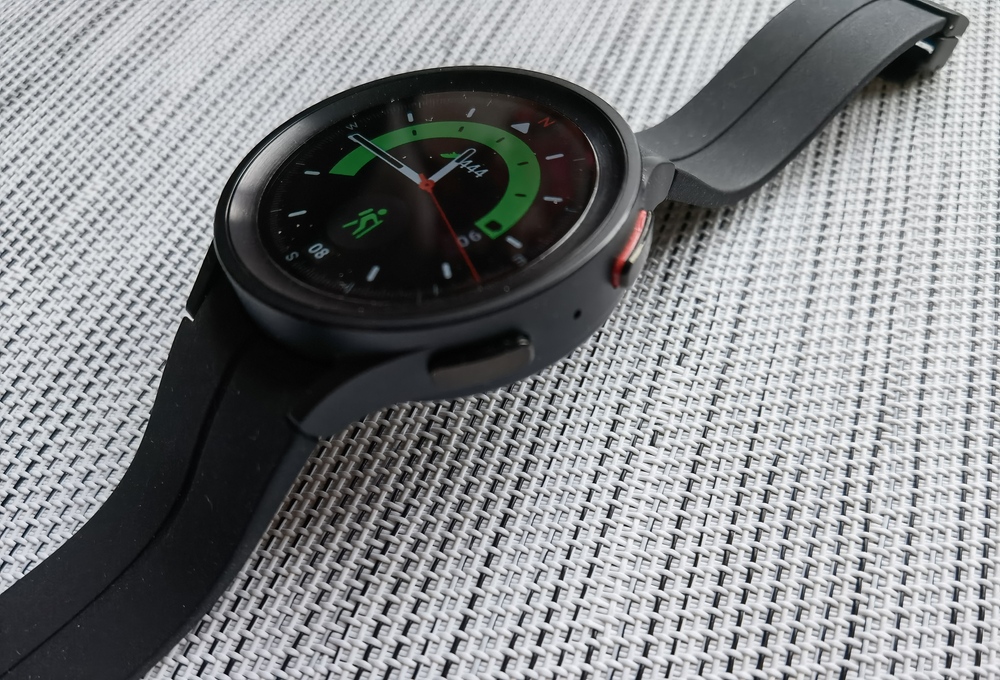 You can also choose between the Wi-Fi/Bluetooth version, which I had for testing, or the LTE version, which works with an eSIM, but is slightly more expensive. If you like to run or do other physical activities when it's better to leave your phone at home or in a locker in the locker room, I highly recommend the LTE version. You connect headphones to the watch, listen to music while running or working out at the fitness club, and someone calls you or you receive a message.
Read also: Choosing a Foldable Smartphone: Samsung Galaxy Fold vs. Flip – Which Type Is Better?
The Galaxy Watch5 Pro screen is phenomenal
One of the biggest advantages of Samsung's most powerful watch is the screen. Namely, the Super AMOLED touchscreen with a diagonal of 1.36 inches and a resolution of 450×450 pixels. Since pure data says little, I will rely on my subjective impressions. And they are almost 100% positive. Pixel density, detail, contrast, sharpness, color palette – everything is at the highest level. The display of Galaxy Watch 5 Pro is simply beautiful. Period.
In addition to the image quality itself, I really liked the automatic brightness adjustment. To be honest, for a while I didn't even notice it. The function works so imperceptibly and subtly that it is impossible to notice the moments when the backlight intensity changes. Most importantly, the watch always does it so well that I don't feel the need to manually adjust the brightness.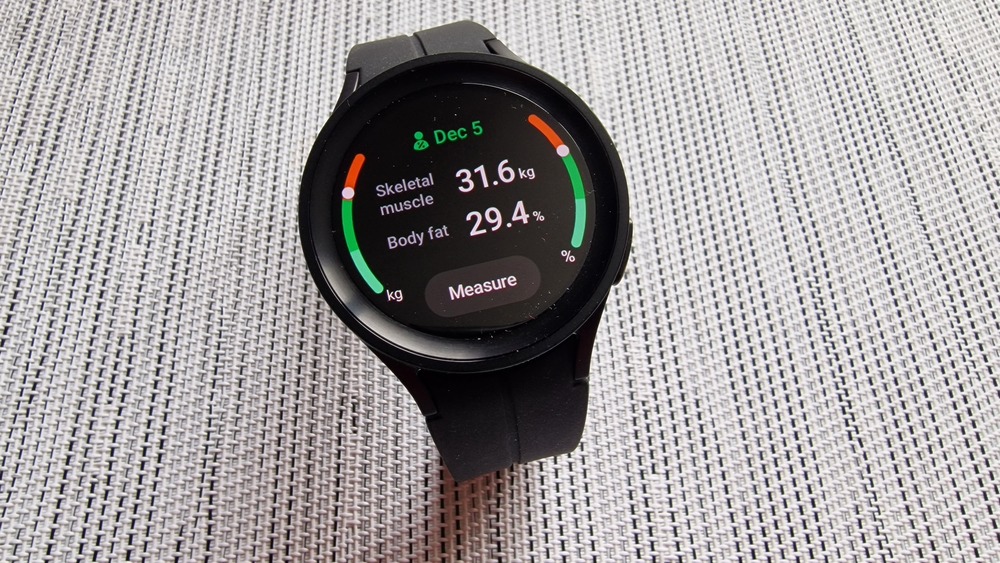 How is the display readable in different lighting conditions? When the watch face is inactive, you can even see yourself on its dark surface, like in a mirror. But when the screen backlight comes into play, the glare is either invisible or not annoying. Even when you use the watch in the sun.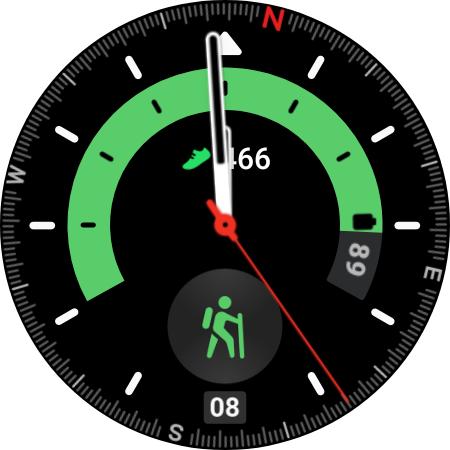 Always on Display function
If you activate this function, the watch face will be displayed continuously all the time, which is intended to make the smartwatch look like a classic watch. Of course, turning on "always on display" drains the battery faster, but we can replace it with waking up the screen with a wrist movement. The result is the same, and the second option significantly extends the battery life.
Read also: Samsung Galaxy M53 Review: Slim Mid-Budget Phone With Great Cameras
WearOS 3 finally looks noble
I'm really excited about the evolution that this system has gone through to look and work the way it looks and works now. Yes, it's really, really good. WearOS 3 with the One UI 4.5 update is a class act, from the transparency of the interface, to the smoothness of the experience, to the availability of external apps. First of all, the system is in perfect symbiosis with the device itself: its components, round screen, and touch controls.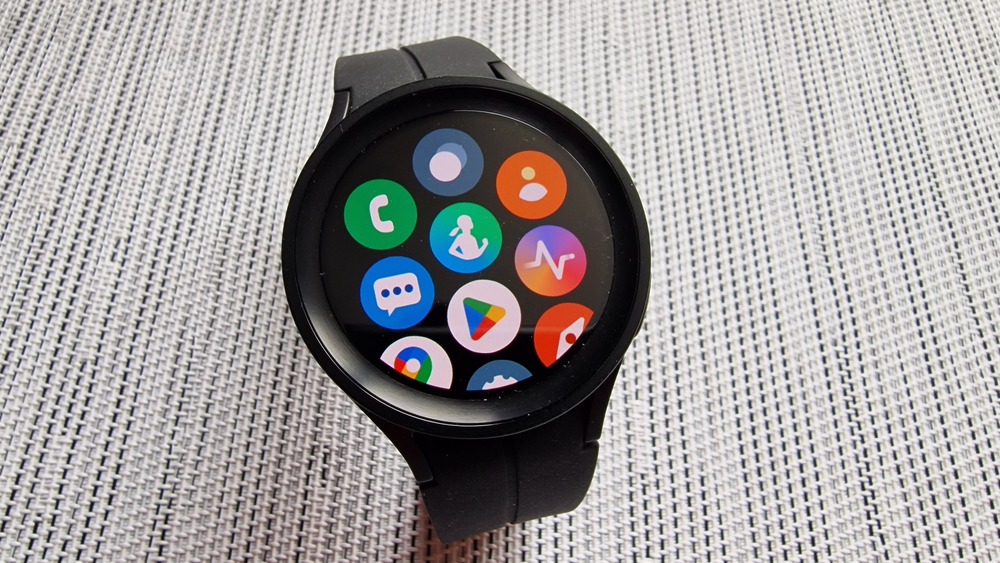 With Google's Wear OS, you can make NFC payments from your watch using Google Wallet, use Google services such as Maps, YouTube Music, or Google Fit, and of course download new apps from Google Play. In the app store, you can find, for example, Spotify, Shazam, Telegram, Outlook, LifeSum, and other fitness programs. However, the range of apps hasn't expanded much over the past year, which is a bit disappointing, and the selection of apps is much smaller compared to the Apple Watch. On the other hand, the notifications from all the apps work great, and you can not only read notifications and messages, but also respond to them in the form of quick replies, using the keyboard or, for example, drawing symbols on the display.
Google's Wear OS with Samsung's One UI is generally very smooth and fast. I like the sophisticated watch faces and the intuitive swipe interface, as well as the digital bezel. There are notifications on the left, a swipe from the bottom opens a menu with all the apps, a panel with quick shortcuts on the top, and a lot of widgets can be added on the right, which I really liked.
In addition to the calendar, weather, or various fitness features, you can add an App in the Air widget with an overview of your flights if you fly frequently, control Spotify, and more. Clicking on a widget will always take you to the appropriate app. In addition, you can customize the functions of the side buttons, for example, to activate payments, measure fitness activity, and more.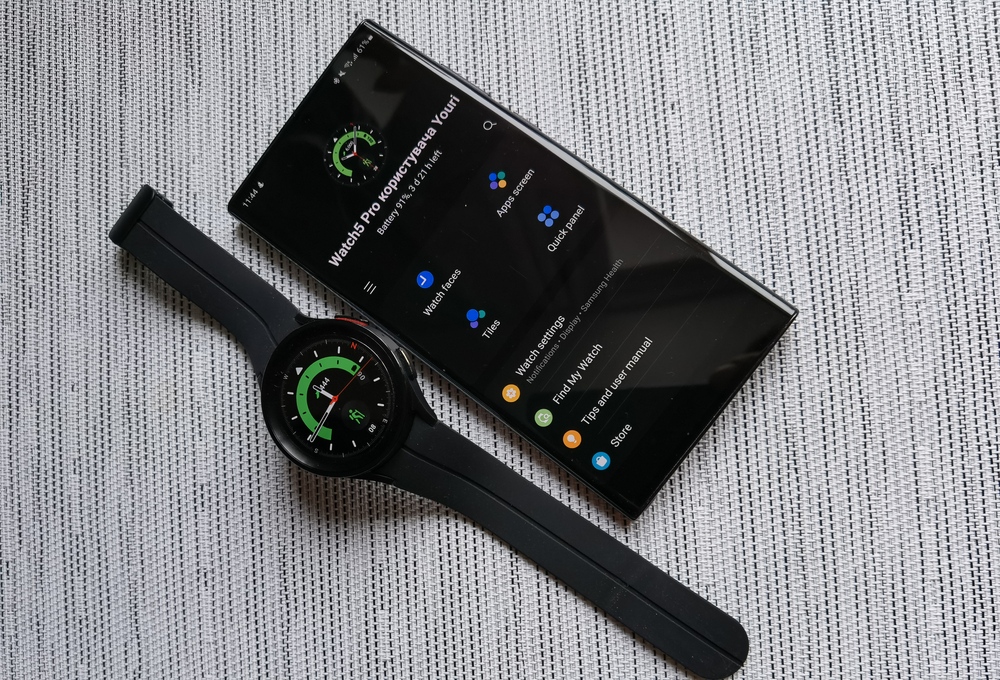 But the time has come to add a fly in the ointment. I will not hide the fact that I do not like the practice of creating artificial corporate "ecosystems", in this case, pressure on users to buy Galaxy smartphones. I don't have one, so I can't install the Samsung Health Monitor app, and without it, I can't use the ECG and blood pressure functions. And yet, as a potential consumer, I am obliged to pay full price for the watch, so it would be nice to have access to all the features. It's a good thing that Samsung Galaxy S22 Ultra was at the review, which helped to solve this problem and conduct a full-fledged testing of the watch's functions.
Galaxy Watch5 Pro- WearOS
I would not like to blame Samsung for anything here, because the Korean manufacturer is not the first and not the only one to use this practice. Well, this is the climate we have in the industry today. So either we adapt and buy – in this case – a Samsung Galaxy smartphone, or we will have to be satisfied with, say, 90% of the features provided by pairing the Galaxy Watch5 Pro with smartphones from other manufacturers.
Samsung Galaxy Watch 5 Pro: activity, health, and sleep monitoring
Sensors, graphs, apps, algorithms, monitoring, tracking, and more. The Samsung Galaxy Watch5 Pro has many tools that you can use to check your body, health, and condition.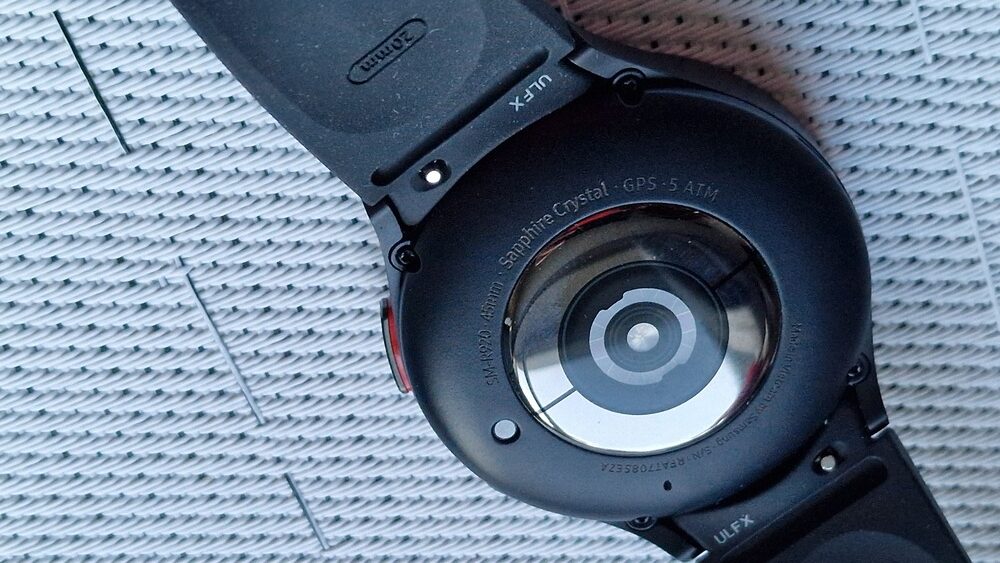 Sleep analysis on Galaxy Watch5 Pro
The first thing I should mention in the context of sleep analysis: The Galaxy Watch5 Pro has such a capacious battery that a person doesn't even want to take the watch off at night. I realize how grotesque this must sound, but I know how painful it can be to start the day with a dead battery in the watch or a notification that it needs to be charged. In the case of smartwatches from some manufacturers, unfortunately, this is the norm. Therefore, a big plus to Samsung for equipping the Galaxy Watch5 Pro with a capacious battery.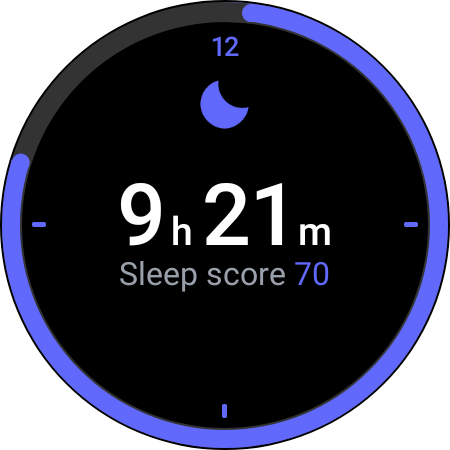 But let's get back to sleep and how the watch tracks it. In addition to the standard parameters available in many other devices, such as measuring the duration of surface, deep, REM sleep, etc., we also have a snoring detection function.
It works so well that I no longer have any arguments in my wife's defense. I can no longer tell her that she is making up horror stories about my snoring. Galaxy Watch5 Pro not only detects this uncomfortable condition, but also records it. For example, after one night's sleep, I had as many as ten audio files with the author's snoring symphony waiting for me. Listening to them was not very pleasant, because it made me realize that I have a problem that would be good to do something about.
After a few nights of sleeping with the watch on your wrist, the Samsung Health app will have enough data to offer you a sleep coaching program that provides you with practical tips to improve your sleep quality.
Read also: Which Lenovo earphones to choose in 2022?
With Galaxy Watch5 Pro, you'll feel… healthier
Let's move on to health tracking. Of course, Samsung notes that the Galaxy Watch5 Pro is not a medical device and this should be kept in mind. Nevertheless, the capabilities of the smartwatch are impressive: classic measurements of heart rate, stress, sleep, saturation, ECG, blood pressure, and body composition. They even promise that a thermometer for measuring body temperature will soon appear.
All of this is really good, and compared to basic devices, the indicators are adequate. However, it's one thing to get a result, it's another to understand it correctly, and here I have to praise the software that tells us at every step what we can do to improve our lives. Of course, in tandem with a smartphone that can even record how we snore at night. Sleep monitoring is good, although sometimes the indicators are far from reality, because almost every night the watch showed my blood oxygen level below 90%.
But I definitely have no complaints about the heart rate monitor, which recognized my heart rate very well both at rest and during exercise. I didn't notice any serious data distortion. However, I got the impression that Samsung could spend more time analyzing changes in heart rate during training. Although the monitoring is really good, any advice would be helpful.
Due to the fact that I was conducting research related to body composition at the same time, I could quickly link these results to those of the Galaxy Watch5 Pro. Of course, there are differences, but they are small, considering that we are talking about a smartwatch. They mainly boiled down to an exaggeration of the amount of body fat relative to bone mass.
Movement is health
We already know that the Galaxy Watch5 Pro can measure our body's vitals well, but it's time to get some exercise. After all, the Samsung smartwatch in question not only looks good, but is also designed for more challenging tasks than a candlelit dinner. Theoretically, there are more than enough training modes, because Samsung Galaxy Watch5 Pro has more than 90 of them. Theoretically, because although most of them are interesting and useful, they are not stationary workouts. In the gym, we mostly find out how long we've been working out and what our heart rate is, but to know the number of repetitions or other details, we need to leave the Samsung ecosystem and find another app. However, walking, running, cycling work great, especially since they are automatically recognized.
The GPS module also works very well. It quickly picks up the signal even without a network connection or smartphone. The subsequent analysis of the saved route also corresponds to reality, so I won't complain about the accuracy. Just like the number of steps, this indicator was the same as with other sports bracelets or watches. I compared it with Huawei Watch GT 3, and the indicators were almost identical.
Watch5 Pro_Samsung Health
One of the novelties of the Galaxy Watch5 Pro is the support for GPX files, that is, the ability to prepare your own route and upload it to a smartwatch, which will subsequently guide you along this route. However, I must admit that some competitors have this functionality implemented a bit better. In addition, I either didn't notice or simply don't have such features, but everything is limited to mountain hiking or cycling. Running is missing. However, if you manage to download the necessary files and start navigating, everything works very well and accurately.
A great watch for those who are serious about themselves
The Samsung Galaxy Watch5 Pro is a really good smartwatch, which may not be the cheapest, but its price looks quite favorable compared to competitors.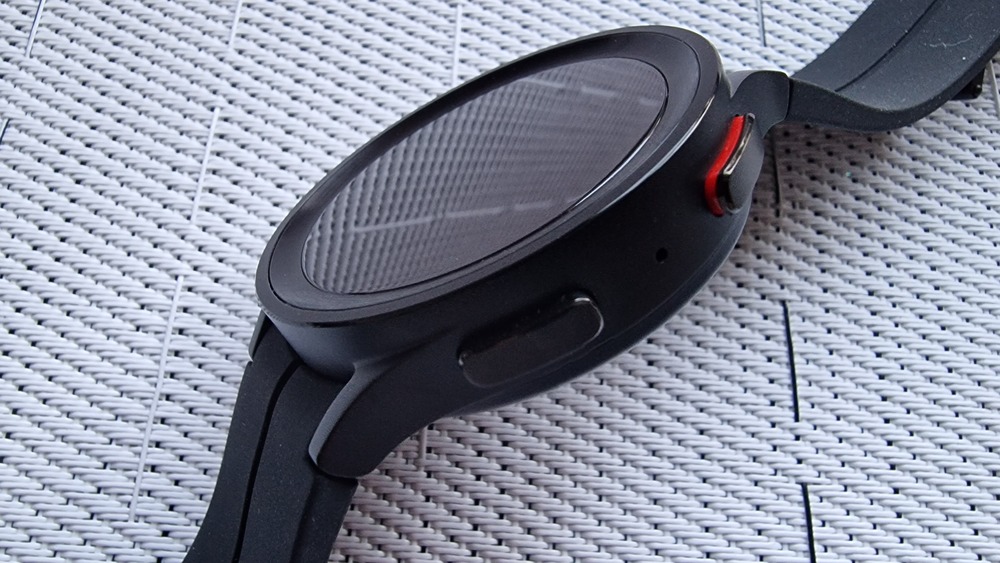 The watch is well thought out and assembled, looking attractive both visually and in terms of functionality. WearOS 3 with the One UI 4.5 update works flawlessly, and at the same time is a platform open to external software. Smart features also work flawlessly, and the Galaxy Watch5 Pro often even allows you to forget about your smartphone. The entire fitness suite of the watch is very well designed, although not perfect, but it will work well when tracking a surprising number of workouts and activities. The screen is phenomenal, the battery is more capacious than the Galaxy Watch4 Classic.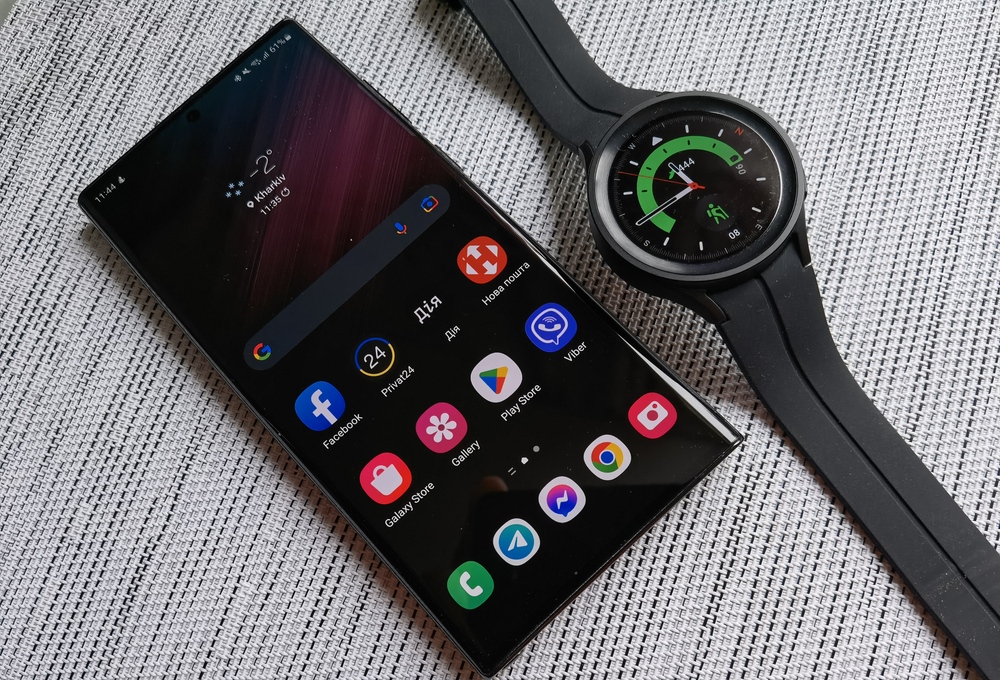 However, we should remember that the Galaxy Watch5 Pro will give us the most if we pair it with a Samsung smartphone.
Considering how much this smartwatch has to offer and how it looks, the price no longer seems too high as it seemed at first glance, especially when compared to competitors. And although it fell just a little short of the maximum score, I recommend the Galaxy Watch5 Pro with full conviction and a clear conscience.
Read also: Huawei Watch GT 2 Pro smartwatch review: Live It Like a Pro
Advantages
excellent workmanship
high-quality case materials
the ability to control by touch or with an electronic bezel
water and dust resistance according to the military standard MIL-STD-810G and IP68 certification
Super AMOLED display protected by durable Gorilla Glass DX
many functions and sensors for measuring the state of the body
music control, the ability to send SMS directly from the watch
built-in GPS, a large set of sports functions to choose from
WearOS with the ability to install programs from Google Play
contactless payments via Google Pay
excellent price-quality ratio
improved battery efficiency
Disadvantages
charging could be faster
incompatibility with iPhone
slightly thicker and heavier than the Galaxy Watch4 Classic.
Read also: