You might think that it's easy to make a good modern PC tower case. We need smooth metal without sharp corners, enough space inside, a bunch of fan slots, a glass side plate and RGB. Such cases are usually very expensive, although they are the last thing that needs to be changed in the computer when upgrading. Fortunately, AeroCool Scar RGB is affordable and satisfies most of the typical consumer needs.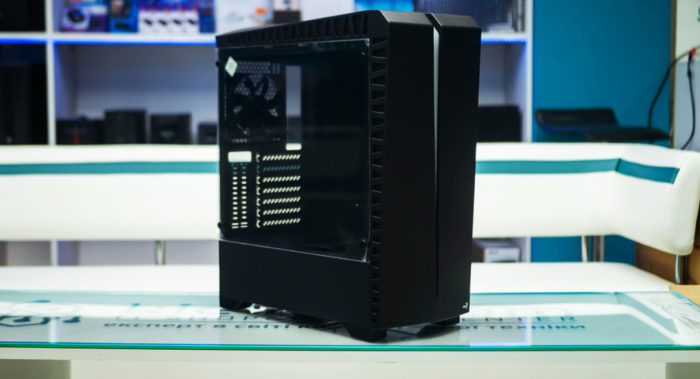 Market positioning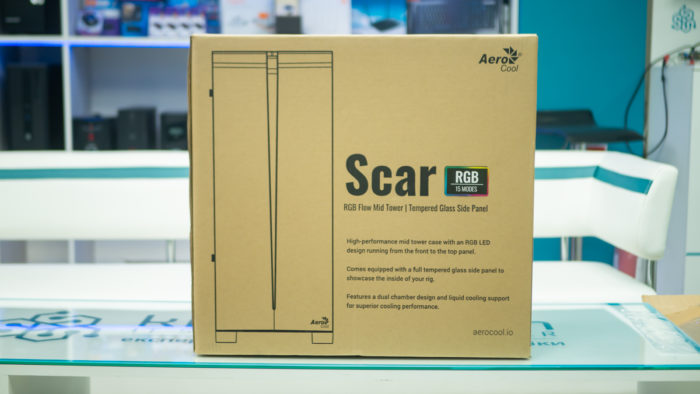 The price tag for AeroCool Scar RGB is about $80. It has enough competitors in this range, like NZXT, 1st Player, Thermaltake, and CoolerMaster. It is interesting to see how AeroCool will compete with them.
Appearance and elements configuration
The case comes in a classic box, packed in foam. We get it out, check the integrity, evaluate its appearance in all its glory. Mid Tower form factor, ABS materials and 0.6 mm thick SPCC steel. Dimensions: 210 x 519 x 445 mm, weight – 6.3 kg.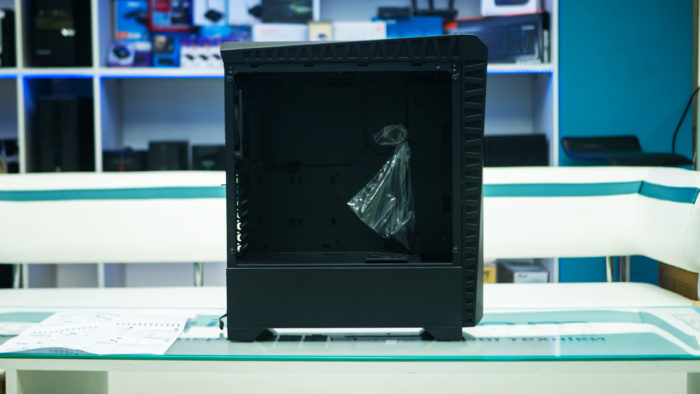 The build quality is good, the case is sturdy and monolithic. It is symmetrical, with the exception of a transparent glass panel on the left, and on the right we have steel. A wide, milky-colored incision is seen from the front, going from the bottom to the lid itself. At the very bottom front we have a small AeroCool logo.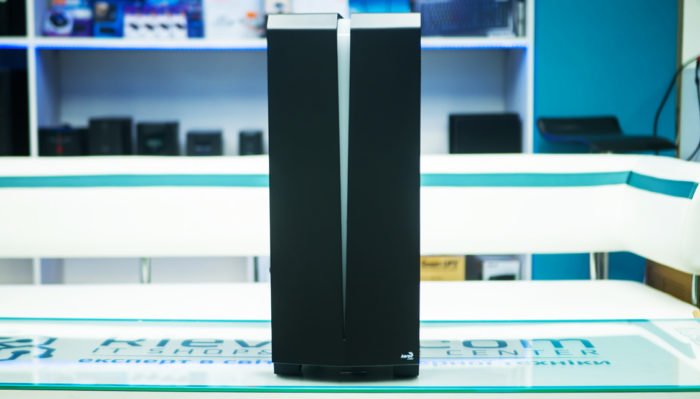 On top of the lid, on the sides, are the control buttons, as well as mini-jacks and FOUR USB, two of which are USB 3.0. Three buttons, including power, reboot and a dedicated RGB switch. And two indicators – power and HDD.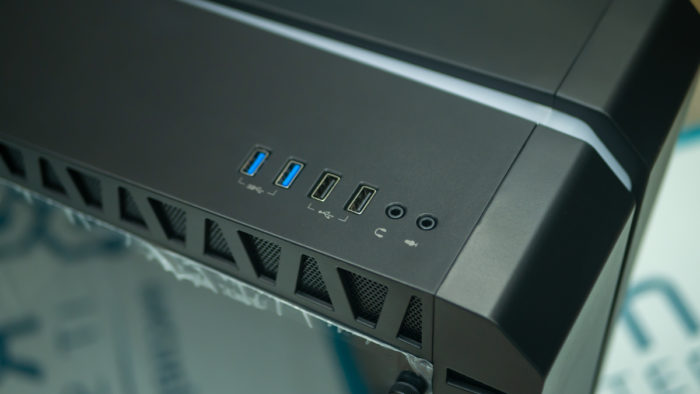 The structure of the air intakes immediately stands out. Since the panel is monolithic at the top and front, for an improved airflow the housing has openings covered with filters along the entire perimeter! Plus, the top and front covers can be removed quite easily, which simplifies both cleaning and installing stuff.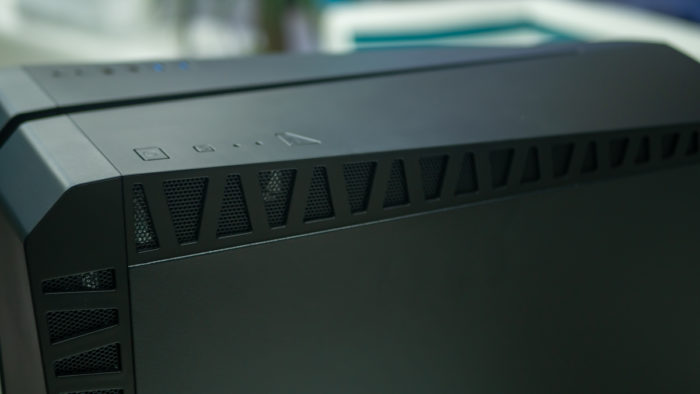 Internal slots and mounts
Initially, there's only one fan (at the back), but it's 140 mm, and on top there is a place for two 120 mm, and in front – for three 120 mm or two 140 mm. The case is also compatible with ATX format power supplies and motherboards from ATX to mini-ITX.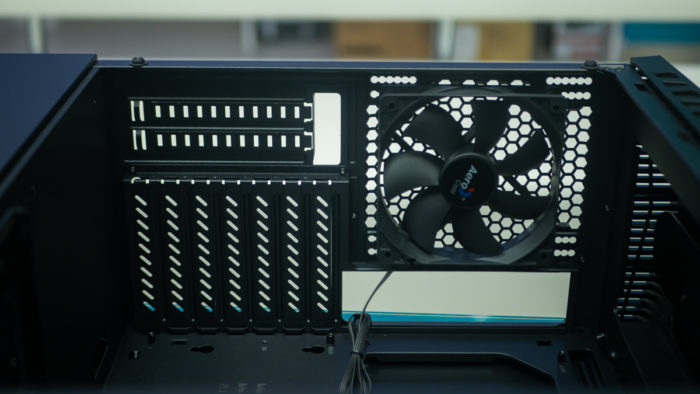 Inside is still a lot of good things. There are two 3.5" HDD slots, four 2,5" drive slots. You can also install a 2.5" drive in one 3.5" slot. Expansion slots: 7 + 2 pieces, the maximum length of the video card is 382 mm, excluding the front fan. On my own, I'll say that 3.5" slots are not enough for me personally, because of the need for mounting, but taking into account the cheaper SSD, this is normal for a gaming.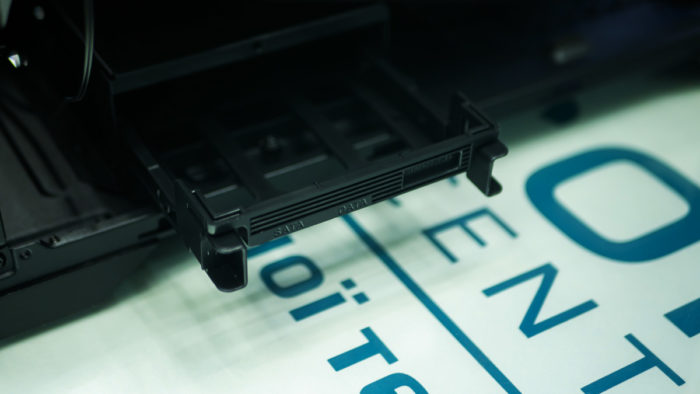 Power supply unit compatibility
It is generally pleasant to assemble the system in this case. The place under the power supply is covered by a shield, and the only question I had is why install 3.5" slots under this shield so that they interfere with the PSU installation? For example, Vinga VPS-1200Pl, the ATX model, squeezes into the case by itself, but, for example, even with a PCIe cable connected, it no longer fits.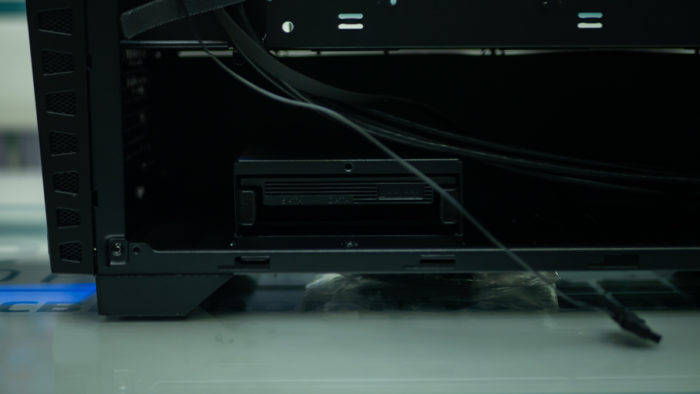 And yes, I know that the 3.5" bay can be unscrewed and removed to install large power supplies. The problem is that you can't screw it back on – cables will interfere. And if the case forces you to choose between a hard drive and a large power supply, I have questions. And the main question – why not move the compartment slightly to the side, literally a little to the left? After all, there is still space there! Or just make additional fastenings so that the compartment can be moved.
Other nuances
The cable management in AeroCool Scar RGB is handled by Velcro fasteners under the right cover – and although I would like to have rubberized plugs, I understand that this is still a sign of a premium case, and we have here a mid-budget. And they obviously didn't save on the most important things – in particular, an excellent dust filter was installed at the bottom for the power supply.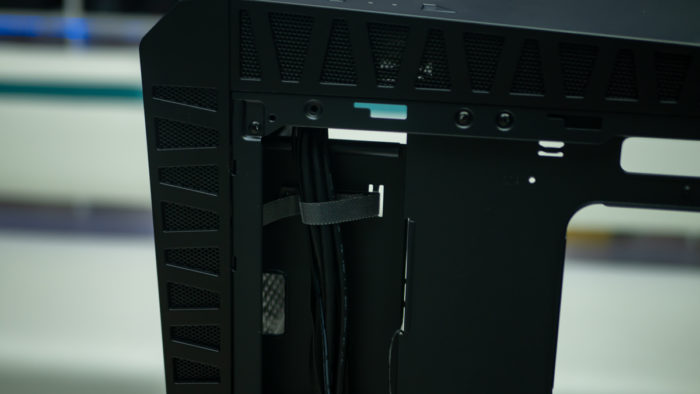 Of course, immediately after acquiring the case, I recommend buying at least one fan for it, since the 140 mm model, although it's great and pre-installed, can't cope with it all. Put another valve in the front, and everything will be just dandy; at least there are more than enough air intakes.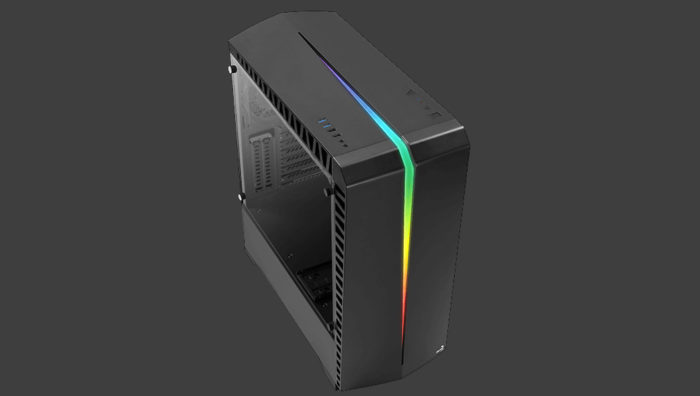 And there's also a backlight. There's no synchronisation with Mystic Light or AURA RGB, but there are 15 backlight modes with control via a separate button. And it seems to me that a huge incision along the entire case in itself will be a weighty argument for most potential buyers. AND YES, the backlight CAN be turned off. To do this, just hold the LED button for two seconds. This is especially important for people like me.
AeroCool Scar RSL Case verdict
Except for some odd moments, I personally liked the case. While the remaining eighty-dollar players offer RGB fans and glass panels, our hero is fairly simple, with RBG. In general, a very interesting option. And very original.
Subscribe to our accounts: