Do you know what terrified me when I started looking for the price of a Apacer AS2280P4 drive with a capacity of 480 GB? I was terrified by how cheap it is. I constantly, without stopping and taking a break, write about drives, and yet the prices still surprise me.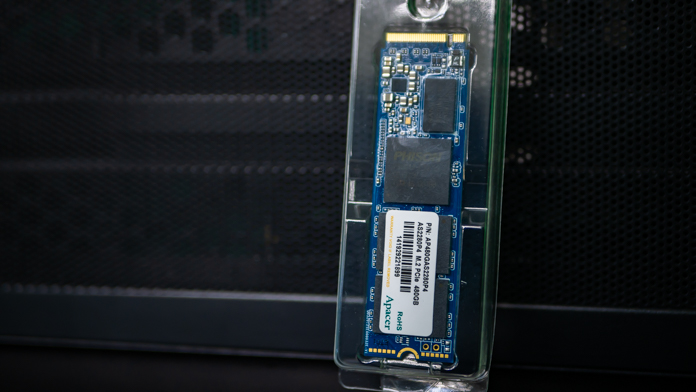 Market positioning
About $83. For half a terabyte of the best mainstream speed. $80 is a cost of a good 2 terabyte hard drive. That means that super-speed memory is now only four times more expensive than a hard drive! I remember when the multiplier was 10 or more. In other words, wow.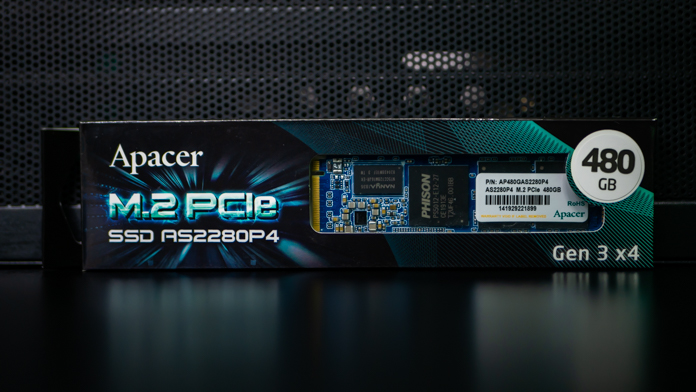 By the way, we also tested a predecessor of this model, AS2280P2.
What's in the box
Apacer AS2280P4 480 GB NVMe SSD comes in a simple package with a blister. This model is without a radiator, and to install it you have to say goodbye to the sticker on the memory chips. Although I will not insist on my assumption since I didn't check it personally.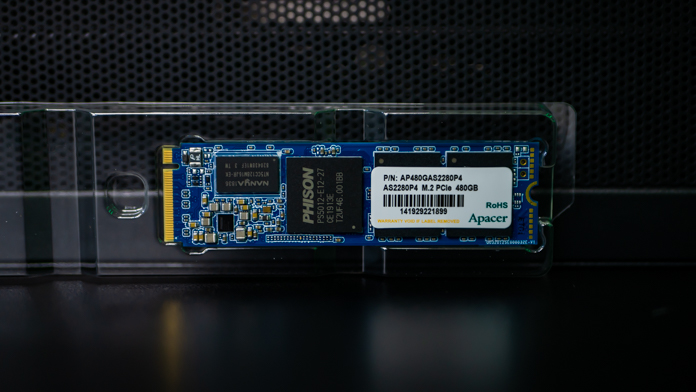 External Inspection
The drive looks like any other inexpensive PCIe. Textolite in lapis lazuli, M key, 2280 form factor.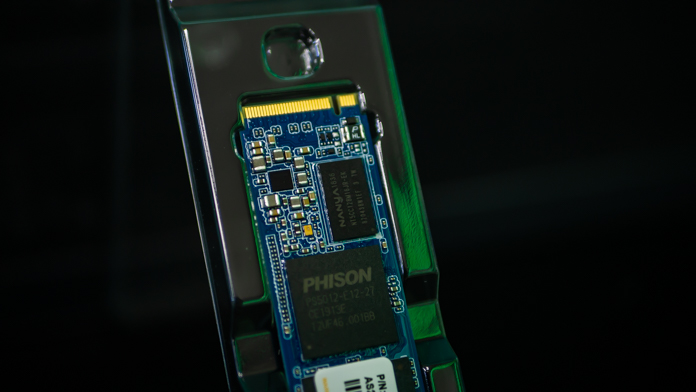 All chips are on top, the lower part is empty.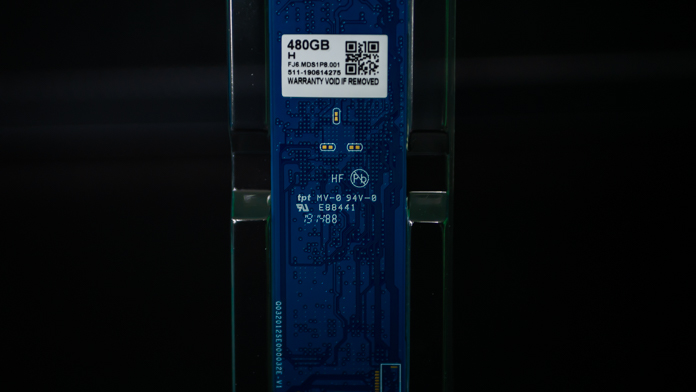 Now in more detail. Phison PS5012-E12-27 is a very old controller, shown back in 2018, but it has not lost its relevance to this day. It is dual-core (28nm cores from TSMC), supports a bunch of encryption modes like AES-256, Opal and Pyrite, and also works with DDR3L or even DDR4 cache.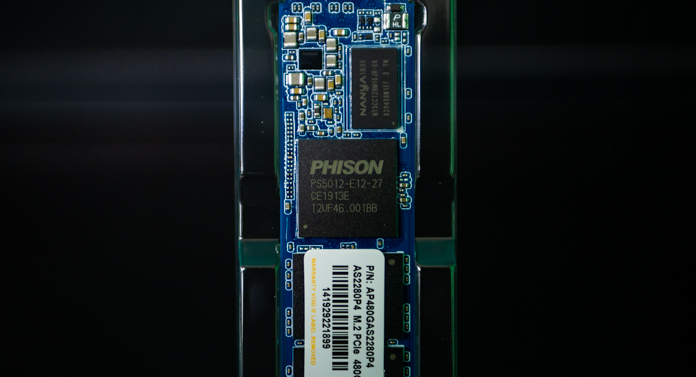 The cache is Nanya NT5CC128M16JR-EK chip, 128 MB DDR3L with a frequency of 1866 MHz.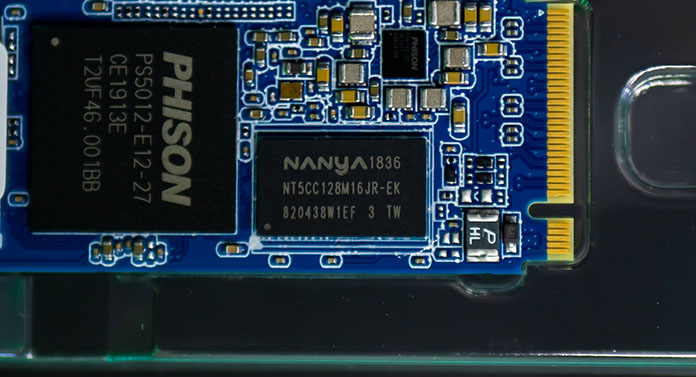 The main memory of the drive is 3D TLC NAND, with a total capacity of 480 GB. There are a pair of chips, so I guess they are 240 GB each.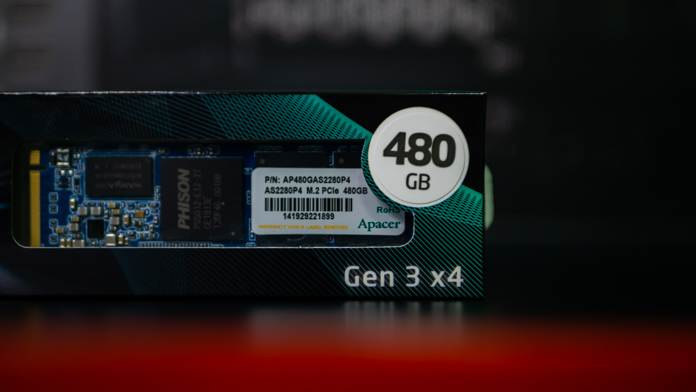 Technical specifications of Apacer AS2280P4
Apacer AS2280P4 supports sequential read/write speeds of 3200 and 2000 MB/s for reading and writing, respectively. This, however, is a half terabyte model. There is also a 240 GB version, which – despite the alleged preservation of the NVME standard, and X4 – is half as fast.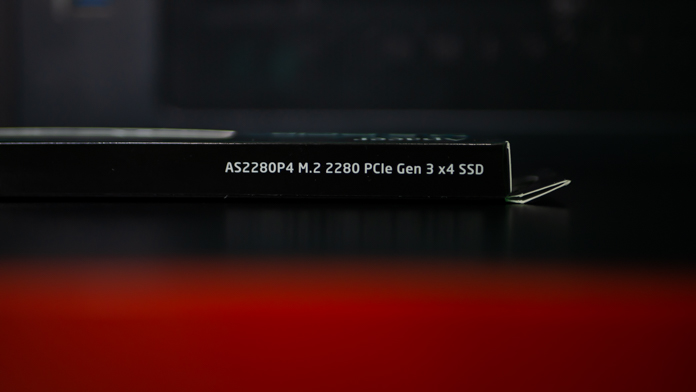 According to other characteristics, IOPS is up to 360,000 in 4 KB blocks, mean time between failures is one and a half million hours. You get three year warranty.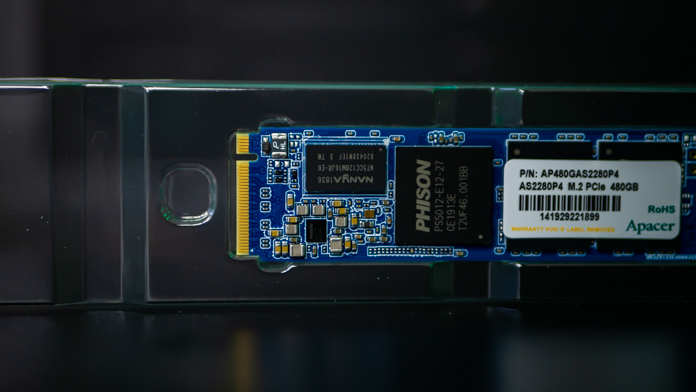 Usually I don't care, but the drive is backwards. At least in the system on which I tested it (ASUS TUF B450 motherboard), the drive is installed upside down in the M.2 slot, which is why it is necessary to turn it over in the slot. I don't know, maybe other drives are the same.
Test results
I tested the drive with AMD Ryzen 5 3600 processor and an ASUS TUF B450 motherboard. After initialization in the system, from 480 GB, 457 845 MB remained.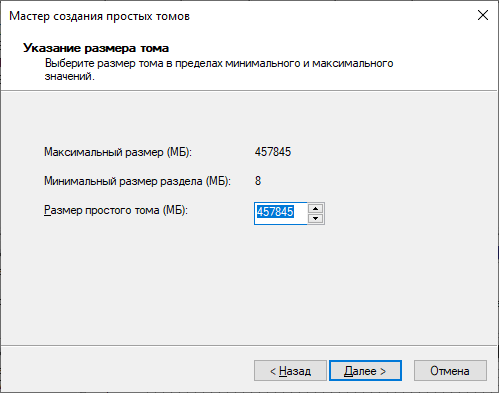 We honor the fallen in battle with the conversion of megabytes with second of silence. Now, the results:
The claimed 3500 MB/s and 2000 MB/s never appeared in CrystalDiskMark 6.0.2, where the reading speed turned out to be literally 50 MB/s slower, and writing – a whole hundred megabytes faster. What a mess. In other benchmarks, you see the results for yourself.
Real copy speeds were interesting. When copying a 10 GB file from Apacer AS2280P4 to the system drive, we see a noticeable speed drop to 178 MB/s after about half of the downloaded data. The speed of receiving was stable 500 MB/s, but since the system drive turned out to be a SATA SSD, this is its peak performance, so everything is fine.
Verdict
The only thing I can complain about is the lack of a heat distribution cover. But you can buy it yourself if you want. And considering the price, which is only four times higher than for a HDD 3,5" per gigabyte (and the difference in speed, which varies from tenfold to a hundredfold in favor of Apacer AS2280P4) we recommend it wholeheartedly.
Subscribe to our accounts: