How often do you use Instagram? Post selfies, your food, pet, and something else. Believe it or not, more than 1 billion users of this social network do the same. The numbers are huge, aren't they?
It's hard to believe, but a couple of years ago, the now rapidly developing Instagram was no less rapidly losing its audience. And the reason for this is the new trend for "live" photos and video broadcasts. Users wanted to see what a person was doing at a particular moment in time, and while the platform's functionality does not allow publishing momentary photos and launching live broadcasts, everyone rushed en masse to Snapchat, where a similar function was already being implemented. Then Instagram decided to launch Stories – an option that conquered the world.
According to the official analysis conducted by Facebook, more than 500 million users watch Stories on Instagram every day. What is the overwhelming success of this feature? The answer is simple! After 24 hours, the user can no longer see who viewed his Story. Therefore, for example, it is very convenient to watch Highlights if you want to find out information about a person and go unnoticed. But what if you need to look at Stories that were posted today, but you don't want to appear in the list of viewers?
Firstly, let's answer one question.
Watching Instagram Stories anonymously – why is it so important for us?
A lot of people check the list of viewers of their stories on Instagram every few hours. They always know the usernames of all true fans. Other acquaintances "for evil" don` want to subscribe to somebody`s due to the fact that this person also does not watch their Stories.
The easiest way to browse anonymously someone`s account is offered by special sites. In this article, we will discuss the method of staying unnoticed using just one service. For example, sometimes it becomes necessary to view, for example, the stories of competitors for competent analysis, and you want to do it anonymously. You can watch stories anonymously for other reasons, this concerns everyone's personal cause.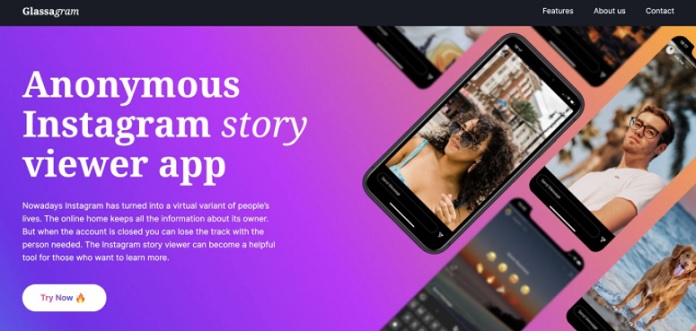 Glassagram is a new unique Instagram story viewer with a huge number of possibilities. It is an online software allows each user to view online stories of any account, as well as direct messages.
Do you want to see posts in the feed of the desired user? Or counting IGTV likes? Maybe even read the comments?
All of the above and more is possible with the Glassagram service!
Firstly, let's be clear what we mean by anonymous browsing.
The account owner will not know that you have watched his stories
Stories can be downloaded to your computer or phone, without the risk of being noticed
Downloading and viewing Stories is free and without registration
There is no need to install additional programs and applications on the device
To view other people's stories, you do not need to enter your username and password from your account
No need to create an empty (left) account
You want to create your archive of stories from other users' profiles
The main conditions for using this service is a public account that is open to everyone.
But what if the account you want to view turned out to be closed / private?
No worries! This is where the spy app solution comes to the rescue. With it, you can get full access to absolutely any private Instagram account. You will have access to all the information that the service gives about open accounts!
Important: When it comes to the iPhone, then you have nothing to worry about. If your device runs on Android OS, then you also need not worry. You just get all the information you are interested in in the form of screenshots and pictures:
likes
comments
direct messages
posts
stories
profile picture
Services of this type for the iOS operating system are much smaller than for Android. The thing is that the App Store works more closely with the Instagram developers and more actively blocks unwanted applications.
To see the story of any profile on Instagram and remain unnoticed, you need to act according to a certain algorithm:
go to Glassagram
enter profile, location or tag into the search bar – you need to find out how this acquaintance is signed on Instagram
look at the text, publication date, number of likes, comments and views
press the "Download" button
wait for the loading of the Stories
Now you have access to all information about a person's profile!
Look at the text, publication date, number of likes, comments and views:
Find out tagged posts!
Benefits of using Instagram story viewer Glassagram
With Glassagram you can watch Instagram Story without registration, providing personal or account data
You can view Instagram stories anonymously for free. The person will not see you in Stories Viewers or anywhere else.
Browse Instagram all day and night – nobody is gonna know it. There is no notification about downloading content from a personal insta account.
Do you like any picture? Download posts or stories ig to your smartphone. Use the dedicated arrow button to do this. It could not be easier!
It is not only a cool anon ig viewer of Instagram stories but also a good service for collecting and analyzing profile data. This will be useful for social media workers.
Now you know how to watch Insta stories anonymously. As you can see, to view Stories, it is not at all necessary to create a fake account and constantly switch from it to the main one.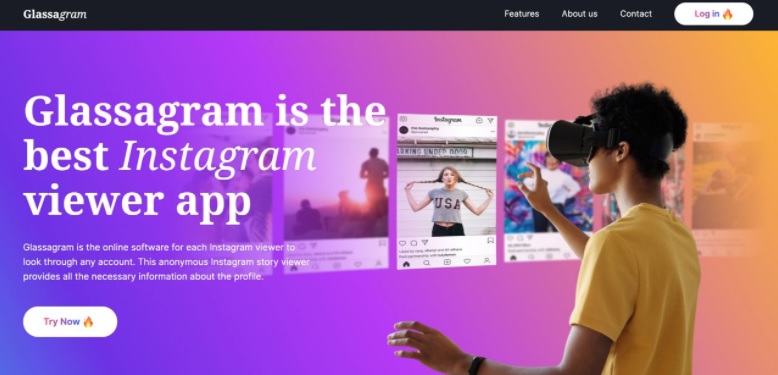 There are many ways to follow posts on Instagram anonymously, you can try everything and choose a convenient one. The main thing is to use reputable services and plugins and remember is that to ensure not only anonymity, but also the safety of your private insta profile, it is important to use only those services that do not ask you to log into your Instagram account and enter other personal data for registration.
Glassagram is the most convenient way to browse anonymously. None of the users will ever know the viewers of their account on social networks like Instagram. We hope you enjoy our service. Good bye!
FAQ
Do I need to provide my own Instagram profiles to view someone's posts or stories IG?
Having done all the manipulations without providing any personal data about your Instagram account using our Instagram viewer. Your profile remains completely private.
Is it possible to download someone else's Instagram stories anonymously?
Yes! Click on the "Show stories" button, select the one you need and click on the button with the arrow in the upper-right part of the screen. Well done, the right story has been downloaded to your computer!